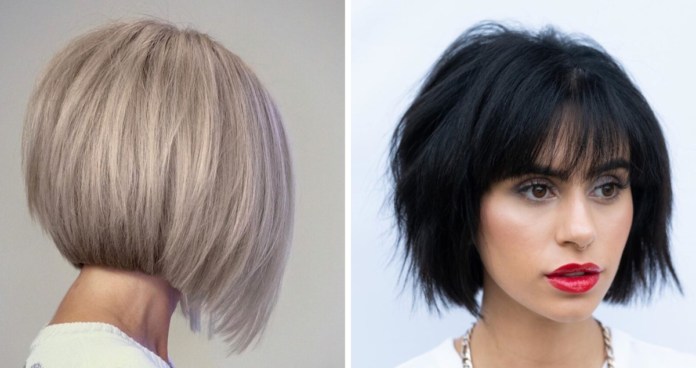 These easy to maintain short haircuts can change your life! You'll save a huge amount of time styling long hair and worrying about whether it's still in place. You'll save a fortune on expensive long hair styling, coloring and all those conditioners. And most importantly, you always look fashionable and modern with a short bob that can be easily styled in many different ways!
1. Warm medium blonde with full bangs – easy short bob cut ideas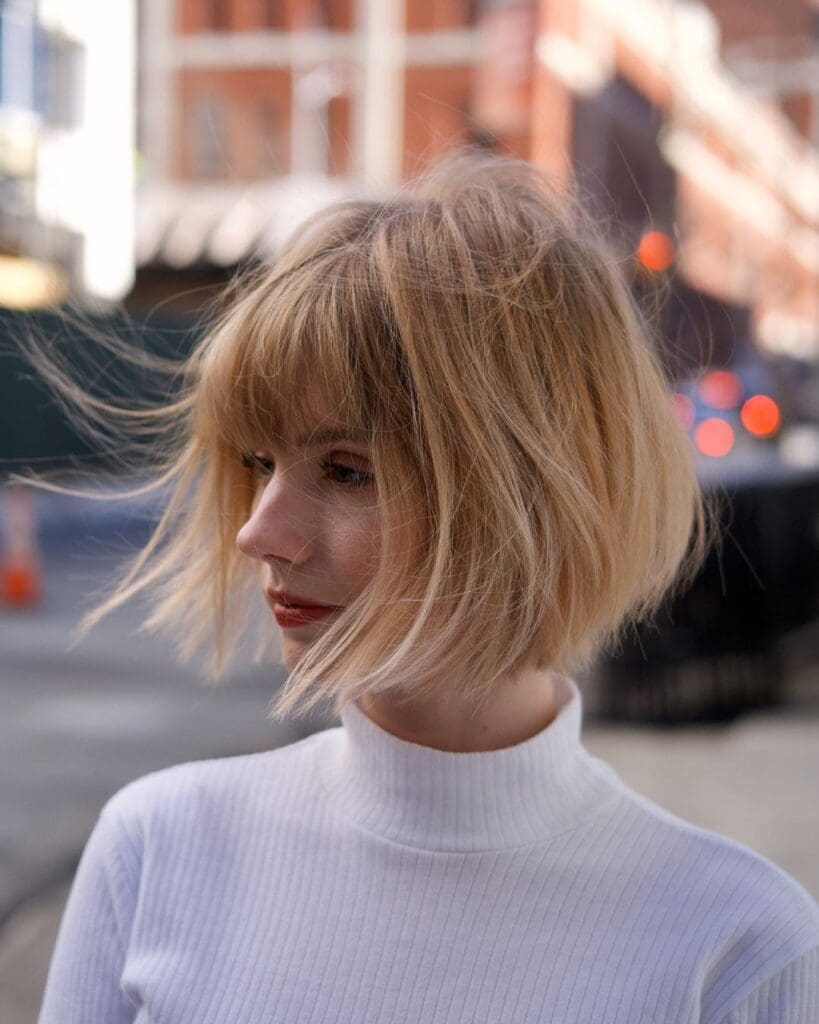 Credit
This soft golden version of the classic simple bob with thick bangs is a lovely feminine look. You can wear it sleek and tidy, tousled and casual, or with some trendy waves thrown in. It also looks cute if its sides are pinned to the back and a trendy black velvet ribbon bow adorns the back. Medium blonde is a very flattering color for mature skin. And the light blond balayazh makes it very fashionable!
2. 3-D colors for volume on fine hair – easy short bob cut ideas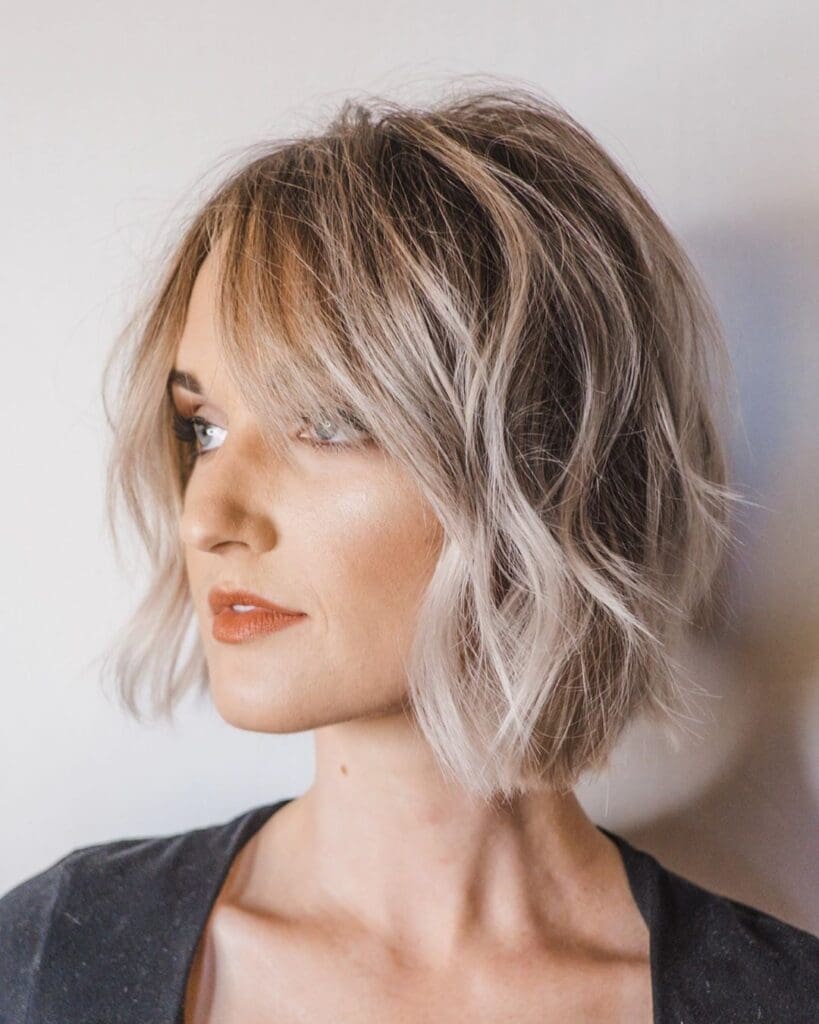 Credit
This attractive chin length bob with waves is a cute youthful look for women of all ages! The fashionable mix of blonde shades has subtle "shadow roots". A beautiful combination of light blond balayage in warm and cold colors is the latest fashion of this season. Light waves and tousled trim add volume and effortless style. And I love the idea of ​​a soft golden hue fading into darker roots and ash blonde for 3D depth!
3. Short blonde cut for thick hair – easy short bob cut ideas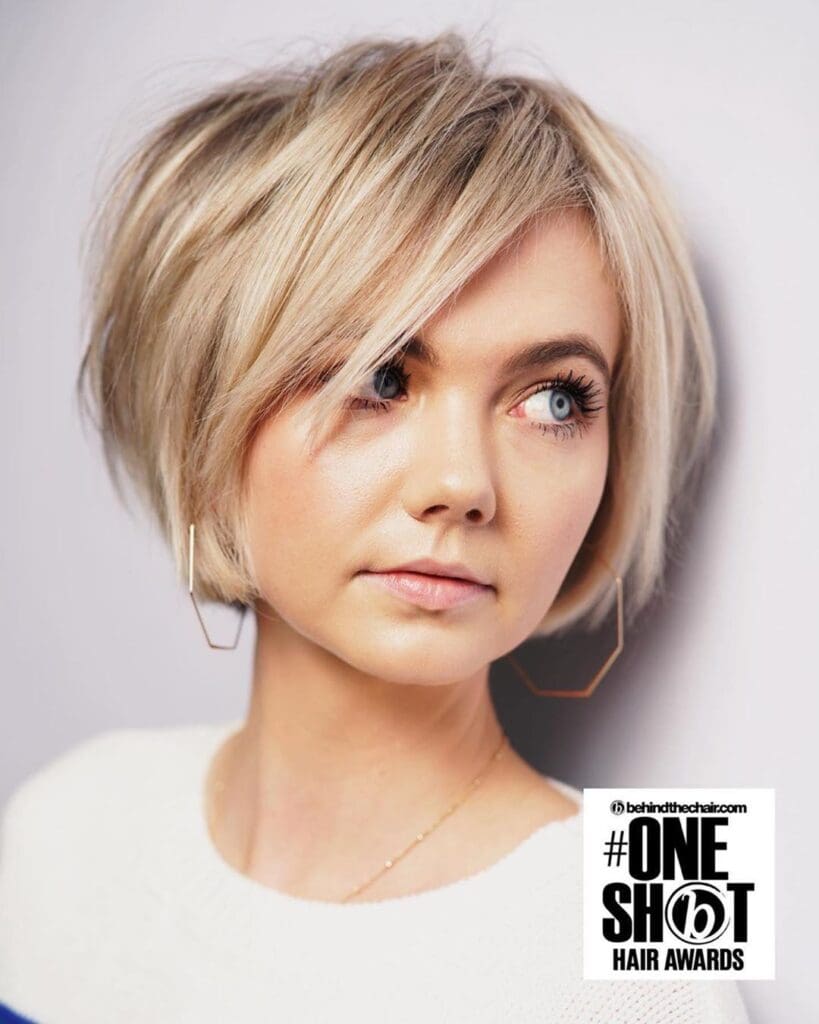 Credit
The stylist cut out vertical layers that taper towards the ends. This avoids the volume that medium or thick hair has if not cut in "chopped" layers. A pretty golden blond color consists of three different shades, differing by no more than one or two tones from the main color. This creates a lot of subtle color depth. And messy styling adds beautiful volume and trendy texture!
4. Smooth A-line bob in ash-beige with lavender – easy short bob cut ideas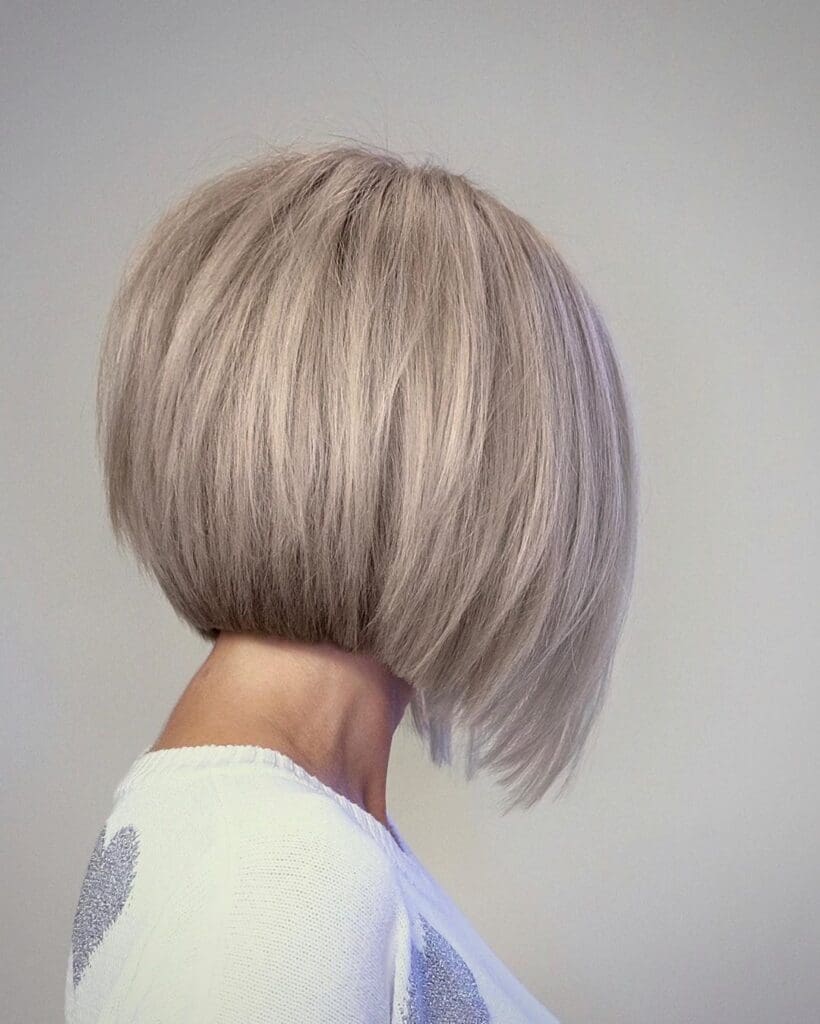 Credit
This retro bob hairstyle first appeared as a must-have hairstyle for super trendy fashionistas in the 1960s. This length is suitable for fine to medium hair that is not thick enough to style back. And it's a good way to wear thin hair that's long enough to stay light enough to have volume and show off its silky texture. Beige-ash-blonde with lavender shades on the front makes the high fashion must-have look again!
5. Shaggy layered short hair cut in light golden blonde for round face
Credit
Ripped and shaggy haircuts are great for medium to thick hair and are so easy to style by simply running your hands through your hair and fluffing it up! These two versions show how different you can style one short haircut. The first image shows how a bare forehead can elongate a round face. And styling hair behind one ear adds asymmetry. And the second image has lush long bangs and sides styled on full cheeks to accentuate the model's lips.
6. Asymmetrical messy angled short bob hairstyle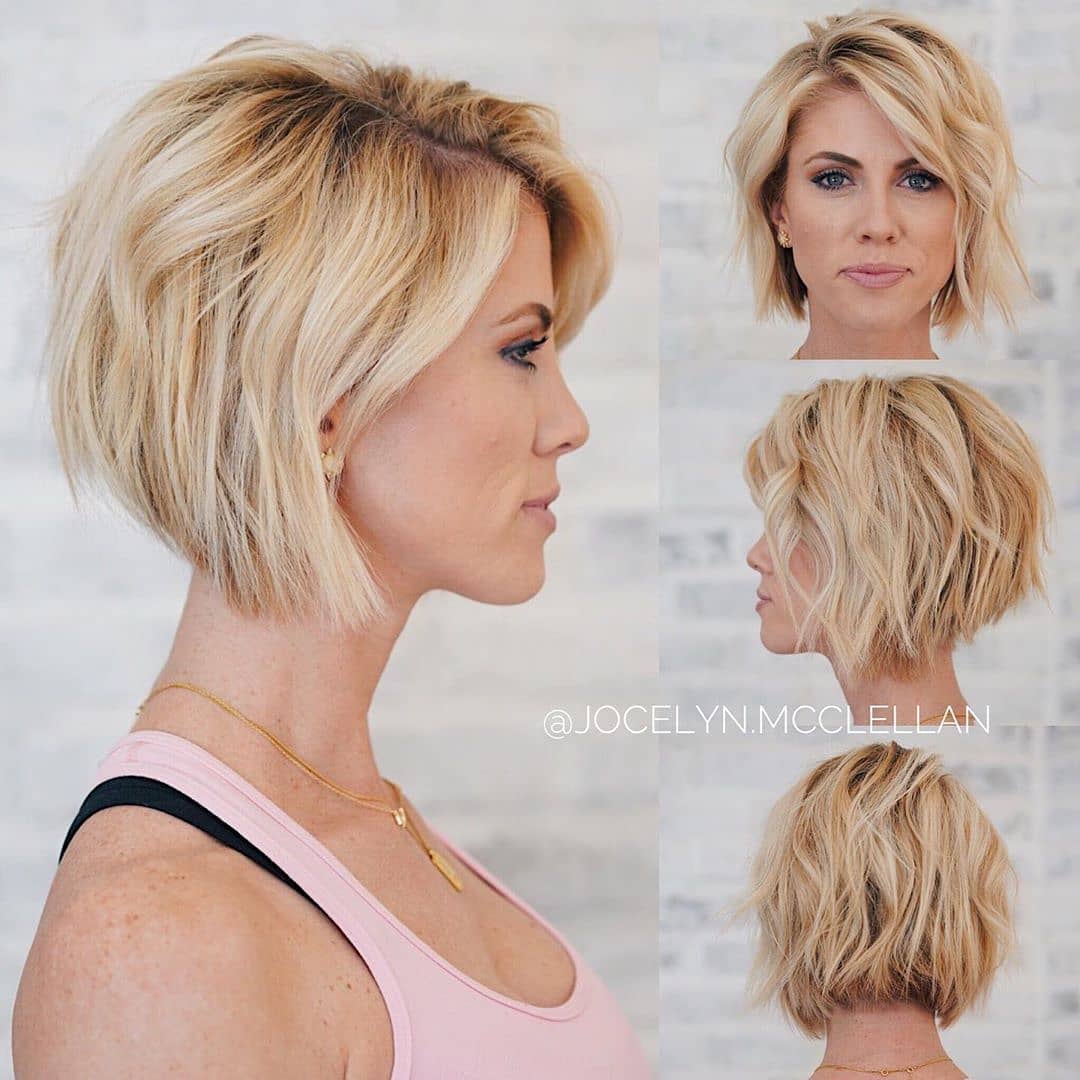 Credit
A messy chin length bob is one of the easiest and trendiest hairstyles you can do! It creates a very modern look with a casual style. But it also looks really good at chin level for many different face shapes! "Messy" and sometimes choppy waves are a smart way to add volume to fine or medium hair. And the side part, with a long section that half covers one eye, is very "flirty"!
7. Same-length straight of the wavy short haircut in two different styles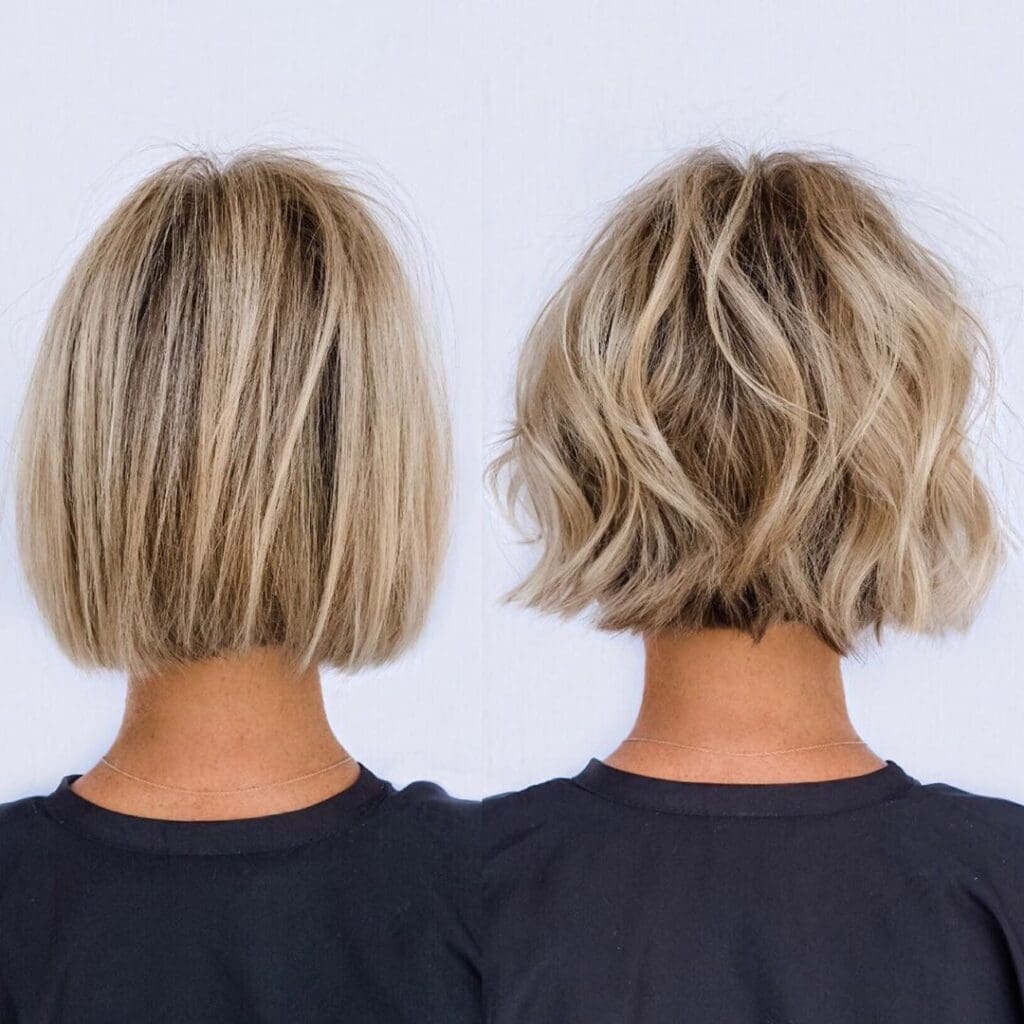 Credit
Here is another eye-catching two-in-one short haircut that is easy to wear in a variety of looks. Looks good on fine to medium hair texture. The colors are incredibly soft in a variety of natural beige tones that always look classy. And you can see how easily this haircut will be quickly washed and styled. The wavy version has cute puffy ends and a youthful vibe that flatters women of all ages!
8. Brunette short straight bob with dramatic white-blonde balayage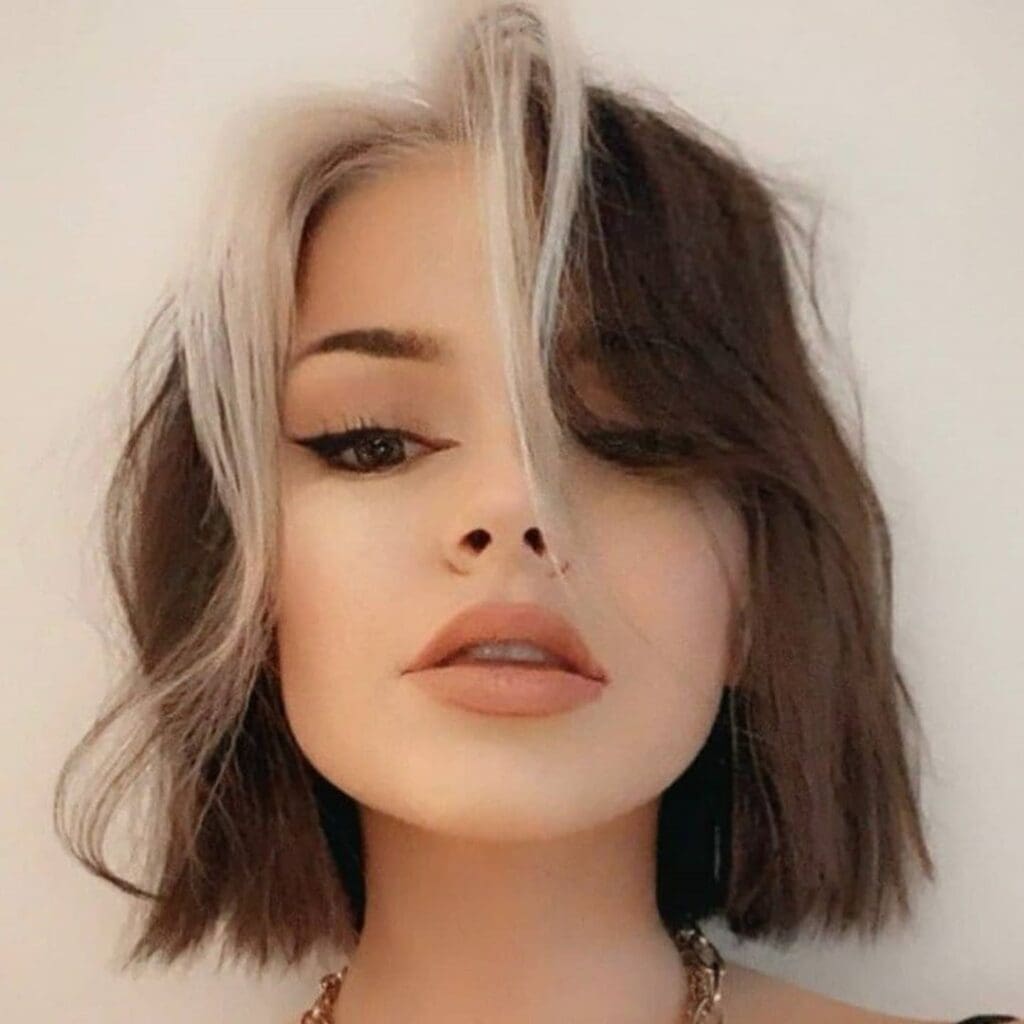 Credit
This lovely simple bob shows that you don't have to have fancy hair to look glamorous! Natural medium brown hair of the model does not need to be changed. But these dramatic ash blonde strands liven up a simple haircut in a very eye-catching way!
9. Sculpted wavy short bob for thick curly hair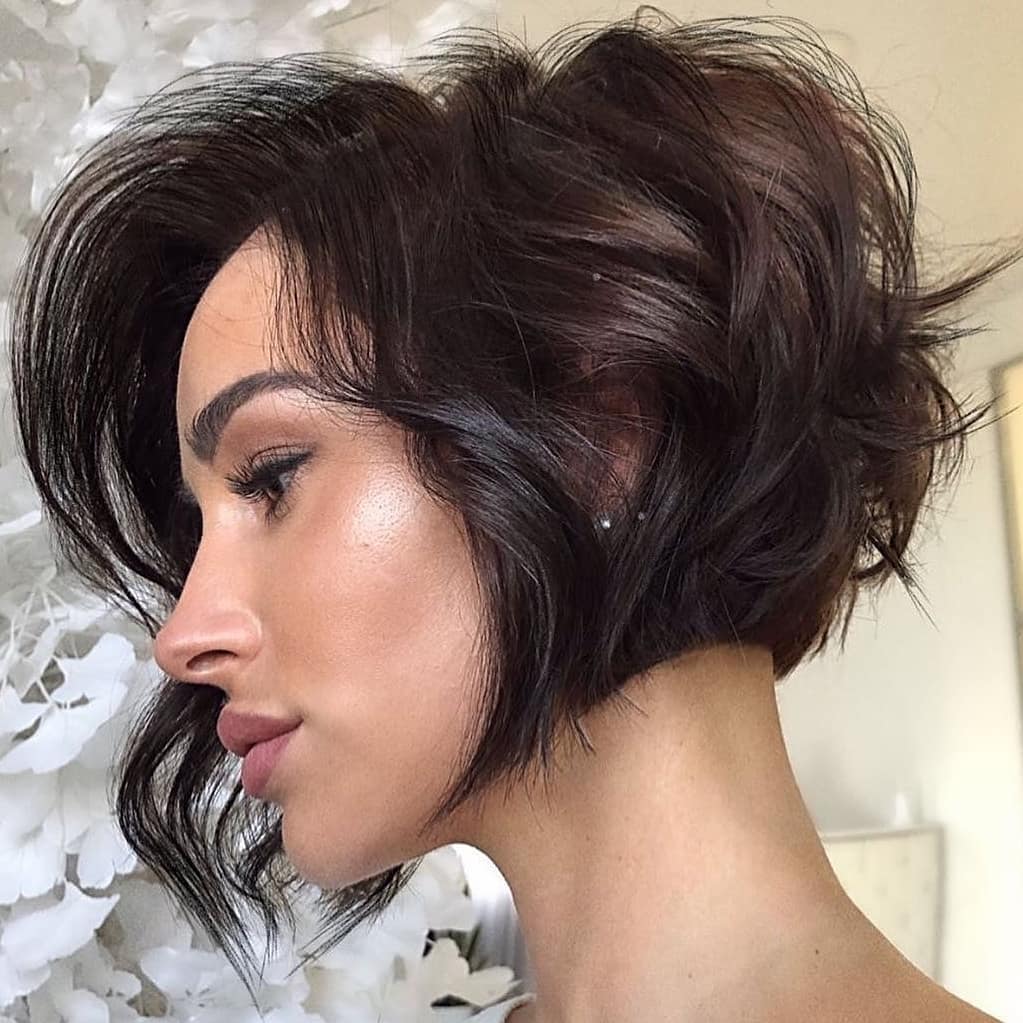 Credit
The natural medium chestnut round the nape following the jawline is really lovely in this chic look! The hair is layered and asymmetrical, so the side part creates two gorgeous profiles. The volume is provided by a large, loose wave texture. And there's a clever hint of balayage, blending espresso-brown with lighter brown balayage for extra texture!
10. Simple chic black bob with texture & bangs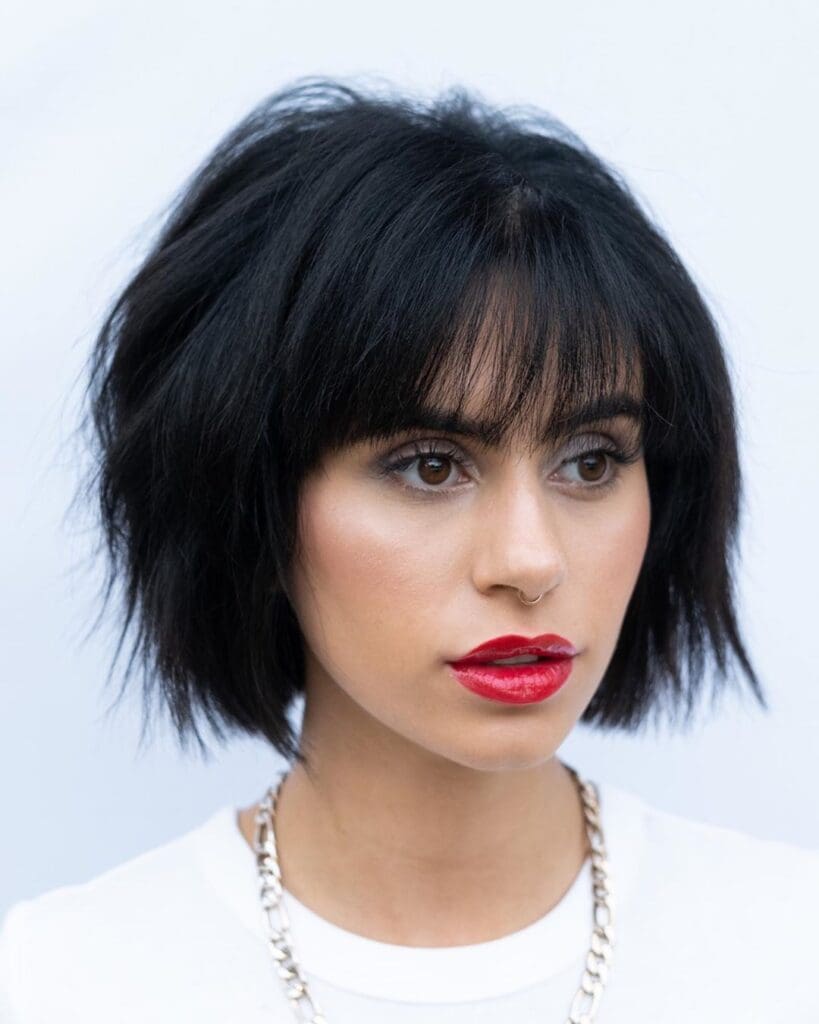 Credit
Smooth around the top and choppy around the bottom edge, adds lots of creative contrast to this black hairstyle. It's achievable on thick hair and solves all your problems of controlling strong hair that seems to have a mind of its own! Sliced layers and cute tapered tips soften the line and add cute details around the sides. And separated bangs also soften the line and draw attention to the model's eyes.