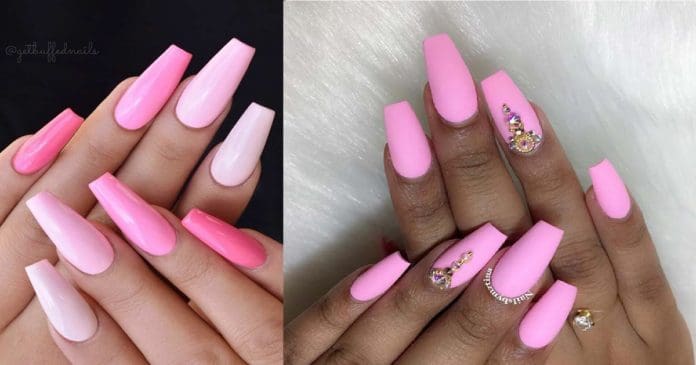 Pink is one of the most stylish colors of the 2019. Different shades of pink have covered the fashion catwalks and have been worn on red carpets for glam events. Light pink has been one of the favorites and an easy way to add this color to your look is by wearing it on your nails. With light pink nails, you can wear the color for any occasion and you can make it unique by adding nail art! To give you some inspiration, we have found 10 of the most beautiful light pink nail ideas. There are glitter nails, ombre nails, cool nail art designs and more.
1. SIMPLE AND STYLISH LIGHT PINK NAILS
We would like to begin our list of the best pink nail designs with this simple and stylish look. The nails are just painted in three light pink colors. There is no bold nail art or jazzy embellishments, the colors are just effortlessly beautiful on their own. This is the perfect nail idea for the women who want to try light pink in an elegant way. This nail design suits every nail shape.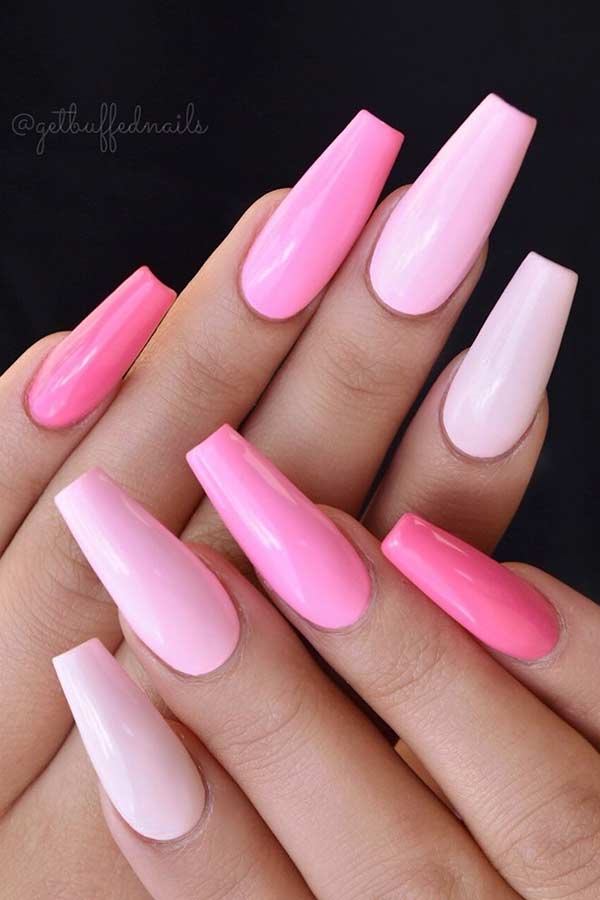 2. CUTE PINK NAILS WITH SPARKLES AND STARS
Next, we have a super cute nail idea to show you. The nails are painted in a beautiful light pink shade with added sparkles and stars! We love this combination because it is so stylish! Nail art like this will look amazing on all nail lengths and shapes. You can use any pink color to recreate the look, and you will need Moonstone Nail Polish 'Jiggery Pokery' or a product like it as the top coat.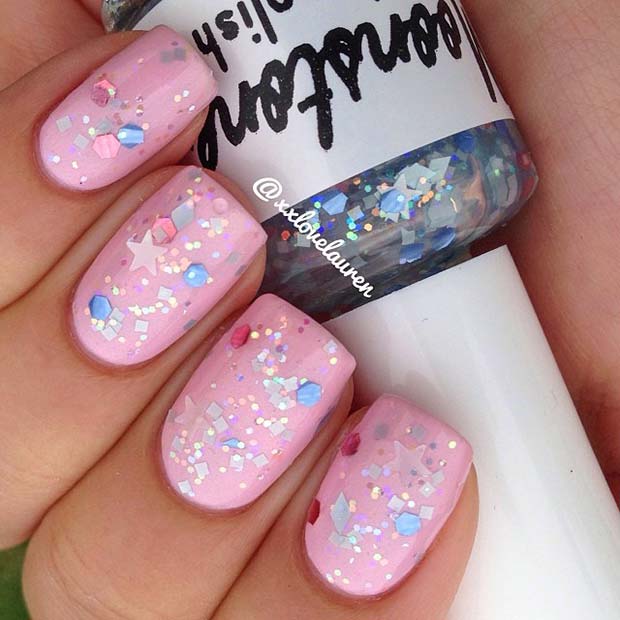 3. LIGHT PINK AND PURPLE NAIL DESIGN
Light pink is a stylish shade that compliments other colors too. One beautiful combination you can try is purple and pink. These nails show how to wear the combo in style! Most of the nails are very light pink with a pastel purple accent nail. As you can see, they both look gorgeous together! Recreate this look or you can try light pink and other colors. Just keep the other shade soft and bright so it compliments the pink.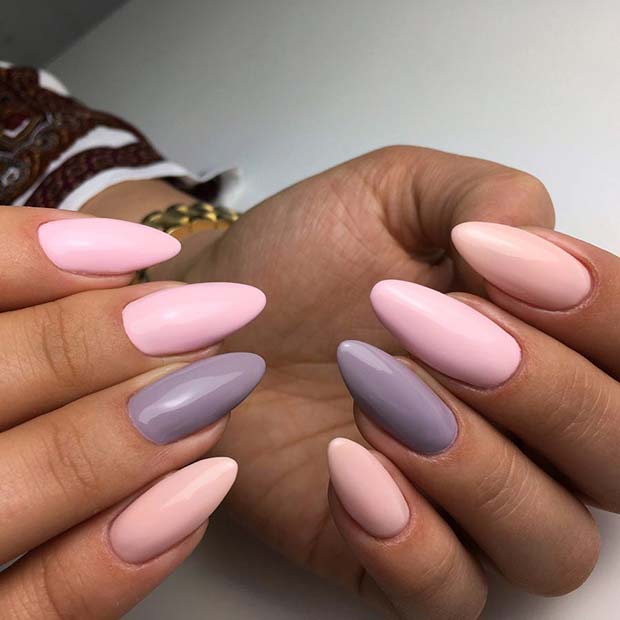 4. MATTE LIGHT PINK NAILS
Looking for a glam nail idea? Then this could be perfect for you. The nails are coffin shaped and are painted in a pink matte color. There are also two accent nails that feature beautiful crystals. You can buy rhinestones online and you can use any light pink color if you want to recreate the look. Nails like these will be perfect for a special occasion.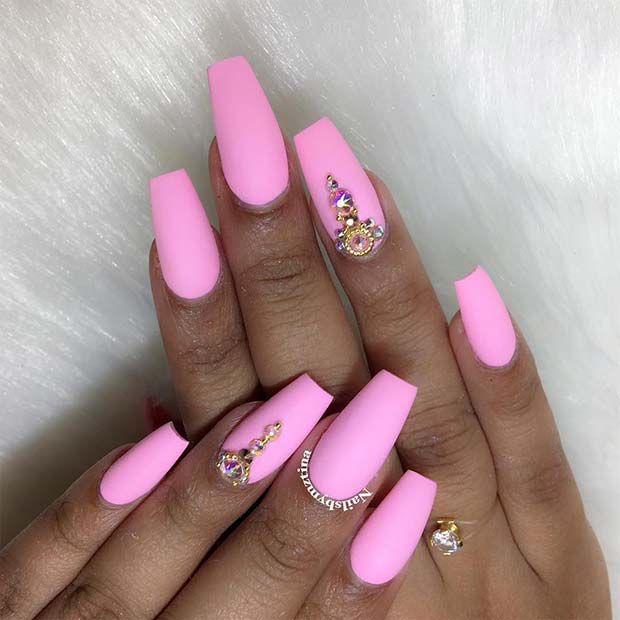 5. GLOSSY PINK AND GLITTER NAILS
Our next idea is stylish and sparkly. Some of the nails are very light pink and the other nails are covered in glitter. It is a beautiful nail idea and it would be perfect for a party or night out. You can recreate the pink look or wear light pink nails with a different glitter color.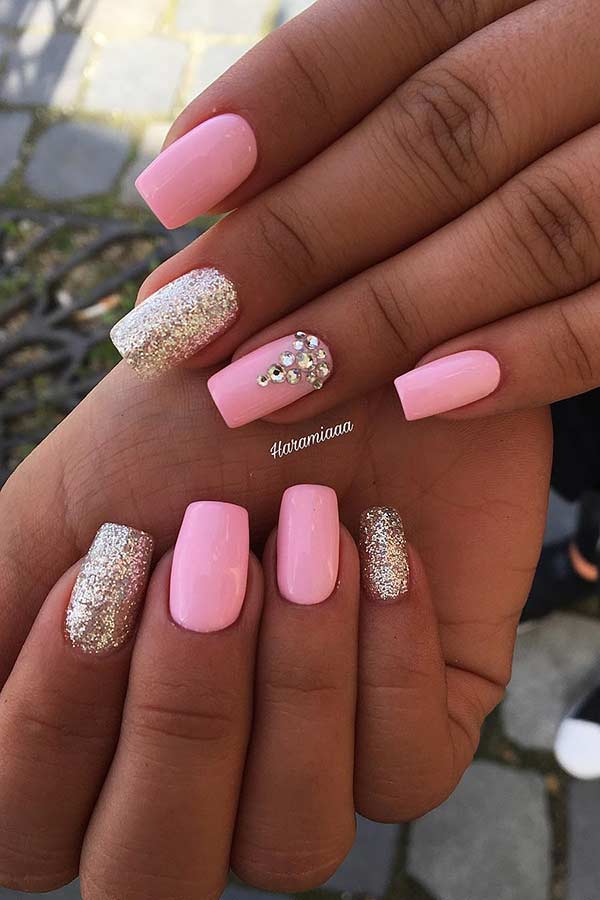 6. ELEGANT PINK NAILS
The next nail idea we have to show you is elegant and unique. One of the nails is just light pink, the next one has stunning flower art and the other two visible nails have stylish gold and pink designs. You can hand-paint a flower like this or you can try nail stickers if you are new at creating nail art. Recreate the whole look or just the designs you like.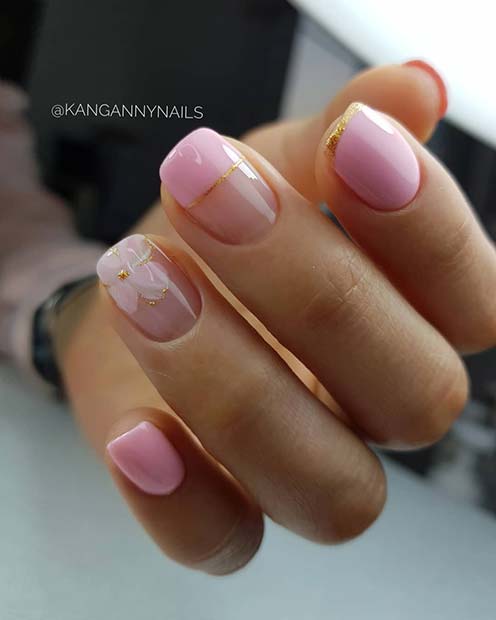 7. LIGHT PINK STILETTO NAILS
Love the pink and glitter nail ideas? If so, this is for you. For this look, the nails are stiletto shaped and are painted in a light pink color. There are two accent nails that are covered in stunning, shimmering pink glitter. This is an elegant, glamorous and beautiful nail design. It would be perfect for a special event or even a wedding.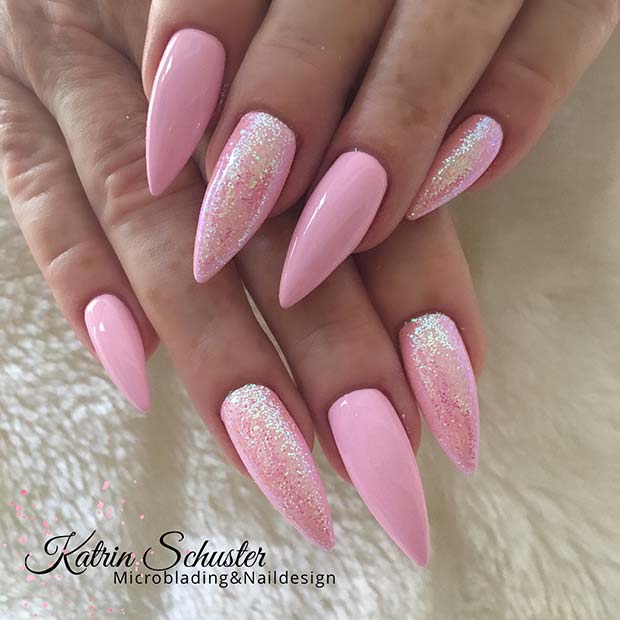 8. LIGHT PINK NAILS WITH RHINESTONES
You don't have to go all out with the glitter and sparkle, you can try a subtler look like this! The nails are painted in a beautiful, soft pink shade. One of the nails also has a gorgeous sparkle design. Nails like this will be easy to wear and to create. This look is best suited to longer nails.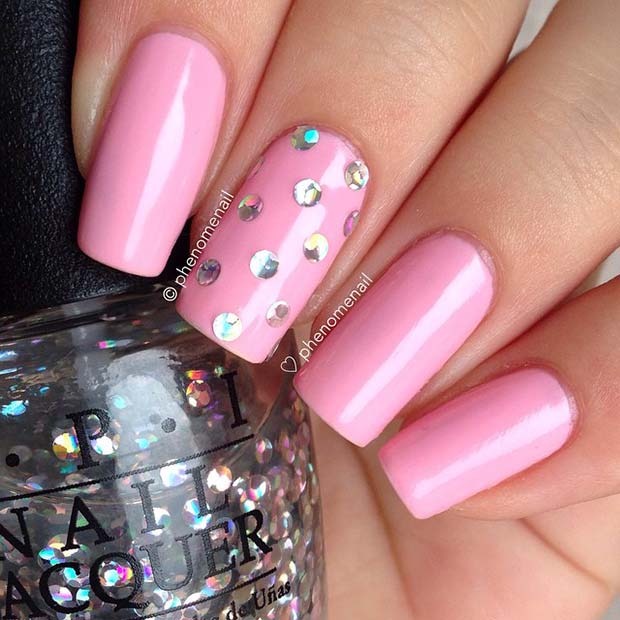 9. GLAM PINK ACRYLIC NAILS
Next, we have a stunning pink look that will wow! Most of the nails are a very light color and two of the nails are covered in pink glitter. One of the nails also has beautiful gems too. It is a glamorous look and it will give everyone envy. This design is on short nails, but you can always recreate it on longer nails too.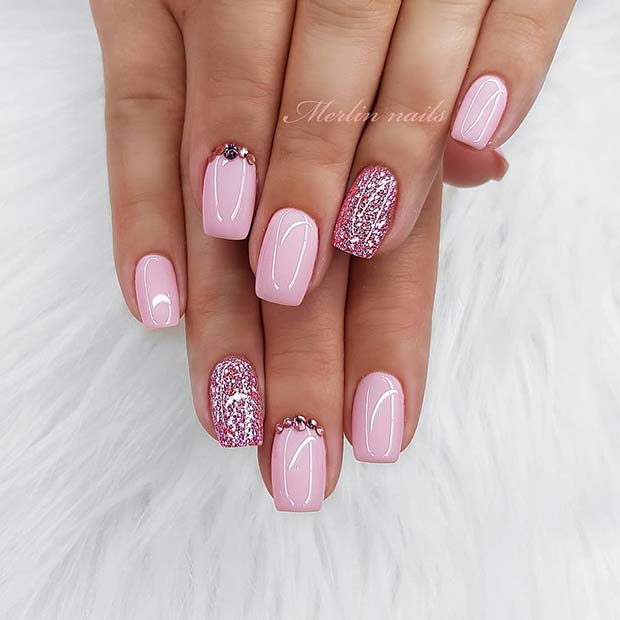 10. MATTE PINK NAILS WITH A POP OF GLITTER
Want nails that stand out from the crowd? Then this idea is for you! The nails are coffin shaped and are painted in three pink shades with a matte finish. The nail artist added one accent nail in sparkly pink glitter to make the nail design pop even more. As you can see, glitter can transform any simple nail design into an eye-catching one.