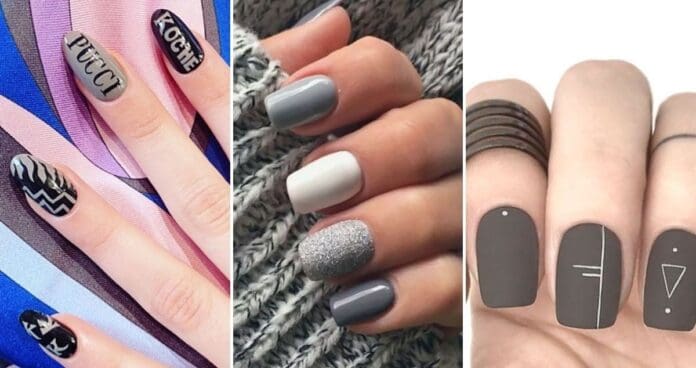 Get inspired for your next manicure with a world of neutrals. Nude tones may be the first thing that comes to mind when you want something versatile, why not think outside the box and opt for gray instead? It's a superb base color that complements a whole rainbow of other hues, yet is unique and eye-catching enough to hold its own. From simple stripes and sequins to confetti and partial 50 shades of grey, there are plenty of styles and designs to excite and inspire you before your next salon visit.
1. Grey Abstract Nails
Abstract nails are a great way to show off your personality and let your imagination run wild. This particular design combines various shades of gray with other tonal colors including black, white, and beige. Use nail tape to create colored blocks with sharp edges. The fresh colors in this look pair fantastically with a simple, clean outfit like white jeans, a blue button-down shirt, and a pair of pastel-colored sneakers.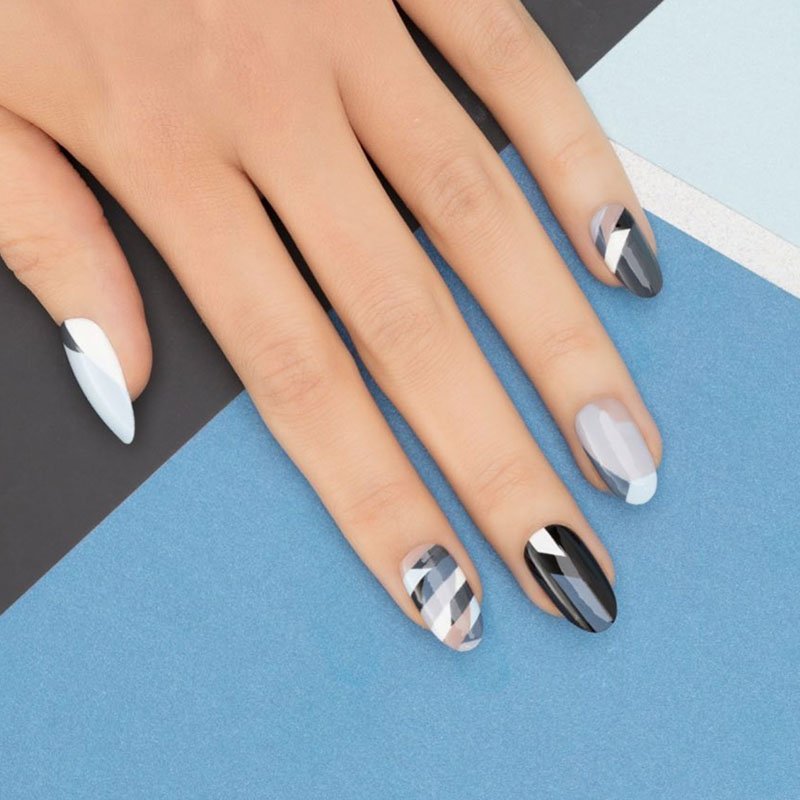 2. Grey and White Artistic Nails
These gray and white art nails have a lovely celestial element that is perfect for the spooky season. The design is essentially a French manicure with silver-gray tips and white added along the smile lines on some of the nails. Additional details have been added with stars, dots, and a cat perched on each white moon. Of course, you can easily adapt this style to any season by adding Christmas colors or bright colors for a birthday celebration.
3. Grey Stripe Detail
If you love a French manicure but want to spice it up a bit, why not opt for this fun gray striped nail design. Various shades of gray look great with a nude base, and it's not too much. As such, it's great for everyday wear, including a chic office look. This look works best with shorter and squarer nails, so you can use straighter lines to keep them neat and tidy.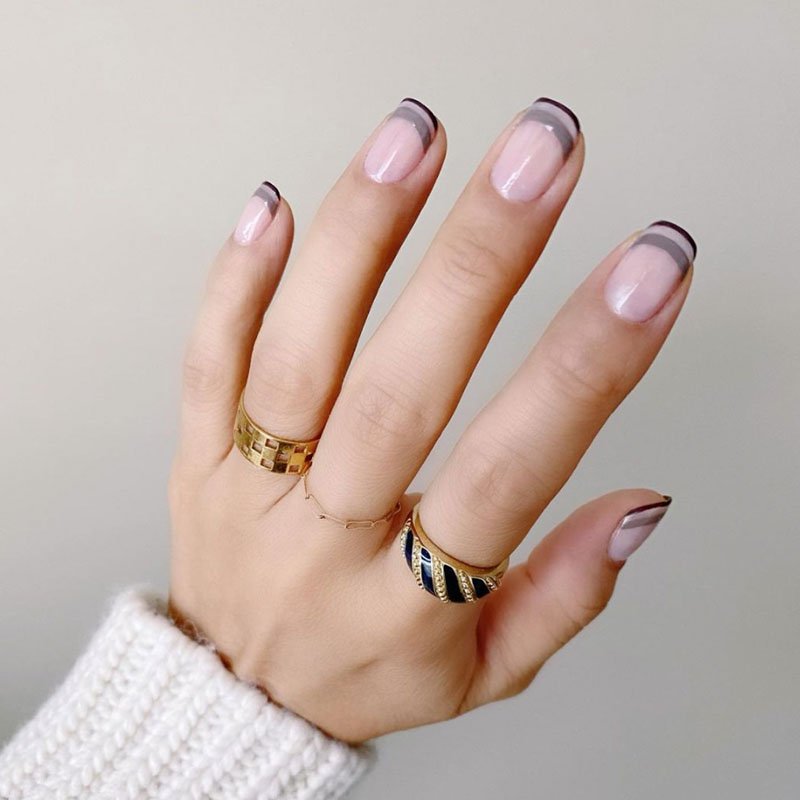 4. Light Grey Nails with Silver Line Art
Silver is really just a metallic version of grey, so it makes sense that they go incredibly well together. Use nail stickers to create this gray nail design as it will be much easier and save you time and effort. Light gray looks great, but you can also use medium and deep gray for the base, as the silver will stand out elegantly on both.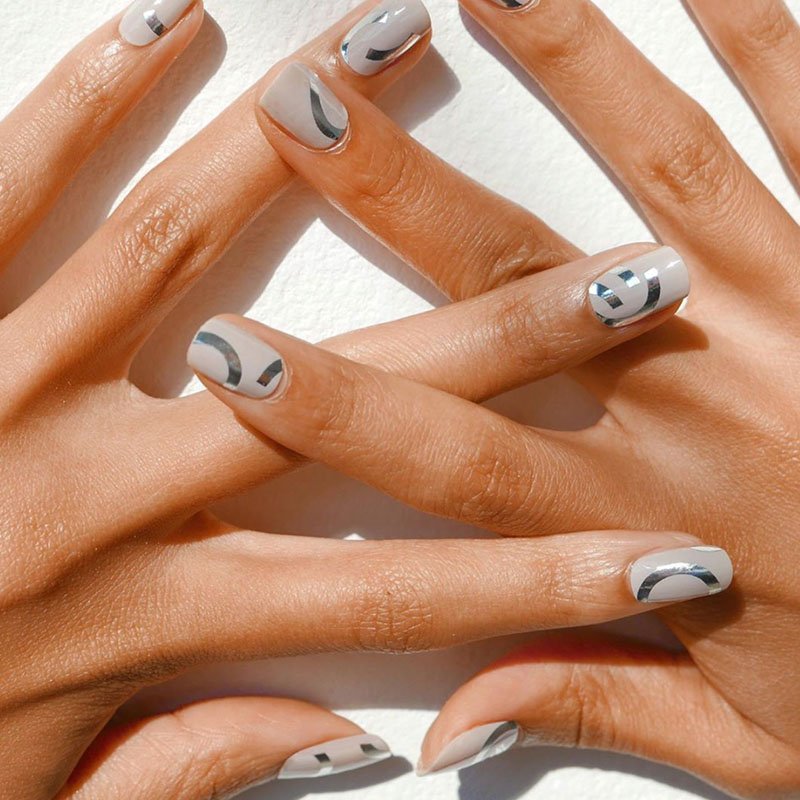 5. Matte Grey Ombre Nails
Ombre is one of the hottest nail design trends right now and is easy to achieve. It looks best when going from light to dark, so a spectrum of grays is the perfect color palette to work with. The matte finish is also very thin and is a good alternative to a glossy finish. All you need is two shades of gray matte polish, scotch tape, and a sponge. Protect the skin around the nail with tape, then apply a light gray base. Then apply a dark gray color to the sponge and work it on the tips of the nails until you achieve the desired result. Let it dry and you are ready to go!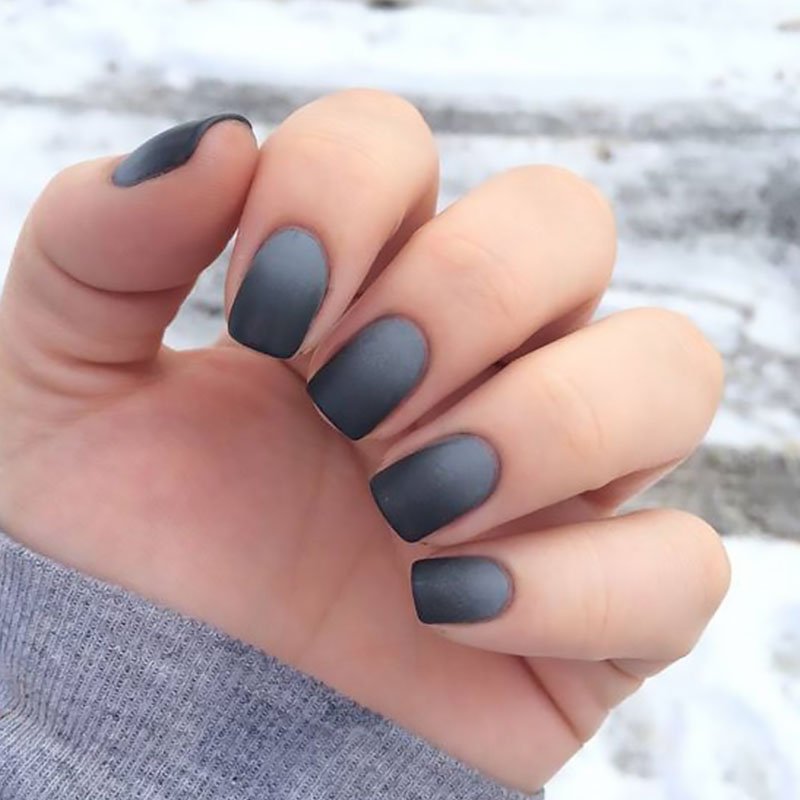 6. Nude and Grey Nails
Nude and gray are two wonderful neutrals that pair well with each other to create paired back nail designs. This subdued look is perfect for work, but also works well when you're creating a pretty outfit in pastel colors, such as for a wedding reception or kids' party. Use gray to reproduce the tip of the nail, as well as the shape of the lunula or pale arch of the nail that is next to the cuticle. The design works better on shorter nails where the shape of both lines will match the even and balanced style.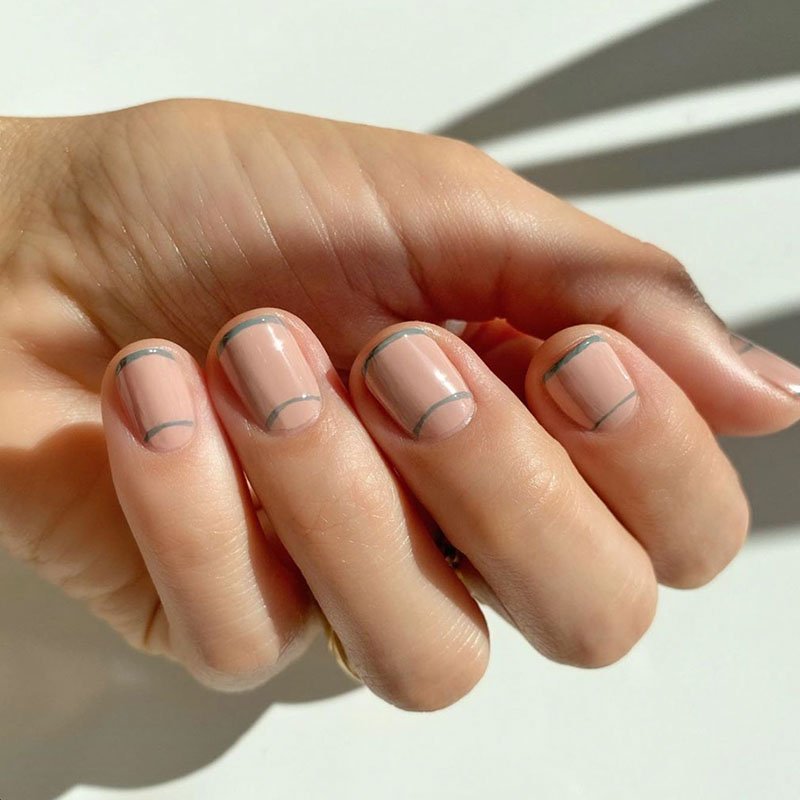 7. Shades of Grey Nails
Keep your manicure simple by using shades of gray. You can move your fingers from dark to light or change the order. Add some glitter for a little shimmer, because there's never a reason to add extra sparkle. The beauty of this look is that it works on nails of any shape and length. It doesn't matter if you have long flats or short quads, it will look amazing.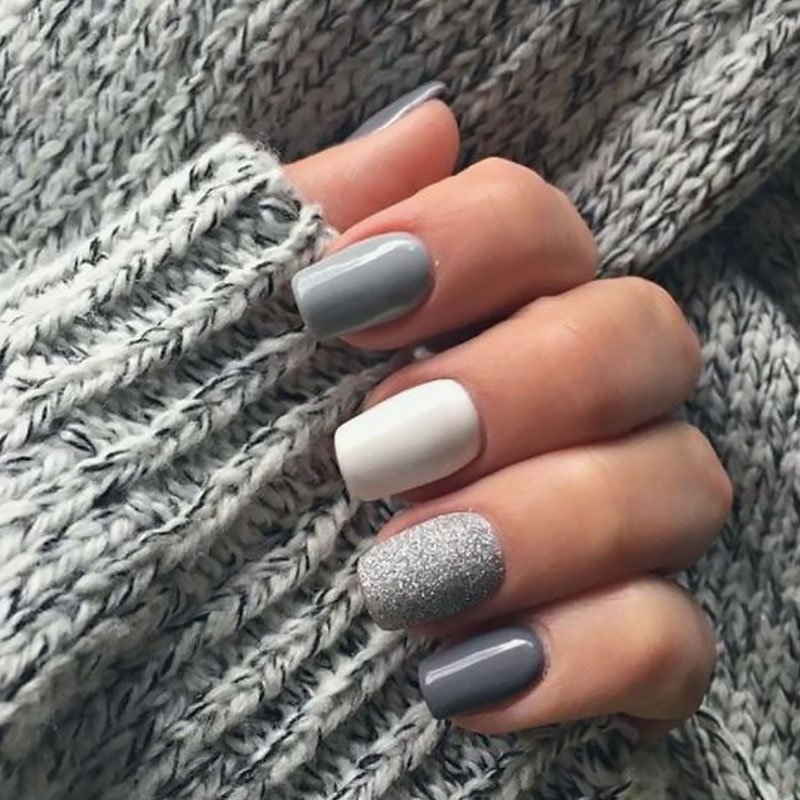 8. Pastel Copper and Grey Nails
Copper and gray may not be the first combination you think of, but it looks incredible when the intensity and tones match. You can do this by simply alternating colors on different nails, or you can go deeper into the design if you are enthusiastic. Pastel copper, in particular, goes well with pale gray tones, as it is a more neutral tone that creates a sense of harmony.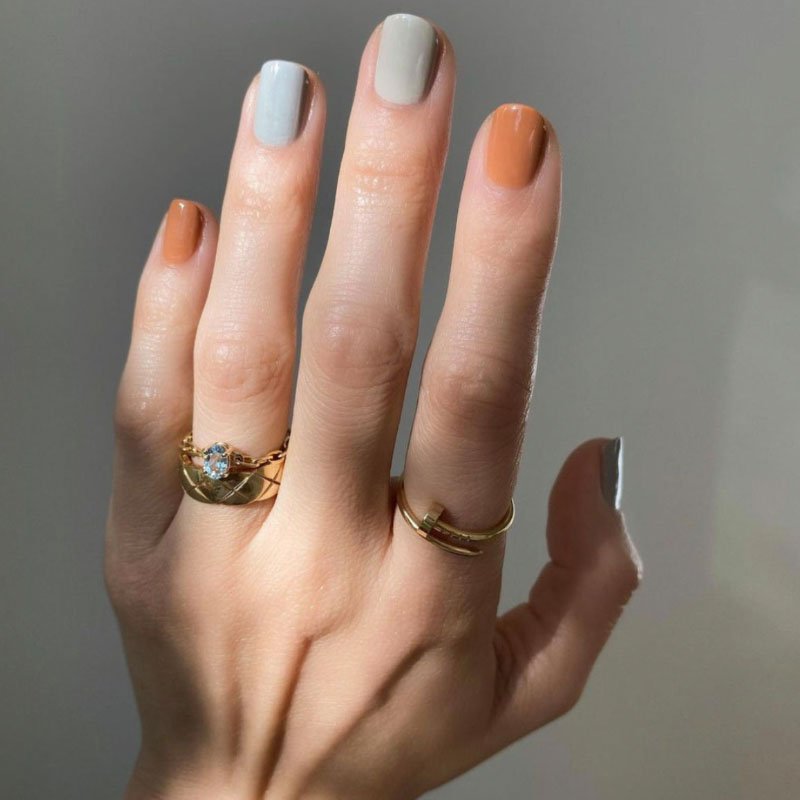 9. Confetti Nail Art on Grey Base
Kick-off the party with these brightly embellished gray nails. Start with a silver gray base, then choose four or five different colors to color the confetti. The great thing about this design is that you have complete creative freedom. Create combinations of squares, circles, triangles, abstract shapes – whatever you like. This is the perfect design for celebrations such as birthdays, New Year, and bachelorette parties. In addition, it shows how beautiful gray is as a neutral, helping to stand out with a bright color.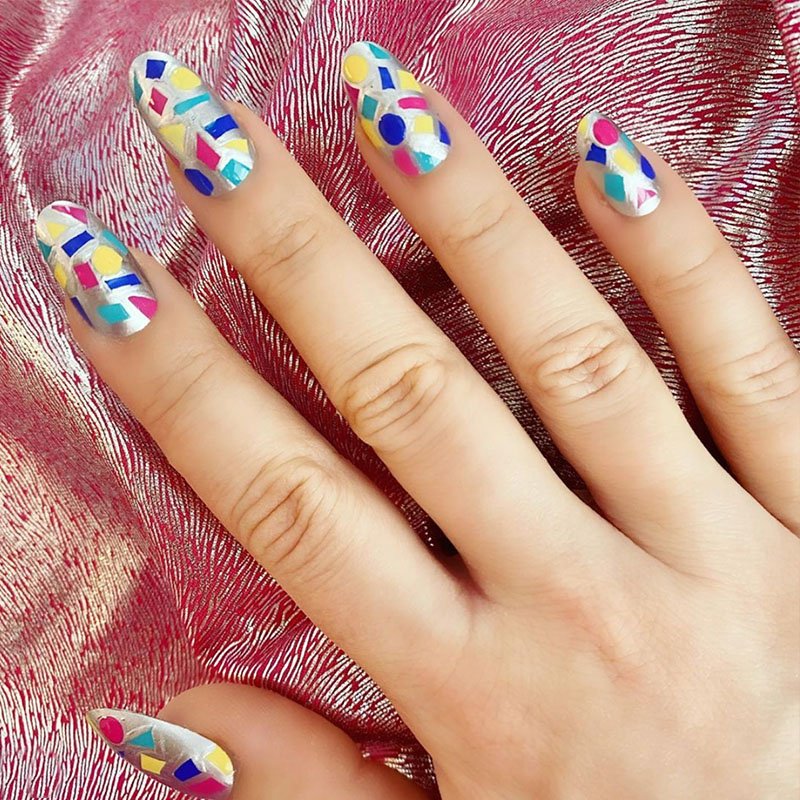 10. Dark Grey Nails With Line Art
Create a moody look with dark gray nails. The matte finish looks especially impressive, especially in combination with delicate white elements. The abstract line art is enough to add some detail without detracting from the overall look. This is a great option for the evening, but it also looks great in a winter look. Just imagine that you are sitting by the fireplace with those nails and holding a glass of good red wine as the snow falls silently in the deep blackness of the night.