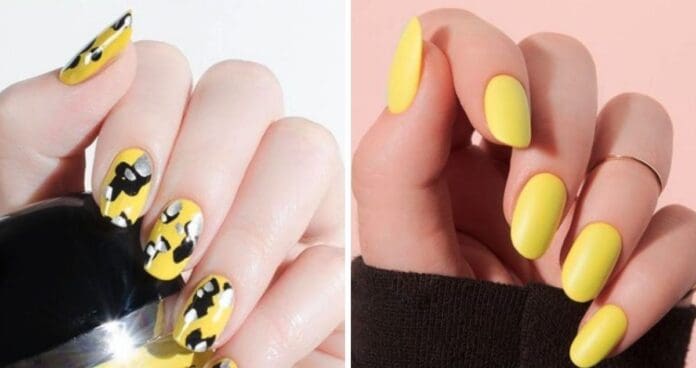 As one of the most popular shades of the moment, this bright shade is sure to be a great addition to your manicure. From solar patterns to edgy art, there's something for everyone here. You can wear them to the beach, to the office or to a party with friends – they are suitable for any occasion. If you're looking for a bright and unusual way to freshen up your look, get inspired by these 20 stunning yellow nail designs that are sure to brighten your day!
1. Classic Yellow Manicure
For a fun and fresh manicure, why not try a classic yellow with a matte finish? This bright shade will instantly lift your spirits and brighten up your outfit – what else do you need? Regardless of the length and shape of your nails, you can spruce up your routine this summer.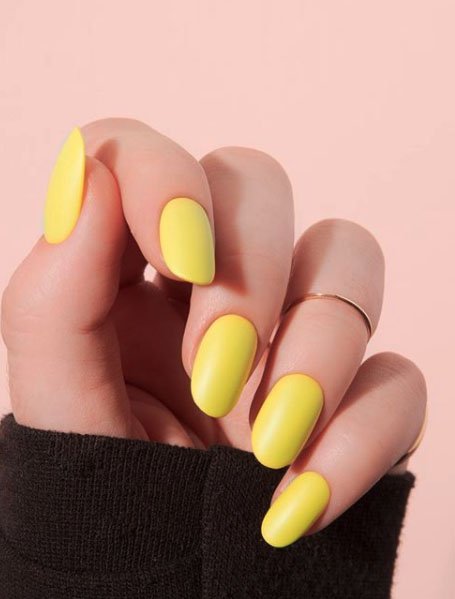 2. Sunflower Feature Nails
Take a piece of nature with you with this manicure. What starts as a classic yellow nail color turns into a beautiful sunflower on one nail. To create this look on your vibrant nail, paint a small crescent moon with black polish and carefully place gold petals around the edge. Using a thin brush, add some brown dots to the center of the flower for realism.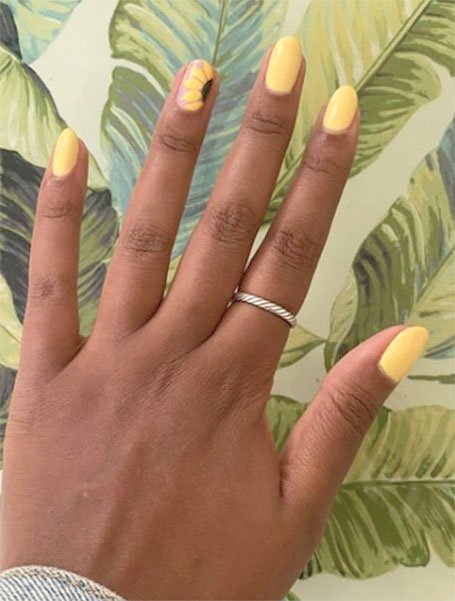 3. Ombre Yellow Nails
This ombre manicure will instantly fill your day with sunshine and fashion. Trendy designs ranging from nude to bold are popular, and delicate and fresh lemon is a great alternative. You can choose any shape for this style, but the gradient often works best with longer tips.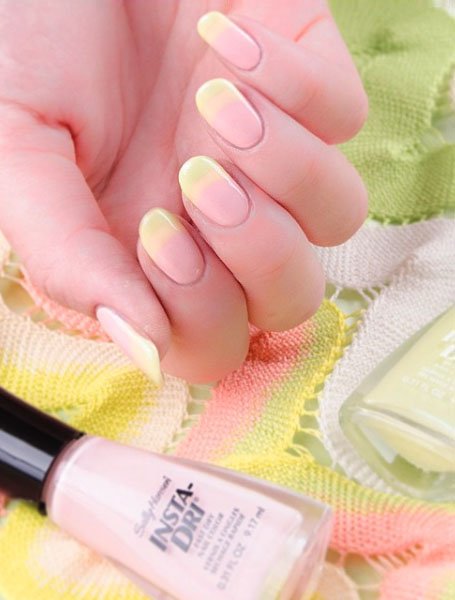 4. Pastel Lemonade Nails
Show off your love for lemonade with this cute manicure. Pastel shades and zesty leaves are the perfect way to create a gorgeous set of nails with a minimum of artwork. It's also an excellent option for those who prefer a decorative nail – you'll instantly add a touch of freshness with this nail art.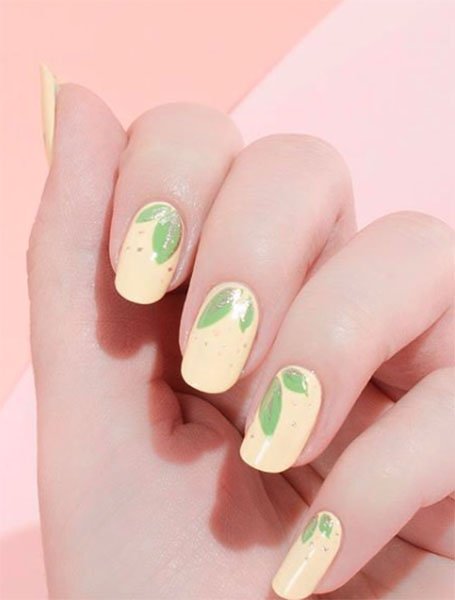 5. Yellow Watercolor Nails
Let this manicure become a work of art that you can take with you everywhere. This watercolor painting features vibrant colors and exquisite designs. Add shades of pink or purple to add dimension. This manicure is suitable for nails of any length and shape, but if your nails are a little longer, you can experiment by adding voluminous decorations on top. You can spend hours admiring impressive works of art at your fingertips.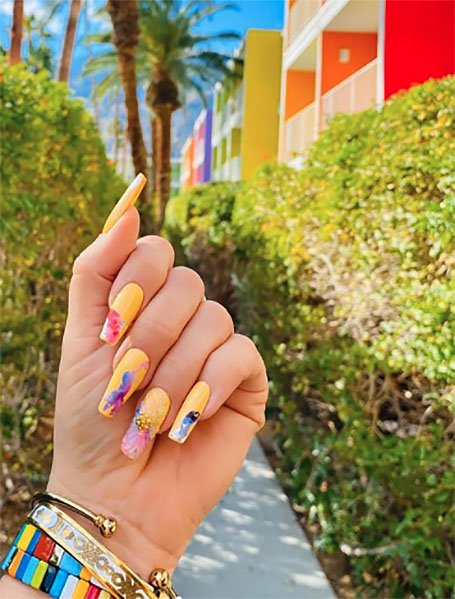 6. Yellow French Manicure
Fashion is all about trying new things and experimenting, so why end it with clothing choices? This trendy manicure is turned on its head with splashes of yellow. Not far from the traditional French manicure, this variant uses a lemon shade instead of white tips. This is a great option for an evening at the beach or just a day at the office.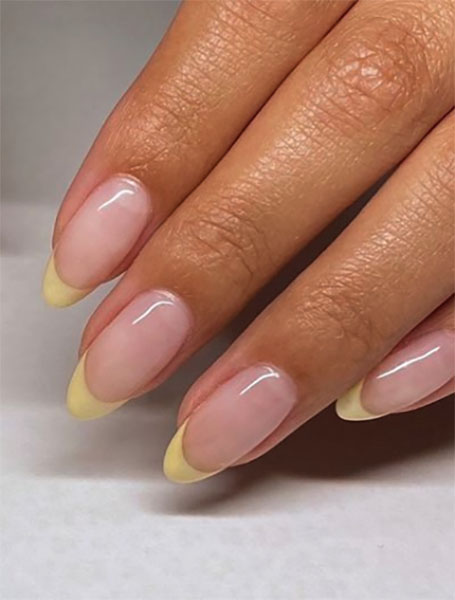 7. Yellow Graphic Nails
This year we are all about self-expression, so there is no better time than a manicure. With graphic emoji printed on each nail in bright yellow, you will feel the happiest every time you see them. Let bold designs stand out at your fingertips by painting them on a nude base – this will help elongate your fingers and draw attention to the design.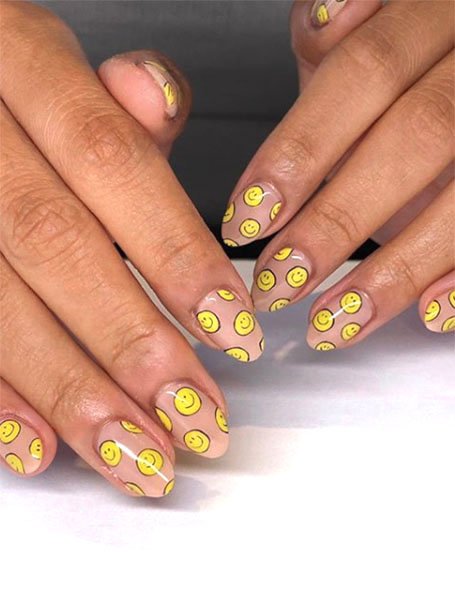 8. Yellow Pattern Nails
Mix things up and create a flurry of patterns on your nails. This whimsical yet cohesive art combines bright yellow, black, and white and transforms it into a stylish and trendy design. Combine leopard print, snakes, and geometric shapes for a completely unique and stylish manicure.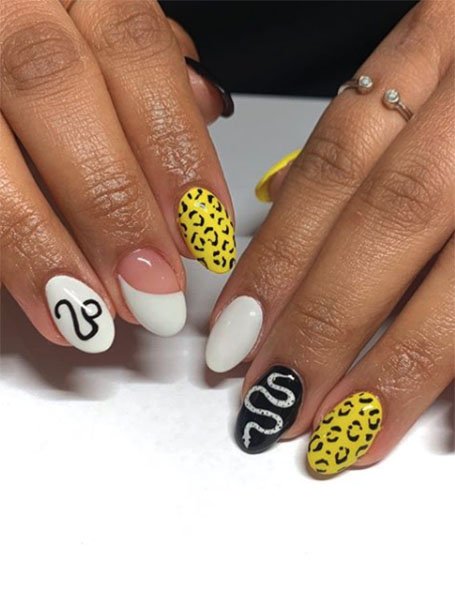 9. Yellow Animal Print Nails
Animal print is a trend that's not going anywhere and it's a great pattern to include in your manicure! If you love yellow, add dimension to it by adding blue leopard print spots all over the base. Paint this intricate pattern on each finger or keep it as your main nail – it's a popular option for those who like to be in the know.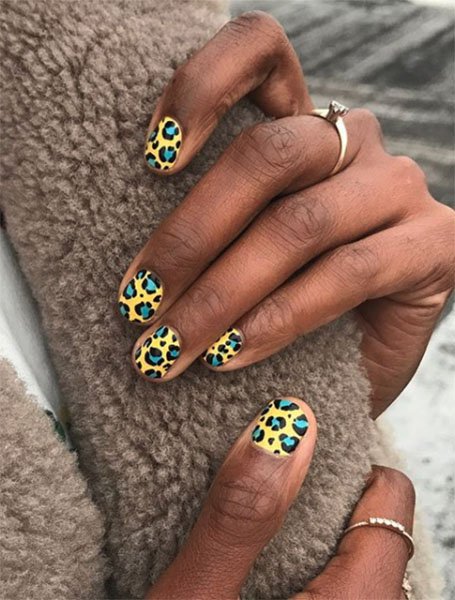 10. Yellow Tartan Nails
Go back to the 90s and try this yellow check manicure. Inspired by the cult teen movie Clueless, you'll be the coolest person in the room with this sleek manicure. Give a modern twist to traditional French tips by adding vibrant colors to your fingertip. You would be completely confused if you didn't try it.