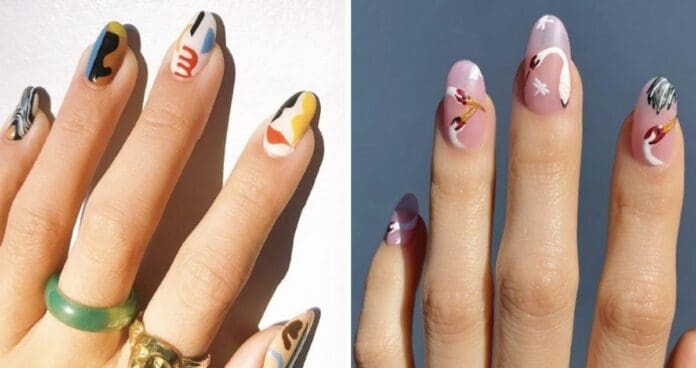 It's time to unleash your creative juices while you're spending a lot more time at home. You can experiment with different patterns and shapes and become a manicurist. Oval nails are a classic variant of manicure, the shape is similar to almond nails but with a slightly rounded tip instead of a dot. Simple, chic, and eye-catching oval nails make your fingers look longer and thinner and leave plenty of room for nail art and decoration. You can update your oval manicure with different textures, finishes, and designs. Keep scrolling and get inspired by these unique oval nail designs.
1. Artistic Oval Nails
If you are an art lover, why not paint your nails to match? Inspiration can be drawn from any direction, from cubism to impressionism or pop art. For best results, choose designs with patterns, block colors, or geometric elements. With them, your manicure will stand out. When your masterpiece is ready, share it with us online!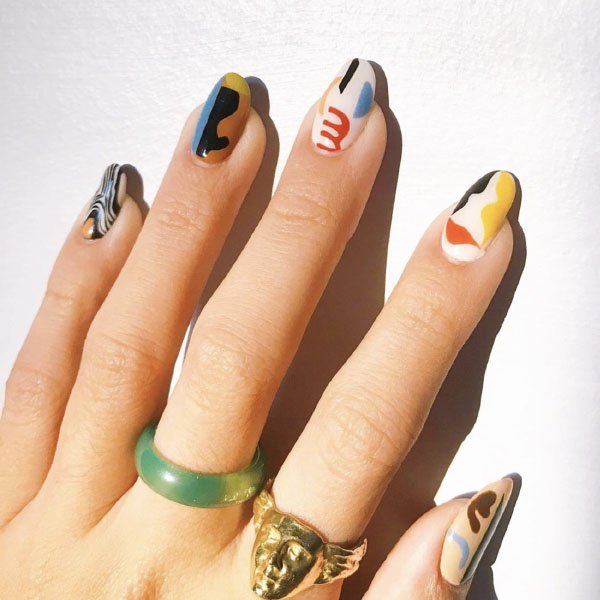 2. Cute Polka Dot Oval Nails
Polka dot nails have been popular for years, but the latest nail art trend is cute dots. They are bigger than polka dots and almost look like adorable cartoon eyes. For the ultimate cute effect, apply a pastel base coat like soft pink or light blue. Pretty dots suit oval nails because they complement the rounded tip of the nail.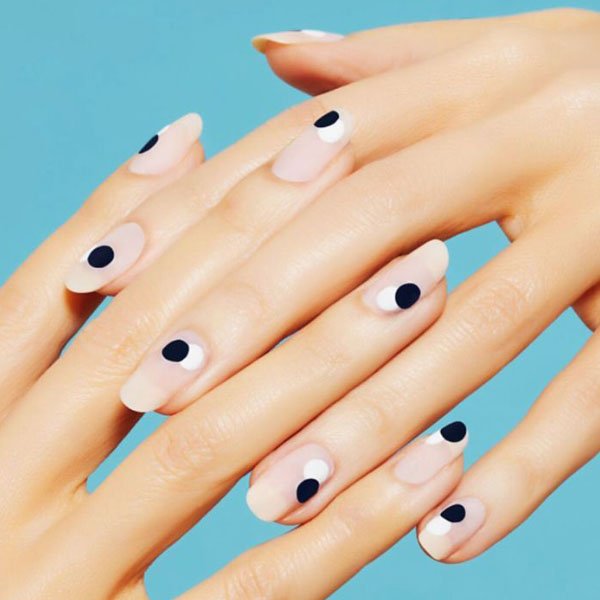 3. Flamingo Oval Nails
Lovely pink flamingo nails will give your manicure a fun personality. Quirky and cute flamingos will make you smile every time you look at your nails. While the classic design is a one-legged standing flamingo, you can take a more subtle approach with perched birds.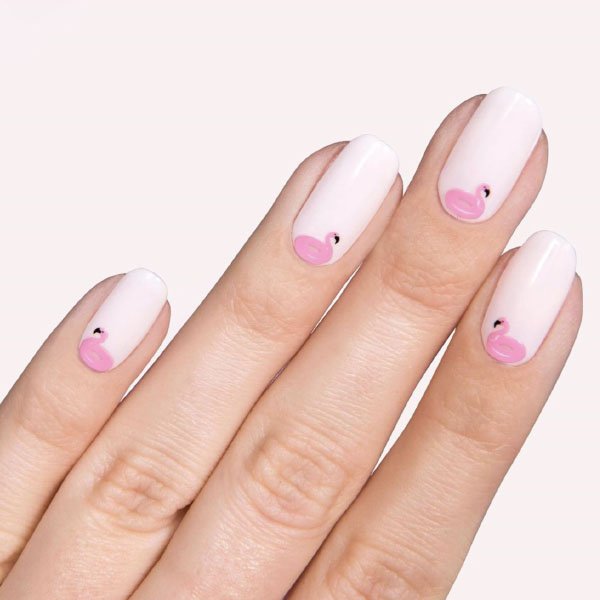 4. Fruity Oval Nails
Want to give your oval nails a sweet treat? Try fruit manicure! Leave the cartoon-style fruits in 2019 and replace them with live fruits in 2021. It looks more sophisticated and picturesque, while still retaining the sweet-sweet feel of a classic fruity manicure. Saturated fruits such as apples, grapes, figs, and plums are suitable for a realistic fruit manicure. Your fingertips will make you feel like you're on summer vacation while sipping on a fruit smoothie.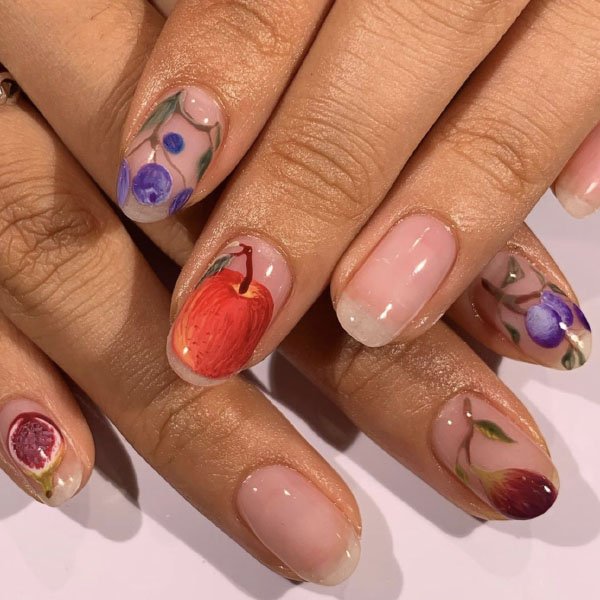 5. Fun Oval Nails
Let your nails speak for themselves with fun and whimsical designs. Try adding different symbols to each nail to express your personality as much as possible. From abstract shapes to crowns, hearts, clover, and bees, the only limit is your imagination. The advantage of oval nails is that they are suitable for a wide variety of shapes and designs, so you can be sure that whatever you choose will look amazing.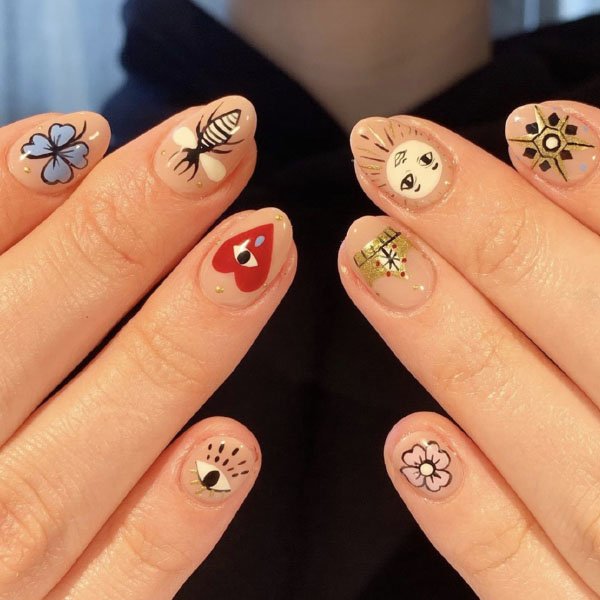 6. Happy Oval Nails
Are you someone who always looks on the bright side? Then a happy nail design is a great choice for you. Show off your optimism and carelessness with pastel colors and the happiest symbol, the smiling face. Your manicure will bring a smile not only to you but also to other people with whom you communicate online.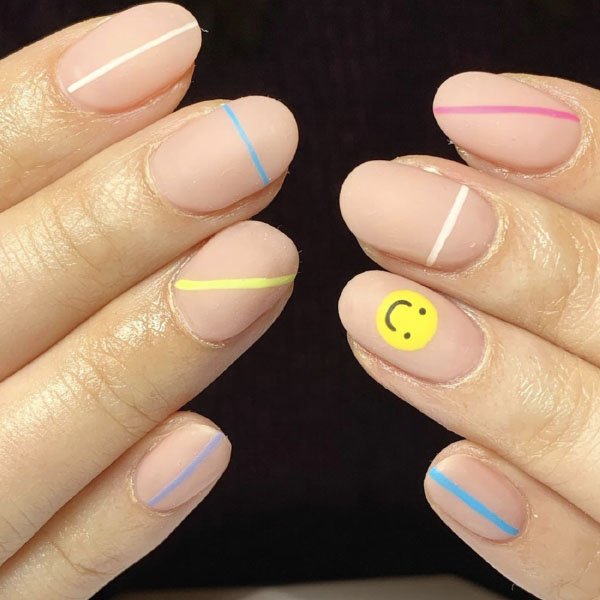 7. Holographic Accent Oval Nails
This year, holographic nails are in fashion. A new take on a shimmery, color-shifting look is an ultra-fine gloss that accentuates the tip of your nail while leaving the base exposed. While this look is suitable for many nail shapes, it also looks great on oval nails.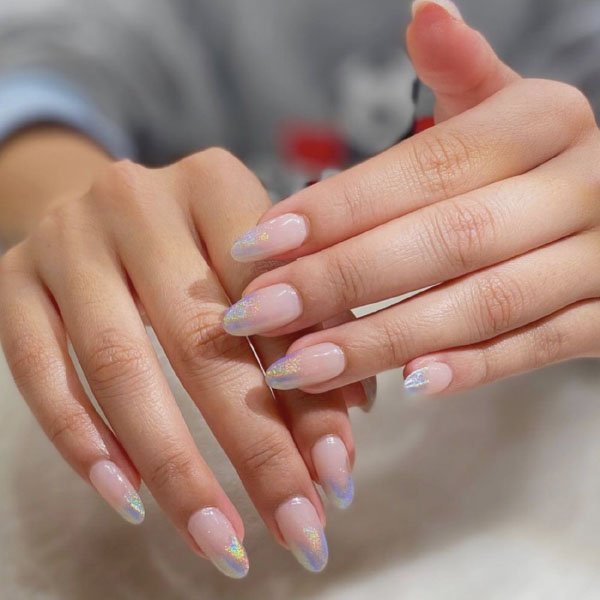 8. Love Birds Oval Nails
Now not only flamingo nails are in trend – bird-themed nail art is very popular. It's not hard to see why women embrace these feathered friends. They look cute and fun and give your nails some personality. Choose your favorite type of bird and create a design based on its colors and markings.