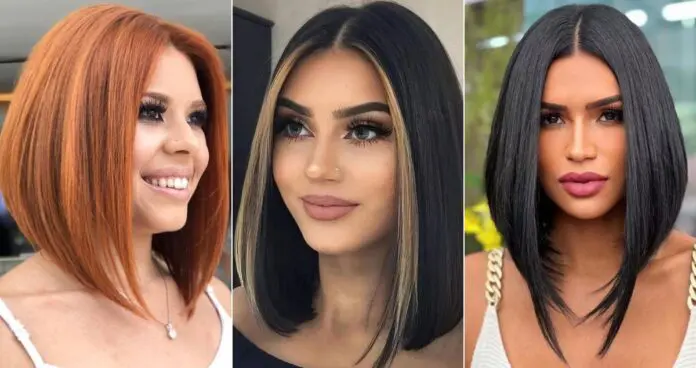 Is a Bob Haircut Still in Style?
A bob haircut is forever a classic and trendy haircut for women. Its versatility gives it an edge over other hairstyles. If you are looking for something simple, all-time, and trendy, a bob haircut is one of your best bets. This ever-popular haircut requires your hair to be voluminous and textured. You shouldn't worry even if you've scanty hair, there are always different ways to achieve a bob haircut.
What Is A Bob Haircut?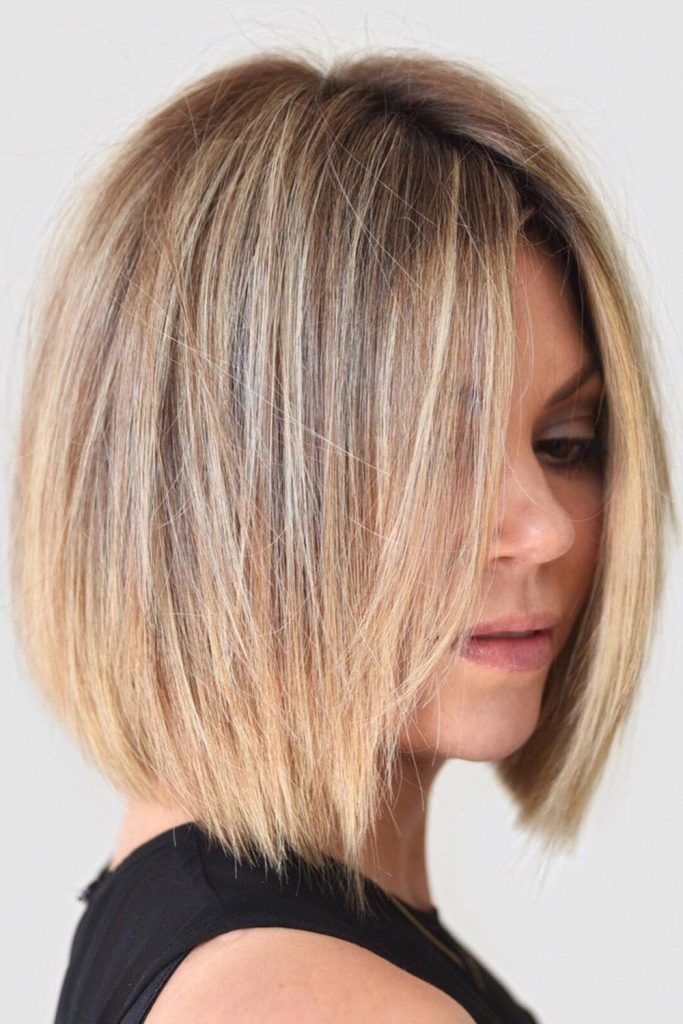 Bob haircut also known as a bob, or a bob cut is a short-medium length haircut that requires cutting the hair straight to the chin or jaw and curving the tips. It's original accompanied by a bang (fringe). Bob hairstyles are versatile and beautiful in every way. It's a haircut that can transform your entire look and style. Bob hair cut comes in various lengths and volumes. It can be medium length to super short. And also, you can add other things from color choices to edgy elements. Bob cut hairstyles have proven to be beautiful no matter the color.
Why is it called Bob Haircut?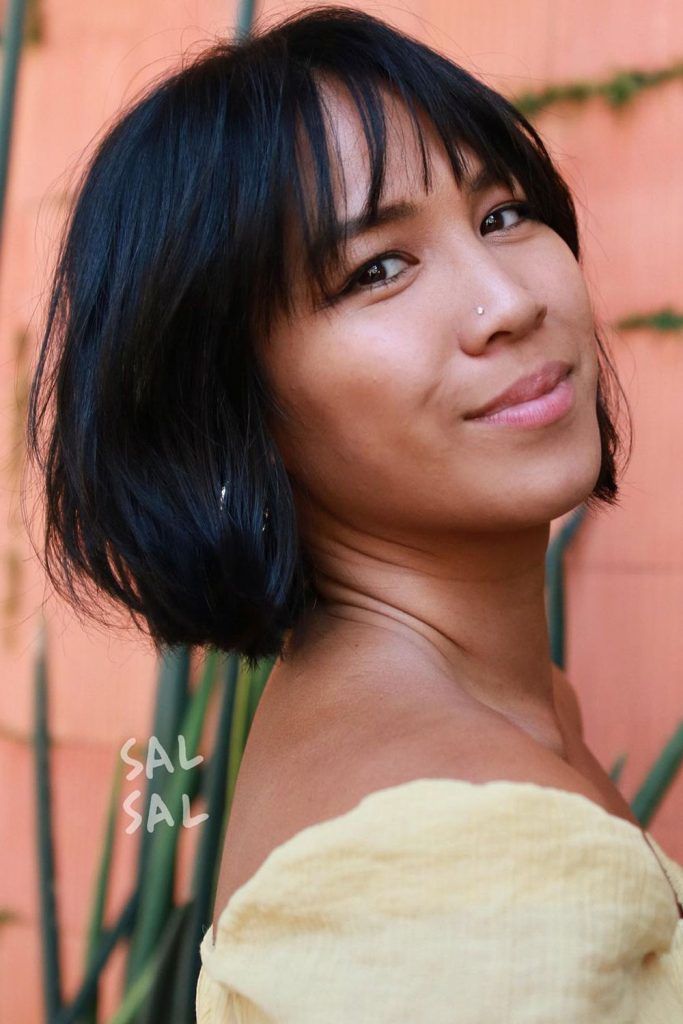 The name bob haircut can be first traced to 20th century when Jeanne D'Arc defied odds to cut her hair into a bob. Bob haircuts weren't welcomed in the society which made women who decided to have the haircut look rebellious. Bobbed hair grew in popularity, and during World War II, women who worked as medics had to cut their hair since they couldn't take care of it. It wasn't also medically advisable to carry such long hair, so they had to cut their hair into a bob.
Bob cut hairstyles have grown to be widely accepted by women of different races. It has grown above one style into several sleek and elegant versions. These haircuts are more attuned to a business professional who has a certain elegance to maintain. These variations of the cut are often worn by business executives who are in fierce competition for high-end jobs.
The Most Popular Bob Variations Still Trendy for 2022
Just so you know the truth, the world of bob is so diverse and multi-faceted that there's an option for every woman. Since this haircut offers you great freedom of choice, there's no way you won't find a perfect idea for you. Based on your preferences, hair type, and facial features, you can choose a haircut that will soon become your signature look. Now, let's have a look at the most popular variations of bob haircuts.
Classic Bob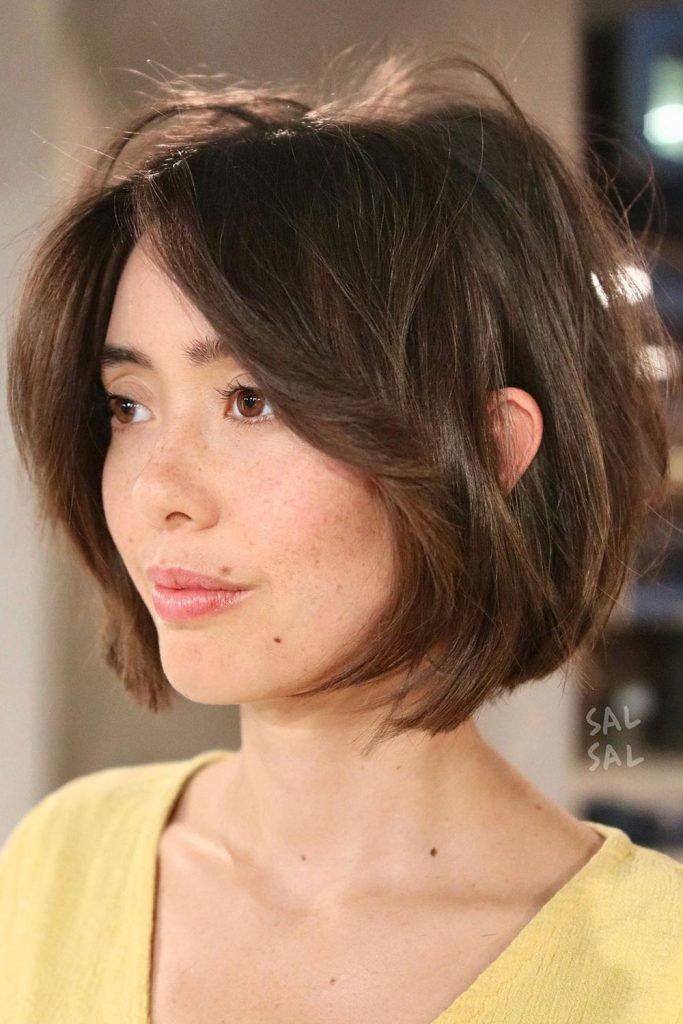 The classic bob is quite different from other bob haircuts. So, what is a Classic Bob? The classic bob haircut is a bob that all the sides have the same length, and it's slightly above the chin. The ends are slightly razored to achieve a curvy shape for the edges. By so doing, the haircut frames the face on both sides, beautifying your cheeks. For a more balanced look the hairstylist spices up the bob with slight graduation at the front piece. They are a couple of millimeters longer than the rest of the hair, which creates a voluminous round silhouette.
Stacked Bob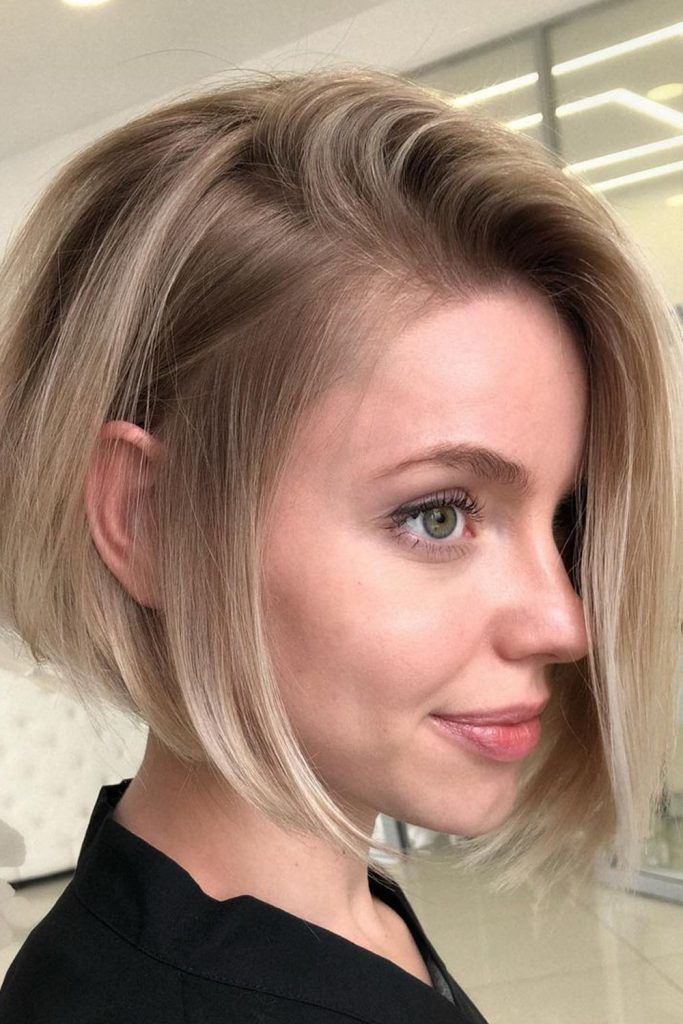 The difference between the stacked bob and the traditional one is that the latter is just a jaw-length bob, while the former is also stacked at the nape, hence the name. You get the angled haircut with a longer front and shorter curved back. Because it's layered, this stacked hairstyle gains a lot of volume and texture. While the stacked cut is similar to the A-line bob, there are a few clear differences. The stacked effect starts at the back, which is to be done very precisely. Also, it is crucial to choose a stylist who is familiar and experienced in cutting this style, because it's a style that isn't easily perfected.
A-line Bob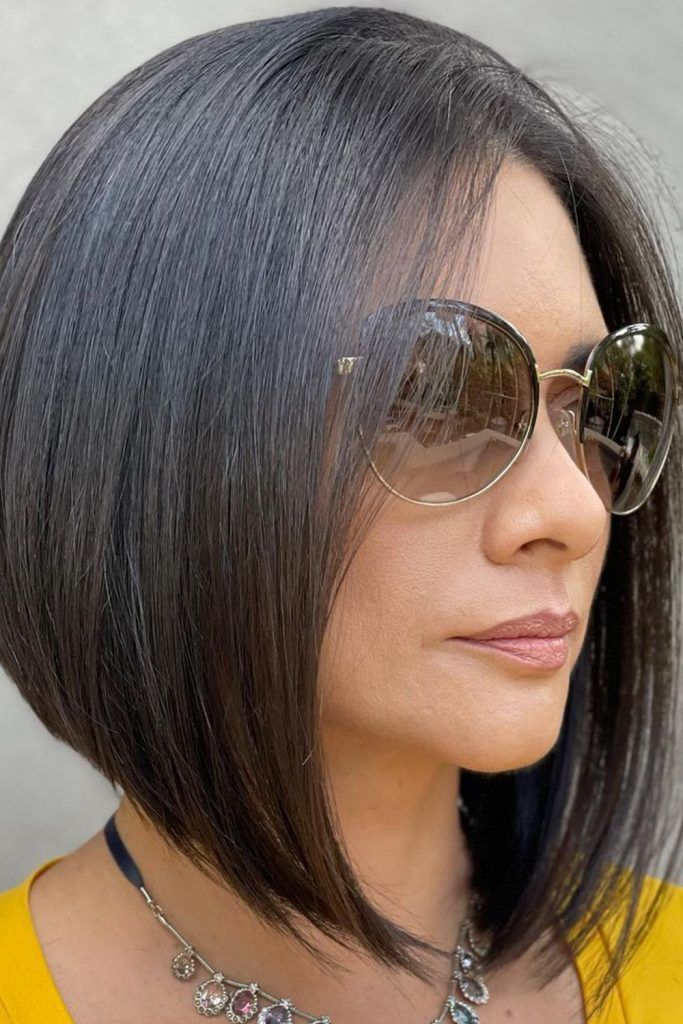 Not so different from a stacked bob, the A-line bob follows the same graduated pattern. However, it varies in length, and its name implies the perimeter of the haircut. Also, A-line cuts feature sharp angles at the front, which allows having a nicely-shaped and precise body at any length. This haircut is a perfect option for those who don't want to go too short while having a well-balanced modern look.
Asymmetrical Bob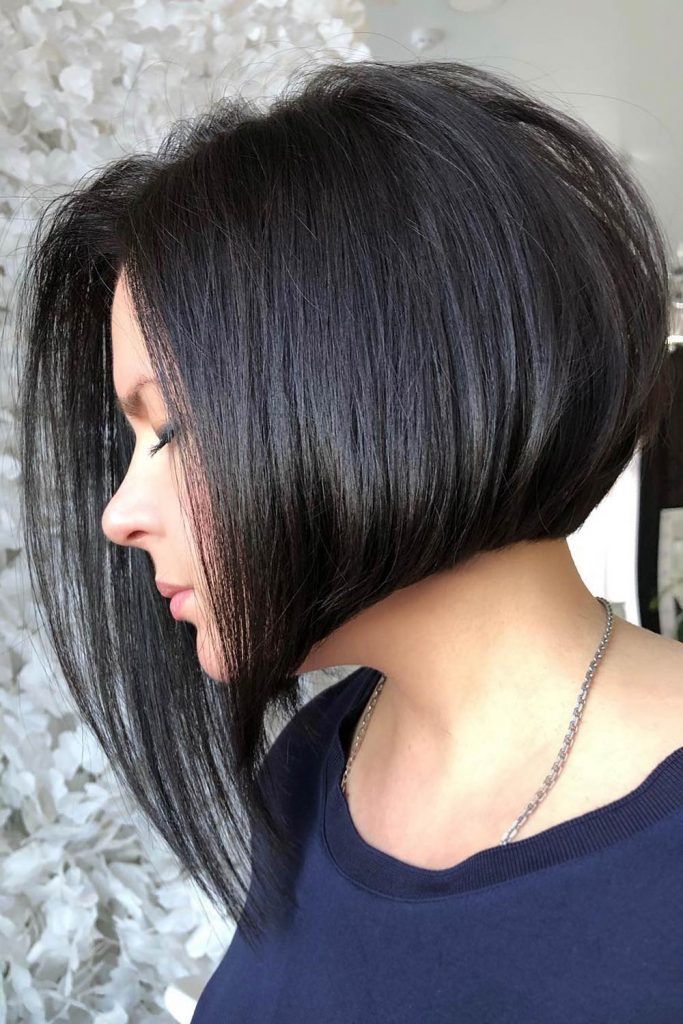 Everything is pretty simple: one side is longer, and the other is shorter. However, this simple trick can drastically change one's appearance with its visual magic of drawing attention to prominent facial features. An asymmetrical bob can be as short or long as you please. On top of that, you can always regulate the contrast of length, adjusting every side to the preferrable shape.
Layered Bob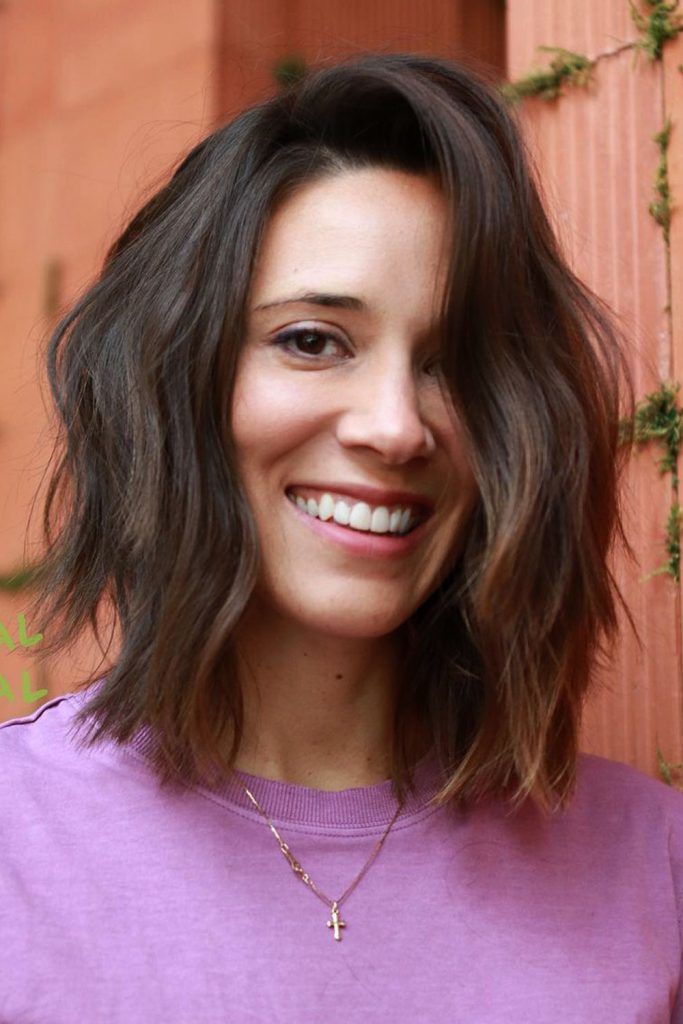 You have probably heard about the beautifying layers. Well, the variety of bob haircuts doesn't stand still, so you can see lots of enviable layered bob haircuts. It's a bob that features layers. For example, it can be a classic bob with long layers throughout the body for an additional volume. Or, it can be a stacked bob with short and sharp layers creating a textured finish. At the same time, you can combine many different layers, as well as many different bobs, to create a custom look.
Pixie Bob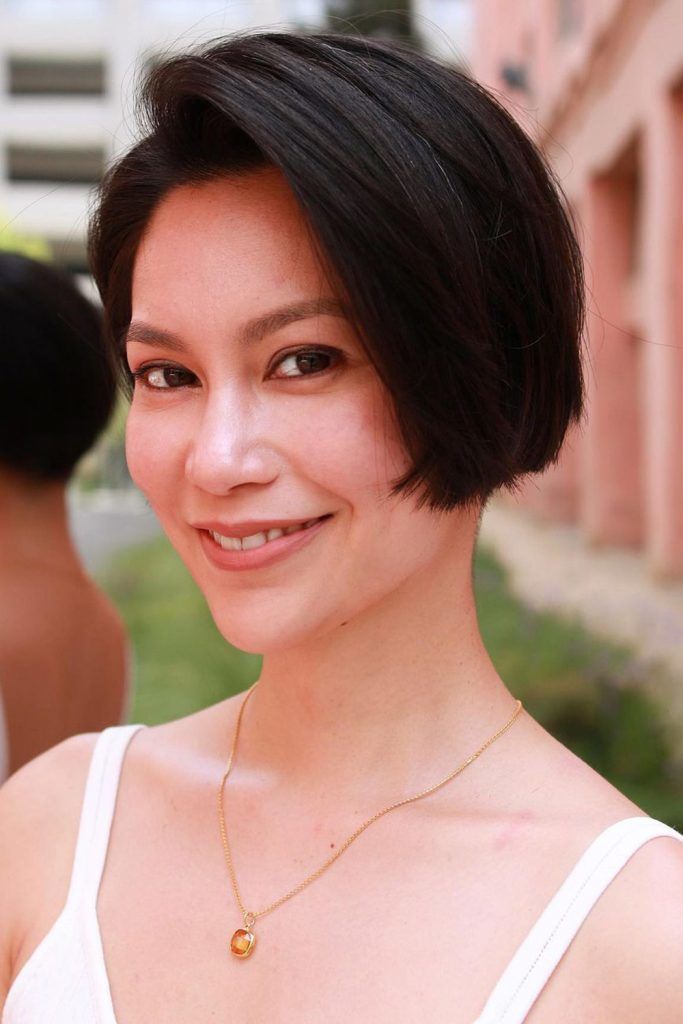 The timeless combination of two trendy cuts – a pixie and a bob will always be a crowd-pleaser. As the name suggests, this cut embraces the best features of two popular haircuts, producing a volumetric masterpiece. The sides and back are cut pretty short, cascading to a voluminous top. As for the top and the crown, it features long layers of a bob. Due to the voluminous body and face-framing front, this haircut will be a nice choice for everyone seeking balanced stylish looks. And the good news is, all bob haircuts require little maintenance. Once the hair is cut to the proper specifications, all you need to style your hair is a couple of well-chosen hair products. The option to straighten or add curls is totally up to the wearer and her time constraints. No matter which hairstyle you choose, this cut allows for styling variations to suit every taste and situation possible.
Celebrity Choices
Bobs leave women from all over the world speechless. Well, celebrities are no exception! See the popular looks on famous ladies to get inspired for the next salon appointment!
Julie Bowen: Wavy Choppy Bob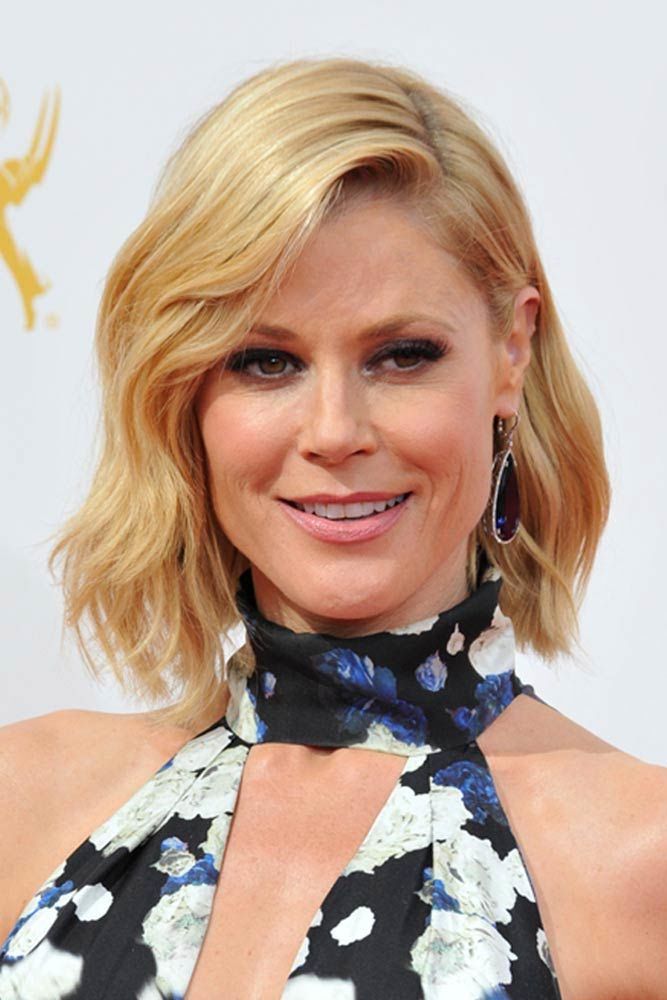 Julie Bowen knows that a woman can't go wrong with a wavy choppy bob. First of all, the choppy ends can lift the whole body and make it appear fuller. Secondly, the wavy silhouette can work on one's face shape: these slight waves frame the actress's square face, making the overall look perfectly balanced.
Anna Faris: Layered & Messy Medium Bob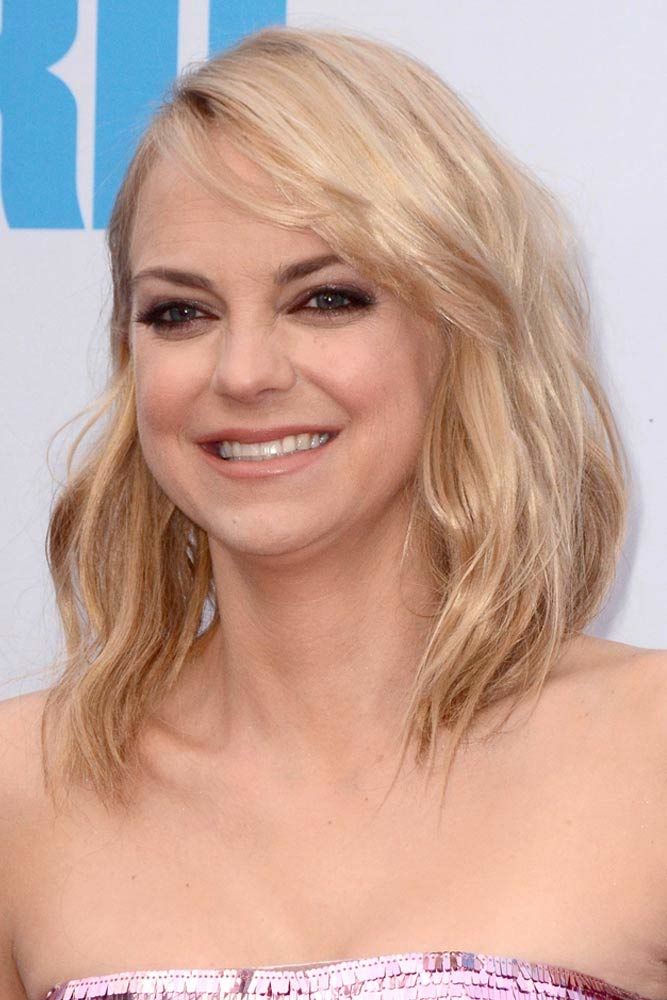 Some messiness won't hurt the premiere look, right? Anna Faris decided to amaze cameras with an absolutely effortless, yet very beautifying look. Her layers give a nice lift to the crown, and the tousled silhouette enhances the volumetric effect.
Molly Quinn: Blunt Bob With Curved Ends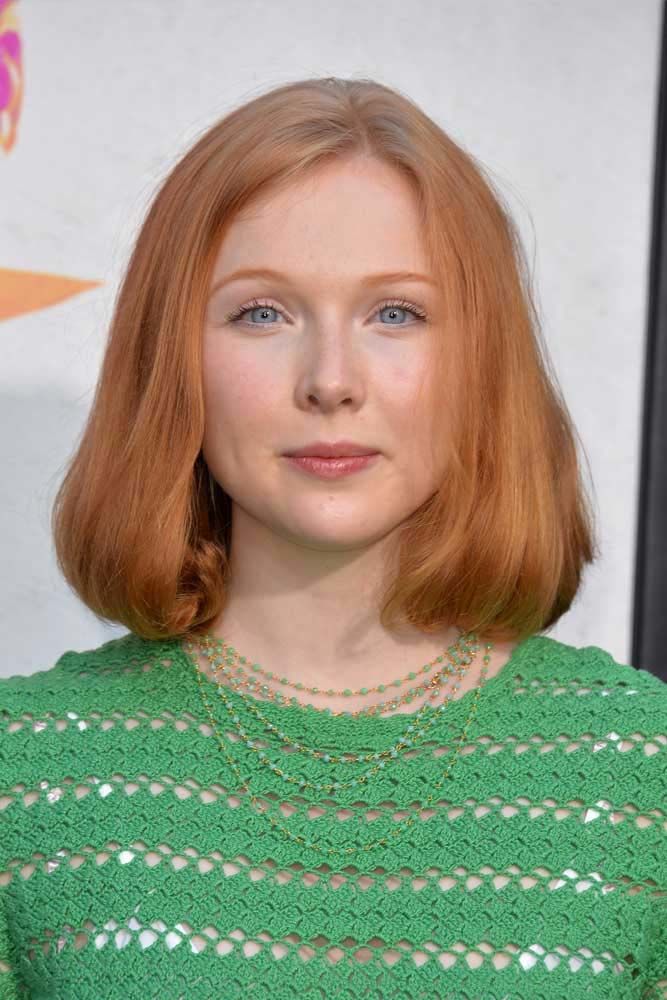 Molly Quinn shows how a perfect blunt bob looks like. The style is so flattering because it goes awesome with her hair texture. Not only does the cut whips her thick hair into shape but it also accentuates the beauty of her hair type.
Rihanna: Inverted Sleek Bob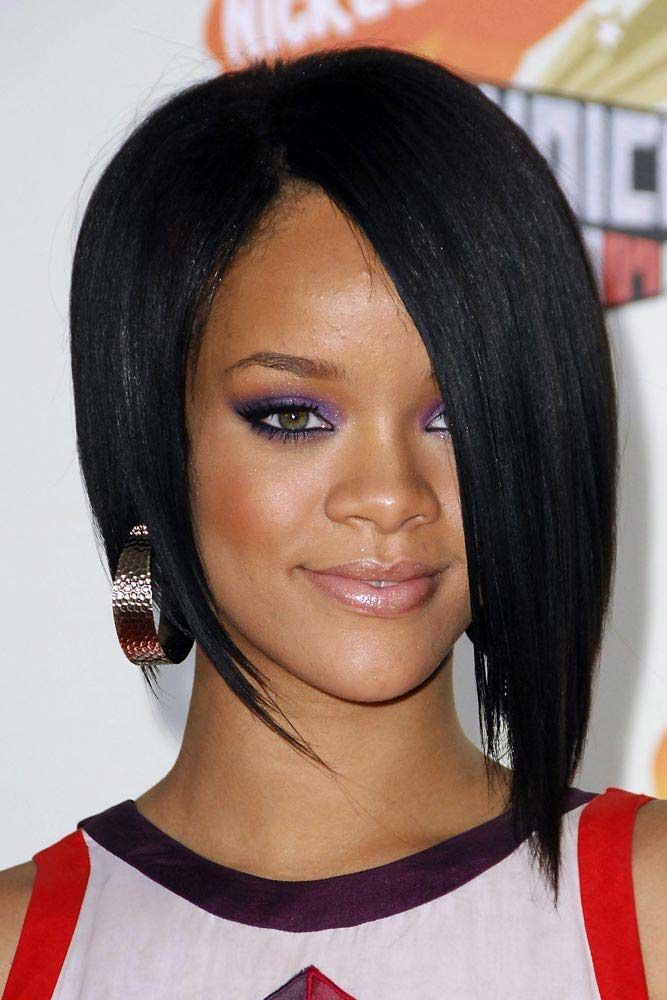 Well, it's no secret that Rihanna was the one who has made an inverted sleek bob a huge trend of now. The pointed edges of the asymmetrical body nicely hide such flaws as the broad forehead and chubby cheeks, thus giving a chic and slim appearance.
Ellen Pompeo: Side-Parted Wavy Bob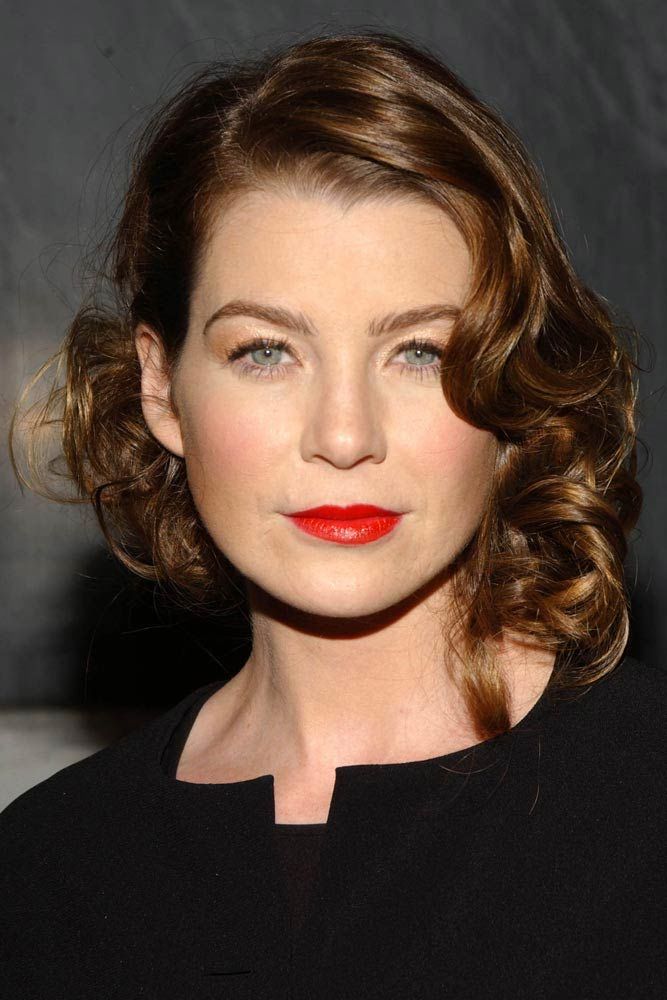 A side part + wavy styling = a hairstyle that can wash away all thin hair problems. Well, looking at Ellen Pompeo, it's hard to believe that she has any troubles: the focus is brought to the voluminous waves that gently fall on her face, giving it a slight framing touch.
Kirsten Dunst: Bob Cut With Blunt Ends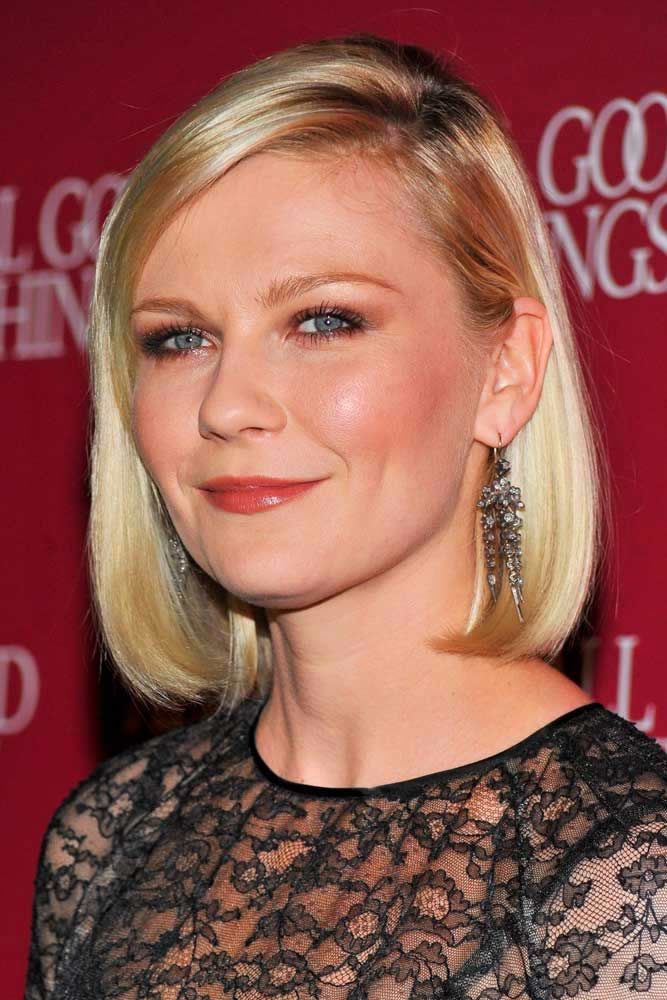 Kirsten Dunst has simply mastered hiding her thin hair. This simple bob with blunt ends that curve at the chin a bit gives the needed balance of length and thickness, creating a nice and pretty full silhouette.
Morena Baccarin: Shaggy Chin-Length Bob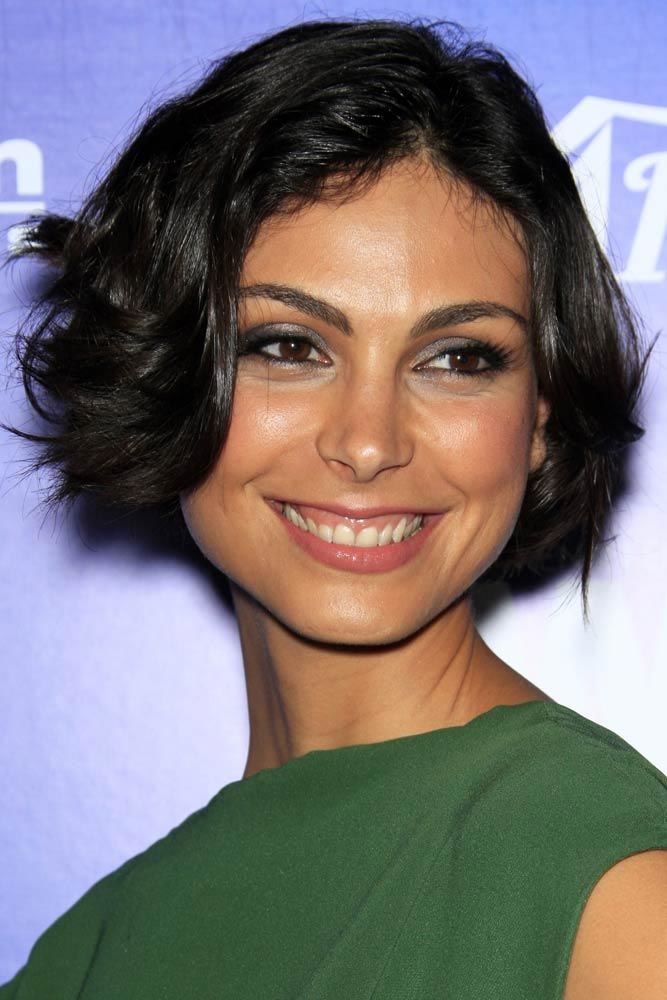 Ladies who have the same hair type as Morena Baccarin should never pass by shaggy chin-length bob haircuts. Such a length gives her texture more room for the lift and bounces while the layers add a lot of pleasant movement to the cut.
Emma Watson: Sleek & Straight Bob With Side Part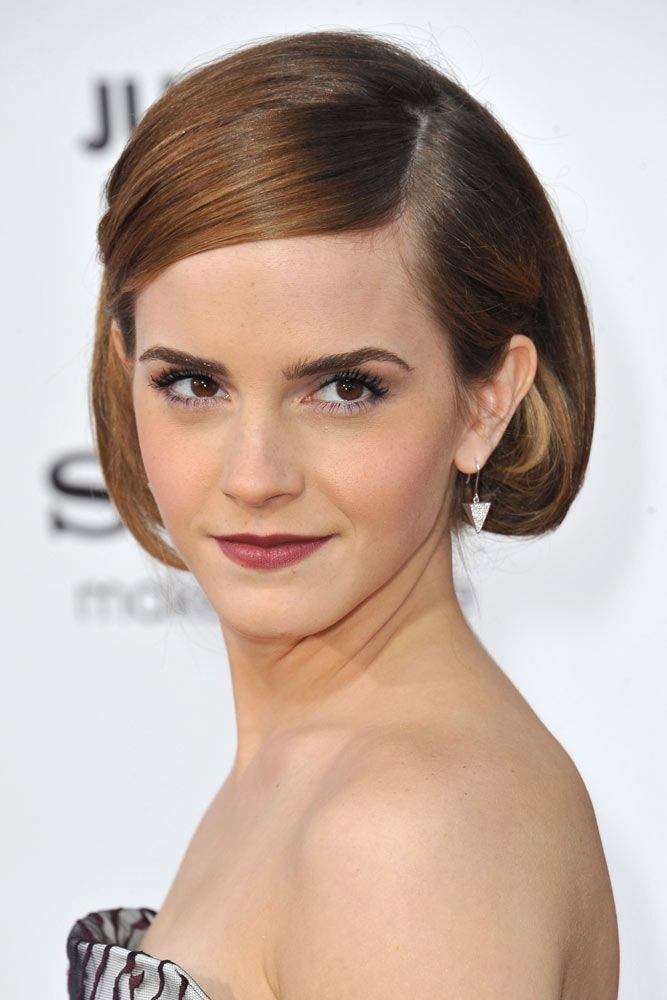 Emma Watson changes lots of hairstyles and haircuts throughout her diverse career. And this is how a simple but feminine haircut plays a role of her premiere look: the straight bob is kept super voluminous despite the sleek styling, and a subtle side part serves as a nice finish for the minimalist style.
Cardi B: Long Angled Bob Haircut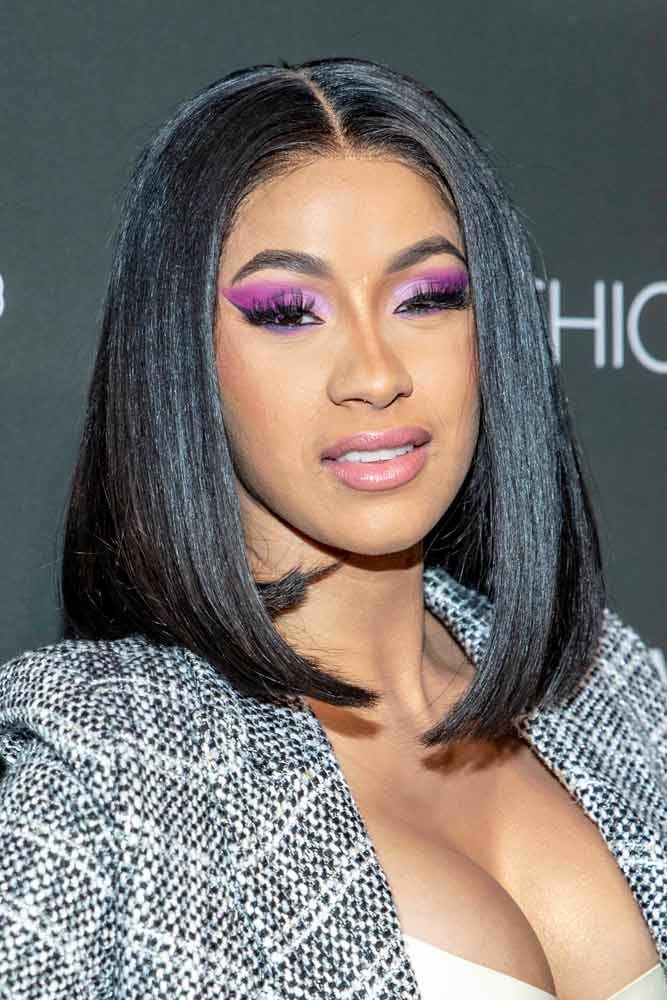 Cardi B loves to impress her fans with outrageous hair colors, asymmetrical haircuts, and dramatic hairstyles. But this time she decided to go pretty girly. This long, middle-parted bob looks ravishing on her thick black hair. Needless to say, the angled body of the cut is just to die for!
Marion Cotillard: Shoulder-Length Blunt Bob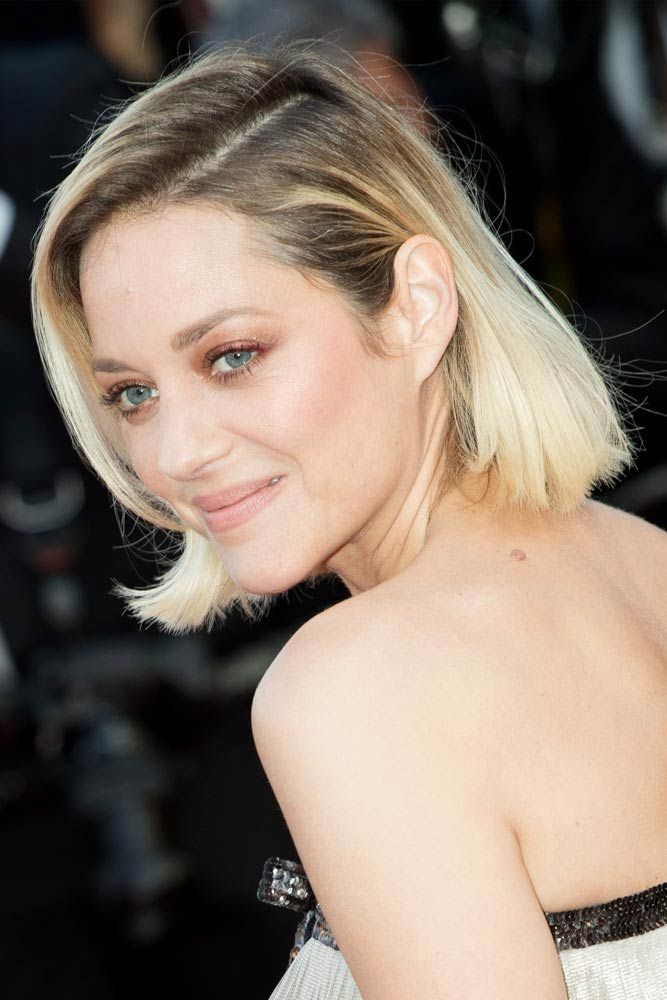 Marion Cotillard always looks flawless, whatever hairstyle or makeup she shows up with. And this medium blunt bob styled a bit messily isn't an exception. Such bob haircuts are designed to make a woman feel comfy with her hair while having a natural look.