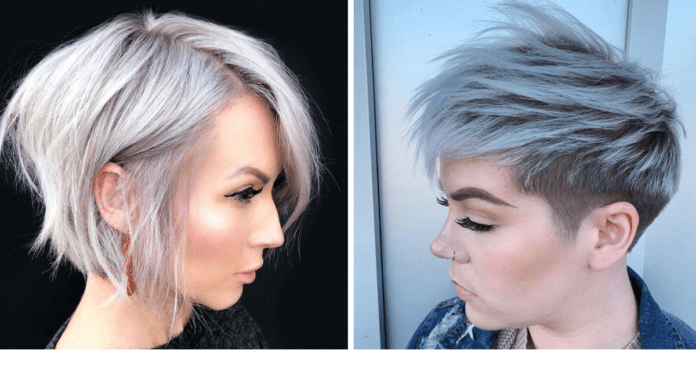 If you have fine hair, fear not. There are many hairstyles that complement fine hair and make it thicker. We especially love short, daring hairstyles for thin and fine hair. Luckily, you can still play up your favorite facial features and personality with a beautiful short haircut.
The Right Haircuts For Fine Hair
In general, fine hair is best for shorter hairstyles. If fine gets too long, it starts to look coarse, so keep that in mind when you want to change up your style. Look for bobs, pixies, short cuts with shaved details, and styles with heavy textures. Do not thin the ends of your hair when cutting fine hair. Style with lots of layers and movements to create the illusion of volume in your hair.
Care For Short Fine Hair
When it comes to caring for short, fine hair, buy a good shampoo and conditioner specifically made for fine hair so that your hair doesn't fall under the weight of thick products. Buy a great hair dryer and a round brush to add volume to fine hair while styling, especially at the roots. Thickening sprays are great, but don't rely on them too much. Often they can create a buildup of product on the scalp, so use a clarifying shampoo once a week.
#1: Long Blonde Pixie
Short haircuts mean many styles for fine hair. This sassy long pixie creates the illusion of a bob, another great style for fine haired babes. This pixie is gathered at the back for extra charm and volume.
The deep side part makes this long pixie look interesting and helps create a cascading side bang to bring out the idea of ​​thickness. It's beautiful here in blonde, but any color of fine hair will shine in this long pixie.
#2: Chocolate Bob For Fine Curly Hair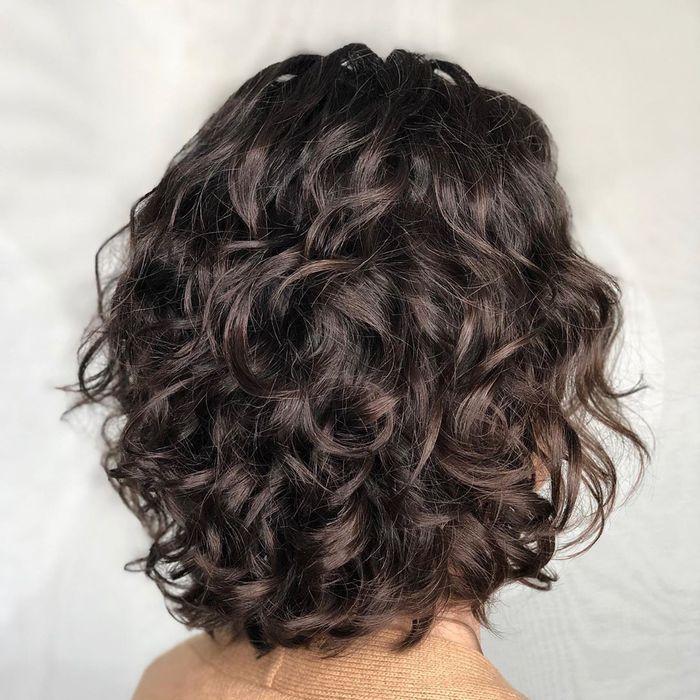 When your hair is curly but thin, things can get a little complicated. Curls give hair a natural texture, but long curly hair often looks frizzy rather than voluminous. The bob keeps the hair above the chin where it looks rich and thick. Ask your stylist to do several layers of haircut along the entire length of the hair for more detail.
During styling, it is important to moisturize the curls. Apply moisturizer to damp hair before styling or air drying.
#3: Bob With Short Spiky Bangs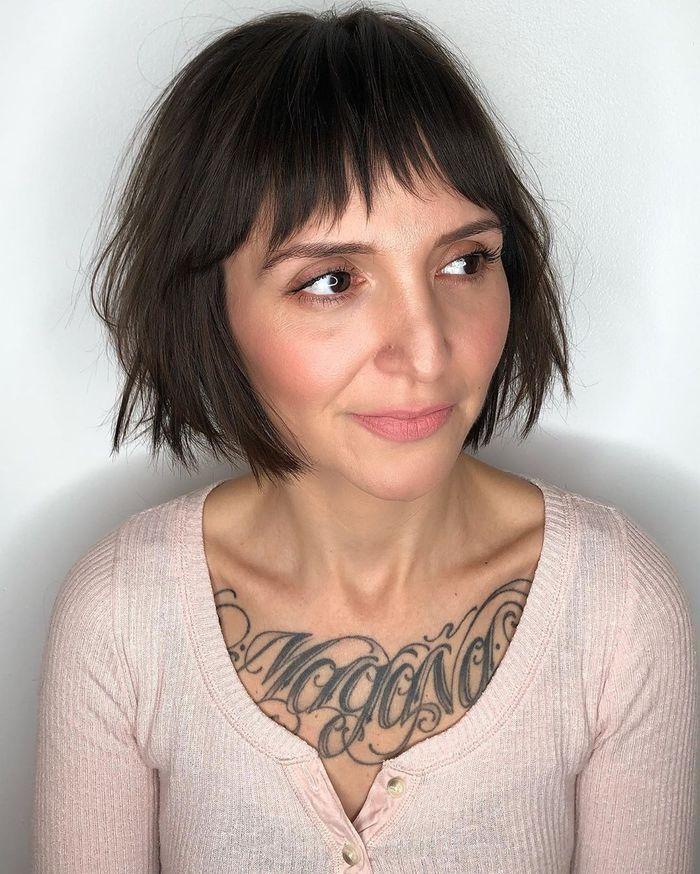 In this style, cool bangs speak for themselves. The bob is great for fine hair, and this one is super short, with a mid-jaw stop for a playful vibe. Her hair may be simple and straight, but those bangs are unlikely to be ordinary. Ask your stylist to cut them very ragged.
Your hair may be straight in this style, but a little texturizing spray will give it a relaxed and voluminous look.
#4: Platinum Bob With Layers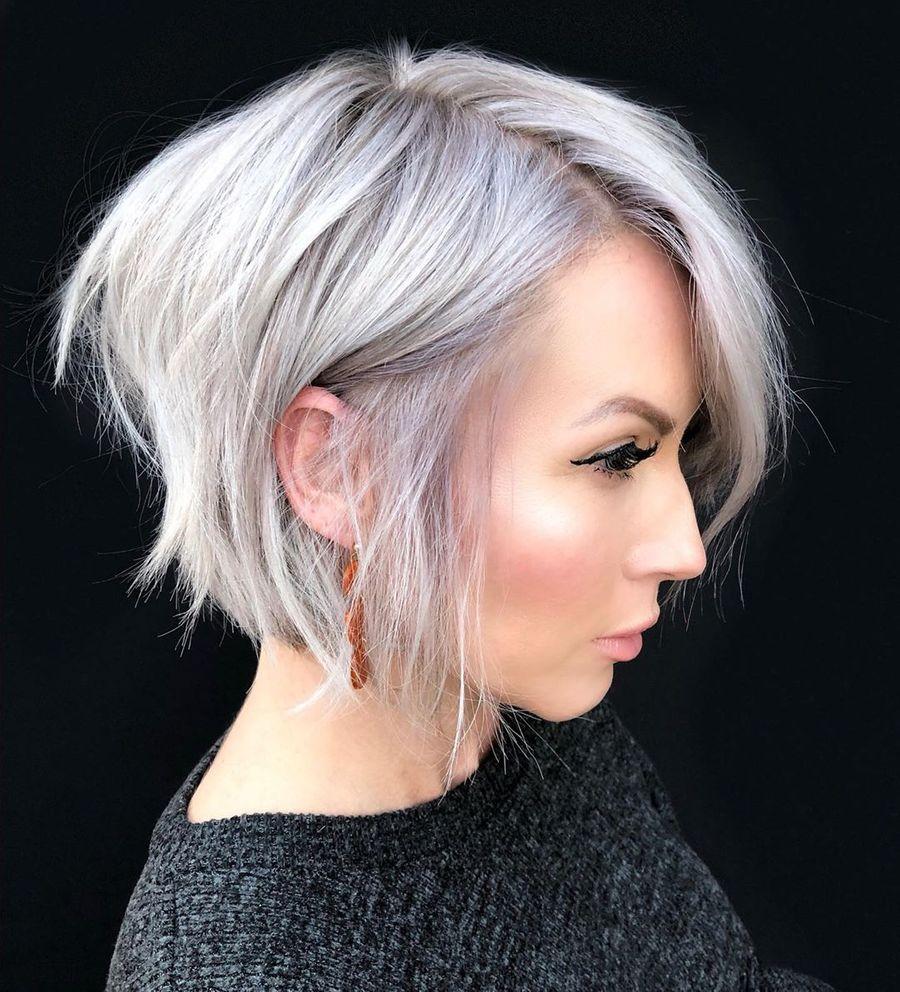 Blonde hair tends to be the thinnest of all hair colors. Each individual strand of hair gets thinner as the hair gets lighter, so it's important to give it a lot of attention. This platinum bob is no different. Be sure to moisten it, and use layers when cutting.
Rather than style the hair at the back, this haircut features multiple layers at the back of the head that can be textured for added volume. Side kicks up to the pizza factory.
#5: Textured A Line Bob Undercut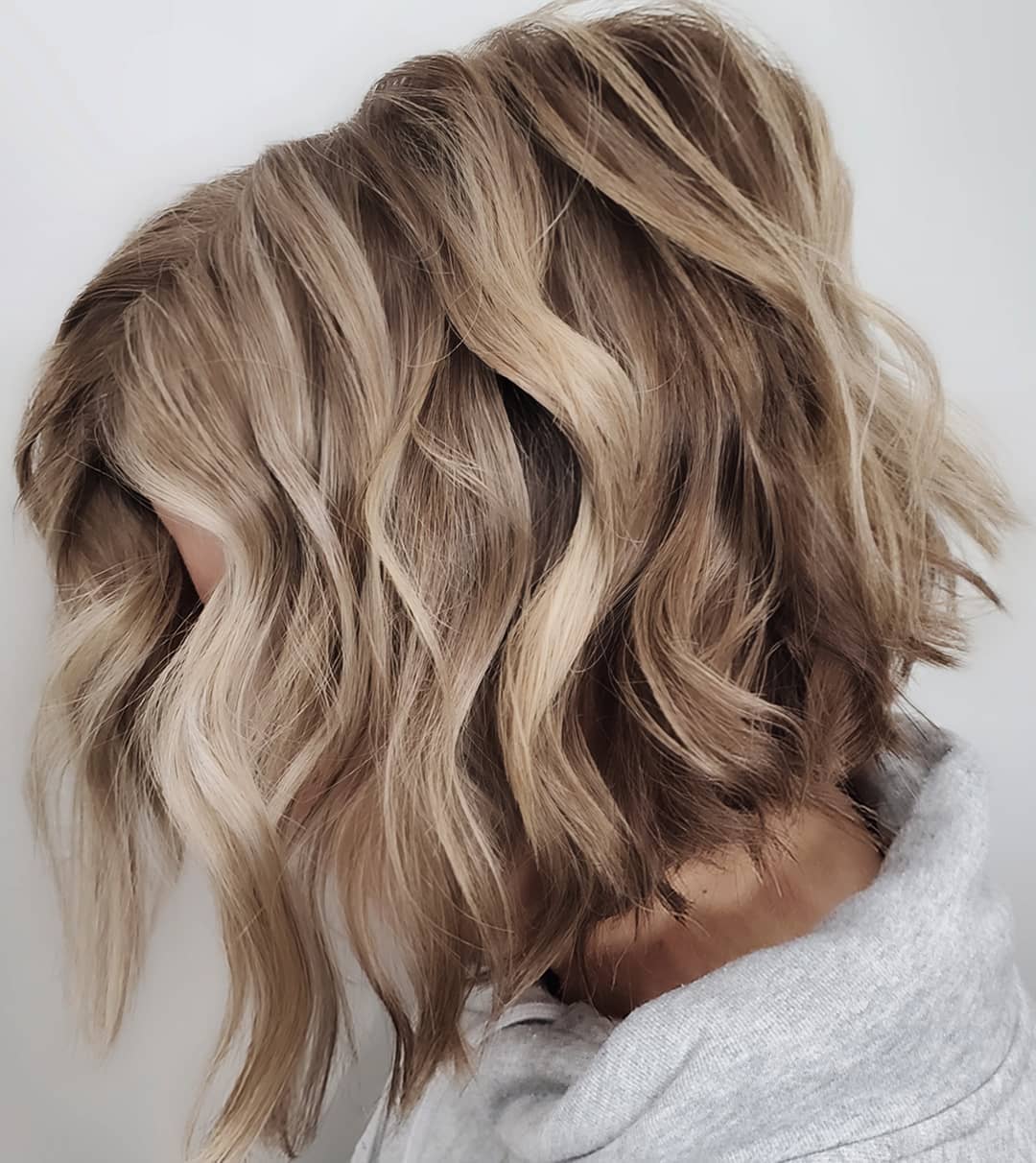 To make your short fine hair look its best, you can cut it into an A-shape bob. In this short style, the hair is longest around the face and gradually gets shorter at the back. This style features a slight undercut for added volume.
Adding texture with a curling iron or your favorite wand is a great way to add volume to fine hair. Volumetric highlights also help with this illusion.
#6: Straight Rounded Bob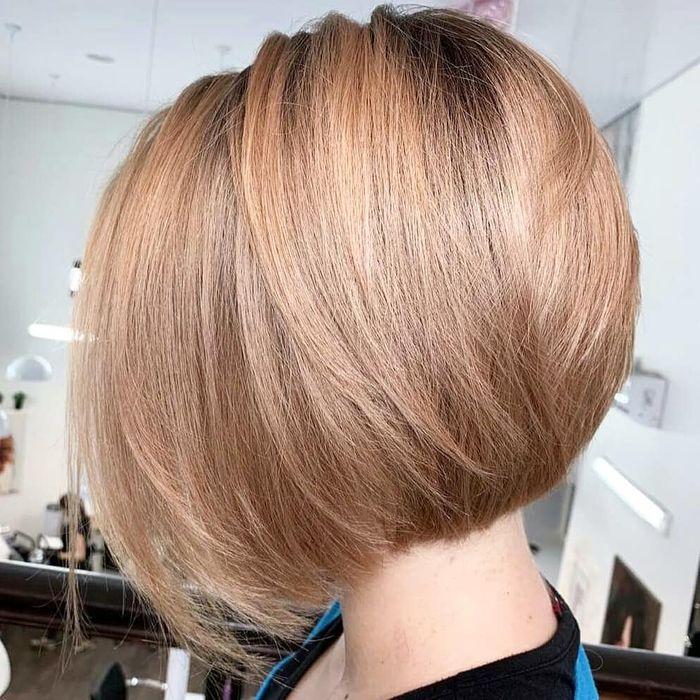 Fine hair is often straight, which can be a problem when trying to achieve a curvaceous look. However, with a round cut, fine hair suddenly looks like you've always wanted!
For a silky straight round bob, let your stylist create a slightly upside down look. Some layers at the back of the head should be shorter than the bottom ones. Maintain that shine with an ultra-moisturizing yet lightweight conditioner and light oil.
#7: Textured Pixie With Shaved Undercut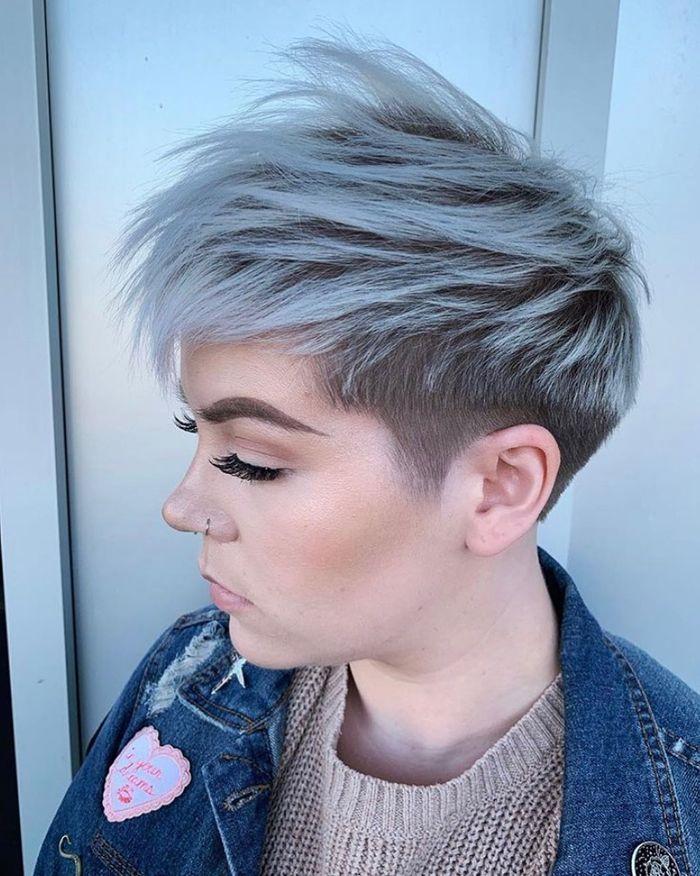 When it comes to fine hair, the shorter the better! No amount of length can break this playful pixie. This style aims to create interest at the top of the head and boldly shave the undercut.
Thus, the eye is drawn to the crown, where you can play with the height as you wish. Feel free to experiment with playful colors like blue.
#8: Stacked Balayage Bob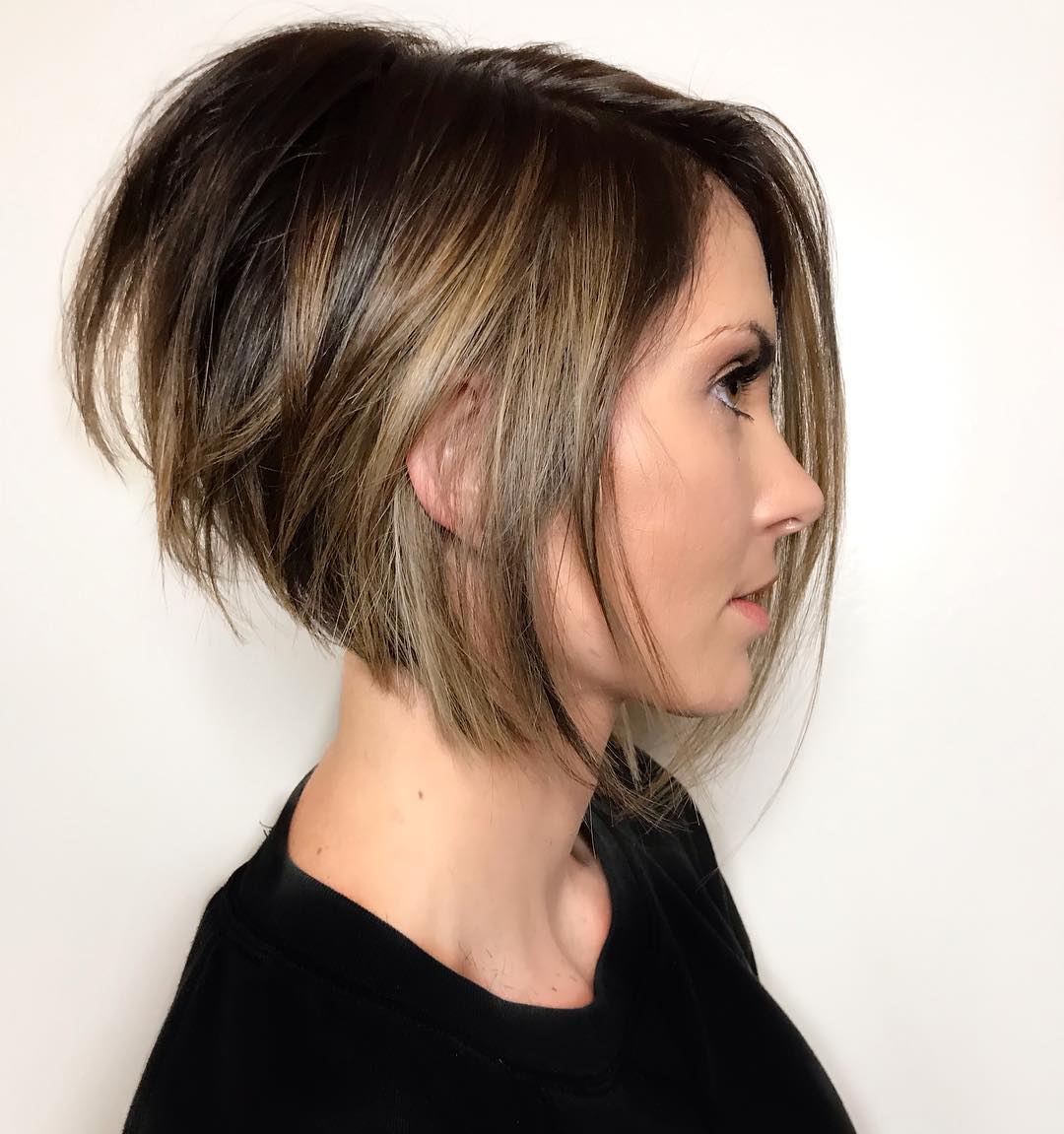 When it comes to creating volume for short, fine hair, styling is the way to go! Trim short layers at the back of your head with scissors or a razor to instantly lift lifeless hair.
To keep your styled bob looking modern, add a few light tones of balayage all over your head. Have your stylist draw them in, focusing on the front and sides of the hair.
#9: Swept Back For Fine Hair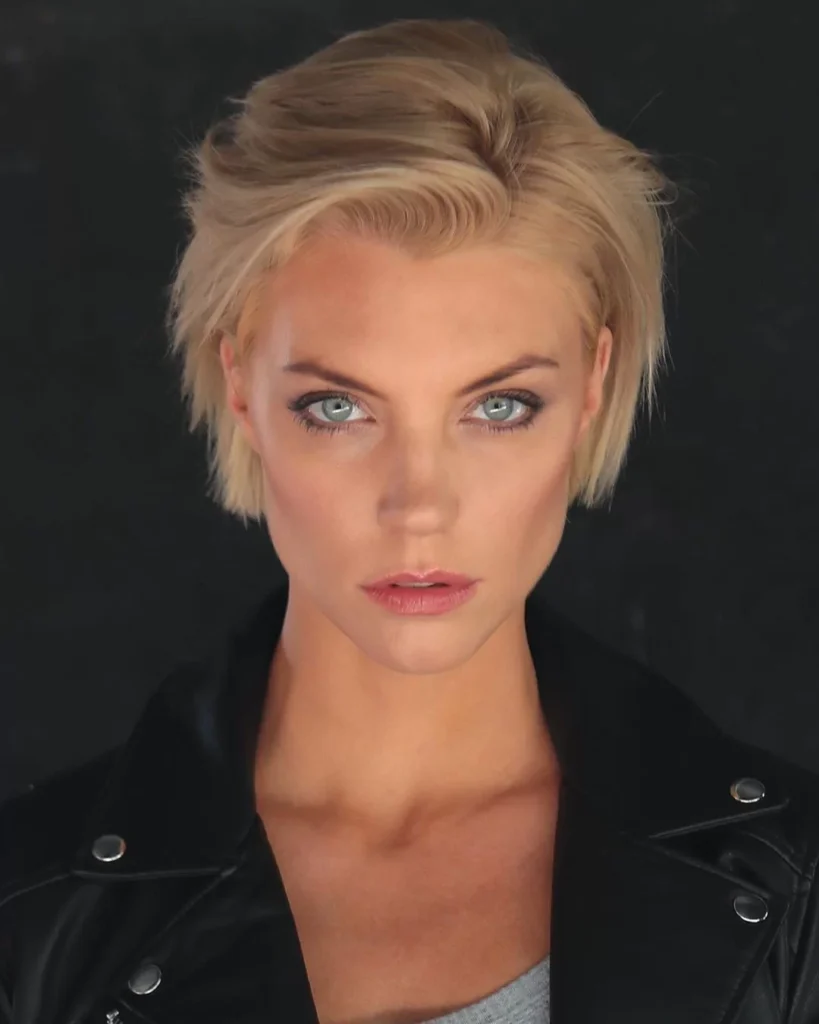 This short style is already bold, but by pushing it off of your face in a swept back style, you're telling the world it's time to pay attention to the beautiful, confident woman underneath. And because hair is already fine, it's easy to work it all back and keep it there.
Before creating this look, blow dry hair, focusing on the roots as much as possible to give it a lift. Try not to overwork hair here to keep it from going flat underneath the weight of product and finger grease.
#10: Pixie With Layers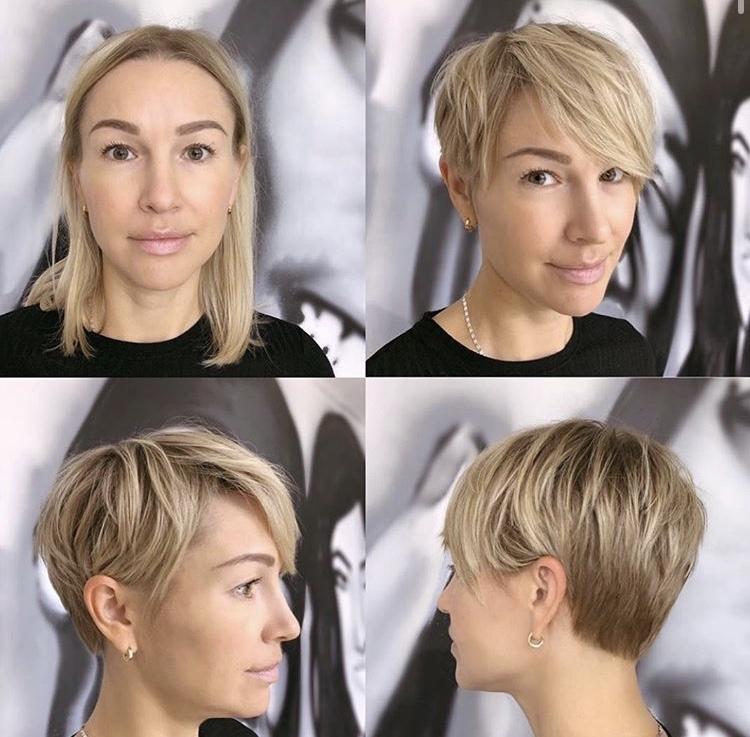 This picture shows how transformative a short hairstyle can be on fine hair. Instead of hanging flat against the ears, a pixie lets you lift your hair as you choose and leaves you free to create volume wherever you desire.
This look has a lot of choppy layers for added interest and styling. Cut choppy, side swept bangs that can be tousled, teased, or tucked into a faux hawk.
#11: Bob With Choppy Layers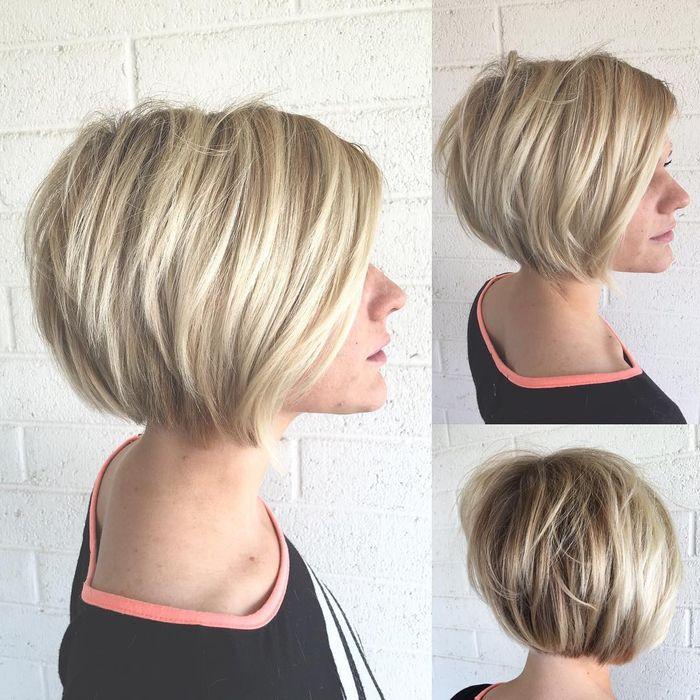 The chunky layers of this bob bring something new to the table. If you're looking for a more unique way to style your fine hair, then consider this bob.
At first glance, this is just an ordinary, yet lovely, warm blonde bob. As you look closer, however, you'll see lots of chunky layers cut throughout the sides and back of the hair. Thick layers means thick hair and thanks to this style, your fine hair has pulled off the trick.
#12: Layered Pixie With Long Side Bangs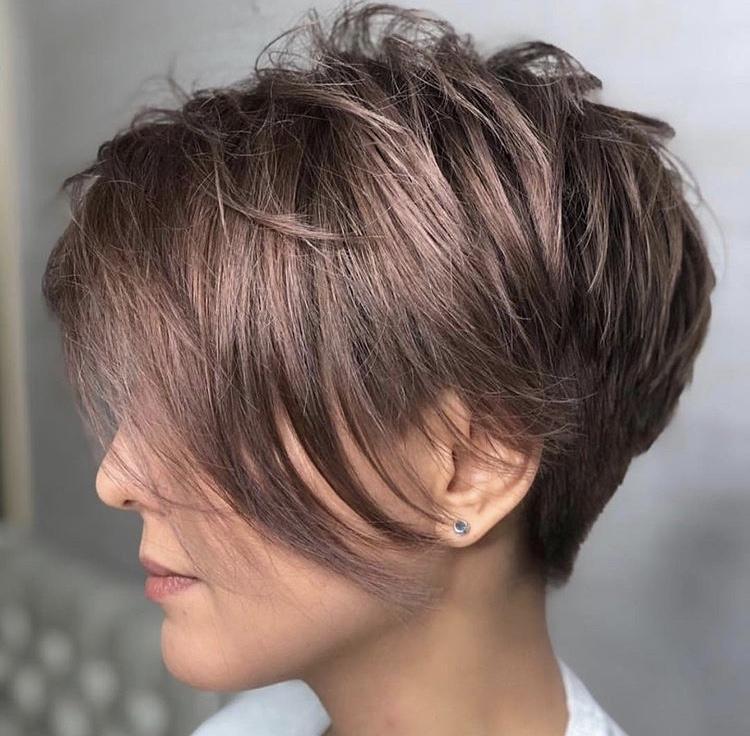 Layers are the ideal way to create the illusion of volume and texture with loads of style. Hair suddenly has depth and each tiny layer makes it appear that much thicker.
Have your stylist stack heavily at the back of the hair. Long bangs give an extra sprinkling of glamor on this pixie. Finally, concentrate short, choppy layers at the top of the head to give fine hair plenty of height.
#13: Piecey Pixie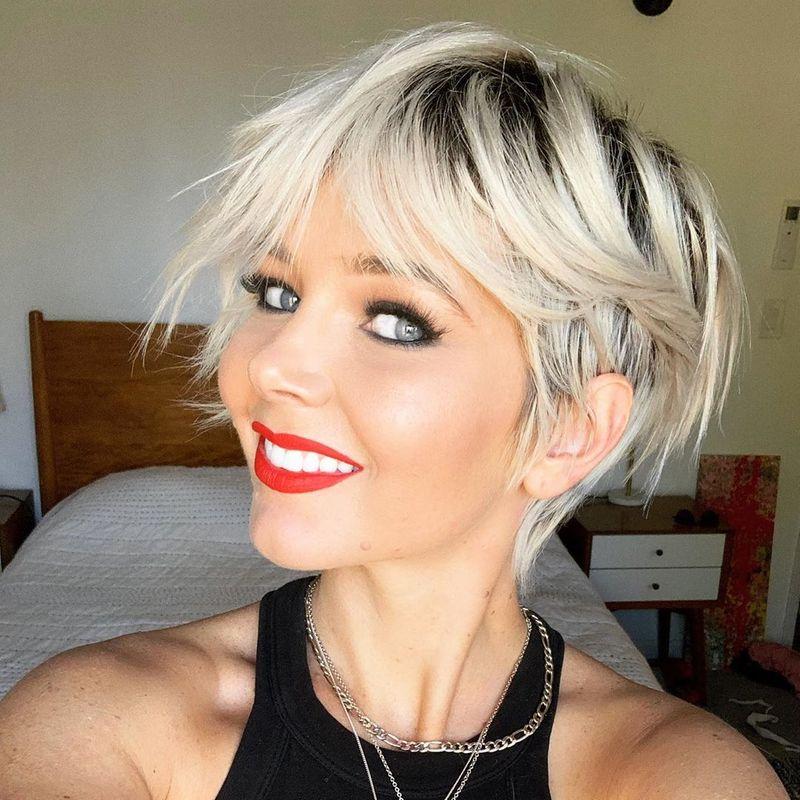 Don't be afraid to try something a little different on your short fine hair. The beauty of this pixie lies in its many layers. They can be smoothed for a polished effect or tousled for sexy playfulness.
Part hair in the middle and sweep the top layers to each side without any painstaking attention to detail. This look is all about creativity. If you want to add an extra layer of depth to this look, create some beautiful root growth. Seeing the dark roots of this hairstyle help it pop.
#15: Long Choppy Layers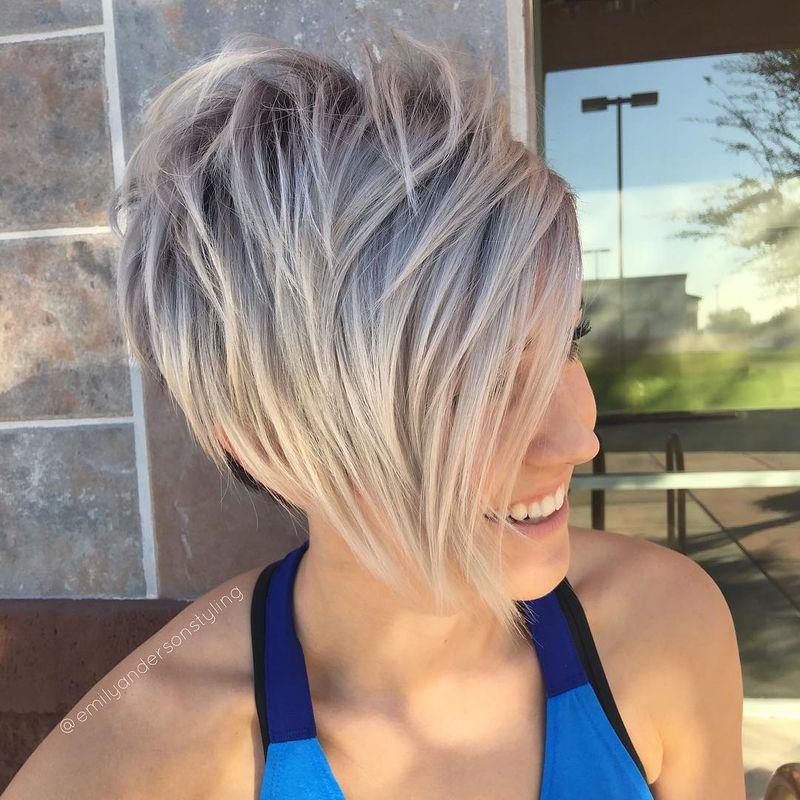 Layers are a fine haired babe's best friend. The shorter the better! This style incorporates ultra long and super short layers for even further dimension
For this style, cut the face framing layers to the chin. Create a break in the cut by chopping the rest of the layers around the top of the head. Any dimensional highlights will only further the idea of ​​volume.
#16: Pixie With Shaved Detail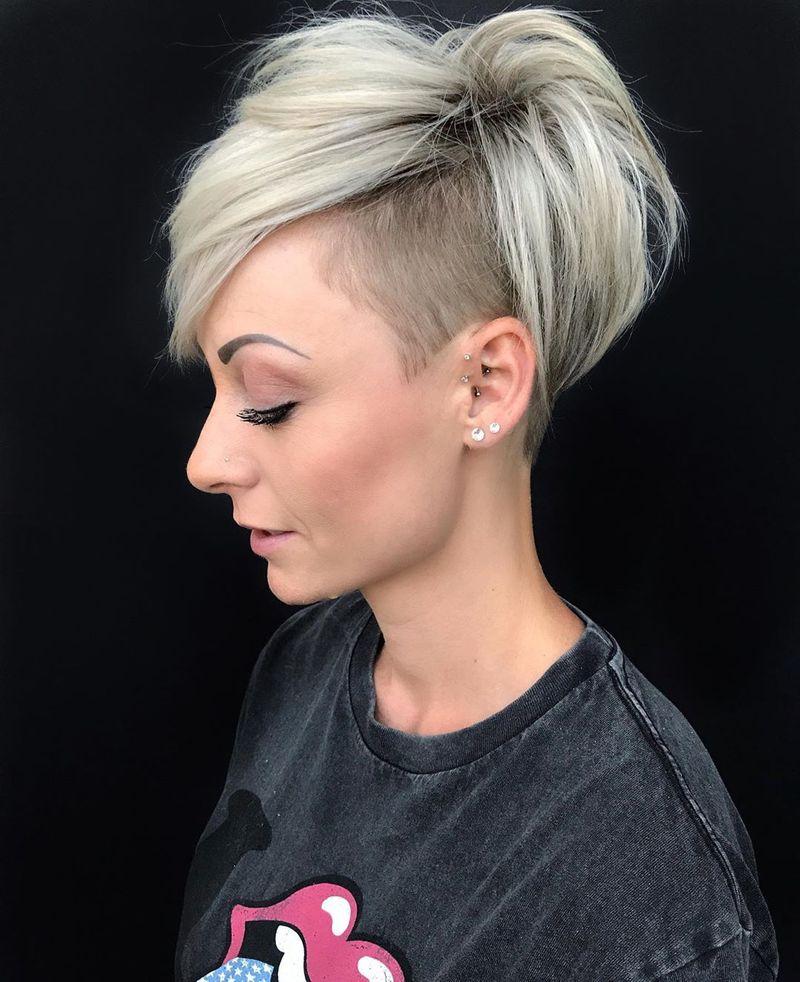 A shaved detail creates another texture on the hair. It not only contrasts with longer straight hair but adds another element, thereby adding volume almost as an optical illusion.
Continue that vibe with a slight shave at the nape of the neck and stacking hair abruptly from there. Lots of the short layers at the back of the head provide space for stacking and shaping volume.