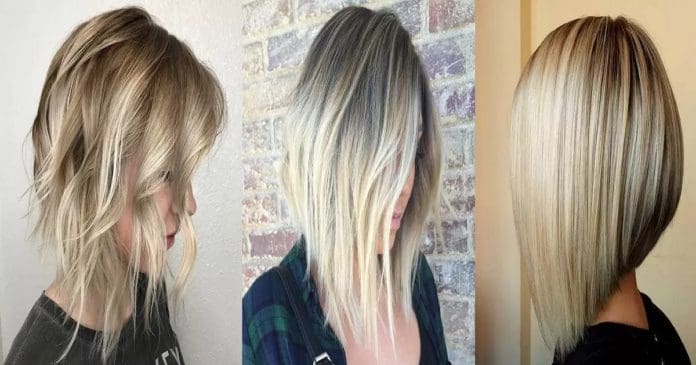 Who can think of anything more iconic in the beauty realm than Marilyn Monroe's classic blonde bob? Whether she was seductively serenading the president or singing about how diamonds are a girl's best friend, she always managed to look stunning. Today, the blonde bob haircut is still a sexy option for women looking to turn heads for all of the right reasons. Check out our top 21 picks below.
The Secret of Blonde Bobs
The main secret is, of course, their sex appeal, that comes from the specific cut and the desired hair color. Pick the cut that flatters your face shape and think of your own most beautiful blonde shade to achieve a truly individual style.
Source
Curls are not the only way to achieve volume as demonstrated by this bouncy bob. Take advantage of an angled style that uses short layers to create volume in the back and sleek long layers in the front to frame the face without overpowering it.
#2: Shaggy Chin-Length Bob
A short and shaggy cut always has a sort of "girl next door" appeal similar to Cameron Diaz's classic look in the early 2000s. To make the look less casual, add chocolate brown highlights for a chic element that can carry you from the boardroom to the bar without missing a beat.
Source
#3: Trendy Angled Haircut
Inspired by the angled cuts of celebrities like Victoria Beckham, a super straight bob with clearly defined angles is a great style when you're looking to make a statement. From the runway to the office hallway, this is one 'do that's sure to grab attention.
Source
#4: Stacked White Blonde Bob
A stacked bob is so popular that sometimes it can become too expected in some circles. This style is perfect for women who are already sporting a layered blonde bob hairstyle and are growing weary of it. Get your layers feathered in the back to provide texture, while keeping the sections in the front straight and angled. It's a simple change that breathes new life into your look.
Source
#5: Blonde Bob with Side Bangs
This hairstyle is wonderful for smaller faces because smaller faces sometimes get overwhelmed with too much hair in the face. The side bang offers a flirty touch, and the shorter length and shaggy layers keep the look light and fun.
Source
#6: Classic Bob with a Modern Twist
A classic bob is made more beautiful with longer sides. Modernizing the traditional bob haircut is perfect for those who want a different look but are feeling a little gun shy. This cut doesn't involve a huge risk, but it is also capable of doing cool things like bringing volume to thin, lifeless locks.
Source