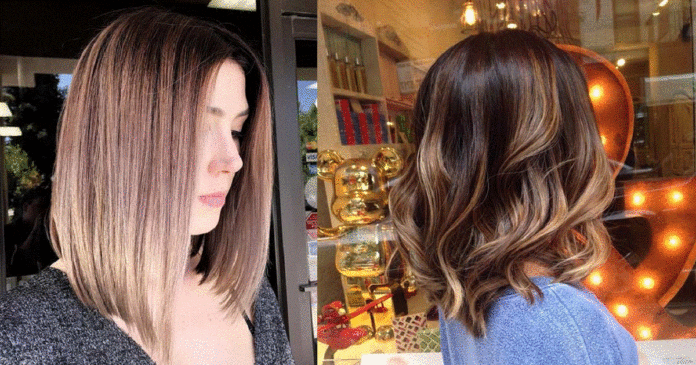 Are you thinking of changing your hair in time for summer?  There are so many styles that you can choose from, no wonder everyone needs a little hair inspiration.  Many people tend to wait until they see a hairstyle they like before they book their hair appointment. We think the hairstyle of the year, (or should I say years) is a gorgeous hairstyle to choose.  It goes by the name lob. Which is in other words, is a long bob. You can style the lob however you like. Wavy, curls, straight, up-do, half up half down style, sleek or messy. Just because you have a long bob, doesn't stop all the styling options you can have.  You still have the security of tying your hair back.
We have come up with 21 cure lob haircuts for you to think about.
1. ANGLED LONG BOB WITH LAYERS
Angled lob is quirky, cute and fun.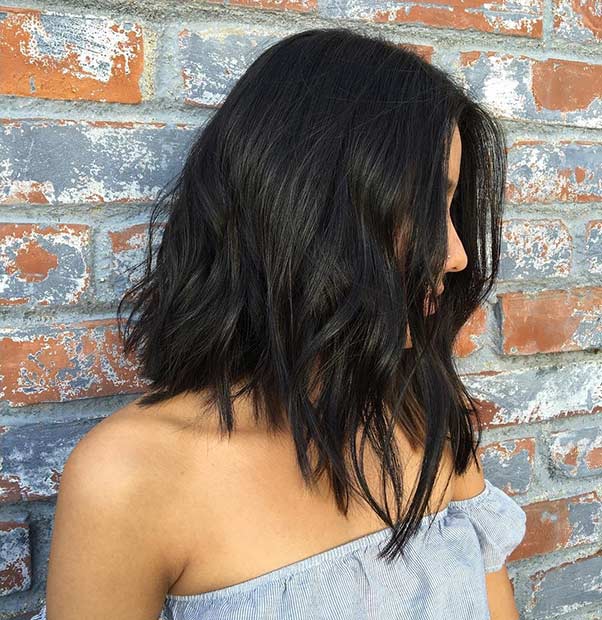 Instagram / erikrharris
Adding layers to your lob will make your hair feel thicker and it will have more volume.  The angled style is popular amongst many celebrities and is a favourite all over the world.
2. BRUNETTE LOB + FACE-FRAMING BALAYAGE HIGHLIGHTS
You don't have to be a blonde, a red head or pinked haired to have a lob haircut.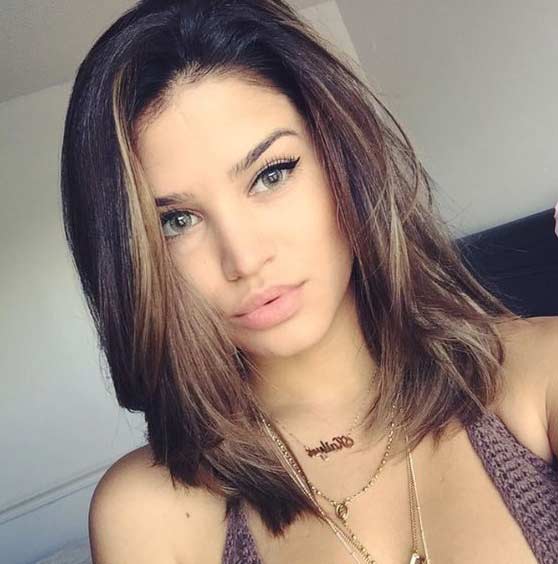 Source: pinterest.com
If you have brunette hair, the lob looks as good as having different colour hair.  Mixing balayage with the lob looks stunning. Having face-framing highlights will emphasis your face.
3. MESSY, TEXTURED BLONDE LONG BOB
We are loving the messy hair trend!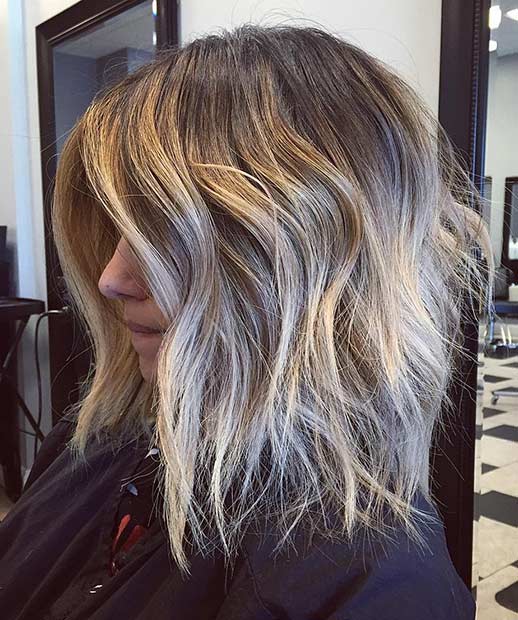 Instagram / hairbysabrie
Messy hair is still trending so the straight out of bed look is a must, especially when we can get away with it!  Every girl loves messy hair, right? Having messy hair means you don't have to worry about it every minute of the day, just let it go.
4. STRAIGHT, ANGLED LONG BOB HAIRCUT
This screams elegant and style.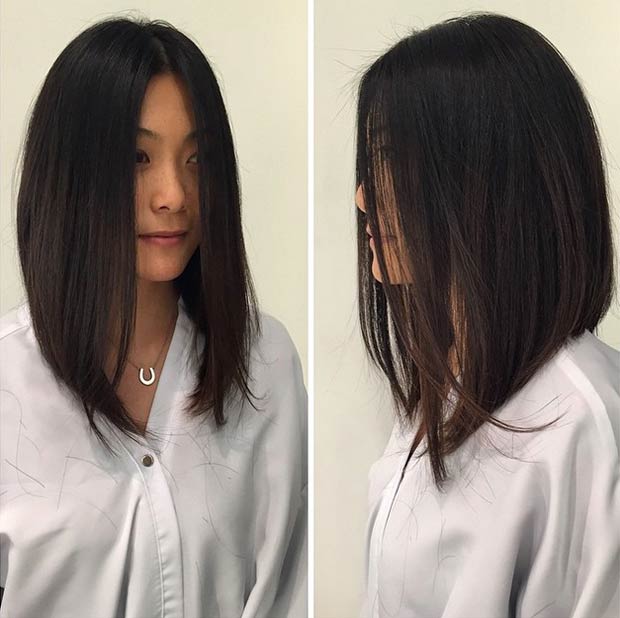 Instagram / cleencuts
A straight, angled long bob will show off your edginess and style.  You have the comfort of the longer strands at the front with a slightly shorter back.
5. LOB HAIRCUT FOR THICK HAIR + HONEY BLONDE BALAYAGE HIGHLIGHTS
If you want a sexy, natural looking hairstyle, this may be the one for you.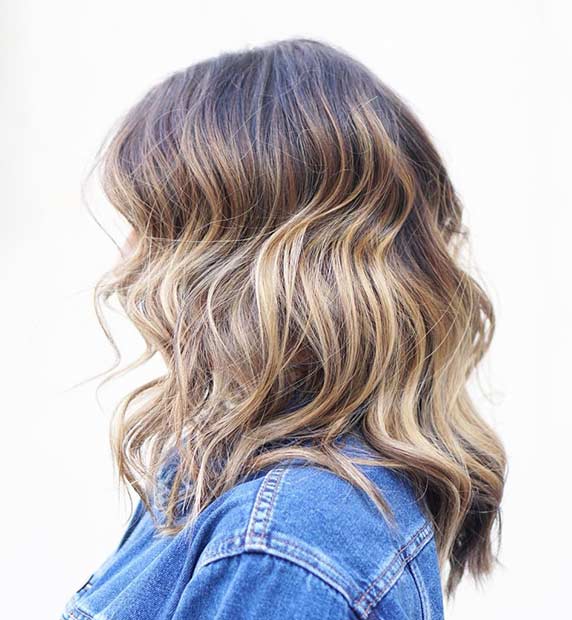 Instagram / theresebybangs
Having a lob hairstyle is fun and you can style it in so many ways.  Thicker hair looks great in a long bob style and adding the honey blonde balayage highlights is the icing on the cake.  The balayage highlights look natural and add that extra touch of style.
6. BRUNETTE, STRAIGHT LOB
A straight sleek lob looks elegant and sophisticated.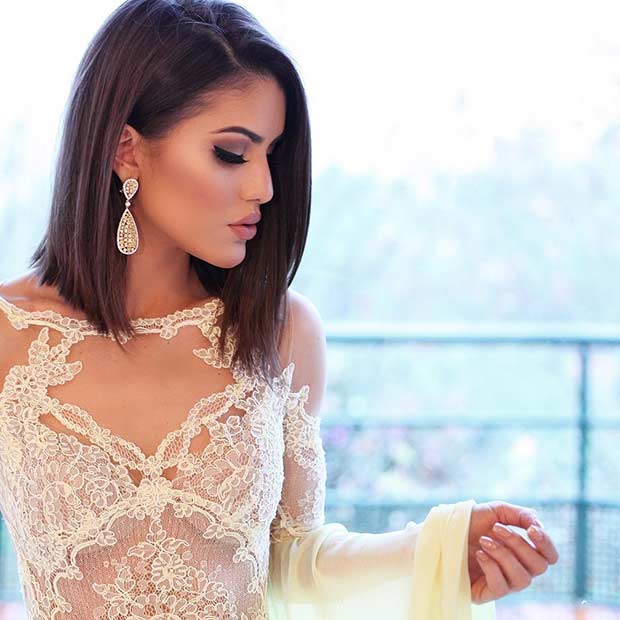 Instagram / camilacoelho
This style is perfect for any occasion. It can be glamorous and also a great as a causal style.
7. BLONDE OMBRE LOB HAIRSTYLE
Did someone say ombre?  Don't rule out the ombre style.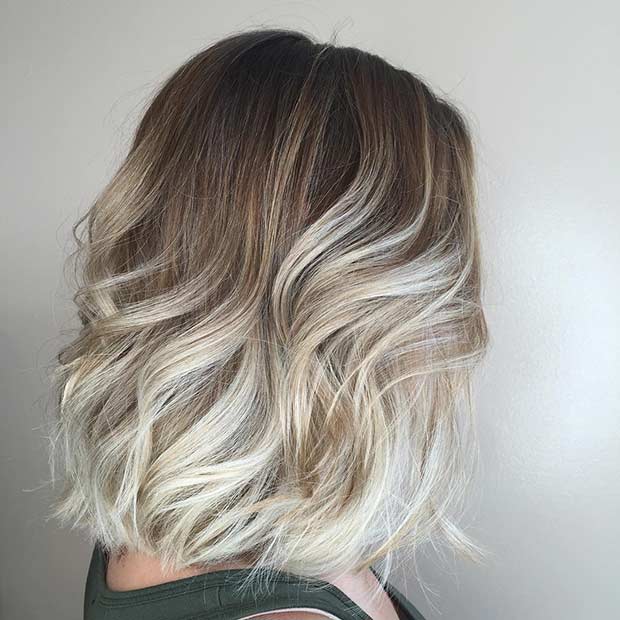 Instagram / mlchairstylist
Ombre is still going strong guys!  The lob and blonde ombre look perfect together.  With all the new trends going on, people seems to forget about ombre but we are here to remind you.
8. CHOPPY, LAYERED LOB + CARAMEL BALAYAGE HIGHLIGHTS
This haircut and style is made for fashionistas.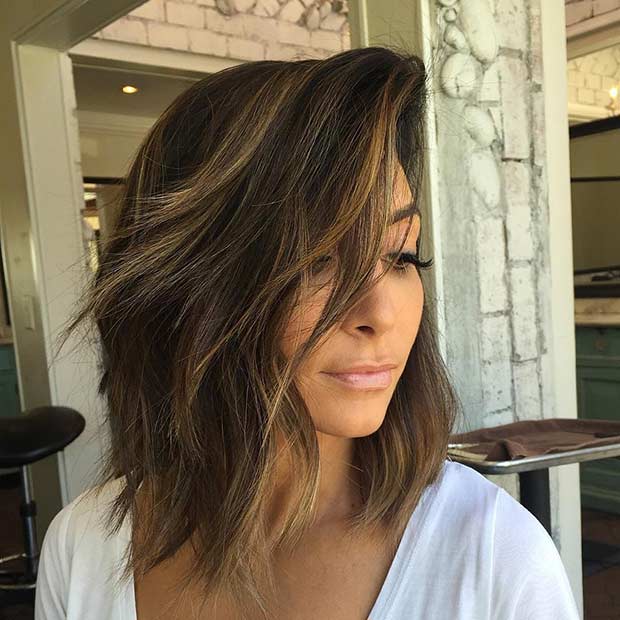 Instagram / kenpavessalon
It has so many trends going on right now, it's unbelievable to be this cool!  Walk down the street owning it with this style girl! You have the choppy, layered lob with caramel balayage highlights, what more could you ask for?!
9. LOB CUT WITH BANGS
Do you fancy having bangs with your lob?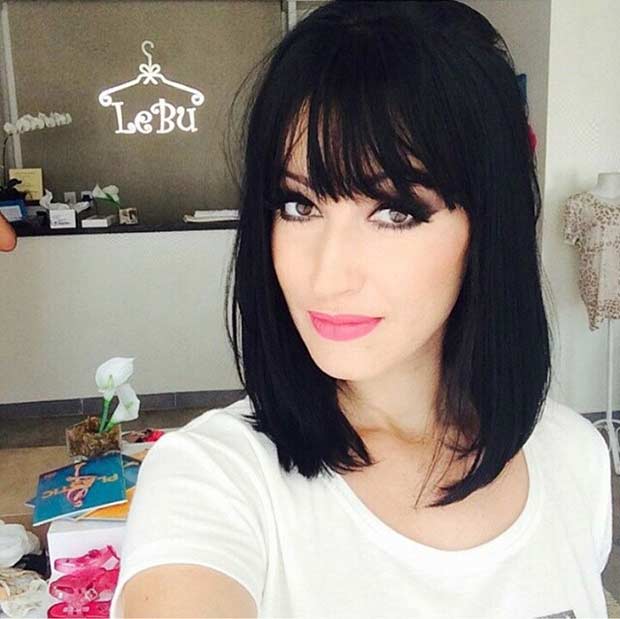 Instagram / cabelocurto
We would recommend it!  Opting for a classic lob and having bangs, looks timeless and stylish.  If it is the first time you are having bangs and are nervous, try having longer bangs just in case you still want to tie your hair back.  You can have the best of both worlds with this hairstyle. Bangs will show off your eyes and you can always style it in so many different ways.  If you fancy having your bangs off your face, try clipping it back with bobby pins. If you style your hair differently every other day or so, you won't get bored of your hairstyle.
10. CURLY, TEXTURED LOB WITH BALAYAGE HIGHLIGHTS
Adding curls will boost your locks.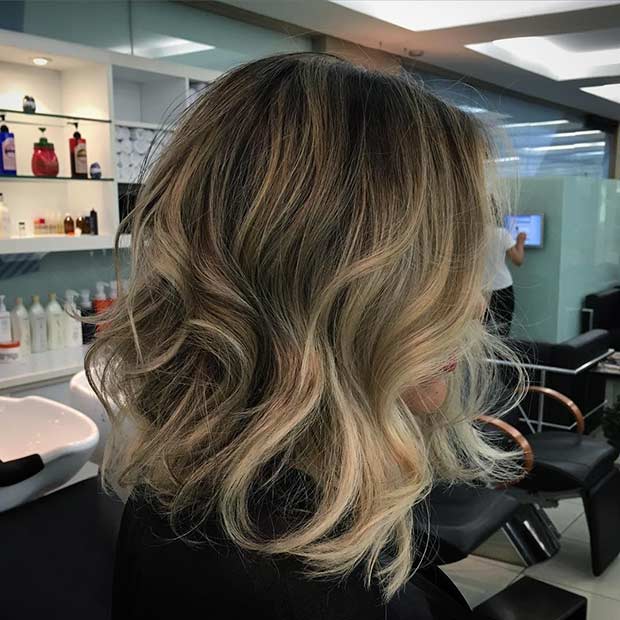 Instagram / rickymoica
If your hair is feeling limp and lifeless, try curling it.  Curly, textured lob looks stunning and so girly. Balayage highlights will add that special touch that no other highlight technique will be able to do.
11. CARAMEL & CHOCOLATE LOB HAIRSTYLE
Having darker locks that look healthy and shiny is amazing.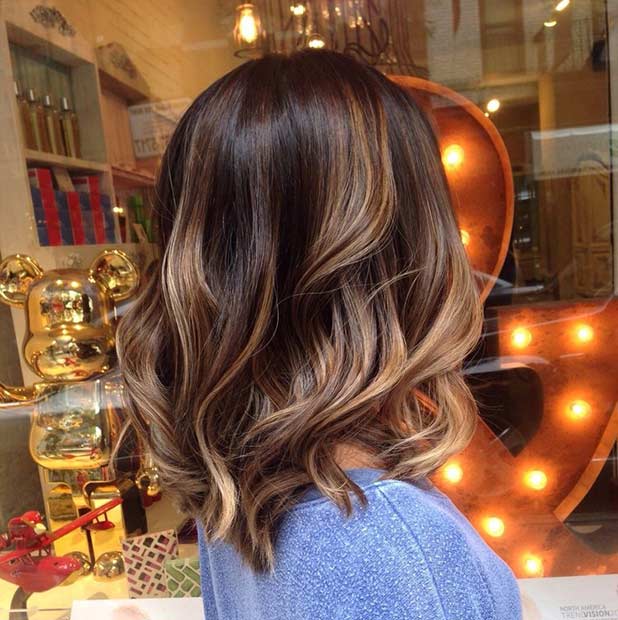 Source: pinterest.com
This longer bob looks so healthy with a few caramel and chocolate tones.  No need to dye the whole head and you don't have to worry about popping to the hairdressers every few weeks or so to touch up your roots.  This style is so low maintenance and perfect for busy, hectic girls out there.
12. WAVY, BLONDE LOB
Having shorter hair can be quicker and easier to style.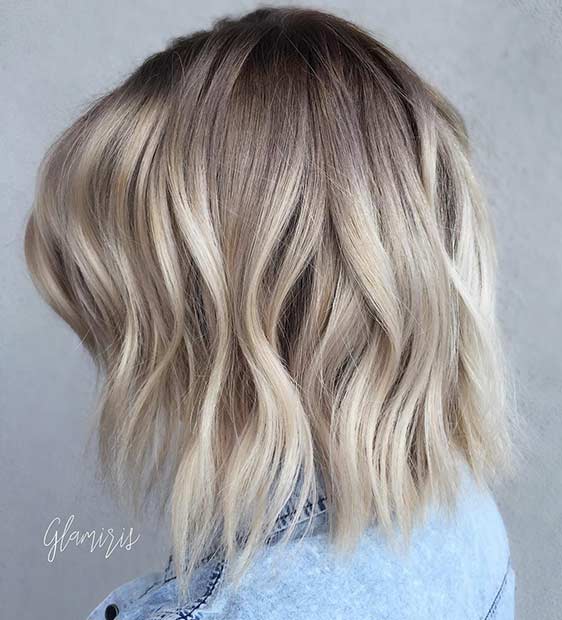 Instagram / glamiris
Adding waves to a lob from the middle down is a quick and simple way to create a gorgeous look.  If you are using hair straighteners, which are what most hairdressers will use, it is so easy. Yes, I did say hair straighteners and not curlers, if you haven't tried it, you'll be surprised how stunning the waves are when using these.  They don't just straighten your hair, try it and see.
13. STRAIGHT, BRUNETTE LOB FOR THICK HAIR
This is a cute, stunning lob style.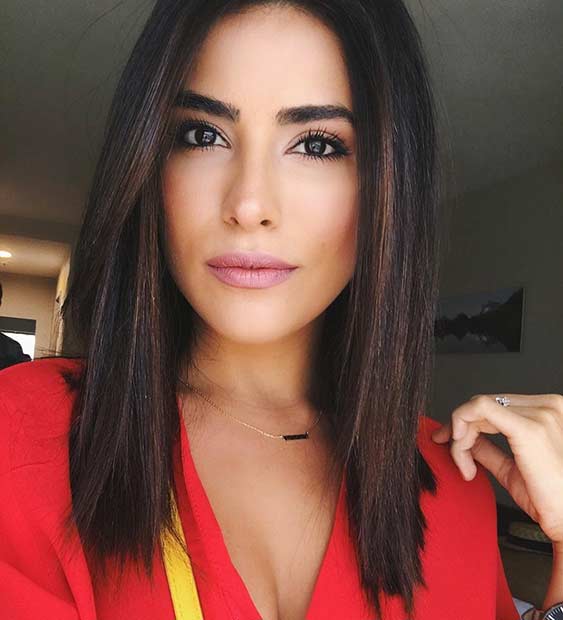 Instagram / sazanhendrix
It is easy and low maintenance.  Adding a choppy cut will give you a sleek but edgy style.  It will show off your new hairstyle and you will feel amazing.  This is the perfect style for thicker hair that will give you a confidence boost.
14. TEXTURED, HONEY BLONDE LOB
When having a longer bob hairstyle, going for a lighter shade is better to manage than to have longer hair.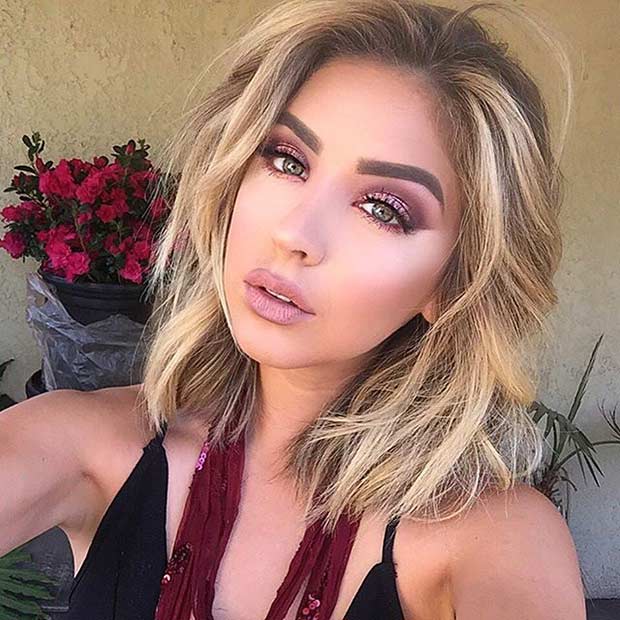 Instagram / brittanybearmakeup
The first thing you notice with this hairstyle is the colour.  The colour makes the haircut stand out. The honey, blonde shades look stunning.  The textured layers add the bounce to the hair to give the hair life. This colour can be topped up every month or so but if you were to leave it, it will still look amazing.  This colour and hairstyle is so versatile.
15. CHOPPY, ANGLED LOB
You can wear your lob up or down but we love this hairstyle down…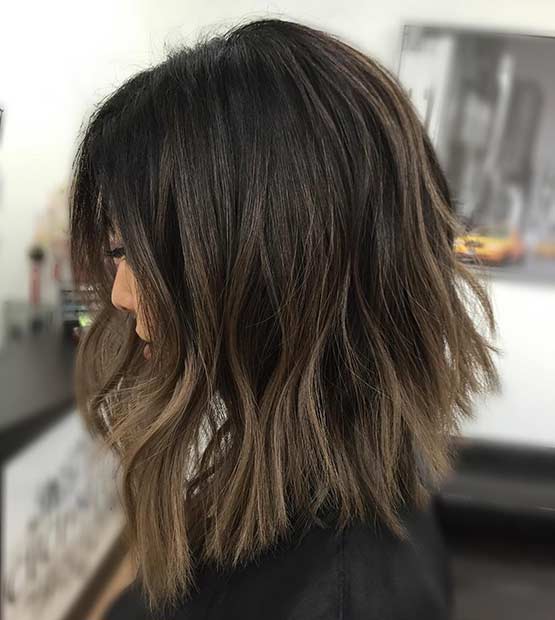 Instagram / kycolor
Especially when the haircut is choppy and an angled lob like this above.  The choppiness will show off the haircut even more so which will enhance the angled sides.
16. CHOCOLATE BROWN LOB
This looks so good, chocolate brown mixed with a lob.  We are all in envy!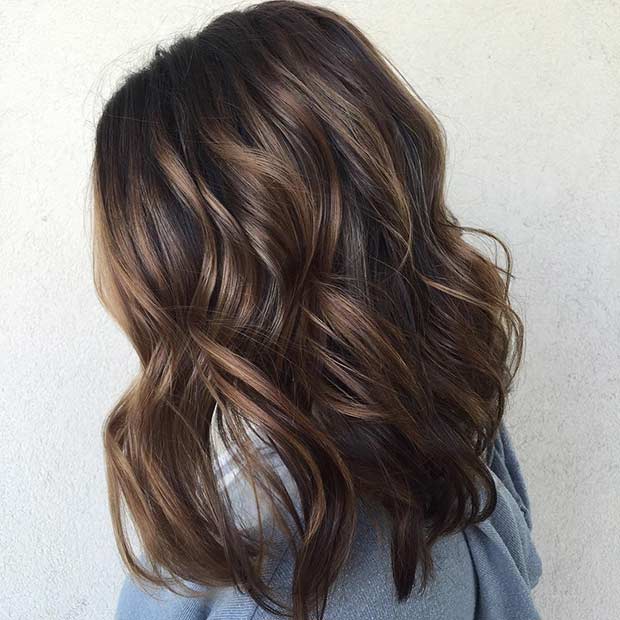 Instagram /kellymccormickhair
You can look this good too with chocolate locks.  This is a longer bob with a few highlights. It looks natural, healthy and perfect for any occasion.
17. STRAIGHT, SILVERY BLONDE ANGLED LOB
This straight lob is a classic style.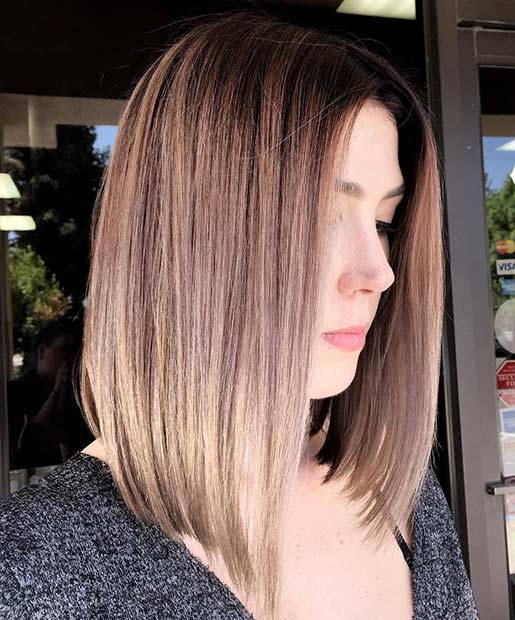 Instagram / sydniiee
A straight bob is manageable, stylish and looks stunning.  This longer bob has a silvery blonde tone, which adds to the stylish look.  The cut is angled, and gives off a sexy, sleek finish.
18. TEXTURED LONG BOB HAIRCUT
A textured lob can stop your hair being too slick.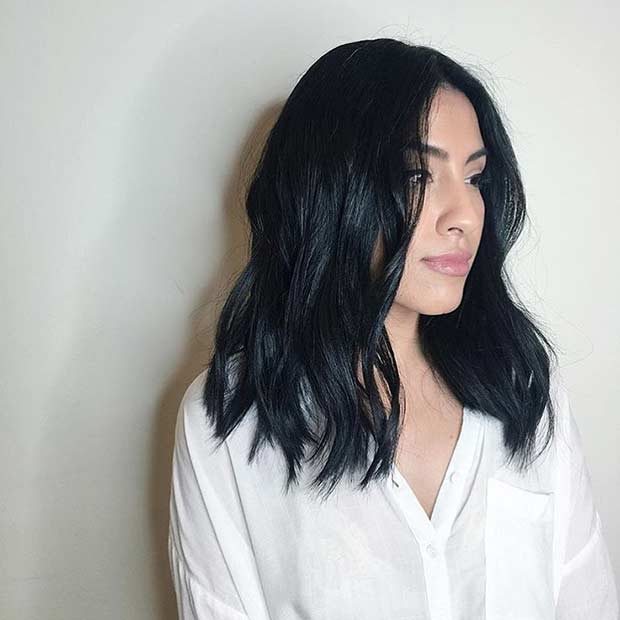 Instagram / foxandjane
Maybe you are bored of slick and polished hair and you feel that you need a change.  Opting for a textured longer bob, will give you a messier, voluminous hairstyle and you will look amazing.