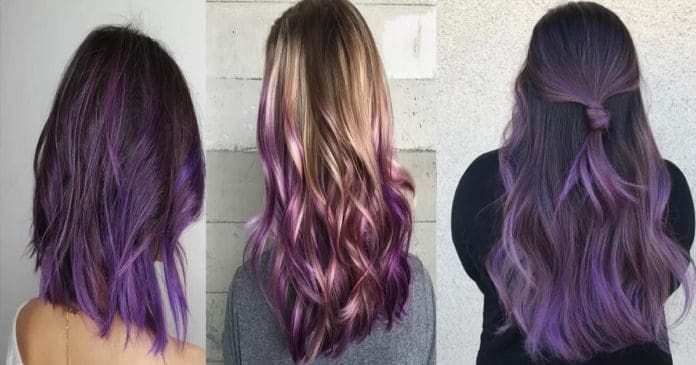 Put Some Purple Balayage in Your Life
Purple balayage is a great choice for a carefree trendy lady, and balayage is lower maintenance than a full dye. Lilac, lavender, plum or violet, there's a shade for all skin tones and hair colors! If you are interested in getting balayage, we recommend going to a salon as this technique is best left to professionals.
#1: Violet Lob with Tousled Waves
Violet balayage adds vivacity to trendy lob haircuts. A vibrant shade stands out best on dark brunettes, and gives off some really electric energy.
#2: Faded Lavender and Silver Streaks
Purple balayage hair has a spectrum of tones, and here is a wonderful example of a dusty lavender version. Best for ladies who prefer ashy colors, lavender can be paired with hints of white or grey for an extra dimension.
#3: Distressed Pastel Fuschia
Not all purple hairstyles have to be bold or edgy! This one is perfect for a girly girl that wants to try out purple but is leaning more toward a pastel fuschia shade. The specks of pink add a nice feminine touch.
#4: Bright Purple Waves
Calling all our punk rock queens — here is your next color change! This shade is very bright and will require frequent dyeing to maintain its vividness, but it's well worth it.
#5: Washed Out Purple
Complement your hipster style with pastel balayage purple tips. Oozing an antique, retro vibe, it is a pretty choice that doesn't require too much upkeep.
#6: Vibrant Grape Top Layer
Grape jelly, anyone? A vivacious 'do will be sure to brighten up everyone's mood when you're in the room. Make a statement and focus the dye on top layers of your hair for maximum impact.