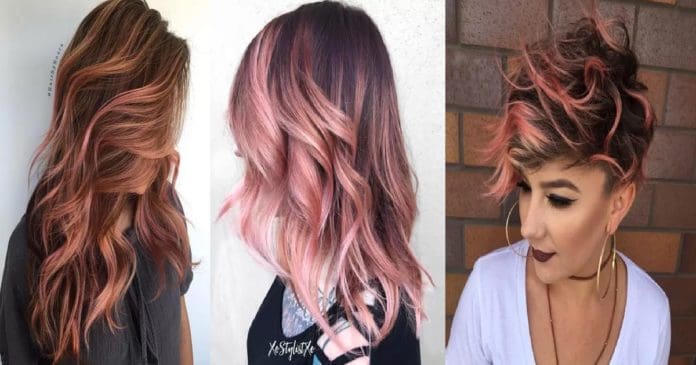 Rose gold balayage is the love child of the subtle highlighting technique and an up-incoming sumptuous shade. Balayage uses a sweeping method to paint the hair without using foil. This natural approach allows the choice of fun colors, such as rose gold, which is a tempting consideration for brunettes, redheads and blondes likewise.
Beautiful Styles with Rose Gold Balayage
Balayage is redefining the way we look at adding color to hair. Shades become so well blended that it's often hard to tell where one ends and another begins. Different tones of pink are now becoming mainstream, and you can easily see why in these gorgeous example photos.
#1: Multiple Shades of Rose Gold
Instagram / @ginaatkinson
There are a range of shades of rose gold from a deeper dusty pink to a less intense pastel. The different hues can also take on different tones. To allow the warm golden tone to shine, complement it with auburn or even copper.
#2: Copper and Dusty Rose Balayage
Metallic shades are gaining popularity and pair perfectly with rose gold. Use some copper lowlights and set them with some pops of dusty rose. Layers will help enhance the color pairing.
Instagram / @hairbynoora
#3: Face-Framing Pink Highlights
One way to really draw attention to your favorite facial features is to concentrate your coloring in the front. Incorporate the same tones throughout for consistency, but use a heavier hand on the shorter layers around your face. Work with your stylist to find a shade that best suits your skin tone.
Instagram / @xostylistxo
#4: Brown to Rose Gold Color Melt
Color melting is a method that mimics how changes of color occur naturally to hair. The roots are darker where the new hair has grown in and the ends are lighter as if they have been gradually exposed to sunlight and air. Brown hair can melt flawlessly into a feminine rose gold hue.
Instagram / @caitycaatt
#5: Subtle Pink Babylights
Babylights are a type of highlights that are done in thin strands to mimic a sun-kissed look. Even a more synthetic shade can appear natural when the right colors are matched. A brunette may consider a warmer rose gold while a blonde may want to go more pastel.
Instagram / @alexandrajhair
#6: Extra Long Hair with Rose Balayage
Ladies wanting to keep their long hair know it can sometimes be a struggle to avoid boredom with their manes. Everyone wants to switch things up every now and again. Incorporating a fun color towards the ends of the hair is a great way to spice things up without too much commitment.
Instagram / @susan.aw
#7: Brunette with Rose Gold Accents
It doesn't always take a ton of color to make a major impact. In this example of rose gold balayage, the highlights are located just at the tips and around the face. Professionals that need to maintain a polished look may consider this style.
Instagram / @leahhofffhair
#8: Straight Hair with Rosy Highlights
Rose gold balayage gives you a beautiful and trendy hue created with a technique that enables the shades to blend seamlessly. Straight hair really lets the color take front stage and show off the handiwork of the method.
Instagram / @off7thsalon
#9: Brown and Baby Pink Hair
A light pink can be a beautiful accent color for brunettes. Braids, twists, or knots are great style options to show off the final result.
Instagram / @liz.colors
#10: Espresso and Rose Gold Color Duo
Add some unexpected elegance to dark hair by incorporating some rose gold balayage highlights woven loosely through the tips. To keep the change from being too extreme, add a honey color as a transitional shade. The pale rose blends seamlessly and allows the eye to gradually move across the hair.
Instagram / @che.r.mariano
#11: Long Hair with Subtle Rose Balayage
Varying shades is a great way to add some interest to a long cut. Even a very subtle and gradual change can have a major impact. Go with a natural dark shade at the roots that fades into a lighter brown and then a rose gold and blonde balayage at the tips.
Instagram / @chrisweberhair
#12: Rose Gold and Pink Balayage
Mixing colors is a fun way to find a unique hairstyle that represents your personal style. Rose gold balayage hair proves that through the proper technique where you can go wild with your shades, but still look very professional. The pastel pink tips don't read edgy when paired with the rose gold.
Instagram / @ms_wonderland
#13: Pixie Cut with Rose Gold Streaks
To amp up an already bold pixie cut or give some edge to a classic bob, incorporate rose gold balayage just at the tips of your layers. Short hair obviously gives you less surface area to work with, so your added color needs to contrast with your base color.
Instagram / @katiezimbalisalon
#14: Pink Balayage with Soft Waves
Pink is a shade that can go punk or romantic. The vibe relies heavily on the style of the hair. Finish with some large curls or waves for a soft and feminine look.
Instagram / @maryxjoy
#15: Balayage with Sunset Tones
Some of the best color palette inspiration can be found in nature. Sunset inspired shades of auburn, rose gold, amber, and pink work flawlessly together to create an eye-catching style. Darker shades on the bottom will accentuate the varying tones.
Instagram / @glamiris
#16: Rose Balayage with Messy Layers
When you have plenty of layers to work with, a natural-looking bedhead is easily achievable. This style is useful for those with finer hair as it gives the wearer more volume. Using multiple shades also provides dimension.
Instagram / @chrisweberhair
#17: Black Hair with Rose Highlights
Looking for some serious color contrast? Start with black hair at the roots and then jump into a coppery rose gold. This is a great option if you have dark hair and want to let your roots grow out without looking drab.
Instagram / @jesstheebesttcolor
#18: Red and Rose Balayage Hair
Rose gold accent highlights work seamlessly on red hair. You really get a beautiful blend of tones with no major start and stop point. Work with your stylist to find shades that complement your natural color.
Instagram / @headstudio