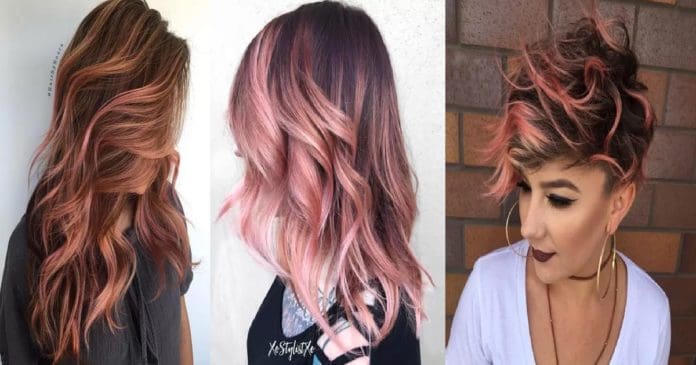 Rose gold balayage is the love child of the subtle highlighting technique and an up-incoming sumptuous shade. Balayage uses a sweeping method to paint the hair without using foil. This natural approach allows the choice of fun colors, such as rose gold, which is a tempting consideration for brunettes, redheads and blondes likewise.
Beautiful Styles with Rose Gold Balayage
Balayage is redefining the way we look at adding color to hair. Shades become so well blended that it's often hard to tell where one ends and another begins. Different tones of pink are now becoming mainstream, and you can easily see why in these gorgeous example photos.
#1: Multiple Shades of Rose Gold
There are a range of shades of rose gold from a deeper dusty pink to a less intense pastel. The different hues can also take on different tones. To allow the warm golden tone to shine, complement it with auburn or even copper.
#2: Copper and Dusty Rose Balayage
Metallic shades are gaining popularity and pair perfectly with rose gold. Use some copper lowlights and set them with some pops of dusty rose. Layers will help enhance the color pairing.
#3: Face-Framing Pink Highlights
One way to really draw attention to your favorite facial features is to concentrate your coloring in the front. Incorporate the same tones throughout for consistency, but use a heavier hand on the shorter layers around your face. Work with your stylist to find a shade that best suits your skin tone.
#4: Brown to Rose Gold Color Melt
Color melting is a method that mimics how changes of color occur naturally to hair. The roots are darker where the new hair has grown in and the ends are lighter as if they have been gradually exposed to sunlight and air. Brown hair can melt flawlessly into a feminine rose gold hue.
#5: Subtle Pink Babylights
Babylights are a type of highlights that are done in thin strands to mimic a sun-kissed look. Even a more synthetic shade can appear natural when the right colors are matched. A brunette may consider a warmer rose gold while a blonde may want to go more pastel.
#6: Extra Long Hair with Rose Balayage
Ladies wanting to keep their long hair know it can sometimes be a struggle to avoid boredom with their manes. Everyone wants to switch things up every now and again. Incorporating a fun color towards the ends of the hair is a great way to spice things up without too much commitment.