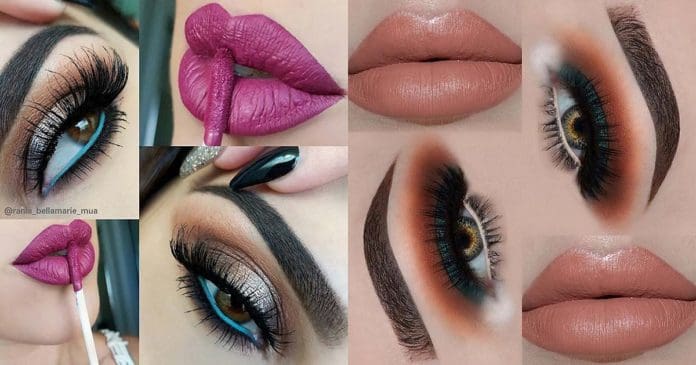 Summer has arrived! It's not just your clothes you can change for the new season but your make up to. Makeup for the summer usually brightens up. You can mix it up and wear vibrant eyeshadows and lip colors or mix and match between the two. We love this fun fashion season and have found 23 gorgeous summer makeup ideas. Any of these are a must-have for a stylish summer.
1. PRETTY IN PURPLE
First up is this vibrant purple look. The eyes have been created with the Urban Decay Vice Palette and the Kimchi Sugar Pill lip color. These eyes and lips are beautiful summer makeup ideas that can be worn day or night. You could recreate this look with any palette that includes purple shades.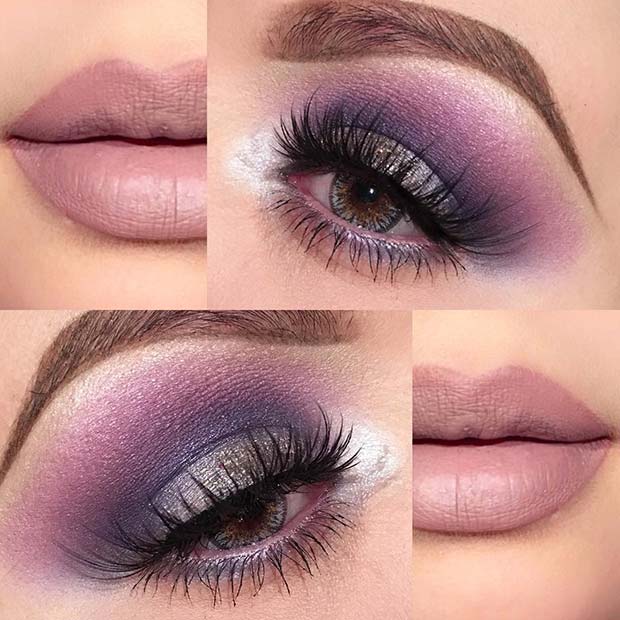 Source: @anubismakeup
2. POP OF COLOR
Our next pick shows how you can wear your neutral colors with a pop of summer color. This look was created with Tarte Cosmetics Make Believe in Yourself Eye and Cheek palette with Clay Pot Waterproof Shadow Liner in Blue Moon. You could wear a light a lip color or go for a vibrant pink like this.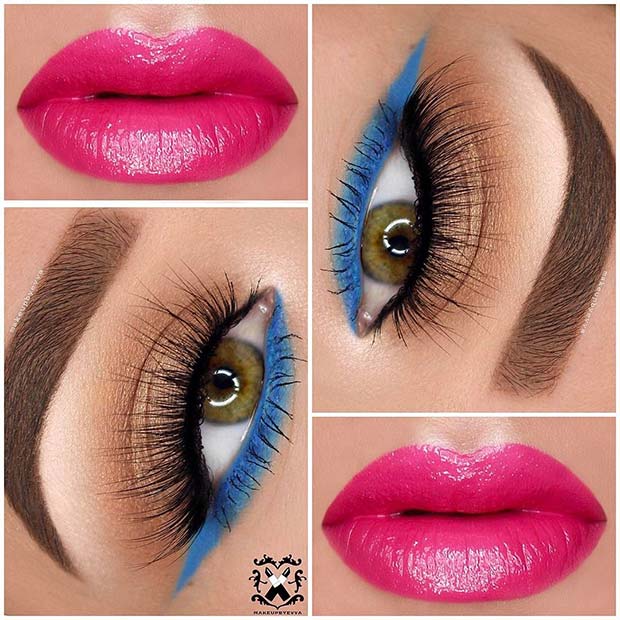 Source: @makeupbyevva
3. SOFT PINK
If you prefer pretty and subtle, you'll love this next look. This soft pink style was created with the Huda Beauty Rose Gold Palette with Tawny Rose Lip Crème from Jouer Cosmetics. Something like this would suit any occasion. Would be great for date night or for a wedding too.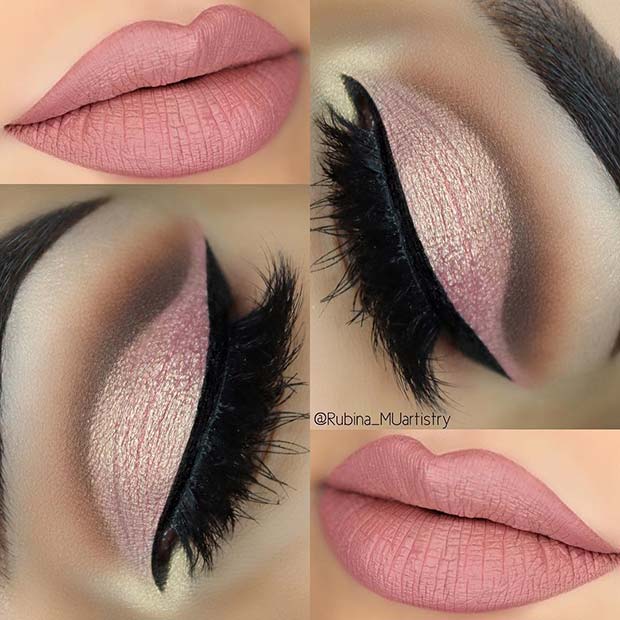 Source: @rubina_muartistry
4. SUMMER BRONZE
Bronze colors are great for the summer. Colors like these make your eyes pop and look great with a tan. This next makeup style would be great for vacations, nights out and more. To create the look use the Tarte Rainforest of the Sea Vol. III and Clay Play Palette. The lips were created with Gerard Cosmetics Skinny Dip Liquid Lipstick.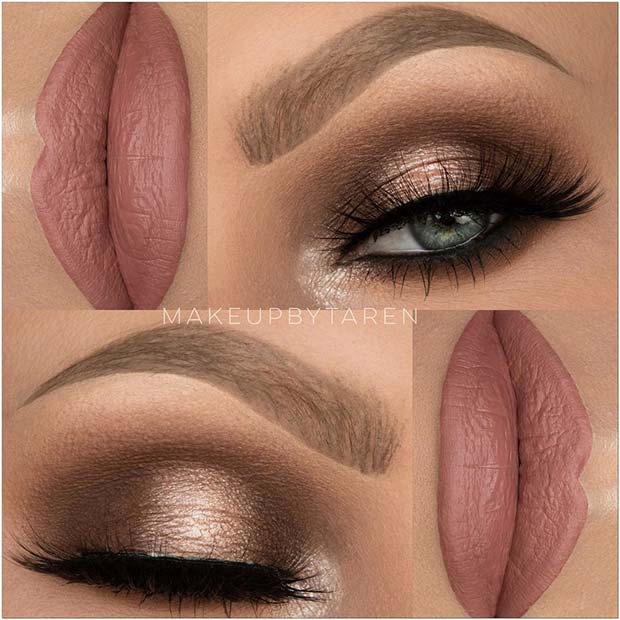 Source: @makeupbytaren
5. VIBRANT EYES
Our next pick is perfect for the girls who like to make a statement. This beautiful orange eye look will be gorgeous on a summers day. You could wear to any occasion from a day out with the girls to a night out. To create this vibrant look, you will need Morphe Brushes 35om Palette and the Meraki Cosmetics Official Aurora powder or makeup like it. We love this look!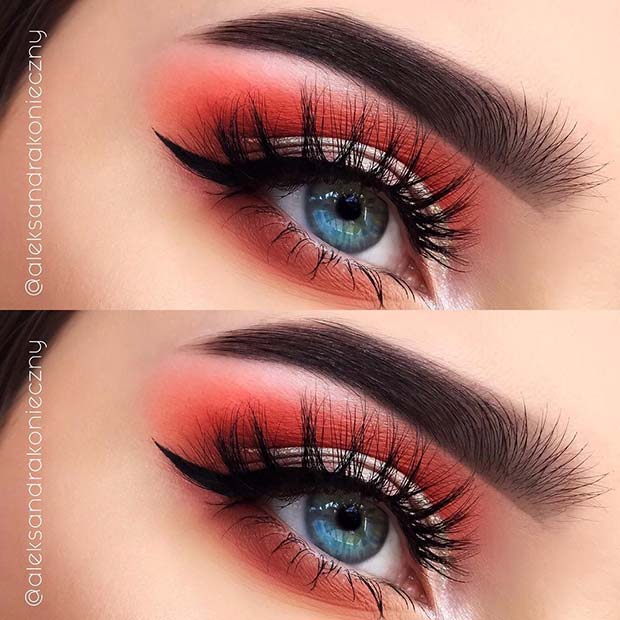 Source: @aleksandrakonieczny
6. GREEN GLITTER EYELINER
Love winged eyeliner? Then this eyeliner with a summer twist is for you! This classic look has been refreshed for summer with a splash of glittery green. To create it you will need the Anastasia Beverly Hills Modern Renaissance palette and a glitter liner. You could recreate this with any glitter color.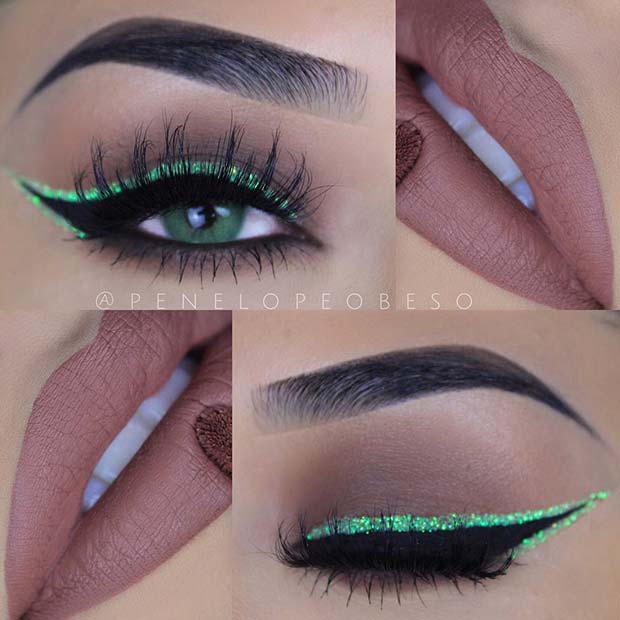 Source: @penelopeobeso
7. SUNSHINE YELLOW
Add some sunshine yellow to your look with makeup like this! This would be perfect for summer. To recreate this, you will need Morphe Brushes 35C Palette, Anastasia Beverly Hills "Burnt Orange" and "Fudge" and Gerard Cosmetics "Between the Sheets" lip color. Add some mascara and liner and you're good to go.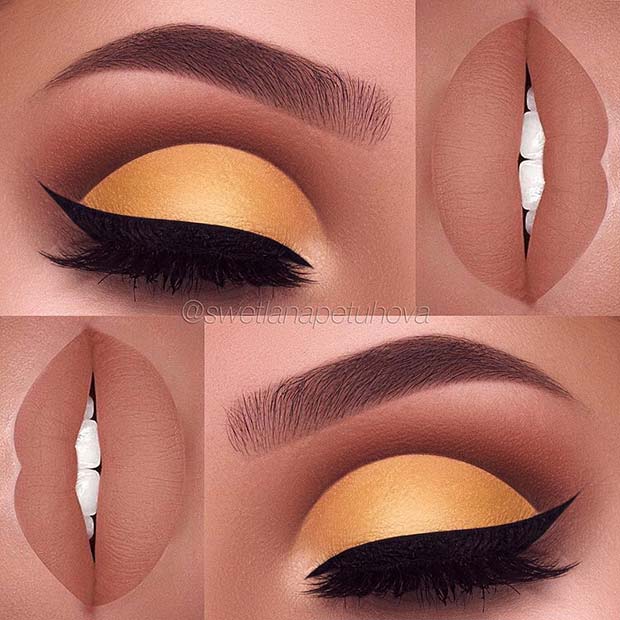 Source: @swetlanapetuhova
8. BRIGHT AND FRESH MAKEUP
Next up we have this bright and minimal makeup look. It features a light lip color and light green eyeshadow. This is a great combo if you want a fresh summer look. You could wear this kind of makeup with any eye color or even with a bolder lip color.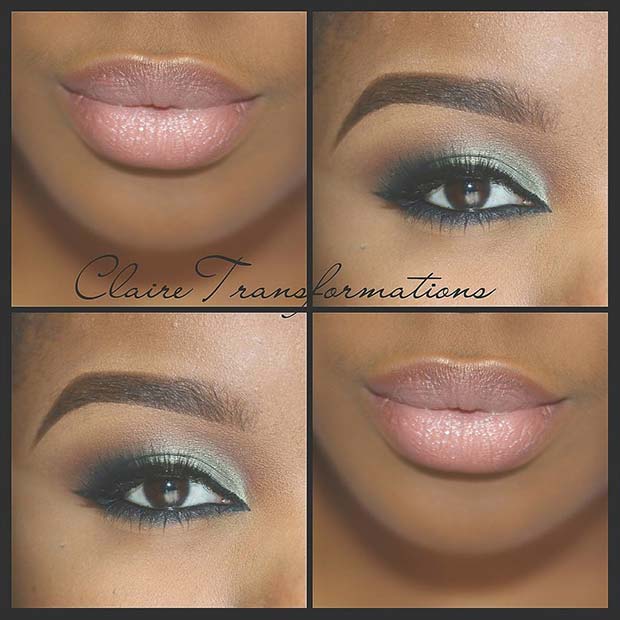 Source: @claire_makeupart
9. BLACK AND WHITE-WINGED EYELINER
Here is another way to mix up your classic eyeliner for the summer. Simply add a stroke of white under or above the black. This twist will make your eyes look bigger and are a great look for summer. Wear your monochrome eyeliner with any eyeshadow color.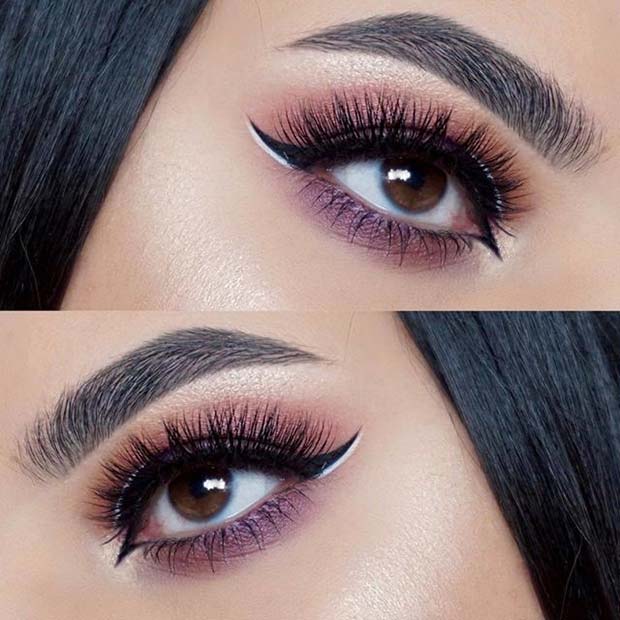 Source: @sleekmakeupromania
10. DRAMATIC DARK GREEN
Add some drama to your look with dark green smokey eyes like these. Makeup like this would be perfect for a night out and more. The green gives the classic smokey eye a summer vibe. This look was created with Sigma Beauty Eye Shadow in Persuade, Tarte Cosmetics Metallic Genie Shadow and the Morphe Brushes 35d Color Dark Smoky Eye Shadow Palette.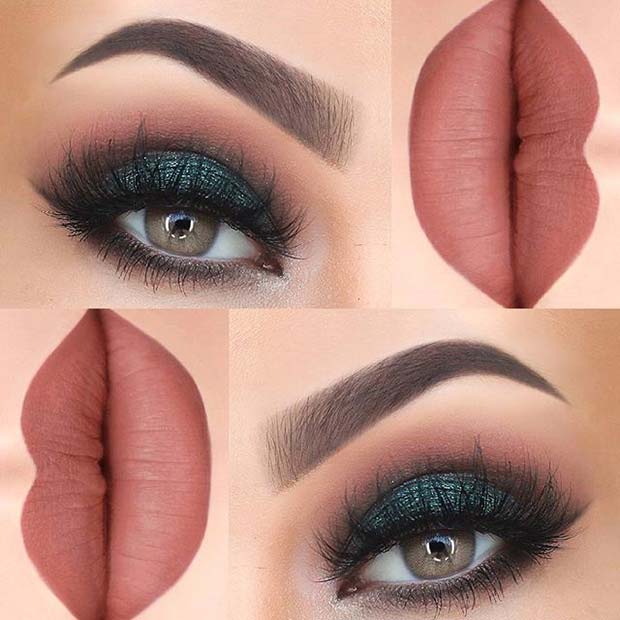 Source: @paulinemartyn
11. ICE BLUE WATERLINE
Here is another way to add some color to the classic smokey eye. Simply add a stroke of blue along the waterline. This will give your eyes a pop of color for any occasion. Use a smokey eye palette to create this look with Anastasia Beverly Hills Ice Blue Waterproof Crème Color or something similar. Finish of with a bright lip color like the Molly Cosmetics Liquid lipstick in LUST.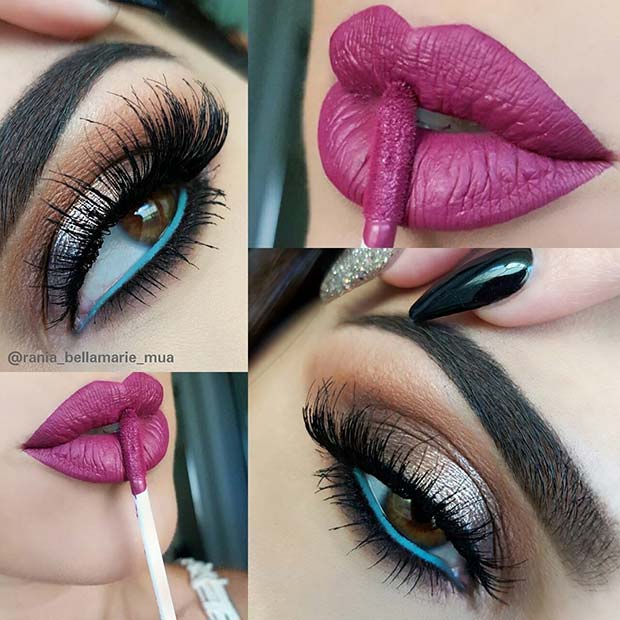 Source: @rania_bellamarie_mua
12. VIBRANT EYELINER
Ditch the black eyeliner and try something bright like this! A vibrant eyeliner is perfect for the summer. You can create this look with any color and any liner. White is a great choice for the waterline as it makes your eyes look bigger.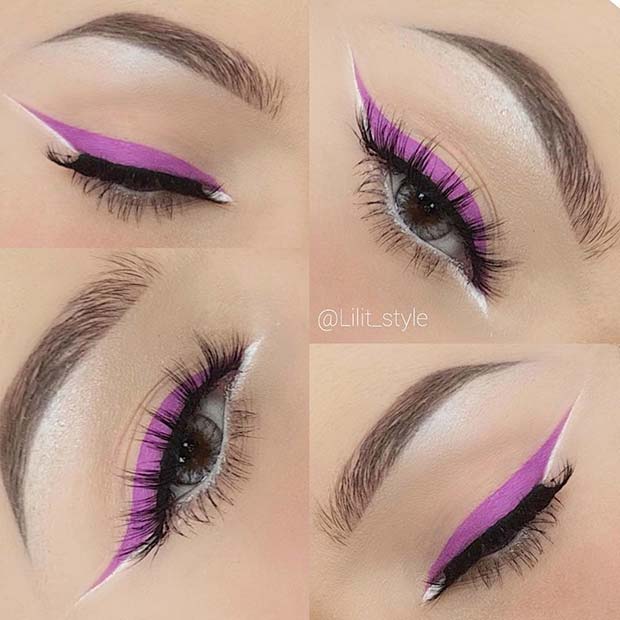 Source: @lilit_style
13. SUMMER SPARKLES
Got a special occasion or date night planned? Then consider a dramatic makeup look just like this one. You have the stunning glittered and winged eyes with a soft pink lip color. The gold glitter and pink is the perfect combo for summer. You could recreate this in any glitter color.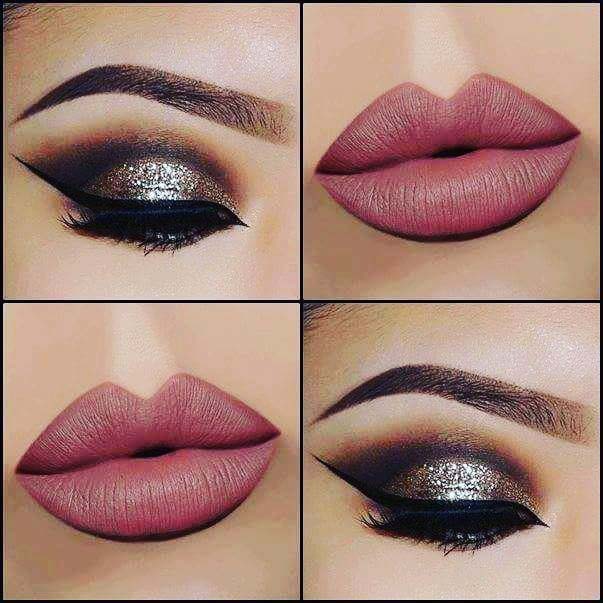 Source: @kristina.kb4
14. EARTHY TONE SUMMER MAKEUP IDEAS
Earthy tones and the bohemian vibe always come back into the style spotlight in the summer. So, take this trend into your makeup like this. This look was created with the Too Faced Sweet Peach Pallet, Kat Von D Beauty Serpentina Pallet, NYX Cosmetics Jumbo Eye Pencil in Milk and Essence Makeup Light Me Up Shadow. The lips are Girlactik Bashful Lip Paint. We love this look!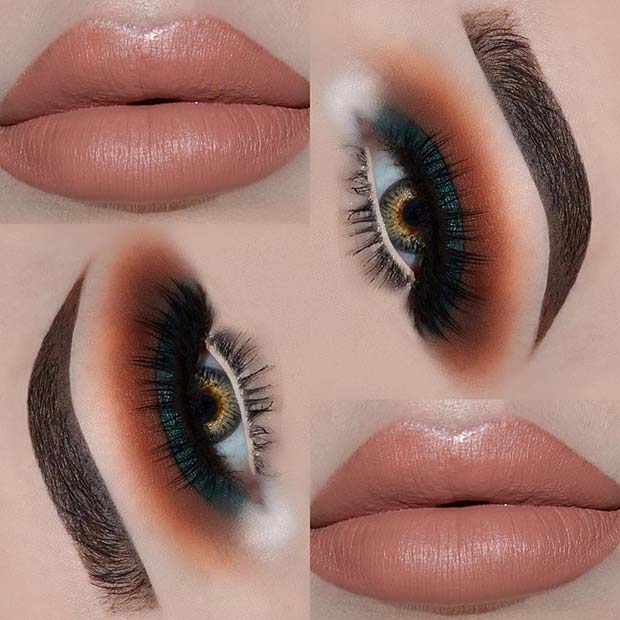 Source: @ashleyhawmakeup
15. BEAUTIFUL BLUE EYES
If you're looking for bold summer makeup ideas, then you'll love this. This beautiful blue look was created with products from Makeup Geek Cosmetics. The blue is called Center Stage. Something like this would look gorgeous for any occasion. Wear with bold or natural lips.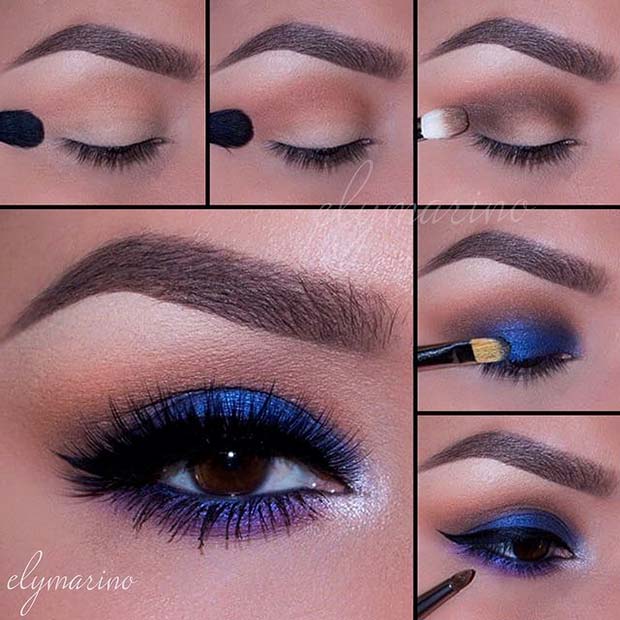 Source: @elymarino
16. PINK GLITTER
Look pretty in pink all summer long with makeup like this. This look was created with Lime Crime Hi-Lite Palette in Pink and Lime Crime Diamond Crusher in Cheap Thrill. The lips were created with Jeffree Star Cosmetics Velour Lipstick in I'm Nude. Makeup like this perfect for night outs, parties, weddings and bridal showers.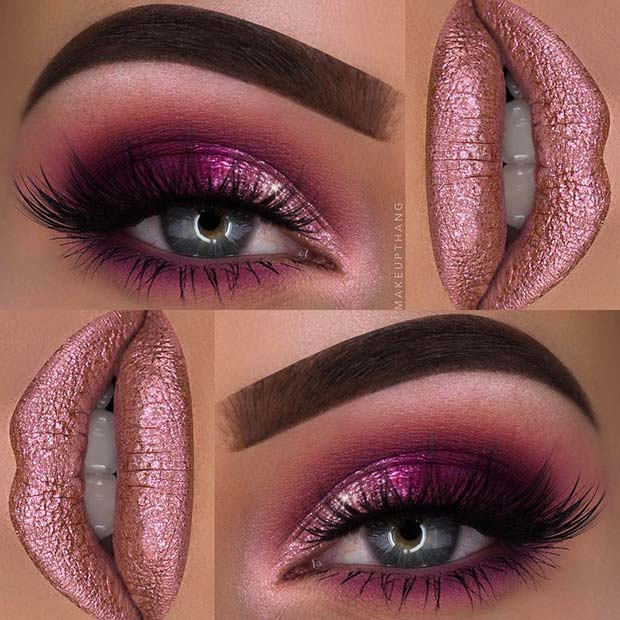 Source: @makeupthang
17. TURQUOISE AND PINK COMBO
Give your summer look a vintage vibe with bright makeup like this. You can recreate this look with the Sigma Beauty Palettes Smoke Screen palette and Warm neutrals palette. Add some silver glitter, eyeliner and mascara. Finish off with bright lips by using Anastasia Beverly Hills Lovely Liquid Lipstick or something like it.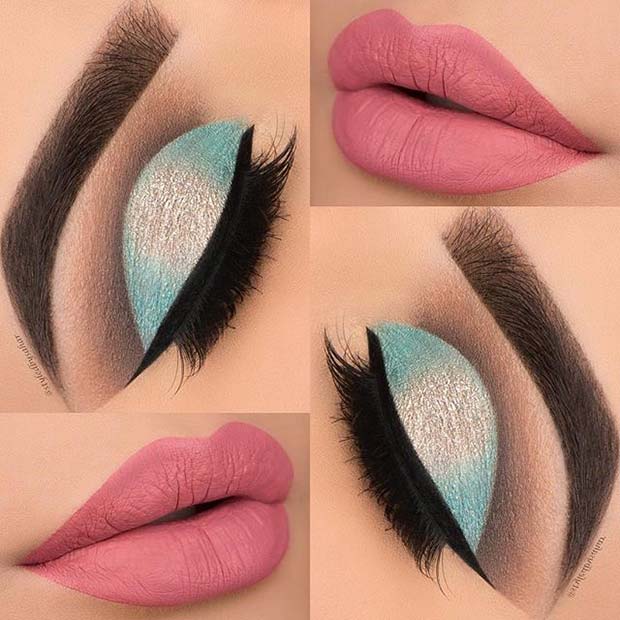 Source: @styledbysahar
18. GOLDEN PEACH
Go for gold this summer with a metallic look like this one. Just a simple change in lip color can mix up your makeup. Something like this is stylish and can be worn for any occasion. The eyes and lips in this style compliment each other perfectly so this combo is a must-have.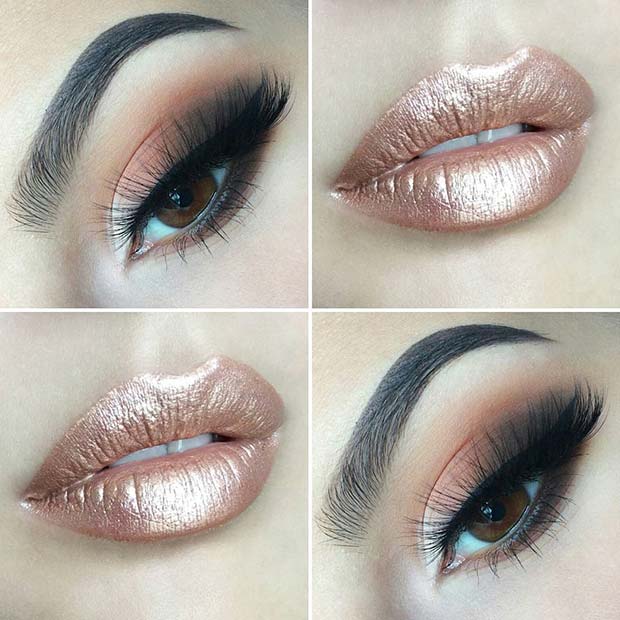 Source: @stefbirsan
19. ROSE GLITTER
Looking for pretty and feminine summer makeup ideas? Then you'll love this next pick! The beautiful soft pink look was created with Tarte Cosmetics Pro Palette, NYX Cosmetics Rose Glitter and for the lips Lapland Cosmetics in No Filter. Something like this would be perfect for a wedding or a party.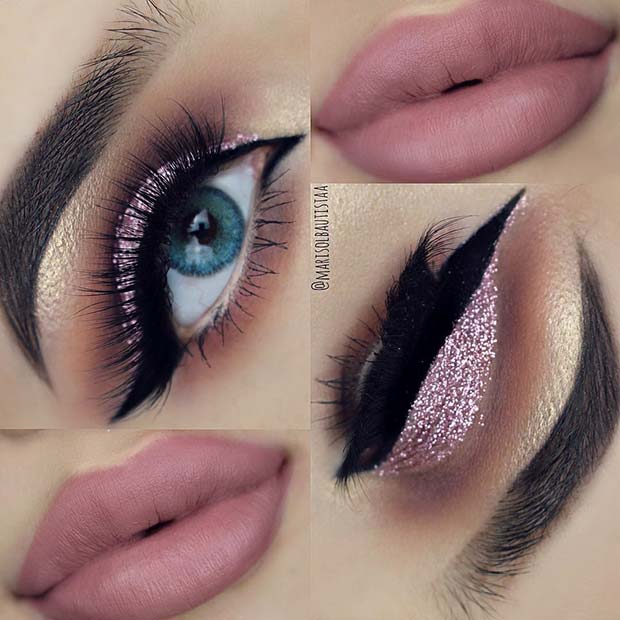 Source: @marisolbautistaa