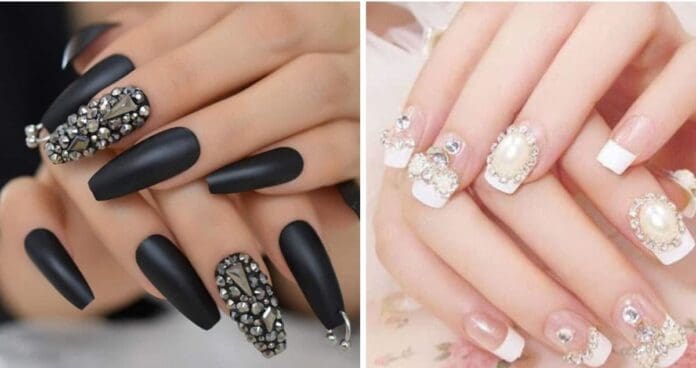 There are so many different nail designs to choose from, but if you want to add sparkle to your look, diamonds and rhinestones are great choices. They are also incredibly versatile and pair well with various pieces of art; if you want something luxurious then the gold flakes and detailing are great. If you want to have bold or bright nails, then mint polish or bright blue shades will bring a smile to your face. A dazzling manicure is cool and can be incredibly flattering. In addition, it is also an easy way to create a stylish and fashionable look. There is nothing stopping you from experimenting with different angles, colors, and techniques to find something that reflects your style. Whether you're heading to a special event or looking to get the bridal manicure of your dreams, keep reading for inspiration.
1. Diamond Nails with Gold Detail
Diamond nails with gold details look sophisticated and luxurious. The color combination is simple yet bright and easy to wear, suitable for a variety of occasions. If you choose to add rhinestones to your nail, you won't have to worry about your nails getting caught on anything, and this look is a lot more sophisticated too. This is a fantastic way to draw attention to your hands and one finger in particular. Many women choose to show off their ring fingers to show off their engagement or wedding ring.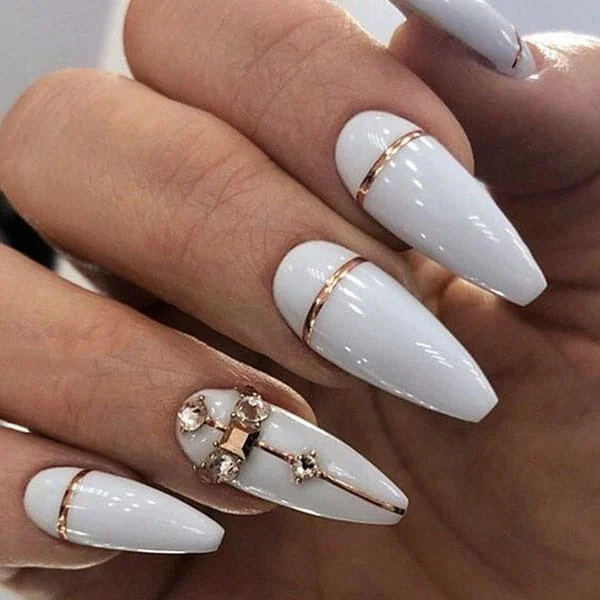 2. Blue Hearts and Rhinestones Design
Blue is a color that evokes calm and tranquility. This is a dreamy shade that is easy to wear and suits all skin tones. There are various shades of blue to choose from; you can choose your favorite or combine several, depending on how dramatic you want your nail art to be. The blue hearts and rhinestone design create a fun and eye-catching look. This is a beautiful combination, very feminine and luxurious. Hearts are also symbolic, being a universally recognized symbol of love and passion. Perhaps you want to remind yourself of what you hold dear with a manicure? Or maybe you like how it looks. Either way, it's a great way to get the attention they deserve and put a smile on their face.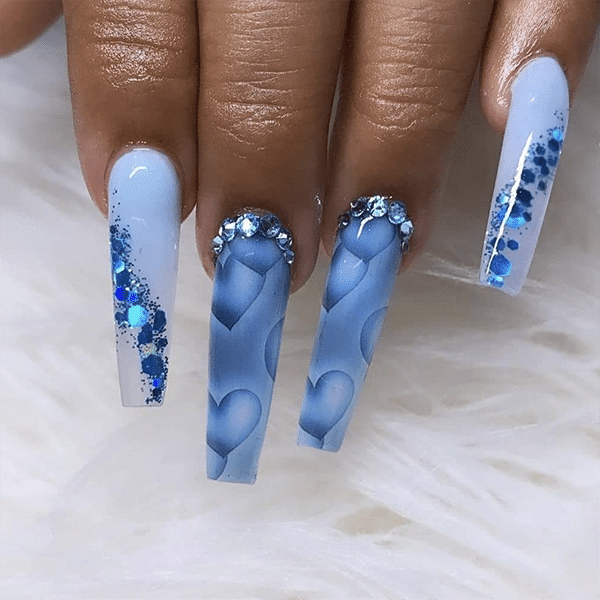 3. Playful Diamond Nails
Your nail art is an extension of your personality. It's a way to express yourself and have fun, and playful diamond nails show the world that you're a woman who doesn't take life too seriously. If you are looking for bold and colorful work this is a fantastic option. You can experiment with different colored polishes, mix and match your favorite rhinestones and rhinestones. Each nail can be different, which is great if you're having trouble choosing just one design. This look makes a statement, and while it's not the most practical option and shouldn't be worn in a corporate setting, it's perfect for a summer getaway.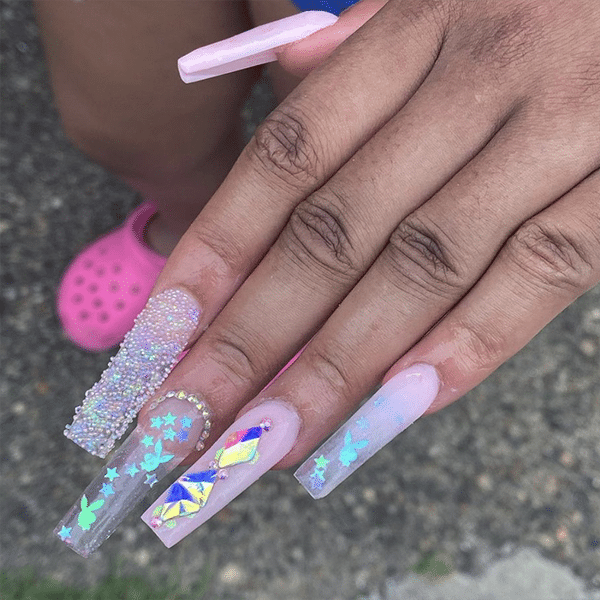 4. Rhinestones and Butterflies
Rhinestones and butterflies are nail art that will make you dream of a vacation. There is something so summery, bright, lively, and cheerful in this combination. You can make each nail look the same using tiny butterflies and rhinestone nail stickers, or you can create something different. It depends on how dramatic you want your look to be. Butterflies are not just beautiful; they are also symbolic, representing change and freedom. This is a great way to express your thoughts and is perfect for a woman going through a period of transformation.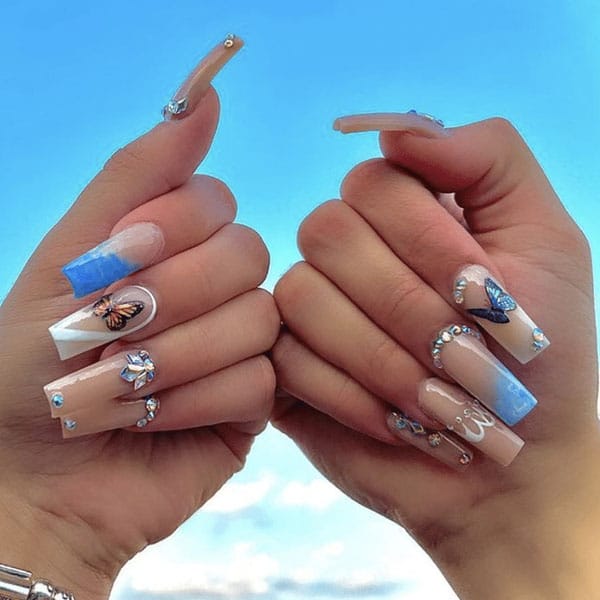 5. Matte Pink Nails with Rhinestones
If you're someone who wants a gorgeous and ultra-feminine manicure, then matte pink rhinestone nails are what you've been looking for. Pink polish is a timeless classic that goes with every nail shape and skin tone. It's easy to wear, beautiful, and versatile, allowing you to add stickers and embellishments to it to make your artwork unique and interesting. Why choose matte lacquer? Finishes don't last as long as glossy nails and are more likely to chip. However, it adds texture to your manicure and looks very trendy. When deciding which rhinestones to add, it's a good idea to stick with a color similar to your base layer. This makes them look more streamlined. Keep it simple with two or three jewels.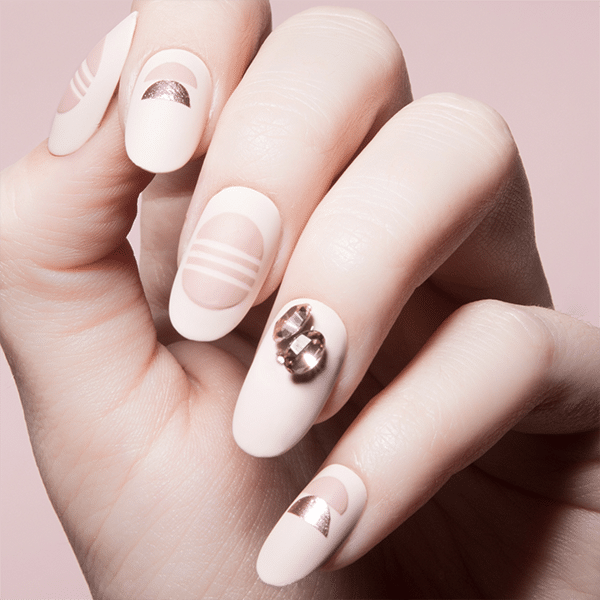 6. Diamonds All Over
You're probably not going to wear this look to the office, but you should try it for a special occasion. This piece of art is made to make a statement and is very trendy. This is not the most practical nail art and you can worry that it will cling to clothes, but few people look so cheerful and bright. Diamonds are also symbolic, so if you're a woman who wants to make a subtle comment with her nails, then this look is for you. The gemstone's power represents purity and fidelity and is often associated with wealth, luxury, and the finer things in life.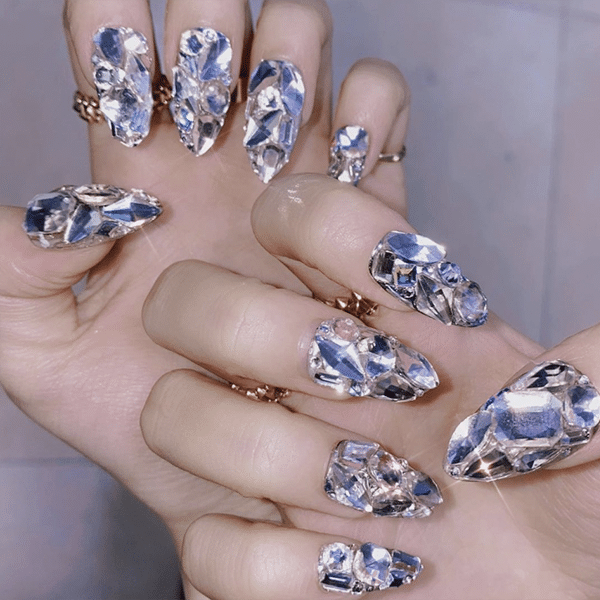 7. Diamond Nail Ring
Decorating nails with precious stones makes the image very feminine and luxurious. There is something so fun about this variation and you can create different patterns for bold or simple and elegant looks. A diamond ring falls somewhere in between these two categories as it is easy to wear and eye-catching. The idea is to focus attention on one nail by putting on a clip with an artificial rhombus on the nail. Soften the rest of the manicure with clear or nude polish and add a few tiny beads or rhinestones to one or two other nails. The result is something that is sure to draw attention to your hands, but you don't have to worry about it being too over the top.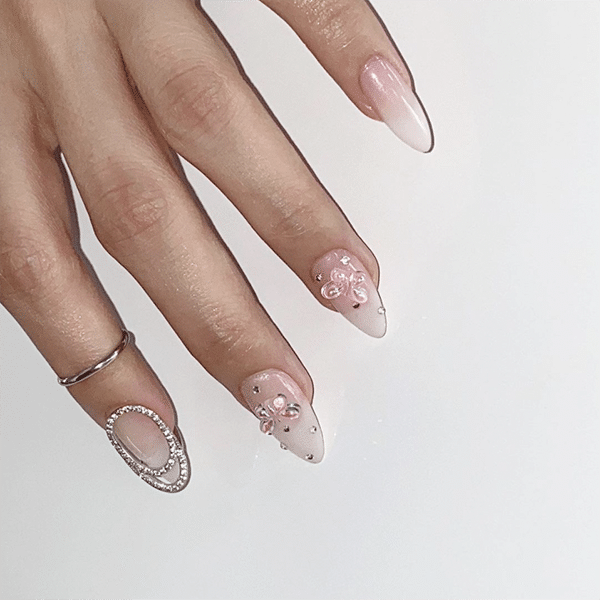 8. Mini Diamonds with Stars
There are several nail art combinations that are as pretty as mini star diamonds. Glitter gems complete the overall look, giving the impression that the stars twinkle on your nails and resemble the night sky. You can make the stars one color for a more subdued look. Or, if you're a woman who loves color, choose a few of your favorite nail polishes and paint different colored stars on each nail. The stars represent direction, hope, and guidance, which is why your work is not only amazing but also symbolic. Dream big and let your personality shine in this gorgeous manicure.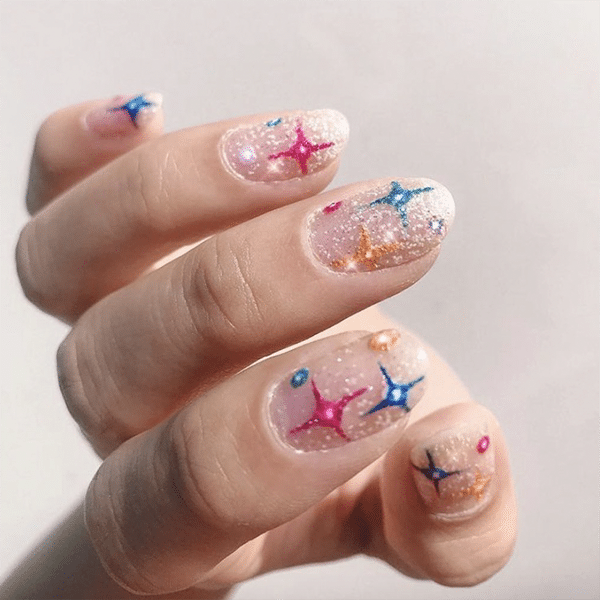 9. Elegant Diamond Nails
The saying "diamonds are a girl's best friend" is true, which is why fake diamond nail art is so popular. If you want an elegant look that looks pretty without being too flashy, then this is for you. This is a variant of the French manicure, but instead of polish covering the top of the nails, you opt for tiny rhinestones. To make the look even more interesting, you can add a second line at the base of the nail. Paint your nails with a clear or nude base coat to create a simple look and draw attention to the little pearls.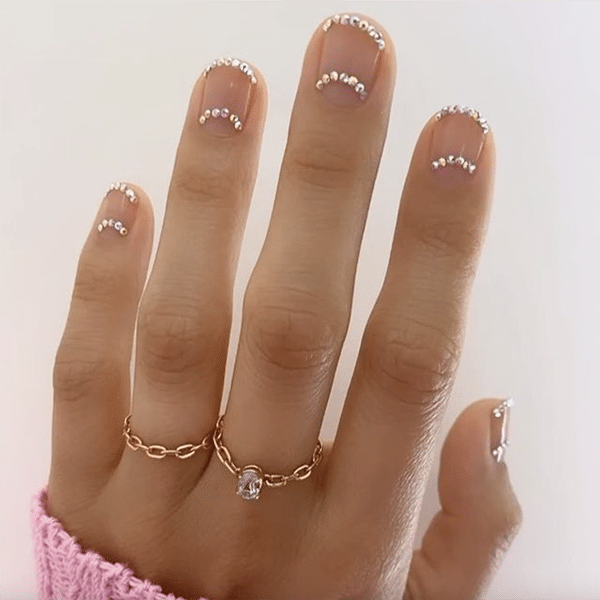 10. Natural Nails With Diamonds
Whimsical polishing and highly detailed images are great if you have the time to make them, but many of these looks aren't always appropriate for the office or more formal occasions. But a gemstone manicure is nothing short of versatile, and natural diamond nails are one of the easiest manicures you'll find. This look is subtle yet gorgeous, easy to create, and great for a variety of occasions. He also works with nails of various lengths and shapes. Add a clear base coat and then choose one diamond pattern for each nail. They come in different sizes and you can experiment with placement; different angles make for a visually more interesting look.