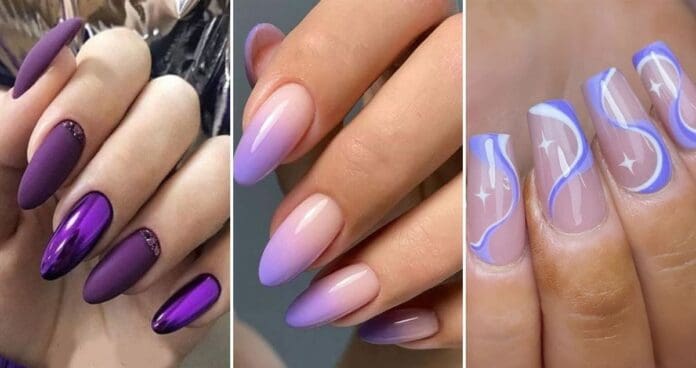 Purple is a rich shade that will give your nails a luxurious look and is often associated with royalty, sophistication, and power. It pairs well with many different colors, from contrasting combinations like green and orange to more subtle combinations. You can choose light or dark shades, depending on how dramatic you want your look to be. Choose from beautiful and comfortable pastel colors to bold and vibrant neon hues. It's also a color that pairs well with a variety of looks like sequins and ombre or adding nail designs like butterflies. This is a great choice for those who want something beautiful and symbolic.
1. Light Purple Nails
Purple is such a strong color that it requires attention. It makes us think of royalty and power and can make your nails look luxurious. However, darker polishes are not for everyone and are often not suitable for everyday wear. If you prefer something more subtle, opt for light purple nails. This washed-out shade is less intense and easier to wear, making it a beautiful and feminine choice. You can do this by simply choosing one shade of nail polish, or have fun and experiment with different colors, one for each finger.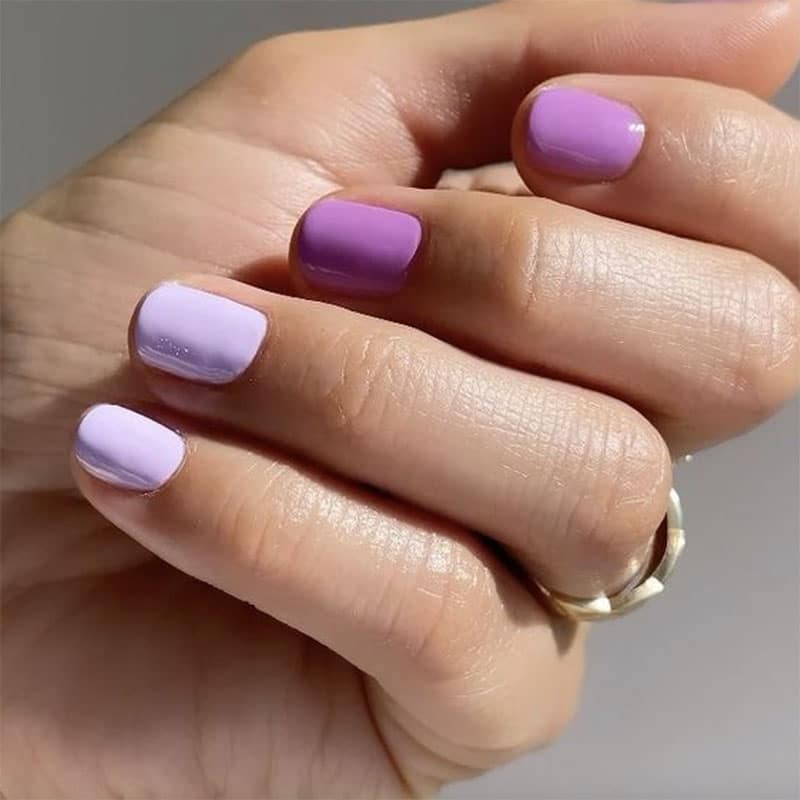 2. Dark Purple Nails
Dark purple nails are suitable for those who are not afraid to stand out from the crowd. They are easier to wear and less intense than black polish, but still rich and will draw attention to your hands. The color suits nails of any shape and length, and you can have fun adding your own touches, whether it's coloring the main nail a different shade of purple or adding tiny rhinestones. For a dramatic and vampiric effect, you can choose the right shade of lipstick or eyeliner. Wear this polish with confidence and enjoy the attention it will bring.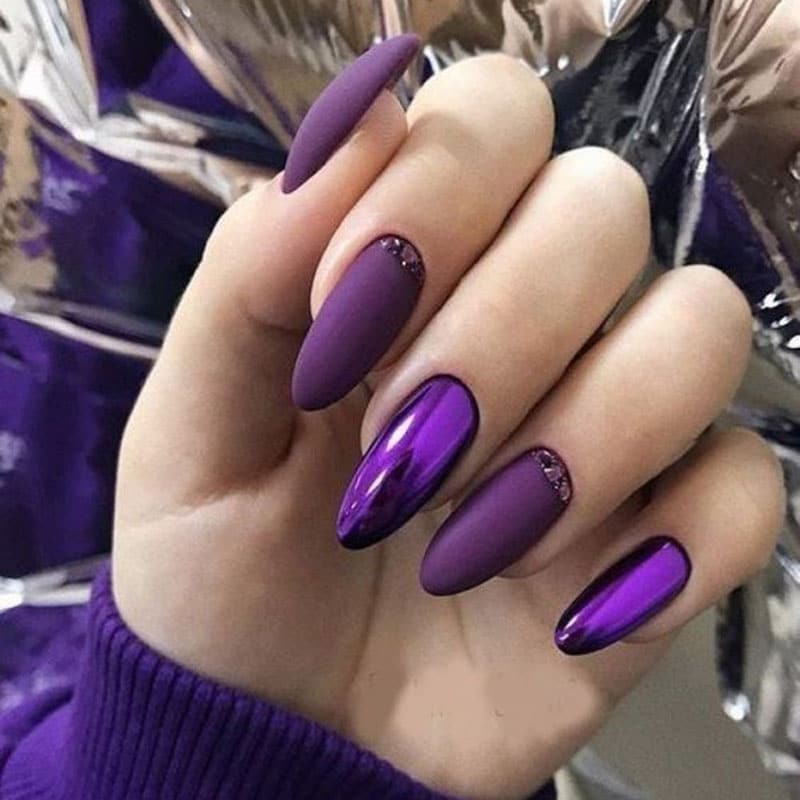 3. Black and Purple Nails
Black and purple nails are a gorgeous and luxurious color combination. Saturated shades go well with each other and are associated with power and authority. This is an easy way to make yourself known and let the world know that you are the boss girl. The combination is also reminiscent of the night sky and can serve as a reminder of the beauty of nature. To do such a manicure, you need a confident person, but you will not regret doing it. One of the most attractive aspects of combining these colors is their versatility. Get creative with nail stickers, designs, glitter or shimmer polishes, or matte finishes. The choice is yours!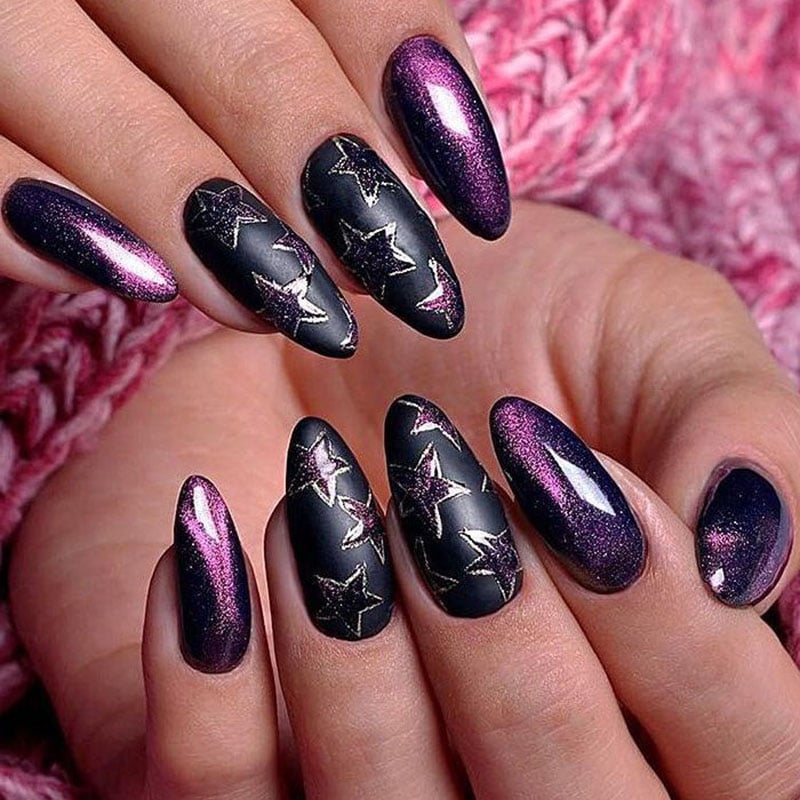 4. White and Purple Nails
The great thing about the purple polish is that it is extremely versatile and can be mixed with a variety of colors. White and purple nails look fresh and modern and will create a manicure that you won't want to look away from. White is associated with cleanliness and purity but is also a timeless and classic choice. The neutral shade is easy to mix and match and you can get creative by pairing them. Maybe you want to opt for stripes, a decorative nail, or create a more sophisticated look by painting white flowers. Floral patterns are a popular and feminine choice for nail art and can be worn in a wide variety of settings, from casual to more formal.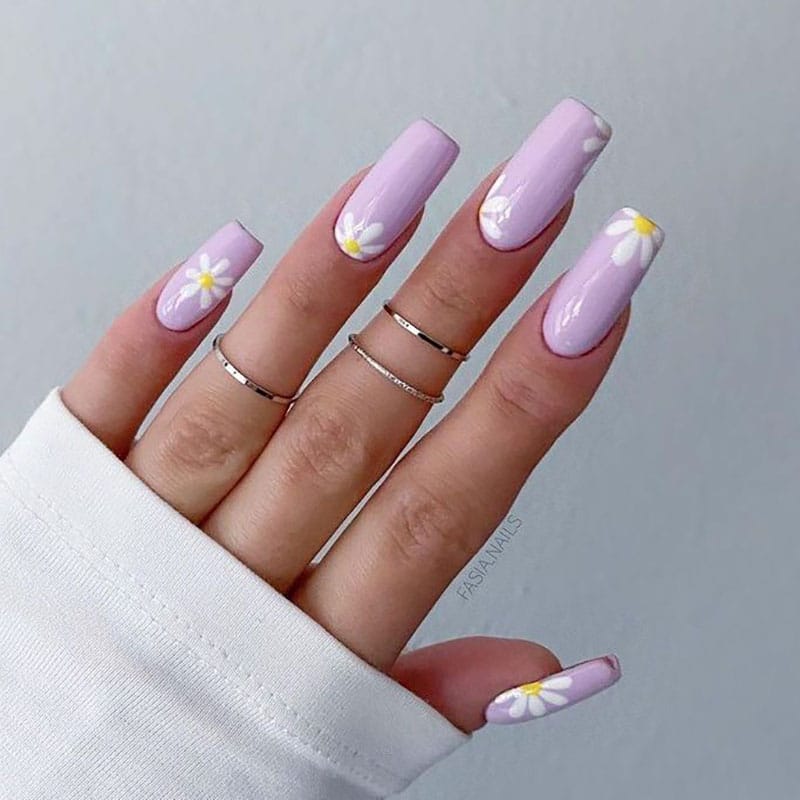 5. Purple Ombre Nails
Purple ombre nails are dreamy and gorgeous, making them a fantastic choice for any woman. Mixing two colors, one light and one darker creates a trendy look and is a fun way to wear multiple colors. For a very subtle approach, you can opt for light purple and nude polishes, and for something a little bolder, solid, neutral like white or even black, this is a great way to brighten up your manicure. There are so many color combinations you can make, so choose the one that best reflects your style.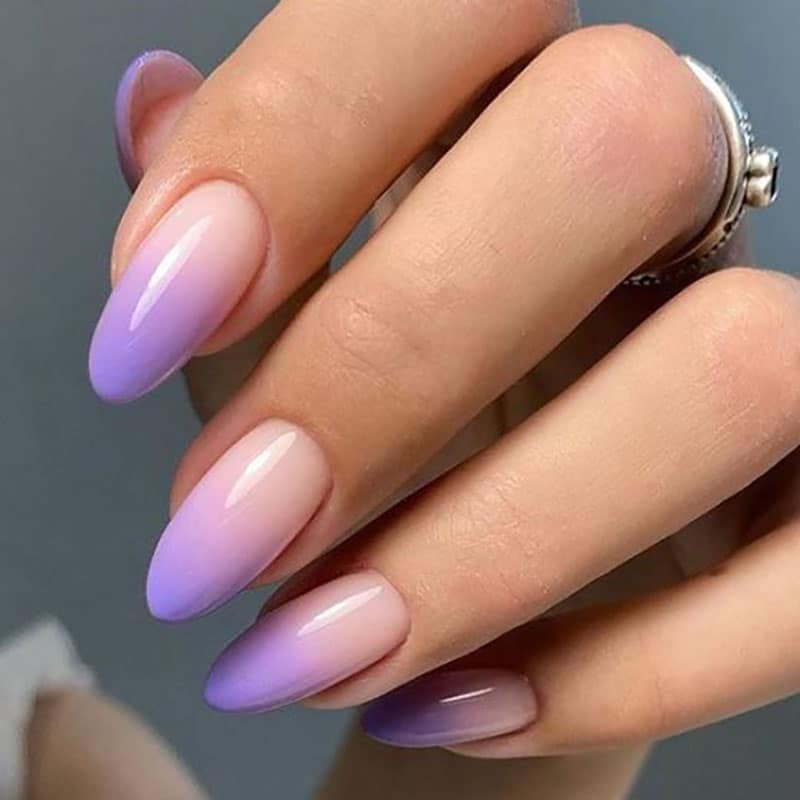 6. Matte Purple Nails
Matte purple nails are a great choice for your next trip to the salon. The lacquer has no sheen, which makes the finish more interesting and subtle. Purple is a color that immediately stands out, but the matte effect creates a more subdued look. It is comfortable to wear and looks great on nails of any shape and length. As for how you should paint your nails, well, that's entirely up to you. You can choose different shades or just one, focus on the tips, color the entire nail, or play with negative spacing.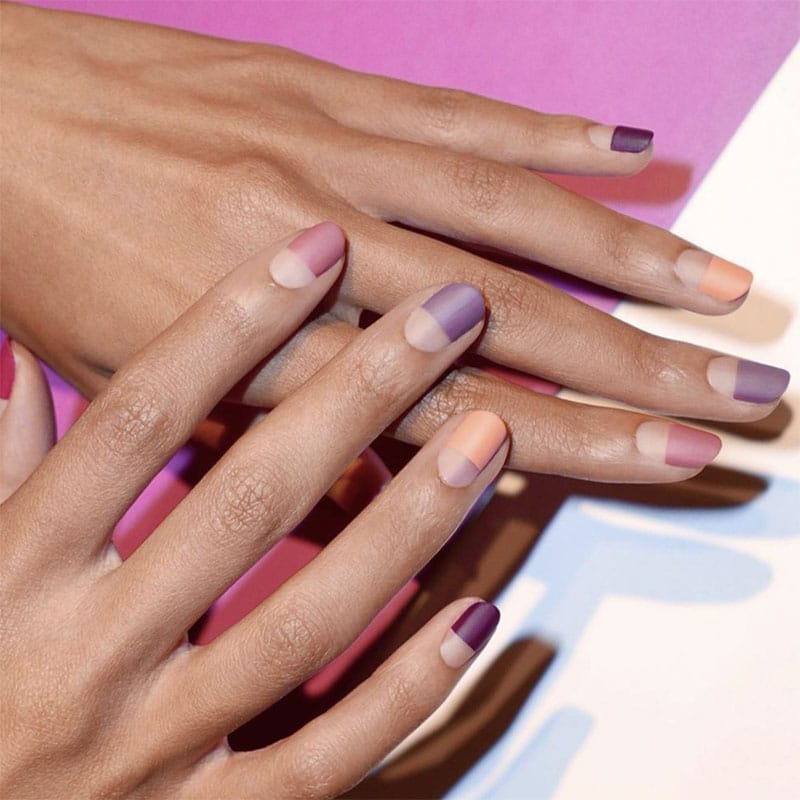 7. Purple Glitter Nails
If you want to add sparkle to your life, look no further than purple glitter nails. The great thing about pairing purple shades with glittery nail polish is that it looks amazing. The shimmer makes even the simplest manicure interesting. However, some people are hesitant to try glitter or think they should only be saved for the holiday season. Making sure this isn't the case requires getting creative with placement, and you'll often find that smaller is more. This can be done by filling in only the hints or by using negative spacing.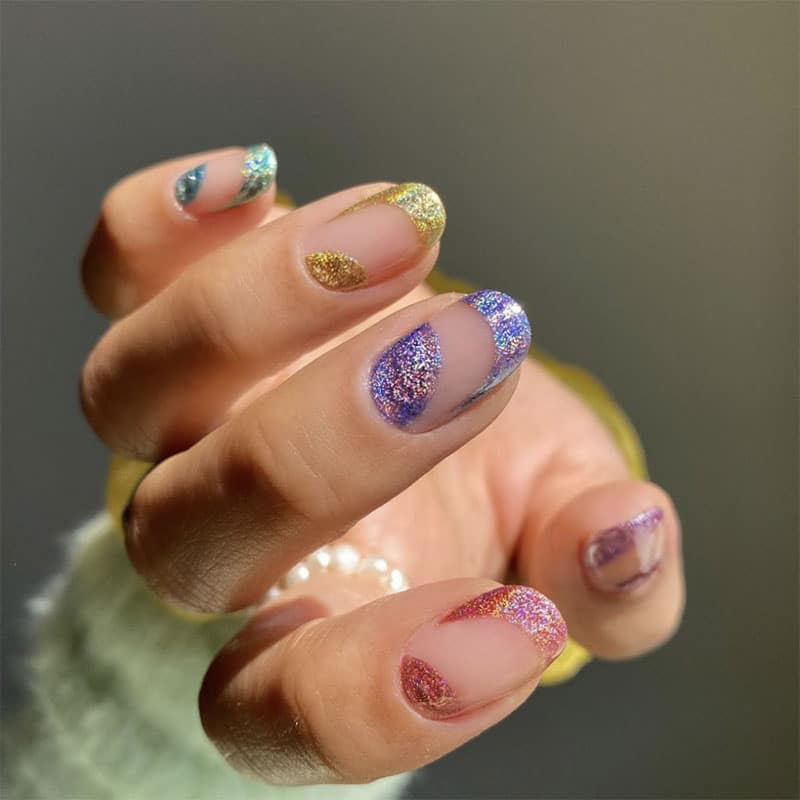 8. Blue and Purple Nails
Blue and purple nails are a great combination. The colors are very similar making this one of the thinnest combinations and suits all nail shapes and lengths as well as most skin tones. You can choose light or dark shades and experiment with shimmery or matte finishes. When creating your look, you can choose an ombre approach, draw one shade over another, or mix two colors in an interesting nail design.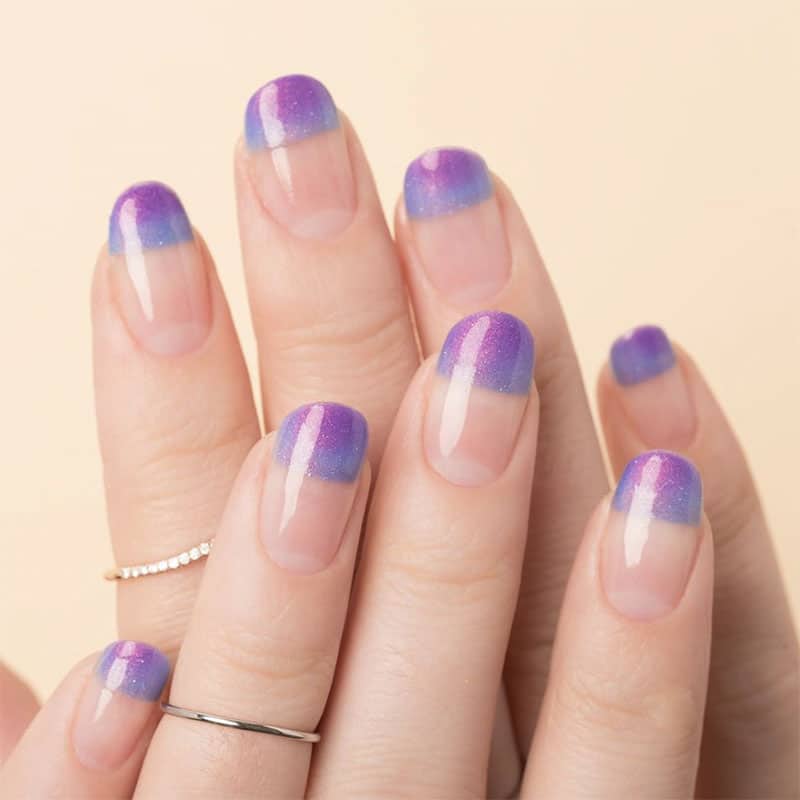 9. Pastel Purple Nails
Pastel colors are a classic of nail art. They will never go out of style because they are very soft and comfortable to wear. There are also a variety of colors to choose from, from pale blue and candy pink to beautiful pastel purple nails. What you will love about this option is it's dreamy and easy to wear. It works well with a variety of shapes and suits most nail shapes and lengths. For a girly look, use pastel colors. Or, for a more understated look that will make your manicure the center of your look, stick with solid neutrals. Pastel colors complement neutral colors, especially white.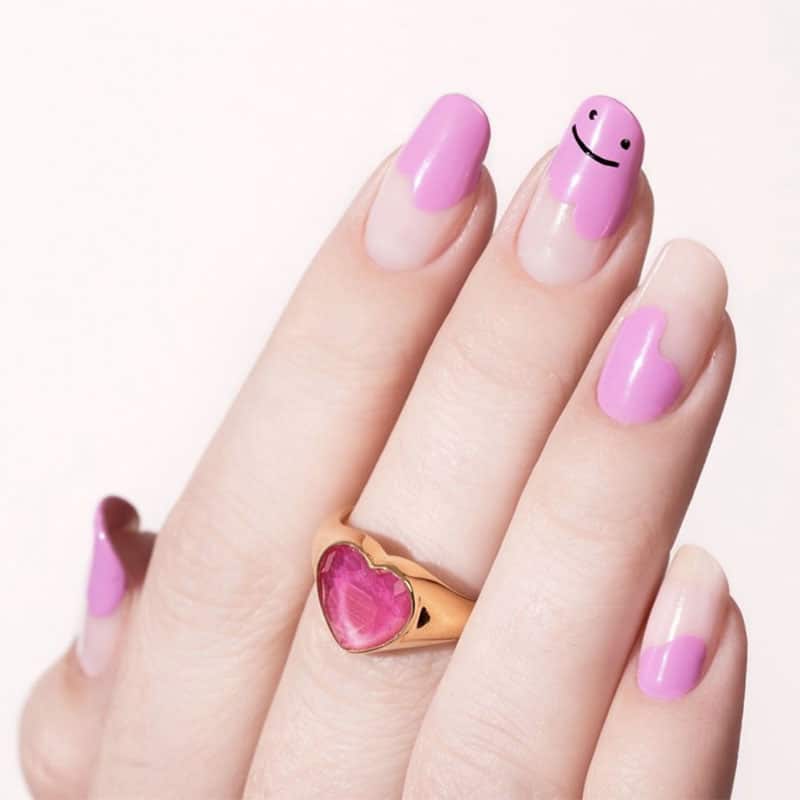 10. Purple Butterfly Nails
Butterflies were a big trend in the 90s and in 2021 you will find them everywhere again. These beautiful winged creatures have inspired hairpins, makeup, tattoos, and manicures and can be created in a wide variety of colors and shapes. Purple butterfly nails are a great choice for any woman who wants a beautiful and symbolic manicure. Insects are associated with transformation and change, an ideal choice for those going through a period of transition or growth. You can make your work look like it's fluttering on each nail, or focus on one nail instead; The ring finger is a popular choice and an opportunity to draw attention to special pieces of jewelry, such as a wedding or engagement ring.