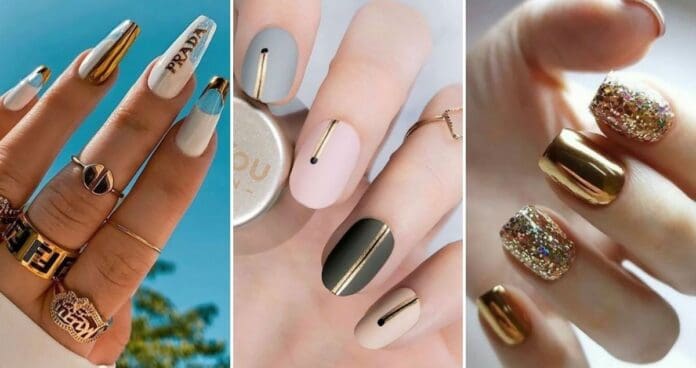 For thousands of years, this metallic shade has represented wealth, extravagance and wisdom. From the catwalk to the pages of Vogue, color continues to be on trend. This nail color is perfect for any season or event; you can rock this art and feel like royalty. Whether you love jewelry, stars, or logomania, we've rounded up some inspirational ideas for you. If it's time to change up your usual manicure, take a look at these stylish gold nail designs.
1. Cosmic Pastel Nails
Get your next manicure across the galaxy with these space nails. This combination of pastels and golds is a very cute way to show off your zodiac sign and stay trendy at the same time. This style works with a wide range of lengths, but you can include more intricate designs with a slightly longer tip. Get a French manicure and paint the tips in different shades – great options include lavender, sky blue and soft pink. Small space decorations are the perfect finishing touch and give you a sense of radiance.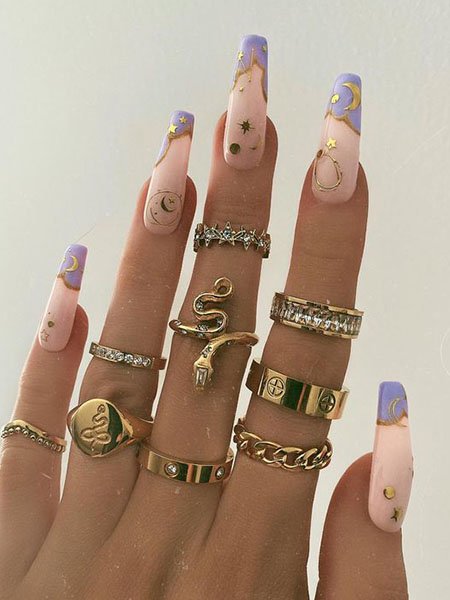 2. Natural Nails with Tiny Gold Detail
The smallest details help create a work of art, and you can see it in action with this stylish manicure. Glossy canvas is the best place to start this design – stick to short lengths and clean beds for best results. Decorate the tips of your nails with tiny golden shells. The styles that best complement them are pearls or any other shapes you prefer. Metallic shades give your fingers a subtle shimmer without overpowering the minimalist hue, leaving you with a timeless and beautiful nail design.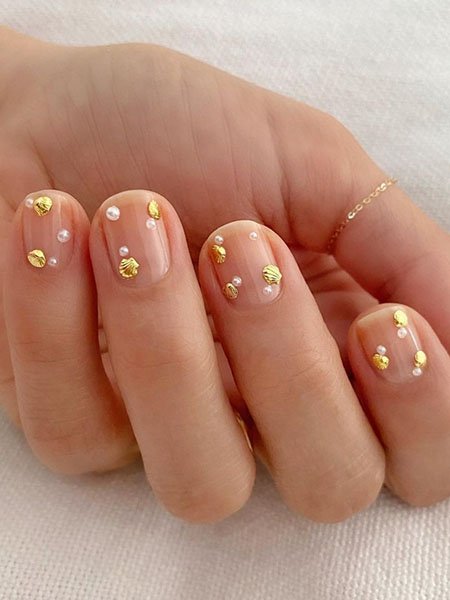 3. Cute Floral Nail Art with Gold Detail
For those who love timeless extravagance, this manicure is for you. Combining light pink and white with a floral pattern and gold embellishments is the perfect way to show off your love of fashion. For this design, select three fingers for white petals and add small golden dots to the center of each flower. The remaining tips can be soft pink or flesh-colored – stick medium-sized pearl stickers on the middle finger, outlining the shape with the smallest gold beads. If you want more embellishments, carefully apply the same metallic specks to the top of the nail bed. Whether you're going to a bachelorette party or taking photos for Instagram, this style really grabs attention.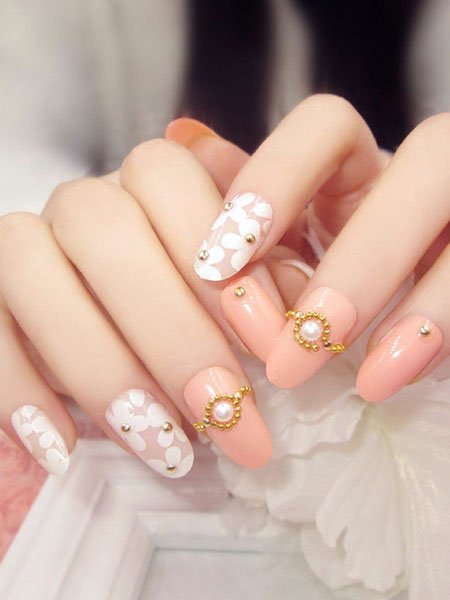 4. Gold Abstract Art Nails
Make your fingers the canvas for your next creation. The beauty of this art lies in the variety of colors, patterns, and placements that don't make it too overwhelming. Starting with a white base, take a medium-sized brush and apply pastel blue, soft pink, lavender and gold polish over the top, leaving parts of the undercoat showing through. Fill in the empty space of the nail by adding small black dots on every second or third fingertip. This design is all about fluidity, so let yourself have fun mixing and matching different color combinations and unleash your inner abstract artist.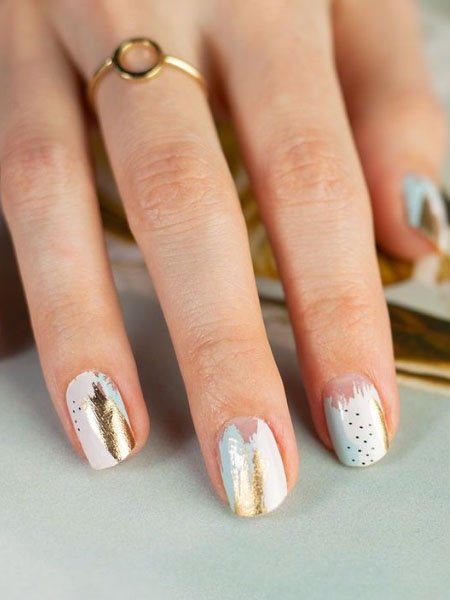 5. Gold Stars Nails
Aiming for the stars just got a little easier with this sparkling nail art. Despite its simplicity, this manicure is sure to grab attention, and it's easy to see why. To repeat the design, paint your nail with neutral or pale pink nail polish – you can make your nails as long or as short as you like. Then carefully place the gold star stickers on the surface of your nail – stick them anywhere and take as many as you want. Blend a little by applying the shape on one finger, making a nail. The options are endless, but the effortless elegance is timeless.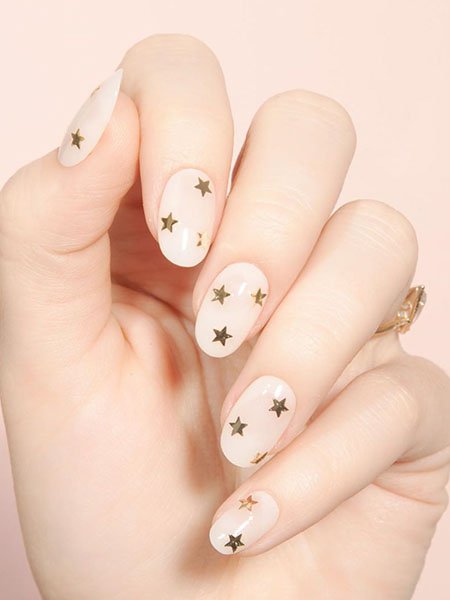 6. Gold Feature Nail
Lengthen your fingers and add a touch of personality with an original design. To make the gold stand out, paint the base nude to make your fingers look long and neatly presented. Use a thin blade to cut the metal sticker into small pieces and spread them evenly over the fourth nail. This is a departure from the traditional style you regularly see as it looks like a cracked mirror that has fallen on your fingertips. The sparkling yet subtle art adds instant attraction and will make you feel like you have dipped your hands into a river of liquid gold.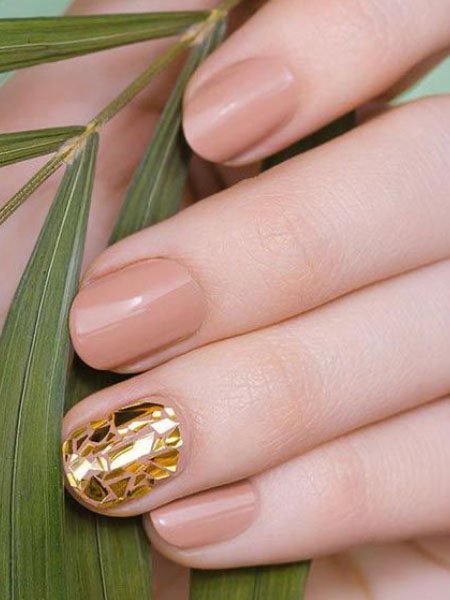 7. Gold Flake Nails
Who said that gold leaf can only be used for paintings and portraits? This stylish and elegant design takes traditional nail art and turns it on its head. When recreating this look, start with a shade of dusty rose, painting over each fingertip. Using a stencil or a small brush, carefully cut out a circle with white polish at each tip – add half circles for the edges of the finger. Gently apply the flakes anywhere and fill in any gaps with the glittery texture. Add a matte top coat to lock in the added layers and leave the manicure neutral.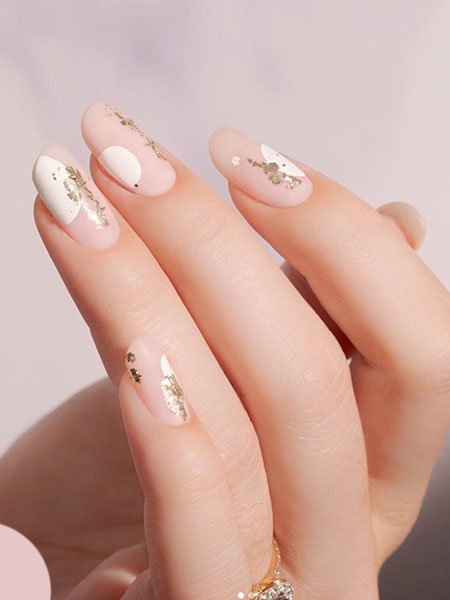 8. Gold Nails With Green Jade Detail
Show everyone what royalty you are with this regal color combination. The vibrant gold polish is reminiscent of 24-carat flakes, while the jade nail adds a majestic hue unlike anything else. Choose any gem shape you prefer and place it on your fingertip to elongate your fingers. Such a manicure is reminiscent of dipping your hands in liquid gold, leaving behind nothing but a stylish and concise design that all viewers will envy.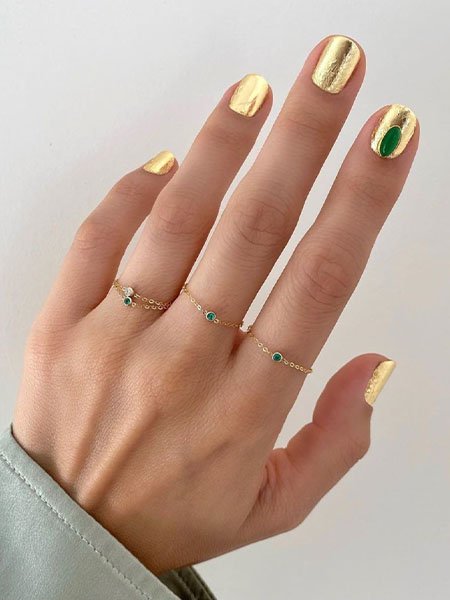 9. Gold Glitter Nails with Jewels
Who doesn't love a little drama? This nail art is over the top but absolutely mesmerizing at the same time. While this can be reproduced at home, you should find an artist who specializes in fine work with gemstone appliqué for the best results. Paint the base of your nail gold and start placing multi-colored round stones in the middle of the bed. Add silver dots around the edges of the fingertips to bring the bold hues together with the gold canvas. You'll want to donate your manicure to the museum as it looks like a priceless work of art.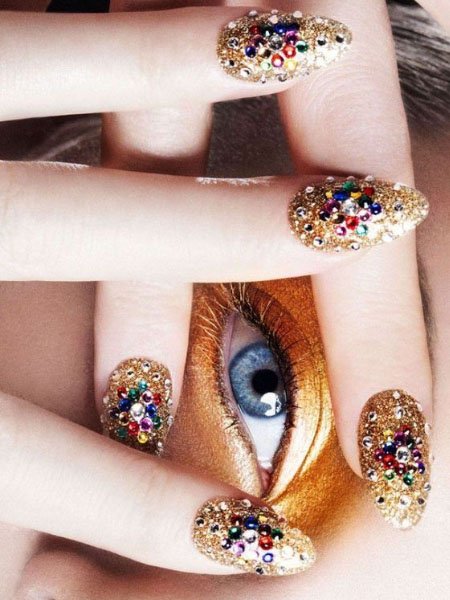 10. Gold Tips
Take your classic French manicure to the next level with gold. This laid-back glamorous option is suitable for any occasion and is easy to DIY. As with the original nail art, you should start with a nude or neutral base. Then apply a thin layer of tape to the ends – for fun, add an extra layer of tape down the center of the bed and apply a matte shade to one side. When it dries, paint the top of your finger with glitter polish. It's a sublime and modern alternative to classic style that will make you feel like a style icon the moment you try it.