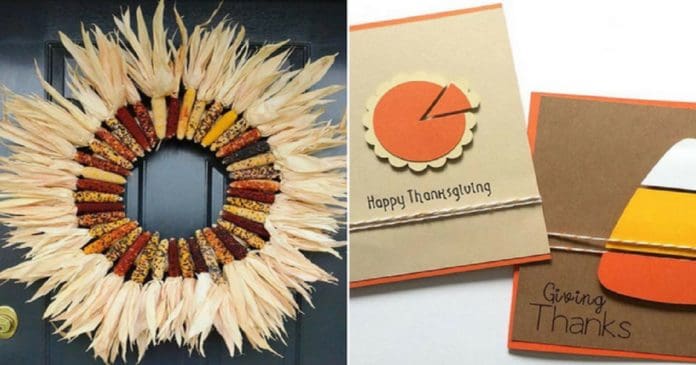 Thanksgiving is a fun occasion where time spent with family and friends is important. So, this thanksgiving why not create some fun crafts. Not only will you get to spend time with the people you care about but you can also make some funky decorations or gifts to give out to. We love this idea and think you will so we have put together a list of 21 thanksgiving crafts. There is something for everyone from creative cards to stylish wreaths. Take a look to find a craft to try!
1. THANKSGIVING WREATH
First up is this corn wreath. The wreath is made from colored corn that has been glued onto a straw wreath. This is a fun and easy craft that will make a great thanksgiving decoration. You could recreate this is any size and use any colors for the corn.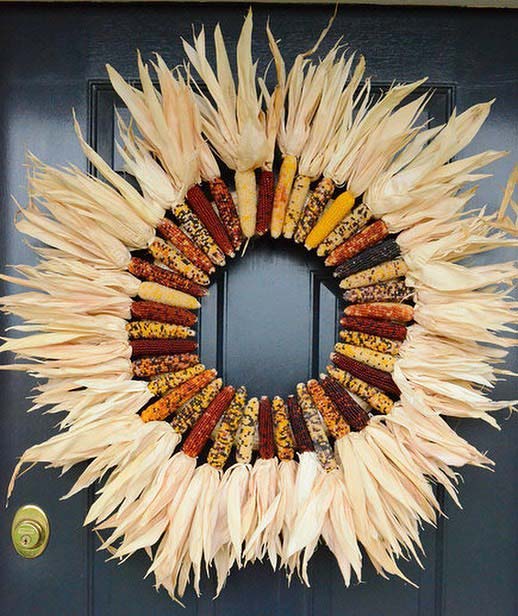 Source: @synergyonelendingutc
2. HAND PRINT ART
Next, we have a craft idea for the whole family. Each member of the family has created a hand print turkey on a board that reads "we are thankful". The turkeys are easy to create with some paint and you can use any colors you like. It is a fun decoration and it will make a nice keepsake to.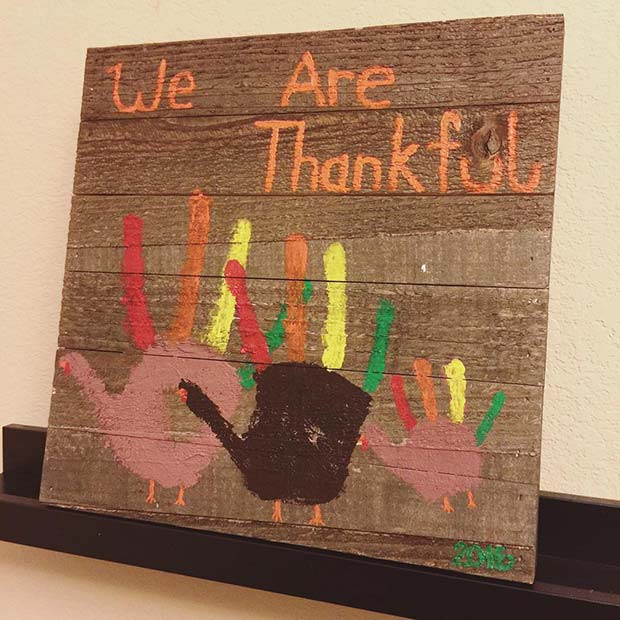 Source: @mrs_syv
3. DIY NAPKIN RINGS
Making a special dinner for thanksgiving? Then you need to check out this napkin ring placeholder craft. All you will need is paper and glitter tape. Just use the tape of your choice and you can even add an autumn leaf like this one. It is a cute idea that everyone will love.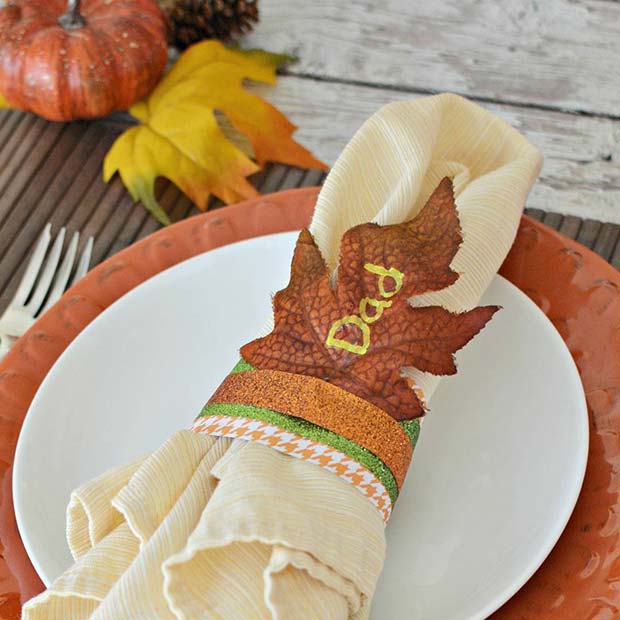 Source: @acraftyspoonful
4. THANKSGIVING CARDS
As thanksgiving is a time of being thankful and grateful, why not send the people you care about a card? You could create some cute cards like these ones. One features a pumpkin pie and the other one has a candy corn. Both could easily be recreated at home.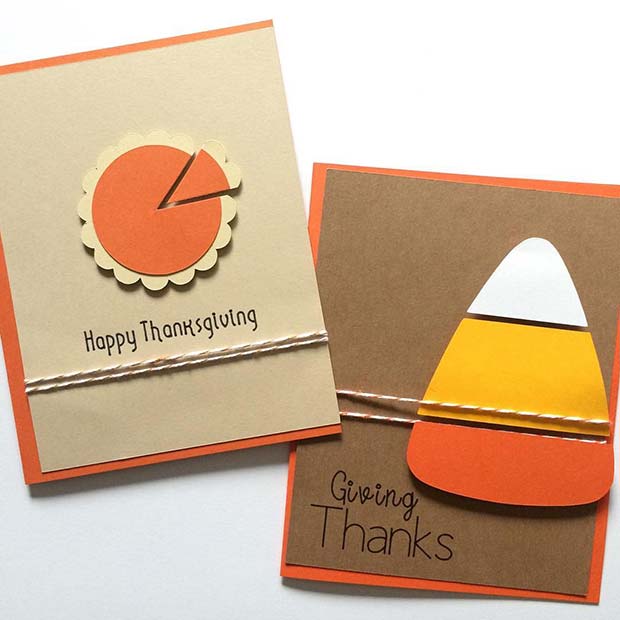 Source: @card_construction
5. PAPER PUMPKIN CRAFT
It wouldn't be thanksgiving without pumpkins. Next, we have a creative paper pumpkin craft that you could use as a decoration. These are cute and quite simple to make. It would be a fun activity for all the family. There are plenty of tutorials available online to help you create the pumpkins.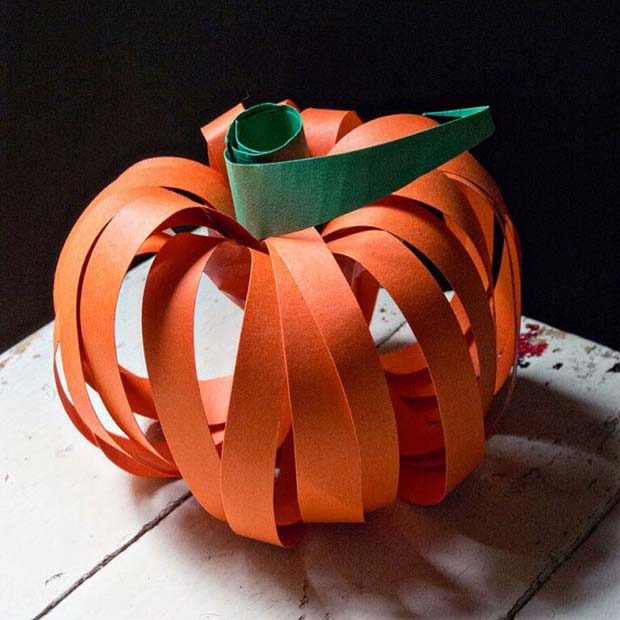 Source: @aprettyhappyhome
6. FALL INSPIRED CANDLES
Candles will make a room look cozy and warm. You don't have to spend a lot of money on pretty candles you could just decorate some. These candles have a beautiful fall inspired design with seeds, corn kernels and more. All you need to do is heat a cheap candle a little then stick the pieces on. You could give these out as gifts to.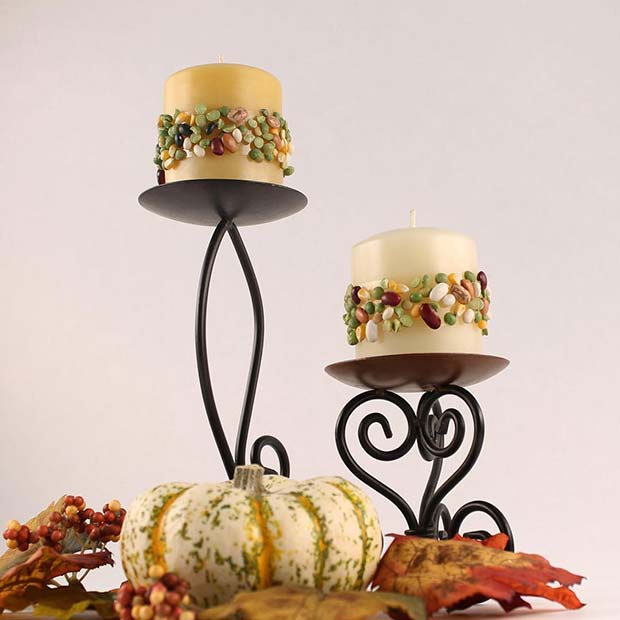 Source: @toadilyhandmadebeeswaxcandles
7. PAPER WREATH
You can create awesome things out of paper. This next pick features a thanksgiving wreath made of paper. The paper was turned into a variety of warm flowers and plants. Something like this will take some time but the result is worth it. You could recreate this in any color with any flower. There are plenty of tutorials online to help you make the designs.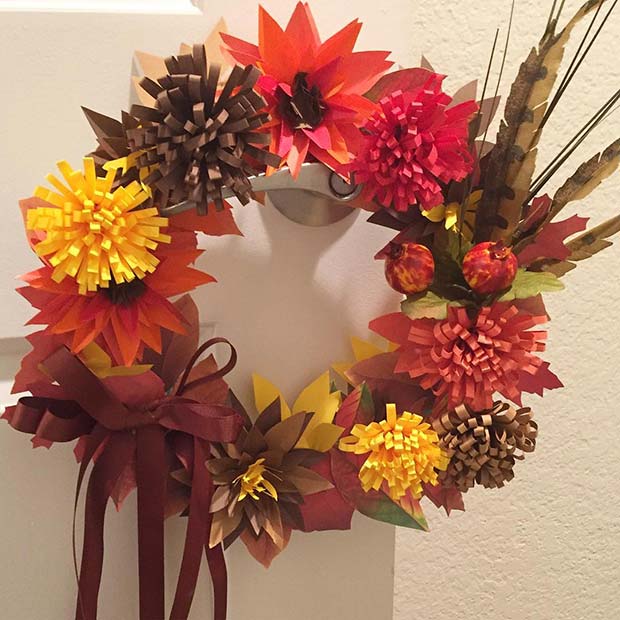 Source: @canyoubelieveyoumadeit
8. FUN TURKEY CRAFT
Next, we have fun craft for all ages. It is a simple idea that will make a cute decoration. All you will need is something small like a plastic pumpkin or a real one. Then paint it, add some googly eyes and finish off with some feet and feathers. You could recreate these in any color.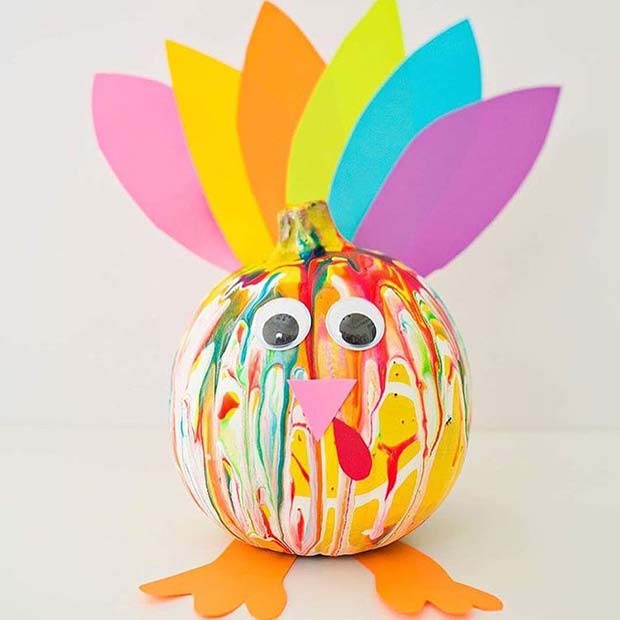 Source: @trunkaroo
9. THANKSGIVING VASES
Our next craft is not only beautiful but can also help you recycle to. Glass jars have been painted and decorated. Then they have been used as vases for flowers. The vases have been decorated with a letter to spell out thanks. It is a great thanksgiving craft idea. You could recreate this with any jar and any flowers.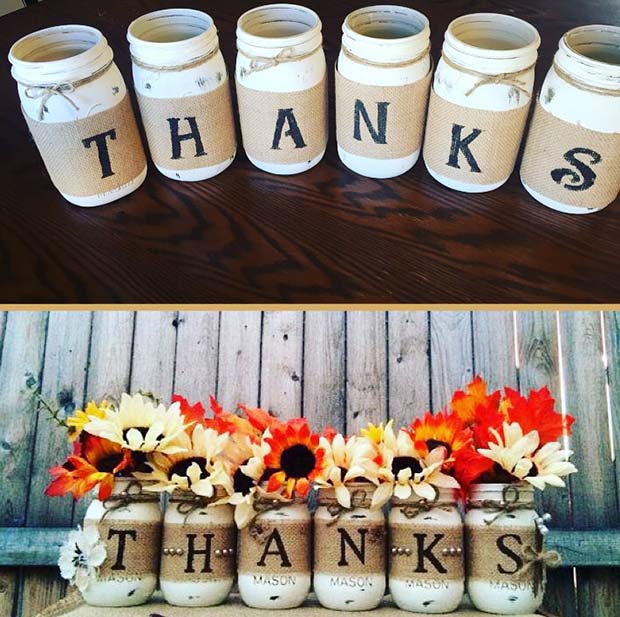 Source: @n_thacker5
10. LEAF ART MOBILE
Looking for unique thanksgiving crafts? Then this next pick is for you. It is a mobile that features fall leaf art. You could recreate these with any leaf design. It is a creative decoration that will jazz up any room for thanksgiving. There are mobile tutorials available online to help you recreate this at home.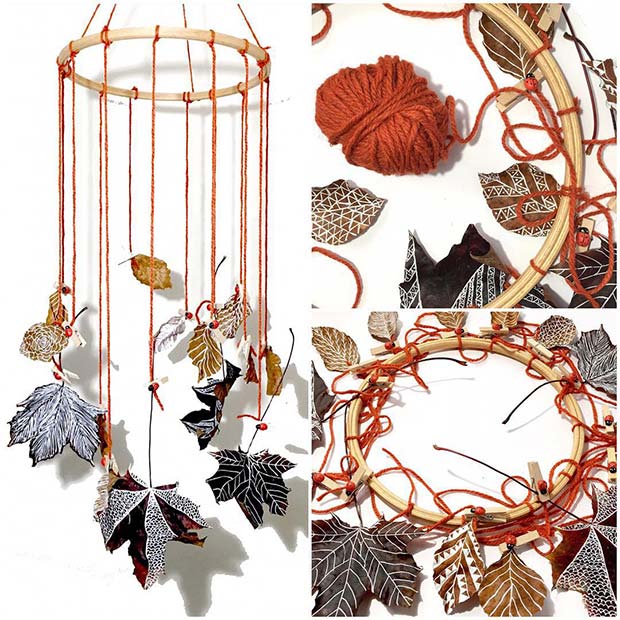 Source: @elistonbutton
11. HAND PRINT TURKEY
Liked the hand print turkeys from earlier in the post? Then you might like this craft to. Instead of creating the turkeys on a board the turkeys have been put onto a card instead. It is a fun way to create a card for family and friends.
Source: @gorn.for.a.run
12. PUMPKIN WINE DISPENSER
Like wine? Then this next craft is for you! A clever crafter has turned pumpkins into wine dispensers. Something like this would be perfect for a gathering with family and friends. You could paint the pumpkins like these or leave them orange. You could also recreate the signs to.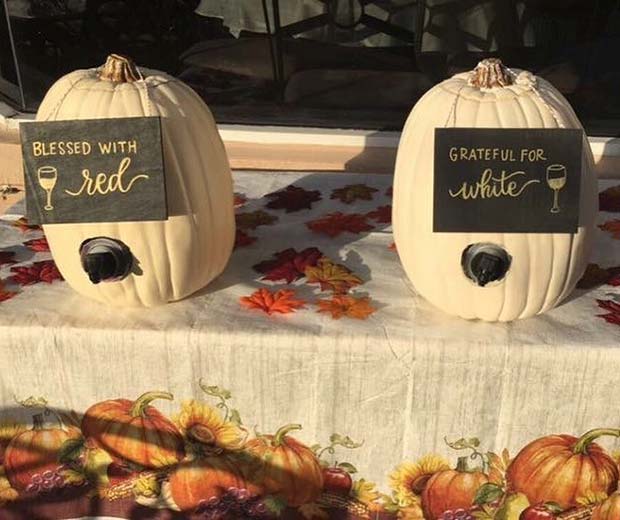 Source: @craftsbylyss
13. GIVE THANKS BANNER
Looking for simple thanksgiving crafts? Then check out this glitter thanksgiving banner. It was created with glitter tapes. All you will need is some letters maybe cardboard ones. Then cover in a tape of your choice and glue to string. It is a fun craft that will jazz up any room.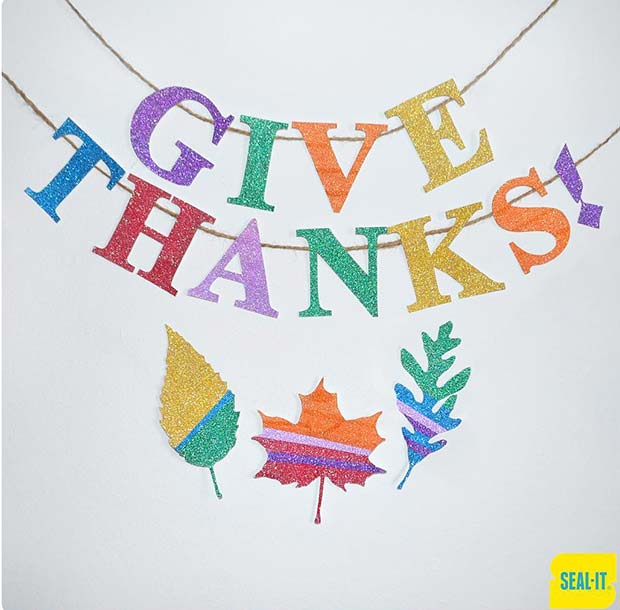 Source: @seal_itbrand
14. FALL VASE DECOR
Here is another way to create a cheap and simple decoration. All you will need is glass vase or you could even use a jar. Then add in some pine cones, berries and more. Try to fill your vase with all things fall. You could even use bits that you find outside or maybe some flowers.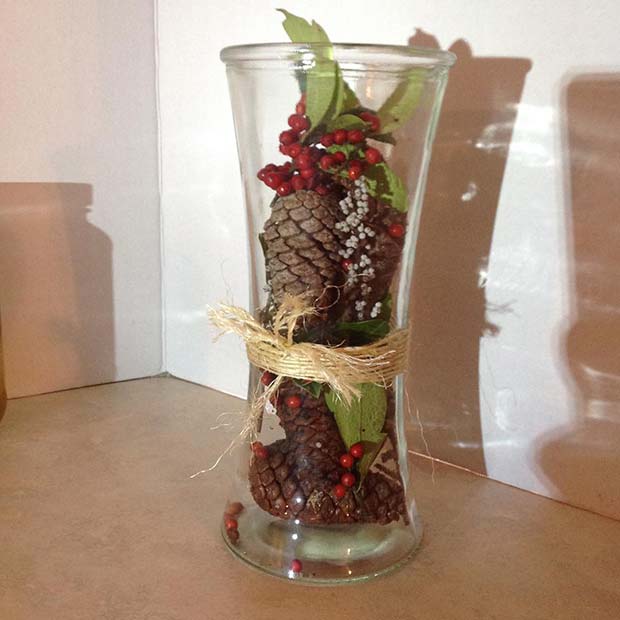 Source: @southerncollard
15. VIBRANT AUTUMN WREATH
If you like the wreath thanksgiving crafts then here is another one you may like. This one is bold, vibrant and will wow everyone that sees it. All you will need is a wreath. You can buy these in straw, rattan and more. Then add in warm colored ribbons, flowers and anything else you like.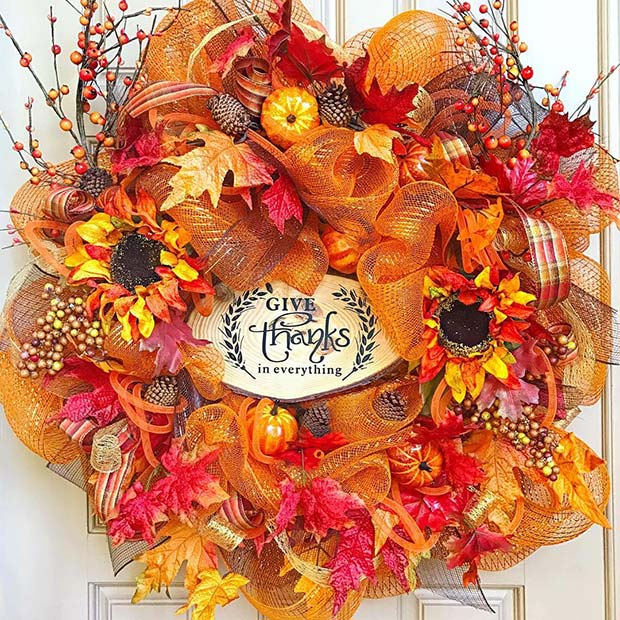 Source: @clovett26
16. CANDY CORN CRAFT
Next, we have a cute craft idea that can be given out as gifts. A handful of candy corn has been put into a small bag with a turkey toes sign to seal the bag. You could even add a personalized message like the one featured. You could use other candy to.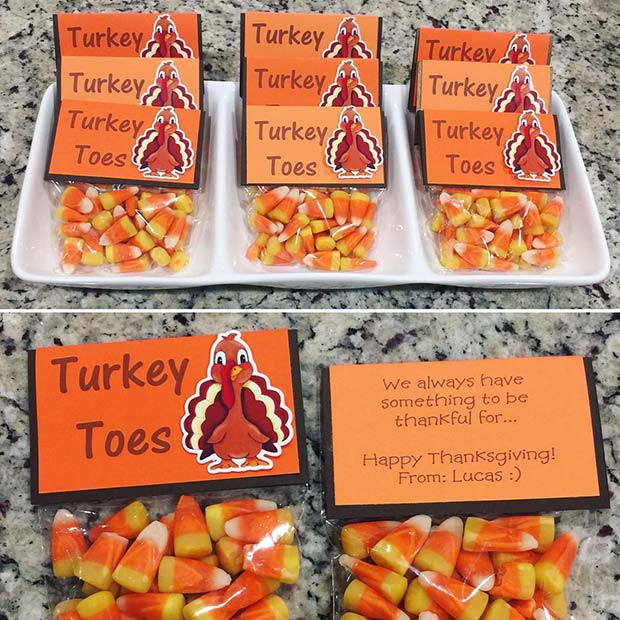 Source: @favorsandmemories
17. GOLD THANKSGIVING CRAFTS
You can jazz up the simplest things to make stylish decorations. This crafter painted leaves, pumpkins and more gold. You could add these to a vase. Maybe try and recreate it with silver pieces and you could even add some glitter. These would be a great decoration in any room. We love easy thanksgiving crafts like these.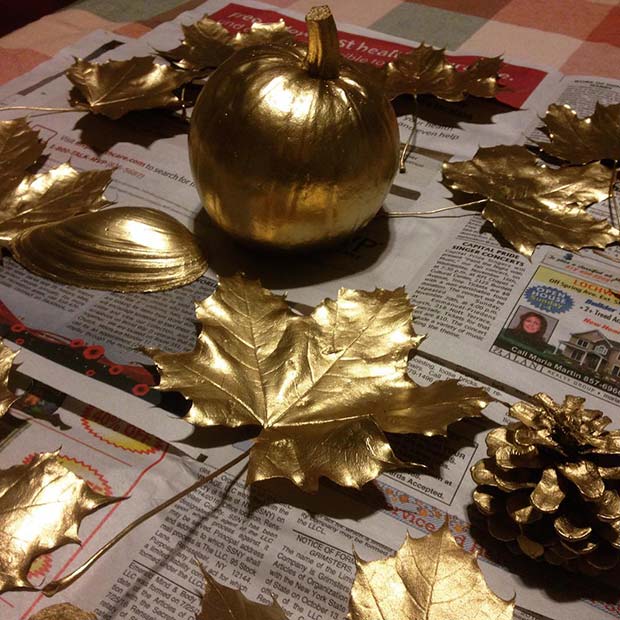 Source: @mandursss
18. THANKSGIVING TREE
Here is another craft idea that will be fun for the whole family. You will need a big tree design with little leaves. Each person writes what they are thankful for on a leaf and sticks it to the tree. It is a fun way to spend time with the people you care about and you will have a nice decoration to.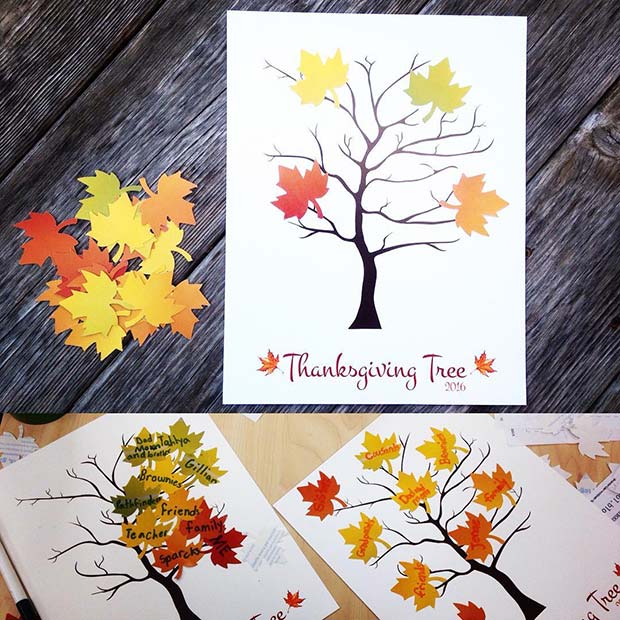 Source: @paperscapedesign
19. THANKFUL PUMPKIN DECORATION
Pumpkins are a must have for thanksgiving. You can create endless cute crafts with pumpkins. This next one is a pumpkin sign with the words thankful. You can recreate something like this with some paper and paint. You can be as artistic as you like this with this.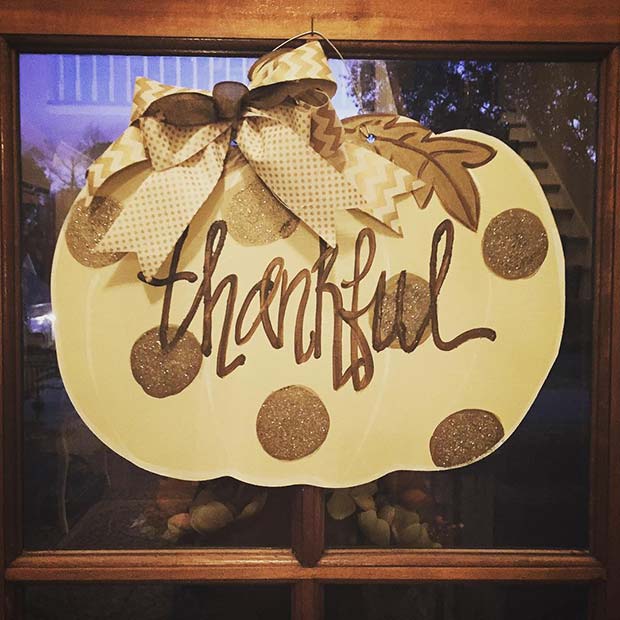 Source: @southerngirlsnest
20. FALL INSPIRED PLACE CARDS
If you are having a special dinner this thanksgiving, then why not create pretty place cards like these. Everyone will know where to sit and will feel special that you made them. You can recreate these however you like. All you will need is some card and cute fall decorations to stick on.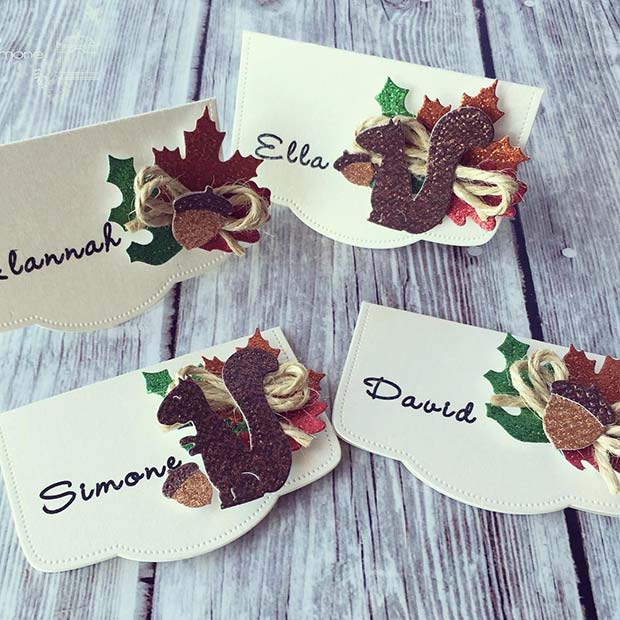 Source: @designsbysimonen
21. CUTE THANKSGIVING BLOCK CRAFT
Last on the list is this cute block craft idea. All you will need are some blocks and paint. Paint the blocks in autumnal colors and write letters on them to spell out a message like "give thanks". You could even create the turkey block to. We love this idea!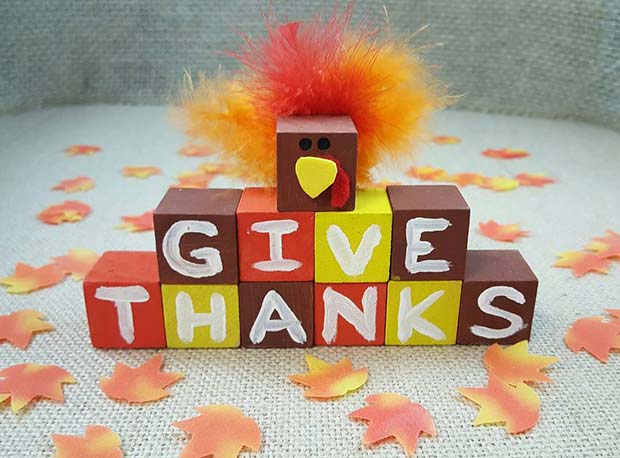 Source: @ssworldwide
We hope you have been inspired by our thanksgiving crafts.