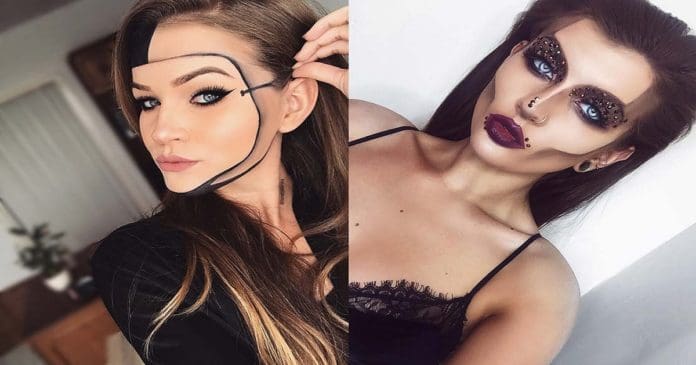 Already planning your Halloween costume? Then you need to check out our favorite Halloween makeup looks. Makeup is a great way to make you look terrifying, cute or unique for the celebrations. Whichever look you are going for, we have a makeup idea for you. You will find magical mermaids, spooky skeletons, wild leopards and more on our top 23 picks. Scroll, get inspired and make sure to pin/save your favorite looks.
1. PRETTY CLOWN HALLOWEEN MAKEUP LOOK
Roll up! Roll up! Our first Halloween makeup idea is this circus clown. The look has used some of the classic clown makeup features with the eyes and lips but used them in a modern and stylish way. Makeup like this can be recreated and there are tutorials online. If you want to spook it up, you can add contact lenses.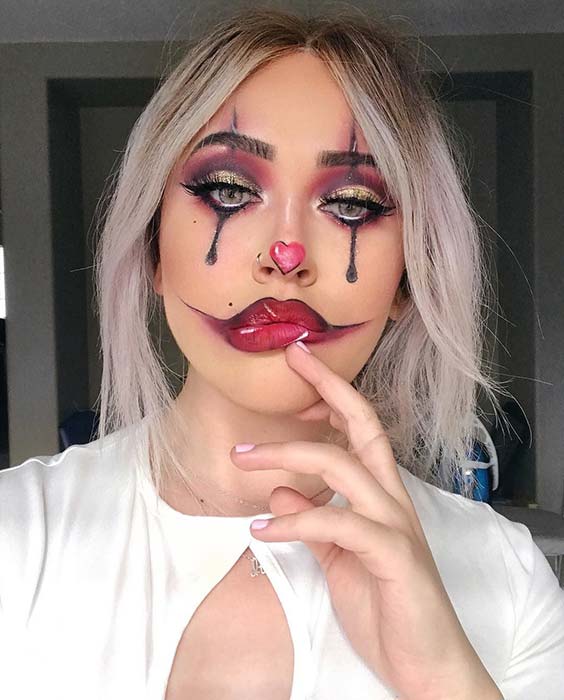 Source: @itssteephh
2. COMIC BOOK WONDER WOMAN
Next, we have a Halloween makeup idea featuring Wonder Woman! This super look is inspired by the Wonder Woman featured in the comic books. The artist has created a comic book design using black lines and white highlights. This is such a fun and creative idea, it is great for anyone who wants to join in but not look scary.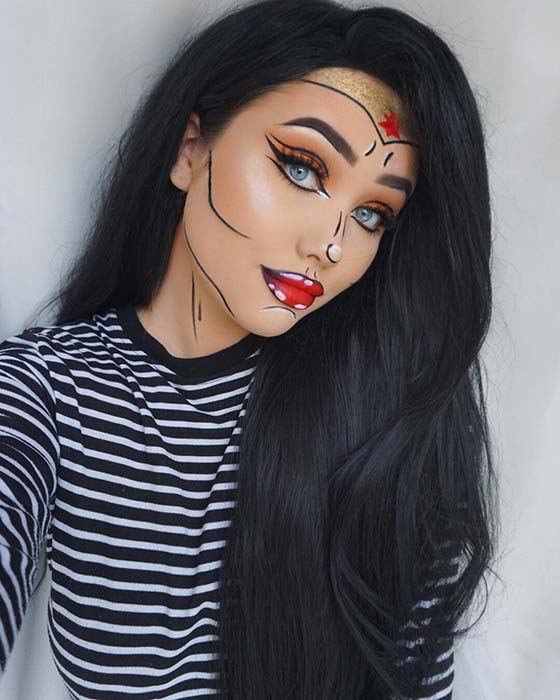 Source: @ohmygeeee
If you need a step-by-step tutorial for the look, here's a YouTube tutorial by NikkieTutorials:
3. SUGAR SKULL MAKEUP LOOK
Sugar skulls have been inspiring Halloween makeup year after year. If you want to give the look a try this year, this next idea is for you. Here we have a sugar skull inspired look that features skeleton makeup with a pretty heart design and bright flowers worn in the hair. You can create a simpler look like this or you can use this as inspiration and add more patterns to it like the traditional sugar skull designs.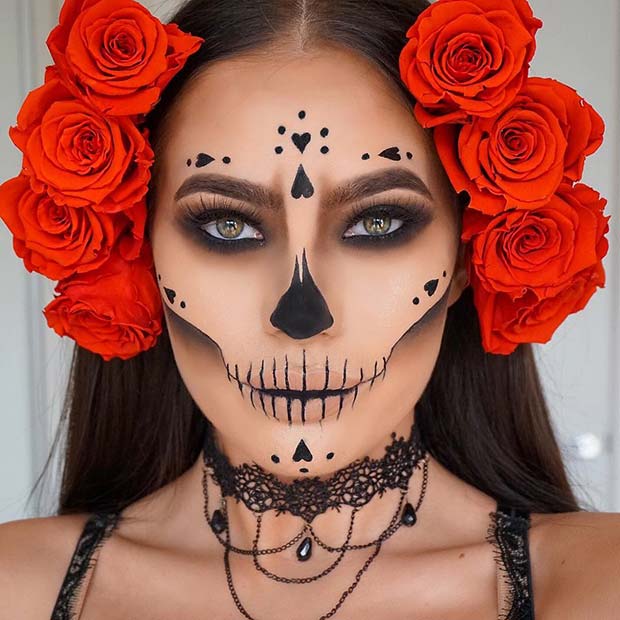 Source: @laurabadura
4. MELTING MAKEUP WITH GLITTER
Illusion makeup is always a big hit at Halloween. Here we have a melted face illusion idea. The artist has created a design that looks like half the face is melting to show her shimmering face underneath. You can recreate the glitter look or choose a different face to be revealed. You can practice makeup like this at home but it will take some practice. The end result will be totally worth it, we promise!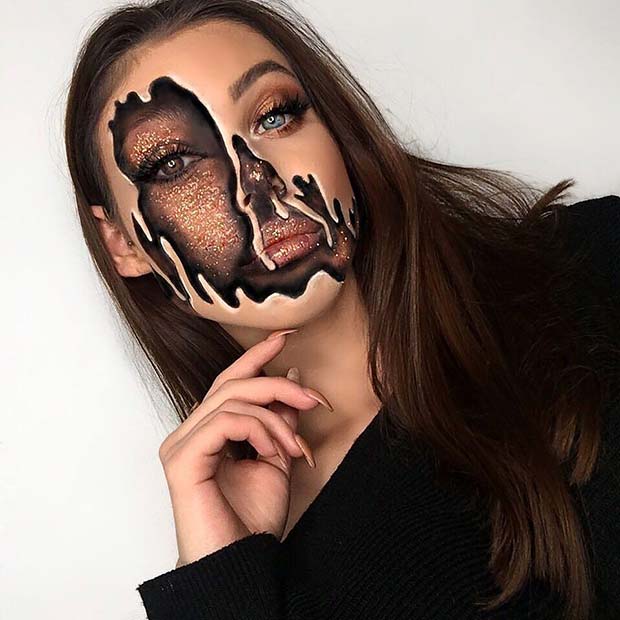 Source: @beautybymsh
5. VOODOO DOLL MAKEUP LOOK
Our next Halloween makeup idea features a unique and spooky design inspired by Voodoo dolls. The look uses the classic Voodoo designs such as stitches and the red heart. We love this idea because it is so creative and different. It could be quite an easy design too. Go as simple or as scary as you like.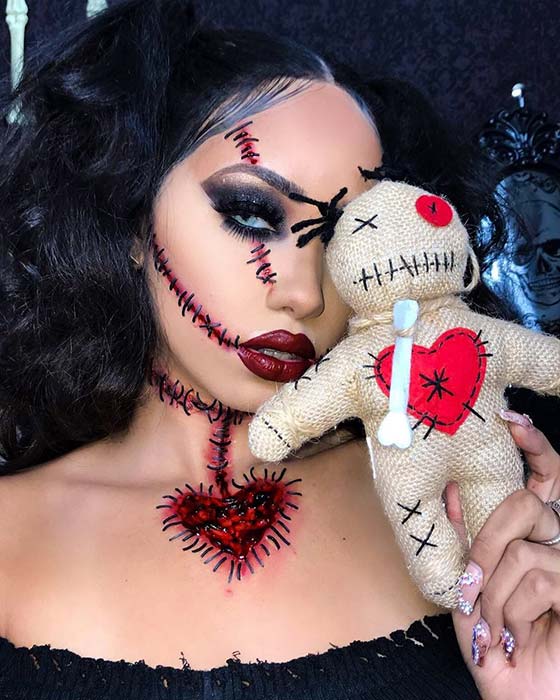 Source: @thefashionfreakk
Tutorial for the look is here:
6. FELINE HALLOWEEN MAKEUP IDEA
Be fierce this Halloween with feline makeup. This artist has created a lioness look which you can recreate or you can choose more of a classic black cat design. Either way, you will have a wild look that joins in the Halloween fun but also keeps you looking stylish too.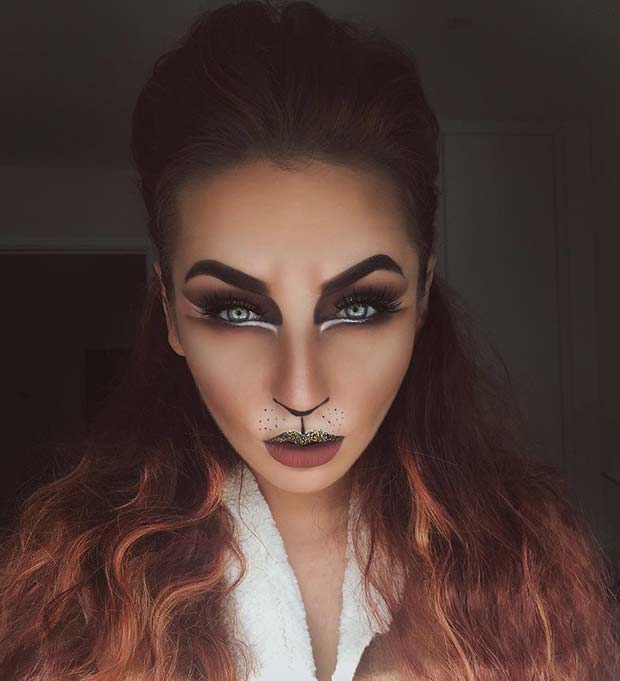 Source: @withlove.nadia
7. MAGICAL MERMAID MAKEUP
Next, we have a magical mermaid makeup idea to show you. Mermaids have been inspiring fashion, beauty and more for some time, so it is no surprise the look has become popular for Halloween too. Here is an awesome example of mermaid look for Halloween. It features a cute scale design, glam glitter and beautiful bright colors. You can create a similar look to this one or create your own unique design.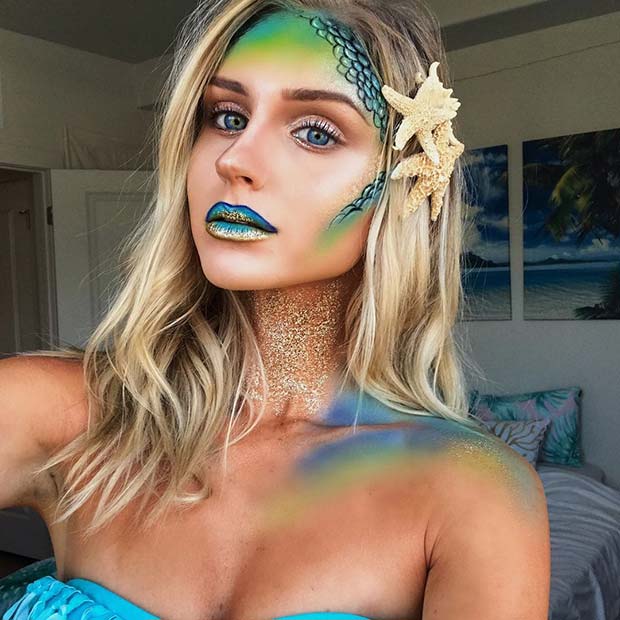 Source: @sadie.shill_makeup
8. SKULL HALLOWEEN MAKEUP IDEA
Skulls are a classic Halloween look. Our next idea shows how you can wear scary skull makeup in style. The artist has used black shading and lines to create a skeletal look and she has added a cool design around the eyes. We love this idea because it can be created by makeup beginners or pros. There are lots of skull makeup tutorials online.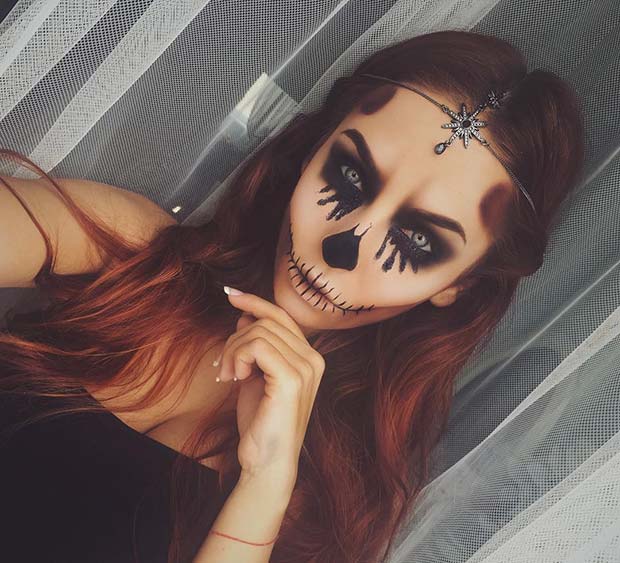 Source: @withlove.nadia
9. CUTE DEER MAKEUP
Prefer to look cute instead of scary? Then this next makeup idea is for you. Here we have an adorable deer design. You can recreate a similar look to this with bow and white shading or you can create simpler look with the white dots, red nose and pretty makeup.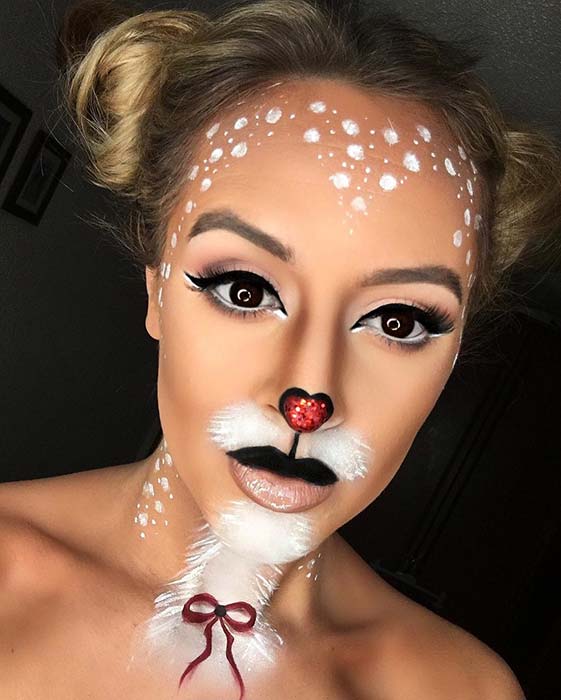 Source: @samoconnormakeup
10. IT INSPIRED HALLOWEEN MAKEUP
IT is clown that has terrified many across the globe both in movies and in the novel. Here we have a makeup idea that was inspired by the horrifying clown. The artist has used the red features of the clown's latest look with beautiful makeup. We think this idea is awesome because it combines IT's makeup with makeup you can wear on a night out. So, you get the best of both worlds. You can look scary and pretty too.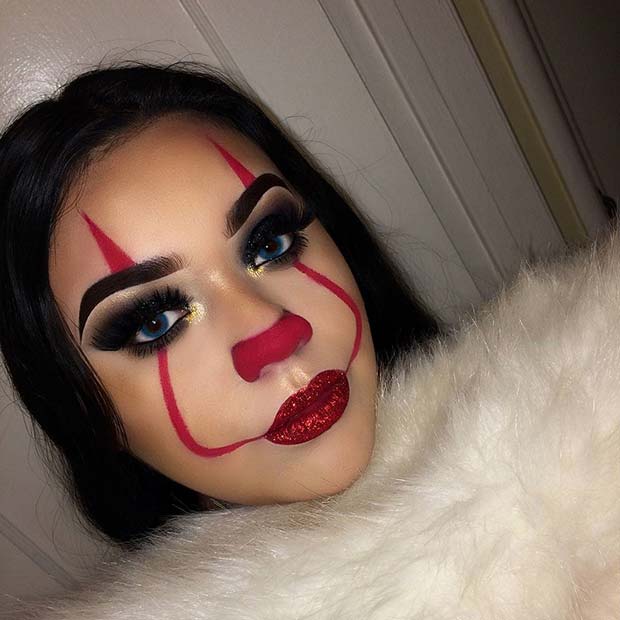 Source: @elisan_510
11. SCARY SKULL HALLOWEEN MAKEUP
Our next idea is another skull idea. This one uses black makeup to create an amazing skeletal illusion. We love how you have to look twice at this image because it looks quite realistic. Makeup like this would look amazing at a party. There are tutorials online to help you achieve similar makeup to this.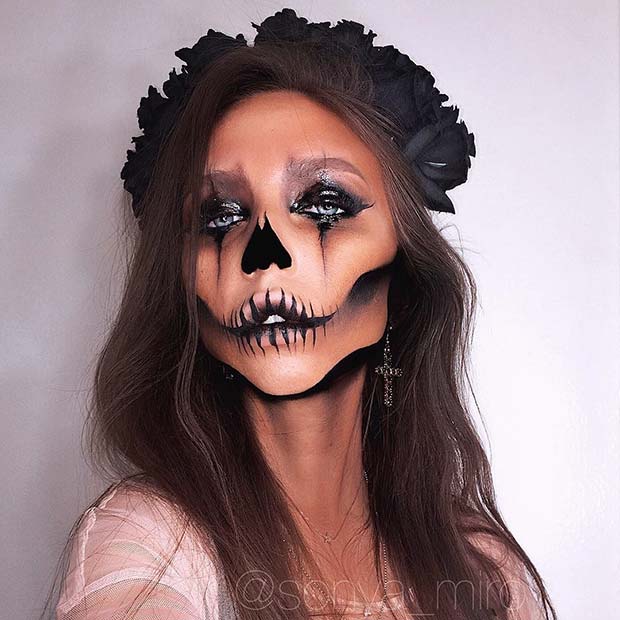 Source: @sonya_miro