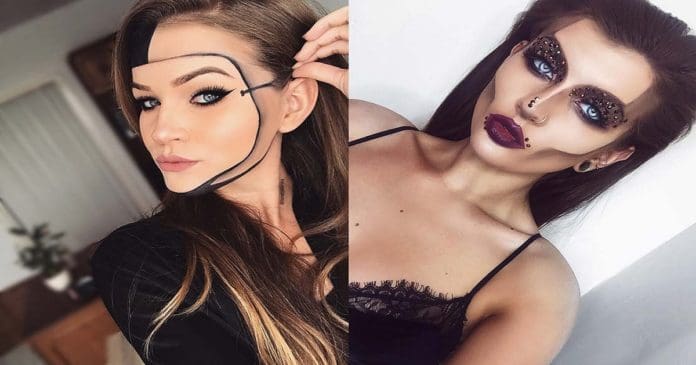 Already planning your Halloween costume? Then you need to check out our favorite Halloween makeup looks. Makeup is a great way to make you look terrifying, cute or unique for the celebrations. Whichever look you are going for, we have a makeup idea for you. You will find magical mermaids, spooky skeletons, wild leopards and more on our top 23 picks. Scroll, get inspired and make sure to pin/save your favorite looks.
1. PRETTY CLOWN HALLOWEEN MAKEUP LOOK
Roll up! Roll up! Our first Halloween makeup idea is this circus clown. The look has used some of the classic clown makeup features with the eyes and lips but used them in a modern and stylish way. Makeup like this can be recreated and there are tutorials online. If you want to spook it up, you can add contact lenses.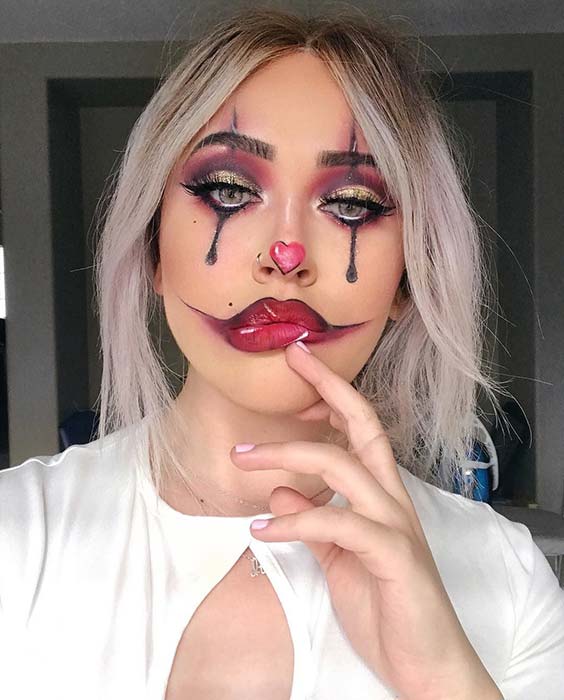 Source: @itssteephh
2. COMIC BOOK WONDER WOMAN
Next, we have a Halloween makeup idea featuring Wonder Woman! This super look is inspired by the Wonder Woman featured in the comic books. The artist has created a comic book design using black lines and white highlights. This is such a fun and creative idea, it is great for anyone who wants to join in but not look scary.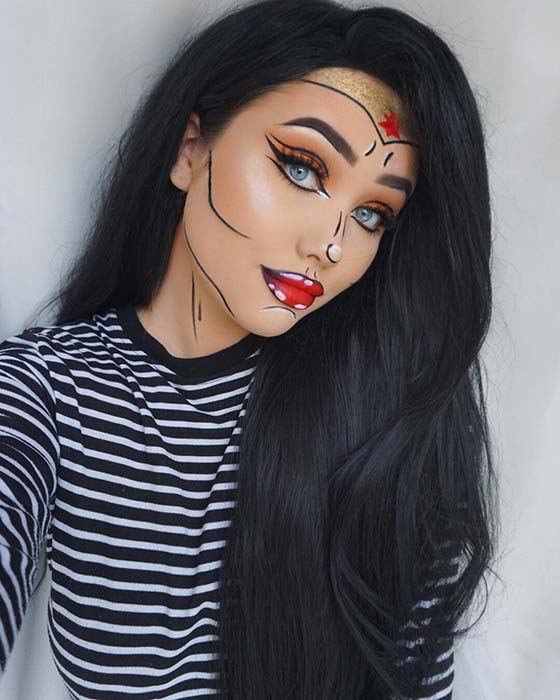 Source: @ohmygeeee
If you need a step-by-step tutorial for the look, here's a YouTube tutorial by NikkieTutorials:
3. SUGAR SKULL MAKEUP LOOK
Sugar skulls have been inspiring Halloween makeup year after year. If you want to give the look a try this year, this next idea is for you. Here we have a sugar skull inspired look that features skeleton makeup with a pretty heart design and bright flowers worn in the hair. You can create a simpler look like this or you can use this as inspiration and add more patterns to it like the traditional sugar skull designs.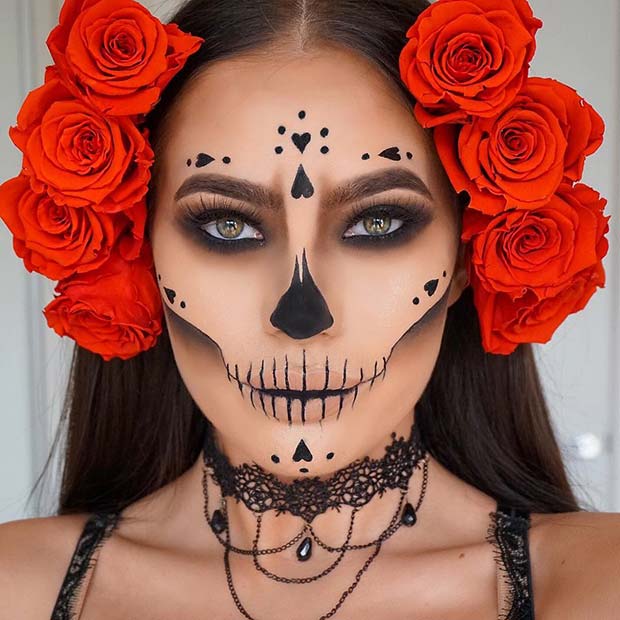 Source: @laurabadura
4. MELTING MAKEUP WITH GLITTER
Illusion makeup is always a big hit at Halloween. Here we have a melted face illusion idea. The artist has created a design that looks like half the face is melting to show her shimmering face underneath. You can recreate the glitter look or choose a different face to be revealed. You can practice makeup like this at home but it will take some practice. The end result will be totally worth it, we promise!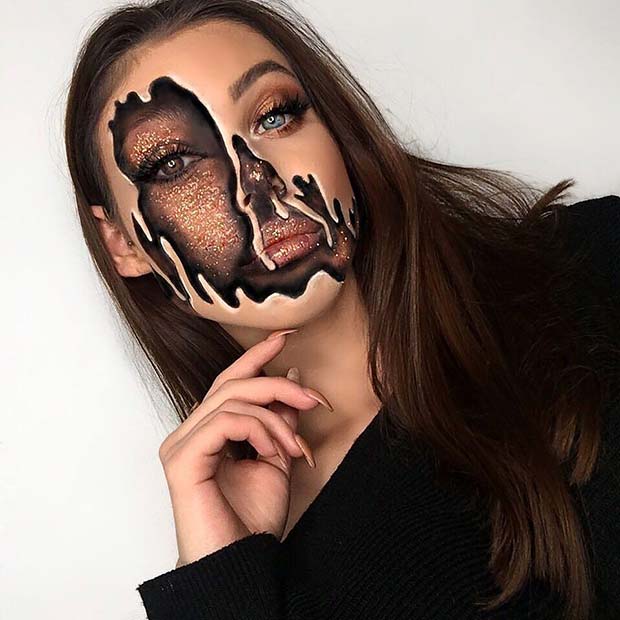 Source: @beautybymsh
5. VOODOO DOLL MAKEUP LOOK
Our next Halloween makeup idea features a unique and spooky design inspired by Voodoo dolls. The look uses the classic Voodoo designs such as stitches and the red heart. We love this idea because it is so creative and different. It could be quite an easy design too. Go as simple or as scary as you like.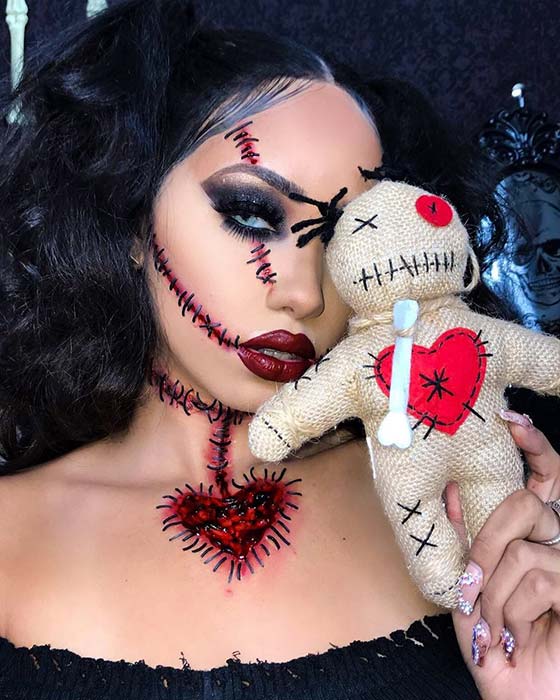 Source: @thefashionfreakk
Tutorial for the look is here:
6. FELINE HALLOWEEN MAKEUP IDEA
Be fierce this Halloween with feline makeup. This artist has created a lioness look which you can recreate or you can choose more of a classic black cat design. Either way, you will have a wild look that joins in the Halloween fun but also keeps you looking stylish too.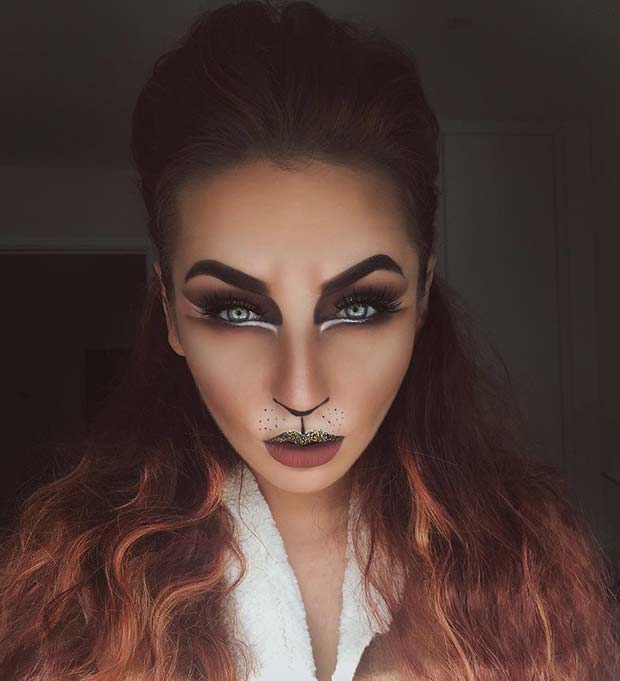 Source: @withlove.nadia
7. MAGICAL MERMAID MAKEUP
Next, we have a magical mermaid makeup idea to show you. Mermaids have been inspiring fashion, beauty and more for some time, so it is no surprise the look has become popular for Halloween too. Here is an awesome example of mermaid look for Halloween. It features a cute scale design, glam glitter and beautiful bright colors. You can create a similar look to this one or create your own unique design.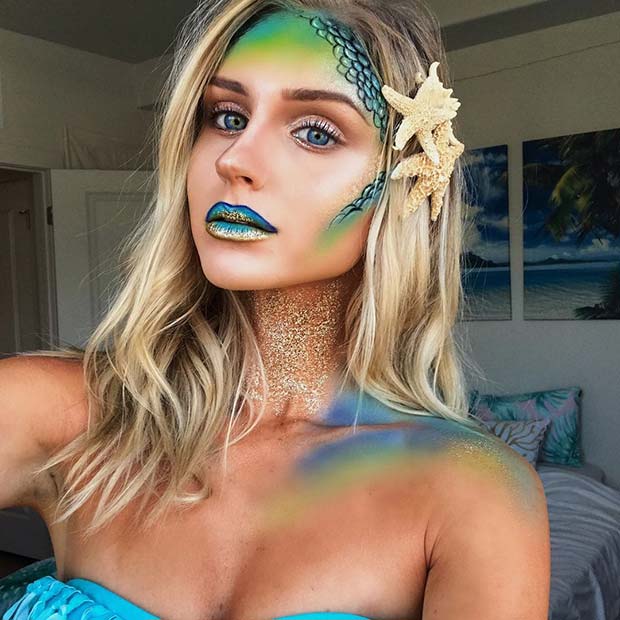 Source: @sadie.shill_makeup
8. SKULL HALLOWEEN MAKEUP IDEA
Skulls are a classic Halloween look. Our next idea shows how you can wear scary skull makeup in style. The artist has used black shading and lines to create a skeletal look and she has added a cool design around the eyes. We love this idea because it can be created by makeup beginners or pros. There are lots of skull makeup tutorials online.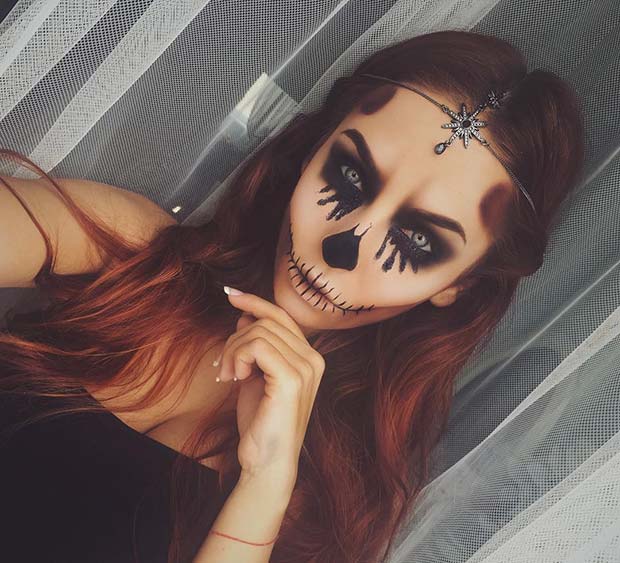 Source: @withlove.nadia
9. CUTE DEER MAKEUP
Prefer to look cute instead of scary? Then this next makeup idea is for you. Here we have an adorable deer design. You can recreate a similar look to this with bow and white shading or you can create simpler look with the white dots, red nose and pretty makeup.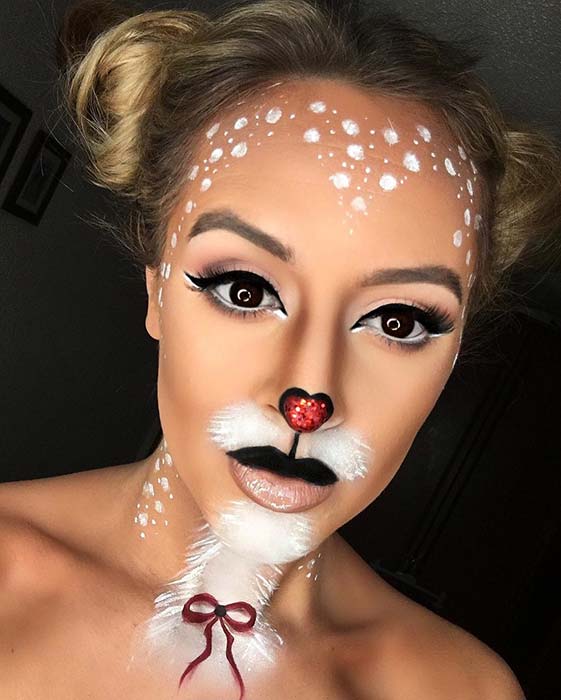 Source: @samoconnormakeup
10. IT INSPIRED HALLOWEEN MAKEUP
IT is clown that has terrified many across the globe both in movies and in the novel. Here we have a makeup idea that was inspired by the horrifying clown. The artist has used the red features of the clown's latest look with beautiful makeup. We think this idea is awesome because it combines IT's makeup with makeup you can wear on a night out. So, you get the best of both worlds. You can look scary and pretty too.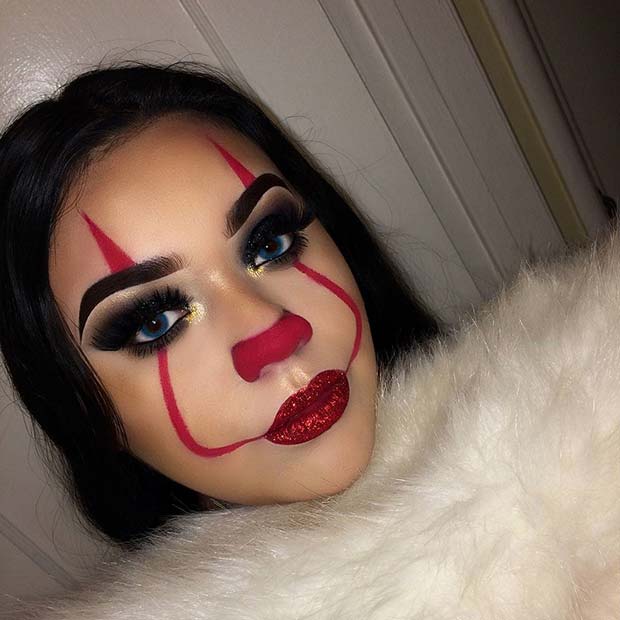 Source: @elisan_510
11. SCARY SKULL HALLOWEEN MAKEUP
Our next idea is another skull idea. This one uses black makeup to create an amazing skeletal illusion. We love how you have to look twice at this image because it looks quite realistic. Makeup like this would look amazing at a party. There are tutorials online to help you achieve similar makeup to this.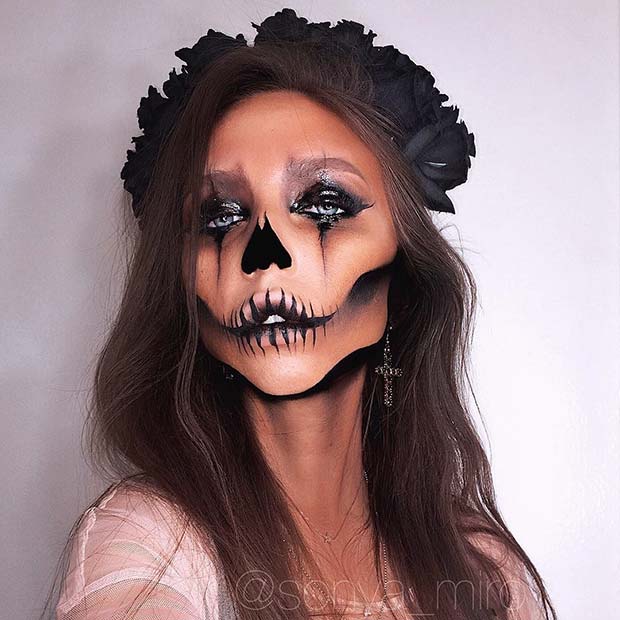 Source: @sonya_miro
12. BRATZ DOLL MAKEUP IDEA
Dolls are a classic makeup choice for Halloween. However, this artist has created a unique illusion Bratz Doll look. Bratz dolls are known for their amazing eye makeup and fashionable clothing. So, this is perfect for anyone who wants a stylish Halloween costume that is a little bit creepy too.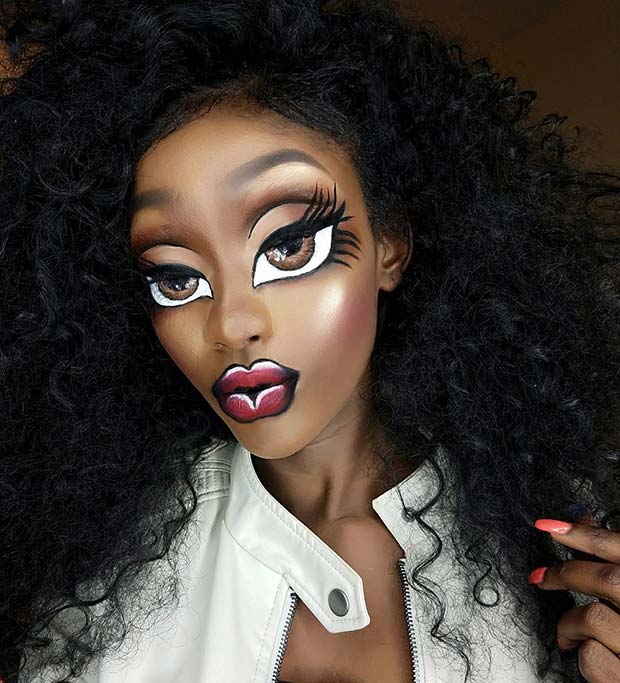 Source: @flawless_by_tenisha
If you want to look like a life-size Bratz doll, just follow the step-by-step YouTube tutorial by Promise Phan:
13. CRACKED DOLL FACE MAKEUP
Next, we have a makeup idea that features a cracked face. Cracked faces are perfect to create a creepy doll look or another popular one is to have a cracked face that reveals a skeleton underneath. The technique can be easy or more difficult depending on how much detail you use. Take inspiration from the image if you want a doll look that can be recreated at home. This makes us think a cool idea would be to create a cracked Bratz Doll makeup look, don't you think?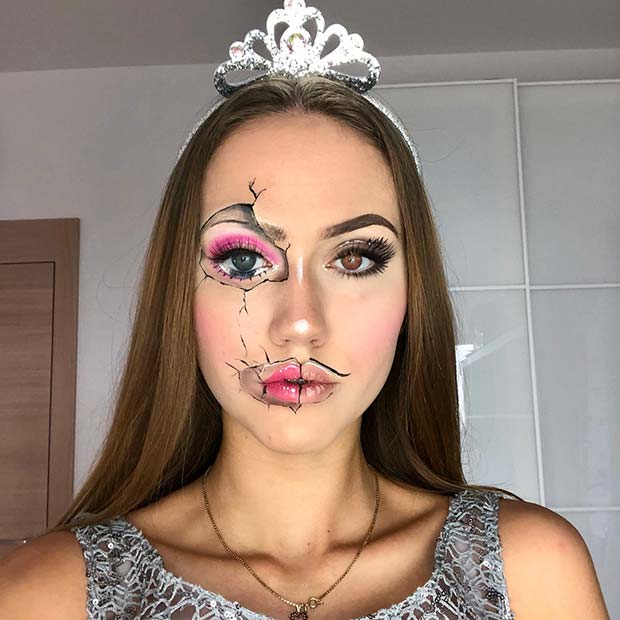 Source: @o_czarnecka
14. PRETTY LEOPARD MAKEUP LOOK
Take a walk on the wild side this Halloween with leopard makeup. The leopard print has been painted in a pretty design and has been worn with beautiful eye makeup and a painted nose. You can create this look or add more leopard spots. The print is quite simple to recreate and there are tutorials to help you achieve the shapes. Unfortunately, we couldn't find tutorial for the look, but Jodie Hulme has a blog with more amazing makeup ideas for Halloween and step-by-step guides on how to achieve them.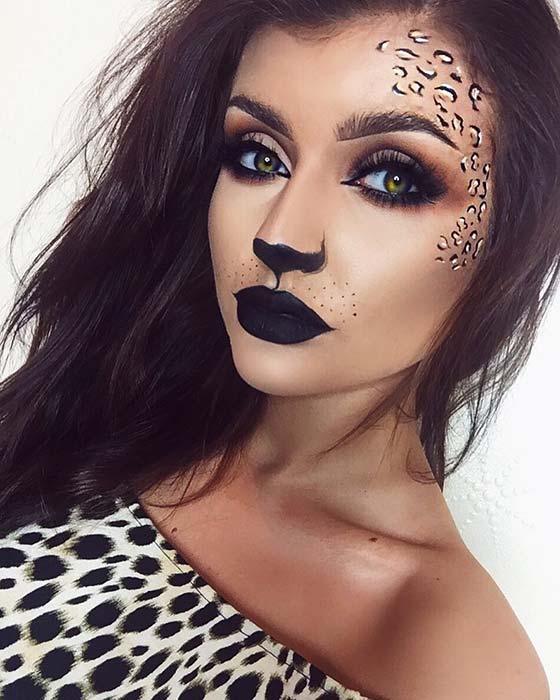 Source: @jodiehulme
15. GLAM SKULL MAKEUP
Our next idea is a skull Halloween makeup, but this one is glam! The skeletal look has been created in a brown tone so it is softer than the black skull makeup. The skeleton makeup has been worn with gems, bold eyes and dark lipstick. We love this idea because it is stunning but kinda scary.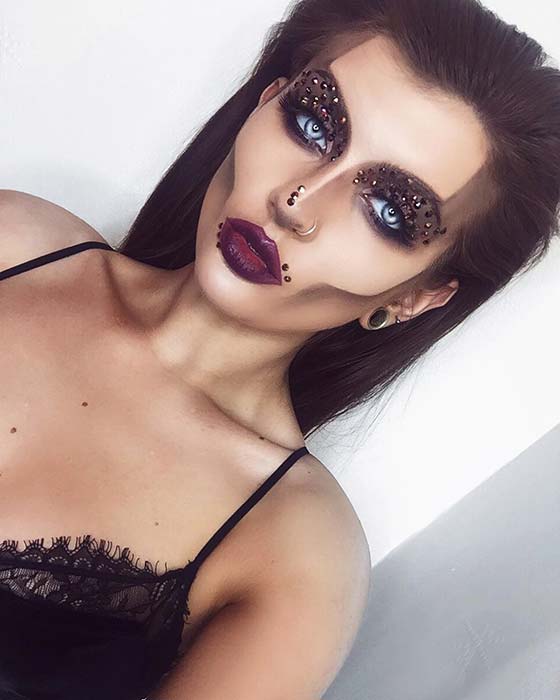 Source: @jodiehulme
16. SCARY CLOWN HALLOWEEN MAKEUP
Next, we have another clown makeup idea. We have featured a circus clown and an IT inspired look, now it is time to step up the scare. This clown has used traditional makeup like red lips with a skeletal look. This would look amazing at a Halloween party. You could even add some fake blood or contact lenses.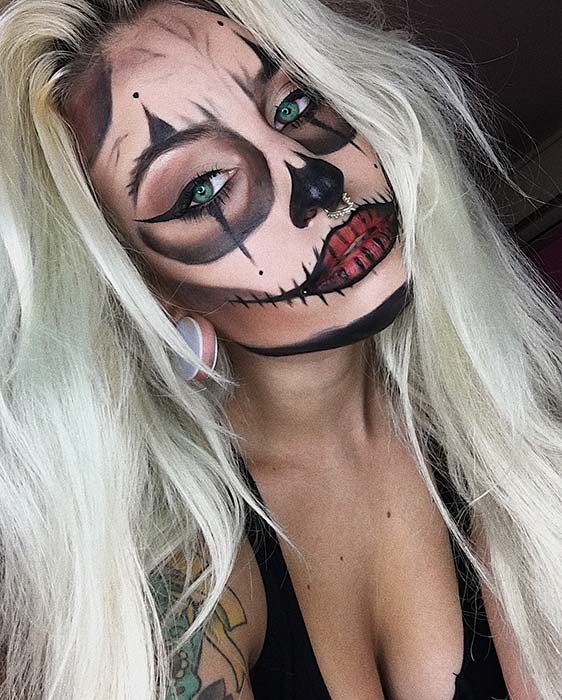 Source: @rastalien_makeup
17. JOKER MAKEUP LOOK FOR WOMEN
The Joker has inspired many makeup looks and here is an idea for this Halloween. As you can see, the makeup is quite simple to recreate with purple eyes, red lips and painted on tattoos. You can also temporarily dye your hair green or just get a wig.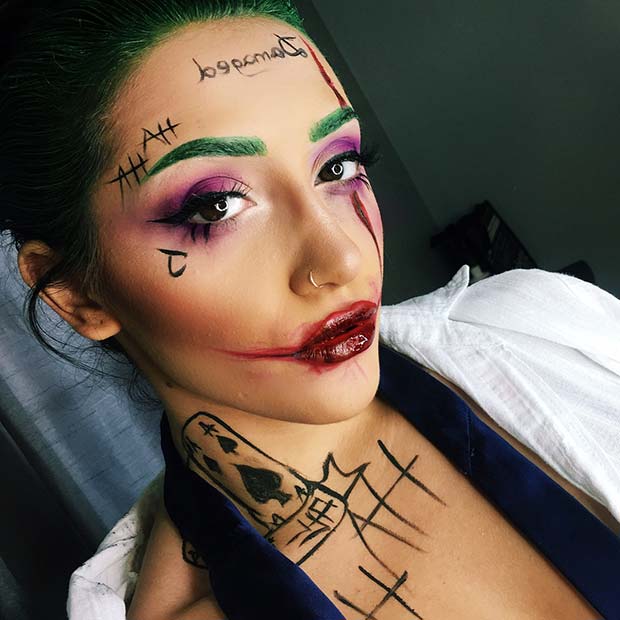 Source: @makeupbyruz
18. ILLUSION FACE MASK IDEA
Love illusion makeup? Then this next idea is for you. This artist has created a mask with her face by using black makeup. She has covered part of her forehead, created a mask shape and shaded the chin and jawline. The makeup creates a look that confuses the mind. You can recreate a similar look to this one or make your face more scary with contacts and fake blood.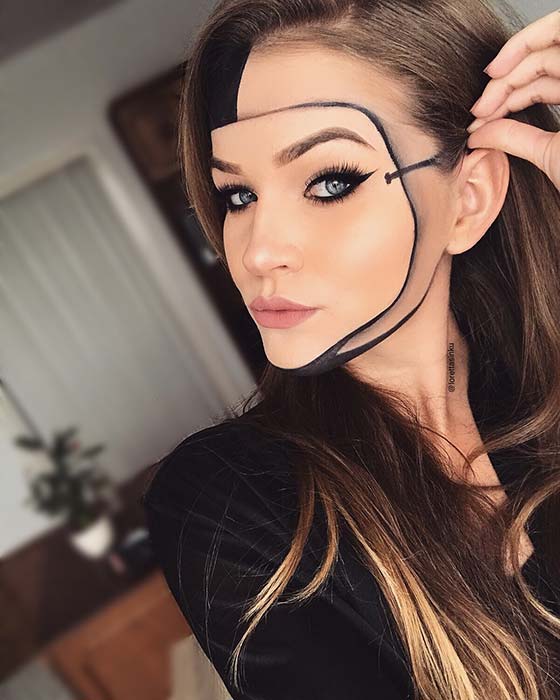 Source: @lorettasinku
19. HALF SKULL FACE
Next, we have a half face makeup idea. One side of the face has pretty makeup and the other looks like a skeleton. It also has a melted design too. We love this idea because it is creative and scary. This makeup would look awesome at a party.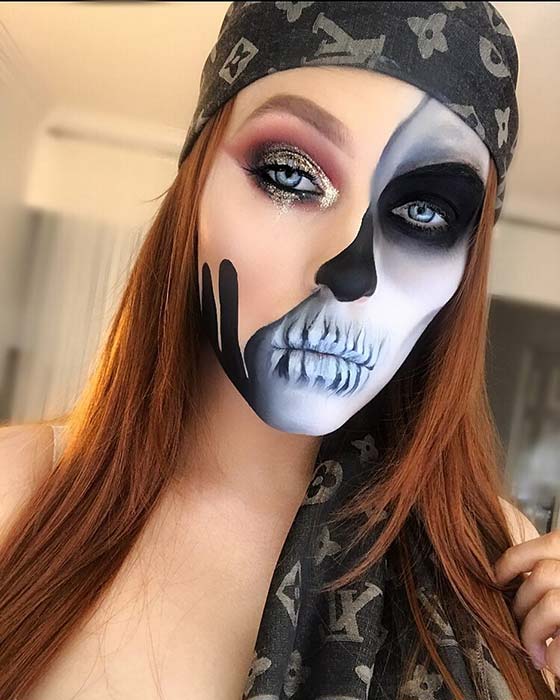 Source: @jessymalone123
20. CHESHIRE CAT INSPIRED MAKEUP
Looking for a unique and creative Halloween look? Then this next idea is for you. Here we have makeup inspired by the Cheshire Cat. She has created a big grin with illusion makeup with purple eyebrows and a cute nose. This would quite simple to create and it will look cool and different.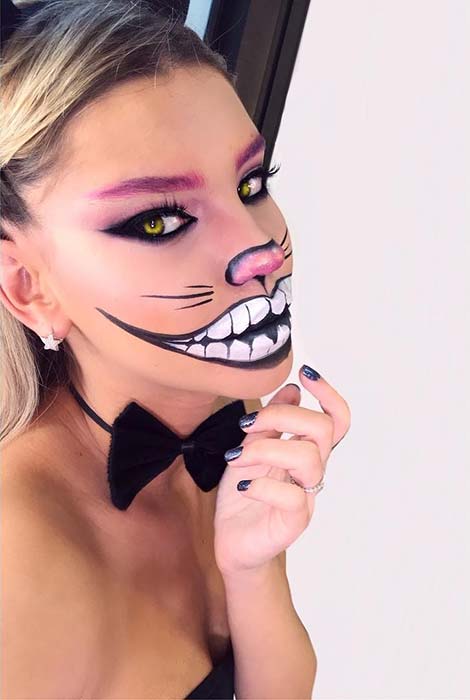 Source: @oryan_makeup_artist
21. SCARECROW MAKEUP IDEA
Scarecrows are a Halloween classic. Here we have a cute scarecrow idea. The artist has used orange and black tones for the makeup and finished off the look with a hat. This would be great if you didn't want to be scary, but if you did, you can use this idea with darker makeup and contact lenses.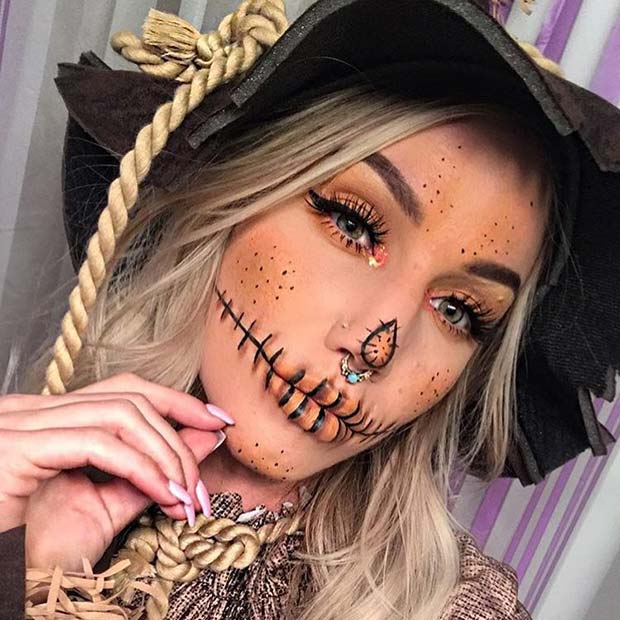 Source: @undiscovered_muas
22. GLITTER GEM SKULL MAKEUP
Like skull makeup but want to create a different look this year? Then check out this next makeup idea. The look features shading, the classic skeletal lips and nose with a glam twist of gems. We love this sparkling makeup as it will catch the light at parties and nights out. Take inspiration from this idea or use different gems.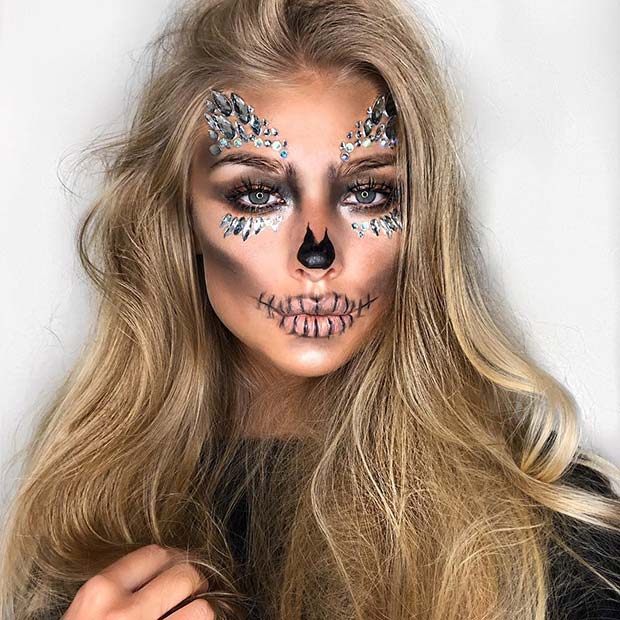 Source: @jesshunt2
23. STITCHED UP MAKEUP
Last on our list is this creative stitched up look. The face has been painted in vibrant colors with stitches on the face and neck. You can use this idea and technique for doll makeup, Frankenstein and more. There are tutorials online to help you create stitches like these.