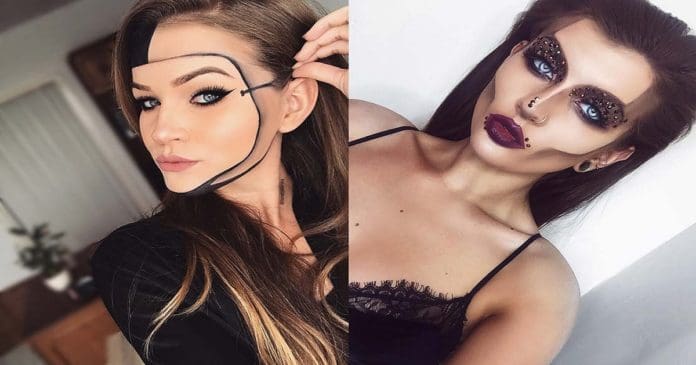 Are you thinking about the perfect Halloween outfit? Do you want to look through our top Halloween makeup styles. Makeup is an excellent way to make yourself look frightening and unique to celebrate the holiday. No matter what look you're looking for, we've got some ideas for your makeup. The mermaids are magical as well as spooky skeletons, wild leopards and much more on our top 23 selections. Scrollthrough, get inspired, and don't forget to save/pin your top outfits.
1. PRETTY CLOWN HALLOWEEN MAKEUP LOOK
Roll up! Roll up! The first Halloween makeup suggestion can be this Circus clown. This look incorporates many of the traditional clown features like the lips and eyes, however, it was done in a contemporary and chic manner. This makeup can be replicated, and there are online tutorials. If you'd like to creep the look, you could include contact lenses.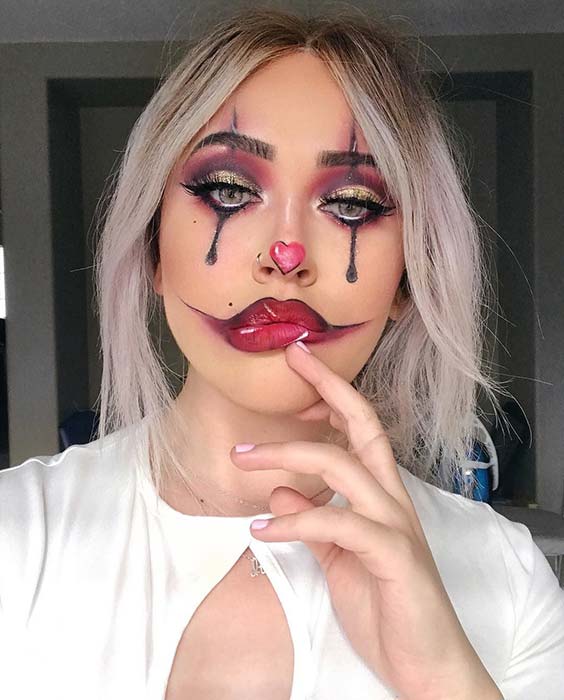 2. COMIC BOOK WONDER WOMAN
The next step is Halloween-themed makeup ideas that feature Wonder Woman! This amazing look was an inspiration from that of Wonder Woman featured in the comics. The artist has come up with an illustration of a comic book with black lines and white highlights. This is a really fun and innovative idea that is perfect for anyone looking to be part of the fun but not appear scary.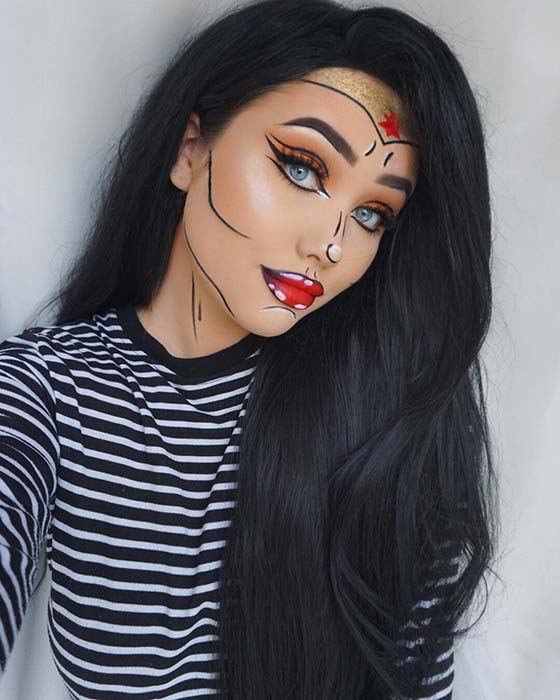 If you're looking for a step by step tutorial on how to achieve the style, here's a YouTube tutorial from NikkieTutorials
3. SUGAR SKULL MAKEUP LOOK
Sugar skulls are a popular choice for Halloween makeup time and time again. If you're interested in giving the look a go this year, then this idea is perfect for you. We have an inspired sugar skull style that incorporates skull makeup that has a lovely heart-shaped design, and bright flowers incorporated into the hair. It is possible to create a more simple style like this, or use it as a model and add other patterns like the classic sugar skull designs.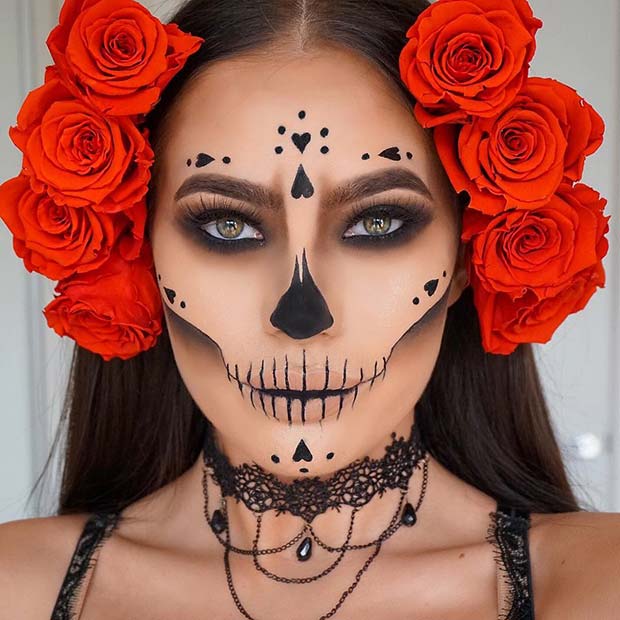 4. MELTING MAKEUP WITH GLITTER
The illusion makeup trend is always a hit at Halloween. This is a melting face illusion concept. The artist has designed the illusion of half of the face has melted to reveal her sparkling face beneath. You can replicate the glitter appearance or choose an alternative face to reveal. It is possible to practice makeup at home, but it'll require some practice. The final result will be well worthy, and we assure you!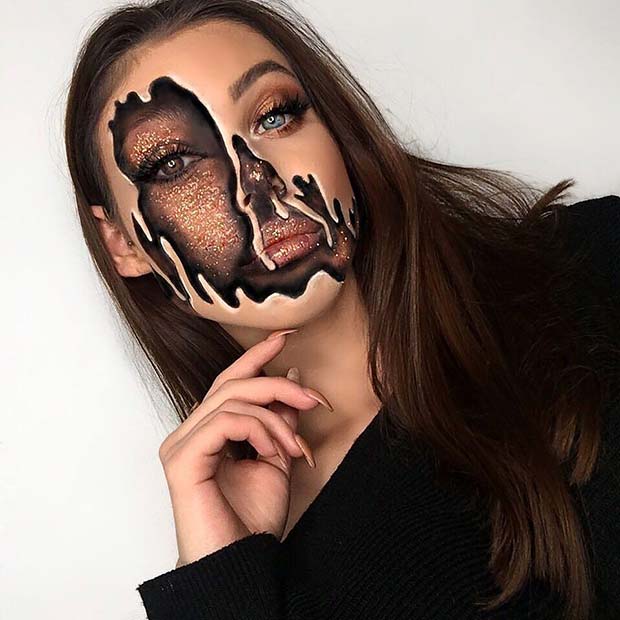 5. VOODOO DOLL MAKEUP LOOK
Our latest Halloween makeup ideas is a unique and scary look that was which is influenced from Voodoo dolls. This look is based on the traditional Voodoo designs, such as stitching and red hearts. We like this design because it's so unique and distinctive. It could be simple to design. You can make it as easy or terrifying as you'd like.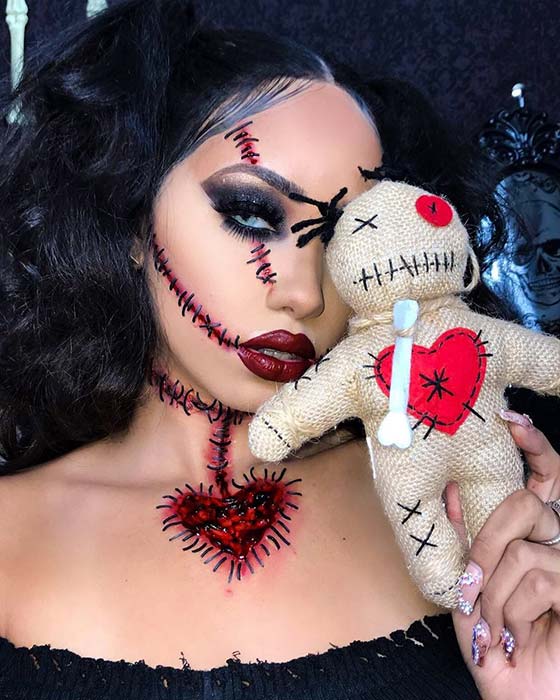 6. FELINE HALLOWEEN MAKEUP IDEA
Make your Halloween a spectacle with feline makeup. The artist has created a lioness-inspired look that you can replicate or opt for an alternative to a traditional black cat look. In either case, you'll be able to enjoy a wild style that is part of the fun of Halloween, but keeps you stylish as well.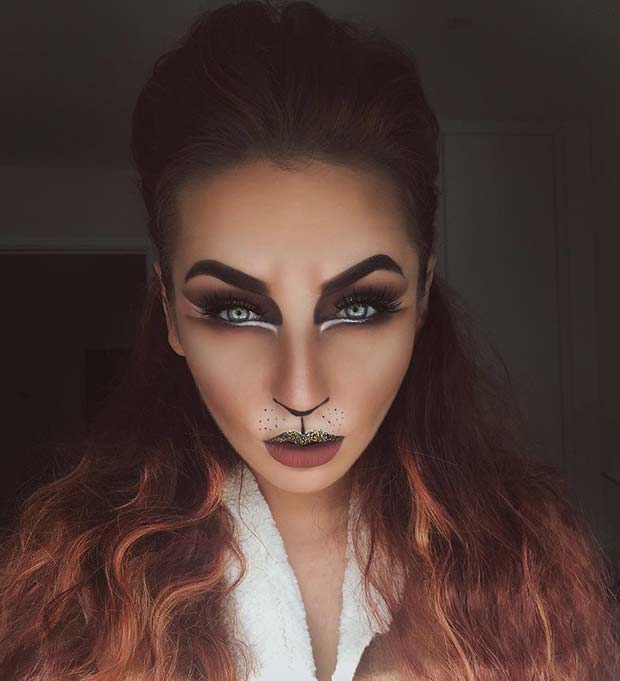 7. MAGICAL MERMAID MAKEUP
The next step is an amazing mermaid makeup concept to share with you. Mermaids have inspired fashion and beauty for a long time which is why it's not surprising that the style is now popular especially for Halloween. Here's an amazing illustration of a mermaid-inspired costume to wear for Halloween. It has cute scale designs as well as glam glitter, and stunning vibrant shades. You can make an identical look to this one , or design your own distinctive style.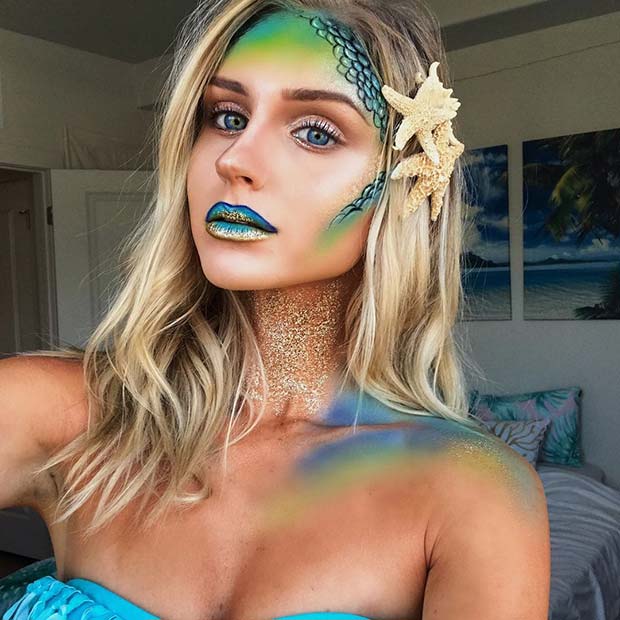 8. SKULL HALLOWEEN MAKEUP IDEA
Skulls are an iconic Halloween costume. This next look illustrates how you can sport terrifying skull makeup with style. The artist has utilized lines and black shading to create a skeletal-looking look and then she's added a cool pattern on the face. We like this design because it can be made by makeup professionals or beginners. There are a lot of tutorials on makeup for skulls on the web.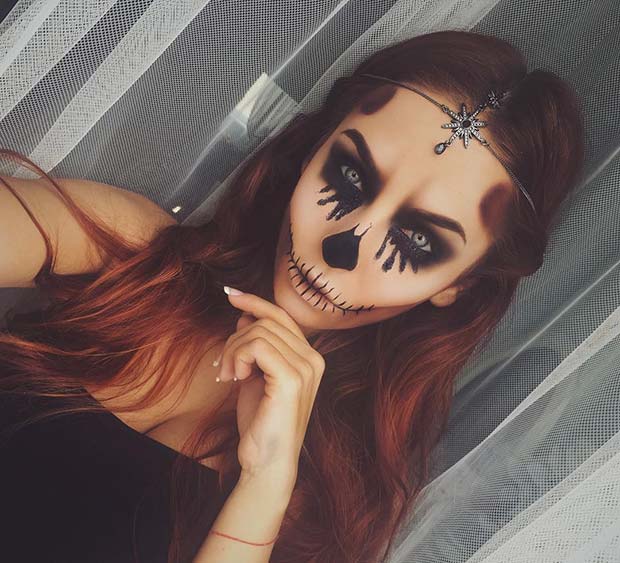 9. CUTE DEER MAKEUP
Do you prefer to look cute instead of frightening? This next makeup tip is perfect for you. We have a cute deer-themed design. You can create an identical look by using a bow and white shading. Or you can create a simpler style by using white dots, the red nose and lovely makeup.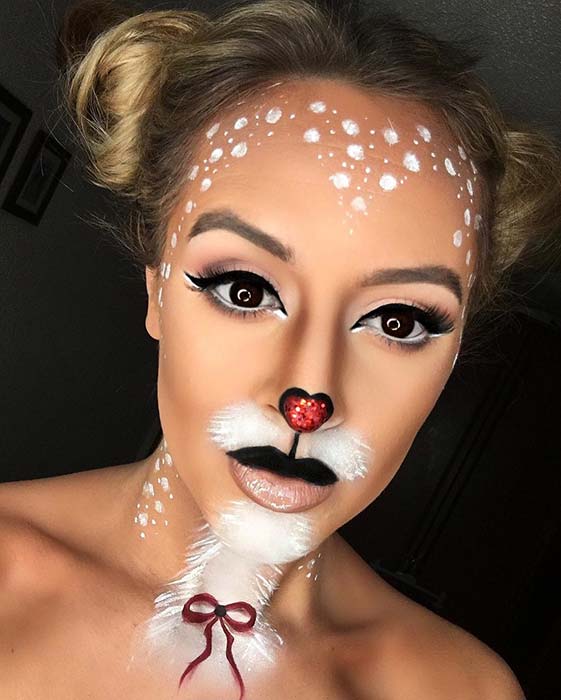 10. IT INSPIRED HALLOWEEN MAKEUP
The clown has scared many around the world, both in films and in the novels. We have the idea of makeup inspired by the terrifying clown. The artist has combined the red elements of the clown's latest style and paired it with gorgeous makeup. We think this concept is fantastic because it mixes the makeup of a clown with the makeup to wear on an evening out. This means you can have the most effective of both. You can be scary but attractive too.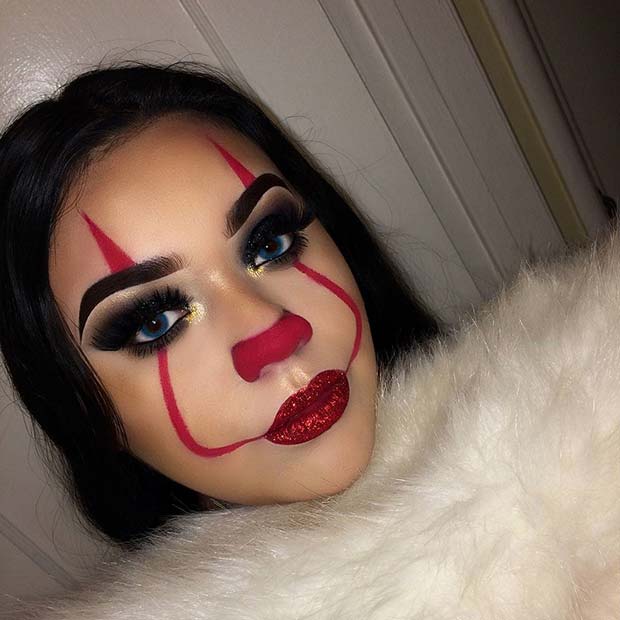 11. SCARY SKULL HALLOWEEN MAKEUP
The next suggestion is a skull-related idea. The one we chose uses the black color to make a striking illusion of skeletalness. We love the fact that you need to re-examine this photo because it appears very realistic. The makeup like this looks incredible at a celebration. There are tutorials on the internet to help you create similar makeup like this.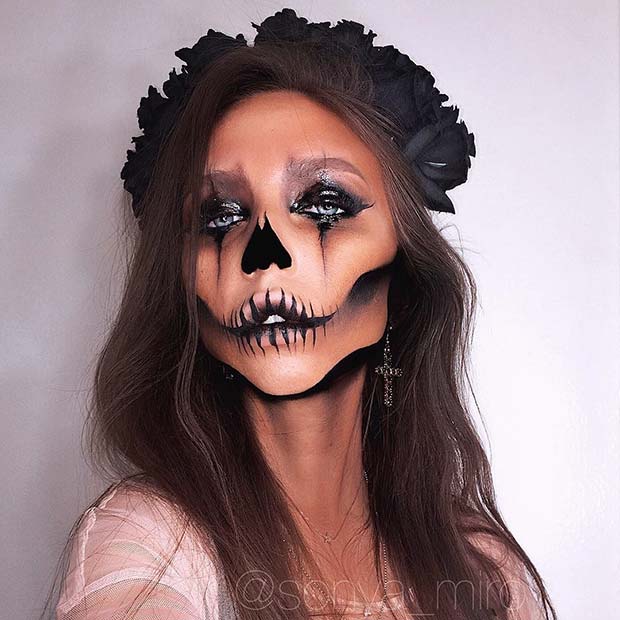 12. BRATZ DOLL MAKEUP IDEA
Dolls are an iconic makeup option for Halloween. This artist, however, has created an original illusion Bratz Doll style. Bratz dolls are renowned for their stunning eye makeup and stylish clothes. This is a great option for those who want an elegant Halloween costume that's somewhat creepy, too.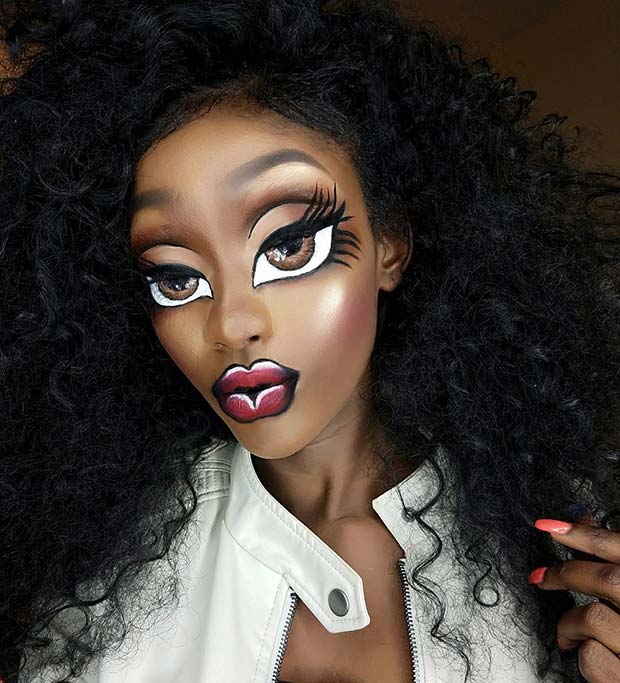 If you'd like to appear like a life-sized Bratz doll, go through the easy step-by-step YouTube tutorial from Promise Phan.
13. CRACKED DOLL FACE MAKEUP
The next step is an idea for a makeup look that includes cracks in the face. Cracked faces are a great way to make a creepy-doll look . Another one is to create a cracked face which reveals the skeleton beneath. This technique is simple or difficult based on the level of detail you choose to use. Make use of the inspiration image to create the look of a doll that could be created at home. We think that a great idea is to make a cracked Bratz Doll makeup look do you not think?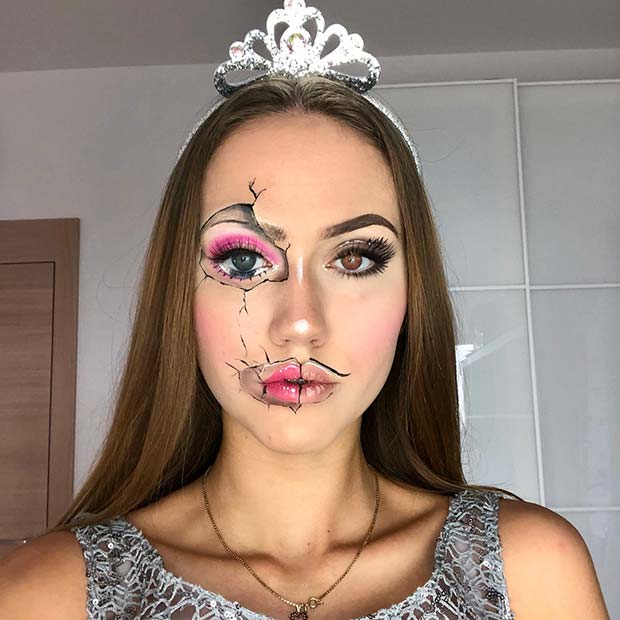 14. PRETTY LEOPARD MAKEUP LOOK
Have a stroll in the wild this Halloween by wearing leopard-themed makeup. The leopard print is painted in a lovely style and is paired with stunning eyes and freshly painted nose. You can recreate this look and add additional leopard spots. The design is simple to recreate , and there are tutorials that will assist you in creating the designs. We couldn't find a instructions for this style, however Jodie Hulme's blog is featuring more stunning makeup ideas for Halloween, including step-by-step instructions for how to get these looks.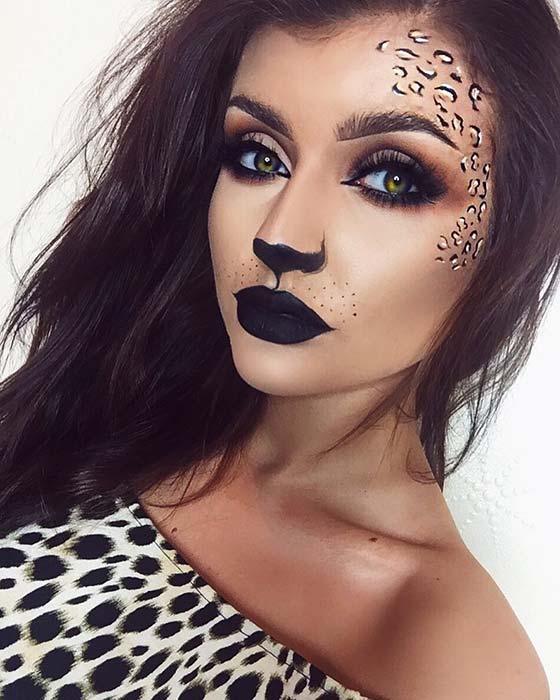 15. GLAM SKULL MAKEUP
The next one we have in mind is a Halloween skull makeup however this one is stunning! The skeletal makeup is created using an earthy tone, which means it's more soft than traditional black skull make-up. The makeup skeleton has been paired with gems as well as bold eyes with dark lips. We like this concept because it's stunning, but somewhat terrifying.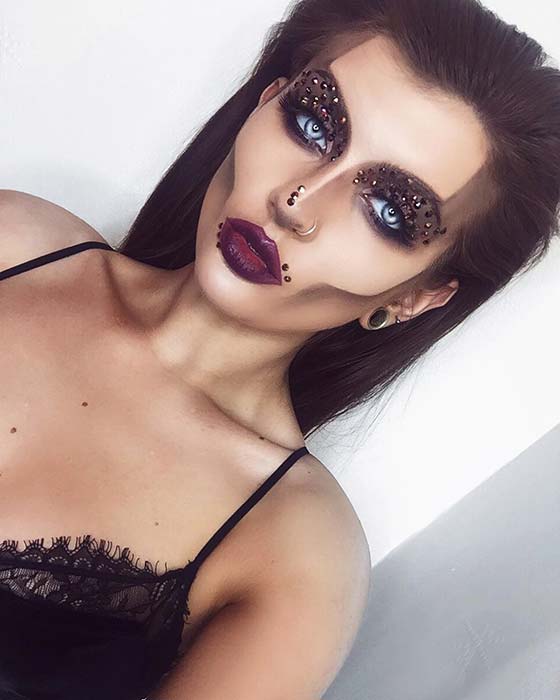 16. SCARY CLOWN HALLOWEEN MAKEUP
Then, we'll present another clown-themed makeup option. We've already presented a circus clown as well as an IT inspired style, but now it's time to turn up the scream. The clown has worn traditional makeup, like red lips and the look of a skeletal one. It would be a great look for the Halloween celebration. You can even add faux blood and contact lens.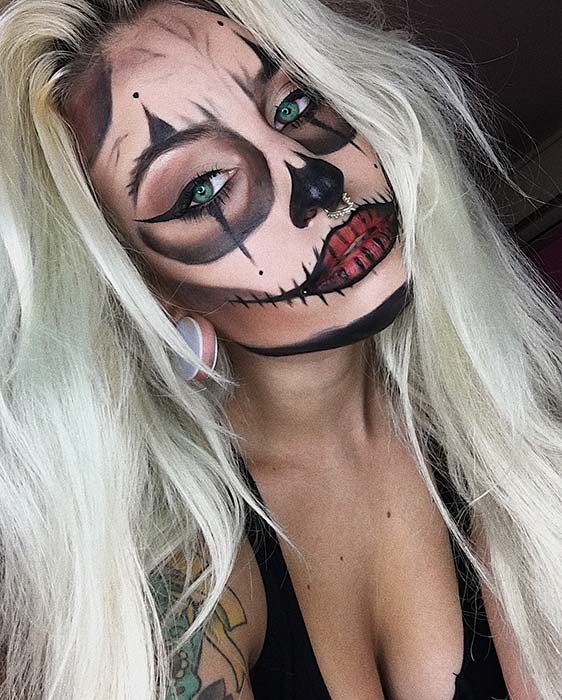 17. JOKER MAKEUP LOOK FOR WOMEN
The Joker has been the inspiration behind many makeup looks , and this is an idea for Halloween. You can observe it's quite easy to replicate using red eyes, purple eyes lips, and tattoos painted on. You can also color your hair with green, or buy an wig.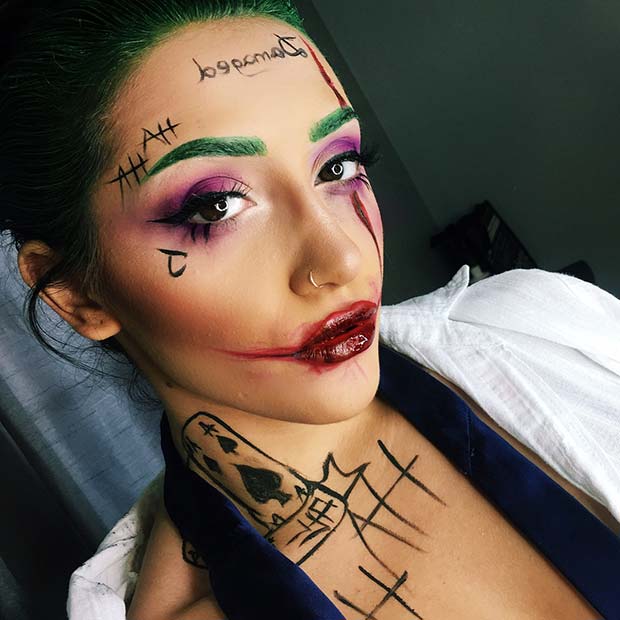 18. ILLUSION FACE MASK IDEA
Love illusion makeup? Then this idea is perfect for you. The artist has made an illusion of her face using black makeup. She's covered a portion of her forehead with makeup, created the shape of a mask, and then tinted her jawline and chin. It creates an appearance that bogs the brain. It is possible to recreate the same look as this or create a more frightening face with fake blood and contact lenses.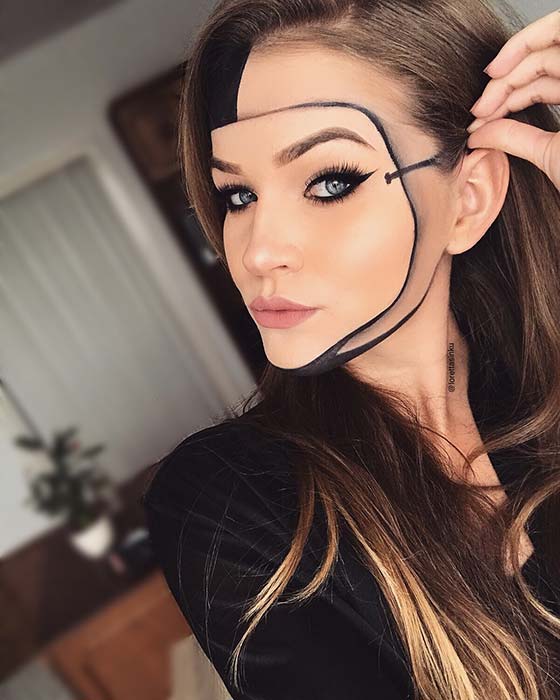 19. HALF SKULL FACE
Then, we'll look at the idea of a half-face makeup. The face on one side is covered in pretty makeup while the other side looks like the Skeleton. The face also has a melting design. We like this idea since it's both scary and creative. This makeup looks amazing at the party.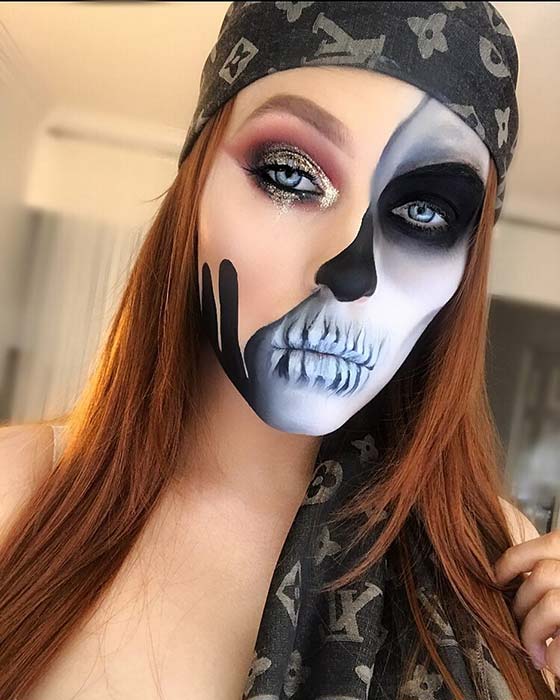 20. CHESHIRE CAT INSPIRED MAKEUP
Are you looking for a unique and unique Halloween costume? This idea is perfect for you. We have makeup that was inspired by Cheshire Cat. She's created a large smile with her illusion makeup. She has the color of her eyebrows, and she has an adorable nose. It's quite easy to make and will be cool and unique.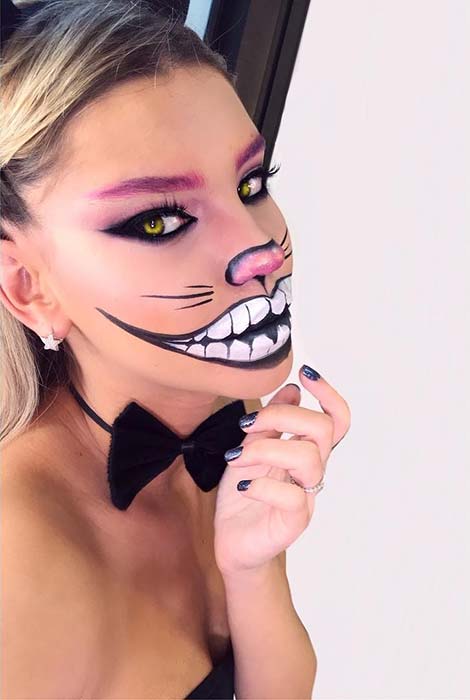 21. SCARECROW MAKEUP IDEA
Scarecrows are a popular Halloween costume. Here's an adorable scarecrow design. The artist has employed the black and orange tones for the makeup, and finished the look by wearing the cape. This is great in case you don't want look scary, but should you choose to it, you can apply this look using dark eye makeup as well as contact lens.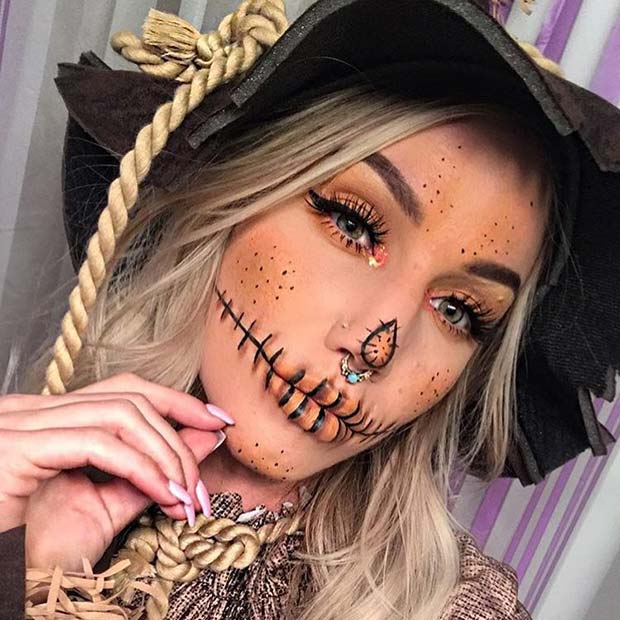 22. GLITTER GEM SKULL MAKEUP
Are you a fan of skull makeup but want to make a new look this year? Take a look at this makeup tip. The makeup is a combination of shading, classic skeletal nose and lips and a touch of glam gemstones. We love this glittery makeup because it's catching the light during nightclubs and parties. Get inspired by this concept or experiment with other gemstones.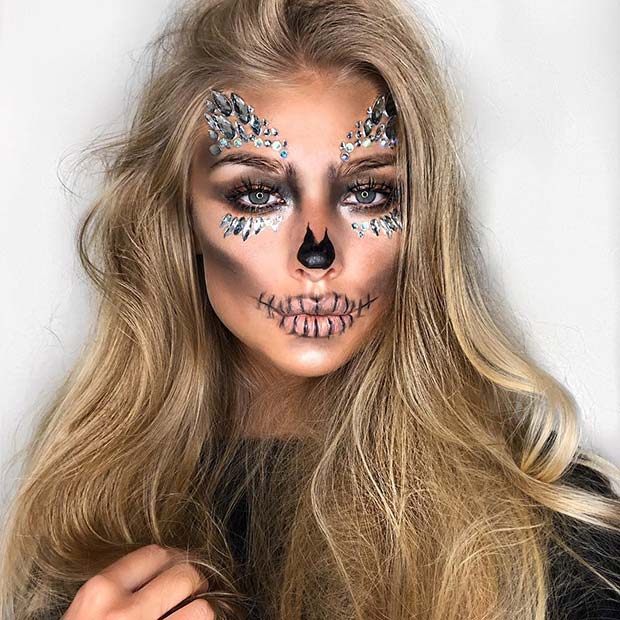 23. STITCHED UP MAKEUP
The last item on our list is this fun stitched up appearance. The face is painted in vivid colors using stitches around the neck and face. You can apply this concept and method for cosmetics for dolls, Frankenstein and more. There are online tutorials that can help you make stitches that look like these.