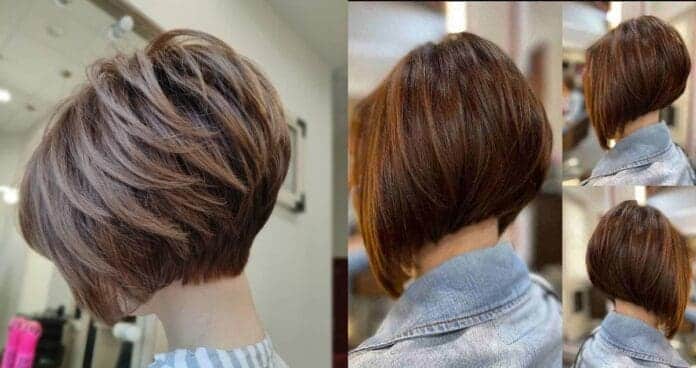 A short, stacked bob is a women's haircut that's cut shorter and at an angle, making the front longer and the back shorter and rounded with layers. This way, a stacked cut allows the hair to pack extra volume even when it's cut super short by making the angles more striking! Look up to fashion stars Victoria Beckham, Jenny McCarthy, Evan Rachel Wood, and Halle Berry and how they pulled off a short bob that's stacked and made it timeless! What's exciting is that their stylish stacked bobs can now be easily duplicated in a variety of style. Color and haircut specialist Daisy Villa from San Diego, California wows her clients with how she brings out the best version of their short hair regardless of their hair types – curly, straight, and wavy – the results are unfailingly super chic and cute! Based on your face shape, desired length, and hair density, your hairdresser can also incorporate highlights, bangs, an A-line, or an undercut to suit your personality. Consider this your ultimate hairstyle change that's surely flattering no matter your age and character. I will say this though, stacked bobs are perfect short haircuts for women over 60! If you are in search of a trendy short 'do, then check out this list of popular short, stacked bob haircuts!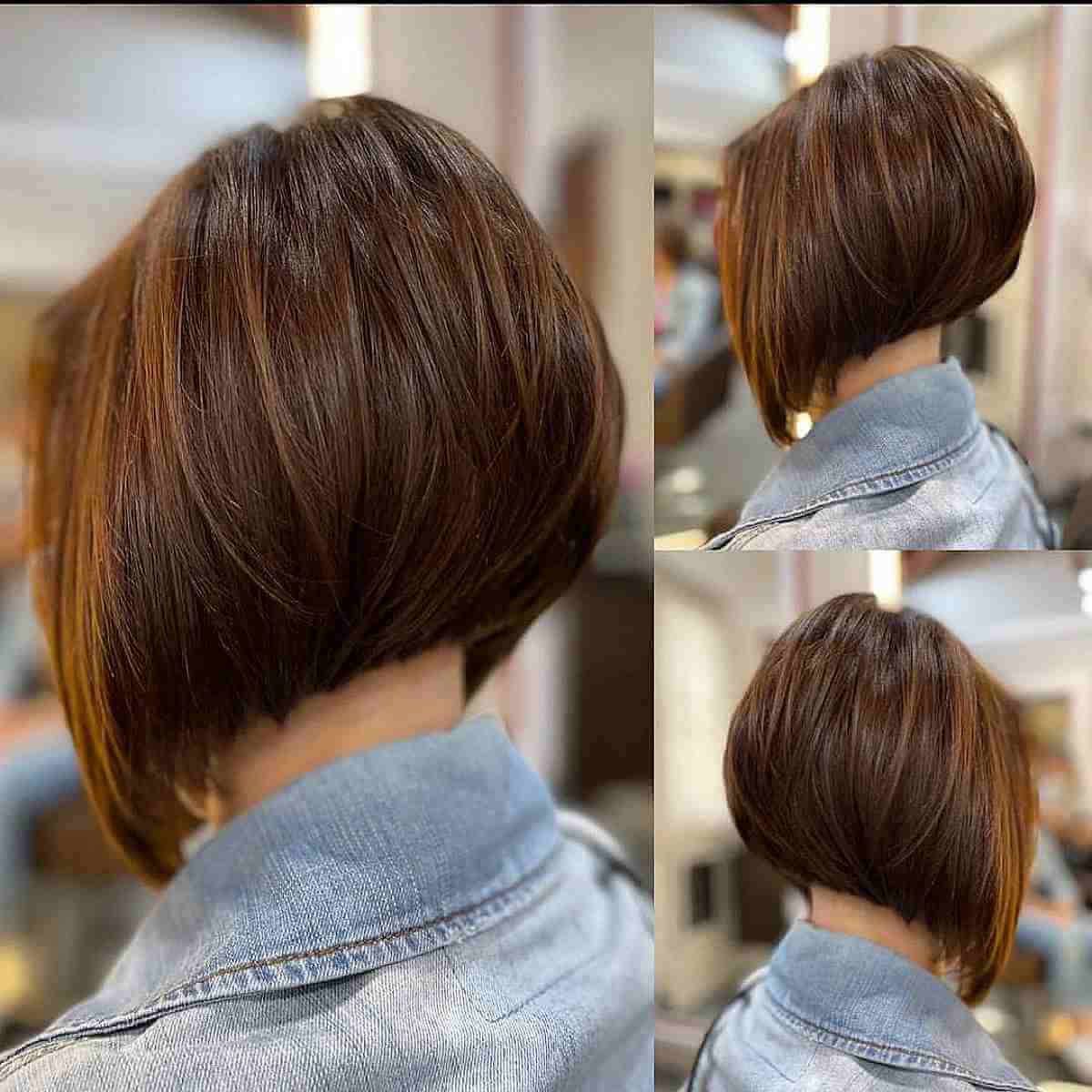 #1: Brunette Stack for Thicker Hair
Try a brunette stack for thicker hair to get a classy shape. By utilizing thickness in hair texture, a bob looks great with length around the face that gets gradually shorter in the back. Upkeep may require regular trims.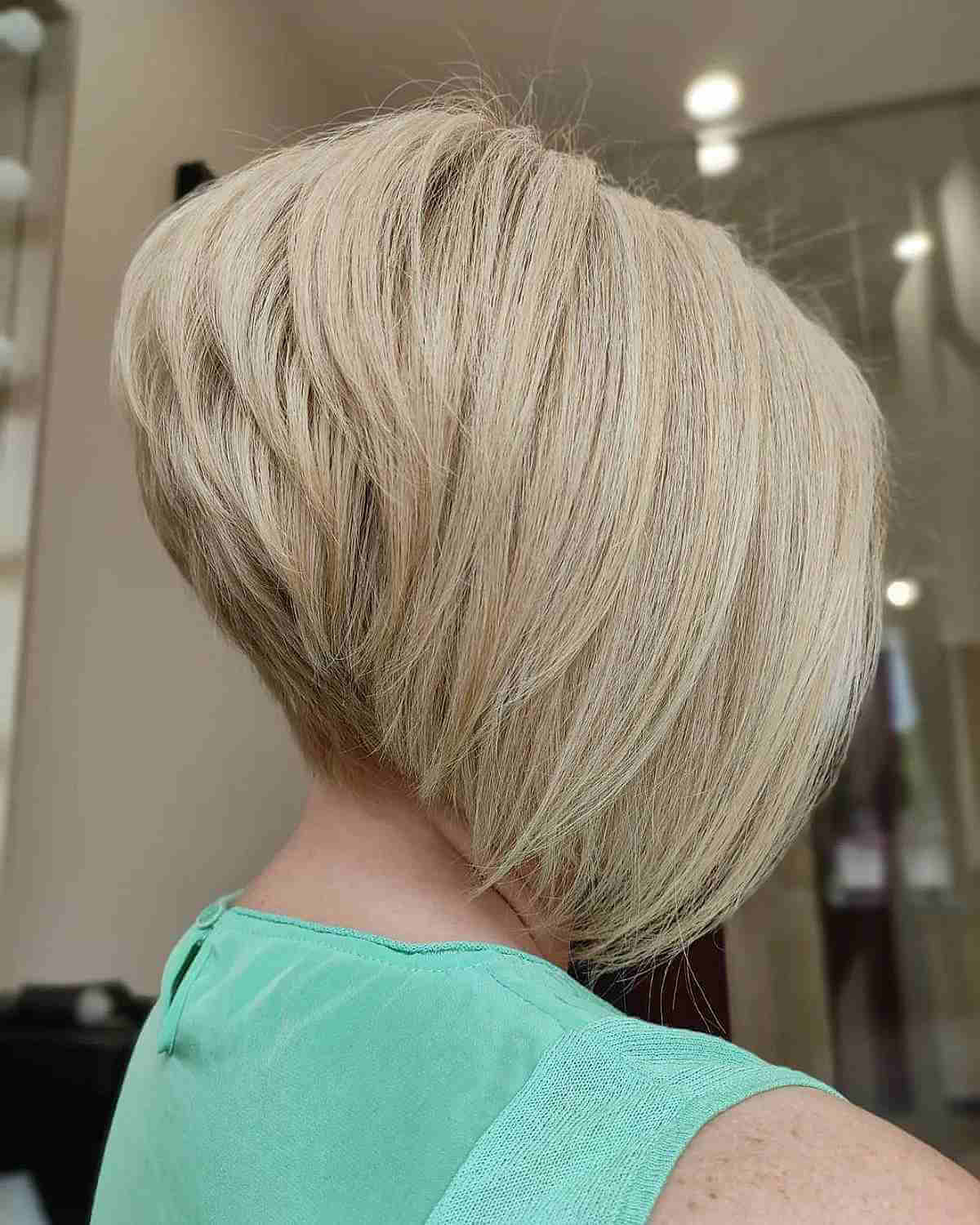 #2: Blonde High Stacked Short Bob
A high stacked short bob is a classic style. The stacked bob is great for thick or thin hair and requires moderate to easy styling. The "stacking" in the back is layered in a way to create natural volume, and layering in the front is longer to create a sleek blonde look around the face.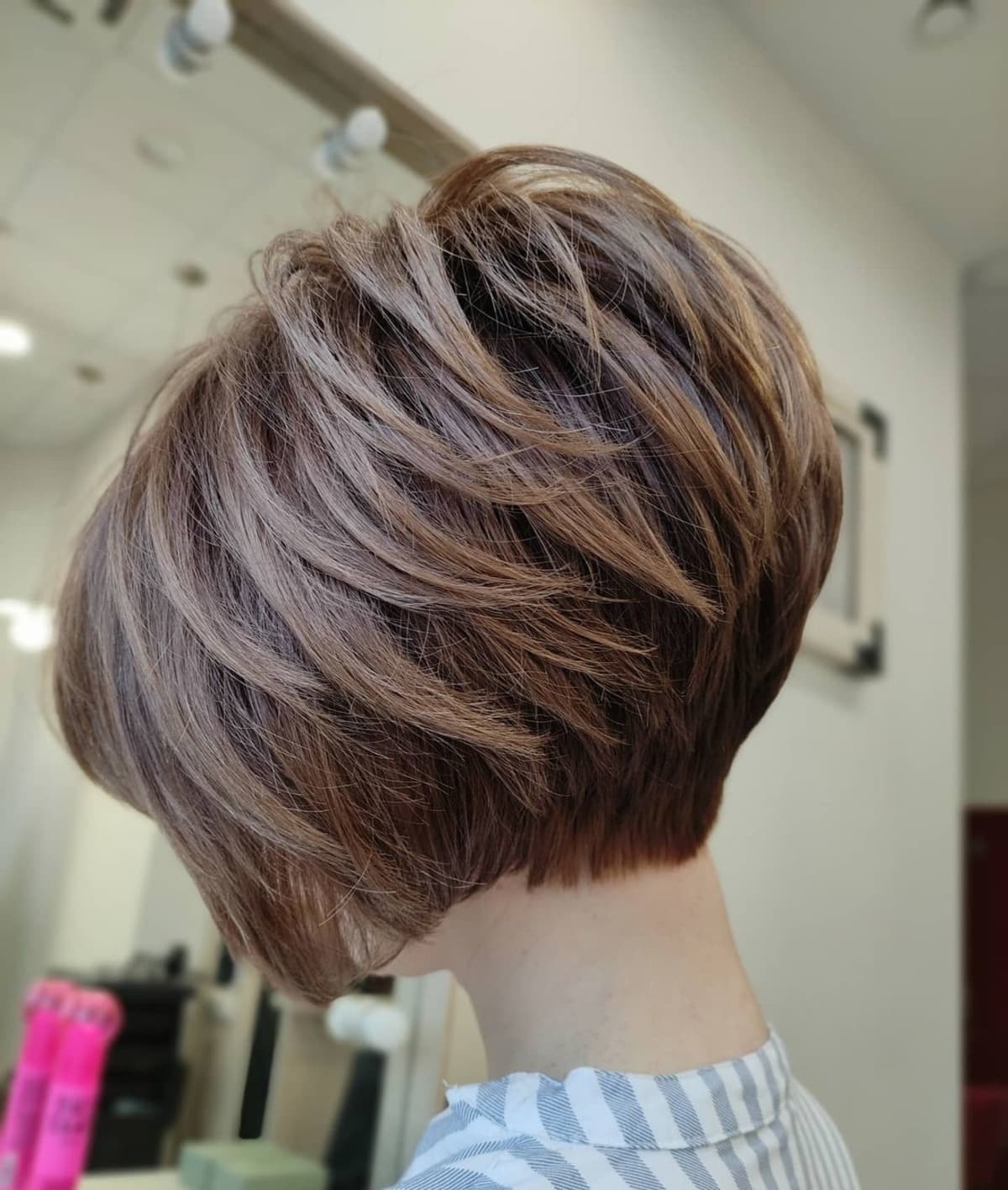 #3: Feathered Stacked Bob with Piece-y Layers
A feathered stacked bob has graduation in the nape, and lots of piece-y layers throughout. A cut such as this will need some maintenance. A five or six week trim should do the trick.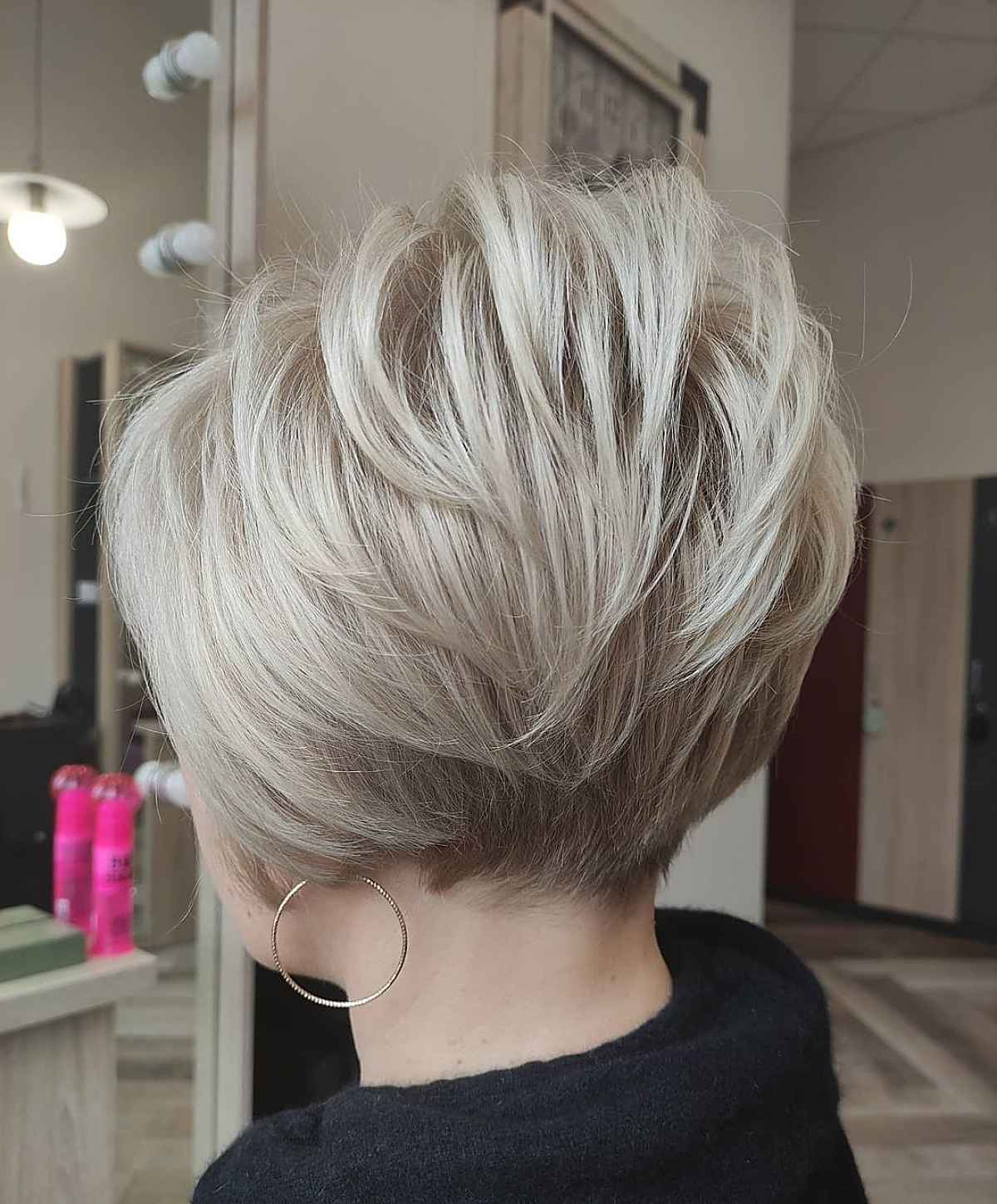 #4: Stacked Bob with a Nice Back View
A refined short, stacked bob haircut that is both attractive at the back and front is one to try out! Get the look by straightening out your hair and brushing it inwards to achieve a rounded look.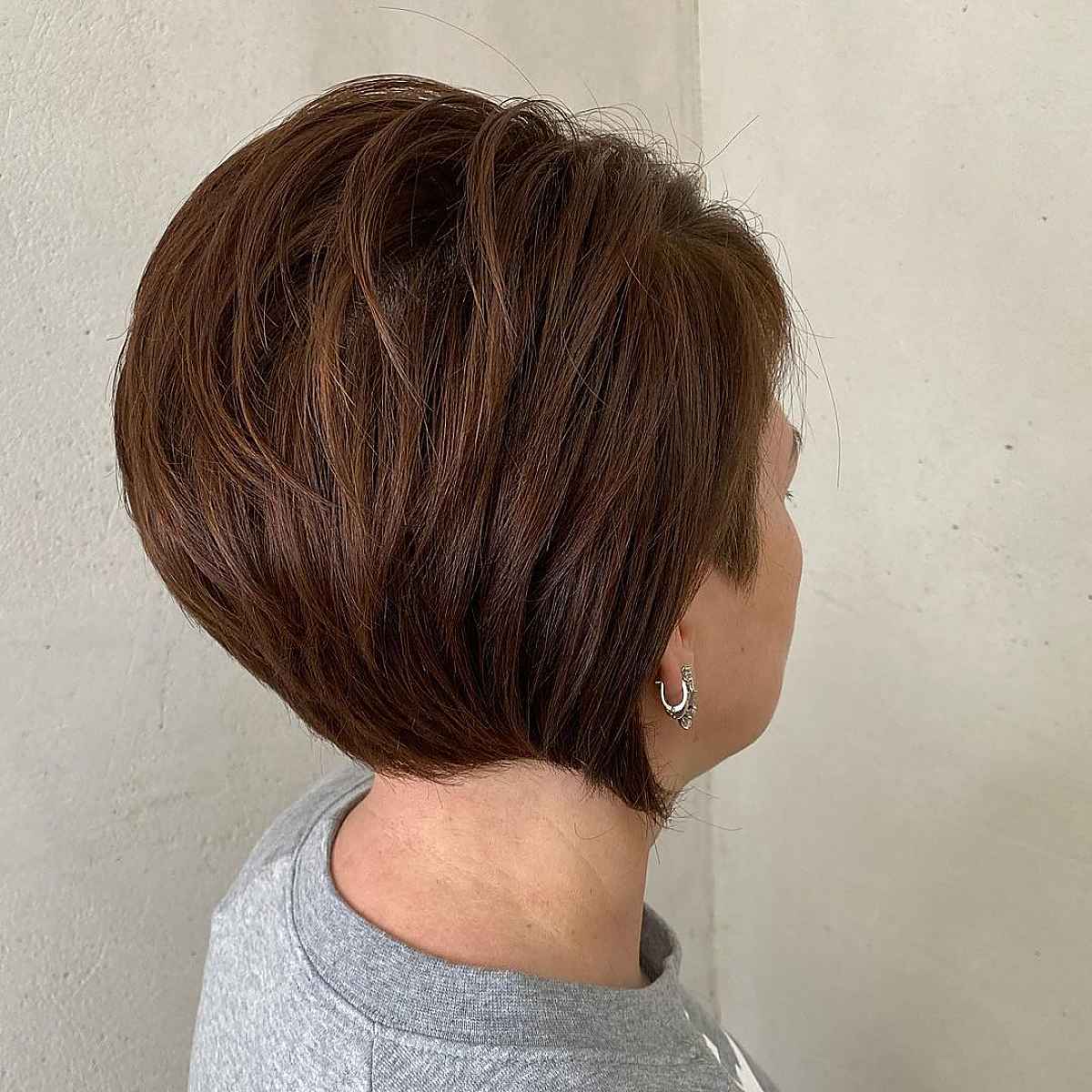 #5: Short Stacked Bob For Thick Hair
Spice up your thick bob by giving it a warm amber color. If you're being adventurous, you can style wavy curls at the ends to create more texture in your stacked hairstyles.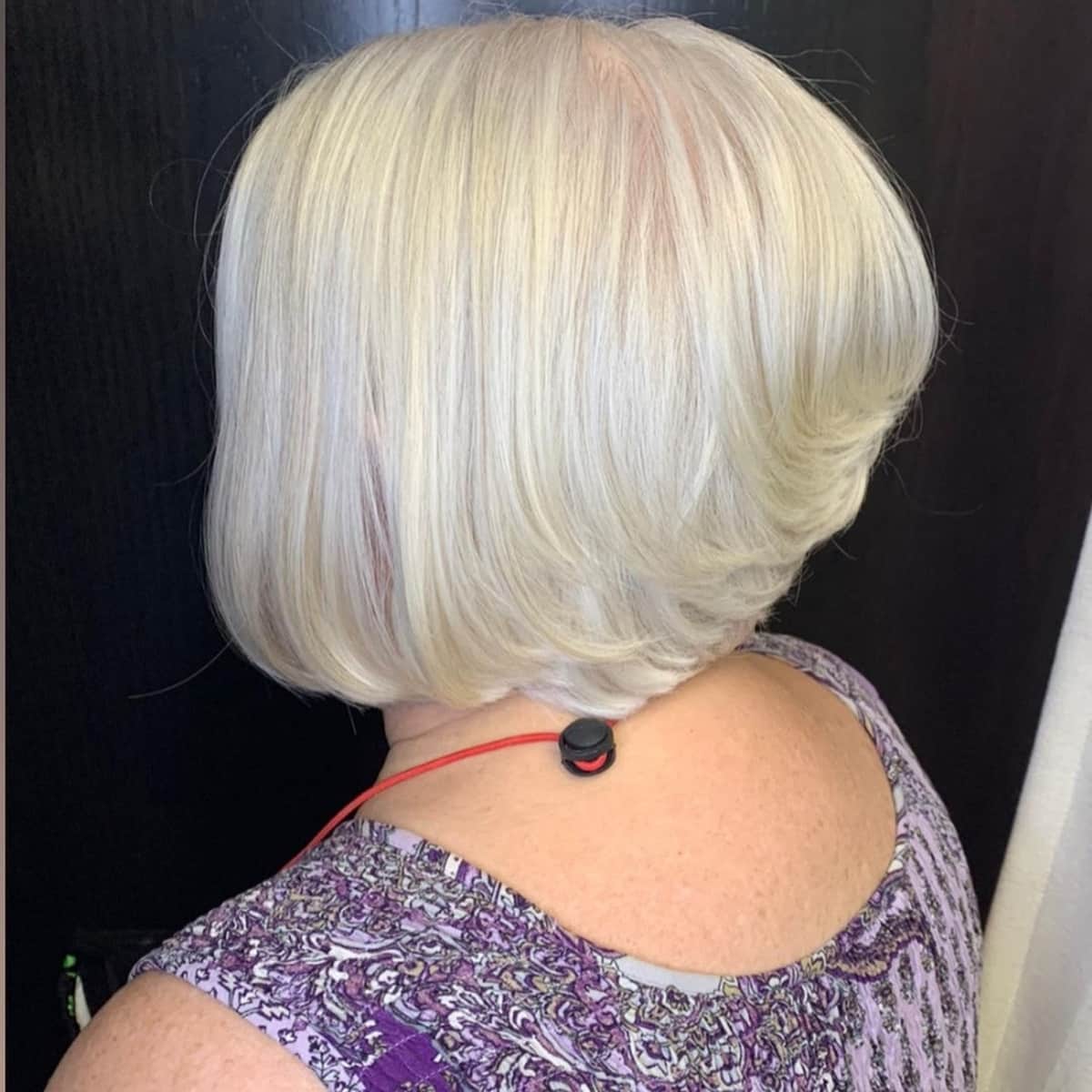 #6: Stacked Bob for Older Women with Short Hair
A stacked bob for older women with short hair is a great option for women who are experiencing some thinning on their hair. Add soft layers and texture for added volume. When styling, add Aveda Smooth Infusion into a boar bristle brush when blow-drying for a smooth, sleek finish.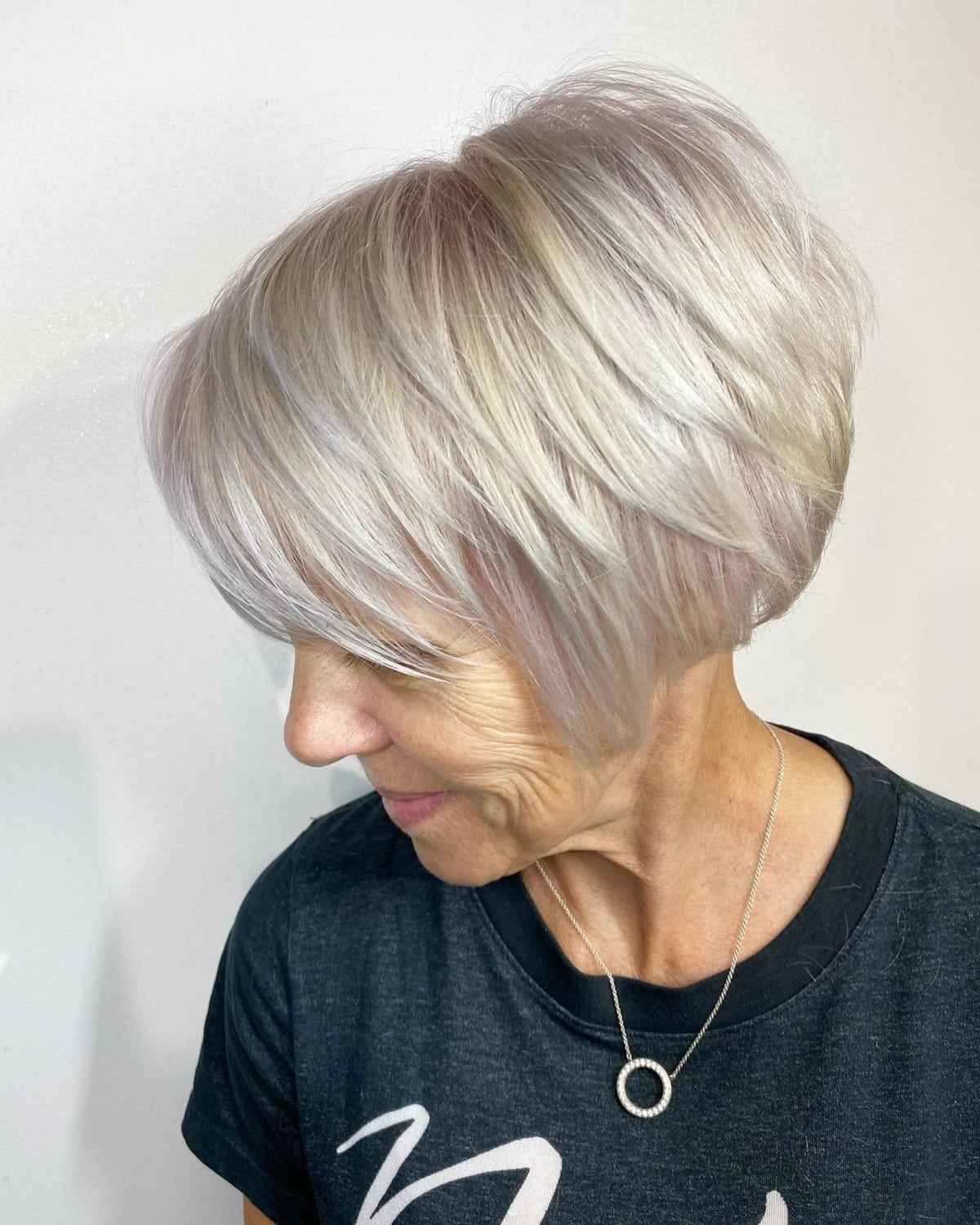 #7: Wedge Stacked Bob for Women Over 70
A wedge stacked bob for women over 70 is perfect for creating a fuller style for fine hair. If you're looking to be bold, adding a touch of lilac coloring just makes it more fun!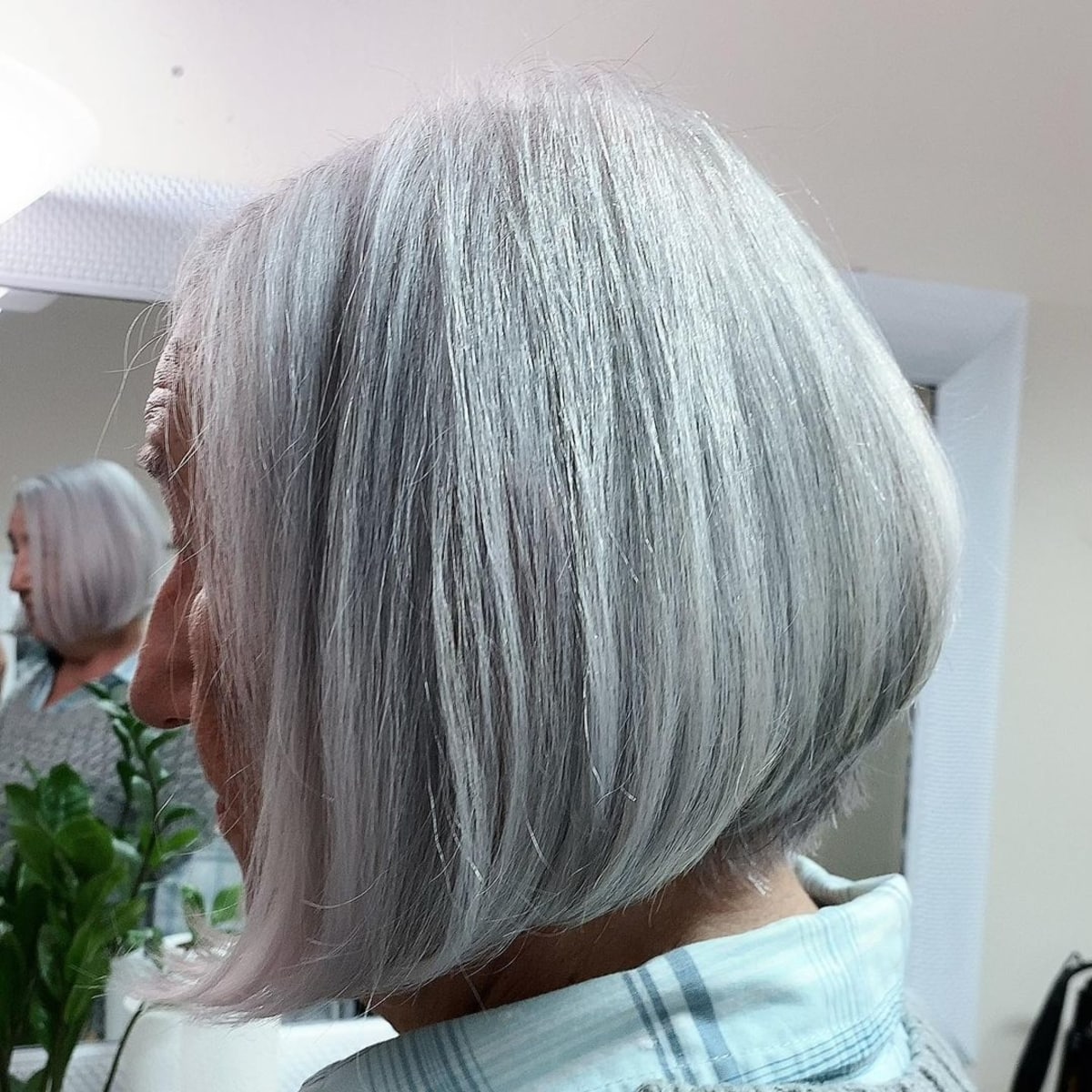 #8: Silver Stacked Bob for Women Over 60
A silver stacked bob for women over 60 is absolutely perfect. The long layers and short undercut allow for easy styling and maintenance.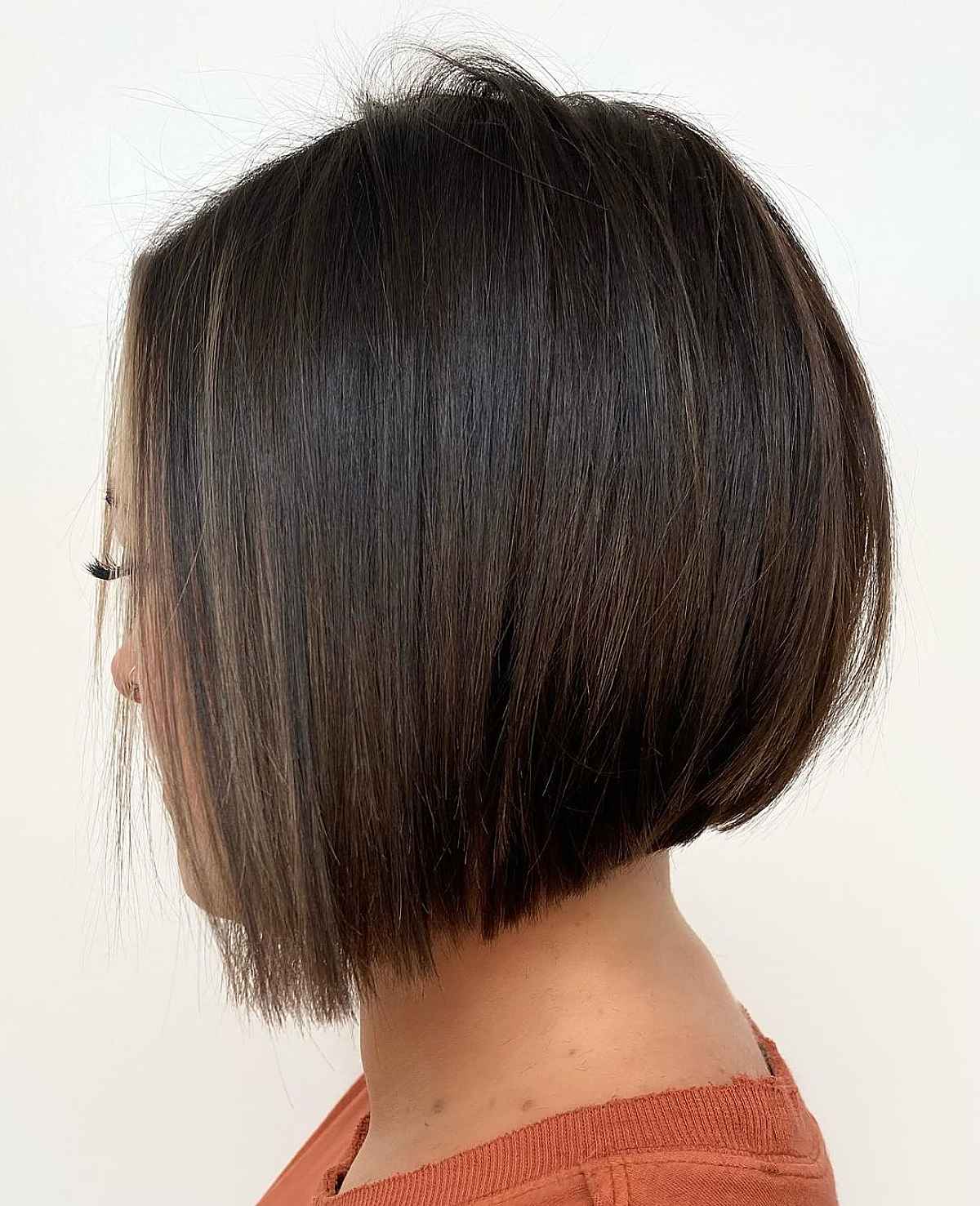 #9: Inverted Stacked Bob for Thin Hair
A short stacked bob with layers is more fun as you explore multiple stacks of short hair that are sure to rack up your hair's volume. The longer hair at the front gives a flattering effect on this short stacked bob for thin hair that is sure to complement your hairstyle and color.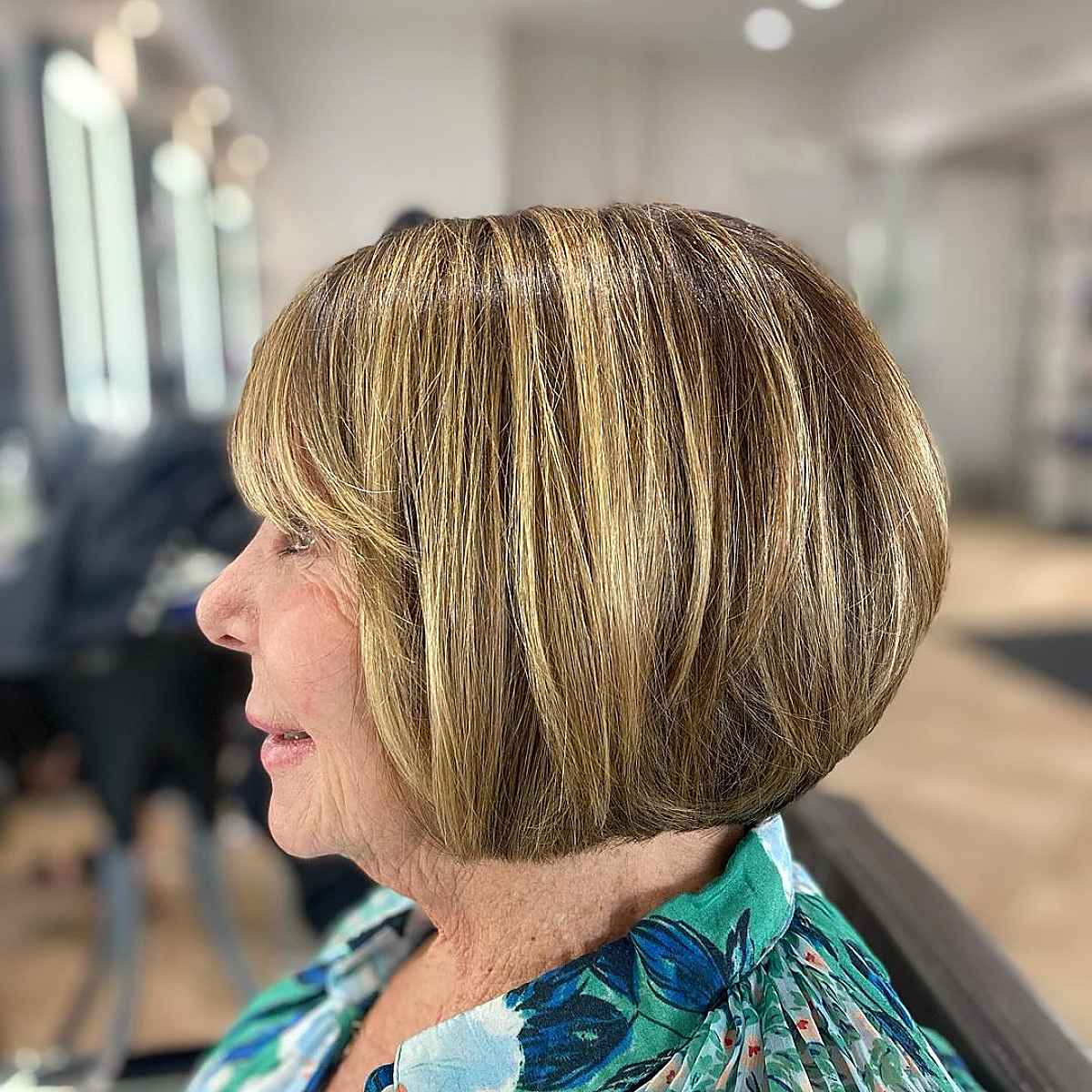 #10: Stacked Bob for Fine Hair
A subtle and clean stacked bob on short hair that allows women with fine hair types to achieve great volume and shape for their everyday hairstyles! Short hairstyles for women over 60 with fine hair include bobs and pixie cuts. Related: Check out more bobs for women over sixty with fine hair.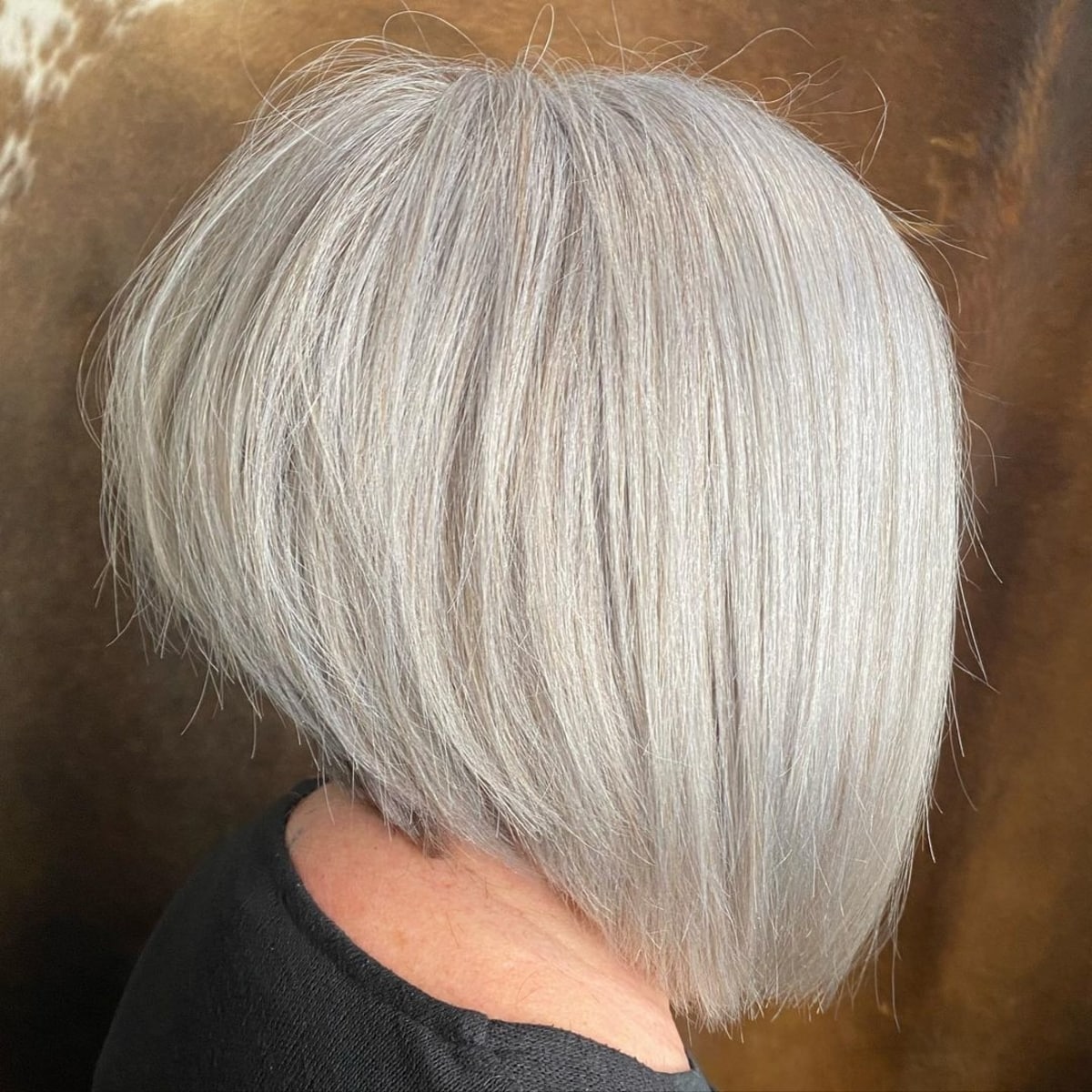 #11: Dramatic High-Stacked Bob for Women Over 50
A dramatic high-stacked bob for women over 50 is a great cut to add volume to flat, limp hair. Salon owner Emily Horsefield from the UK created it, which looks pretty with full-head highlights, too! Horsefield says, "The graduated cut makes it easy to get volume into the hair. There's no need to put in the hours of blow-drying, styling, and applying products."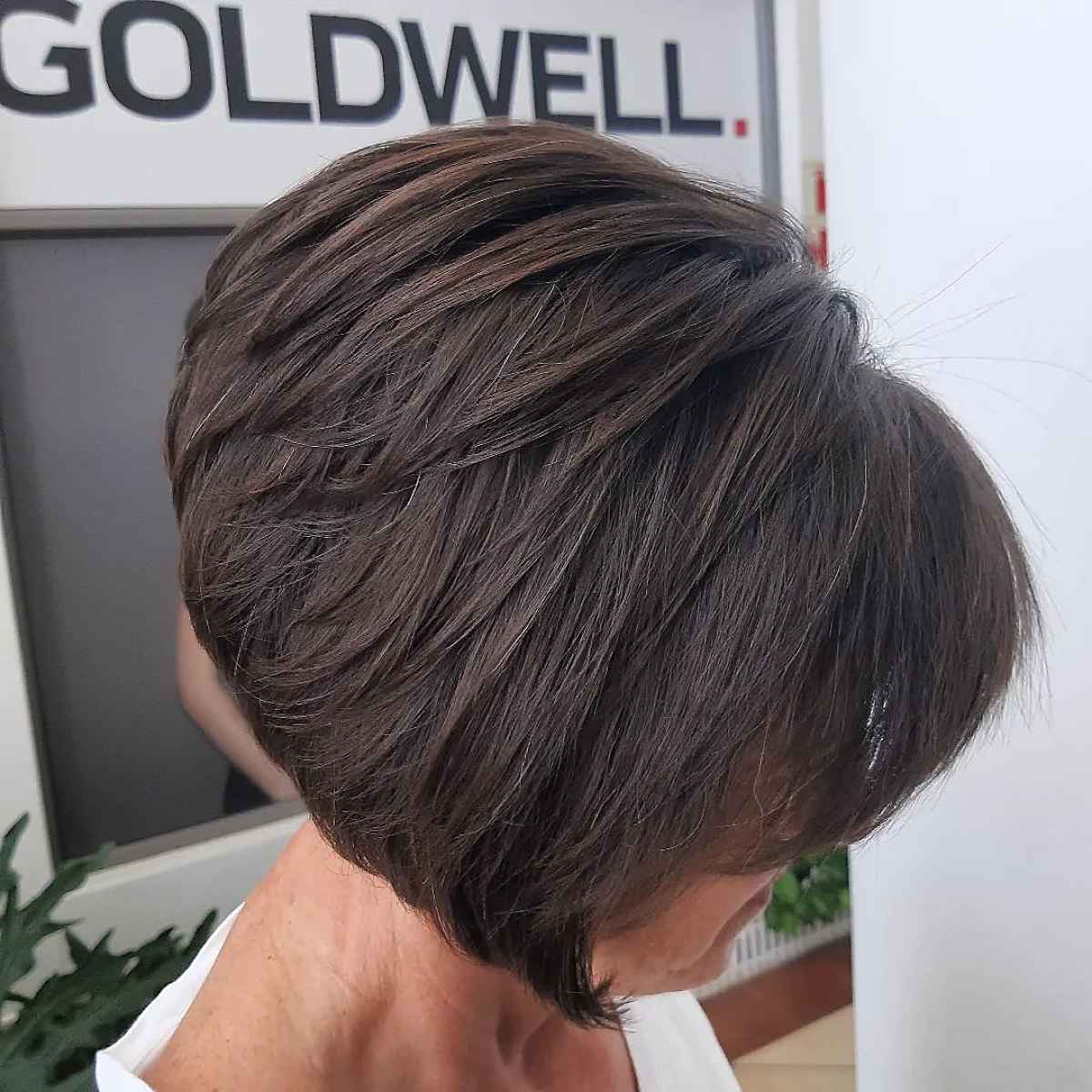 #12: Super Short Stack
Opt for a short cut that is a stacked, slightly short inverted bob. Get an undercut at the nape to eliminate cowlicks. You can wear it choppy, wavy or you can rock straight hair or curly hair, and the texture is still going to be visible. When considering short stacked haircuts, make sure you find a stylist that is confident in cutting short hair, as that can make or break this hairstyle. Also, make sure you have time to style this cut. It is not a wash-and-go style. For short bob haircuts, make sure you have proper styling products like a volumizer, heat protectant, a dry texture spray, and possibly a light pomade.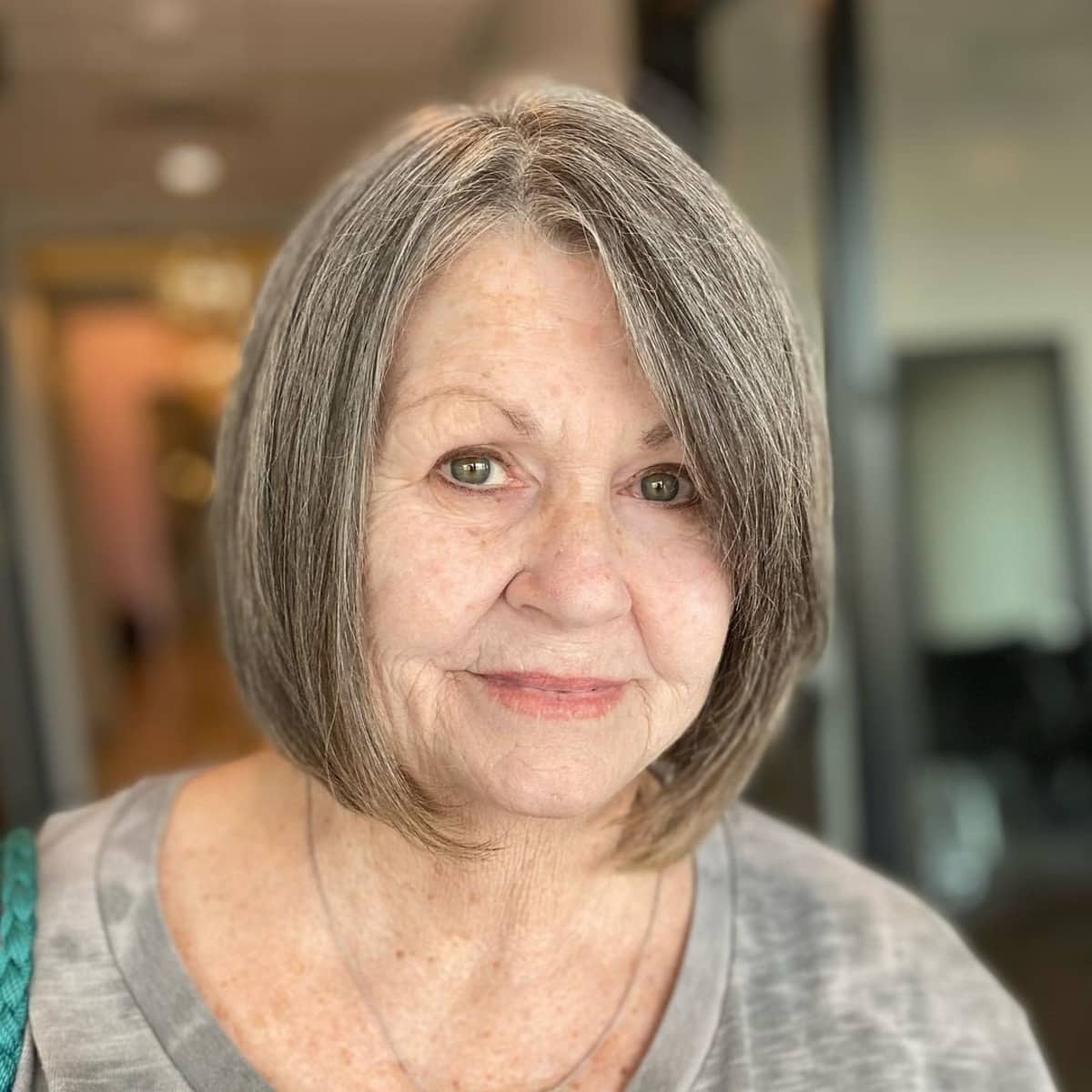 #13: Short Stacked Bob With Side Bangs
A short stacked bob with side bangs is a beautiful classic cut. A bob that's stacked meaning it has shorter layers in the back that get longer in the front to the desired length. This is a short stack style for women of all hair textures and face shapes you can't go wrong.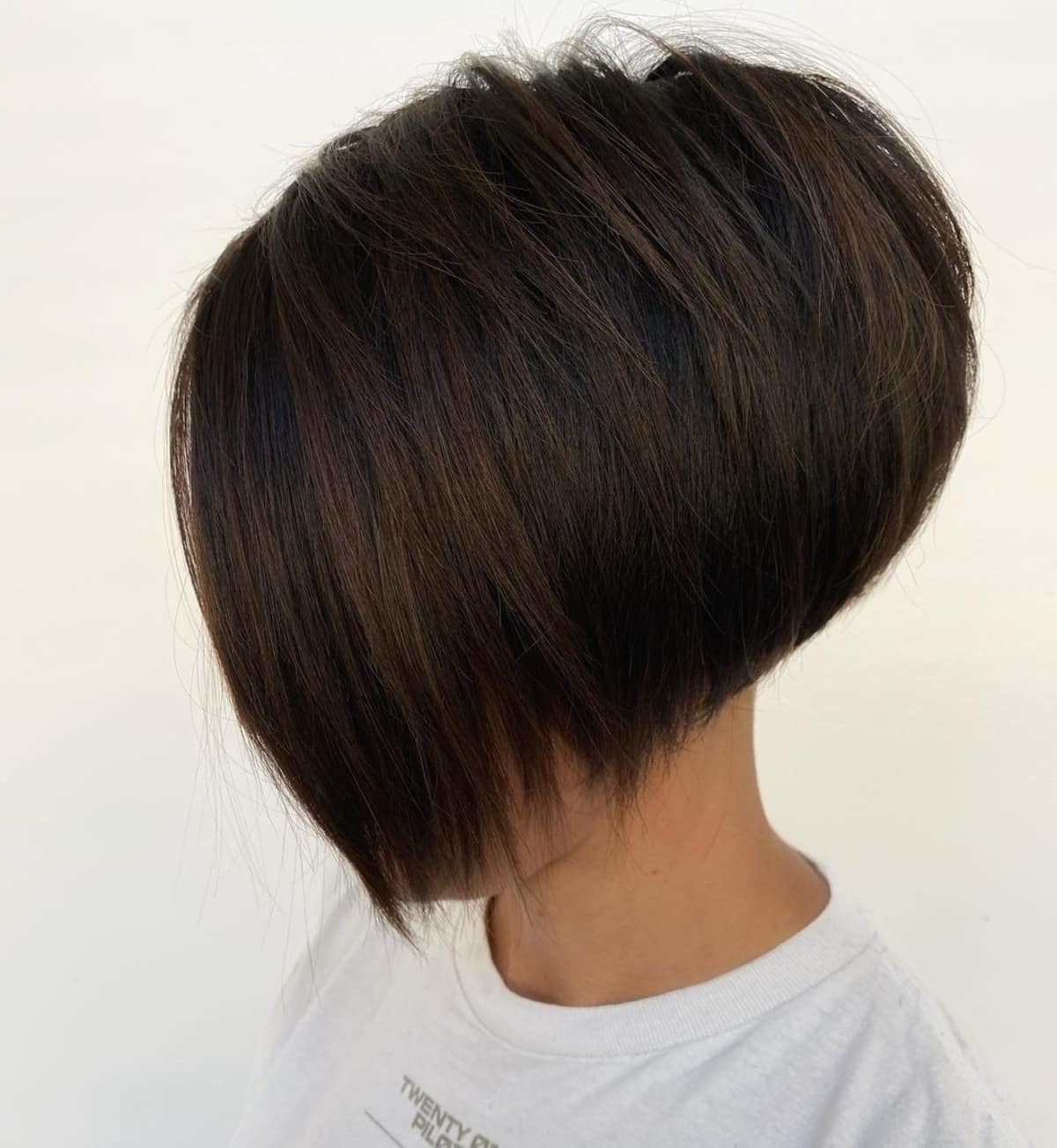 #14: A Very Short Stacked Bob
If you're looking for a cute, short haircut consider a very short stacked bob. Short but still very feminine, a layered stacked bob is very versatile. It can be worn straight, curled, or even tucked behind the ears. If you have fine hair ask for an extra-short stacked bob to add volume to your limp locks.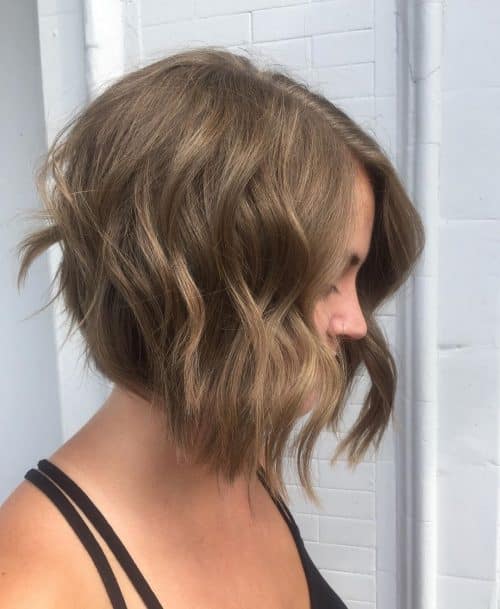 Instagram @yotovayuliya
#15: Short Wavy Bob That's Stacked
"It's a very textured, layered, stacked bob on short hair," describes stylist Yuliya Yotova of London. "If you have a lot of hair and absolutely no time to style it every day, pick a short wavy cut that is effortless. At the same time, it's very versatile so that it can fit any occasion if styled a certain way." When it comes to stacked haircuts, Yotova says to go for it! "It's on-trend at the moment and suits almost every face shape." This high-stacked bob is so versatile and easy to wear and style. It's perfect for ladies with thick hair and medium to fine hair because it takes lots of the weight out giving texture (thick), creating volume, body, and movement (medium to fine). "It can be styled smooth with a dryer and round brush, waved with wands, thongs, or straighteners, and even left to air dry," says Yotova. "If using any hot tools, ladies, always use a good heat protector – for example, Nectar or Extentioniste Thermique by Kerastase."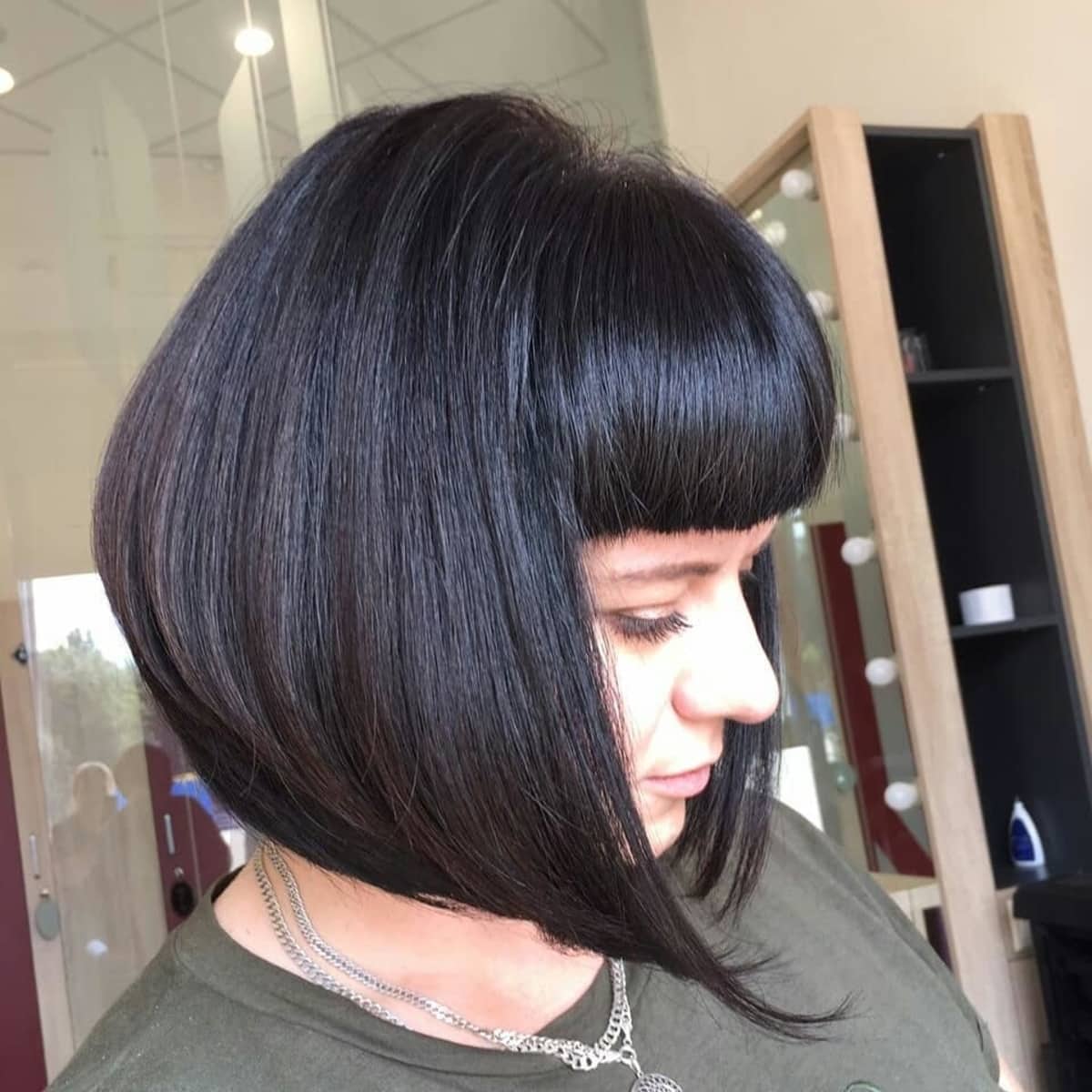 #16: Stacked with Bangs
A short stacked bob with bangs is definitely classy. For women wanting a bob haircut, this will always be in style. To get the straight look created here, blow dry with smoothing lotion and a round brush.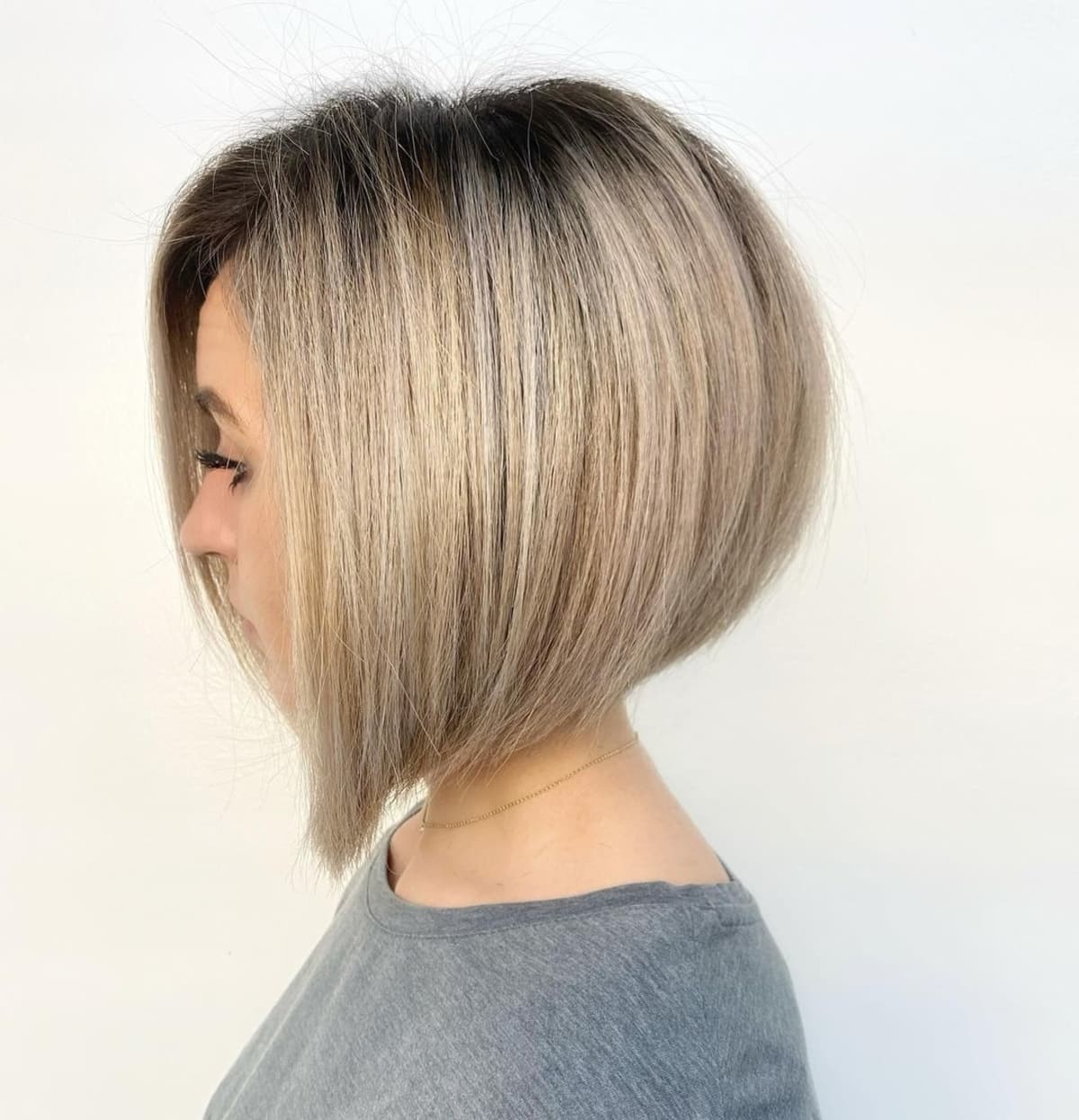 #17: Angled Short Stacked Bob
An angled short-stacked bob is absolutely stunning for all ages and especially with thick hair. A short angled bob that's stacked in the back, has longer, face-framing pieces with multiple different layers in the back to create a clean, rounded cut. There is no limit to short-stacked hairstyles.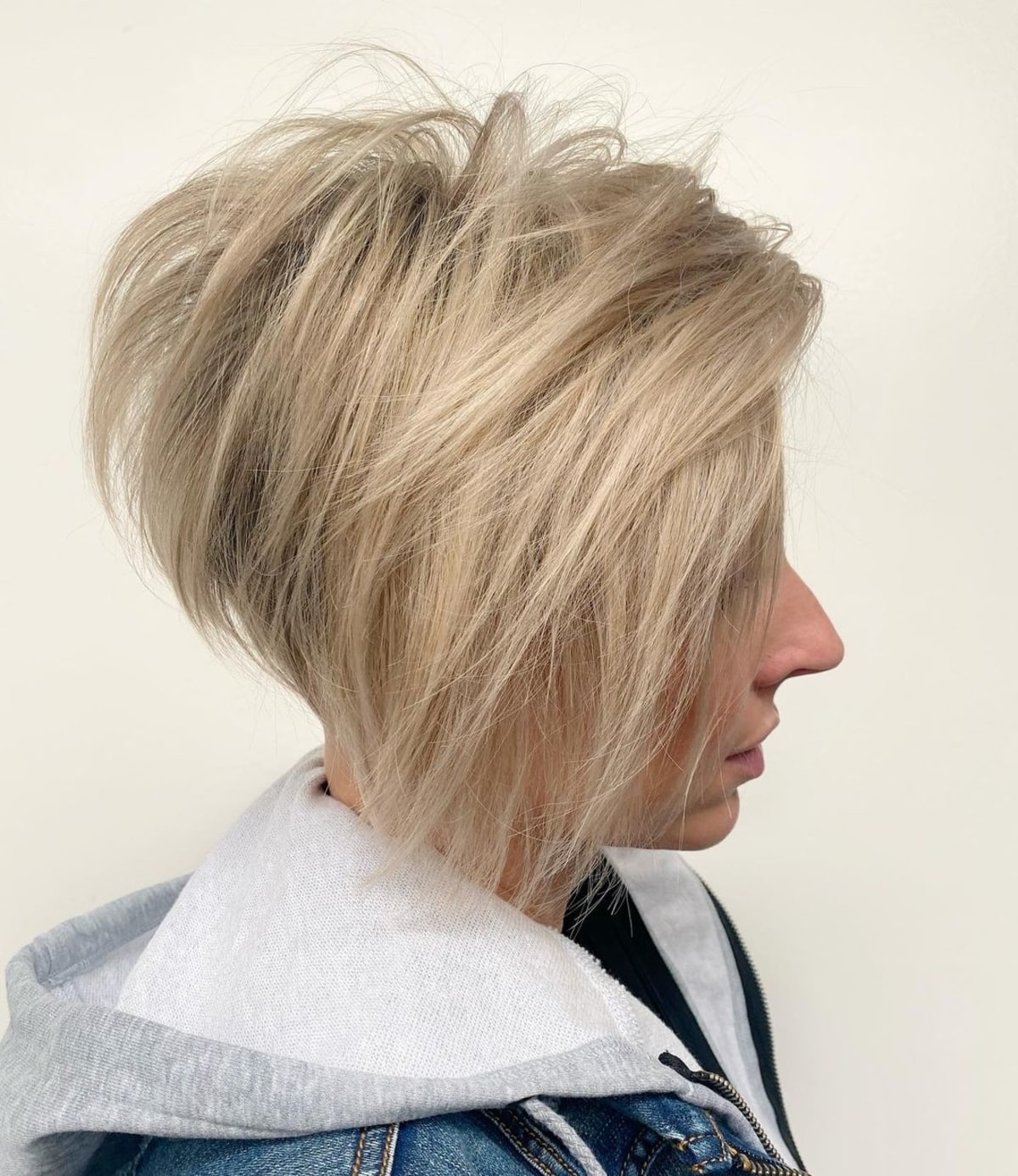 #18: Stacked Pixie Bob
A gorgeous stacked pixie bob haircut requires lots of texture. With multiple layers and shaggy ends, the extra texture makes for a more voluminous style.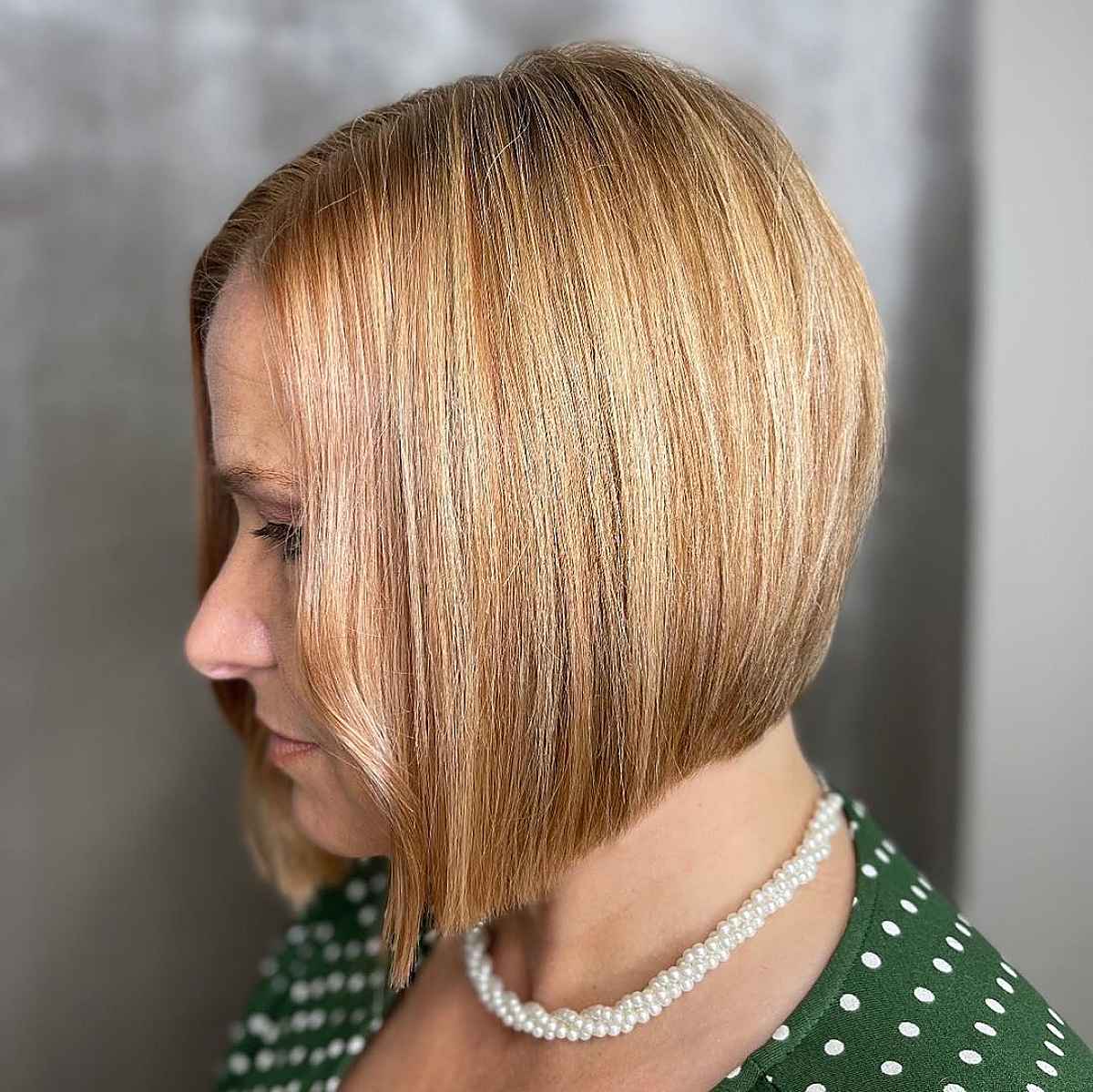 #19: Short A-Line Stacked Bob
Opt for a very chic short a-line stacked bob. Take pictures to look at with your stylist when discussing this type of graduated cut. The short A-line bob needs to be where you discuss as well as the degree of graduation for the back. Always discuss maintenance for this stacked bob haircut.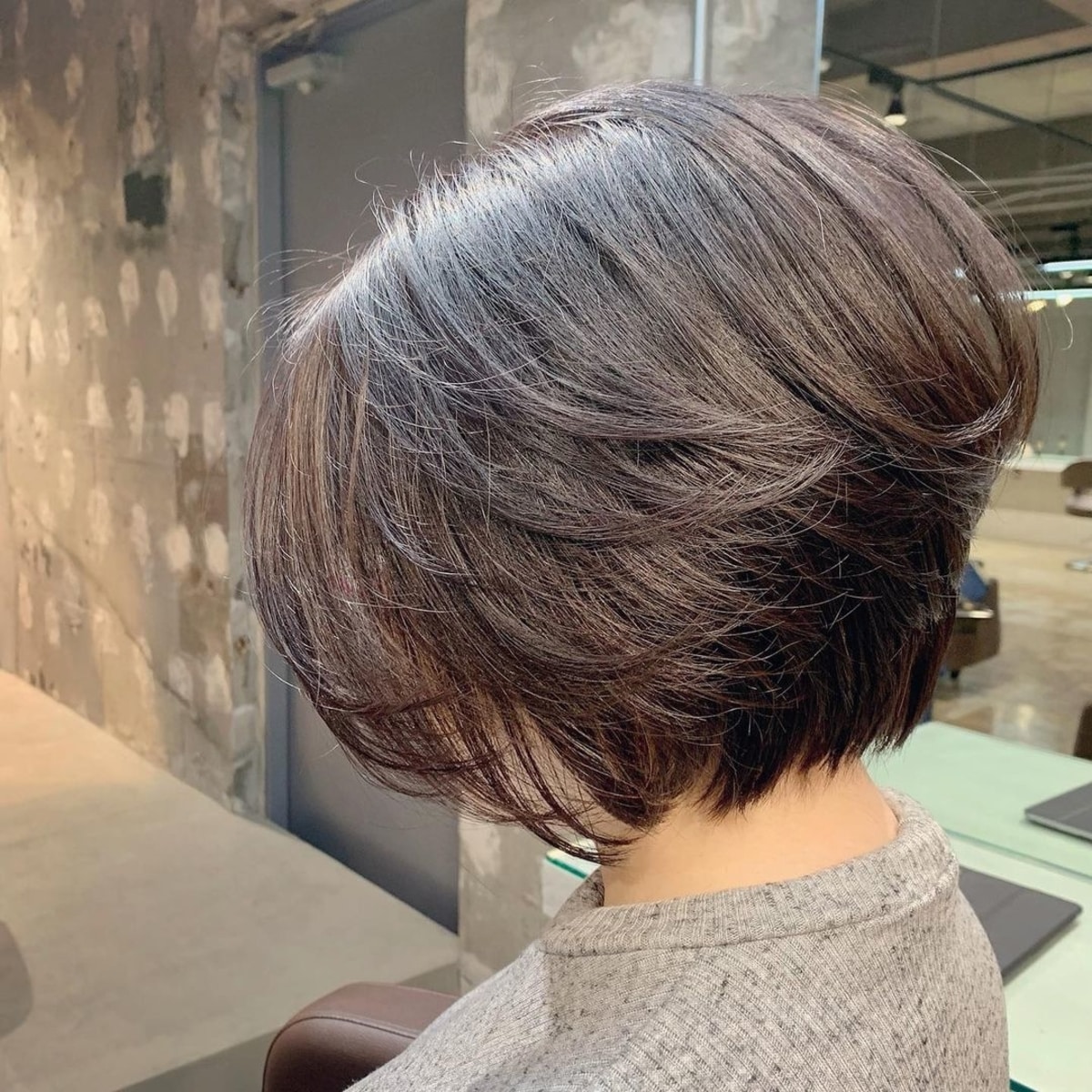 #20: Short Stacked Layered Bob
A short, stacked layered bob is a precision cut to create a beautiful rounded cut. A short-stacked bob hairstyle is gorgeous worn straight or curly and looks beautiful with thicker hair. Short hair is a lovely, never-ending trend.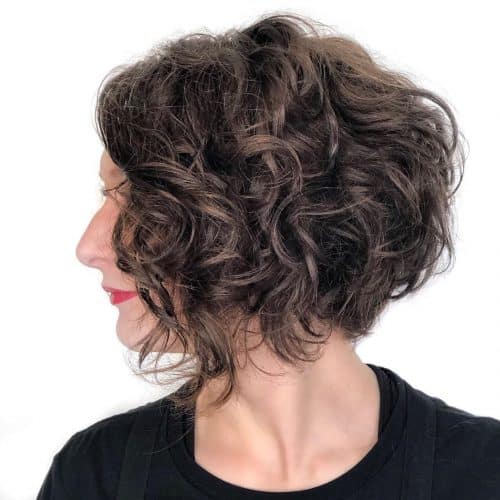 #21: Stacked Bob For Curly Hair
This is a short stacked bob haircut with an asymmetrical shape. "Dry and wet cutting techniques were used to achieve this short hairstyle," says salon owner and hairstylist Mandy Rogers of British Columbia, CA. "When working with natural curl it's really important to create a strong foundation to the cut while it is damp with low tension," explains Rogers. "Use freehand texturizing and cutting techniques to enhance the natural shape of the curl. This was achieved using a straight and curved shear for the cut. Curved shears can work wonders when trying to manipulate the direction of a curl." The strong lines of the inverted bob combined with the disconnected curls create a beautiful shape. The asymmetry is so flattering and this cut looks great from every angle and can work on women of all ages. "When it comes to face shape, this stacked bob hairstyle is fantastic on the majority. The one exception is the heart-shaped face. A lob is a better choice in that case," she adds. Gels, sea salt sprays, waxes, and wax sprays are more suited for the style. In short, this is a cut for a woman who has the time to style their hair for 30 min a day. If you take the time, it can be a super fun, sassy, and sophisticated style.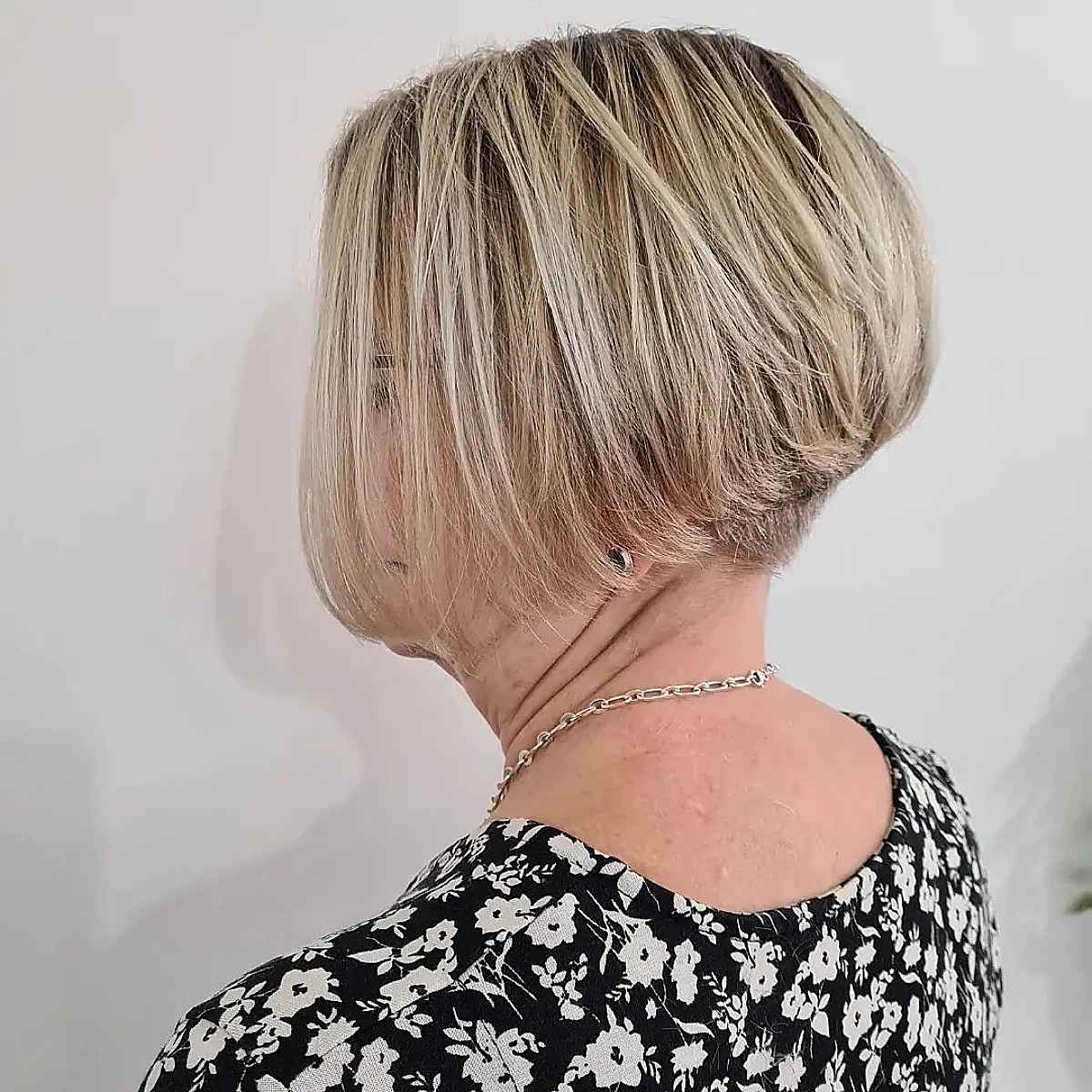 #22: Short Stacked Bob with an Undercut
A short hair is a stacked bob cut that is a fun, edgy, but also stylish and professional style. What's also great about it is the undercut. If you're unsure about if you want a straighter cut, ask your stylist for an asymmetrical short bob with an undercut in the back. There was a lot of texture put into this stacked cut, to give the feeling of weightlessness. Starting with a traditional triangular shape, a more extreme angle was created to preserve length in the front. Having the right amount of hair is crucial for short stacked haircuts. This will not work well for women with super fine or very thin hair. But on the flip side, too much hair or natural texture can make this very difficult to achieve, which may also need a lot of work to style. A very short stacked bob cut for women with a round face shape is not recommended. This is because it would only create more roundness for them.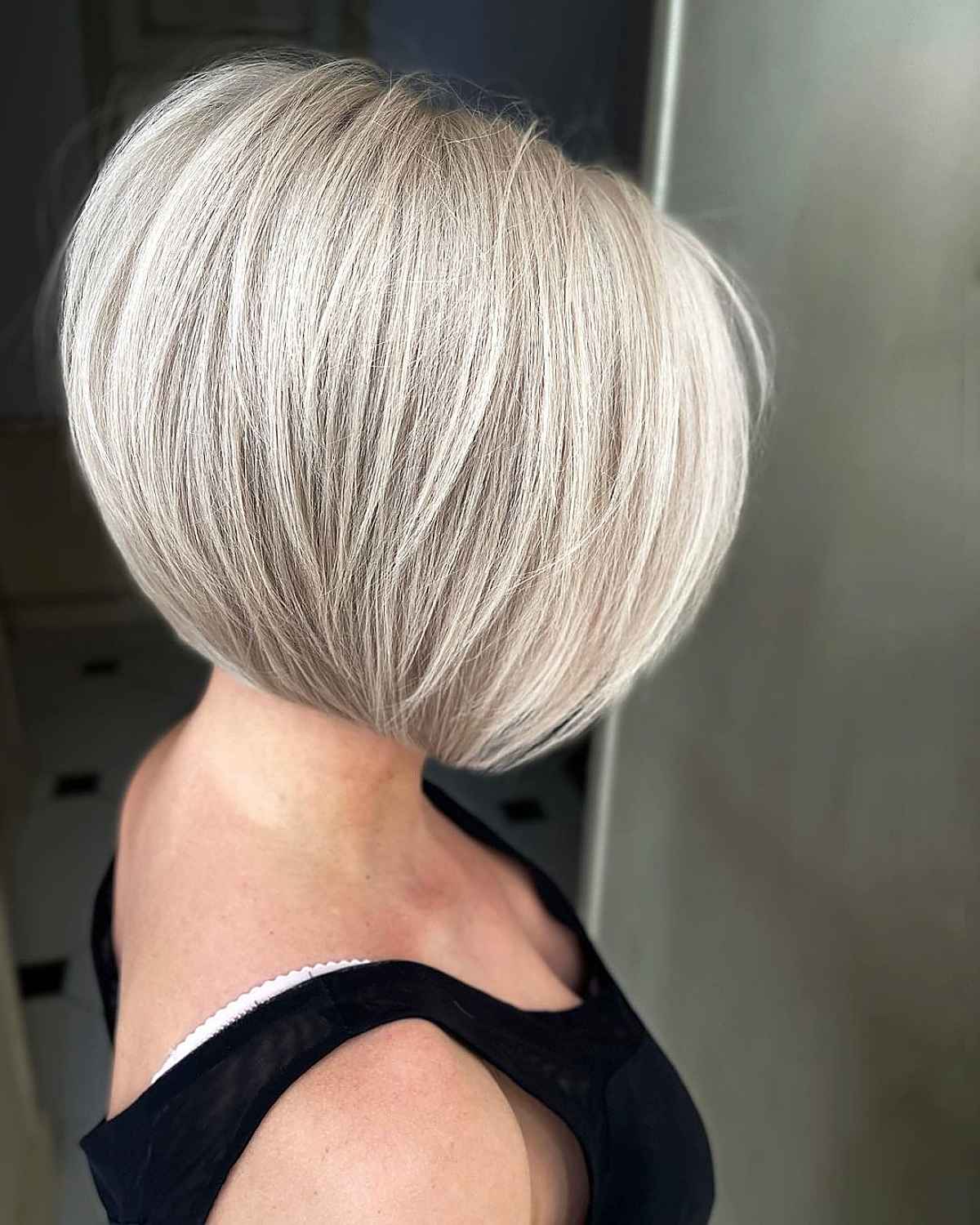 #23: Beautiful Blonde Stacked Bob Cut
A beautiful blonde stacked bob cut is a sure-fire way to show off a long neckline and straight shoulders. Blondes wear a stacked bob cut quite well as it helps add volume and shape to potentially flat hair. A strapless top, a racerback top, or a crewneck tee show off the shoulder and neckline leading up to a stacked bob which always gives a feminine, sexy feel.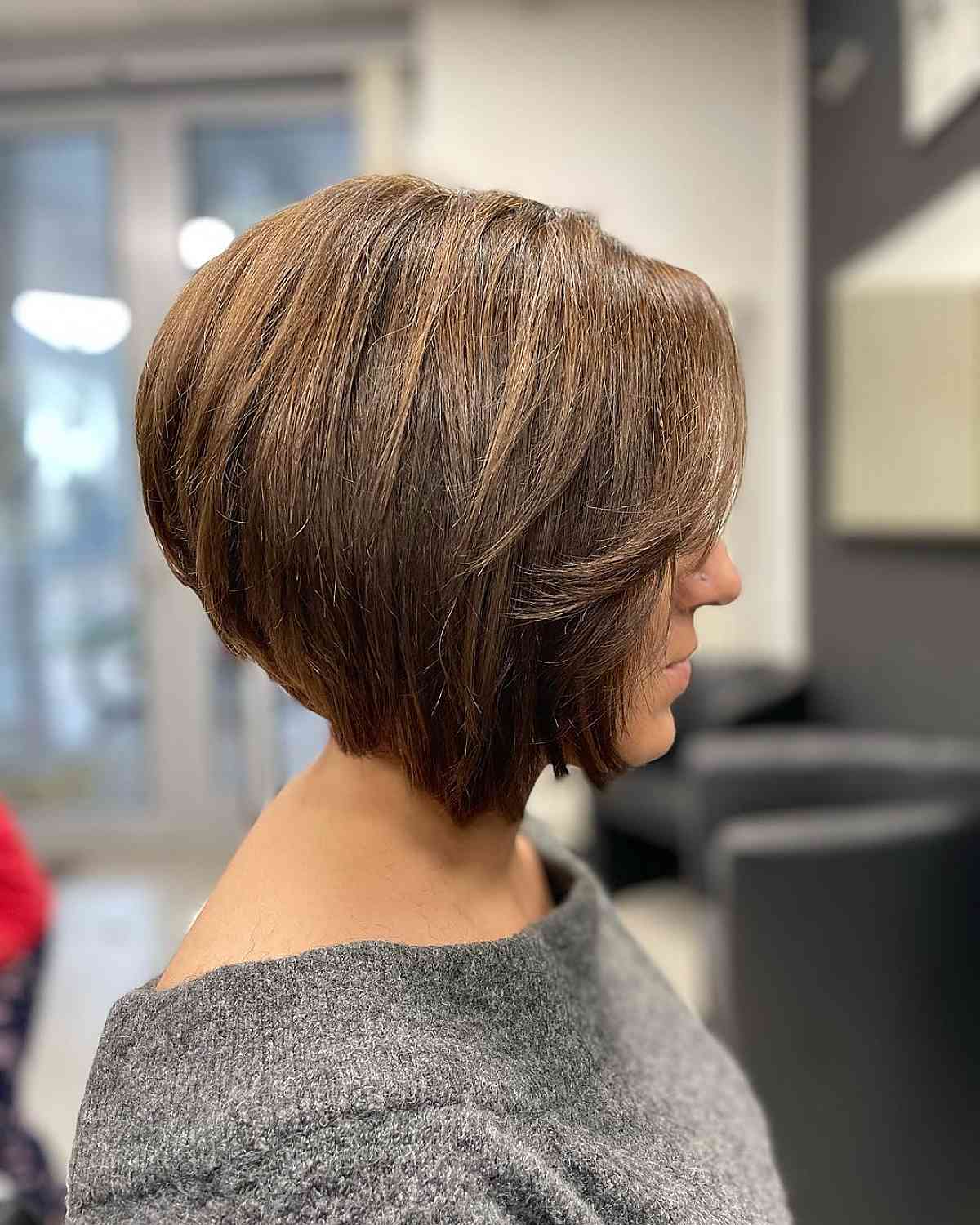 #24: Soft Brown Bob That's Stacked
A soft brown bob that's stacked can create a full, voluminous look to the back of the head while keeping length toward the face. A stacked bob is so versatile and can be detailed to become as slight or as bold as you want it to be. This cut works very well for women with fine to medium hair, as it can help to create volume throughout the hair.
#25: Stacked Bob for Grey Hair
Go for a stacked bob for grey hair. A classic short stacked bob is great for fine hair needing body and shape. Great for older women who want an easy style with a quick blow-dry and 1-inch round brush.