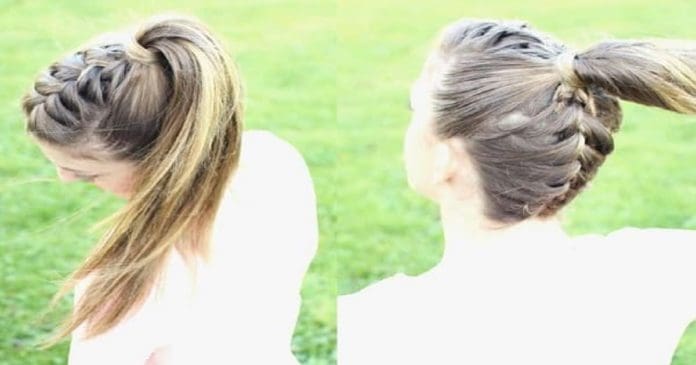 If there is anything that the French are known for among women, it's the ageless classic hairstyle of a French braid.  The French braids and ponytails can create gorgeous and elegant hairstyles as well as bohemian appeal. All you need to do is master a few tricks and get creative with your French braid when making the ponytail.
Captivating French Braided Ponytails
Here are some of the best French braid ponytail ideas that you need to try today!
1. Classic French Braided Ponytail
This is perfect for a quick get up and go morning. Proceed with a regular French braid on your hair and stop at the point where you want your ponytail to start flowing. Secure with an elastic rubber band and brush your ponytail to free any tangles. This is a simple, classic French braided ponytail that takes barely a couple minutes if you are a regular.
2. Triple Braided Ponytail
The triple french braided ponytail hairstyles are best suited for women with longer and thicker hair. Basically, you have to compartmentalize your hair into three sections, braiding them separately and then uniting them together at the nape of your neck for a ponytail. This hairstyle might be a little tricky, but if you can get to creating even segments of your hair, then the rest is pretty much a cake walk. The hairstyle is best suited for colored hair where you can see the beautiful triple braid layer.
3. Braided Crown Ponytail
This intricate ponytail is brilliant for a bridesmaid or a bohemian bride to be. Start from the crown region of any side of your hair and proceed to French braid around the crown region. Towards the end, your braid will resemble a crown. Depending on your preference, you can go for a thicker or thinner crown. Secure with bobby pins for maximum hold and finish with a regular ponytail continuing from the braid. The braided crown ponytail is perfect for all those who want to add some volume to the top of their head.
4. High Volume Bohemian Ponytail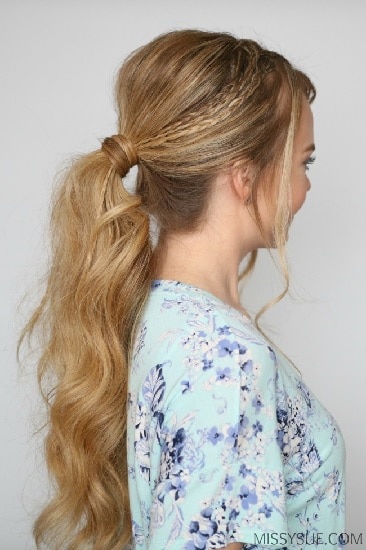 Most bohemian hairdos feature curly hair. Here's one that works well on slightly wavy hair as well. When you finish with your braid and begin the ponytail, make sure you tuck away the rest of the hair like a wrap at the base for an increased volume.
French braids and Dutch braids are not at all different when it comes to the technique but both offer a lot of different hairstyles. If you want to up your french braid ponytail game, then this super cool hairstyle is for you. Centre partition your hair and divide into two segments. Start Dutch braiding on both sides one by one and secure with rubber bands. The hairstyle is perfect to pull an athleisure look and is ideal for long hair as well as medium hair.
6. French Braid Mohawks
If you are looking for some serious game changer hairstyles, this runway-ready French Braid Mohawk is your buddy. Loosely braid your hair from the center, leaving some areas for a regular ponytail and tease your braid to give it a rise and a fake Mohawk resemblance.
7. Lower Tiara Ponytail
Imagine the crown hairstyle, only a lot low key and polished. Start by braiding your hair from the sides and join them together in a medium-high ponytail. This French Braided ponytail hairstyle is best suited for high collared outfits and dresses where you need to show your shoulders off.
8. Gym-Ready Braided Ponytail
The best part about most French braid based ponytails is that they are almost always perfect for a quick workout. This French braided ponytail is patterns of braids all the way down. Start by braiding your hair until you reach a little below the crown area and go for a high ponytail. From the ponytail, divide your hair into segments and start French Braiding. The hairstyle looks equally pretty even without layers of French braids if you want a quicker hairstyle.
9. Relaxed Side Braid Ponytail
Best suited for wavy hair textures, this side ponytail can be your go-to hairstyle if you are looking for some leisurely and laid-back look. Start with a loose French braid from one side of your head and go for a high ponytail. Tease your crown and ponytail area to add some volume to the look. The best part about his hairstyle is that you can go for something as simple as your man's hoodie and the hairstyle will look amazing.
10. Intertwined French Braided Ponytail
If you want to go for a feminine look, you will never fail with this cute and trendy ponytail. A side braid starting from the front and going all the way behind while being intertwined with a small regular braid will give you this appealing hairstyle. The hairstyle may be a little hard for beginners, but as days go by, it barely takes a few minutes. This French braided ponytail looks surreal on colored hair.
11. Miniature Side Braids
If you want to finish a sleek and professional look, then this braid should be your pick. Featuring three mini French braids on the side, the braids then continue to a proper sleek ponytail. A perfect hairstyle for those who like to have a little bit of quirky in their professional look.
12. Double French Braid At Top With A Ponytail
Another sporty style, this French Braid ponytail features 2 side braids that join to give one super sporty French braided ponytail. Start from either side and proceed to braid until you reach the ponytail area. Alternatively, you can also begin from different lengths to maintain some planned "imperfection" in your ponytail.
Top French braids are best known for their ability to add volume to the hair beginning from the crown region. The top French braid also has the capacity to sculpt your facial structure. Start with a chunky braid from the front that slowly steers to one side of your head. Go for a high ponytail and tease the hair to maintain volume. This high ponytail can be your go-to option if you are wearing a flirty dress or up for a quick morning run! See? It goes both ways.
14. Poof Perfect Ponytail
Combine your regular French Side braid with a poof on the front to create a detailed hairstyle as well as add some serious structure to your face.
15. Diagonal Braided Ponytail
If you have straight hair, then you definitely need to try one of the best French braided ponytail hairstyles such as this. The style is pretty self-explanatory.
16. Woven French Braid Ponytail
Yet another style suitable for straight haired beauties, this hairstyle can also be called the butterfly braid. Start braiding side by side and eventually join them as a French braid in the middle. This is a hairstyle that will suit everyday looks, high school prom dates as well as a wedding hairstyle coupled with small and delicate flowers.
17. Reverse French Braid Ponytail
If you have a poof in the front, this hairstyle works out perfectly for a nice evening out. Start the French braid from the nape of your neck and proceed till you reach the height where you want to begin your ponytail. Combine the poof and the reverse braid into a ponytail and you are all set to go paint the town with this gorgeous French Braided ponytail.
18. Braided Ponytail
Start with a French braid from a side in the front and proceed to finish it while combining it with a neat ponytail. This french braided ponytail hairstyle is best suited for hair with highlights as it really brings out the layers of color.
19. Intricate Ponytail for Shorthair
For a long time, it was believed that women with short hair miss out all the French Braid fun. How untrue! This gorgeous multiday French braid is the ideal style for a low and short ponytail.
20. Bohemian 4-way French Braid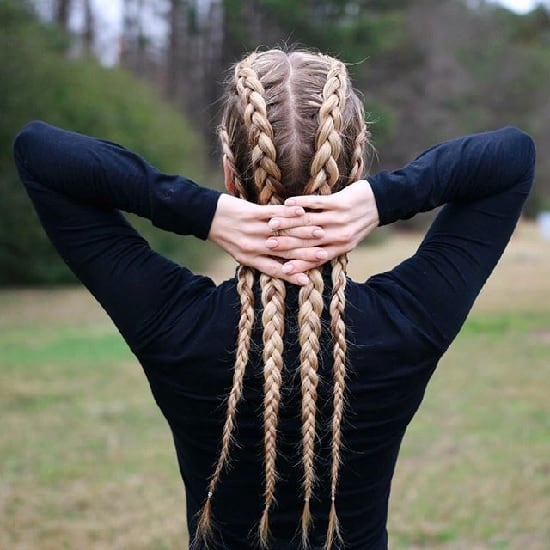 A creative new bohemian hairstyle combining french braids with the ponytails. Start by center parting your hair and begin with two parallel side braids on either side. Secure with bobby pins when you reach the center. Repeat the same just a few inches below the first side braids. Gather all four braids and tie into a loose ponytail. Alternatively, you can place small flowers on the braids.
21. All the way down Triple Braid
Choosing a delicate look? Go for smaller series of triple braids and go all the way till the end before gathering them into a single ponytail.
22. Knotted Ponytail
A side braid can often be converted into a lot of beautiful hairstyles. One such hairstyle is this prom ready French Braided ponytail. Start with a side braid near the year and finish the braid along the length of the hair you've segmented. Gather the rest of your hair into a ponytail and wrap the braid around the ponytail to give it a dreamy appeal.
23. Full Reverse Ponytail
Starting with a French braid from behind and from the front, connect both at the desired ponytail height to show off an intricately braided ponytail.
24. Braided Bun Ponytail
Make a beautiful French braided bun and secure with bobby pins. Gather the remaining into a loose ponytail.
25. Messy Cute Ponytail
Get started on a small or loose braid. Go all the way till the end and gather your hair to form a ponytail to be displayed on the front. Alternatively, you can allow stray locks of hair to hang freely from the other side to give you the bohemian princess French braided ponytail.
Most French braided ponytails start at a familiar point. However, each hairstyle is free to be tried out in your own way. The best of these hairstyles were created based on a lot of improvisation. So what are you waiting for? Grab a comb and get started!