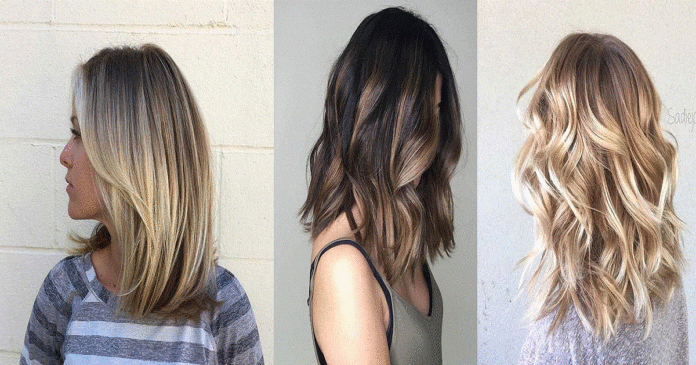 Everyone has gone for the lob recently, otherwise known as the "long bob", and we definitely felt it was about time we brought you the best pretty lob haircut ideas you should copy in 2022. Beyonce opted for a beachy ombre look on her lob, and January Jones also rocked it, sweeping hers over to one side and adding some curls for added measure. Even Rachel McAdams had a bash with waves that are so wispy, we couldn't help fall in love with them. And that's why you need to see these pretty lob haircut ideas for yourself …
1. CARAMEL OMBRE LOB FOR BRUNETTES
The lob is a great way to grow out your bob – it's the perfect mid-way style to stop you getting the in-between frustrations. You know what it's like – you get frustrated when growing out a bob, your bangs, an old colour … This caramel ombre lob for brunettes is a great idea because you can do both at the same time – grow out an old cut and colour, and all without anyone needing to know!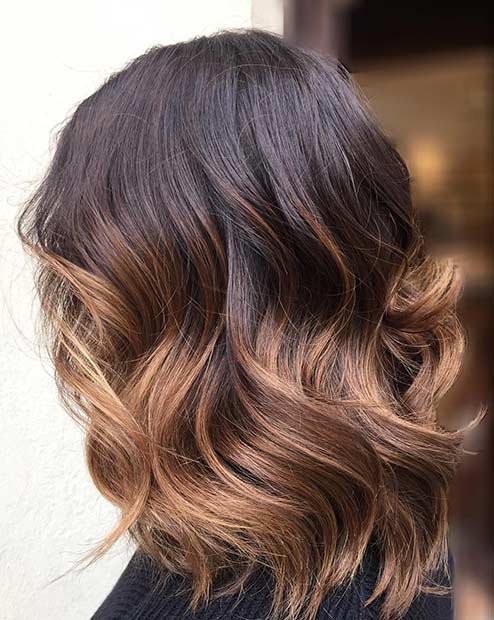 2. STRAIGHT LOB HAIRCUT
Kim Kardashian opted for a more sleek and styled look for her lob, and it's definitely one of those pretty lob haircuts you should copy in 2022. If you wanted to give your hair a break from the straighteners, you could do just that with the look below. Give your locks a quick blast with the hairdryer while your head is upside down, and then add some sea-salt spray to give it that boho look. Another lazy-day hairstyle look that we're absolutely obsessed with.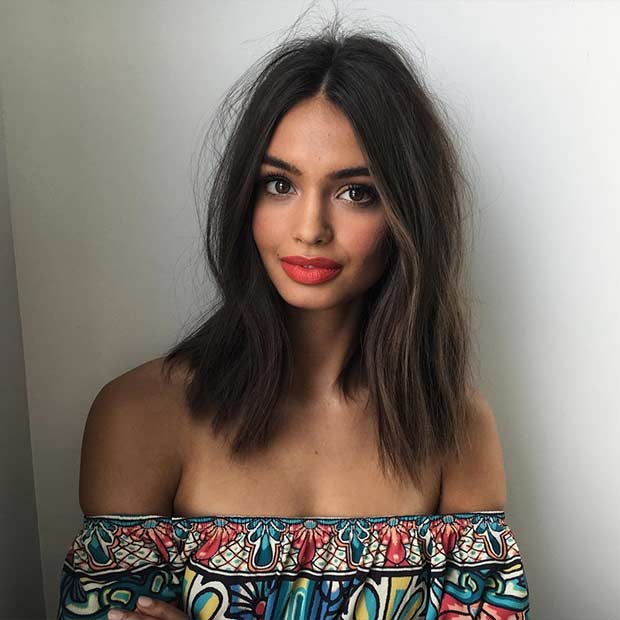 3. LOB HAIRCUT + BLONDE BALAYAGE HIGHLIGHTS
If you're growing out an older cut and colour, pretty lob haircut ideas like this one are perfect. If you want to go lighter for the summer, you can do just that but adding a few lighter blonde and caramel-coloured balayage highlights. The ombre gradient helps you to keep things neutral at the top, giving your roots a break from all that bleaching, and you can opt for a slightly blunter look towards the ends, getting rid of all those split-ends!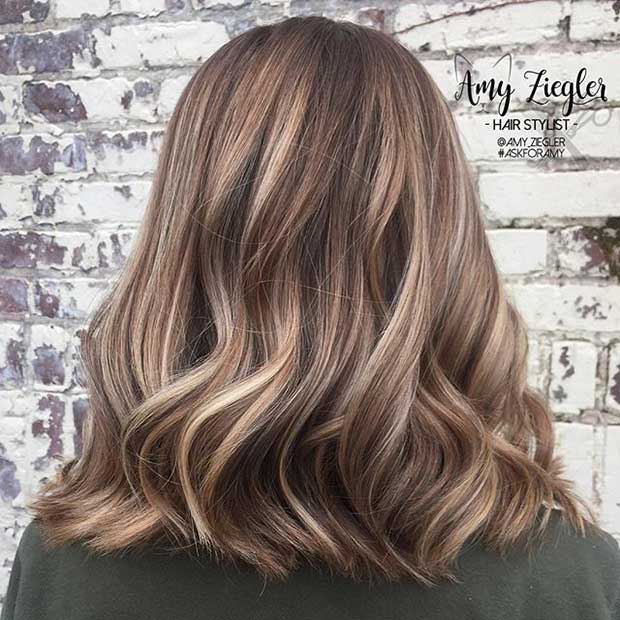 4. ANGLED LOB HAIRCUT
This is an edgier look than some of the softer lobs and bobs you will have seen, and still offers you something in the way of length to play around with. Just ask your hairdresser to give you longer length at the front and a graduation at the back. Or better than that, take this photo into your hair salon and show them what you want instead. At least there won't be any crossed wires.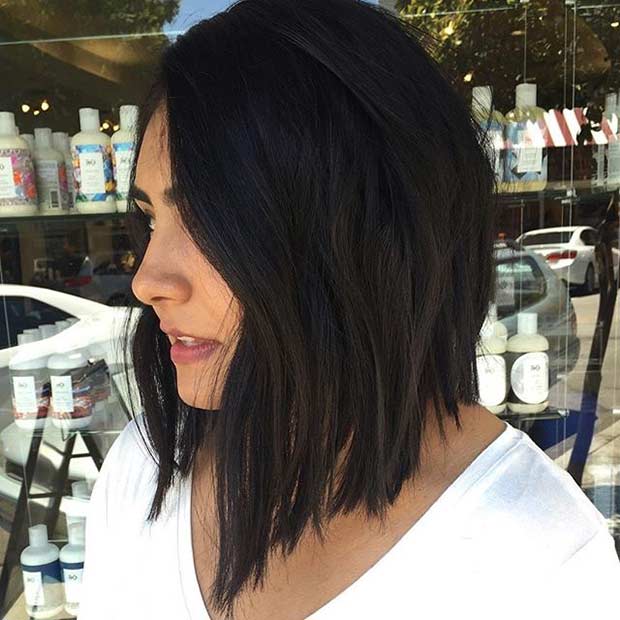 5. BLONDE OMBRE LOB FOR DARK BROWN HAIR
If you're scared of going short, or you had a short bob and hate it, this angled lob is the perfect growing-out style. You can still keep the length around the front, which is often more flattering for women, but you have the no-muss, no-fuss at the back. Add some beautiful blonde ombre tinges in there, and what do you have? Fabulous hair, that's what!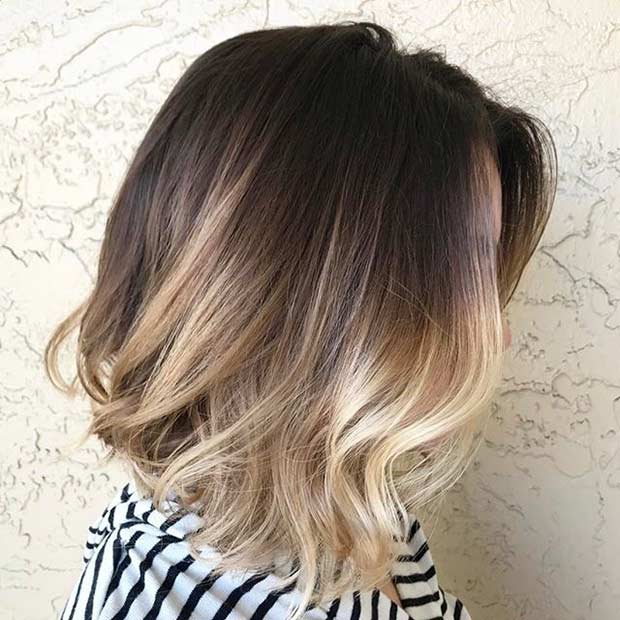 6. DEEP RED LOB
A slightly longer look for when you're just getting past that growing-out stage, this deep red lob is beautiful, and a great look if you want something bold and brilliant. If this red is a bit too rich for your liking, darken things down with a deep brunette tinge, and you'll have hair that's flattering and easy to take care of also.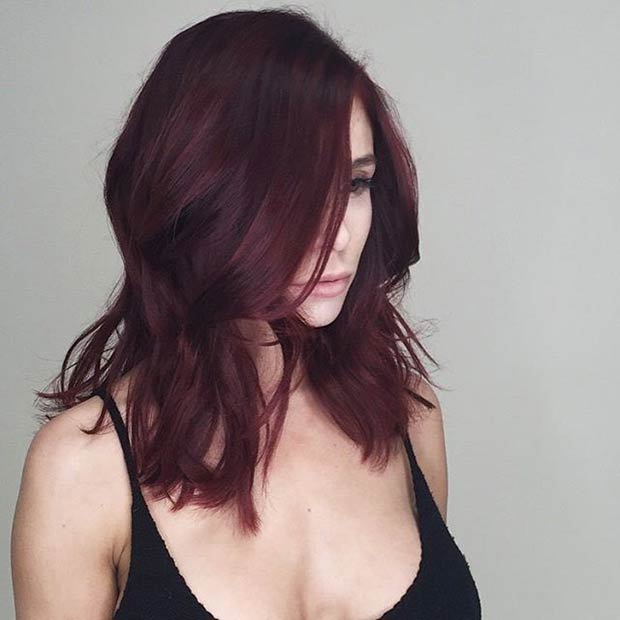 7. LAYERED LOB + BLONDE BALAYAGE HIGHLIGHTS
If you have thin hair, highlights are the best thing for making it appear plumper and thicker. That's definitely the case when you incorporate some big, bouncing waves, and that's just one reason why we loved this layered lob with blonde balayage highlights so much.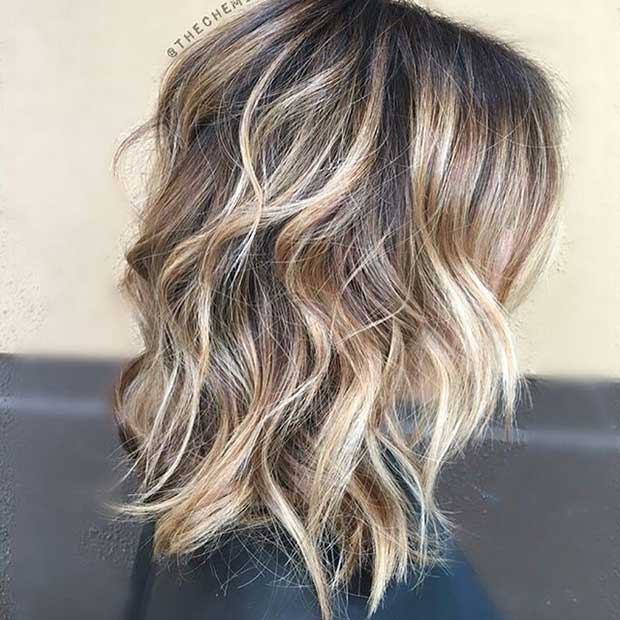 8. ELEGANT BLONDE LOB
And for when you need something glamorous and pretty, how about this elegant blonde lob? The lighter streaks or highlights have been left face-framing, and that helps to lighten the entire look, especially when you're face-on to other people, such as talking to them. That's a great tip for when you want to go dark, but not too dark also – have the lighter layers at the front.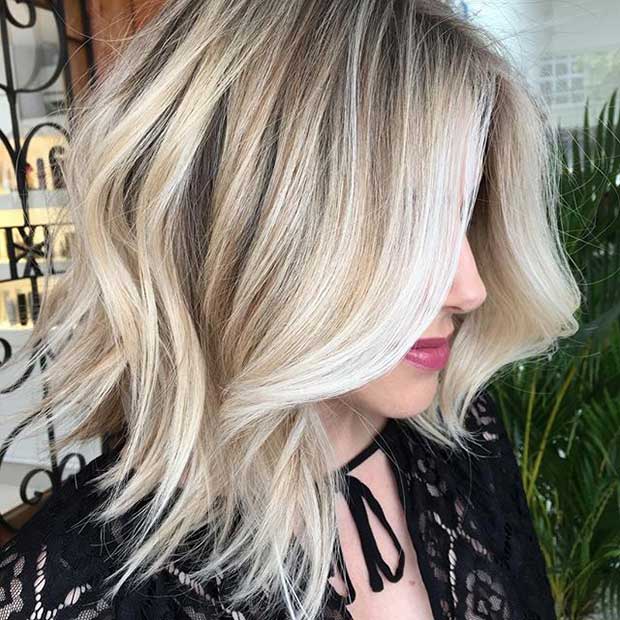 9. SUN KISSED BRUNETTE LOB
Olivia Munn recently went for a look like this, her lob worn with beachy and relaxed waves, swept over to one side, a deep parting completing the look. It's one of those easy five-minute styles you can do in the morning. If you don't have time to wash your hair, use some dry shampoo, add some curls, and tousle up with your fingers. Get up and go hair, what could be better?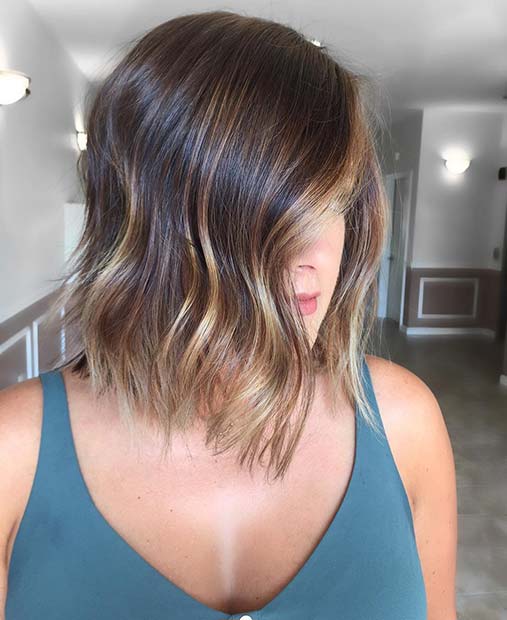 10. ANGLED AND TEXTURED LOB HAIRCUT
If you want hair that you can put together in about three minutes in the morning, this boho lob is definitely the way forward. Simply wake up, spritz with some sea slat spray, and then crunch with your fingers to give texture and slight beachy waves. If you have a little more time on your hands, you could add some curls with your curling irons, but there's really no need. You don't have length weighing your locks down, so they'll be more likely to hold their tousled waves.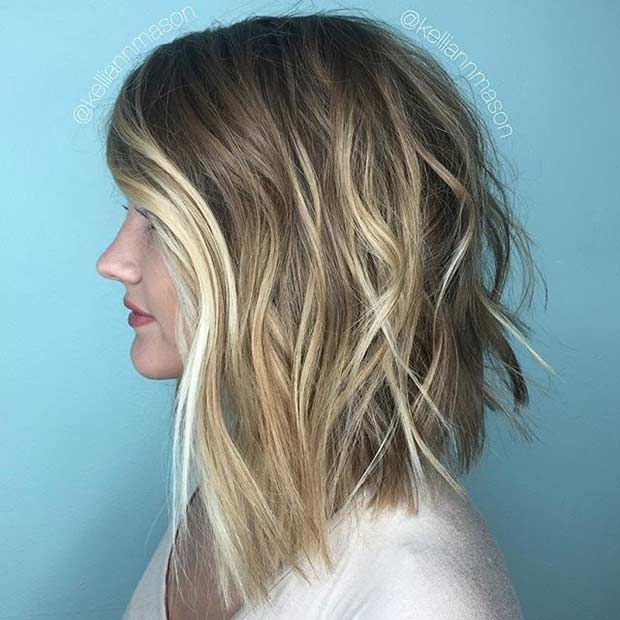 11. LOB IDEA FOR THIN HAIR
Hoping for some super-straight locks? Well, you'll be happy to know that with a pretty lob haircut idea like this one, getting perfect hair will take a fraction of the time. If that's not a reason to go for the chop, we don't know what is. You can use your blowdryer and your fingers or a paddle brush to get this sleek style, and once you're done, use some hair oil or wax and a baby toothbrush to smooth down any fly-aways. If you add highlights into the mix, your hair won't look lifeless, which is what many women fear when going for a look this short.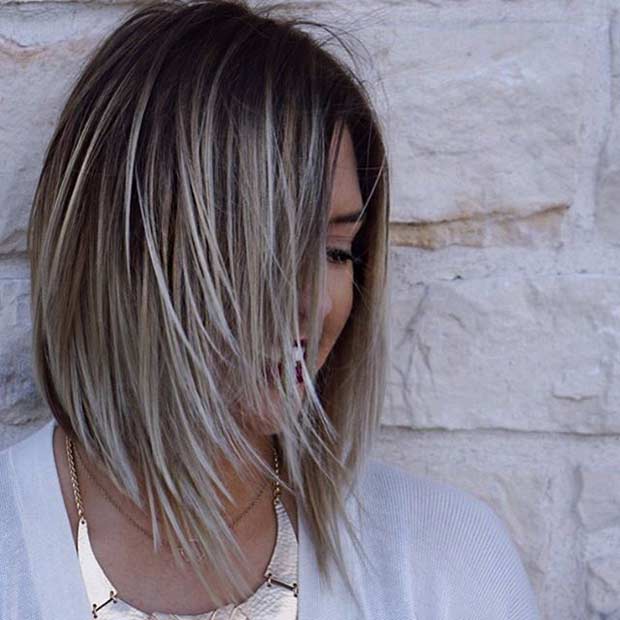 12. LAYERED LOB HAIRCUT + BALAYAGE CARAMEL HIGHLIGHTS
Trying to go from brunette to blonde? Rather than doing it in one go, achieving that beautiful (not) orange hue in the middle, try a balayage blend instead. Adding more and more blonde / lighter colours as you go, it's a less strenuous way of going for a drastic change. Do you have time on your hands to dedicate to the cause?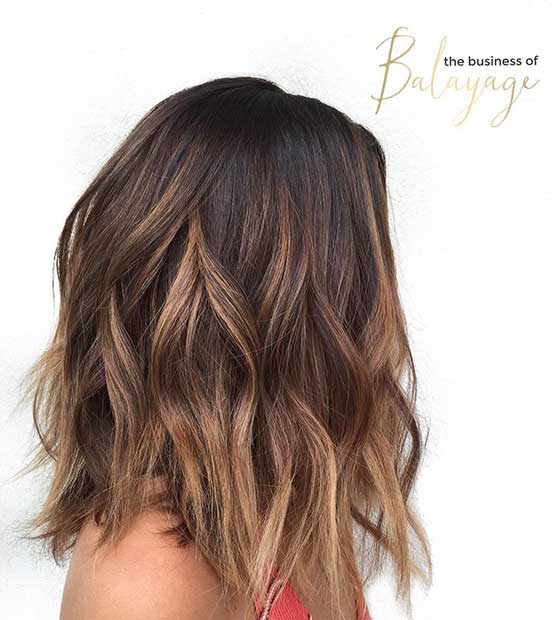 13. CURLY BLONDE LOB
If you want a super textured look with your lob, there's a really easy trick to do it, and you can use both your hair straighteners or curling tongs to get the effect too. To add more volume and texture into limp and lifeless hair, when you're curling your locks, curl different strands in opposite directions. Curl some to the right and some to the left. It adds a brand new dimension, and will make your 'do look thicker and more full of life. For the record, Daisy Ridley is a big fan of this hair trick.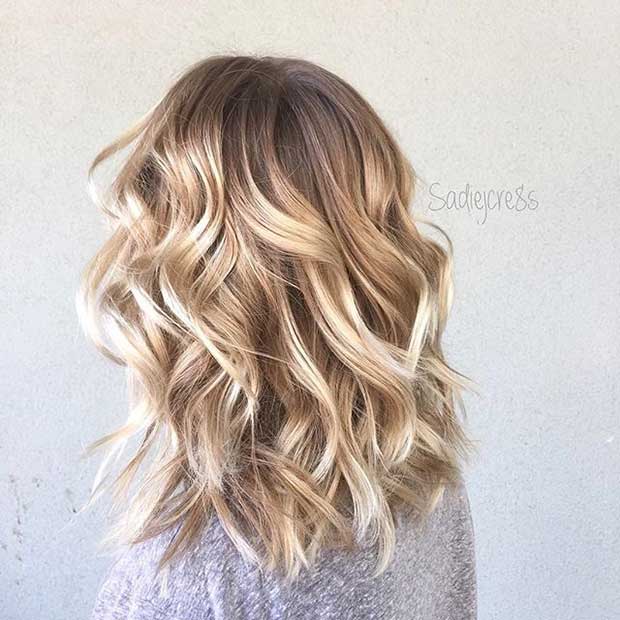 14. LOB HAIRCUT WITH BANGS
Short hair and bangs are always a really drastic move, and you need to have the right kind of face shape to pull it off. We did it once, and we ended up looking like a tomato with hair … Round-faced girlies will often have a hard time. The trick to getting it right, of course, is getting the style of bangs right. You don't need to have a harsh, straight long, or thick bangs. You can opt for more wispy and lighter styles for a less severe way to rock the look. Have a chat with your hair stylist – they're trained for this kind of thing!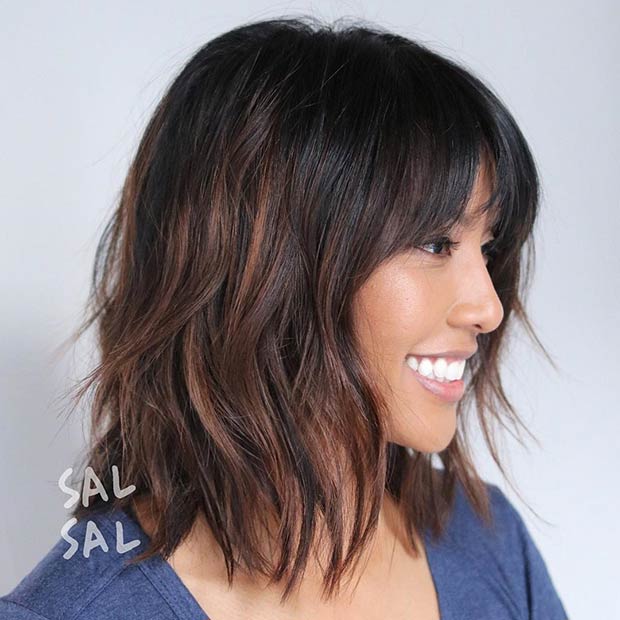 15. BEIGE BLONDE BALAYAGE
It's a sun-kissed ombre look, and that's just why we love it so much. When we're talking about pretty lob haircuts you should copy in 2022, this one has got to be one of our favourites. We're feeling those summery vibes even if the sun hasn't quite made its way here yet, and if you have long hair, going of the chop will give your locks a new lease of life. We know it's scary getting a big haircut, but it really will do your hair the world of good, enabling it to grow back stronger, healthier, and in much better condition.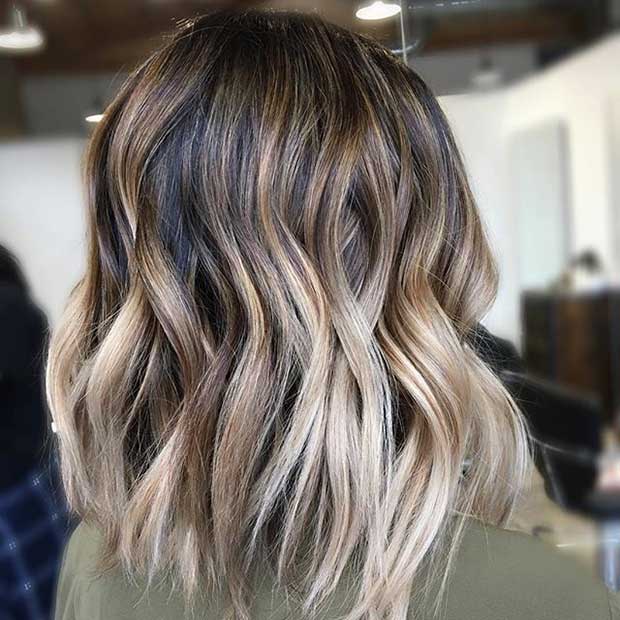 16. LOB HAIRCUT WITH LONG LAYERS
The good news about pretty lob haircut ideas like these is that they're easy to play around with when you want to dress them up or down. There's still enough here to braid your hair into head-band style looks, leaving the rest of the hair down and curly. You could always just pin segments back away from the face, making it an even easier style to take care of. We do love a nice, simple style.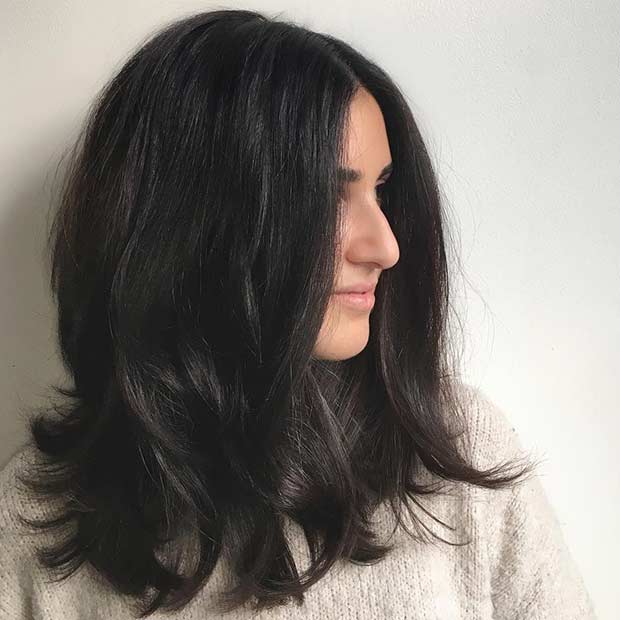 17. HONEY BLONDE BALAYAGE
Going honey blonde for the spring and summer is always a great idea, especially if you've been rocking dark hair of the majority of winter … mostly because you didn't want to leave the house because it was too cold. If you want to achieve this look at home, you'll want a blend of hair dyes, rather than just one or two shades. Look for at-home dyes that contain names such as caramel, copper, honey, golden, butter, and warm. They'll have a slightly red tinge to them, but that's what the honey-blonde look is all about!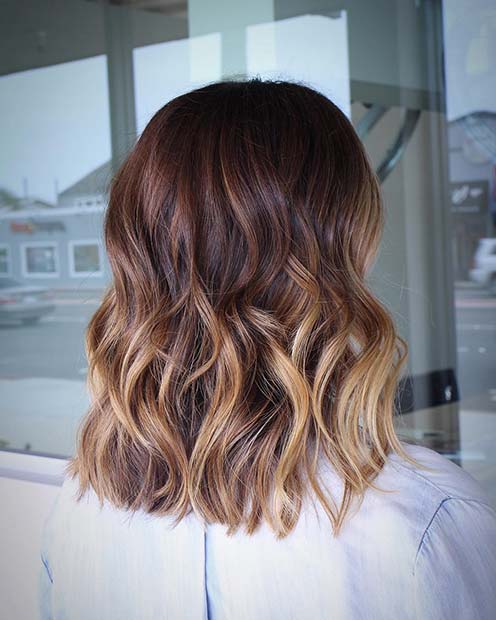 18. CINNAMON RED LOB
Of course, you could always go brighter and lighter with your red than honey blonde. What about a cinnamon red instead? It's definitely bold and bright, but if you've been in the dark for far too long, perhaps this is the right look to come out of the darkness with! It'll be high-maintenance and don't let anyone tell you otherwise. When we had red hair we found we needed to touch it up at least once a week if we wanted to wash it more than twice. Very high-maintenance, but so beautiful. It's hard work being a woman, right?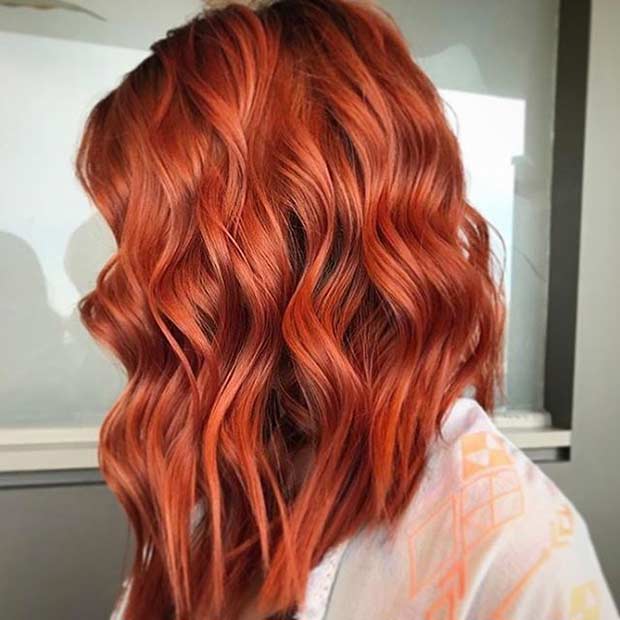 19. CUTE BRUNETTE LOB
You could always go back to basics with your hair this year, copying pretty lob haircut ideas like this one. Grown out your old shade, get your locks cut off to this lob shape and style, and let your hair breathe again. When was the last time you had natural hair? What's so wrong with your natural hair anyway?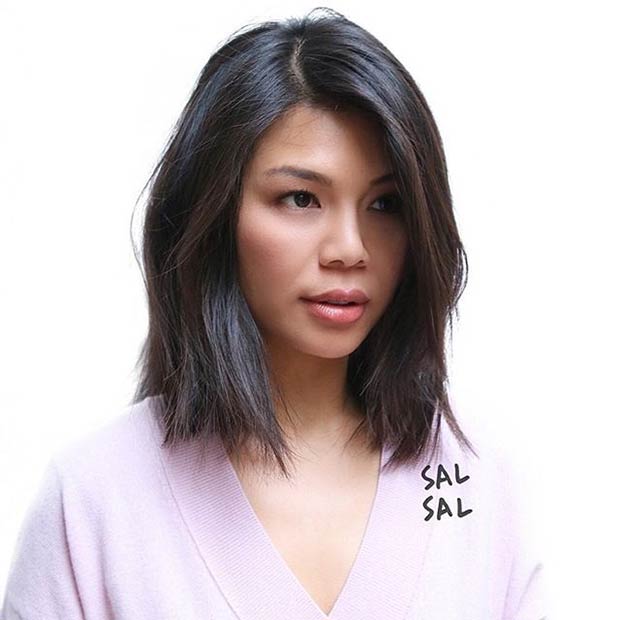 20. CURLY BRONDE LOB
Bronde – brown and blonde – is a big thing right now, favoured by the likes of Jennifer Lopez and Kim Kardashian. Let's face it, if it's good enough for Jenny from the Block, it's good enough for us. The fact that it looks simply stunning is just a massive added bonus.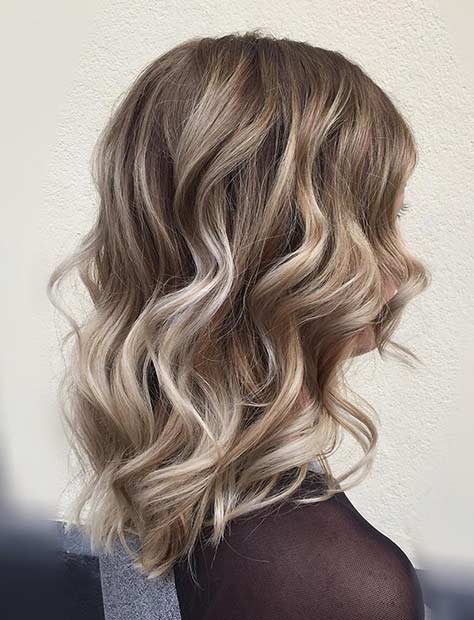 21. BALAYAGE HIGHLIGHTS
But what about when you don't want an all-over colour? What if you just want a hint of colour? Do you think it's impossible to have subtle shading in short hair? Well, you're wrong, and this beautiful look just proves it. Add those balayage highlights to the very ends of your hair and it'll actually make you hair appear a little longer. Make sure it's subtle and well-blended and we promise the compliments will come flying.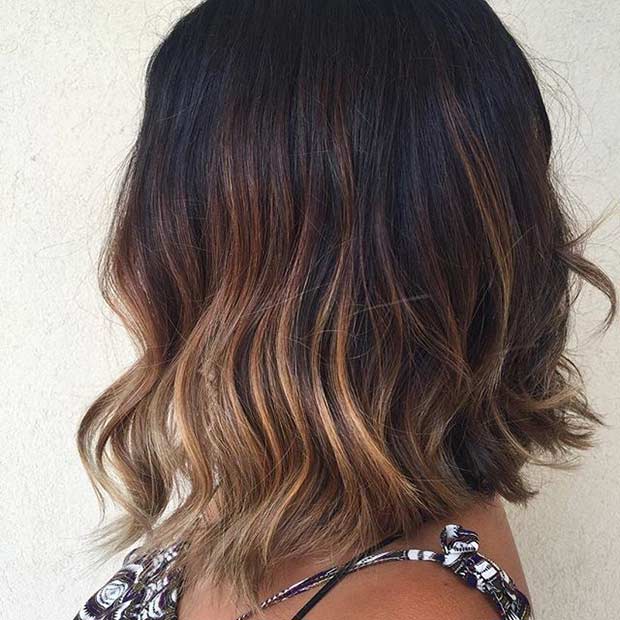 22. SANDY BLONDE HIGHLIGHTS FOR DARK BROWN HAIR
The best news about balayage styles just like this sandy blonde highlights over dark brown hair look is that it allows for natural roots. You can easily go weeks between salon appointments with colour choices like these, darker and more natural at the roots, lighter and more coloured at the ends. As the hair grows and your natural, darker roots come through, it'll just look like another tone to your ombre look. That's fine by us!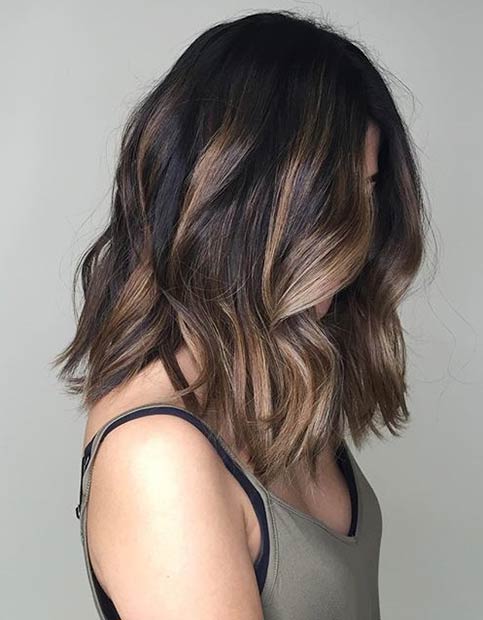 23. CURLY BLONDE BALAYAGE LOB
Of course, you could always choose to go LESS subtle. Just like this blonde bombshell – the cutest of cute blonde balayage lobs. Again, leave things more natural and darker at the roots, lighter towards the end, and go a little while longer before you make that salon appointment. Your hair will thank you for it, and so will your bank balance!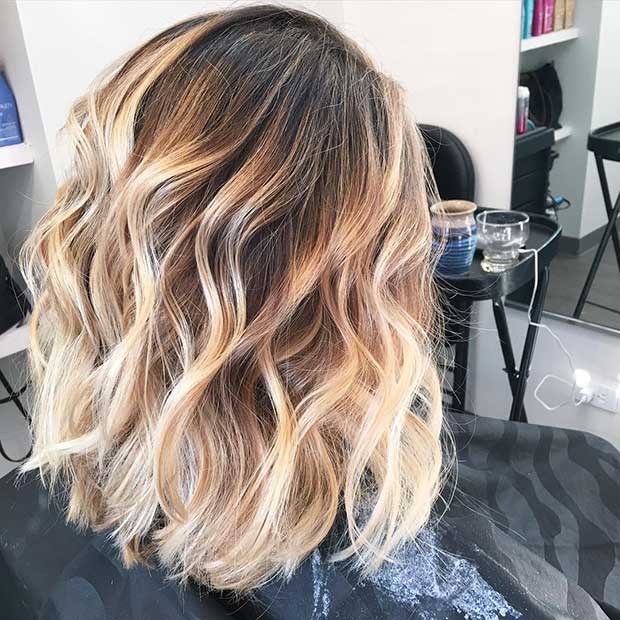 24. LAYERED BRONDE LOB
You can still add layers to your pretty lob haircut ideas to copy in 2022, just make some of the layers a little longer than others, incorporating a good mix. In order to create volume around the face, once you've added your waves to your locks, create a side parting. Give it a quick burst of hairspray, and tousle it up with your fingers, and you'll be left with a beautiful five-minute 'do, just like this one.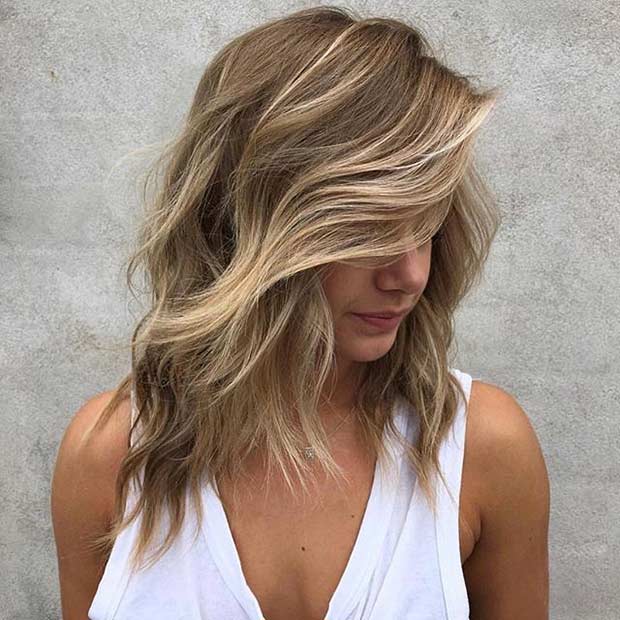 25. STRAIGHT & BLONDE
And sometimes you don't want big waves, but that doesn't mean you want poker straight and sleek hair either … right? This look shows you an in-between hair look that anyone will kill for, all achieved with the help of a good blow dry with a big round brush. It'll help you get the straightness without the sleekness, and just the right amount of bounce too.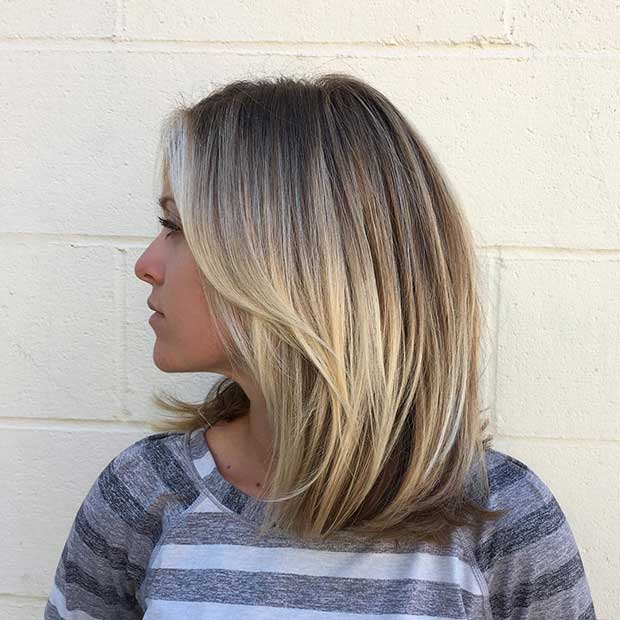 And there you have them – 27 pretty lob haircut ideas you should copy in 2022. They're easy, low-maintenance, beautiful, and can be customised to suit any kind of style, colour, or look you want. What's not to love about the lob? If it's good enough for the likes of Kim Kardashian and Brie Larson, it's good enough for us too.