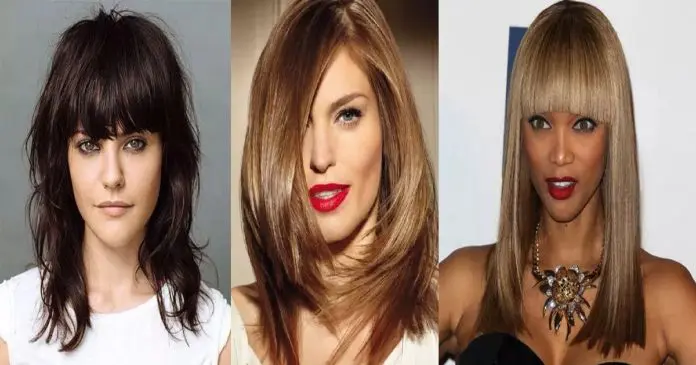 A Line Bob
An A-Line Bob is the best choice if you have a wider face and want to give it a narrow appearance. You will just have to draw increased hair volume and height at the back and make sure to have longer layers in the front.
Blonde Bob
Do you desire to look like a diva? Then, opt for a blonde bob. The sparkling blonde hues paired with a nicely cut side swept layered bob with waves will make you look young and energetic. So just try this ultimate style which is wore by Carrie Keagan at the Super Bowl Fan Jam.
Bob with Elongated Bangs
Sandra Bullock always glam up the beauty of her straight thick manes successfully. You must try this bob with elongated bangs because it flatters the shape of your face and gives you a perfect look. Make sure to have elongated bangs towards the sides to get a nice face-framing. If your hair is straight, you won't require any particular styling for this lovely cut. It's going to look gorgeous every time.
Bob with Golden Curls
Madonna often rocks chic curly hairstyles. This cut is smooth and gorgeous. Get ready to look like Goldilocks by wearing the hairstyle of a bob with golden curls. You need to use large rollers over the golden layers of your hair in order to get volumized curls for a fancy texture.
Bouncy Layered Hair
If you have layered hair then it's a win win situation when it comes to thick hair. Give yourself an extra reason to love your hair more by having a bouncy layered hair. You must ensure to have a good number of layers so that there is an added bounce for your hair. You can color your layers for a pretty look.
Brown Balayage Wavy Lob
Beachy waves truly looks amazing on medium-length hair. Bring out the liveliness in your hair with the brown balayage wavy lob. Create mid-shaft waves and highlight the layers to give your hair a wavy nature. So girls enhance your beauty by wearing this gorgeous hairstyle.
Combed Over Bob
Carrie Keagan glam up her mid-length bob hairstyle with a combed over style and much texture. Get ready to look ravishing with a combed over bob that is one of the trendiest hairstyles. To achieve this look, pin the longest layers of your hair to the nape of your neck and then comb them over your shorter layers for a swooped effect.
Cropped Choppy Bob
If you want to get ready for any occasion at any hour of the day, then you must go for the cropped choppy bob look. Here you see that Rita Ora's lovely blonde cropped choppy bob for her thick hair looks awesome. It requires very low maintenance and you can always look gorgeous with the choppy waves.
Layered Hairstyle with Razored Edges
You can look like a famous celebrity by the layered hairstyle with razored edges. Make sure that there are jagged layering and edges throughout. Your hair shall obtain an airy look and good swing due to the razored edges.
Layers with Bangs
Add an additional flair to your thick hair by having layers with bangs. Make sure to have lots of different layers and blend them with the bangs to have an asymmetrical outlook. This is an adorable look for those who have big or round faces.
Lob with Blunt Cut Bangs
Tyra Banks with bangs. Achieve a structured appearance by having a lob with blunt cut bangs. The soft layers will give you an effortlessly spectacular look but you must remember to cut the edges bluntly. This haircut is styled with a flat iron. The ultimate goal of this cut is sleekness and straightness. Get this beautiful look for yourself and be the diva.
Lob with Elongated Face Framing Locks
Jennifer Lopez totally rocked this cool bob with elongated face-framing manes. Highlight the shape of your face through a lob with elongated face-framing locks. You have to make sure to let the locks fall freely on the shoulders and part the hair on top towards one side.
Long Shag for Thick Hair
Thick hairstyles can be more manageable when you incorporate properly layers. Look stunningly stylish in your thick hair with a long shag. You need to ensure that there is a good length to your hair and that the edges have a jagged cut to provide a textured style.
Long Thick Wavy Hair
Jessica Alba wore the most convenient medium length hair for her thick hair. You can look like a Disney princess with a long thick wavy hair. Do not compromise on the curls in order to get a mesmerizing wavy structure. You may dye the layers with contrasting colors for highlighting.
Loose Waves and Bangs
Get yourself a party look with loose waves and bangs all over your hair. Dress loose waves through the ends of your locks so as to enhance the overall movement and bounce. So girls what are you waiting for just opt this style wore by Jennifer Lawrence and looks the same.
Medium Blonde Hairstyle with Waves
This style is the sexiest blonde wavy cut for thick hair wore by Erin Heatherton. Pump up your attractiveness through a medium blonde hairstyle with waves. Go for an inverted cut and add waves to the layers of your blonde hair by using the flat iron.
Medium Layers
Achieve a modern and cool look with the medium layers hairstyle. See to it that the layers are longer at the front and slightly shorter at the back to give you a distinguished look. You can highlight the slanting layers with the color of your choice to enhance your appearance.
Olivia Wilde Wavy Haircut
Olivia Wilde knows how to glam her look by wearing proper haircut. If you want to look like her, then you must check out the this wavy haircut. You need to part your hair mid-way on the top and then add wavy layers till the shoulders to get the look. The waves you see in this image are styled with a curling iron. It's very essential to curl your hair vertically and always in the same direction to achieve the exact same look.
Shaggy Brown Balayage Bob
Bring out the best elements of your hair through a Shaggy Brown Balayage Bob. Transform the layers of your hair into loose waves. You can also add blonde highlights to emphasize the balayage. No need to worry if you don't have wavy hair, use a curling iron to get this look. Shaggy medium length bob is suitable for any face cut.
Shaggy Lob
Gift yourself a magical appeal by changing your hair into a shaggy lob. Make the layers of your hair into wavy structures and add colors to the waves for a shaggy and cute look. Believe me you will look stunning in this shoulder grazing cut with chopped ends and grading at front.
Short to Medium Hair
You can look unique with short to medium hair. Just make your hair wavy so that it gets an elongated appeal and looks lengthy. Compliment your chic and wavy bob with eye-catching flyaway bangs.You may highlight the layers with distinct colors.
Shoulder Length Blunt Blonde Bob
You are bound to look trendy and fashionable with a shoulder length blunt blonde bob. You have to ensure that your hair is cut up to the shoulder level with blunt edges. It will give a fascinating angle and shape to your beautiful blonde hair.
Side Swept Soft Layers
Julianne Hough compliments her flawless beauty with a glamorous medium length haircut for thick hair. Give yourself a funky look through side swept soft layers. Just sweep the maximum part of your hair towards one side and create layers so as to get a cascading effect and a soft texture.
Smooth Lob
Salma Hayek looks charming in her Lob Haircut. It is time to achieve an exquisite look with a smooth lob. You can look elegant at all times with the smooth textured hair and face-frame highlighting lob. Get this classy and smooth lob cut for yourself and see the difference.
Subtle Layers
If you want to look natural even with a new hairstyle, then go for subtle layers. You can create layers just around the crown even with the help of a hair dryer to look gorgeous. Believe us This thick bangs look best surrounded by long layers.
Wavy Hairstyle with Bangs
Kerry Washington looks ravishing with her long tousled bob and choppy bangs. Provide a refreshing look for yourself by having a wavy hairstyle with bangs. Make sure to create lots of layers so as to have a good number of waves and bangs.
There is an abundance of medium length haircuts which suit your thick hair. Select any of these looks to get praised by everyone. So ladies just go for any of these haircut if you want to achieve the best look on your medium length thick hair.