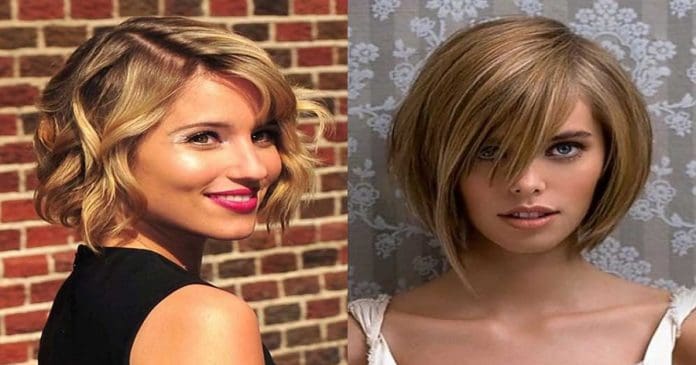 When you are choosing the perfect haircut for yourself, it is very important not to overlook one of the most popular options, which is a bob. Bobs never go out of style, since there are so many variations of them. There are many advantages to wearing a bob that it will take hours to describe them all. One of the most important ones is that it is an easy way to do something fashionable and stylish with your hair. Most bobs look very neat and fit many different hair types and face shapes. Even the pickiest girl can find a bob to suit her tastes. Since bobs can be either long or short, there is no reason to wait until your hair grows out or to be scared of cutting a lot off. Bob is a perfect choice for women of all ages. It will look lovely on a little girl and sophisticated on a middle-aged woman. There are some bobs which can definitely be called amazingly cute. We will give them some special attention.
Cute Bobs Hairstyles for Women
Bobs are everywhere. The reason for their amazing popularity is their unique and neat look. Any woman can allow herself to wear a bob at least once in her life. In fact, it is an absolute must. Whether you are tired of your long mane or want to shape your short locks into something fashionable, the bob is the hairstyle for you. There are so many different bobs out there that some women can get lost and abandon the idea. In order to help you avoid such a bad decision, we created a list of 99 stylish and cute bob haircuts for women to choose from. We cut the list down to the most fashionable and stunning hairstyles. Take some time to browse them and you will not regret it.
1. Asymmetrical bob
This is a bob which conquered the hearts of many modern women. The stylish asymmetry is well visible by making one of the sides reach down your neck and the other end near your chin. A wonderful way to deal with your hair!
2. Long bob with textured bangs
Bobs look amazing with bangs. So, if you have fine hair and can't make a voluminous hairstyle, make sure you pay special attention to your fringe. Textured bangs are considered very stylish and can add your image some real zest.
3. Soft highlights
Bobs look especially well with properly made highlights. There is no reason to go for wild colors, since they can easily take the cuteness out of your hairstyle. Ask your stylist to choose the most natural colors and you will love your look.
4. Reversed ombre
If your hair is thick and wavy, it is not always possible to create a good bob shape. However, it is no reason to forget about this amazing hairstyle. In order to make it more unique, do some hair color experiments. A reverse ombre will be a great start.
5. Long bob with side part
Side parts look especially well on straight hair. They allow you to create some volume on top of your head. The rest of the bob will be straight and neat. If you are not scared of some morning hair care, you can also make inverted ends.
6. Shoulder length bob
The longer you make your bob, the more experimenting you can do with it. Take some time to consider the length. However, you must remember that long bobs don't look as neat as short ones and will require more maintenance on your part.
7. Blunt bangs
When you think about blunt bangs, you might not see anything cute about them. You are mistaken. Side swept eye-covering blunt bangs coupled with a short bob make for an amazingly cute hairstyle that can easily be sported by women of any age.
8. Ear tucked bob
Want a sexy look which will also hide your ear tucking habit? Go for the ear tucked bob. The hair is styled shorter on one side and can easily be pulled behind the ears. The other side is longer. The bangs are styled toward the longer side.
9. Very short bob
A very short bob is a sure way to get a cute look. If you have oval, triangular or heart shaped face, you will surely appreciate what such bob can do for you. Consider growing long bangs to make some contrast for the short hairstyle.
10. Textured bob with stray strands
Textured bobs have a tendency to look especially cute on young women. The little wilderness of such hairstyle will do wonders for your image. It will also be a great idea to add some asymmetry by making one of the front strands longer than the rest.
11. Round bob
Round bobs are considered to be one of the cutest hairstyles out there. They are perfect for elongated faces and suit all hair types. Styling a round bob is no hassle at all, if your hair is straight. Wavy hair owners will need some help from a flat iron.
12. Asymmetrical layers
Like asymmetrical haircuts? This amazing bob is for you. The hairstylist will create several layersstarting from top and ending near your shoulders. Don't be shocked with the absence of neatness. It is considered very stylish nowadays.
13. Waves and braids
While bobs made on straight hair look very neat, wavy hair shouldn't be forgotten. There are bobs that will look absolutely perfect with wavy hair if cut properly. You can also experiment with different styles such as braided bangs (as shown on the picture).
14. Nice and natural
Natural bob has all the chances of becoming the cutest hairstyle you've ever gotten. If your hair is straight, make a classical short bob with a simple fringe and you will surely rock somebody's world. The simplicity is what makes it so outstanding.
15. Curly bob
Women with curly hair will appreciate a medium-sized bob that will make them look cute and even sexy. The curls are cut in layers in order to take proper shape. Some hair gel will be required to keep this hairstyle neat on a regular basis.
16. High bob
This type of bob is well-liked by middle aged women with fine hair. A well cut high bob will make a lot of volume on top and reduce it on the sides. This will make a neat hairstyle which is easy to take care of.
17. Messy bob
If you are not a fan of high maintenance cuts, you will appreciate this cute bob haircut for women who are always on the run. A short round bob which ends at a chin level can be left a little messy by not using any hair products and not brushing on a regular basis.
18. Choose blond
Blond is truly the most popular hair color for women all over the world. So why not do some experimenting with it. Your bob will look amazing in blond, especially if you keep it very neat. Choose the blond shade you always wanted and go for it!
19. Elegant bob
There is nothing better in the fashion world than a truly elegant hairstyle. A bob can do a great job creating such an image for you. Consider getting elongated sides that will be falling down your chest. Don't forget that elegant styles usually require a lot of maintenance.
20. Consider contrasts
If you like wild options but still want your bob to stay as cute as possible, consider a contrasted cut. One side stays really short, as it would in a pixie, while the other seems like a part of a long bob. This hairstyle will surely make a statement.
21. Side swept bangs
When you are thinking of getting bangs with your bob, you should consider your face type. Elongated faces will look amazing with short bangs. However, if your face is round, then go for long side swept bangs, which will visually make your face longer.
22. Voluminous and messy
If you are a lucky owner of thick hair, you can go for this amazing voluminous and messy bob which will make you forget about maintenance. Ask your hairstylist for volume on top and thin strands on the sides. Give it a try!
23. Tousled waves
If your hair is wavy, there is no reason to forget about the shape. A tousled and wavy bob will make you look really cute while keeping the image respectable. This is a great idea for women over 30, who don't want to say goodbye to cuteness.
24. Highlighted waves
You will love the way your wavy bob will change when you add some special highlights. Make your hairstyle brighter by choosing lighter shades. You will look truly glamorous with golden streaks and neat waves styled in a bob.
25. Cheek length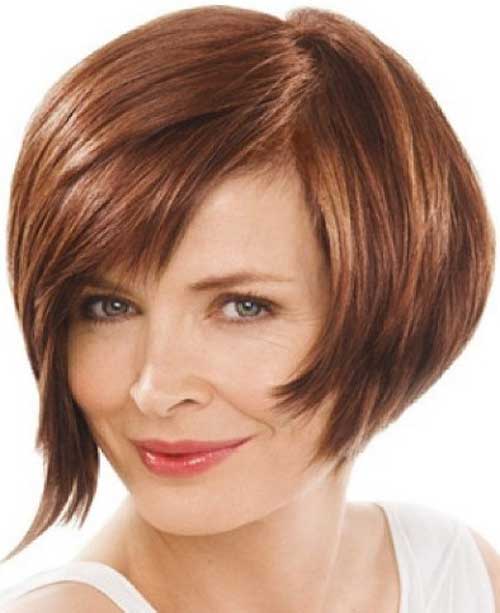 This wonderful cheek length bob will make you look much younger than you really are and will add your image some cuteness. This is a perfect choice for women over forty who want to stay forever young without any botox.
26. Soft brown bob
Brown is one of the most natural hair colors out there. It is also considered very soft and can contribute to the cuteness of any image. If you want to outline your facial features and make your bob look even more outstanding, choose brown hair dye.
27. Inverted ends
Inverted ends will take some time and practice but they look especially well with elongated bobs. Learning how to use a flat iron is always a great idea, so why not start now? A well styled bob will make you look absolutely fantastic.
28. Choose the right length
Choosing the right length for your bob is one of the most important factors when it comes to making a haircut. If your face is round, never make the bob which ends near your chin. However, if your face shape is long, such bob will be your best friend.