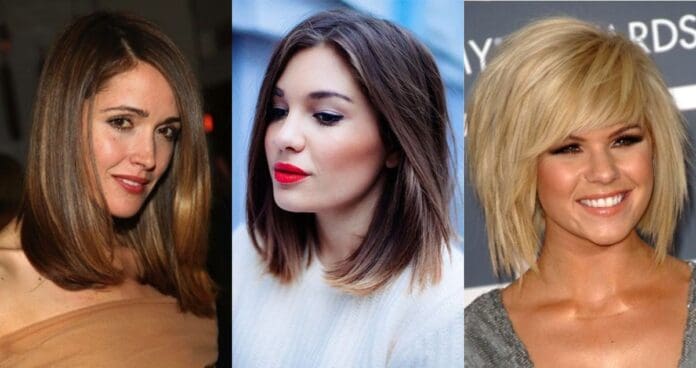 Women's medium shoulder length haircuts come in all shapes, sizes, and colors. All you have to do is make the right choice. It sounds easy, but is it really so? Shoulder length hairstyle is the simplest way to go about your hair because of the versatility. The hair is long enough to be arranged into various interesting styles while short enough to avoid too much hair care. So if you believe you are ready to get a medium length hairstyle, where do you start? Women all over the world are looking for new ways to make their hair stylish and easy to maintain. Join them!
Best Medium Shoulder Length Hairstyles for Gutsy Women
If you think that there is nothing special about medium shoulder length haircuts, you just haven't found the right one for yourself. If you are one of those women who are so busy in the mornings that they can't fathom spending one extra minute in front of the mirror, there are a few options that can accommodate your busy lifestyle. We collected 25 interesting haircuts that might seem complicated at first, but in reality, can make your life much simpler. Whether you have shoulder length locks or just thinking of growing them, these styles are for you.
1. Windblown simplicity
If you have straight hair, this simple shoulder length haircut can be very appealing. In order not to make it too simple, consider this messy style. Brush the hair from one side over to another and secure it with hair gel.
2. Eye-reaching Medium Length bangs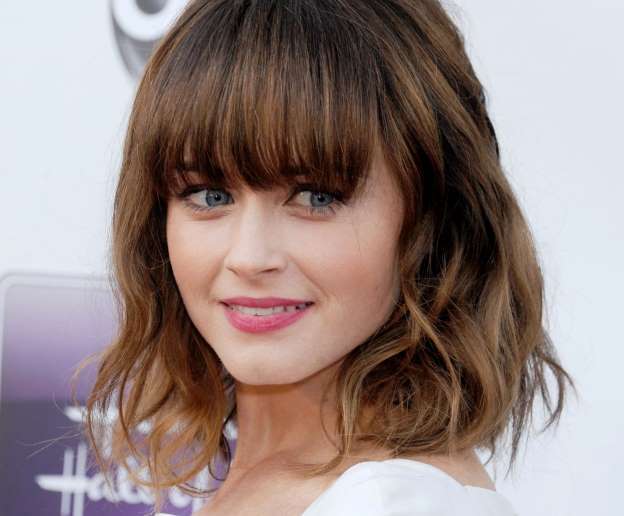 Straight eye-reaching bangs are always a wonderful addition to a hairstyle, which is slightly curly on the ends. The only downside of this option is that the bangs need to be styled at least every other day.
3. Low Waves
If you have straight hair but want to add it some volume without spending a long time with the flat iron, you can create low waves. The contrast between the straight top and the low waves looks very stylish.
4. Medium a-line bob cut
This medium length haircut is a great choice for women with straight and fine hair. It allows you to sport long locks while adding some volume in the back. Meanwhile, it's hard to use this hair to make a ponytail.
5. Middle part
A middle part is simple unless you add some creative waves to make side swept bangs. Unless your hair is very curly, this hairstyle is readily available for you to experiment with. Play around with the color as well.
6. Long layers
Long layers are a simple way to add your shoulder length haircut some volume. Meanwhile, they make it hard to create an updo that can ruin your wonderfully womanly look. Use the flat iron to give this haircut some volume.
7. Smartly layered shag
This shag is a perfect haircut for women who are not big fans of styling. All you need to do to make this hairstyle look fresh every day is brush it. The downside is that you have to touch it up at least once a month.
8. Highlights
If you don't want to bother with some special haircuts and just want to flaunt the length, any simple haircut will do. However, if you still want to stand out, you can go for various highlights. All they need is monthly or bimonthly touchups.
9. Stack'em
This amazing haircut for shoulder length hair is a big favorite among women with thin locks. If you can't make them thicker, why not make them look this way? Ask your hairstylist to add some asymmetry to the layers.
10. Romantic waves
Anytime you feel you need to add some romance to your image, the waves can do the job. Whether you do them along the full length of your hair or just on the bottom, the result is bound to impress.
11. Let them down
Sometimes in order to make your medium length hairstyle shine, you just have to let it down. If you have thick but straight hair, it's enough to style the bangs, if any. The rest can flow freely for your enjoyment.
12. Become a redhead
Rich and boisterous red color looks magnificent with any shoulder length haircut. Redhead women have always been popular due to that special twinkle in their eyes, this color seems to bring.
13. Asymmetrical bangs
Asymmetry is conquering the planet and it's time you got onto the bandwagon. If your hair is not as impressive as you wish it to be and making it striking and voluminous takes too much effort, settle for making your bangs shine.
14. Smart dyeing
Shoulder length hair looks striking if you go the right way about dyeing it. Take a close look at the way the hair is colored on this photo. Sometimes it's enough to just dye the ends to create a voluminous appearance.
15. Wispy bangs
Wispy bangs are always a great addition to any hairstyle if you style them the right way. The longer the bangs are, the harder they are to take care of and the more interesting and appealing they look.
16. Pump it up
Sometimes it's better to spend a couple of minutes with the flat iron at hand than go around all day worrying about the lack of volume. Make a little effort to make your layered medium length hair more voluminous.
17. Modern teasing
This hairstyle might be hard to achieve at home if you've never tried it before. Ask your hairdresser to complete the look for a special occasion. The key to this image is the volume on top and straight strands on the bottom.
18. Hidden bangs
If you have fine and straight hair and decided to go for long bangs, they might frustrate you at times. When you feel like coming up with something special, hide the bangs under the side strands.
19. Round'em up
This is a great shoulder length hairstyle for women with long or heart shaped faces. Rounding up the hair on the sides and the bottom allows your face to look closer to oval. Consider crisscrossing the strands on top for extra volume.
20. Eye covering bangs
Long eye-covering bangs are exactly what you need to create a romantic and appealing impression. You might not be too comfortable wearing them this way all the time, but sometimes the effort is worth the effect.
21. Beautiful blonde
Blonde hair color is a big hit among women of all ages. If you are looking for a way to spice up your medium length haircut, consider various shades of blonde. Blonde can help pump up the volume and make you look younger.
22. Teased waves
The secret to making teased waves look beautiful instead of messy is to keep the top of the hair straight. If you have wavy locks, use a flat iron to straighten out the top. If your locks are straight curl up the bottom.
23. Outline the tips
A simple straight bob can gain a beautiful look with just a dash of a hair dye. The best combination is brown and blonde but you can play around with any mix of colors. The best part is the lack of frequent touchups.