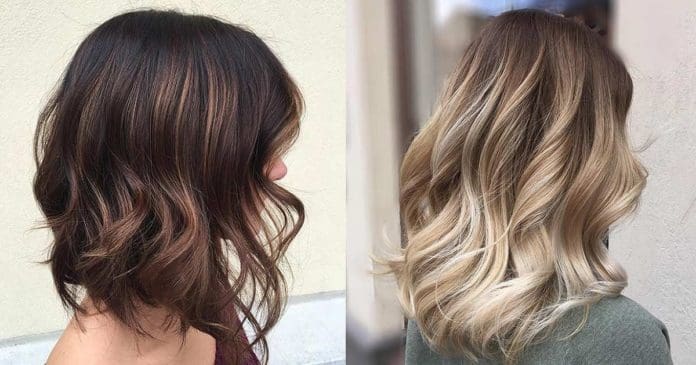 Bobs are iconic for a whole host of reasons. Julia Roberts in Pretty Woman, for example, and Uma Thurman in Pulp Fiction. It's a 21st century look often sported by spirited and passionate women, those who aren't afraid to think outside the box and opt for short locks rather than luscious long ones.
If you need a hand finding your next haircut, you've come to the right place.
1. CHOCOLATE BROWN LOB HAIRCUT WITH LAYERS
Keeping length at the front is very flattering for most face shapes, and those slightly highlights created with a balayage or hand blended method, really tops the entire design.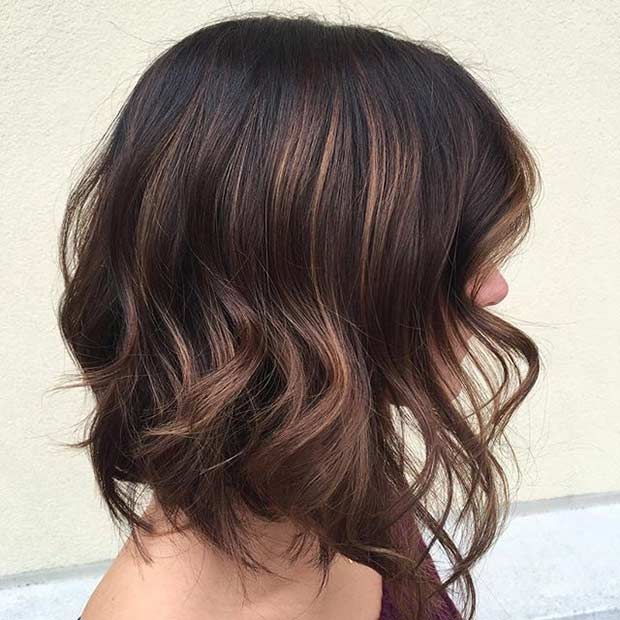 Instagram / cassderosa
It's beautiful, manageable and super fashionable too. It ticks all the boxes.
2. BLONDE BALAYAGE LOB
And for those that aren't a fan of dark hair, what about this one? A stunning blonde balayage lob which uses an ombré idea – hand panting from dark to light before styling with those wide ringlet curls.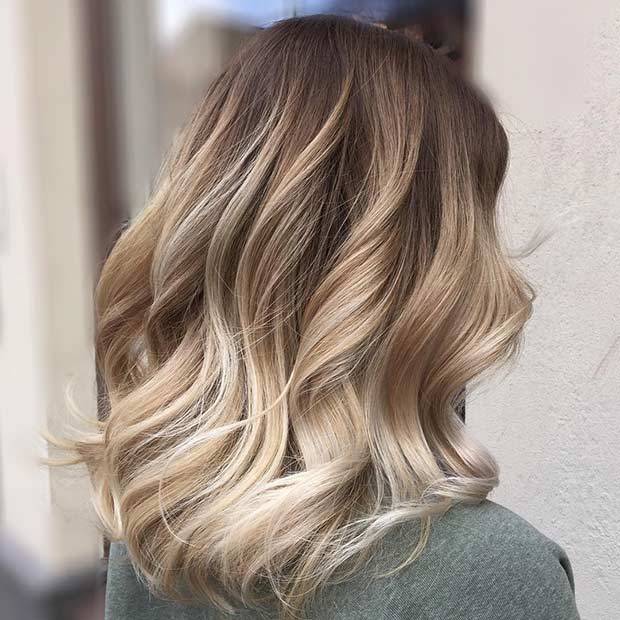 Instagram / hdresseronfire
If you've ever wanted to go lighter, summer is definitely the time to do it and let's face it, short hair is always cooler and easier when the temperatures are at their hottest.
3. STRAIGHT, ANGLED LOB HAIRCUT
The best thing about these gorgeous long bob hairstyles is that they are as super simple as they look. Massive impact with not that much work necessary to keep it looking like that. This straight, angled lob haircut is easily recreated in the morning with hair straighteners and some smoothing serum.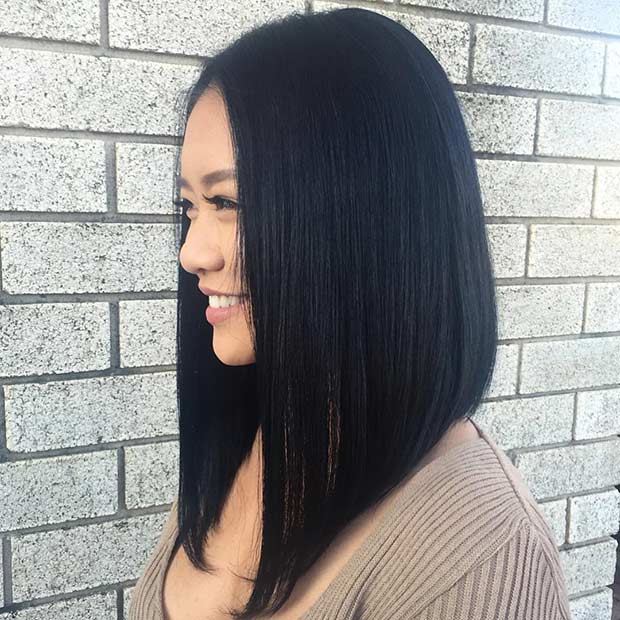 Instagram / loveisinthehair_byjanet
You can keep the face framing layers long to really soften the look, or opt for something blunt and edgy. That's the good news – the choice is yours. And boy is there plenty to choose from!
4. LOB HAIRCUT FOR THICK HAIR
Thicker hair can benefit from high and lowlights in much the same way that thinner hair can, especially with these touseled waves.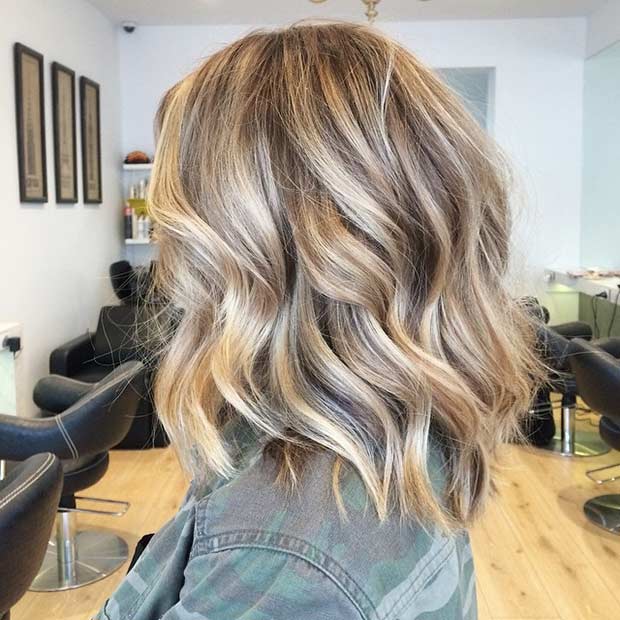 Instagram / chloeward_hair
Keep the layers at different lengths, and ask your stylist to thin out your hair before adding lighter lowlights and a few highlights. It will help to lighten out the bulk of your hair, a big problem for those wanting to go for the chop with thick hair.
5. CURLY, ANGLED LOB CUT + CARAMEL BALAYAGE
A sharp bob is often too sharp and intense for some women. Vogue editor Anna Wintour is well known for her rounded business-bob, a blunt edge and super straight without a single hair out of place.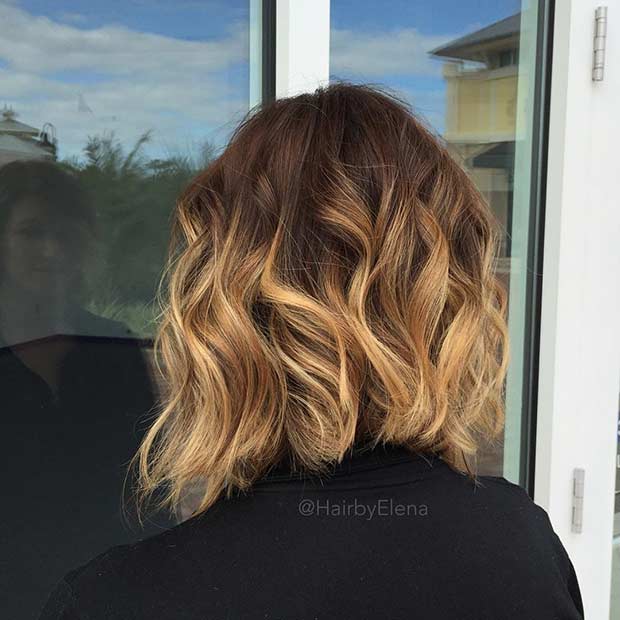 Instagram / hairbyelena
We love this curly, angled lob cut, completed with a caramel balayage over the top to bring it all together. Just because you're going for a short look doesn't mean it can't still be cute and girly.
6. BLONDE SOMBRE LOB
Sombre hair, in case you didn't know, is ombre hair but softer – the softer ombre. Clever name right?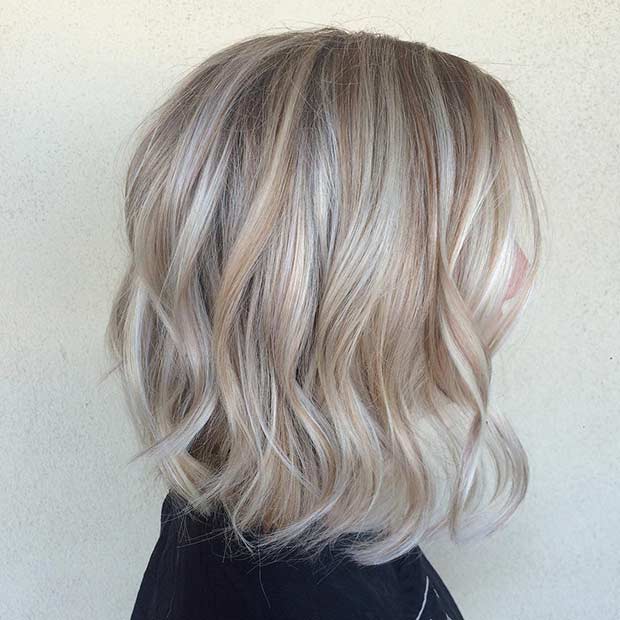 Instagram / habitsalon
It's a very clever way of incorporating that ombre gradient but on a much more natural level, so you can barely make out the various shades individually.
7. LAYERED LOB HAIRCUT + HONEY BLONDE BALAYAGE HIGHLIGHTS
January Jones recently opted for a beautiful honey coloured lob, just grazing her shoulders. This is a similar look, and one that can be work in a number of ways.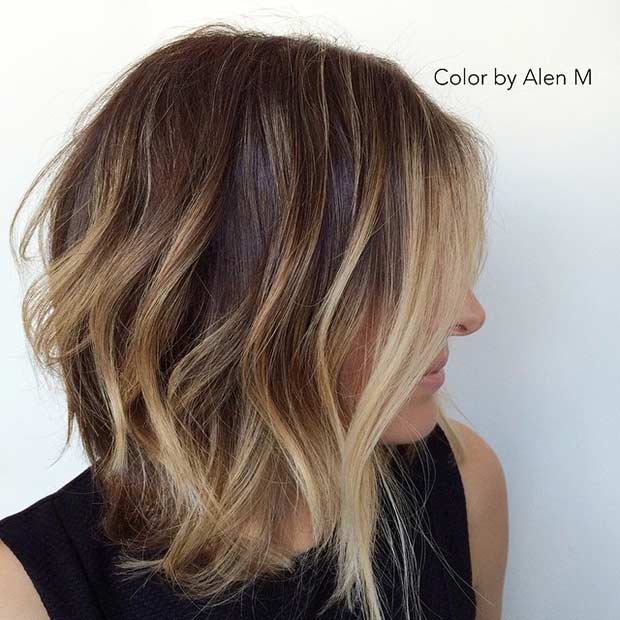 Instagram / alenm
Even changing the parting from centre to side (or vice versa) can make the difference.
8. BLONDE OMBRE LOB
Beyoncé is another fan of the lob look of late, opting for a balayage ombré in her design, much like you can see here.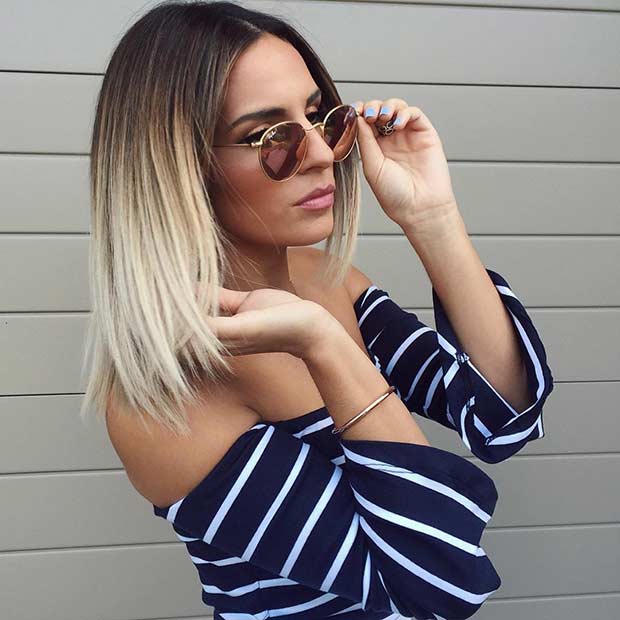 Instagram / studiobhairdesigns
As far as long bob hairstyles go, we think this one combined with those colours might just be our favourite. Do you have a favourite yet?
9. CURLY LOB +  CARAMEL BALAYAGE HIGHLIGHTS
Rose Byrne was another lovely Hollywood lady to go for the chop recently, trimming her tresses to a shoulder-skimming bin with a dark roots and slightly fed tinged but caramel blonde ends.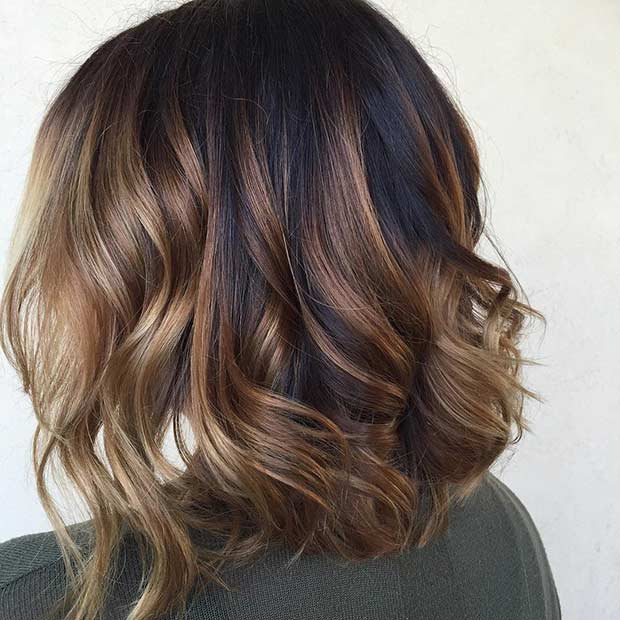 Instagram / kellymccormickhair
It's cute, girlie and sophisticated. Did we mention super quick to style?
10. MESSY LOB HAIRSTYLE + ICE BLONDE BALAYAGE HIGHLIGHTS
Short hair can really be a brave choice for women who are used to rocking long locks, so opt for a long bob (or lob) to make the transition a little easier.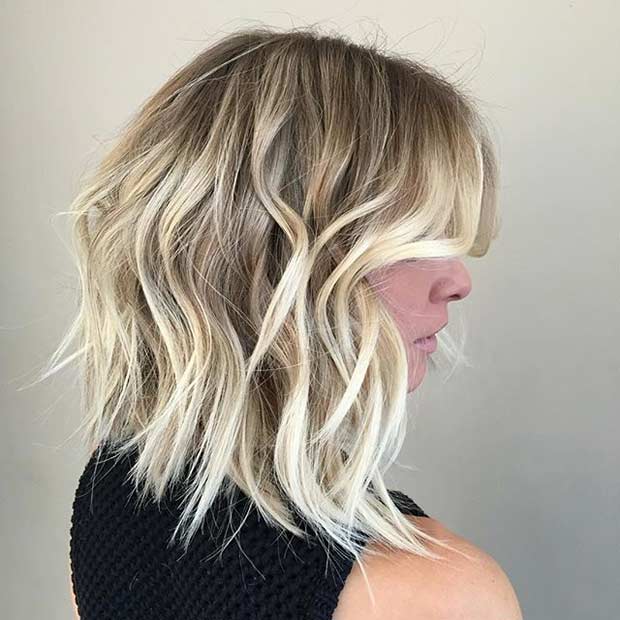 Instagram / romeufelipe
If you love it, you could always trim / cut it shorter and shorter. You can always cut more hair off, but you can't add hair back on when you don't like the cut.
11. BLUNT LOB HAIRCUT
Long bobs certainly have their advantages. You might want short hair but still want some showing off capacity. You might want a look that takes just five minutes to style in the morning, yet also looks super cool. You might just want something the kids can't grab at all the time.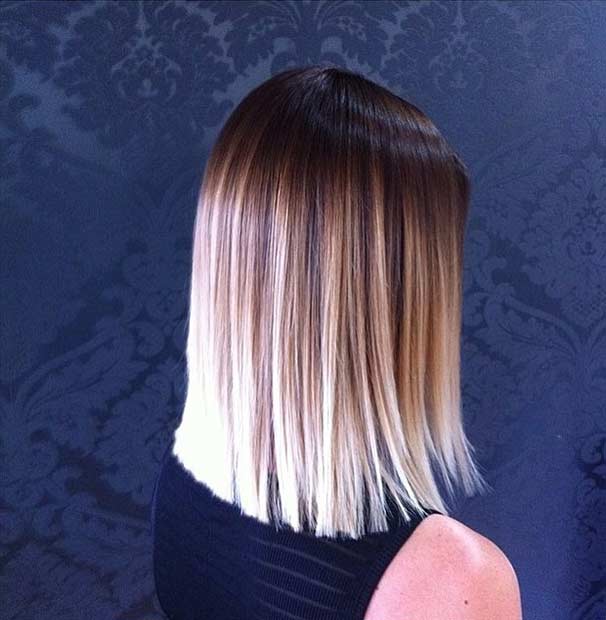 Instagram / maneinterest
People often think that shorter styles often mean less playroom but this really isn't the case. Just because you don't have length on your side doesn't mean you can't still show off with a wide variety of tones and shades.
12. WAVY, BALAYAGE OMBRE LOB
This is a more obvious balayage ombre lob, a look that we must admit, is definitely one we'd love to rock ourselves.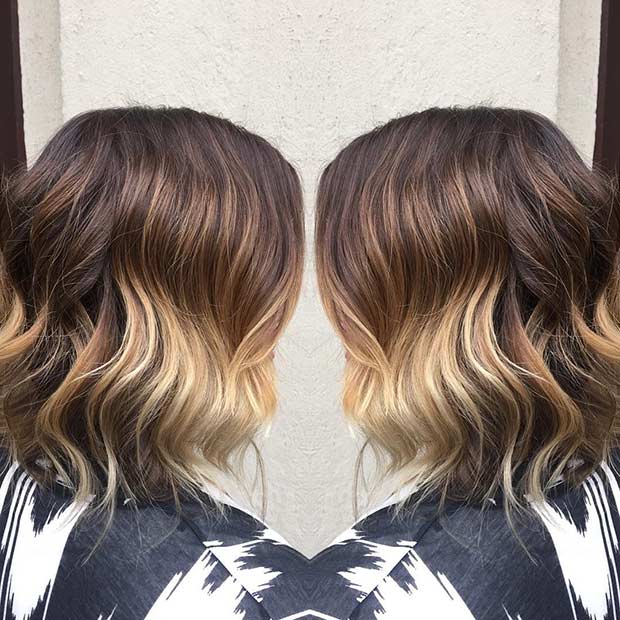 Instagram / hdresseronfire
The lighter, blonder sections are more compacted towards the front of the face and sides of the look rather than the back, really concentrating that colour flash. Another great tip for those who want to play with colours and shades but don't have length on their side.
13. LONG BOB HAIRCUT WITH SIDE BANGS
Bobs and bangs are hard work together, and you'll also find that you need to wash and style your hair every day without fail unless you want the awful greasy-bangs look. It's one of the reason we don't have bangs ourselves even though we love them so.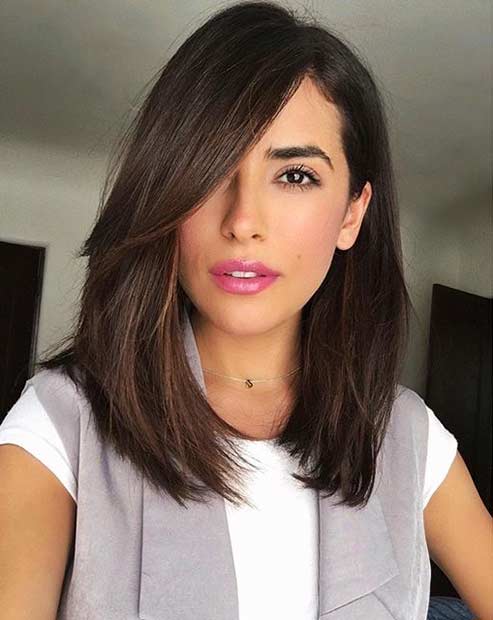 Instagram / sazanhendrix
Side swept bangs make life a lot easier than short and full bangs. You can achieve this look by having shorter layers cut around the face, creating a faux-bang as such when you flick it all over to one side.
14. CHOPPY LONG BOB HAIRCUT
If you do want to go shorter, add choppier layers around the ends of the hair to break things up a little.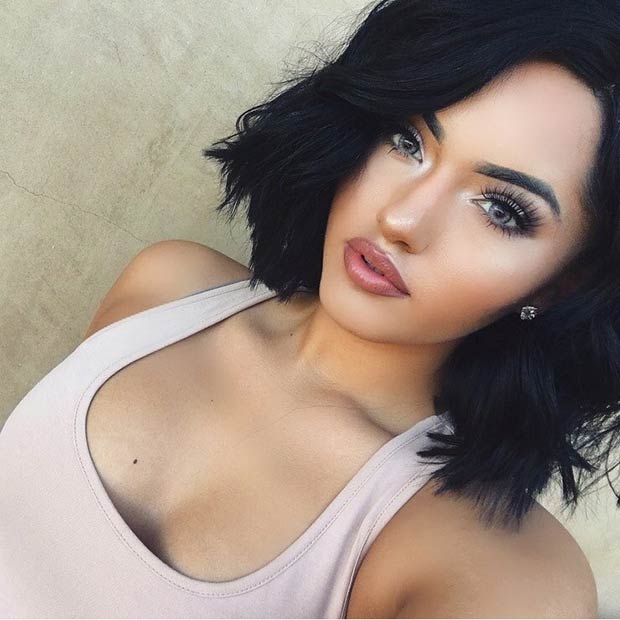 Instagram / theerealkarlaj
Long layers, when added in, can help to thicken the hair, but also stops it from being a blunt and awkward bob.
15. HIGH CONTRAST OMBRE LOB
High contrast, high impact – that's what a lob look like this one offers. The length is actually quite long, just skimming below shoulder-length, giving you a mid-length cut that could easily be used as a transitional one.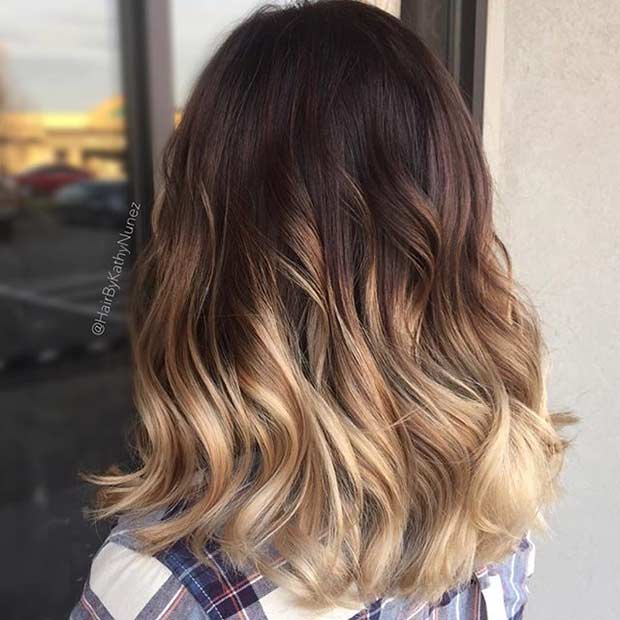 Instagram / hairbykathynunez
If you've had short hair before and want to grow it out, this could be the perfect in-between look. And if you're going short but aren't brave enough to go super-short, this is yet again a great in-between, transitional style.
16. ANGLED LOB CUT + RED BALAYAGE COLOURMELT
We love red hair, mostly because it's so difficult to get right when you weren't blessed with rosy red locks to start with. This angled lob cut has been perfected with a colour melt of reds and strawberry-blondes, using a hand-painted or balayage style to help make it look more natural.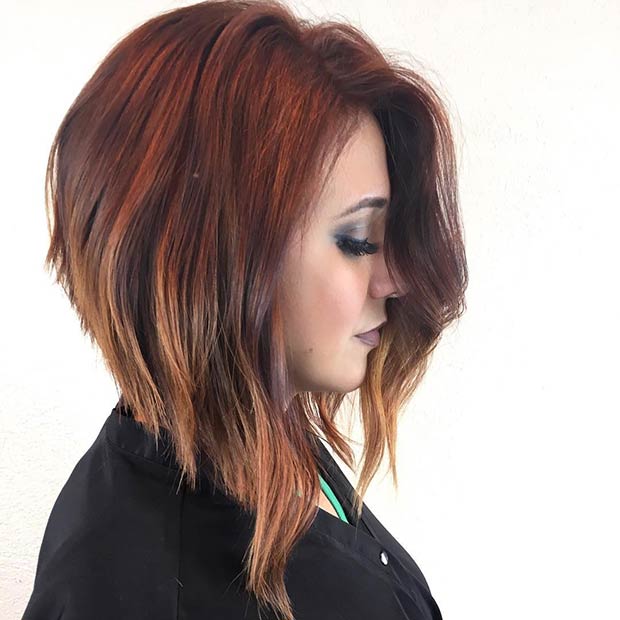 Instagram / gysel_lira
If you want to go for red hair but don't like the idea of one-tone brassy red all over, this colour melt is a great place to start.
17. PEARL WHITE BALAYAGE LOB
At the other end of the spectrum, blonde is big for summer and this pearl blonde is definitely one of our most favourite shades.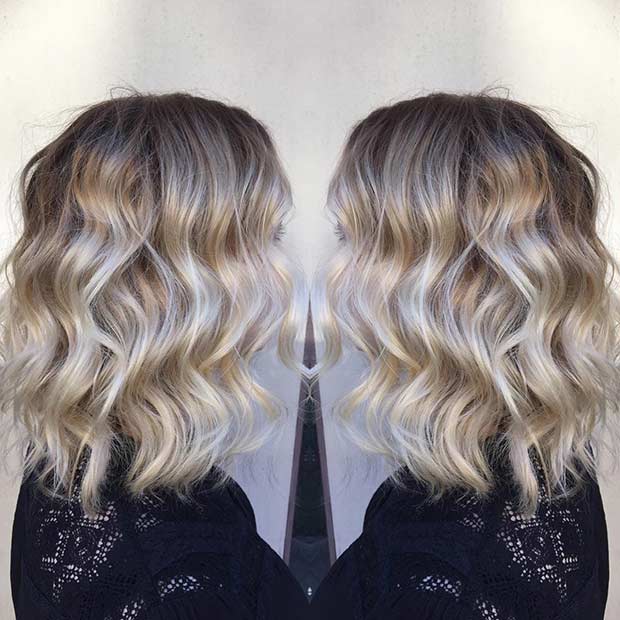 Instagram / hdresseronfire
It's a clever mix of platinum blondes and warmer, ash blondes, all neatly mixed with a slightly darker anymore natural root.
18. LAYERED LOB CUT + GOLDEN BLONDE HIGHLIGHTS
The best thing about balayage blends like this beauty is that you can be as creative with the brush as you like. If you want your layers and tones of blondes to be choppy and a little unstructured, you'll have a look that comes out a little like this one which, obviously, isn't a bad thing.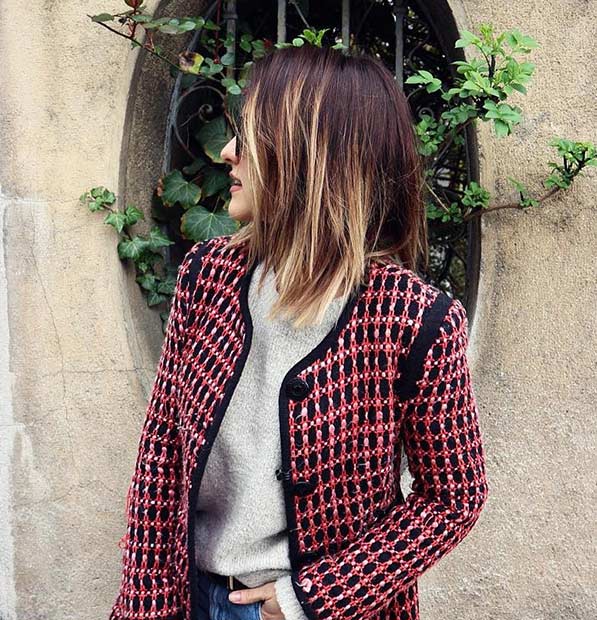 Instagram /lana_jurcevic
Golden blonde highlights are a great way to add some lighter textures and tones to a darker look – perhaps a dark grow-out idea?
19. MODERN PINK BLUNT LOB HAIRCUT
She changes her hair like the wind but Rita Ora recently opted for a simple one length bob but this time in a pastel / candy flood pink colour and with a deep side parting.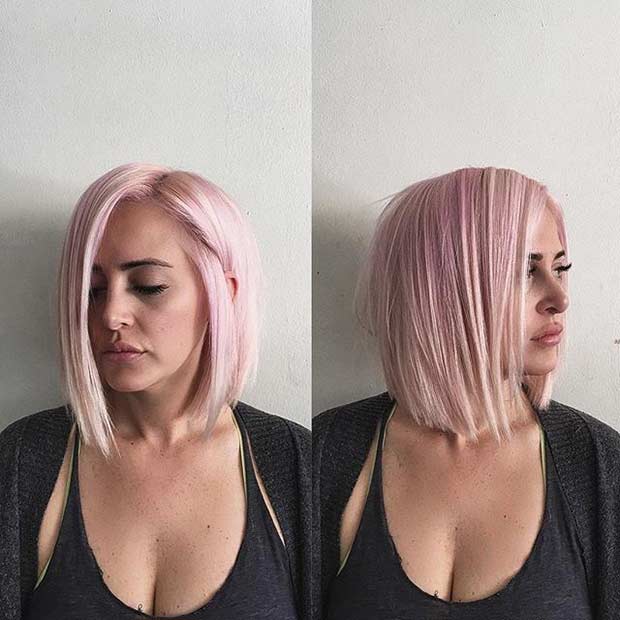 Instagram / domdomhair
Nobody said your long bob needed to be a 'boring' and muted colour. Go as bold and as bright as you dare, although we'd definitely recommend starting with this pretty pastel pink pop.
20. CHOPPY LOB CUT + BLONDE BALAYAGE HIGHLIGHTS
As far as these looks go, this is one of the simplest and easiest, once again adopting that balayage style to really make the most out of the design.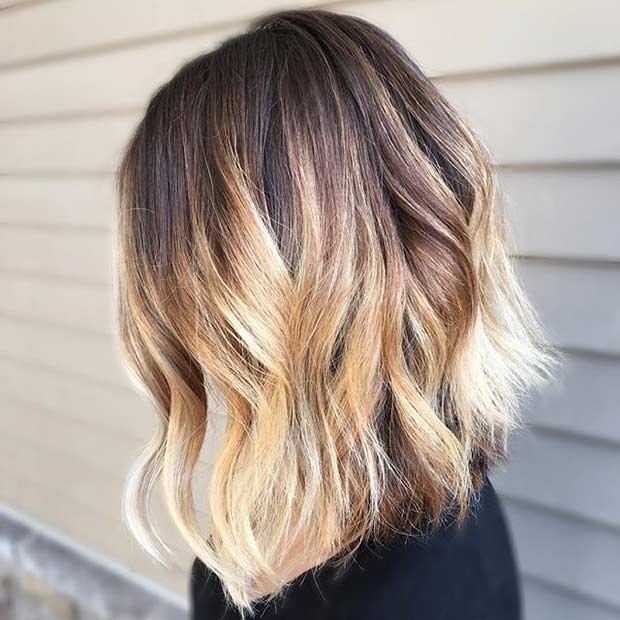 Instagram / beautyandbalayage
Kate Mara recently went for a beautiful ombre look like this one. Darker at the top, lighter at the roots, clever combinations of the two used to blend it all in the middle.
21. BLONDE, A-LINE LOB CUT
The A-line bob is very big right now and just as the name suggests, the hair is cut into an A-line shape, just like the skirt.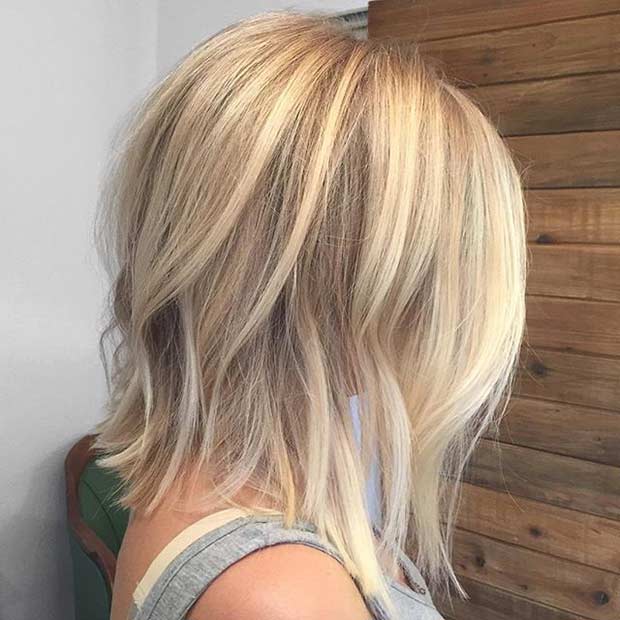 Instagram / kellymassiashair
There are loads of ways in which you can play around with this simple, staple cut but we love this blonde version and we think you might too.
22. BLONDE, BLUNT LOB HAIRCUT
Ferne Cotton, Jessica Alba, Lily Collins are just three names thrown into the long blond bob hairstyles mix.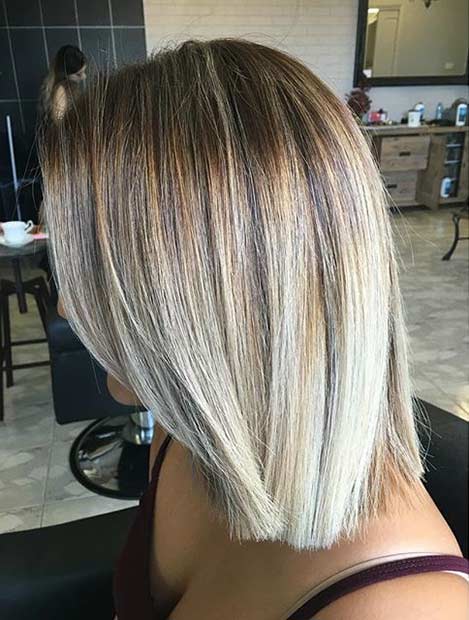 Instagram / carolinelysandrouhair
This blunt lob has been cleverly muted with a beautiful mix of blondes, giving you an easy and faster way to go from dark to light.
23. WAVY, BALAYAGE LOB
To really bring your long bob hairstyles to life, consider 'stacking', a term used when layers of hair are 'stacked' one on top of the other to create a really full and voluminous finish.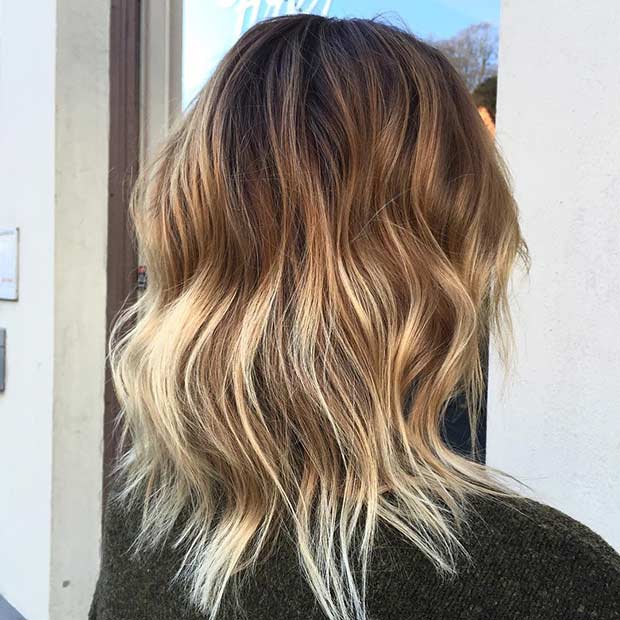 Instagram / hdresseronfire
These stacked layers work brilliantly with lowlights, highlights, and the balayage ombre trend too.
24. ANGLED LOB CUT + BEIGE BLONDE BALAYAGE
An angled long bob hairstyle is great for when you're not brave enough to go as short as you'd like to.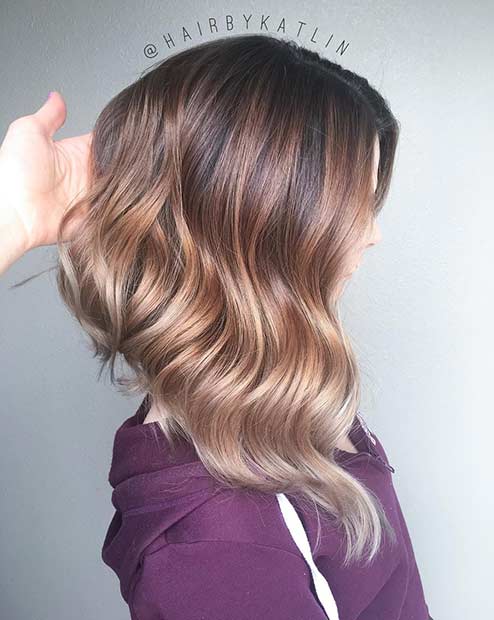 Instagram / hairbykatlin
You can still keep the length confined to the front to stop the look from being too harsh on your face, whilst still benefitting from the shorter hair at the nape of the neck, going as short as you dare.
25. LAYERED LOB HAIRCUT + HONEY BLONDE HIGHLIGHTS
To really bring your ombre to life, add some bouncy beachy waves. Why? Because it helps to show off all the colours in your hair. Why wouldn't you?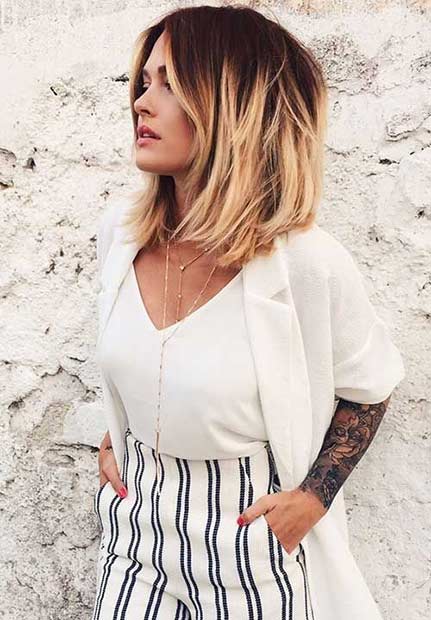 Source: pinterest.com
Spiral curls are often too much for a delicate look like this one, and the loose waves help to stop it looking overdone. Just the right amount of bounce!
26. WAVY LOB + CHOCOLATE HIGHLIGHTS
You can still use your regular curling irons even if you do want beachy waves. Just use some seal salt spray and you gainers to comb the curls through until they look more wavy than spirally.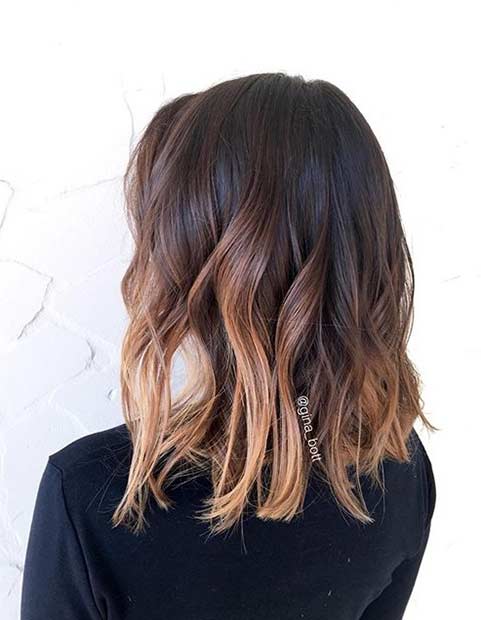 Instagram / gina.devine
It'll take a few attempts but you'll get there and when you do, you'll realise that this really is a look that takes just five minutes in the morning.
27. CURLY, LAYERED LOB + GOLDEN HIGHLIGHTS
Katy Perry is a big fan of the lob but she loves to wear hers with a crazy array of shades and colours. Her green look was a particular favourite of ours.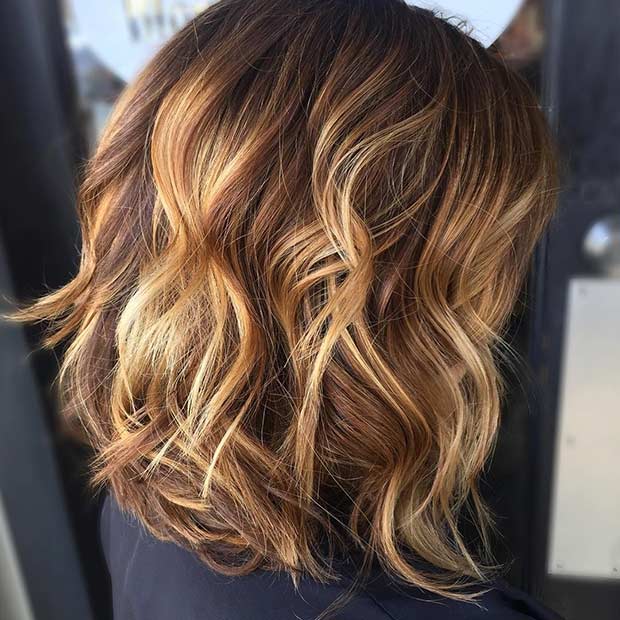 Instagram / hairbycarlygillam
If you'd rather rock a more neutral option, what about this one? Golden highlights that look good enough to eat!
28. CHOPPY, CHOCOLATE BLONDE LOB
Kerry Washington recently sported a look like this, a darker brunette at the top and a lighter, brighter but still with subtle red-fine mahogany.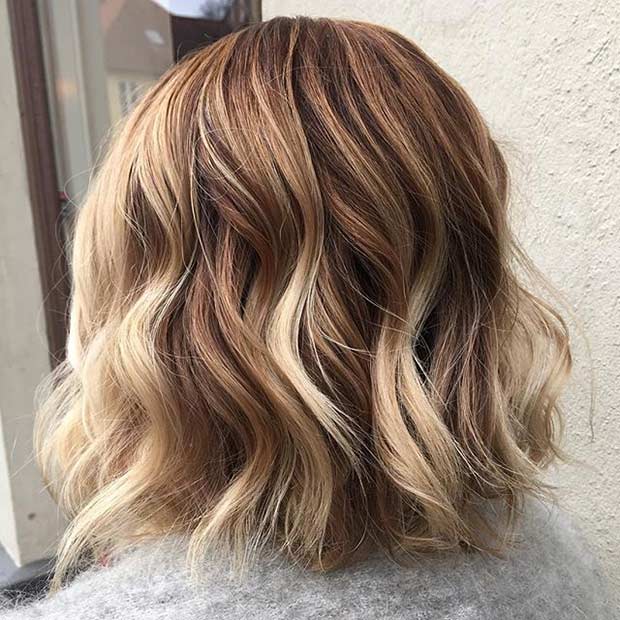 Instagram / hdresseronfire
We have an actual crush on this hair. It's summery but could still easily be worn right through into autumn and winter as it grows out, becoming a longer ombre look.