What is it you're looking for from your next hairstyle? Are you looking for something a little different? Something that'll spice things up a bit to show your joyous mood that the sun is finally here? There's a definite winning hairstyle if that's the case, plus there are a hundred and one different reasons why the look is such a good idea. In case you were wondering, the style in question is balayage. So without any further ado, let's jump right in. We hope you're ready for these beauties:
1. BLONDE BALAYAGE OMBRE
The first reason these balayage hair ideas for summer are such a great idea is because they allow for some serious root re-growth.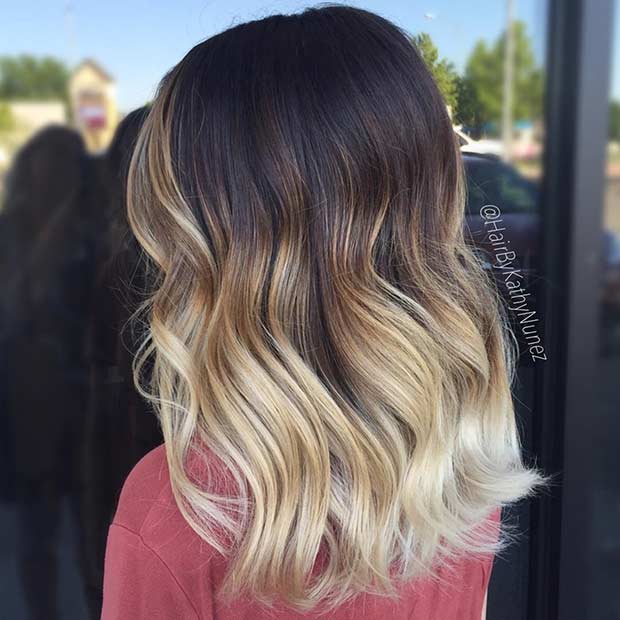 That means fewer and less frequent trips to the hair salon which in turn means more time for you, more money for you, and a well-needed break from your hair which, let's face it, is definitely well overdue a nervous breakdown from all the styling you do to it.
2. CARAMEL BALAYAGE HIGHLIGHTS
Those dark roots allow for a lot of growth. You can get away with not heading to the salon for a few extra weeks because the darker hair at the root will blend in with your natural roots if you pick smart colour options.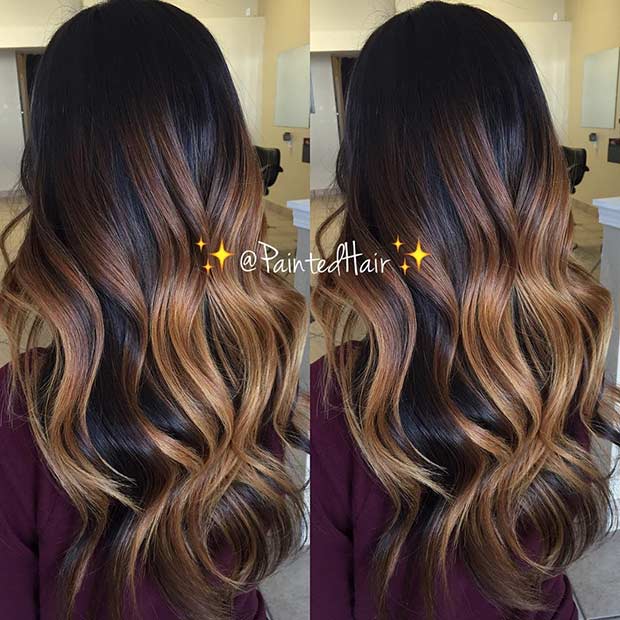 This will obviously not be the case if you have blonde hair and dark dyed tops. In this case you'd probably want your balayage hair ideas for summer to be in reverse – light at the top and dark at the bottom.
3. PEARL BLONDE BALAYAGE OMBRE ON DARK HAIR
The balayage art of hair-dyeing is essentially just a hand-painted way of blending different shades and colours together. The lights and darks would be on the areas where the natural sunlight would naturally hit – think blonde grow out for winter (classic balayage with dark tops and light ends), or even a balayage vertical blend of shades such as blondes and caramel / honey tones.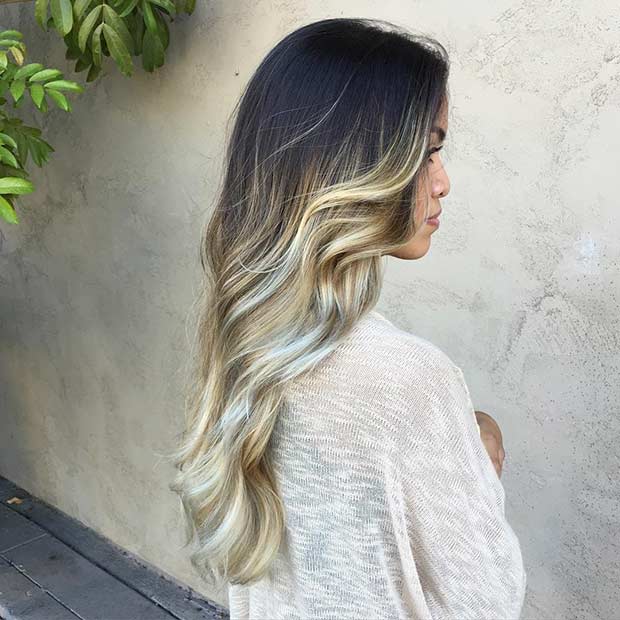 You could mix a broad spectrum of colours to work with here and it would still look fabulous. It's all about clever blending.
4. CARAMEL BALAYAGE OMBRE
The next best thing about these amazing balayage blends is that no two looks would ever be exactly the same. The hand blended nature means that every time you have the look, even if you have the same style, colour and cut repeatedly, it will still look a little different.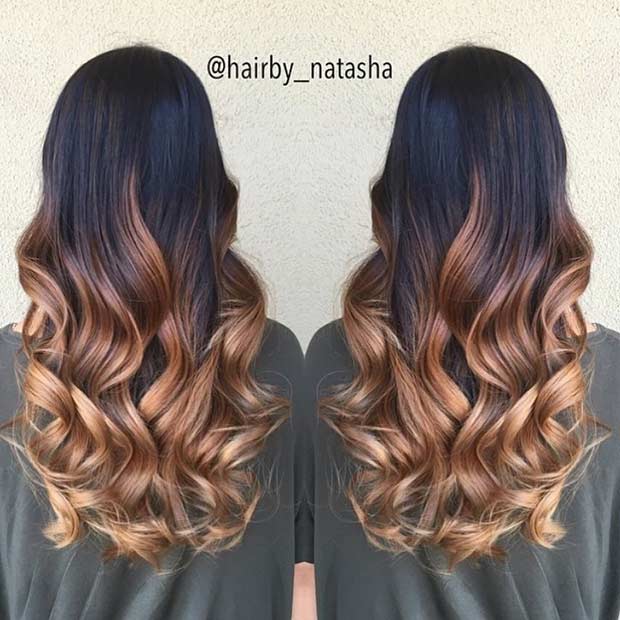 That's the beauty of creating art with your hair. Long gone are the days when shower caps with holes in were necessary for the latest designer 'do.
5. SILVERY BLONDE HIGHLIGHTS
A look that's often darker at the top with much lighter roots, balayage blends don't need to be all-natural. If you want a bold and striking effect, you can have just that, you just need to make the two contrasting colours a little brighter and more obvious.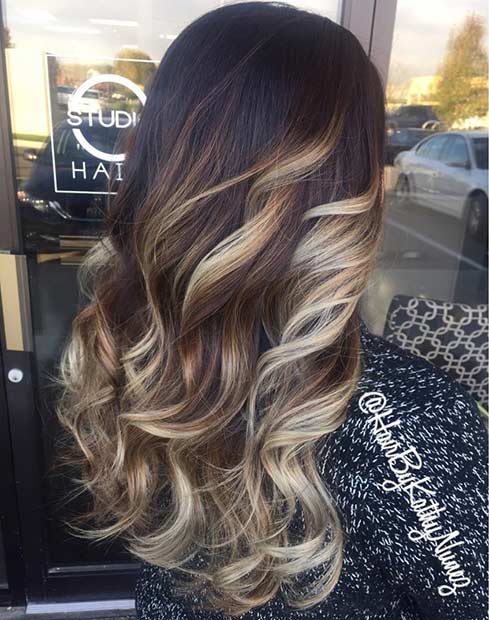 Think a very light and bright bottle or platinum blonde at the end with much darker roots and you'll have a look as striking as this one.
6. MAHOGANY, COPPER AND HONEY BALAYAGE HAIR
Everyone always assumes that their balayage hair ideas for summer need to revolve around light shades of browns and blondes but there's nothing to say you can't mix things up a little, incorporating a beautiful sunset mix of honey shades with mahogany and copper too.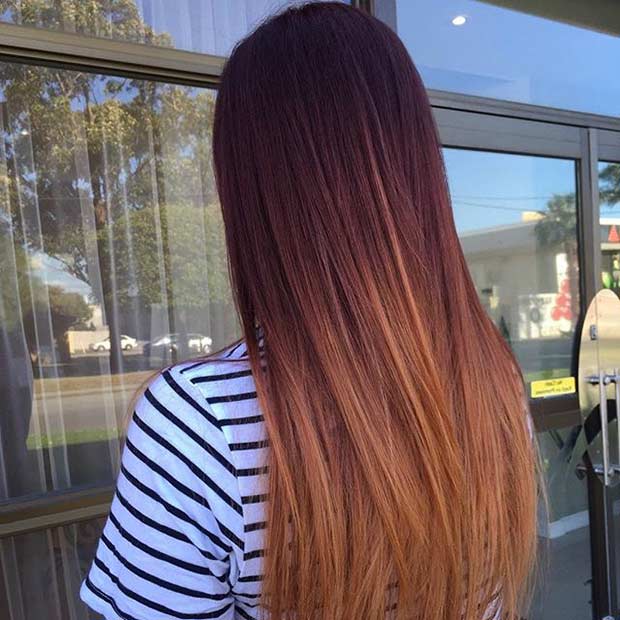 Another one that'll allow for root regrowth, this is actually a very clever way of growing out a lighter shade when you have naturally dark hair and want to go back to basics.
7. HONEY BLONDE BALAYAGE LOWLIGHTS
Long and wavy layers are another easy go-to style, and it's one of the very first things you should learn how to do. If you have longer hair, one of the easiest ways you can add those beautiful waves is to separate your hair into pigtails either side of your face and then curl those in sections.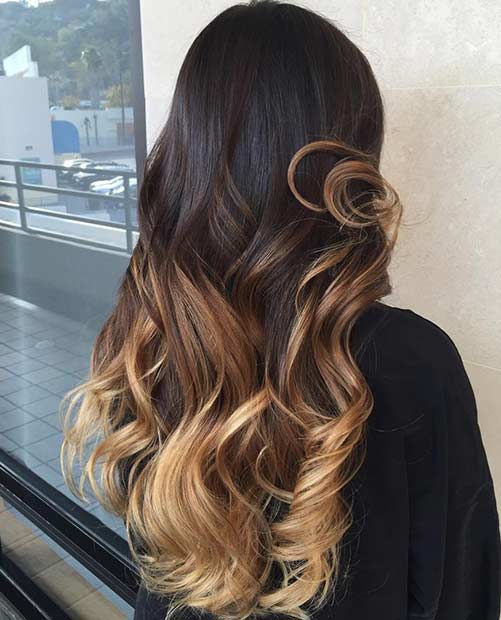 Using your fingers (not a hairbrush because it'll go fluffy), tousle the hair and bomb through and when finished, you'll have beautiful waves that don't go too far up the hair/head.
8. HIGH CONTRAST BALAYAGE HIGHLIGHTS
If you have fine hair, you should consider a medium-brown shade base with lighter, more eye catching shades of blonde running throughout it. This helps to add a new dimension to the look, helping it to appear shinier, healthier and more than that, thicker too.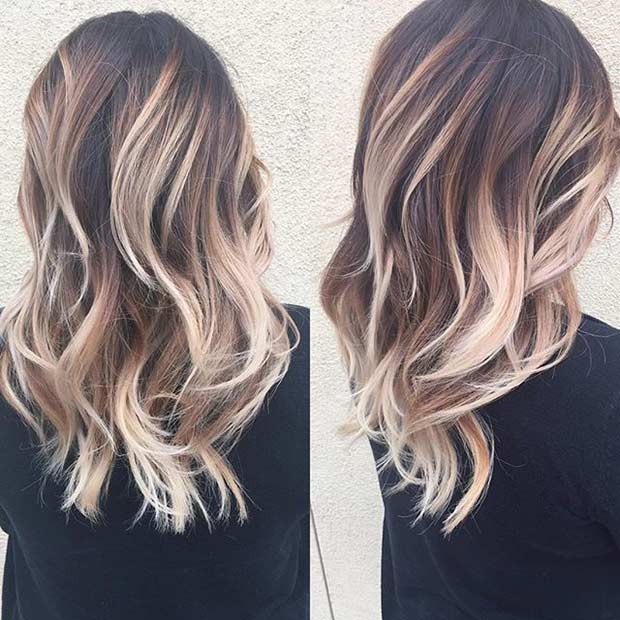 This one is perfect for that, classic balayage hair styles for summer done the right way!
9. BEIGE BLONDE BALAYAGE OMBRE
The word balayage actually translates to 'sweeping' from the French language, which gives you some idea of how this dye is added to the hair. Rather than relying on the old and traditional approach of using foils to 'highlight' or 'lowlight' the hair, a hand-painted method is used, enabling you to achieve a much more natural approach.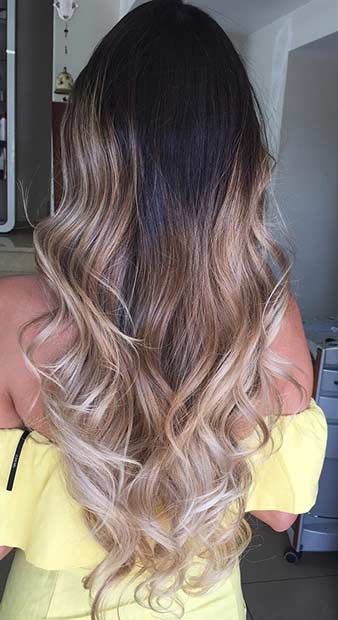 You may want to go lighter, or even blonde, but when you don't want a harsh and bright colour that's a real slap in the face (or one-dimensional colours), your balayage hair ideas for summer should include ones like this beautiful beige blonde balayage ombre.
10. GOLDEN CARAMEL HIGHLIGHTS + LONG BOB CUT
If length isn't on your side, there's no need to despair, there are still plenty of ways you can balayage-up your bob, long or short bobs included.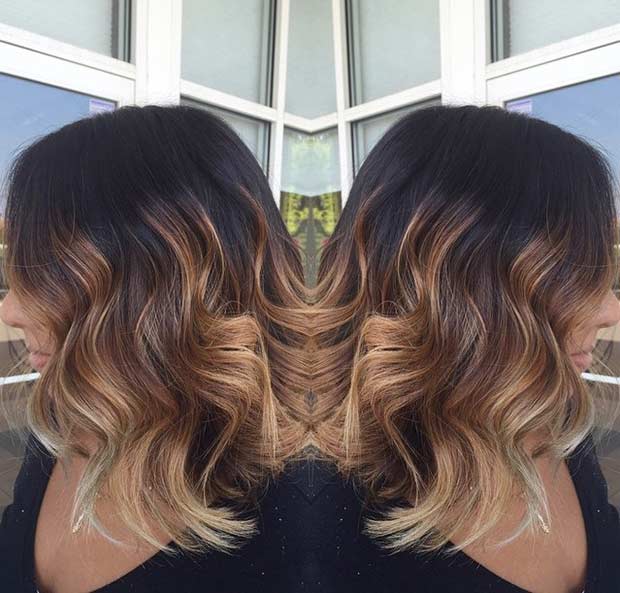 The golden caramel ombre at the ends work splendidly with those large barrel-rolled waves, creating oomph and volume in otherwise limp and lifeless hair. Again, a beautiful and natural mix of browns, blondes, caramels, honeys, and even reddish tones have been mixed.
11. BLONDE BALAYAGE OMBRE
We love this ombre balayage mix of brown to blonde, and we also think it reminds us a little of tortoiseshell.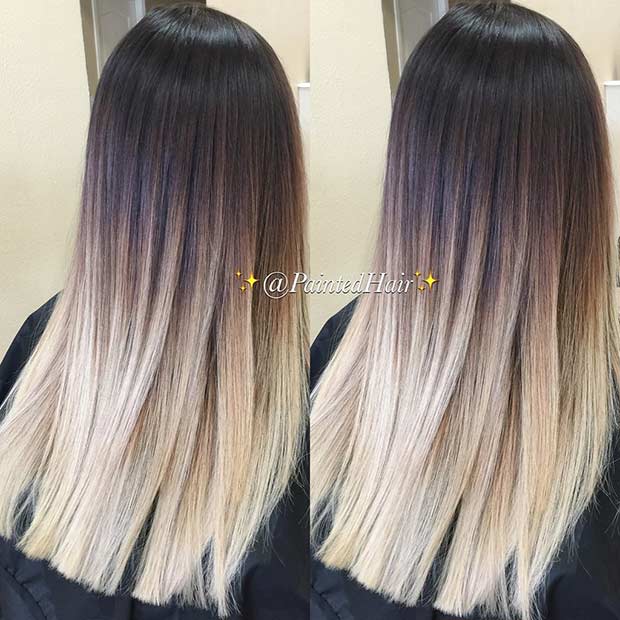 We've shown you a lot of wavy and curly looks but this one shows you how cool these balayage hair ideas for summer can look when you straighten them too.
12. SOFT & SUBTLE CHOCOLATE BALAYAGE HAIR
If you want hair that looks good enough to eat, this chocolate mix is super awesome, a beautiful blend of different tones of a darker brown rather than the lighter brown and blonde mix of balayage tones you're used to seeing.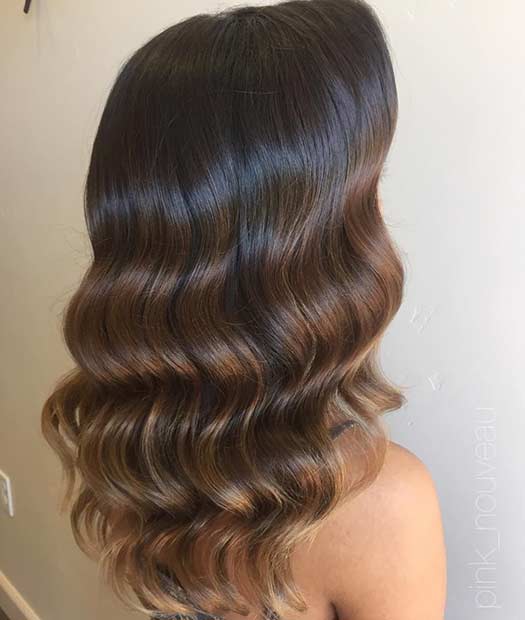 You could even opt for this subtler blend right through into autumn and winter, going darker from lighter in the summer.
13. HONEY BLONDE BALAYAGE HIGHLIGHTS & AUBURN HAIR
If you play your cards right, your balayage look for summer could last for six months with just the occasional trim necessary to stop it from looking ratty at the ends.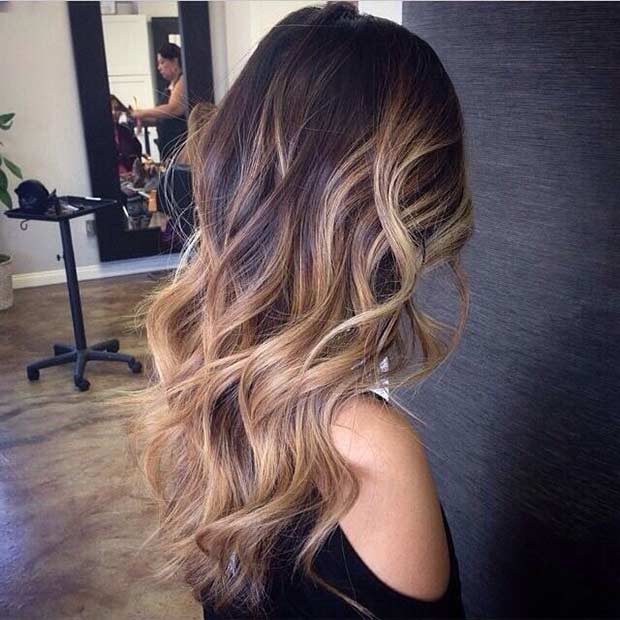 This is the perfect look for a new mother perhaps – someone who doesn't have lots of time on her hands to make salon appointments every six to eight weeks, but even you do have all the time in the world, all the celebs are rocking it so we want it too.
14. CARAMEL & BLONDE BALAYAGE HIGHLIGHTS + LOB CUT
Another classic example of short balayage hair ideas for summer done right, this caramel and blonde balayage highlights and bob cut work together perfectly, almost an ombre but a little more scattered and unstructured than that, adding to that completely natural (yet definitely unnatural) finish.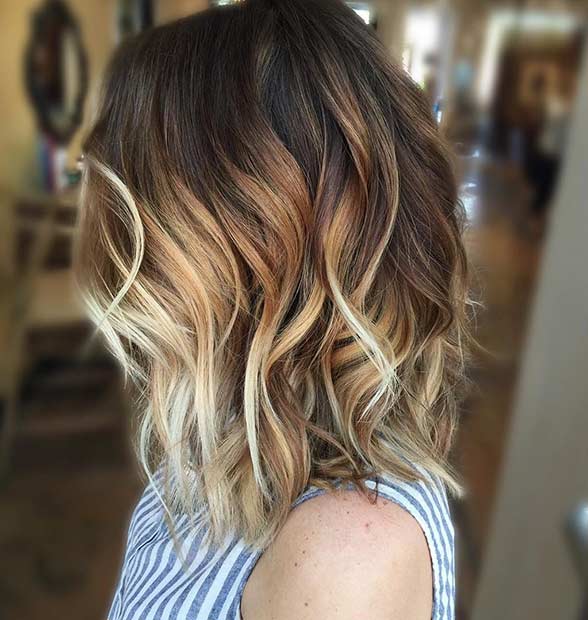 You'll want a cut that's about shoulder length, keeping the longer lengths at the front so you can make the most of that colour blend. If you want to make the most of your colour, always have more of it (and blending) at the front. Just because you have shorter hair doesn't mean you can't still have a little fun with it.
15. LIGHT BROWN & GOLDEN BALAYAGE LOWLIGHTS
The lighter tones have been kept to the very top layers of hair in this summer hair idea, darker roots still but a third, in-between shade used throughout the bulk of the underneath of the hair.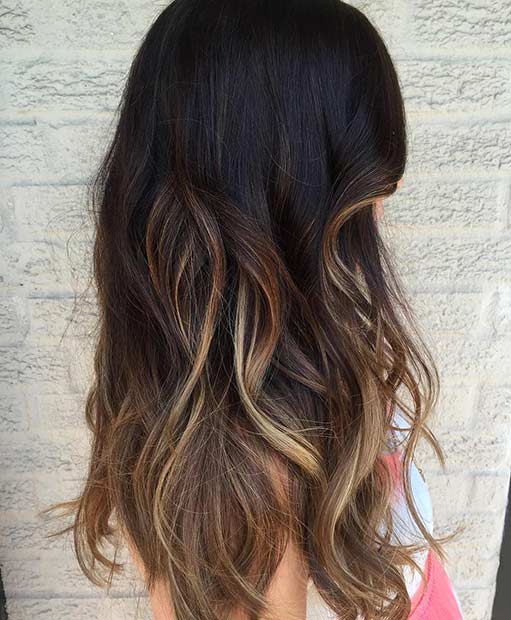 By doing this, you're causing minimal damage to your hair, only requiring strong bleaching and lightening in very specific and smaller segments of your hair, also making it easier to grow or fade out too for the next look.
16. VANILLA BLONDE BALAYAGE OMBRE
If you have a jam-packed schedule and have no more free time than just the right amount of time for a quick wash, and blow-dry, this is a great one. The curls are easily achieved with a curling wand and pigtails – you only want the ends to be curly after all.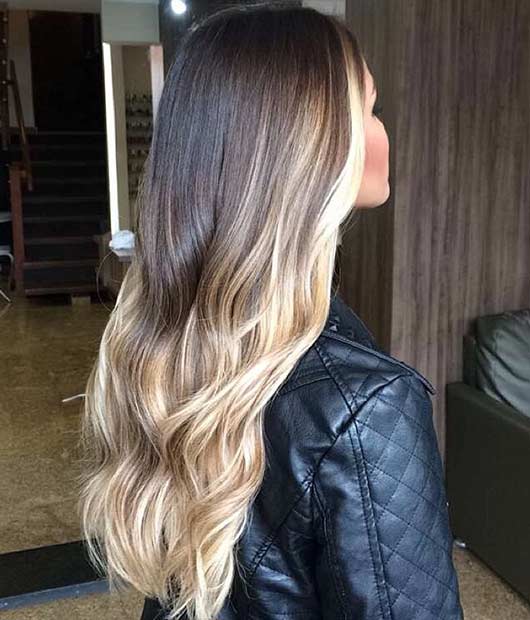 Get your hairdresser to throw in some beautiful vanilla blonde highlights too to complete the look.
17. COPPER, ROSE GOLD BALAYAGE HAIR
Another hot look for this summer, and for when blondes and brunettes really aren't your thing, is this pinky-red beauty – copper and rose gold balayage hair, an ombre but beautifully blended so you can barely see where one shade ends and the next one begins.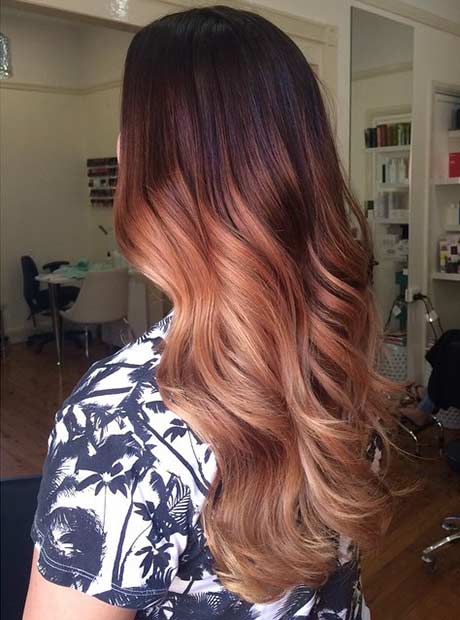 Length really works on your side with a look like this, and you have the movement and freedom to really work together those multi-tones. It's such a beautiful look, and one that's a little different for all the right reasons.
18. DARK ROOT + SOFT, BLONDE BALAYAGE HIGHLIGHTS
Soft and sun-kissed is just one of the effects you can achieve with these balayage hair ideas for summer. This kind of look is super awesome for a vacation or trip away – nothing too high-maintenance that you spend more time doing your own hair than enjoying your holiday, but still stunning enough that you'll be turning heads for all the right reasons.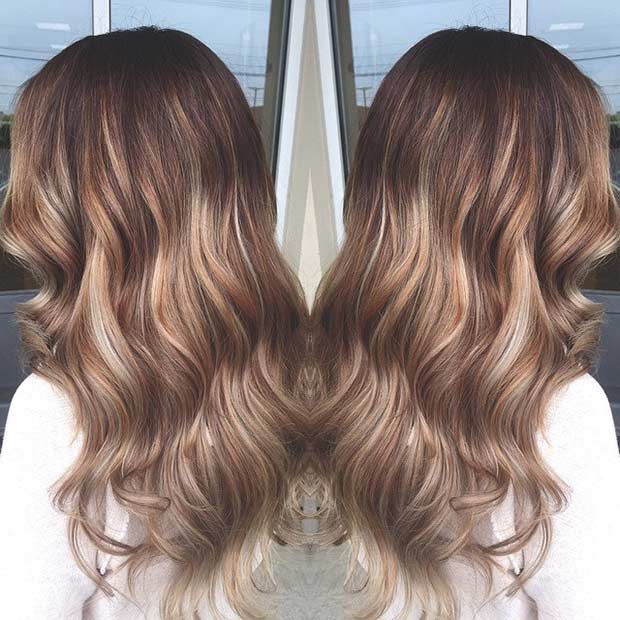 Using lighter and darker tones together like this makes it look as if your hair has already been licked by the sun's rays. It's like having that quick tan before you get your bikini on. You don't want to wait for the sun to kiss your hair or your body!
19. AUBURN AND BLONDE BALAYAGE HAIR
Auburn helps to bring a tint of red to the mix, perfect for those red hot summer days (and nights) you're hoping is coming your way. Blonde is like the hair of summer, streaked lighter by the sun, reminding us of the beautiful white sandy beaches we wish we were sunbathing on.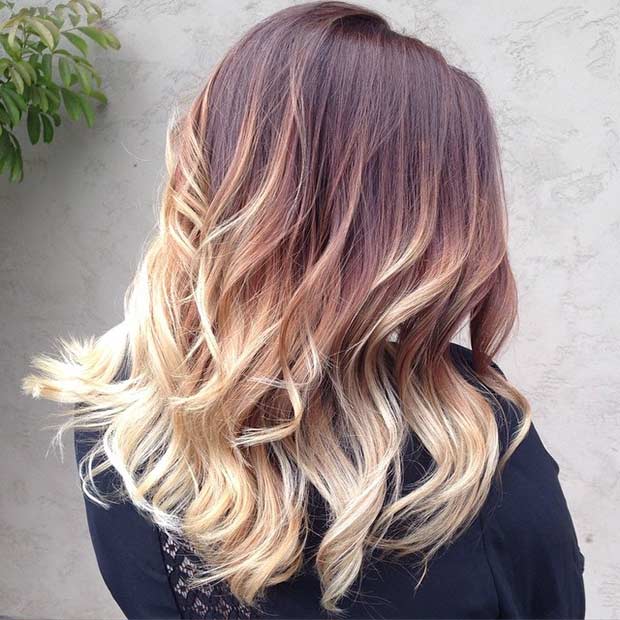 Together you have a look that was simply made for summer, and one we're definitely adding to our lust-list.
20. BEIGE BLONDE BALAYAGE
Beige is definitely not bland, not when it comes to these stunning shades of beige blonde. There is a lot of light length here, the darker shades restricted to just the roots, showing you that sometimes, dark roots aren't such a bad thing.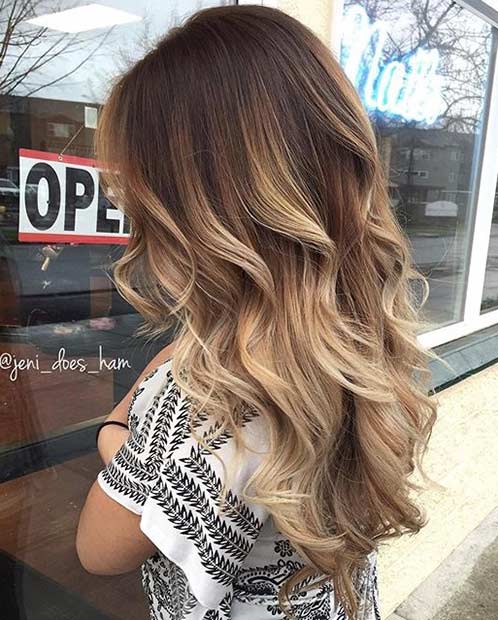 If you attempt this at home with a DIY kit, remember to add your balayage high and lowlights to the areas you intend to later curl. If you make a few errors, the curls help to hide it. There's a helpful freebie tip for you!
21. CARAMEL BALAYAGE OMBRE ON BRUNETTE HAIR
If you have a deep brown hair naturally, caramel tones are the perfect accompanying shade to mix up your hair this summer. Using this hand-painted method of hair-dyeing, you can have as much or as little as you like added, perhaps starting with a few honey or caramel coloured tones and adding more later on if you feel brave enough.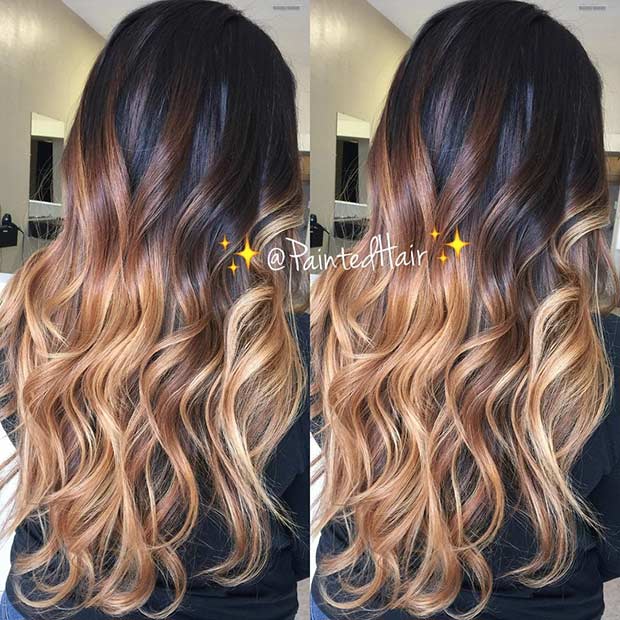 That's another great thing about this beautiful balayage style – it's great to colour in and fade out. What could be better than that?
22. VANILLA BLONDE BALAYAGE ON MID LENGTH HAIR
The colouring techniques used in balayage and other hand-blended styles are designed to leave the roots along as much as possible, just one of the reasons you can get away with having this look for a while before salon appointments are necessary.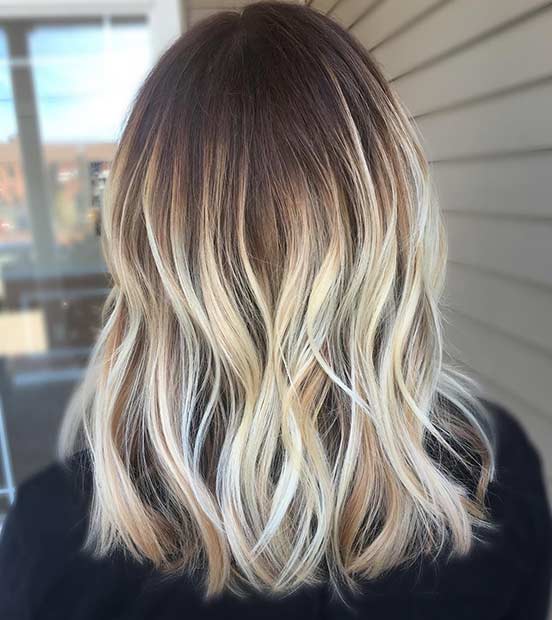 The effects of the colouring are focused on the length and ends of the hair. When you just pay attention to the ends, it's easy to trim the colour out when you're bored of it, and even if the colour heads further up the length of hair, fading it and colouring it out is always much easier when you don't need to focus on the roots as well.
23. BRONDE BALAYAGE HAIR
If you're rocking balayage blends, you need to rock them with waves. Don't get us wrong, we love straight styles too but there's something about that sun-kissed blend of shades that works so well with waves, almost as though they accentuate them fabulously.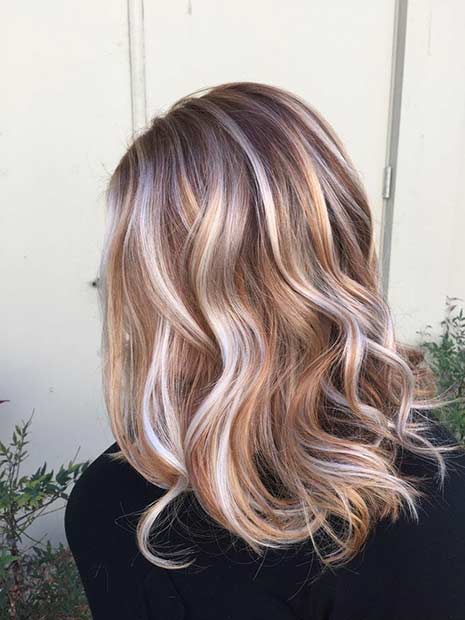 One of the easiest ways to get these stunning beachy and boho-style waves is to sleep with your hair in braids before releasing in the morning and using a sea salt spray to help make them a little 'crunchy' and keep them in place, just as the sea spray at the beach would do!
24. DARK ROOT + BLONDE BALAYAGE
If you can get away with a lot of root re-growth, why wouldn't you? We love how easy and simple this style is – a basic blonde grow out with the balayage blend added to the tops as it gradually grows out even further.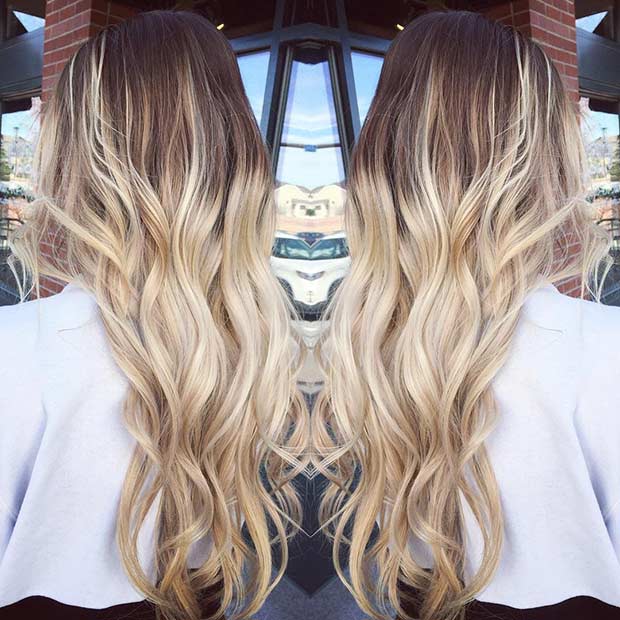 Who said you needed to change your hair all the time anyway? This look is not only effortless chic, but timeless too. It's one that we predict will be a big hit for a long time.
25. CARAMEL BALAYAGE OMBRE
The point of these cleverly blended ombre and balayage blends is to bring the hair to life. One-toned hair is often one-dimensional hair, and if you have fine, limp or lifeless hair, having one-colour all over is actually going to be detrimental to the way it looks.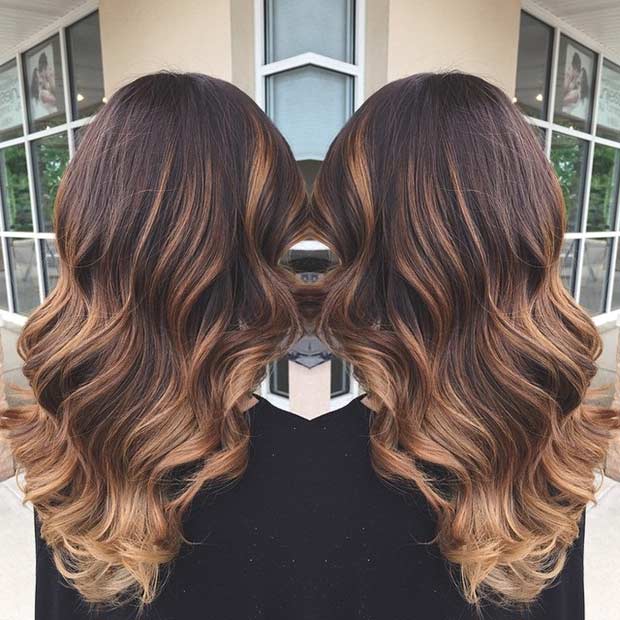 Notice the way the colours are highlighted across the waves in this stunning hair look? That's the point of the high and lowlights used in these blends – to bring the hair to life!
26. COPPER AND BLONDE BALAYAGE HAIR
Remember we said about balayage hair looks being perfect for new mothers without plenty of time on their hands? Well, Chrissy Tiegen is a perfect and classic example of the new mother rocking the balayage hair look – the blends of colour allowing her for a couple of weeks extra re-growth. Not that she needs it with her entourage of staff obviously.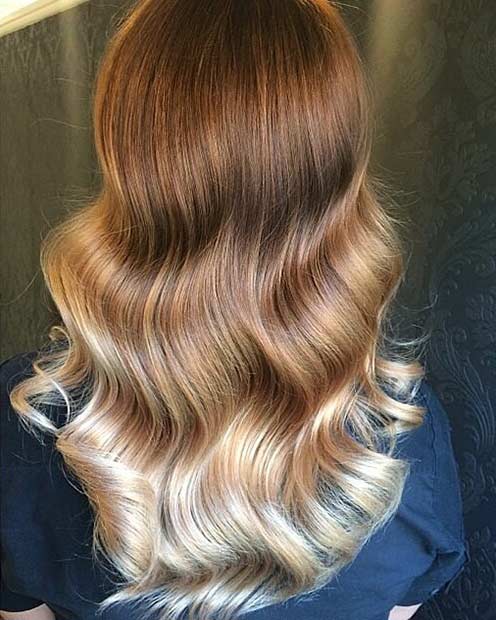 Chrissy's look isn't too dissimilar to this one – a natural brunette or coppery tone at the roots heading down to lighter roots, with up and down strands of light and dark running through it.
27. SUBTLE, LIGHT BROWN BALAYAGE
It could be said that Victoria's Secret model Gisele Bundchen inspired the look, her sun-kissed bronde (brunette and blonde mixed) hair taking the entire world by storm. Since then it has evolved a lot, from almost all-blonde to the lightest of barely-there coppery glimpses in brunette hair.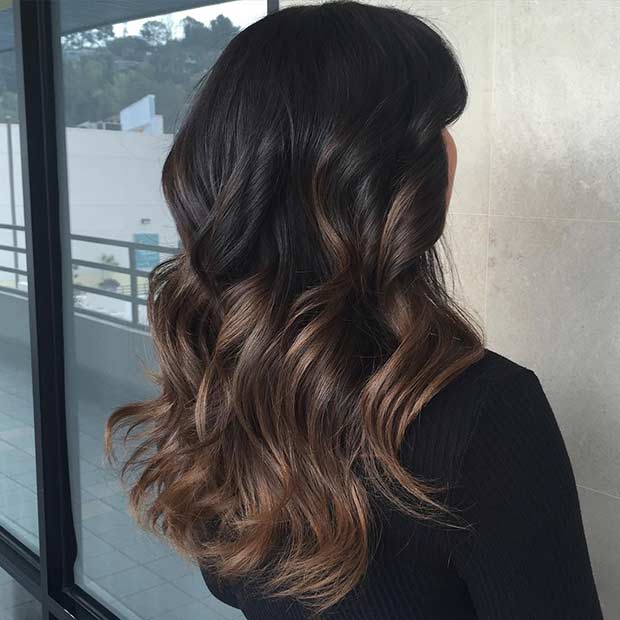 If you're dipping your toes in the water for the first time and don't want a balayage blend that'll be too obvious, why not opt for something like this super simple and subtle light brown balayage?
28. BURNISHED METAL
Given the name because it looks like a beautiful mix of copper and bronze metals, there's something almost hypnotic about this blend of tones, reds, brunettes, blondes, caramels and honeys all mixed together in a graduated style.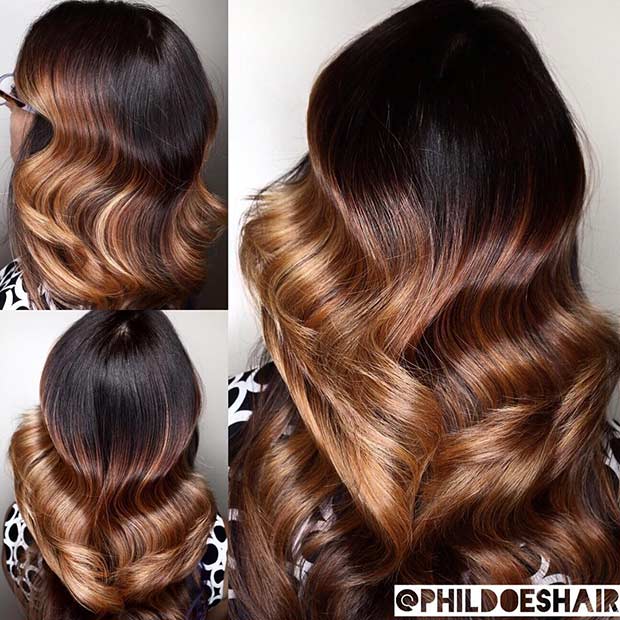 It's a stunning look, and one that is made the most of with this glamorous big waves.
29. FACE-FRAMING BLONDE BALAYAGE HIGHLIGHTS
For a look that is both fun and fresh, we love this slightly shorter style, definitely a winner in the running for best balayage hair ideas for summer.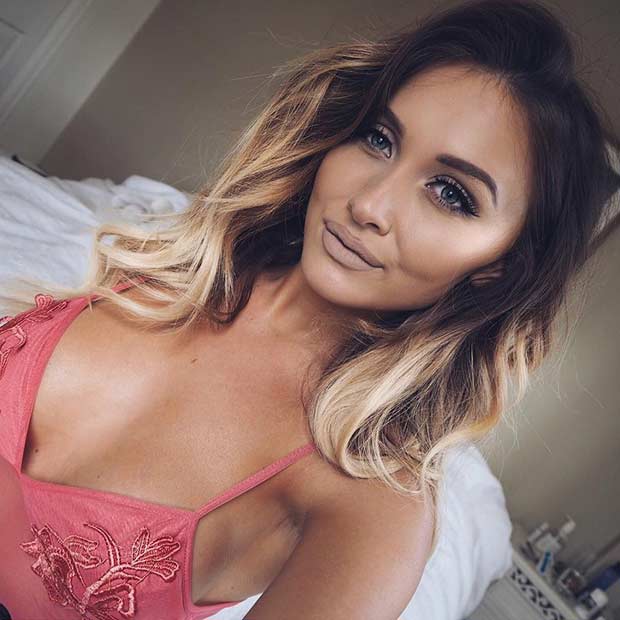 In the hotter months, you don't want super length running down the back of your neck. Opting for the chop may seem like a brave choice but with this clever face-framing blonde Ombre look, it's youthful and funky but at the same time, still cute and feminine.