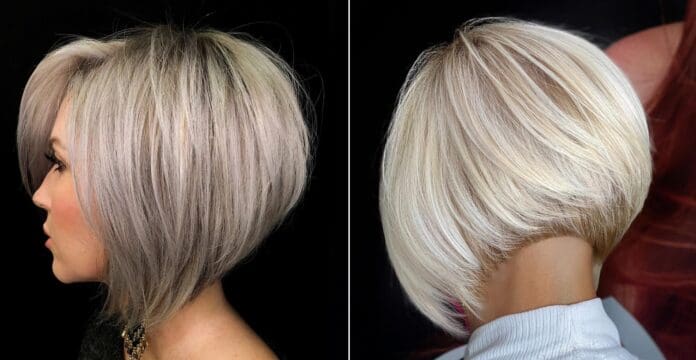 Opting for short hair is the perfect way to show off your beautiful features. Short hairstyles are the perfect combination of low maintenance but high impact, which is exactly what we look for. You want a style which is easy to maintain but always wows the crowd. That's where stacked hairstyles come in! Full of fantastic layers and bouncy finishes, stacked short hairstyles are incredible. In this gallery you will find the ultimate inspiration for short stacked hairstyles. We'll even tell you how to recreate the look yourselves!
If you want to cut your hair short but without compromising on volume or style, we would always direct you towards a stacked hairstyle. As a rule, stacked hairstyles have lots of short layers to the back of the head. This creates a super stylish curved effect, but also gives you lots of cool texture to play with when styling your hair. Despite having a signature style of shorter layers at the back of the head, stacked hairstyles can actually be incredibly versatile too. Here's a gallery full of super trendy stacked hairstyles for short hair. Don't forget to let us know which one of these is your favourite in the comments below!
#1. Silver Stacked Short Haircut – Shaved Hairstyle for Women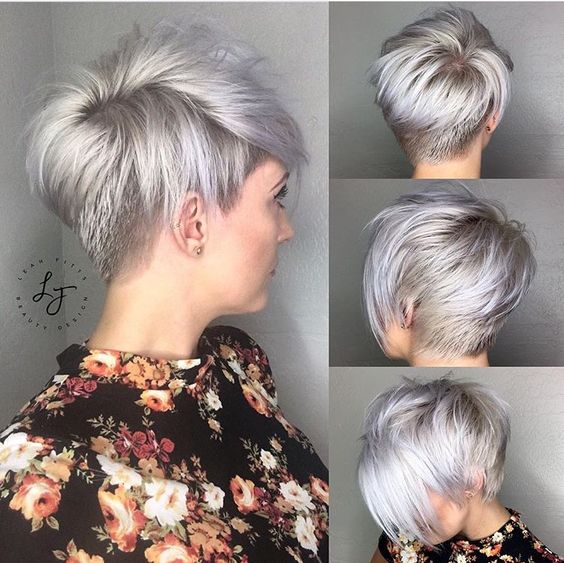 Silver is a super trendy hair colour which is growing and growing in popularity. It becomes especially cool when paired with a stacked hairstyle! Steal this style by choosing a classic stacked pixie cut with a lovely, long and sweeping fringe section. Keep the layers cut close to the back of the head and finish the style with a loose tousle to the top of the head.
#2. Blonde Stacked Pixie Cuts with Long Fringe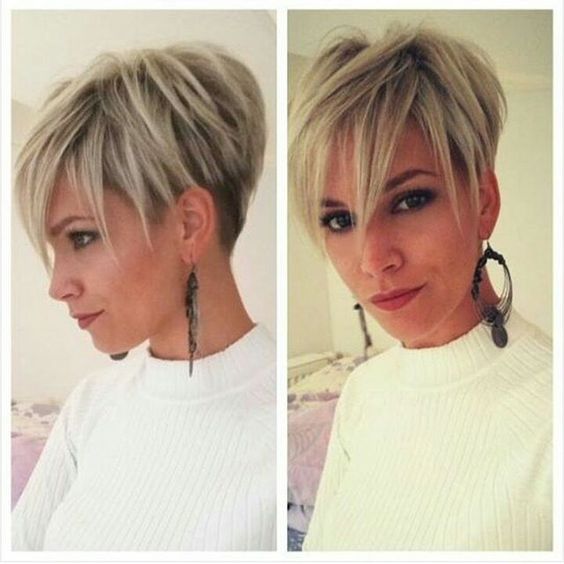 Bangs or the fringe can be the ultimate finishing touch to a stacked hairstyle. Recreate this incredible blonde look by creating an amazing blonde pixie hairstyle. Ask for lots of short, stacked layers to the back of the head for a curved finish. Leave the front of the hair to fall into a cool, long fringe section. Straighten the locks for a sleek and contemporary end result.
#3. Brown Bob with Curled Ends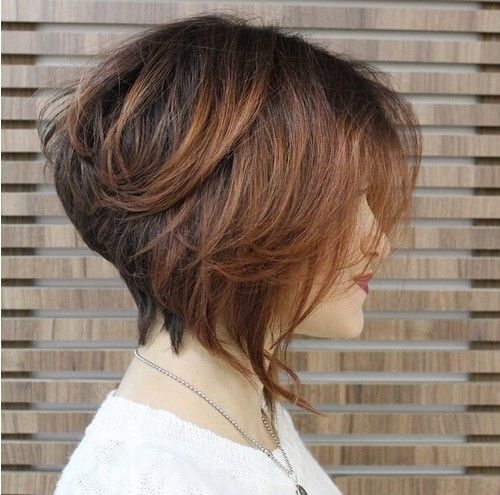 Curling the ends under can have a remarkable effect on your hair! It will create lift and light, working your locks into the most incredible end result. Start by cropping your hair into a jaw length bob, with longer layers towards the front of the face, and lots of shorter layers throughout the top of the head. Curl the ends for a fantastic and totally trendy hairstyle.
#4. Golden Blonde Swept Short Hairstyle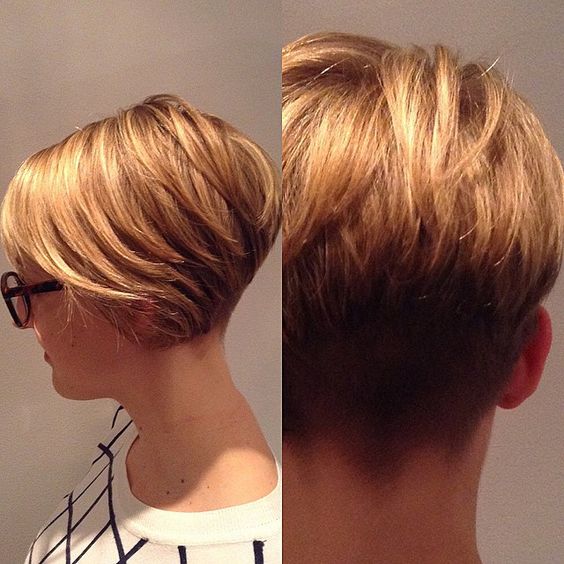 Golden blonde is the perfect colour to choose if you're opting for a super stylish stacked bob. Dye your hair your favourite golden shade of blonde. Crop it into a pixie cut which finishes roughly around the ear length. Keep the layers short and close to the head, opting for a curved silhouette at the back of the head. Sweep the front of the hair back and you're left with an amazing end result.
#5. Textured Medium Length Bob – Balayage Hairstyle with Fine Hair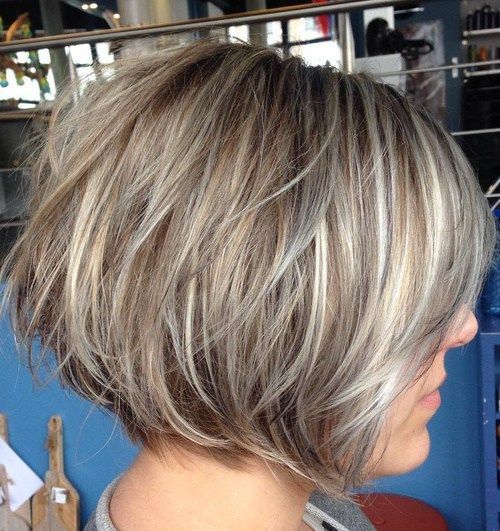 Texture can simply transform your style – which is exactly why you need to learn how to add it to your look. Start by chopping your hair into a jaw length bob full of layers. The more layers at the back of the head the better. Add lots of golden and ash blonde highlights throughout your bob. Tousle the hair for a fabulous and trendy finish.
#6. Voluminous Bright Blonde Bob Hair Styles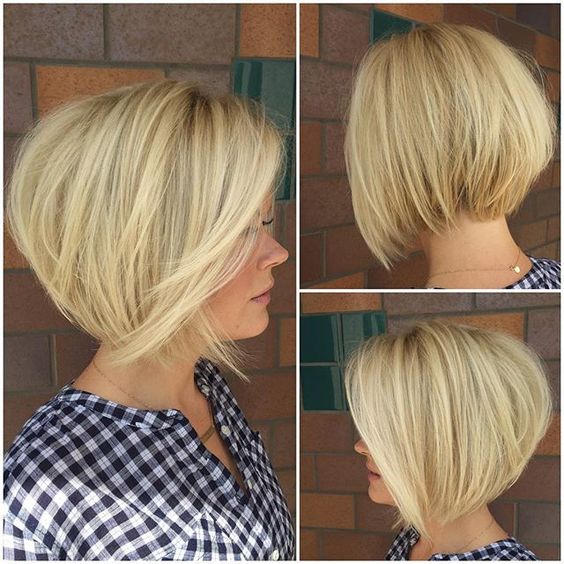 Volume is everything when it comes to stacked bobs. The more volume you can work into your locks, the more the end result will stand out. This beautiful blonde bob has stolen our hearts. Opt for a graduated and stacked bob with the front sections falling around the jaw length. Back comb the back for this voluminous and bouncy finish.
#7. Brown A-line Bob with Side Parting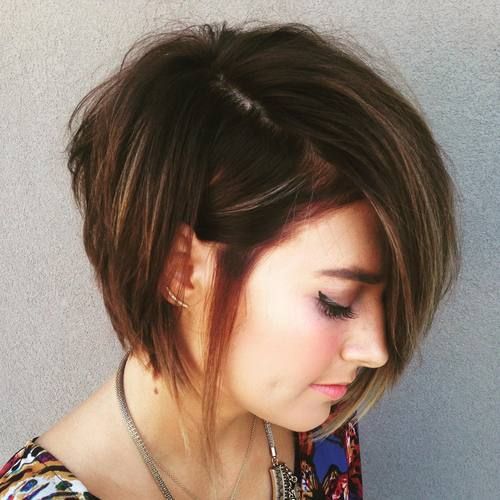 Side partings will bring your bob to life – so be sure to embrace them! Steal this wonderful lady's style by opting for a classic medium length bob which falls around the jaw level. Add lots of shorter layers to the back of the head and a smattering of highlights throughout. Tuck one section behind your ear and leave your long, sweeping fringe to fall across your face perfectly.
#8. Bright Blonde Bob with Bouncy Ringlets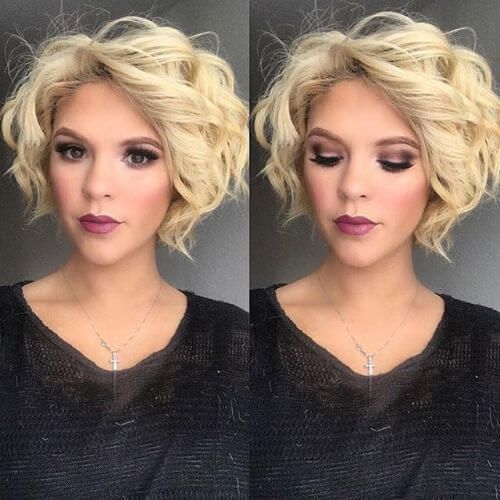 To create a hairstyle which is simply perfect for a special occasion or a night out, then big barrel curls are absolutely essential. This incredible blonde bob finishes with longer sections around the front of the face and lots of shorter layers to the back of the head. Work in a side parting and curl your hair into tight ringlets from root to tip!
#9. Textured Highlighted Stacked Short Haircu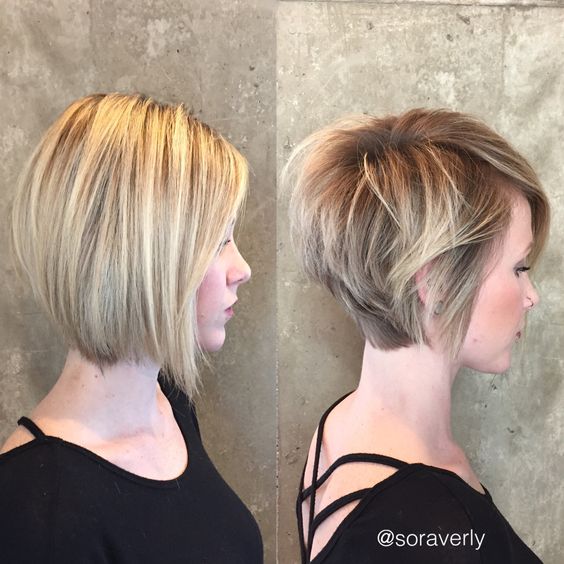 Stacked short hairstyle have lots of lovely shorter layers to the back of the head to create a super cool curved silhouette. Keep a lovely long section of hair at the front to form a side fringe, and cut the rest of your hair short at the back of the head. Add lots of bright blonde highlights throughout and finish with texture and tousles using your favourite hair styling products.
#10. Bouncy Balayage Stacked Bob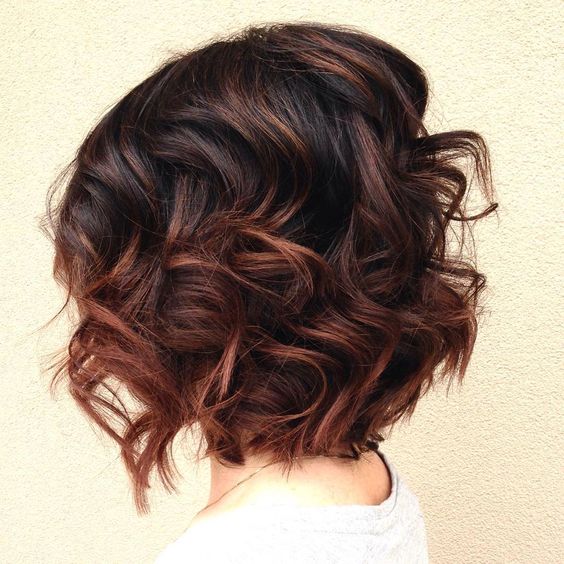 Auburn and dark brown blend together perfectly – which is why you should embrace these two shades when working balayage into your stacked bob! Start with dark brown at the top of the hair blended down to a vibrant auburn. Cut the bob an inch or so below jaw level, working lots of shorter layers through the back of the head. Add tons of tight barrel curls from top to bottom for the most fantastic finish.
#11. Icy Blonde Long Layered Bob – Practicality Short Hairstyle for Women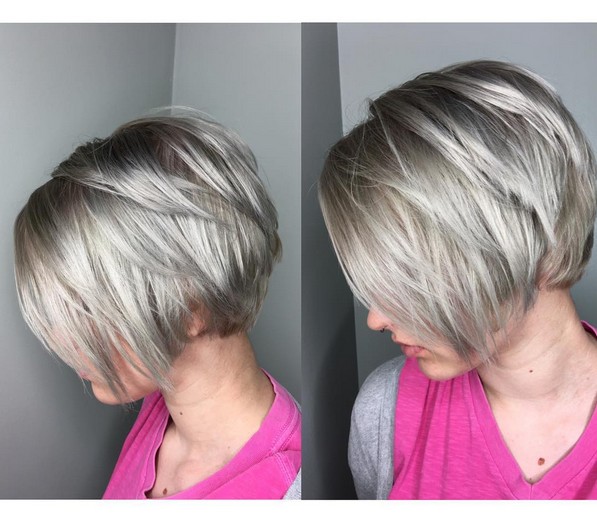 Silver hair is HOT right now, but it may not be quite your style. If you still want to engage in a striking light hue with just a pinch of silver filtered through, consider a subtler silvery shade like this icy blonde. It's white-hot and looks fabulous with these fluid long layers that shake and whisk with ease.
#12. Asymmetrical Highlighted Bob Hair Cuts – Balayage Short Hairstyle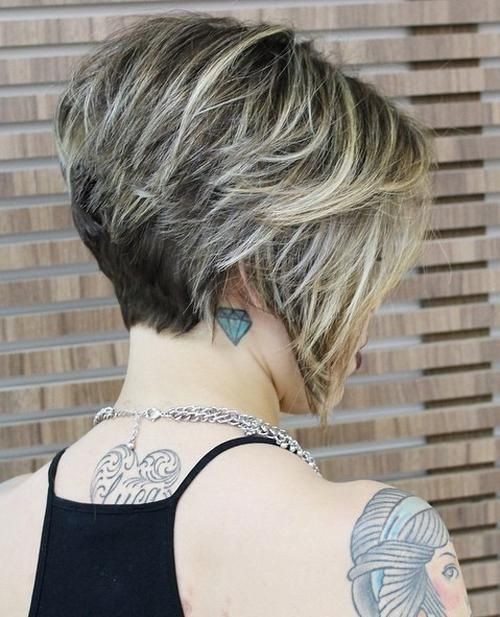 A dark brown and blonde blend is a neat way to add some brightness to your overall look, while asymmetry ensures there's tons of dimension and depth. This ultra-chic and trendy look works well on women of all ages!