#13. Highlighted Bedhead Bob – Short Hair Styles with Straight Hair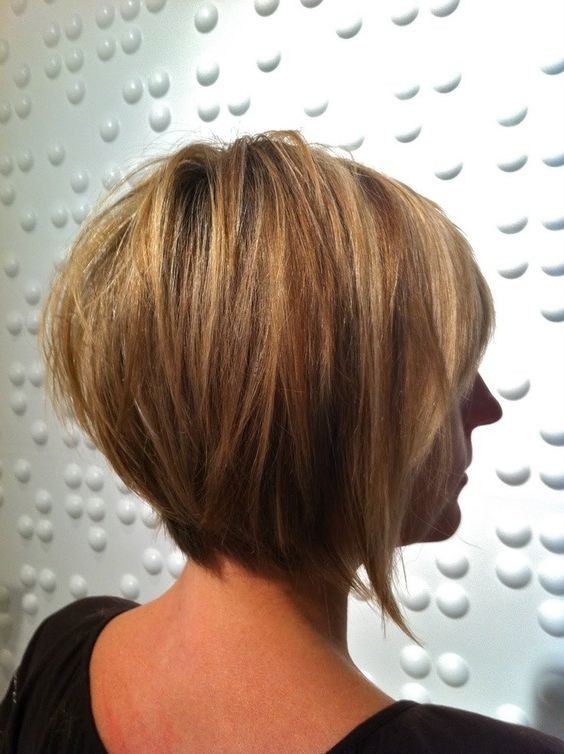 Styling your locks has never been so easy! Before heading out for your day on the town, DON'T brush your hair.  In fact, don't do anything! Simply let that sexy bedhead style shine through your highlighted stacked bob. How easy is that?
#14. Textured Red Hot Stacked Pixie Hair Cuts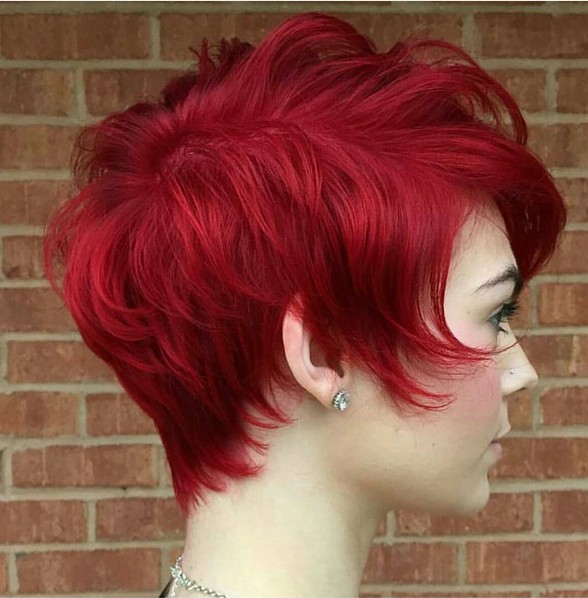 Ferocious and sexy all at the same time, this red hot stacked pixie is sure to be a looker wherever it goes. Let your striking personality shine through your mane with these deep, luscious red hues, textured up a bit for natural fluidity and appeal.
#15. U-Cut Back, A-line Lob Hairstyle with Straight Hair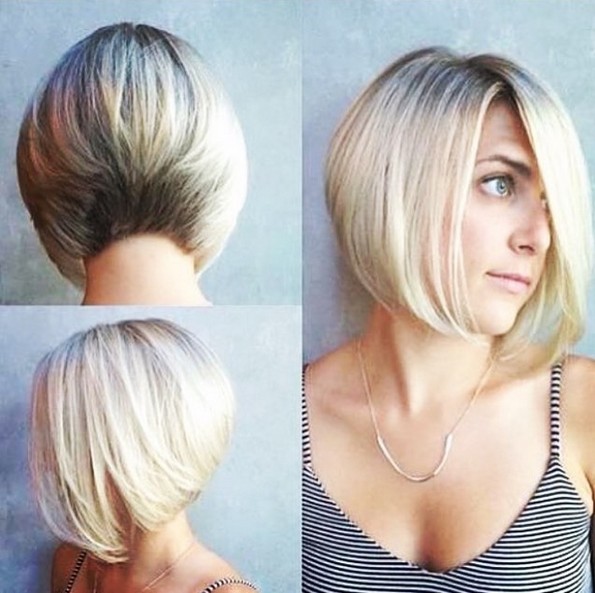 Stacked haircuts are all about making the back of the mane shorter than the locks up front, but why settle for the same when you can stand out from the crowd? This fabulous u-shaped back adds a bit of quirky style to her look without doing anything overboard. Cut just below the jaw, her tresses naturally curl inward toward the face to frame her face beautifully.
<
#16. Messy Dark Chocolate Stacked Short Bob Hair Style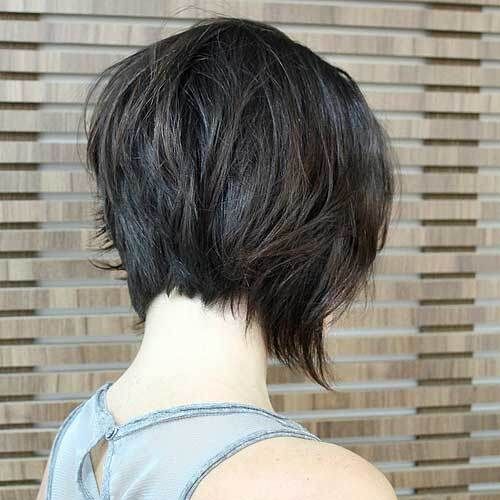 A sultry color like this is simply divine, with a dark chocolate hue that's both sexy and seductive. But to take this hair color to the next indulgent level, consider a layered stacked bob like this. Tousle it up just a twinge to ensure fluidity of the mane that's highly attractive.
#17. Copper Red Asymmetrical Stacked Bob Hair Cut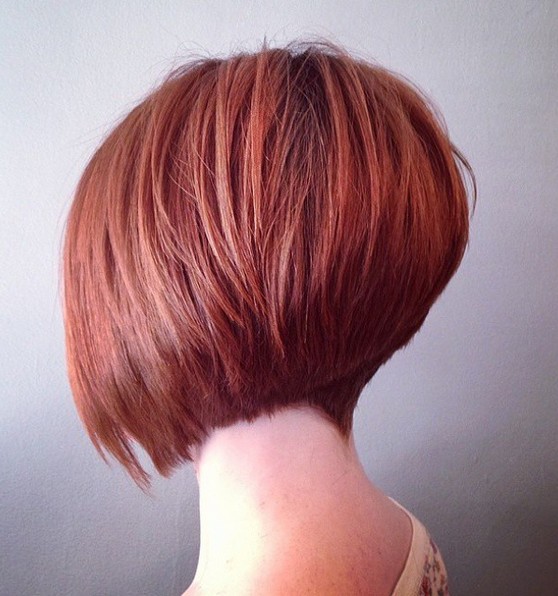 There's simply NO sexier hair color than red; it's long been the sultry hair color that captivates the eyes and mind. This deep, rich copper red hue is certainly seductive, and cut into this fabulous asymmetrical lengthy bob is a firey way to showcase this flawless color.
#18. Curly Blonde Bob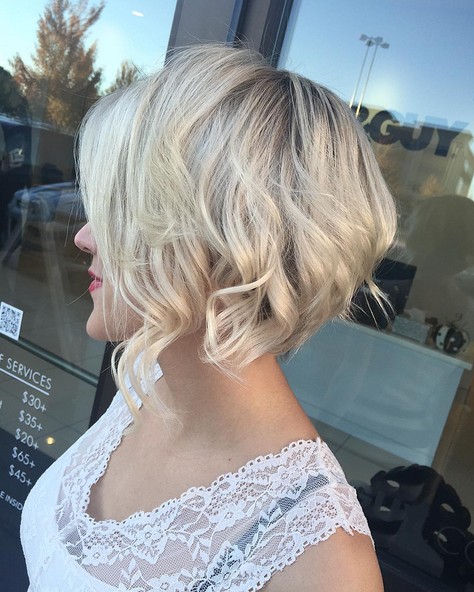 The great thing about chopping your locks into a stacked curly bob is you can curl it up in just a matter of minutes! These luscious curls are boosting with elegant volume, the perfect way to spotlight these luscious blonde beauties. Wear it to prom, a wedding, any fancy occasion with your favorite dress.
#19. High Tapered Stacked Bob with Subtle Highlights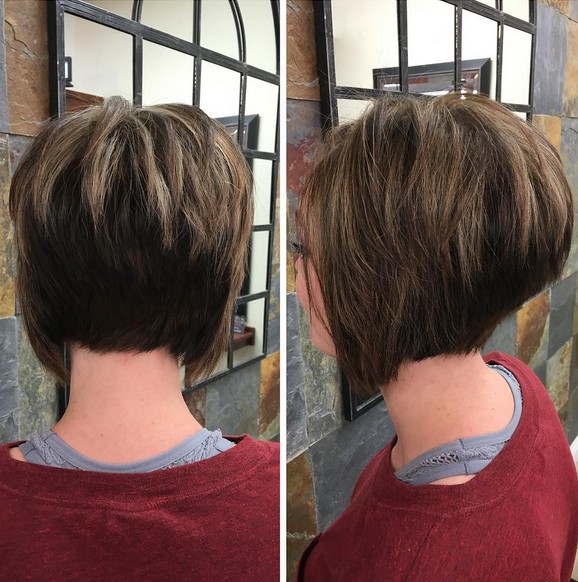 Tapered bob? Yes, please! Tapering ensures instant fullness of the mane, a great choice for thicker haired gals who want to showcase their full-bodied strands. With a highly tapered back, there's plenty of fashionable height that's brought to life with subtle highlights.
#20. Thick Plum Pixie Cut – Women Short Hairstyle for Thick Hair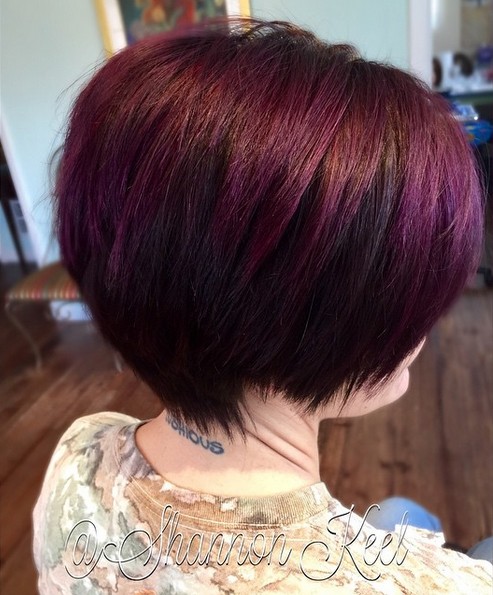 Thick hair should stay away from a blunt cut, but there also shouldn't be TOO many layers. Here we see a wonderfully balanced stacked haircut, with just the right amount of long layers to create a sensational finish. Enhance with a sultry finish by choosing a rich plum hue like the one shown here.
#21. White Blonde with Long Fringe – Messy Stacked Short Hairstyle for Women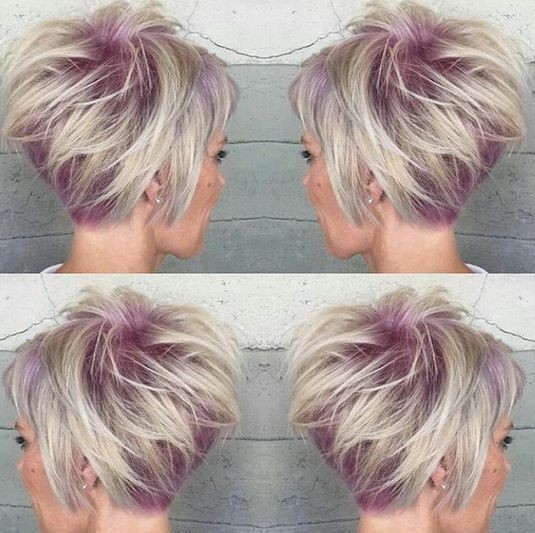 We adore this white blonde crop! To recreate this stacked style, keep the front sections of hair long to form a sweeping side fringe. With the rest of the hair, cut the layers short and choppy – particularly at the back of the head. This will create a bouncy and curved silhouette, as pictured above. Straighten the front sections, and tousle the back for this stunning finish.
#22. Metallic Purple Graduated Bob Hair Cut – Shaved Short Hairstyle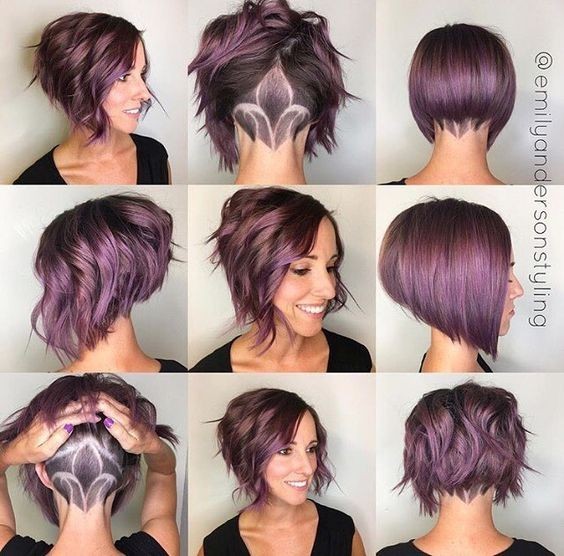 This stunning metallic purple bob has well and truly stolen our hearts! Recreate this look by choosing the perfect plum shade to dye your hair. Then get it cut into a medium length graduated bob. The bob should be parted at the side for a wonderful long fringe. Gradually cut the layers to get shorter to the back of the head. You could even shave a pattern into the underneath, like this stunning lady has done. Finish with lots of bouncy curls throughout!
#23. Pastel Pink and Purple Tousled Cut – Pastel Short Hairstyle for Thick Hair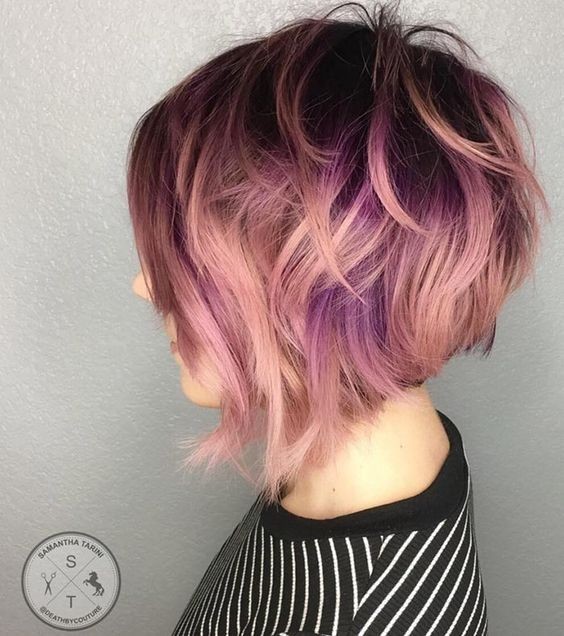 Pastel shades are so on trend this season – and what better way to embrace the trend than by styling them into your stacked bob? Start by dying your roots a pretty purple which blends into a pastel pink. Chop your hair into a stacked bob which falls longer at the front and shorter at the back for a wedged effect. Loosely add curls around the front of the face and tousle the top.
#24. Straight and Sleek Stacked Blonde Pixie Haircut – Women Short Hairstyle Ideas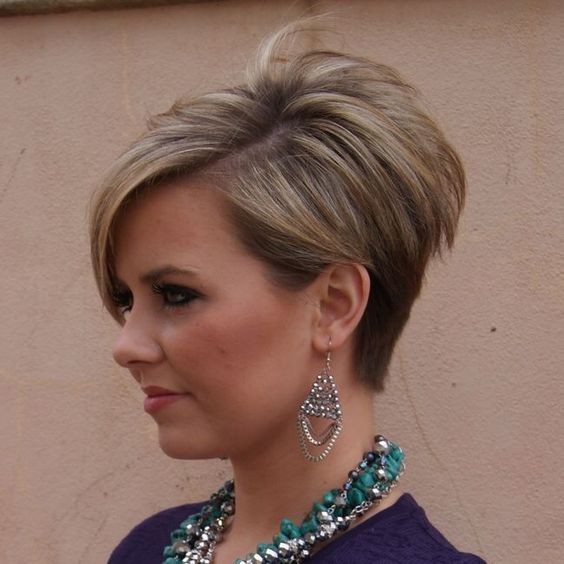 Sophisticated and classy are the two words which immediately spring to mind with this cut. Take the classic stacked pxie style. Part your hair to the side to secure a long fringe to frame the face. With the rest of the hair, add short layers throughout. Towards the top at the back of the head, leave a little longer. This will create the bouncy look we see above. Finish with gorgeous golden highlights.
#25. Pink and Brown Bob with Shaved Underneath – Asymmetrical Short Haircut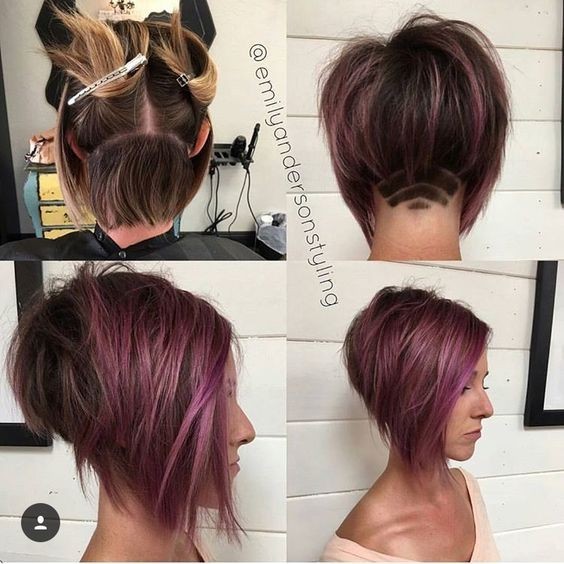 This style is edgy, dramatic and oh so cool – we couldn't not include it! Start with a deep side parting to ensure a sweeping fringe. Cut your hair in a dramatic graduated bob. This means lots of short and stacked layers at the back. The front gets gradually loner, to create this sweeping effect. Shave some cool patterns in the underneath for an edgy finish. As for colour, why not a pretty purple like this lovely lady?
#26. Dramatic Purple and Silver Tousled Pixie – Shaved Short Hairstyle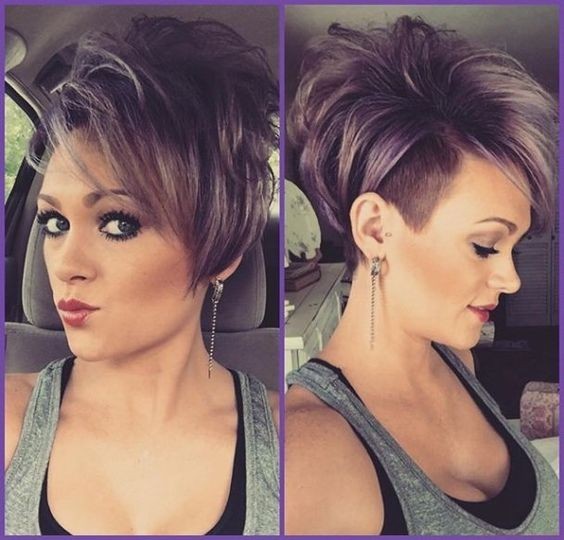 What's the point in having a stunning haircut if you can't be dramatic and show it off? To recreate this look, opt for a standard stacked Pixie cut. However, keep the bottom layer shaved closely to the head for contrast. Cut lots of short layers throughout the top of the hair for a wedged silhouette. Leave your fringe section straight and sleek. Use product to add bounce and tousle to the top layers for a stunning finish.
#27. Swept Back Bob with Highlights – Cute, Balayage Short Hair Style
This swept back bob is the perfect finish between smart and casual. Start by opting for a brown and blonde style full of golden highlights. Opt for the classic stacked cut, longer at the front and shorter at the back. Ensure there are lots of stacked layers at the back of the head for a curved shape. Sweep your hair back and leave for a relaxed finish.
#28. Curly Blonde Crop – Stacked Short Haircut for Thick Hair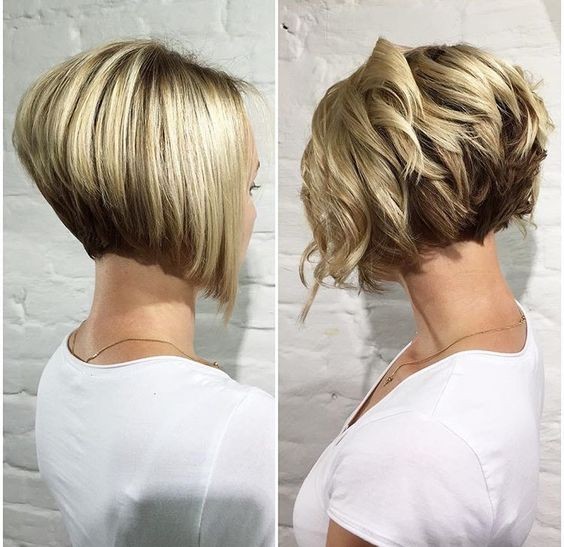 Curls are our favourite way to bring a stacked bob to life. Start by adding lots of beautiful blonde highlights throughout your hair. Then, ask your hairdresser to cut a stacked bob for you. Start the front around jaw level and work the layers back to the back of the head. If you'd like a fringe then get one cut in! Finish with curls all over the head for a pretty look.