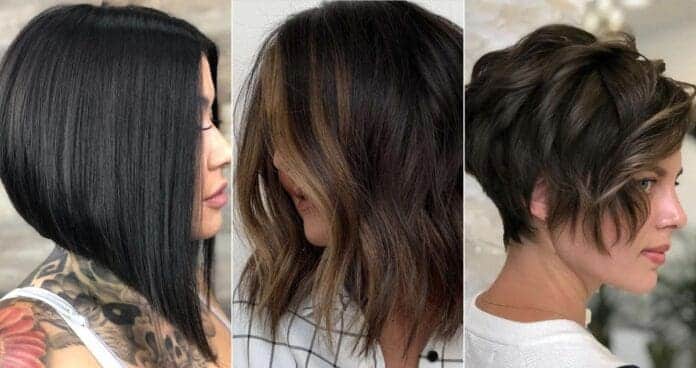 Short dark hair looks perfect giving a modern feel. This hairdo has been opted for by several famous personalities including Rihanna, Halle Berry, Natalie Portman, and Victoria Beckham to make their dark hair color prominent on shorter-length with pointed ends. Are you also looking to make a style statement? Without going any further, have a look at the photos that explain the way that you can wear your short dark hair color to create a style statement. It will point to hairstyles ranging from a pixie cut to choppy layers as well as bob cut along with streaks. So warm up yourself to jump into the bandwagon of style and select short dark hair color with a different cut!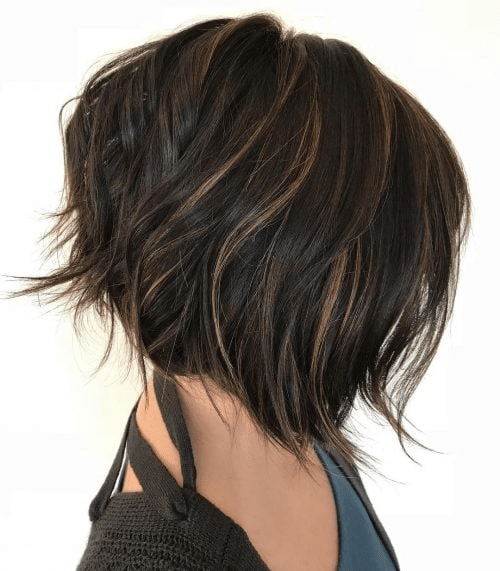 A Simple Textured Bob with Blonde Highlights
This kind of haircut is styled especially if you want a pixie hairdo that grows out exceptionally. Wear it with waves while using a texture spray to get a messy look with dimension.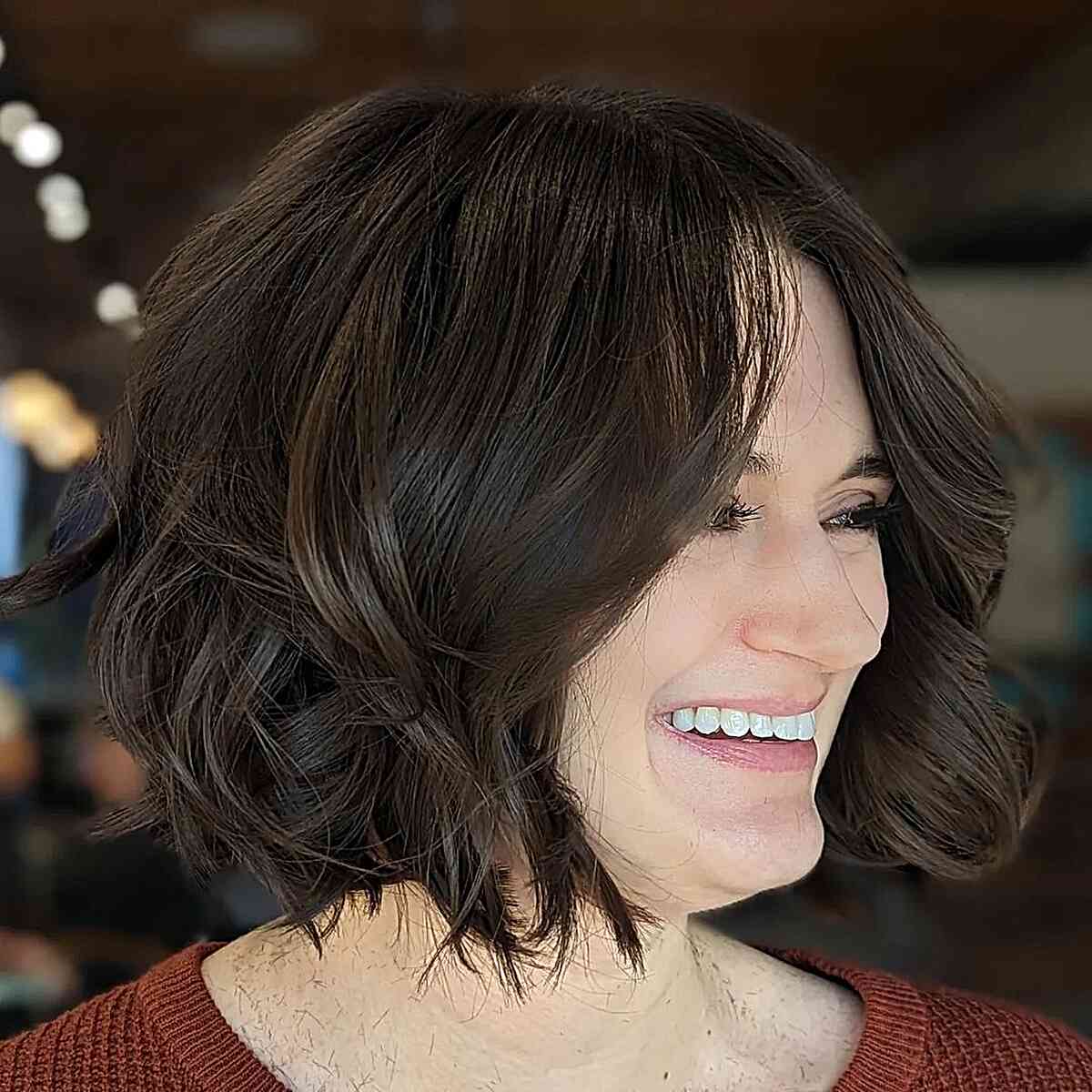 Deep Brown Bob with Denser Waves
If you want to transform your hair by creating a contemporary feel, try a deep brown bob with settled highlights. This hairstyle adds movement to your hair. The frontal layers realistically add dimension. On the other hand, the layers at the back add texture and volume to your hair. Also, a perfect bounce can be achieved with this hair. It is suggested to use a curling iron or wand on hair sections at the crown. For a perfect finish, a texture spray must be used.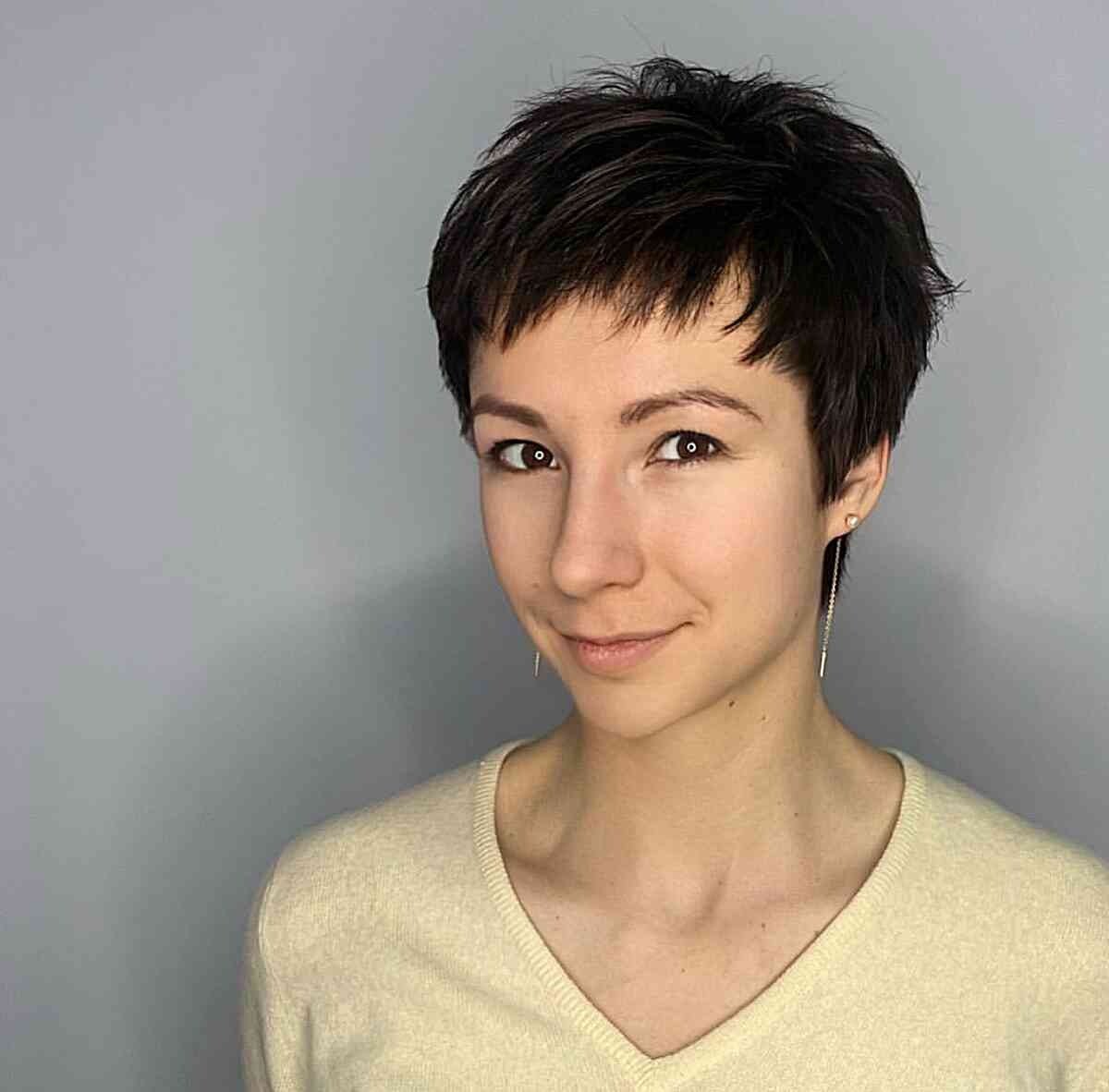 Try A Jet Black Pixie with Choppy Layers
A jet-black pixie with choppy layers will leave your hair in a glossy texture with a shine. An undone textured hair can be achieved by using a lightweight wax applied to mid-lengths until the tips. Slightly damp hair will be a perfect fit for such a hairstyle. Besides that, to fix your choppy layers and bangs in place a light-hold spray must be used.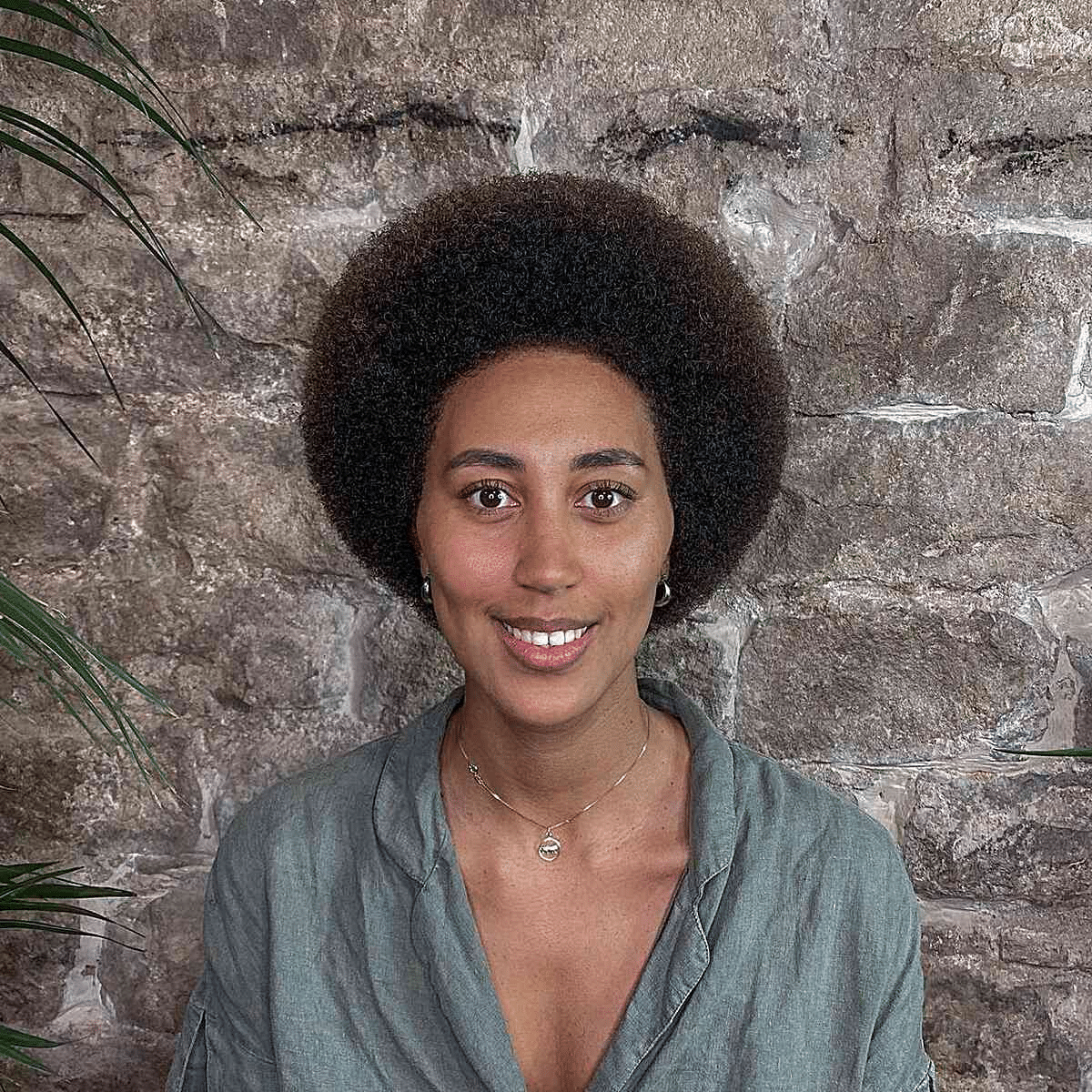 Dark Brunette Round Afro Hair
For women with a black complexion, a dark brunette with round afro hair is the best pick. To get a more praise-worthy style try a short brown hairstyle with retro flair. It is an easy-to-maintain hairstyle making you versatile in every manner. For a rounded shape talk to your stylist so that your hair is not cut in an angular or square shape of your afro. Also, it will preserve the volume of your hair while giving you a sharp hairline.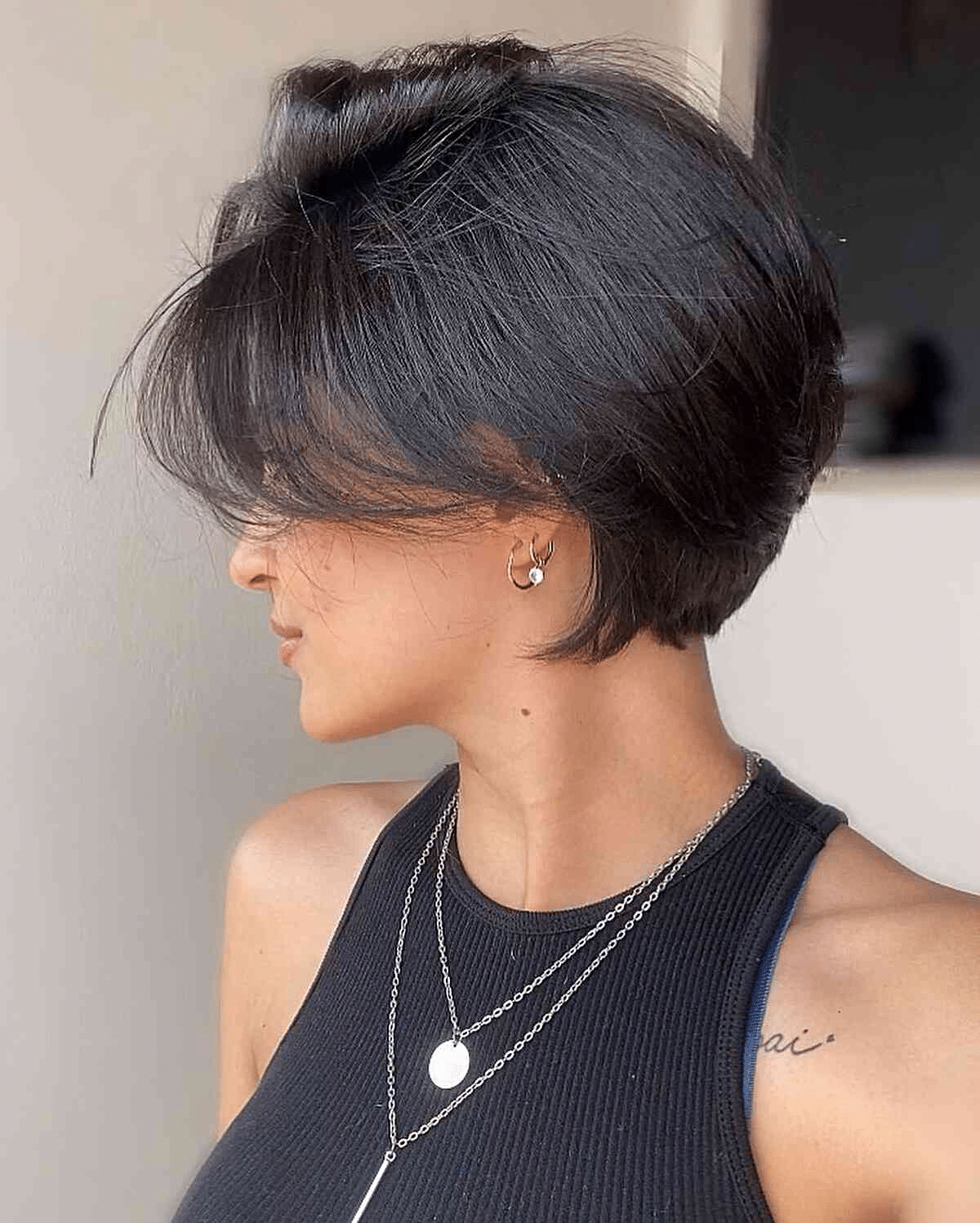 Get A Mini Graduated Bob with Face-Framing Bangs
A mini graduate's bob with face-framing bangs looks chic featuring your feminist persona. Ask your stylist to make your nape area appear in a piled-up manner with added layers to the lengths. The fringes pointed towards your cheek look attractive. Wear it straight or with curls, it looks gorgeous on all sorts of face shapes. Trust me this will be a game-changer hairstyle for you all!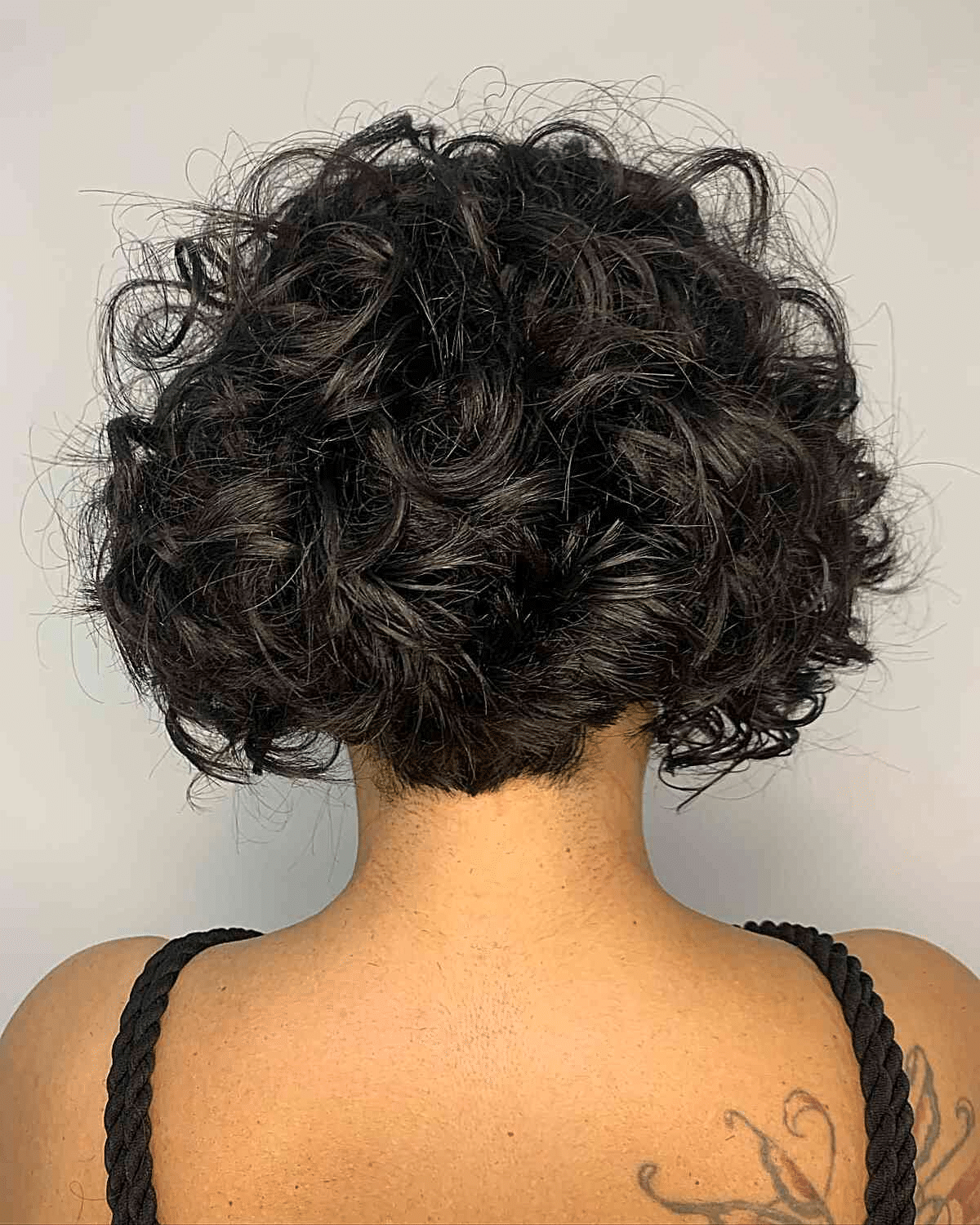 Try a Matte Black Curly Bob
With a matte black curly bob, you can feature your style to the next level. A short length is comparatively easy to manage and a bob cut looks classy in all manners. If you have medium layers with added textured hair it can be paired up with a curly hairstyle to enhance your look. For a subtle appearance of the forehead, bangs will work well. A curl-enhancing product will add beautifully to your wavy hair. L'Oreal Curl Expression is my go-to product and it gives off an amazing fragrance.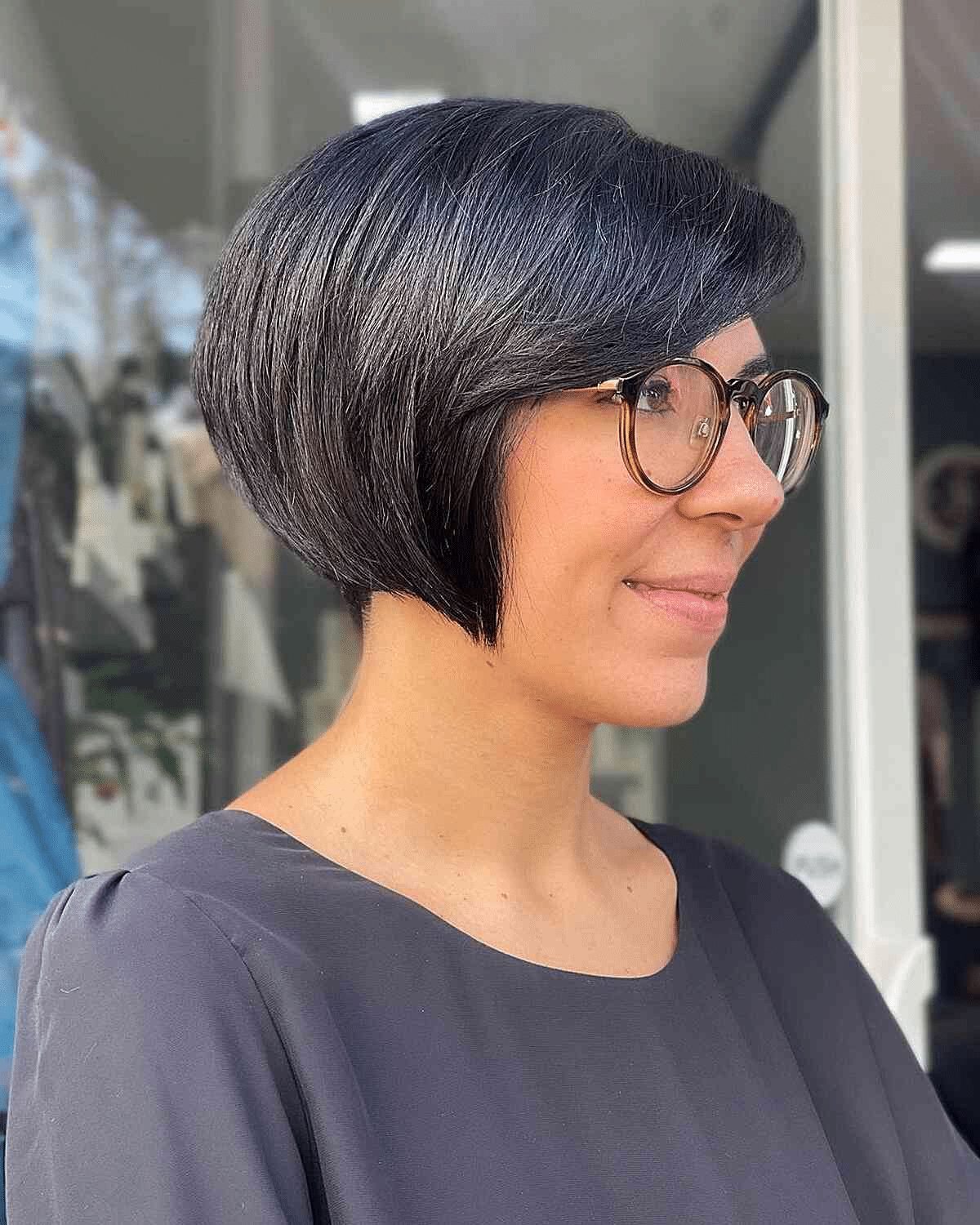 A Round Short Black Bob with Side-Swept Bangs
If you wear spectacles a short black nob with side-swept bangs will make your style highlight in a modernized way. This style can fit any face, with the round shape exhibiting texture along with adding motion to your hair. To get a perfect finish I suggest making use of a light hold shaping cream and fixing your hair in an appropriate place.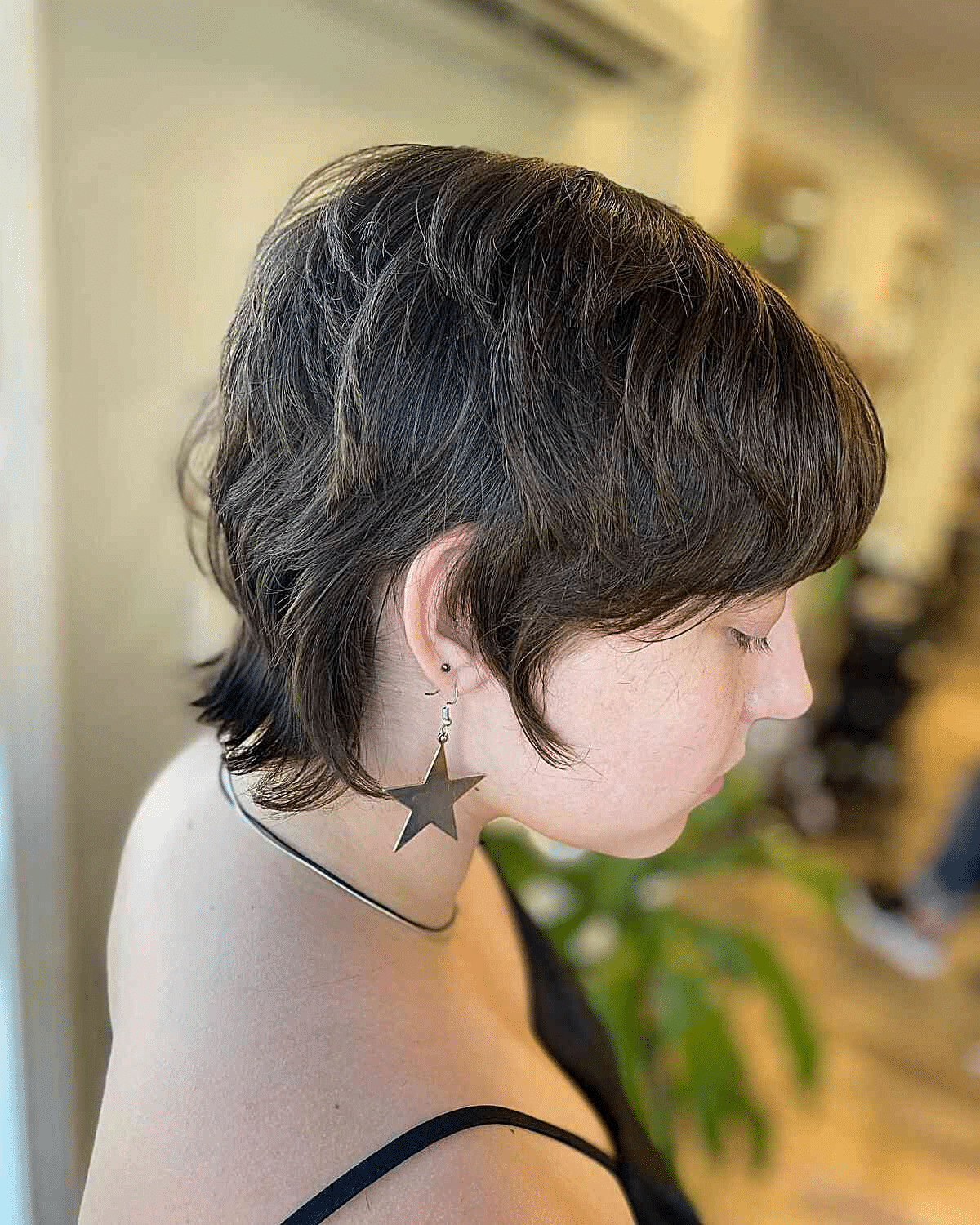 Opt for A Razor Cut Pixie with Soft Bangs
For a subtle look, a razor-cut pixie with soft bangs and short layers in dark brown color looks trendy. The best thing about this hair idea is that it compliments almost every face shape. Try to stack your layers for added texture and easily flaunt your hair in motion that aligns perfectly with the latest trends. For the fixation of layers, a light-hold spray is recommended to use which will give a polished finish look. In addition to that, a mousse or hair wax can give a touch up adding definition to your layers. Apply it before styling your hair. Such short dark hair is feasible for all sorts of textures and hair types.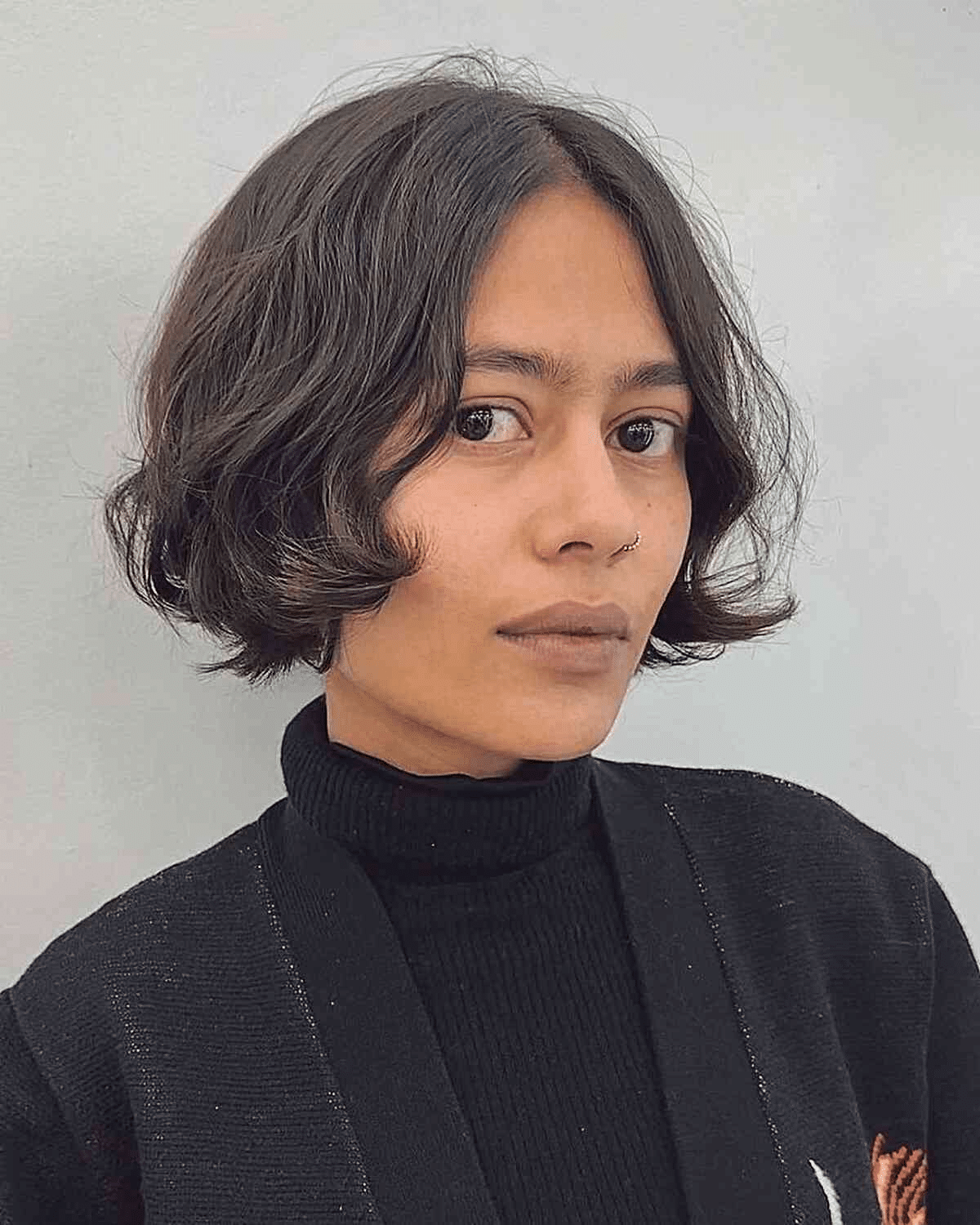 Classy Middle Part Waves on Short Hair Length
To create a featured look try middle-part waves on short hair. Transform your bob cut into a dramatic vibe, flourishing your waves beautifully. Although a bob cut can be worn straight the middle part is best to get a more natural undone look making your curl prominent. I suggest using 3/4 inches iron for curling your hair. Bring texture to your waves by applying a paste. Pureology's Style mixed with Protect Mess It Up Texture Paste is my favorite combination to use.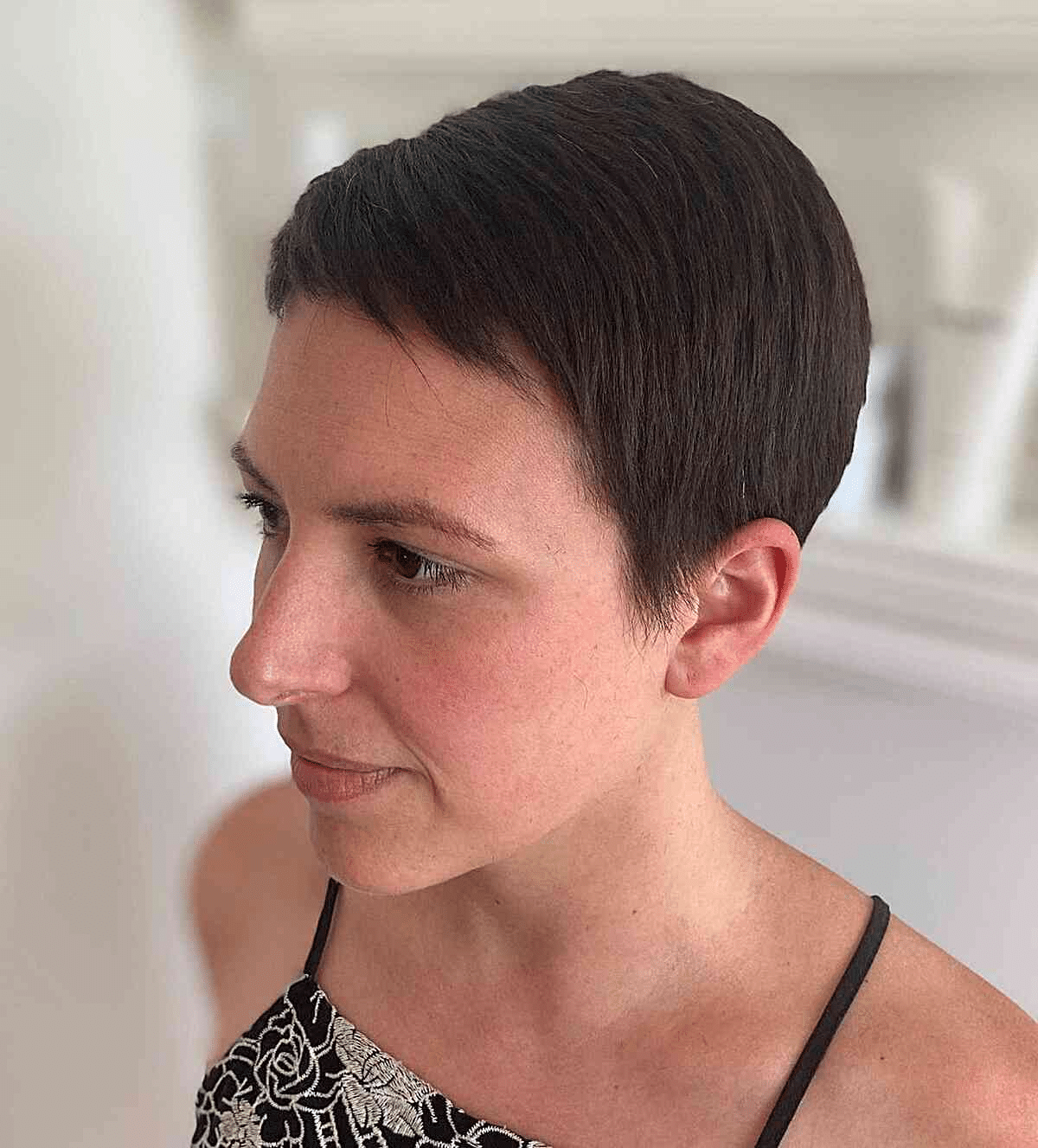 Very Short and Sleek Pixie on Dark Hair Tone
A very short and sleek pixie with dark hair is specially designed for the oval-shaped face. To get an enhanced feminist look, get subtle and choppy layers starting from the front to the back. To refresh this sleek short cut a styling cream must be used that will add shine to your hair. My recommendation for the perfect finish is Unite's 7Seconds Detangler. This product manages to prevent hair from heat loss along with added volume.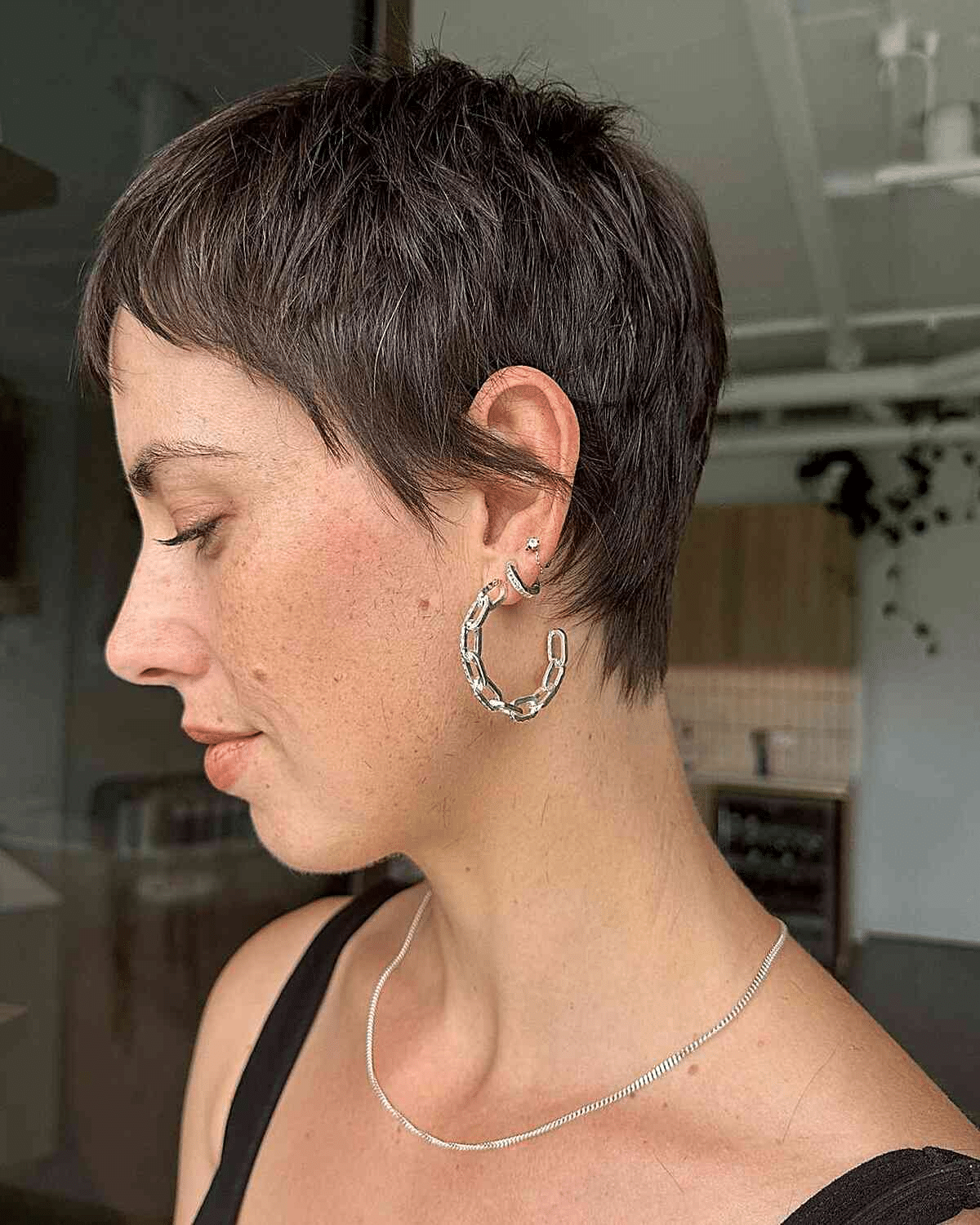 Styling A Tapered Pixie with Soft Texture
A tapered pixie with a soft texture is a low-maintain nice cut that can make you a fashion inspiration. This hairstyle is for the ones who want a classy look without going through the hassle of managing it now and then. According to your desire and face cut you can set your pixie either to a sleek look or an undone style. Each one of these will complement in its unique ways. A light volumizing mousse is a must-use for a perfect finish. My favorite to try is Oribe's Soft Dry Conditioner Spray.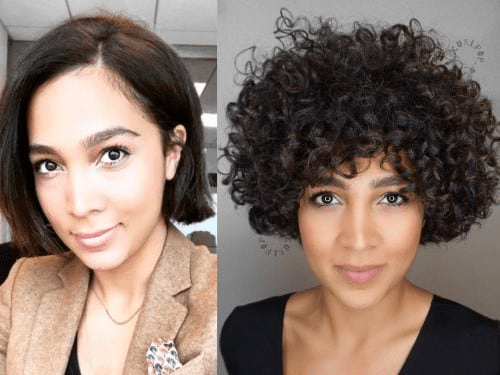 Styling Curly Hair in A French Roast Black Shade
For getting a trendy bob style that will add to your overall appearance go with embracing your natural textured hair. Eat-length hair is best if you want to adjust the height of your face while making your eyes the focal point.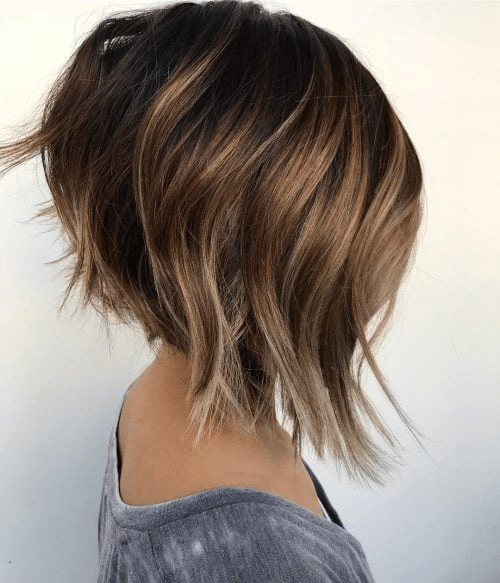 Diffused Dark Brown Hues on An Inverted Bob
A short bob cut to a dimension goes pretty well with wave layers with a tone of balayage. This hairstyle can appear easy to grow because the roots are colored in natural color shade.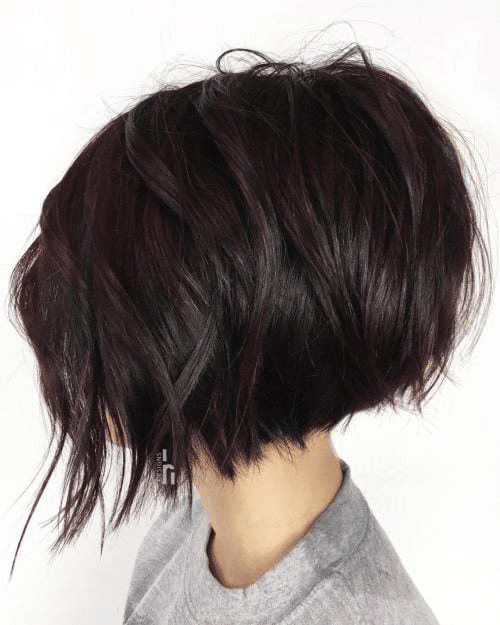 A Stacked Bob Colored in Dark Purple
This bob can rock your look when styled with long layers. It will elevate the texture and dimension of your hair look. For a fair complexion, my favorite pick is a violet hue.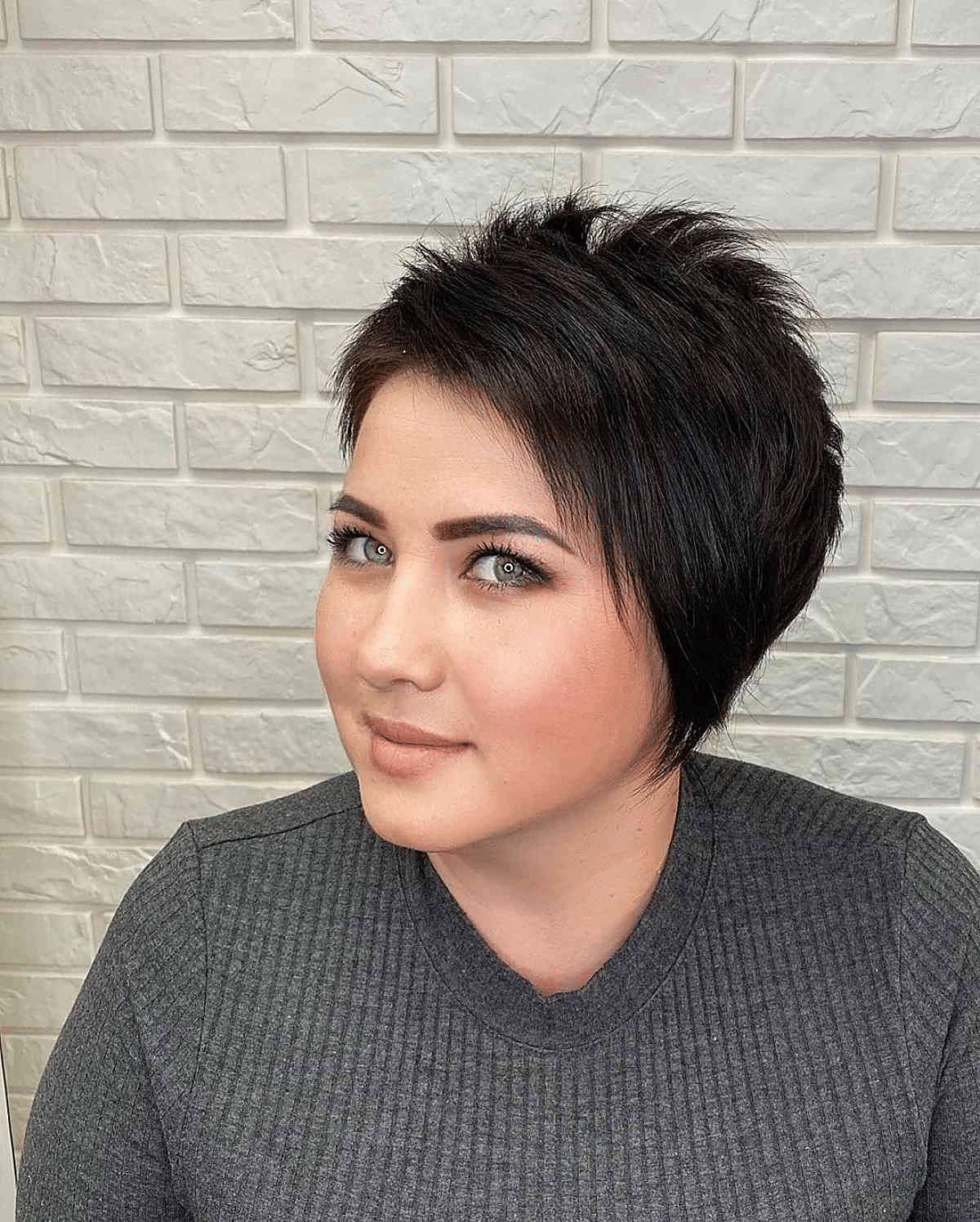 Attractive Pixie Cut
A rounded hairline that can adjust your rounded face to an oval shape can help you achieve a sparking look. For this short pixie and denser hair only a small amount of product will do wonders to wear it in style.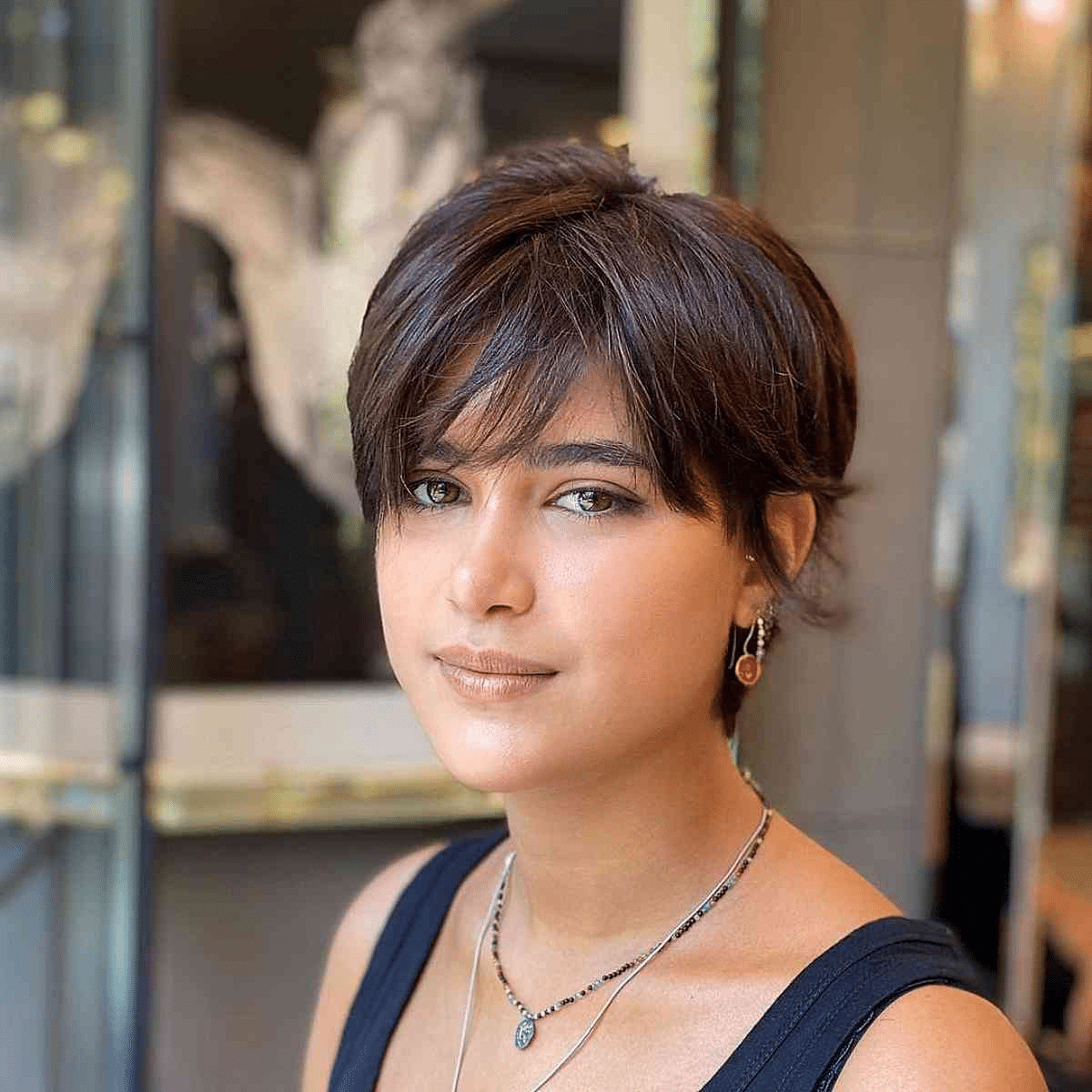 Wispy Bangs Colored with Dark Brown Pixie
Long layers on top can leave you with multiple options for styling while you are growing a shorter-length haircut. Direct your wispy bangs right to your forehead and make your eyes look appealing.
Piece-Y Messy Shag
For a heightened look with soft textured hair get a ruffled long pixie cut. It can create a style in a girly way while making your face get all the limelight and is easier to wear even if you have just started your day.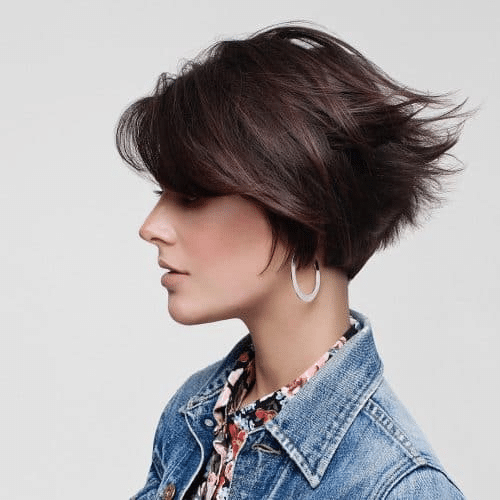 Color Your Wedge in Dark Burgundy
Short dark hair can be engaging giving you the margin of coloring your hair with rich colors that last longer. For styling, long layers and side bangs both options will give a trendy feel.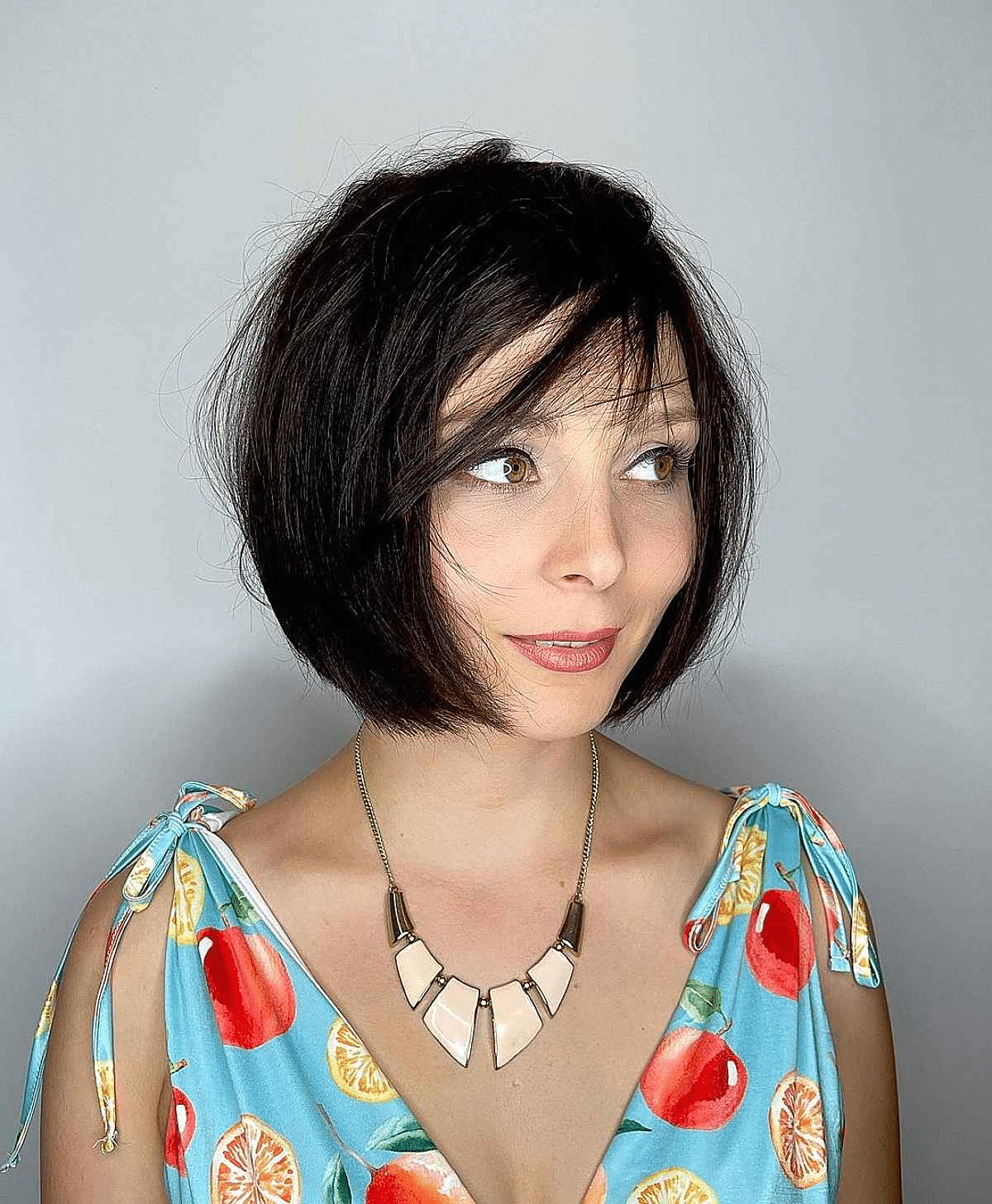 Get A Vintage Bob with Fringe
A jaw-length bob gets in line with all the face shapes making it classy yet unique. For a distinguished style, a razor-cut fringe should be done.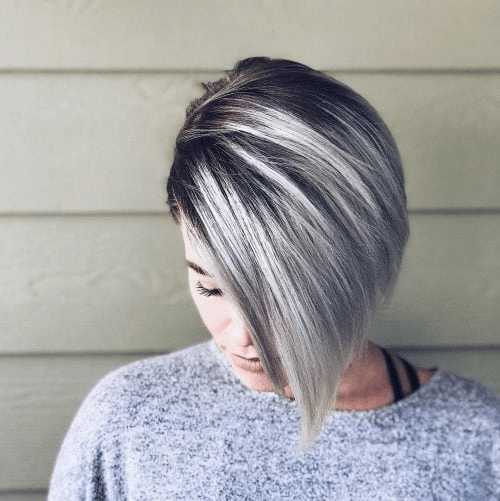 Rock an A-Line Bob with Silver Highlights
A grey metallic color blended on short-length hair is considered to be the top-notch style to date. Starting from icy skin tones to neutral ones this color fits well. The short hair makes it manageable with the ease of styling it in any way.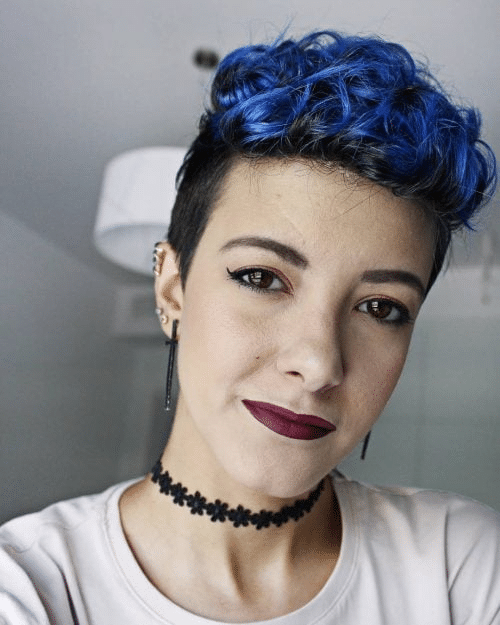 Stunning Curly Blue Highlights
For a person with a lighter skin tone, the bright ocean blue color will look great. It can make your eyes look bigger in an unrealistic manner. I suggest getting it done on a pixie cut for low maintenance.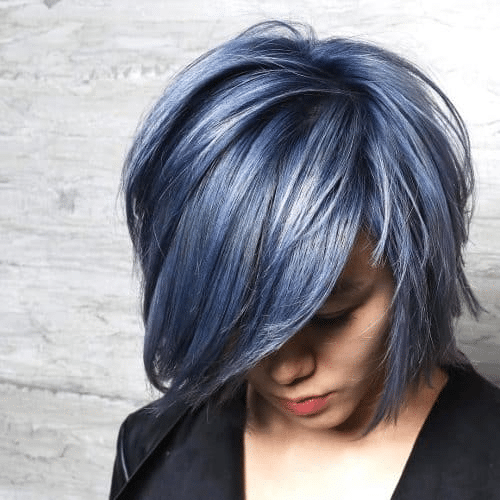 Steel Dark Blue On Brown Short Dark Hair
A shade of metallic blue will go exceptionally well on a layered bob cut when done on a fair-skinned woman. With this color, a little styling will be enough as it can stand out on its own.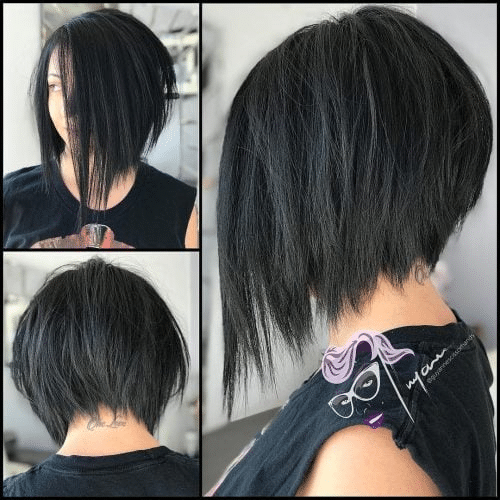 Angled Bob with Unique Layers
A choppy short A-line bob haircut is the one for getting a massive texture adding to the look of your thick hair. It manages the bulky volume of your short dark hair making it manageable yet classy on the outside.
A Casual Choppy A-line Bob
Want to get an unprecedented look for your conventional black hair? Without a doubt, a layered chin-length cut will make you fall in love with the new you! It can be worn tousled to get a more natural look that is leading on the trend list these days.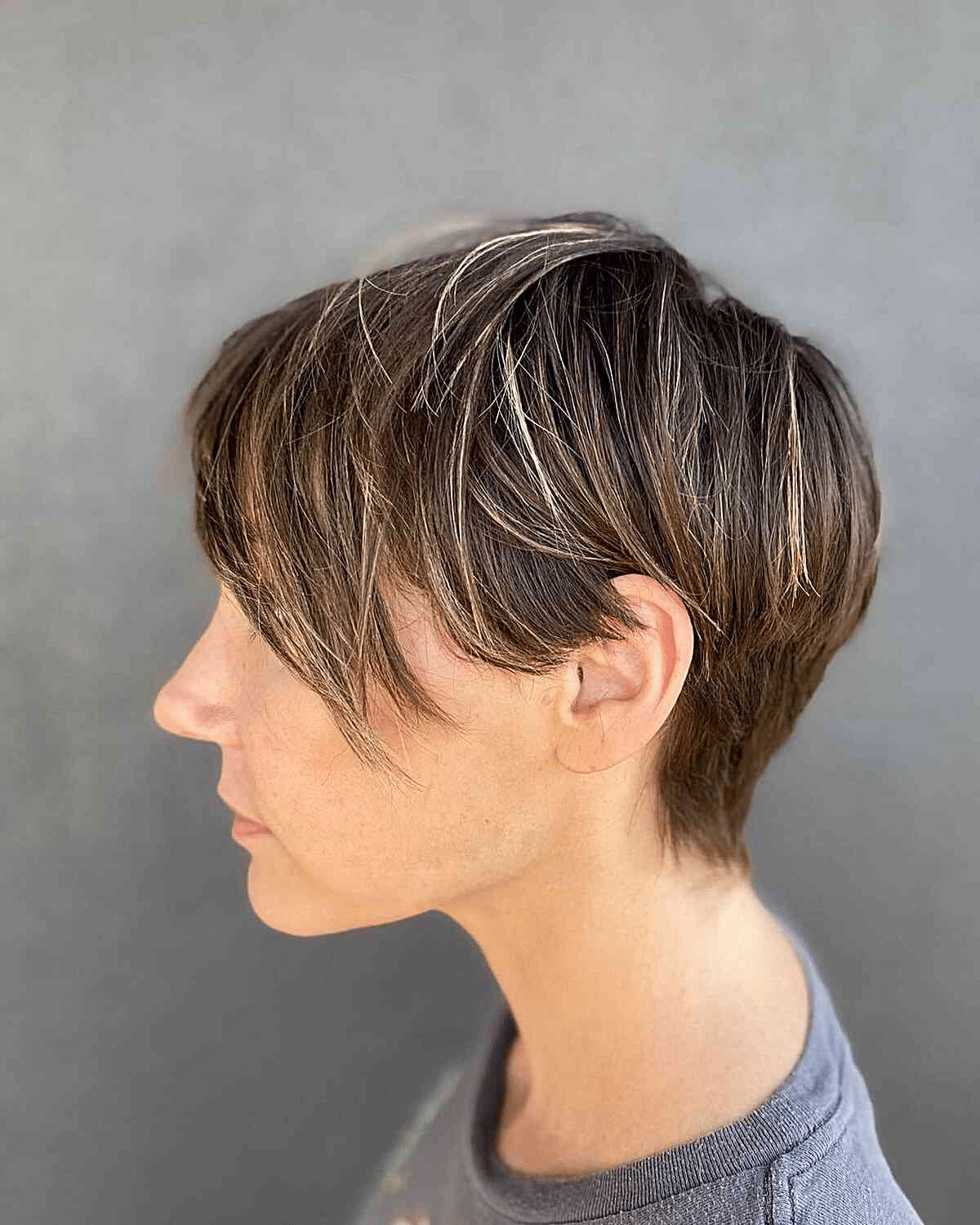 Caramel Highlights on A Pixie Cut
Easy when styling and low on maintenance, still creating a vibe! This short dark hair keeps some hair on the sides which can be used to create a style statement by curling it or getting it colored in warmer highlights that make your look fabulous.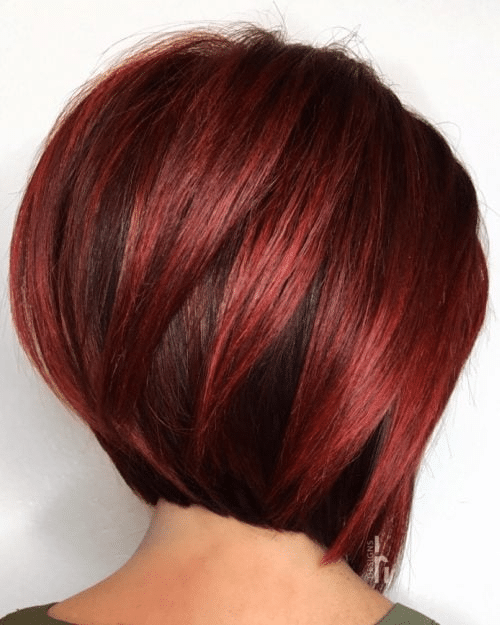 Try Bold Dark Red Layers
A stylish bob cut suits almost any face cut making it a versatile option to go with. If you have a warm skin tone then this shade of rich red can create an awesome twist to your personality.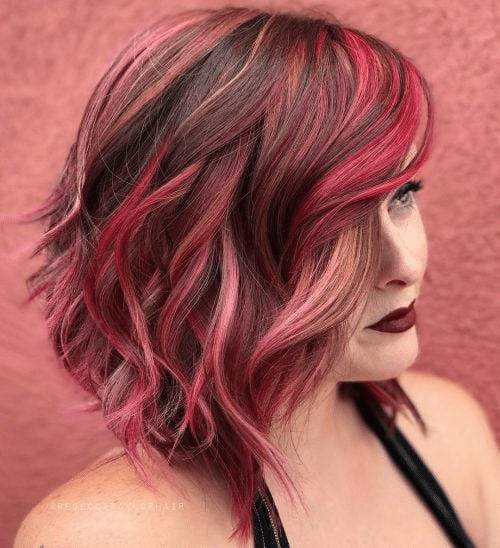 Velvet Dark Red Highlights
Want to get a raise for your shoulder-length hair? To achieve this hair goal blend your wavy chocolatey bob cut with soft crimson highlighted hair. This will make your hair look interesting giving it depth.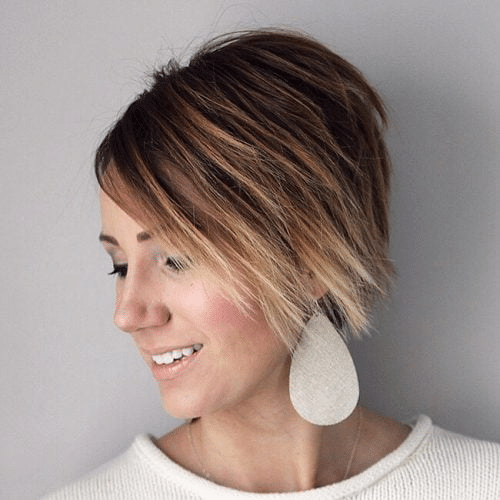 Soft Dark Brown to Blonde Ombre
Get a coppery tone that is softer and lived-in, this coloring scheme is suggested for incredible results. Moreover, it will add depth to your shorter and fine hair. Do try it out for a manageable yet chic style that looks best on short dark hair.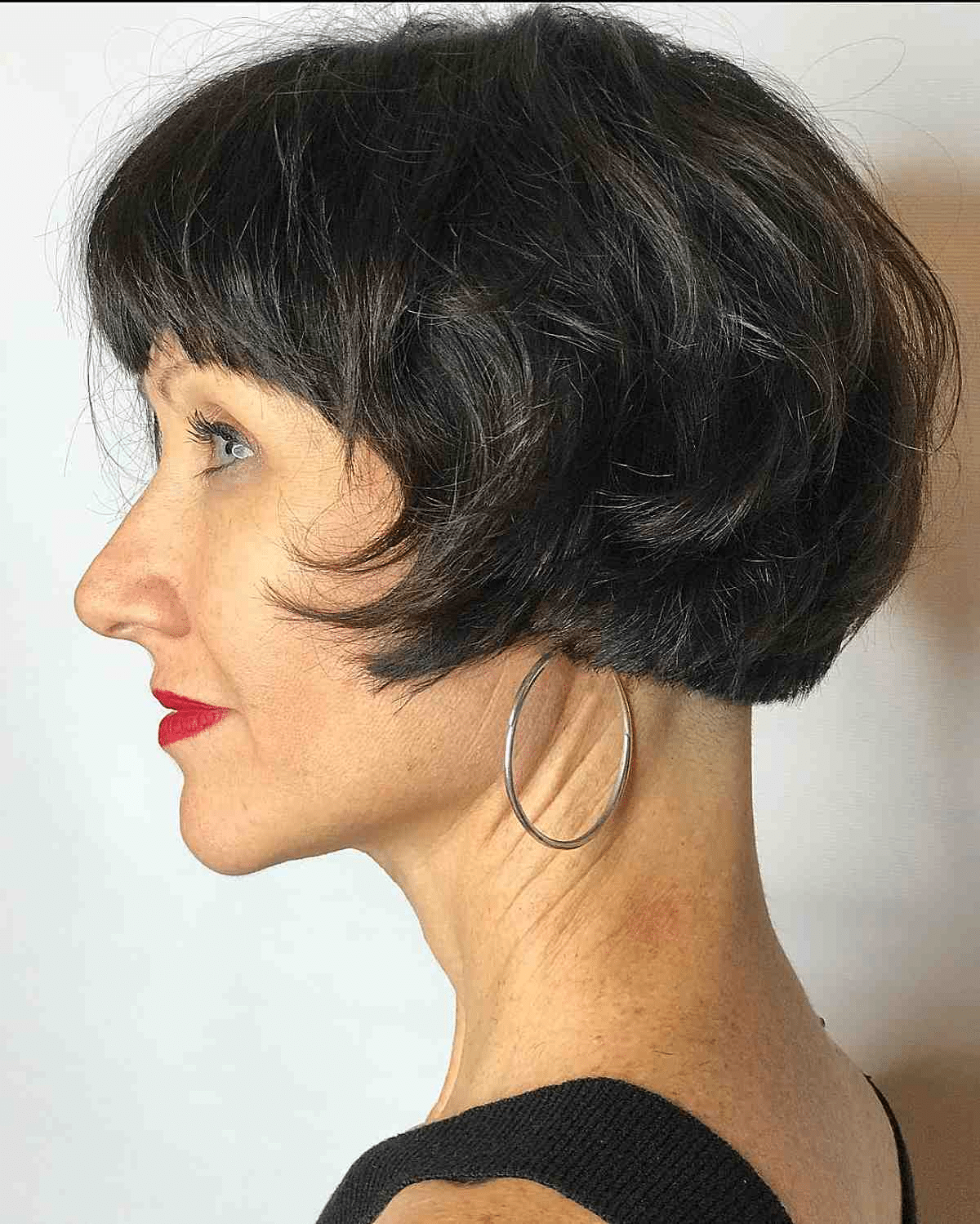 A Short Bob with Fringe
A super short bob with fringe can opt for an up-to-date style. This French bob cut makes you look classy on everyone in a seamless manner. This haircut can be set to your desired shape while offering a wide range of options for textures. Ask your stylist to make the most of this hairstyle!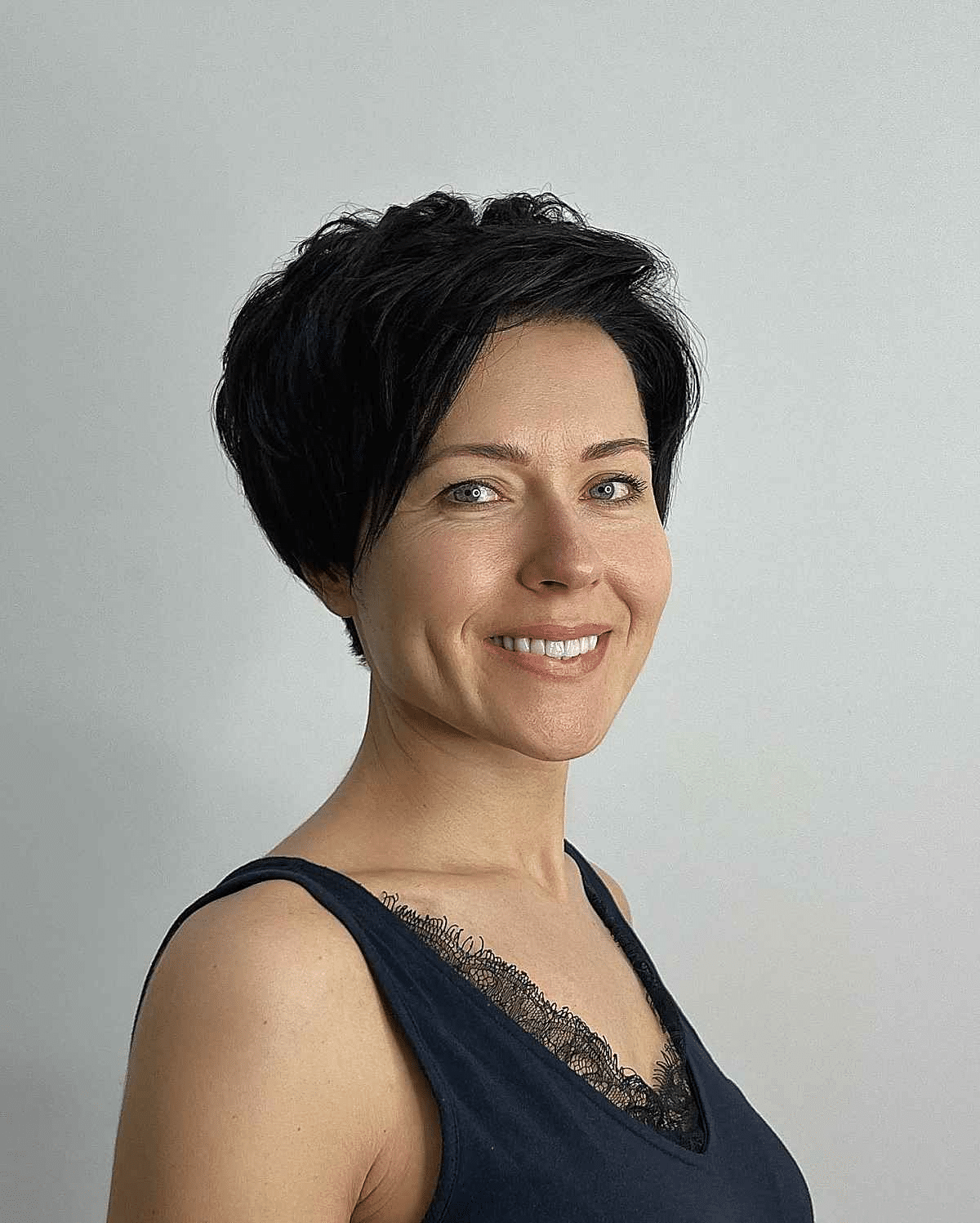 Go For An Extra Dark Long Pixie Cut
A long and extra dark pixie cut matches the trends. Such a haircut is the best pick for ladies who want a high-fashion statement. This will make the styling of your hair done in a distinguished way. However, it requires high maintenance after every 4-6 weeks. For warm olive skin, a darker shade of brown will be perfect to choose from.