A neck-length blunt bob hair is short while the edges come out as a straight line. Unlike traditional hairstyles, this cut is enhanced by bringing volume and texture by adding invisible layers. A hairdresser Vanessa Yvonne Jenners, from Phoenix, express affection towards this haircut due to its low maintenance and the versatility it gives to a person. She suggests that leaving this hair more naturally is the best option. The amount of fluff along with a soft shine are two of the greatest convincing factors. If you want to wear a neck-length blunt bob for a head-turning reaction then pick one out of the following ideas!
Go with A Face-Framing Blunt Cut on Short Hair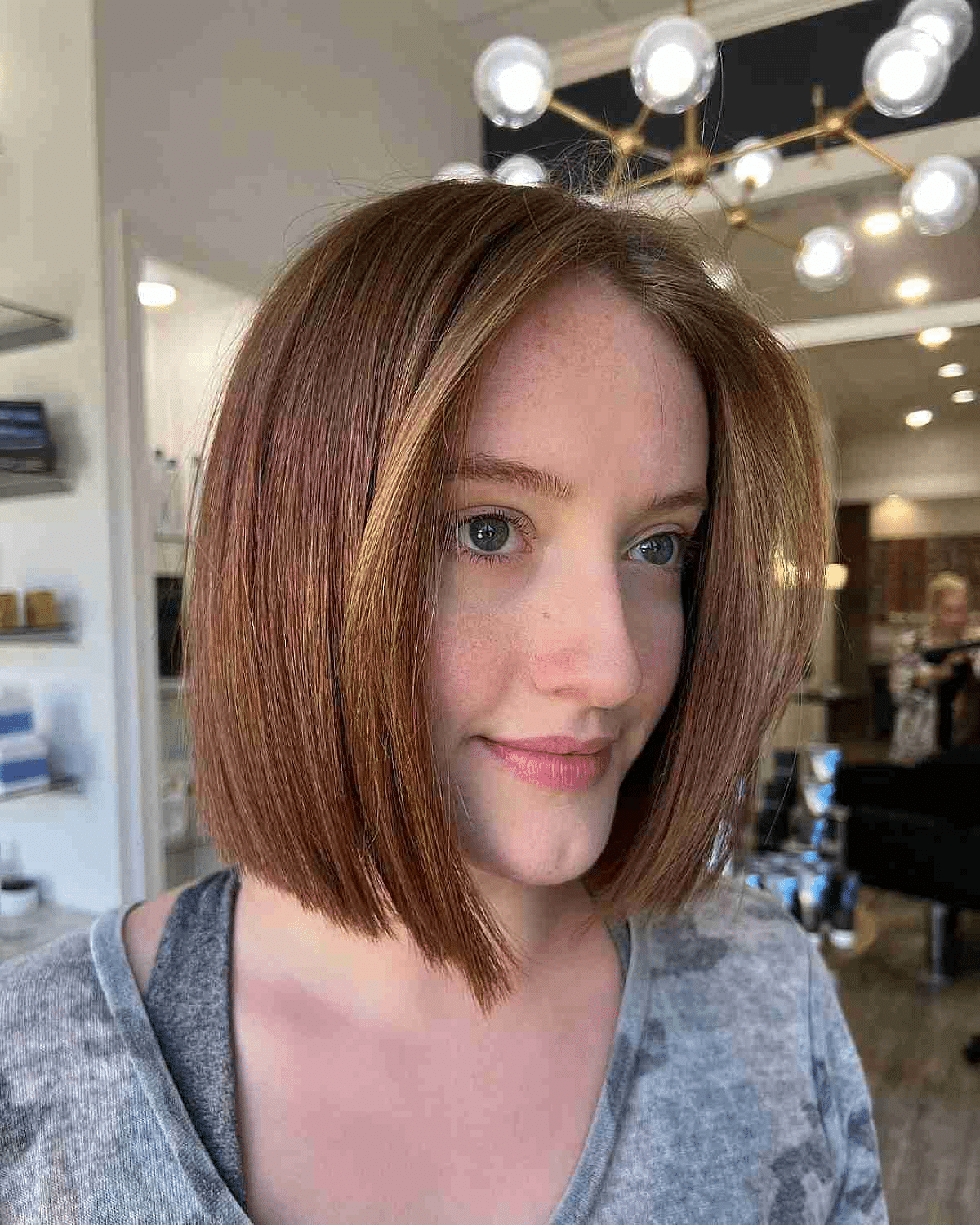 A face-framing blunt cut on short hair is nothing but just adorable! This neck-length blunt bob cut is the one which can transform your look if you want to bring a change to your face. Amazingly this kind of haircut will remove all your split ends giving you a contemporary feel. Cutting a long bang to-nose area will make your face appear fantastic aligning it with your blunt bob cut. For a polished finish, blow dry your hair with Olaplex #6 smoothing crème.
A Neck-Length Blunt Bob with A Soft Look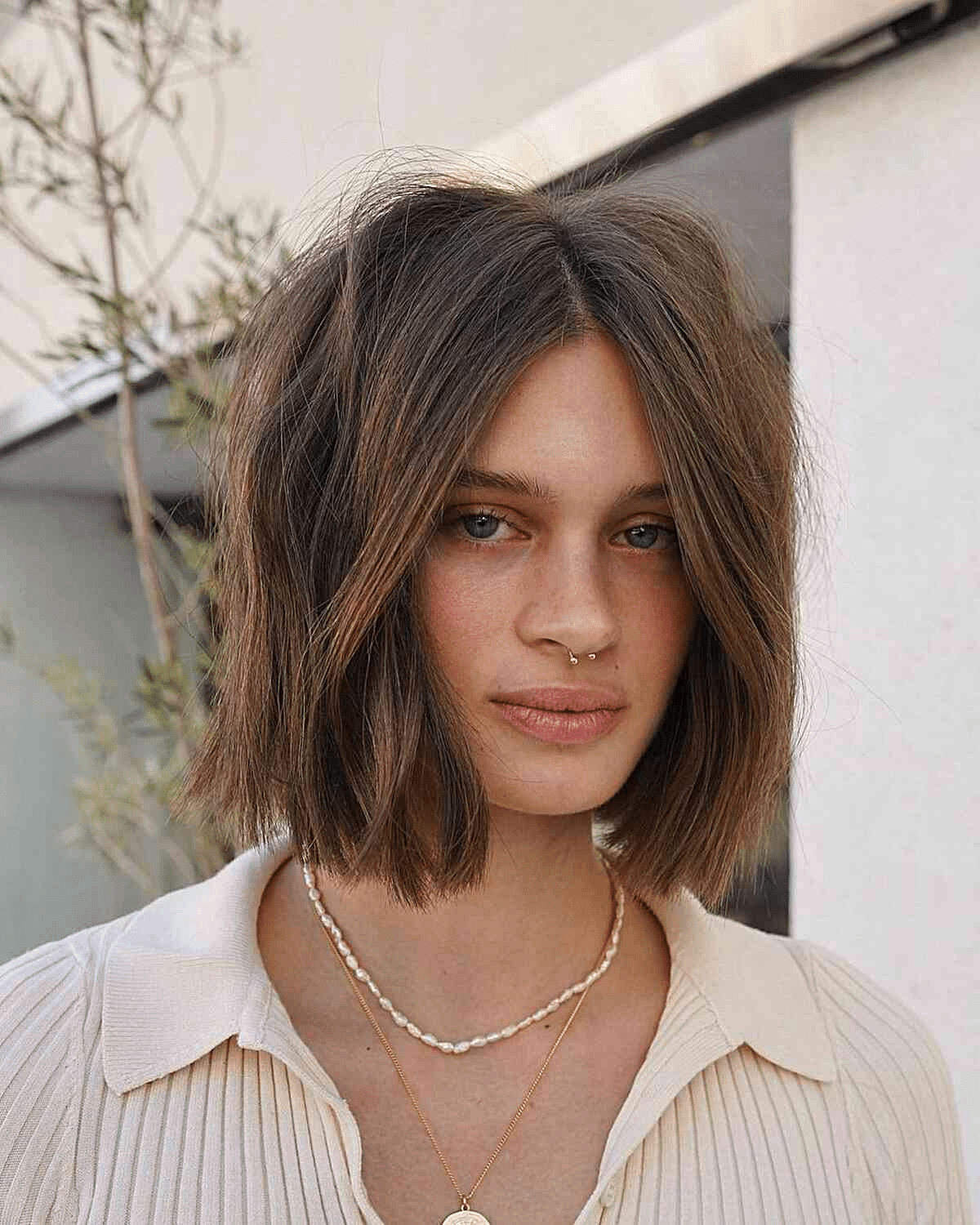 Want to switch your old hairstylist? A neck-length blunt bob cut is the most trendy cut on the list! It gives you a subtle look and is best for ladies with straight hair. Such a haircut brings out more shine and fineness in this hair type. Go for cutting the edges in layers so that at the end the cut looks daisy fresh. To double the volume of your cut use a round brush while blow-drying your hair. At the end spray normal hairspray along with a textured spray to give a perfect finish. My recommendation is Oribe Dry Texturing Spray for multiplying the weight of your hair unrealistically, keeping it away from fizziness.
Short-Length Blunt Cut on Brunette Hair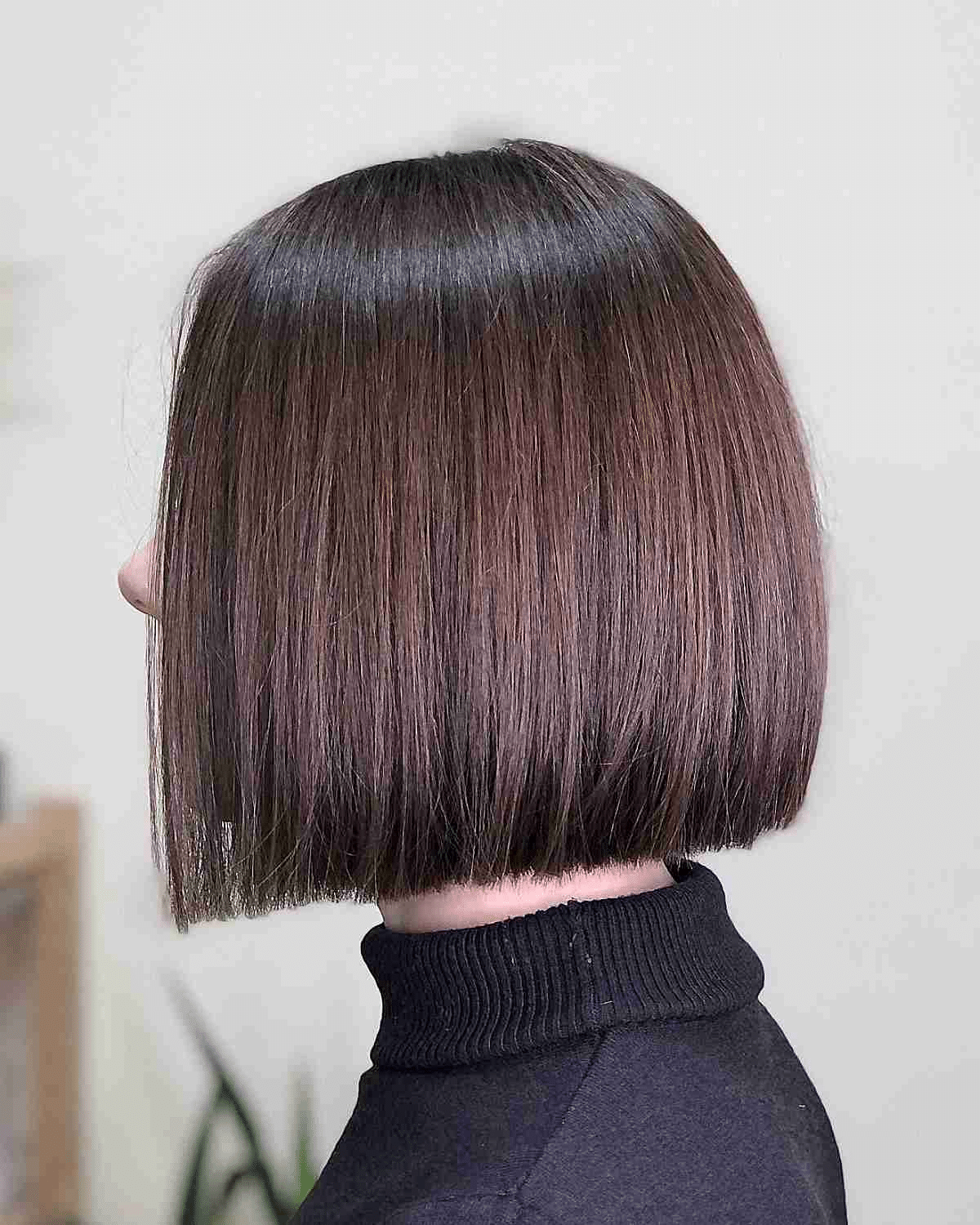 A short blunt bob cut can help you achieve a signature look. The overall hair looks fluffy while the cut exhibits a cleaner and fine shape. To rock this style ask for the shade of solid brunette or natural tones hair.
Chin-Length Blunt Bob on Dark-Rooted Blonde Balayage
Want to have a pretty look? Dark-rooted blonde balayage with a blunt bob will add magic to your personality. This haircut needs to be managed within the time of your salon visits. Ask your stylist for products that give a fresh look to your hair and are easy to use at home.
A Subtle-Looking Wavy Blunt Cut on Fine Hair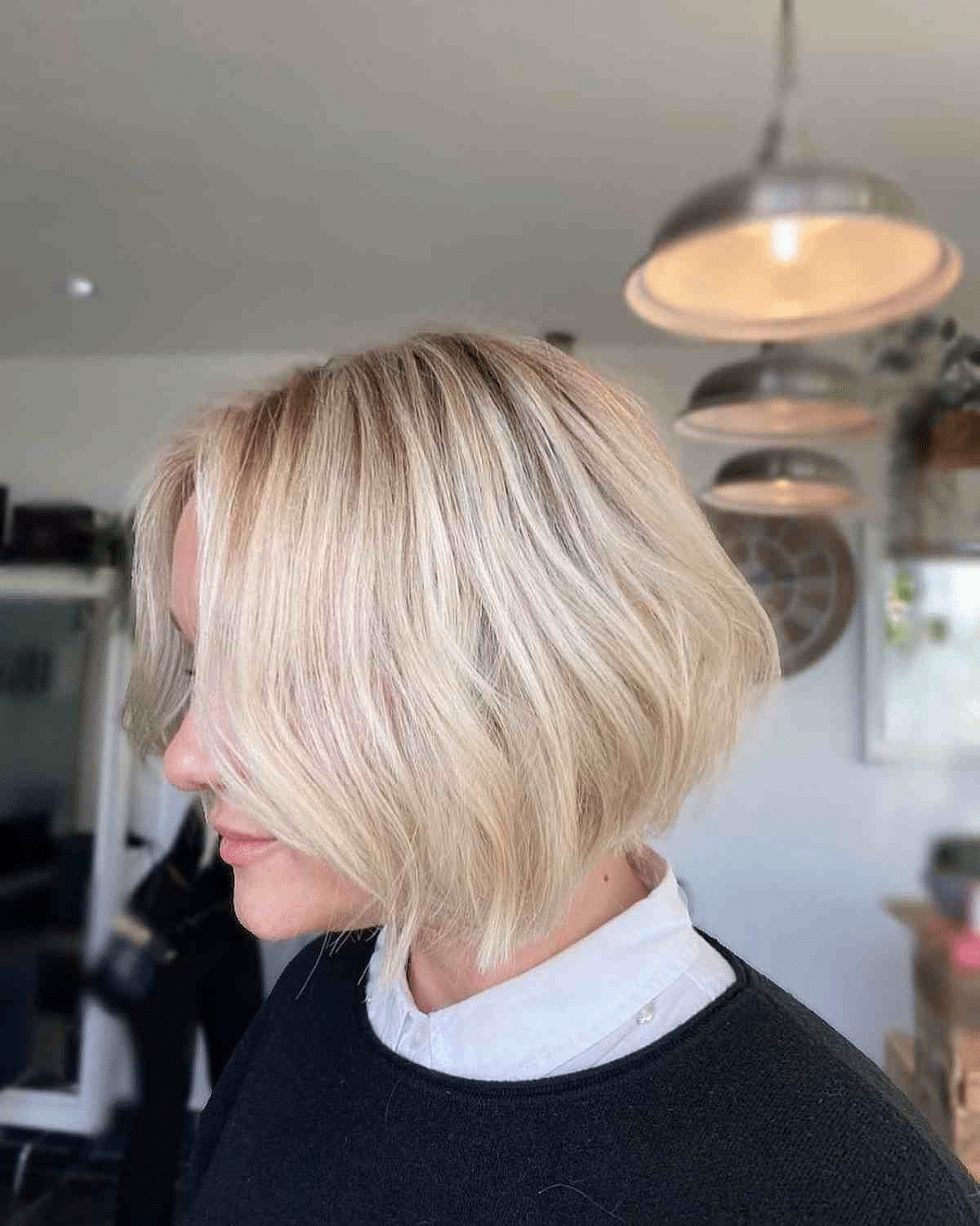 For girls with sleek fine hair, face-framing cuts can increase the movement of the hair along with added density. The benefit a soft wavy blunt cut has to offer is that it is low-maintenance. Go for it as it looks astonishing!
Get A Short Straight Blunt Cut with Babylights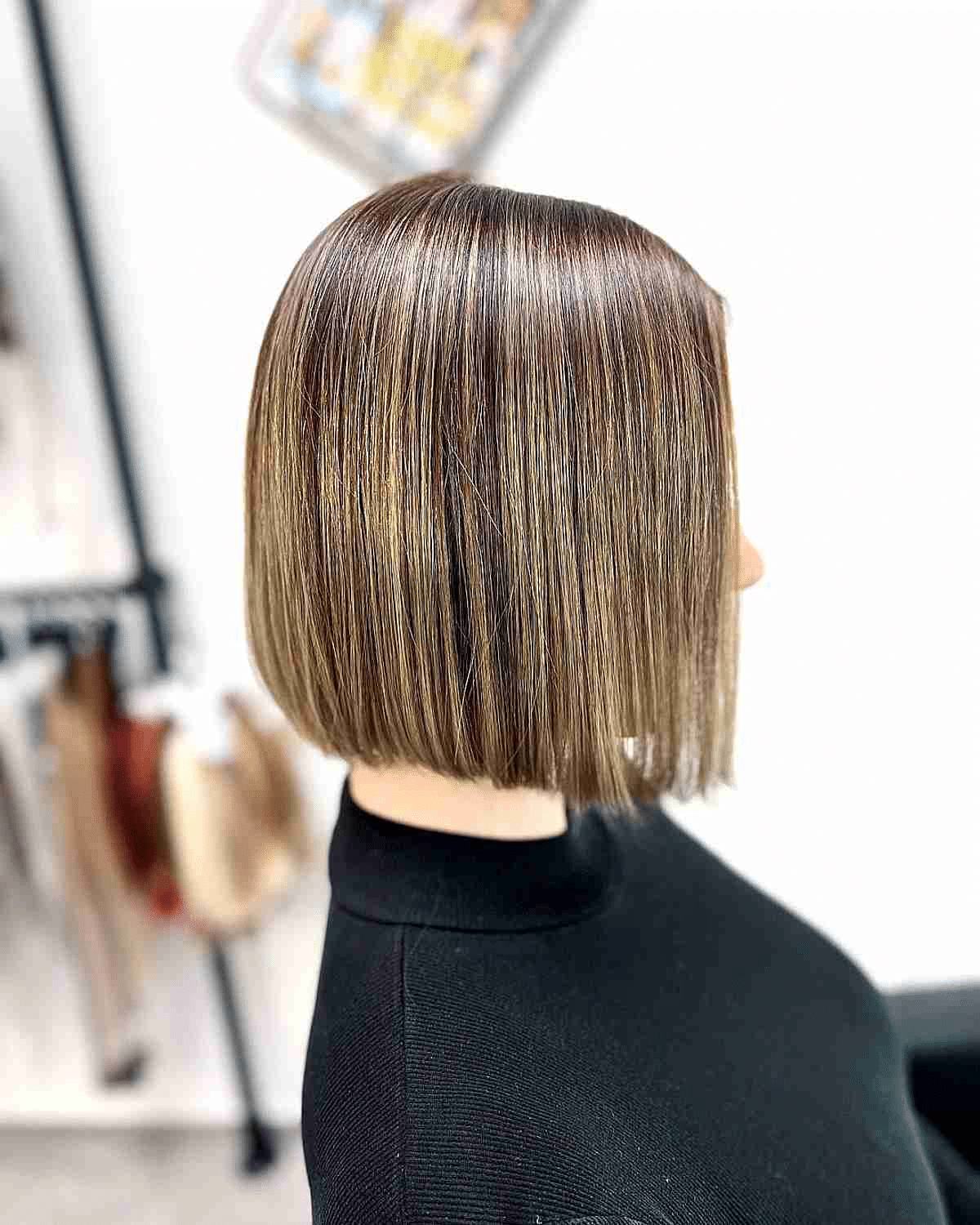 Going for a short straight blunt cut is the one-stop solution for girls wanting to style their sleek hair beautifully. This neck-length blunt bob cut gives twice the volume of your original hair. Going for highlights with baby light shade provides a limited dimension. However, it covers your massive hair area. The color gives this cut life for sure. Wear it messy or keep the blow-drying game strong both will look perfect!
Try Micro Fringe on Short Strawberry Blonde Hair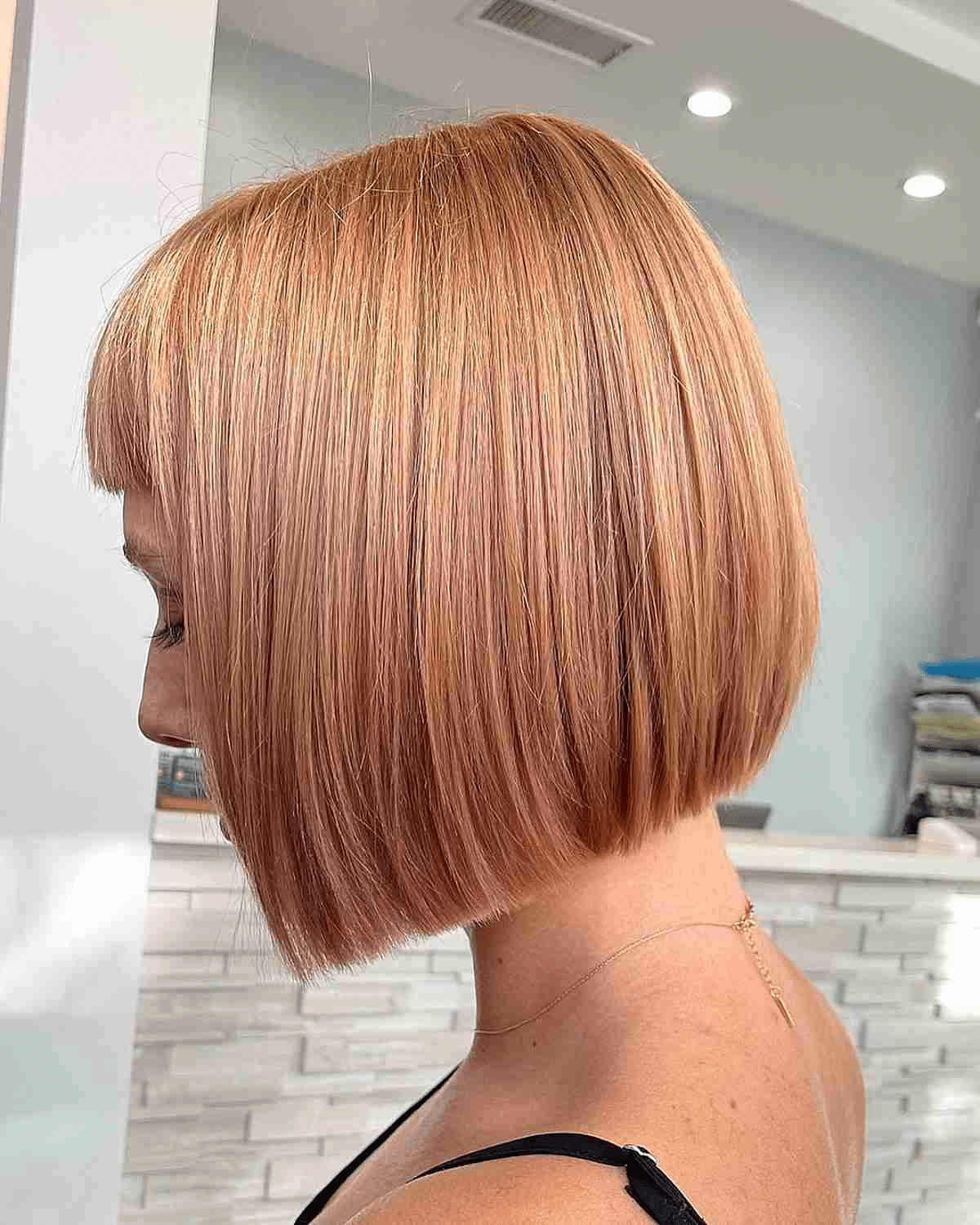 The most interesting point regarding a bob cut is that it can be customized in a variety of options. From bangs to colors, it will create a subtle vibe in any combination. A strawberry blonde is one such example that channels your cut in a lively way, with micro fringes adding dimension.
Straight Neck-Length Blunt Bob on Thin Hair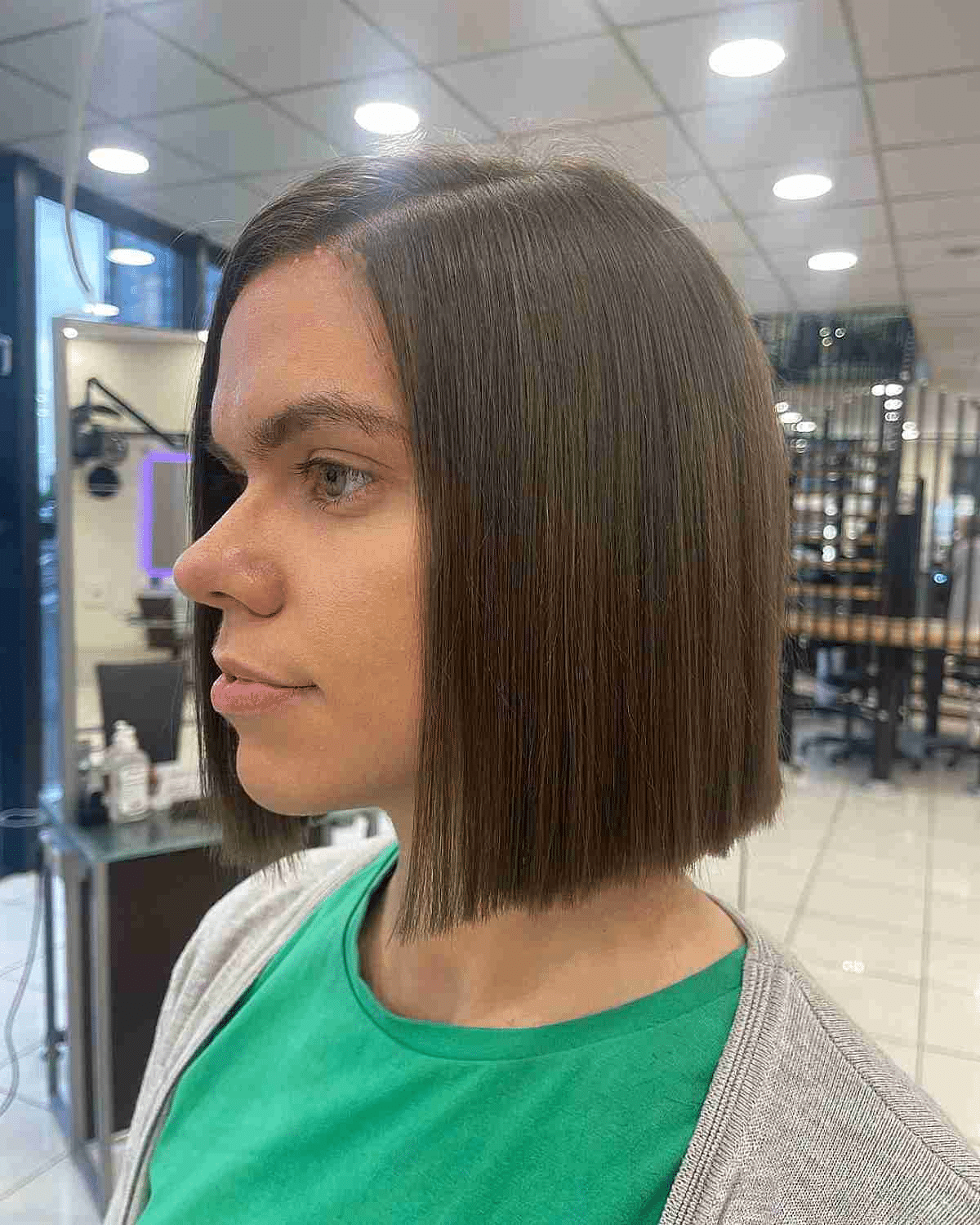 Do you struggle with the styling of your straight sleek hair? Not anymore! A straight neck-length cut will look adorable on sleek hair making you feel elegant. A thread-looking fine hair can be flaunted with increased movement incredibly. To make the most out of this neck-length bob cut consider your hair parting from the right place as there are no layers. But if you want to part your hair to make it playful then go on adding little layers to your cut.
Enjoy your Black Bobbed Hair with Bangs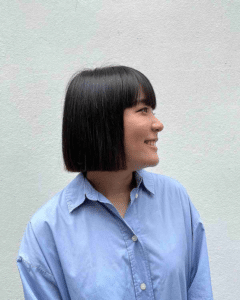 Jet-black hair? Bring it on! Your complexion and face-cut are the influential factors in a great way. Black bobbed hair with bangs is a treat to the sore eyes. It is suitable for long or heart-shaped face girls. Ask your stylist to give you a blunt bob haircut in black and shine brighter.
Get A Vanilla Blonde Bob for Thick Hair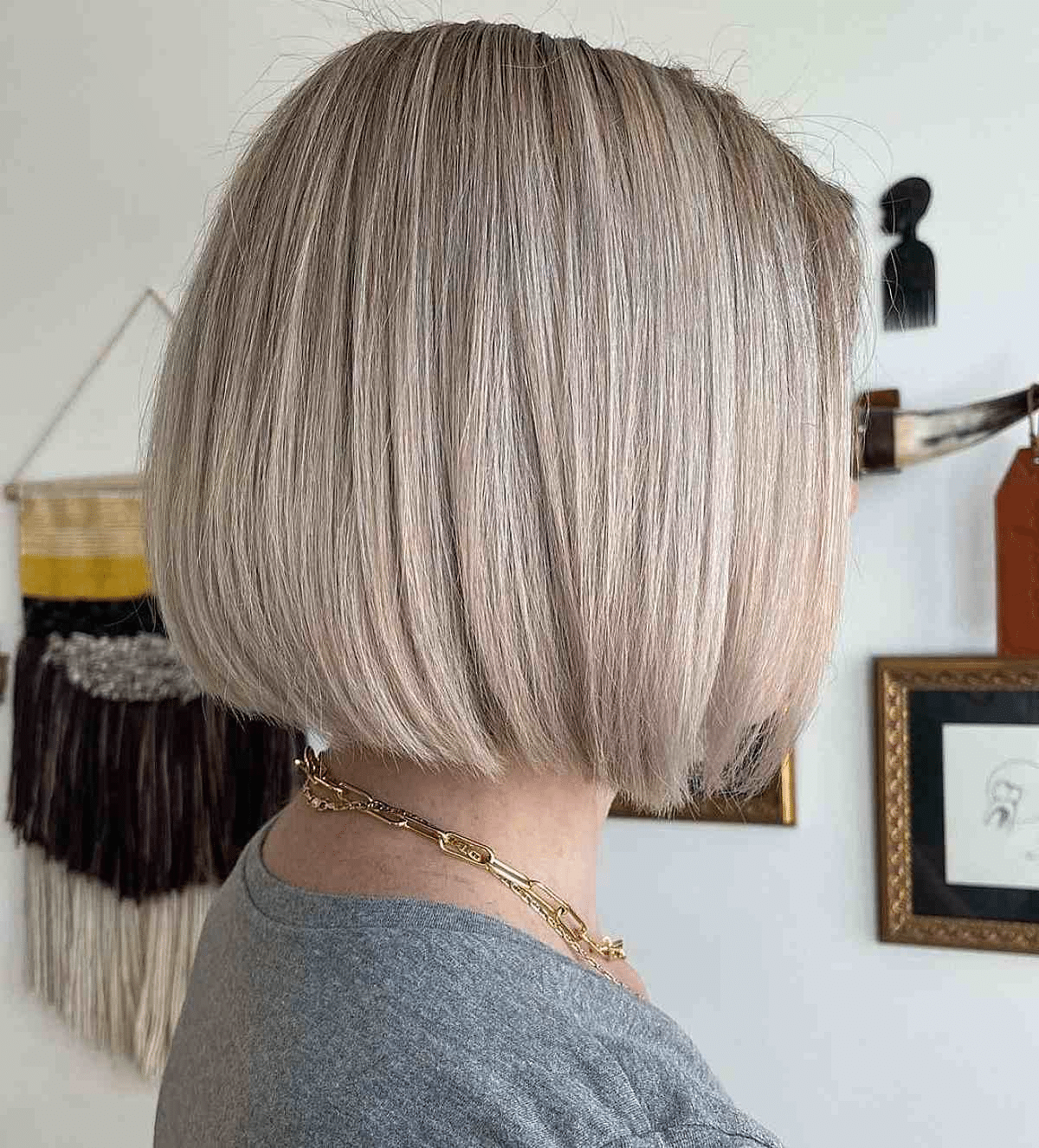 A vanilla blonde bob is especially best for ladies who want to treat their grey hair well. It will hide the growth of the new grey hair making it easier to maintain. Also, you can refresh your haircut on color refreshing sessions as it will make you visit the salon less. A bob cut for thick hair is an aptly perfect pick to give you a more youthful appearance. Trying it with a contrasting color will give a raise to your look.