Want to bring a significant transformation to your style? A collarbone-length hair is fabulous and can be paired with several styles. This cut is low-maintenance and is trending high drawing everyone's attention to it. To make the most of a collarbone-length hairstyle we have professional suggestions highlighting 30 ways to wear it for a refreshing look.
Red Inverted Collarbone-Length Hair on Straight Texture
To make your straight textured hair look exciting a dimension medium-length hair with flip ends should be chosen. The inverted end will bring your straight locks to life in a magical way. Wearing this hair in a vibrant red hue makes you stand the crowd. Make this collarbone-length hair your go-to style for a signature look!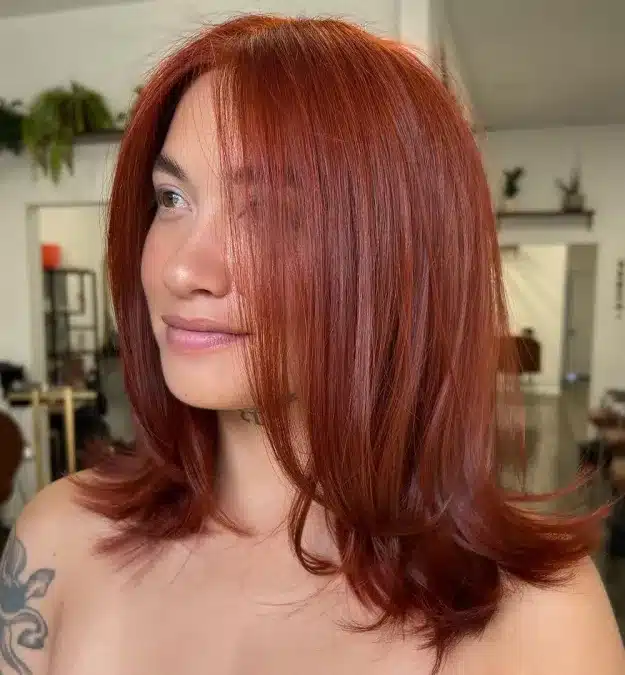 Face-Framing Highlights with a Wavy Brown Lob
For collecting some praise-worthy compliments, this collarbone-length haircut is the best pick. To make it look charming, ask for styling it with loose curls and blunt tips for a soft look. To pick the color, a solid as well as the highlights will work pretty well, making your brown base appear nicer.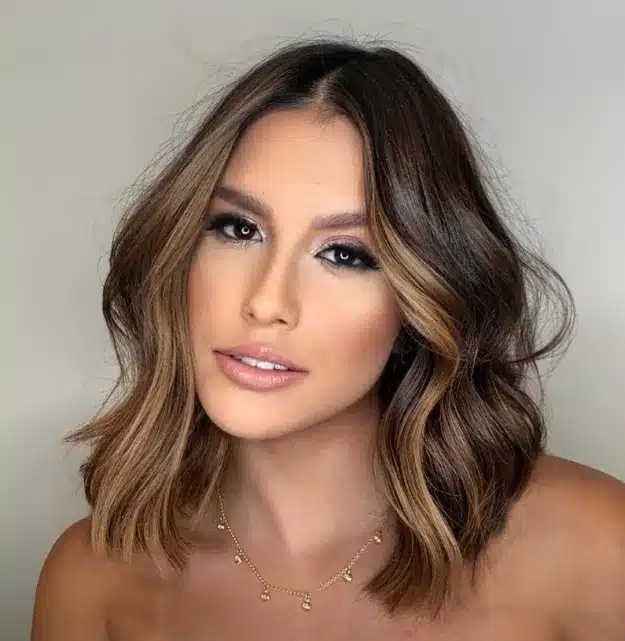 Thick Hair Style with a Layered Blonde Haircut
To style your medium-length hair with a feminine touch up a layered blonde haircut is good to go. It is easily manageable in terms of maintenance benefiting your thick hair in every way. Asking to cut your hair in a combination of long layers and bangs adds volume to your strands making them less heavy. To add prominence to your blue-colored eyes and warm skin tone, blonde highlights should be picked.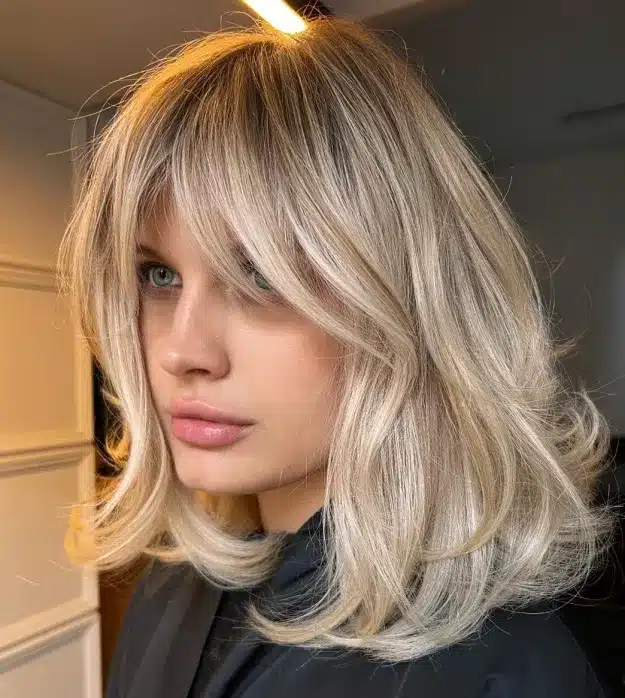 Try a Curly Collarbone-Length Cut with Baby Bangs
Tired of a constant hair look with a long mane? Try cutting a few inches of your hair and make space for a curly collarbone-length haircut. Also, cutting short bangs with give your style a vibrant feel.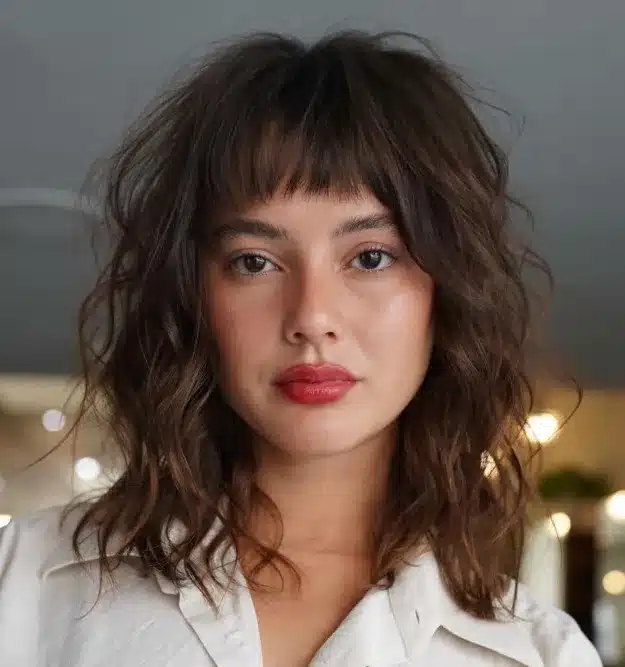 Go for a Side-Parted Auburn Hair
To get lusciously soft hair along with an increased texture, blonde highlights are the solution. Pairing this shade with your brown hair will give an immaculate vibe with a two-tone hairstyle. Choose to side-part your hair to bring more volume to your collarbone-length haircut.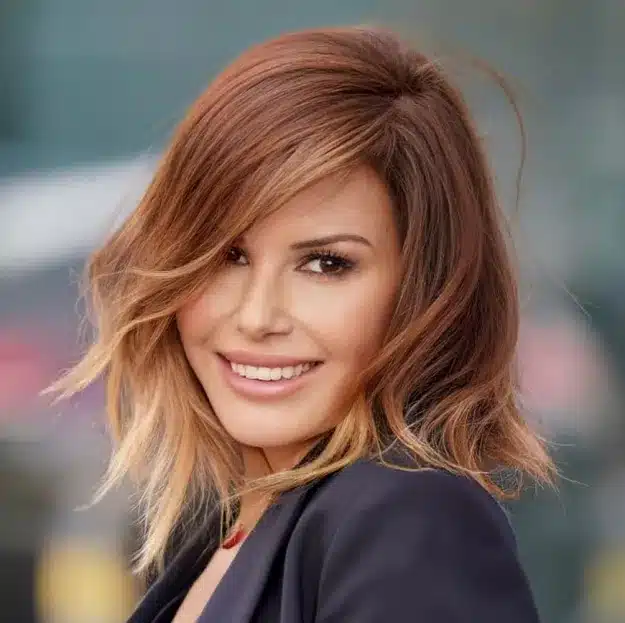 Wear A Bright Blonde Hair
Choppy layers? Yes! They look over the top when cut on middle-length hair, with a blonde color acting as a cherry on top. You can turn heads with this style as it is a trendy yet adorable style to wear. Go ahead and get it done!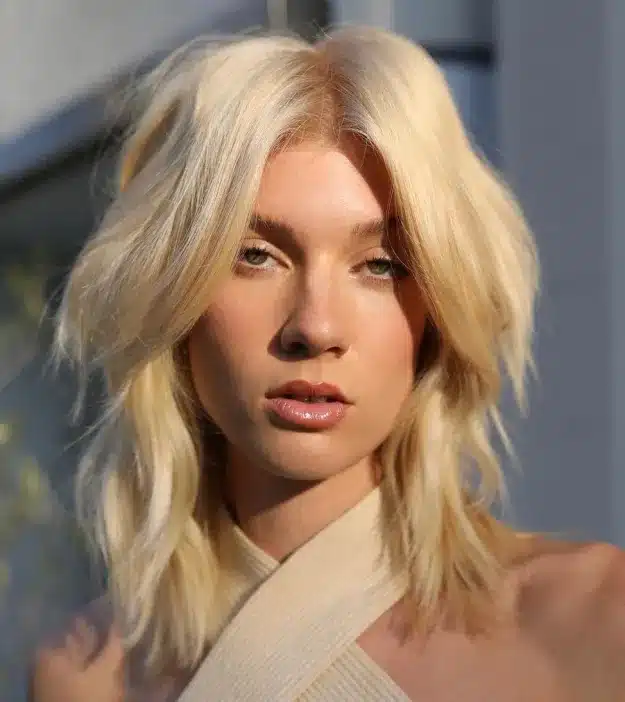 Try A Shoulder-Length Shag for Curly Hair
Curly hairs who cares? To fix your curly hair with a distinguished style a shoulder-length shag with bangs is perfect for you. This is a delicate hairdo that works best when colored in chocolate or deep brown shade.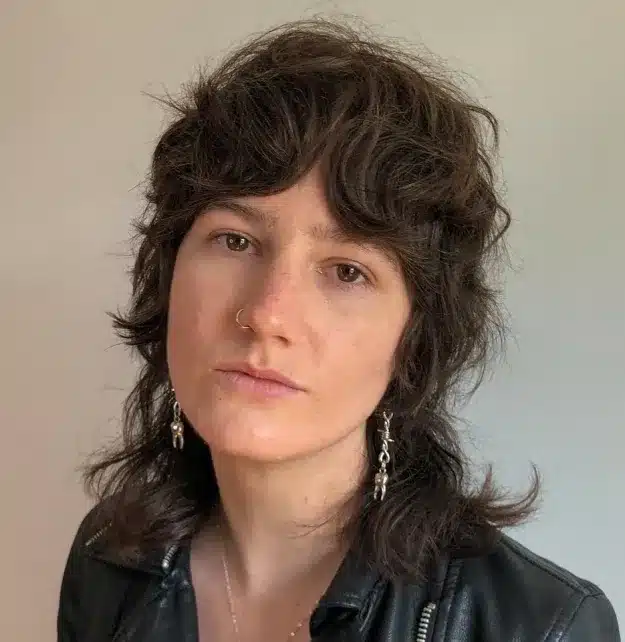 Go for A Copper Lob with Side-Swept Bangs
Side bangs cut on a collarbone length can give you a beautiful face-framing, making your features more definitive. This cut must be opted for by fine hair girls as it increases volume significantly.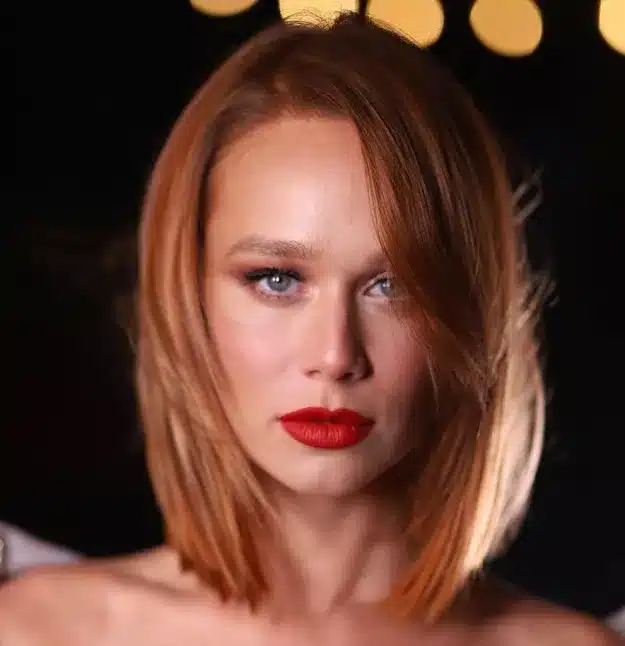 See-Through Bangs on a Medium-Length Cut
The bangs cut to a collarbone provide your hair texture and body, especially when paired with layers. If you have these requirements then go for selecting this undone yet classy hairstyle. Moreover, asking for see-through bangs will leave your hair with more depth and fleur growing perfectly.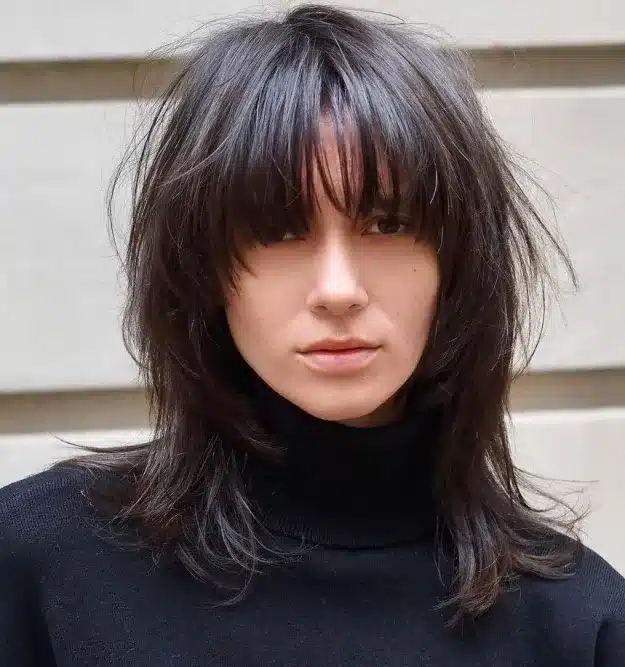 A Platinum Wavy Lob for Fine Hair Texture
To stand out with your style get icy blonde tones on collarbone-length hair. Apart from the hair color, this style is also praised for its chick look which can be achieved by adding soft waves using a flat iron.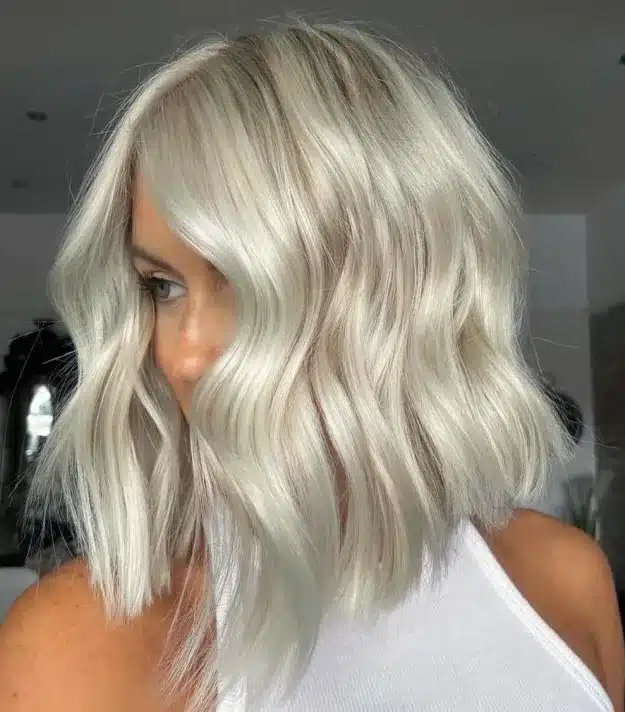 Get Voluminous Layered Cut with Bangs
A medium-length cut can be styled with curly-texture hair that is equally flattering. If you have thick hair then adding layers to the cut will make your tresses lighter. For increased fluffy hair texture wear it tousled.
A Pretty Shag Haircut with Full Fringe
If you are more inclined towards experimenting with different hairstyles, shaggy hair with mid-lengths will be a win. For a lively look, color your freshly styled hair in caramel and blonde shades and get it all sorted.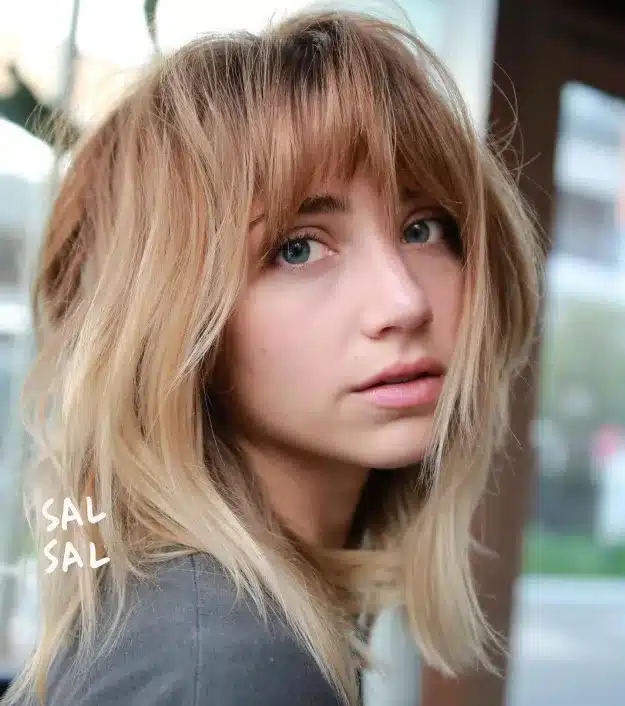 Blonde Balayage Tones on a Middle-Parted Lob
A blond balayage shade can prove to be striking giving your hair a treat. This kind of hairstyle is particularly good for the ones wanting to make their eyes prominent to make the face more praise-worthy. Wear it straight or wavy, you will make a statement either way!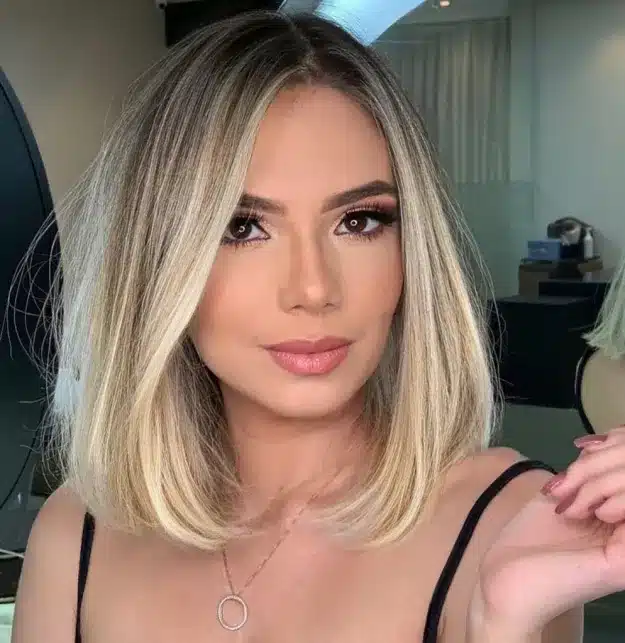 Beachy Waves for Collarbone Lengths
Thinking to get a perfect hairstyle for a birthday party? Try this collarbone-length with beach waves to rock with your style. The layers touching your shoulders paired with curtain bangs will draw attention exhibiting a seamless look.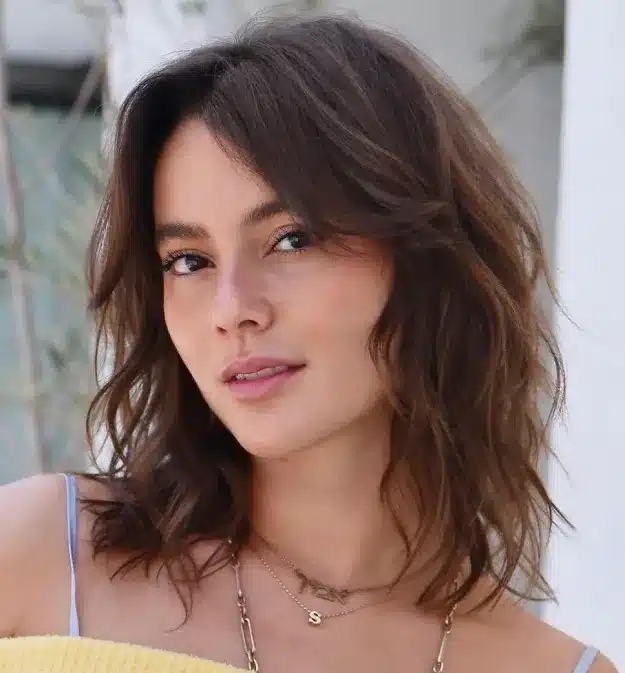 Blended Highlights on Medium-Length Haircut
To get a sleek appearance for your straight hair a straightener and hairspray are must-have essentials. Also, going for straight cuts will make it easier for you to maintain the style in terms of a long time. It will keep your hair intact for the whole day, taking all your hair-related worries away!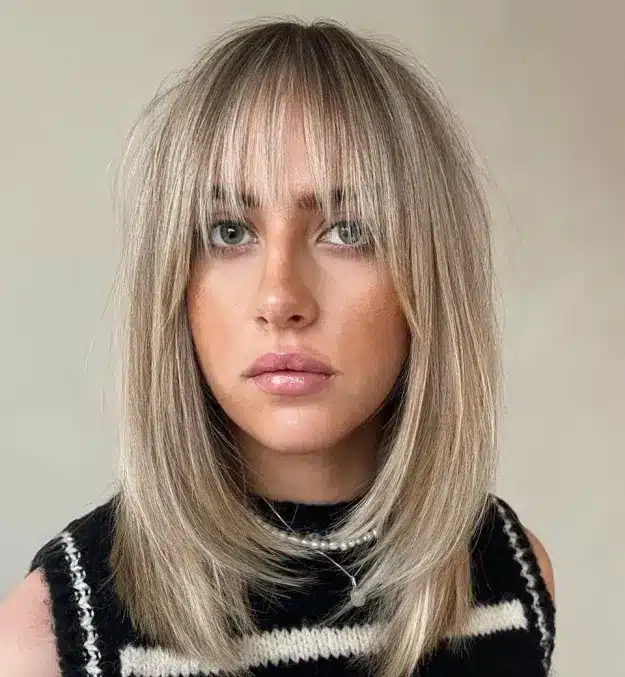 A Rose Gold Balayage with Chocolatey Tones
If you have a thick hair texture with medium-length hair the locks can be made to look weightless unrealistically. However, the same results can be obtained with balayage highlights. This is because this rose gold Ombre removes volume and thickness from your head crown significantly while making the hair look fluffy and modern.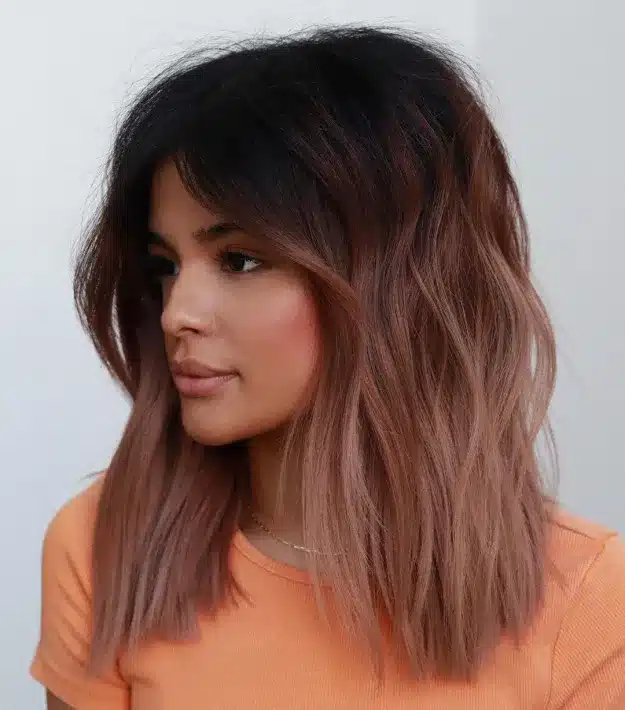 Curtain Bangs on Shoulder-Length Shag Cut
Medium-length hairstyles go well if you want to choose a more feminine look for yourself, that is low-maintenance at the same time. This shoulder-length shag with curtain fringe will highlight your facial appearance. Highlighting your hair will be best for added texture and dimension.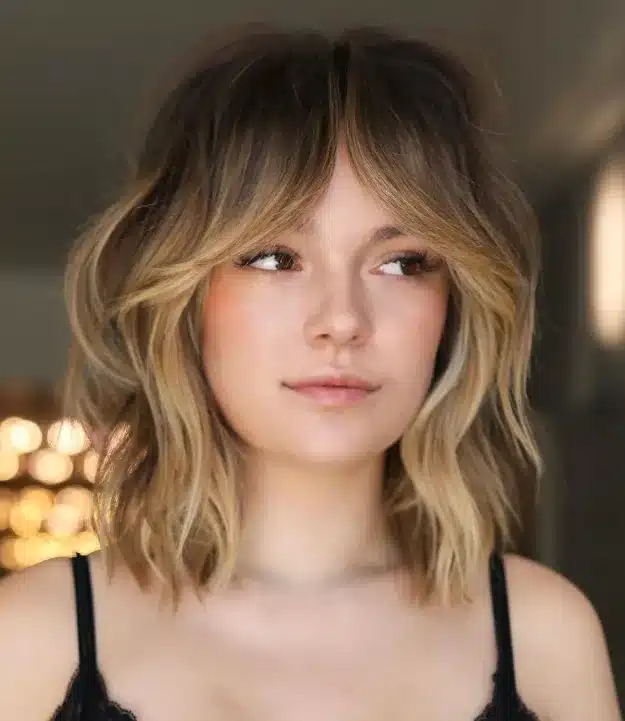 Stunning Airy Blonde Collarbone-Length Haircut
Want to make your blonde hair look healthy? Achieve this hair goal by asking for soft layers with curtain-shaped bangs that will give you a worthy style full of shine with a lighter texture. It can be worn on any occasion confidently.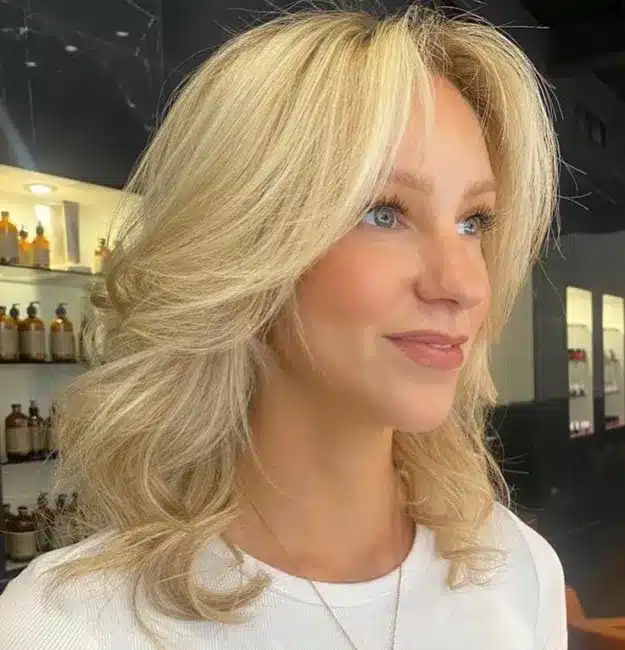 Gorgeous Chestnut Hair with Blonde Blocks
A copper brown hair color looks extremely stunning when blended with another contrasting accent color. Ask for money-piece hair with alternating patterns. It will give you the most up-to-date style that everyone wants to go with.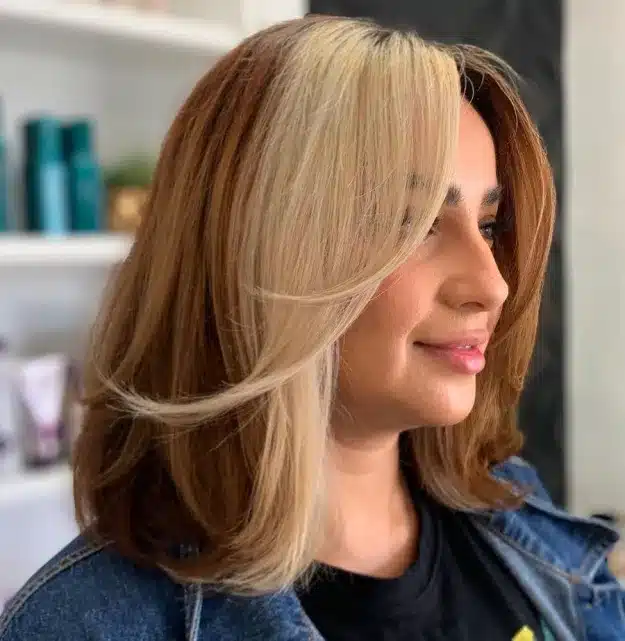 Try Choppy Layers with Blonde Highlights
For women with round-face hairstyles choose a medium shag for a perfect look. The face-framing along with wispy bangs act as a shade covering your round cheeks, beautifully. It helps to make your face look elongated, complementing your personality gloriously.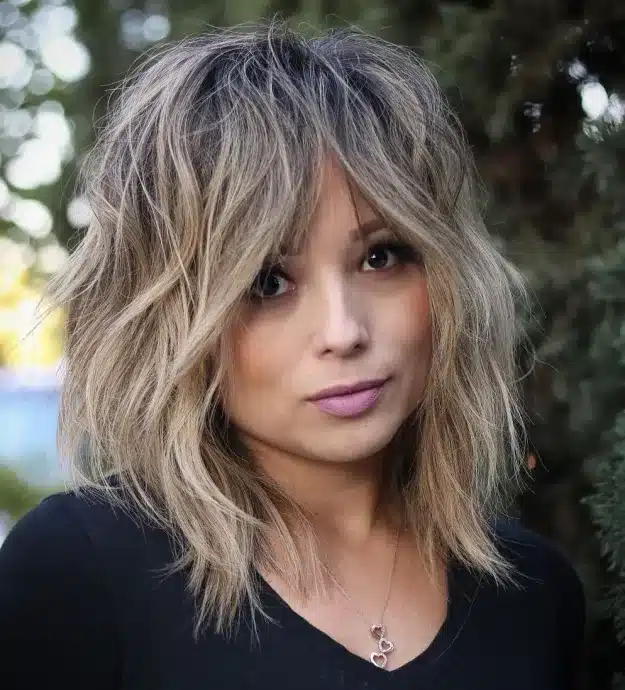 Trendy Medium-Haircut with Flipped Ends
This collarbone-length haircut will appear trendy and stunning in every way possible. This hairstyle complements your dressing greatly leaving you with a more classy look.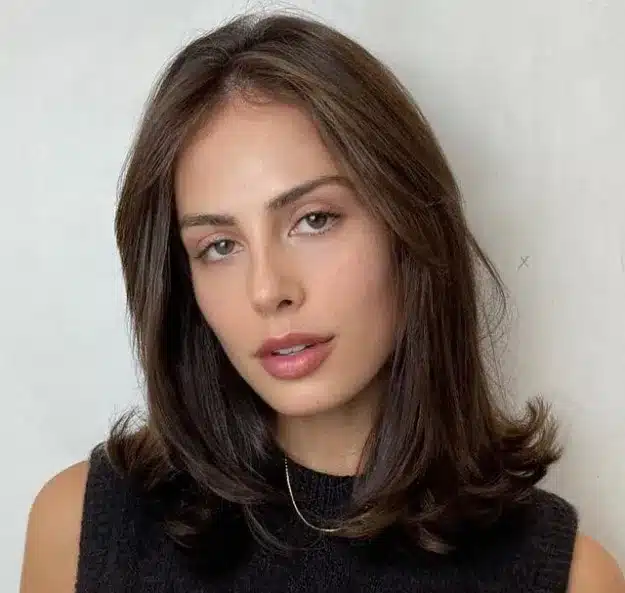 Face-Framing Layers with Rich Brunette Hair
These face-framing layers are super cool and surprisingly can be maintained easily. If you consider going for a brunette hair color, you will fall in love with yourself for sure.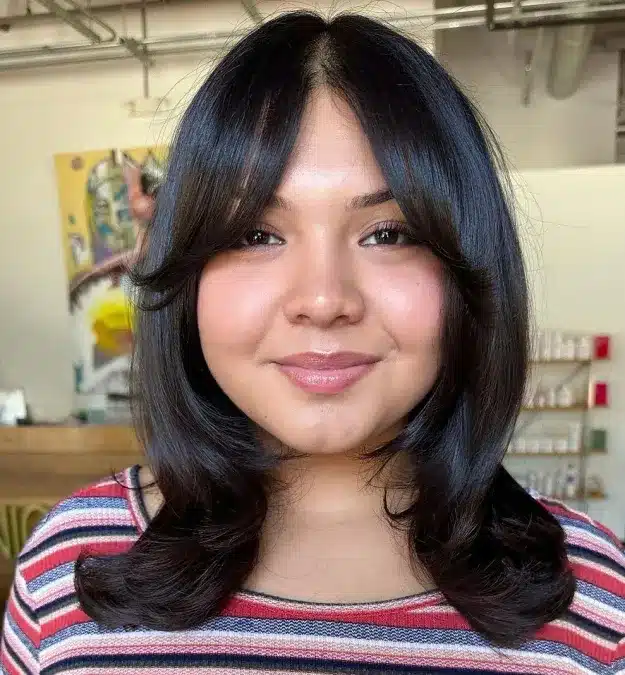 A mid-Length Haircut with Shaggy Layers
To create a retro style similar to the '90s vibe, ask for a collarbone shag. Also, this style is best fitted for girls wanting to fix their thin hai. It provides much-needed volume to your hair by incorporating several layers and blonde highlights.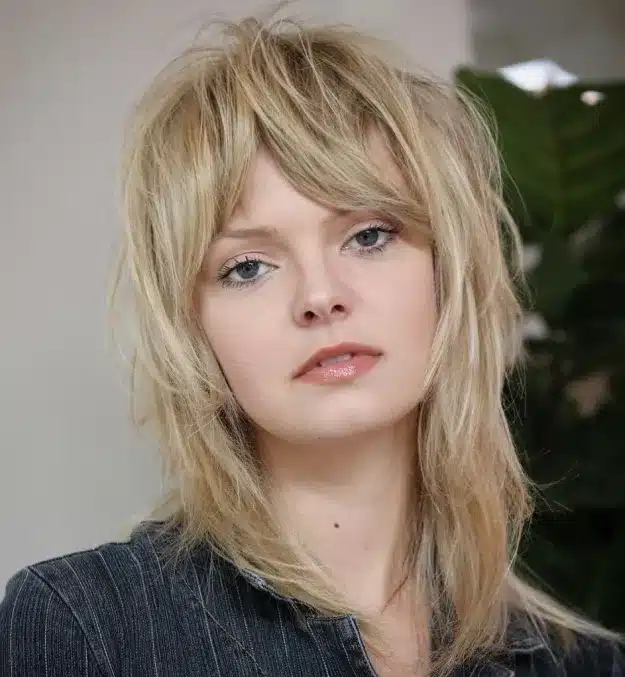 Get a Collarbone Bob with Blunt Ends
Are you the one looking for a style that can glorify your appearance? By choosing this style you are taking a few steps toward this journey. Besides, this style is perfect for every other, ask your hairstylist to cut your hair like this.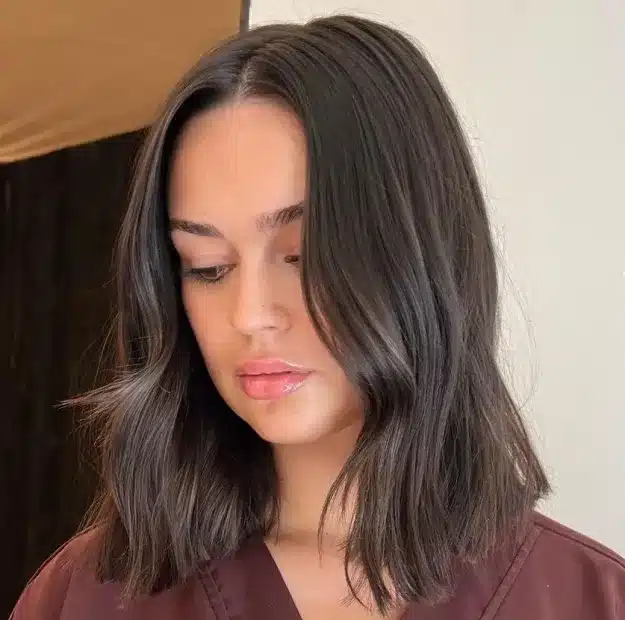 Try a Blonde Cut with Side-Parted Hair
For a windy look, try shadow roots with deep side-parting, it looks chic on mid-length making it appear longer than it is. This haircut adds significantly to the volume of your hair and that is why it will go best with a fine-textured hair type. Wear it for a trendy look!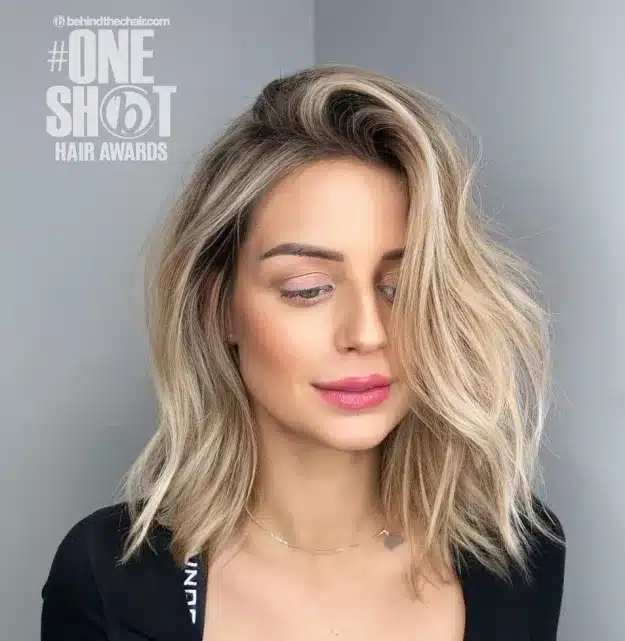 A Collarbone Shaggy Bob for Round Face
A face-framing is a great way that beautifully contour the shape of your face. Get a wolf cut similar to this to get a collarbone-length cut and make a signature statement with this look.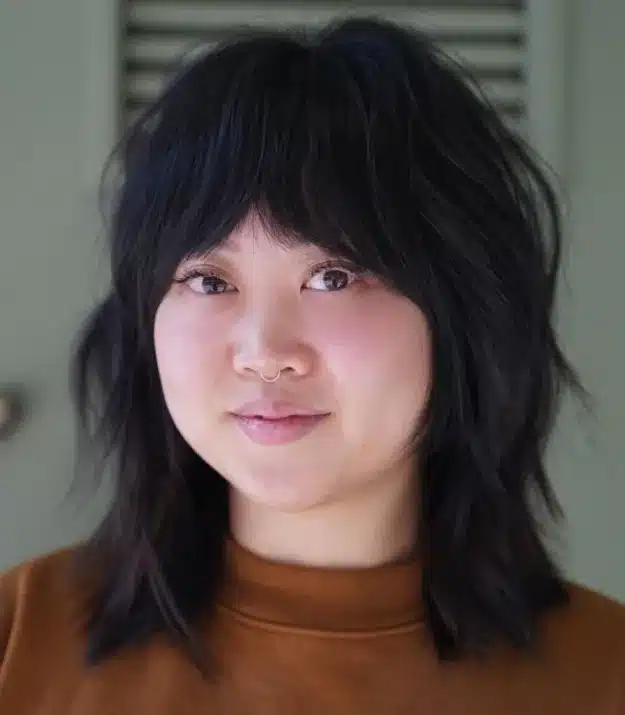 Thick Bangs with a Polished A-Line Bob
For setting your fringes in an enchanting yet sophisticated manner going for thick bangs is a great option. It complements this A-line bob making it appear fuller in an elongated shape. Additionally, this kind of style is best if you want to cover your forehead area and have a long-shape face. Wear it in a chic manner to rock the party!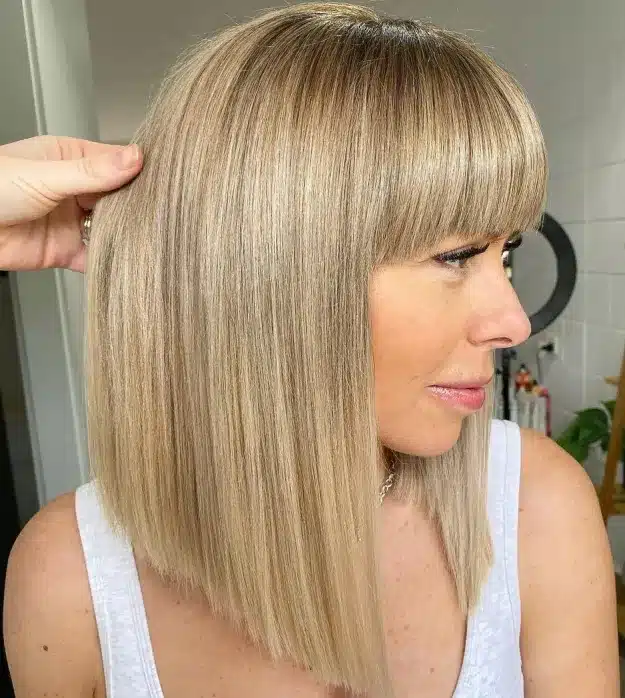 A Natural-Looking Curly Hairstyle
Want to get a haircut that looks healthy on a medium curly haircut? The answer lies in the solution for applying hair care products. This will keep your natural curls moisturized in an equally healthy way adding shine to them.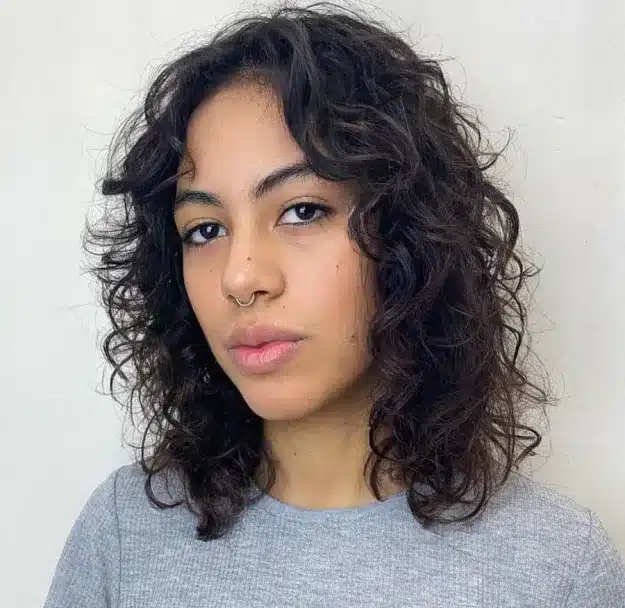 Face-Framing Highlights on a Choppy Lob
The flow of your tresses can be made more delightful and attractive with a layered hairstyle. On your next salon visit ask for a money piece in the shade of blonde. To make them appear in a lovely manner, blow-dry your middle hair for 10-15 minutes. And wait for the magic to happen!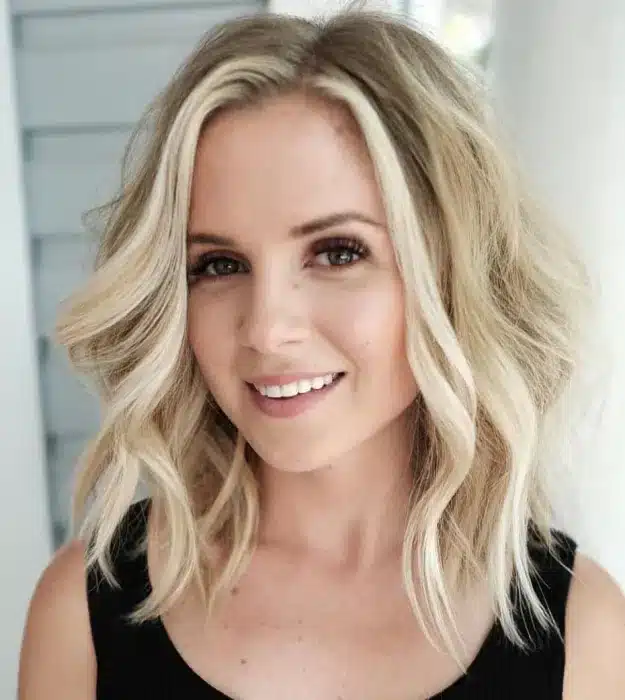 Go for a Sleek Blunt Collarbone-length Cut
For shoulder-length hair, an easily manageable hairstyle try a sleek blunt cut is the most suitable option to try. For styling your locks at the crown area in an upward manner, style them to a side, and for better results use a hairspray.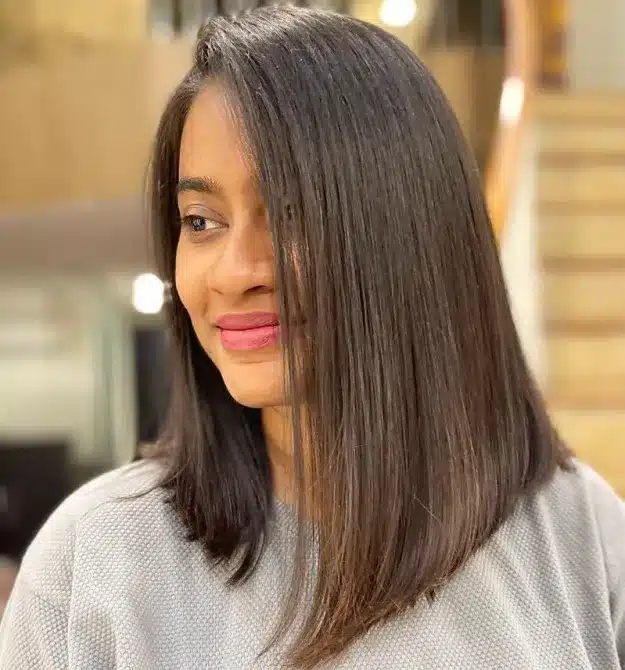 Add a refreshing look to your hair with one of this collarbone-length hair idea to highlight the strengths of your appearance and make an impression on everyone!