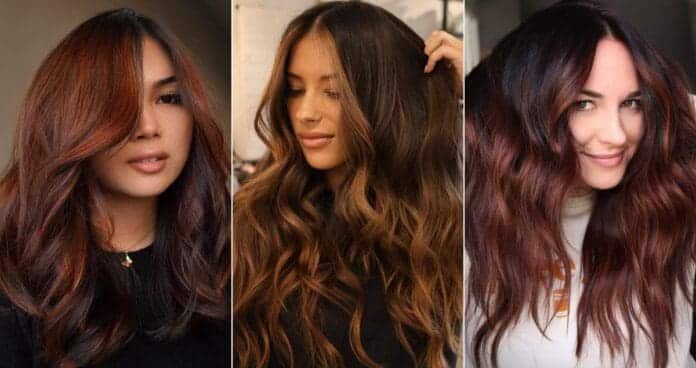 When transforming hair color it often gets difficult to make a choice that exhibits richness and warmth. But what if you get all in one? We have curated 30 dark auburn shades to amp up your hair color in an exceptionally well-defined manner. Just have a look and pick one for your next hair color change.
1. Try Two-Tone Deep Auburn Hair Color
The edgy appearance of blondes when gets along with the smooth brunette color a deadly combination comes into being. The highlights and lowlights in multi-tonal shades give off impeccable vibes. Try this technique with auburn hues and the result will be fantabulous. Pairing a copper shade with lighter shade highlights will look astonishing.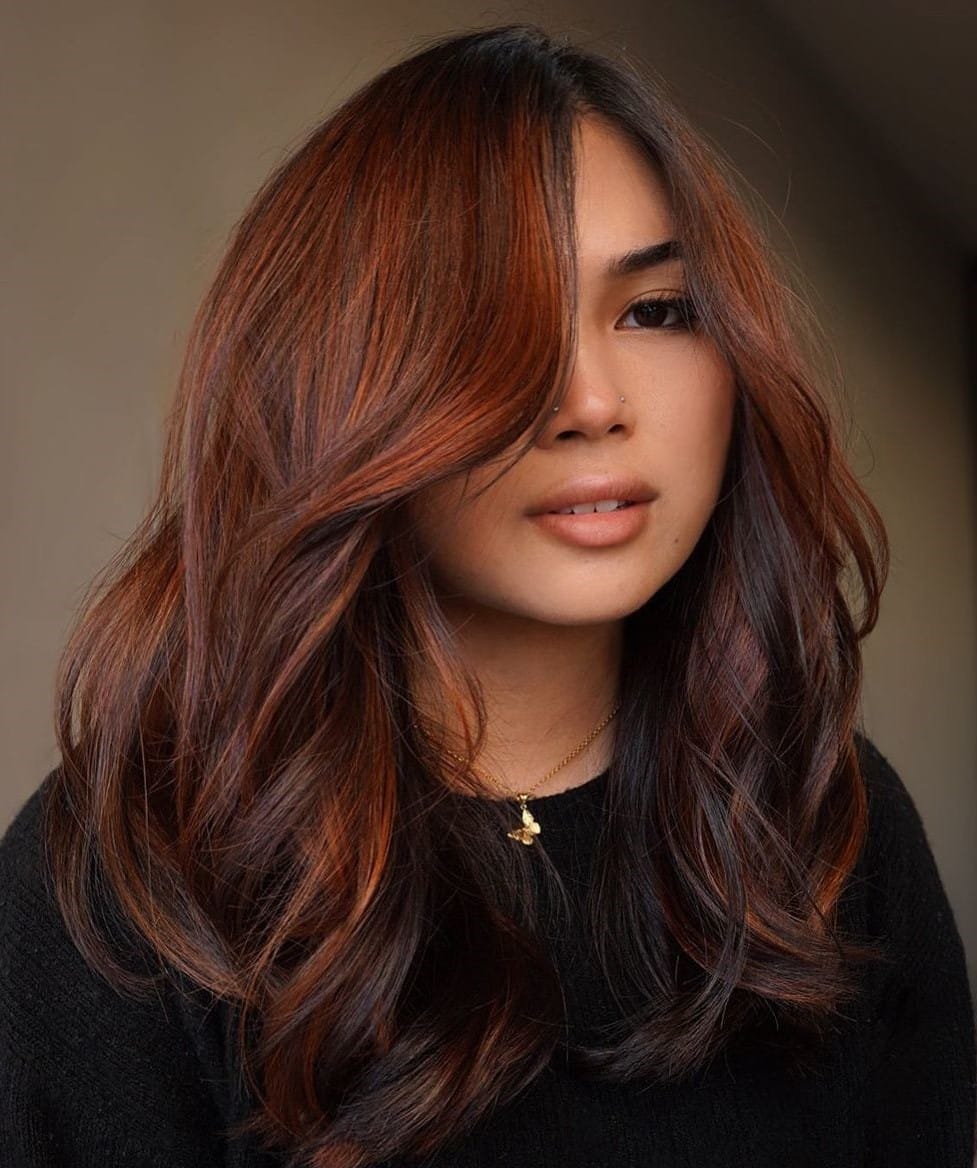 @memmieyo
2. Caramel Highlights with Dark Auburn Shades
For a dimensional hair shift try dark auburn hair with caramel highlights. Going for a color that will add to the worth of your auburn base will help you get a flawless blending, adding to your natural appearance pretty well. This stunning look shown here was created by Cassandra Derosa from White Opal Hair Co for one of their clients.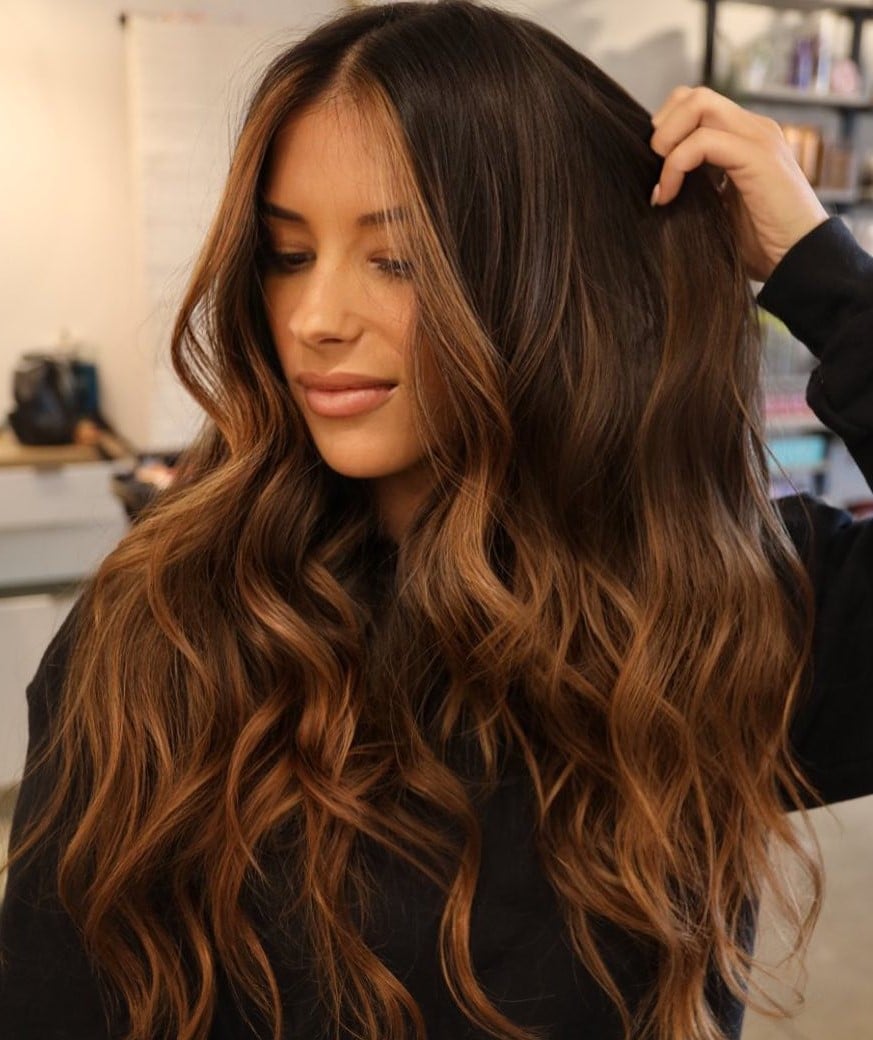 @cassderosa
3. Curly Hair In Dark Auburn Shades
Curly hair in dark auburn shades looks marvelous. The richness of the auburn hue when gets on the curly textured hair an effortless look for the crown is created. The bounce of the curls and warmth of the auburn color adds enhanced dimension making them appear over the top.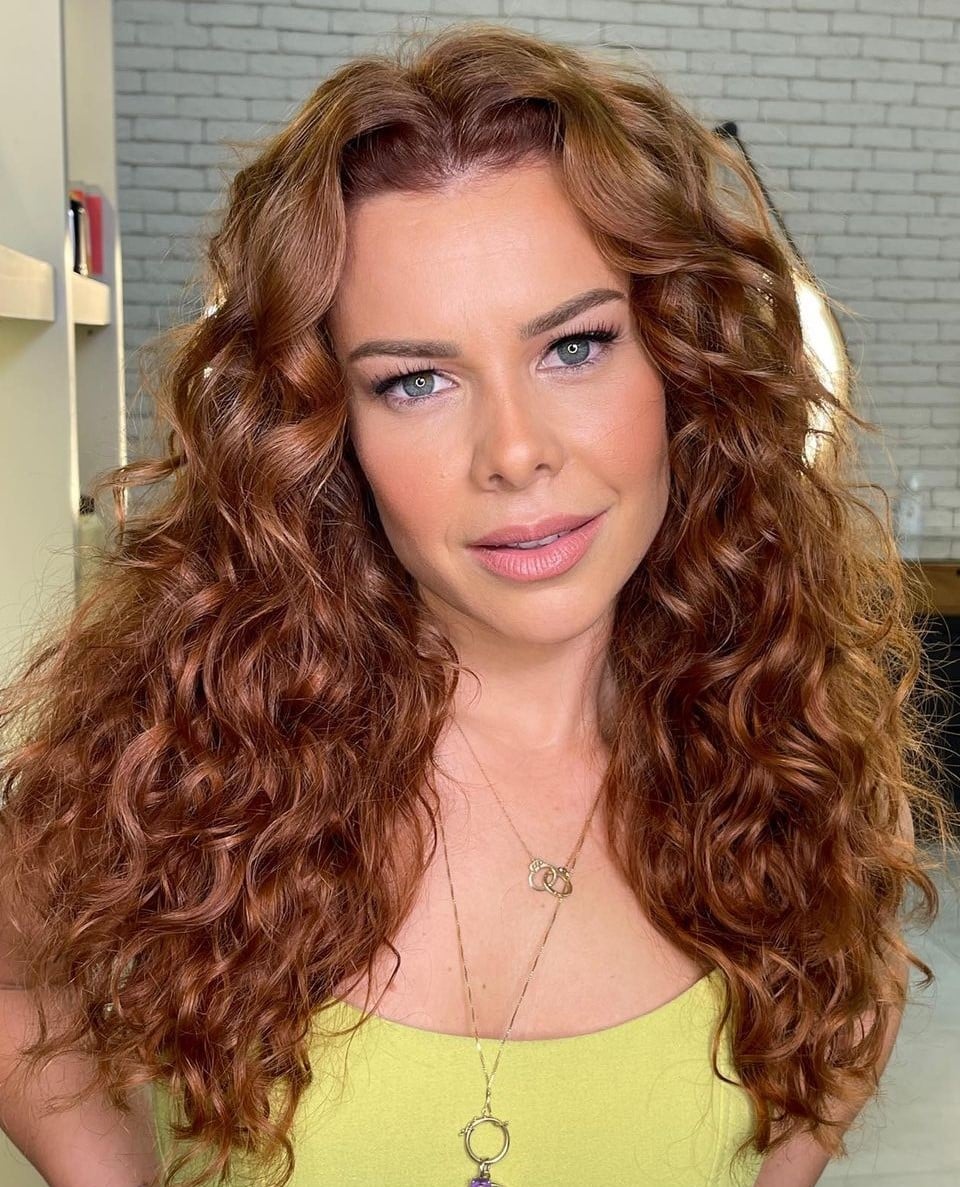 @mauriciocarvalhohair
4. Get Voluminous Chocolate Auburn Hair
Thinking to elevate your natural brown hair through a dimensional look? It can be possible with a delicious chocolate auburn shade that carries the authenticity of brown hues and will not look over the top. Texture and volume come complimentary with this hair color!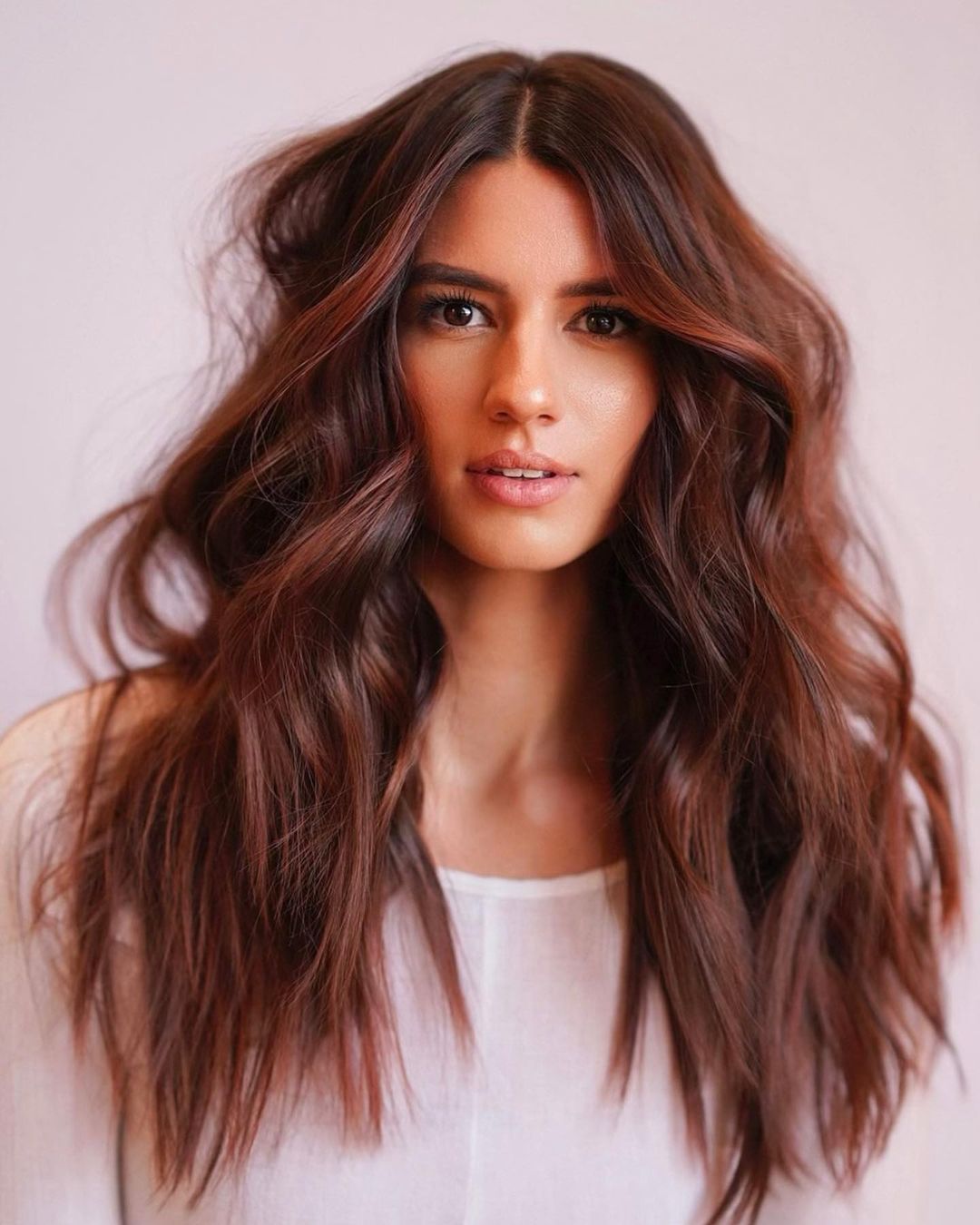 @erinblanchardhair
5. Dark Auburn Hue with Cherry Cola Highlights
Did someone say drop-dead gorgeous? Yes! These larger-than-life dark auburn curls paired with cherry cola highlights together to form something that willet people compliment you endlessly. This hairstyle offers warmth and depth to your locks with a sunlight reflection. This frisky joyous style was created by Ethan King from Ron King Austin Hair Salon. Play with your bouncy curls!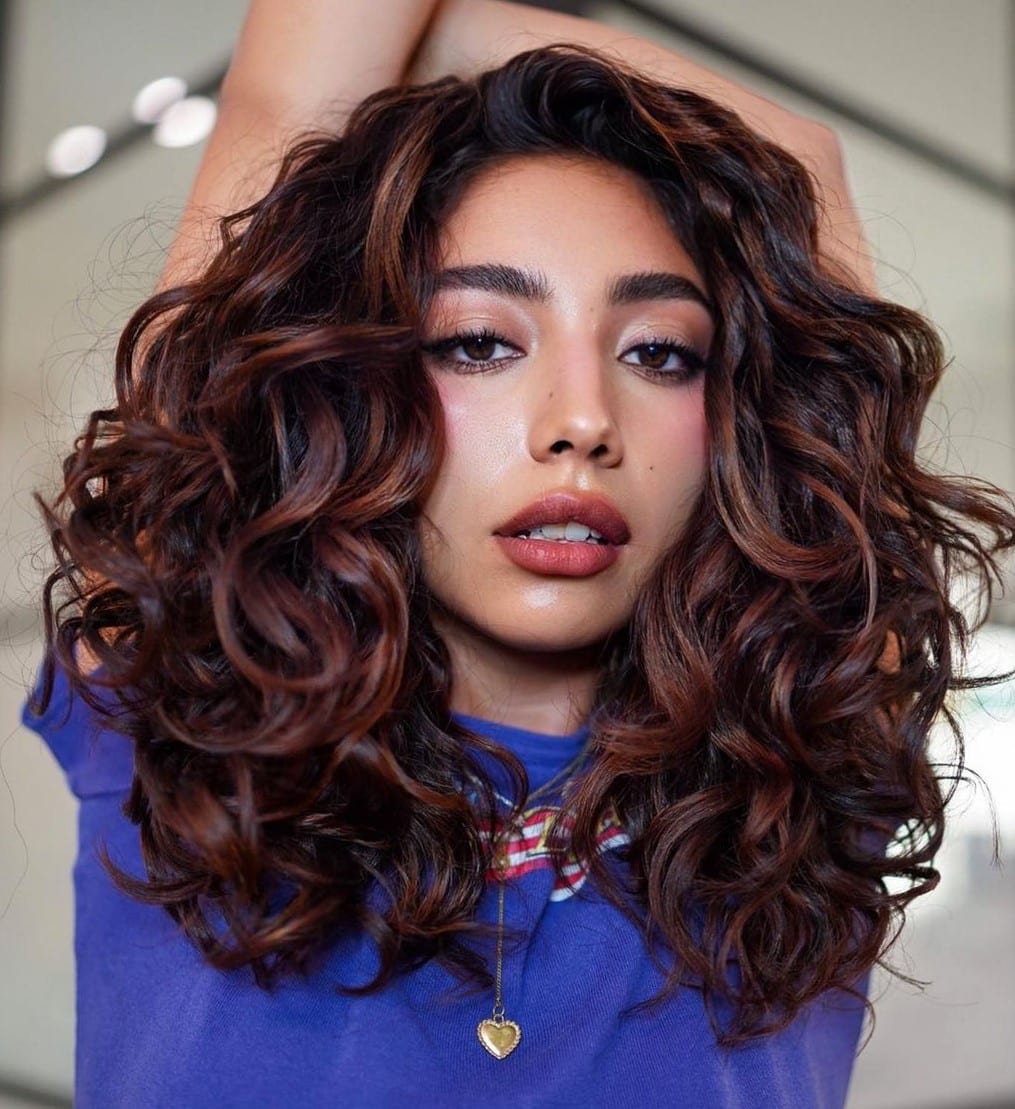 @slickback_buttahtoast
6. Copper Balayage with Auburn Dark Brown Locks
The luster of your strands can get a whole lot of new energy through the addition of copper balayage to your auburn dark brown hair. The factor we are loving is that the orange undertones are giving hints of red hues without making them prominent to the eyes and helping to achieve layers of depth for enhanced dimension.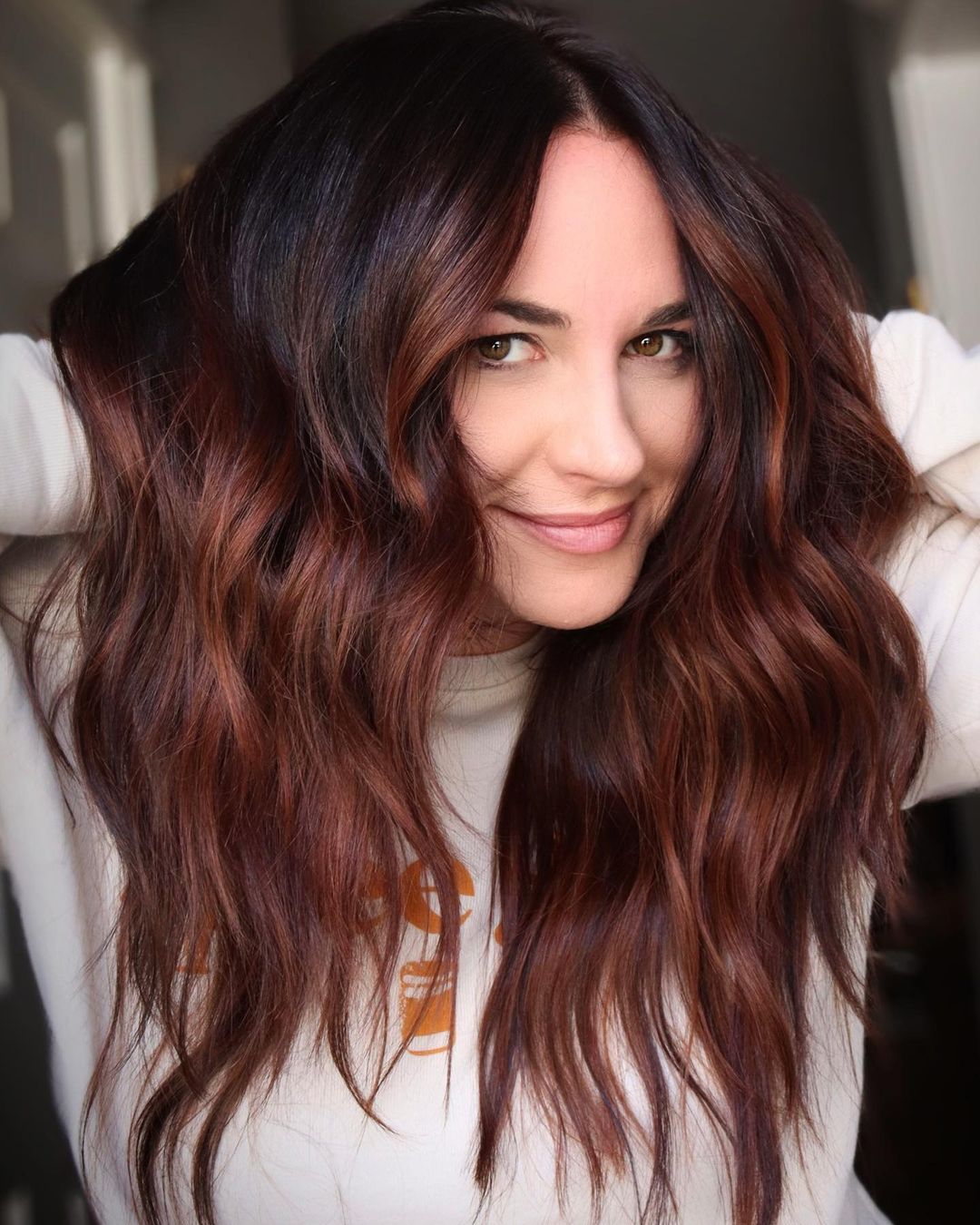 @capellibymegs
7. Scarlet Copper Balayage Mixed with Deep Auburn Hair
The flow of the hair enhances its charm. Here is a scarlet copper balayage that drips down through the shade of deep auburn strands. Out of all jaw-dropping ideas of dark auburn shades this fiery scarlet merged with rich auburn is considered number one. This chic hair is created by Danielle Does Hair that carries vibrancy within the envelope of warmth in a gracefully attractive manner.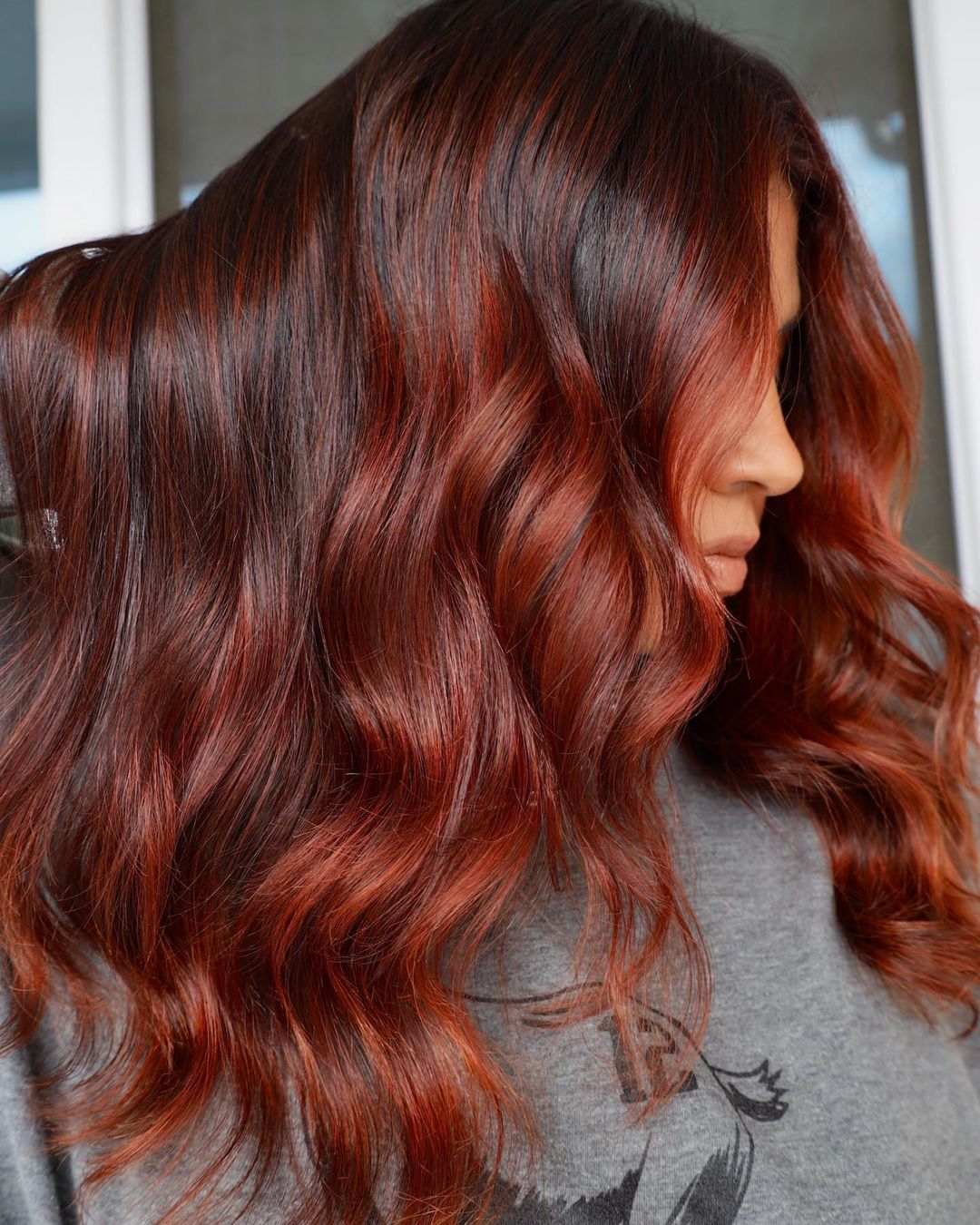 @_danielledoeshair
8. Try Pumpkin Spice Ombre with Rusty Auburn
Is it fall yet? To prepare for the season this alluring rusty auburn hair is what exactly we all need. A sensational charm is added by Tess Garoon from Aesthetic Hair Co by introducing pumpkin spice ombre to the blend. The sheen of golden hues seamlessly melting into the auburn base will create magic to rock throughout the fall season.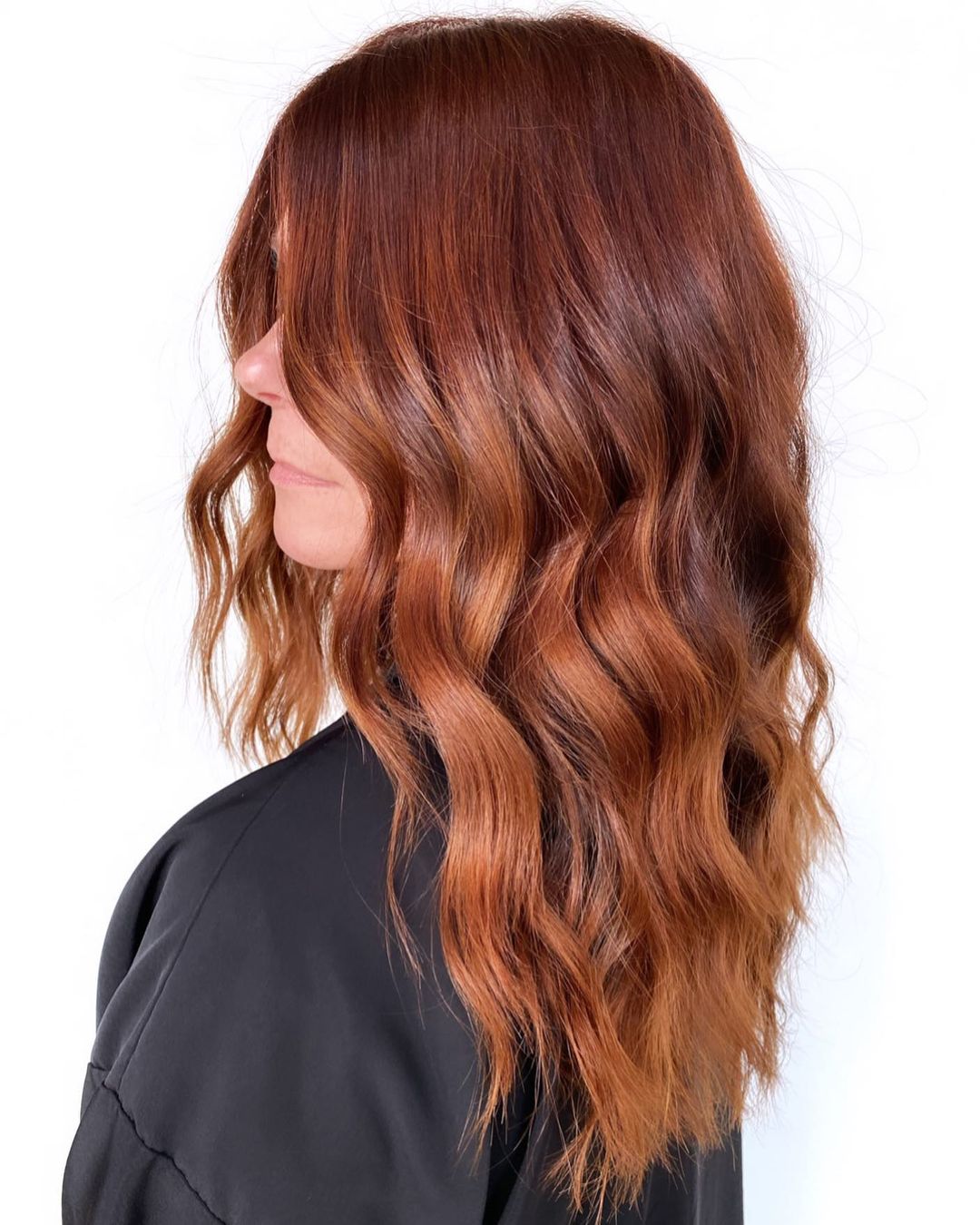 @tesseghair
9. Highlights on Chestnut Auburn Hair
A profound colorist Hair By Paris Leanne has to say, "One of my clients made a fancy appearance with dark rich warm auburn base paired with light copper pieces streaming through the locks". Taking inspiration from her we can conclude that adding copper shades to your existing blonde highlights can give new life to your chestnut auburn hair with highlights for sure.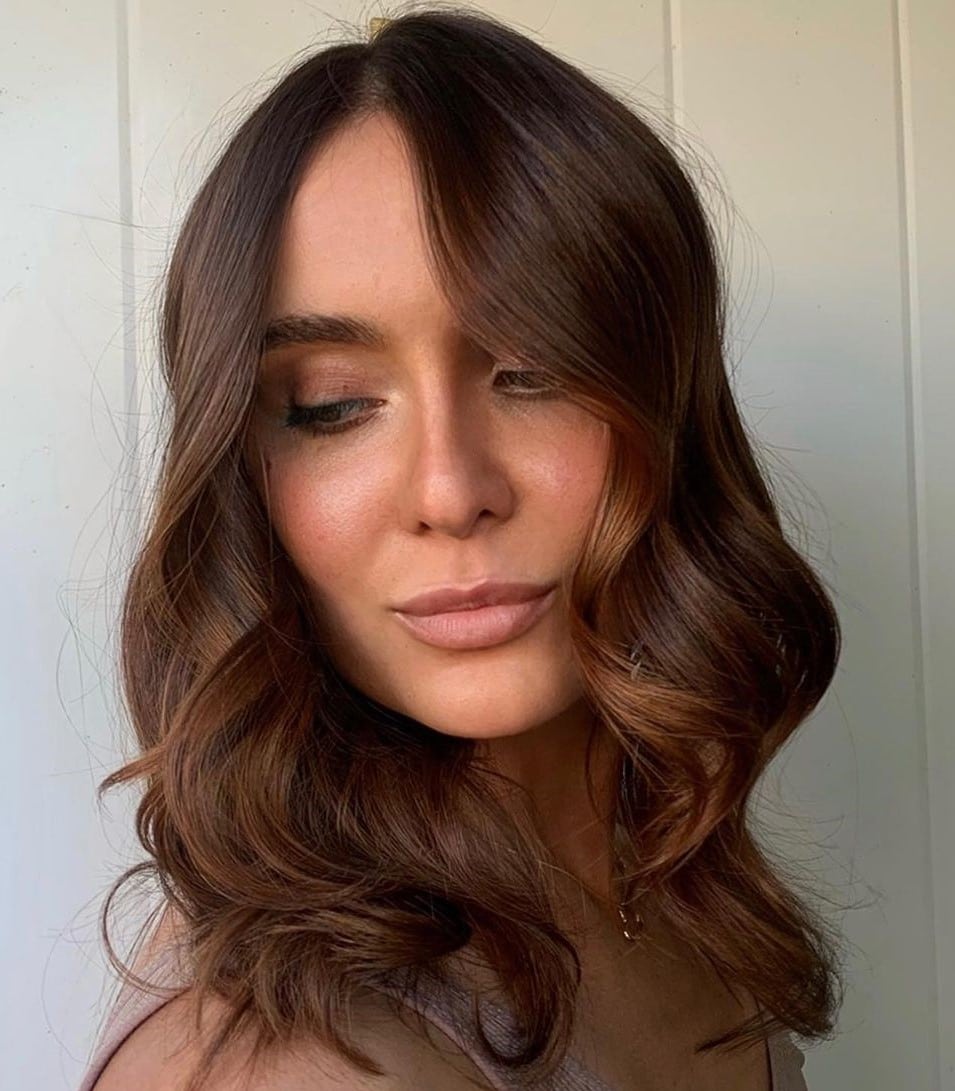 @hairbyparisleanne
10. Wavy Hair in Blended Copper Brown Hues
This look showcasing the beautiful glimmer of auburn shade is proof of what femininity and elegance together look like. Hair By Salah successfully created a seamless blend of copper and brown hues, that goes well on skin tones ranging from warm to cool shades.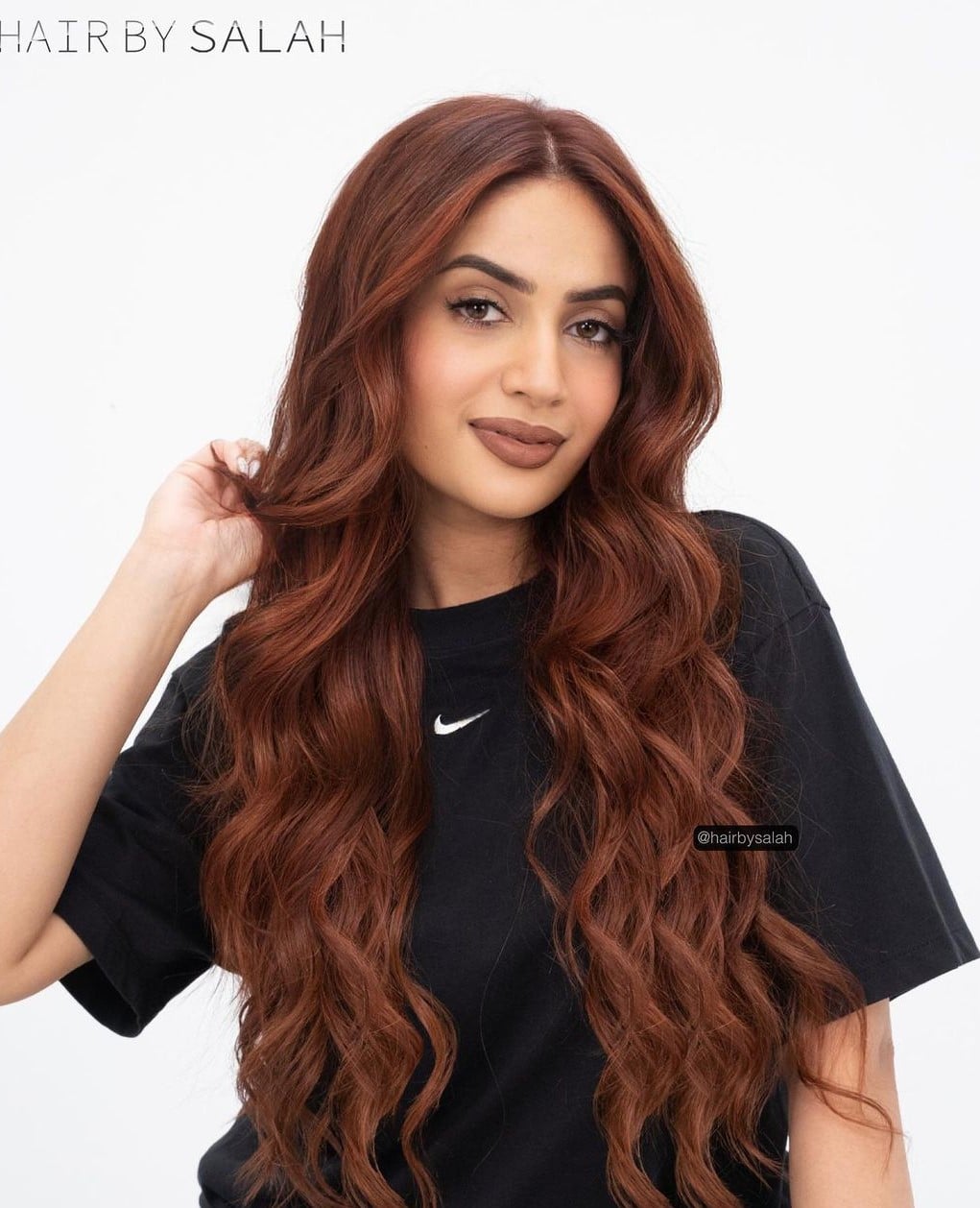 @hairbysalah