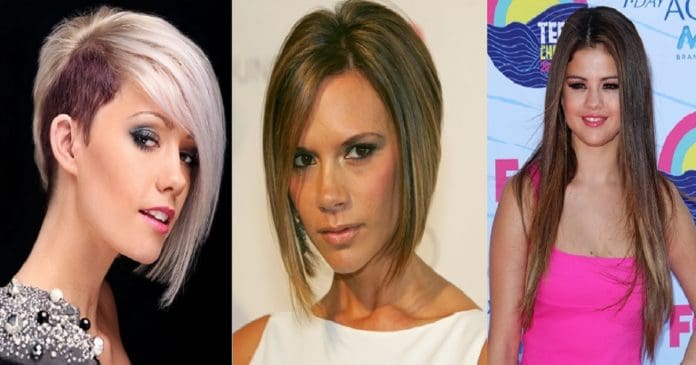 Hair is one of the most fundamental parts of our body that boosts the beauty of a woman or a man. Everybody loves beautiful hair and we take initiatives for a lot of methods in order to maintain proper growth and texture of our hair. All the hair packs, hot oil therapies, hair spas are just few of the hair care methods to be mentioned. And when we have so many hair products to style our hair as well such as curling tongs, straightening tongs, blow dryers and more. All the efforts that we take are only so that we look good.
Those people who are hard core followers of fashion will know that fashion trends come and go. Nothing is permanent in the fashion world. One thing that can actually define you is your style. Generally the latest fashion trends have their roots in Bollywood and Hollywood. And the best hairstyle of the previous hair is followed in the coming year as a trend. No wonder the stars put so much effort with their hair dresser.
Now that we've talking so much about hair care, hair styles, you must be wondering what the new hairstyles are for this year. Well read on this article to acquaint you with the exclusive new hairstyles for women this season.
New And Latest Hairstyles For Women 2019:
Here is the list of the New ans Latest Hairstyles for Women in 2019 with picture.
1. Cool Reverse Bob:
The days of long dark hair is gone. Now short hair is new trend. Bob haircuts are very common. You want to try on something new? Get a reverse bob hair cut. The best part of short hair cuts is that the hair cut is a style itself. You do not have to spend hours wondering about how you are going to tie your hair the next day or even spend minutes in front of the mirror to get it right.
2. Messy Look:
Yeah I know neat is clean and all that. And mothers pester us to tidy your hair before stepping out of the house but messy hairstyle in girls! So the next time you are told to brush up, do not mind because messy hairstyle is cool!
See More: Casual Hairstyles For Women
3. Latest Beautiful Layers Hairstyle:
This is one hairstyle that never seems to leave the fashion trend. A beautifully layered hair always looks good. With this hair cut, you can style your hair in so many various ways such as neat, messy, ponytails or just leave it open.
4. Curled All The Way Down:
Everybody wants straight hair now but curly hair also looks so pretty. Curly hair has whole new definitions of you. So curl your hair and look pretty. And if you have natural curly hair then no worries at all.
5. Beautiful Long Hairstyles:
Beautiful bangs always intensify your outlook. A beautiful layered hair is a universal hairstyle that goes with all sorts of attires, occasions and days.
6. Just Pretty Hairstyle:
This beautiful hairstyle is perfect for a dinner or a brunch or even a date. All you need to do is make sure you get beautiful curls and then just tie it making it fall on your shoulder. Taylor Swift hair looks very beautiful in this hairstyle.
7. Braids Hairstyles For Long Hair:
Whenever we talk about braids, we actually have to mention the particular braid we are talking about. Braids are perfect for keeping your hair under control and still look beautiful. This is one of the modern and new hairstyles for women.
See More: Holiday Hairstyles
8. Curled All The Way:
You know Kangana Ranaut? Her natural hair is totally curly and it is pretty. Curling your hair completely looks good. It gives you hippie look besides making you look beautiful. Most of the young girls love to wear this type of latest hairstyles for their parties.
9. Long Waves:
Long waves are so attractive. This hairstyle is one that soothes your eyes. Want to look elegantly beautiful? Try out this pretty hairstyle for occasions. How can forget this beautiful makeup look anybody?.
10. Side Parted Long Waves Hair Style:
This is a long and wavy style in which the hair s left all loose and long to hang on the shoulders. This is one of the easy and new hairstyles for women and you can try this without any problem. You can make a semi- side parting and then leave the hair just like that and then roll the lower ends of the hair too. This looks very pretty on anyone with even medium length hair.
11. Bangs Hairstyle:
Bangs and fringes are still some of the latest hairstyles for women and you can look good with these with any length of hair. The bangs can be done in any way that you want. This means that they can be thick and spread or just from one side of the forehead. This will depend on the fact of the shape of your face. Most Indian women like this type of new hairstyles, want to wear for wedding functions an d occasions.
12. Layered And Feathered Hairstyles:
The feathered hairstyle has been into popular trend from the last year only and it is still a new hairstyle for women. In this look the lower end of the hair is made into a feathered look and the top portion and the sides are in the layered look. Now this is one of the hairstyles which is most suitable for the women with thin hair and they add more volume to the hair also.
13. Medium And Wavy Hairstyle:
This is a latest haircut for women and especially for the women with a medium length of hair. This is also better for the ones who have natural curls too. You can just get a side parting and do nothing else. Some times it is just better to keep things very simple and do your natural beauty so the rest of the talking for you.
14. Asymmetrical Bob Haircut:
The bob is one of the new hairstyles for women because what women choose now is not definitely the traditional bob cut. In this type of hairstyle you get your hair in a way that the hair near the cheeks reach till the chin and then the rest of the hair at the back has a much shorter length of course. You can get this with all your western outfits and look at your coolest best.
15. Funky Hair Cut:
One of the trendiest hairstyles on the list this is a very creative one. This is of course a fusion of a number of hairstyles and this may include the bob, layered and the pixie cuts of course. Now in this one the rest of the hair is kept short and folded except that from the both sides of the cheek two bunches of locks come out and hang like uncut tresses. It is one of the most beautiful hairstyles for girls who are like to modern trends.
See More: Naturals Hair Styles Women
16. Side Bang Hairstyle:
This one is one of the latest hairstyles for women with a slightly heavier face. In this type of hairstyle the blunt cut is done in a way that one side of the hair has a thicker bang and this is what adds to the drama of this hair cut. Now this bang actually covers the side of your face and cuts off the fat areas of the cheeks.
17. French Bangs:
This is one of the most gorgeous one in the lists and this looks prettier on the ladies who have short or medium length of hair. Now in this one the hair texture is fine and soft and then the hair is ut in a way that in the front portion of the hair the bangs are done from one side and this covers the one side of the the forehead only. It looks cool and very stylish.
18. Blunt Hair Cut:
This is a regular haircut in which the blunt cut looks very simple and then the side parting is done also in another simple way. You can try out with other partings also where the middle parting and also a zig- zag style. You can dye the whole hair and sort it any shade of brown or burgundy too.
19. Thick And Feathery New Look:
This is for the ladies for the thick hair and looks even better for the long hair. For this one you can cut your hair in a way where there is also a fusion of the bangs and the feathered cut. Here you can style your hair in any type you want to. Now in this picture as you can see is that the woman has styled her hair very casually and you can do the same too. It is one of the best new hairstyles for women with natural hair.
20. Simple Layered Cut:
In this type of hair cut, you can keep it very simple and very pretty. This is the very old and simple hair cut in which you will simply have your hair cut in a layered way in which the middle parting is kept like that but then for the slightly heavier faces this one is a real advantage because the hair then cuts the mass of the cheeks.
21. Sleeky Bob Hair Cut:
This is a stylish version of the bob cut and is also a little razor sharp on the ends. In this the hairstyle is silky and straight. In this case where the hair is very short you can try this one where the hair is till the chin on the front side and the back it is a little lifted up.
22. Side Swept Curly Hairstyle:
This is a hairstyle with a lot of drama. In this one you will see that the hair is super curly and soft in texture too. Now in this one the hair is not parted at all and all the hair is taken to one side and then clipped on the back side. In this type of hairstyle you can feel very comfortable and this is even suitable for all types of events, parties and occasions and also for the casual day outs.
23. Twirls Hairstyle For Long Hair:
This is one hairstyle in which there is not a single type of styling done. Now the hair is combed really well and made sure that the comb is not put on too harshly on the hair. Now in this one you can simply do some middle parting or simply a side parting and leave your tresses to do the rest of the talking.
24. Traditional Bob Style:
This is a simple traditional bob style in which you can just sport a fuss free look. You can leave it simply for any party or any event.
25. Simple Undercut Style:
This one haircut needs a lot of guts and a lot of attitude. In this one this is a simple semi- undercut hairstyle where one side of the hair is cropped up in an undercut and on the other side it is left a little lengthy. Now you can do all sorts of colouring and hair cuts in this part of the hair. This haircut needs a lot of patience and preparation because you will have to wait till your hair grows.
26. Bouffant And Braid Hairstyle:
This is a retro hairstyle in which you sure have to possess really thick tresses. In this one style you can make a braided hair band to cover the crown of your head. Now when you have started braiding the hair and pin it on the other side. When you are done you can make the bouffant behind the braid and then leave the rest of the hair. One can easily fall in love with this type of new hairstyles of bouffant.
27. Short Layered Haircut:
This lady in the picture has short hair and has done in a very smart way. In this one she has got a step cut in which the layers of the hair are very short as matching with the hair. Now these layers add more volume to your hair and it is very good idea for the fine and thin hairstyles.
28. Very Short Bob Hairstyle:
This is for the girls who do not like it in a very girlie way. In this one the very short bob hairstyle is great one for the western look. The woman has highlighted the hair and left it absolutely cropped from both sides. Now in this way the hair is absolutely maintenance free and you can go anywhere you want and not even think about any extra time for styling it.
29. Simple Pixie Style:
One of the simplest hairstyles which was there even in the trends last year and is again featuring on the list this year. In this one too the pixie cut looks pretty and cute and no styling is needed on this. The pixie cut is a style in itself and you can sport it any way you would want to.
30. Short And Spiked:
If someone told you that the spiky hair is only for the guys out there then you are so wrong. In this hairstyle you can see how cool the lady is looking. The mature women can sport this too if they can carry it with a lot of attitude. Now the spiked style is also low on maintenance and is absolutely a fantastic one.