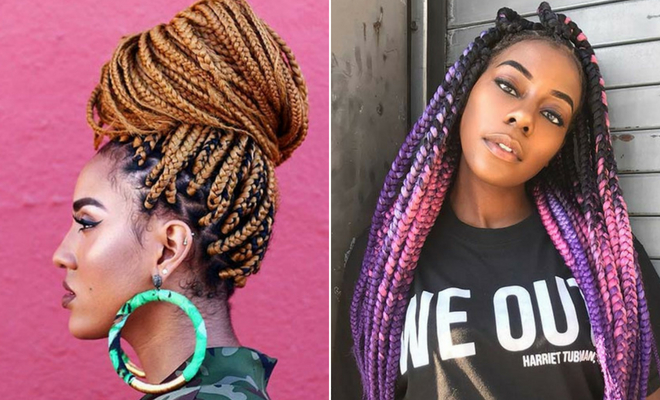 Box braids are very popular which means you have probably worn these braids many times before. With that said, you may be searching for a new look. One way you can change up your usual hair and jazz up your box braids is by adding trendy colors. There are so many stunning shades available and we have found 23 pretty box braids with color to give you some inspiration. We have something for everyone from rainbow colors to statement making shades to beautiful ombre.
1. BOX BRAIDS WITH RAINBOW COLOR
The first idea we have to show you are these awesome rainbow box braids. These box braids are in a variety of vibrant shades from blue to yellow. Hair like this is perfect for anyone who wants a dramatic and fun new look. Rainbow braids would be great for the summer too.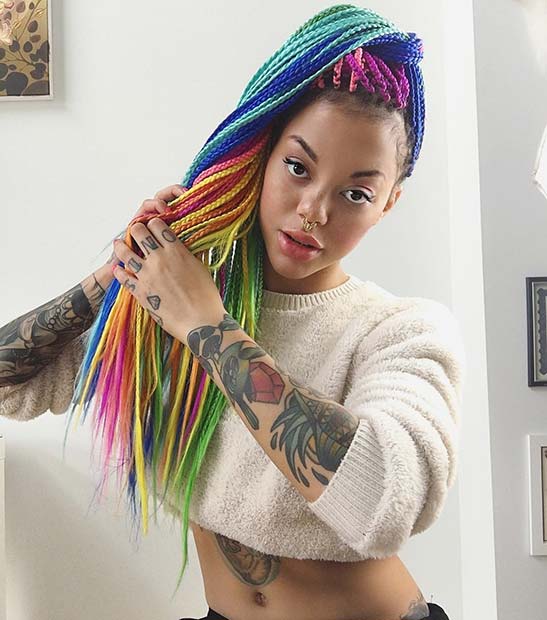 Source: @miryamlumpini
2. LIGHT COPPER BOX BRAIDS
Copper tones are very popular for braids and we can see why! Here we have box braids that have been created with a light copper shade. As you can see, the copper has given the classic box braids a stylish makeover. Hair colors like the one featured will suit everyone.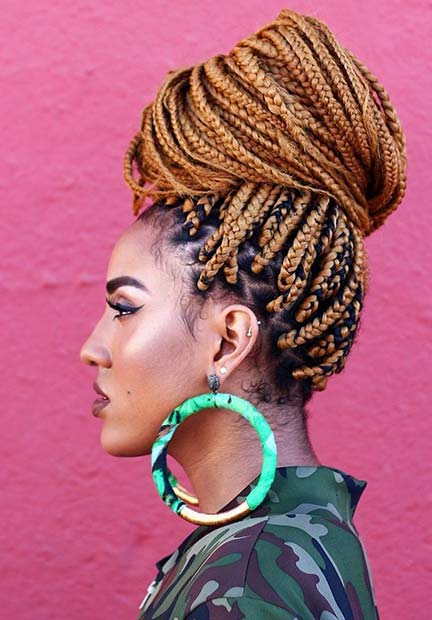 Source: @mariapaulamapo
3. PURPLE TO PINK OMBRE BOX BRAIDS
Looking for a statement making hair idea? Then this next pick is for you! Here we have box braids with a purple to pink ombre. The top of the braids are dark, then turn purple and then pink at the ends. Hair like this is bold and will get you noticed! You can recreate the pink and purple or choose two other colors.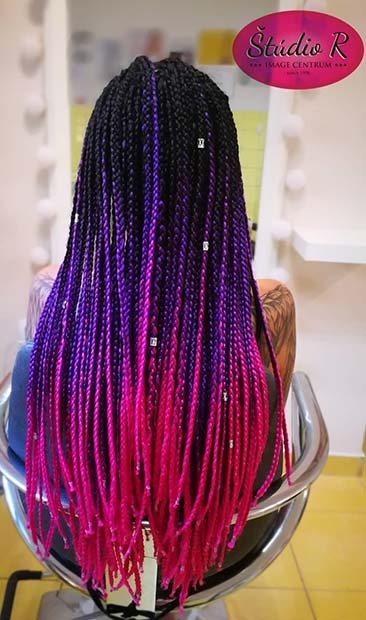 Source: @studior_imagecentrum_petka
4. LIGHT BLONDE BOX BRAIDS
Next, we have box braids that have been created with a beautiful, light blonde. Blonde shades like the one featured are summery and will brighten up your look. With that said, braids like this will look amazing for the summer and vacations. You can add in other colors too… maybe pink?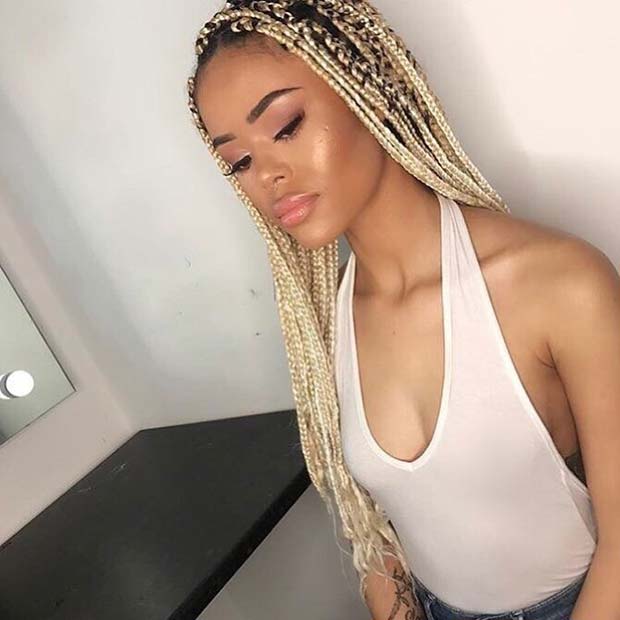 Source: @braidsgang
5. BURGUNDY BOX BRAIDS
Our next idea is burgundy brown. A brown tone like this is perfect for the ladies who want a new hair color but don't want anything too vibrant or over the top. Shades like this will stylishly update your look but keep the hair looking natural too.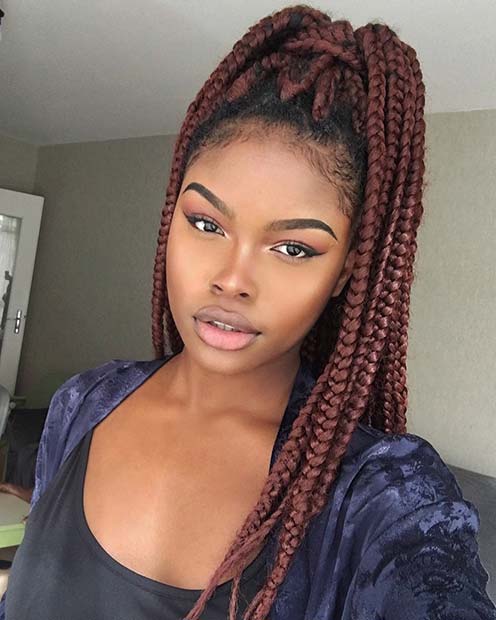 Source: @_samiraa__
6. BOLD, BLUE BOX BRAIDS
Another popular color choice for box braids is blue! These next braids have been created with a beautiful dark blue. We love how stylish and bold the color is. You can use statement shades like this to jazz up the simplest of braided styles. If the dark blue is not for you, you can choose lighter blue too.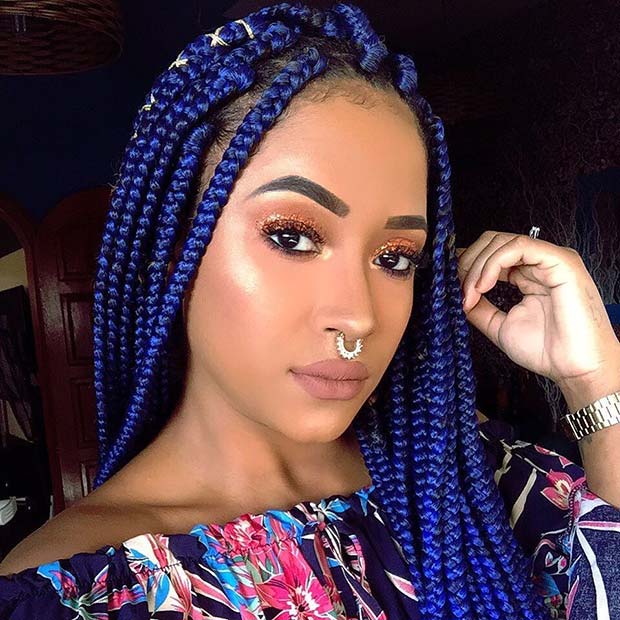 Source: @rafafranco2
7. RED OMBRE BOX BRAIDS
Ombre is a hair trend that has been around for a while and it is still a must-have look. Here we have a super stylish ombre color idea. The braids start off dark and then turn into a beautiful red shade. Hair like this will suit everyone and you can choose any color for your ombre.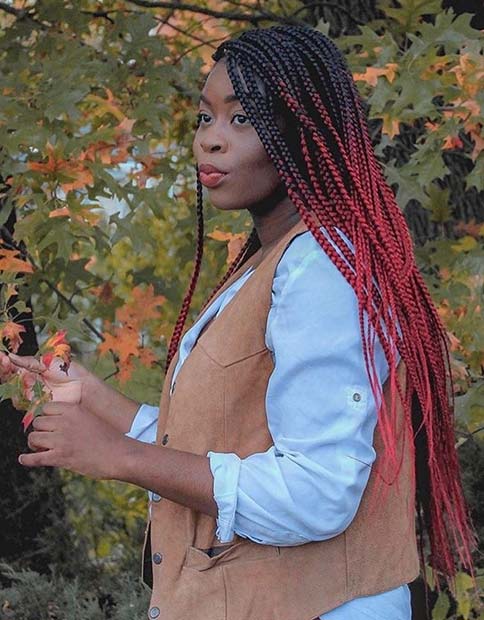 Source: @braidsgang
8. LONG, PURPLE BOX BRAIDS
Tried the blondes, reds and other popular colors? Looking for something different? Then this next hair idea is for you! These box braids have been created with a vibrant purple shade. We love this look because the purple color is gorgeous and statement making. It is the perfect hair idea for the ladies who want a dramatic makeover that gets attention!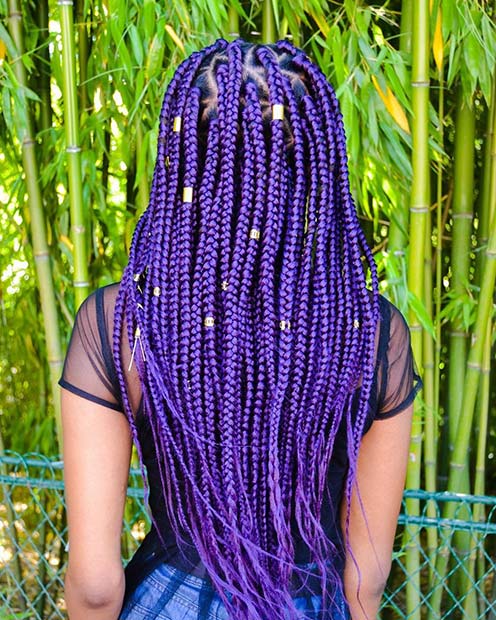 Source: @b.bglam
9. OMBRE BLUE BOX BRAIDS
If you liked the blue braids featured earlier in the post, then you may like this next idea too. These braids use a variety of different blue shades with added green. This is an awesome multi tone look. Hair like this would be great if you want a creative and unique hairstyle. You can use this multi tone idea with other colors too.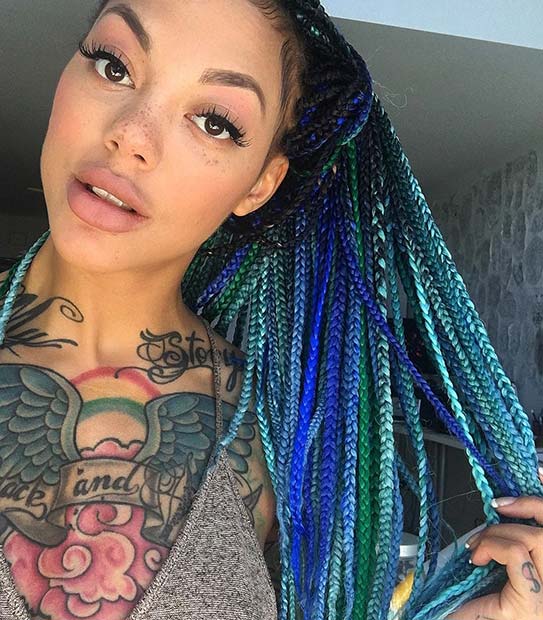 Source: @miryamlumpini
10. STYLISH RED BOX BRAIDS
Next, we have a stylish red braid idea. The red used in this hairstyle has a copper tone to it. It is a beautiful color choice and it would suit anyone across all ages with any braid length and in any style. A color like this is great for the ladies who want a new look but don't want to be too dramatic or vibrant.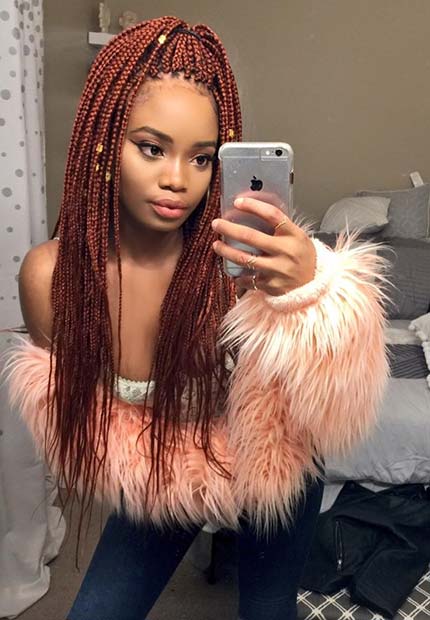 Source: @mightyamelia