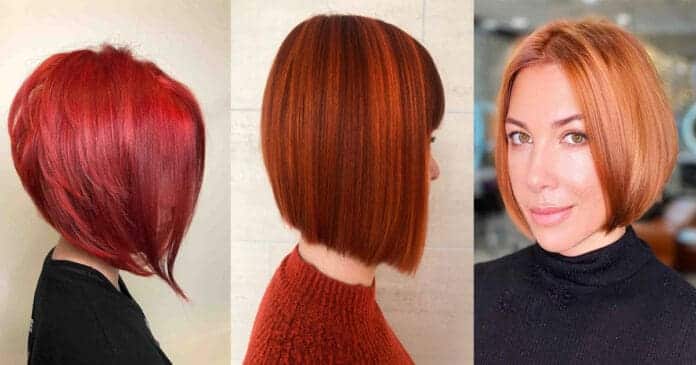 Life is too short for boring hair. So why not spice your short hair up with a gorgeous red hue? Famous redheads sporting chopped cuts include Rihanna, Emma Stone, and Scarlett Johansson, and these bombshells never fail to dazzle on the red carpet! Unlike the typical brown or blonde shade, short red hair is fiery and compliments all skin tones. Opt for hair that's colored red and cut short to show off your edginess. Red has a plethora of hues to choose from. Ginger and strawberry red complement cool, fair complexions, while bright red and auburn pair best with deep, medium to dark skin tones. Expert corrective colorist Carli Ebbert from the Juju Hair Lounge shows how pixies and bobs become Insta-worthy when spiced up with red hues! As for upkeep – it's common knowledge that red dyes are demanding when it comes to products and maintenance. But having it on chopped hair could absolutely make things easier! "The balayage technique is also one way to wear red on your locks without much commitment," says Ebbert. Before your next hair appointment, check out our up-to-date gallery of popular short red hair color ideas!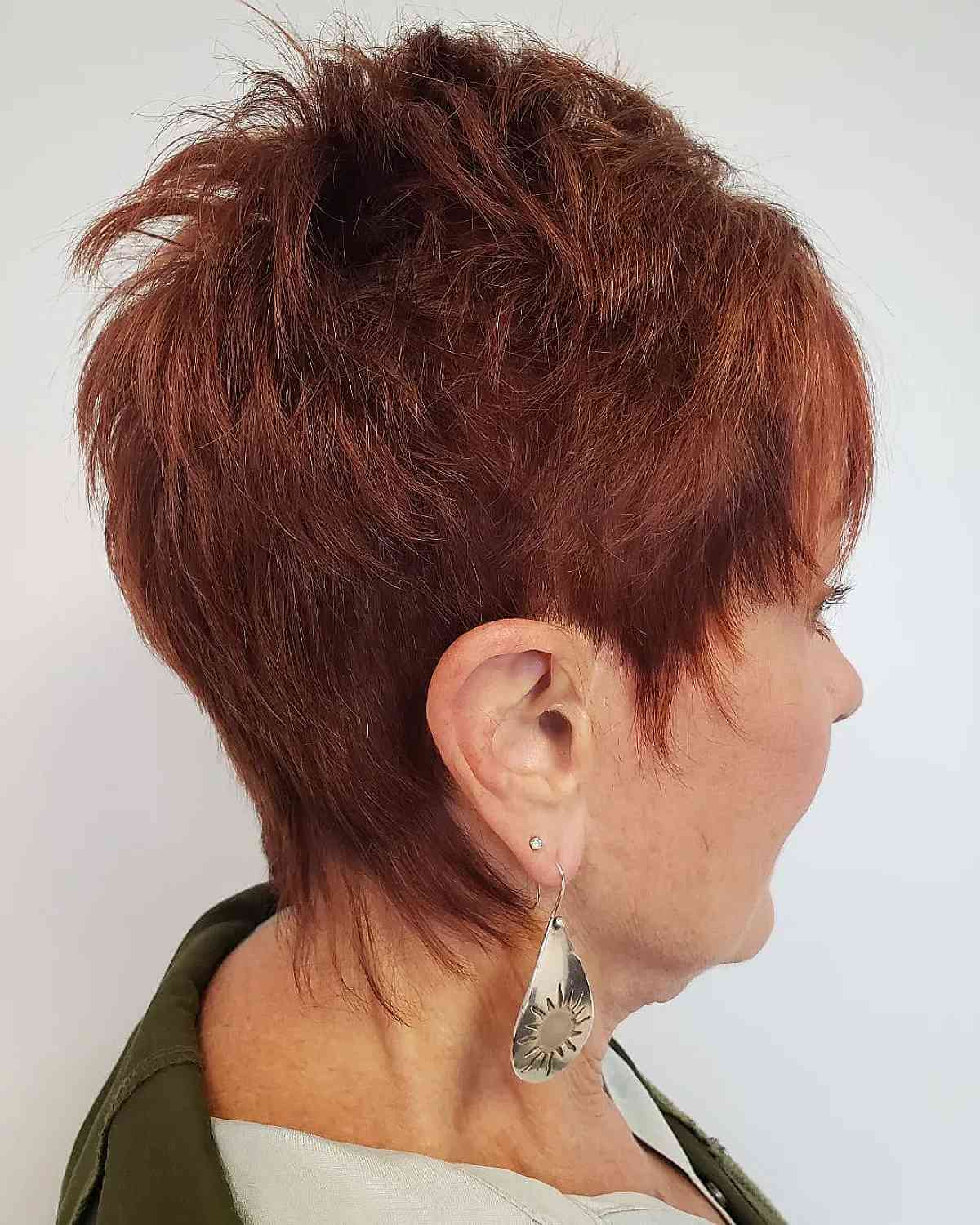 #1: Cinnamon Spice Funky Pixie
Try a funky pixie if you're looking for a bold change. Warmer tones like copper and reds suit women with warmer skin complexion. Talk to your stylist and see what tones would best suit you.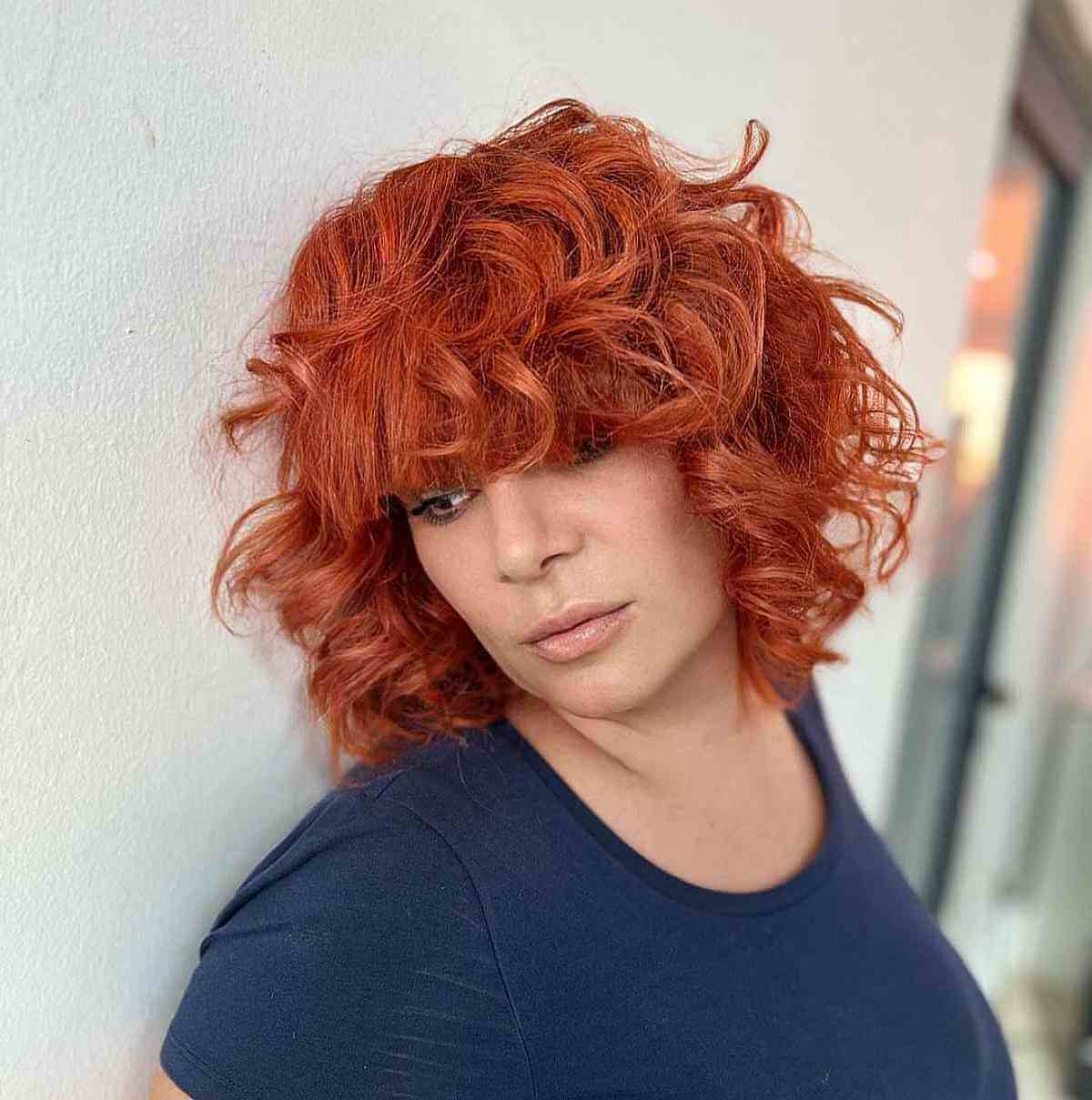 #2: Short Fluffy Hair with Bangs
Short fluffy hair when paired with bangs looks extra gorgeous with red and orange tones. The plethora of layers within this crop is complimented by warm tones and allows the multi-texture to stand out. If you can, avoid over-washing this hairdo as it will fade your color faster.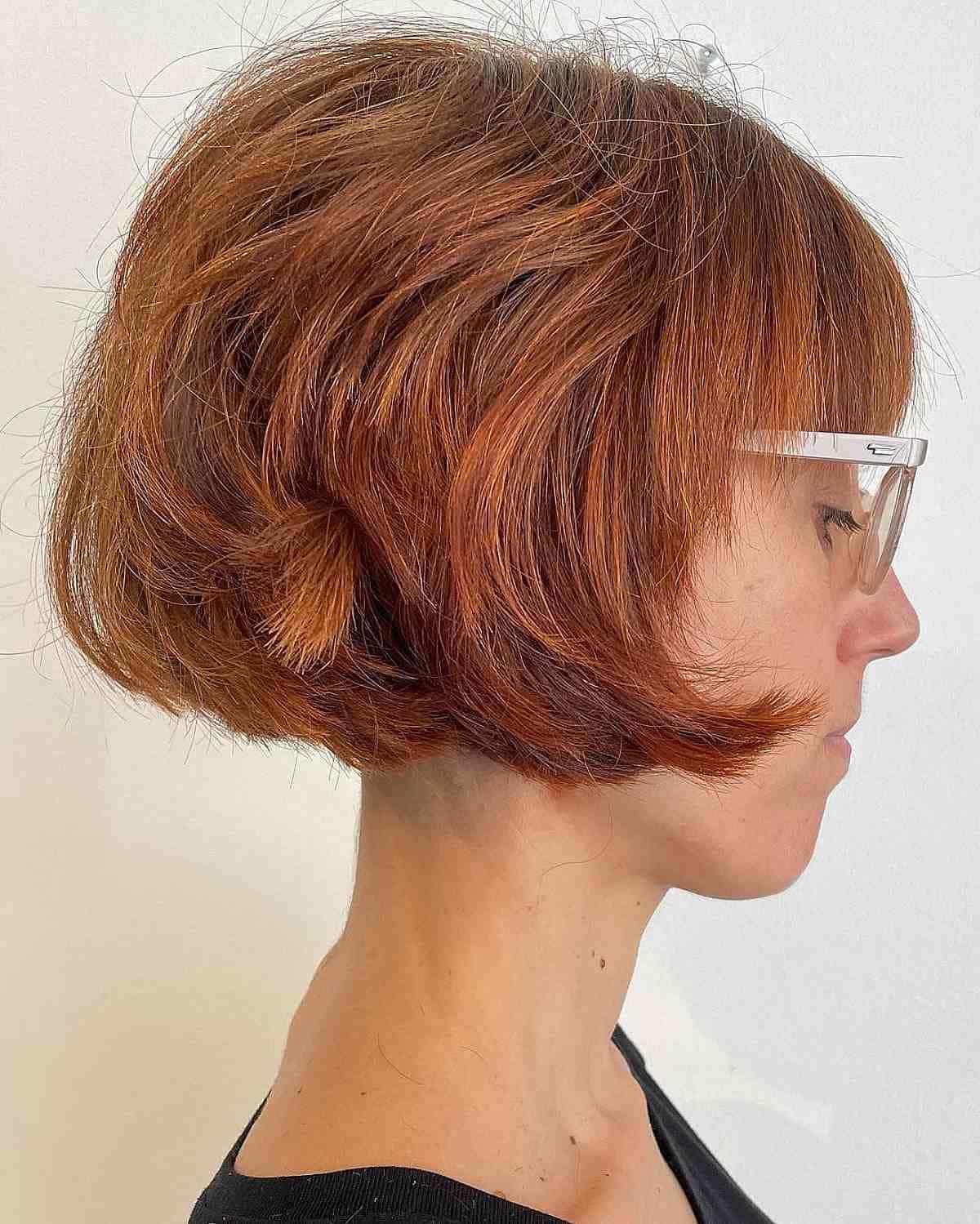 #3: Brick Red French Bob
A red French bob is a beautiful high-fashion and classic look. Cut with choppy layers for more texture or hidden layering for a more sleek look. Style with a flat brush for a sleek look, or a round brush to add volume and texture. Finish the look with a texture spray or cream.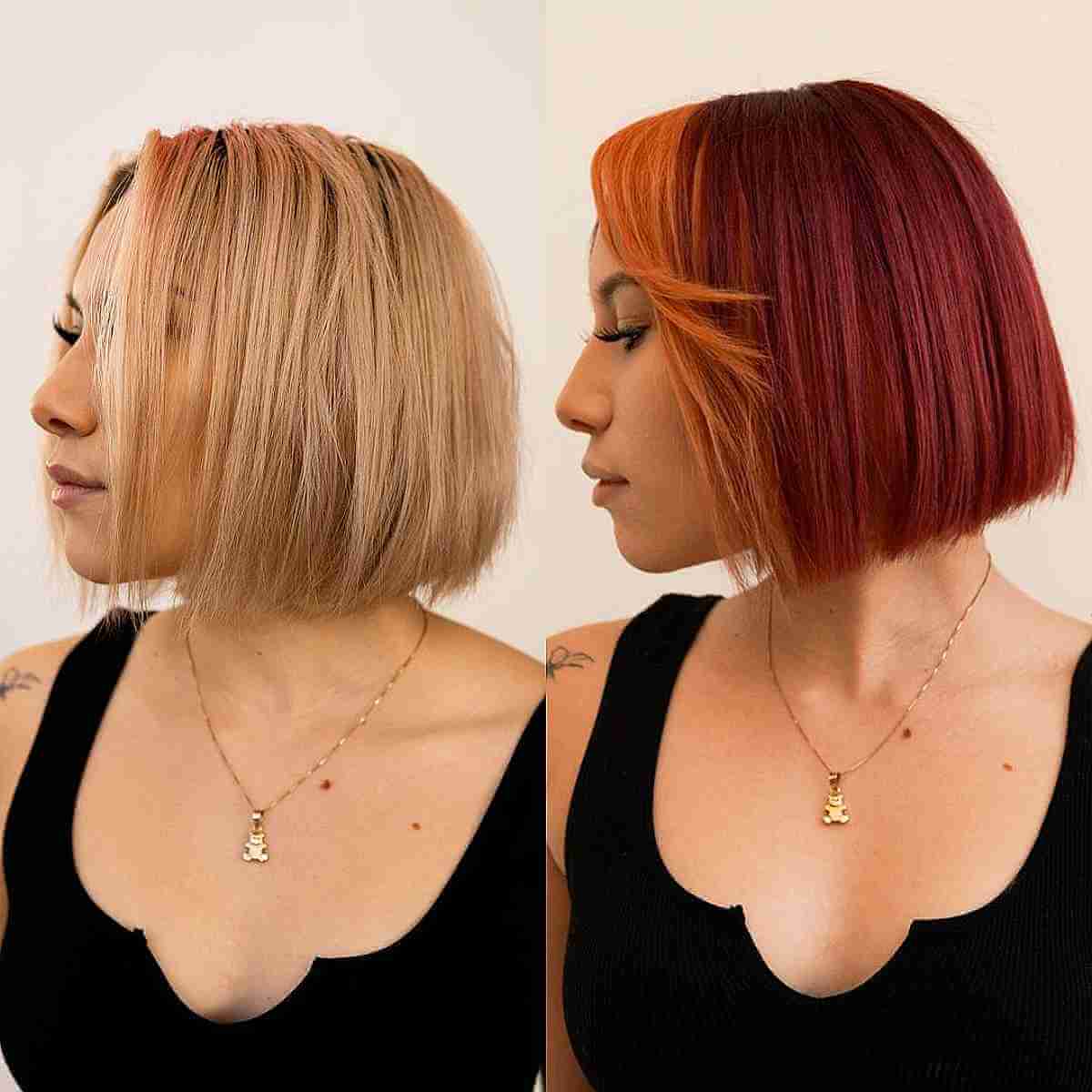 #4: Short Red Blunt Cut with Orange Bangs
Try a short red blunt cut with orange bangs for a fun and daring look. Great for short hair, orange bangs add warmth around the face, and red adds a bold, beautiful color overall. Ask your stylist to texture your short bob.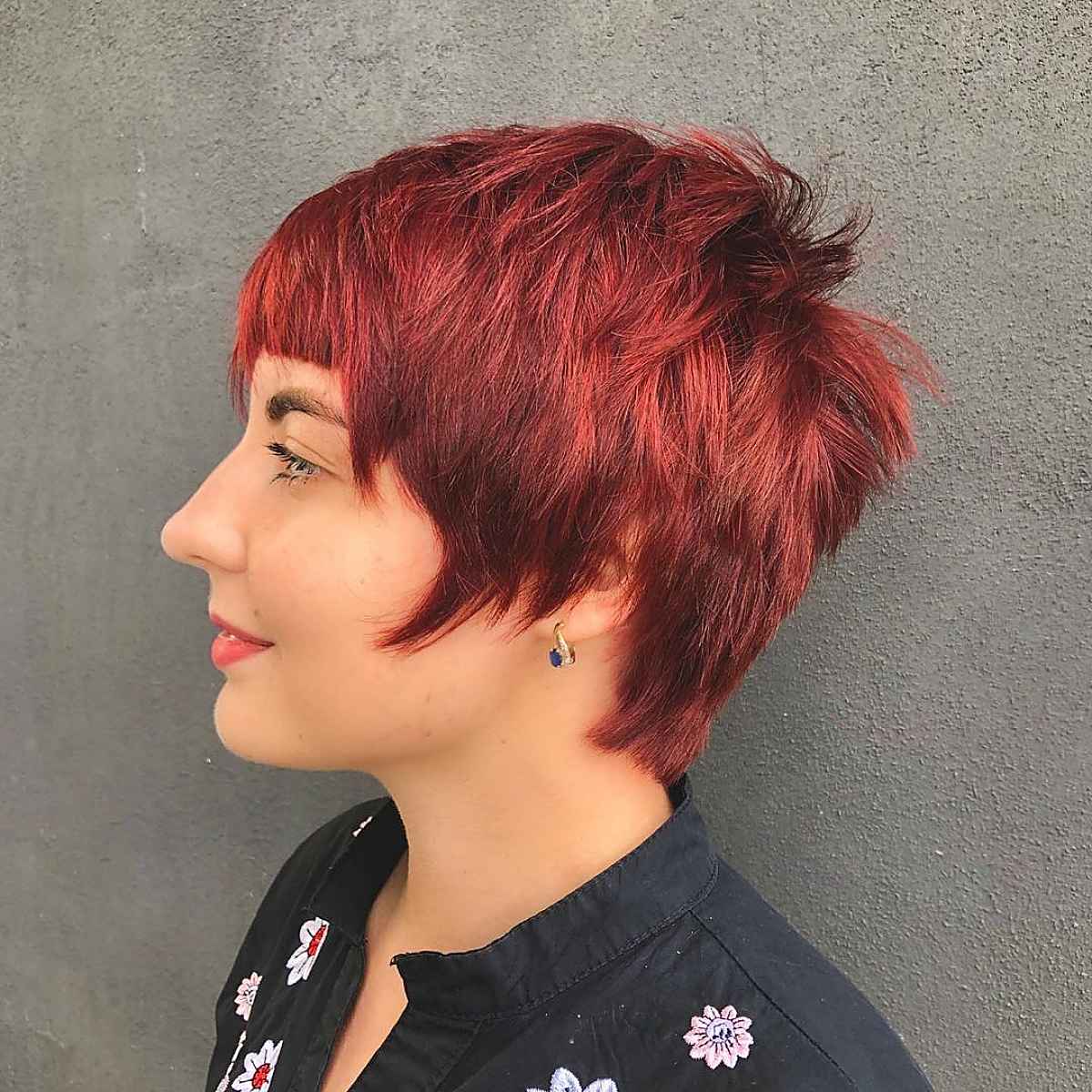 #5: Fiery Red Short Hair With Bangs for Women with Heart-Shaped Faces
Nothing says smoking hot like a solid crimson red color on a longer pixie cut. This is a super cute short haircut with bangs that's ideal for younger and older women alike due to its ease of styling.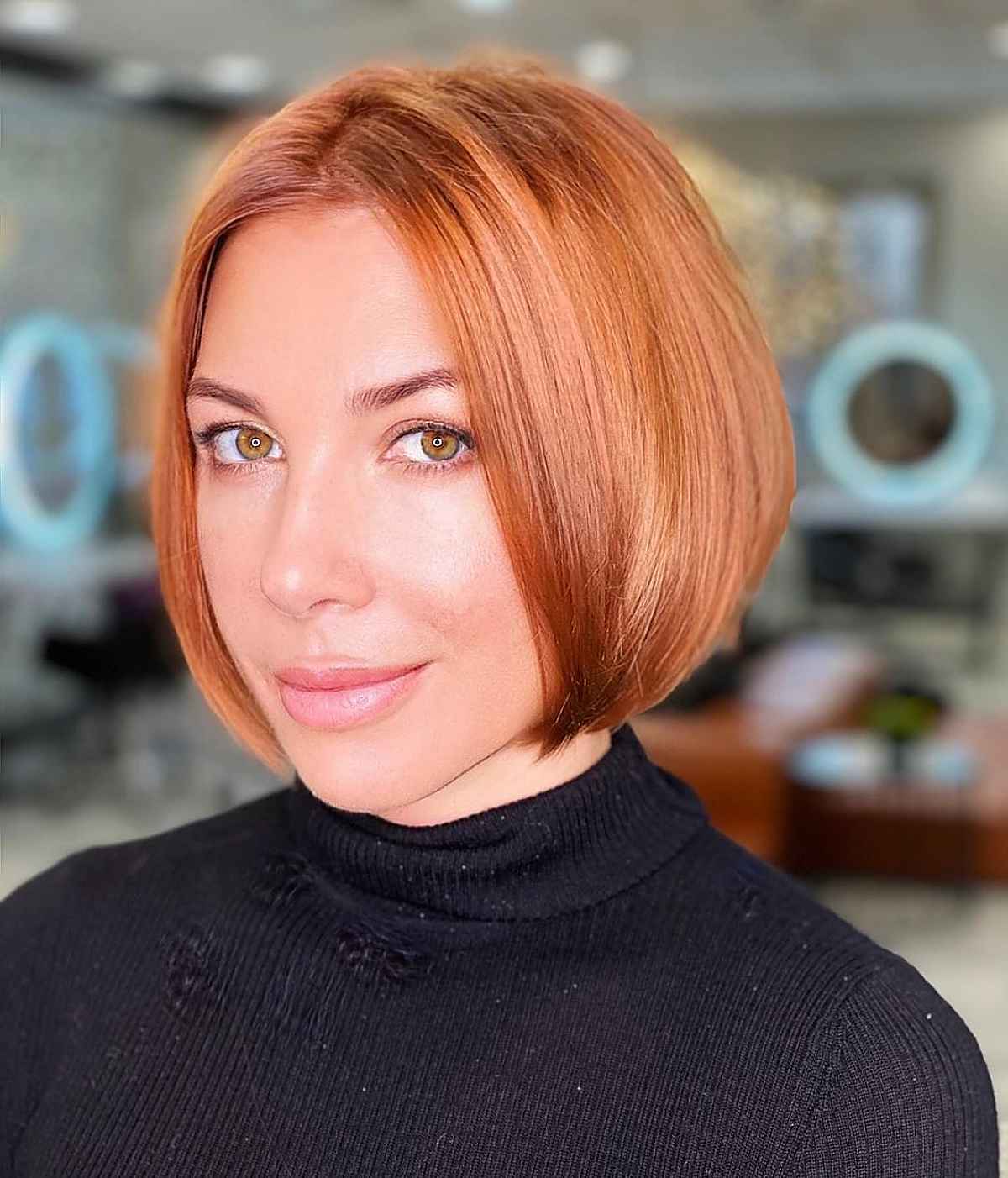 #6: Super Sleek Jaw-Length Copper Bob
If you're wanting to make a bold statement, trying a super sleek jaw-length copper bob. This vibrant copper pops amazing against hazel and green eyes, and this short bob will bring a lot of attention to your facial features. Texture within this length is very important to still allow for movement in the hair.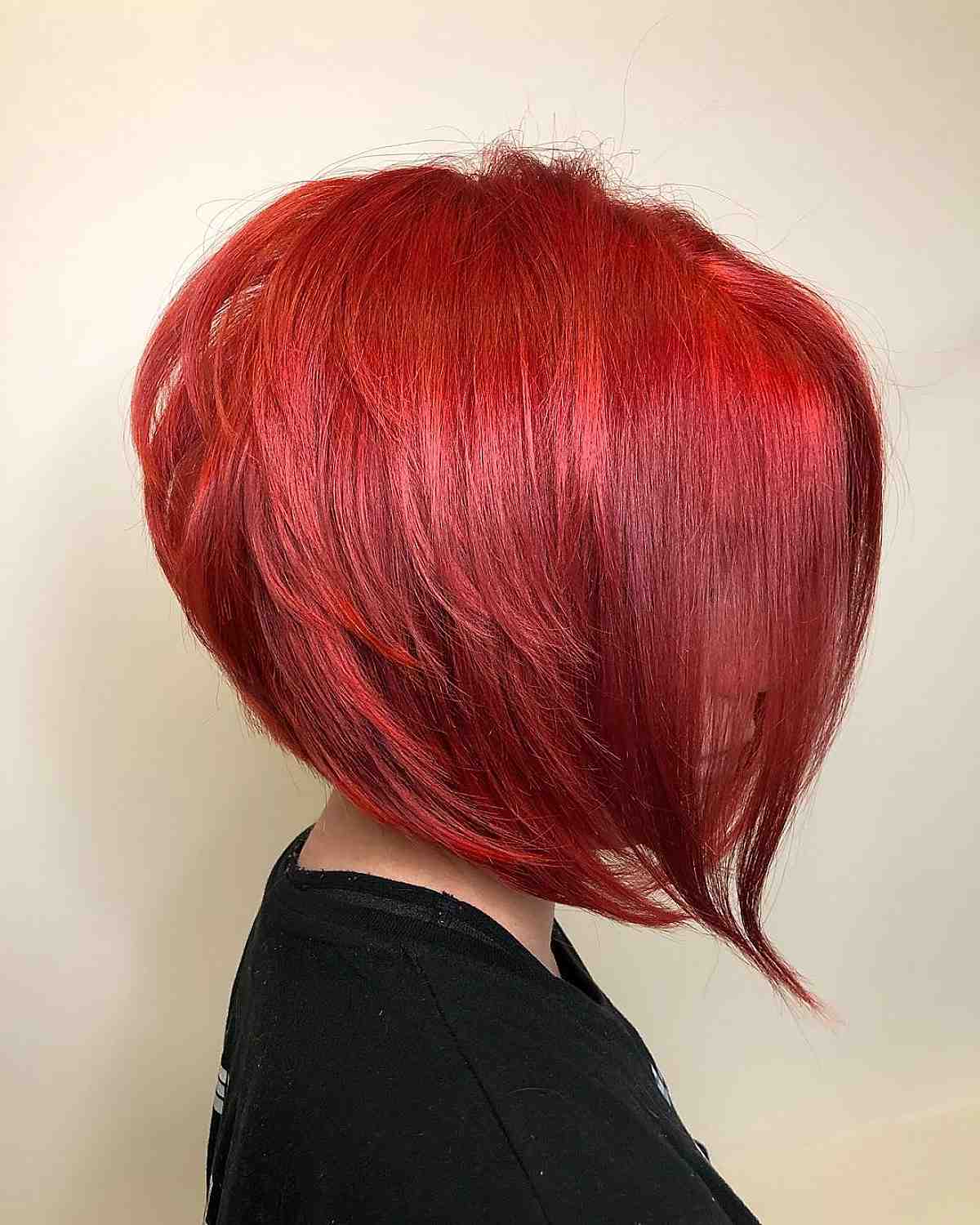 #7: Bright Red Short Hair
A bright red short hair looks amazing with a hipster bob cut that looks lived-in. When washing, try the Alterna Caviar line – color shampoo and conditioner. The color mix of coral and red really suits women who have a brighter personalities. There is maintenance for red hair colors like this, but with the proper shampoo and hair routine, you could re-gloss every 5 to 7 weeks.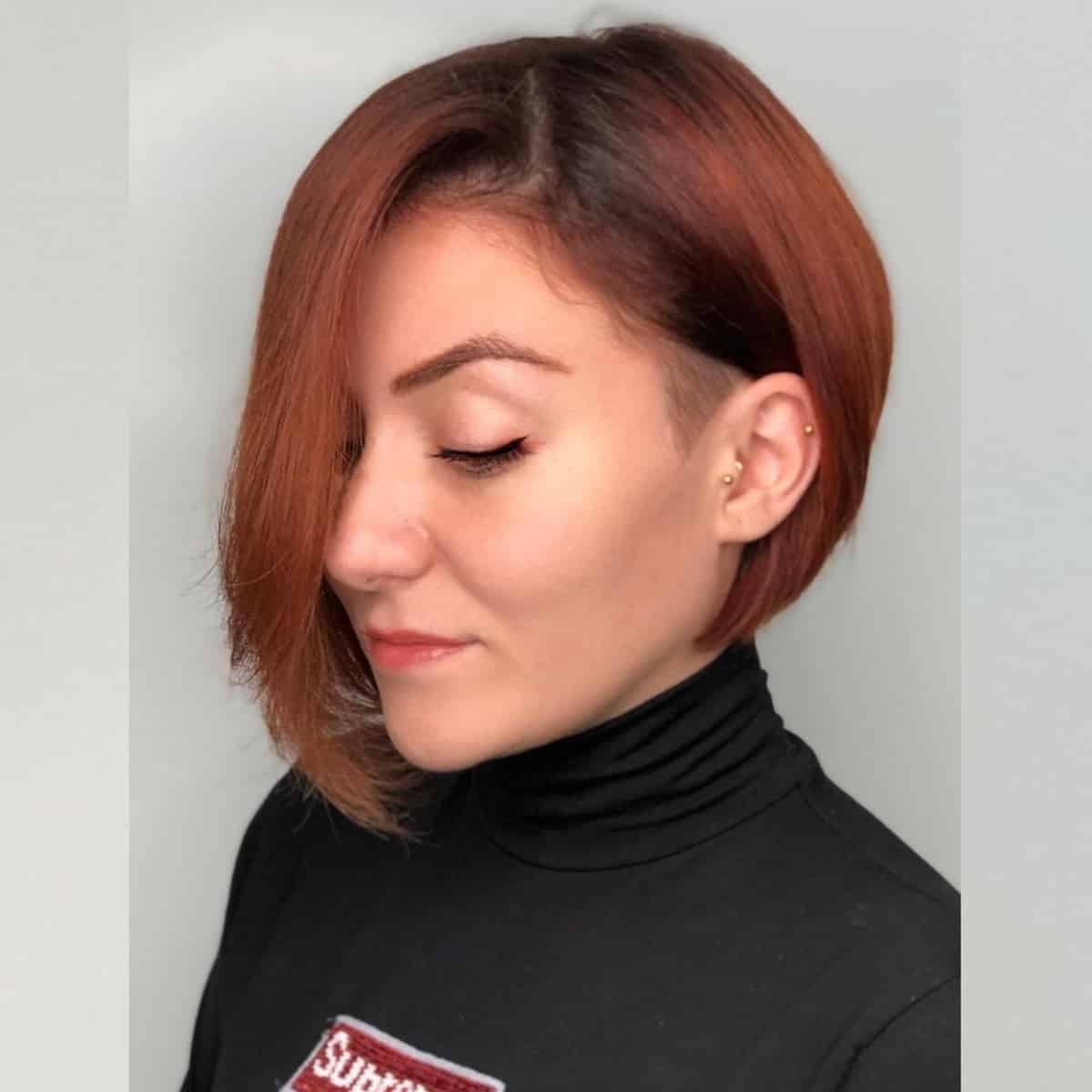 #8: Red Asymmetrical Bob with Undercut
Red asymmetrical bobs with undercuts are beneficial to women who have thick hair and no fear. Red hair always stands out above the crowd, as well as asymmetrical cuts. Not everyone has the time or patience, nor wants the maintenance of red hair or undercuts. So, adding all three attributes into one style is definitely a statement. This helps to provide less hair to maintain with the help of the undercut and the shorter side.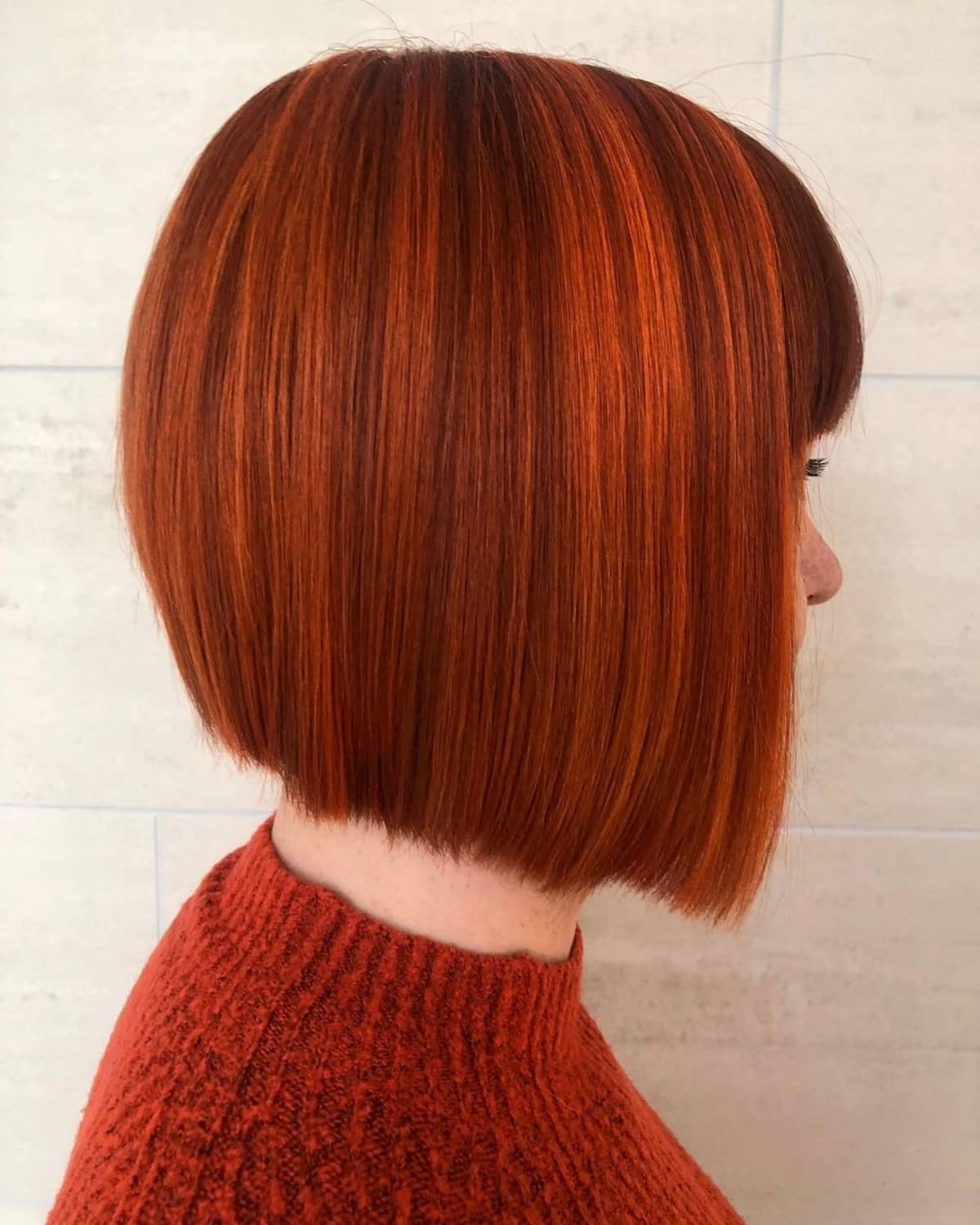 #9: Short Red Hair for Girls
Short, red hair for girls can be such a playful hairstyle. Short bobs need regular trims, and red colors need regular appointments to keep the vibrancy, but they're worth it! Using a red or copper-pigmented shampoo at home helps with maintenance. It also helps to keep the color vibrant between appointments.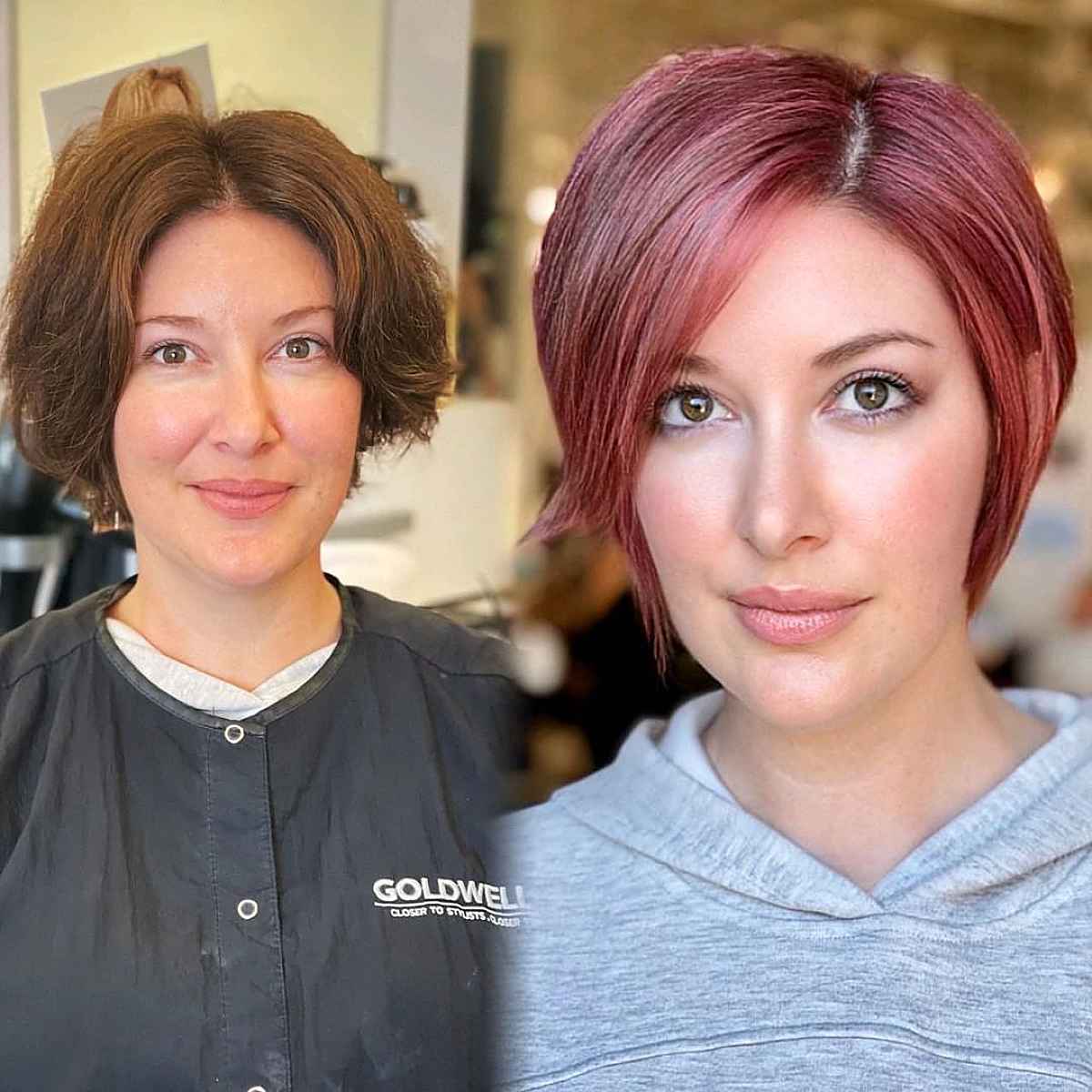 #10: Dark Red Hair with Highlights
If you're looking to spice up your hair, check out this plum and raspberry red color! Women with straight hair can wear this pixie cut hairstyle without effort and minimal styling.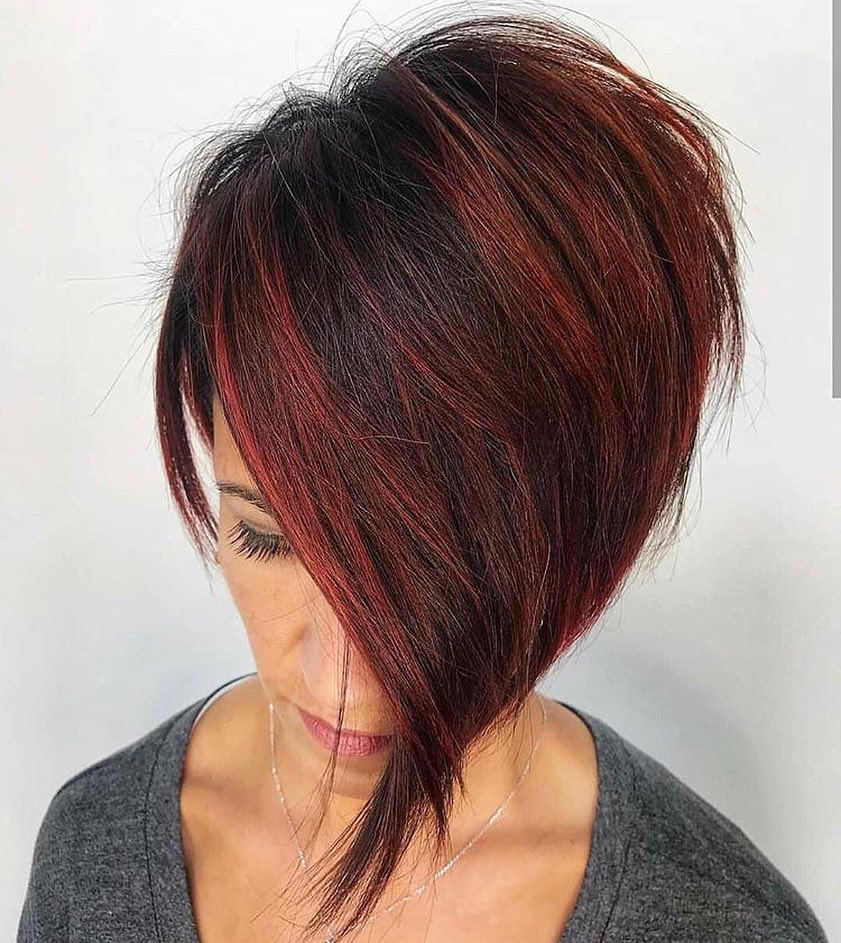 #11: Short Black Hair with Red Highlights
An everlasting black and red combo makes you feel like you are in punk rock concert ready for a mosh pit to happen.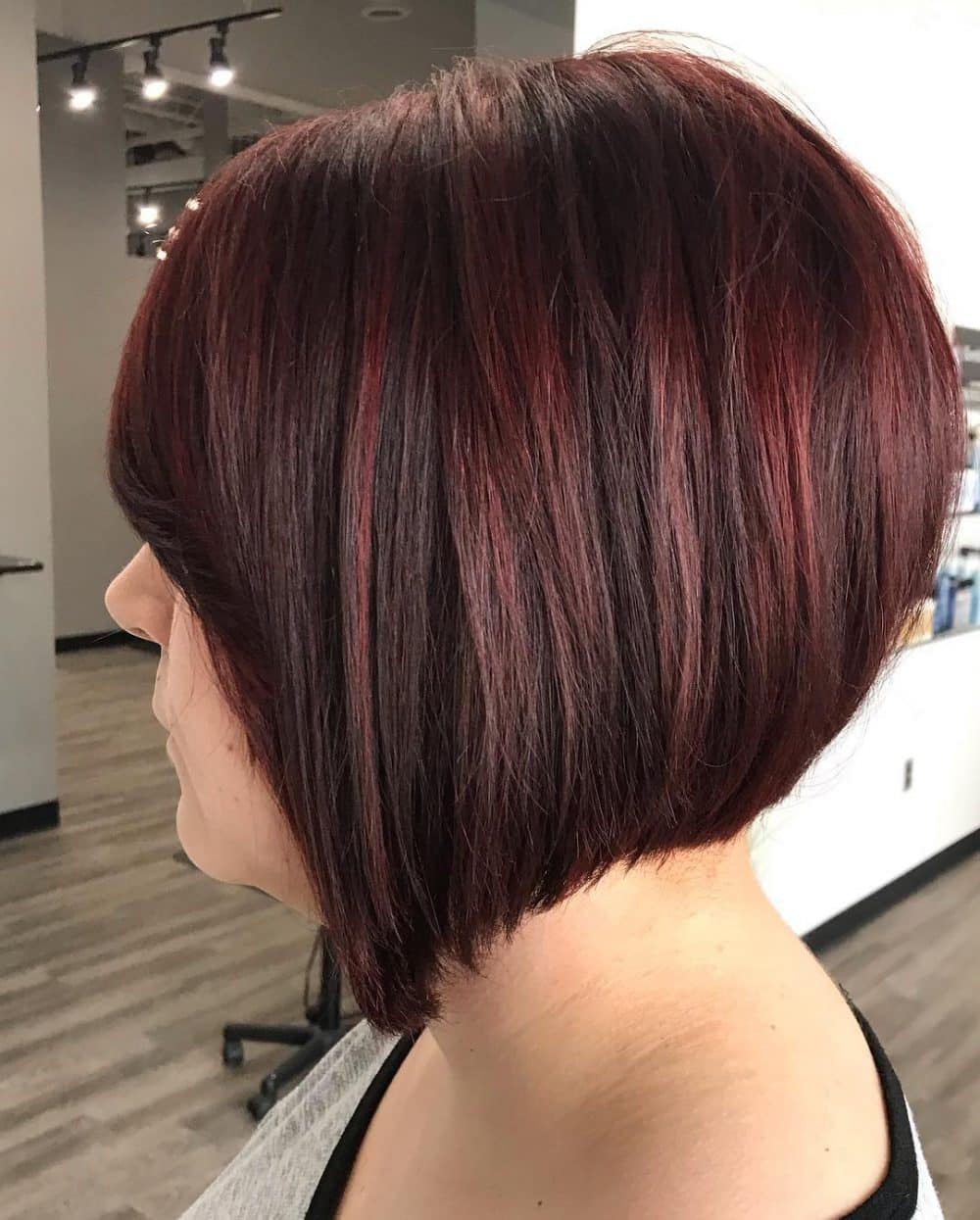 #12: Dark Brown Hair with Red Highlights
Stylist Stephanie Pachla of Shelby Township, MI created this deep red graduated bob haircut with a slightly asymmetrical front. "The color in the photo was achieved by doing a full highlight to beak up the previous color. This was done using a lightener that deposits red tones as it lifts. There's also a deep red tint in order to add dimension," explains Pachla. For maintenance, Pachla advises you to make sure you carve out time in your schedule to maintain it. "Red color on dark brown hair can be tricky to keep fresh looking, so schedule a touch-up every 5-7 weeks and use a color-safe shampoo and conditioner in between. Dry shampoo is a great tool as well – the less you wash, the longer those vibrant reds stick around!"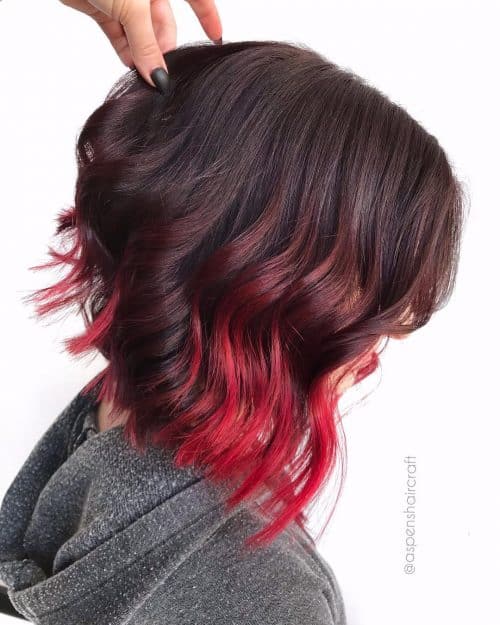 #13: Dark Brown to Red Ombre on Short Hair
Get that blood-red seeping in by having them all curled at the ends with this dark brown to red ombre hair color. If you're a red head wannabe, this trend is worth a try!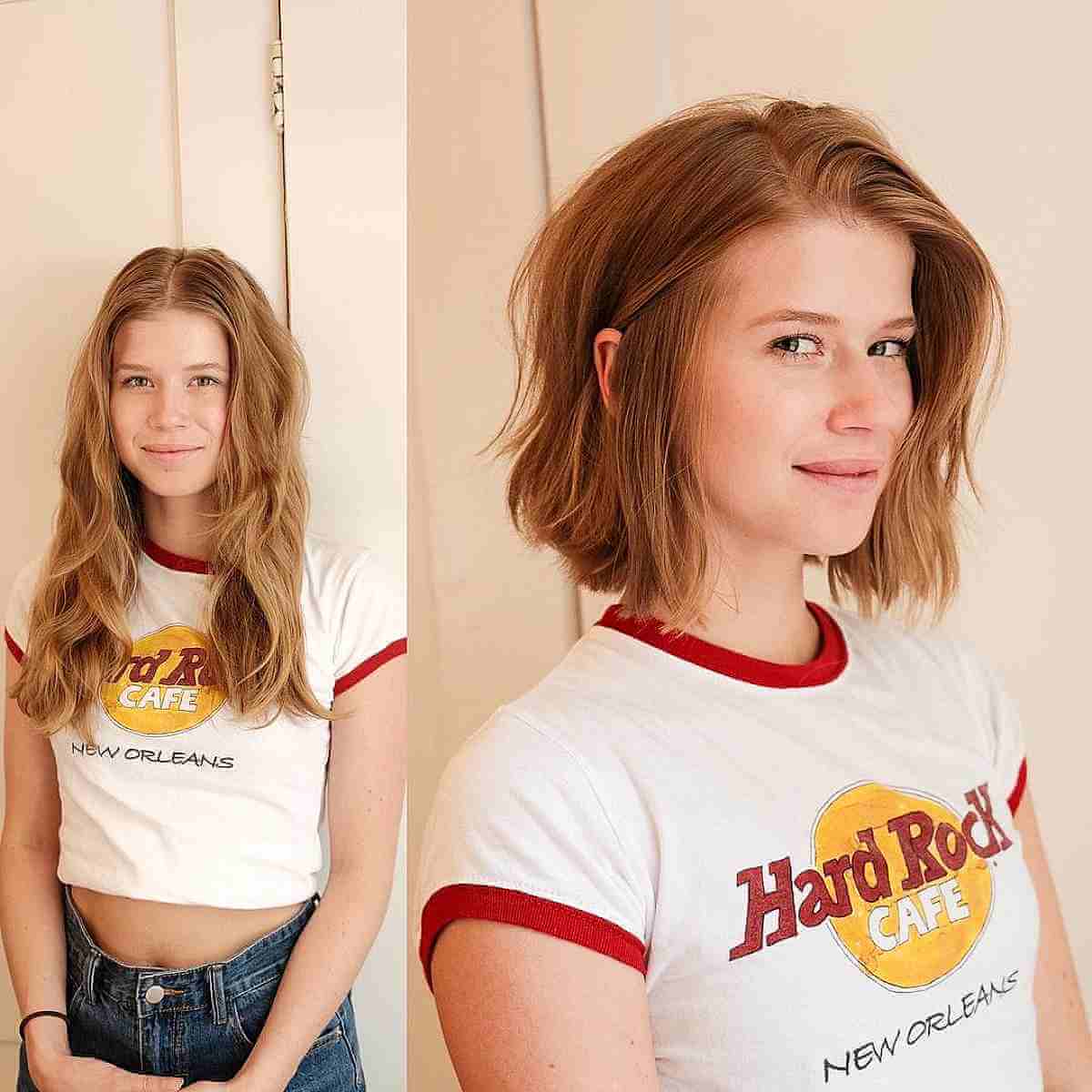 #14: Ginger Red Wavy Bob Style
Do you have short ginger hair? Gingers have the most fun, too! They got that natural autumn look and the short wavy bob adds all the flare to their short red haircut.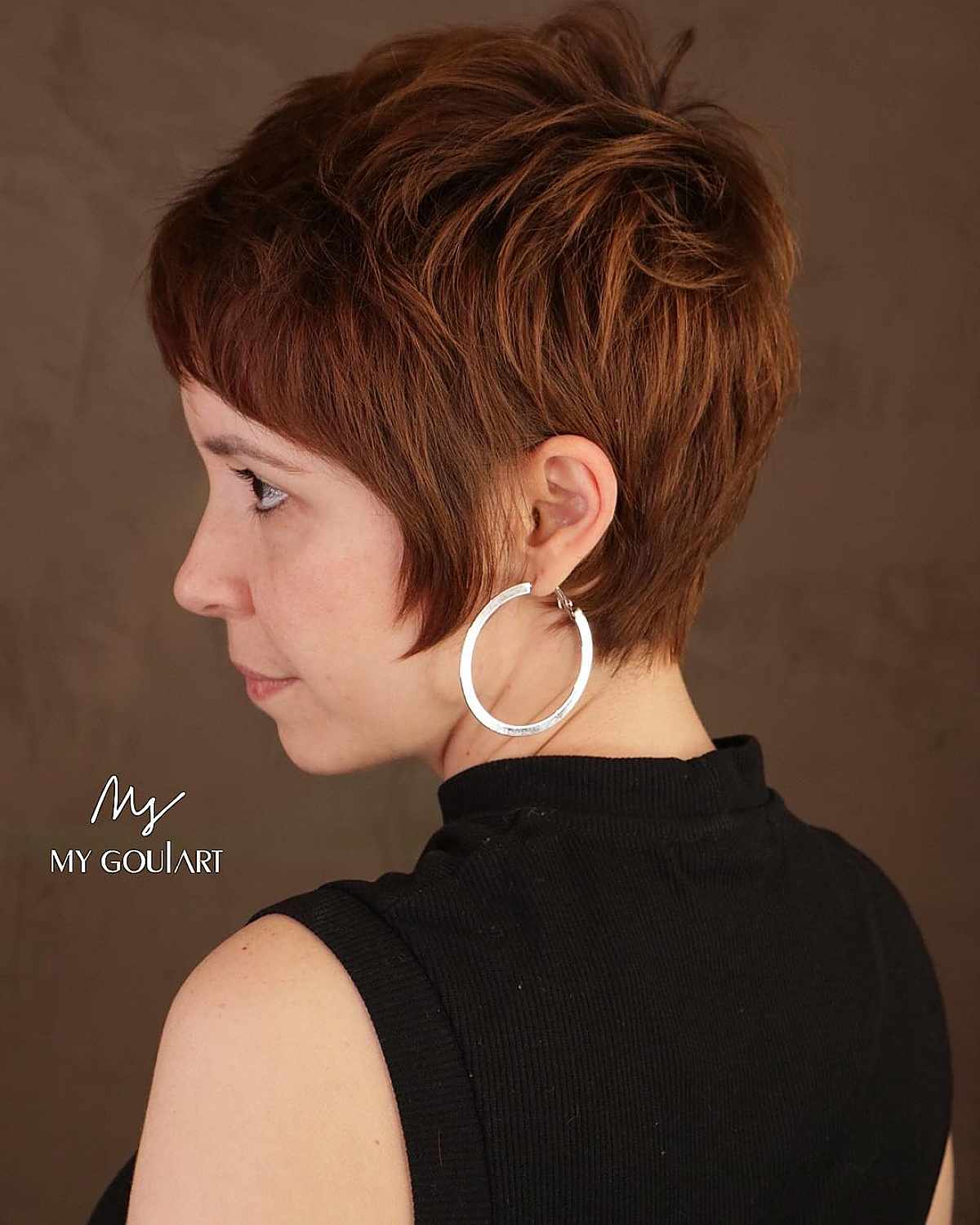 #15: Short Auburn Red Pixie Cut
A short auburn red pixie cut is a perfect fall color for redheads. The color creates an illusion of natural red hair on ladies with a fair skin complexion. This short auburn hair features a red tousled pixie style, perfect for women who love easy-to-manipulate hair trends.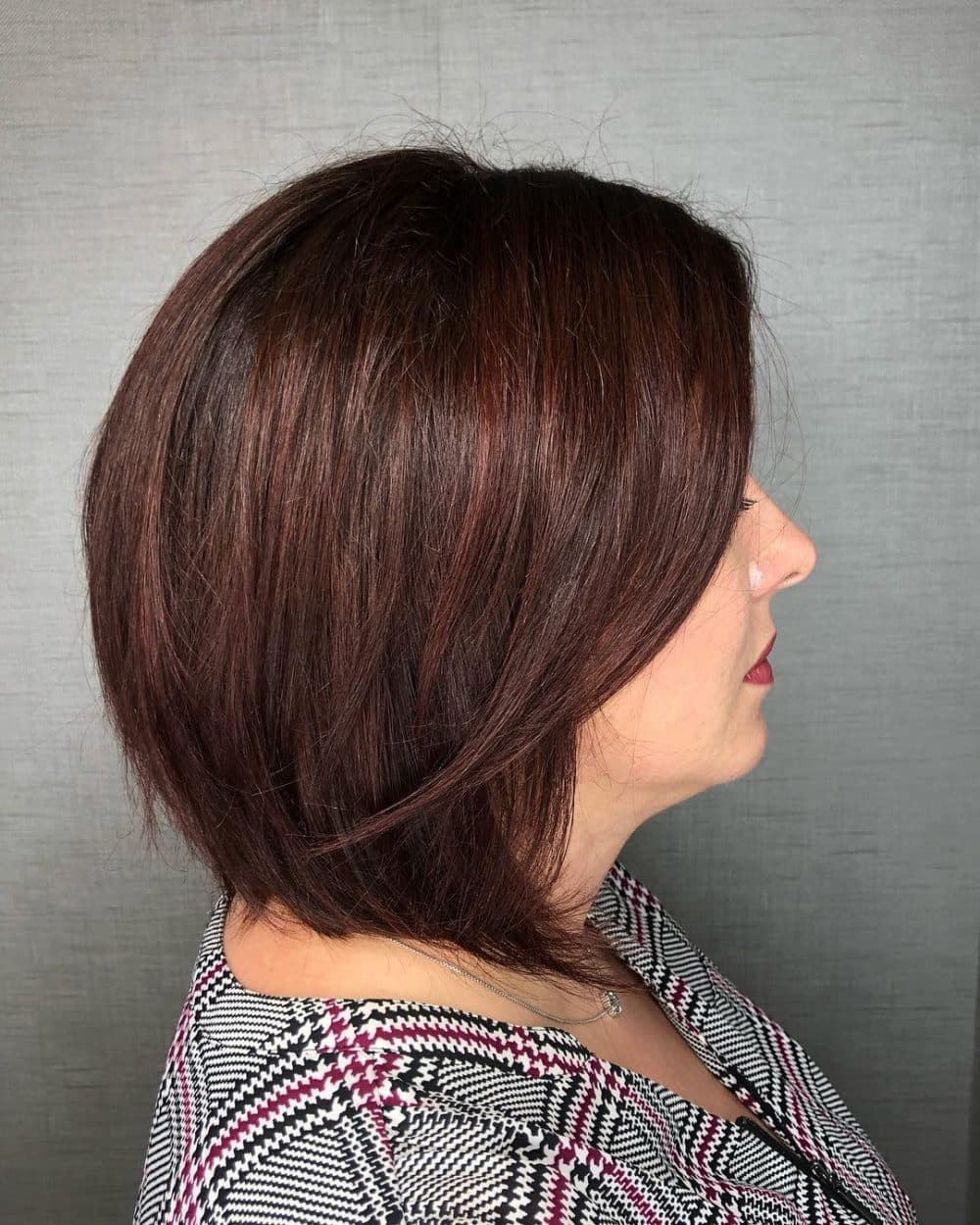 #16: Reddish Brown Chocolate Short Hair
Deep brown hair is the neutral tone that is a must-try when opting for red hair color. Get that drop of red with this red-brown shade.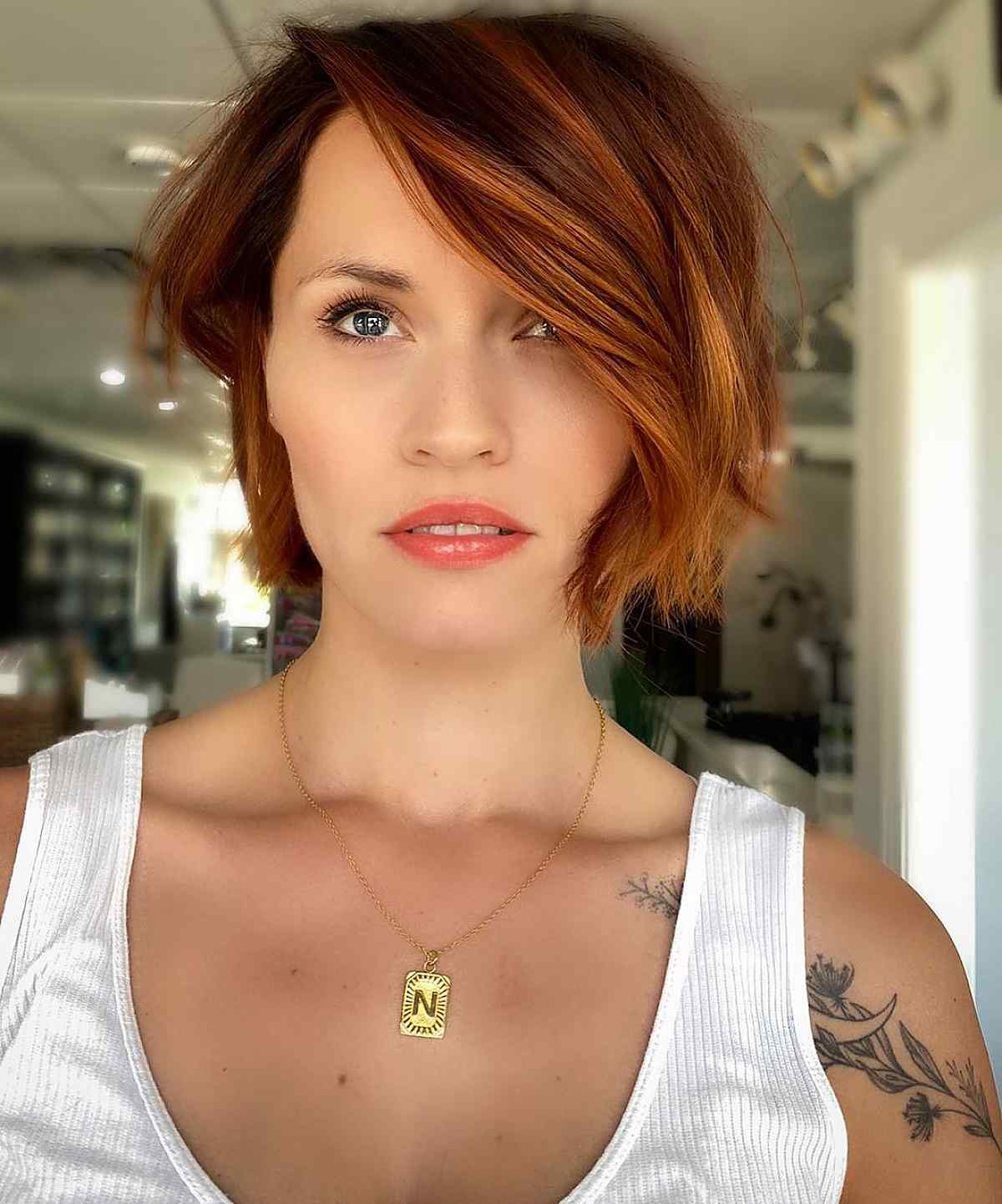 #17: Short Copper Red Bob
Get that rustic copper-red all out in the open. The long fringed bob shows all the tones of the color perfectly. This short copper hair brings out the skin tone very well.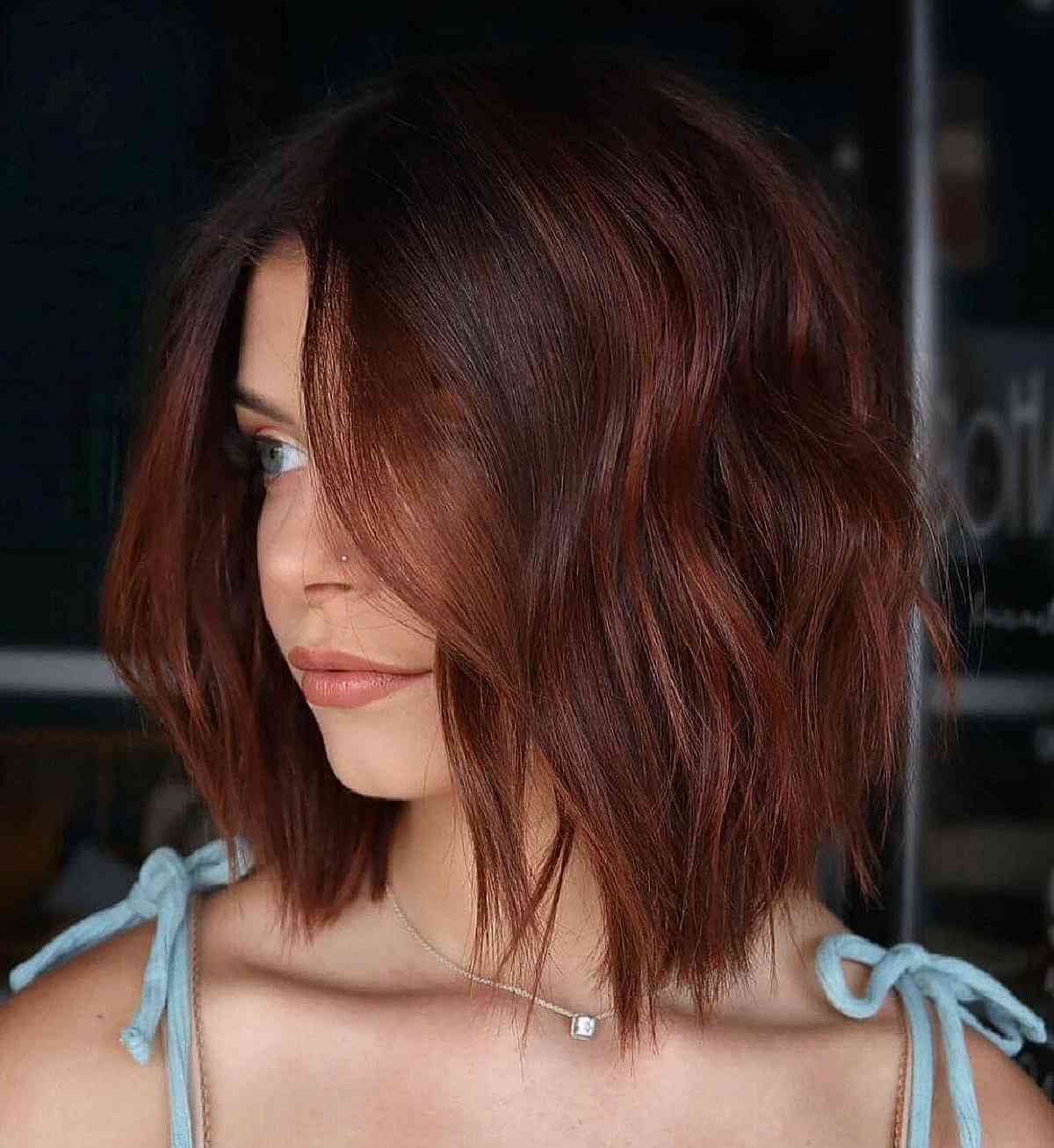 #18: Short Red Brown Hair with Highlights
Some women tend to frequent a red brown hair style because it's both relaxed and voluminous at the same time.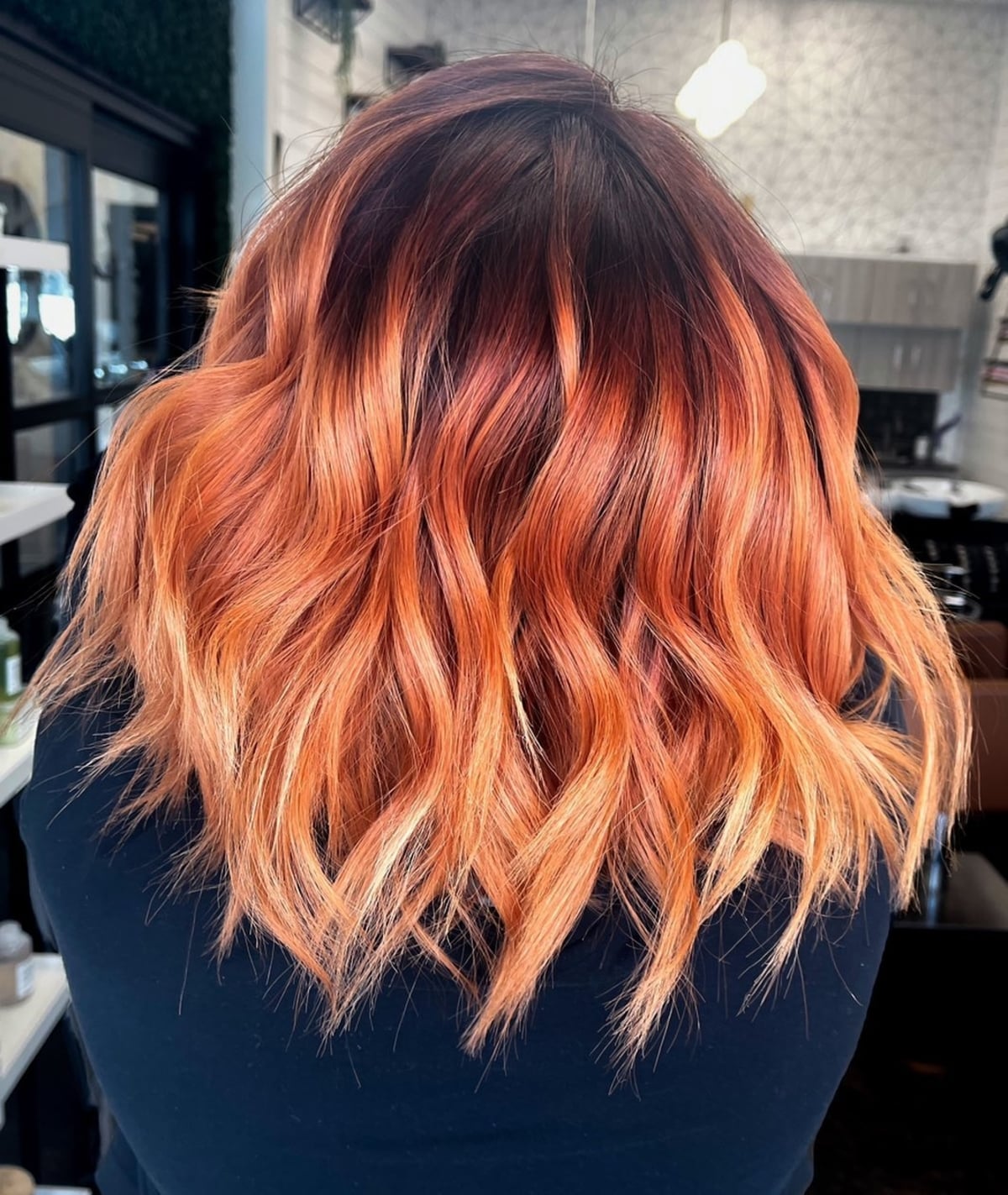 #19: Auburn to Strawberry Blonde Ombre
The auburn to strawberry blonde ombre can be achieved with a combo of balayage and color melt. Stylist Lauren Hassinger from Glen Mills, PA created this hair color. "These bright, warm copper tones look best on pale to medium skin tones," she states. Hassinger warns that home maintenance copper treatment shampoo & conditioners are a must. Her faves are the ones from Lakme Teknia and Davines.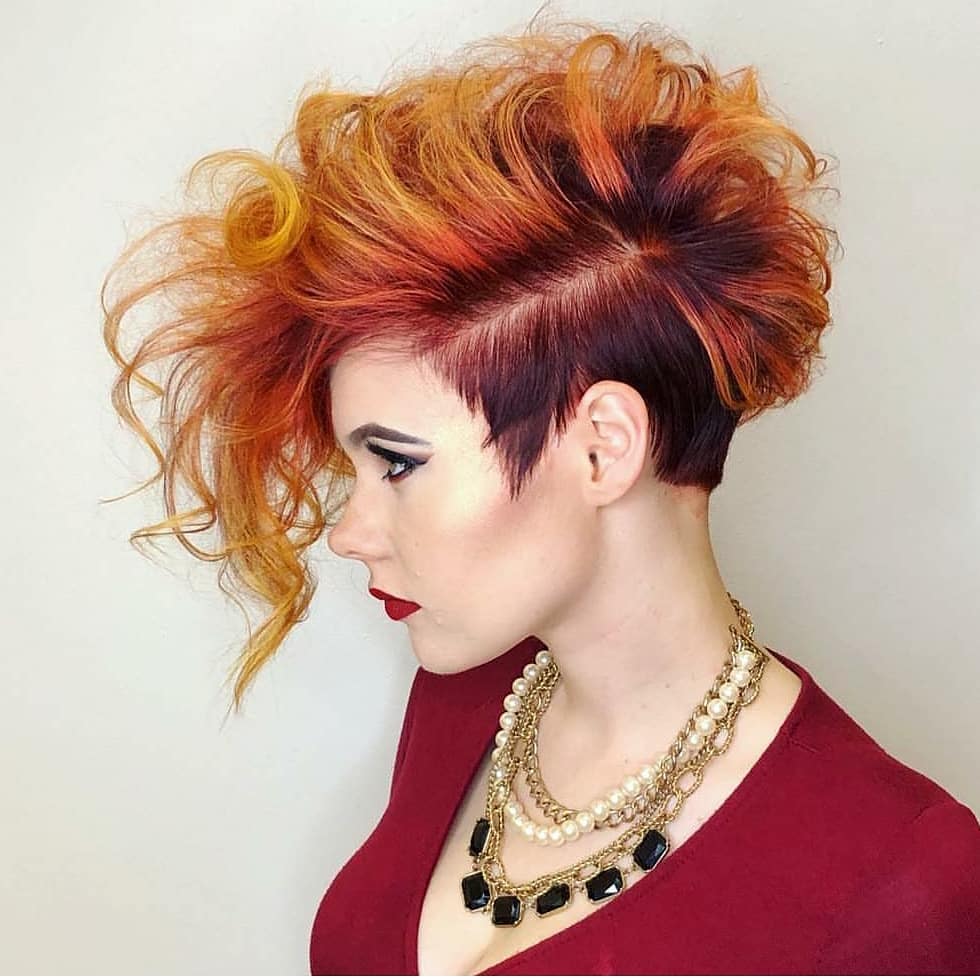 #20: Dark to Light Short Red Hair Ombre
This dark to light short red hair ombre was created by colorist Irina Tuga of Okemos, MI. "The best thing about short red haircuts is the vibrant shades. The way the colors blend together form fiery short red locks. Plus, the ombre curls give it the attitude that says I'm here," explains Tuga. "You definitely have to be comfortable with a short red hairstyle, as it's definitely going to get noticed," she adds. "Short haircuts require 4-6 week maintenance in order to keep the neckline and shape nice and sharp. Washing your bright red hair as little as possible is ideal to prevent color fading." Use dry shampoo. Tuga says Aveda has a great dry shampoo that's not only cruelty-free but it doesn't have alcohol in it, therefore it won't dry out your hair. "When you do shower it's best to keep the water on the cooler side to avoid premature color fading," she adds. "Curled or straight, short hairstyles like this look great either way. In fact, if you wear it as straight red hair, it can be styled into a cute asymmetrical bob," explains Tuga.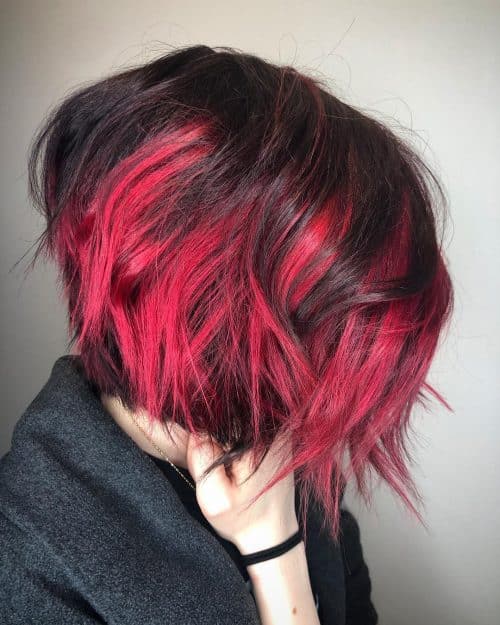 #21: Dark Red Hair with Light Red Highlights and Choppy Layers
Short red hair styles like this are considered a red shorter angled bob. "The selection of color really ties in and complements the choppy layers and red highlights, resulting in tousled red hair," explains stylist Jenny Vernetti of Rockford, IL. "Short red wavy bob hairstyles and haircuts like this are for women who don't mind the upkeep and love this red color because red fades fast," says Vernetti. "This bob with red highlights is excellent for women who don't want to spend a lot of time styling their hair, and it's one of those short red hairstyles that when it's messier, it's better," she adds.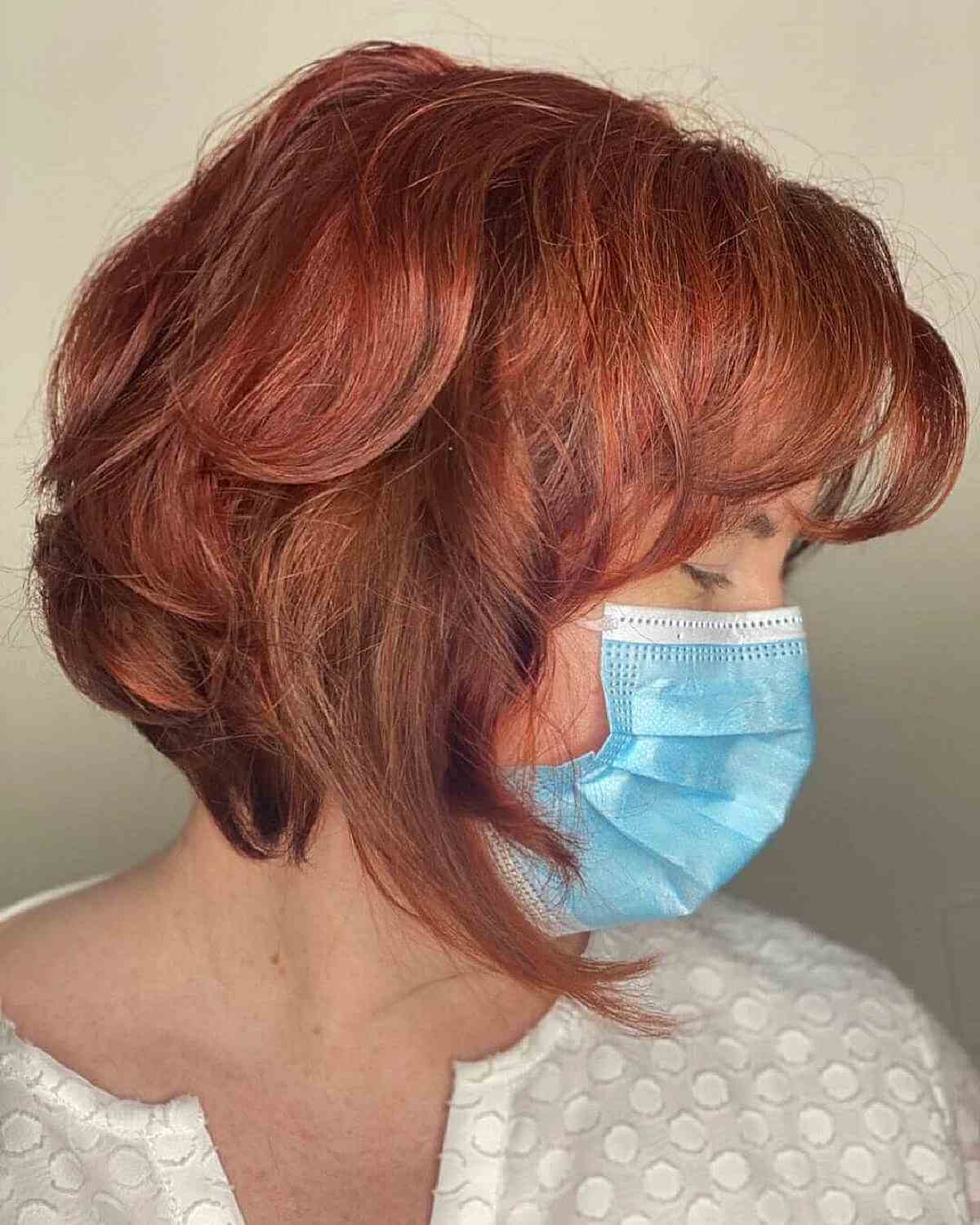 #22: Short Cinnamon Red Hair Color on Layered Bob
Don't you love the vibrant red? As much as women love ashy tones, too many are afraid of seeing any trace of even a medium red shade in their hair. Red short hair styles like a cinnamon layered bob have amazing benefits, such as making green and blue eyes pop.
Red hair short itself isn't very common. Use Aveda colors because they're not pre-mixed. So it's perfect for redhead women who want to be out of the box. Every color is custom to meet each person's individual needs. Adding dimension to your hair with highlights creates a warm tone. This will make your red color a little more interesting to stare at! So go bold, go different, and paint your medium bob hair red!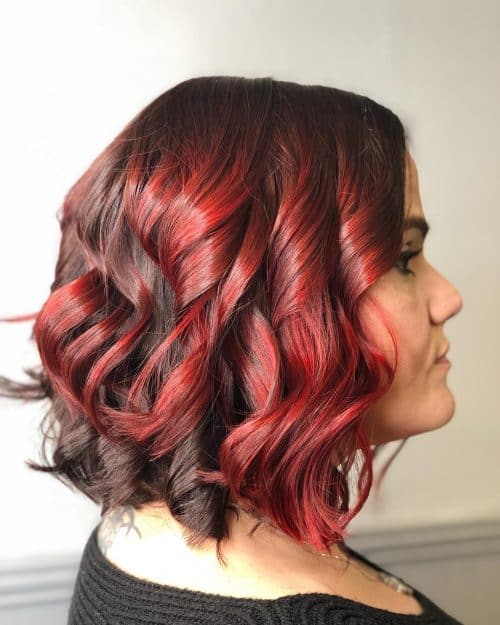 #23: Dark Red Balayage
This red balayage bob is classy and was created by colorist and natural hair stylist Destiny Moody of Virginia Beach, VA. "The bold red lends itself to the sexy vibe, and the long bob cut offers a classy appeal. The wavy curls add the oh so sassy," explains Moody. From very fine to very thick hair, Moody says it's all about shape and layering for this cut. "Style-wise, bring on the volume and the texture! If your hair isn't naturally wavy or curly, don't be afraid to add some to it with a hot styling tool, turning it into gorgeous short curly hair," she adds. Moody recommends you try Amika & Moroccan oil products. "Also, find a good blow-out spray, shine spray, and flexible hairspray to maintain shine and enhance waves with managed movement!"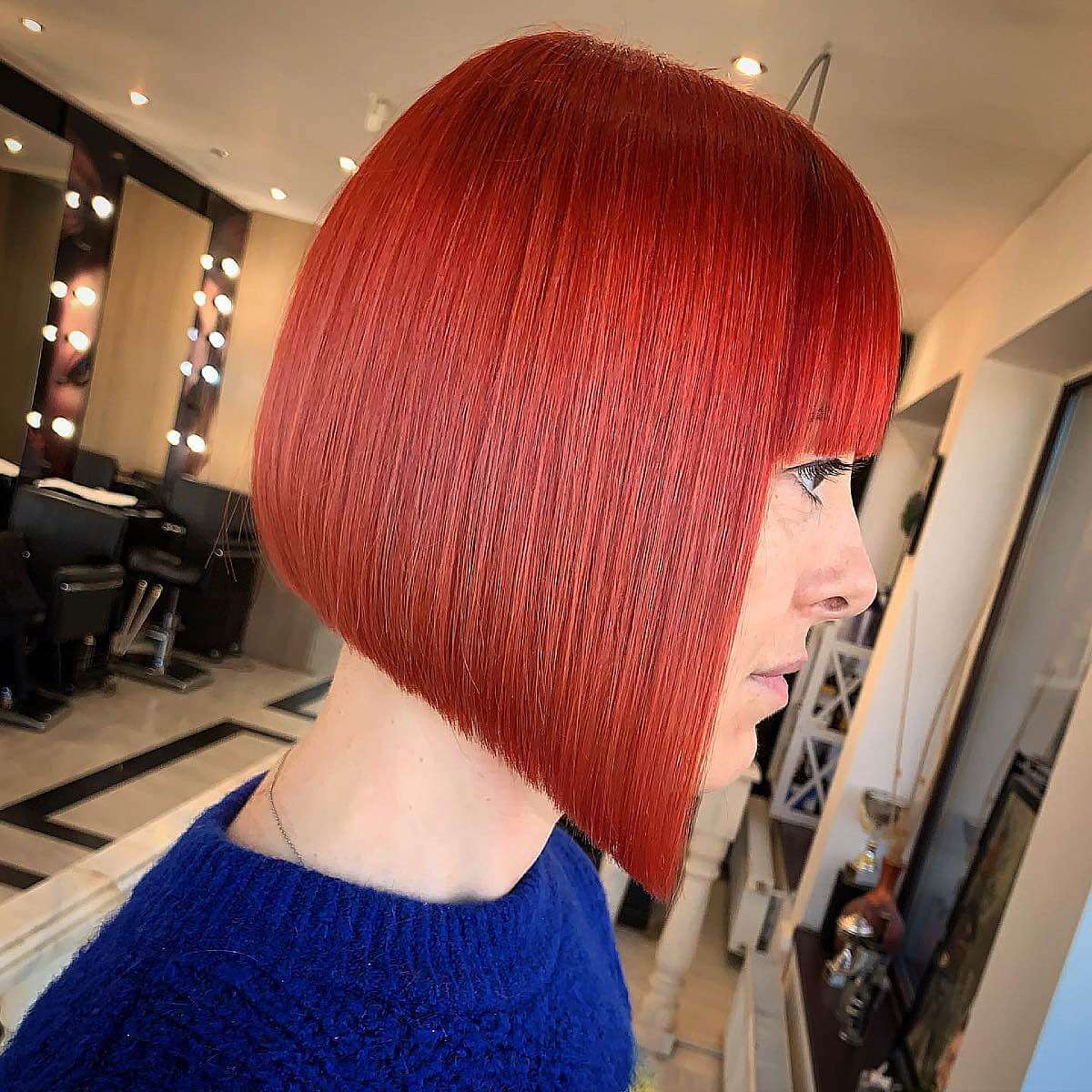 #24: Brick Red Hairstyle For Straight Hair
A brick red hairstyle with a blunt fringe is a fiery statement bob. The bright red color combined with the short blunt haircut gives off a bold statement that not all women can pull off. So this red short bob would be great for a woman with confidence, who doesn't mind the upkeep and doesn't mind turning heads.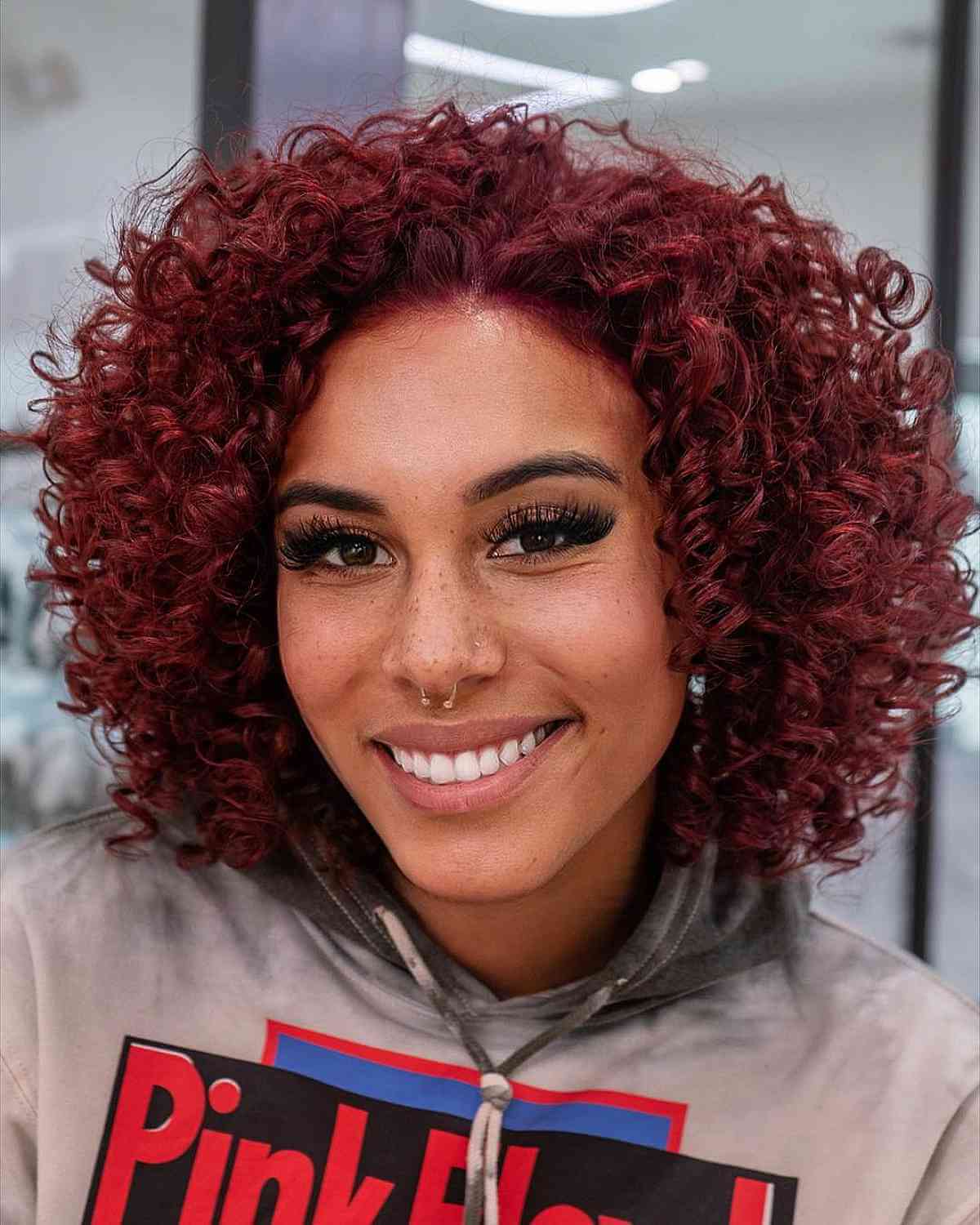 #25: Natural Curly Red Hairstyle
Go for short red curly hair that has varying hues of reds, violets, and pinks. This red curly hairstyle allows the sunlight to reflect the different tones as opposed to a monochromatic typical red hair color. When deciding on short curly red hair, just know it's a commitment. This includes a hair maintenance routine in the salon and at home. While permanent red colors are more forgiving with the speed of fading, this fashion color requires either a red shampoo (Joico Red Shampoo) or conditioner (Maria Nila in bright red) to refresh the color and increase longevity. Ask your stylist for recommended salon products for at-home care. It's best to use cool to lukewarm water during the cleansing and conditioning of this fiery red lob. Reds complement almost every skin tone, so find the one for you, and you'll be hooked!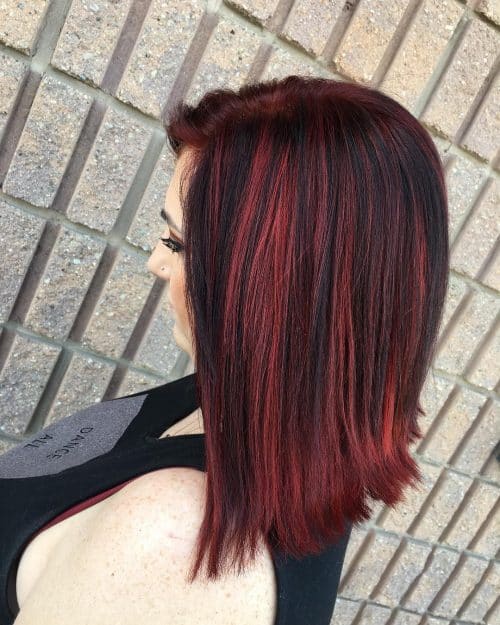 #26: Red and Black Balayage
"To get this dark red short hair, ask your stylist to use a free hand technique to pre-lighten specific pieces before applying Matrix HD-Red," explains senior stylist Chantel Davis-Thompson of Canada. "Don't you love the vibrancy and depth that comes with adding a red hue to pre-existing black hair? To get your short dark red hair color to pop, opt for shortened layers to add movement and texture," she adds. Davis-Thompson reminds us that red hair dye is one of the quickest to fade, thus short red hair definitely needs ultimate care. This needs to be kept in mind when considering short red hair ideas. "Using professional color care shampoos, washing with cooler temperatures, and regular salon visits will help you keep your reds looking fierce! Reds are very versatile and come in many different variations," she advises.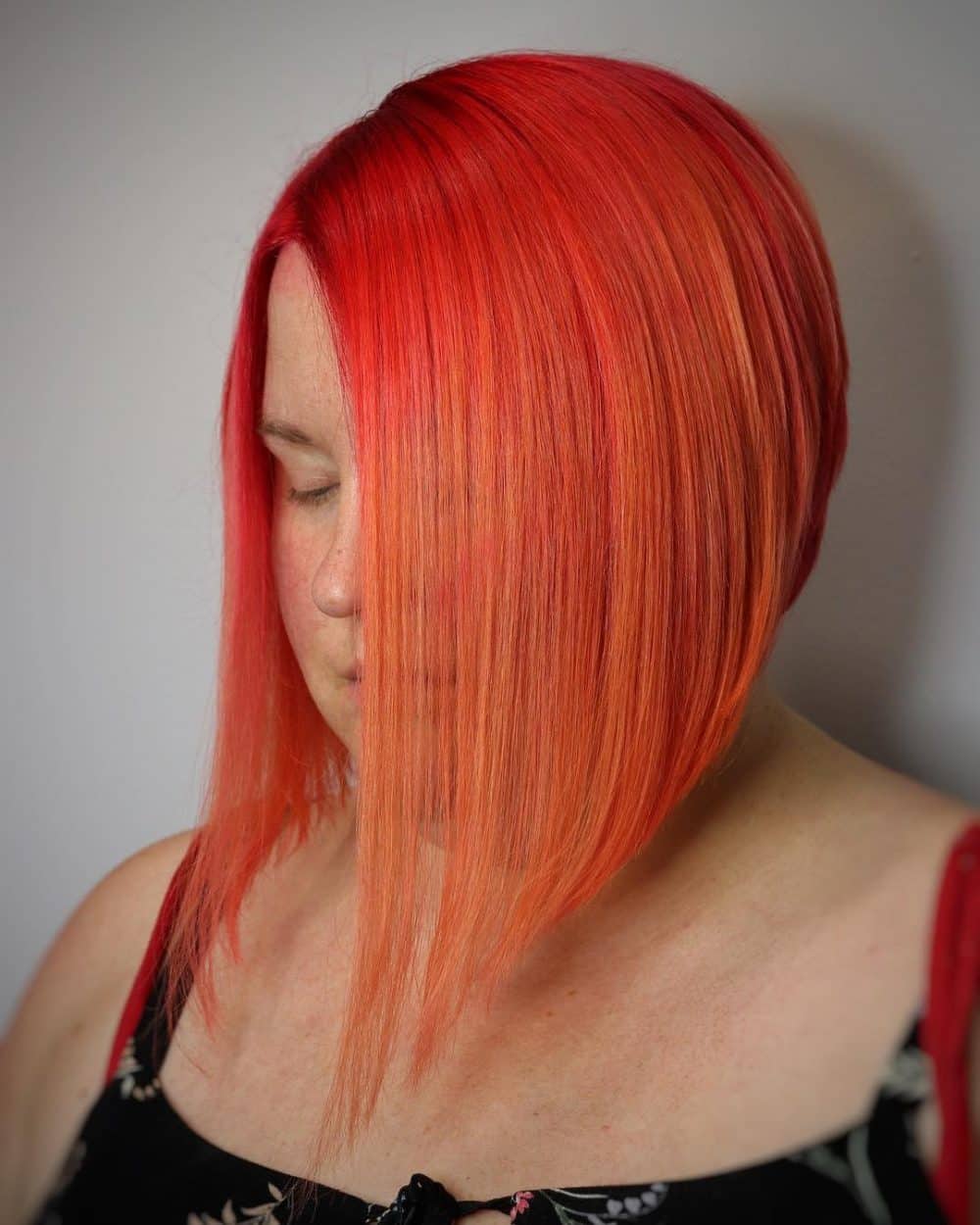 #27: Short Orange Red Hair Color
Looking for new red hair dye ideas? Slip into that right shade of crimson by adding a bit of orange right at the ends. This red orange hair creates that melting fire red shade that looks bold. Cut and transform your long hair into a short A-line bob to match your round face.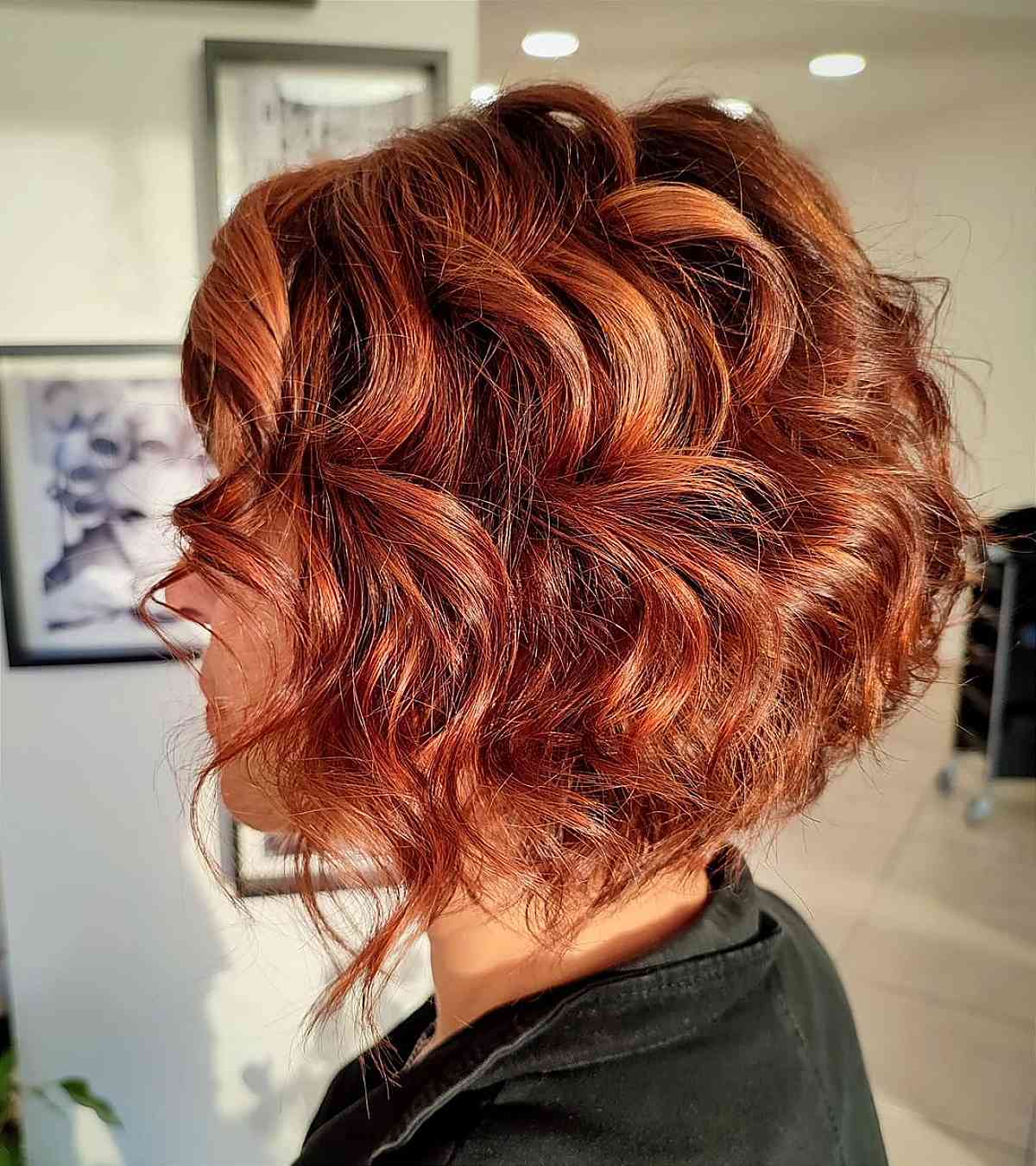 #28: Red Curly Bob Hairstyle
Show off your beauty and confidence with a red curly bob hairstyle. A short hairstyle projects an image of strength and confidence and the color red signifies courage, making the mixture a powerhouse of a hairstyle. Adding curls or beach waves to such a bold style will help to soften the overall look of the hair and face.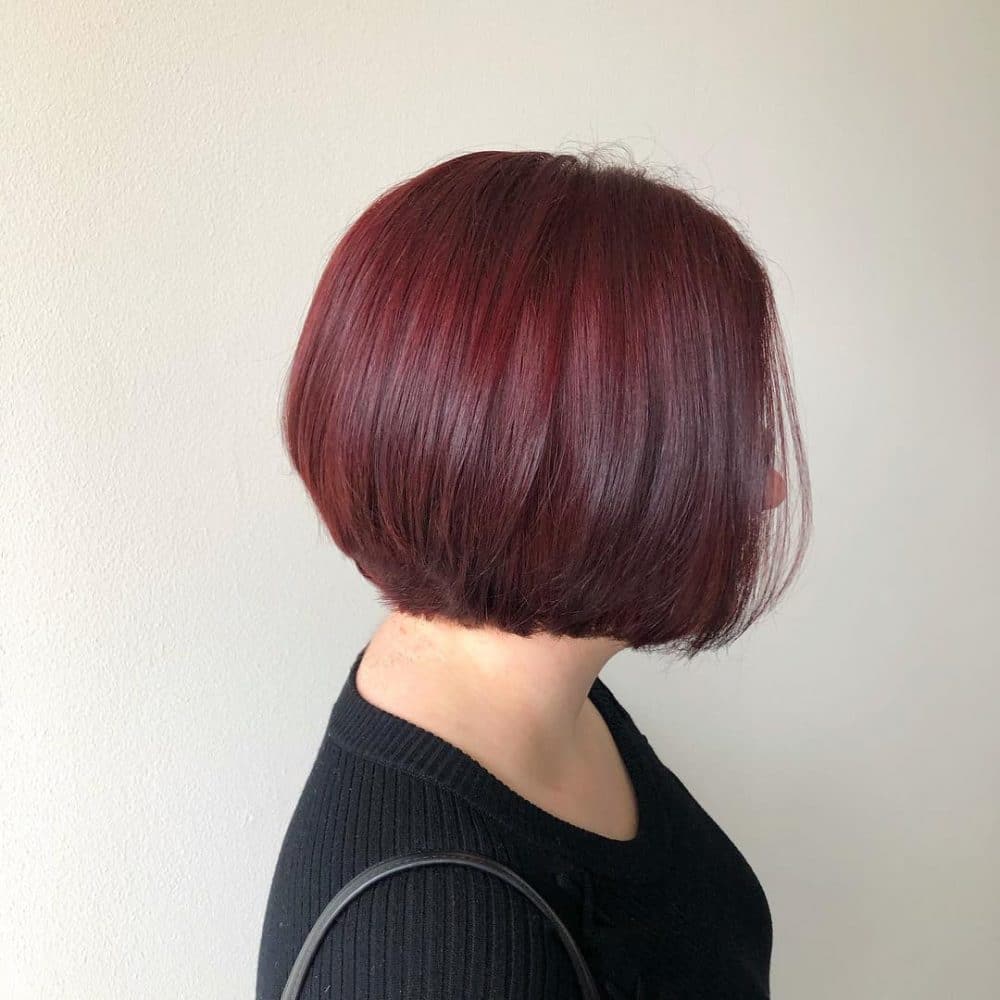 #29: Short Burgundy Red Haircut
This short burgundy red haircut was created by stylist Hailey Mikesell of Ohio. "If you are looking for a popping short red hairstyle, give Davines' burgundy red hair dye a try," says Mikesell. She goes on to explain that maintenance is everything. "Although reds tend to be the hardest color to get out, they're also the hardest to keep in," she adds. "Wear a hat in the sun, use the correct at-home products, and come frequently enough for color upkeep!" If you're spending a good amount of money on your short bob red hair at the salon, Mikesell states "don't settle for the $8.99 sulfate-filled shampoo – that's going to strip it!"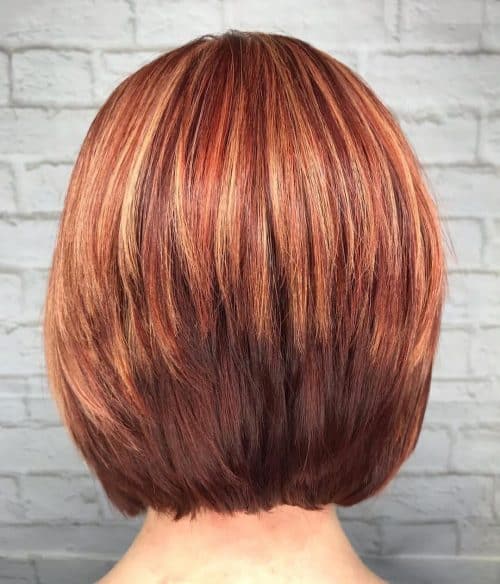 #30: Shorter Red Hair with Blonde Highlights
Lighten up your scarlet red hair with blonde highlights like these. Now's the time to flaunt your red hair bob with dimension!