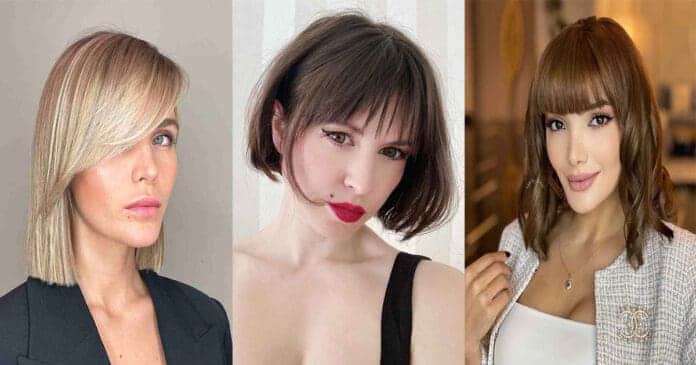 Short hair with bangs is a popular way to have short hair. Pairing a short hairstyle with bangs is a great way to break out of a hair rut and balance out face shapes that aren't perfectly oval or heart-shaped. Can you pull off short hair with bangs? Be ready to keep up with the maintenance and its demand for styling. Bangs have to be styled every day. Hairstyles for short hair aren't often the wash-and-go type of cut. During a consultation, tell your stylist how much time you're willing to spend on your hair in the morning. Felan notes that some hair textures take more work to style each day. Does your hairstylist specialize in short hair? Not every stylist is comfortable nor trained to cut short hair. So be sure to ask them about their experience first.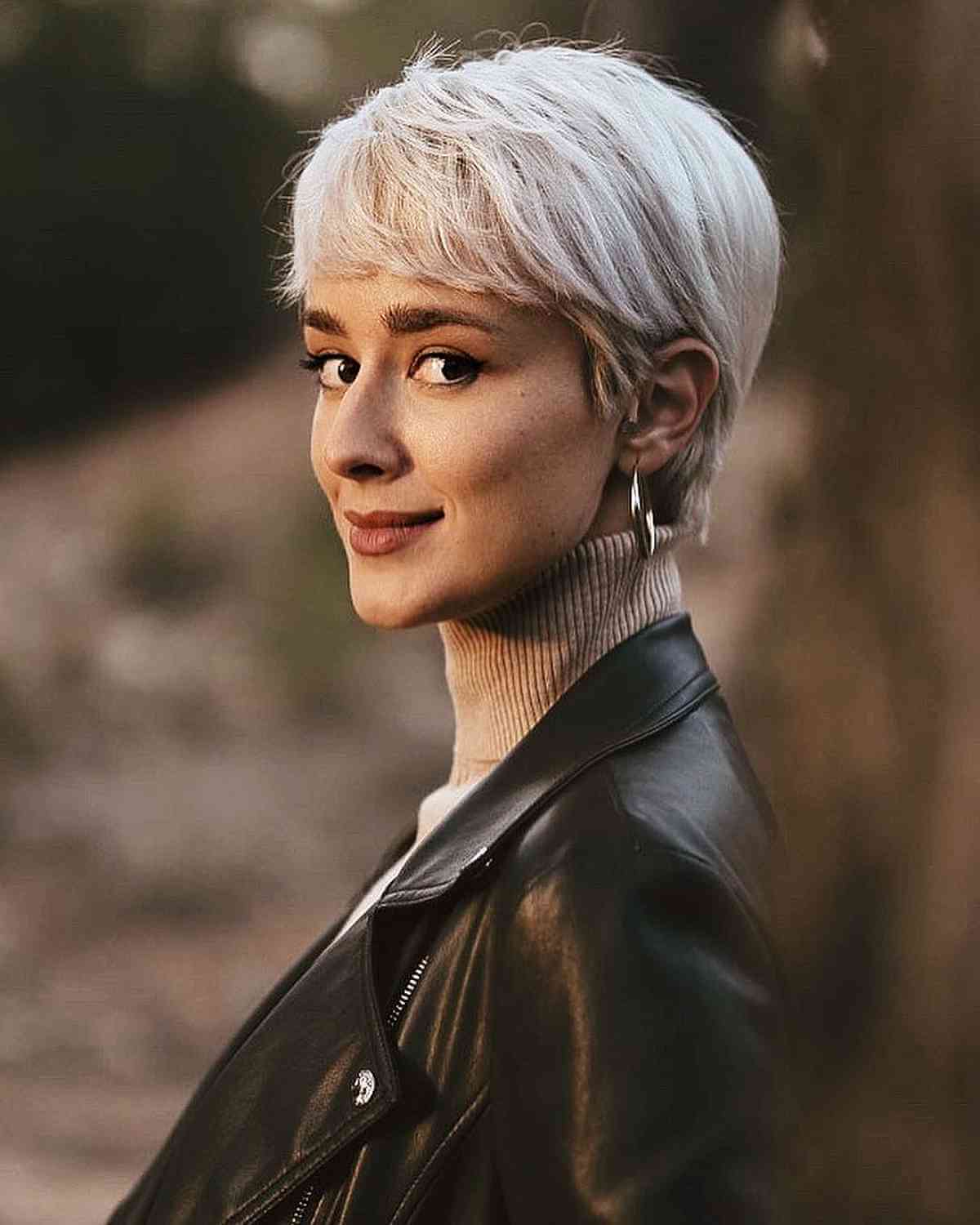 #1: Sleek and Side-Swept Fringe
Go for a sleek look if you have layered straight hair. This look will surely create width if you have a longer face shape and this cut will work for any hair type. How to Style: Apply thermal protectant spray and smoothing serum to damp hair. Dry hair using round brush to create volume and pull hair over to one side. Flat iron hair in one-inch sections to create the soft roundness at the ends and in the bangs. Finish with medium hold hairspray and shine spray.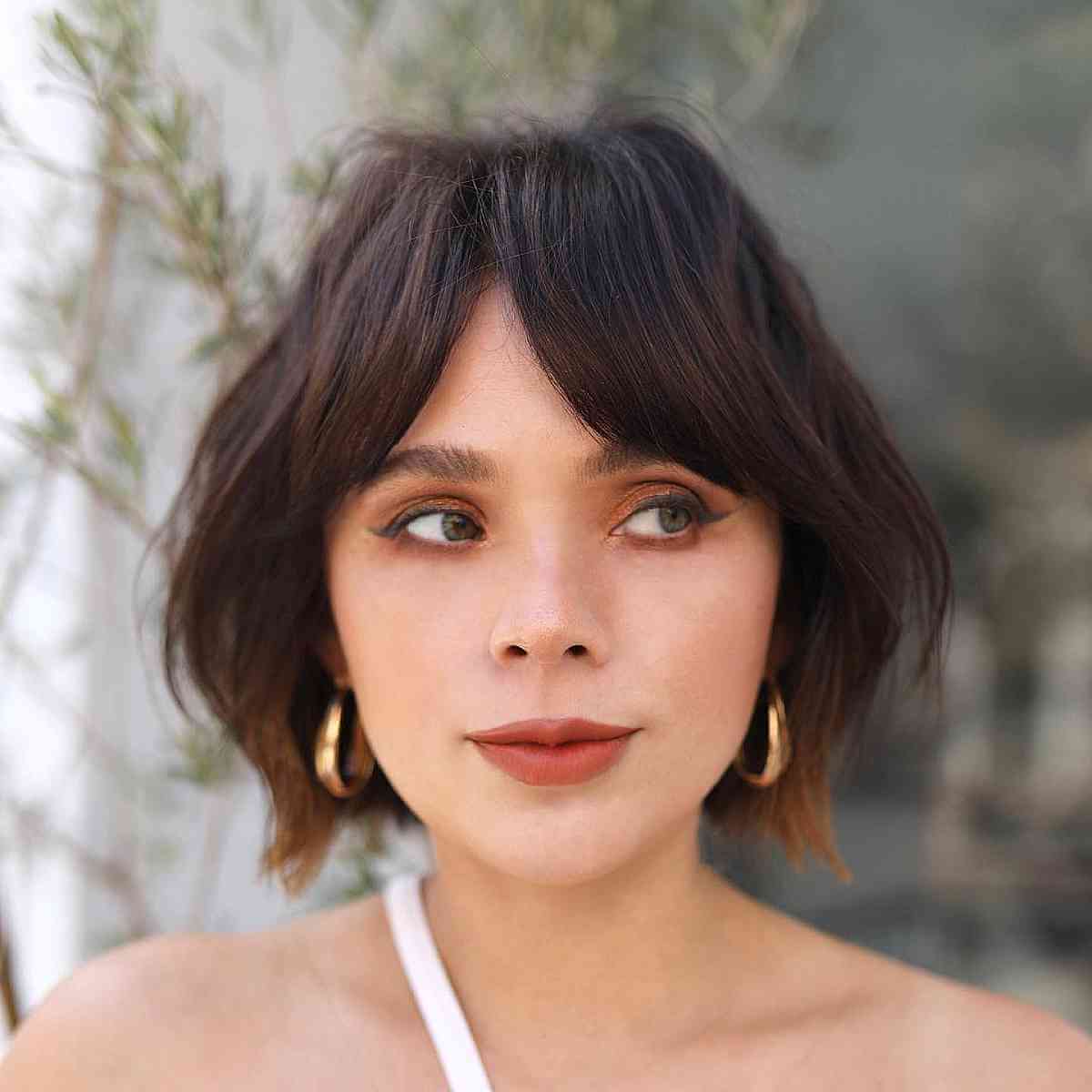 #2: Short Brunette Bob with Curtain Bangs
Short hair with bangs always looks cute! So go for a cute and sassy upgrade with a short brunette bob with curtain bangs. Fabulous short bob cuts are equally flattering on all different hair types and textures. The curtain bangs are a great alternative to the traditional bang and come with way less maintenance. If you need to, ask your stylist for a razored cut to give your hair that beachy feel.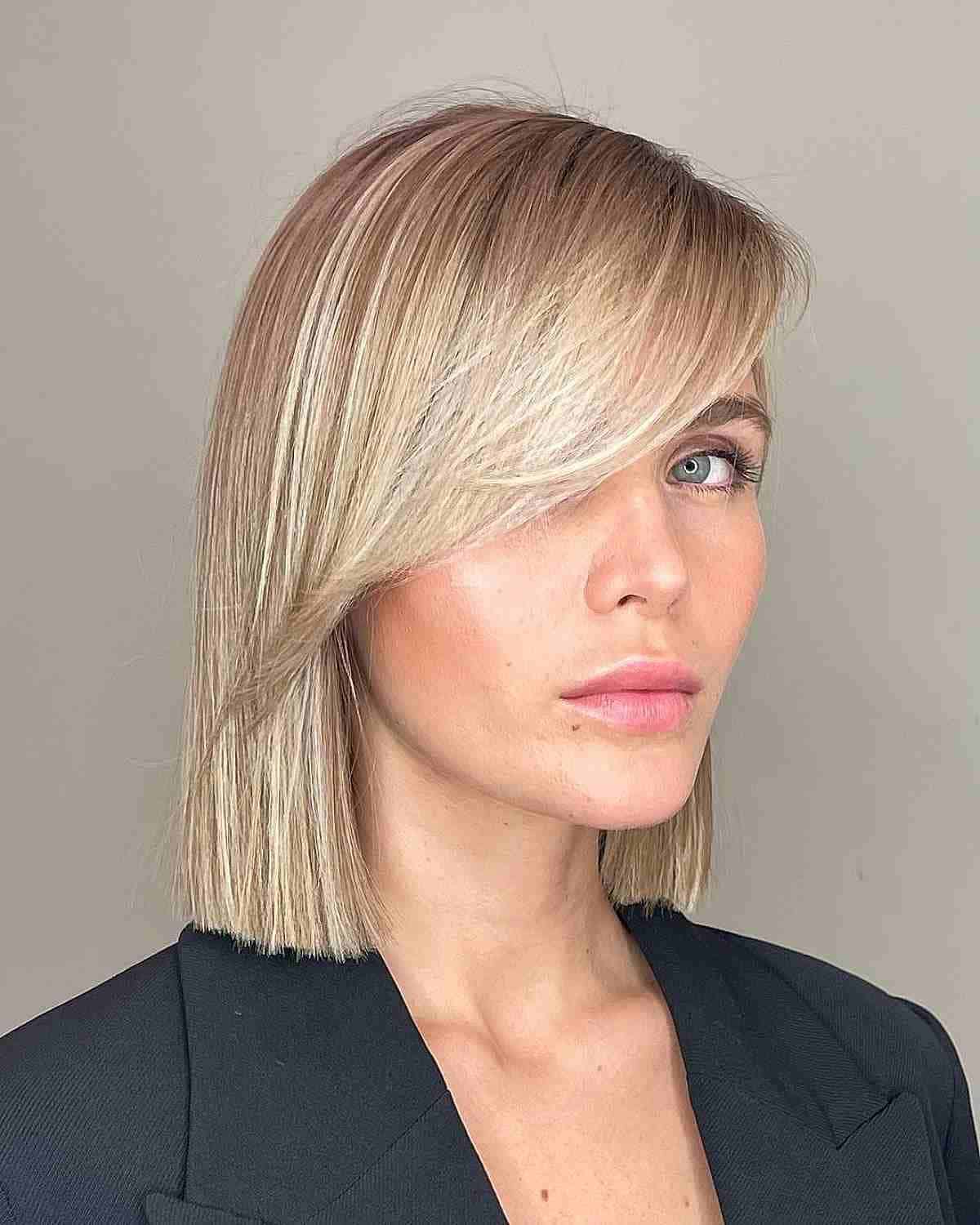 #3: Short Straight Hair with Bangs
If you're looking for an ultra-chic and polished style, keeping your hair short and straight with bangs can be a great choice. A flat paddle brush and blow dryer are basic tools to have on hand for this look, however, a styling aid like Drybar's Liquid Flass Miracle Smoothing Sealant will help you give it that high gloss finish and added heat protectant benefit.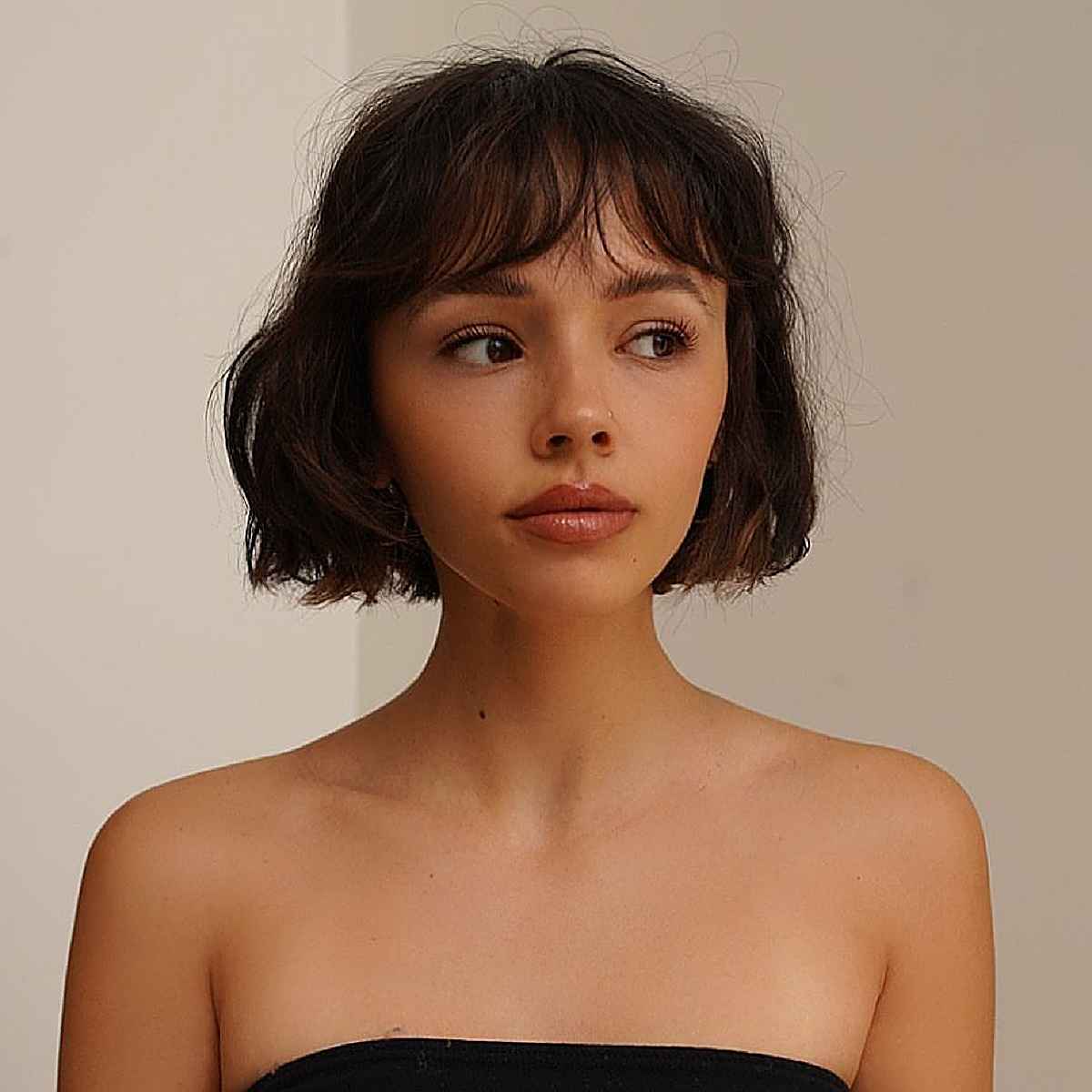 #4: Short French Bob with Subtle Layers
Try a short French bob with subtle layers if you're ready for a daring, yet super stylish hairstyle with a middle part. A French bob falls between the bottom of the ear and chin and is often paired with blunt or short wispy bangs. A blunt haircut with layers is not a low-maintenance cut and will need to be styled, especially the fringe area.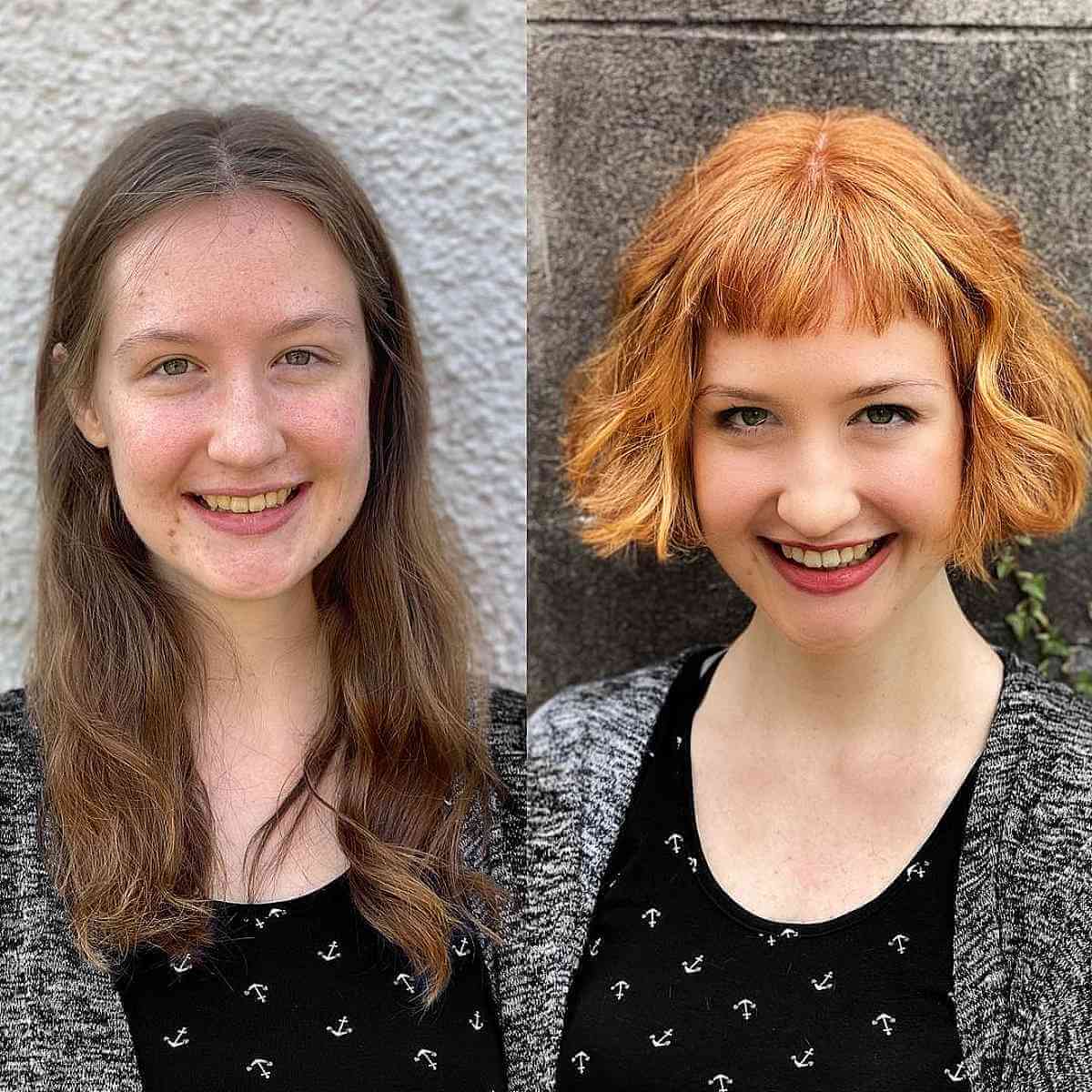 #5: Short Wavy Hair with Micro Bangs
When it comes to thinking of your next style, make sure to consider micro bangs on short wavy hair. Short bangs are a stylish addition to any haircut. If you want to cut your bangs short, remember they are great for all ages and compliment longer face shapes by framing the face and shortening the appearance of the forehead.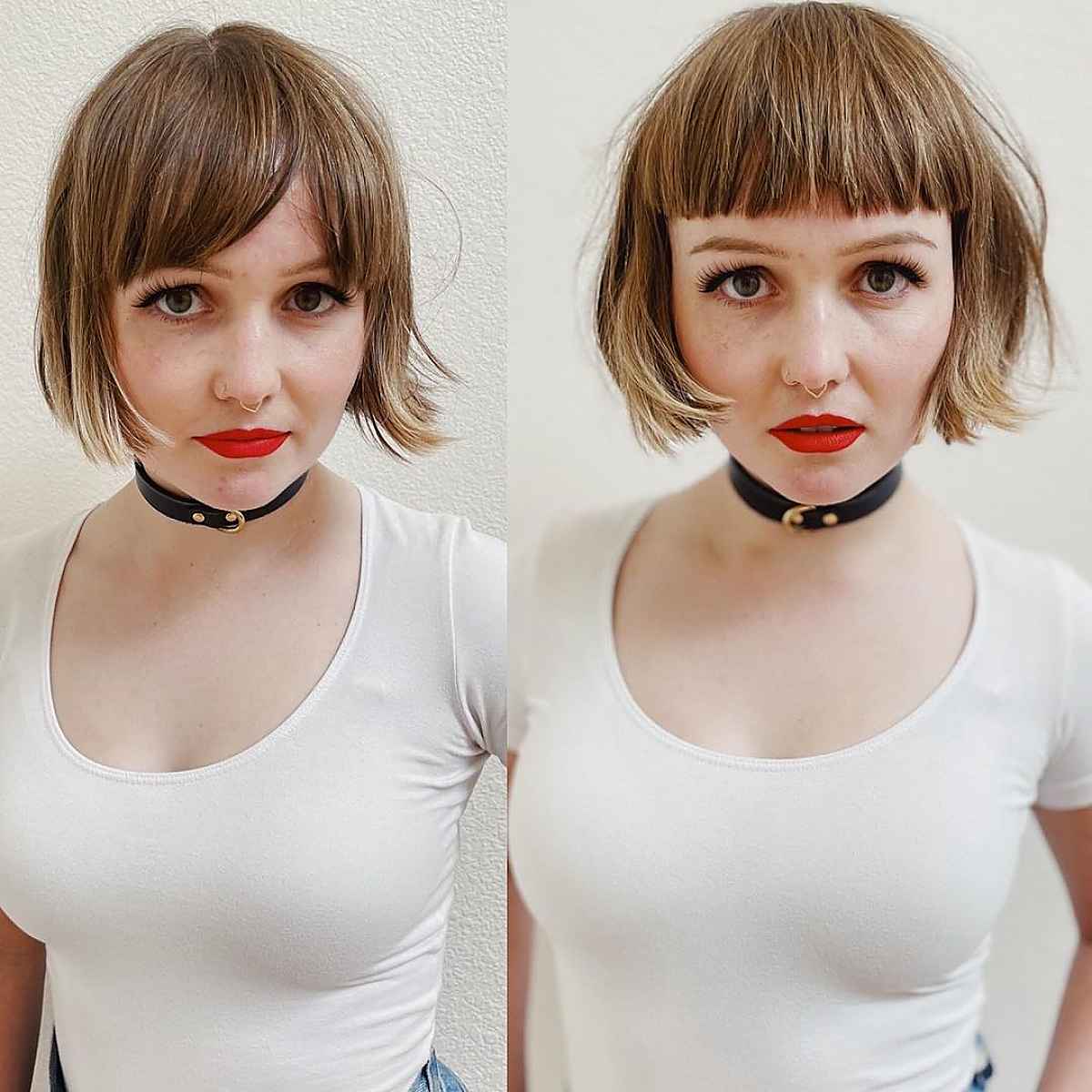 #6: Very Short Hair with Blunt Bangs and Choppy Layers
This layered short hair with bangs is the modern grunge Joan Jett. This cut has short and subtle choppy face-framing layers, partnered with soft hair highlights and blunt wispy bangs. The layers around the face can bring out high cheekbones and the soft blunt bangs frame your gorgeous eyes. How to style short haircuts with bangs: Apply Aveda's Texture Tonic on damp hair. Let it air dry. Finish by separating the layers with the Defining Whip.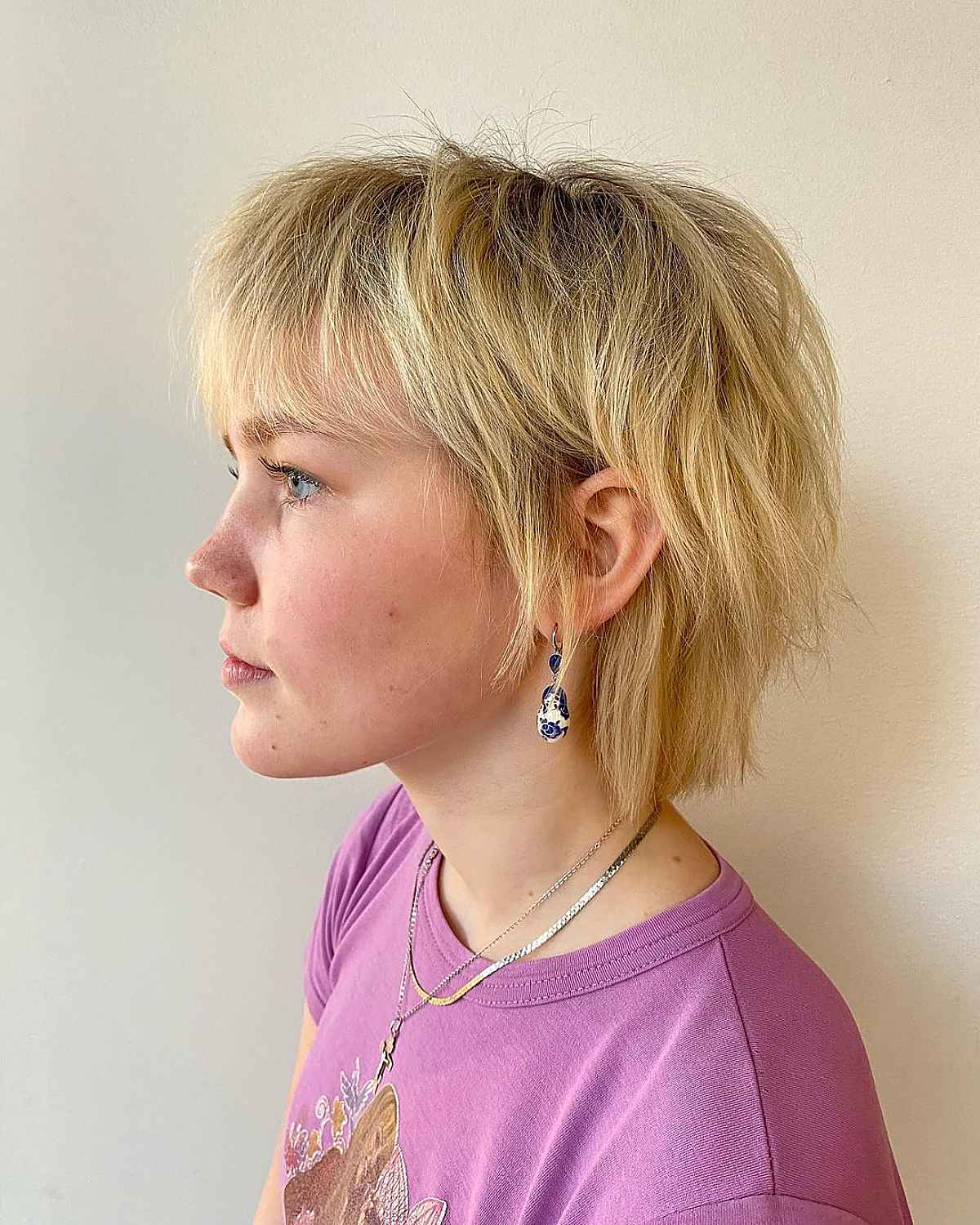 #7: The Bixie Cut with Bangs
Consider a bixie cut with bangs to soften up your bob. Add short petals around your face with bangs and crown layers. Short hair with bangs are super cute and edgy for women in their 20's and 30's. A haircut that can simply get better with time if carved out nicely with a razor.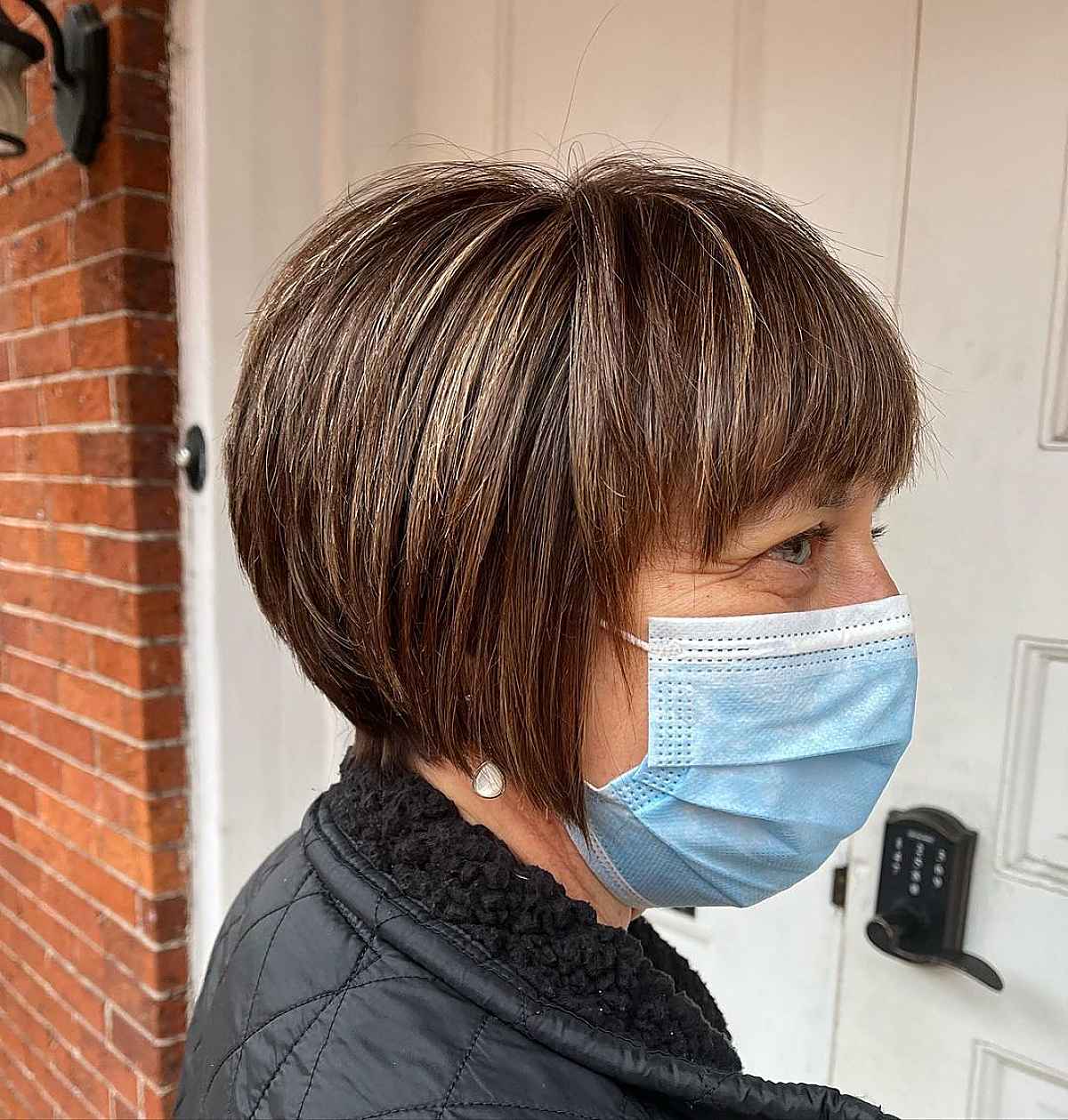 #8: Short Stacked Bob for Women Over 50
A short stacked bob is a great short haircut for women over 50. Amp up your boring bob by adding stacking, bangs, and light layers. Did you know that wearing your hair flatter makes thin hair look thicker? Try to use a hair thickener and a paddle brush, blowing side to side for a thicker but flatter finish.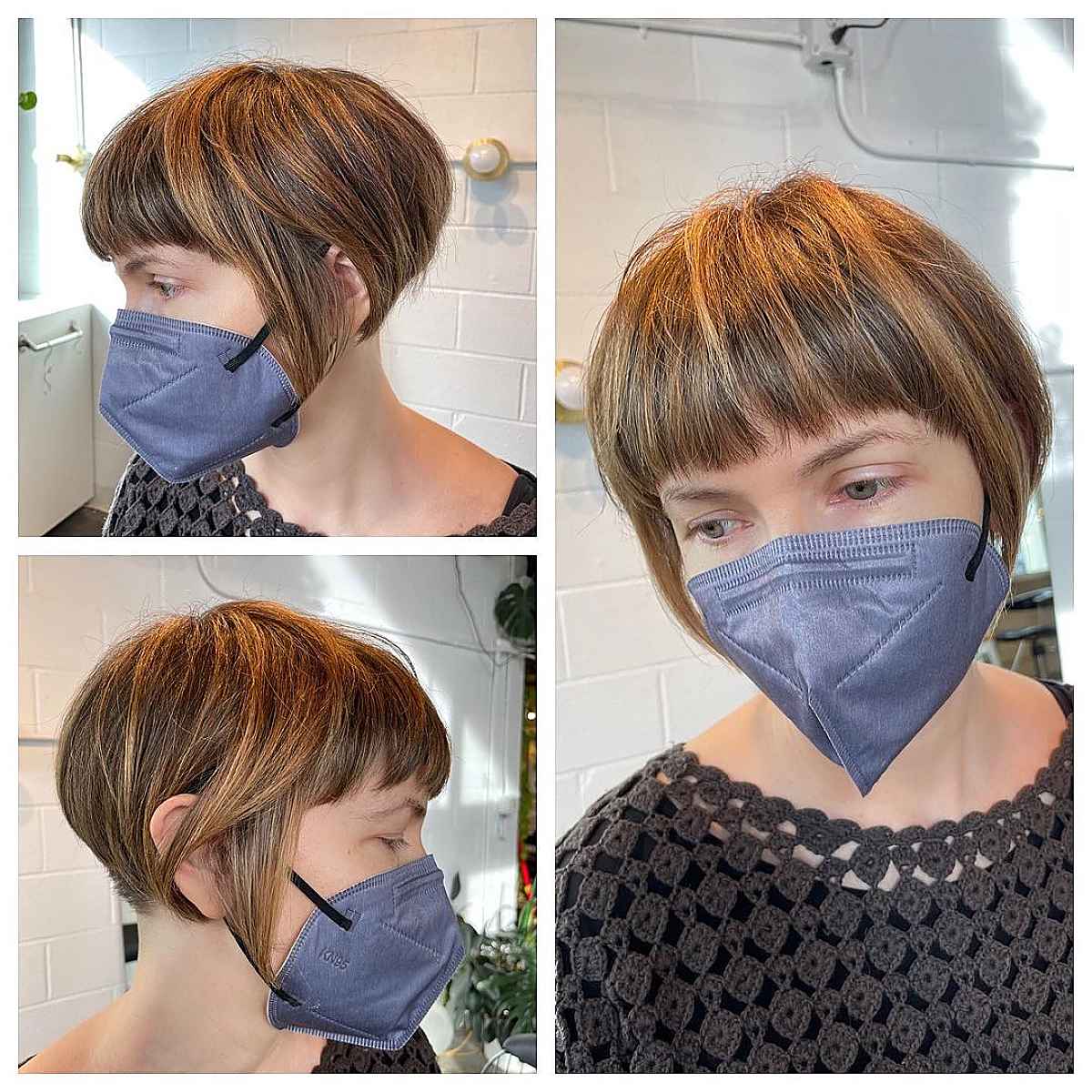 #9: The Pixie Bob with Bangs
Consider a pixie bob with bangs. A short hairstyle with bangs can be a pixie bob, which is super cute and so versatile. You can wear it straight for a bold look or curl it for a softer style. You must ask your stylist to graduate the nape and connect it to a longer front for maximum impact. A short bang is versatile as well, giving you the option to wear them straight down or brushed to the side.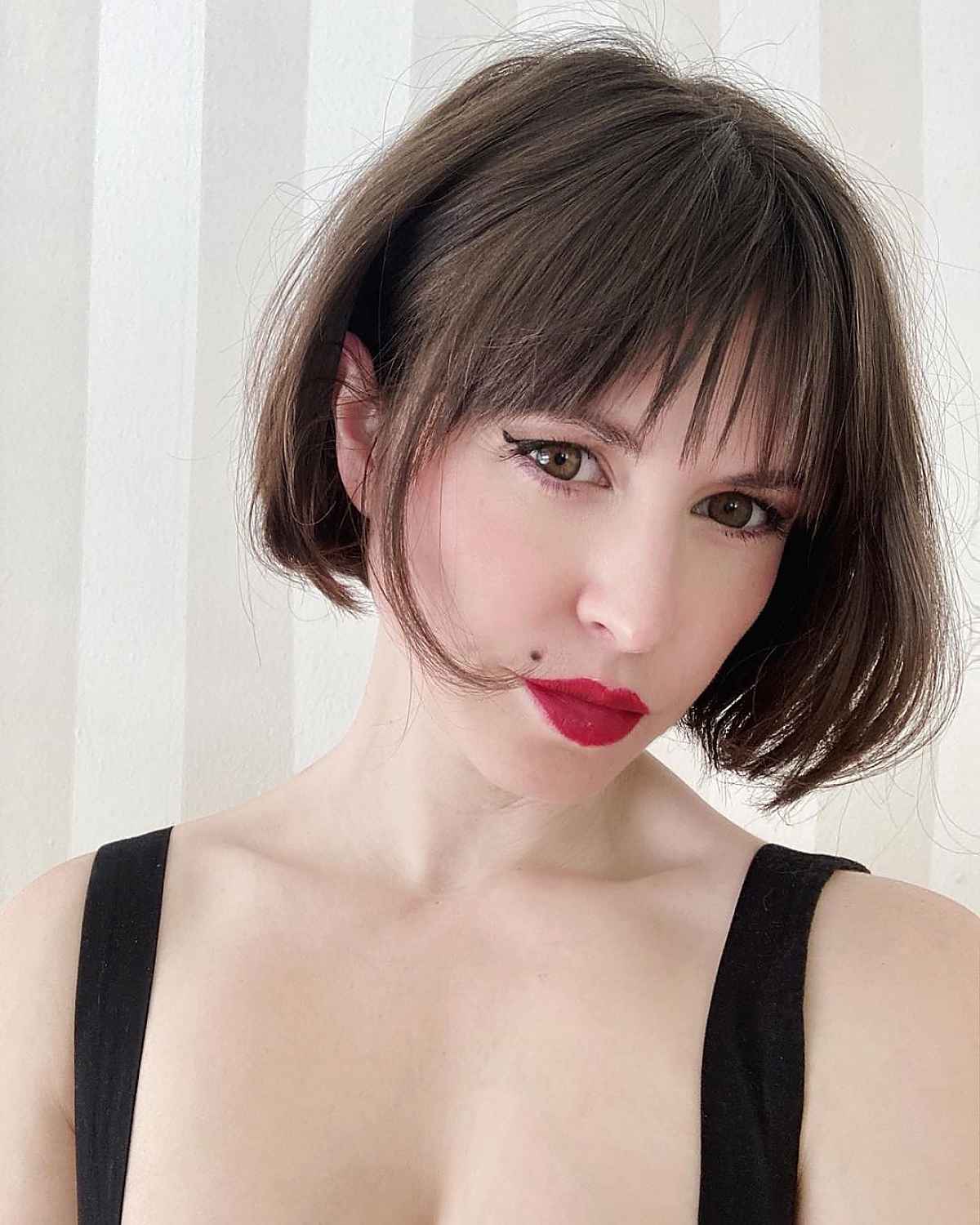 #10: Piece-y Fringe on Short Bobbed Hair
A short hairdo looks especially beautiful with piece-y, soft bangs. If you're not sure about bangs try adding just a few to start instead of going all-in. Experimenting with a light bang enables you to grow them out easily. Bangs can really make your eyes pop, and work especially well on long face shapes thanks to their face-framing abilities. Ask your stylist to point cut the fringe for the softest shape.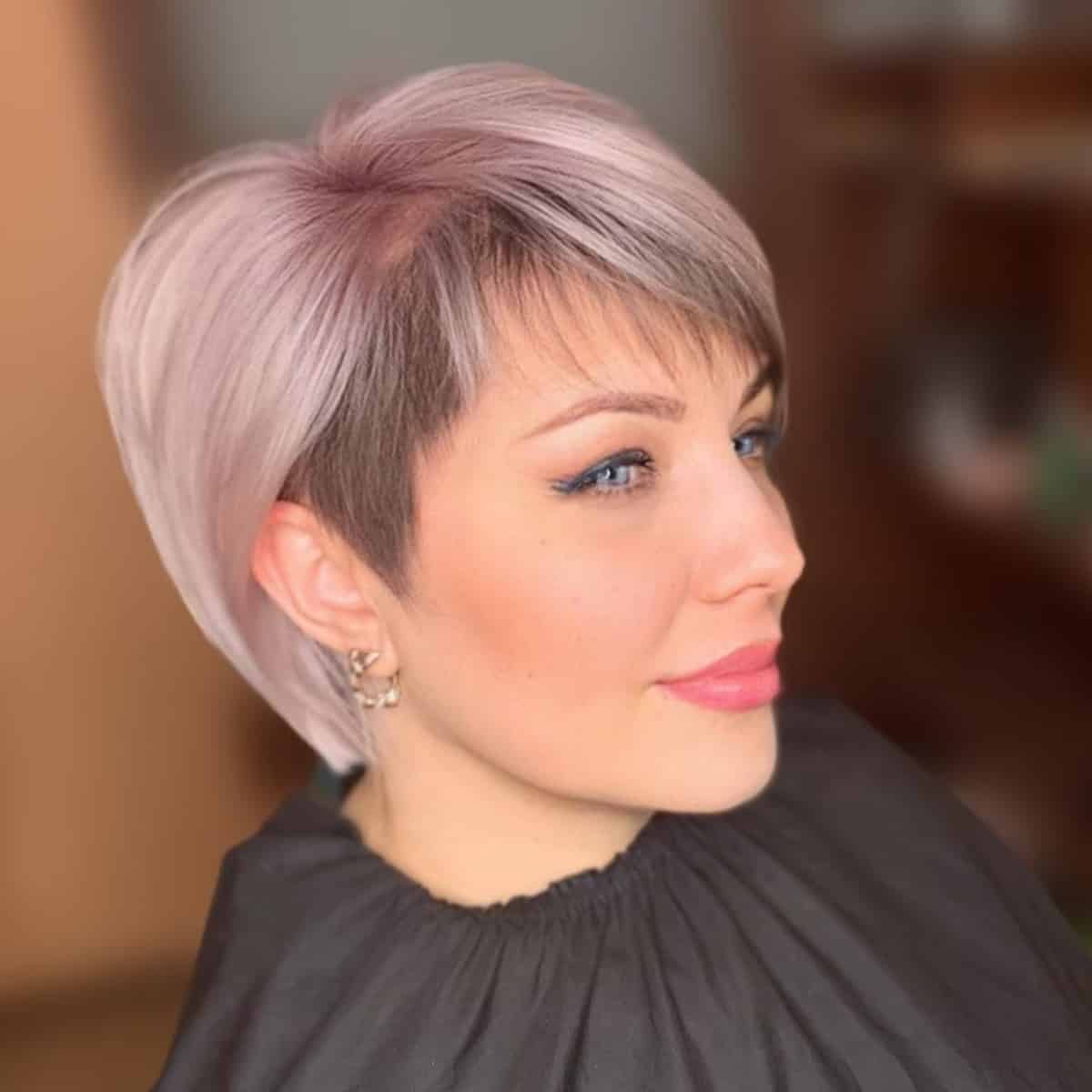 #11: Undercut with Choppy Bangs
If you are looking for something edgy, try an undercut with choppy bangs and a lavender hue for a feminine style. To achieve the choppy piece-y bangs, the stylist must approach it by doing deep point cuts. Haze Styling Powder by Evo is a go-to product for fuss-free hair and an effortless style.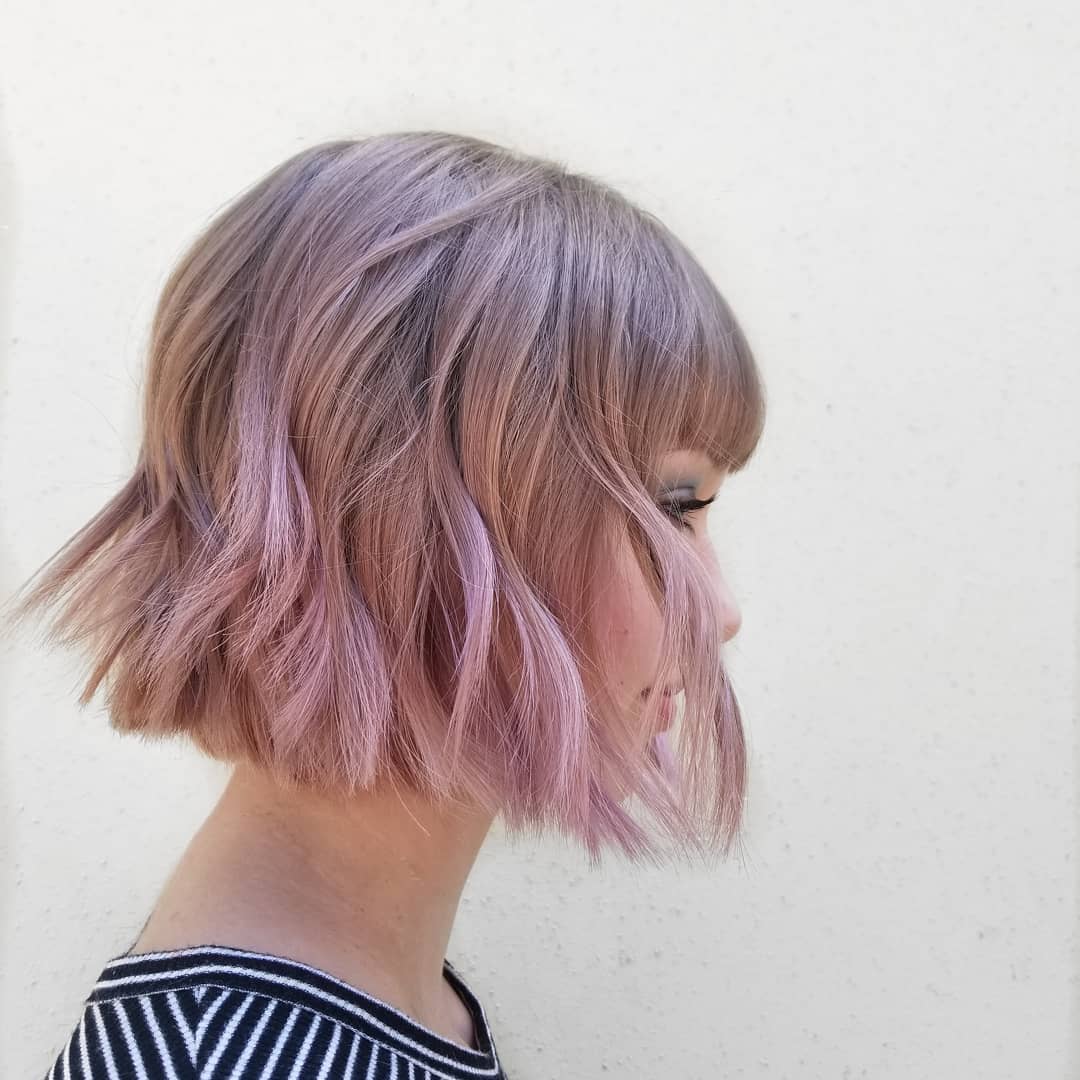 #12: Neck-Length Bob with Straight-Across Bangs
One thing that makes for a cute short hairstyle with bangs is getting a rose gold hair color. For trendy short hair with fringe, request a blunt and beach waves.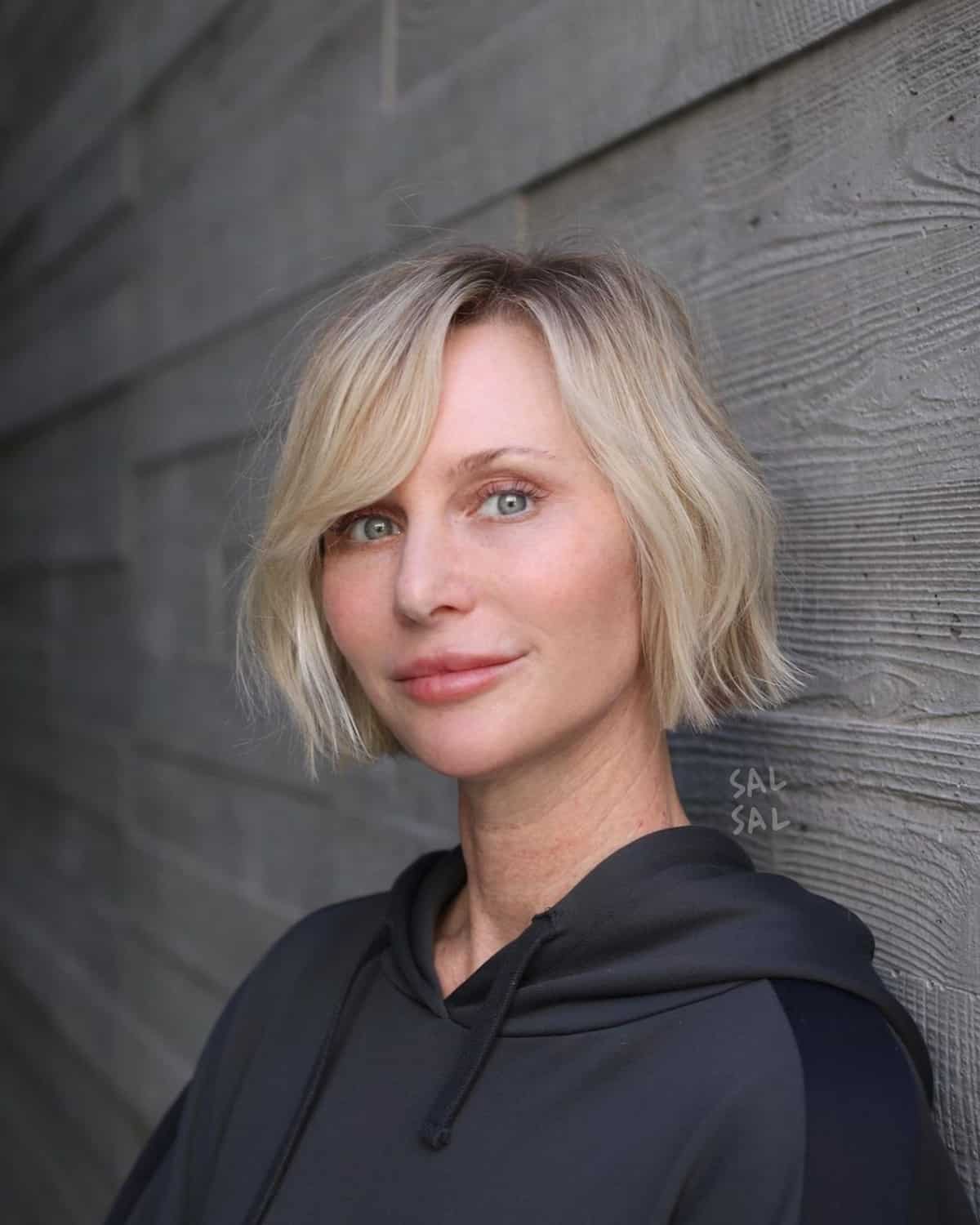 #13: Short Haircut with Side Bangs for Thick Hair
A short haircut with bangs is great for any girl with thin or thick hair. For women with fine hair, it creates more illusions of thickness, and long side-swept bangs add shape and style. A super short cut with side bangs for thick hair would need texturizing and weight taken off to create movement. Style with a straightening flat iron at the mid-length to create a bend in your hair for soft waves.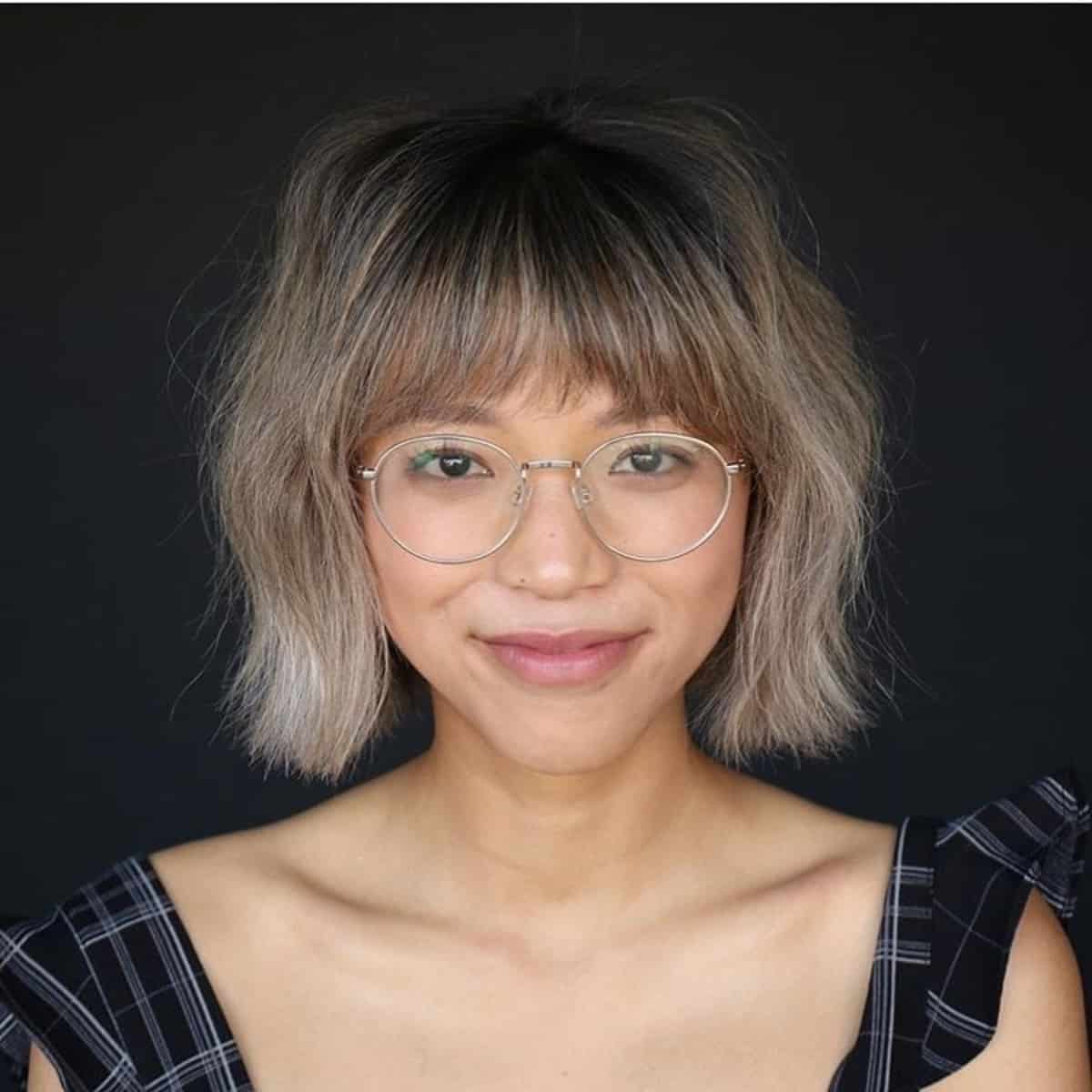 #14: Short Ombre Hair with Soft Bangs
Choose short ombre hair with soft bangs if you want a bob and have a round face. On a short haircut, the bangs falling over the forehead with the depth of the dark base adds height to the head, which visually elongates the face and adds a slimmer feel.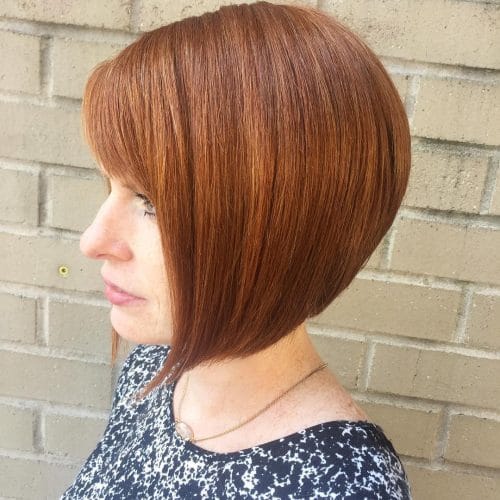 #15: Timeless Short Bob and Bangs
Classic short bobs with bangs never go out of style. Not to mention a few loose curls can do wonders for a more formal style or night out with the girls. This timeless red short bob with bangs is for women who don't wear a far side part to offset any harshness, the right front bangs for the face shape add a nice softness to the overall style. For styling, use a good styling cream/volumizer such as Bumble and Bumble Styling Cream and Kevin Murphy Anti.Gravity before blow drying on wash days, paired with a multi-purpose shine/anti-frizz spray. For women who could previously not wear short hair or bangs now benefit from flat irons and texturizing techniques. The rounder the face, the longer the front length should be to create a slimming silhouette (think a couple of inches below the chin). A side bang will definitely add to that effect. Smaller, "pointier" chins can pretty well pull off any style of bob and bangs, even as short as a 20s-style bob.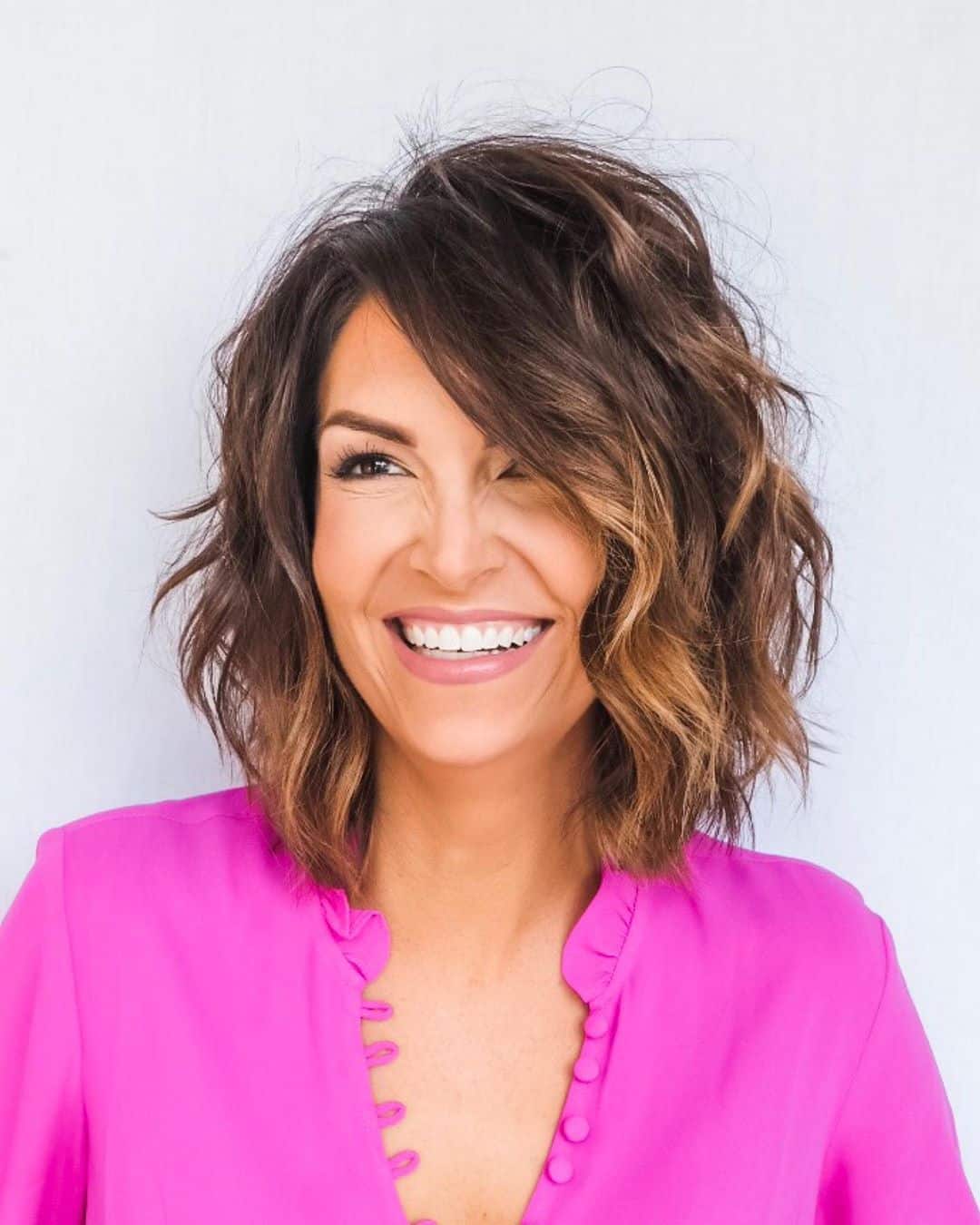 #16: Medium to Short Hair with Long Side Bangs for Over 40
Pull off a messy short haircut with side bangs, and look youthful more than ever! You don't have to worry, this one offers the best long side-swept bangs for over 40. It only takes a 1″ curling iron and some scrunching to achieve such texture and movement on brown short hair with feminine bangs. Finish your short hair and bangs off with a texturizing spray and let your hair do the talking.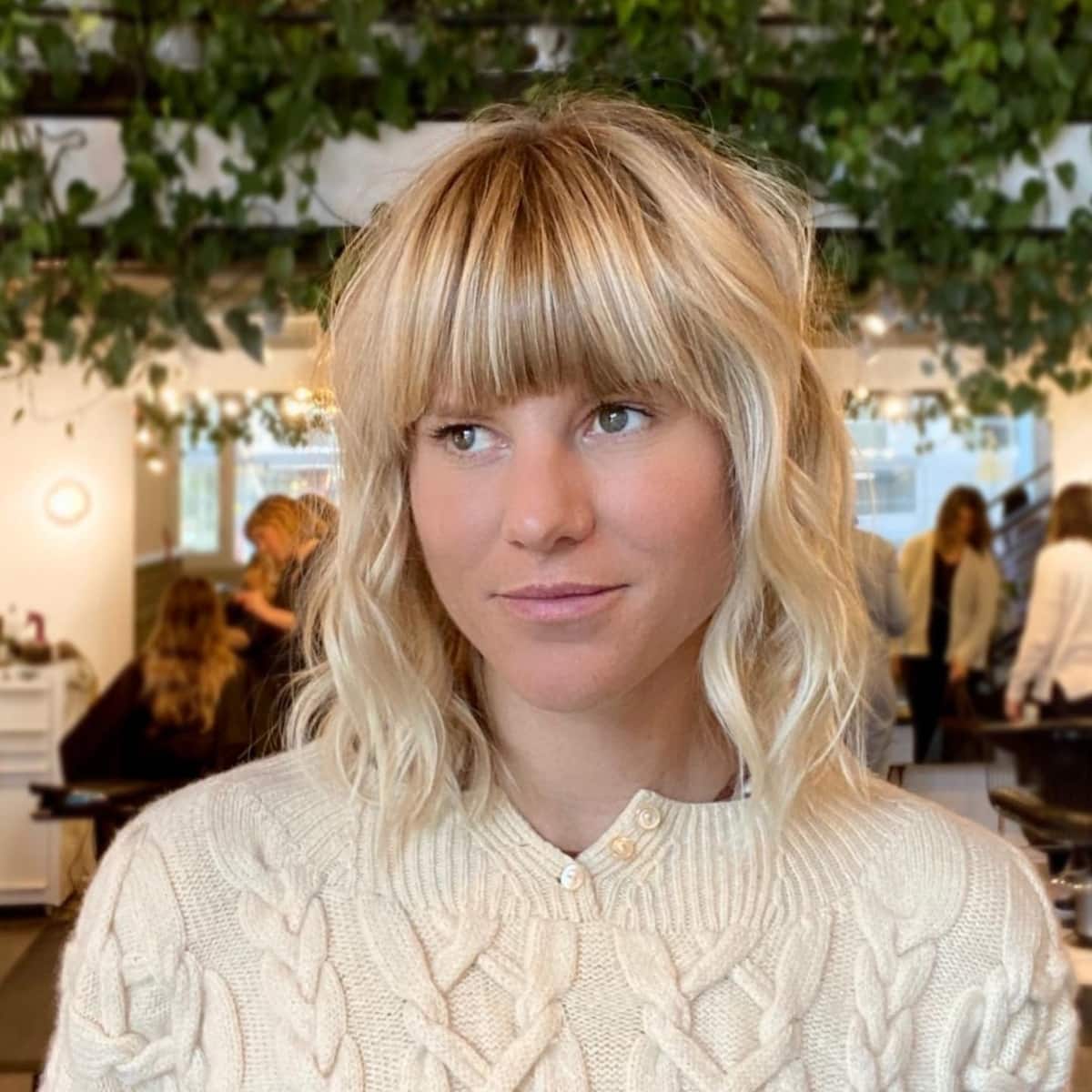 #17: Long Heavy Bangs on Short Hair
Long heavy bangs with short hair add a strong face-framing effect. They also work great for women with longer face shapes. Short hairstyles are already great for longer face shapes, but to get a full effect, adding a longer heavy fringe that grazes the brow, will give the ultimate face-contouring effect.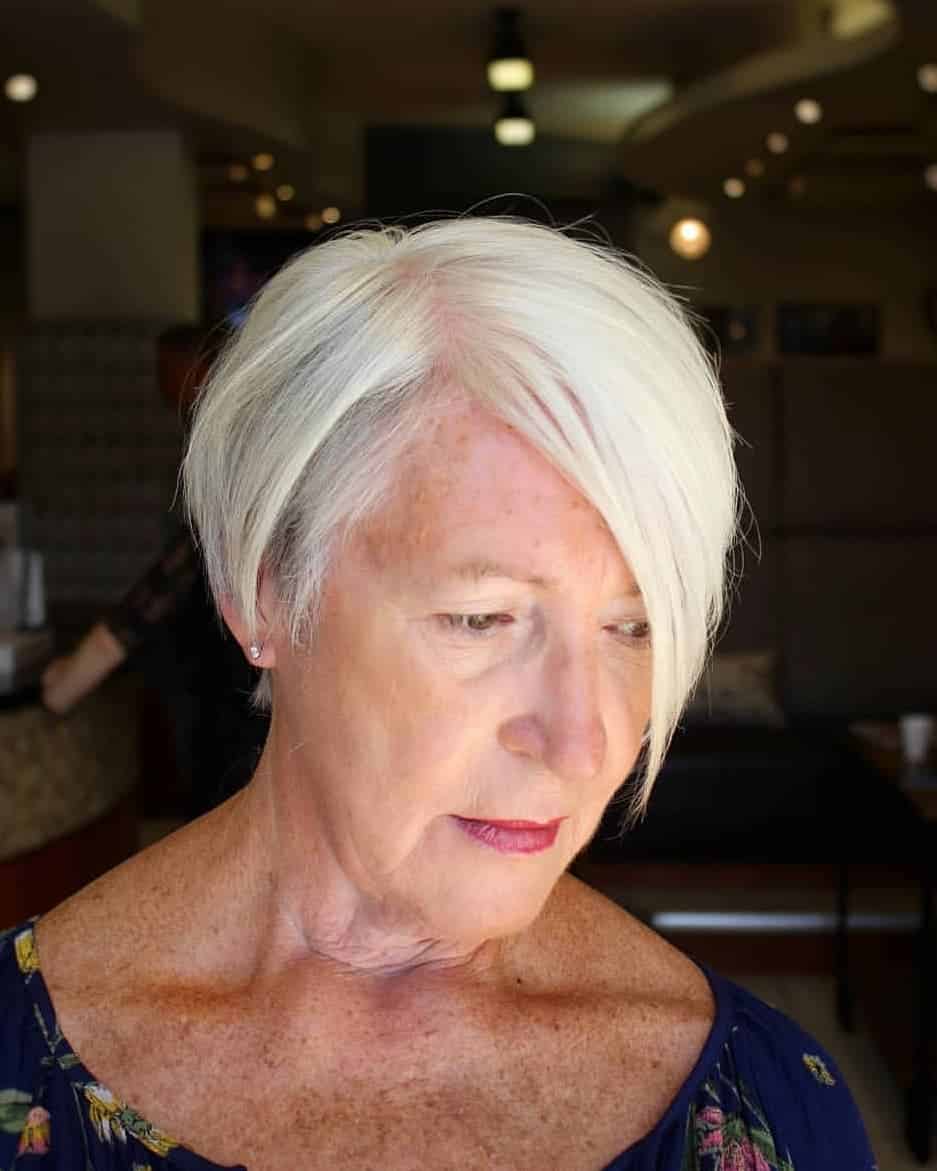 #18: Tapered Long Pixie Cut Bangs for Over 60
Scared of getting short tresses? Tell you what—you shouldn't be. You can turn it into a flattering short asymmetrical cut or a chic tapered long pixie with bangs for women over 60. This short haircut with bangs for ladies over 60 appears lovelier on natural white locks.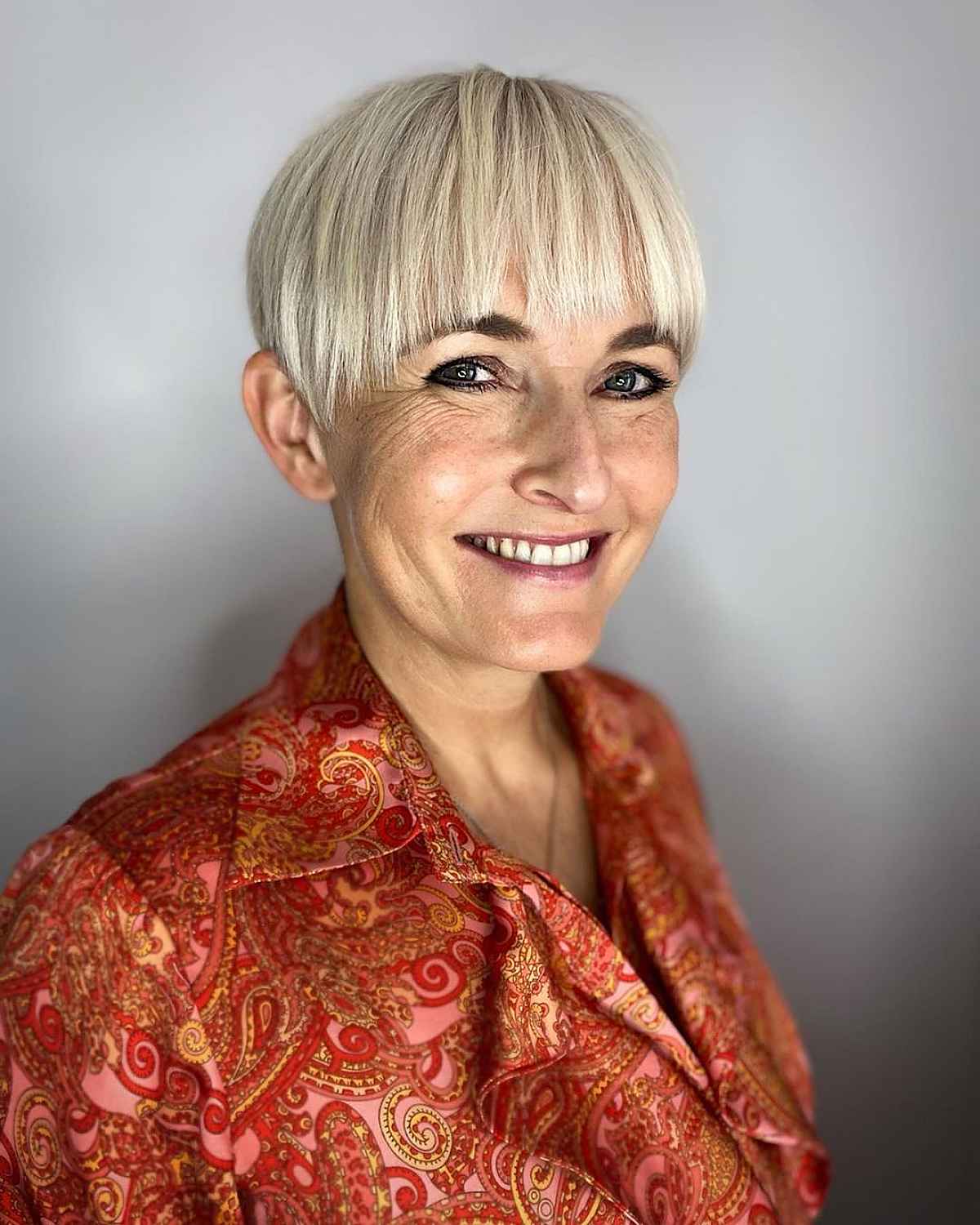 #19: Ear-Length Pixie Cut with Bangs
This is one of those examples of short hair styles where edginess meets elegance! Wear this ear-length pixie cut with bangs, and show off your new short fringe with so much flair. Pulling it off with a blonde shade will flatter your light or neutral skin complexion.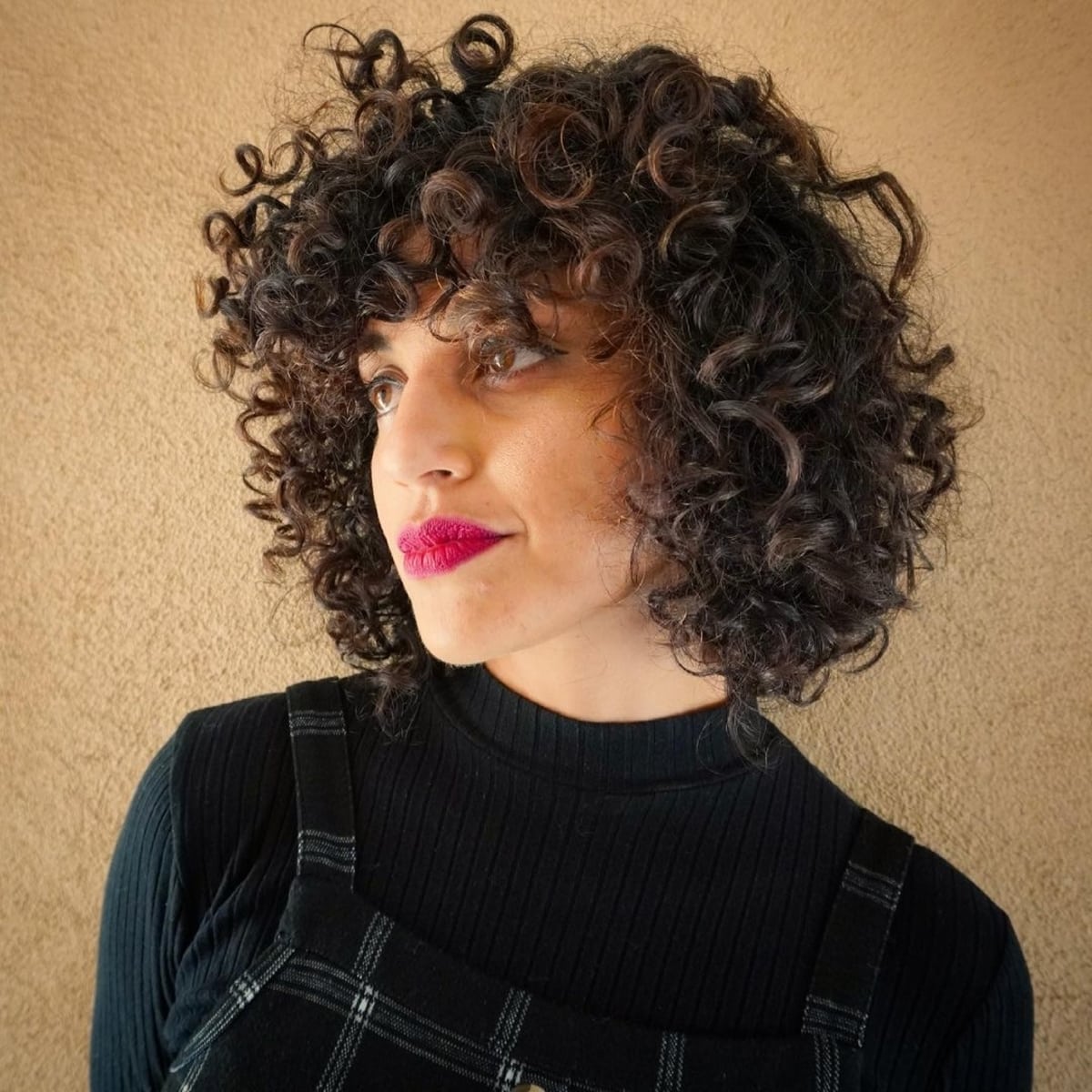 #20: Short Curly Bob with Curly Bangs
Give a short naturally curly bob with curly bangs a go to maximize your volume and boost your texture. Curls instantly bounce up with shorter lengths. Add rounded layers to get some oomph into your shape that blends perfectly into the face-framing bangs. Short curly hair with curly bangs is an instant lift to your hair and your facial features.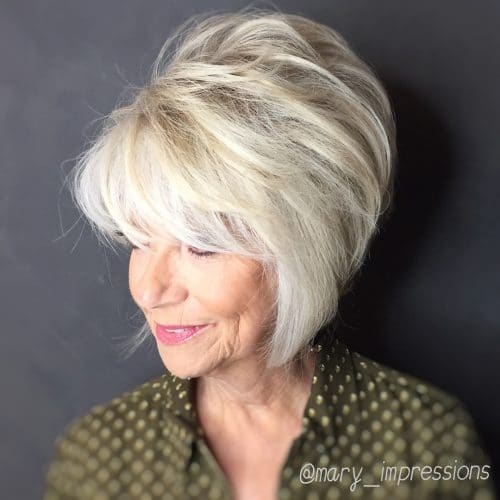 #21: Graduated Bob with Feathered Bangs for Older Women
This is a short angled bob with short layers and feathered ends that are longer with short softer fringes laying underneath. It will give you the appearance of having more hair than you really do. It's easy to style for mature ladies that have a medium texture with a slight wave.
To style short layered hair with bangs:
– Prep towel-dried hair with Pureology's Root Lift for added height.
– Through the ends, use a medium-lightweight gel-like Gold Definer by Pureology
– Blow-dry with a round brush.
– Finish with Pureology's Supreme Control Hairspray.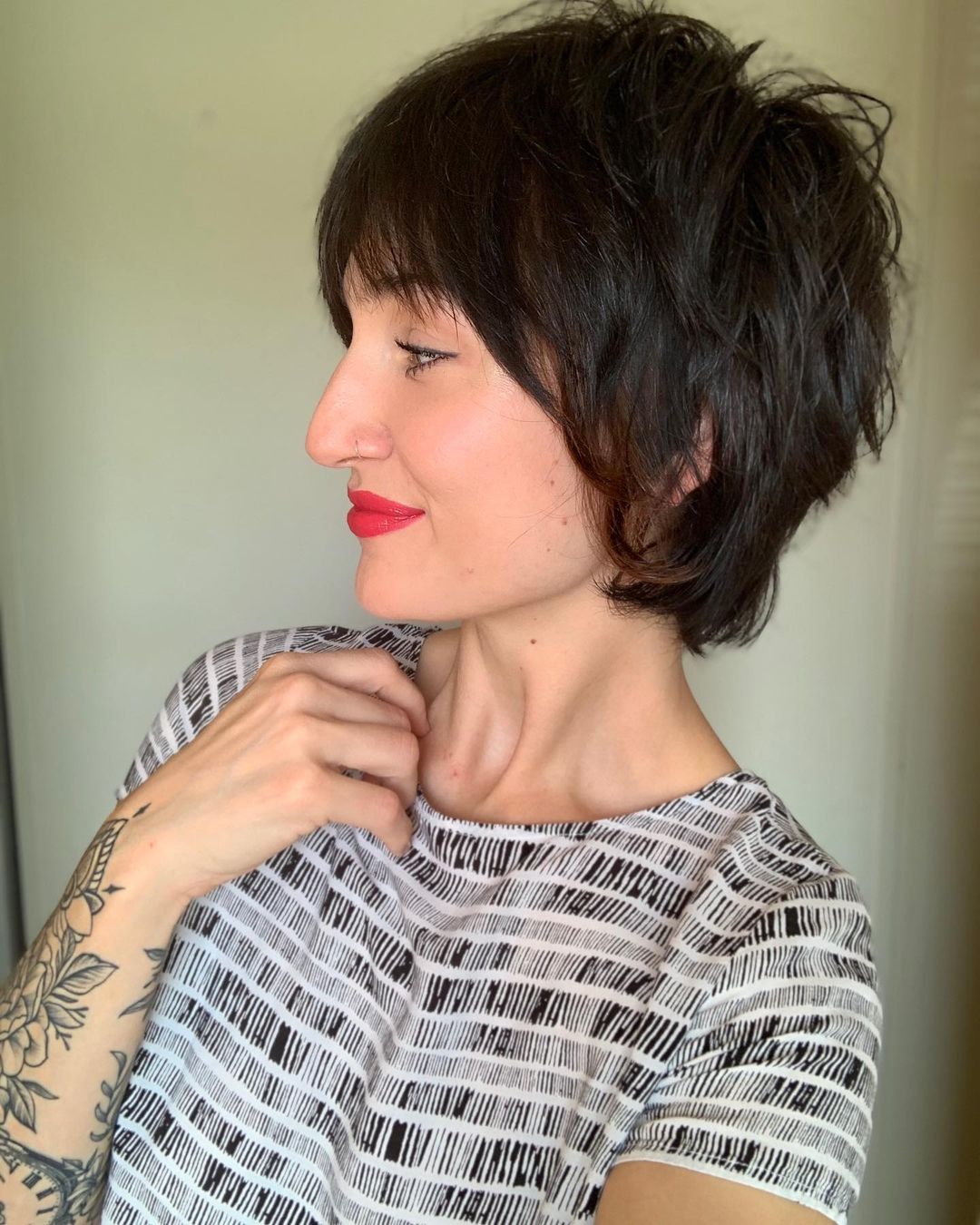 #22: Edgy Short Shaggy Cut with Textured Bangs
Try a short shag with textured curtain bangs for hair that's easy to style and maintain. A gorgeous low-maintenance short shaggy hairdo with choppy bangs like this one in the photo is perfect for the mom on the go. Its easily-styling textured choppy bangs add softness around the face without effort. Short shags open up and frame the face rather than hide it.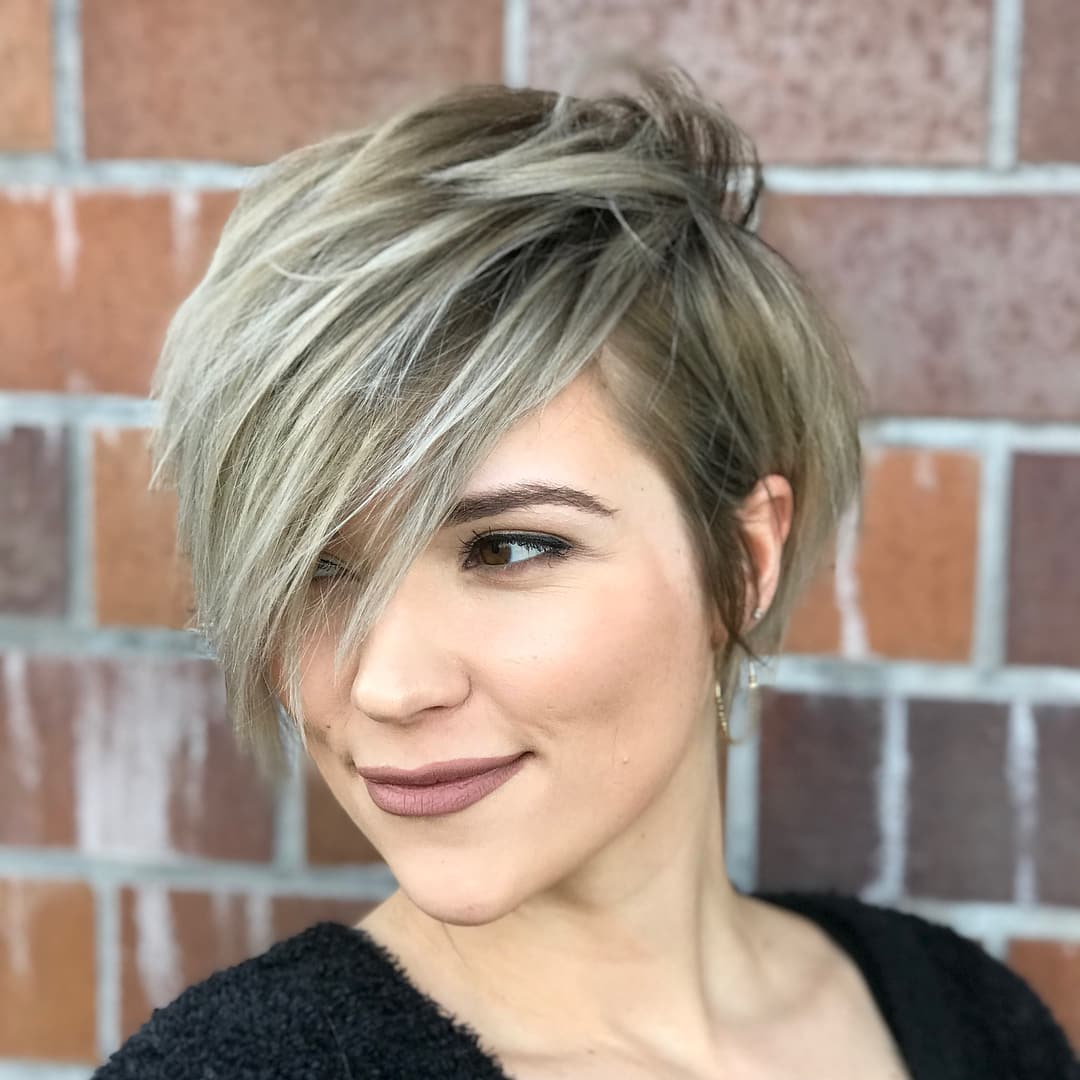 #23: Short Layered Choppy Pixie for Thin Hair with Long Side Bangs
This is a short layered choppy pixie with long side bangs, enhanced with a generous amount of texture to benefit thin hair types. It's short hair with side bangs on a stacked haircut. The shorter length appears edgy, but the side bangs look romantic, flirty, and youthful.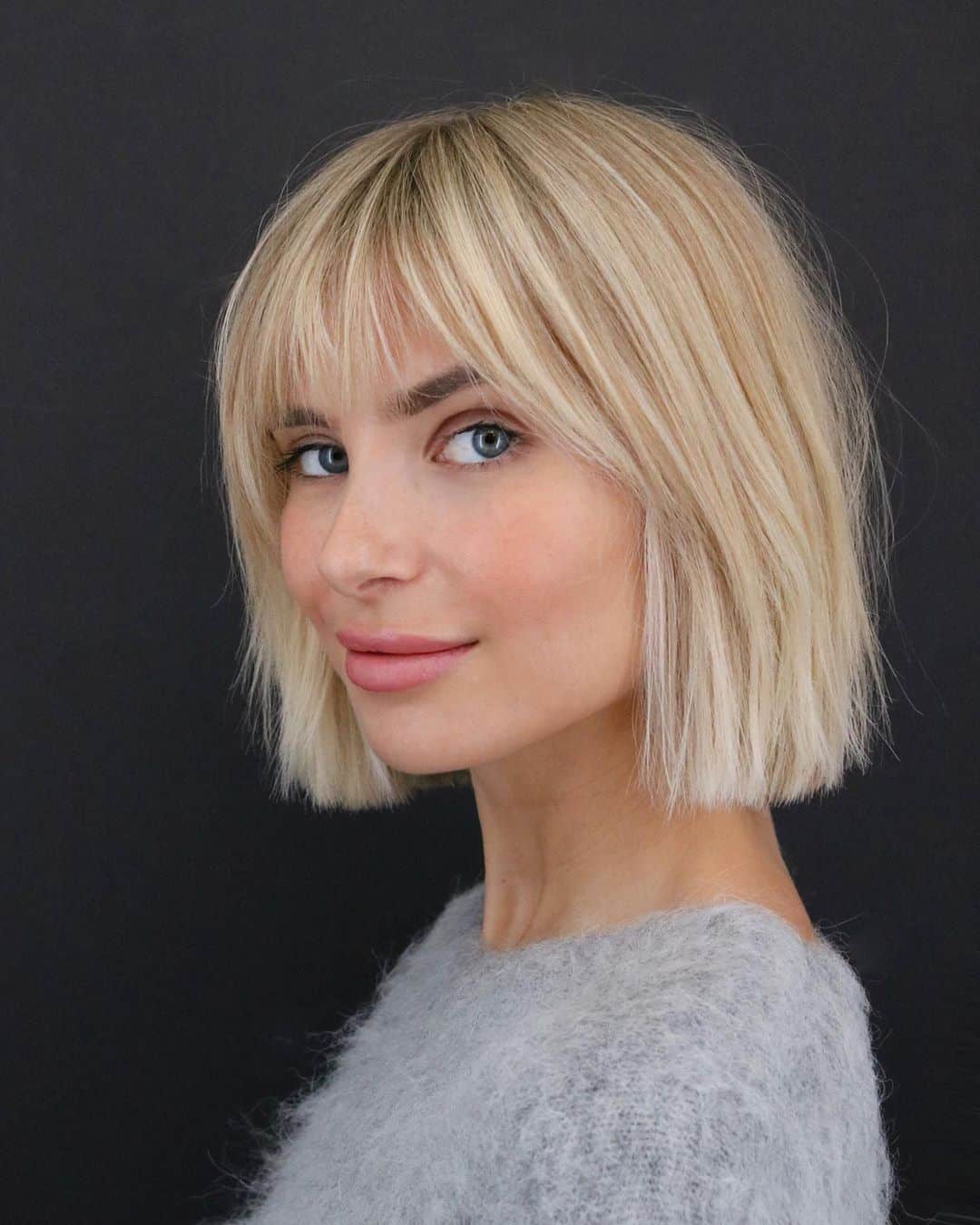 #24: Short Blunt Bob with See-Through Bangs
A short blunt bob with see-through bangs looks modern and feminine. For women who are down to wear bold and classic styles, a blunt bob with bangs is the one idea to opt for. You should paint it with a lovely blonde shade for a much more refreshing finish.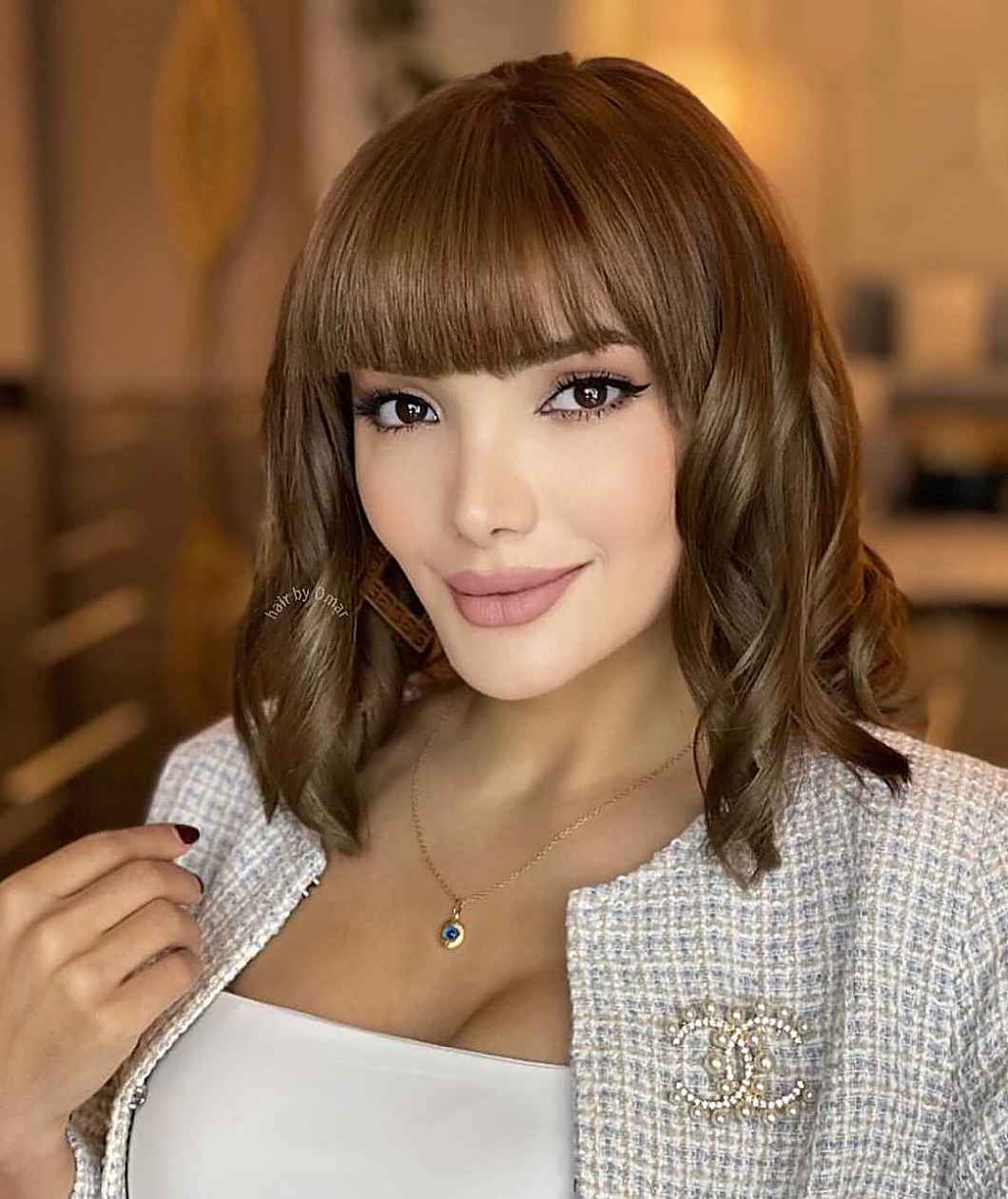 #25: Layered Wavy Bob with Straight Bangs
This short layered bob with bangs is a must-try, especially when you have fine-textured hair with waves. Short cuts like this keep natural hair looking fuller and voluminous. This is a bob with bangs that doesn't only give your strands a chic, youthful style. The crop has layers that create an illusion of natural movement, too!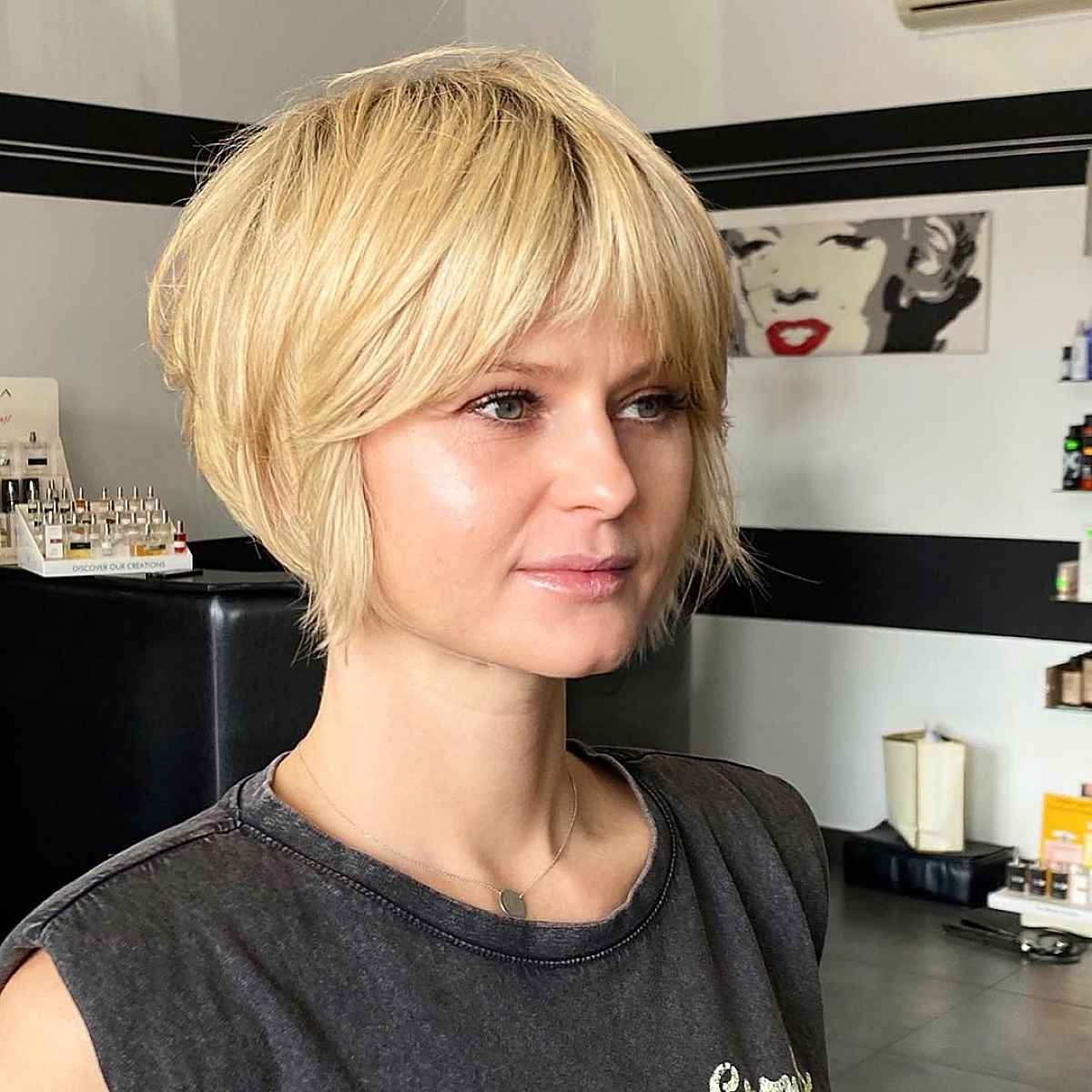 #26: Super Short Cropped Cut with a Fringe
Try a unique super short cropped cut with a fringe to achieve a chic and savvy style. As for hair type, it works better on wavy hair texture, making it look great without any effort. However, as seen in the image above, straight hair works well with the style, too. Plus, this classy hairstyle gives fine tresses a fuller effect, too!
#27: Modern Short Wavy Bob with Curtain Bangs
With this modern short wavy bob and curtain bangs, you may want to chop off your locks now. It's a great short hairstyle for women in their 30s and 40s with finer hair and naturally wavy texture. This short wavy bob is parted in the middle, so long bangs can gracefully frame the face.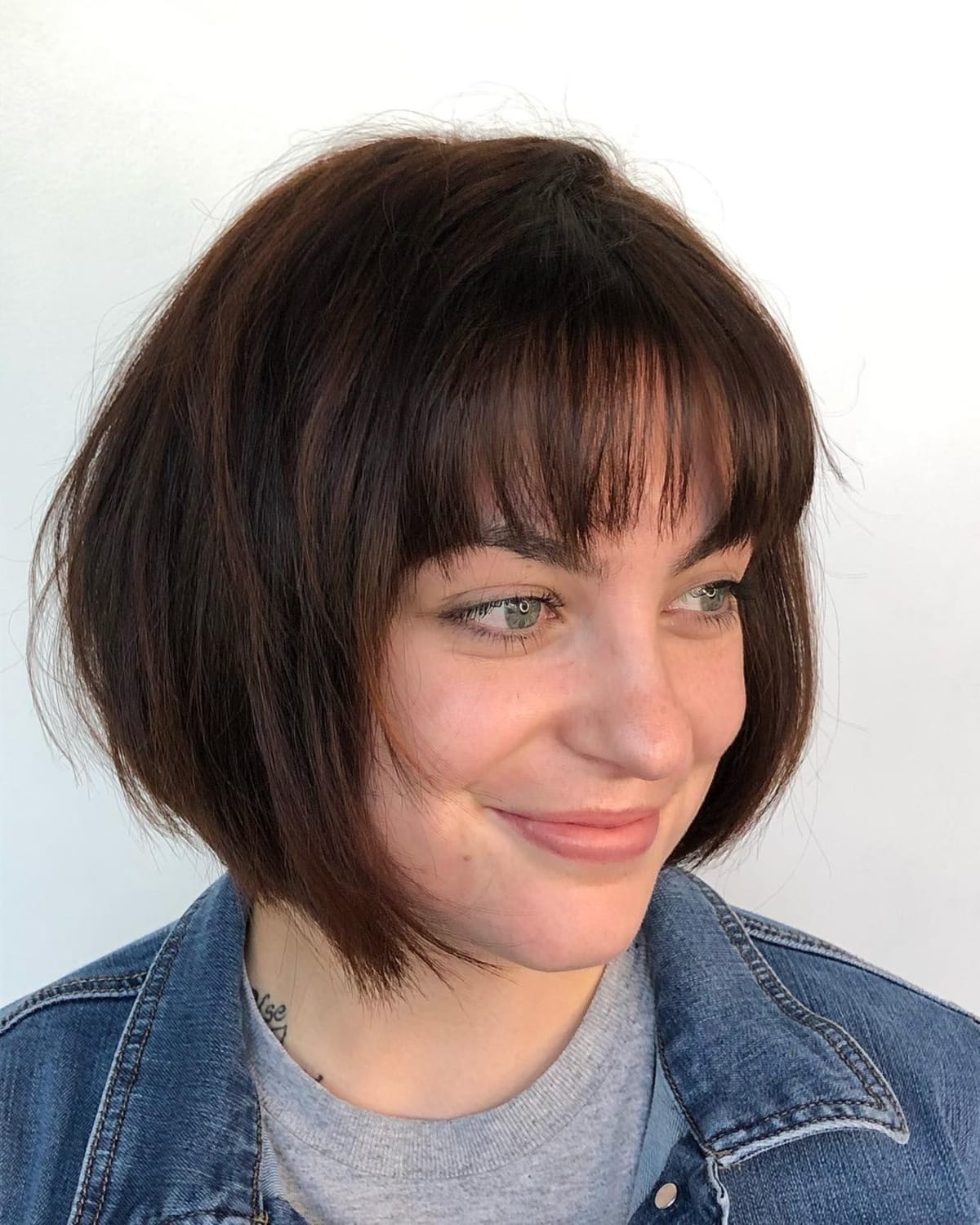 #28: Short Angled Bob with Wispy Bangs
Choose a short angled bob with bangs to lengthen and slim down your wider or fuller face. The angled length keeps a strong structure in the shape, and with the wispy bangs adding some squareness, it balances against rounder features. Another benefit is the length dropping down as it falls through the sides, which also visually narrows your appearance and is a great option to frame your face.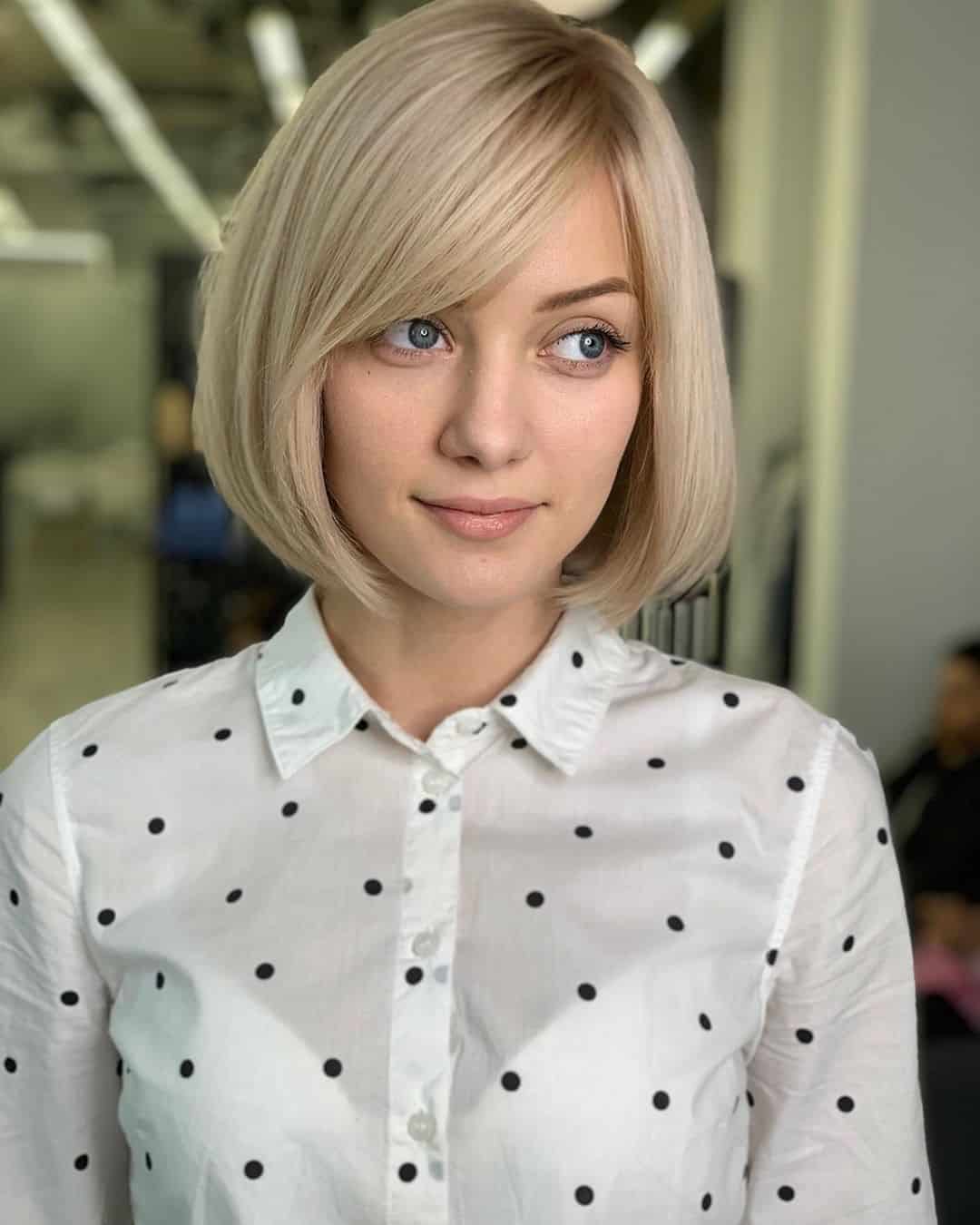 #29: Chin-Length Bob with Angled Bangs
A wonderful chin-length bob with angled bangs looks so fresh and classy when jazzed up with a blonde hue. The chop is a great way to soften a sharp jawline. It's perfect for women with medium-textured hair who are looking for a softer and deeper set of bangs.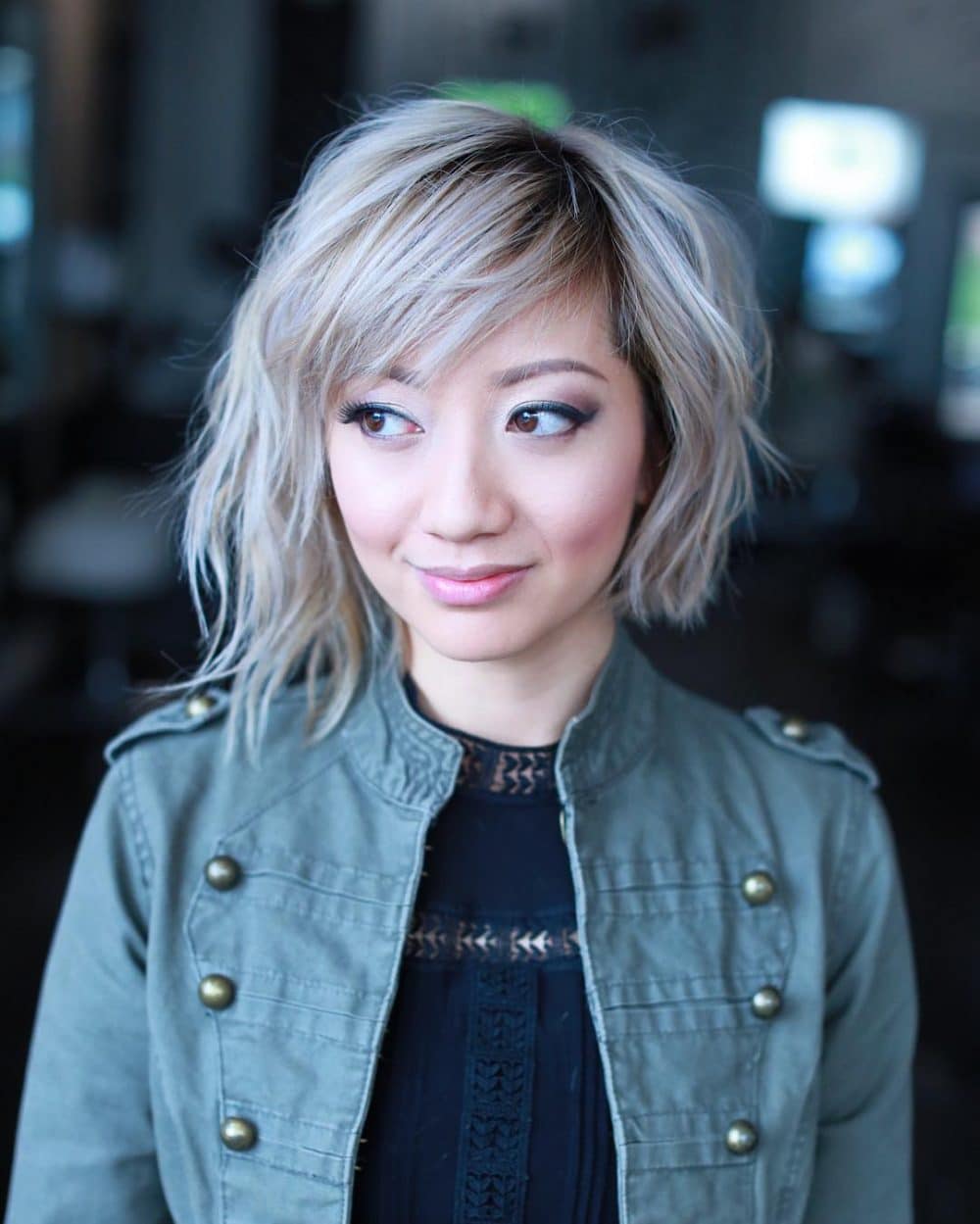 #30: Asymmetrical Bob with Side-Swept Bangs
This is an asymmetrical bob with side-swept bangs, which appears great with or without waves. Women with fine hair are sure to love this short asymmetrical cut. Asymmetry plus textured choppy bangs create a style that's amazing! Conventional bobs like this suit any face shape depending on the length of the longer portion of the cut. If you want to spice it up even more, ask your stylist for asymmetrical bangs!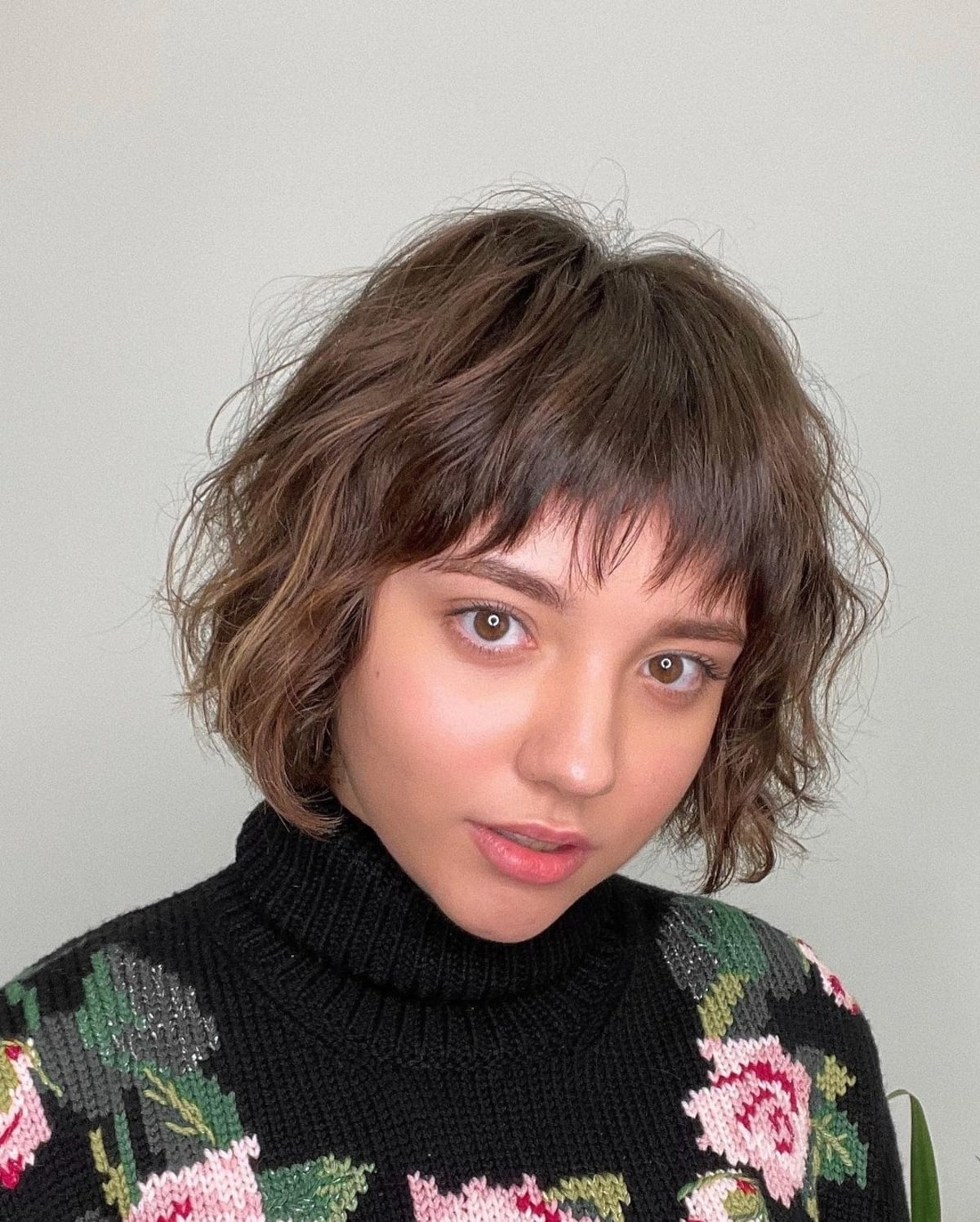 #31: Tousled Bob Cut with Light Bangs
Rock a tousled bob cut with light bangs to add life to your textured, finer hair. Taking length off your hair to a short hairstyle is a great way to enhance fullness in your length. Make it extra cute by adding super short bangs. The textured feel on the fringe works on women with a smaller forehead due to the shorter and longer lengths, which open up the face.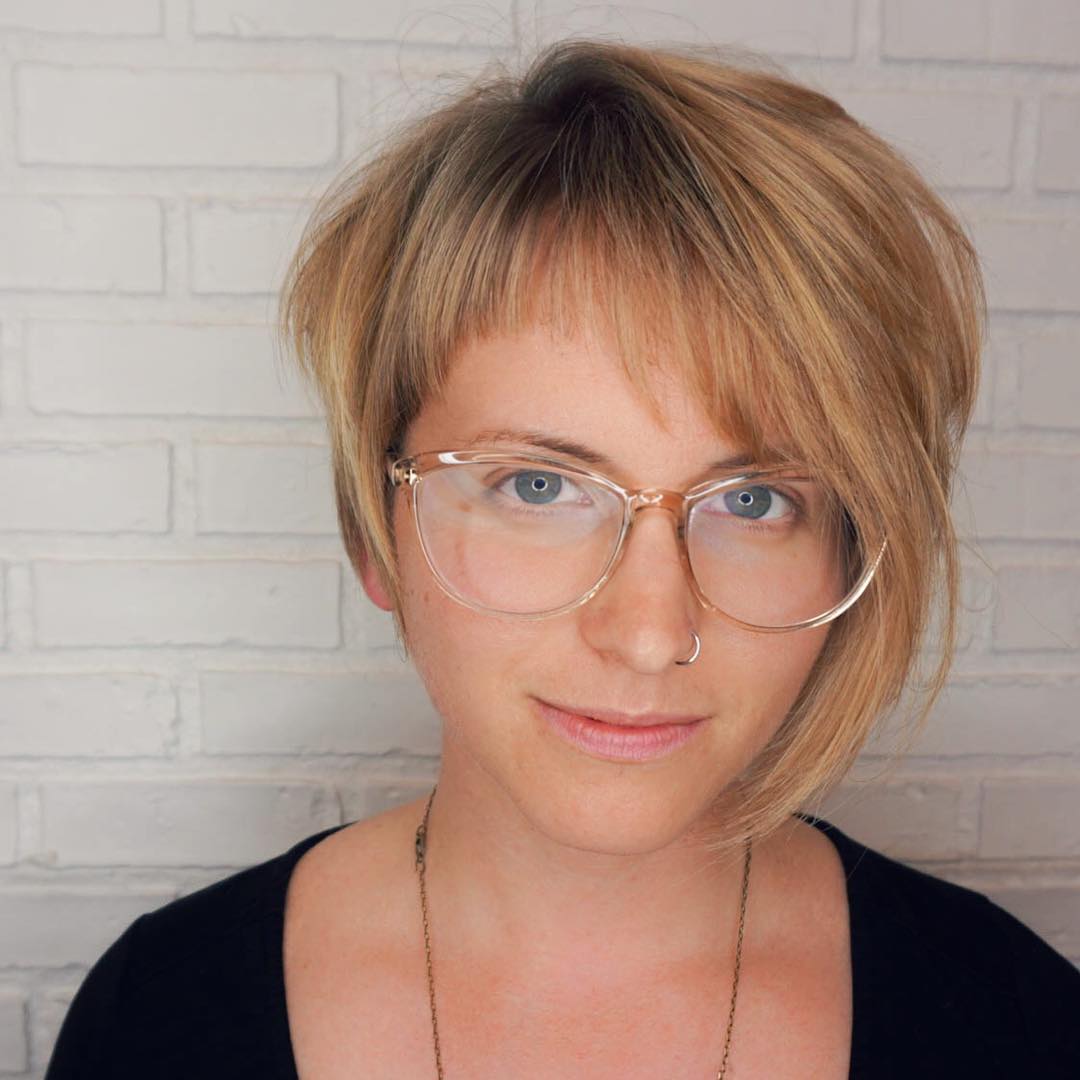 #32: Jaw-Length Asymmetrical Cut with Baby Bangs
Try a jaw-length asymmetrical cut with baby bangs! The best short hairstyles with bangs are versatile, hip, and a fun way to wear your hair. It can give fine tresses a more bouncy vibe. No doubt—it's the asymmetrical fringe that really suits an asymmetrical face.