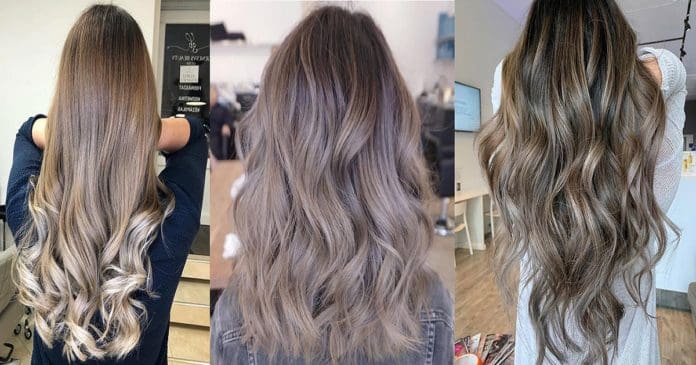 Smokey brown, dusty brown and silver brown – these are some synonyms for the ash brown hair color that has taken over the world. Much like its blonde counterpart, ash brown hair wasn't popular back in the day. Over time, its smokey look appealed to women who wanted to look mysterious. Ash brown is one of the most versatile hair colors. It doesn't require much bleaching as you don't need your hair to go completely blonde. It's the perfect brunette-to-blonde transition color. Moreover, ash brown brings a glossy effect to your hair while adding more depth to it.
Now, let's get to the part everyone's been waiting for. Without further ado, here are my top 30 picks for the best ash brown hair colors.
30 Suave Ash Brown Hair Shades
1. Dusty Ash Brownx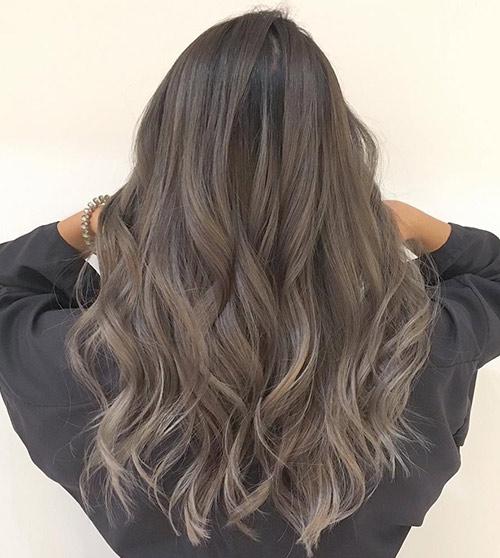 Instagram
This dusty ash brown hair is like green tea – it requires an acquired taste. To get this look, ask your hairstylist for a dusty ash brown balayage. Balayage is the technique used to color your hair freehand instead of with a brush.
2. Ash Brown Dimension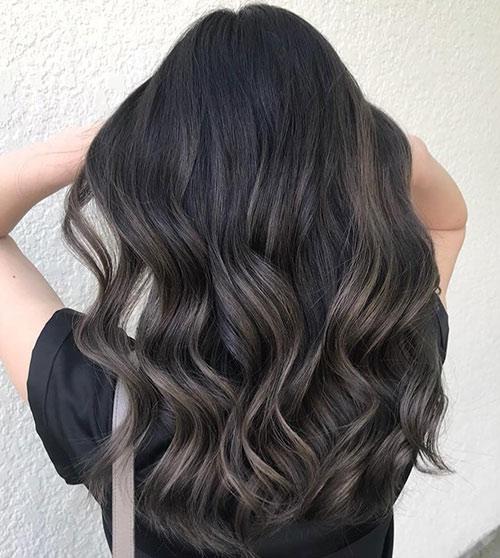 Instagram
Ash brown can add texture and volume to your locks. Add some light ash brown highlights to your locks to achieve this look. Style your hair in waves to make it bouncy and voluminous.
3. Cappuccino Ash Brown Hair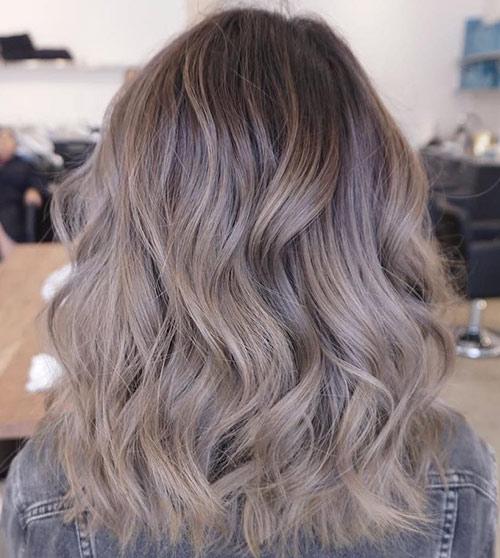 Instagram
Brunette-blonde contrast is trending right now. This could be because pastel and dusty shades are a win with the millennials. Opt for a muddy ash brown that fades into a dusty blonde shade to create this stunning hair look.
4. Glossy Dark Ash Brown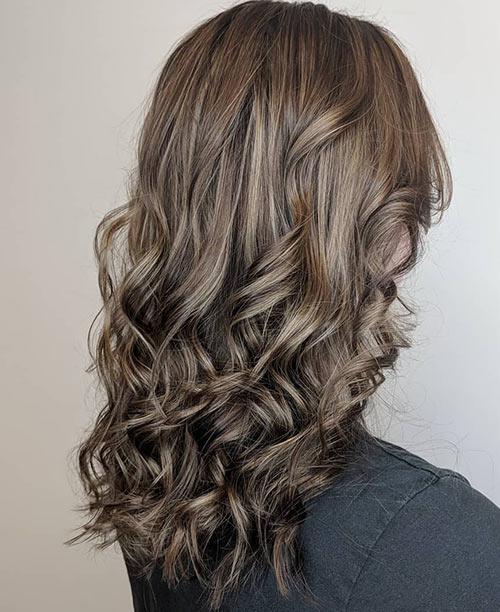 Instagram
Women always want their hair to look glossy. No amount of shine is ever too much. If you have thin hair, add some contrast to it with an ash brown hair color. Styling it straight at the top and curly at the bottom to liven it up.
5. Strawberry Ash Brown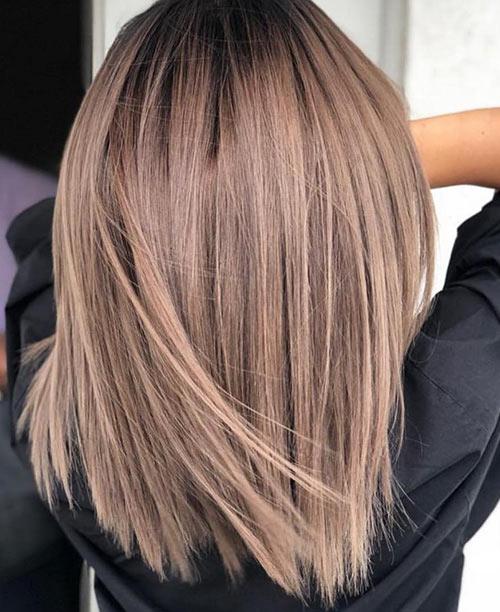 Instagram
Have you ever worn a neutral-toned outfit and added a pop of red lipstick to realize that you've found the perfect look? This strawberry ash brown blend is the hair rendition of that. A hint of strawberry blonde on ash brown hair is all you need to brighten up your locks.
6. Warm-Toned Ash Brown Blend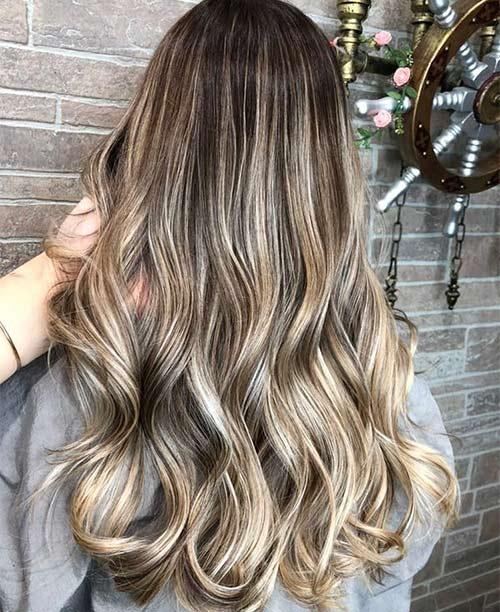 Instagram
A brunette-to-blonde ombre doesn't have to be dreary. Add some smokey ash blonde to transition from the dark brown roots to blonde ends. It looks perfect for the winter. The warm tone works well with colors like orange, yellow, and gold.
7. Deep Coffee Ash Brown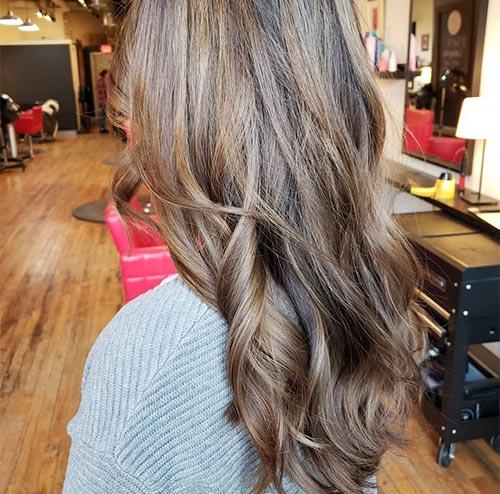 Instagram
Have you ever woken up to the smell of coffee in the morning? It always paves the way for my day. This deep coffee ash brown color reminds me of that. It adds a nice touch to the deeper hits of brown in your hair.
8. Light Ash Brown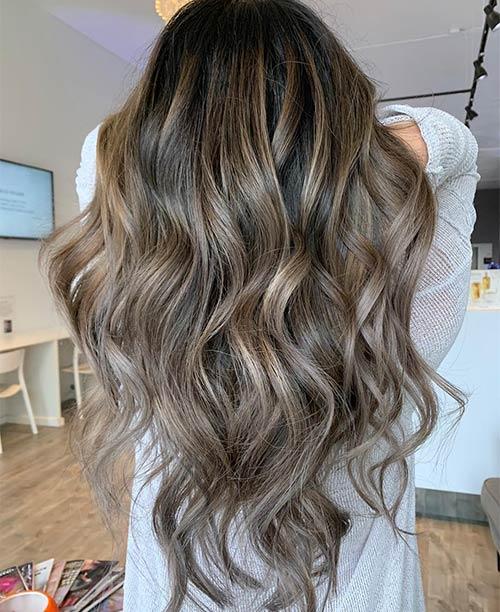 Instagram
If you've had brown hair all your life and want to transition to blonde, start off with this hair color. This light shade of ash brown resembles a dark dirty blonde shade, which is one of the trendiest blonde shades of our time.
9. Golden Ash Brown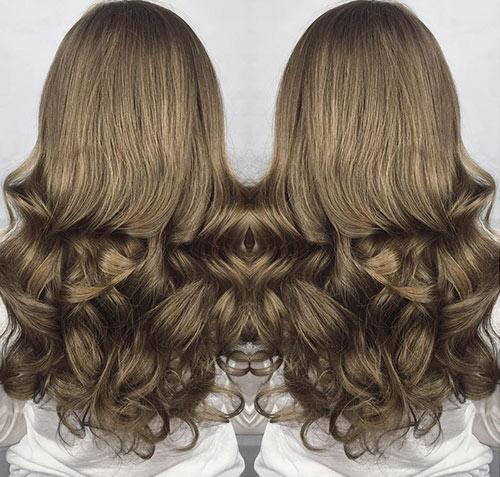 Instagram
Gold – love it or hate it, it always makes an impression that is hard to look away from. You can't deny that this golden hue blended with ash brown looks royal. It makes your hair look rich and nourished.
10. Ash Brunette Dimension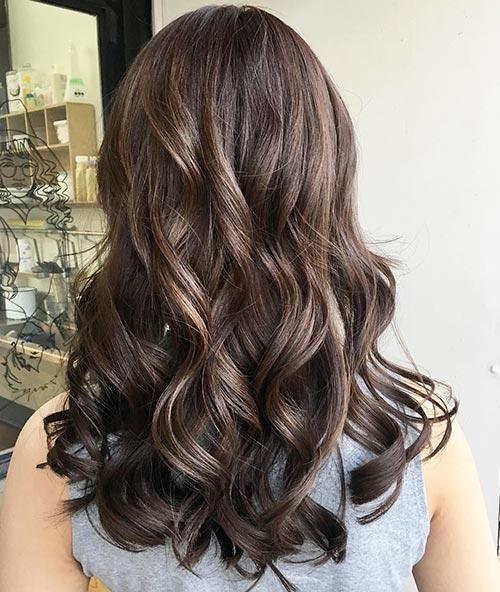 Instagram
We know that there are many shades of brown: ash brown, medium brown, light, and dark brown. And let's not forget strawberry brown and rose brown. The list goes on. Incorporating multiple shades of ash brown color can add dimension to your hair and make it look thicker.
11. Classic Ash Brown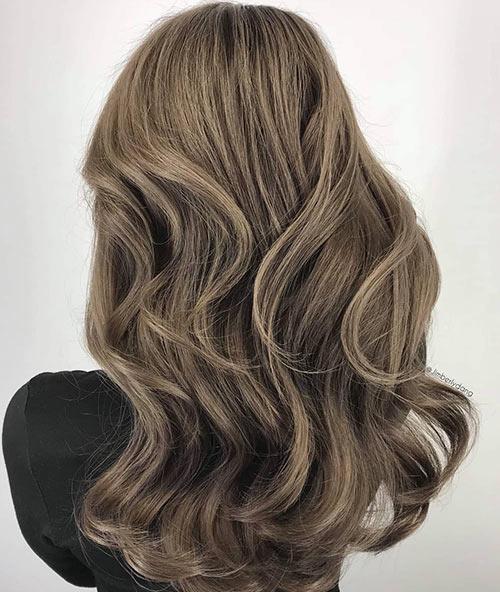 Instagram
Ash brown hair is often called mousy hair as well. The infused ash color gives your brown locks a smokey look. Ideally, the classic smokey ash brown look is cool-toned, but you can also add warm colors to it to match your skin's undertone.
12. Dark Ash Brown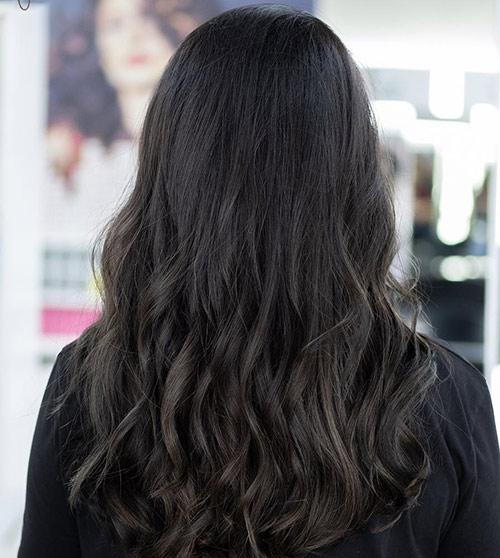 Instagram
If your brown locks are as deep and dark as murky water, don't despair! Dark ash brown is cleverly mysterious. Adding ash to dark brown hair can give your hair a softer appearance, which, in turn, highlights your face shape and features.
13. Dark-To-Light Ash Ombre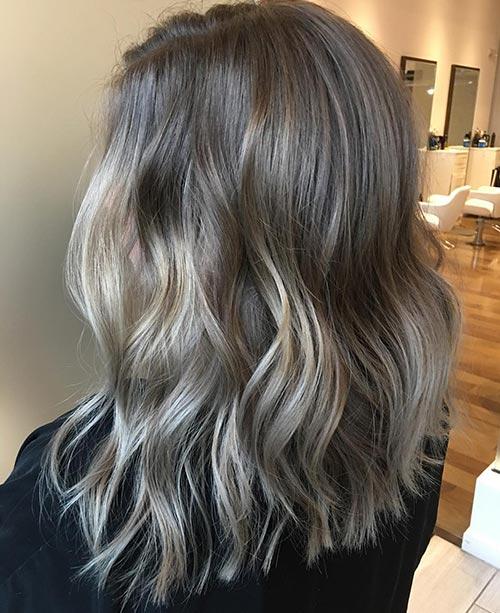 Instagram
Ombre has been the leading hairstyle trend for quite some time now. Whether it is a cold winter or a blazing hot summer, you can find an ombre to make your mood a whole lot better. If you want that perfect sun-kissed look to flaunt at your vacation, try this ash brown ombre. It will glisten in the sun and make some heads turn!
14. Muddy Ash Brown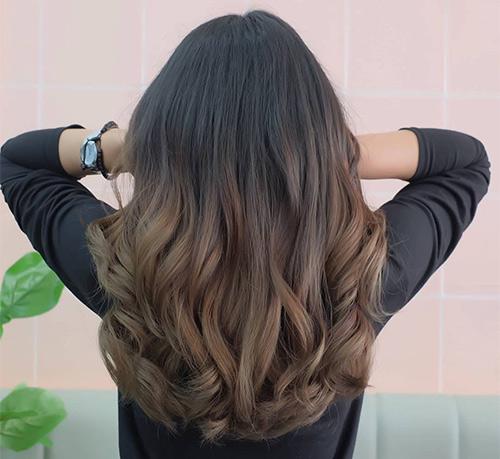 Instagram
The air is filled with petrichor or the smell right after it rains. This lovely marshy smell makes my heart happy. Reminisce on that with this wonderfully earthy ash brown hair color. It is ideal for fall.
15. Ash Brown Balayage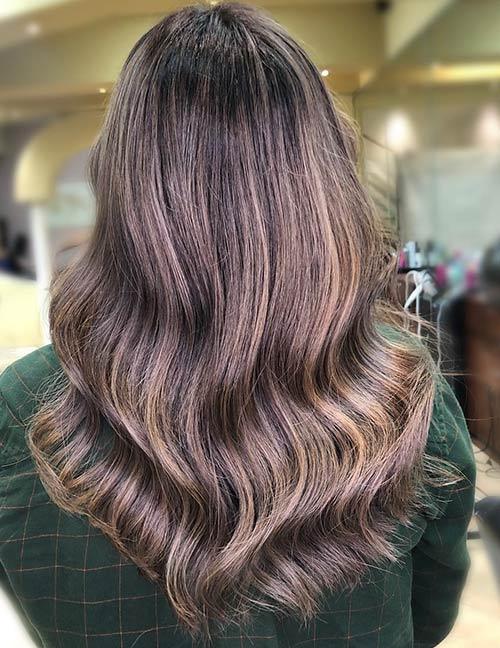 Instagram
It is a well-known fact that styling your hair in waves can make it look voluminous. Pair it with this lovely light ash brown blend, and you've got yourself a winner. It's surprising what three colors like light brown, ash brown, and dark brown can do for your hair! Looks spectacular, doesn't it?
16. Sun-Kissed Ash Brown Hair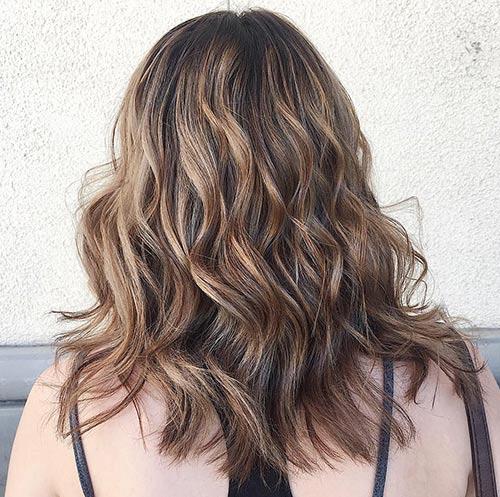 Instagram
Some of us plan our getaways just to get back with a tan and sun-kissed hair, so people can tell we've been vacationing. This light ash brown hair color makes for the perfect "I've-just-come-back-from-a-vacay-in-Fiji" hair look. The waves that it has been styled in just adds to its appeal.
17. Winter Blend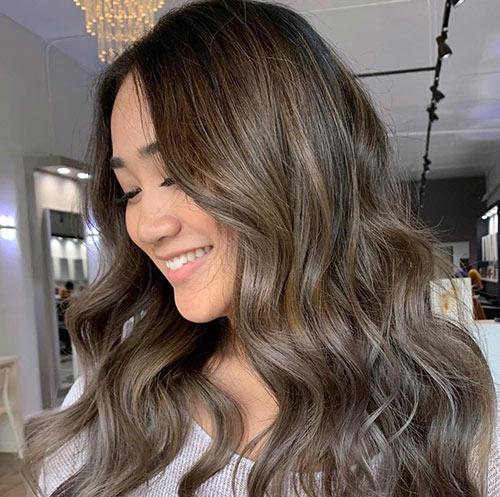 Instagram
Deadvlei is one of the most picturesque places in the world. Situated in Namibia, it has dead brown trees on ashy sand. While it sounds ominous, it is anything but that (google it to see what I mean). The combination of dimensional brown trees on ashy sand can make for a stunning hair color mix. Try it!
18. Frosted Forest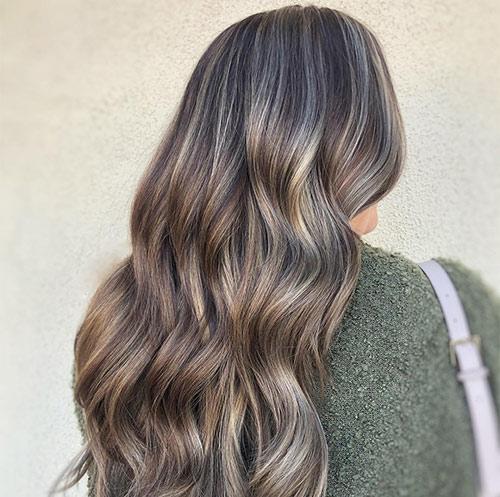 Instagram
Have you ever seen a forest in the winter? You can see the brown of the bark peeking from underneath the snow. The wood itself is of different shades. I'm sure that is what inspired this lovely frosted ash brown hair blend. Stunning, isn't it? The blonde tint looks like the sun's rays. Perfect!
19. Champagne Ash Brown Balayage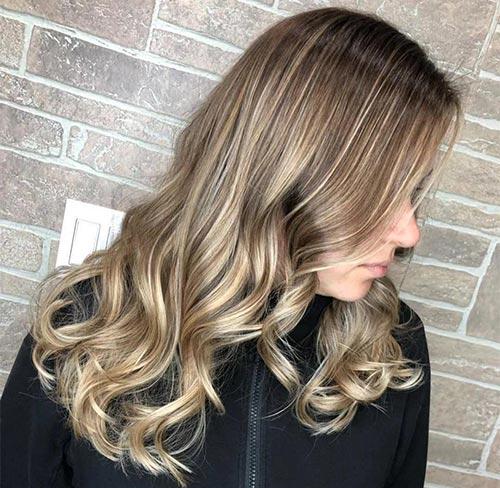 Instagram
Champagne symbolizes celebration, and ash brown is a hair color that is worth celebrating! This lovely blend of dark brown and champagne blonde with ash brown hints is brilliant. It looks especially great with gold and nude makeup.
20. Pink Ash Brown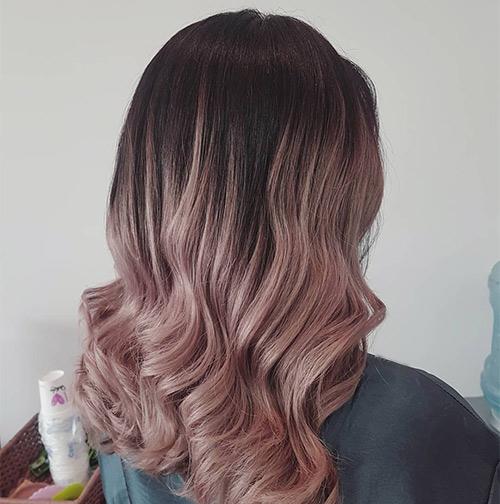 Instagram
Pastel pink is all the rage right now. Every woman wants it on her hair. If you're like me, you don't want bright pink. I like a subtle pink that blends well with my brown locks. This picture just spoke to me. The pink is bright, but the ash brown smokes it out.
21. Light Versus Dark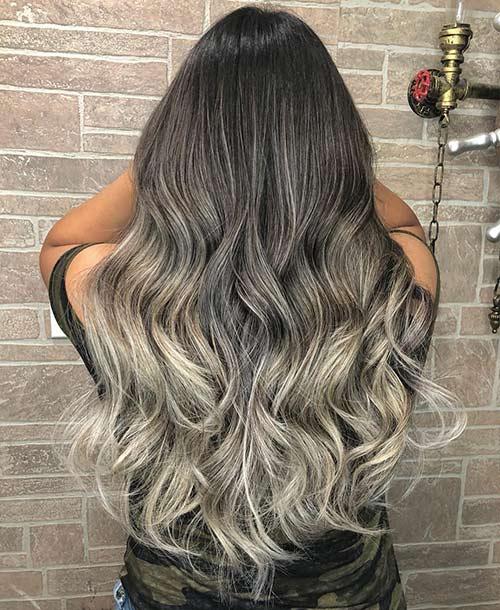 Instagram
In the battle between light and dark, hair colors always win. Look at this hair color blend: light and dark ash brown combine to give your hair texture and volume. The dark roots accentuate the volume even more and make your face appear slender and long. The light locks add a lovely contrast and soften your face while focusing on facial features.
22. Snow Glazed Ash Brown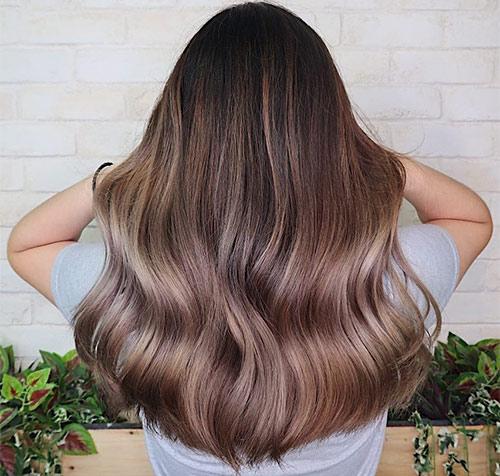 Instagram
An ash brown look accentuated with platinum blonde highlights is perfect for the winter. Platinum blonde highlights make the brunette color shine and add texture to the look. The light brown tresses give the look a warmth that would work well in winter.
23. Ash Tones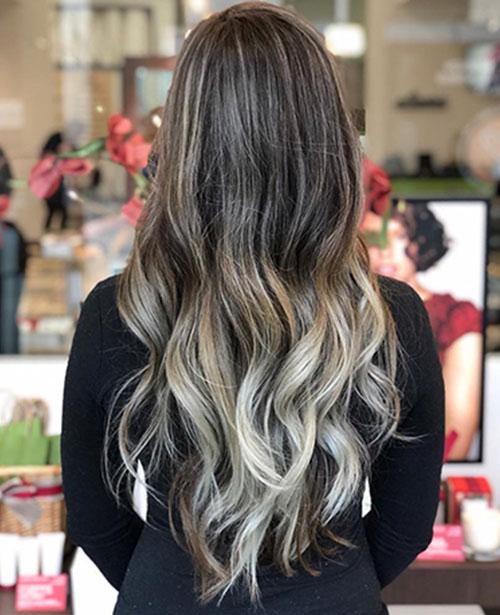 Instagram
Ash tones are the only acceptable fade out tones. They add drama to your hair with their smoked look. They appear faded out but highlight your natural hair color. If there's a hair color you want to try that is too bright, add some ash to it, and you will love the smokey color result.
24. Deep Ash Brown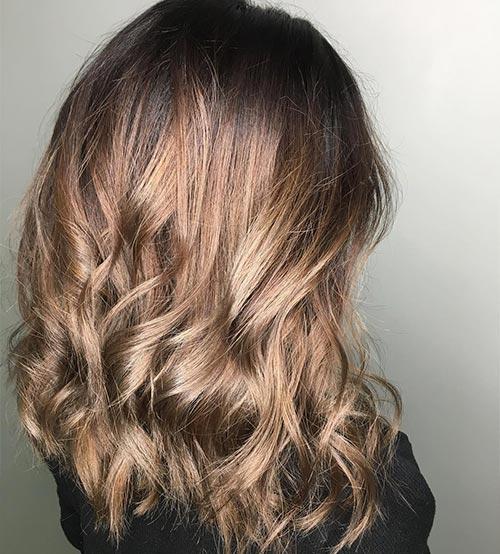 Instagram
Ash brown hair is not a dull color. It looks intriguing and works well to accentuate other colors like the ginger brown you see here. Stunning!
25. Blonde Balayage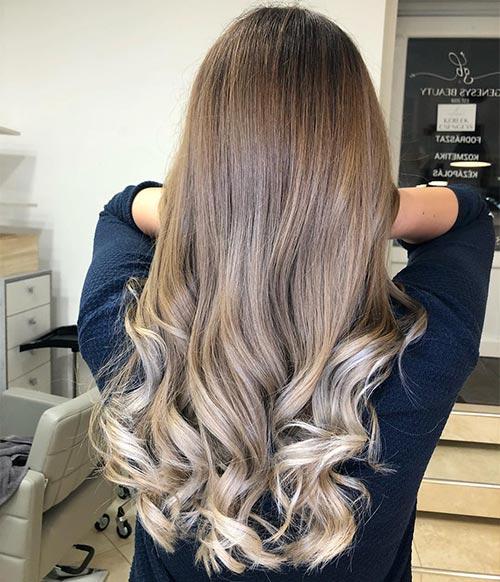 Instagram
For a brunette, transitioning to blonde hair is a big risk. You have to bleach your hair, which, in turn, damages it. Bleaching hair at the roots can really damage your follicles. Many women have experienced hair loss because of it. Here is an alternative: Instead of going completely blonde, opt for a blonde ombre done with the balayage technique. This spares your roots from getting damaged. Instead of bleaching your roots, just add some ash to fade the brown out.
26. Smokey Dimensions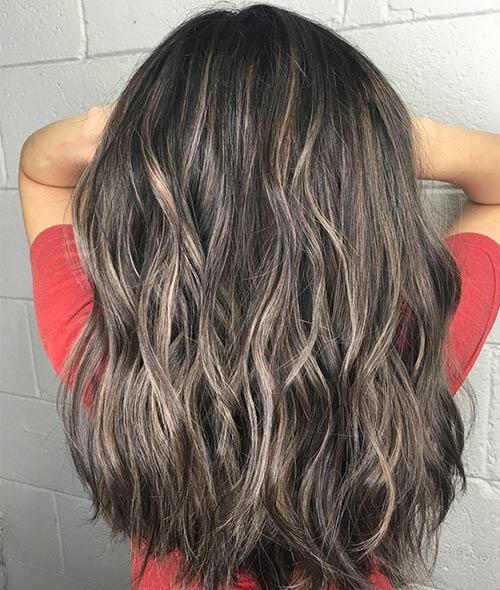 Instagram
Adding ash blonde highlights to brown hair can really up the scales in your favor. Not only are you showcasing your tresses, but you are also adding dimension to your hair, which helps in framing your face. The dueling hair colors accentuate your skin tone and eye color.
27. Glossy Ash Brown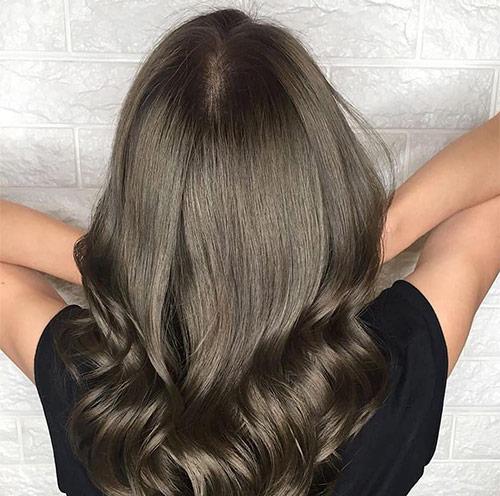 Instagram
Ash brown hair is mysterious without being overbearing. It's like that popular girl in school who's friends with everyone, has the top grades, can do no wrong, and has her whole future planned out. You hate her for what she accomplishes, but love her for who she is. Ash brown hair is deep and dimensional, and it makes your hair look thick and lush. The best part about it is that it allows your hair to take on more shine when you apply oil or foam to it, leaving you with glossy locks.
28. Light Ash Brown Hair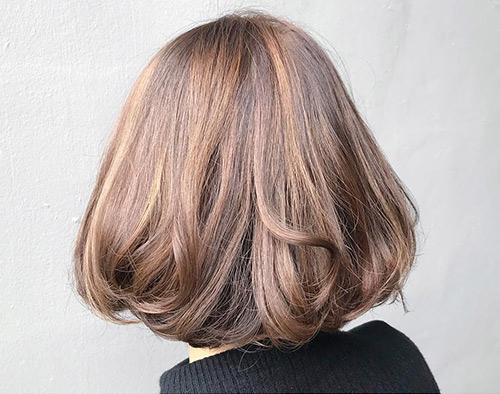 Instagram
If you have light brown hair and want to get in on the pastel action that's been storming the world, try this hair look. Add some ash to your light brown locks to give it a warm smokey look. This faux pastel look gives off a rose brown vibe.
29. Mousy Brown Balayage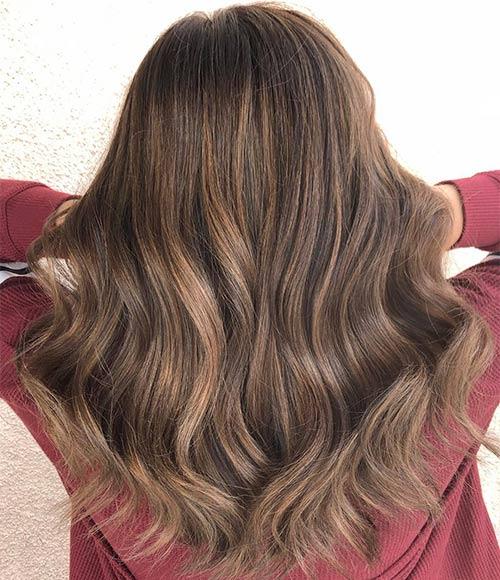 Instagram
Grease, The Duff, She's All That, Clueless, Miss Congeniality, Princess Diaries…the list of movies featuring makeovers goes on and on. It's true, women love a good makeover. A makeover with this intense ash brown balayage might be all you need to turn into a new you.
30. Silver Ash Brown Hair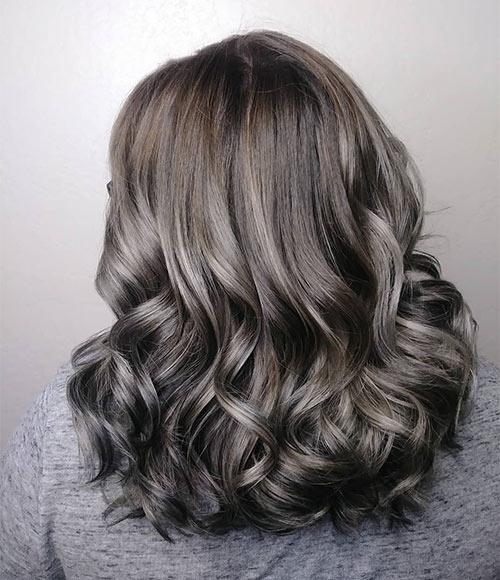 Instagram
Silver hair is one of the chicest hair colors. It is metallic and cool-toned while also being super glossy. Opt for a silver ash brown color if you want to keep up with the trend. The brown shadow root adds some gorgeous depth and dimension to this look.
Ash brown is truly a versatile color, bringing the bookworms, the mean girls, and the elite together. What did you think of this list of ash brown hair colors?