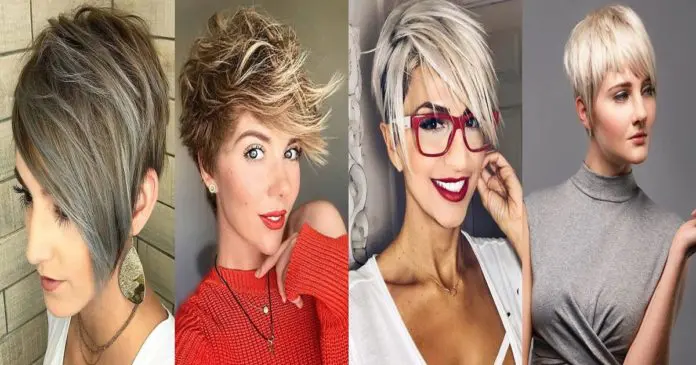 Are you thinking of a versatile pixie cut for any mood, occasion, and image? Pixie haircuts always seem to be in style, and there are dozens of cute pixie styles to choose from. If you are tired of your long locks and want to cut your hair short for a funky new hairstyle, a pixie is a great option as it is both stylish and flexible.
There are plenty of adorable short haircuts for those who are thinking of a new daily look. Short hair is easy to maintain in any season and is great for those who always want to feel comfy and be on point at once.
A pixie haircut is trendy, feminine, and chic. We have put together a list of our top pixie haircut looks for the unforgettable 2022. To take it up a notch, you can add some bright undertones, subtle balayage or neon streaks. Go for a bold new hairdo next year!
Short Pixie Cut
Classic Pixie Cut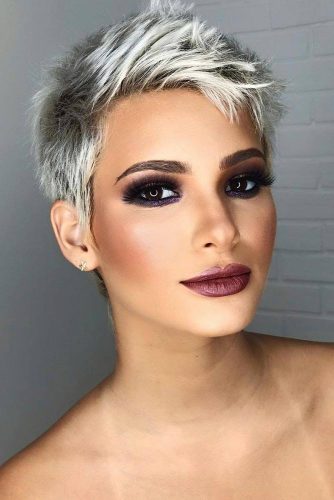 This classic short pixie cut is timeless. Following the main features of the crop, this idea has short hair on the sides and back and a slightly longer top. Also, such cuts get on well with bangs.
The best thing is, its simplicity will provide you with flexible styling, which means that it can suit all occasions. It also works great for both natural and dramatic hair colors. And this silver blonde looks positively stunning with this sophisticated style.
Source: laisdelagnese_ via Instagram
Chic Textured Short Pixie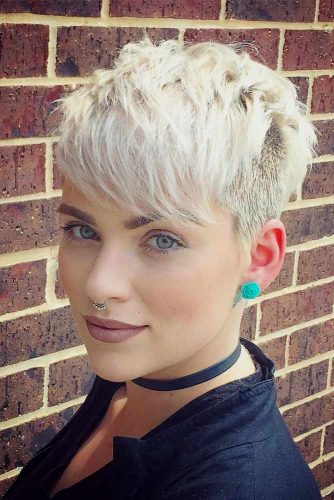 Textured cuts are not for everyone. But in case you would like the world to have a look at what you are standing here for, this is exactly what you need. A spicy, textured pixie dyed ice-blonde defines a strong and daring lady.
The textured pixie or the choppy pixie cut can be styled in various ways because of the subtle layers that create the volume and dimension. You can slick your hair back for a sleek look or style the pixie cut with side swept bangs to add a feminine touch. Make the ends of your hair spiky or angled; or give them a lift at the root by brushing them backward to create your desired look.
Source: kaitlinfugler via Instagram
Daring Shaggy Short Cut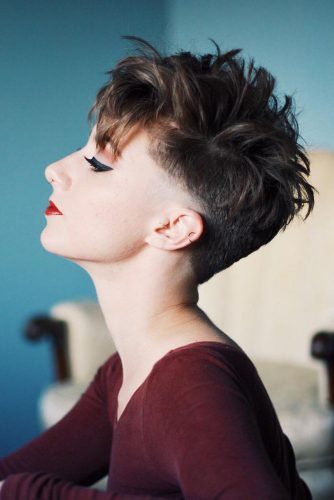 While watching Shaggy as he was chasing after Scooby Doo's snacks, who would have thought that an amazing variation of his haircut would become so popular among women? A shaggy haircut with angled layers and sweeping bangs across your face is a great short pixie, especially for women with a long face. Such a haircut is best styled naturally to achieve the effortless, chic look.
The shaggy pixie cut is not for those of you who are faint-hearted. It takes a lot of courage to opt for something as edgy as this chocolate-shaded shaggy hairstyle. Besides, the undercuts only spice things up. Would you dare to try it out?
Source: heidi_pabst via Instagram
Asymmetrical Short Pixie Cut
The asymmetrical pixie cut looks extremely sassy and fun. Besides, if you spice it up with a fringe and sweep it to the side, you will achieve a different than yesterday look, isn't it amazing? Moreover, the awesome side-swept appearance is only the beginning: with the charm of asymmetry, it will work perfectly for those with a rounder face.
As for colors, do not be afraid to experiment with your favorite shades! If you want to add a bit of an edge, try a vibrant color like this gorgeous purple.
Source: Adamciaccia via Instagram
Punky & Spiky Pixie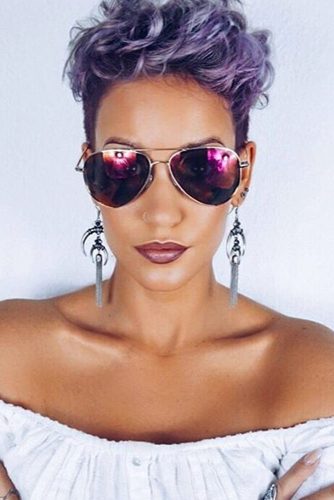 Believe it or not, there are punk pixie cut ideas that can both reveal your rebellious soul and show off your girliness. This spiky do is another fun look for those with a more daring vibe. Try some muted streaks such as this gorgeous purple and blue combo to bring out your inner punk rocker.
Source: Madeleineschoen via Instagram
Pixie Cut For Curly Hair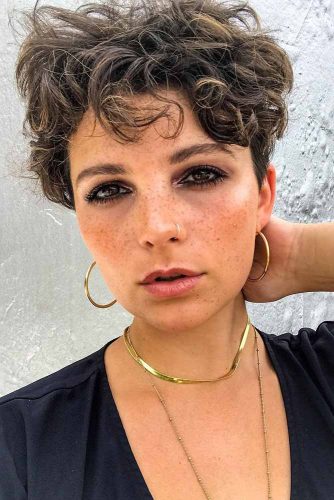 A pixie cut is a way to go when looking for a short hairstyle for thick wavy hair. The texture of wavy hair looks superb in this haircut as the volume is already present. Ask your hairstylist to keep the layers at the back shorter and use a texturizing spray to add some bounce to the front section of your curly pixie cut. Babylights, like the one in the pic, also look chic.
Source: esther.itterly via Instagram
Short Edgy Pixie With Undercut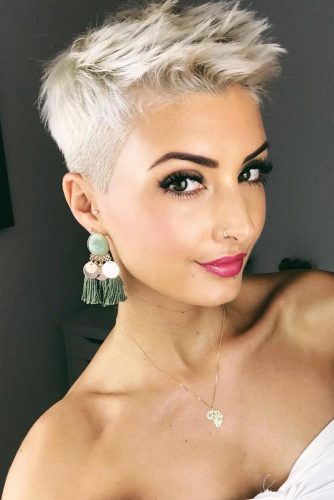 There are no pixie cut shaved sides can spoil! On the contrary, they outline the longer top of your cut, putting your edgy pixie cut in the spotlight. Creative ladies know that to make their haircut really special. They need to set their imagination into motion: go for a short cut, spice it up with the bold undercut, and style the top in the way it stands out. Voila! Your look is on point, just like all those top pictures of pixie haircuts.
Source: jejojejo87/ via Instagram
Soft Textured Pixie Cut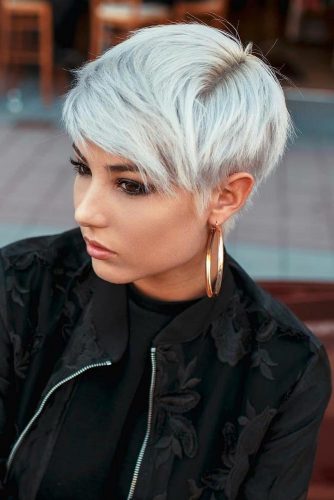 The minimalist version of the textured crop seems to lead the chart of cute pixie haircuts we could ever imagine. Everything about this cut is super simple, yet, very refined and well-groomed. Soft texturizing on the top level makes the pixie cut with bangs look softer and airier while leaving a lot of room for fringe styling.
Source: giorgiasoleri_ via Instagram
Very Short & Spiky Pixie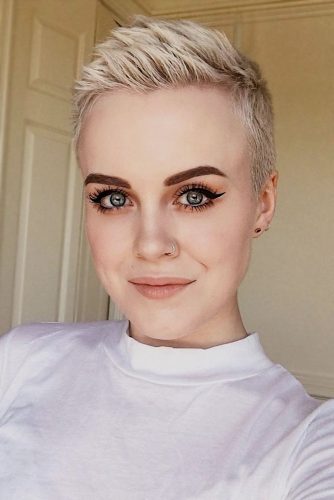 Ladies who think that very short pixie haircuts can hide up your femininity, meet the super short and spiky pixie that will make you change your mind! The truth is, nothing can overlap your inner lady, and this easy but eye-catching idea proves that. Such cuts can ravishingly finish any look, keeping your beautiful face open, and thus giving your makeup a chance to stand out.
Source: sarahb.h via Instagram
Very Short Side Parted Pixie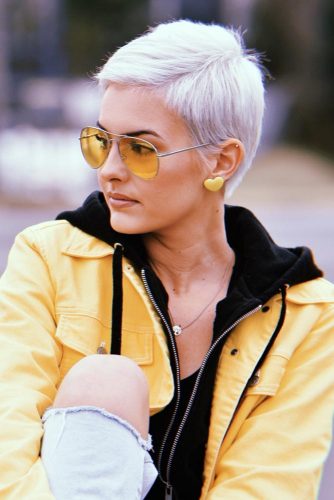 Sometimes a little change can bring a great difference to your look. Beauty is in details, remember? So don't forget about parting! If you are absolutely confident about your face shape, you can copy this simple blonde pixie cut. Of course, the color decision is up to you, but to really emphasize your confidence and enhance your beauty, this side-parted idea is a must-try.
Source: lisacimorelli via Instagram
Short Pixie With Long Layered Bang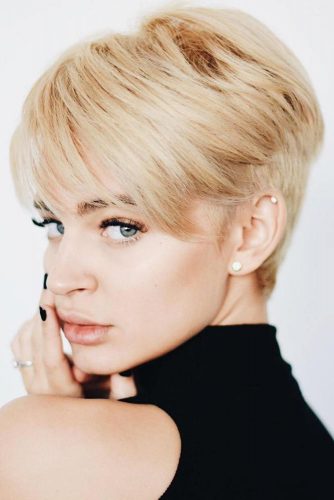 "Ooh la la!" is all we can say when we see this pixie cut with long bangs. Your entry into any room will make a statement with this hairstyle that looks great not just for blonde hair like in the pic, but also for any other hair color. The close shaved sides and back with the bouncy layers on the top make this hairstyle easy to style and maintain.
Source: lauraescanes via Instagram
Short Straight Pixie Hairstyle With Asymmetrical Bangs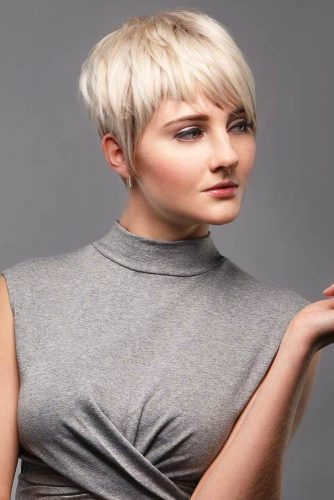 Don't ever forget that your pixie cut with bangs can be anything you want it to be. Whether you want to frame up your face or hide up your broad forehead, you can customize a pixie that will work on your specific needs.
Asymmetrical silhouettes are the most beautifying, yet, not all your pixie should be imbalanced: you can leave it up to your bangs. Why don't you try playing with textures? You can sport your pixie straight, finishing the modern look with asymmetrical bangs. P.S. it's a perfect idea for ladies with big foreheads.
Source: samvillahair via Instagram
Wavy Pixie Hairstyle With Layered Bangs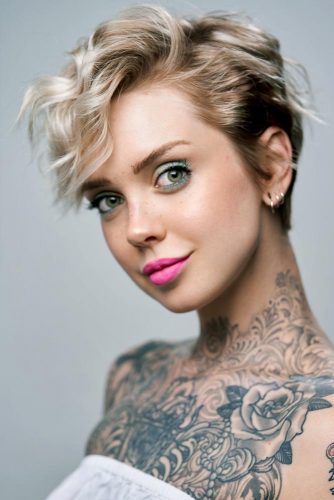 Want your short hair to look unbelievably lively and dimensional? Layers will be there for you. A soft texturizing at the ends and slight layering will create magical movement to your little locks, notably if you focus on bangs. To reveal the full potential of the cut, wave your hair and let the wavy pixie cut show you the difference!
Source: saraontheinternet via Instagram
Straight Short Pixie With Side Bangs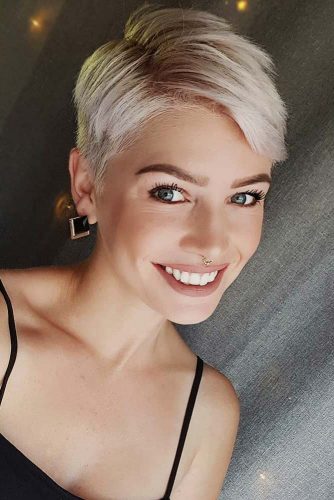 Here's one more thing to learn about bangs. They shouldn't always overlap your forehead or fall on your sides to frame your cheeks. You can make it a part of your top to make your hair appear thicker. Most pixie haircuts 2018 are meant to improve one's style: just look at this pic. This short side-swept fringe that melts with the top gives a sense of fullness to her hair.
Source: anna_maria_theresia via Instagram
Volumizing Short Layered Pixie With Long Bangs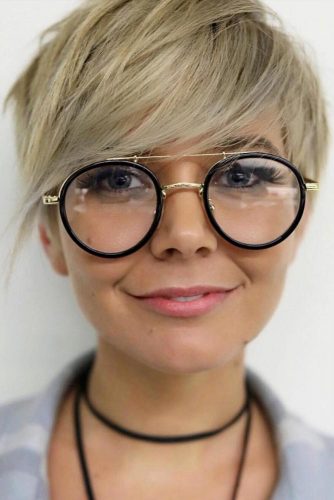 Here comes one of the pixie haircuts with bangs that are meant for girls with thin hair. There's no need to tell you how troublesome styling weak, fragile locks can be: all you need is to keep your hair voluminous. To save your look from falling flat, ask your stylist for a layered pixie with long side bangs.
Source: brianacisneros via Instagram
Long Pixie
Long Pixie With Thin Fringe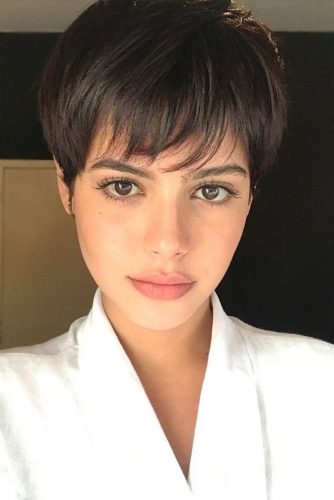 Aren't ready for extreme changes? Don't worry: there are lots of longer versions of the pixie cut. Obviously, they're still pretty short, but they have more length to play around with, anyway. This long pixie cut with bangs hits the ears area and features a very voluminous crown. With such a cut, the sense of fullness will always be with you.
Source: juliadalavia via Instagram
Volumetric Long Layered Pixie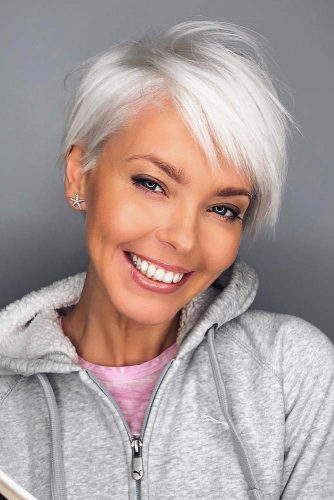 A layered pixie cut is a perfect way out for those whose hair is thinner than you would like it to be. The more layers, the more volume. Isn't it something you have been dreaming of? When we look at this style, we can't even imagine that this girl used to have thin hair troubles. Can you?
Source: ryabchik.moscow via Instagram
Long Pixie Bob With Side Swept Bang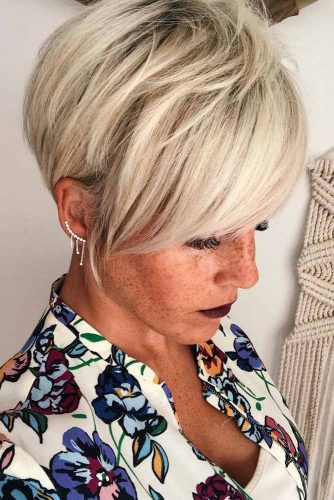 If you are looking for a long pixie cut that will bring out all of your pretty facial features, then we know what you need. An ear-length pixie bob swept to one side is your perfect solution! A voluminous crown, edgy silhouette, and a refined overall look; who could ask for more?
Source: lavieduneblondie via Instagram
Tapered Long Pixie with An Elongated Fringe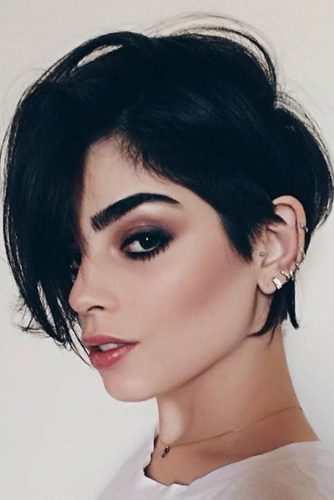 Want something versatile and face-flattering at once? Look no further! This cut works great for those with thicker hair, especially if you want a casual do that's low maintenance but super-stylish.
Keep in mind that the most important thing to consider is whether a pixie is flattering for your facial features. If your face shape is oval, congratulations! Ladies with an oval face shape are probably the luckiest: this shape allows them to wear practically any haircut, including a pixie that can let them experiment with their hairstyles in any way.
For example, it is possible to add heavier bangs to the pixie. Or, ask your stylist to give your cut a messy texture for a well-balanced look.
Source: Douglascarrollsalon via Instagram
Layered Choppy Pixie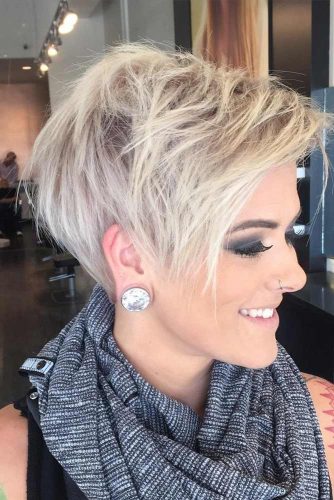 Seems like choppy haircuts know no limits: there are so many ways to create a carefree, I-don't-care look! This cute cut works great for those with wispy locks. With its finely chopped layers, it adds tons of volume. To make it even more win-win, subtle highlights will help to add texture, as well.
Source: Jessattriossalon via Instagram
Shaggy & Layered Pixie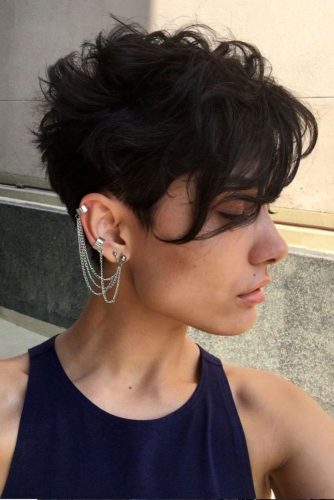 How about some short, staggered layers that can add both texture and body to your thin hair? If you have wispy hair, you know that your thinner locks tend to have a mind of their own. Fortunately, this stunning cut can be your salvation.
By the way, such pixies are often worn by ladies whose face shape is square. Their piecey texture can balance the strong jawline and add the needed flattering definition.
Source: Bablonia via Instagram
Retro-Inspired Long Pixie Cut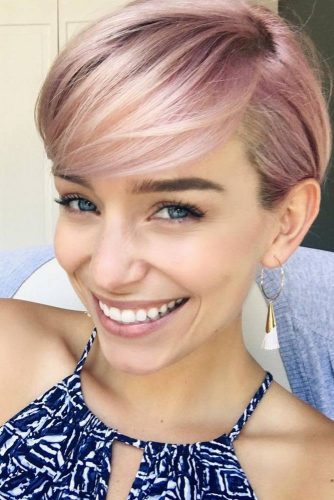 At first sight, this fun cut with its longer sides and top adds a ton of volume. But once you have a closer look to it, you will see that this look is almost a throwback to the popular Dorothy Hamill do of the 1970s. So, it captures a retro look with a modern flair, which is a fantastic way to experiment with styles!
Source: Sarah_louwho via Instagram
Long Wispy Pixie with A Deep Side Fringe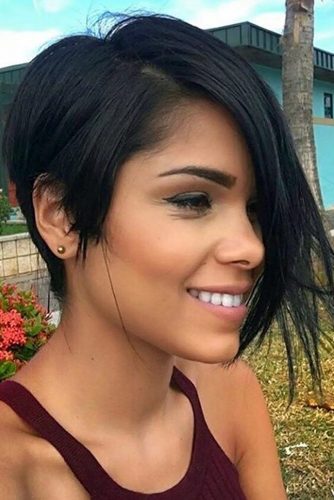 Those who like relaxed, effortless-looking styles shouldn't pass by this wispy, a bit messy pixie cut. Ask for longer layers in the front and a deep side part, and you'll always look like you just walked off the beach with this sexy casual style!
Source: Meucabelocurto via Instagram
Curly Long Pixie With Shaved Side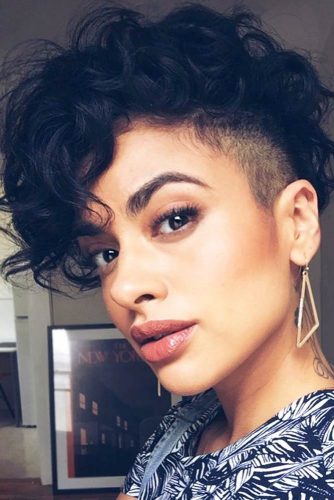 Women with naturally curly hair should not be intimidated with this hairstyle. Let your ringlets create a buzz by getting a shaved pixie cut that also can frame your face shape. The side shaved variation with under layer of the hair and loose curls right in the front is dramatic and edgy at the same time. You can get just one or both sides tapered. Plus, this hairstyle is super easy to maintain.
Source: beautybyrachelrenaepaz via Instagram
Long Straight Pixie With Side Undercut
Do you know how different pixie bob haircuts can be? Yes, they don't always come as a voluminous, well-groomed chevelure with an immaculate, round silhouette. You can make it more contemporary! Shave the sides, adding some undercut vibes to your cut, and style your hair straight to finish it with precision.
Source: juliana.key via Instagram
Chic Undercut Line Design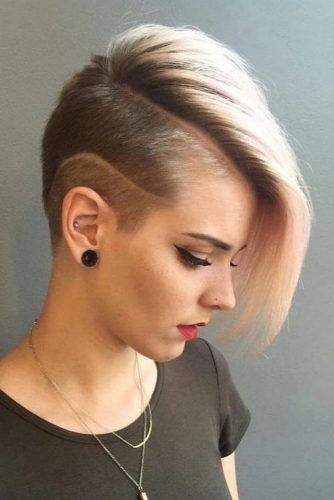 Feels like your inner rebel has taken you over? Show it off with this sassy pixie! It's so fun with its disconnected layers and shaved streaks that add a bit of daring glamor. This style also has some benefits; this time it's about those with oblong faces.
As for ladies with a long face shape, they should be careful when opting for a pixie, as this cut might accentuate your long face. To keep the needed balance, consider parting your cut on one of the sides.
Source: Nothingbutpixies via Instagram
Long Shaggy Pixie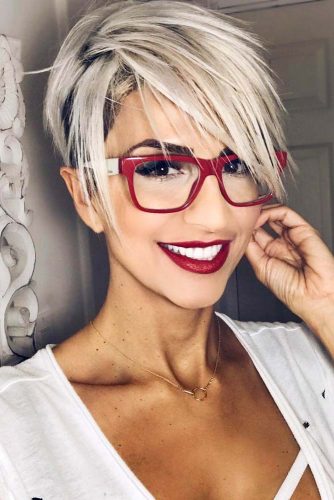 There are no better pixie haircuts for thin hair than shags, and that's true! The pointed angles of shaggy cuts can turn even the weakest locks ever into a magnificent, nicely-looking chevelure. To get a sexy effect like in the pic, ask your stylist to chop the ends so that they get voluminous and stick stylishly.
Source: alineh_a via Instagram
Wavy Long Asymmetrical Pixie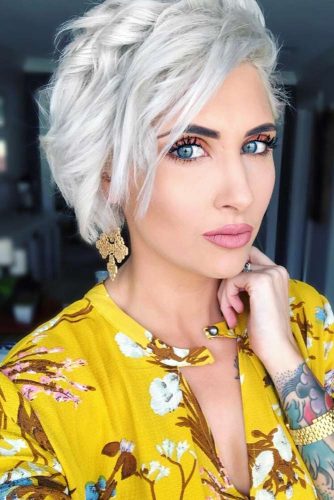 Waves+asymmetric body=the most eye-catching and voluminous pixie you couldn't even dream of! It just so happens that a couple of whirls with your curling wand can take any haircut to a whole new level. To make your pixie cut styles look absolutely fabulous, give it some wavy movement.
Source: rayahope via Instagram
Inspiring Pixie Color Ideas To Try
Let's don't forget that not only scissors can help us achieve voluminous hair full of life and natural movement: coloring techniques also take part.
Two-Toned Pixie With Soft Balayage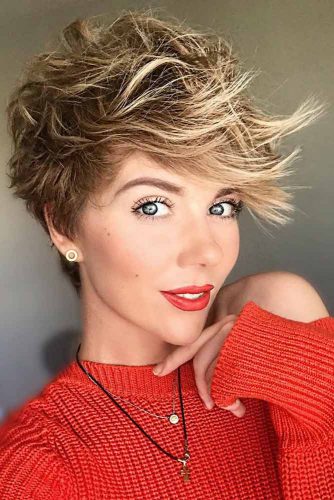 This two-toned look is very trendy right now. If you want to tone it down a bit to keep it more professional, you can use a subtle balayage effect. But in case you are feeling bold, you can opt for more dramatic colors.
Source: prozhanna via Instagram
Fireball Layered Pixie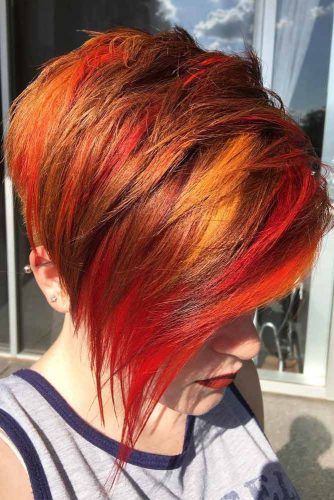 Well, this is the combination of a layered cut in pixie length with hair color that will catch everyone's attention. Opting for such layers is a great idea for women who are looking for a pixie cut for thick hair. The length of the layers is kept asymmetrical and the right hues of red and orange are added to make these layers stand out even more.
Source: nothingbutpixies via Instagram
Deep Brown Pixie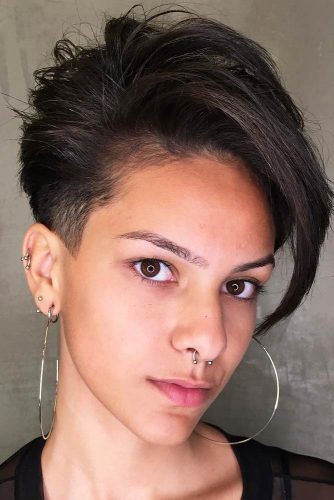 Brown hair with naturally red undertones can be even more standout if you pair it with a pixie cut with long bangs and short sides. Just get the front section of hair cut to a length that falls below your eye level and shave a section of hair above your ear on one side. Keep the rest of the hair short in a true pixie style. This hairstyle can be styled in different to go with different outfits.
Source: eliasvelloso via Instagram
Layered Grey Balayage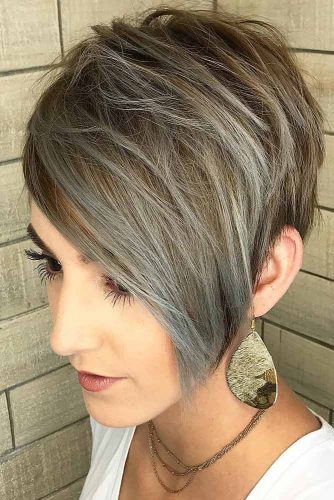 A deep side part looks fabulous with short layered haircuts like this. The length starts to taper off as we move from the front of the head to the back making it perfect to be styled with side partition. You will see your eyes lighting up against the hint of the grey balayage, just try it out!
Source: ezmiabascom via Instagram
Pink Punky Pixie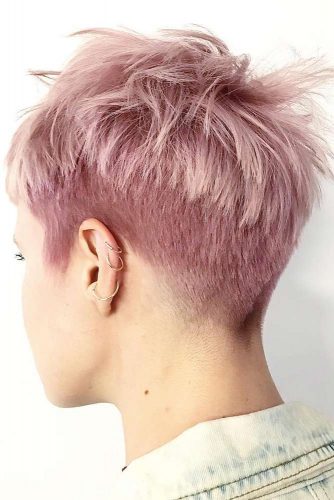 The pink pixie cut is taking the arena of short choppy pixie haircuts by storm. A color like this is a great way to style the short layers in your haircut. It might seem like a bold move, but the pink hair looks feminine and softens your features at the same time. Let your hairstylist to give the hair length a smooth gradient going from short at the bottom to long on the top.
Source: joeltorresstyle via Instagram
Cool-Tone Rainbow For Pixie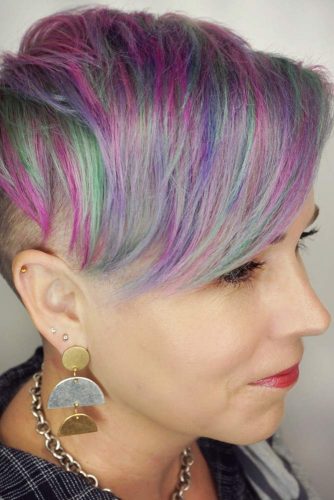 Why not opt for this colorful cool-toned rainbow the next time you want to color your hair? A long pixie for thin hair can be made to stand out with the right combination of colors. Subtle layers can also add some volume to your locks. For some edginess and color precision, add an undercut to your pixie.
Source: emilyandersonstyling via Instagram
Sweet & Deep Cherry Tones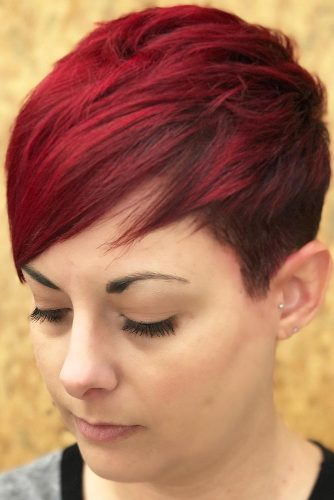 If you want a daring color for your hair but you are too apprehensive to go 'all red', try this beautiful burgundy color instead. It has the right balance of deep red and cherry pink that looks sassy with the dark roots without making the pixie cut with straight bangs look gaudy. Get the layers cut in an acicular style for some volume at the back of the head.
Source: emilyandersonstyling via Instagram
Copper Short Layers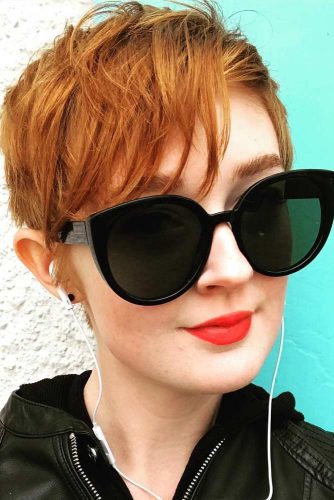 A bold hair color is not for everybody! But, if you want to step out of your comfort zone without venturing out too much, copper hair for your short pixie cut is a great option. Leave the layers long to transform the cut into a long pixie cut with bangs. Style it messy for a day out with friends or in a slicked back, side swept style for work. It is a win-win situation with this hair color and hairstyle!
Source: sweetgingers via Instagram