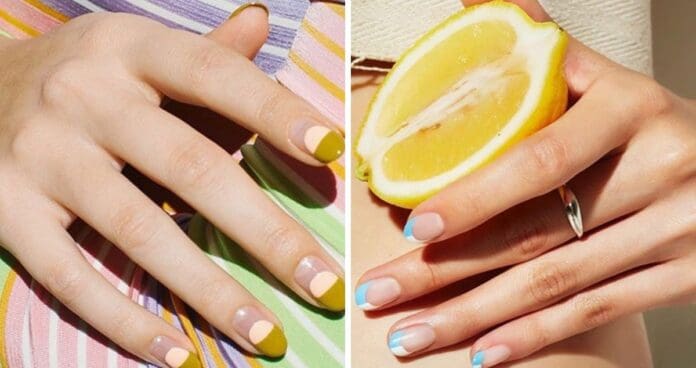 Get trendy toes with this trendy nail design. The next time you're getting a manicure and looking for some inspiration, check out our favorite nail art options. It has everything from subtle Ombre and modern French manicures to bold artsy patterns and glittery metallic accents. Plus, many of them are easy to make at home.
1. Branded Nail Art Design
Pay homage to your favorite luxury brands with a manicure featuring the iconic logos of your chosen companies. Keep it understated and elegant by sticking to a simple color palette. Decorating the ends of your French manicure with branded stickers is a great example of how to wear this look without going overboard. So short designer names and small logos like Chanel's "CC" or Louis Vuitton's initials work best in tight spaces.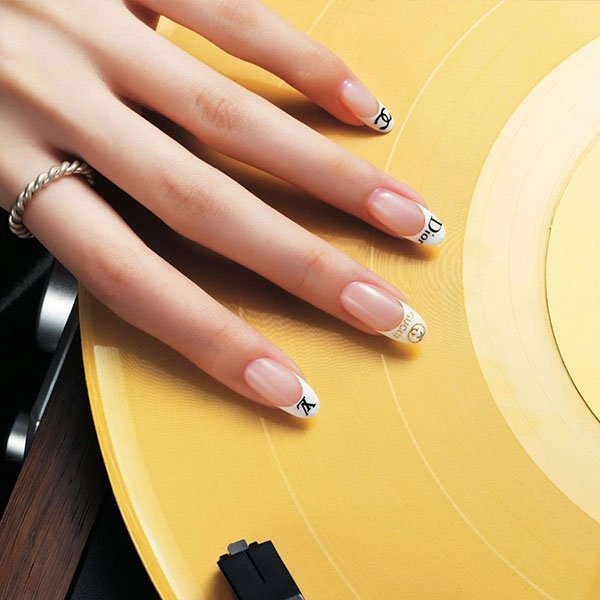 2. Gold and Natural Nail Art
Gold and natural nail designs are a fantastic way to enjoy the nail art trend without looking too extravagant. If you have a steady hand or have an experienced manicurist, you can paint gold patterns on a neutral base. alternatively, stickers are a simple and easy option for creating beautiful patterns. Look for Aztec-style designs, stars, hearts, or even floral stickers. This type of nail art can be amazingly versatile and individual. Switching options for this art include choosing a pink, orange, or beige base coat, or a bright, soft, or rose gold accent.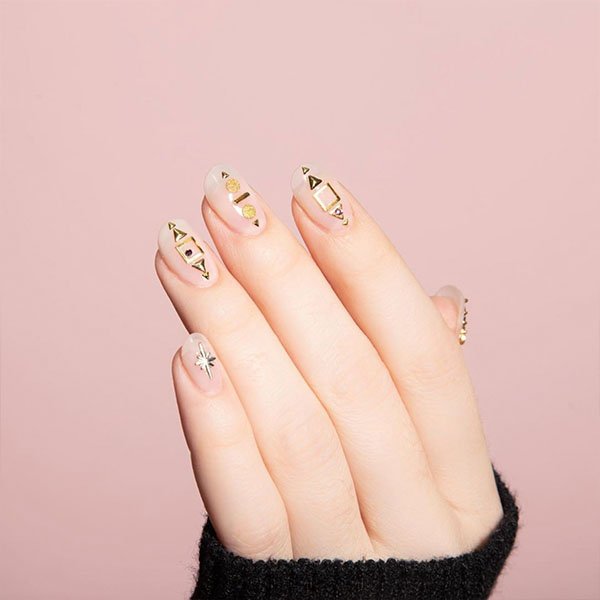 3. Modern Color Palette Nail Art
If you want to join the nail art trend but may not be very good with a nail polish brush, then this modern color palette is perfect for you. All it takes is a few colors painted on different nails. It's simple but amazing. Three colors are a great starting point. Also, choosing colors from one side of the color wheel will prevent conflicts in your look. Get inspired by sites like Instagram's Awesome Color, which have ready-made modern color palettes that look amazing. Alternatively, you can go to Coolors. co and create your own color scheme and match it with the polish colors you already have.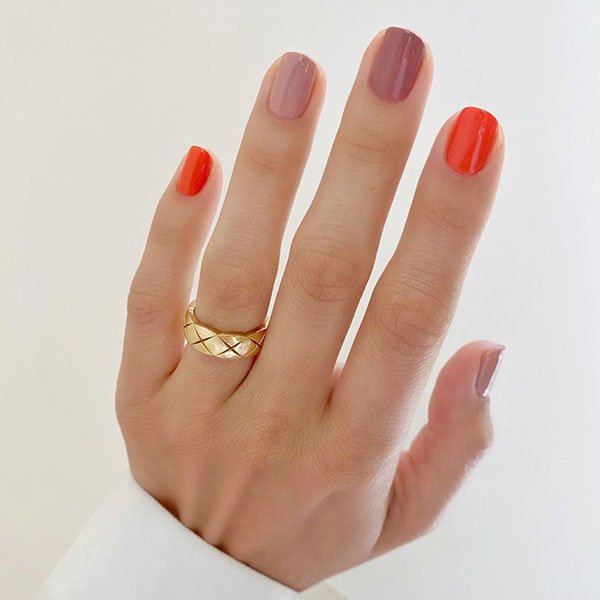 4. Tie-dye Inspired Nail Art
Change up your boho look with this fun nail design. The beauty of this look is that you can make it work with just about any color. Plus, it's easy to do at home. Simply apply a white base coat, then quickly, while still damp, apply your chosen colors over the white. Then put a sandwich bag over your nail and pat it to blend the colors. You can also add additional details by running a toothpick over the polish. Remember to work quickly before the varnish begins to dry and become sticky. Once dry, apply a clear topcoat to make the tie-dye look nice. Alternatively, use false nails.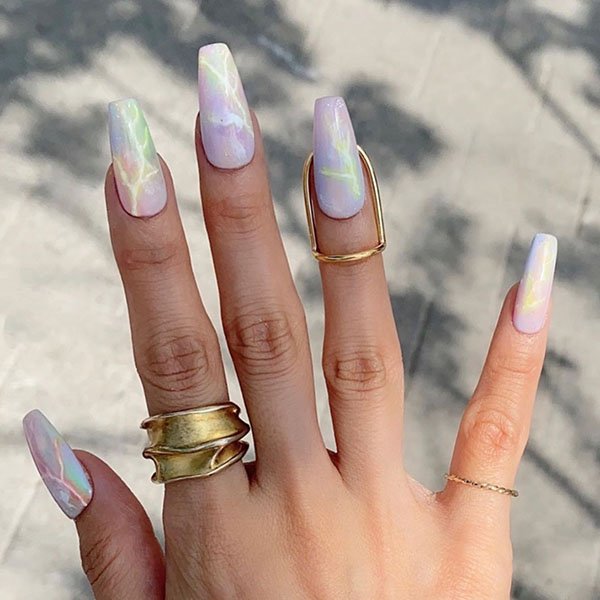 5. Faces Nail Art Design
Bring some modern art to your nail design with these faces. The attention to detail and lines in this nail art is just superb. A good manicurist has the skills and a steady hand to create this look for you. Plus, nail stickers and wraps are a great alternative if you don't have a nail technician or want to create this look at home. This bold and unique combination of black and nude looks striking.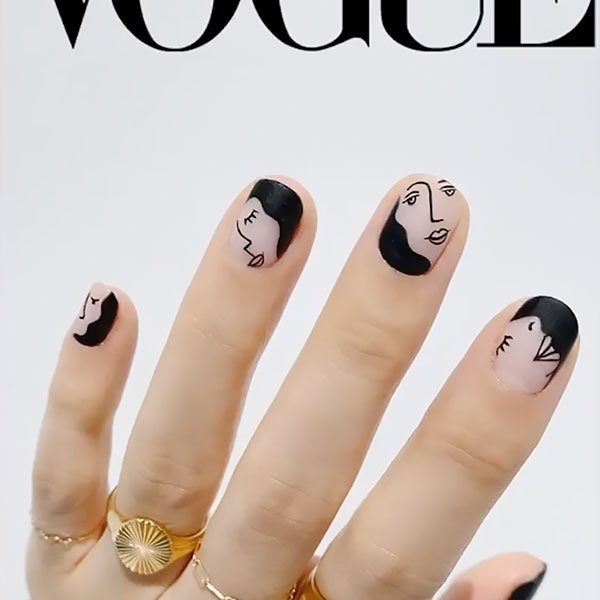 6. Love Heart Nail Art
Go for a sweet, romantic look with this heart-shaped nail art. It's perfect for Valentine's Day, a date, or just when you're feeling Cupid's spirit. Pink and red is a classic color combo, and choosing a pale pink base brings out the red hearts. In addition, such a design is easy to do with your own hands. Once you've applied your base color, simply place two dots of red nail polish next to each other. Then use a thin nail art brush to join them in a heart shape, working quickly while the paint is still wet. Top it off with clear polish and you're ready to feel the love.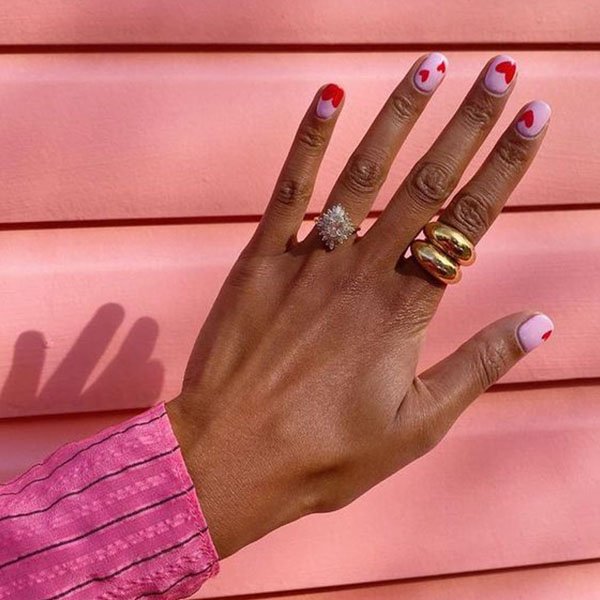 7. Eyes Nail Art
This look is stunning in both design and effect. This is a special style that combines black and white colors for maximum contrast. When drawing the eyes at the base of the nail, the natural curvature of the cuticle is used to beautifully frame each eye. If you don't like the black and white combination, you can change the colors or even paint the eyes with more realistic colors. However, remember that the more contrasting the color combination, the more it will stand out.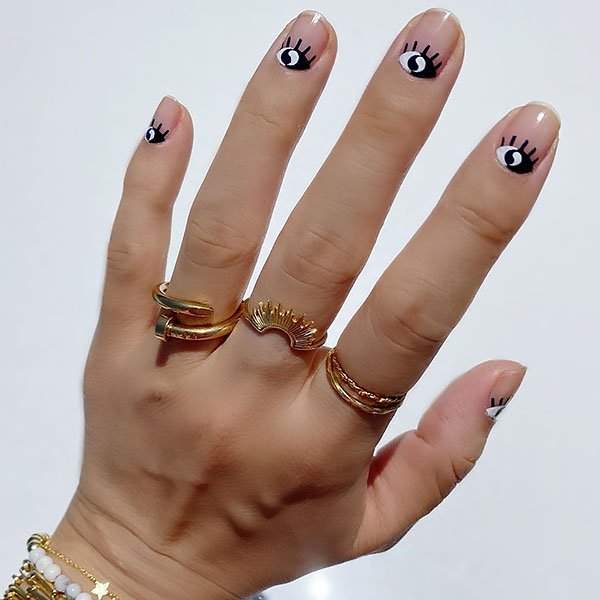 8. Ombre Nail Art Design
Ombre nail art allows you to take a fresh look at rainbow nails. Plus, it's very easy to do with the right tools. All you need is scotch tape, disposable makeup sponges, and your favorite nail polish colors. Apply the tape to your fingers first to avoid staining your skin. Then apply nude nail polish and let it dry. After that, apply the paint to the sponge and then apply it to your nails. Finally, trim the edges and apply a topcoat. Maintain a sophisticated and simple look by using a single color on a nude base. In addition, you can create colorful designs by mixing multiple shades for different effects.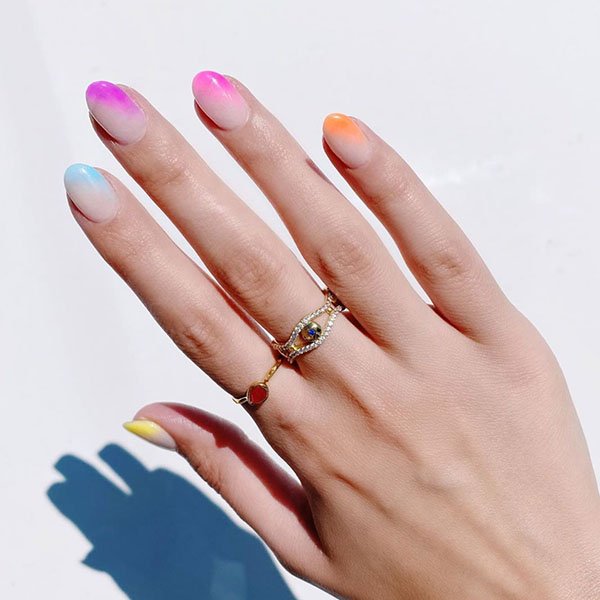 9. Colorful Nail Art
This colorful nail art will take you back to school drawing class. The paint blobs are reminiscent of an artist's palette and are a unique way to incorporate a rainbow of colors into your nail art. Pairing the colors with a nude base coat creates balance and keeps you from looking like paint spills. You can choose any number of colors and apply them to the edges of your nails with a thin nail polish brush. Wavy edges are critical to creating the look of a paint palette. This nail art is light and fun, plus it looks great when accessorized with a hint of gold.