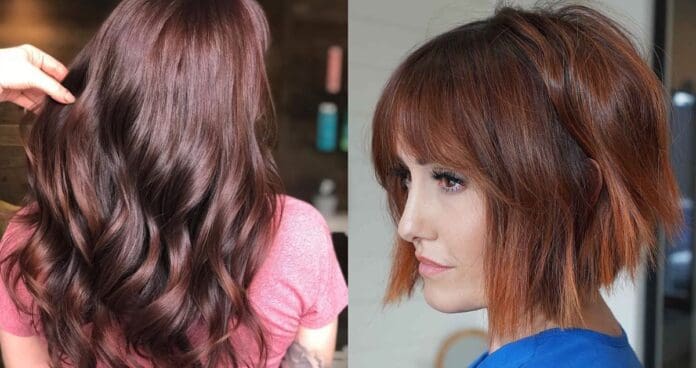 Auburn is a type of red hair that comes in a variety of shades ranging from reddish-brown to dark ginger. Auburn hues can vary from medium to dark hair and are a combination of light to dark brown and red hues, which makes it similar to a Titian hair shade. Auburn is a warm red color that flatters most skin tones and eye colors and can be the perfect option for women wanting to try new, subtle hair color. Before your next hair coloring appointment, check out these auburn hair color ideas for some hair color inspiration!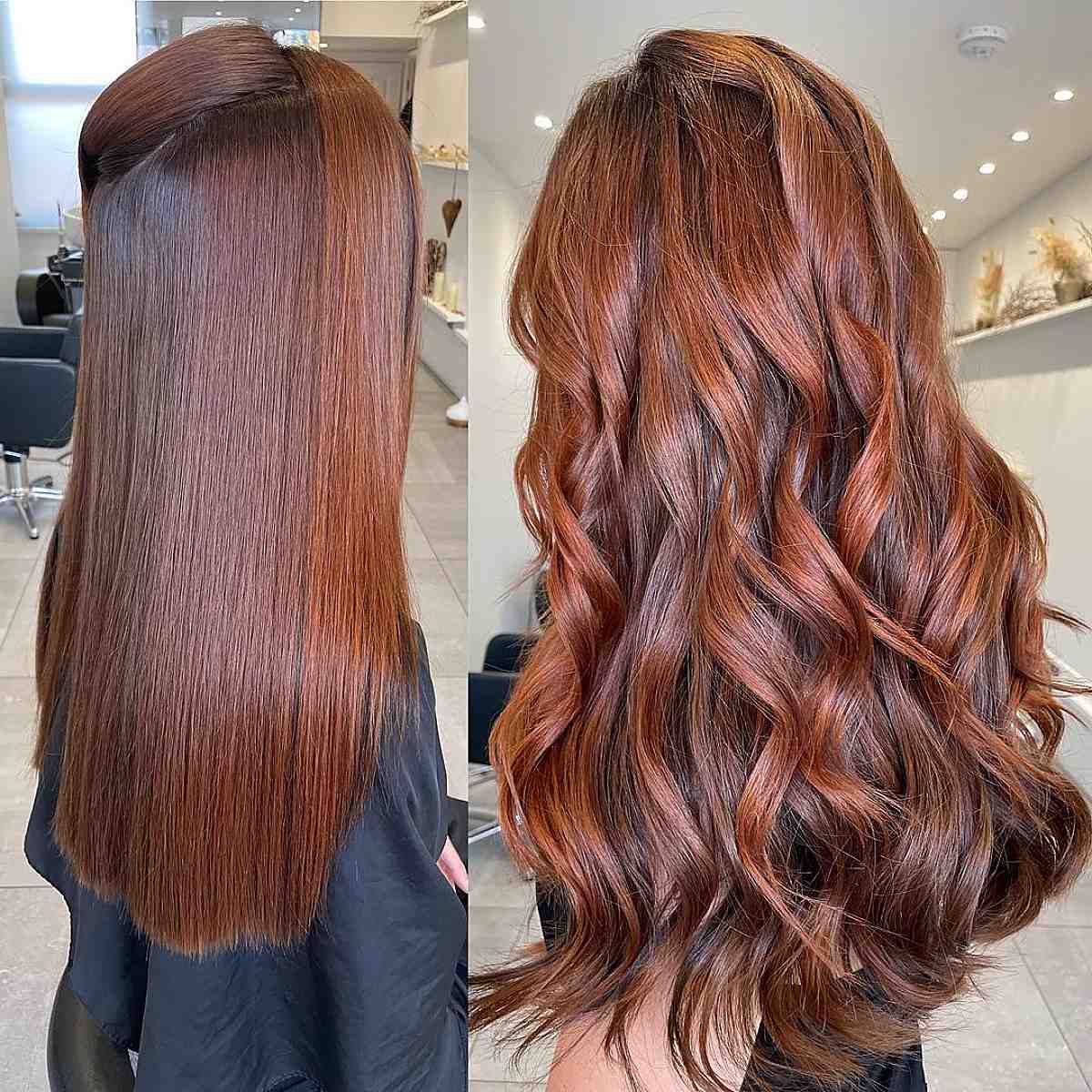 #1: Natural Auburn
The thing with hair dyes is you can transform yourself to have natural auburn hair. Dyes that are copper-tawny tones that suit you are readily available in the market for you to try on.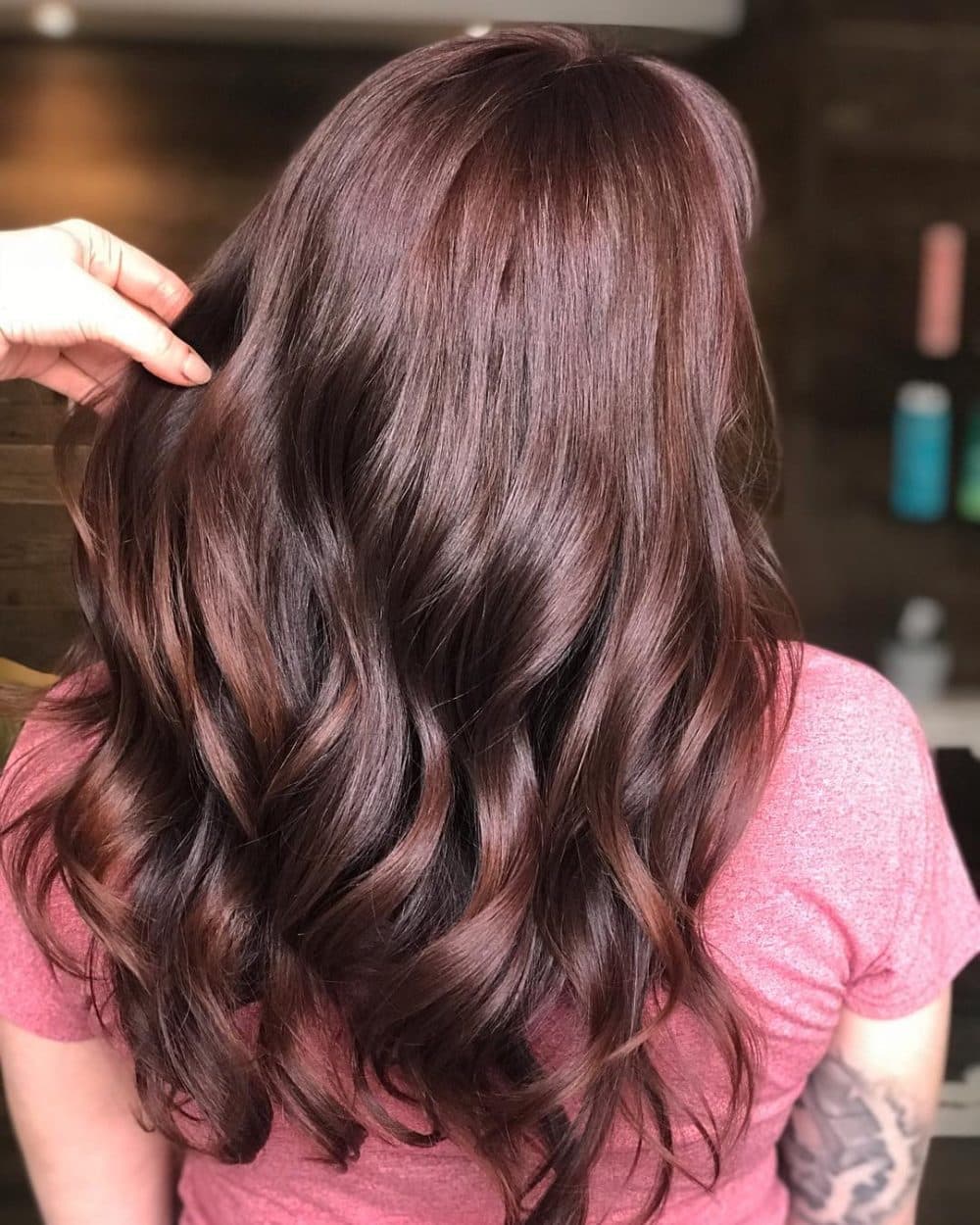 #2: Chestnut Auburn
A deep shade of auburn will make you want to grow long hair! This chestnut hair absolutely looks so mesmerizing with any style you try with your locks.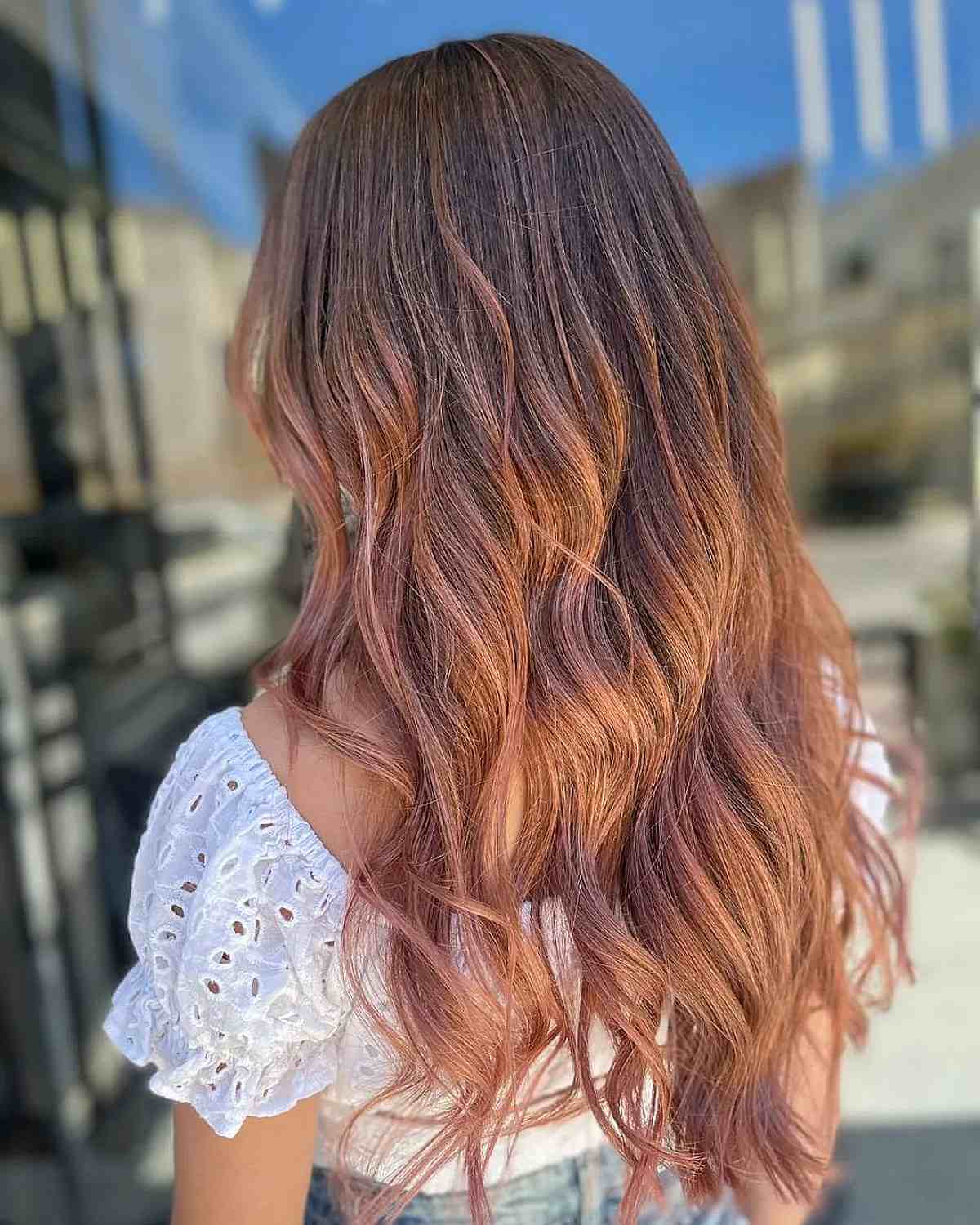 #3: Natural Auburn Balayage
Warm up your hair and complexion with a natural auburn balayage. Balayage looks more natural and will bring life to your locks with little maintenance. Warm tones of bronze and copper will make your hair look super shiny and luxurious.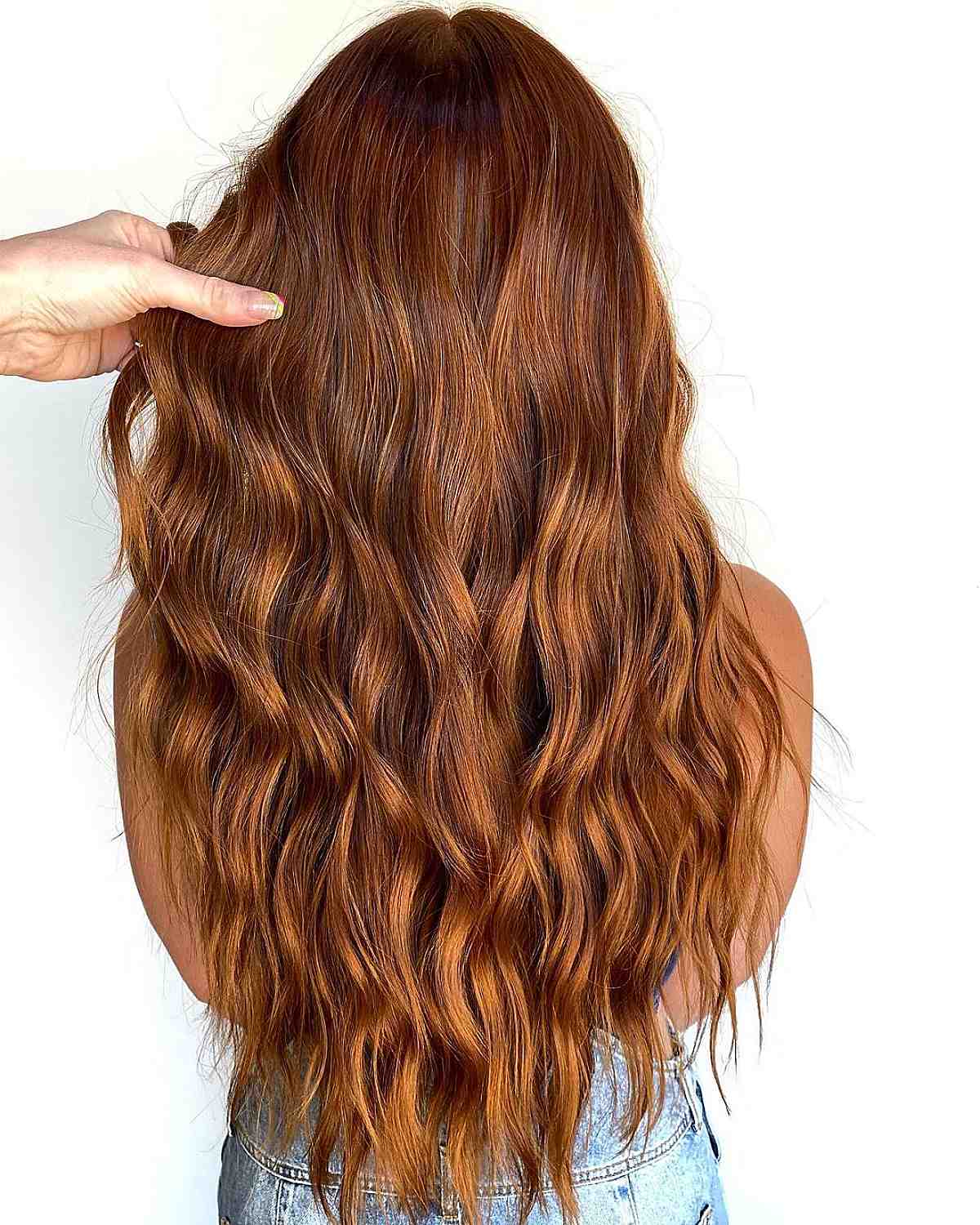 #4: Rich Auburn
This super-rich dark auburn hair color idea can do wonders for thick, long, textured hair. This burnt sienna with orange undertones can greatly intensify even the most subtle waves your hair has.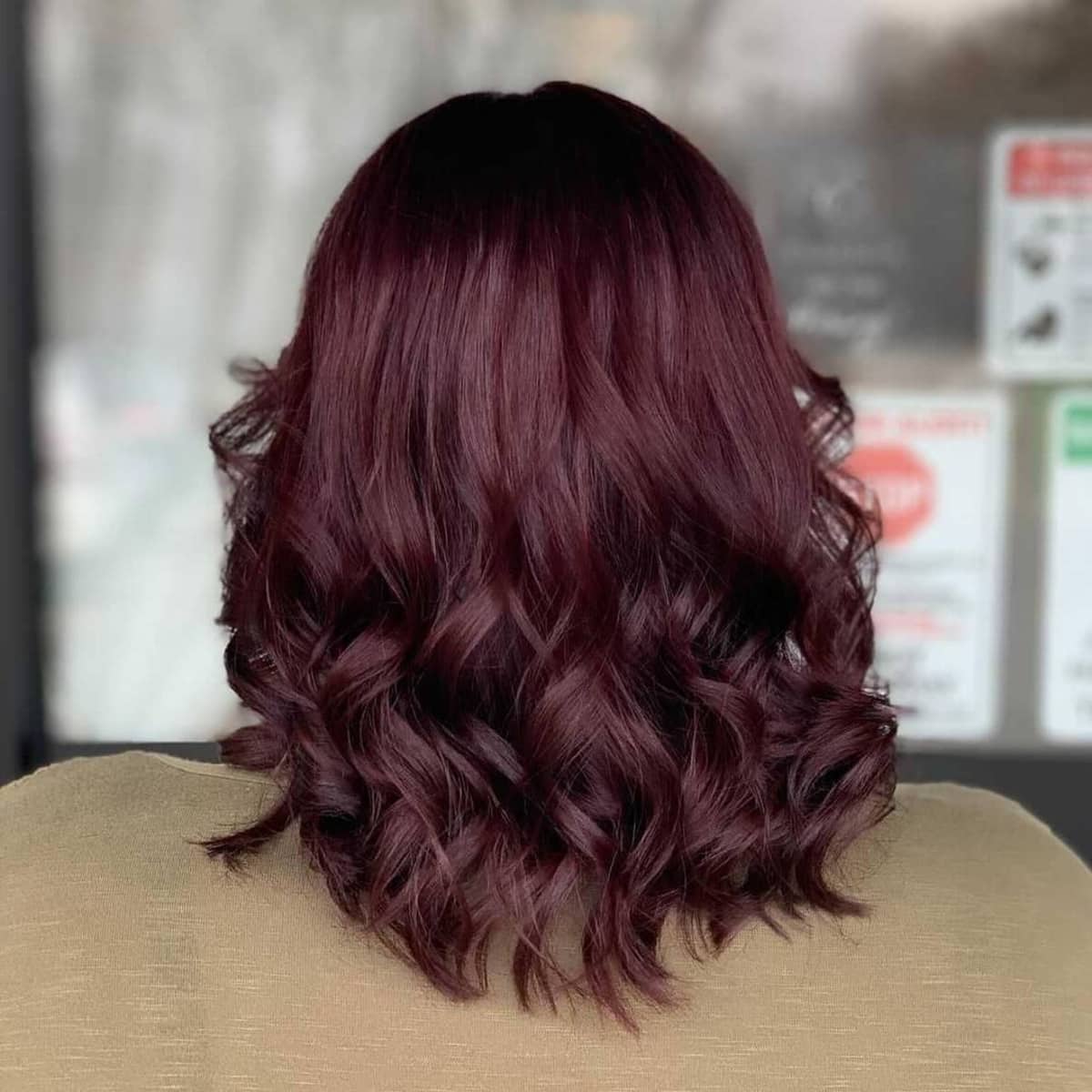 #5: Hints of Mahogany and Auburn Tones
Auburn with hints of mahogany and auburn tones is the perfect fall vibe! Auburn can be easy to maintain and if you have cooler tones, looks best with pink or olive skin tones.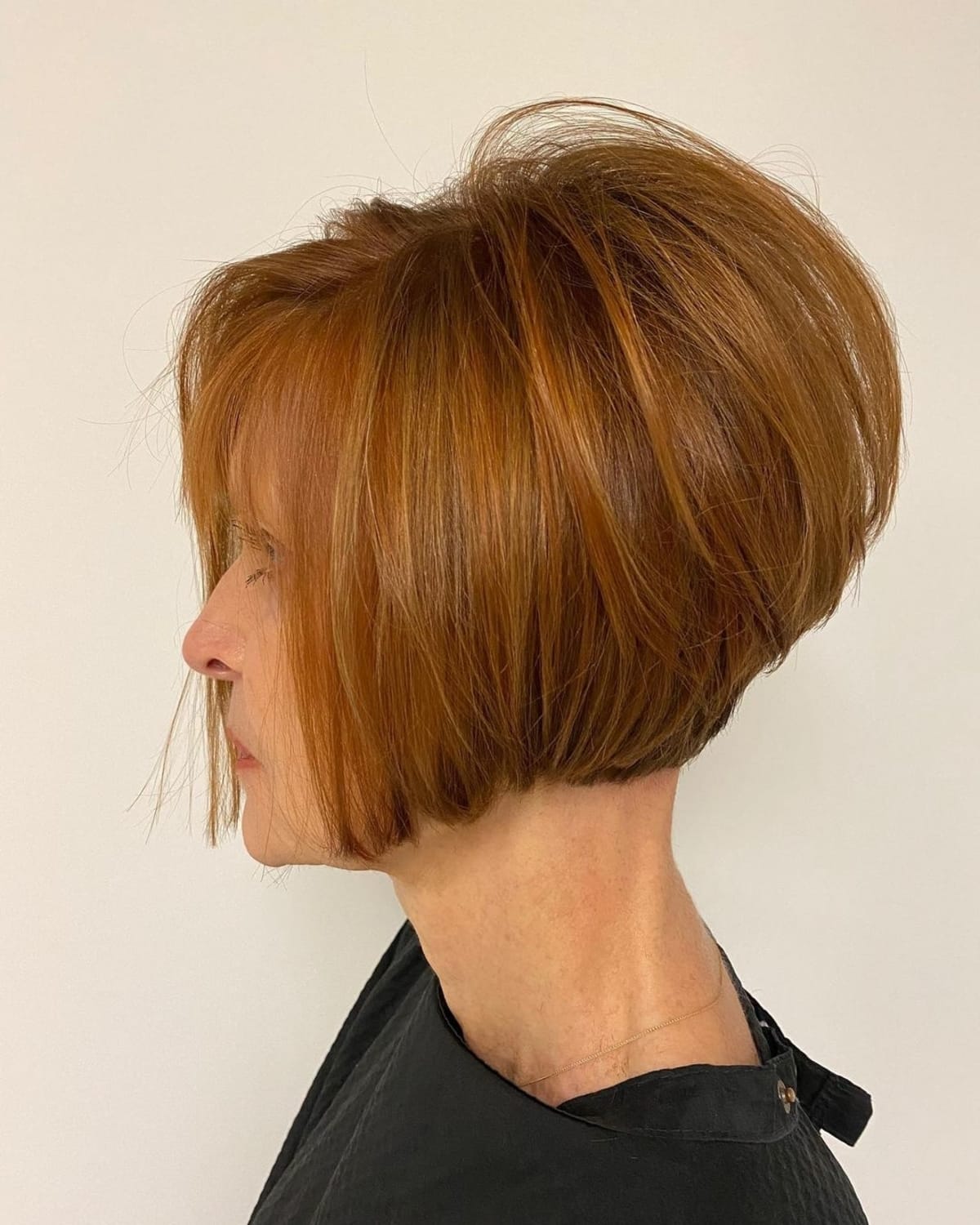 #6: Flattering Auburn for Women Over 50
Try a flattering shade of auburn hair if you're over 50. It can often make women look younger while keeping it looking like your natural hair color.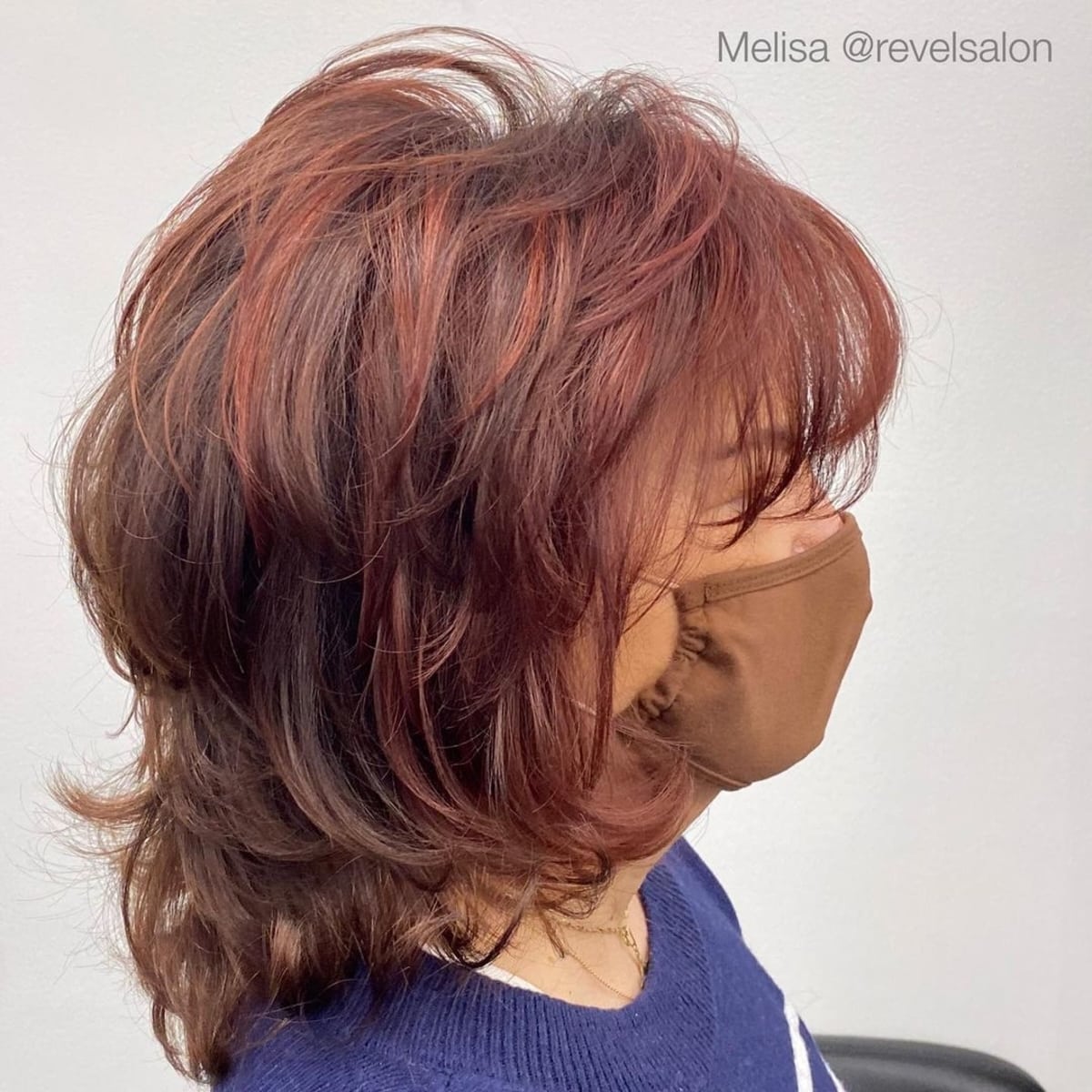 #7: Subtle Auburn for Women over 60
If you're over 60 try a more subtle auburn because of its warming effects on the skin tone. Auburn hair has beautiful rich tones which brighten up the skin, but as we age we tend to lose this youthful feel to our coloring. Injecting your hair with these subtle auburn tones can give a glowy appearance to the skin.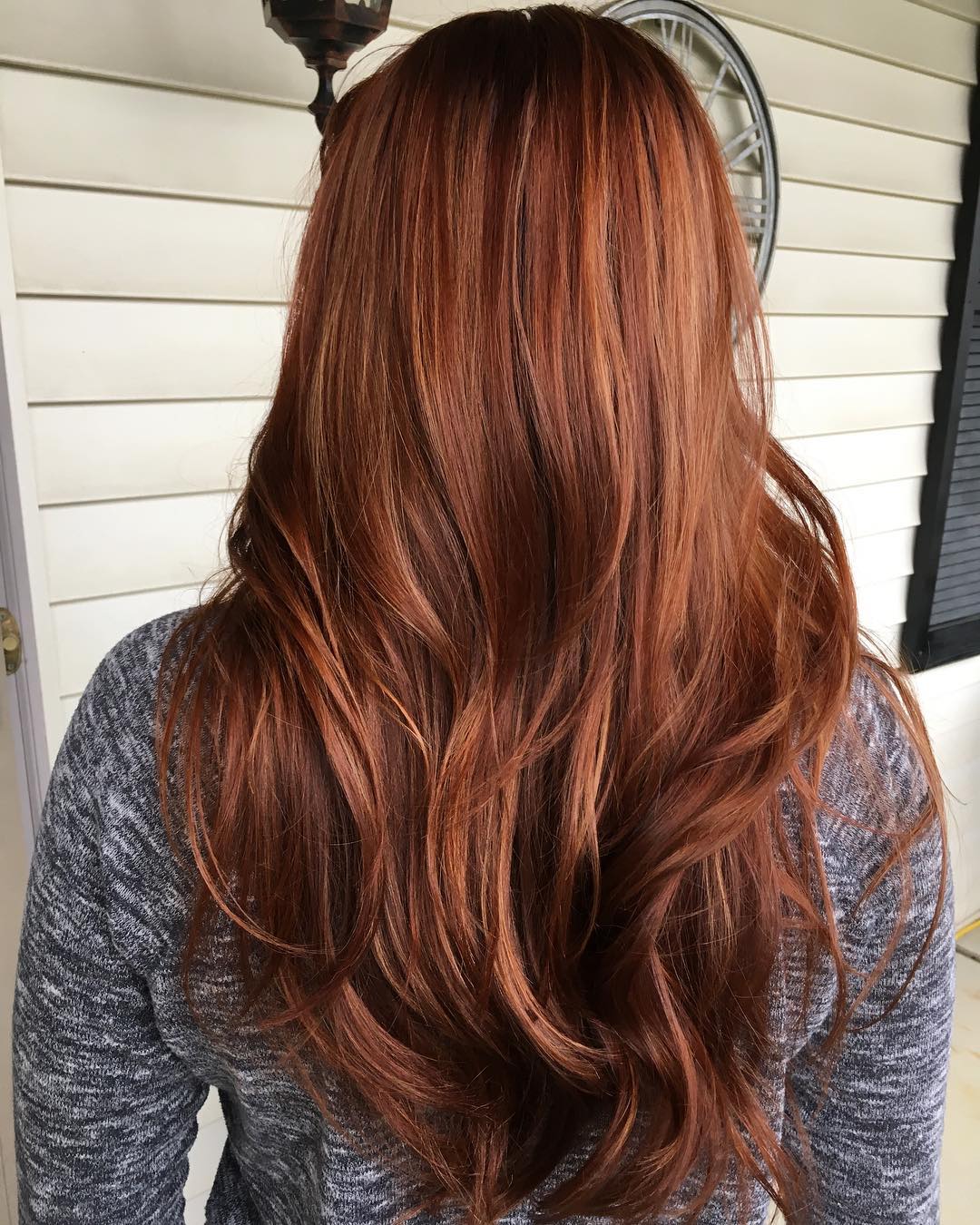 #8: Reddish-Brown Auburn
A reddish-brown auburn offers one of the best warm shades. It's also a perfect start-off point when wanting to try the redhead lifestyle. A rich auburn hue, if paired with long waves, beautifully complements pale skin tones the best.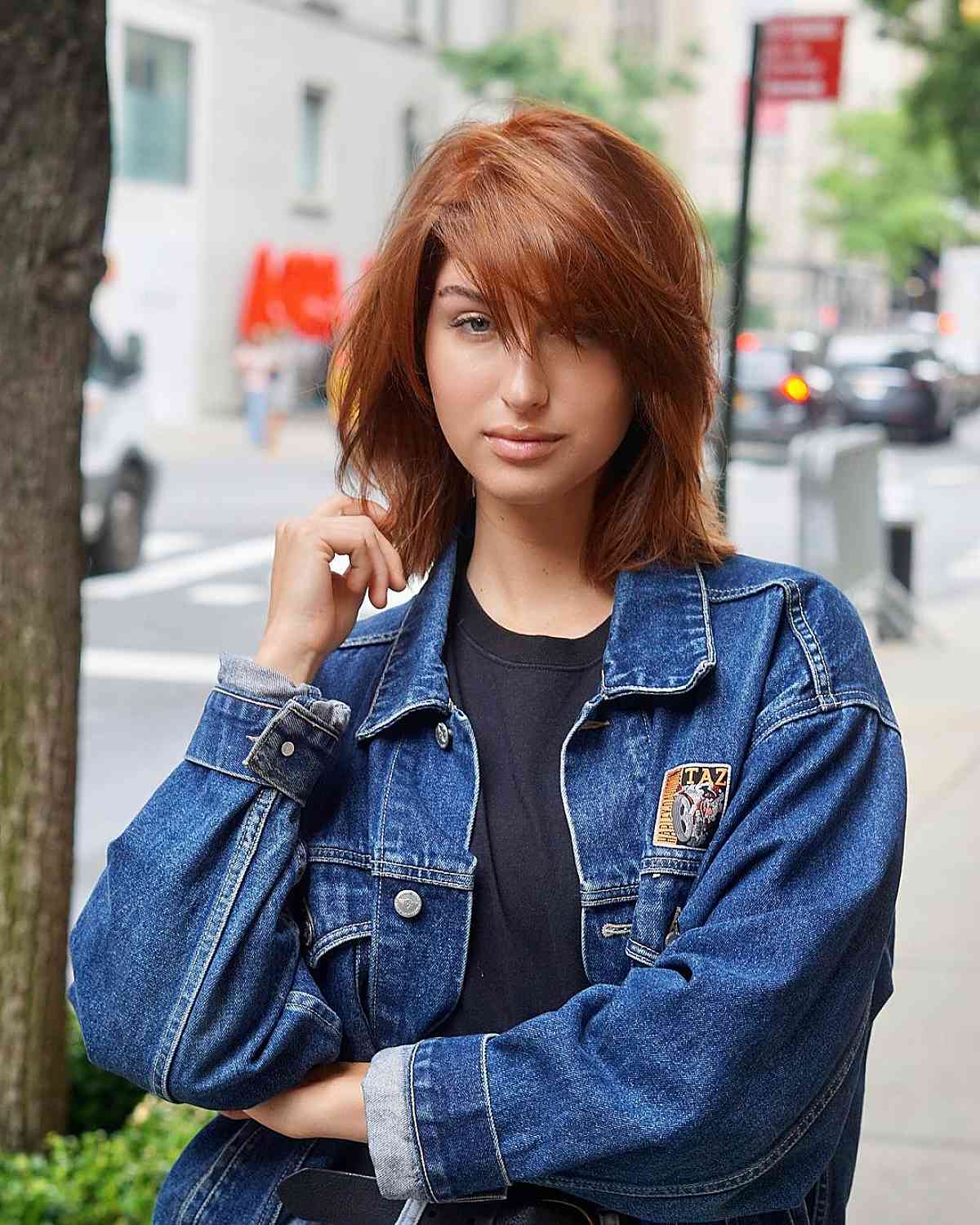 #9: Brown Auburn on Medium-Length Hair
An auburn hue with a blend of medium brown and golden honey highlights that flatters those with warm undertones. Pair with flirty and light waves and side-swept bangs for that extra glam!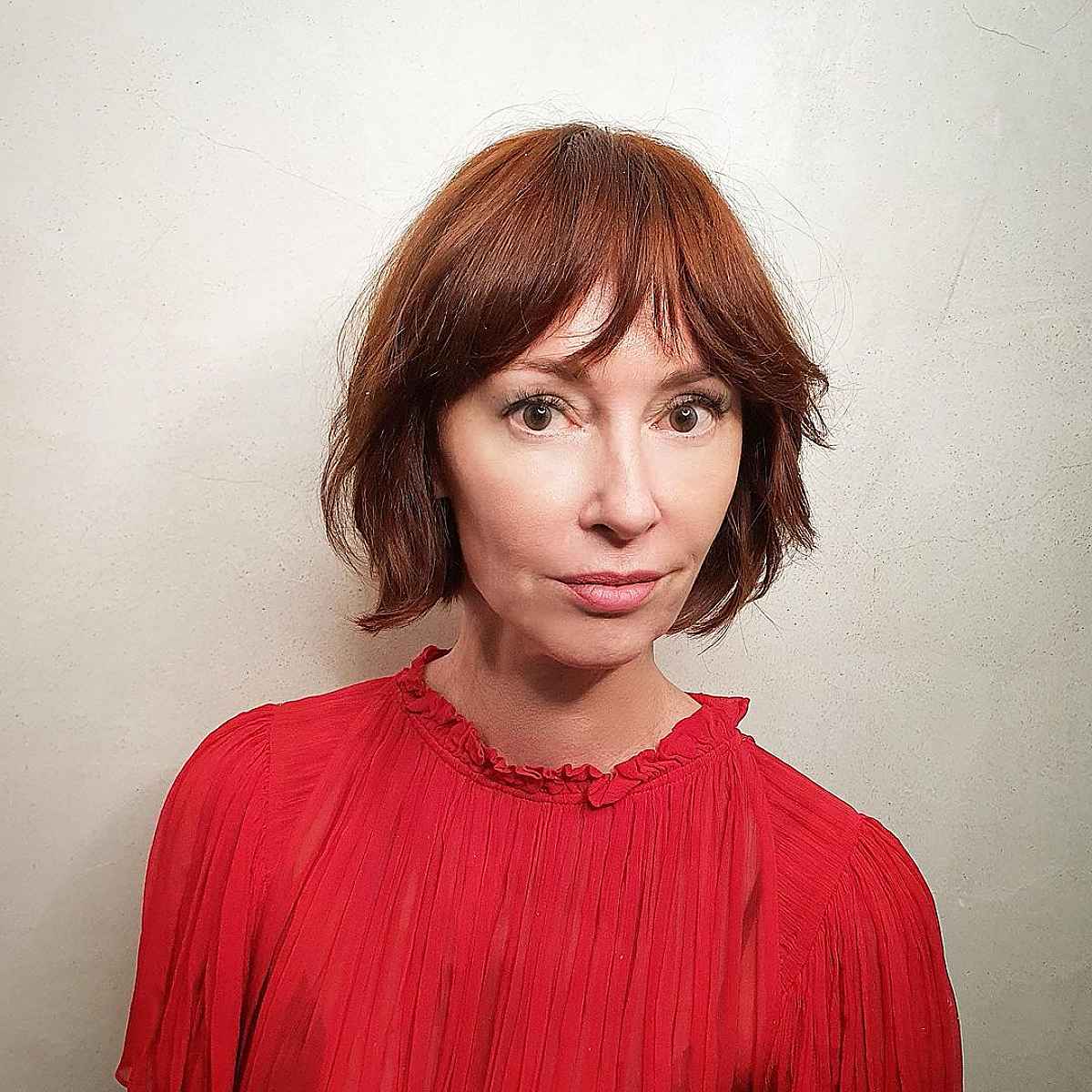 #10: Red Brown Auburn
The easiest way to become a natural brunette is to wear mixed shades of red brown auburn hair dye like this. Undoubtedly beautiful on any hair length and style, this perfect auburn shade also complements a light to dark skin tone.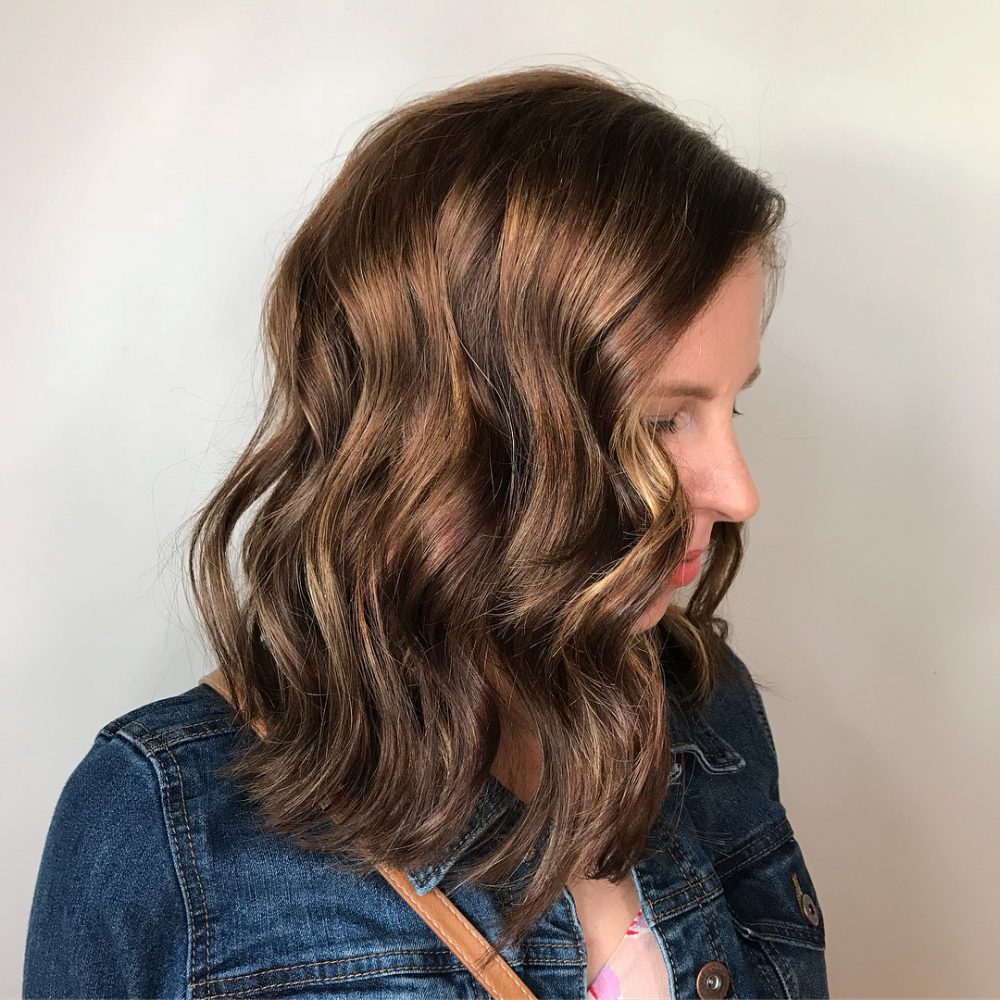 #11: Auburn Highlights on Dark Hair
If you want to keep your beautiful natural brunette hair and spice your hairstyle up at the same time, try adding some auburn streaks to enhance your natural hair color and make it bright and vibrant!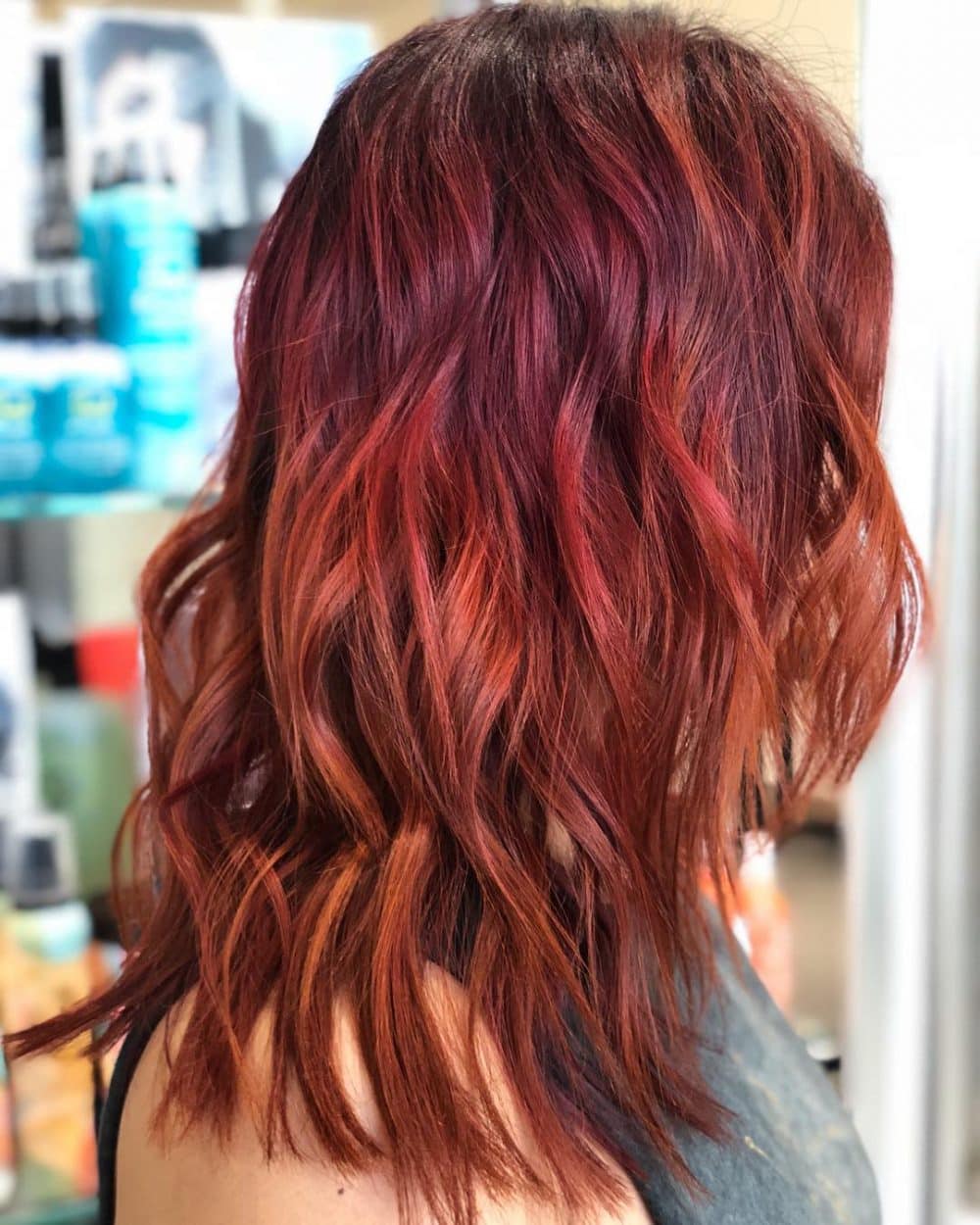 #12: Purple and Auburn Red Balayage
Check out this combination of red shades! A dynamic triple melt with a bit of red, copper, and purple to make this unique auburn red balayage.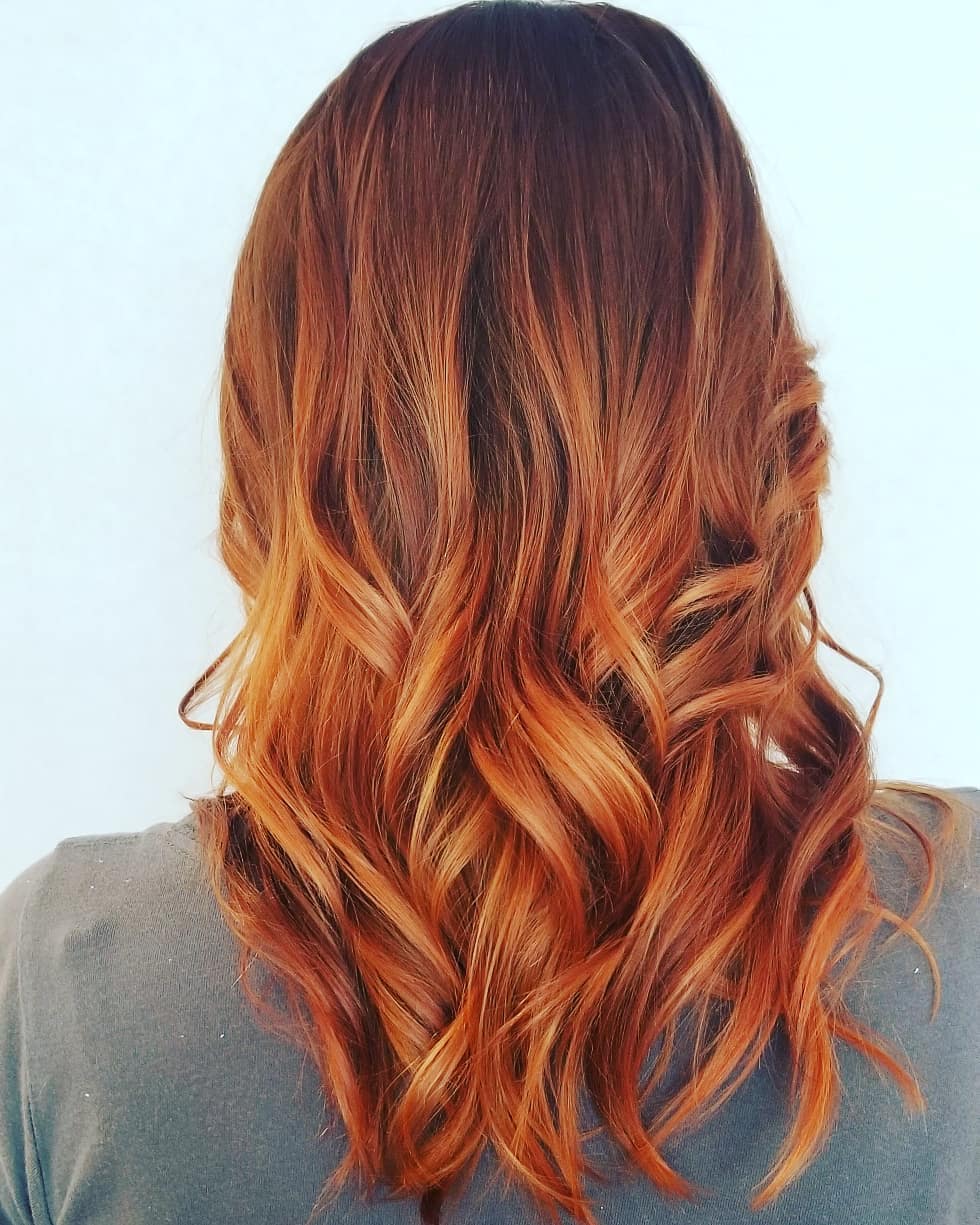 #13: Auburn Hair With Highlights
Try a fiery auburn and copper highlights on your natural dark brunette hair for an amazing reddish-brown hue. For more dimension, cut your mid-length hair into long layers, then match it with waves to emphasize the dimension in this orange-red tinge mane!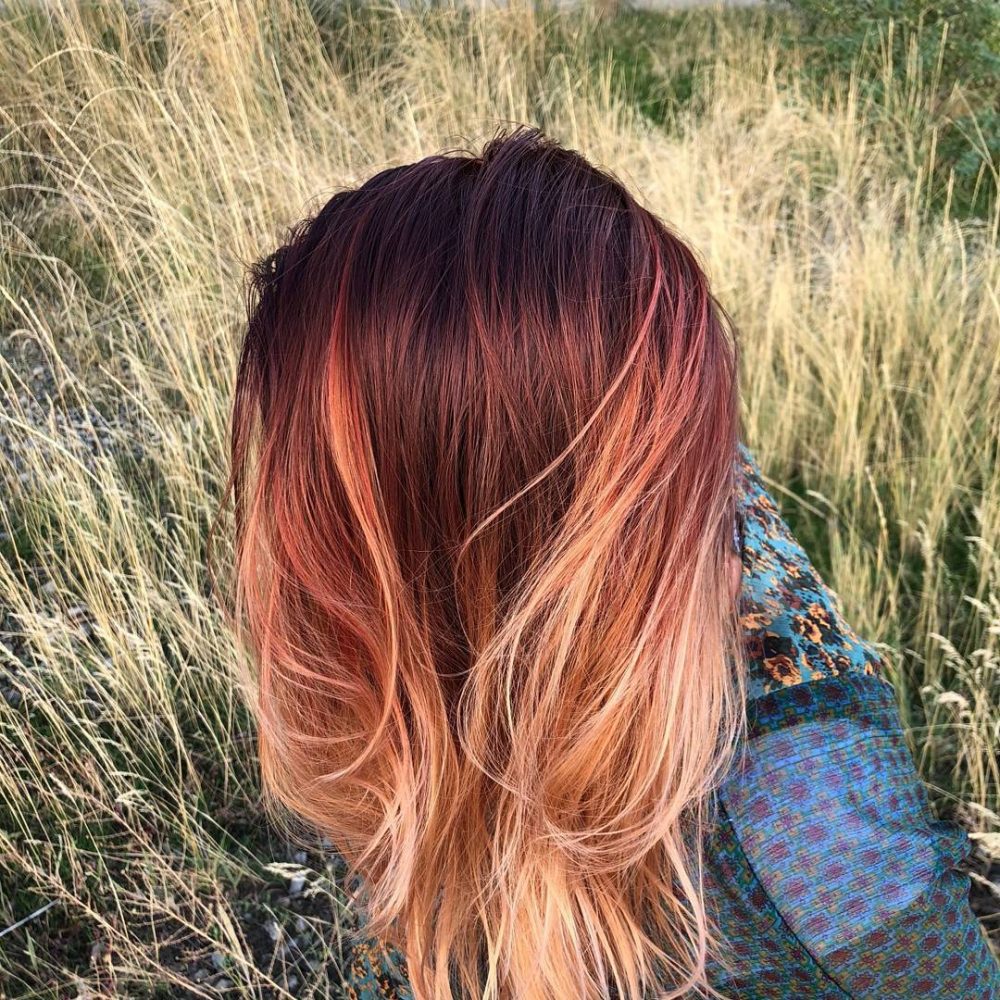 #14: Auburn Ombre with Hints of Red Brown Color
Autumn-inspired red auburn ombre hair color that melts into warm blonde tones. This masterpiece is what you get when you combine blonde and auburn highlights, adding them to your dark locks to brighten them up.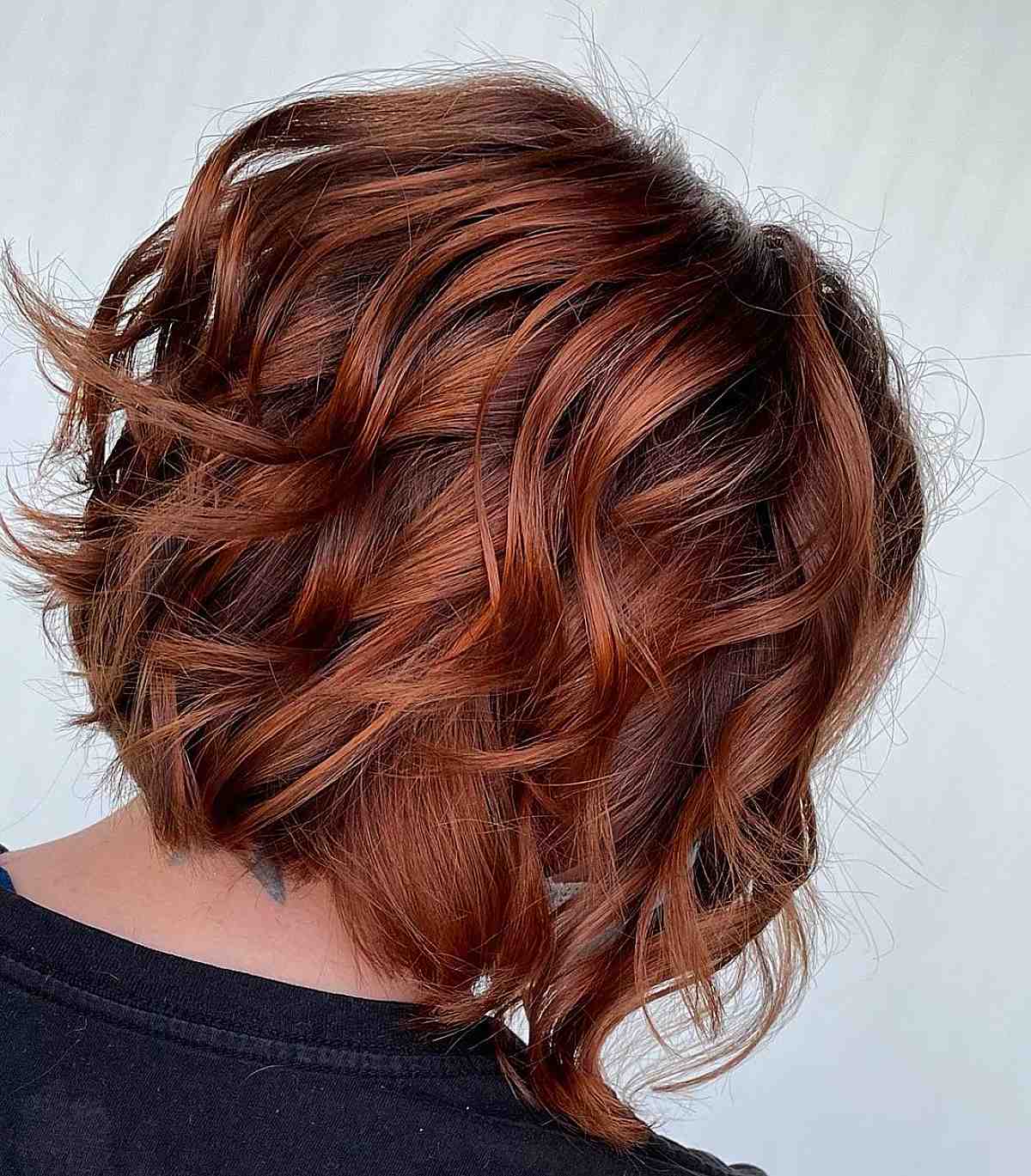 #15: Dark Auburn Bob
A dark auburn hair color with highlights makes it dimensional. It especially pairs well with a bob cut.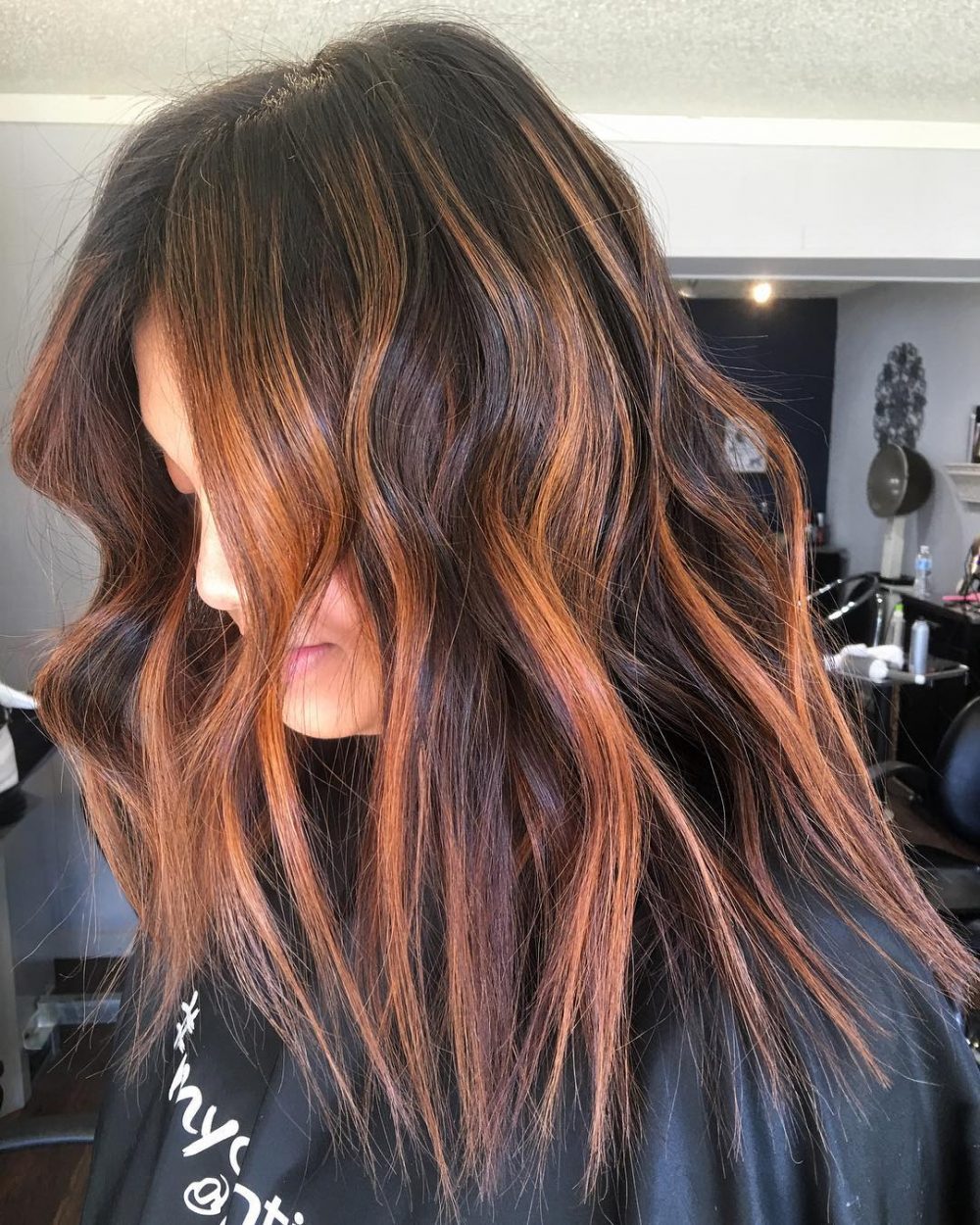 #16: Auburn Highlights on Brown Hair
Long, dark brown hair with auburn highlights adds lots of richness.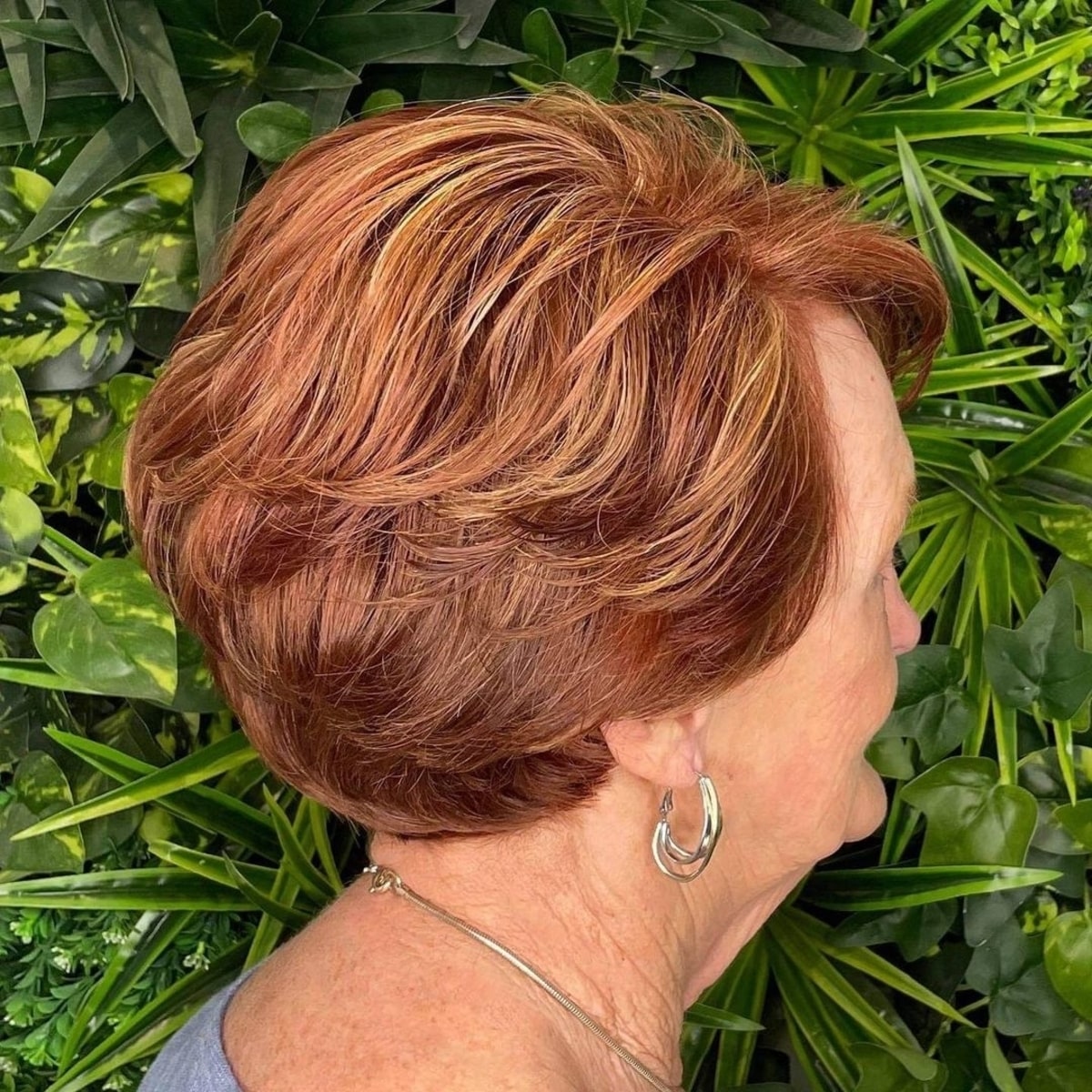 #17: Light Auburn Color for Women over 70
A light auburn color is ideal for women over 70 because it flatters a warmer or fair skin complexion. Auburn is known to be a fall hair color. If you love it, see more fall hair colors for women over 70.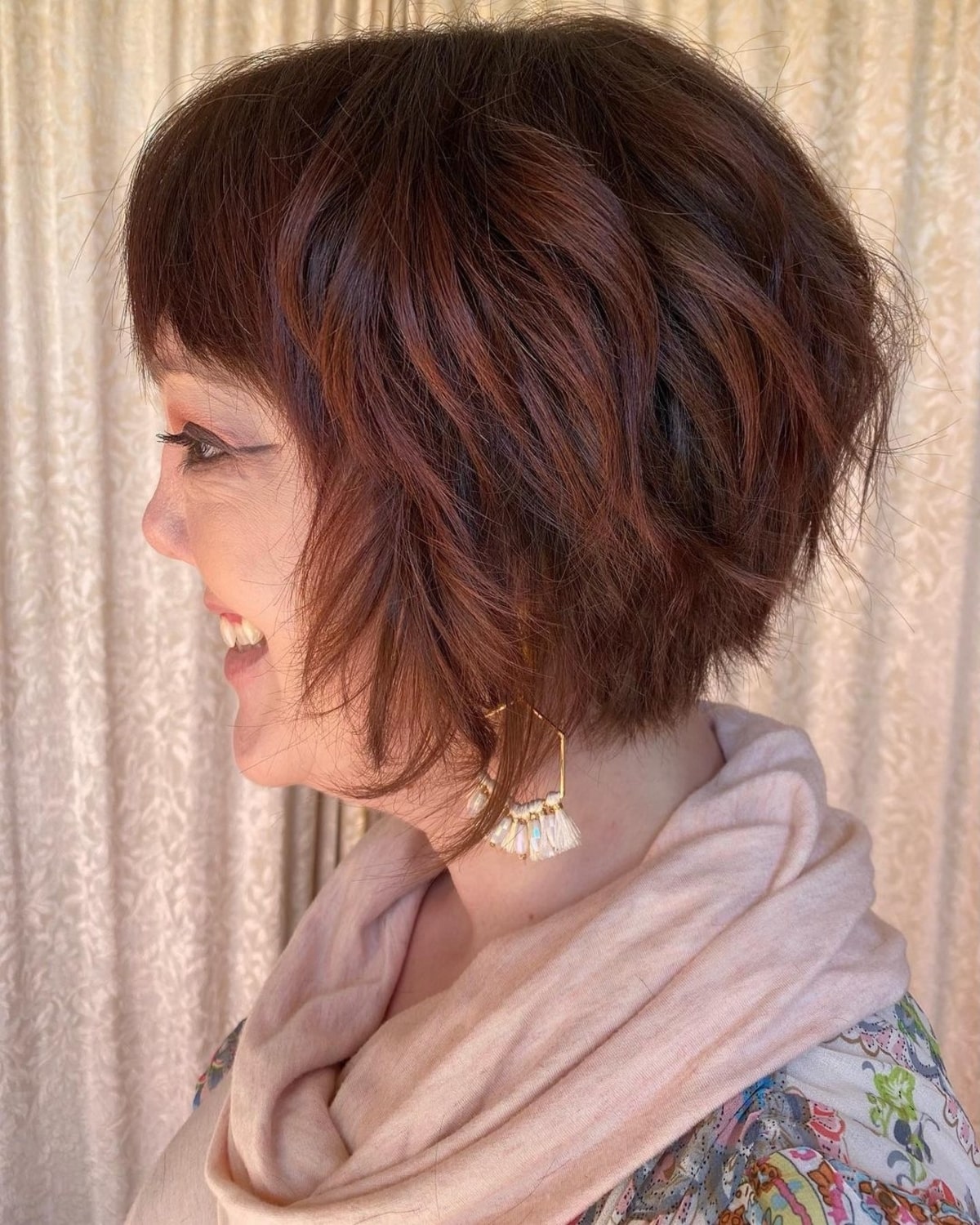 #18: Burgundy Auburn Hair for Older Women
Burgundy auburn hair is great for older women who have a fun, funky, and edgy short bob cut to match. For styling, use curl cream or texturizing products for a tousled look, and a smoothing cream for a classic sleek look.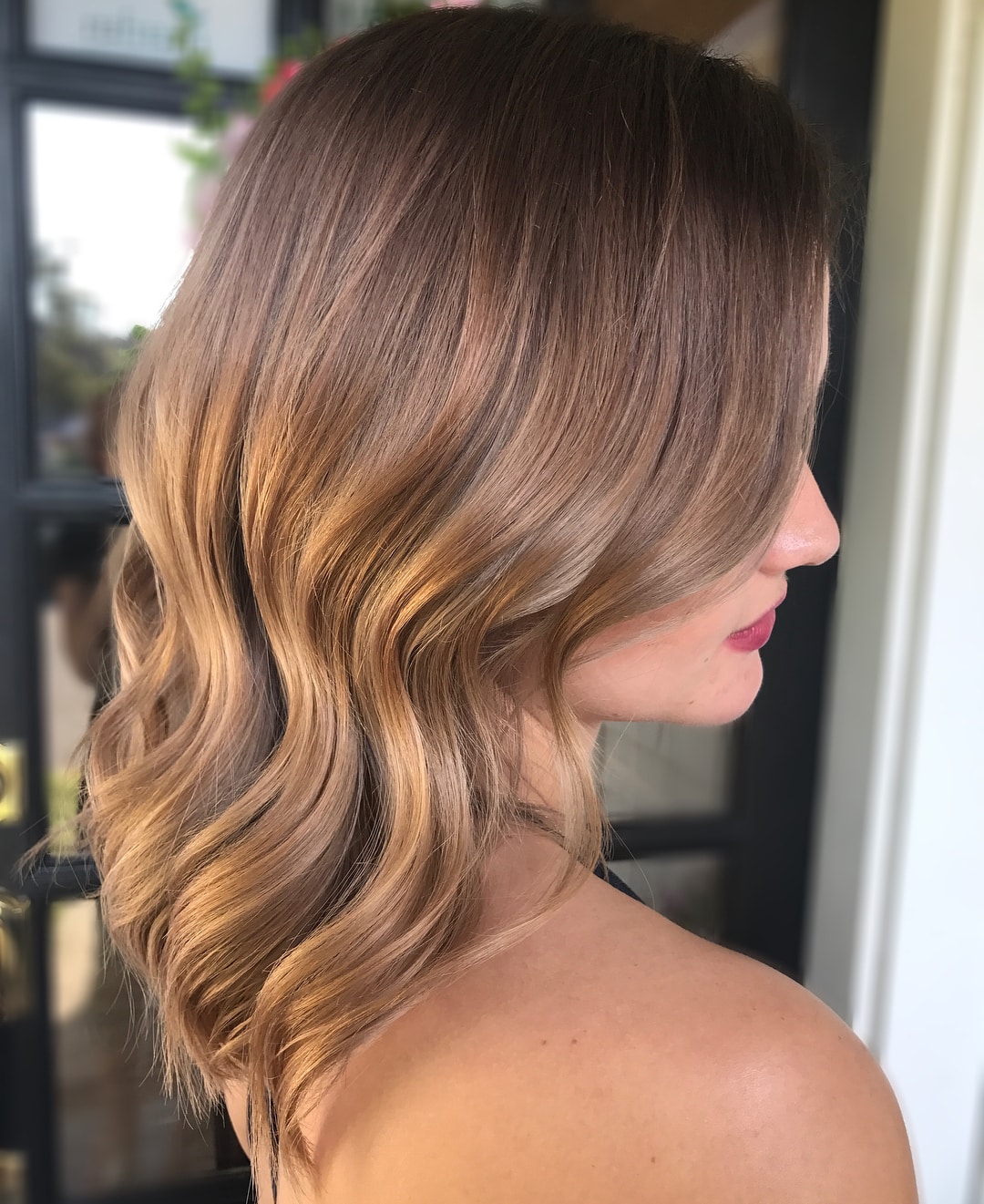 #19: Auburn and Blonde
An auburn and blonde hair color is called "autumn caramel." It's a combination of 3 different warm colors that blend from a smooth auburn brown at the root to a soft beige at the ends with hints of copper. It's the perfect balance between blonde, brunette, and natural red. This is a great color for a woman who is looking to tone down her color into something warmer and more low-maintenance. Come in once every 6 weeks for a gloss service to refresh your auburn hair dye and keep the tones looking as fresh as possible.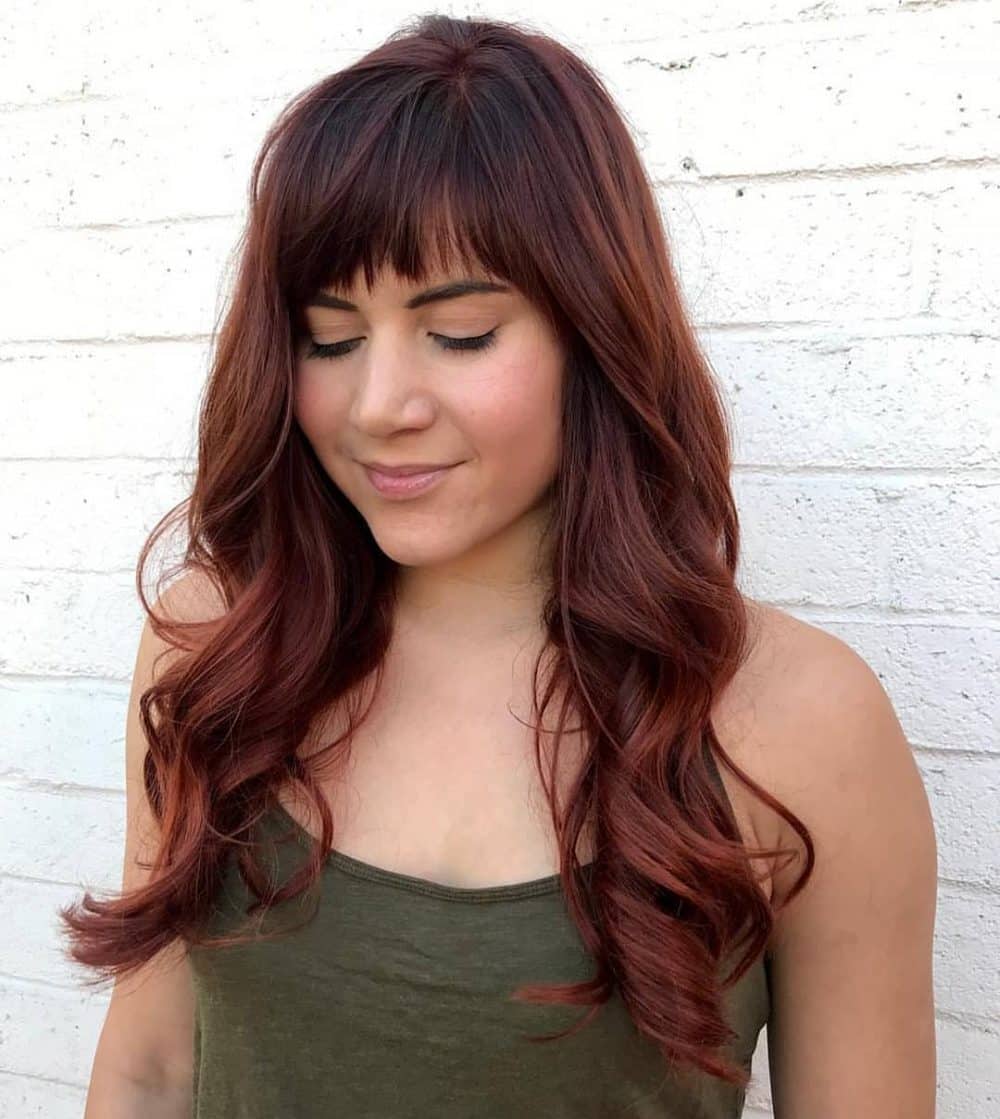 #20: Deep Auburn
Long hair with bangs and a deep auburn red hue make a combination that results in a very chic hairstyle. This auburn-colored hair will flatter warm and neutral skin tones.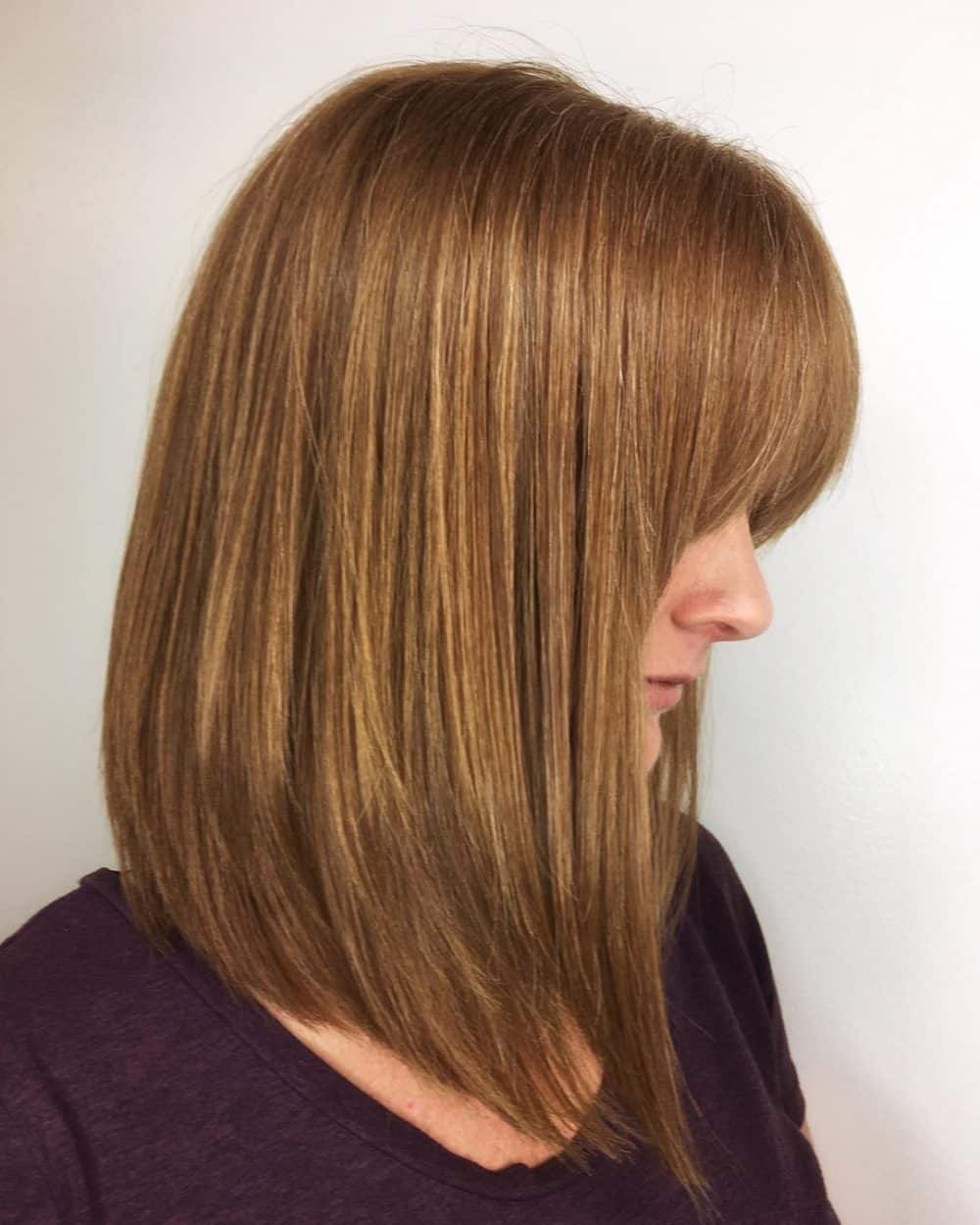 #21: Auburn with Caramel Highlights
Auburn with caramel highlights pair well with a slightly angled lob. This bob with auburn tresses are a great look for all women and face shapes. Different lengths can be played with, but always work around the collarbone. Anything above may have the tendency to flip.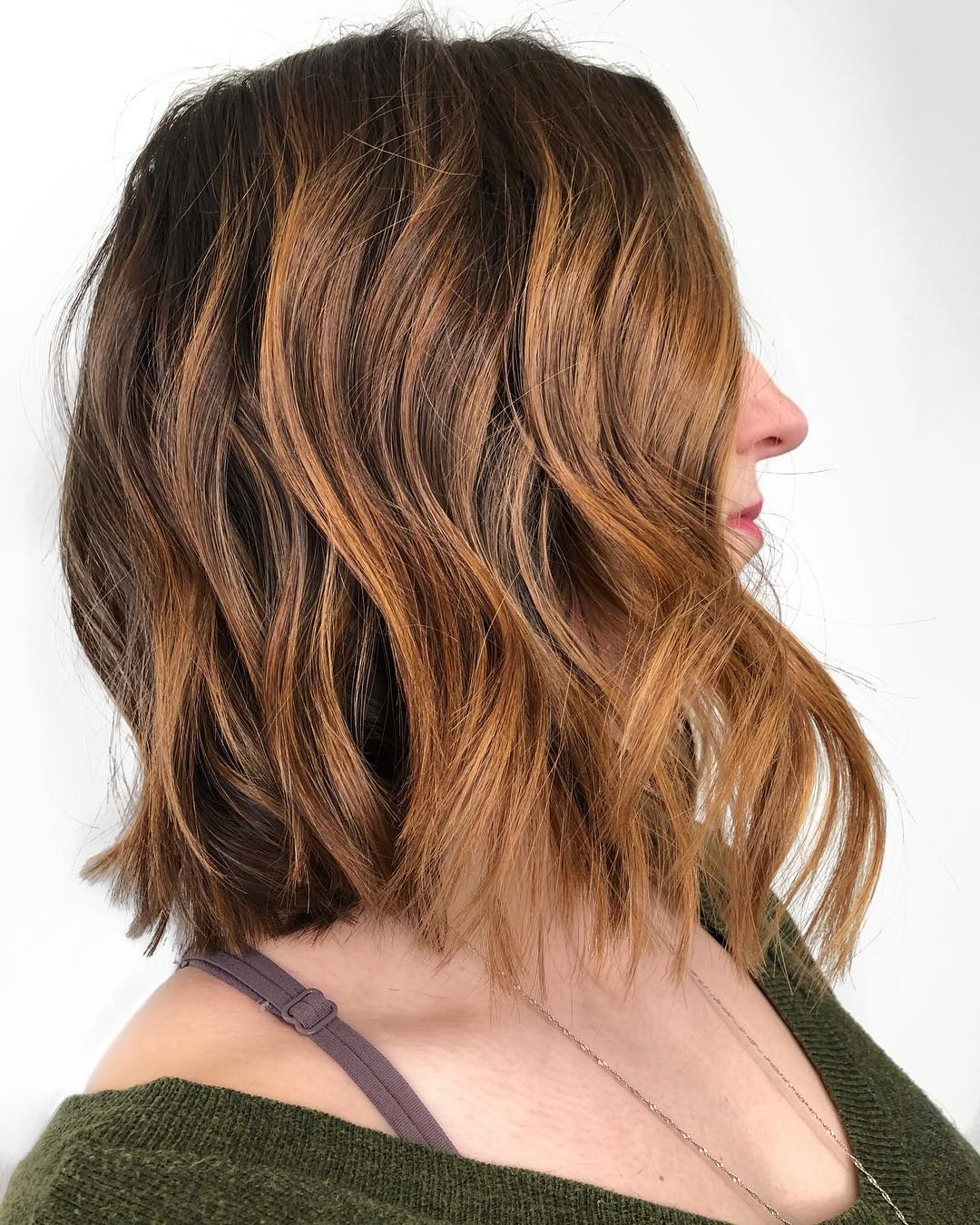 #22: Light Auburn Balayage
Try a high-depth copper-auburn balayage. If you do, ask for a rich brown base color to balance out the warmth of the copper mid-lengths and ends. If you're a natural redhead, opt for this hair color with its vibrancy and soft wave. If you're considering an auburn balayage you have to be able to follow a couple of guidelines if you want a longer-lasting color. The first of those being you need to be able to go 2-3+ days in between washes. Reds tend to fade a little faster than more neutral colors and prolonging washes help extend color vibrancy. The second guideline is cooling your water down when washing and using a good color-protecting shampoo and conditioner, like the Kérastase Reflection line.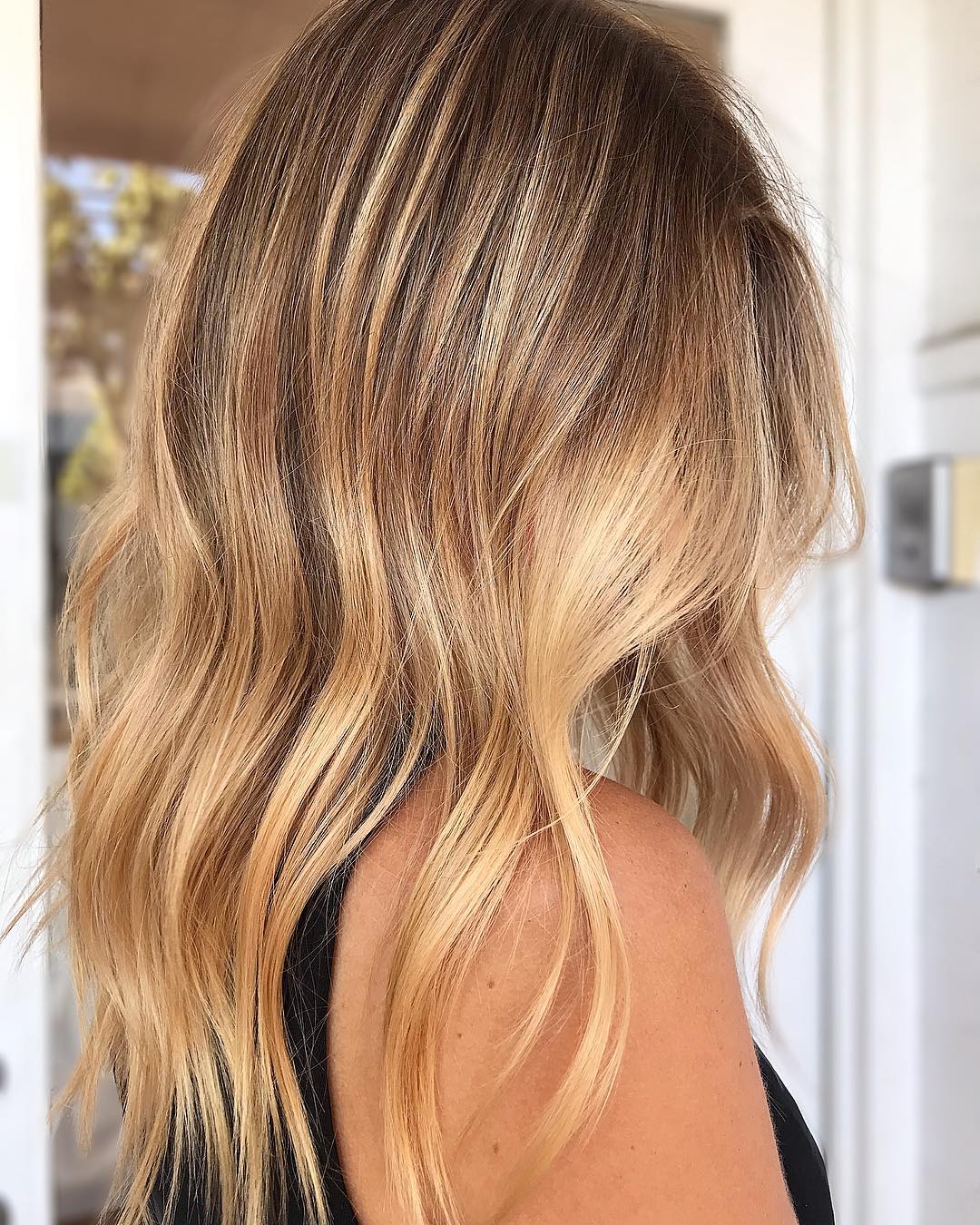 #23: Beachy Auburn with Blonde Highlights
A natural light auburn hue blends well with blonde highlights. The result is a sunny, textured balayage. There's a dimension between the high and low lights and the "worn-in" root with this type of hair texture. It's reminiscent of a warm summer glow. To style, use a sea texture cream for piecey texture. A bit of bronzer on the collarbone will also complement the sunny blonde tones.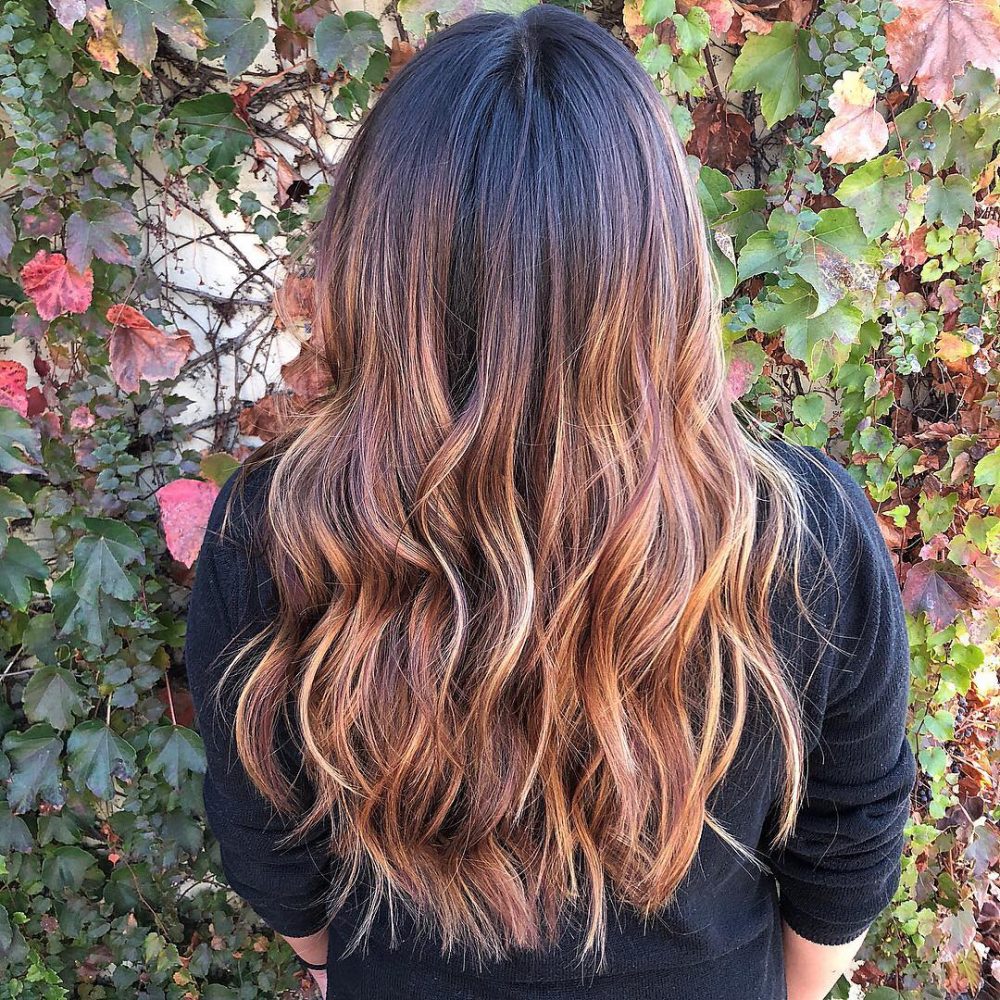 #24: Auburn with Golden Blonde Balayage Highlights
This blend of auburn and golden blonde balayage highlights. By using the "V" shape balayage technique, it purposely kept it off the roots for it to be a more low-maintenance "rooty" vibe." There's a ton of dimension in the hair when blending the two colors with the natural base. This auburn hair with blonde highlights would be great for a woman wanting to experiment with red tones but doesn't want to commit to the high maintenance of an overall red hair color.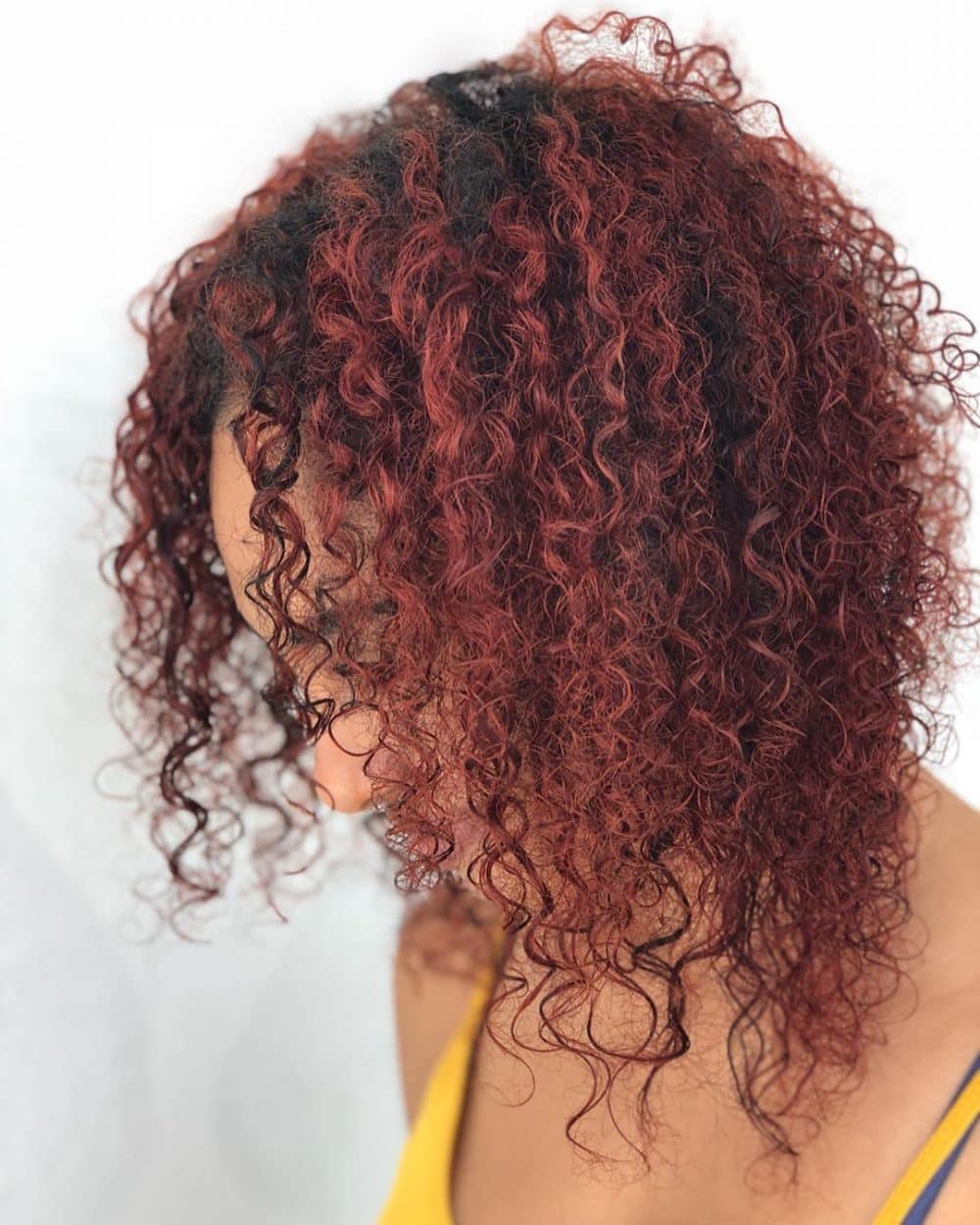 #25: Auburn on Curly Hair
If you're adventurous, try on a fiery auburn color and look bold with any hairstyle you wear with those glamorous natural curls! This shade of auburn looks more vibrant and flattering for warm skin tones. It's very important you have a thorough consultation with your stylist to make sure this is the right shade of auburn hair for you.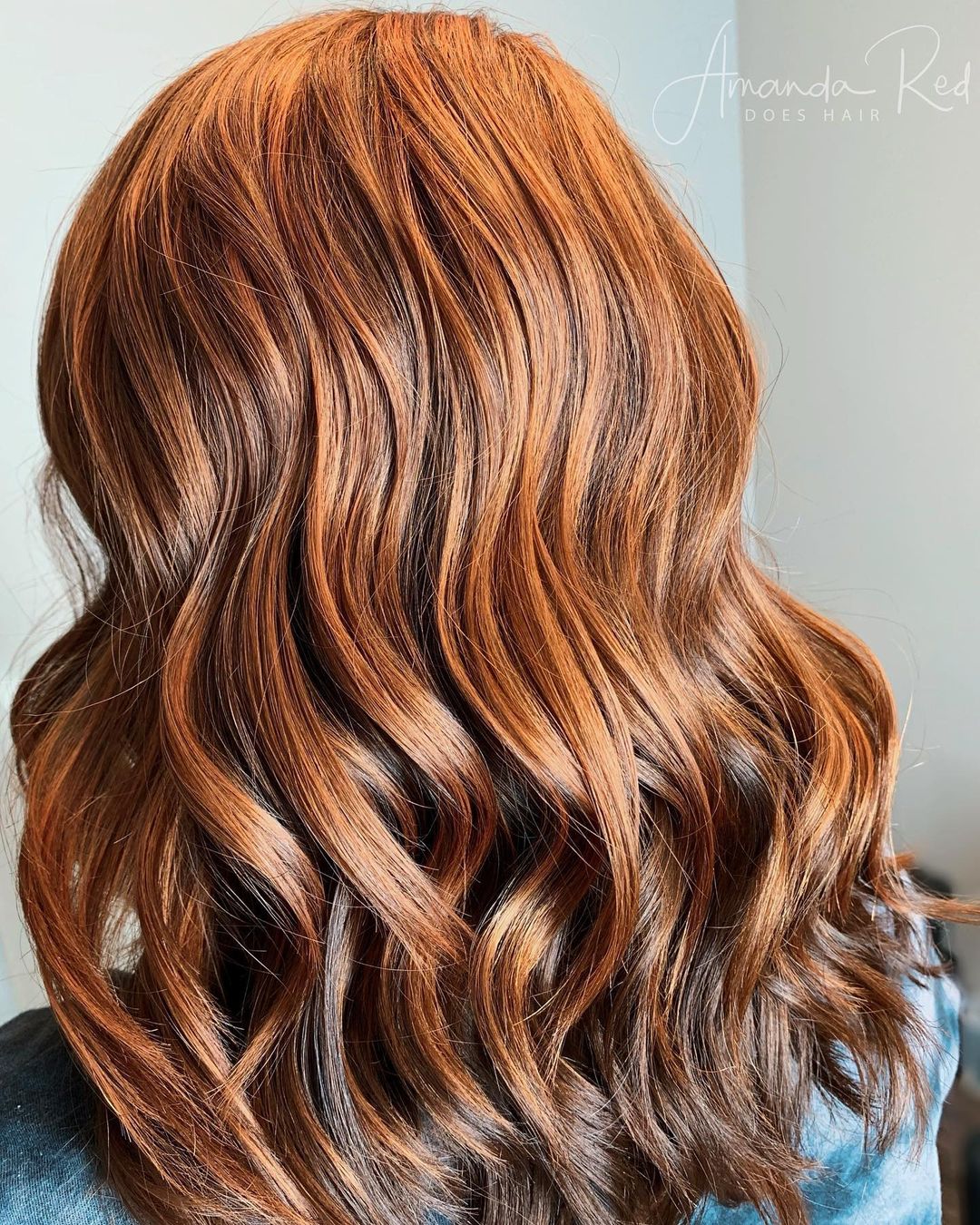 #26: Auburn Highlights on Brunette Hair
Auburn highlights on brunette create a deep auburn tone that makes tresses seem thicker when styled with waves. Some red tones complement pinky skin complexions. Yet, the deep auburn colors flatter olive skin tones the most! To see what shade suits you, hold a swatch to your face and compare the different reds to your skin tone. If a deeper one looks best on you, get your auburn waves now!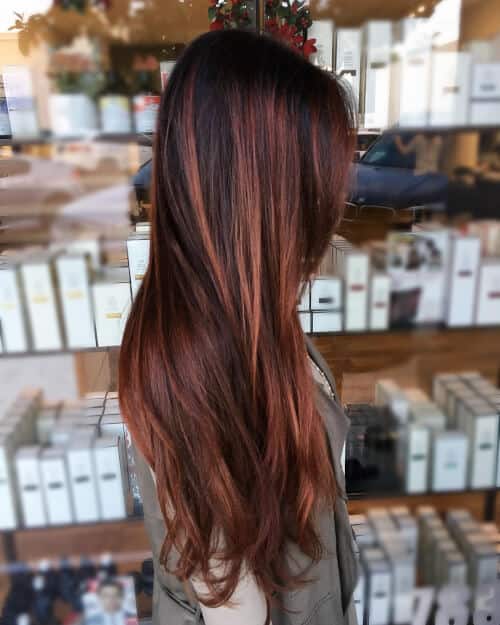 #27: Auburn Brown
An auburn brown hair color is dimensional and warmer on women with naturally darker shades. There's a seamless blend between the levels of lightness, and the tones tie the look together for an overall seamless blend with tons of dimension. This darker shade of auburn works on any hair type.
Auburn colors work best with medium to dark brown, or even black hair. It looks best on neutral, olive, and darker skin tones. Stay away from it if you have any red undertones.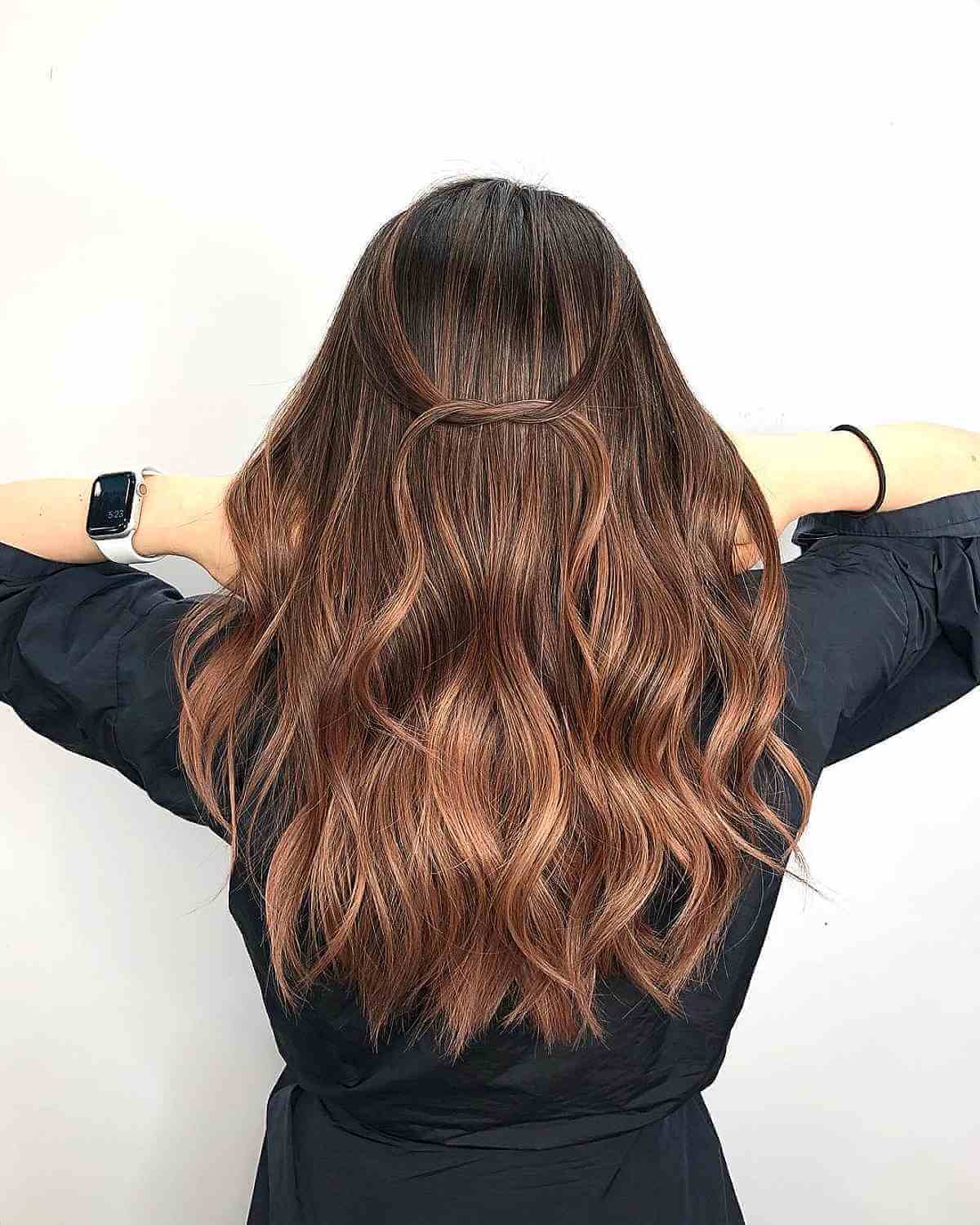 #28: Medium to Dark Auburn
A soft auburn shade is in the red-brown family and has chocolate tones in it. It's not an extreme red, but it definitely has warm undertones with a hint of copper and red that peek through in the highlights. Red tones do tend to fade faster than others, so start using a color-conserving shampoo and conditioner such as L'Oréal Professionnel's Vitamino Color line. Always use professional salon products. This will help in preserving the color as well as the integrity of your hair.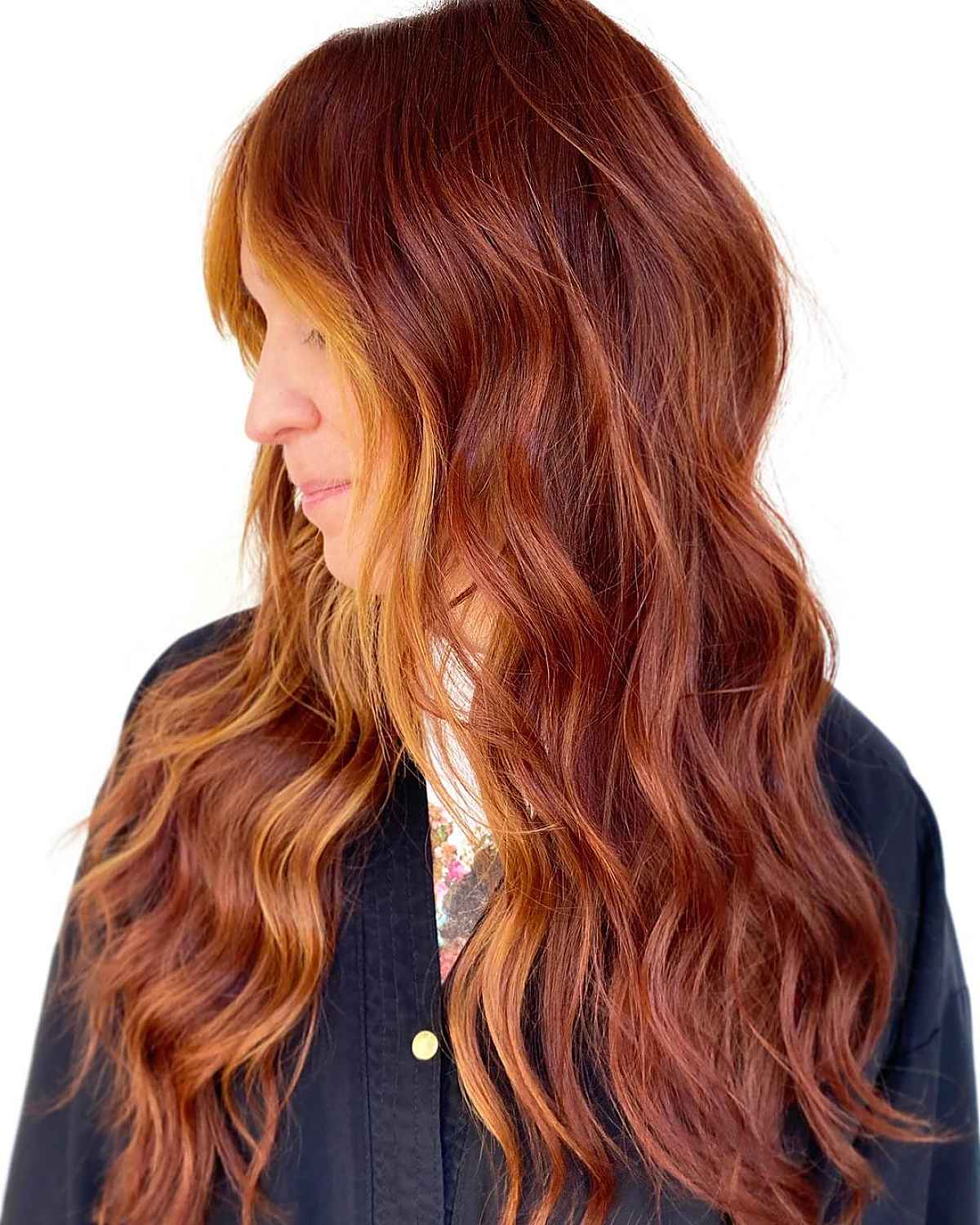 #29: Medium Auburn
This auburn hair is coppery with just the right amount of golden money pieces. Brandish your long waves with such a monumental medium auburn hair color.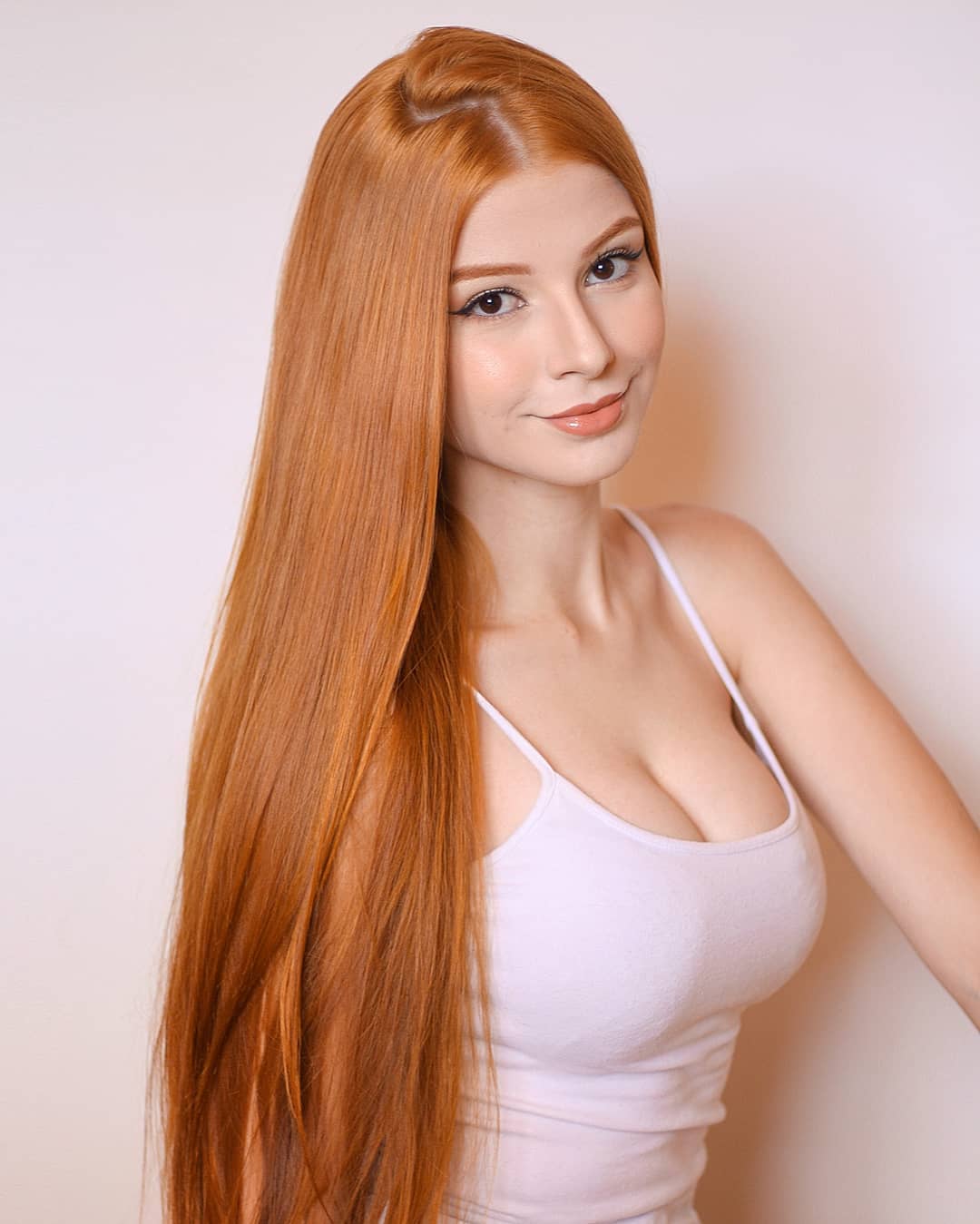 #30: Light Auburn
Light auburn hair color on sleek, long locks creates an edge, packed with richness. Salon-quality, color-safe shampoo and conditioner are a must to maintain the hue. There are some tinted shampoos with red hues in them that can be used. Just be careful that it won't shift the bright auburn tone into a cherry red. When considering this color, bring pictures to the stylist of what you're aiming for.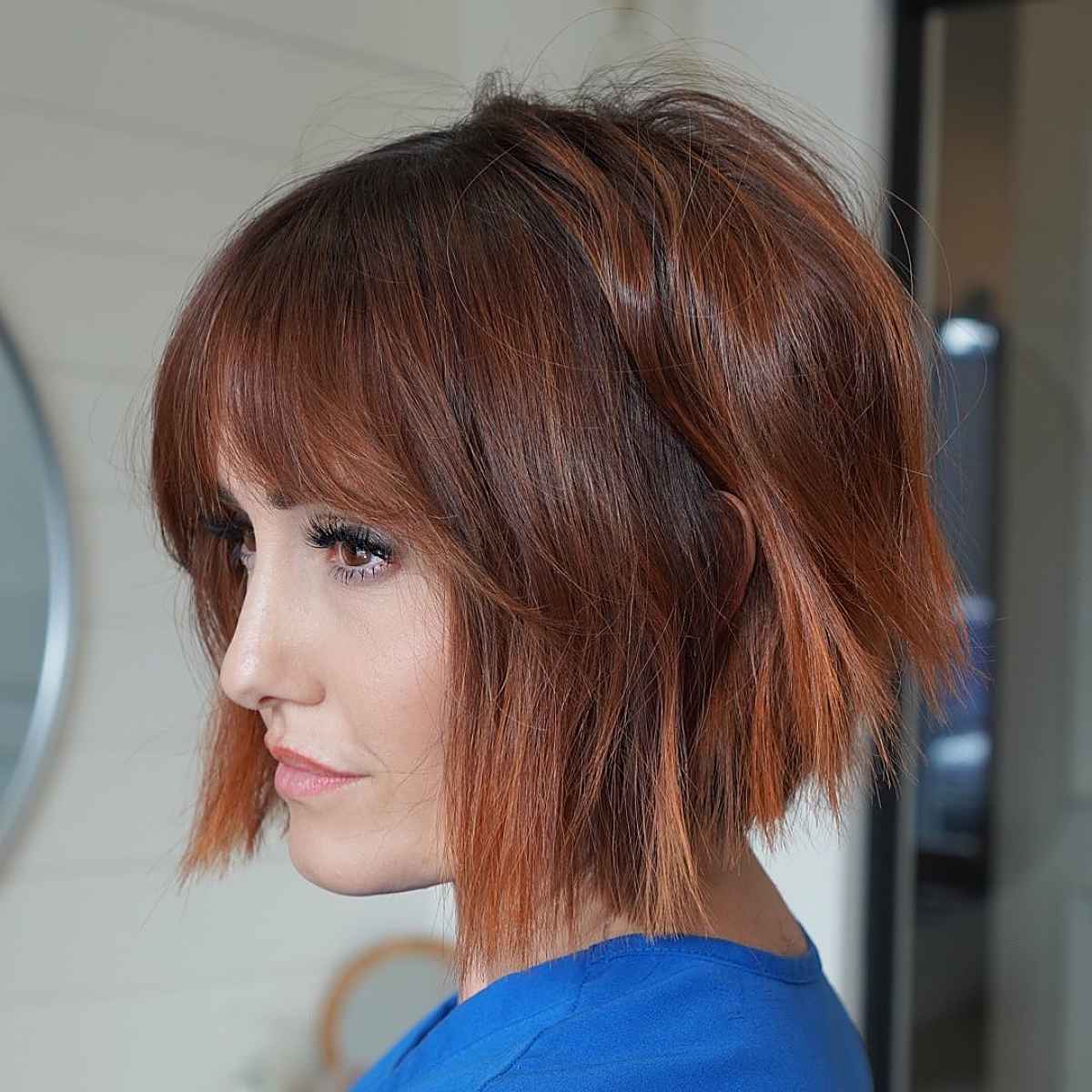 #31: Auburn on Short Hair
This breathtaking deep auburn on short hair is perfect for bold personalities.