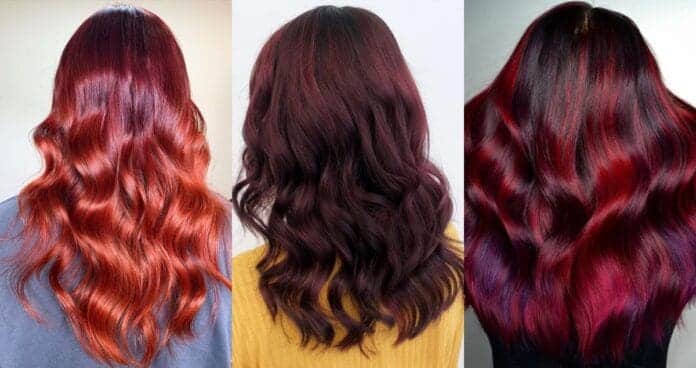 A mahogany hair color is a blend of brown and red hues. Depending on how much of the brown and red shades are applied, mahogany hair can range from subtle to vibrant and is commonly described as rich or deep. Mahogany hair colors can include shades of chocolate and coffee, which may be mixed with red hues such as maroon, burgundy, and purple. Mahogany hues are a trendy hair color that women crave all year long! A mahogany red shade is unsurprisingly the most sought-after hair color everywhere because it matches both cool and warm skin tones! It's bright yet cool, vivid yet subtle, and elegant yet relaxed. It's everything a classy and casual gal would want for her tresses! When worn with a fitting hairstyle, this woody hue gives off a beautiful shine and a sexy finish. Brunette celebrity hotties Isla Fisher, Sofia Vergara, Demi Lovato, and Priyanka Chopra all had their strands in mahogany. They proved that their choice of brown is top of the line! You can opt to wear it as highlights, a full-on solid color, or in an ombre like how Insta-famous Utah hair colorist Jessica Powers does it on her clients! One more thing to love about these mahogany-hued hair ideas is how low maintenance they are, especially when you have naturally dark hair. Grow-outs would be easy to handle and would save you time and money for salon trips. Take a look at the sultriest examples of light and dark mahogany hair color that are most popular right now!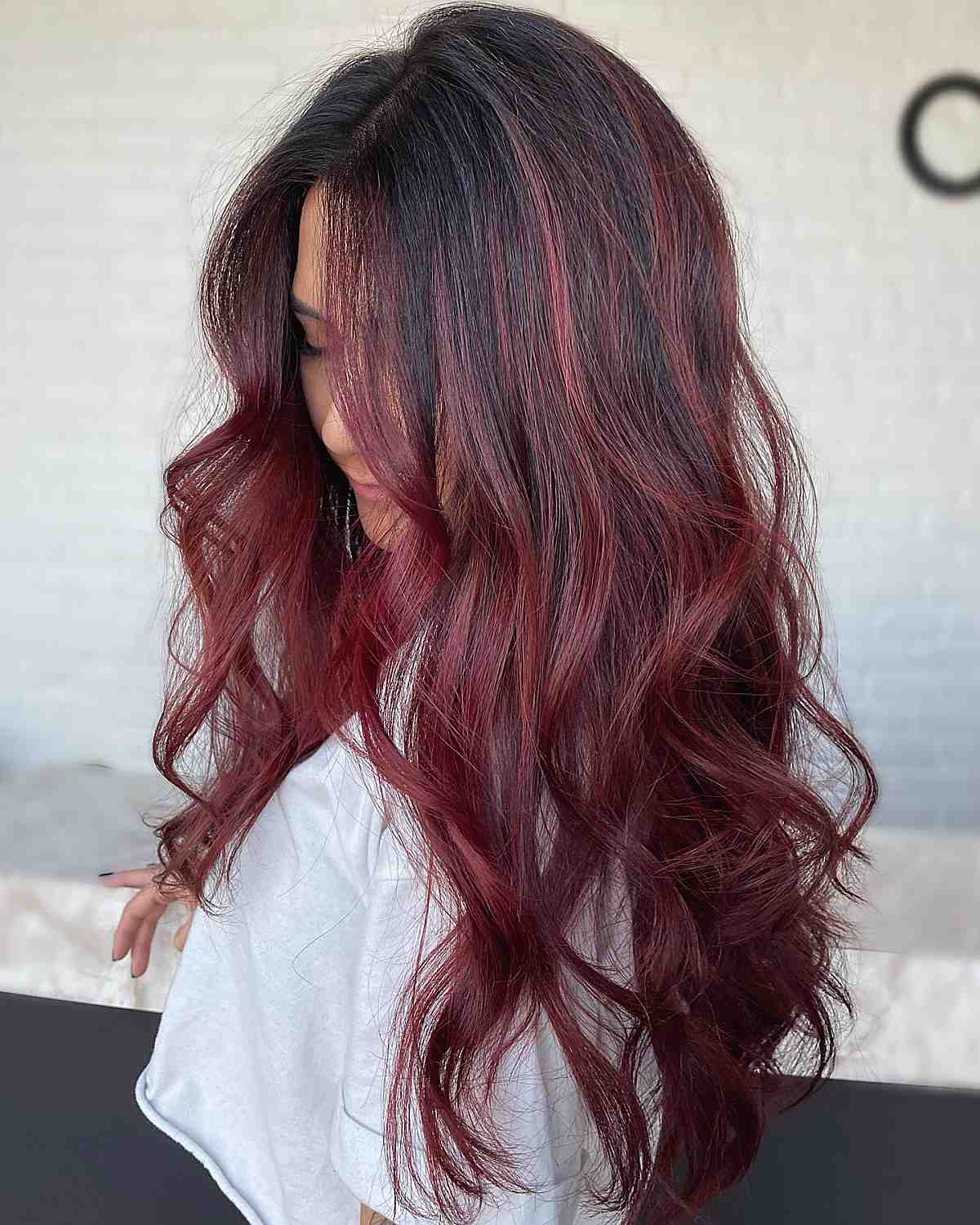 #1: Brown Plum Mahogany
Ebony roots with purple and violet ombre end in a unique mahogany shade. Layers and curls enhance this kaleidoscopic effect for a younger, more vibrant feel within this slight mahogany tint.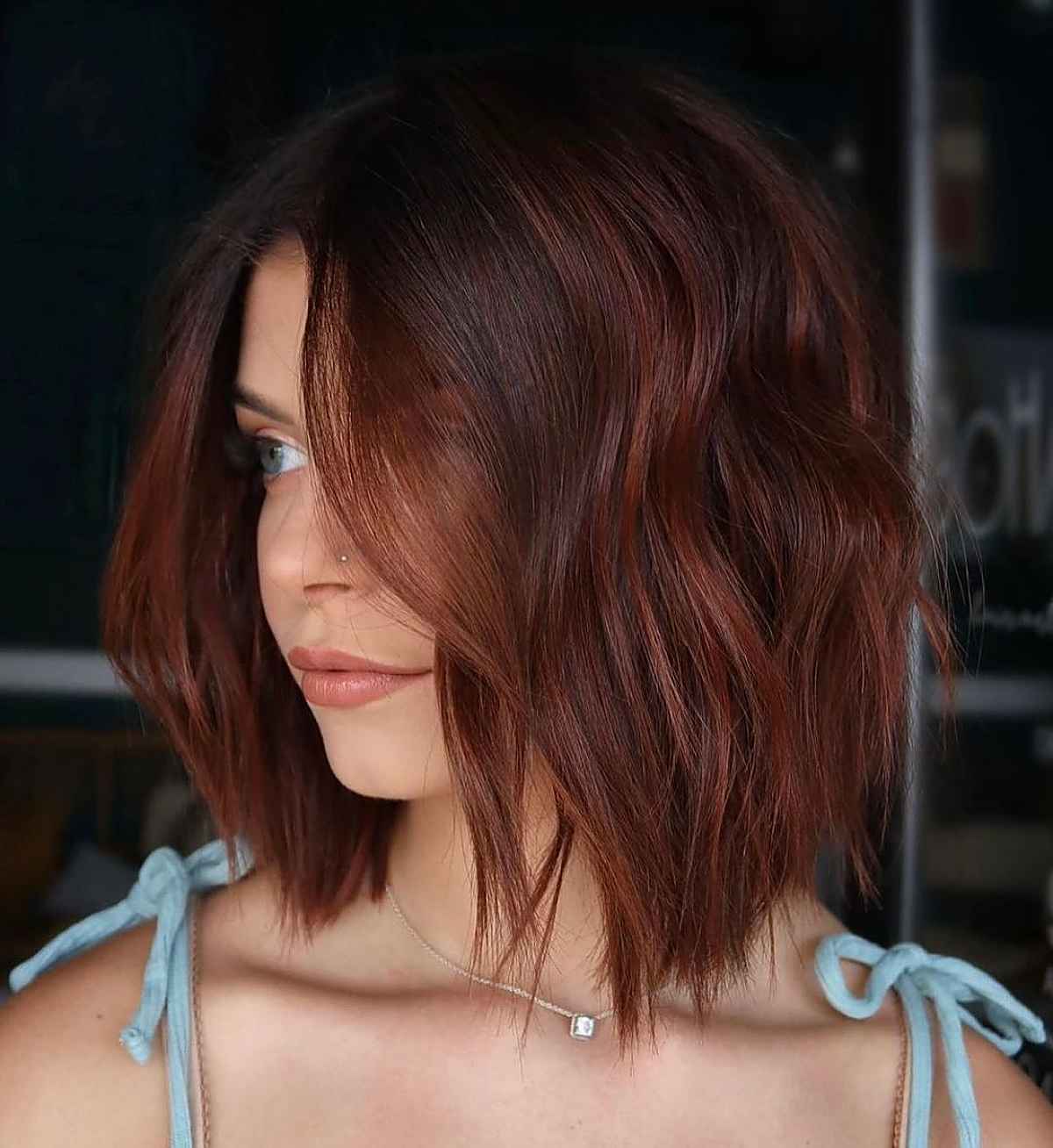 #2: Auburn Mahogany
Sultry auburn mahogany hair looks stunning during any season, not just fall. The warm highlights can help to add color to pale skin types, add warmth to darker complexions, and make blue eyes pop! The red and copper tones in mahogany can be muted or really brightened depending on personal preference and style and will look great on everybody.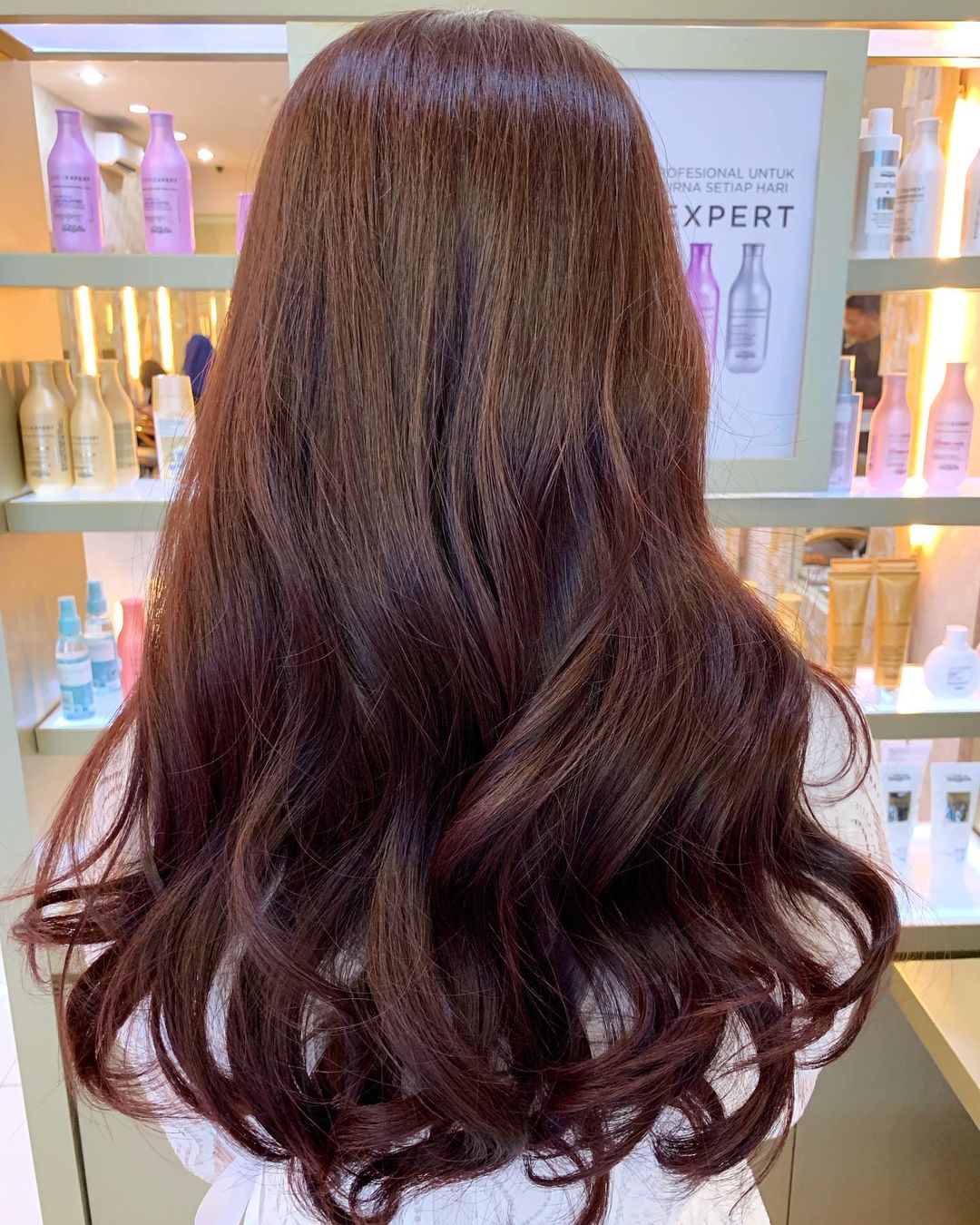 #3: Dark Brown Mahogany
Dark brown mahogany is most often luscious and natural-looking. It makes hair seem thick and healthy. Soft waves carry out a dramatic finish, so make sure to style it that way.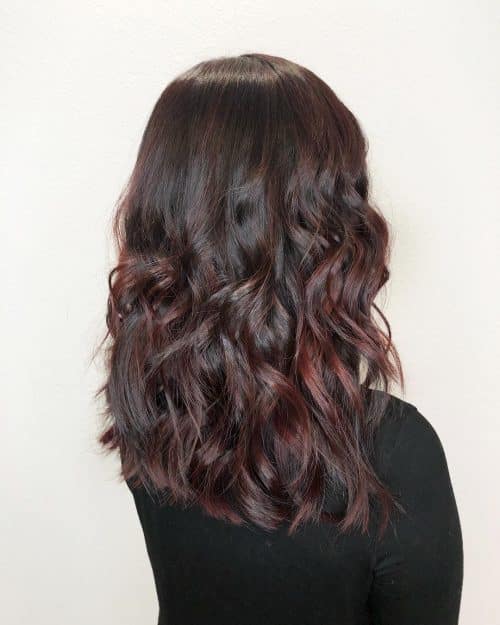 #4: Reddish Brown Mahogany Hair
One of a kind styling where you have rich brown roots to an ombre burgundy wine colored ends. A good choice of curling it for an added eye-catching effect on a mahogany red hair color.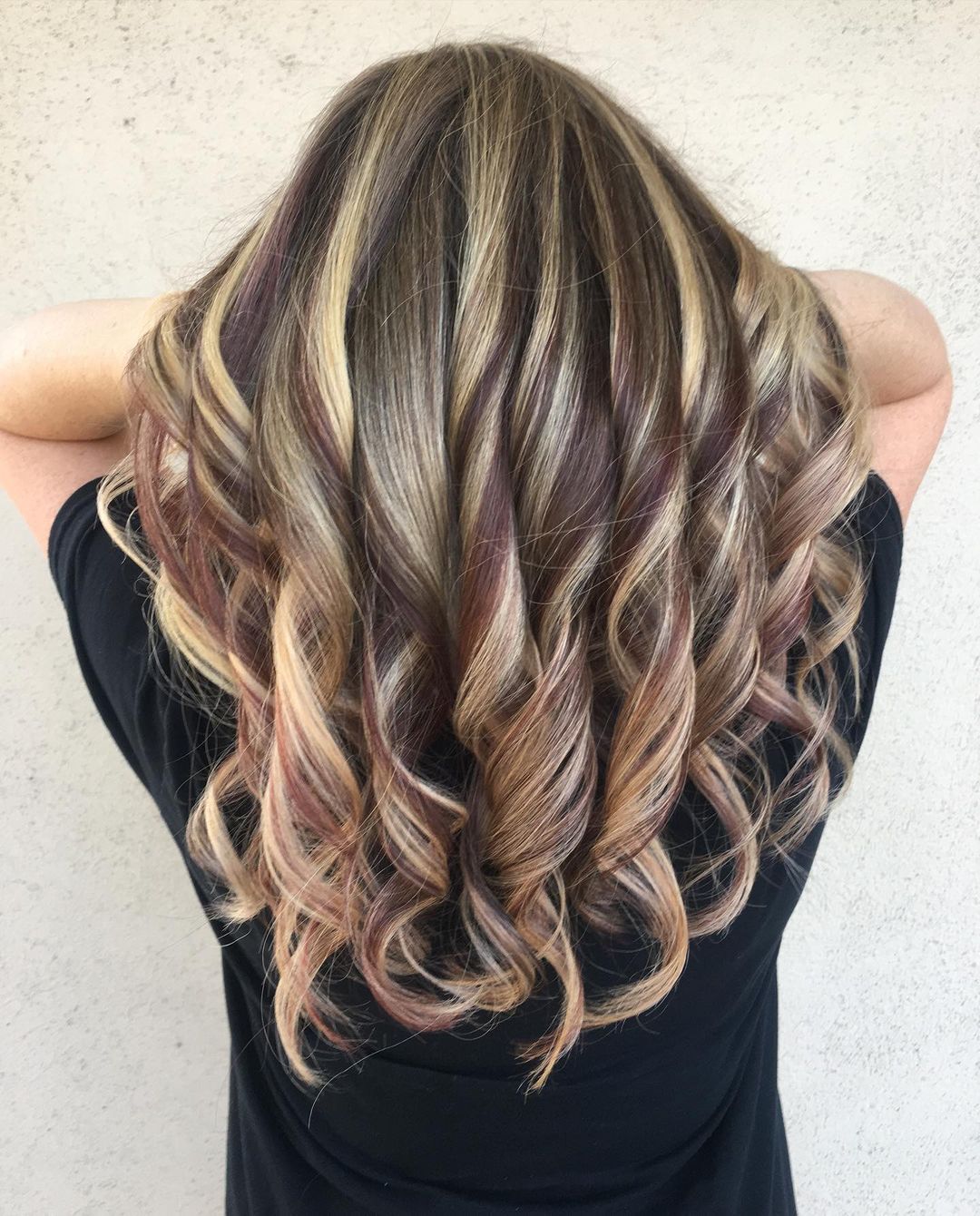 #5: Mahogany with Blonde Highlights
Pair a shade of mahogany with blonde highlights to create a masterpiece pleasant to the eyes. The rich, cool tone of the red and the warmth of the blonde hue establish a distinctive dimension. They blend much better if tresses are styled with waves or curls.
#6: Dark Chocolate Mahogany
Be the envy of every lady with your luxurious rich brown hair falling effortlessly! A nice mahogany ombre does the trick, together with big curls that are the definition of sexy.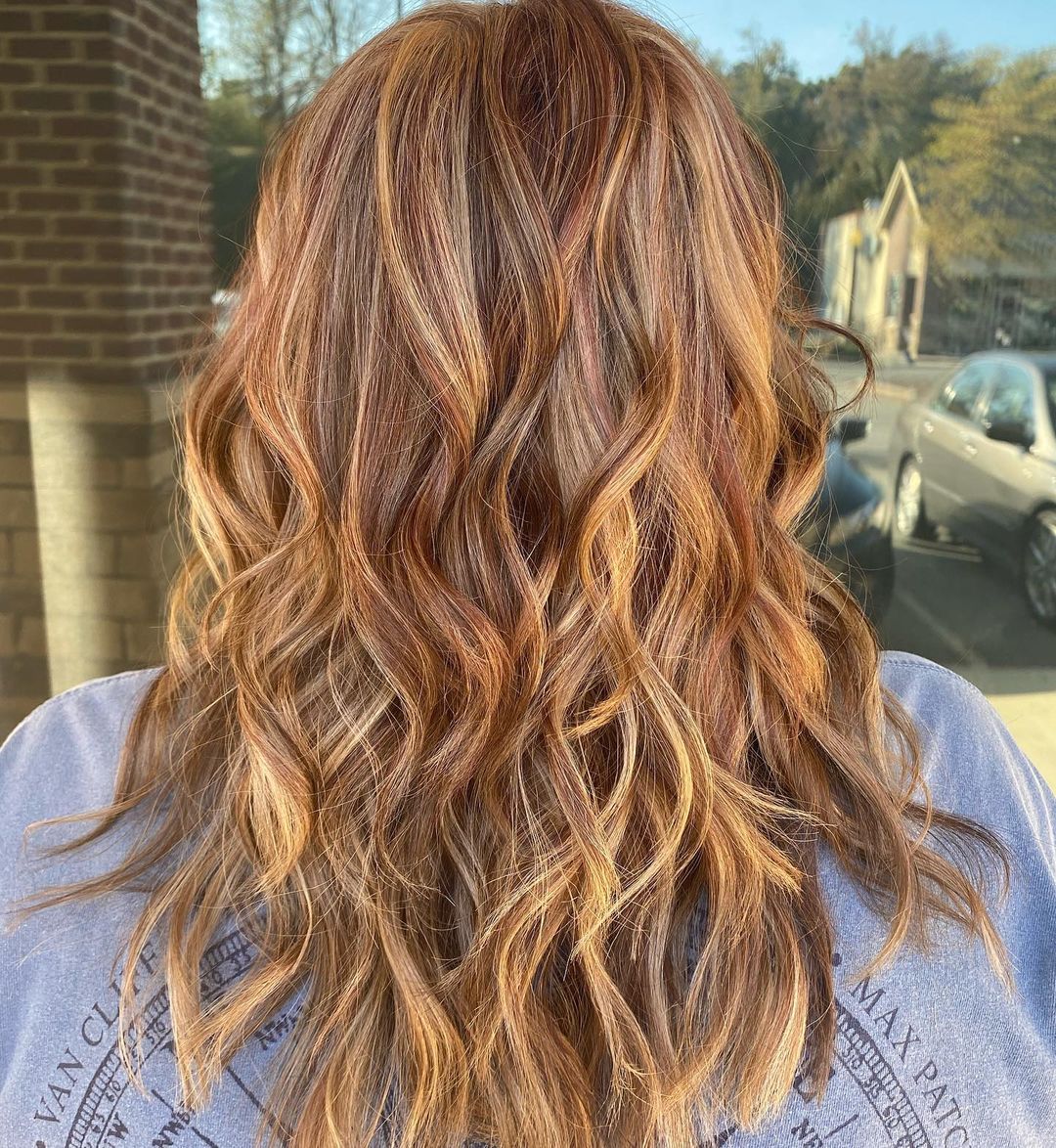 #7: Mahogany with Caramel Highlights
A shade of mahogany with caramel highlights makes a warm and luscious hair color! A mahogany balayage results in a very dimensional finish. Feel free to emphasize the caramel highlights with waves and texture. What's also great about this mahogany brown hair is its ability to look denser.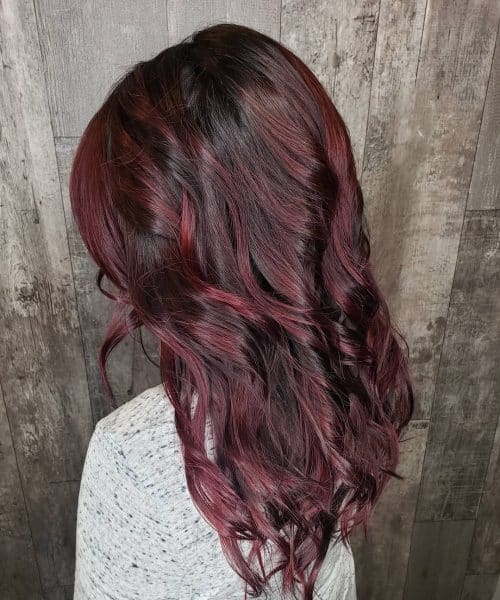 #8: Brunette Red Wine Mahogany Hair
Dark plum hair on the brown side of the spectrum gives this a beautiful deep mahogany brown hair color. Luscious waves on mahogany long hair help this moody vibe to be appreciated even more.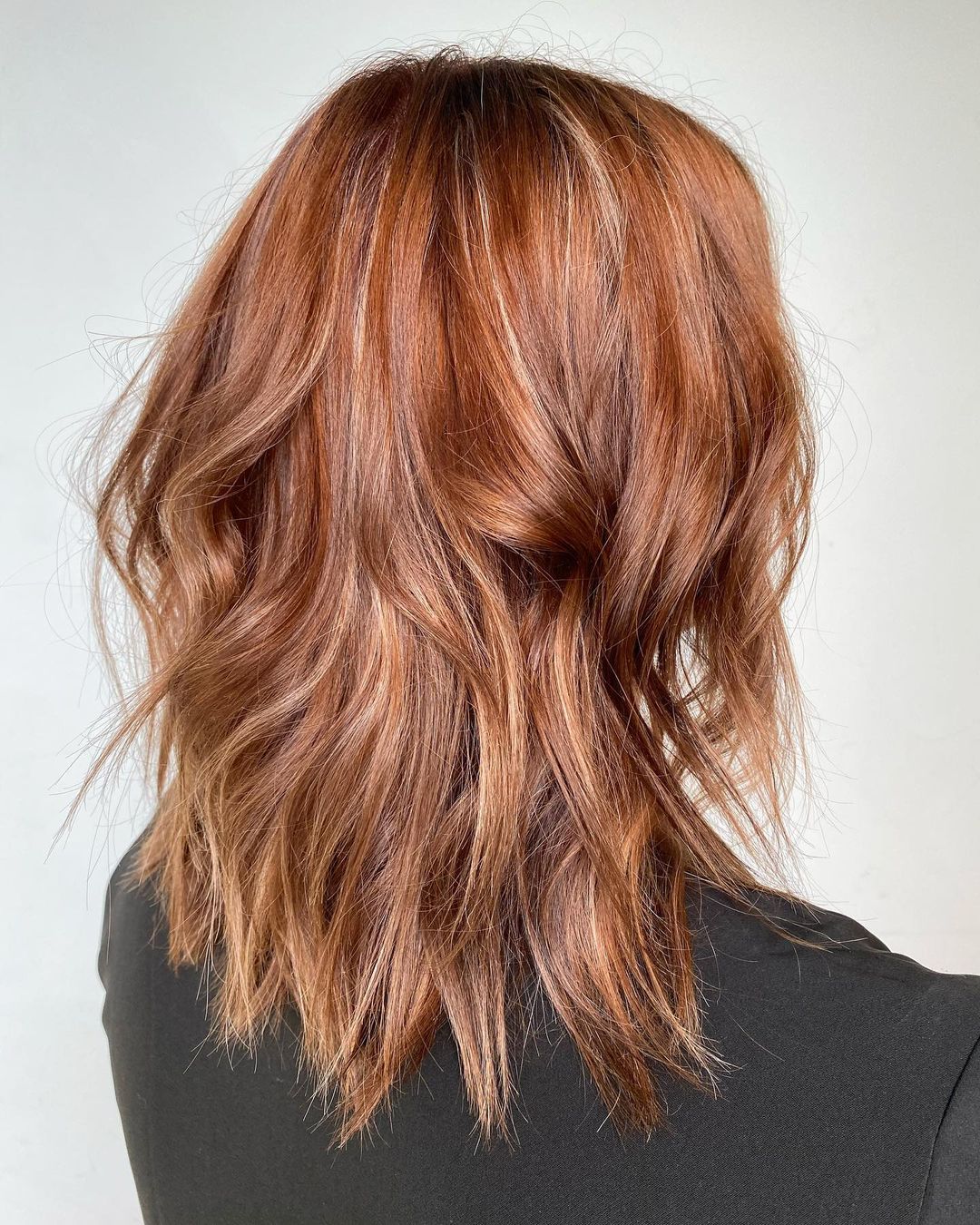 #9: Light Mahogany
Paint a light mahogany hue on the hair for an edgy, vibrant color idea. A red tinge to brown hair has equal parts of reddish and brownish tones. This is the perfect shade of mahogany for bombshells with fair to pale skin complexions. This light mahogany hair color has a bohemian chic feel. A down-to-earth shade world that is suitable for almost everyone. The mix of warm, light and dark tones brings multidimensionality.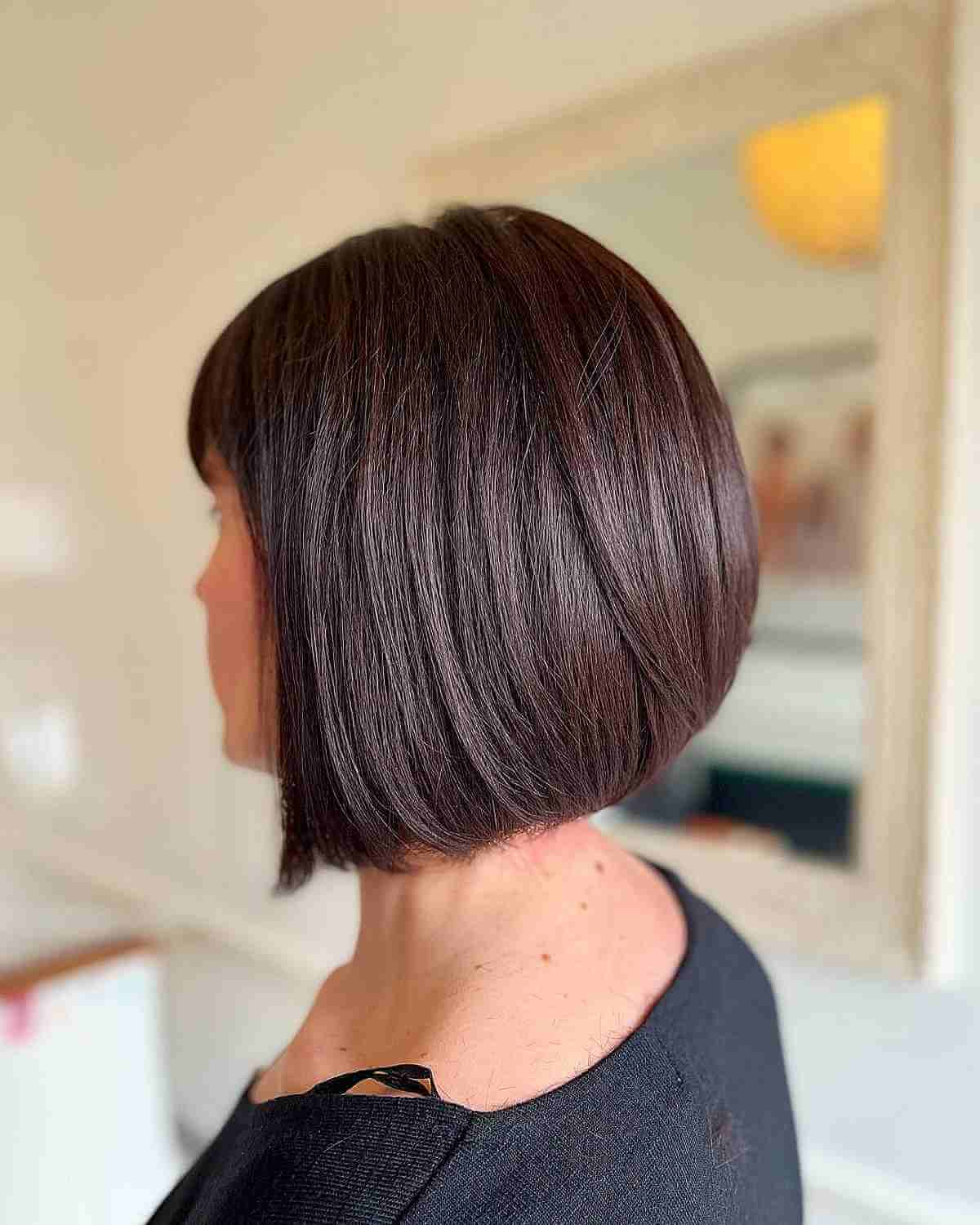 #10: Dark Mahogany Brown
Whether it's a professional coloring or a dark mahogany hair dye job at home, you can never hide the beauty of such natural hair color. Partnered with an a-line bob cut, layers, this glossy hair shines wonderfully through and through.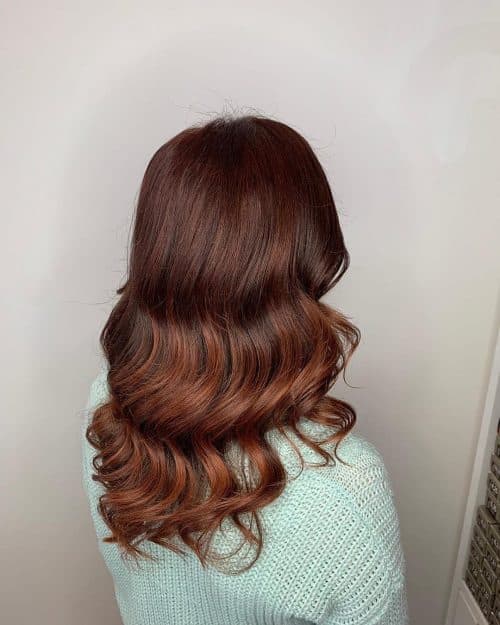 #11: Copper Mahogany Shade
Intertwined chocolate and caramel colors combined into a mahogany copper hue. A silky mahogany haircut with such layers makes anyone look younger with its soft flow like that.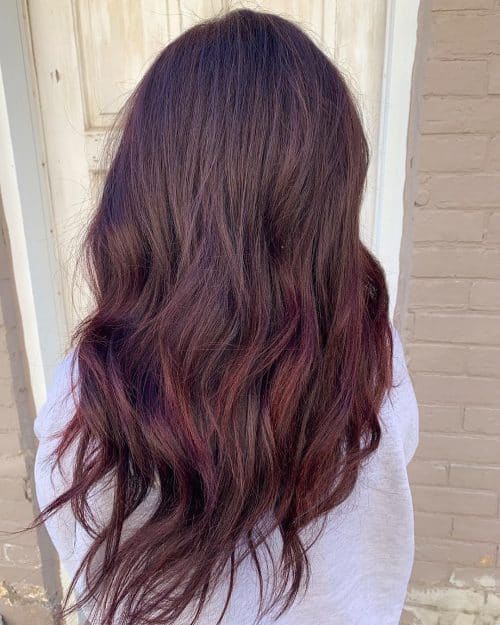 #12: Mahogany and Dark Burgundy Blend
Q&A with style creator, Chantelle Kidd
Hair Stylist / Colorist @ Escape Salon & Spa in Cambridge, ON
How would you describe this?
Mahogany vs dark burgundy hair color? Yes, please! This mahogany hue is a soft blend with a vibrant flare. The mix between a muted red with a berry red throughout is so pleasing to the eye. For this style, it was loosely curled and combed apart to show off some more tones and color dimensions. It's all about the product. Invest in the proper shampoo, conditioner, hair care (color-protecting agents). Also, consider investing in appropriate styling tools to keep the hair healthy and happy. If you want this mahogany hair color trend, you will need to be prepared for a pre-lightening service before the color service to get the dimension. Try the product line Eufora. It's a remarkable color and style line. It will leave you with the "color-locking system" that is applied after every wash and will keep the mahogany color last 30% longer. Products such as "color elixir" will revive these tones in the comfort of your shower. They are used as a conditioner, and adds red each time. Without the right products, red-mahogany isn't guaranteed to hold any longevity. The kind of water you use, poor products, and washing too frequently make this mahogany hue higher maintenance.
#13: Mahogany Balayage
This mahogany balayage is a rich mocha-copper color. The balayage mahogany highlights are warm and brighten up the skin without being too bold. Mocha tones and deep copper tones are a great option for women who want a pop of color but don't necessarily want to be super bright like a blonde. It's important to remember that highlights don't automatically mean "blonde," and this mahogany style is a perfect example of that. This is a mid-low maintenance hairstyle and mahogany color. The color will stay vibrant and warm for weeks if the proper products are used. Try Matrix Keep Me Vivid shampoo, conditioner, and Velvetizer leave-in cream.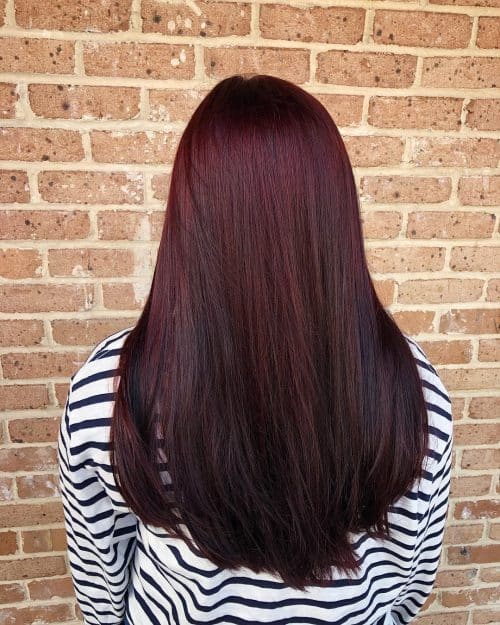 #14: Cherry Mahogany
Q&A with style creator, Jonathan Rivera
Hairstylist @ The Scarlett Olive Styling Lounge in Winter Garden, FL
How would you describe this?
This is a dimensional red mahogany hair that's called a reverse ombré. Most traditional ombrés begin dark at the roots and blend to a lighter color on the ends. This ombré goes from light at the root, to darker on the ends. This color job is very multidimensional, rich in mahogany tone, non-traditional, and worked out with a previously used canvas. Ombré, highlights, or lowlights are a great way to add dimensional, depth, and flare to your hair as opposed to a solid color. It goes to show that there are still possibilities to recycle or enhance a color job even with a previously used canvas. Receive a full and proper consultation from a professional face to face. The consultation will confirm what is possible with your current canvas, what colors will complement your skin tone and personal style (bold versus subtle). It will also cover how often to return to the salon for maintenance, what is within your budget, and how you would like the color to progress over time for future hair endeavors. The consultation can also reveal tips that will help preserve and protect your new hair color. Such as color-safe professional shampoos, heat-safe products for heat styling, and SPF treated leave-in products to protect from the sun. It can also cover how often to wash your hair, and water temperature used to wash the hair. Here are some other important factors to consider when it comes to hair color: hot tool usage, chlorinated pools, prolonged sun exposure, hard water, and overprocessed hair.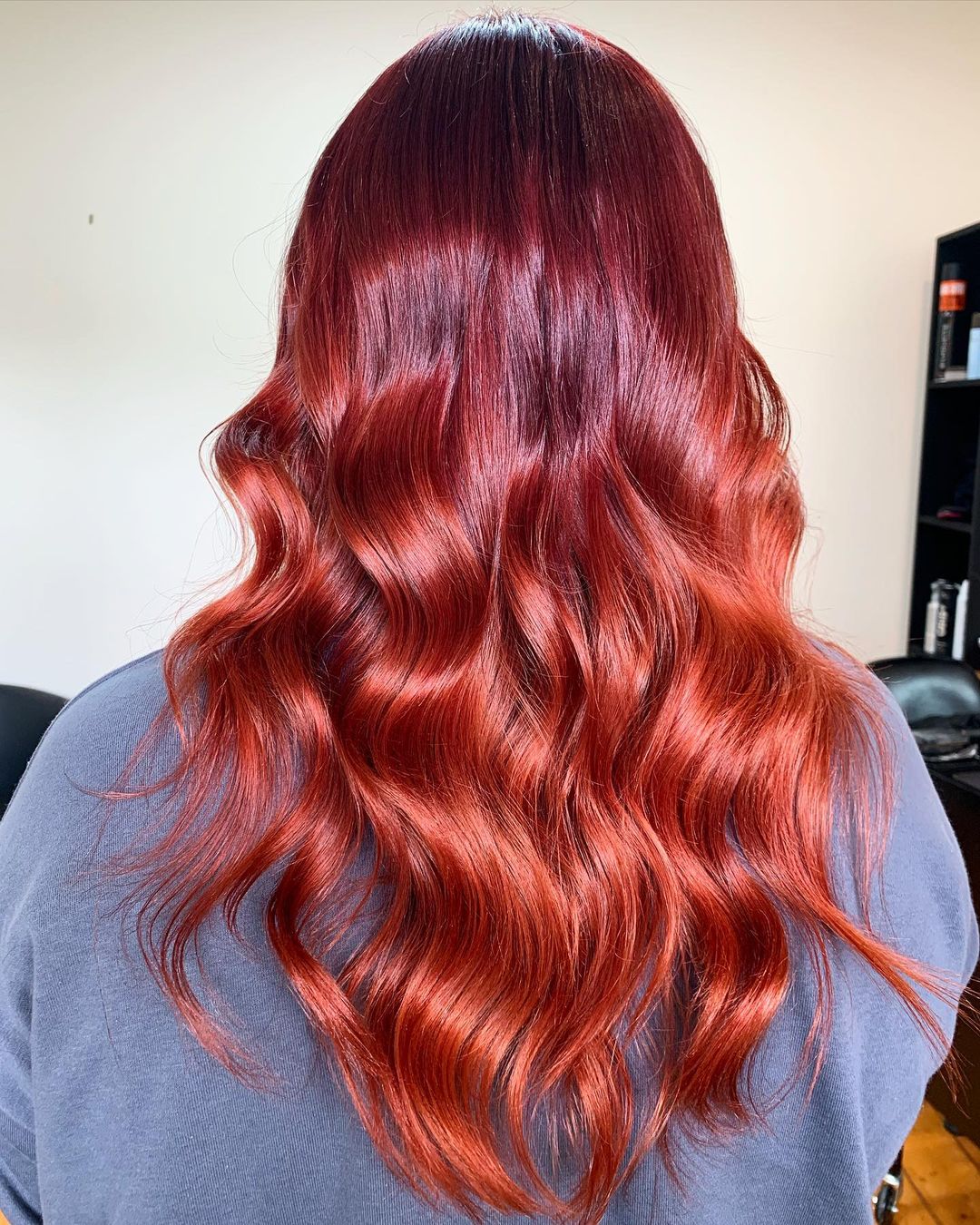 #15: Dark to Light Mahogany Ombre
This dark to light mahogany ombre screams vibrancy! It's a light mahogany color melt style that's darker on the top and lighter at the ends. The red shades blend so well! A hair trend like this is ideal for women who come into the salon less frequently. There's no need to keep touching up the roots as much.