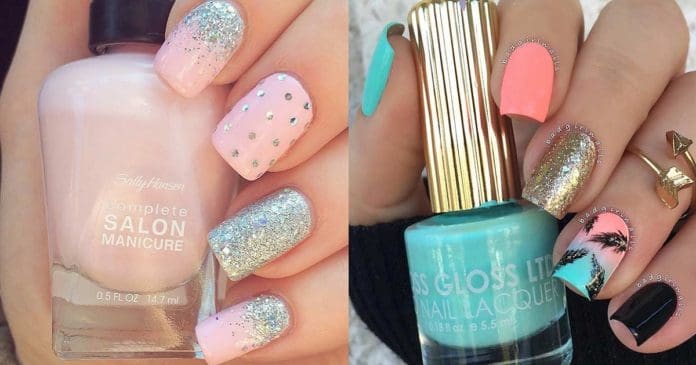 Nail designs are a way to show off our character and to be original.  When you see someone with exciting nails, your eyes are instantly drawn to them.  Let's face it, we all want sexy summer nails this season but some of us aren't that great at nail design.  Nail designs can look amazing but daunting to do yourself. Don't panic, we at Stay Glam have come up with 35 bright summer nail designs for everyone.  We have simple, bold, glittery, striking and stunning nails for you to try. When you see these gorgeous nail designs, you'll not look back and maybe you'll be having these styles all year round and not just for summer.  You can always add darker colours to your design. Have fun looking at our summer nails and we hope you try a few styles out!
1. PERFECT SUMMER NAILS
The more colours the better.  That's what summer is all about.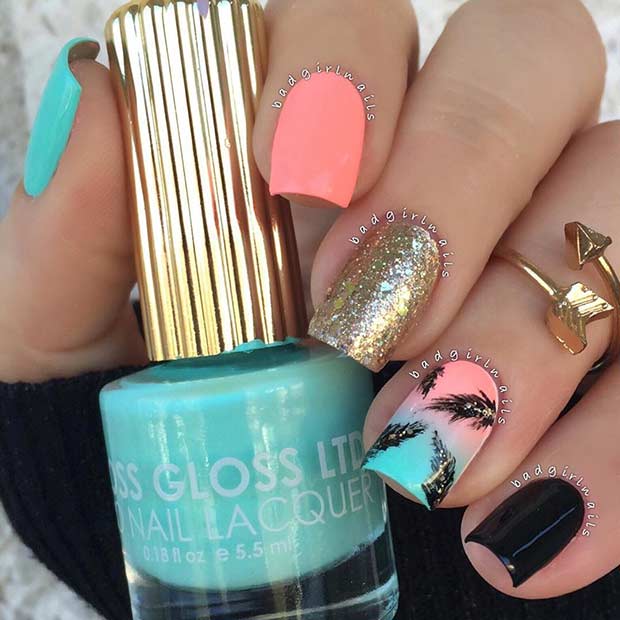 Instagram / badgirlnails
With these perfect summer colour nails, you will show off your summer side and your fun side.  The black colour is not so harsh with bright colours. This is a way to tone down the dark colours in your nail box.  Go for bright colours for the thumb and first finger then mix it up with a touch of sparkle and nail art. This gorgeous sunset nail art design stands out and relates to summer.
2. CUTE WATERMELON DESIGN
For the past few years, fruit has been a popular choice for nails and fashion.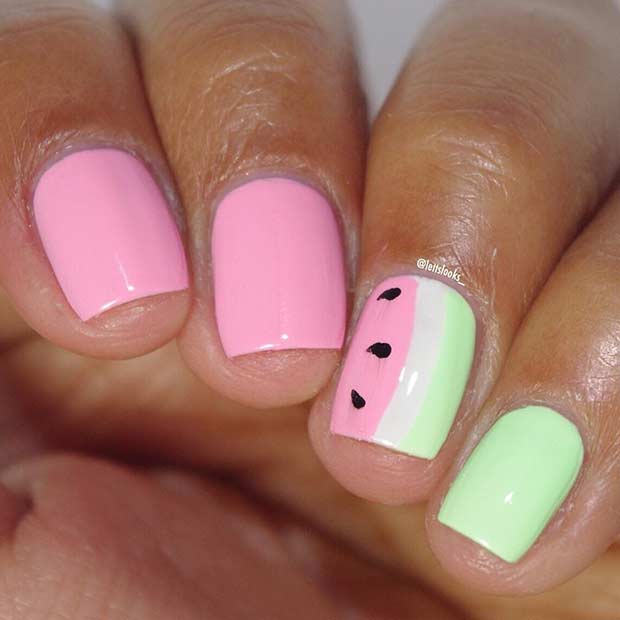 Instagram / lettslooks
This cute watermelon design will melt your heart.  OK, it's not a definite watermelon but gives the illusion of a watermelon.  It's easy and anyone can do this. Pastel pink, mint green and white shade work so well together.  Finish the look by adding the watermelon look to your accent nail. Don't forget to wait for the nail polish to dry until you start with another colour.  The black 3 dots is needed for the watermelon so don't forget this!
3. GLITTER & FLOWERS DESIGN
Glitter and floral nails are a match made in heaven.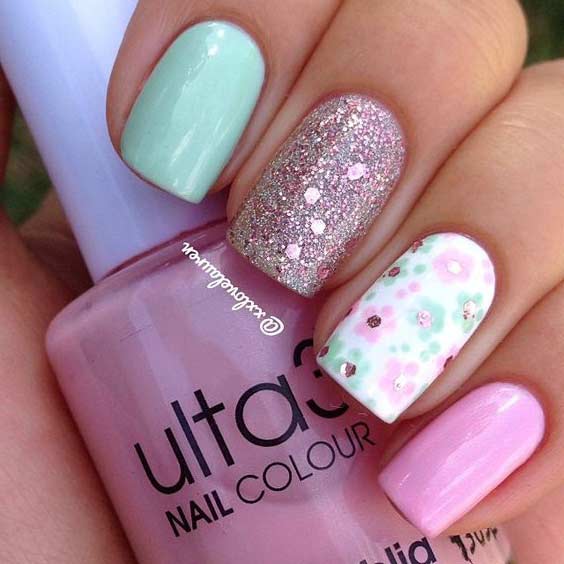 Instagram / xxlovelauren
Both glitter and floral prints are very feminine and girly so why not combine the two for extra wow effect.  Add a few pale colours to complement the detailed nails. Mint green and pale pink work well together.
4. NEON ORANGE OMBRE NAILS
You have to have a neon orange nail polish in your nail collection.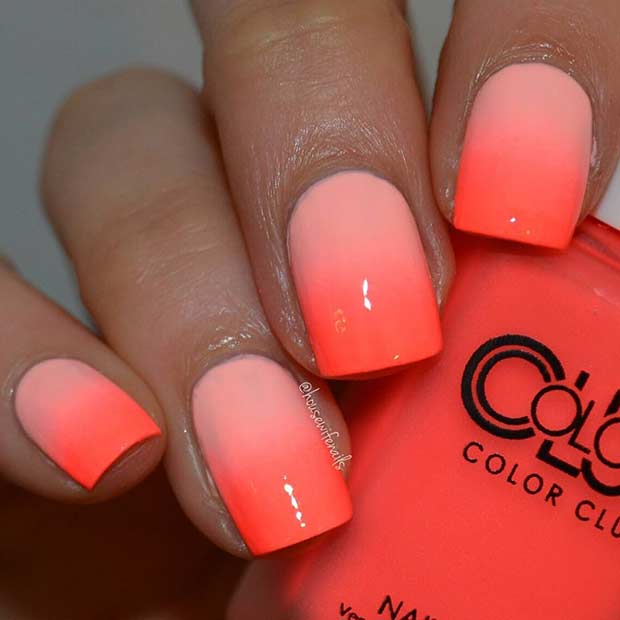 Instagram / housewifenails
If you have orange ombre nails, I can guarantee your friends will comment on how great they look.  It may become your nail polish style go-to of the season! For the extra shine on your nail tips, add a glossy super shine topcoat.
5. COLORFUL STRIPES
Stripes are always fun.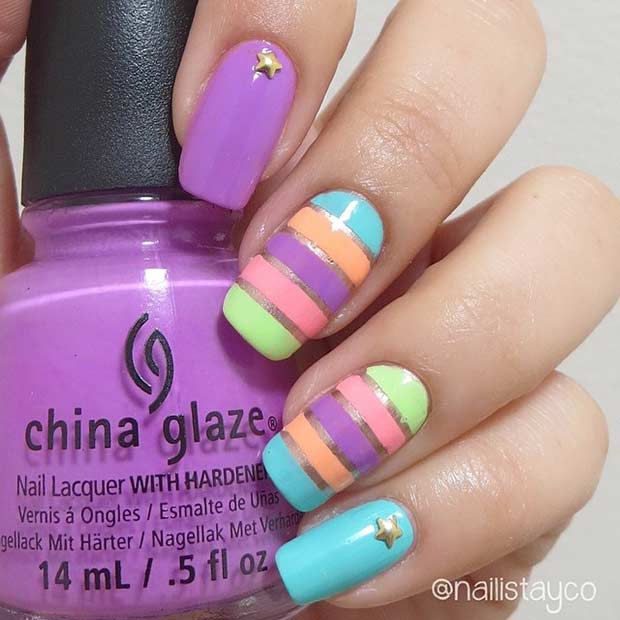 Instagram / nailistayco
If you're feeling the summer vibe, go for this style.  Grab a few bright colours from you nail box and decorate the two middle fingernails.  As you can see from the photo, you don't have to follow a sequence, just go with what you feel.  Take two colours from your chosen selection and paint the other nails without the stripe effect.
6. RAINBOW NAILS
If you're looking to stand out, go with the rainbow nails.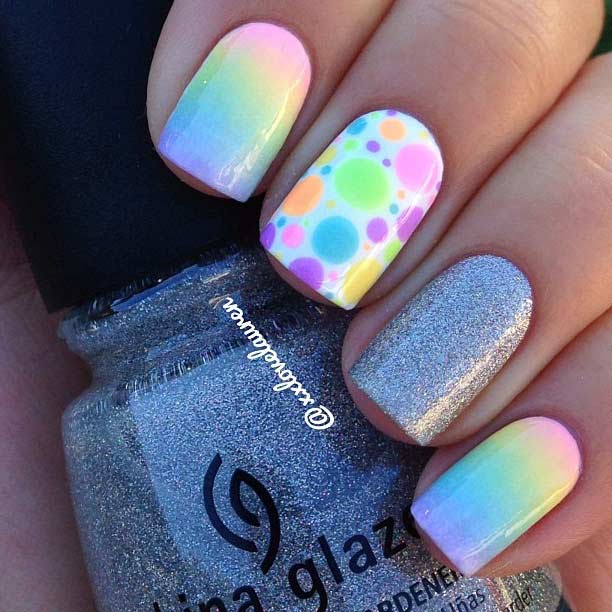 Instagram / xxlovelauren
This is unusual and people will wonder how you actually painted your nails like this!  Very summery and would look fabulous with any outfit.
7. PINEAPPLE NAILS
We all know that food is fashionable… why not add it to your nails too!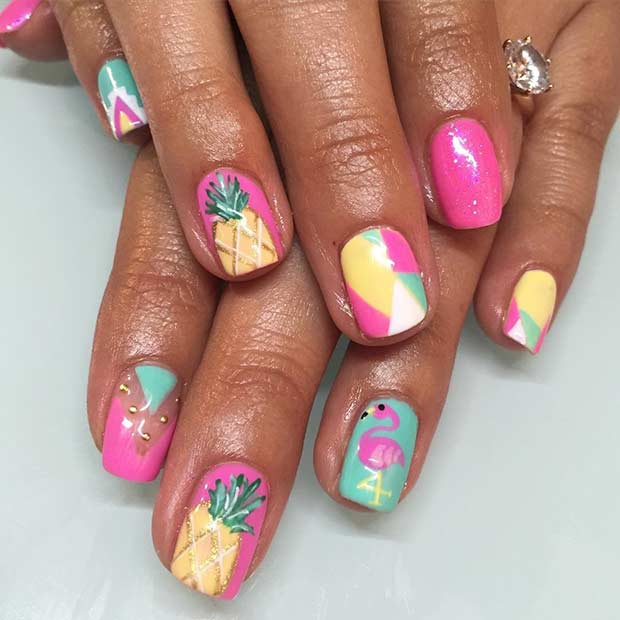 Instagram / superflynails
Pineapples are everywhere now and they are so easy to draw.  Have fun with your nails by adding some glitter to your pineapple.  It's fun and vibrant.
8. PINK & GOLD NAILS
Pastel colours are lovely for summer.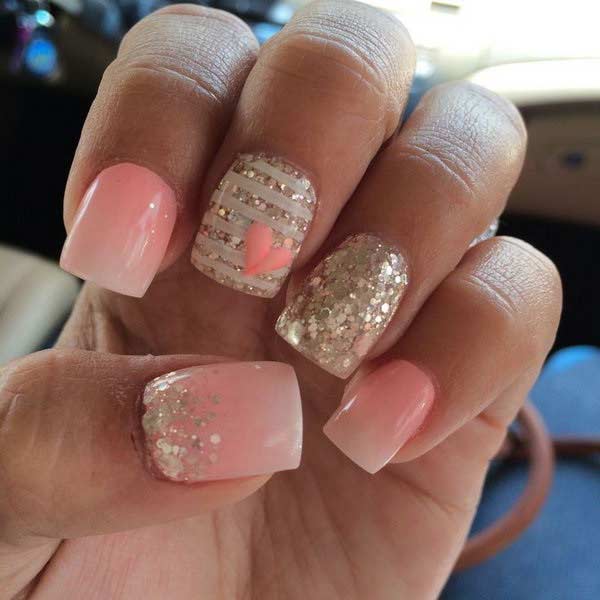 Source: pinterest.com
This pastel pink colour looks stunning and girly when teamed with glitter.  This would look ideal for any event.
9. PRETTY BLUE & WHITE DESIGN
Bring your artsy side to your nails with this gorgeous blue and white design.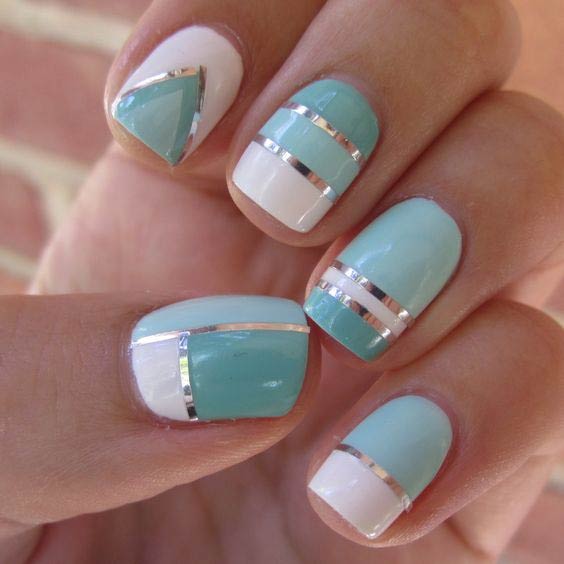 Source: pinterest.com
It may look complicated but trust me, all you need to is nail tape and you'll be a professional before you know it.  Chose a white and blue shade and get painting. Add the sections as you wish and remember, there are no rules when it comes to nail design!
10. PERFECT HOLIDAY NAILS
Are you going on holiday soon?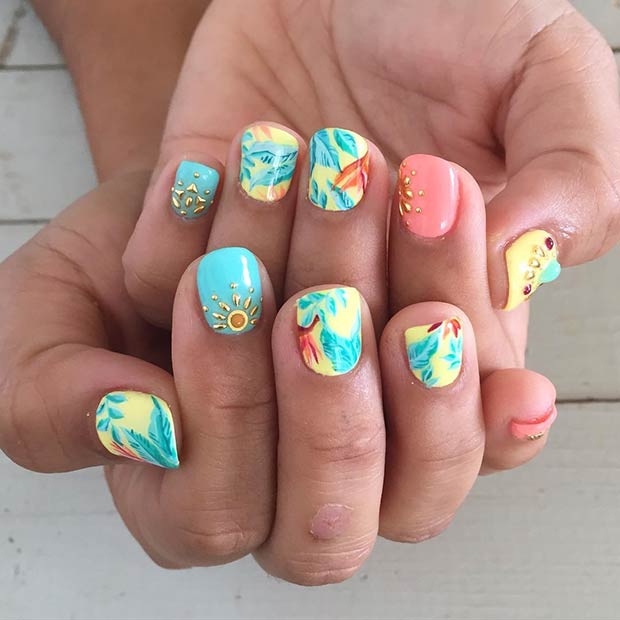 Instagram / mkmk1209
Even if you're not going anywhere and are feeling a little down, paint your nails like this and it will get you in the summer mood.  These are bright, lively and perfect for this time of year.
11. SUMMER FRENCH TIP NAILS
Do you want to spruce up your French polish?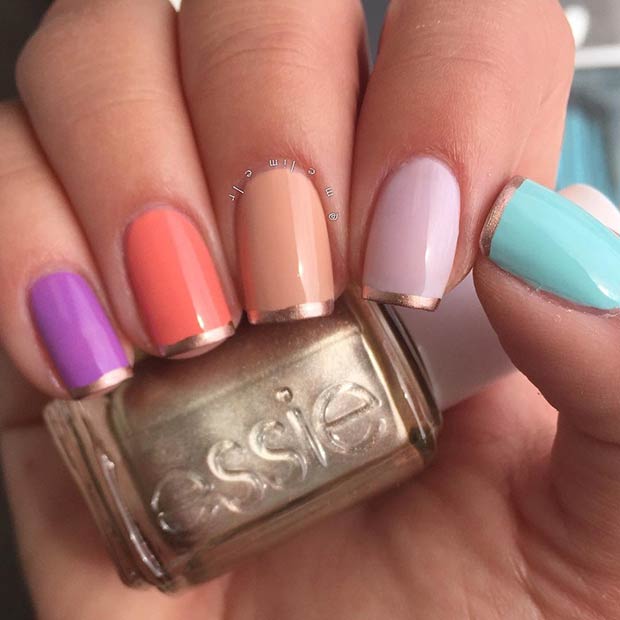 Instagram / melimelr
Instead of going for the classic white tips with a natural pink base, go for a rose gold or gold tip with vibrant colours for the base.  Choose five different bright colours and you'll look amazing.
12. NEON FLOWERS
Neon colours are necessary every summer.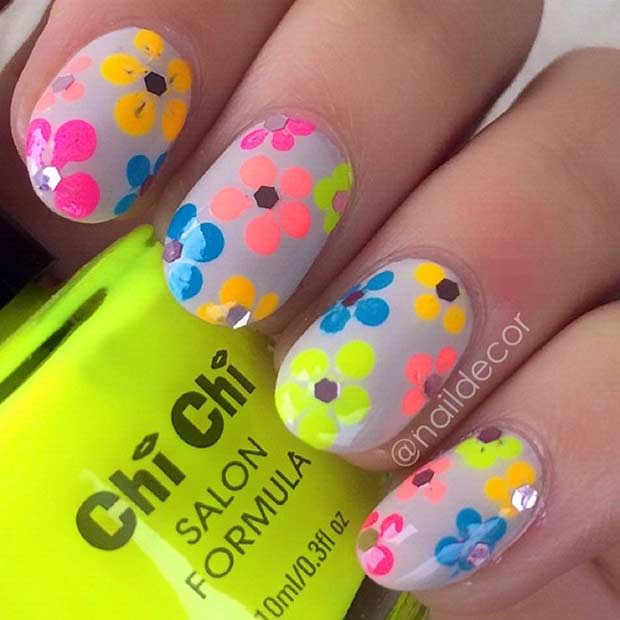 Instagram / naildecor
Why not think outside the box and go for neon flowers instead of the standard neon solid nails.  This is a quirky style which will add the summer vibe to any outfit.
13. SPARKLY ANCHOR DESIGN
There are so many different nail art designs to choose and love.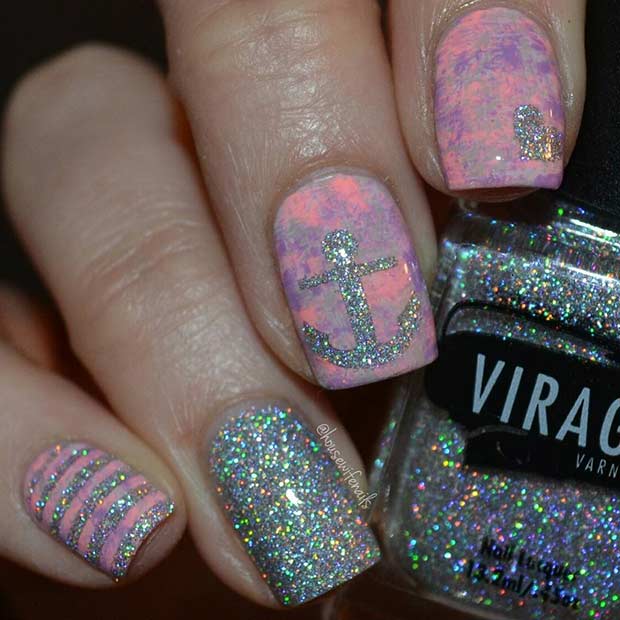 Instagram / housewifenails
We love this anchor style.  Add a glittery anchor on top of a summer colour base.  This looks great and adds a bit of sparkle to your nails.
14. FRUIT NAIL DESIGN
Get your five a day with all different fruits on your nails.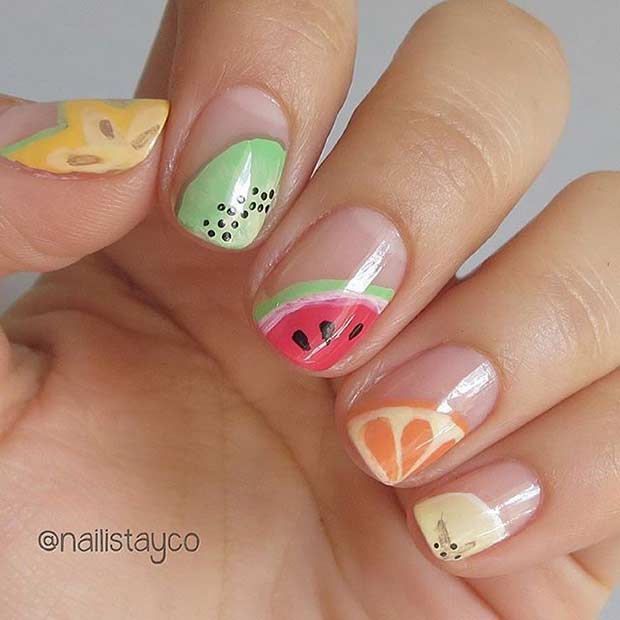 Instagram / nailistayco
Look how gorgeous and unique these fruits look on your nails.  Stick to a glossy base to show off the design. It will remind you to eat your fruit every day, which is never a bad thing!
15. TRIBAL NAILS
Tribal patterns are trending on the catwalk and on the High Street.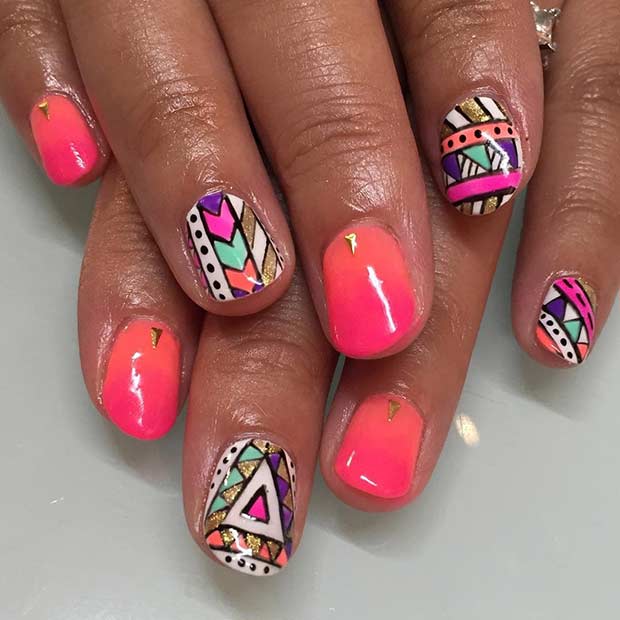 Instagram / superflynails
Add a tribal style to your nails, which brightens up any outfit.
16. MATTE DESIGN FOR LONG NAILS
Matte nails are becoming more popular than glossy nails.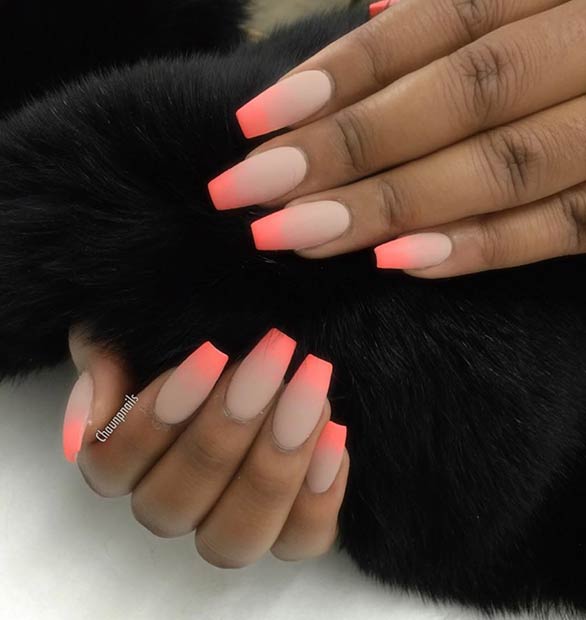 Instagram / chaunpnails
This summer, show off your sexy matte nails which look magnificent on longer nails.  To create this look, go for a natural looking base with a bright colour for the tips, then paint over with your matte finish.
17. PURPLE WATERMELONS ANYONE?
We are loving this bright and fun style.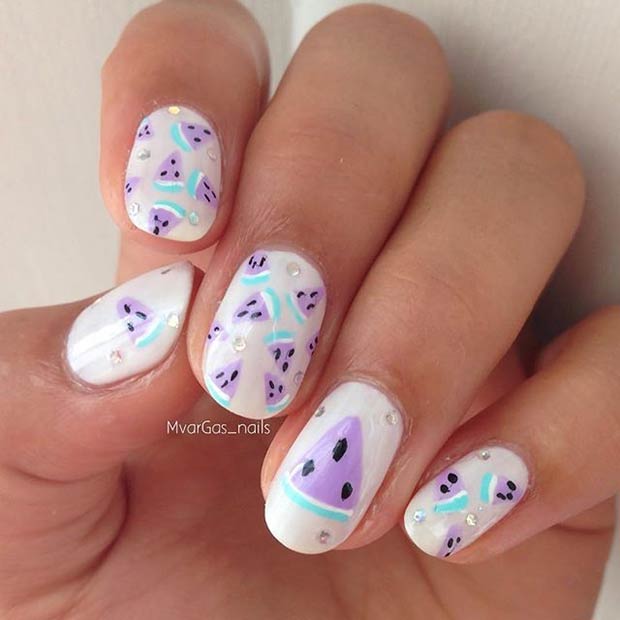 Instagram / mvargas_nails
Watermelons are yummy and perfect for nail art.  Paint a few watermelons on your fingernails but use a subtle pastel purple, which looks amazing.  Add a few rhinestones for the extra bling.
18. TURQUOISE & GOLD MATTE DESIGN
If you're thinking that glitter and matte don't work well together, then just look at this photo to prove you wrong.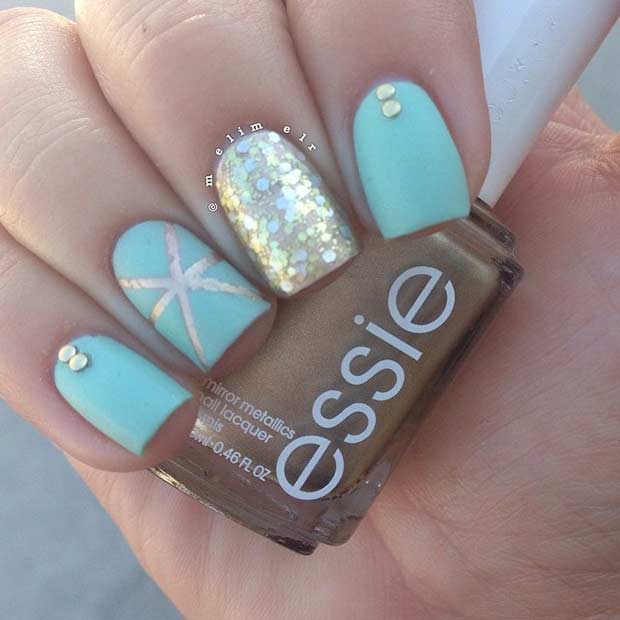 Instagram / melimelr
This look has it all – a summer vibe, glittery and the new trend, which is the matte effect.  This is all styles wrapped up in one.
19. MULTI-COLOURED NAIL DESIGN
The multi-mani, also known as the multi-coloured manicure, has been popular for a few years and this is why.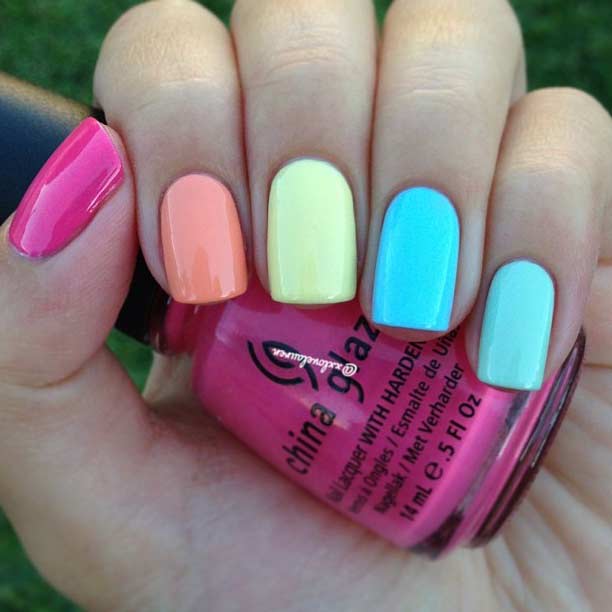 Instagram / xxlovelauren
Choosing five, bright summer, energetic colours, looks perfect.  Finish the look with a glossy topcoat. This is simple to achieve and effective.
20. NUDE, BLUE & GOLD NAILS
These nails look incredible.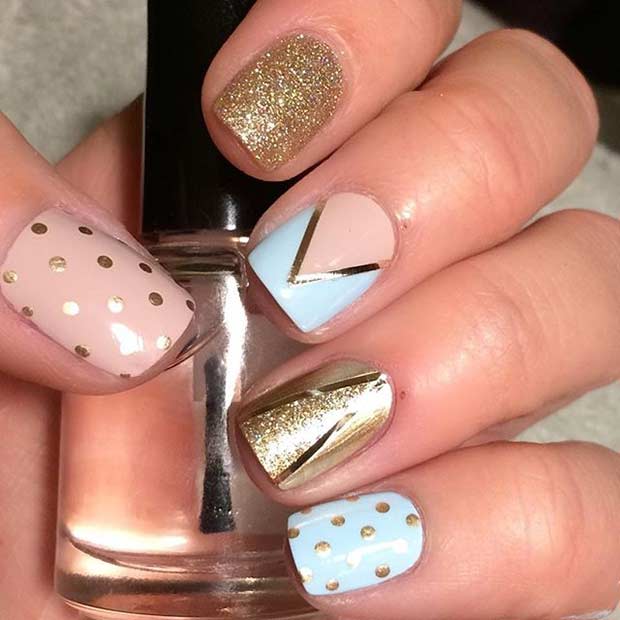 Instagram / youngwildandpolished
If you're a girly girl and want to show off your nude, blue and gold colours, try this style.  Add a few polka dots in the mix to show your character.
21. NEON ORANGE DESIGN – PERFECT FOR BEACH!
Orange is a great summer colour.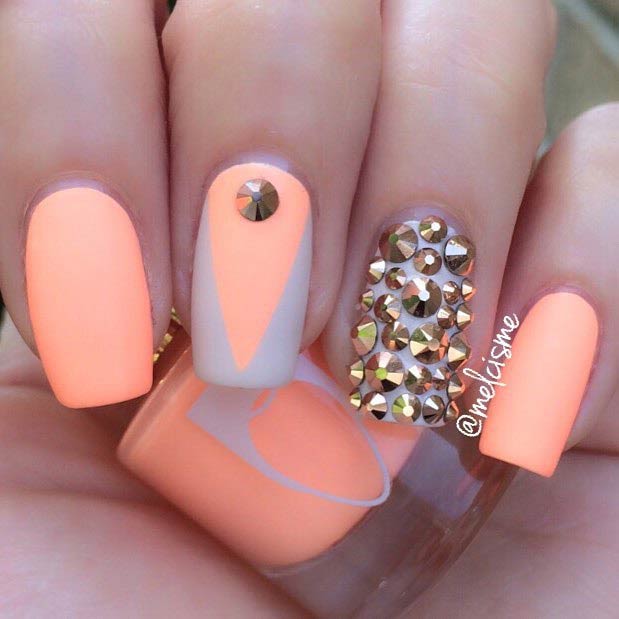 Instagram / melcisme
Orange tends to be on-trend every summer so if you don't have a neon orange nail polish in your nail collection, you need to go out and get one.  Orange is one of the most summery colours out there. When choosing an orange shade, go for a neon nail varnish, this will look striking on the beach in your bikini.
22. PINK & ORANGE NAILS
Pink and orange work so well together.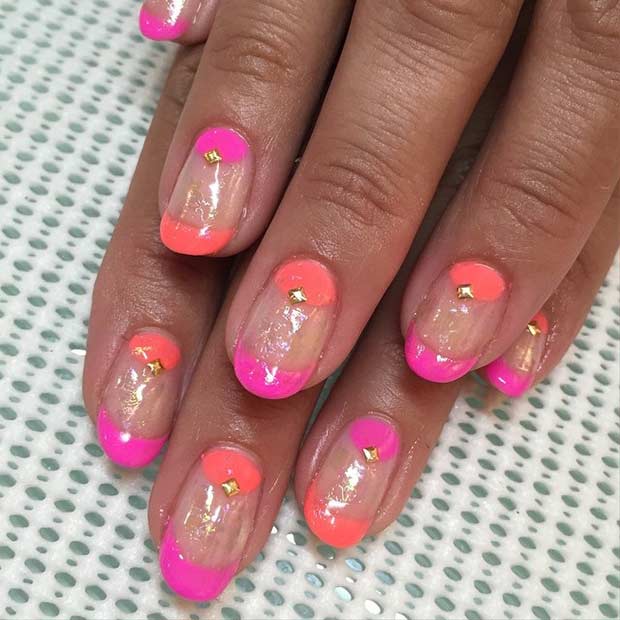 Instagram / superflynails
Many celebrities are opting for pink and orange outfits so you can opt for orange and pink nails.  Be creative and add either the orange to your cuticle area and the other colour to the tips of your nails.  Mix it up by alternating the colours as you go along.
23. BRIGHT POLKA DOT NAILS
Polka dots are always stylish.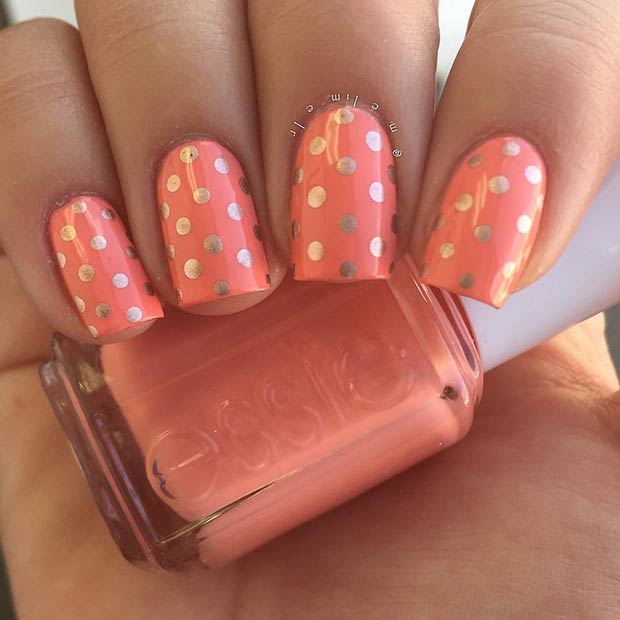 Instagram / melimelr
If you like to add a bold and striking design to your nails, then polka dots are for you.  They are bright and go with any outfit, even polka dot tops or bikini!
24. PINK, WHITE & GOLD DOTS
If you're not feeling the bold and full-on polka dots, have polka dots on the nail tips only.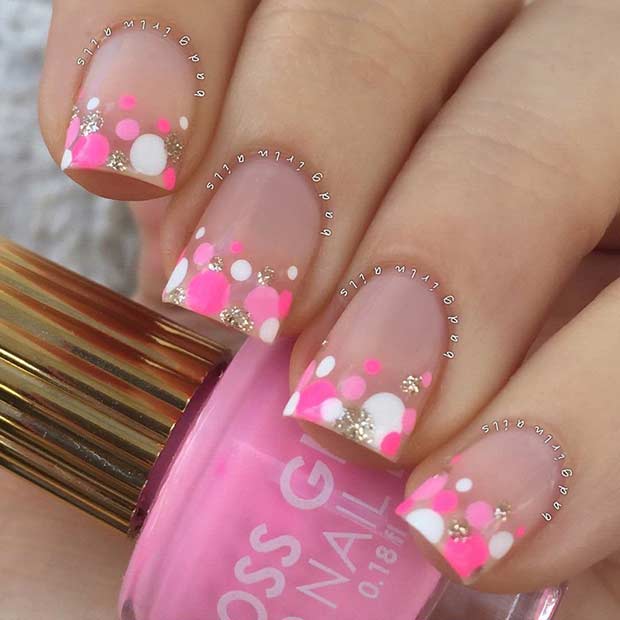 Instagram / badgirlnails
This is so simple with the natural base but the polka dot tips set it off.  Decorate your nails like this and see how many people check them out!
25. EASY WATERMELON DESIGN
We aren't all experts when it comes to art design but this is so easy.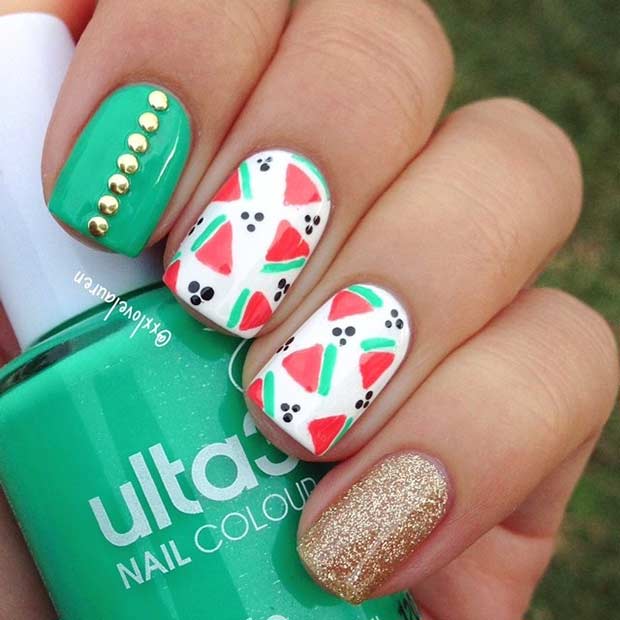 Instagram / xxlovelauren
This watermelon design is perfect for those who want nail art but haven't got the time to do an intricate style.  Try this and see how many people complement you!
26. SIMPLE BUT EYE-CATCHING DESIGN
Noticing someone's nails for their bright and gorgeous style, is always amazing.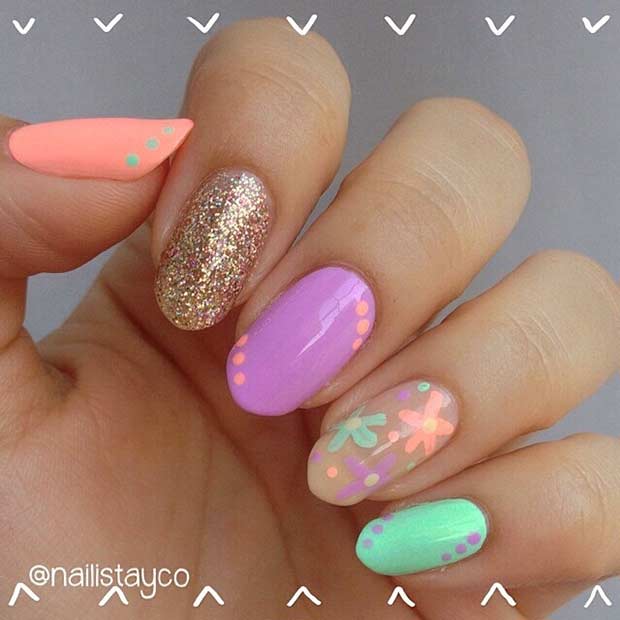 Instagram / nailistayco
People will be looking at you and thinking how beautiful your nails look. This is simple and easy to create but is eye-catching.  Add a few flowers to one nail. These are summery and feminine but keep to pastel colours. You can add the glitz with one glittery nail.
27. BRIGHT DESIGN FOR SHORT NAILS
Don't worry if you have short nails, this design looks great on all lengths.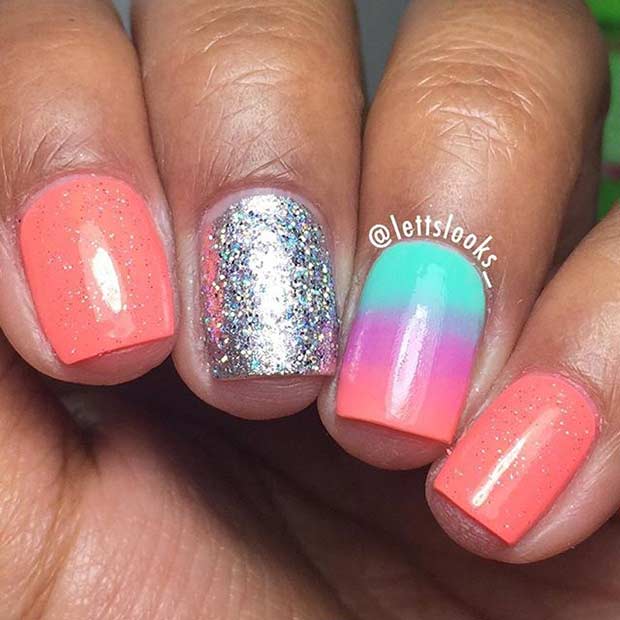 Instagram / lettslooks_
Bright colour and shimmery nails scream summer.  You can have this look by adding a rainbow ombre nail to stand out or maybe you just want the shimmer and glitter.  Whatever you decide, it will look fab!
28. CAN YOU TELL WE HAVE A THING FOR STRIPES?
Calling all the stripes lovers out there.  This one is for you.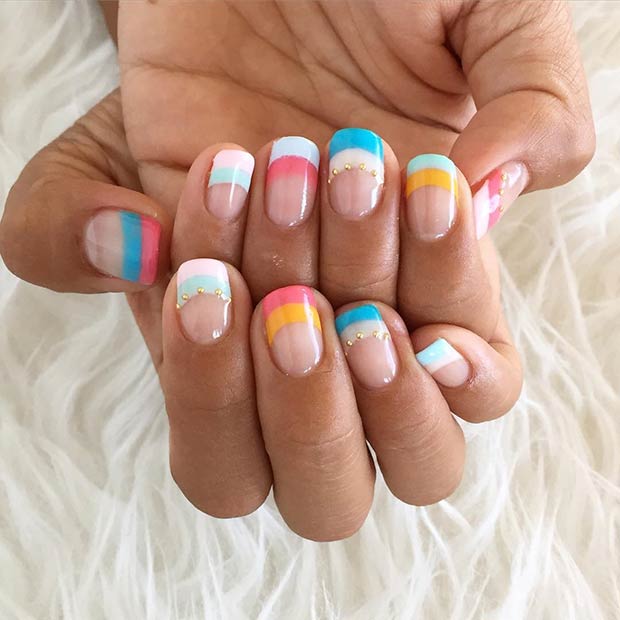 Instagram / mkmk1209
We love stripes and by having this stripy style, you will show off your style and fun side.  Choose a few of your favourite colours and your nails will look divine!
29. PINK & DARK NUDE CHEVRON DESIGN
Pink has a place for summer nails every year.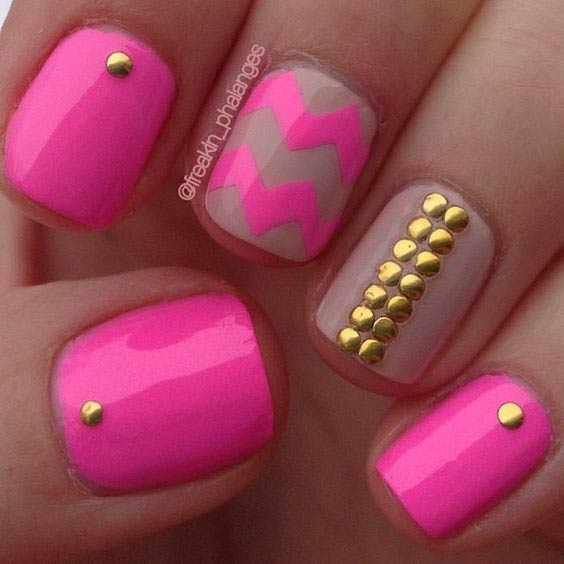 Instagram / freakin_phalanges
If you're used to having a bright, fuchsia pink on your nails then why not team with a dark nude colour for a different vibe.  Pink and dark nude with a chevron design is prominent and send out the happy vibes. Everyone will love your nails and it adds extra style to any outfit.
30. BRIGHT NEON DESIGN
Neon designs are colorful and look stylish and energetic.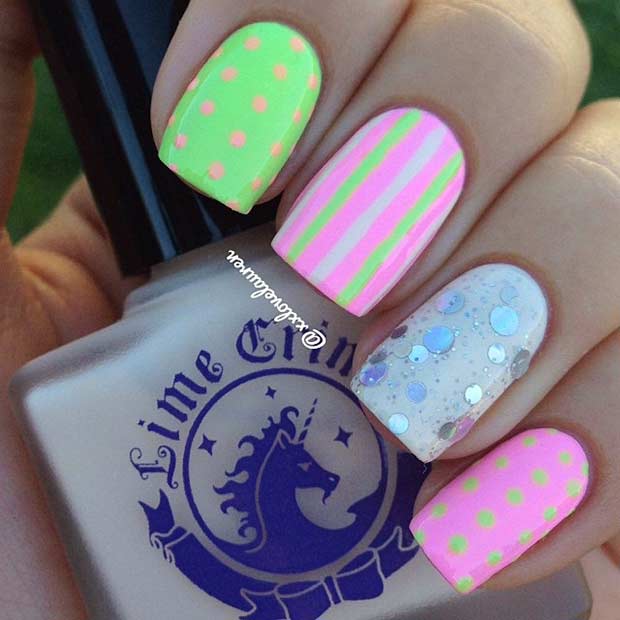 Instagram / xxlovelauren
We adore these different neon designs and you will too.  For the polka dots, take a neon base and add the dots with another neon colour.  The striped nail looks fantastic and really adds a special and unique look. This is based on a white base with two neon colours.  In the photo, you can see that neon pink and green look superb together. Try and mix and match different neon nail polishes so you get to know what suits you.
31. PALE PINK AND SILVER GLITTER NAILS
Are you a silver colored girl?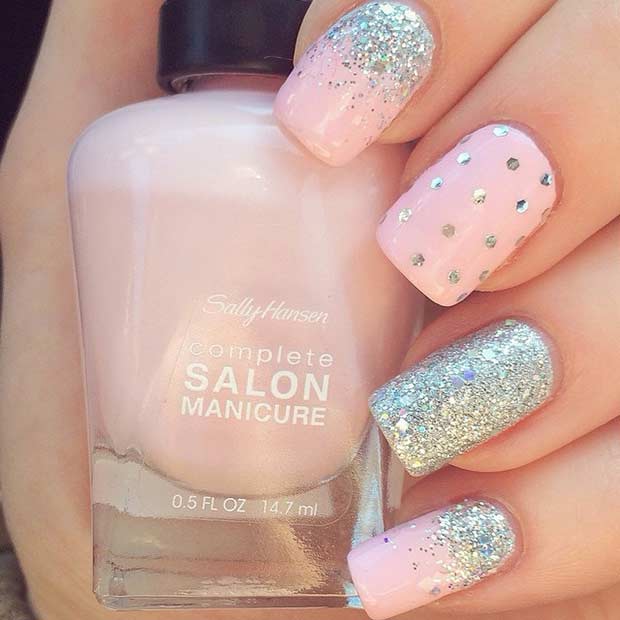 Instagram / my_little_mani
Gold may not work for you but we know that silver and pastel pink, do.  Having a pale pink base and adding silver polka dots or silver sprinkles looks amazing.  You can play around with these colours and anything will go.