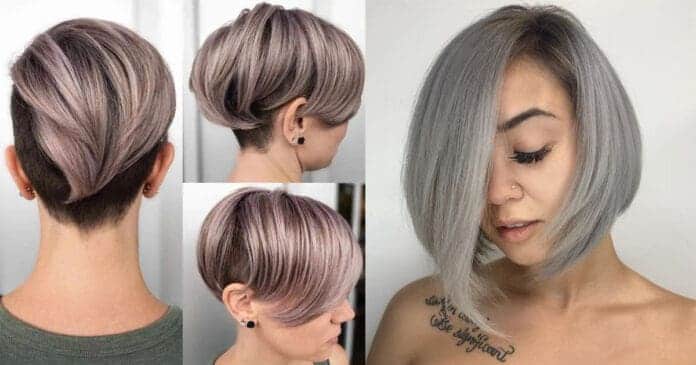 This sexy haircut is perfect for women who want a fresh look but are afraid of a drastic change. There are famous stars who pulled off a short asymmetrical bob haircut and made it into the spotlight including Mandy Moore and Ashley Tisdale. They prove how funky and stunning this haircut could be. Unlike a classic bob, a short asymmetrical bob is cut with an uneven perimeter. One side has longer strands that don't go past the shoulders, but it's not too extreme. When wanting an edgy and glamorous vibe, this one is worth a shot! A hairstylist from Maplewood, MO expresses what she thinks about a short asymmetrical bob hairstyle. Helen Demakis says, "It's a fun way to play it safe if you think you might want your hair to be all-around short someday. You can feel a sense of security with leaving some length while experiencing a shorter cut, too." Before getting such a short bob, Demakis reminds ladies not to forget to think about what the back looks like. "Do you want it also to be asymmetrical, or would you rather it be more connected?" Demakis suggests asking your stylist these questions: What does this grow out look like? How should I style this? She also shares her best product recommendation for an asymmetrical cut. "Use wax or texturizing spray when styling. This cut is meant to be fun and piece-y, not laying flat," she advises. Before your next hair appointment, check out these images of short asymmetrical bob haircuts and hairstyles for your inspiration!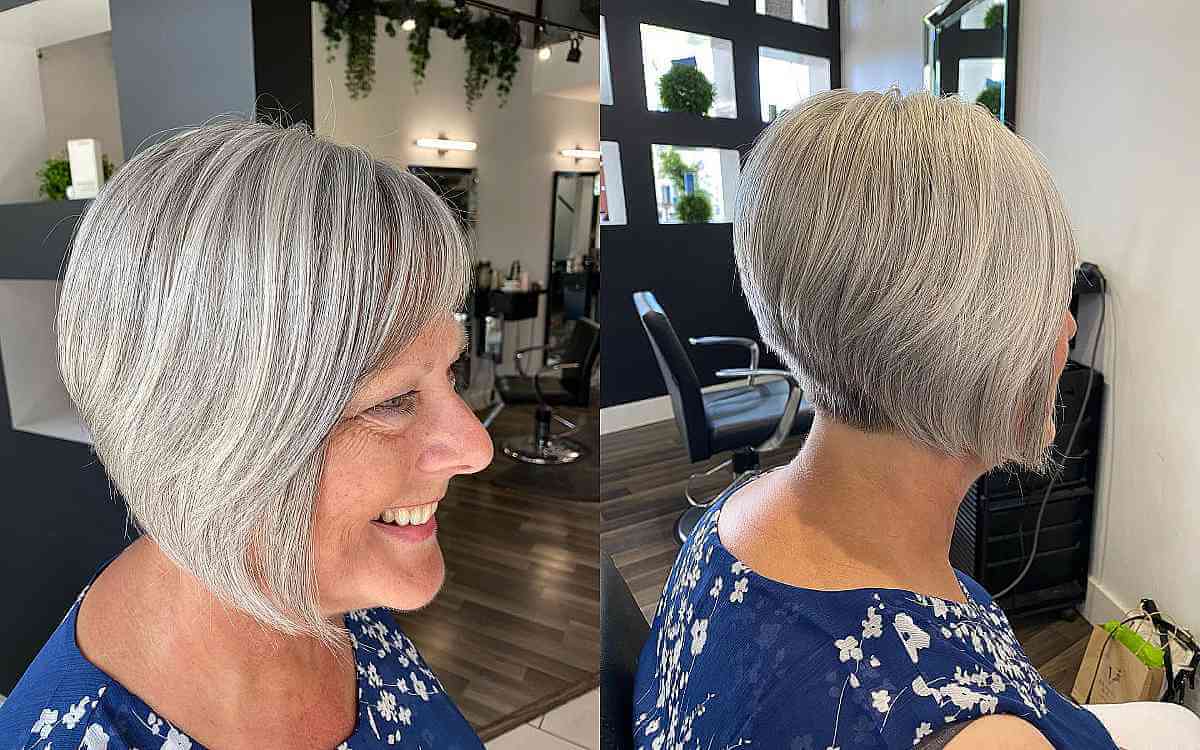 #1: Salt-and-Pepper Asymmetric Bob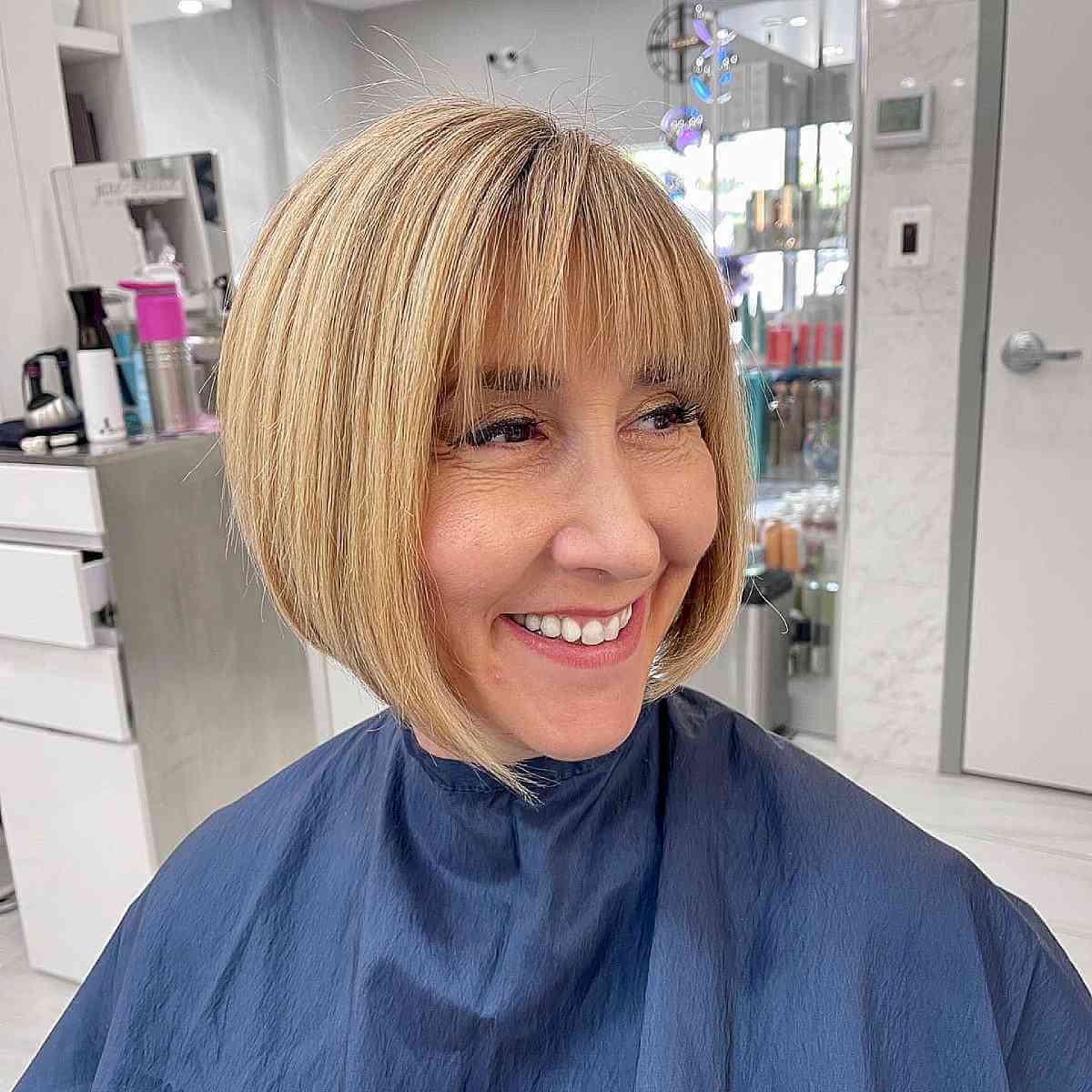 #2: Blonde Asymmetric Bob with Wispy Bangs
A blonde asymmetrical bob paired with wispy bangs is one of the best styles for a fun, sassy look. If you are a woman with medium to thick hair, a bob can be customized to a shape that best suits you.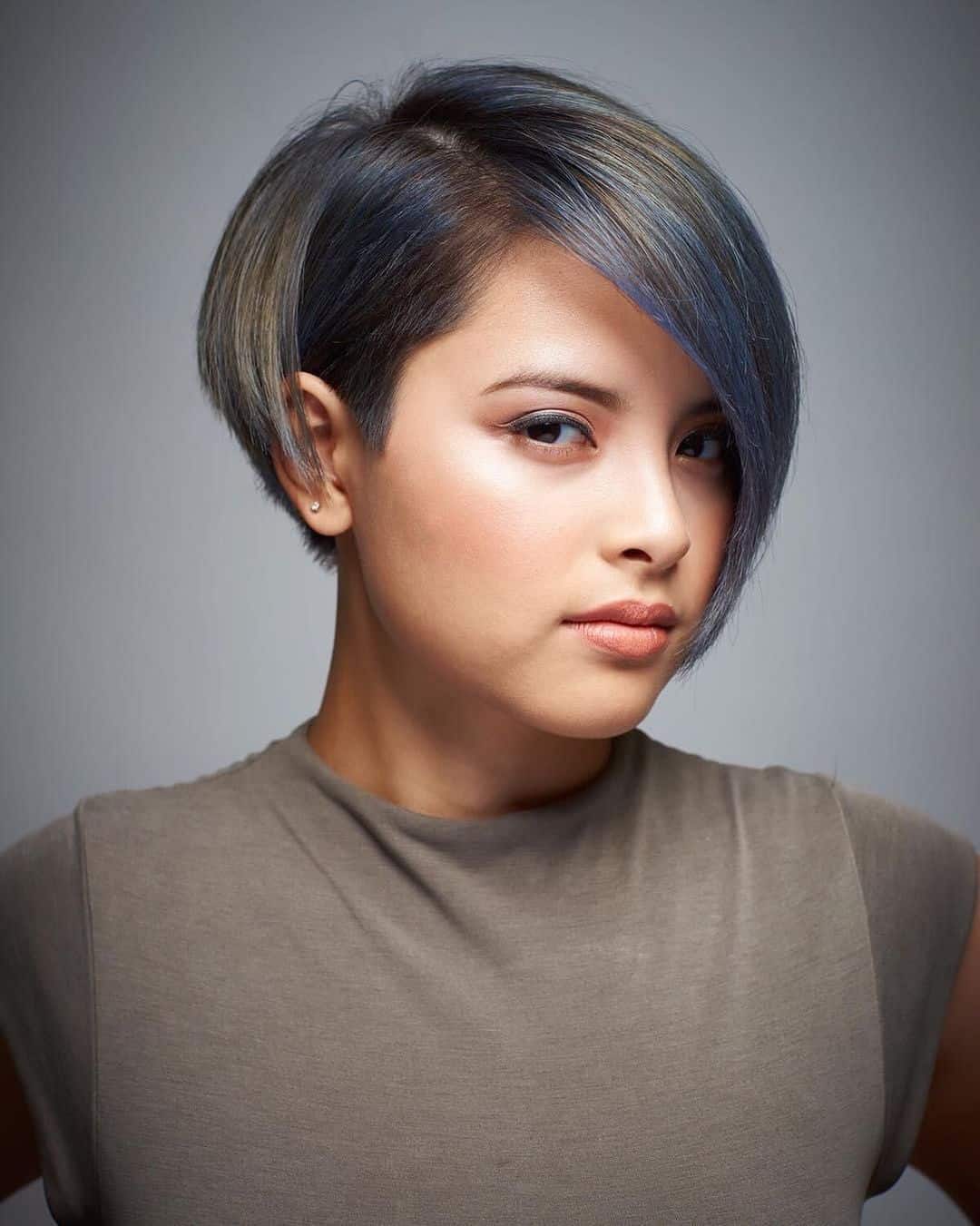 #3: Super Short Asymmetrical Bob
A super short asymmetrical bob makes thin, fine hair appear fuller. The asymmetric chop results in a stunning rounded shape that balances out a square face. Aside from its alluring cut, the hints of blue are remarkable. The added color highlights the cut even better.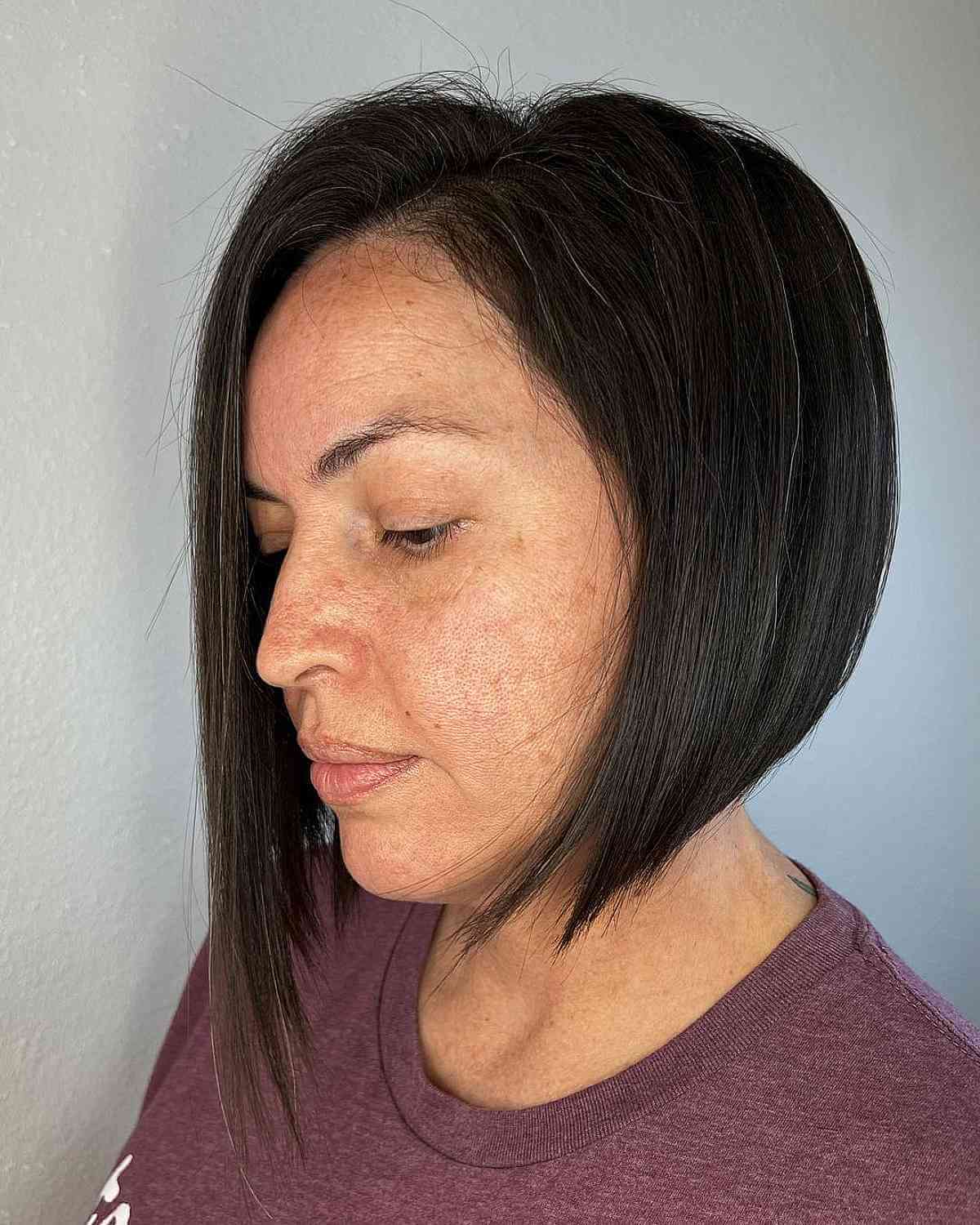 #4: Dark Brown Asymmetric Short Bob
An asymmetric short bob is an edgy take on a classic cut. Bobs also have a slimming effect on the face, with the long hair in front pushing forward. A bob cut is great for square and round face shapes as it balances out features.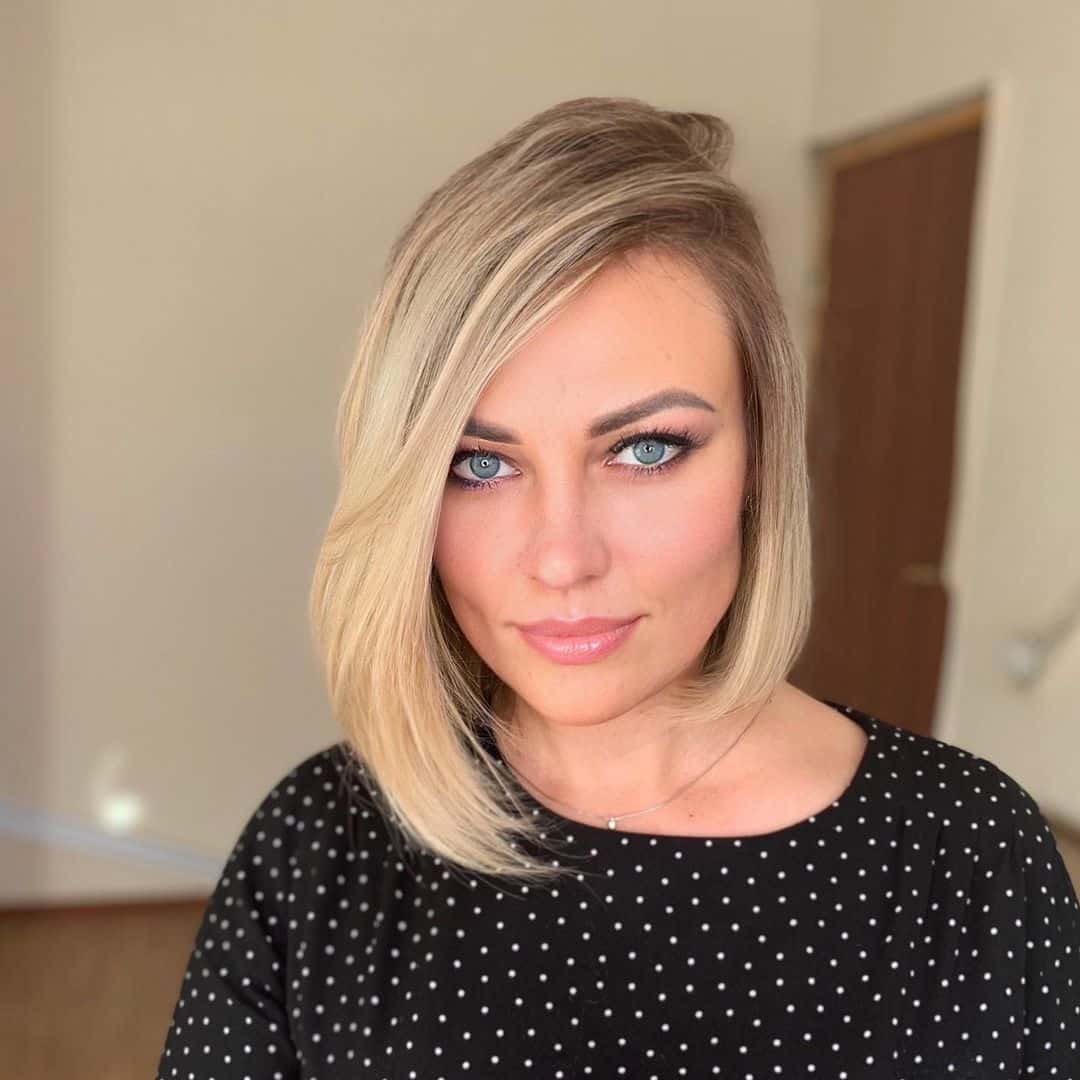 #5: Short Blonde Asymmetrical Bob Haircut
What's best about a short blonde asymmetrical bob haircut is that it appears edgy and stylish. The uneven cut of the perimeter makes it suitable for women with thin hair. This haircut, plus the blonde shade, is ideal for giving tresses volume and a fuller finish.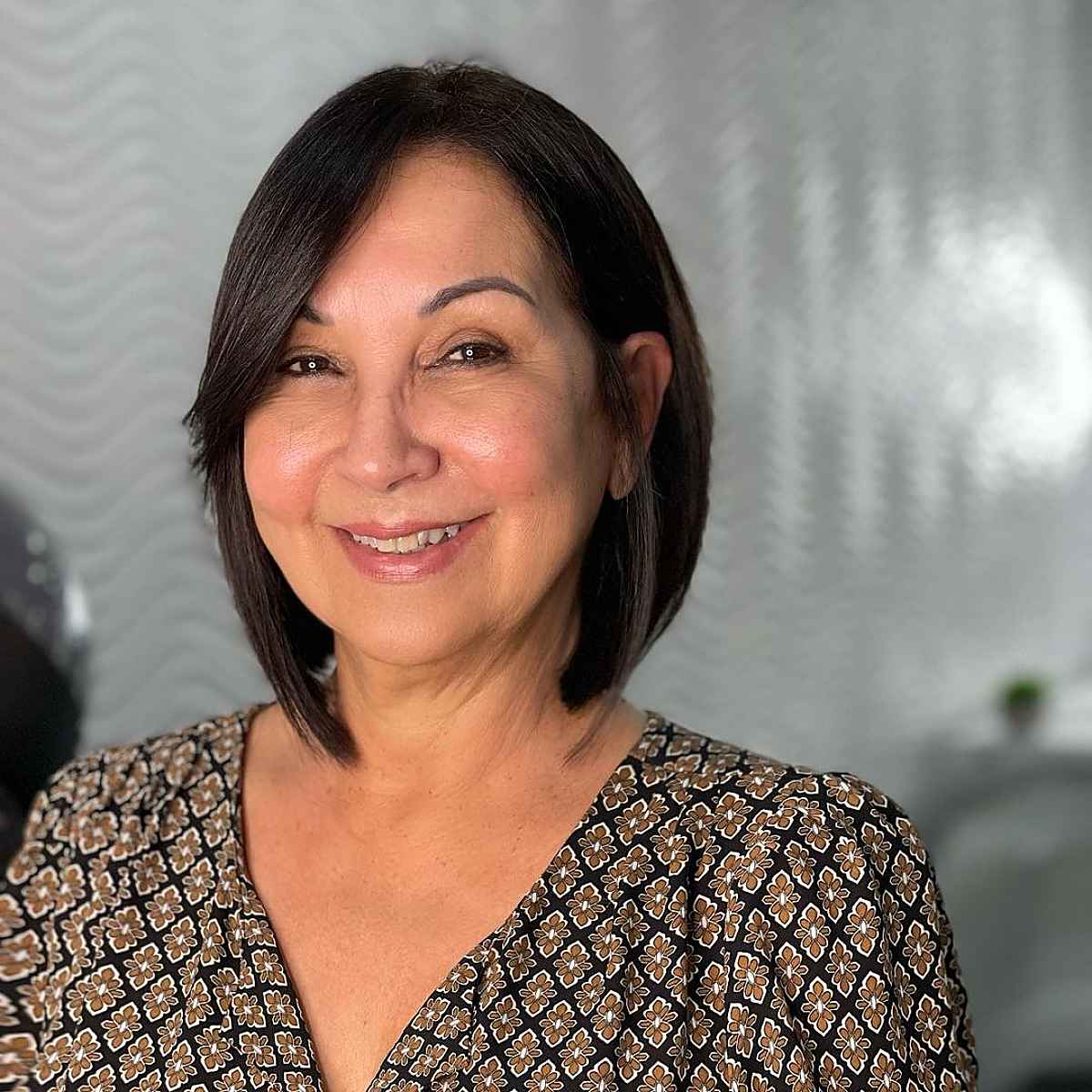 #6: Short Asymmetrical Graduated Bob
A short asymmetrical graduated bob makes for a cute and flattering hair upgrade. It results in a fresher look for most women. Easy to manipulate and maintain—anyone can wear this haircut any day.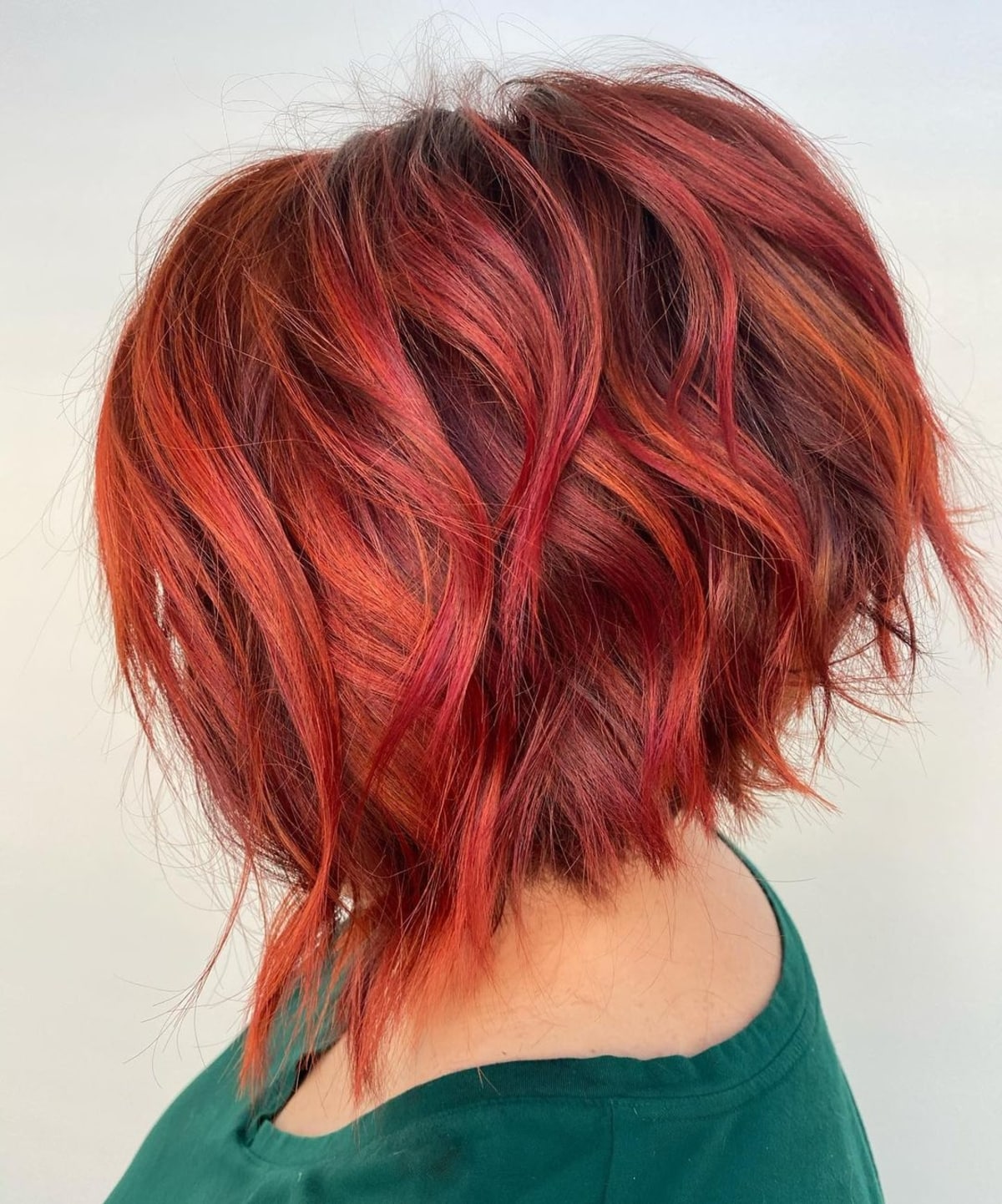 #7: Red Angled Bob
An edgy and fiery red angled bob will suit any woman. This asymmetric cut has a lived-in feel and at the same time is very bright and fashionable. Ask your stylist for subtle layers. Add soft waves to show off dimension in the color. Finish with Davines OI Oil for shine.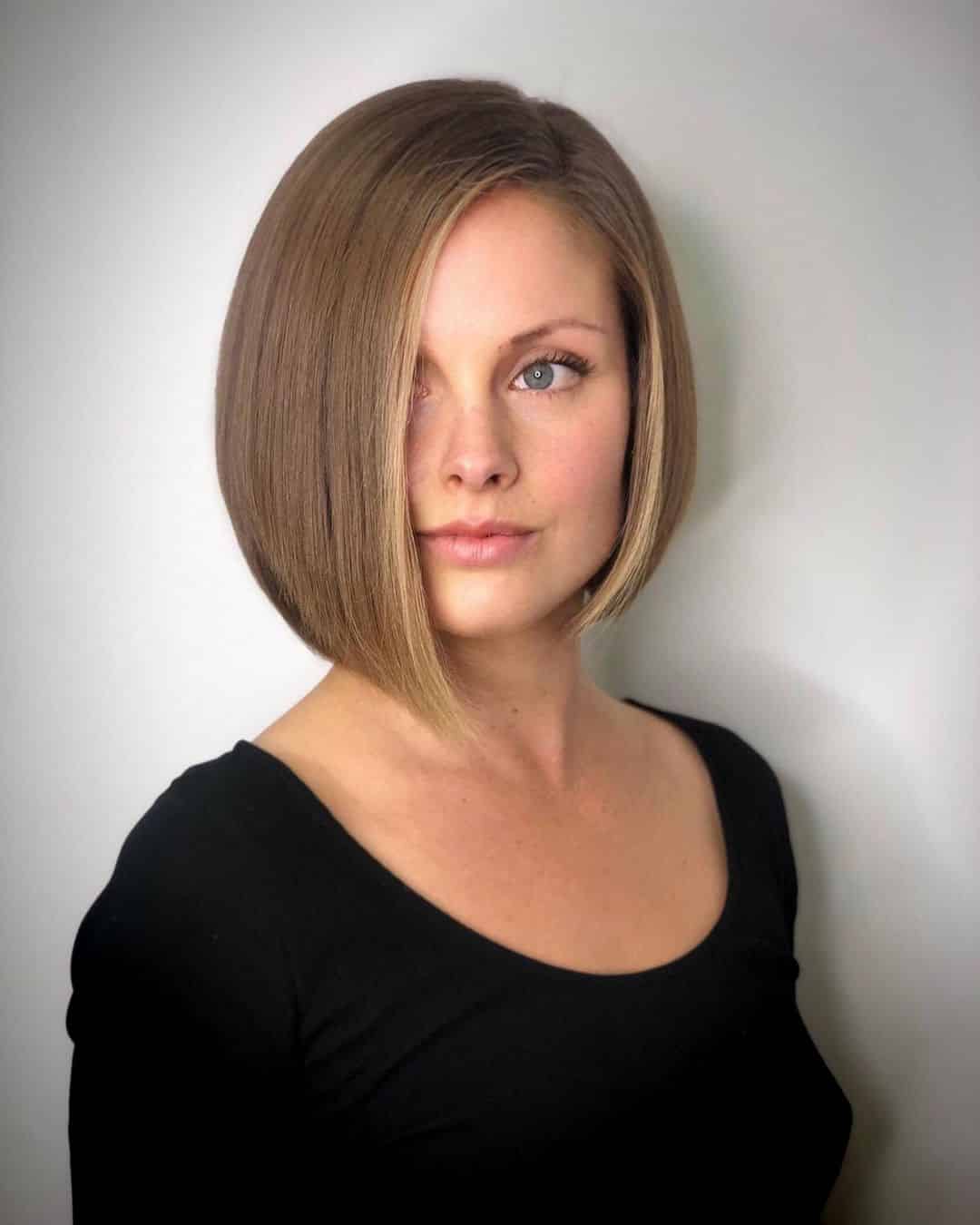 #8: Short Asymmetric Bob Haircut
Choose a short asymmetric bob if you want hair that's easy to style. The sleek style is achievable if the hair is straight with a fine density.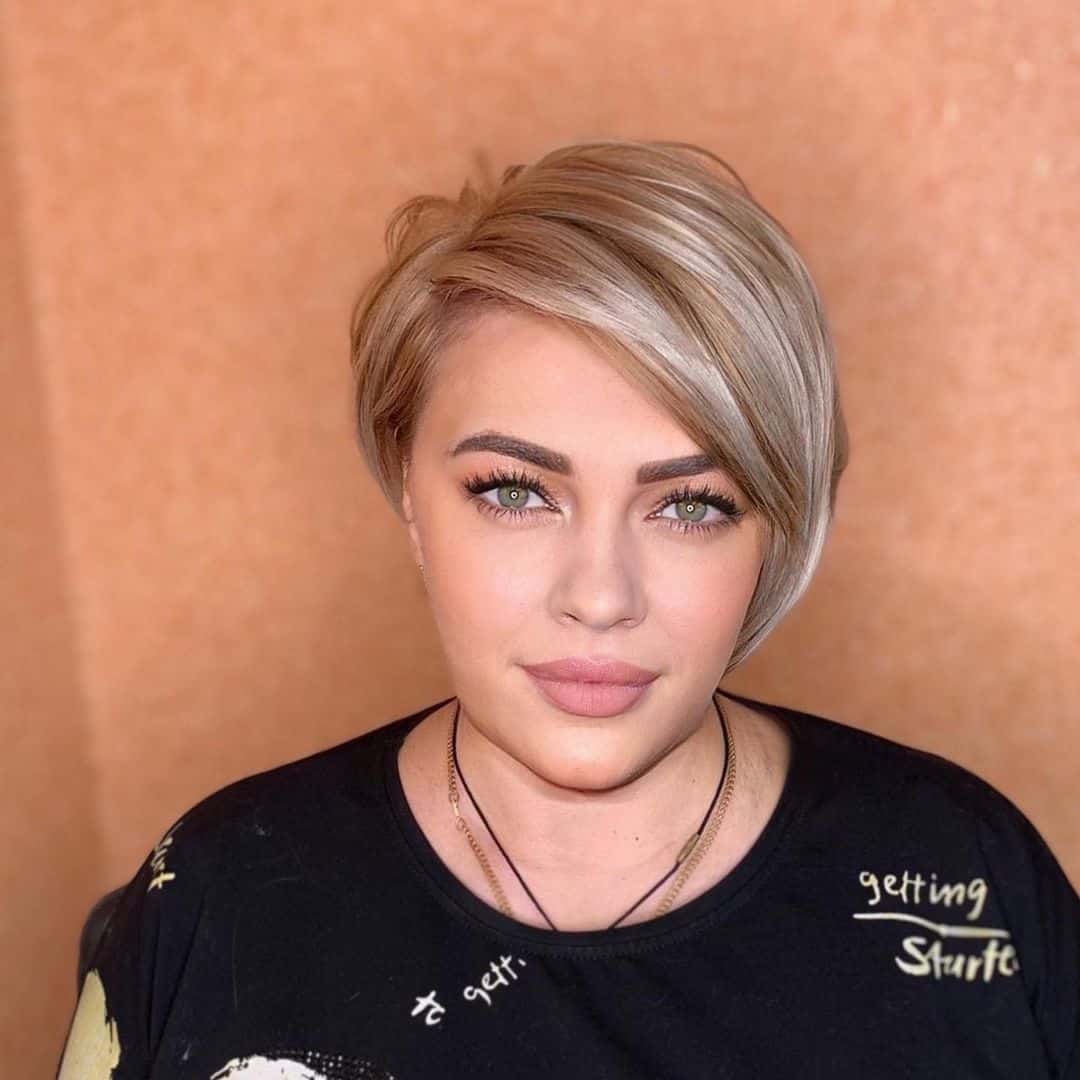 #9: Short Asymmetrical Pixie Bob Cut
This short asymmetrical pixie bob is such a chic hair idea! It's sure to display any lady's confident and bolder side. This haircut pairs well with side-swept bangs, too, which creates a much girlish look.
#10: Short Asymmetrical Curly Bob
This is a short asymmetrical curly bob, and it's an even better version of the normal bob! Most of the curly hair is swept to one side, creating an unconventional flair. It features a beige blonde tone with a natural black hue underneath.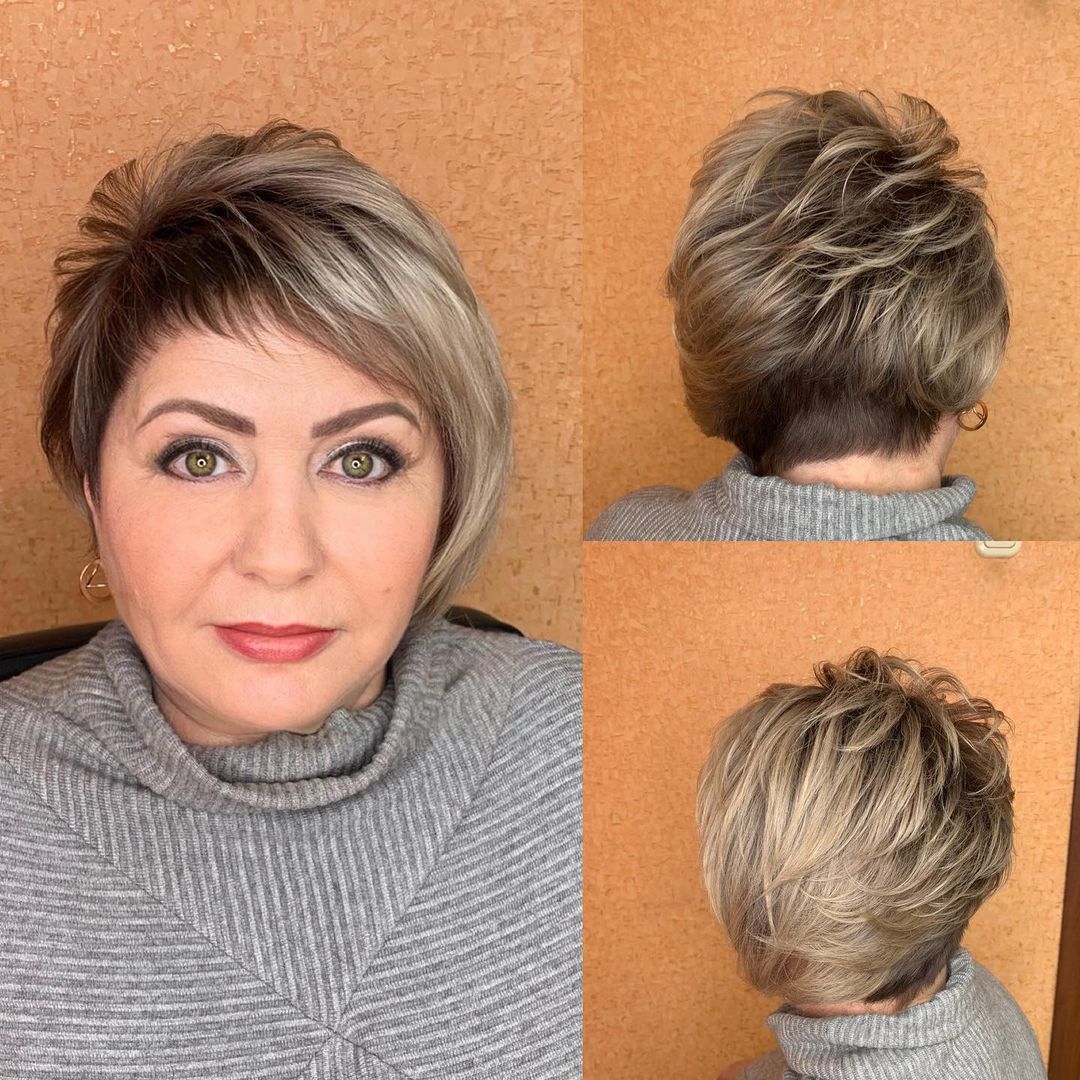 #11: Asymmetric Layered Bob for Older Women
Rock an asymmetric layered bob for older women to get an abundance of volume and texture. The flow of the layers from the shorter side lift and blend into the longer length. It instantly gives fullness to your bob and adds a lot of youthfulness to your style.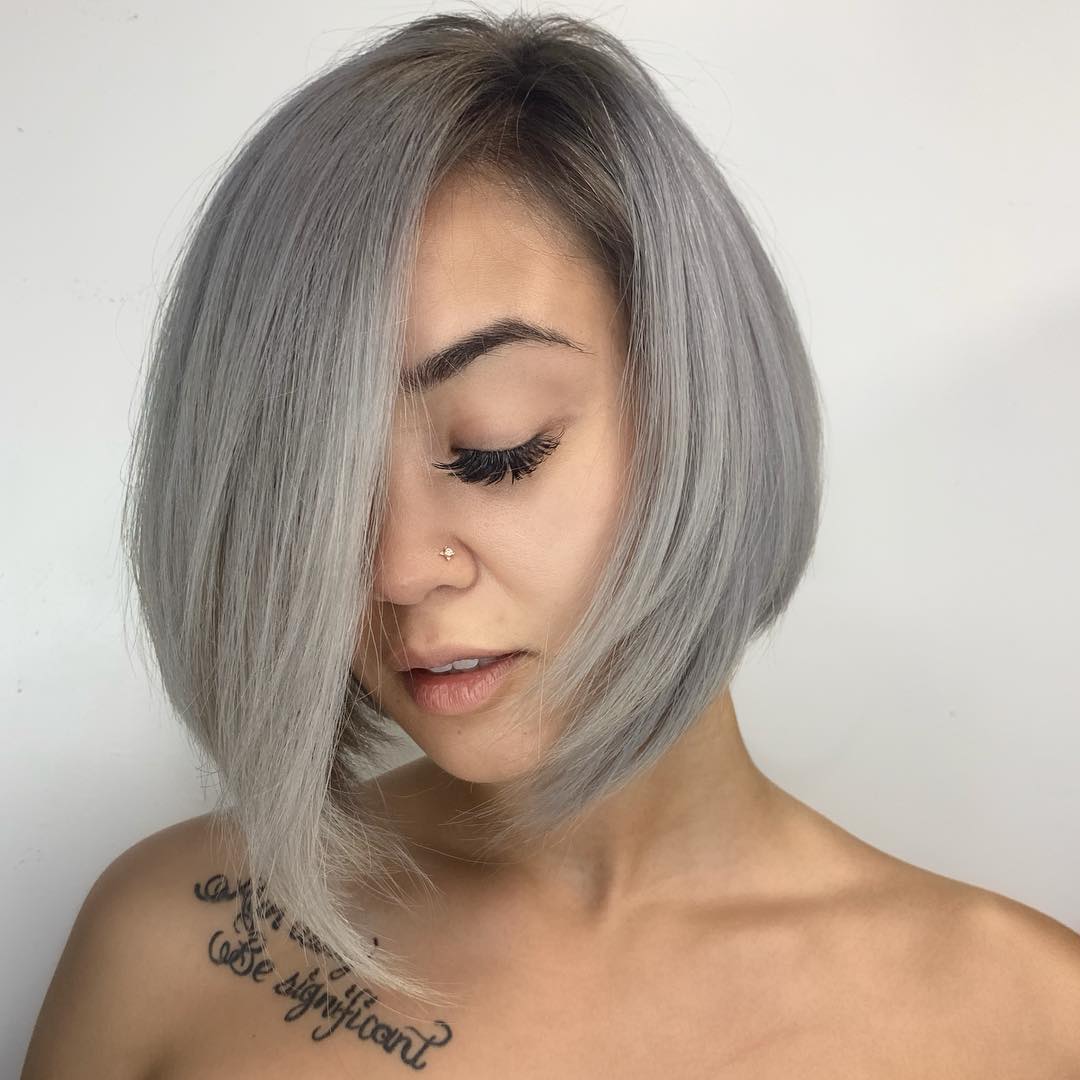 #12: Silver Asymmetrical Short Bob With Layers
When an asymmetrical short bob with layers is paired with a silver color, the result is stunning! Notice how this hair idea looks so glamorous. The shade of gray appears more solid with a short chop like this on a thick hair density. This bob is a great option for ladies with a round face shape.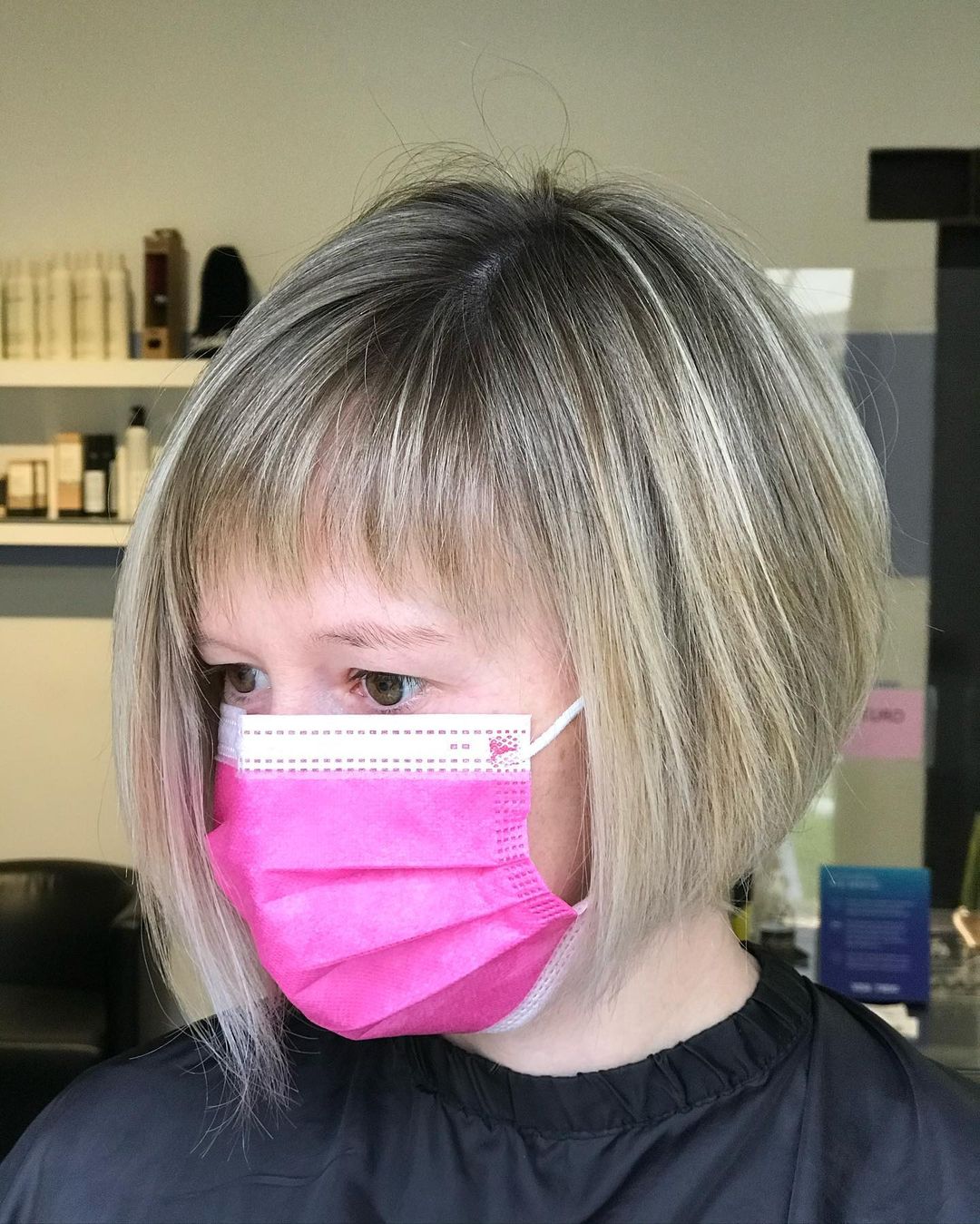 #13: Asymmetrical Short Bob with Fringe
This asymmetrical short bob with fringe proves that an edgy haircut is not only for thin tresses. Sure, this one works great on medium to thick density, but it also offers a shape to boost the hair's volume. This asymmetrical chop also has a short, wispy fringe for a touch of a youthful vibe.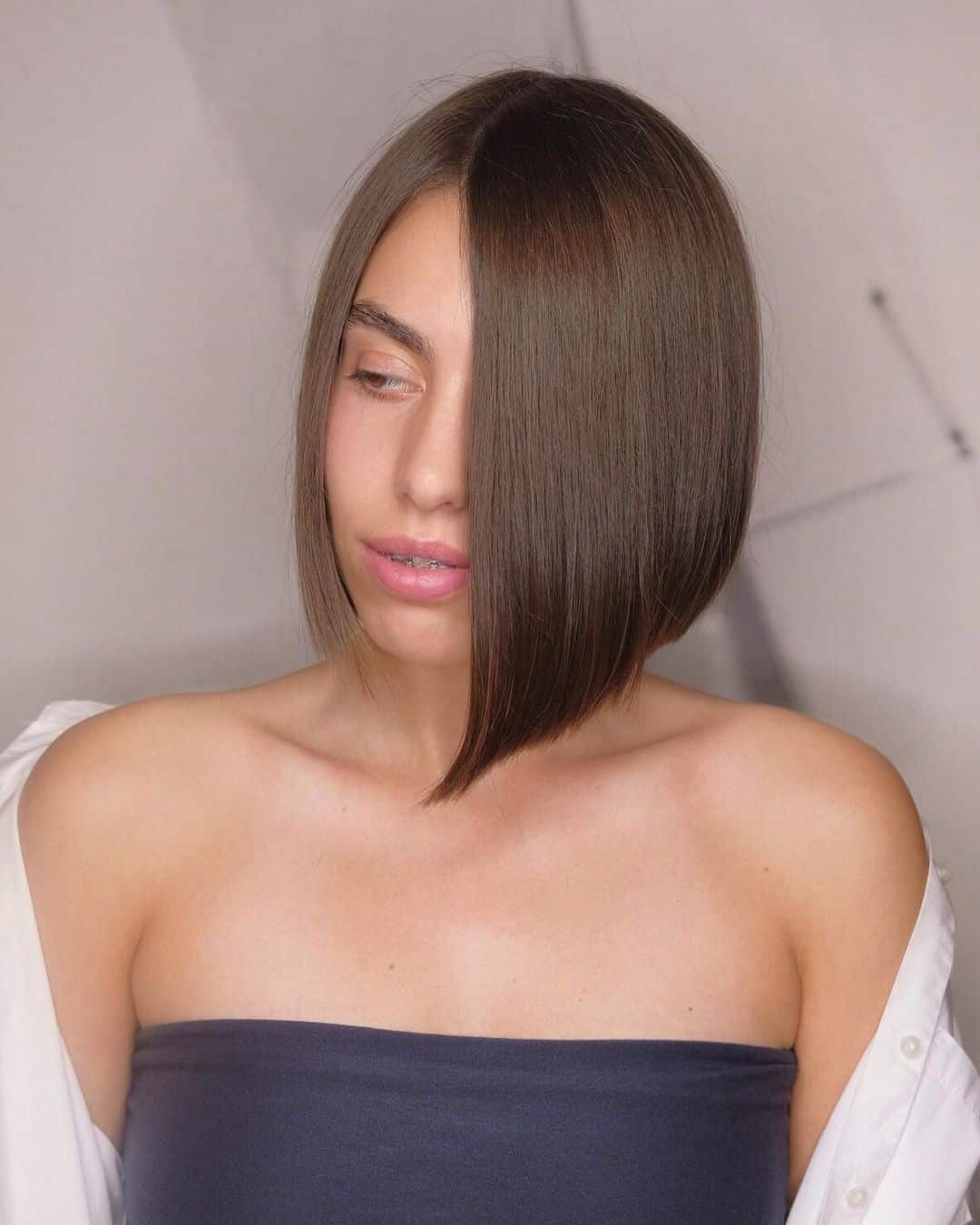 #14: Short Asymmetrical Inverted Bob
The key to a polished short asymmetrical inverted bob lies in the hair's texture and density. This haircut does a great job on straight, thin tresses. It allows the mane to appear edgier and fuller.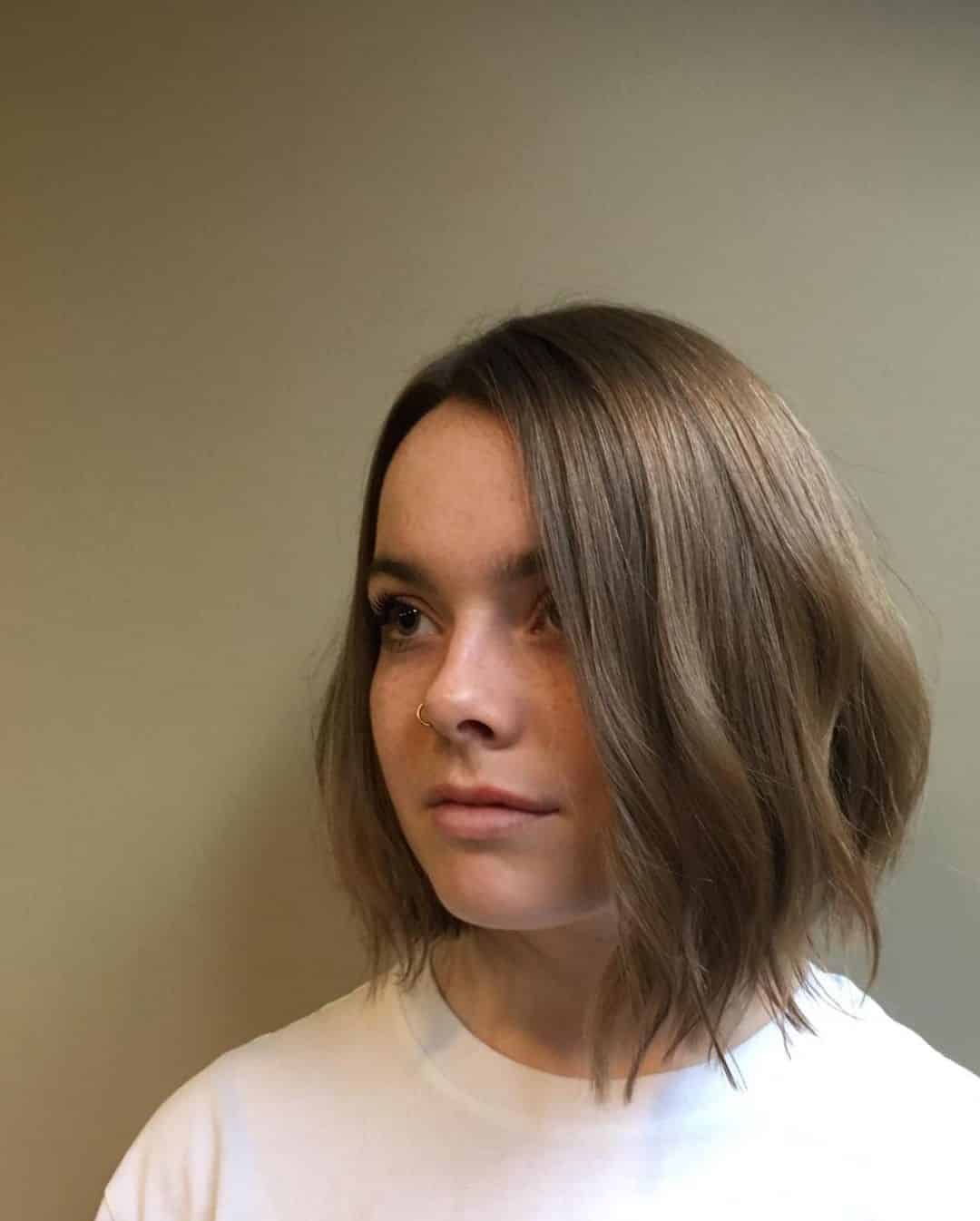 #15: Short Asymmetrical Stacked Bob
This short asymmetrical stacked bob displays a subtle edginess. It's a haircut that a bold, younger girl will love. For those who have a fine density, it looks better with soft waves.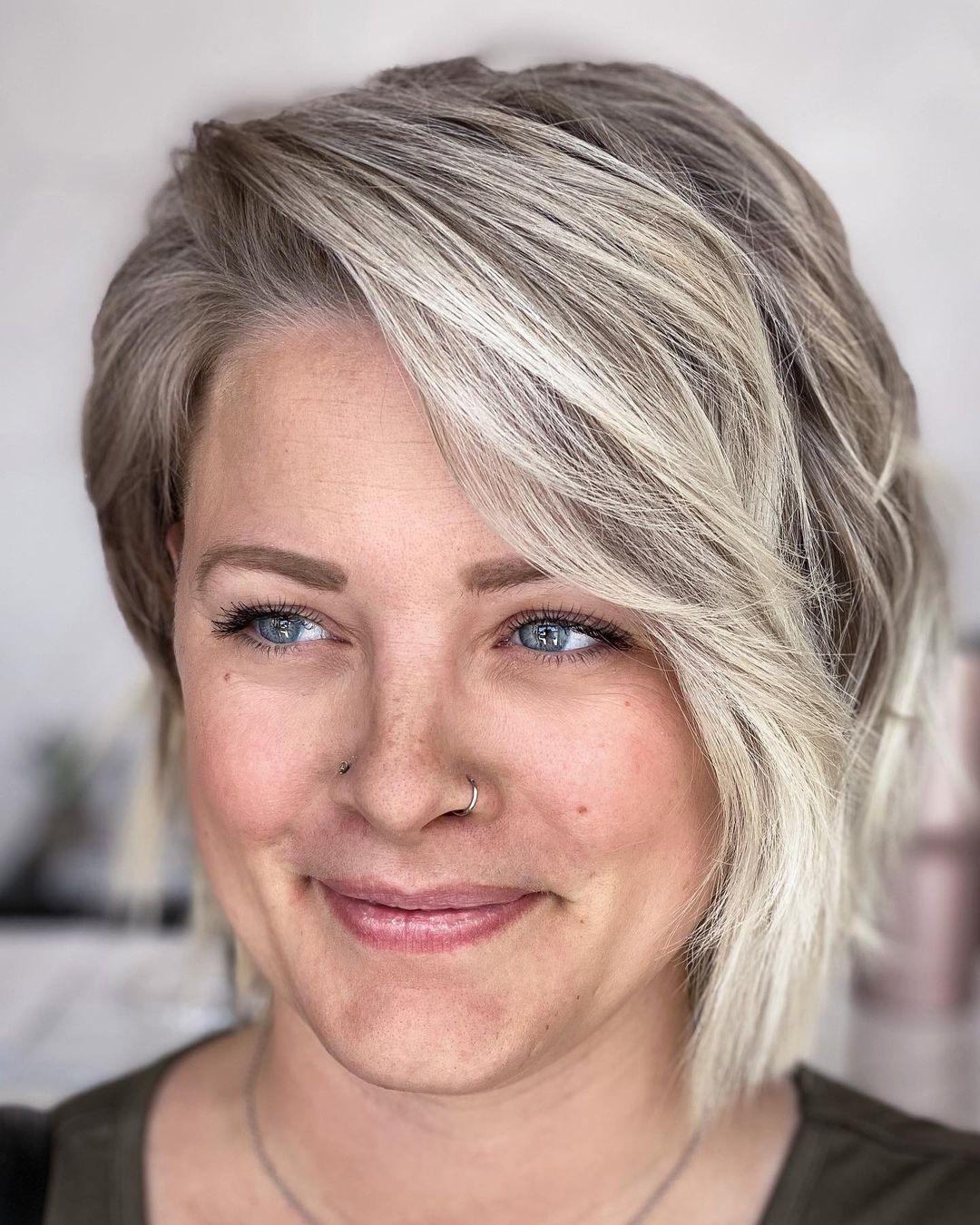 #16: Asymmetrical Short Bob with Layers
An asymmetrical short bob with layers is best with beach waves. This kind of texture allows the choppy layers to have more emphasis. The trendy style is guaranteed to add more movement to the tresses. The short style goes very well with a balayage, too!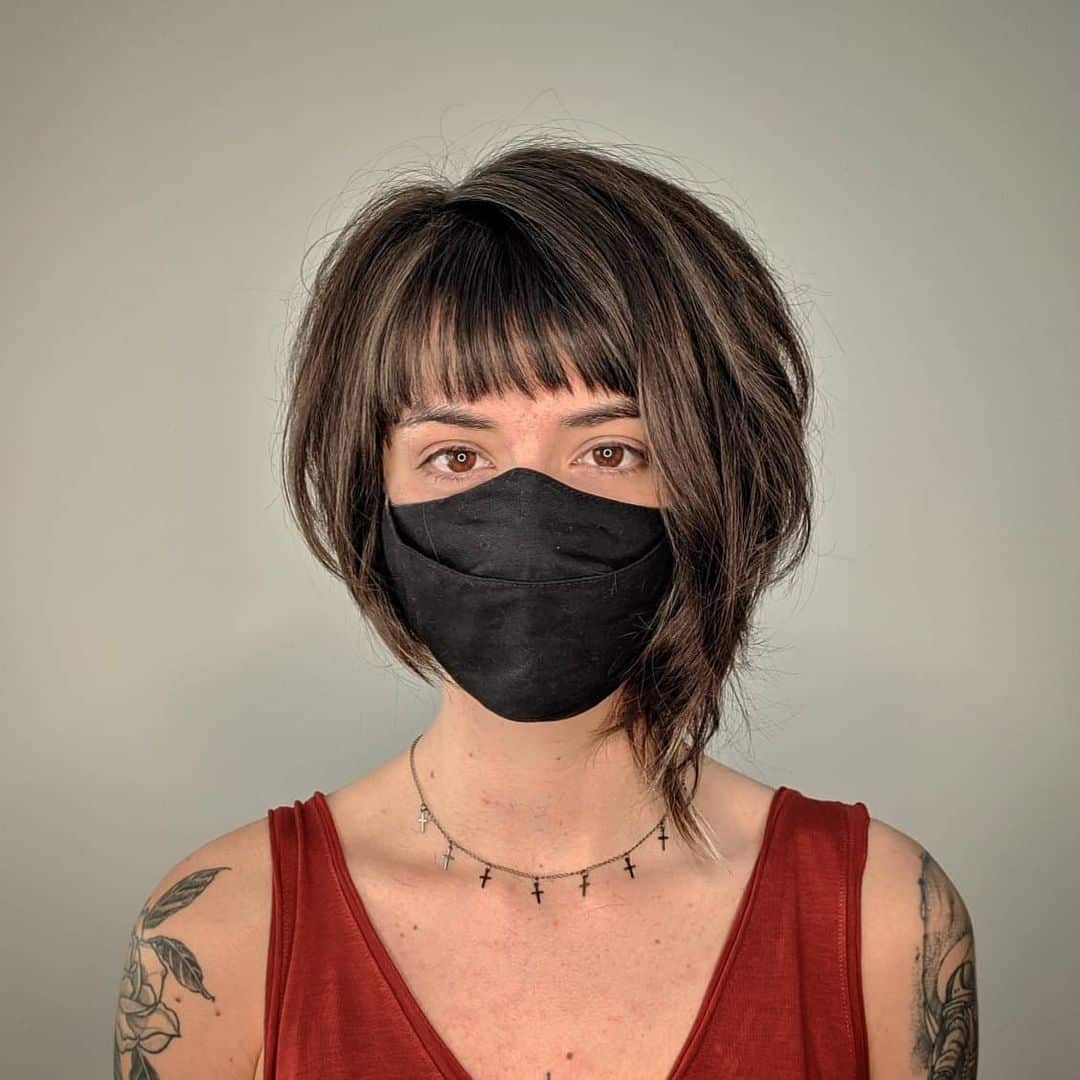 #17: Messy Short Asymmetrical Bob With Bangs
Look dope with this short asymmetrical bob with bangs! Amped up with a lot of texture and subtle waves, this haircut makes an effortless messy style. It allows the hair to appear weightless. This is fun to wear, especially when combining dark brown hair with blonde babylights.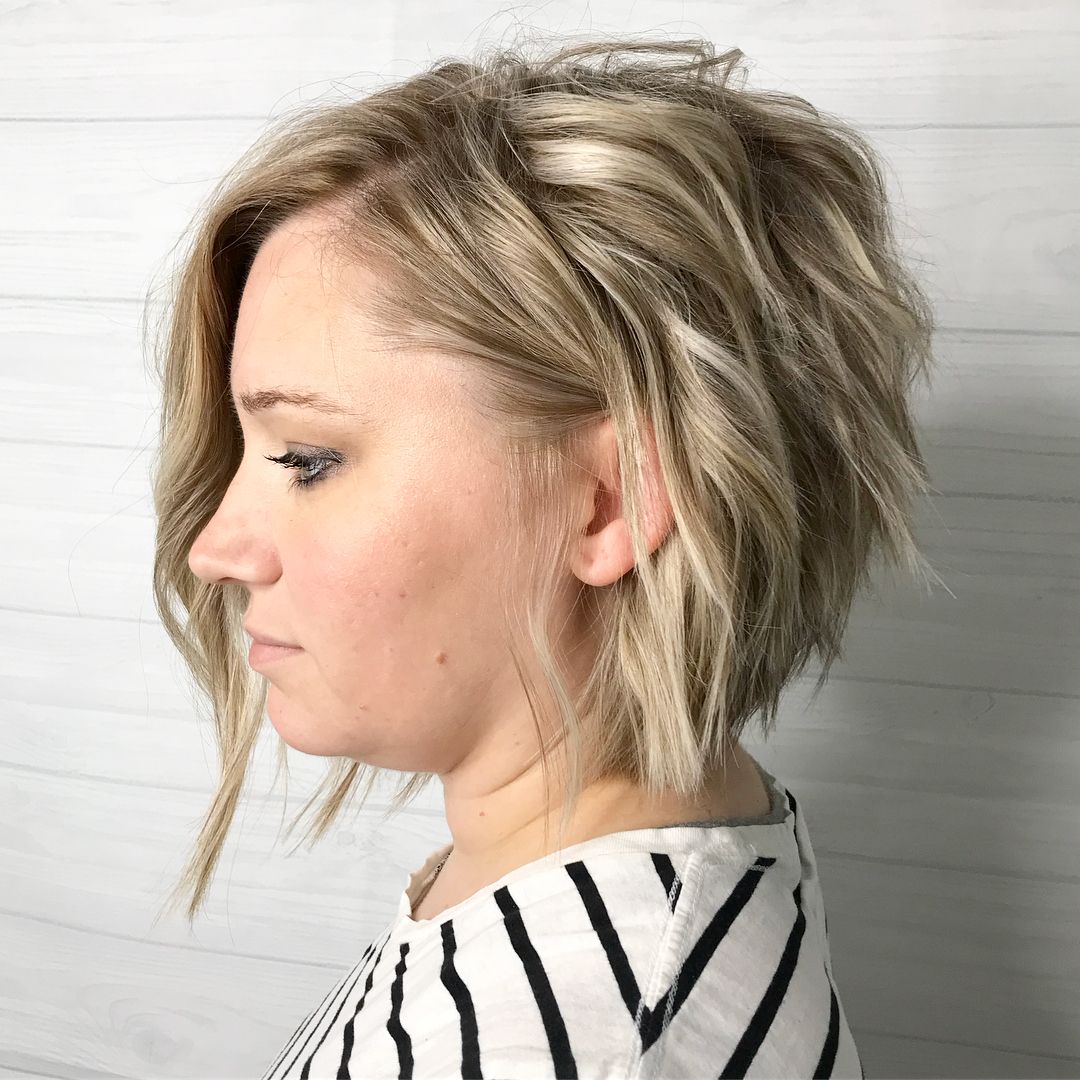 #18: Short Choppy Asymmetrical Bob
A choppy asymmetrical bob on short hair is way better with a lot of texture and waves. The payoff creates a tousled style, giving the illusion of more volume and density. When finishing the style off, use a sea salt spray to boost the texture.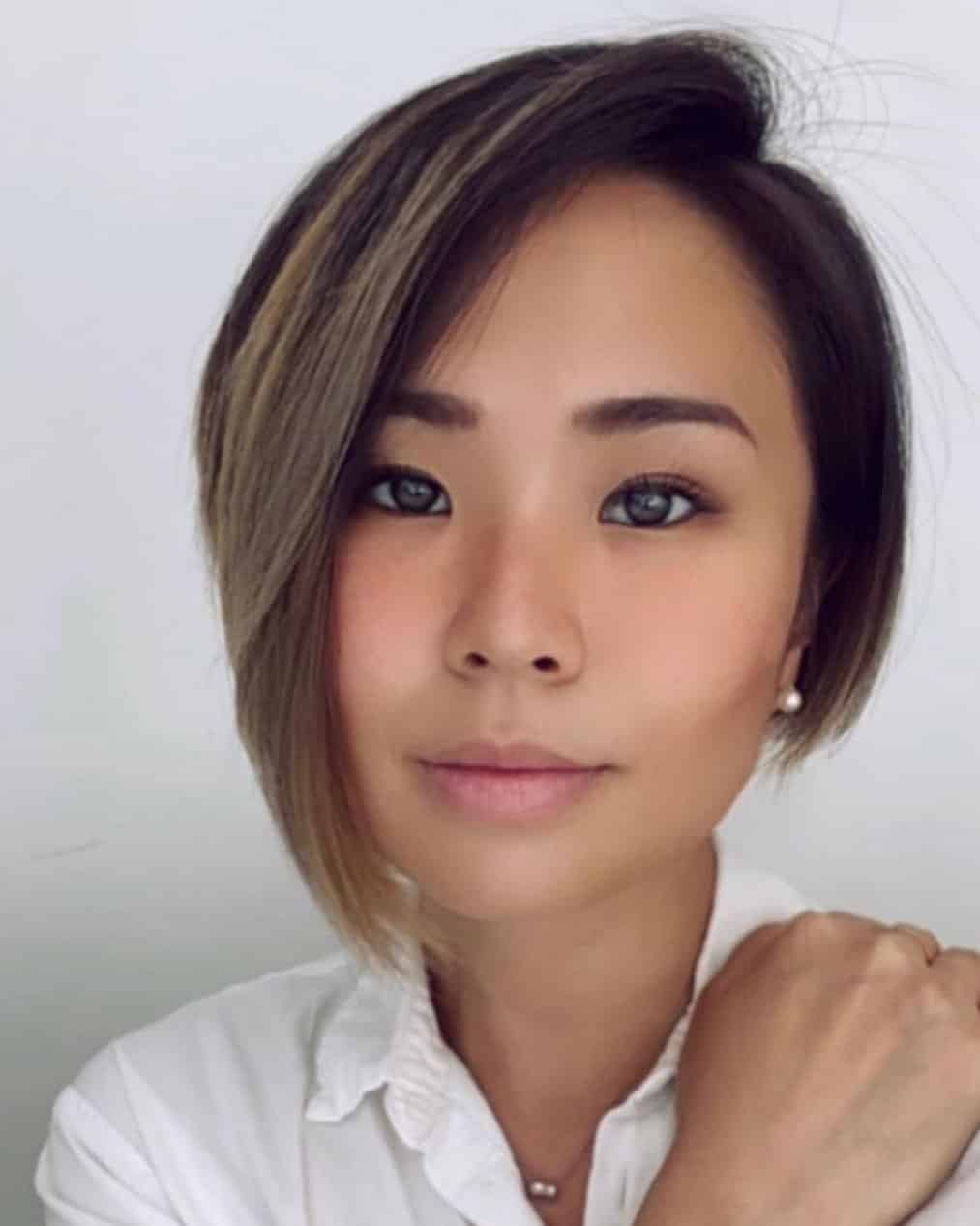 #19: Layered Asymmetrical Bob for Short Hair
Featuring a layered asymmetrical bob for short hair! This is great for ladies who want such a sweet, stunning hair transformation. This haircut can give a round face shape a subtle angle. It somehow breaks up the roundness of the face shape.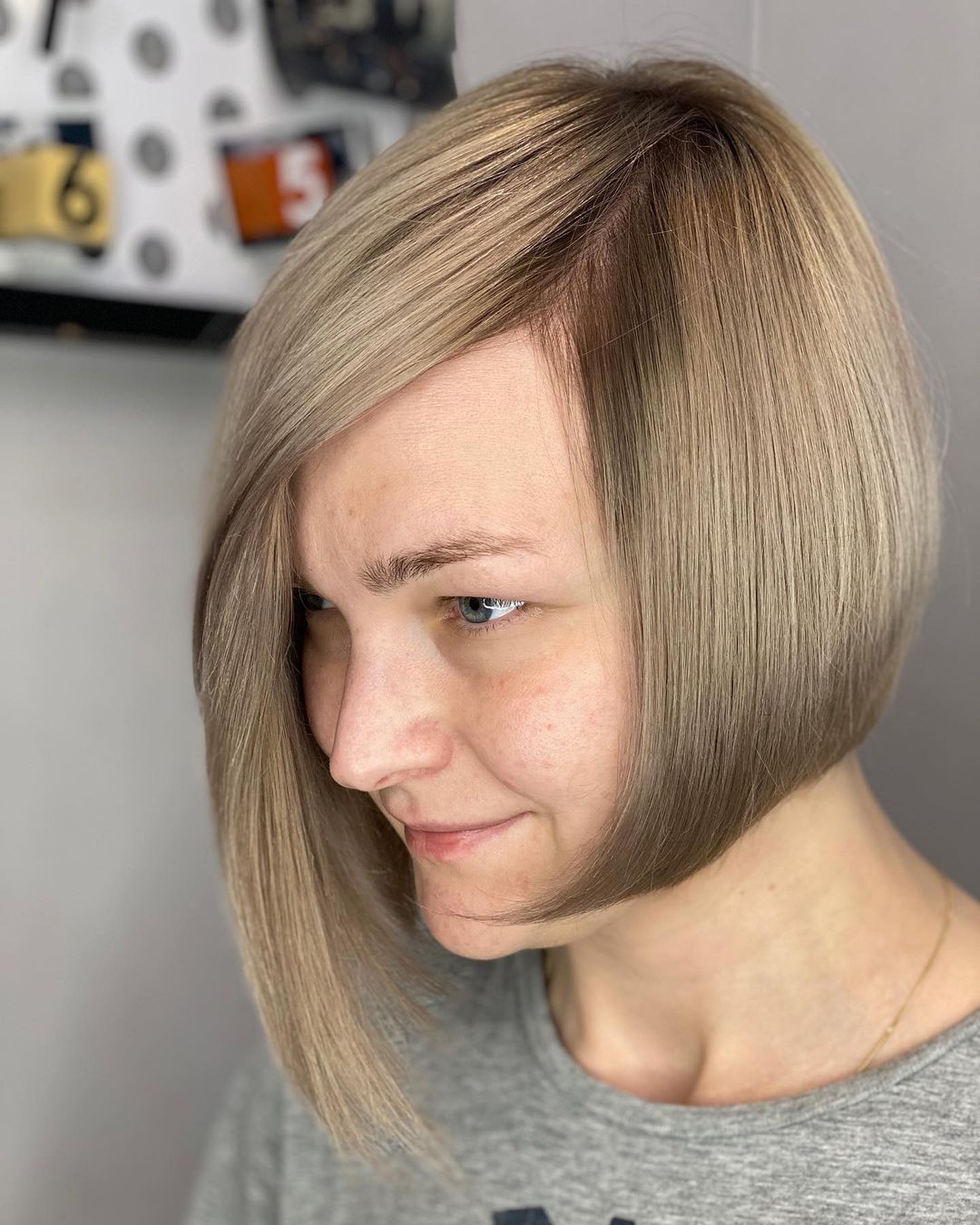 #20: Chin Length Asymmetrical Bob
This chin-length asymmetrical bob creates a very polished hairstyle if the tresses have a fine density and straight texture. This bob haircut has a deep side part for instant volume. Women with thin, fine hair should give this bob a try.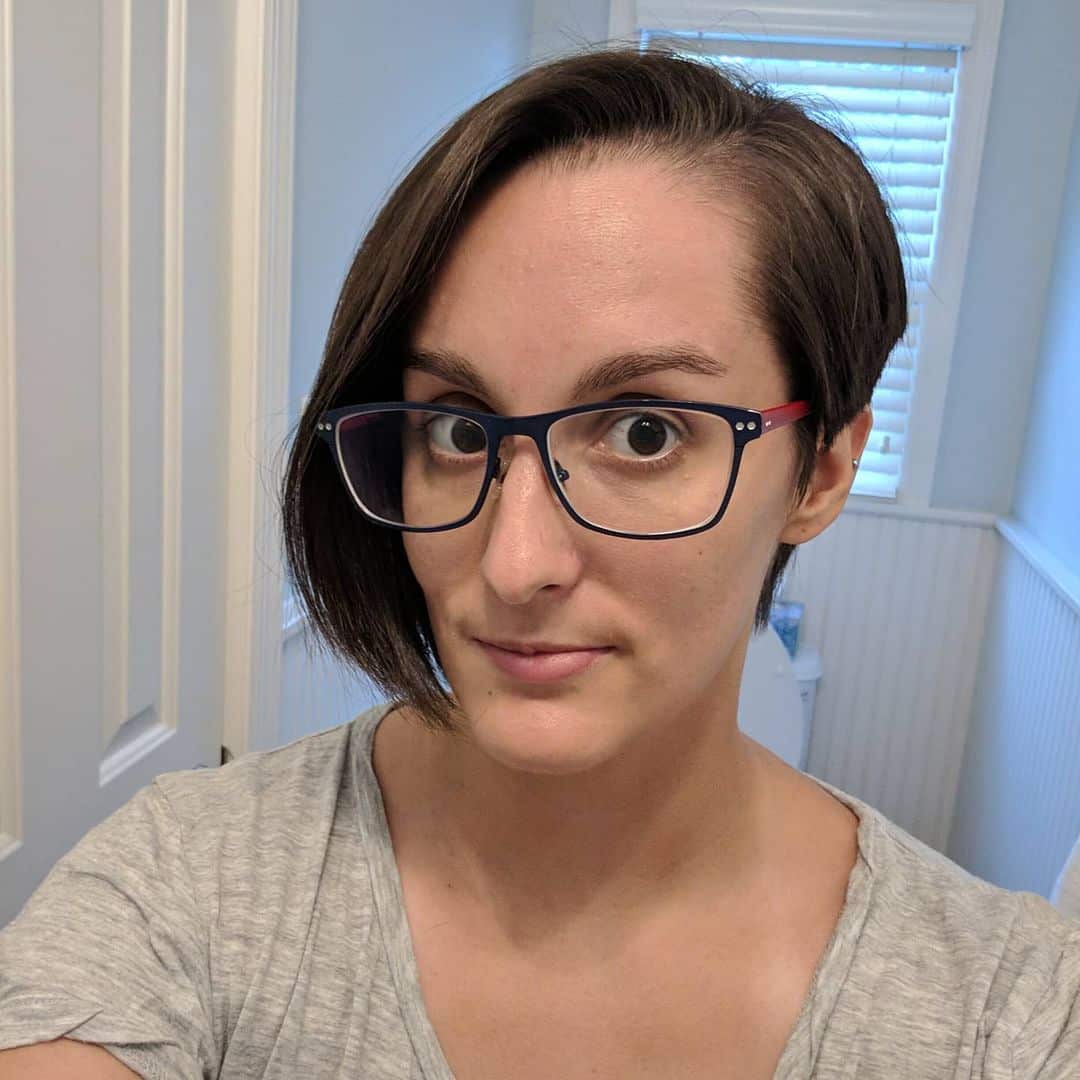 #21: Ear-Length Asymmetrical Bob
An ear-length asymmetrical bob always appears awesome and edgy. The finish gives women confidence and boldness. Lovely and easy to manipulate—this haircut is ideal for oval faces.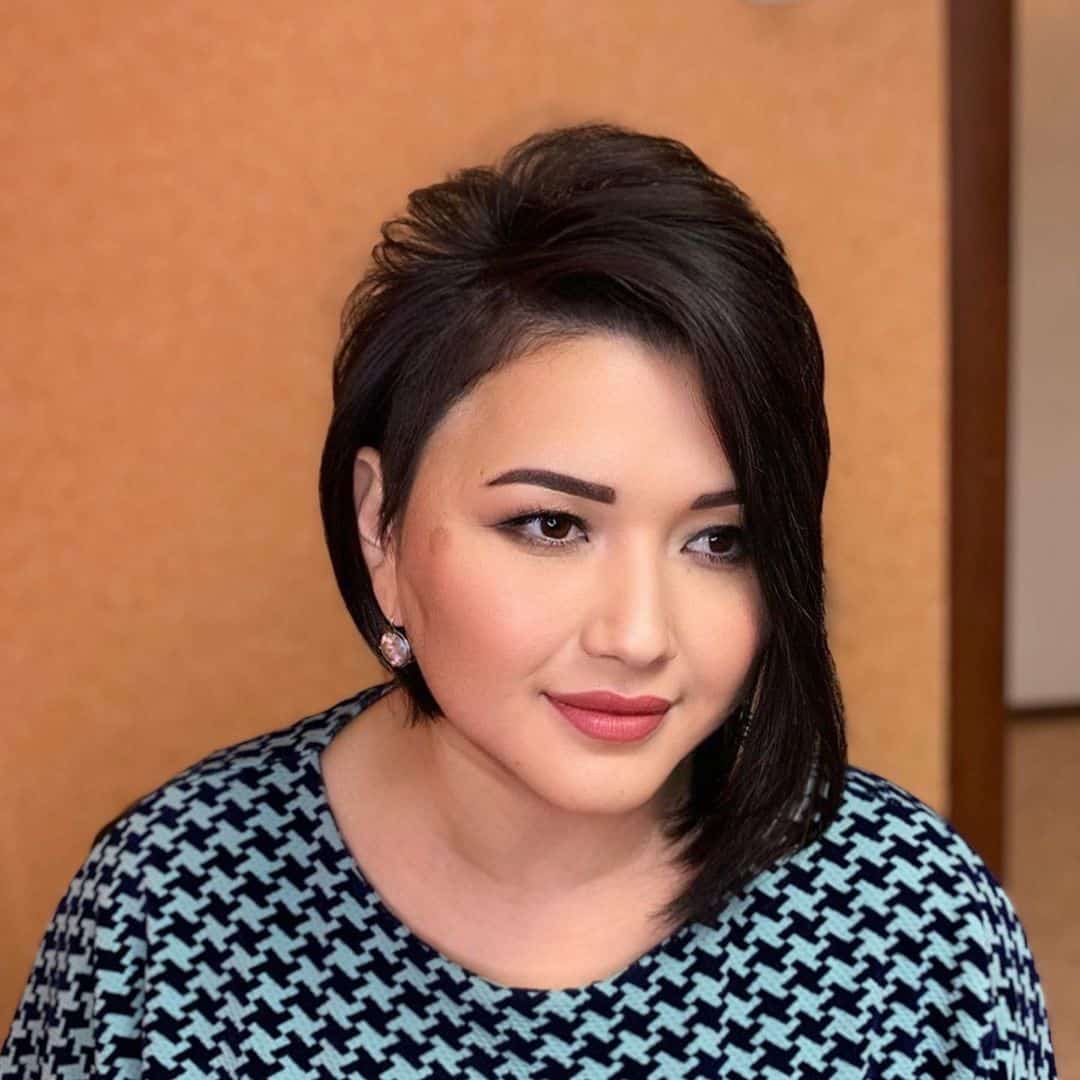 #22: Edgy Asymmetrical Bob With Shaved Sides for Thick Hair
Go for an asymmetrical bob with shaved sides when you have a round face shape. It has a side-parted style that gives a flattering angle to the face. This also makes a great option if you have a thick mane and you're wanting to try a short haircut.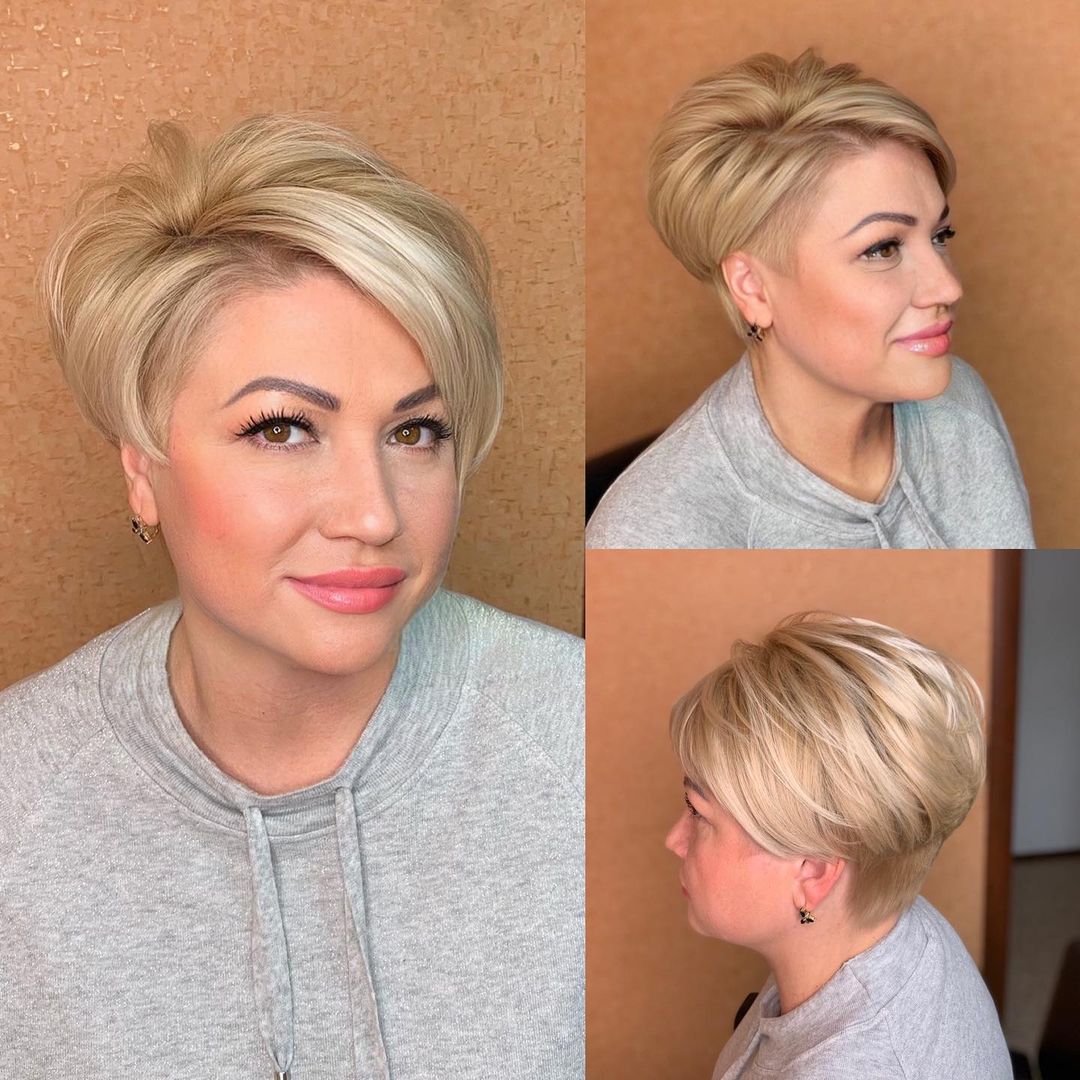 #23: Cropped Asymmetrical Bob with a Slight Undercut
A cropped asymmetrical bob is perfect when trying to achieve a bolder hairstyle. Such a chop packs hair with volume, which benefits women with thin tresses. It also features a subtle undercut, so any female with thick hair can wear it.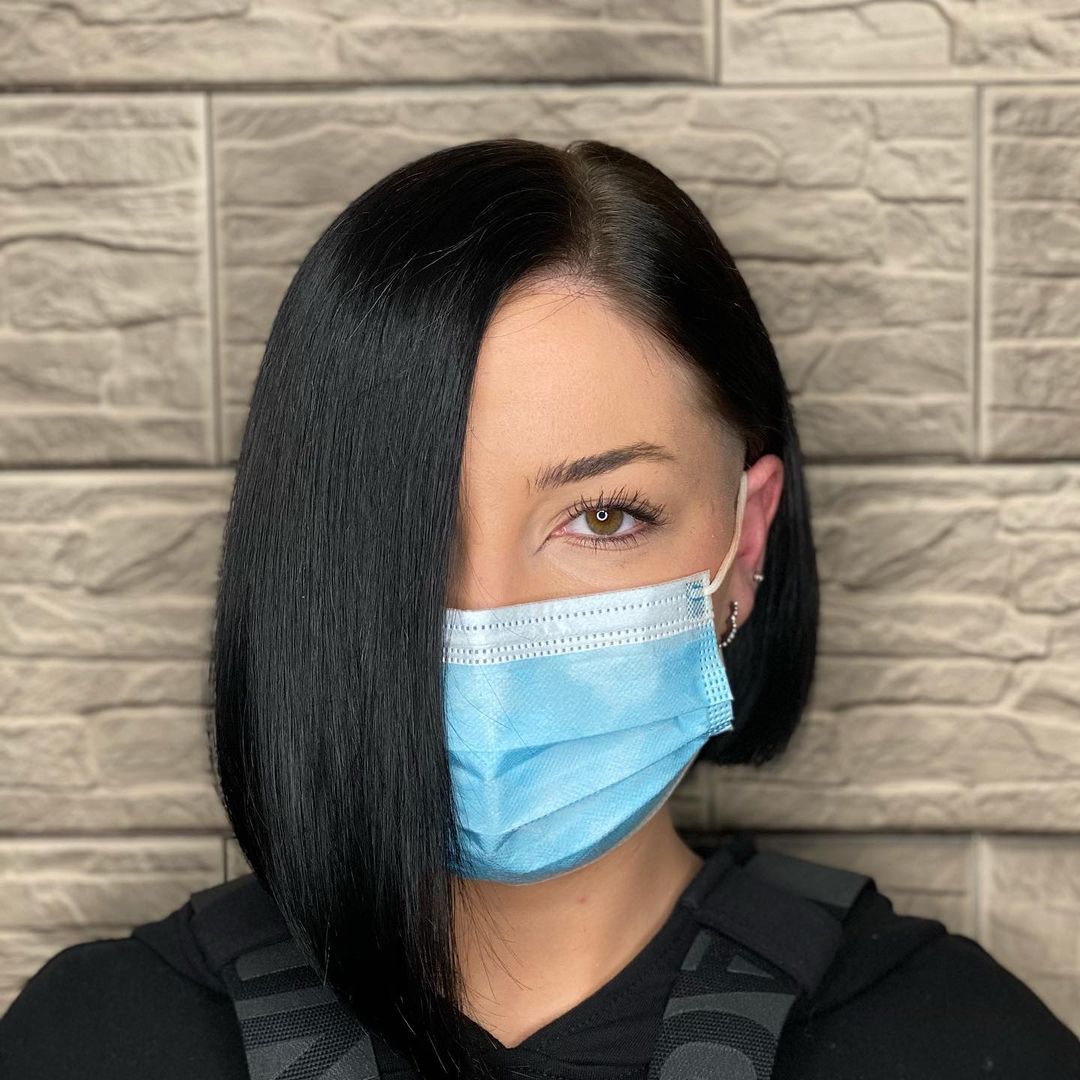 #24: Black Short Asymmetrical Bob with an Undercut
This black short asymmetrical bob with an undercut was cut and styled by hairstylist Vali Marin of Brasov, RO. "This bob is great for all social situations, even business," he states. To style asymmetrical bobs, Marin suggests using a flat brush to blowdry, and to straighten your hair with an iron. "This will give it a very precise and sharp outline." "Products and styling may vary a lot, they should be used in the way that fits and meets your hair needs. Imagine this look with straight hair on the short side and natural curls on the long side. The hair density will create a very nice and bold look," he adds.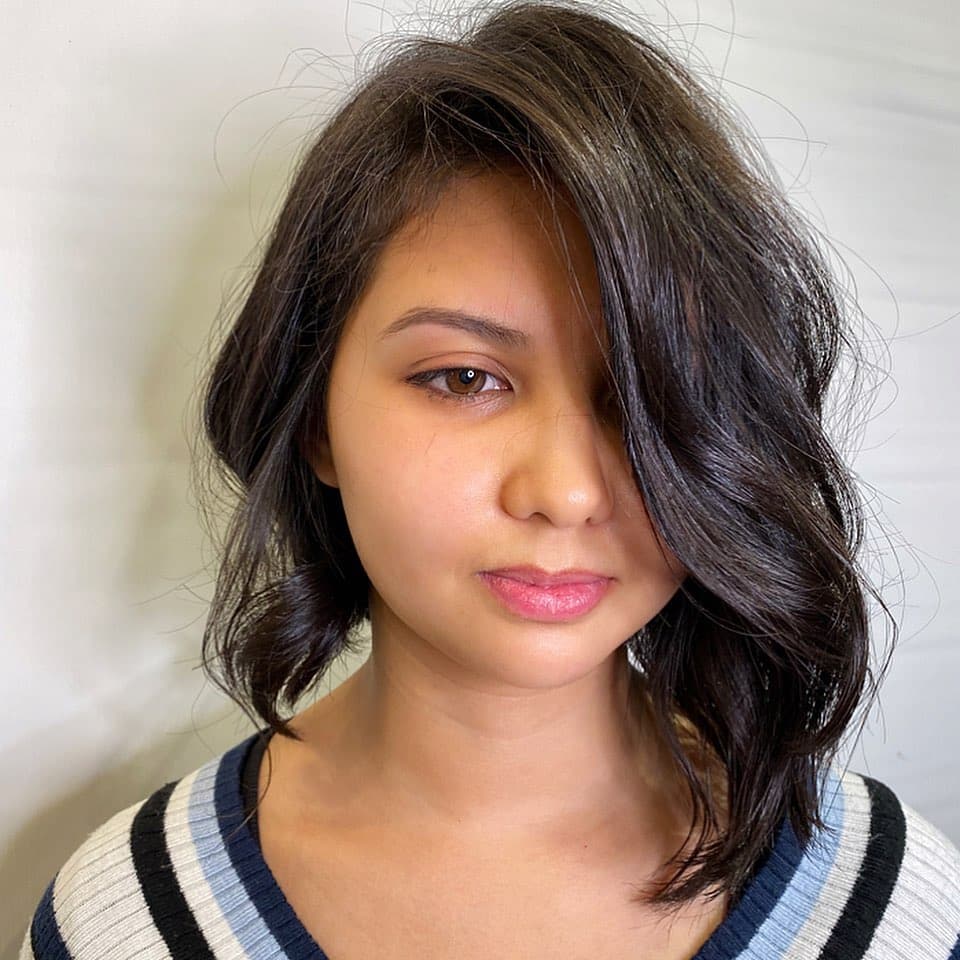 #25: Short Asymmetrical Wavy Bob
Consider a short asymmetrical wavy bob hairstyle was handcrafted by hairstylist Taichi Suzuki of Tokyo, Japan. "Use a big curling iron to create the big bouncy curl and give softness to it. An asymmetrical bob is very edgy with wavy hair or straight hair," says Suzuki. Suzuki goes on to say, "an asymmetrical wavy bob is great with most face shapes, except long faces. If you have a long face, ask your stylist to cut more layers."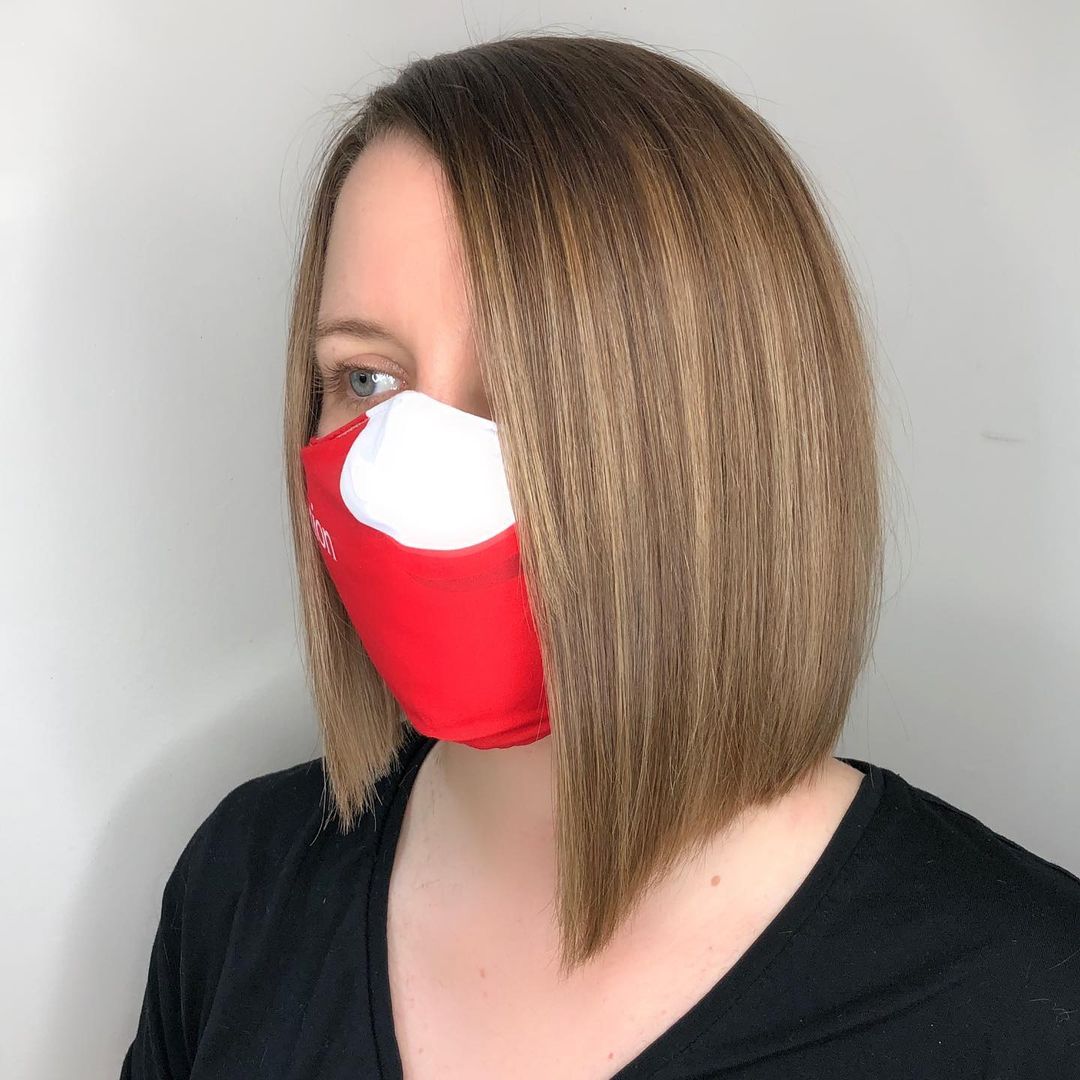 #26: Sleek Short Asymmetrical Bob for Fine Hair
This short asymmetrical bob for fine hair was created by hairstylist Brittany Britton of Dallas, TX. "Asymmetrical cuts are perfect for women who want something edgier. It's a classy bob for fine hair with just enough funk," says Britton. "Your stylist can take your idea and create it to best suit you and your lifestyle," she adds. "You can do slight asymmetry bob cuts or you can shave an entire side. It's very versatile depending on how dramatic you're wanting to go!"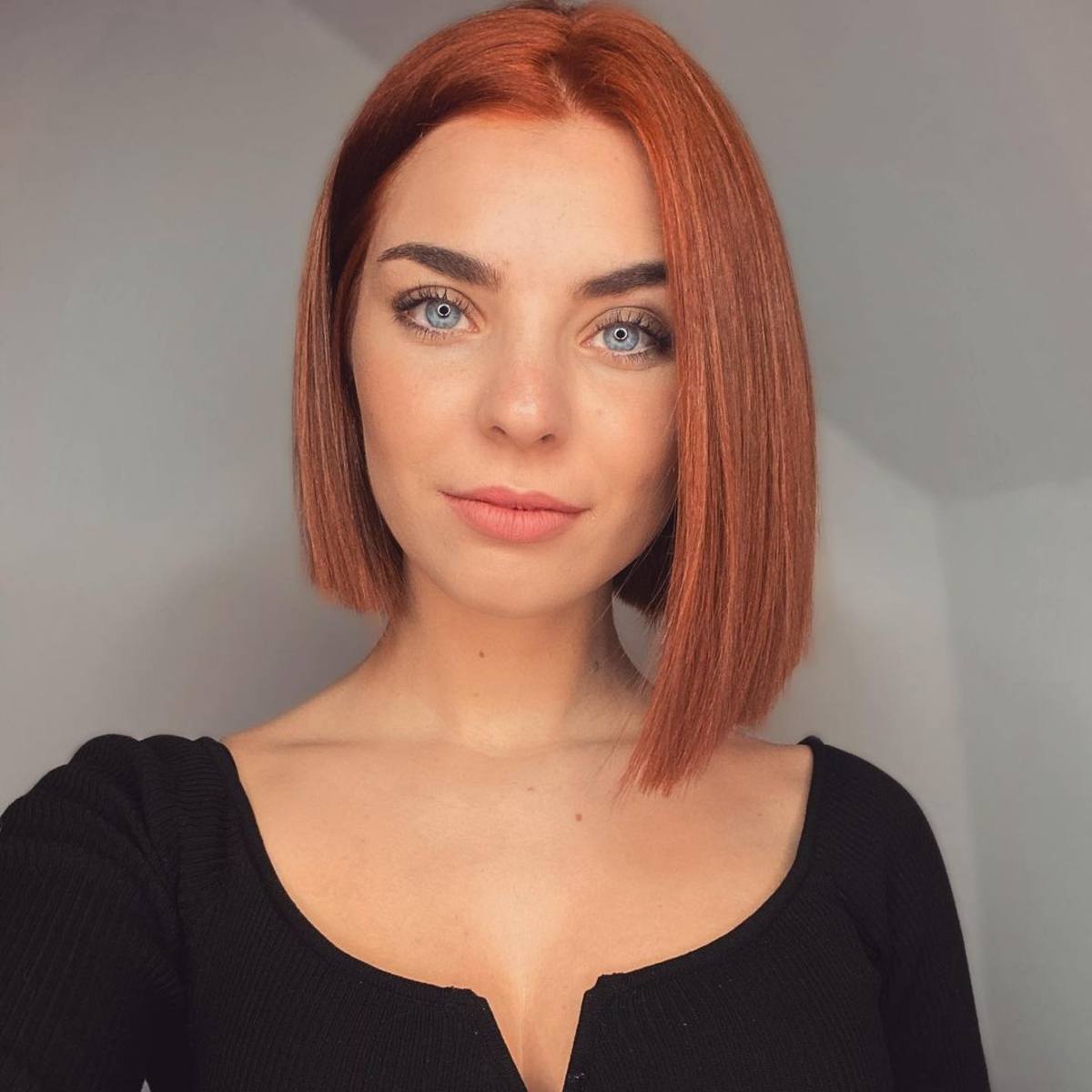 #27: Short Asymmetrical Blunt Bob for Straight Hair
Try a short asymmetrical blunt bob is slightly inverted. A short asymmetrical bob cut is super easy to style and take care of. The short, blunt attributes look great on just about all women.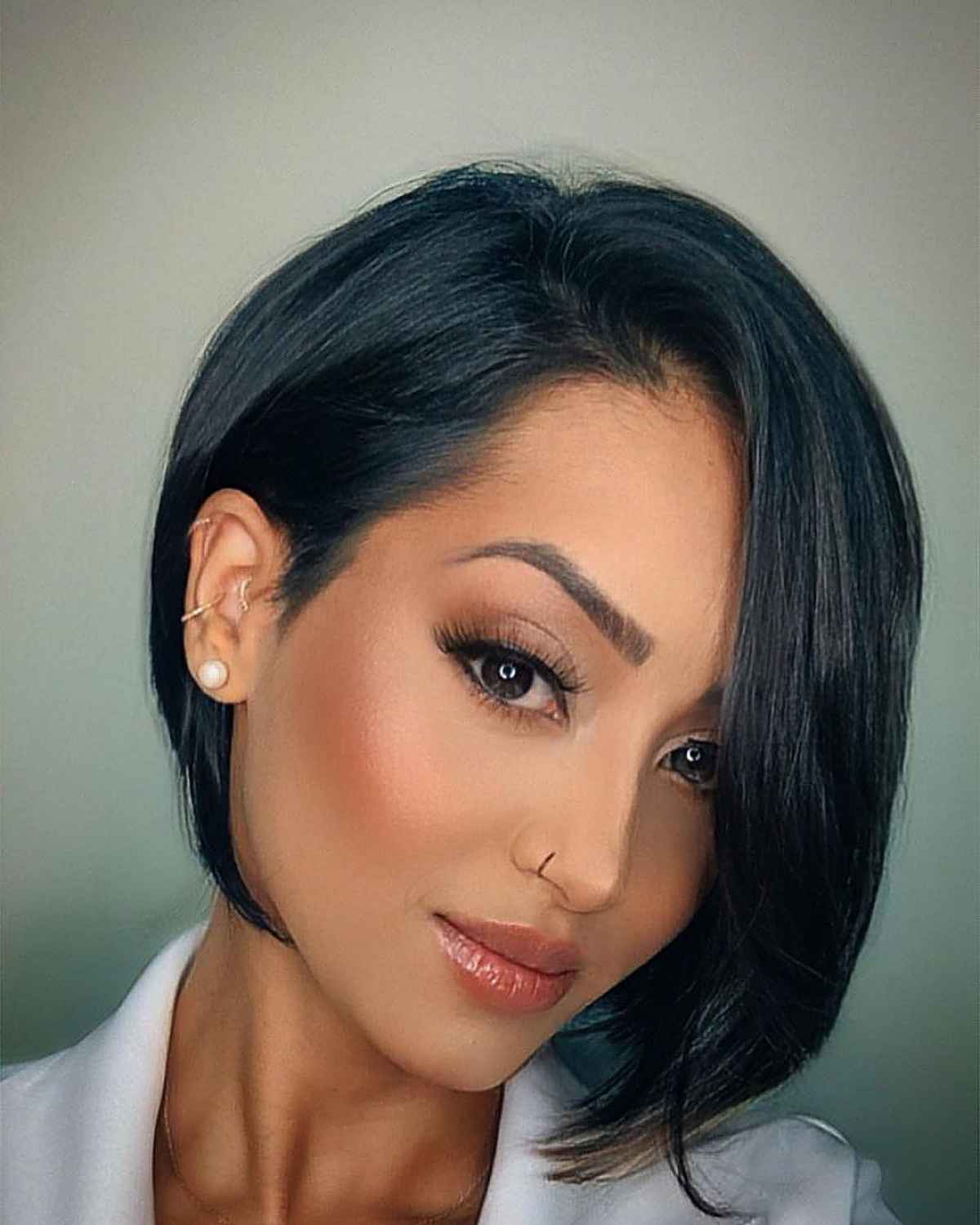 #28: Short Black Asymmetrical Bob with a Side Part
A short asymmetrical bob with a side part is extremely chic. A bob is always timeless, and the asymmetry adds something interesting to it. Elevate your look with this classy minimal style.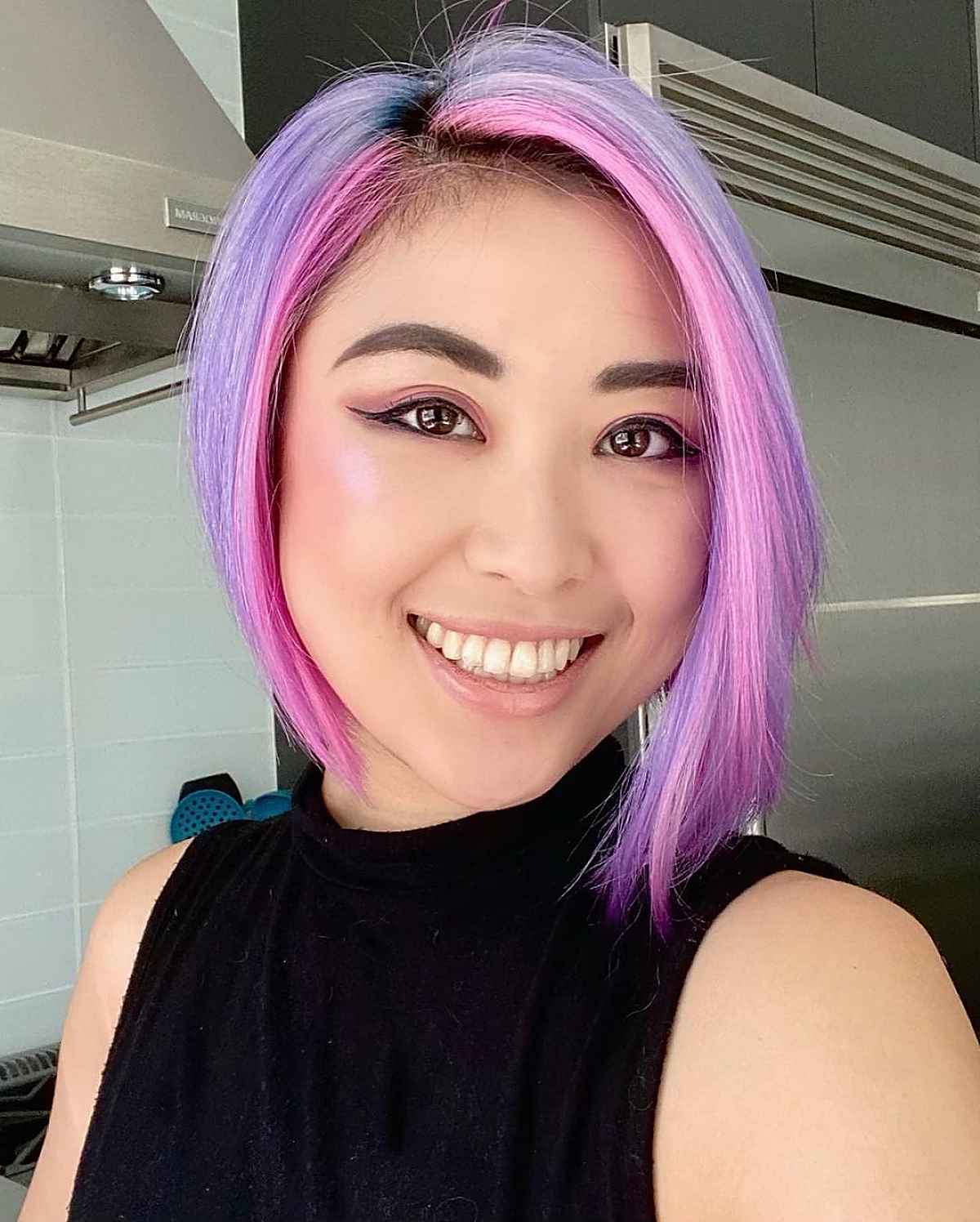 #29: Sleek Pink and Purple Asymmetric Bob
Consider a sleek pink and purple asymmetric bob for something edgy. These fashion colors make a statement but remember that they require a lot of maintenance. Often multiple trips to the salon are required initially and very regular appointments are needed to keep these colors vibrant.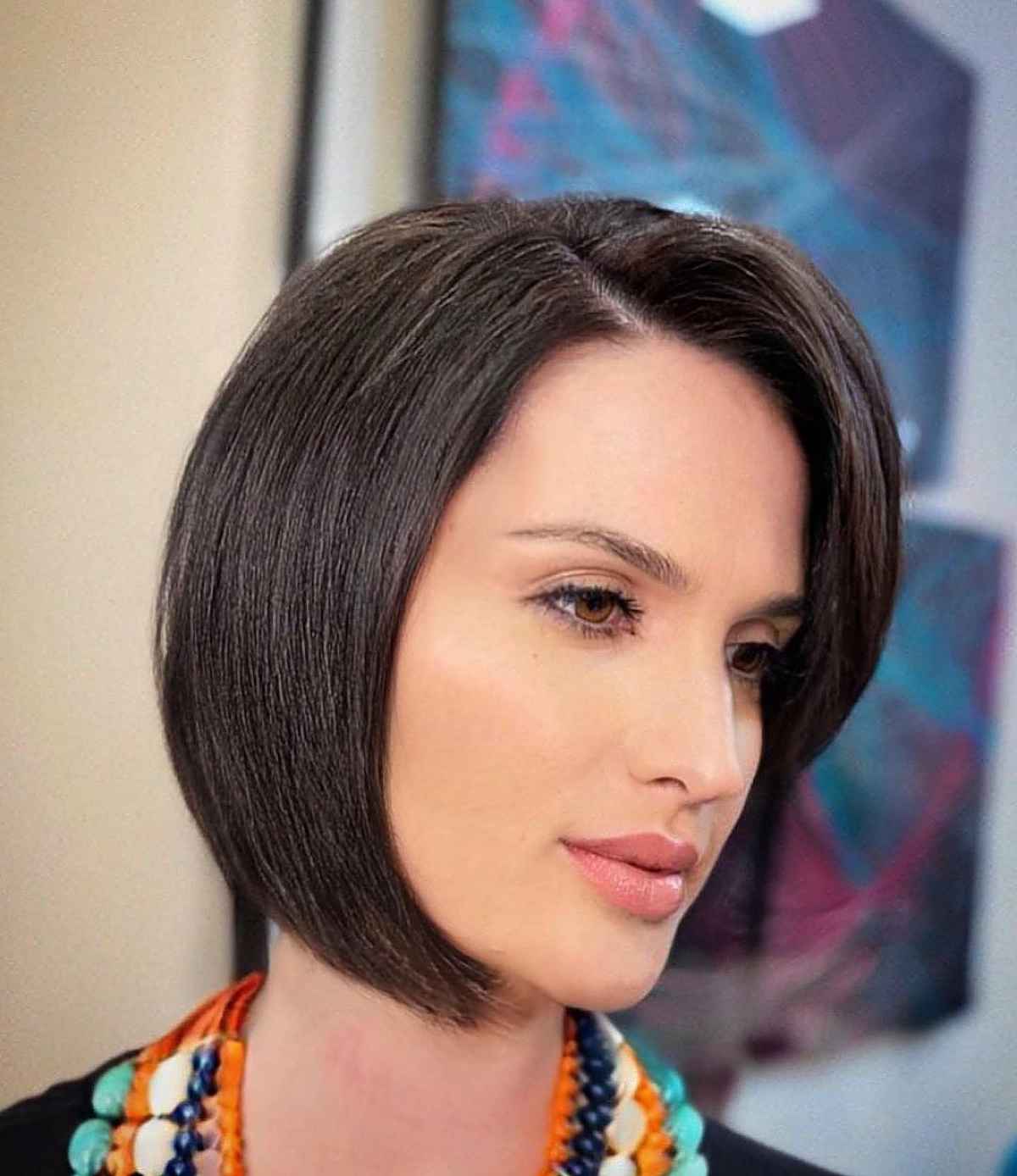 #30: Extra Short Asymmetrical Cut
Consider a face-framing cut like this one. If you have straight hair, add a side part and use a straightener to slightly curve the hair so it hugs your jaw-line.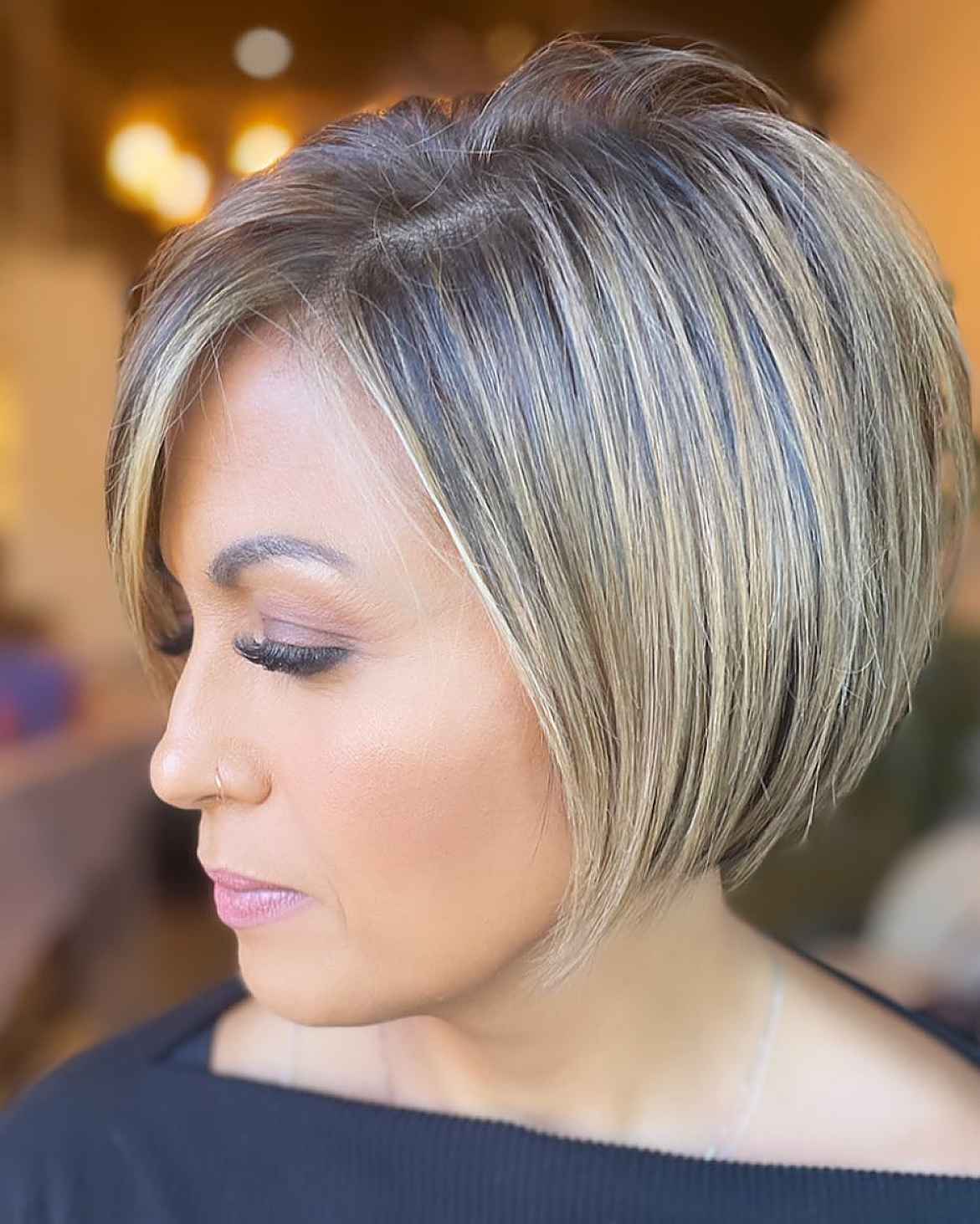 #31: Short Dimensional Asymmetrical Bob
A short asymmetrical bob with lots of dimension is a perfect way to transition while keeping a professional and classy appearance. Whether you are transitioning from a pixie cut to something longer or trying short hair, an asymmetrical bob can work with any hair type or face shape. To keep a particular style, more maintenance appointments are recommended, however it is an easy cut to style and can still be easily shaped or grown out.