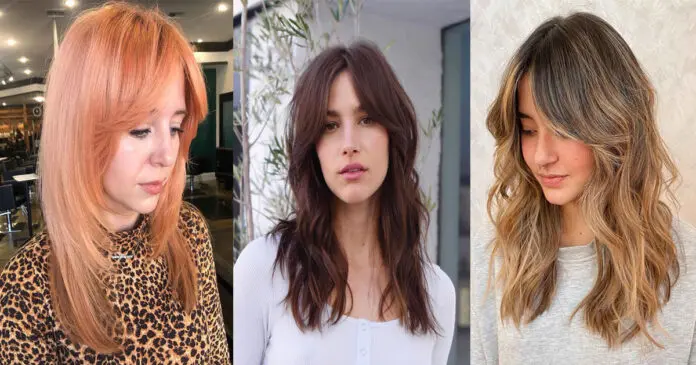 Shoulder-length hair with curtain bangs is a medium haircut with a face-framing feature. The fringe is a great addition to add volume to your tresses and softness around your face! Curtain bangs are a commitment, according to Canada-based stylist Megan Meads. Do you have extra time to style your bangs? Will you like how they grow out? If you say yes to these, then take the plunge! "Women that we see rocking this fringe always have their hair styled. Matilda Djerf's curtain bangs are iconic, but there's no way she gets up and goes without styling them," Meads states. At some point, having to style the fringe every day is the disadvantage of this look. It may not work for your daily routine or lifestyle Meads wants to point out that a curtain fringe doesn't work for every hair type. She explains, "Thick and curly bangs could feel too choppy around the face. Meanwhile, fine hair doesn't hold volume well, and the bangs could fall flat and stringy." It's essential to talk to your stylist to ensure you get the ideal curtain fringe style for your locks. During the consultation, ask how to style and maintain your bangs at home. Planning your next salon visit? Before that, check out these inspiring images of the trendy styles for shoulder-length hair with curtain bangs!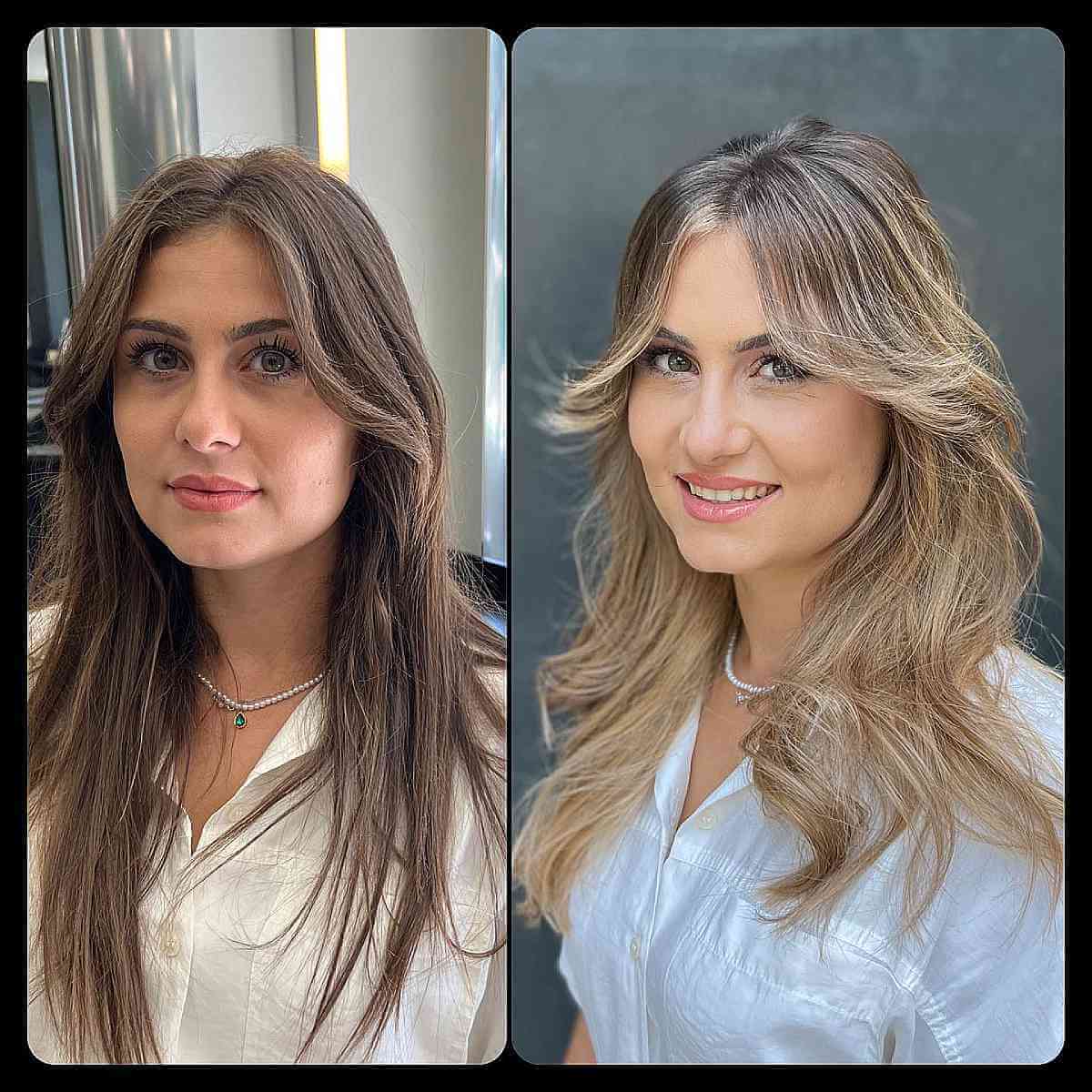 #1: Blonde Balayage with Flowing Bangs
Go for a chic and trendy hairdo with a blonde balayage combined with flowing bangs. Kick your dead ends to the curb for healthy-looking strands that flow with ease. Curtain bangs are low-maintenance, but if you can style them with a round brush they will look more polished and on point. When you blow dry don't forget to use your round brush back and away from your face to get feathered-looking tresses.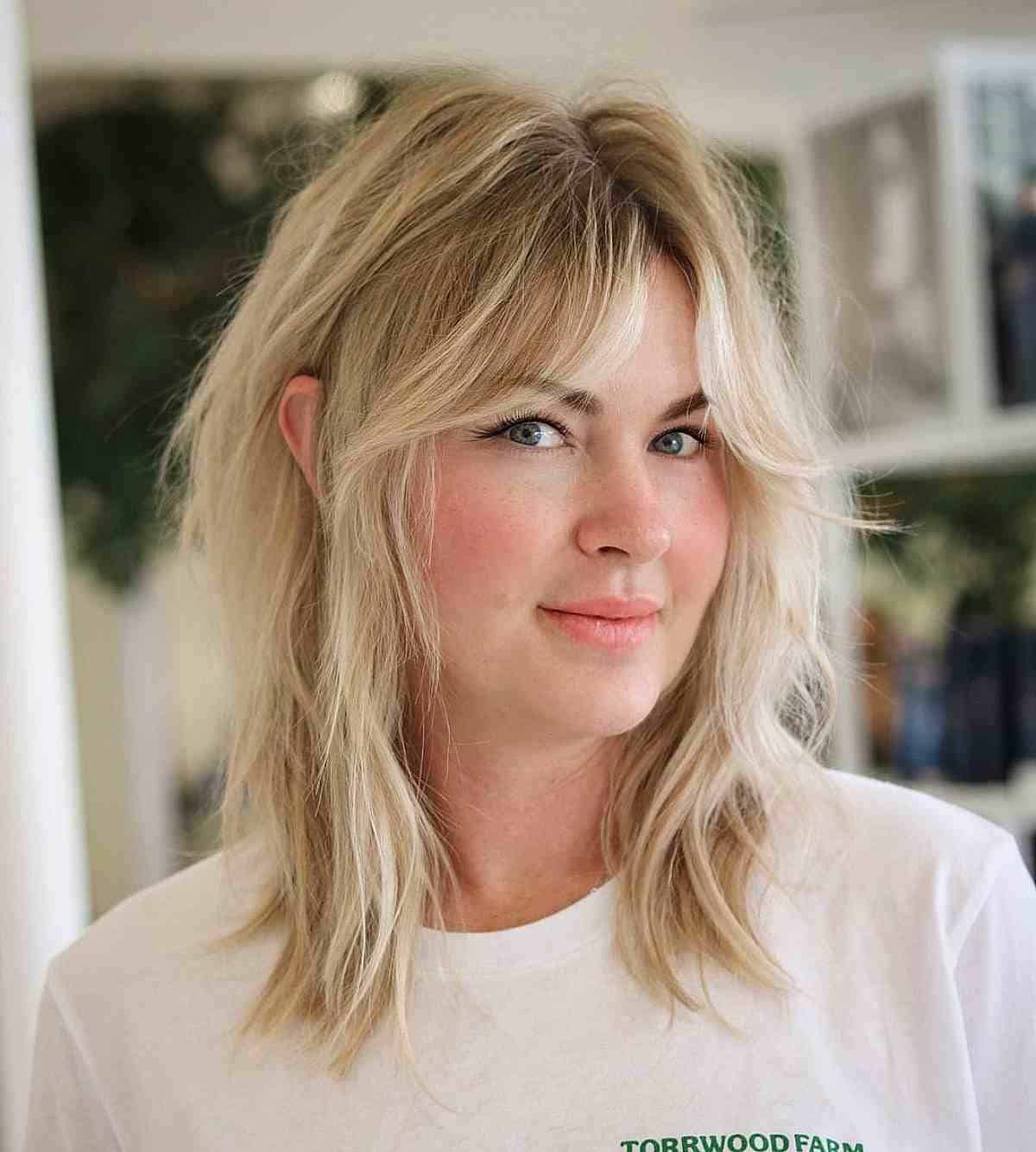 #2: Disheveled Blonde Shag with Curtain Fringe
Try a disheveled shag with fringe if you love a natural, lived-in hairstyle that doesn't take too much time to style in the mornings. A curtain fringe will shape your face nicely and compliment all your best facial features. A tousle finishing spray or a sea salt spray will be your favorite new go-to product. Rough it up with your hands throughout the day and rock this messy, textured shag all day long.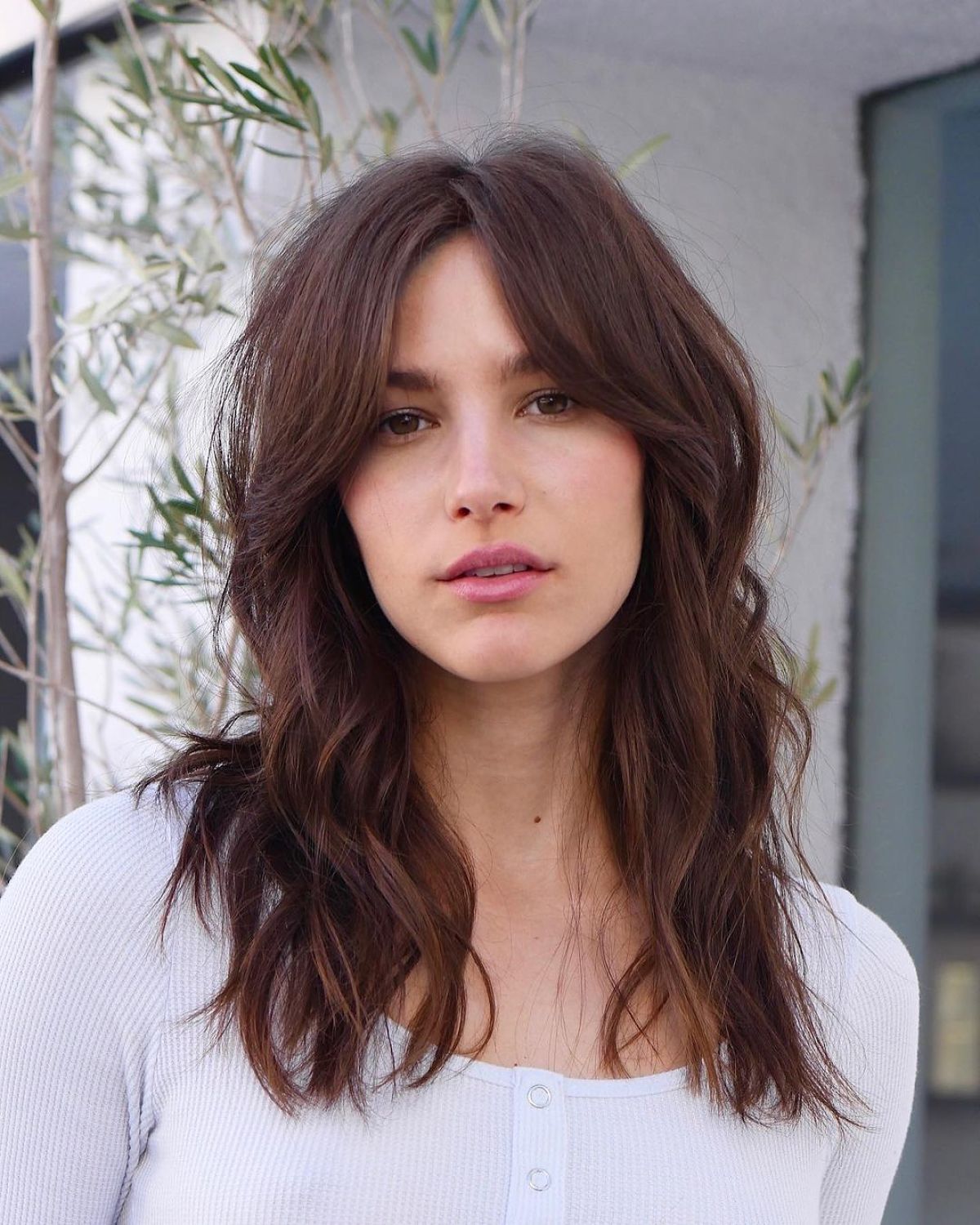 #3: Curtain Bangs for Square Faces
Curtain bangs are a gorgeous look on square faces. Having the bangs sit around eye-level will give the illusion of wider cheekbones and break up a square face. Shoulder-length hairstyles also compliment square face shapes by adding length to the face and jaw.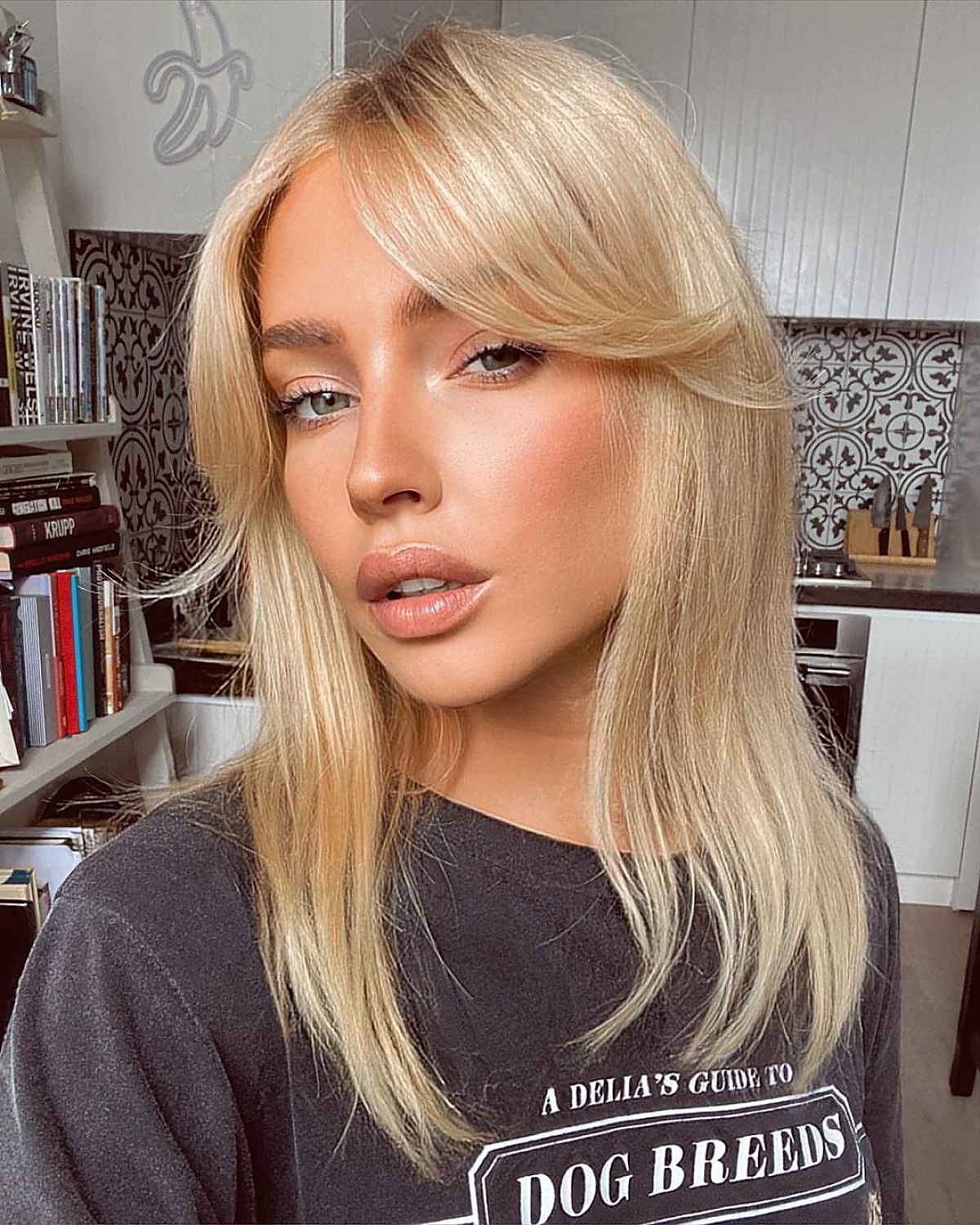 #4: Medium Cut with Wispy Curtain Bangs
Wispy curtain bangs on a medium cut will look best with textured ends. If you're considering blonde shoulder-length hair with curtain bangs, ask your stylist what tone of blonde will compliment your skin tone.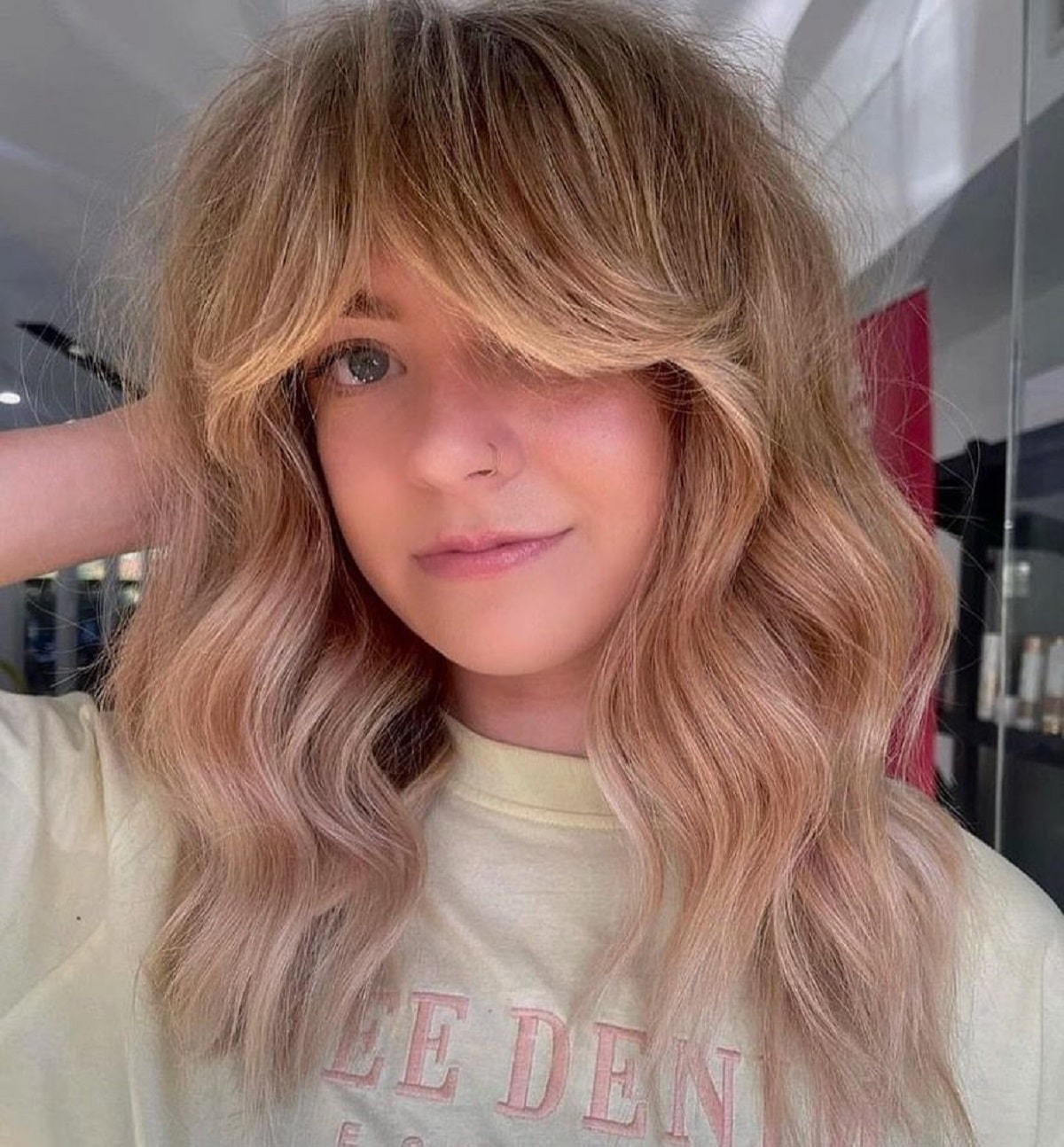 #5: '70s Curtain Fringe with Soft Waves
Soft waves with a 70's curtain fringe are a gorgeous way to make a classic style more modern. Mid-length haircuts with curtain bangs will look stylish on their own, but to get a 70's vibe you'll want a thicker bang with lots of volume.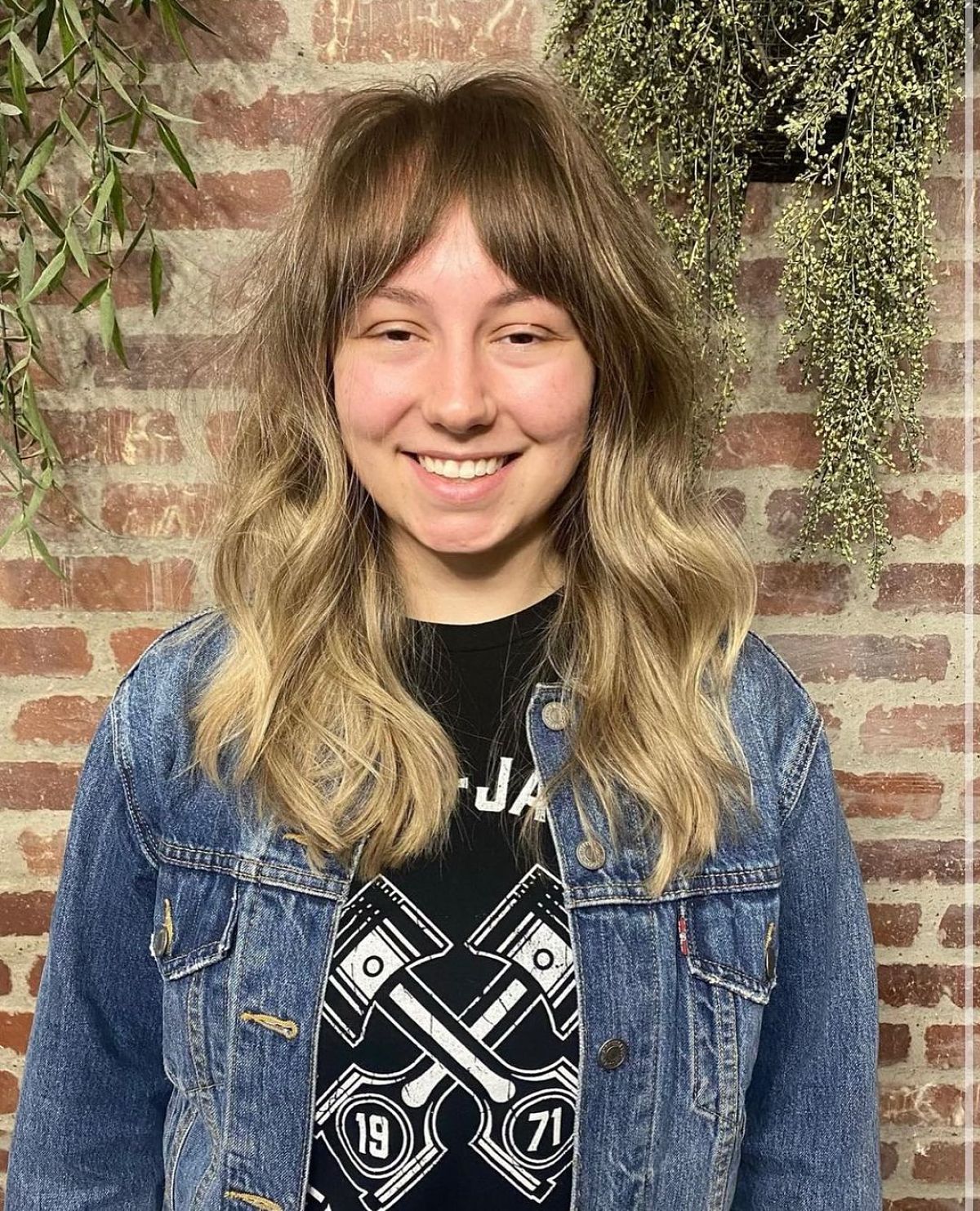 #6: Center-Parted Bangs and Long Layers
Center-parted bangs with long layers look beautiful on medium or long hair. Shoulder-length hair with long layers and curtain bangs is a modern but classic style that can be worn by all ages of women.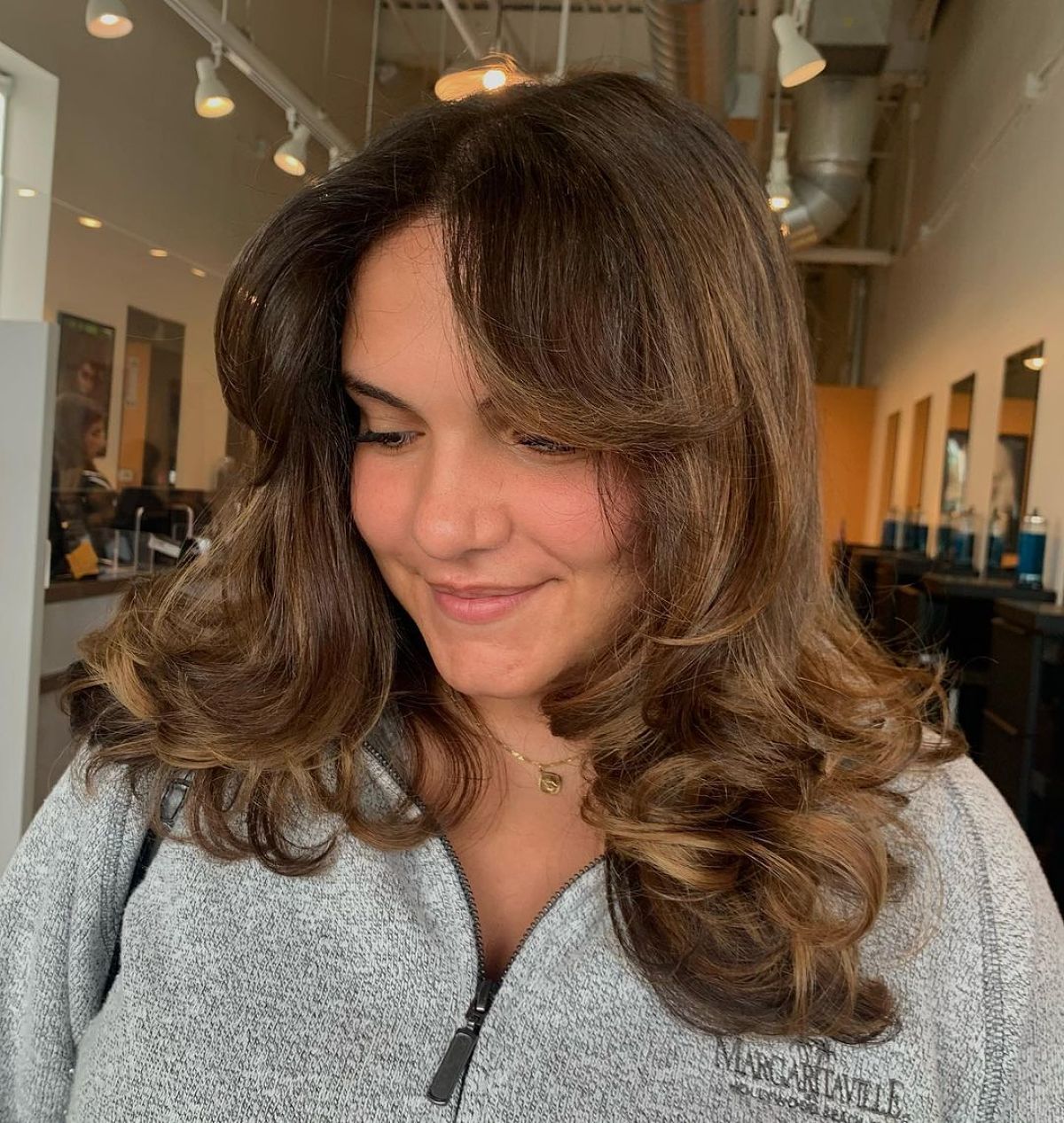 #7: Curtain Bangs and Curly Ends
Curtain bangs and curly ends are a style that can be dressed up and elegant or casual. This mid-length style is a great example of how versatile medium-length layered hair with bangs can be.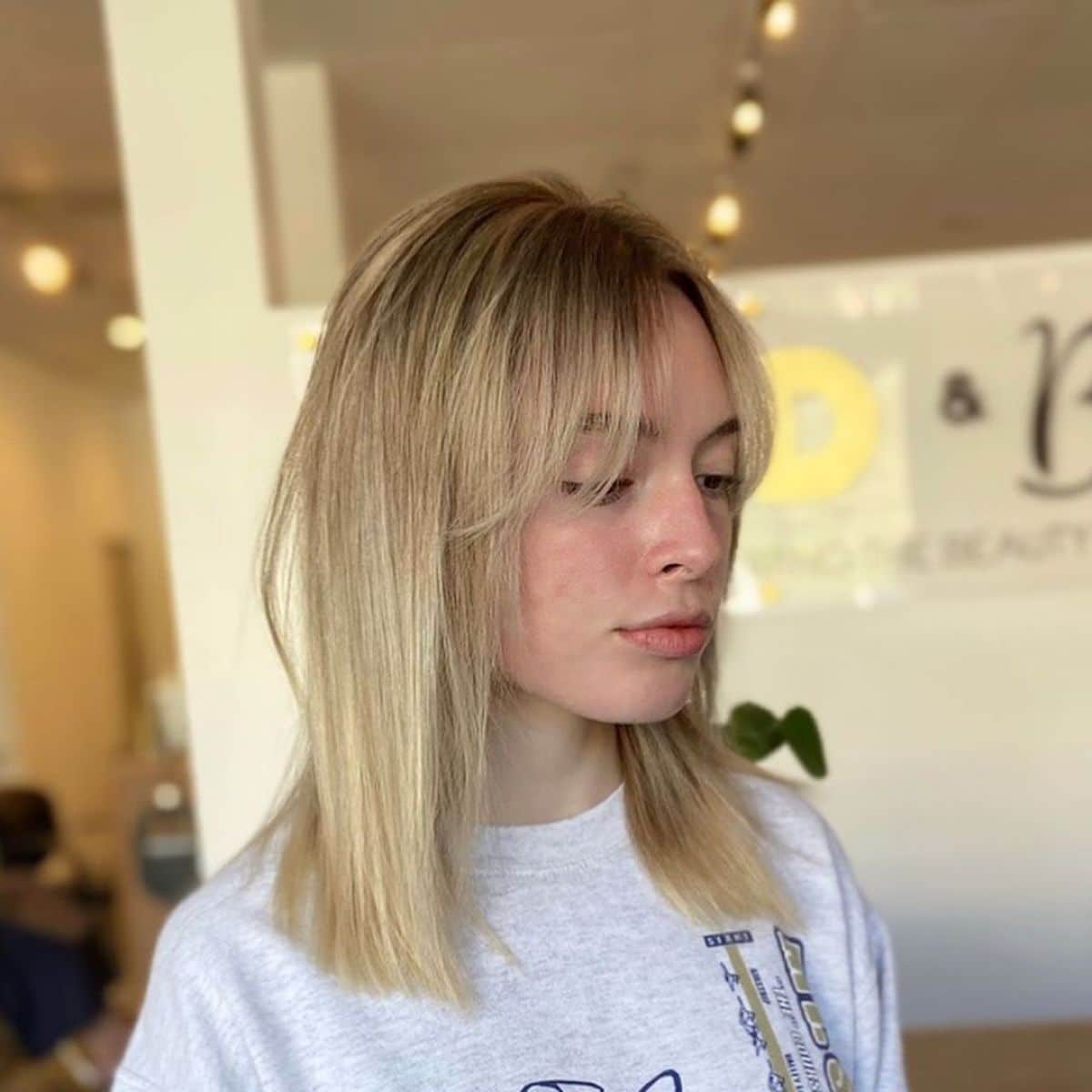 #8: Collarbone-Length Blunt Cut with Curtain Bangs
Curtain bangs on a collarbone-length blunt cut are a perfect option for women with thin hair that still want curtain bangs. If you want wispy bangs and have fine hair, you may not even need any texturizing. Blunt shoulder-length hair with curtain bangs sometimes has face-framing layers to blend the bangs into the length of the medium-length haircut. Ask your stylist if they would recommend a face frame for your face shape.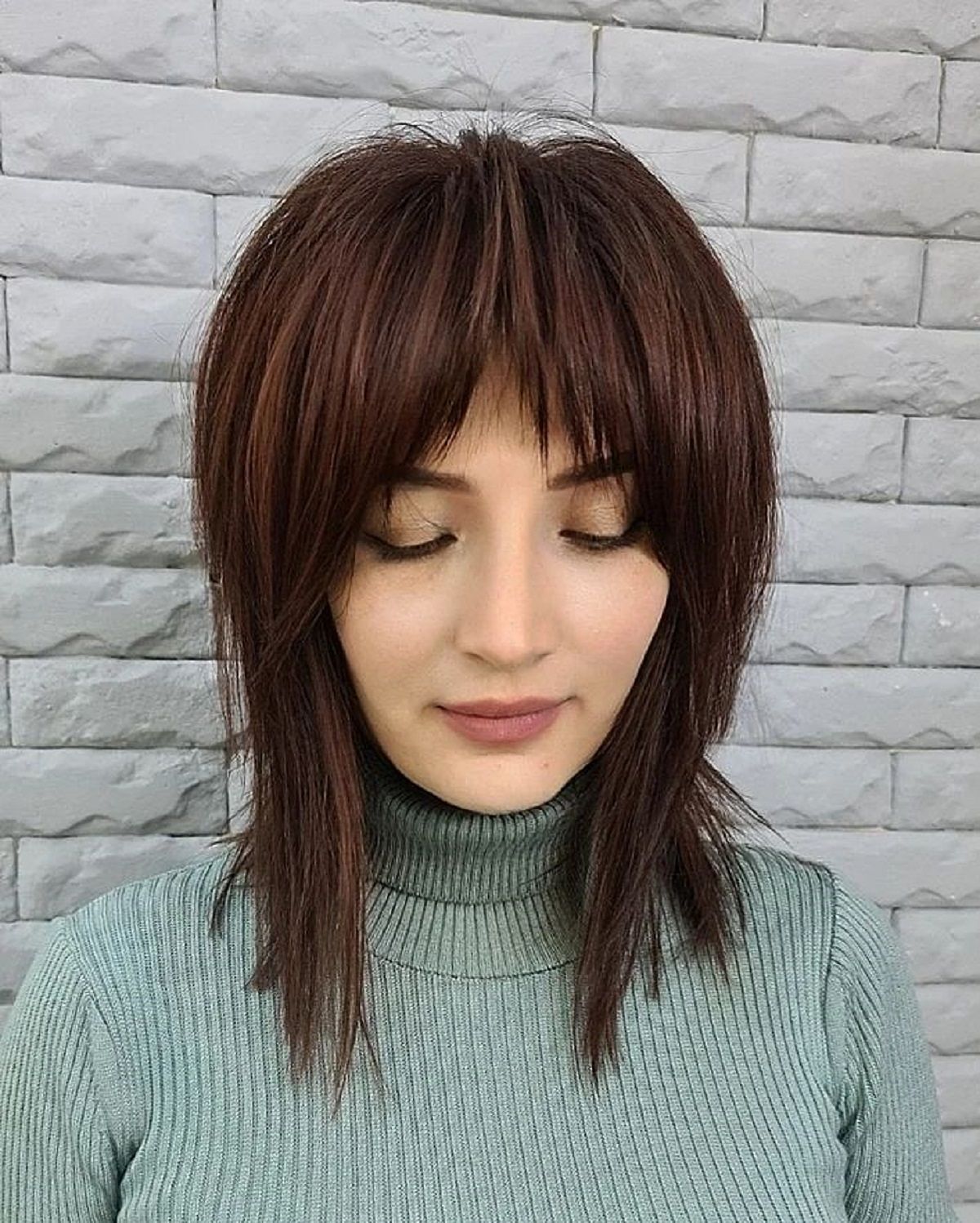 #9: Choppy Curtain Bangs and Layers
Choppy curtain bangs combined with layers give a great foundation to a voluminous hairstyle. Shoulder-length straight hair with bangs can be a low-maintenance medium-length hairstyle. Keep in mind the shorter the bangs, the sooner they will need to be trimmed to maintain their style.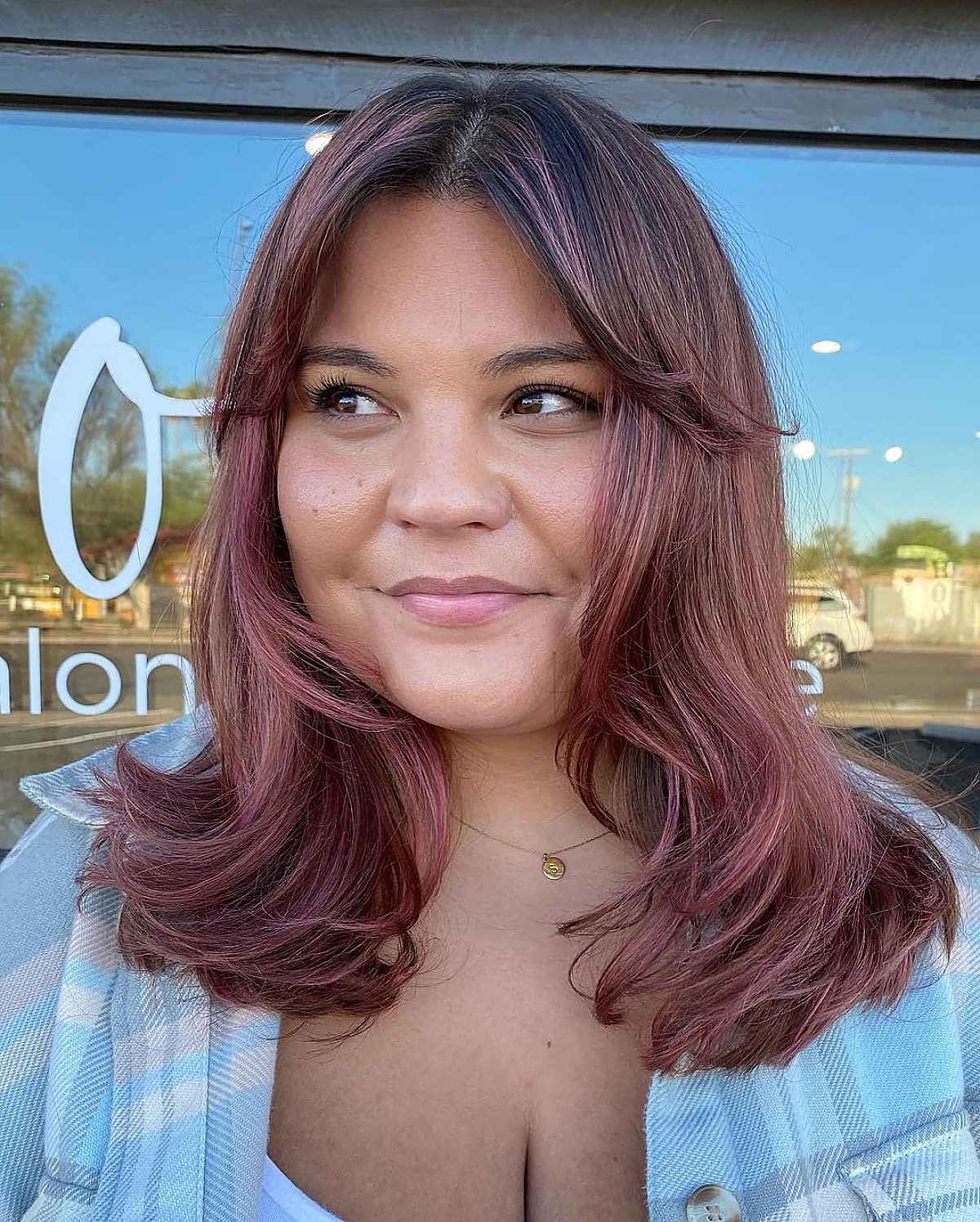 #10: Medium Haircut with Curtain Bangs for Round Faces
A shoulder-length haircut with curtain bangs for round faces should lay below the shoulders. This will help elongate the face and slim the jawline. If you're wanting shoulder-length hair with curtain bangs for a round face, ask your stylist to keep the hairstyle with curtain fringe below your eyes to make your cheekbones pop.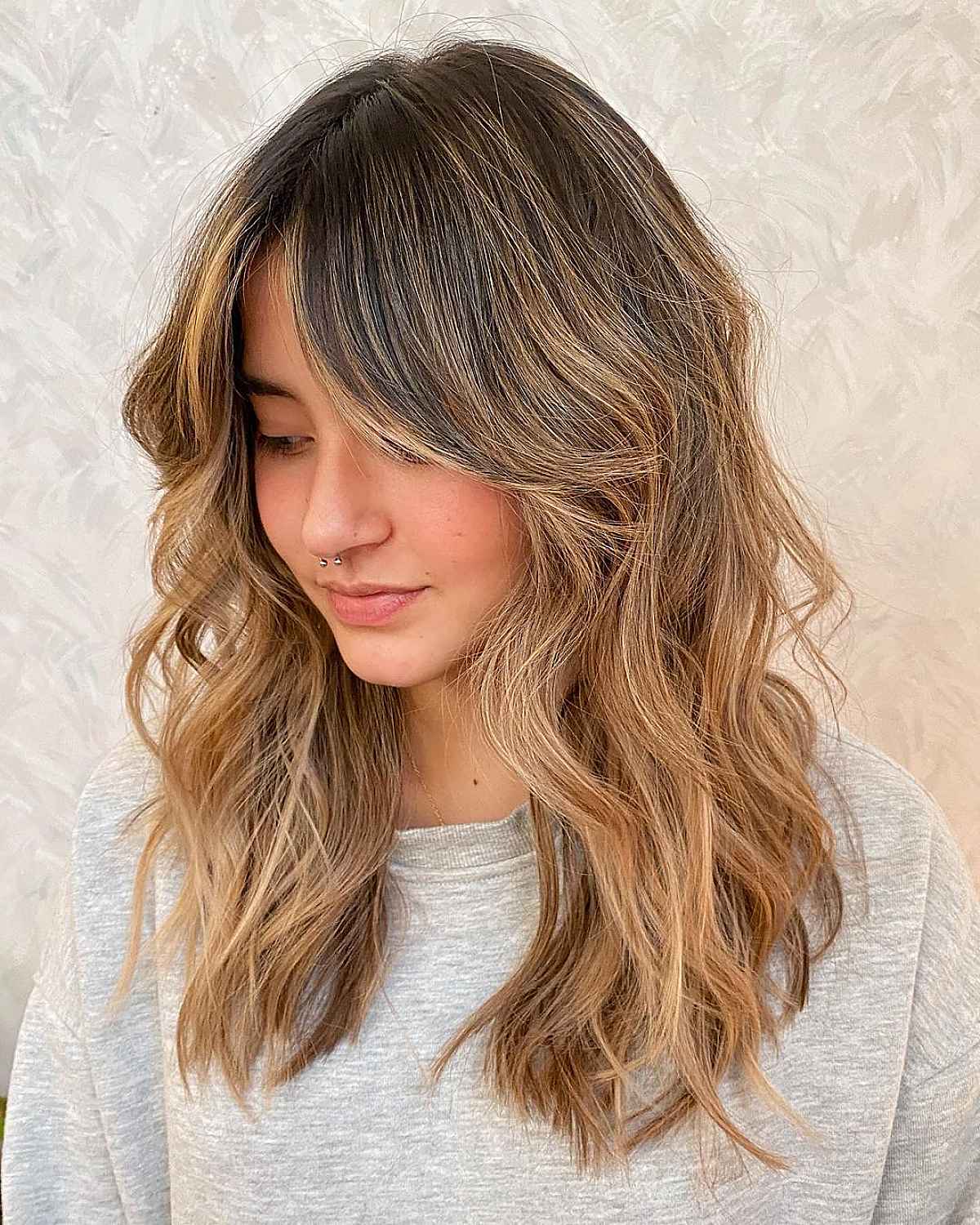 #11: Tousled Waves with Bangs
Tousled waves with bangs is a medium style that is easy to achieve and touch up if needed. Medium layered hair with curtain bangs can get this style by curling with a large curling iron at a medium heat setting.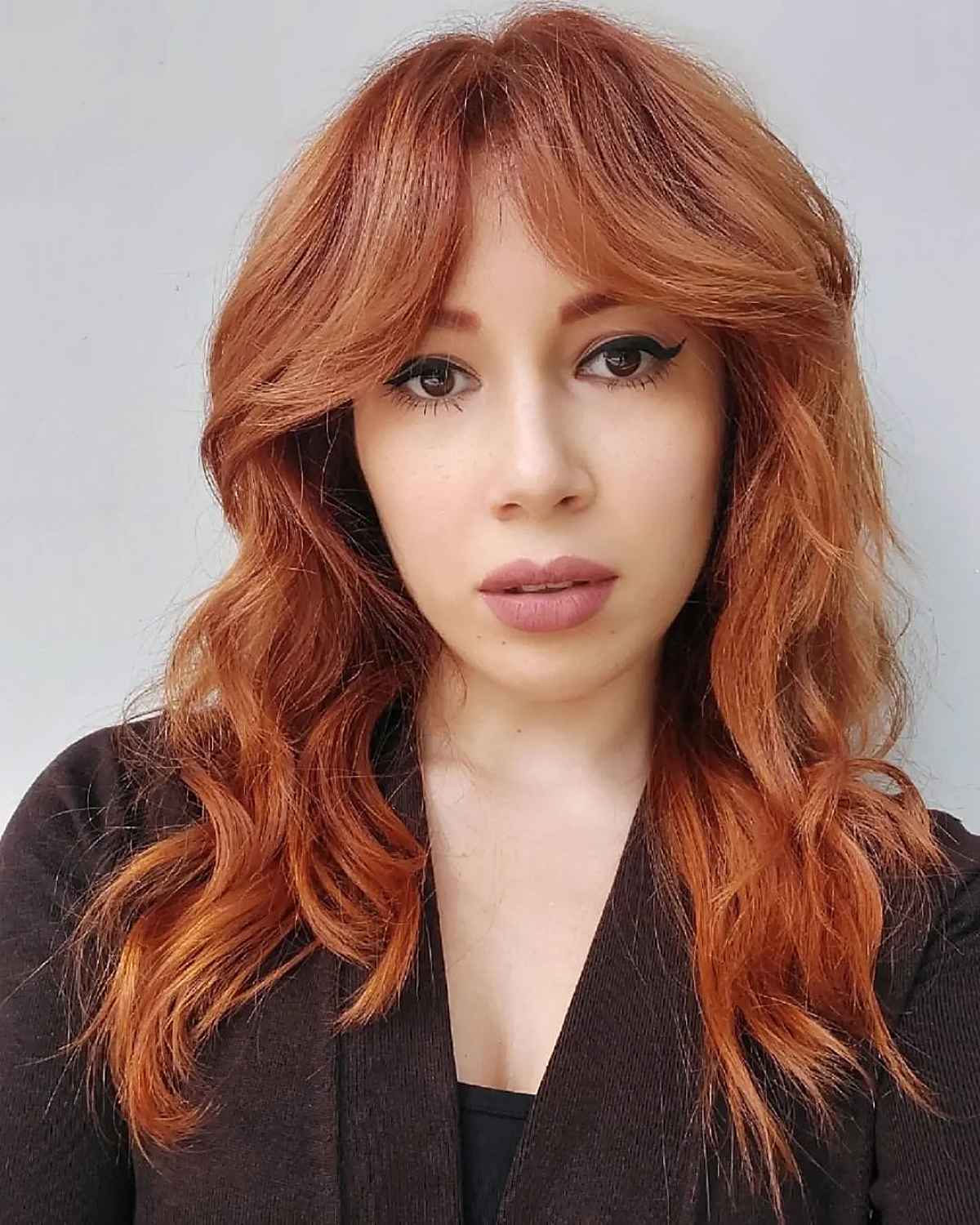 #12: Curtain Bangs on Loose Curls
Curtain bangs on loose curls look amazing when curled away from the face. If you have shoulder-length hair with short curtain bangs, you can use a flat iron to give a bend in your bangs to create the ultimate medium-length style.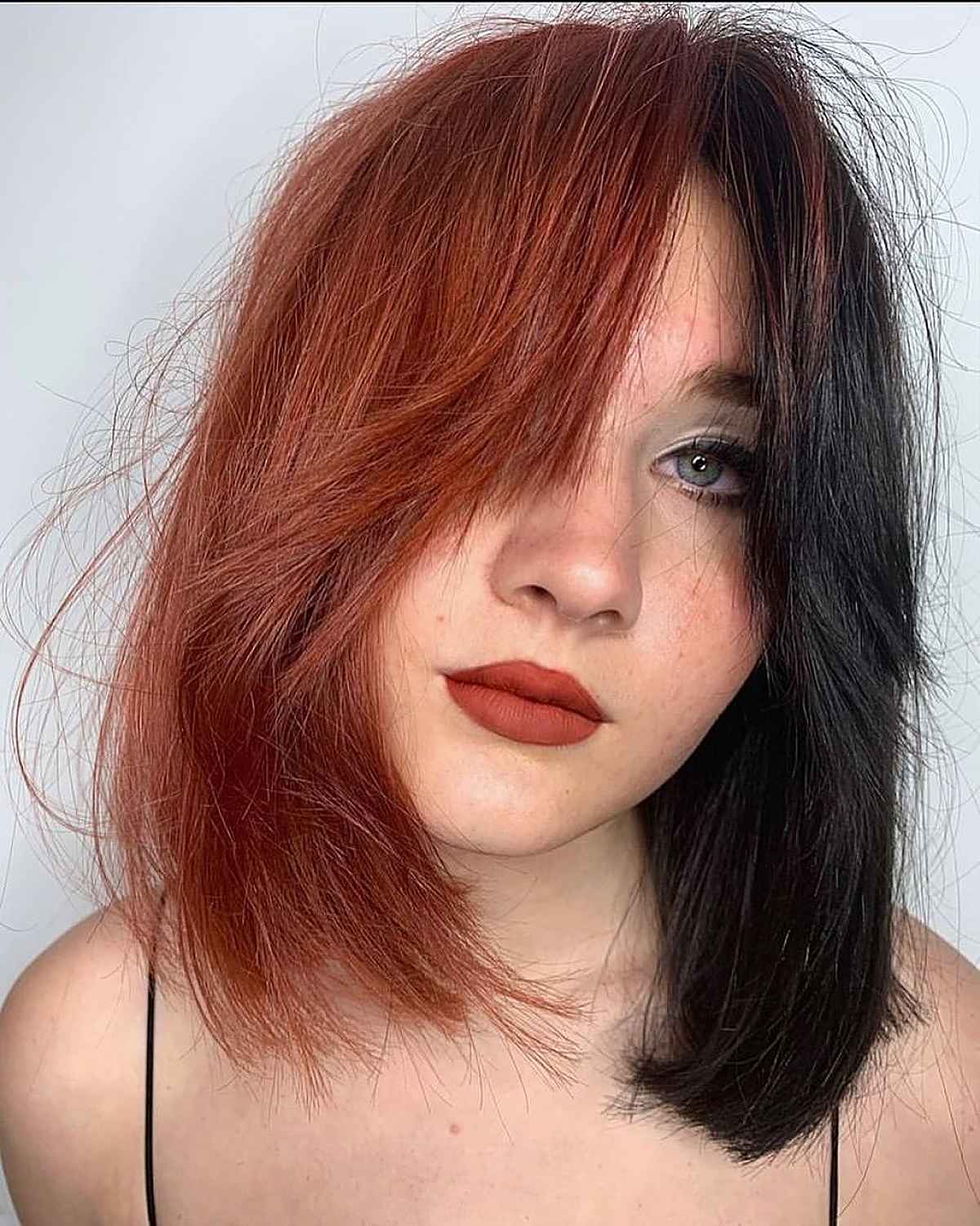 #13: Two-Toned Long Bob with Bangs
A two-toned long bob with curtain bangs is an edgy but high-maintenance medium hairstyle. A medium-length bob with curtain bangs won't need to be trimmed very often, but having a two-toned color will mean you'll need to visit your stylist for a touch-up every six to eight weeks.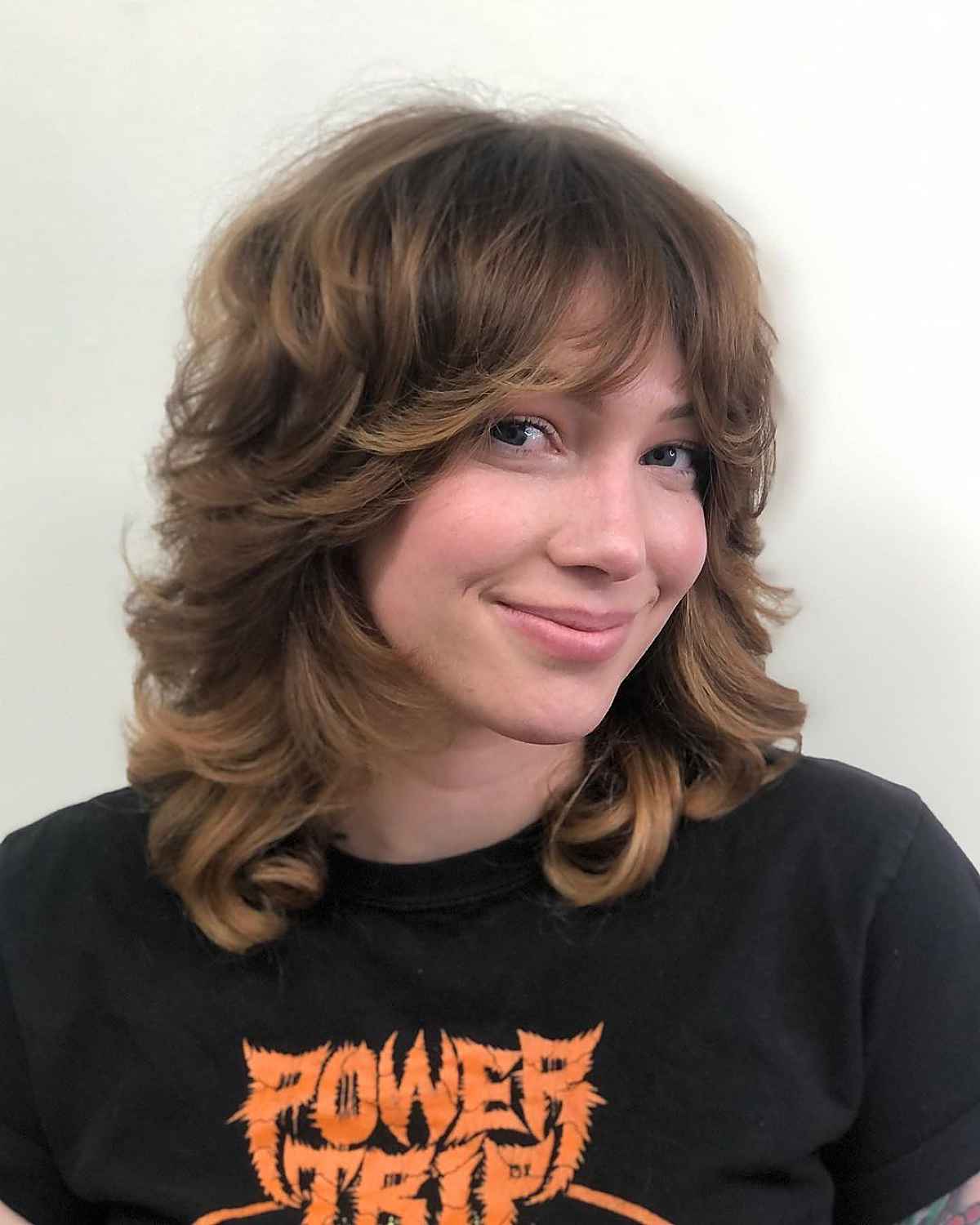 #14: Shag with Shorter Layers and Curtain Bangs
A shag with shorter layers and curtain bangs is an easy way to get a trendy style with lots of volume. Mid-length hairstyles with a fringe and layers can be a little flat if you have thick hair, but keeping the layers short will help to give you the most volume possible within your shoulder-length cut.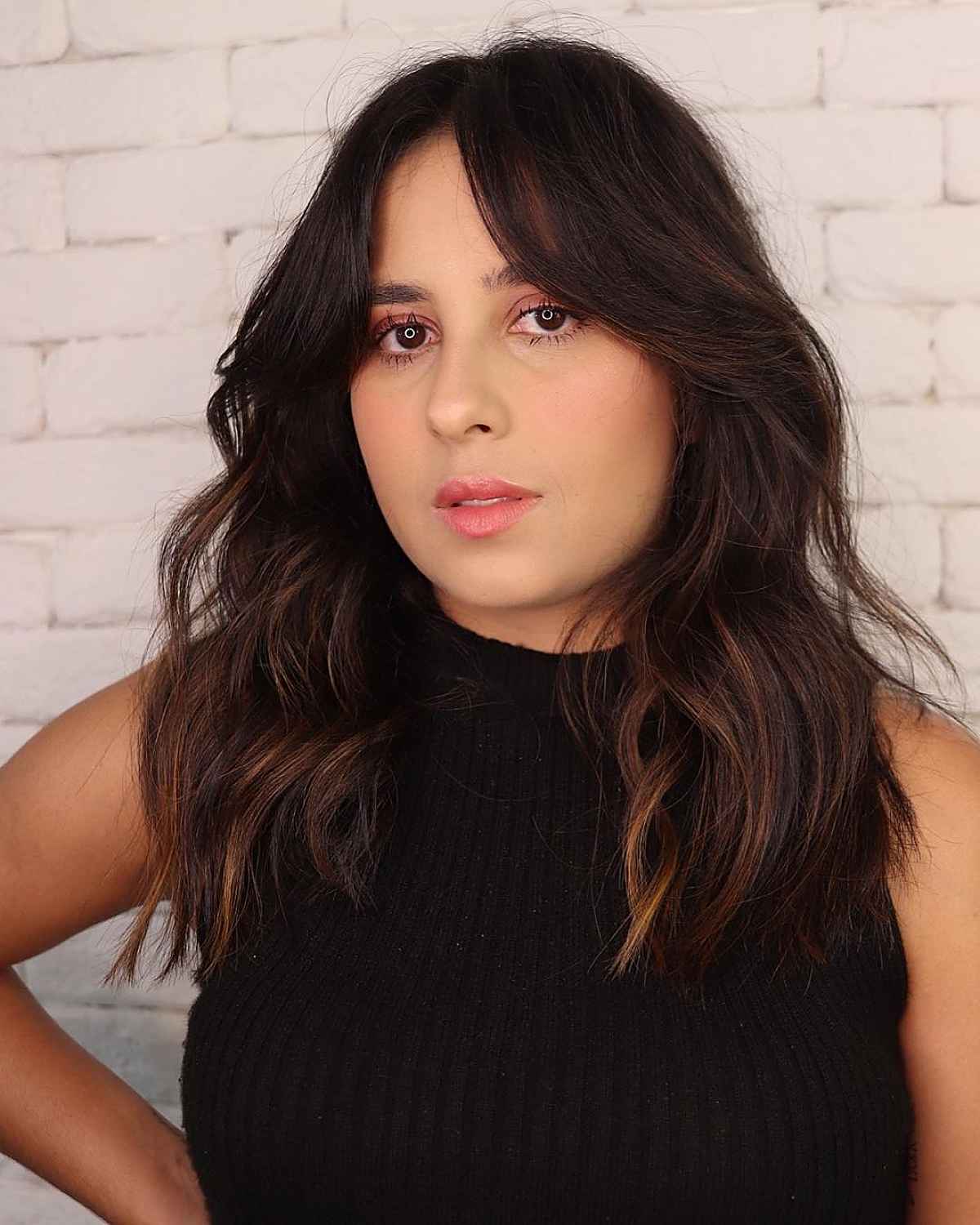 #15: Middle-Parted Hairstyle with Bardot Bangs
Middle-parted hairstyles with Bardot bangs are a popular choice for women with all hair types. Medium hairstyles with curtain bangs also look stunning on any face shape.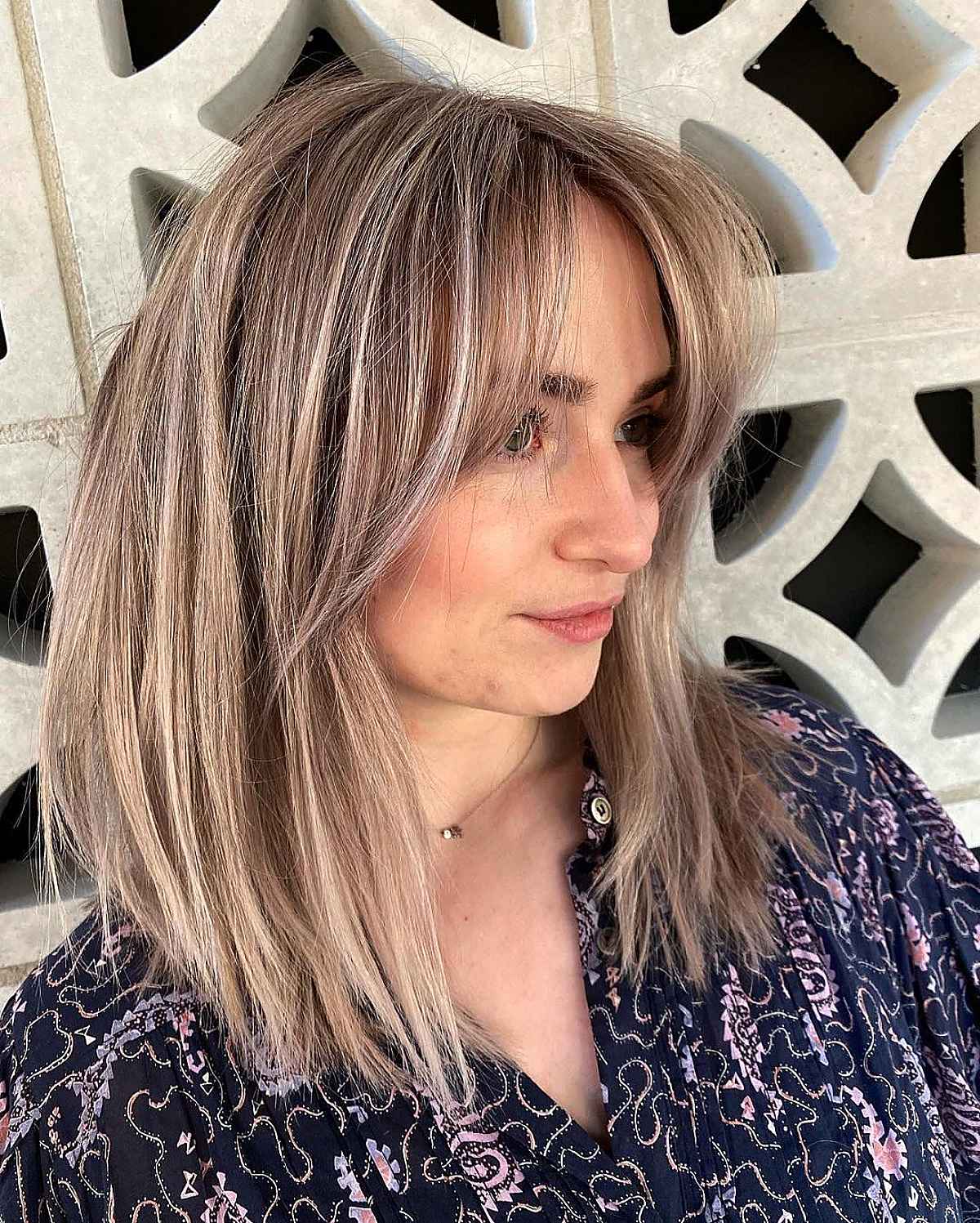 #16: Curtain Fringe on Mid-Length Straight Hair
A curtain fringe on mid-length straight hair will need a little help when it comes to styling. One way to give your curtain bangs volume and shape is to use a flat iron and give a slight bend under. Shoulder-length straight hair with curtain bangs can get an extra lift by using a volumizing mousse.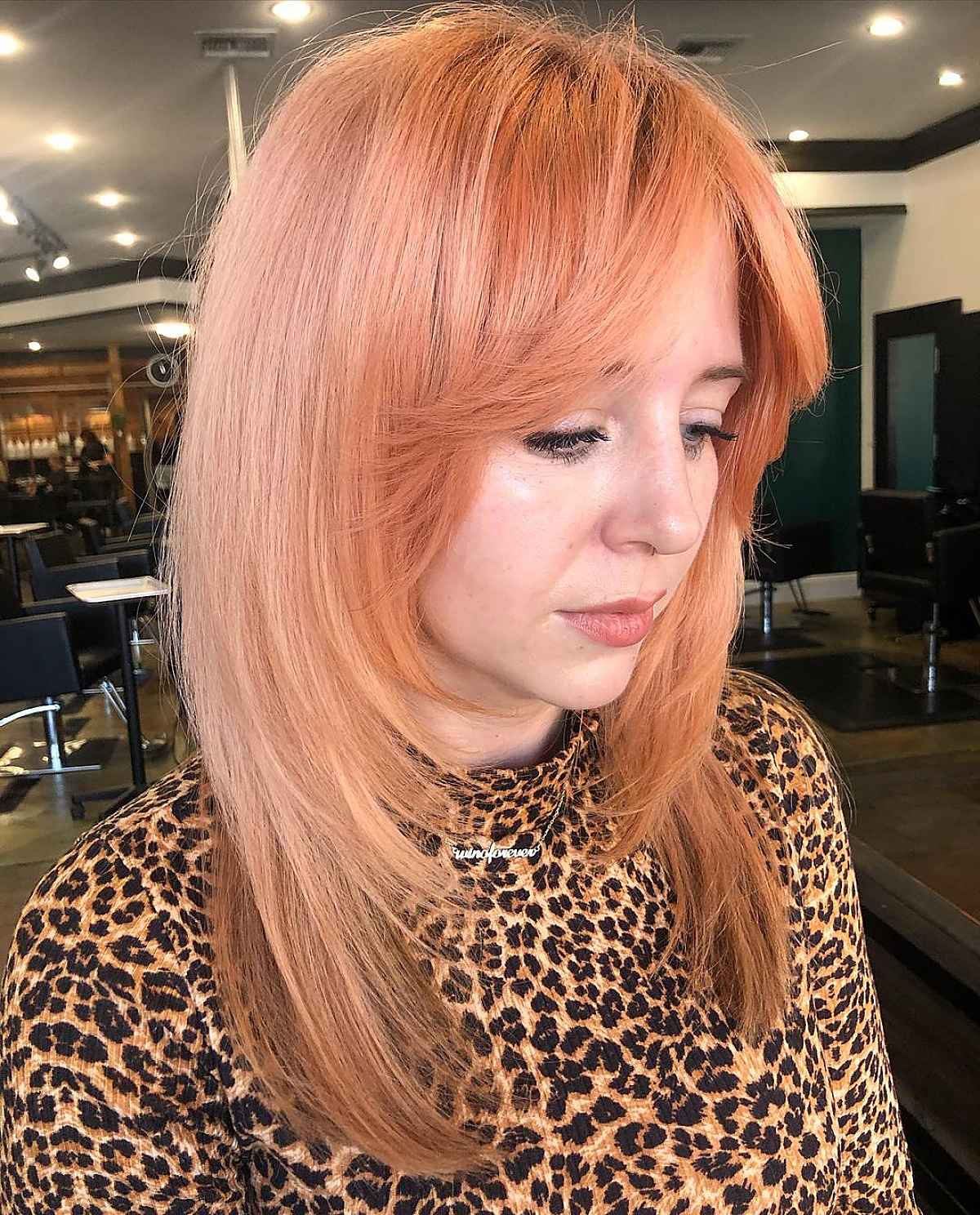 #17: Medium-Length Layered Cut with a Face Frame
A face frame on a layered medium-length cut can look beautiful on women over 40. If you have shoulder-length thin hair with curtain bangs, some quality hair products could be all you need to give your hair some life. Use Kevin Murphy Body Builder Spray on damp hair and dry with a round brush for added volume in your new haircut with curtain fringe.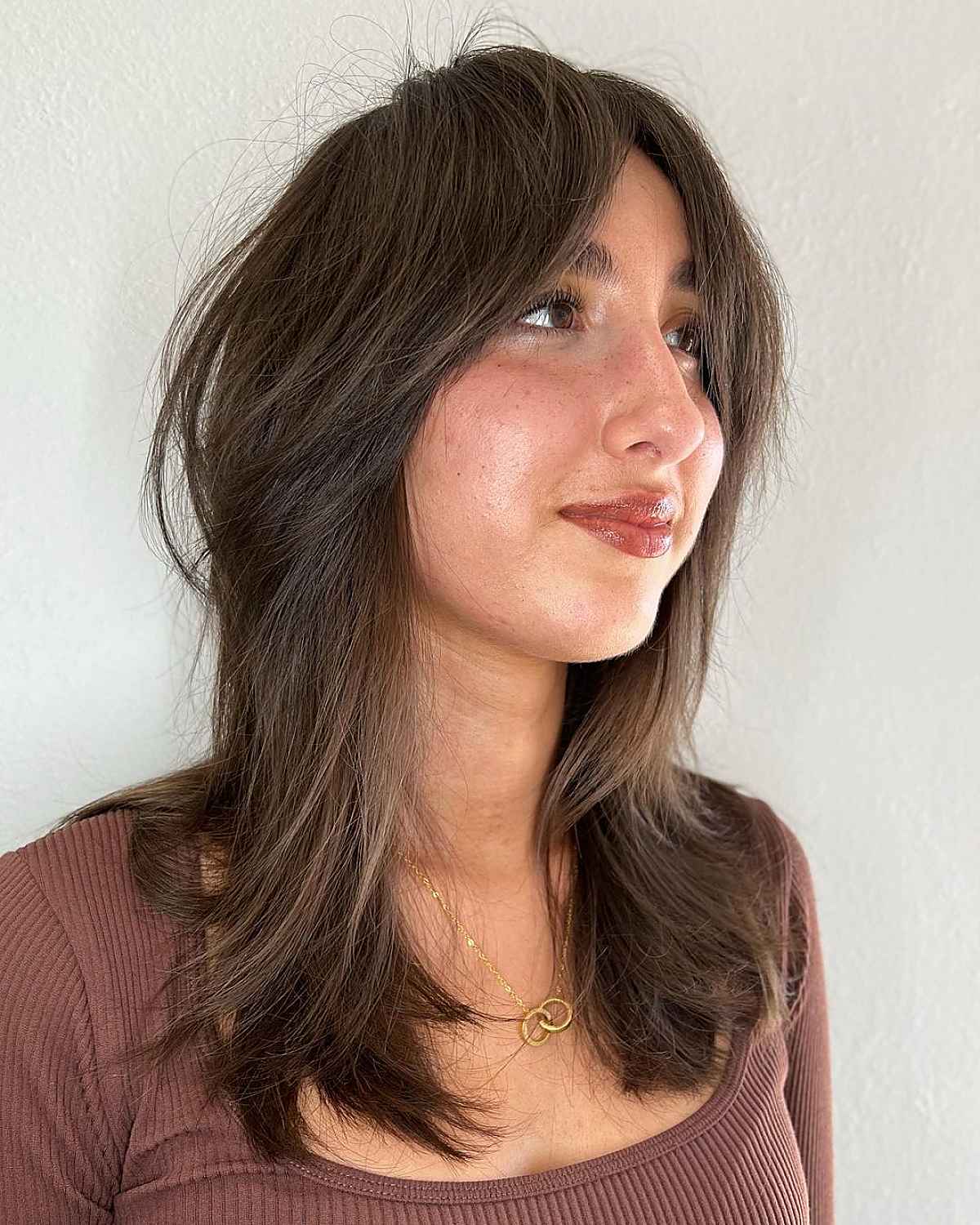 #18: Textured Curtain Bangs with Layers
Textured curtain bangs with layers can complement many different haircuts. Medium-length hairstyles with curtain bangs can be worn with or without layers, but adding layers to a shoulder-length style will give a more textured appearance.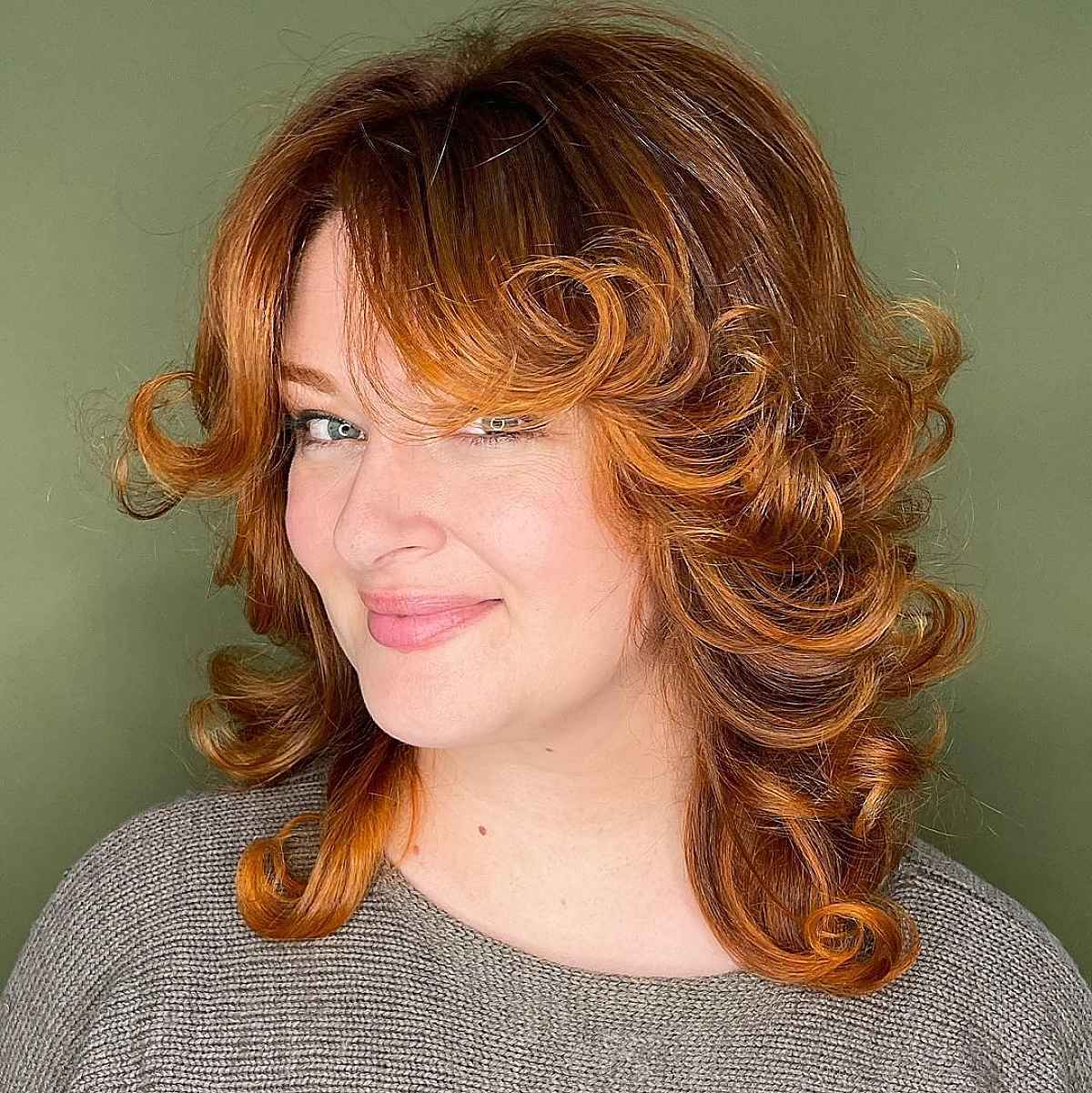 #19: Vintage-Inspired Curtain Bangs
Vintage-inspired curtain bangs can be styled by adding a curl away from the face to the ends. Women that have shoulder-length curly hair with curtain bangs will stand out in a crowd. Vintage hairstyles are coming back and are always eye-catching.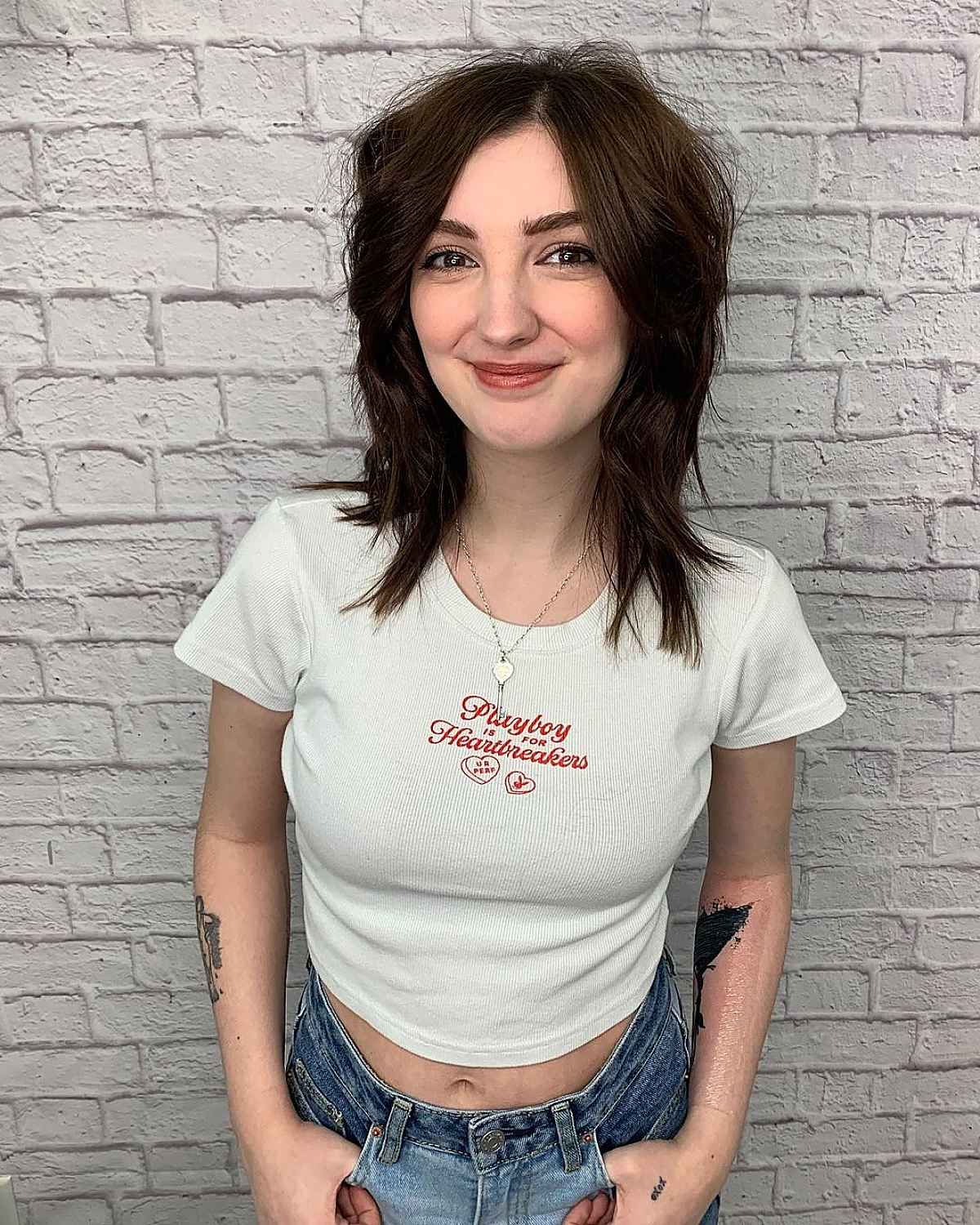 #20: Textured Cut with Face-Framing Bangs
A textured cut with face-framing bangs has piecey layers with wispy ends. When asking for shoulder-length layered hair with curtain bangs, your stylist may recommend extra texturizing if you have thick hair. The texturizing will ensure that your hair has an overall soft appearance and will give extra volume at the root.
Related: Face-framing haircuts for all women.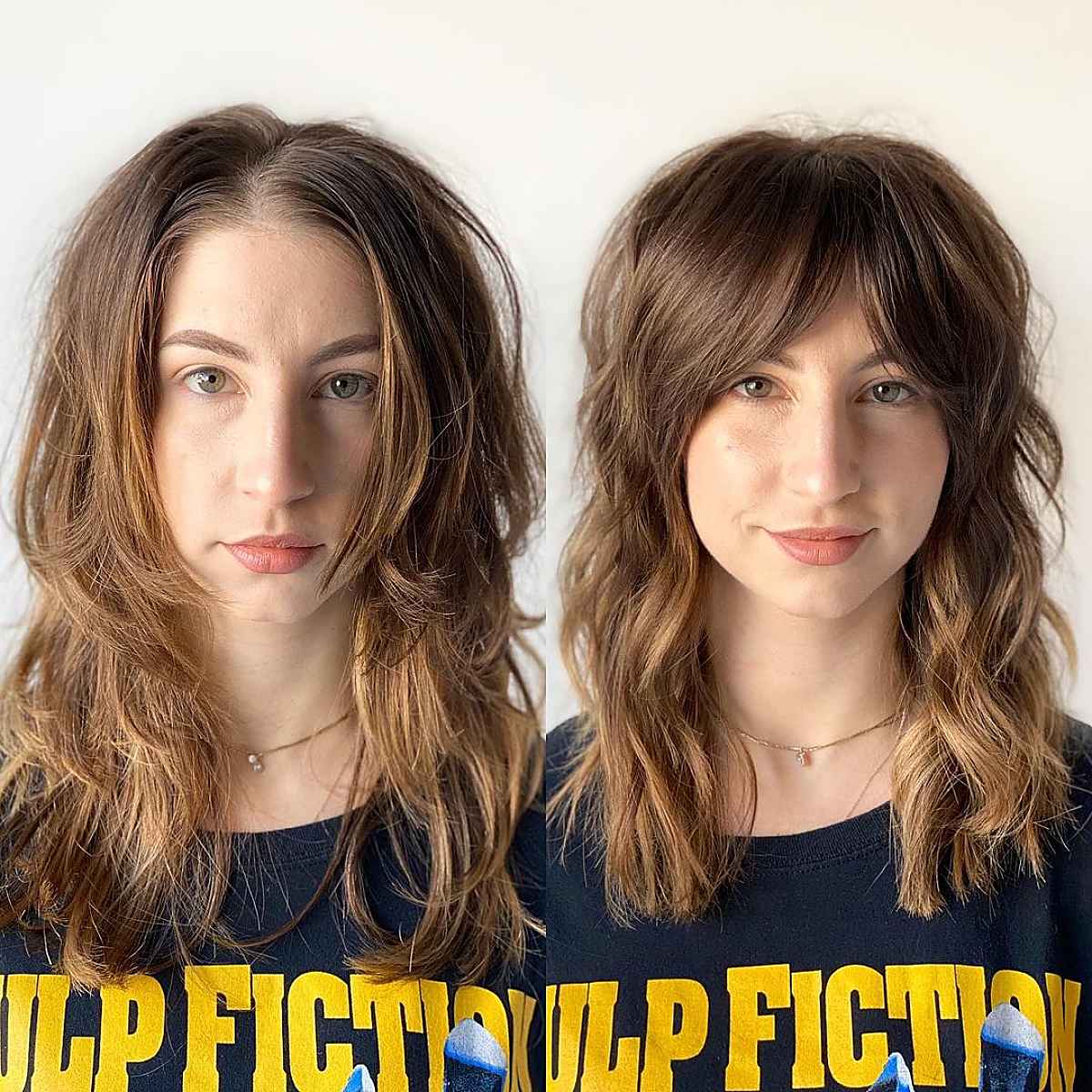 #21: Curtain Bangs with Beach Waves
Curtain bangs and beach waves are a match made in heaven. Shoulder-length wavy hair with curtain bangs looks great soft and shiny or with lots of texture and volume.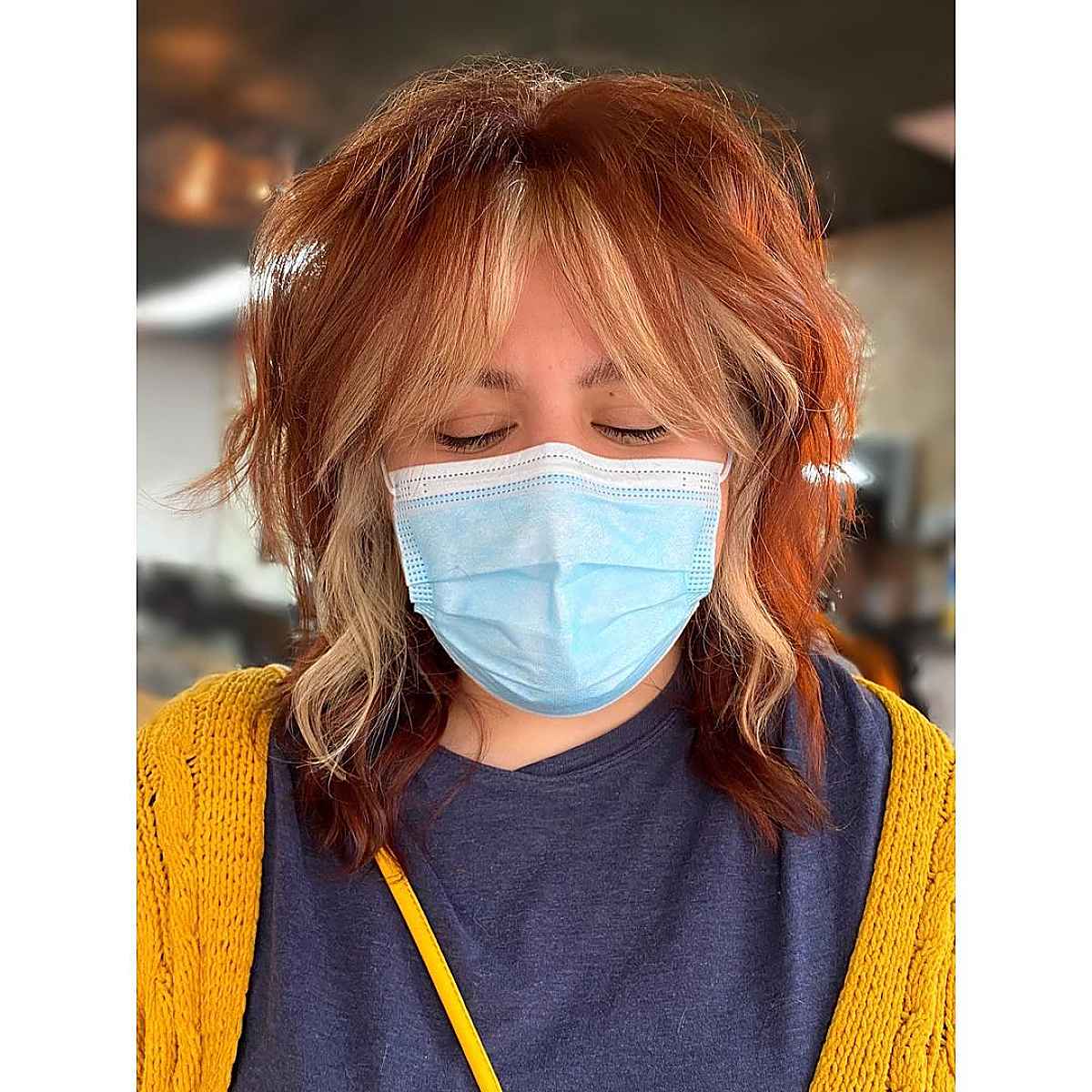 #22: Shoulder-Length Wolf Cut with Bangs
A shoulder-length wolf cut with bangs is a haircut that has lots of layers and is longer in the back than the front. Shoulder-length hair with curtain bangs and layers can be achieved with many different haircuts. A layered bob with curtain bangs would be a similar style, but with a more even length from back to front.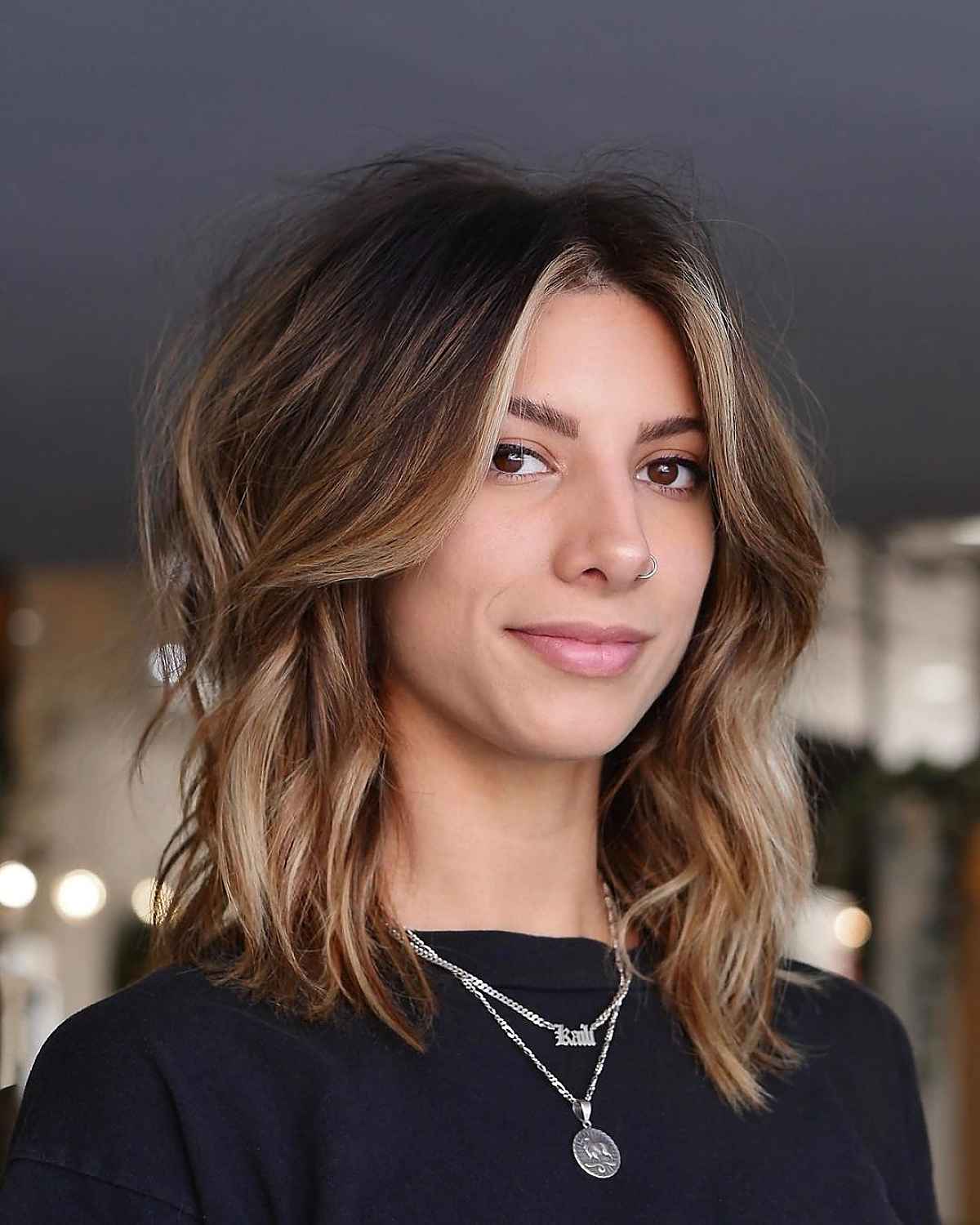 #23: Long Curtain Bangs on a Textured Shag
Long curtain bangs on a textured shag is a fun haircut to have when you're wanting to grow out your hair. If you have a medium-length haircut and are wanting longer hair, this cut with curtain fringe will be a great option because it will keep its shape as it grows out. To blend your bangs into the rest of your hair, ask your stylist to add some face-framing layers.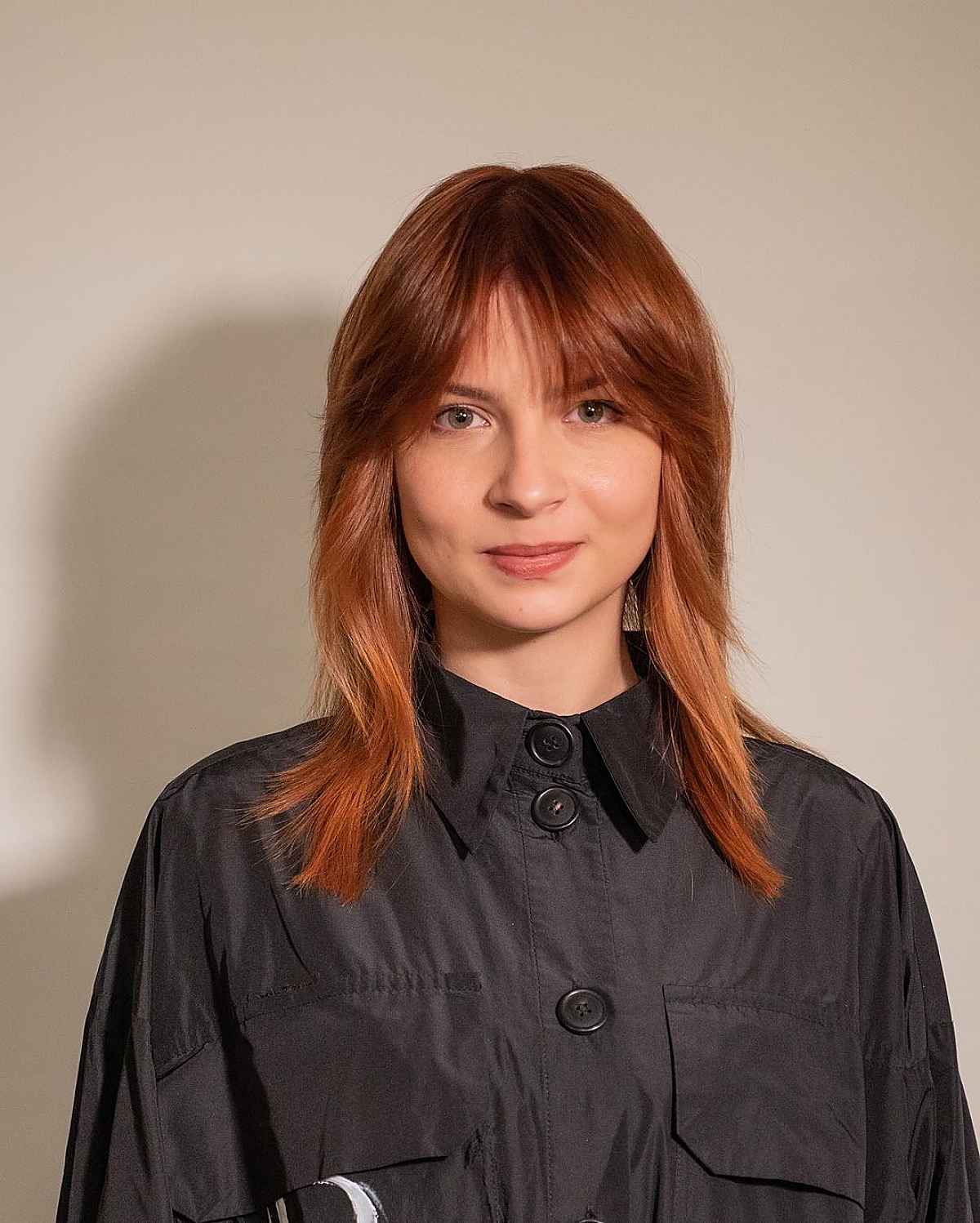 #24: Wispy Cut with Heavy Curtain Bangs
A wispy cut with heavy curtain bangs is a collarbone-length hairstyle meant to look messy. If you're wanting curtains bangs for medium-length hair that's fine, consider asking for a wispy, shag style haircut with it. This will complement the fine texture of your hair and make the style with curtain bangs more cohesive.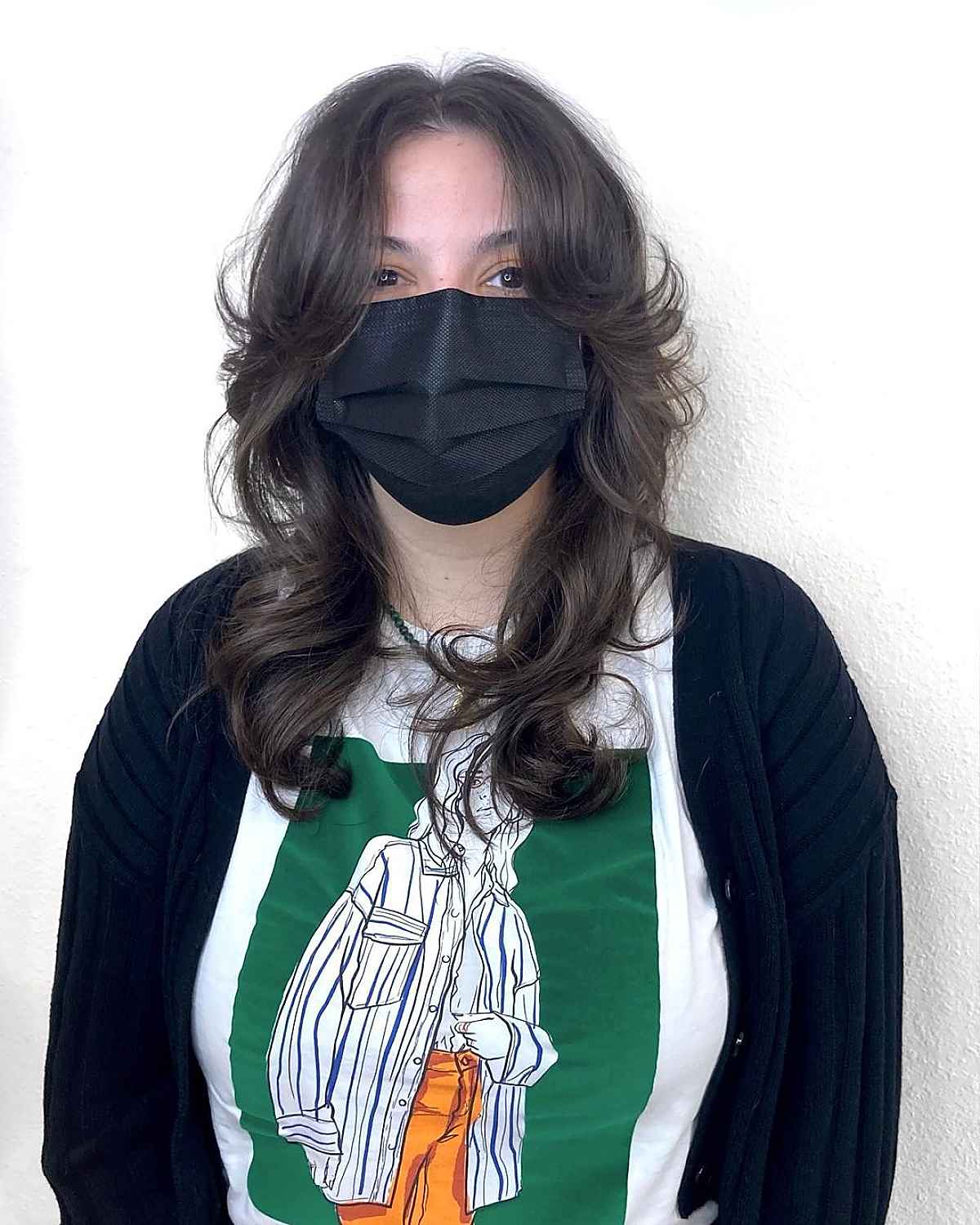 #25: Razor Cut with Long Feathered Bangs
A razor cut with long feathered bangs is a hairstyle that is soft and textured. Anyone wanting to try long feathered curtain bangs should keep in mind they are most commonly styled with a middle parting. If you're used to a side part, this might be the perfect haircut to try a new parting.
#26: Messy Style with Long Curtain Fringe
A long curtain fringe paired with a messy style is great for women who love low-maintenance hairstyles. Straight shoulder-length hair with curtain bangs can get a messier look by using a texture spray such as Aveda Texture Tonic on damp or dry hair.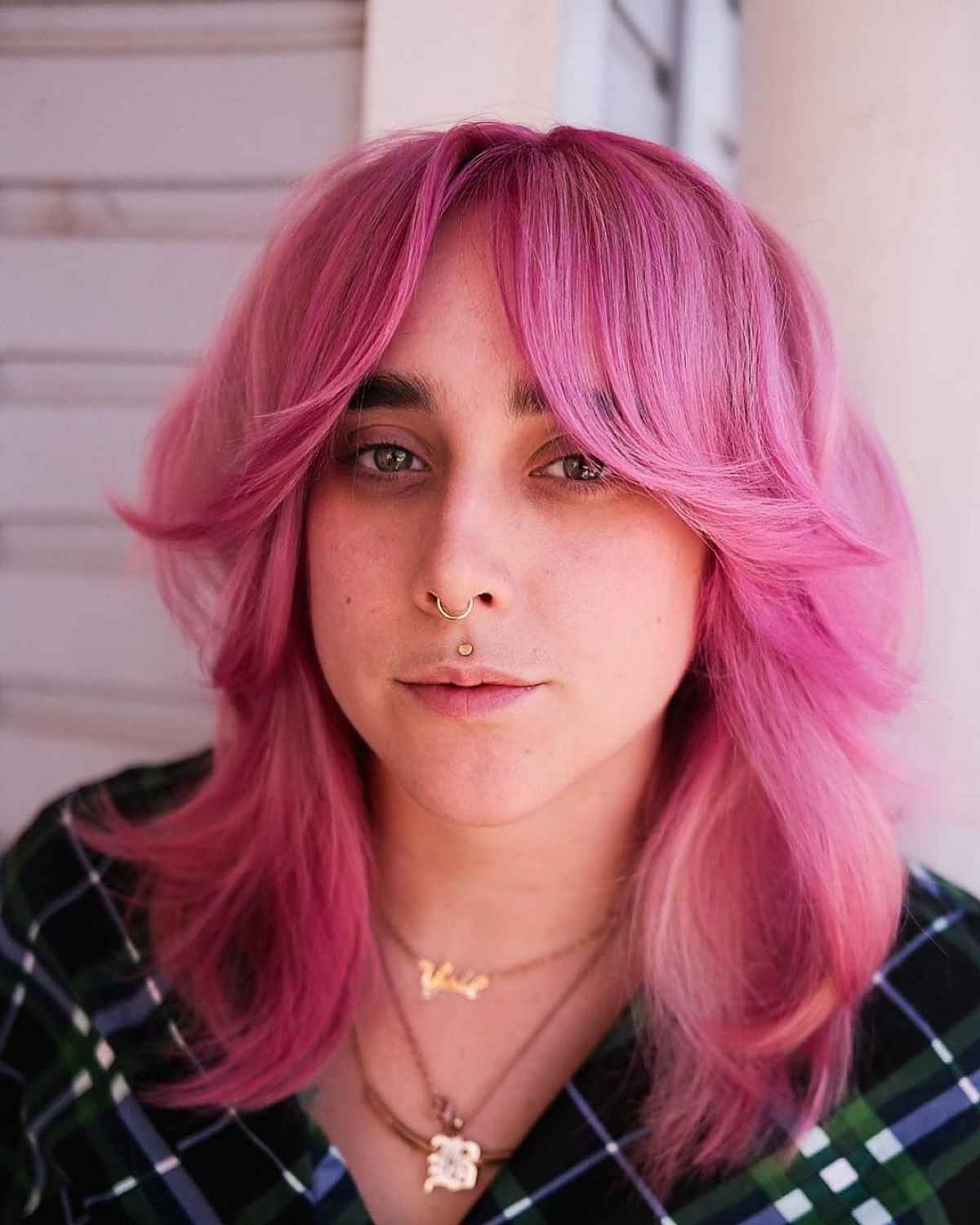 #27: Medium Soft Shag with Bardot Bangs
Medium soft shag cuts with Bardot bangs are a trendy style that women of all ages can wear. Keeping the bangs at cheekbone length will keep you from needing frequent trims and is able to be styled in multiple ways. Shoulder-length haircuts with curtain bangs look amazing curled or straight and messy.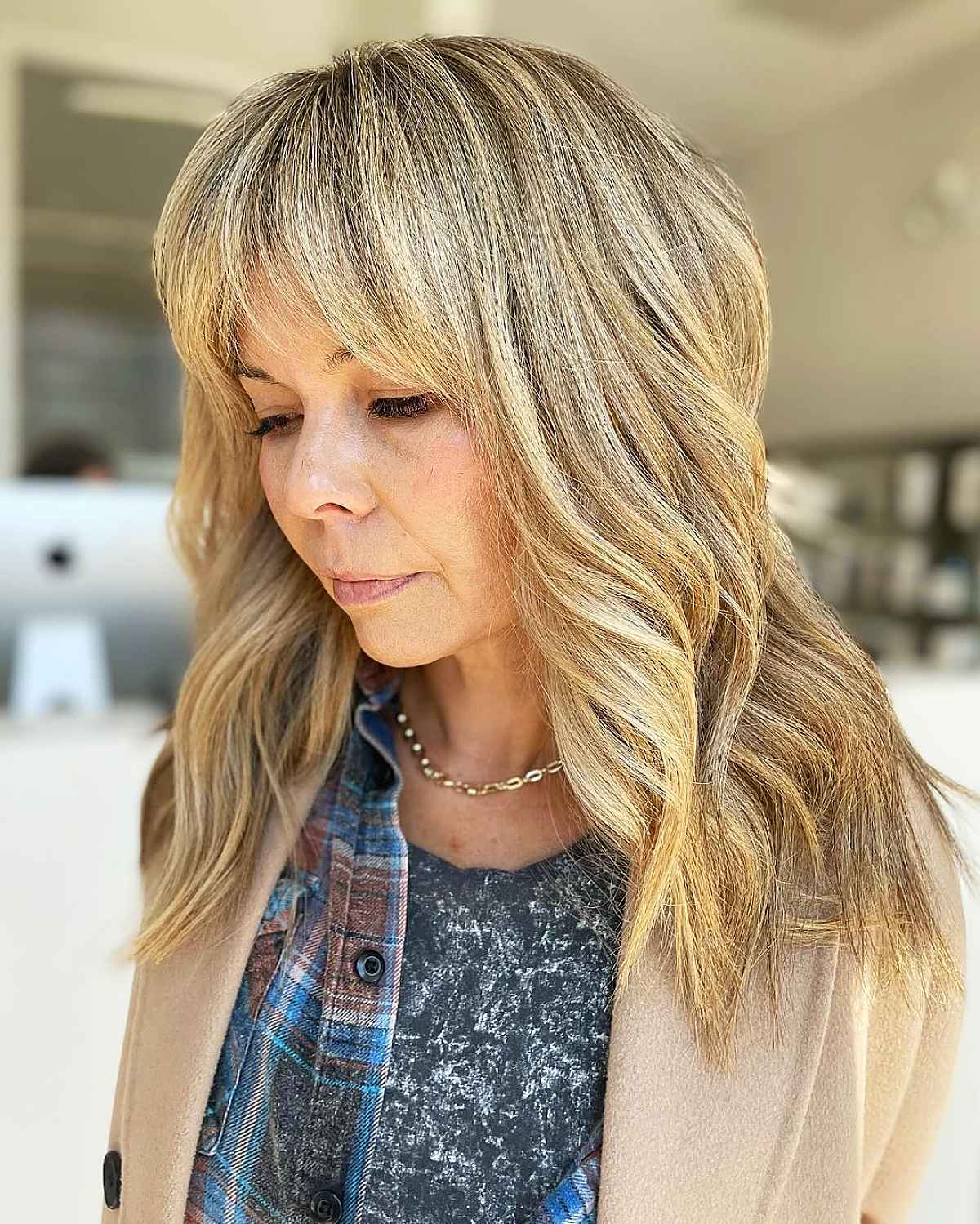 #28: Curtain Bangs on Mid-Length Wavy Hair
Curtain bangs on mid-length wavy hair is a very popular hairstyle right now. Shoulder-length hair with bangs for women over 50 can absolutely look age-appropriate. For styling, use a 1.5-inch curling iron and leave the ends out for a soft wave style with curtain fringe.