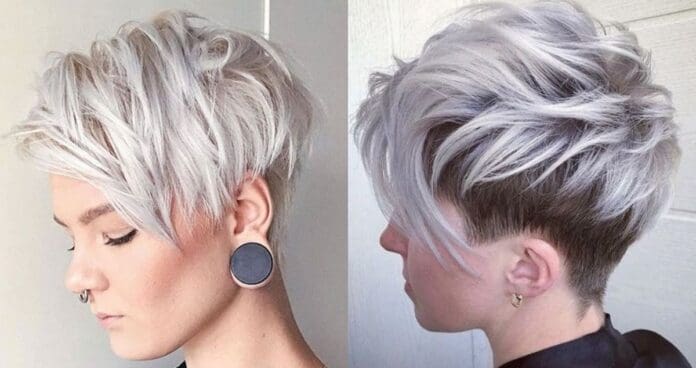 Short Haircuts For Thick Hair
Thick hair can provide you with lots of styling options, but it can also be difficult to manage. When it comes to the best short haircuts for thick hair, texture, layers and undercutting can eliminate bulk to create a weightless looking style with tons of movement. We've gathered 35 of our favorite short haircuts that will leave your thick hair looking light, on-trend, and never weighed down.
1. Polished Tapered Pixie
This short pixie haircut features a wide variety of lengths that help to remove bulk and make it an excellent choice for women with thick hair. Long pieces left on the top of the head make feminine styling an option, while tapering to much shorter lengths at the back and sides allow you to style this haircut into an incredibly polished look.
2. Textured Boy Cut
Cutting lots of shape and texture into this boyish pixie haircut means your thick hair won't come across as shapeless.
3. Asymmetrical Bob With Bangs
These bangs begin fairly far back on the head, resulting in quite a bit of hair being removed from the rest of this asymmetrical bob haircut. Bangs like this can rob thin-haired women of much-needed volume, but if you've got a thick head of hair they'll help make the rest of your haircut more manageable.
4. Bold Buzz Cut
You don't have to have thick hair to wear this fearless buzz cut, but days spent trying to tame coarse strands might eventually inspire you to buzz it all off. This bold look is enjoying a trendy moment, but the cut can also help to slim and open up your face.
5. Short Bob With Undercut
This short, ear-length bob with a high undercut is one of Scarlett Johansson's best looks. The undercut eliminates hair that can make shorter haircuts look grown out and sloppy mere weeks after each trim. If you're looking for an undercut style that will be easier to grow out, leaving longer hair on top can help camouflage the shorter pieces as they grow through their awkward stage.
6.Angular Side Shave With Hard Part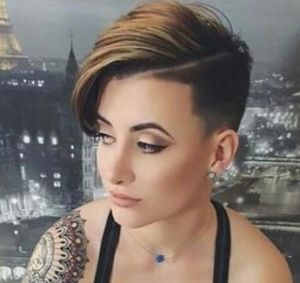 Shaving nearly half of the head into a very short buzz is a practical and stylish way to deal with thick hair, while the addition of a hard part adds an extra level of commitment to this masculine-inspired haircut.
7. Edgy Undercut Pixie
Mimic Katy Perry's daring new 'do if you're looking for a brand new haircut that will shed tons of bulk from your head. Women with round faces will find this short haircut particularly flattering, as the closely shaved sides and tousled hair on top help to lengthen and slim the face.
8. Shaped Natural Curls
Use precise cutting techniques to create shape and texture that can make your thick, natural curls easier to manage without resorting to chemical or heat styling.
9. Swept Back Undercut
Styling a short haircut back and away from the face can create an edgier look compared to when pieces are swept across the forehead. Combined with undercutting around the back and sides, this short haircut is perfect for bold, edgy women with thick hair.
10. Textured Stacked Bob
Stacked layers in the back and textured ends throughout help to make this bob the perfect short haircut for thick haired women who want to feel flirty and feminine.
11. Feminine Fade
If you're looking for a super-short haircut but are worried about how your face will look with a buzz cut, this faded haircut might be a better choice. The contrast between longer curls on top and closely shaved sides will instantly contour and slim your face, making this a perfect edgy haircut for round-faced women.
12. French Bob With Side Bangs
The french bob is a classic short haircut for ladies who want to look effortlessly chic. The addition of a thick, side-swept bang helps to prevent the sides of this style from looking too thick, and they come with the added bonus of framing your eyes and balancing out a heart-shaped face.
13. Fauxhawk Pixie
Somewhere in between ultra-feminine pixies that are styled forward and more masculine looking, slicked-back styles, this fauxhawk pixie offers up a fun, edgy, and glamorous way to wear your thick hair.
14. Razor Bob With Bangs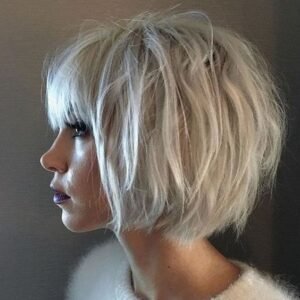 Using a razor cutting technique can remove weight from your thick hair while creating tons of movement in a shorter haircut. With bangs treated to a similar razored texture, this bob haircut looks supernaturally weightless.
15. Short Tapered Pixie
Ultra short and tapered, this pixie haircut is a bold yet surprisingly feminine choice for anyone looking to drastically reduce the amount of thick hair she has to style.
16. Thick Waves Bob
A short bob with textured layers allows you to play up your hair's thickness and natural waves without creating a round, helmet-like haircut.
17. Undercut Asymmetrical Bob
This asymmetrical bob haircut uses several techniques to eliminate some of hair's thickness. Layers concentrated in the back of the hair help to create volume at the crown of the head, while an undercut removes bulky hair from underneath.
18. Military Cut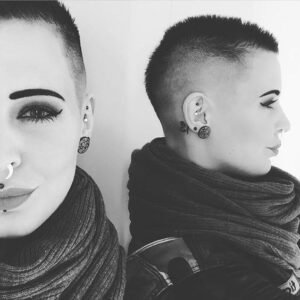 Another radical take on a bold buzzed haircut, this military inspired look is eye-catching and edgy while offering up a tiny bit more hair than a super short buzz cut all-over.
19. Asymmetrical Stacked Bob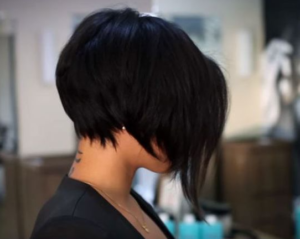 Stacked layers in the back of this bob haircut are left on the choppy side, showing off more raw texture than the sleek stacked bobs popular among professional women. Longer pieces in front create some artsy asymmetry that allows you to pin back or play with added curls or waves.
20. Shaggy Pixie
Shaggy layers add just the right amount of retro flair, and help to make this longer pixie haircut weightless and bouncy.
21. Sleek Swoop With Side Shave
The longer hair on top of this edgy look has been cut with lots of texture, creating a sleek looking swoop even on thick hair. The rest of this haircut keeps things extrashort with shaved back and sides, making it so you won't have to worry about styling these sections of your hair.
22. Undercut Pixie Bob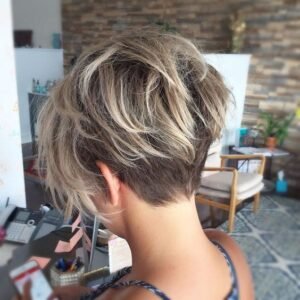 Pixie in the back and bob in the front, this short haircut helps to control thick hair with a closely cropped undercut. This undercut isn't so short that it shows scalp, making it a good choice for short haired women who want to reduce their thick hair without wearing an edgy looking haircut.
23. Textured Layers Lob
Soft and simple, the layers in this textured lob can be varied depending on your hair's specific thickness.
24. Angled Bang Pixie
The angled bangs in this pixie provide extra detail that can help to reduce the appearance of a larger forehead, while the rest of the haircut keeps things short and simple.
25. Undercut A-Line Bob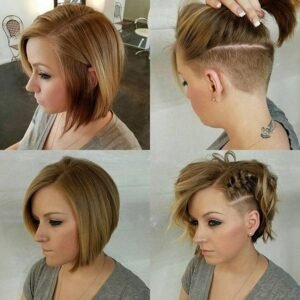 This A-line bob features a well-hidden undercut that makes a sleekly shaped style possible even for women with thicker hair, and adds edgy detail when you decide to wear your hair in an updo.
26. Sophisticated Undercut Pixie
This short haircut combines the sweet style of a polished pixie with some undercutting at the sides that keeps this haircut perky looking even on the thickest head of hair.
27. Peekaboo Shave Bob
This peekaboo side shave is an edgy detail that works best on thicker manes that have extra hair to spare. Extend this undercut farther back if you're looking for an extra light undercut style.
28. Choppy Texture Bob
This choppy texture could make a fine-haired bob fall flat, but offers up a perfectly tousled style for women with thicker hair.
29. Blunt Bob Undercut
Blunt bobs are often recommended for women with thinner hair, as they tend to maximize your hair's volume. If you love the blunt look but have hair on the thicker side, an undercut nape can make a blunt style work with your hair's texture.
30. Fairy Pixie
Longer pieces of hair left around the ears help to create an ethereal quality to this pixie haircut, while a straight cut nape provides contrasting texture and makes frequent trimming of thick hair quicker and easier.
31. Half Shaved Bob
This half shaved bob is a bold and edgy haircut that works best on thick haired women with tons of volume to spare.
32. Undercut A-Line Lob
A subtle undercut at the nape helps to keep hair at the back of this A-line lob looking light and full of movement.