A bright red hair color gives a rich shade giving a warm tone to your hair. You can experiment with highlights, ombre, a dip-dye, or bold solid color in its original form. One thing to consider is that if you are brave enough to get a fiery look then go for it without a second thought! We can say that this is a season of red hues as a lot of celebrities like Christina Hendricks, Chloe Dykstra, and Jennifer Morrison are breaking ground by wearing this hair color. Additionally, red hair color is something that one can never ignore when done with perfection. A hairstylist Josh Boynton from Tennessee has shown his style ideas exhibiting ruby red on his social media and we can say nothing but mind-blowing! Different styles starting from a short bob to longer lengths, a mermaid wave hairstyle to a sleek look, a vivid red can prove that you can never be wrong with this shade. However, for a polished long-lasting finish, you will need to take some precautions for sure. For example, washing your hair with cold water, applying quality products like color-safe shampoos, and taking the stylist's advice seriously are some of the tips that will preserve your bright red color in a better way. So for your next salon visit, we have got some excellent ideas for getting a bright red hair color, don't miss them out.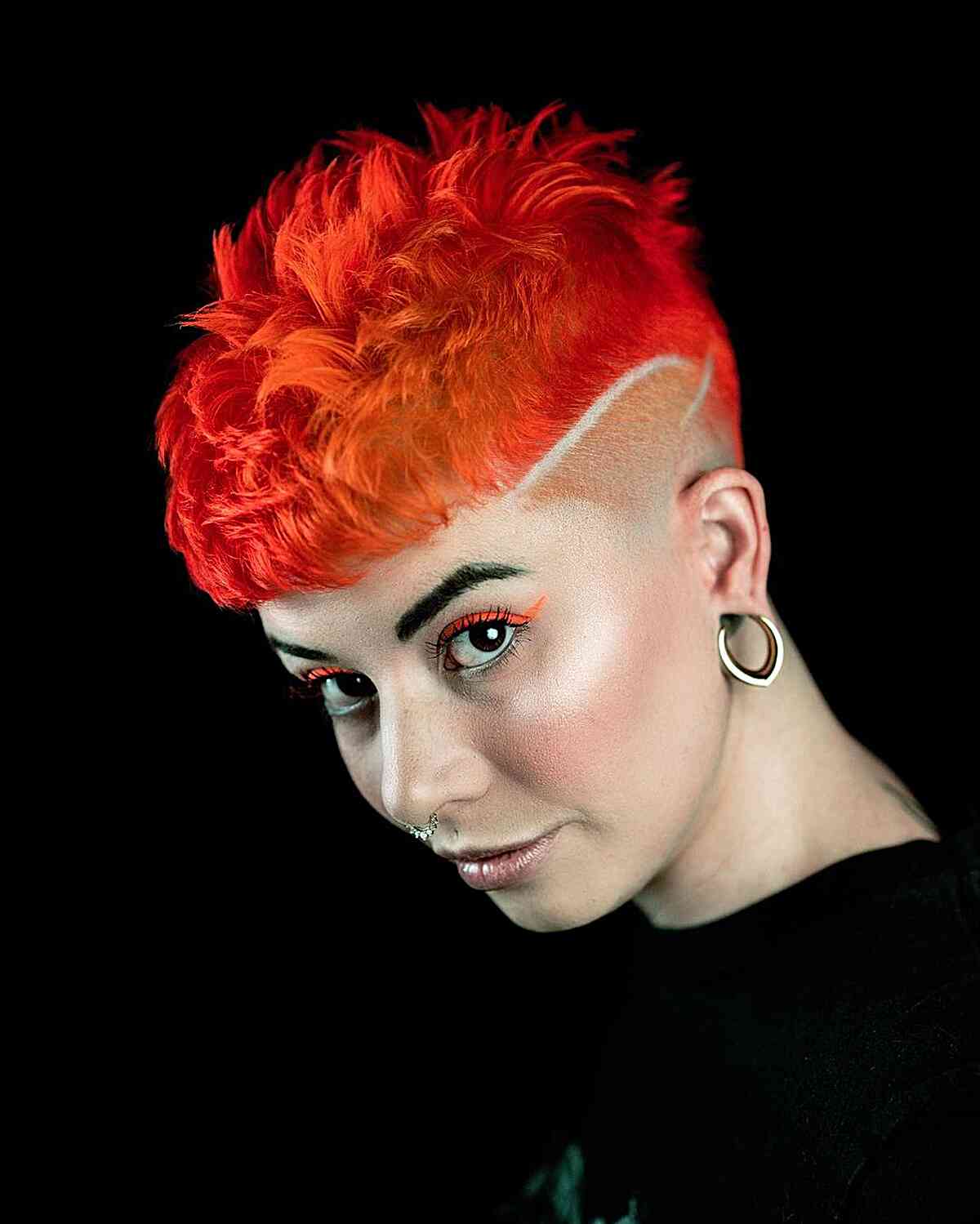 Try A Bright Neon Pixie Cut
Going for a bright neon pixie is a perfect idea to wear a bright red color! It can be enhanced by a textured top and two shaved lines. For this look a barber and to give a cut and a colorist are required. A colorist expert at giving vivid colors will know how to create a variety of different hues for each client. To preserve the freshness of your dyed hair color-treated shampoos and conditioners must be used with every wash. Moreover, add products to your hair care regime that contains UV protection in them that will maintain the actual color. I suggest applying L'Oreal Professionnel's Serie Expert Vitamino Color AOX Shampoo. This product helps to deal with color fading significantly.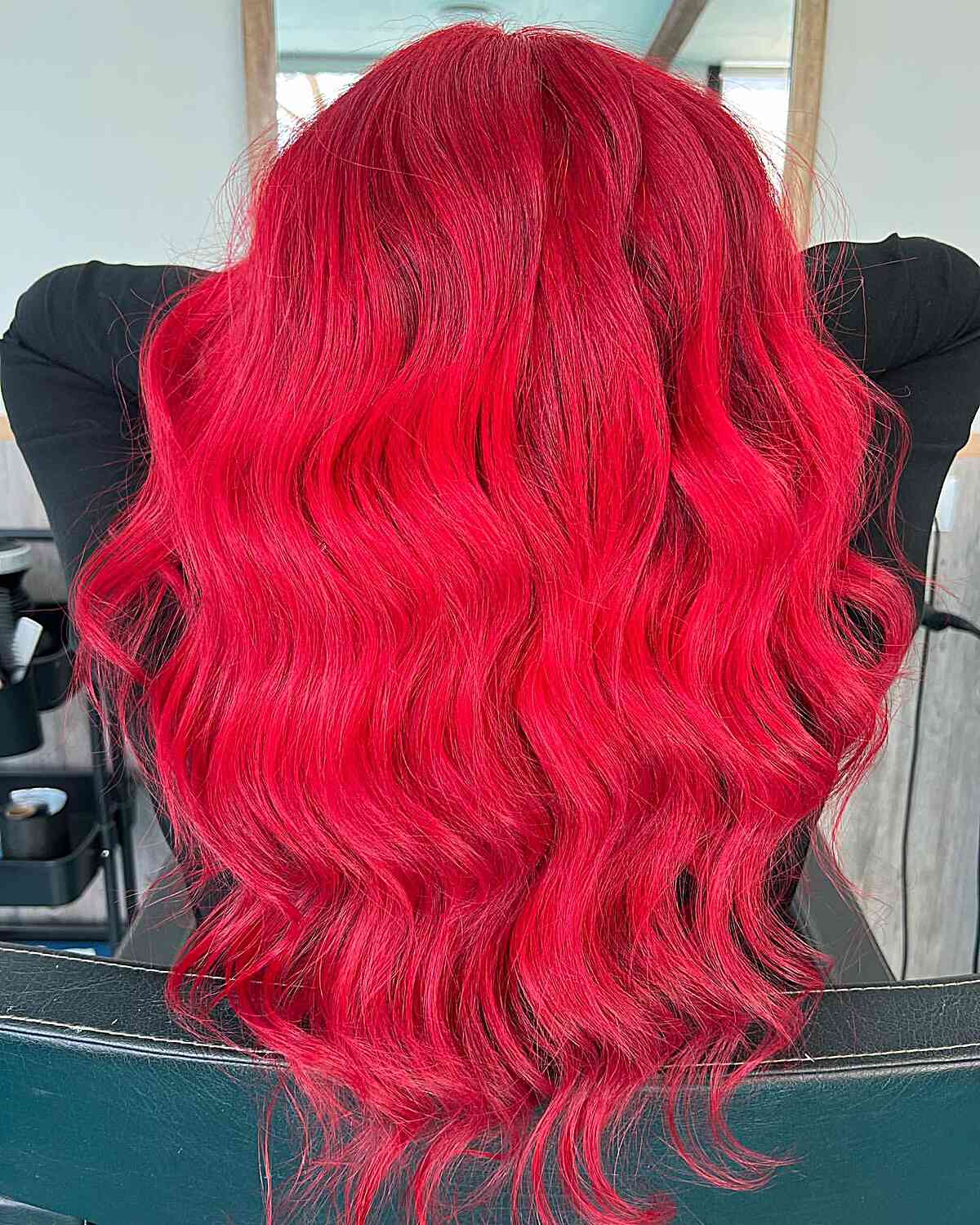 Dye Your Hair with Bright Red Hues
Going with a shade of vivid red, you can stand out. Before getting this color carefully go through the process of creating a settled tone of mixed shades of red. For the application, dry hair works best along with enough saturation to get the color absorbed while covering all the hair areas. To retain the color a toning shampoo and conditioner are recommended. Adding curls to your hair to flaunt the look!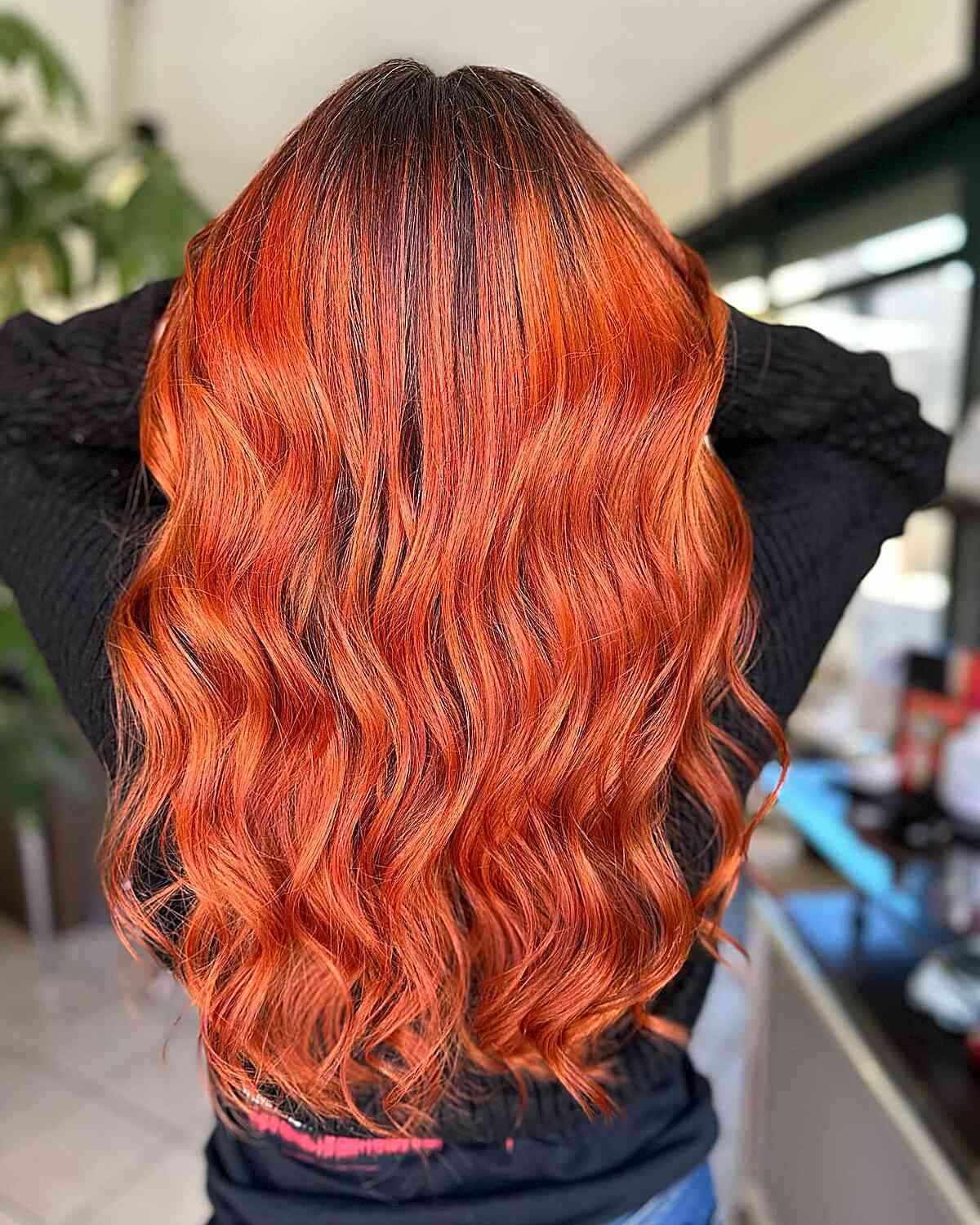 Wavy Hair Colored in A Bright Orangish-Red
Looking for perfect summer hair? A bright orangish-red with wavy hair is just for you. Dyed hair is more likely to add prominence to your personality. Going with vivid shades can help you express yourself in a bubbly manner. A natural brunette or red color head can be transformed by going with fiery reds along with the tone of bright oranges. Ask your stylist for a vibrant copper shade. A 1/5 inches wand is suggested to use for creating a perfect wave-like pattern.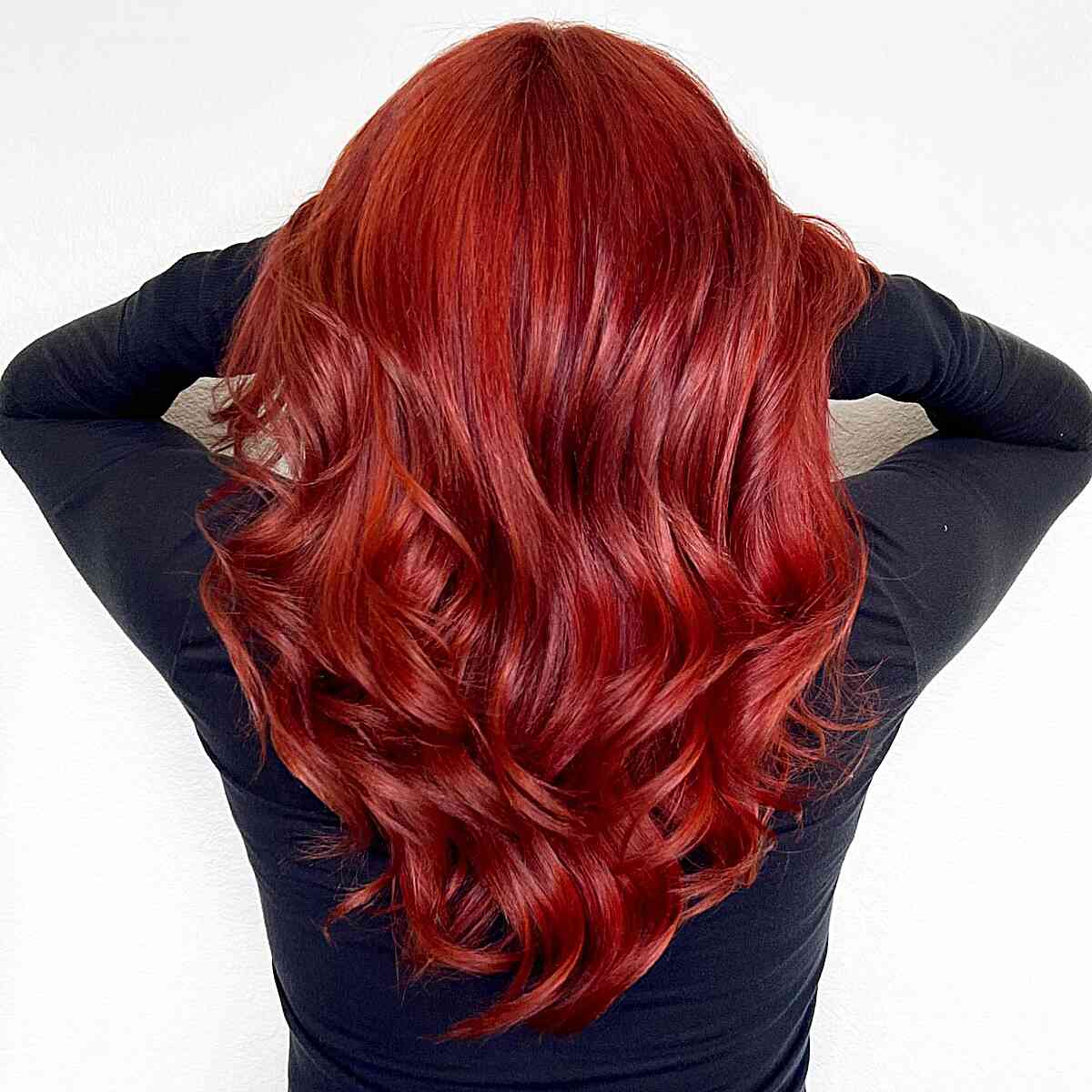 Get A Hot Tamale with A Bright Red Color on Wavy Hair
A hot tamale red hair shade is a choice that can not be ignored! Also, it can work for you if you have already gotten a vivid shade it is easy to refresh your hair color when wanting a change. If you are inclined towards pink to red shades a bright red is a must for a fresh look. Also, you can give a touch-up to your blonde hair by selecting a moderate tone.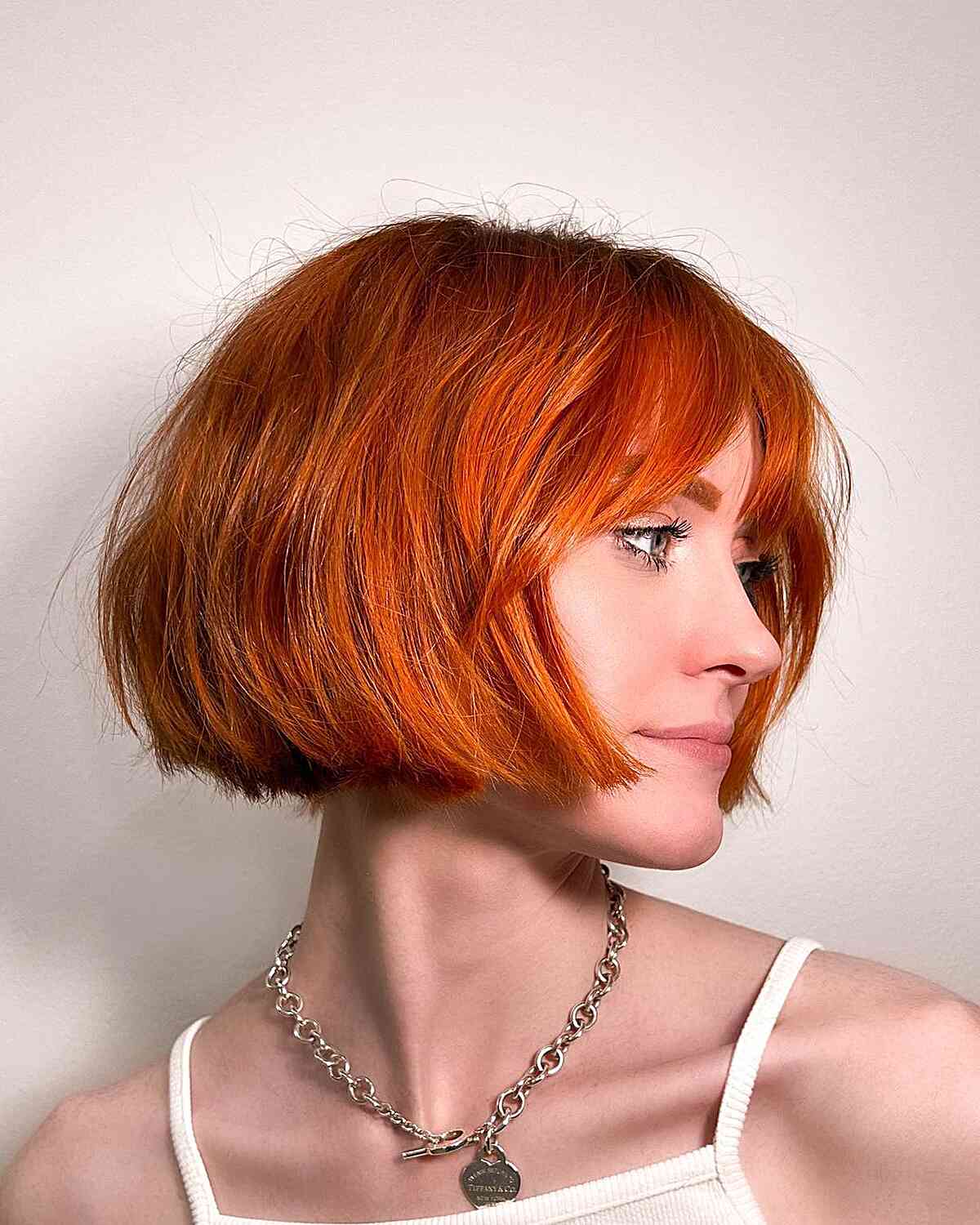 Rock A Bright Copper Bob
A bright copper bob looks breathtakingly beautiful. Add dimension to your hair by opting for dark copper roots with light tones of copper highlights. Also, this combination makes your hair voluminous. Going with this bright short red hair you can fix your fine hair perfectly. For added volume, I recommend using sea salt or a powder spray. Women with lighter skin can make a statement by using red copper tones. For other complexions find a suitable shade of copper to look trendy. Such shades give your hair a stunning shine along with a healthy feel.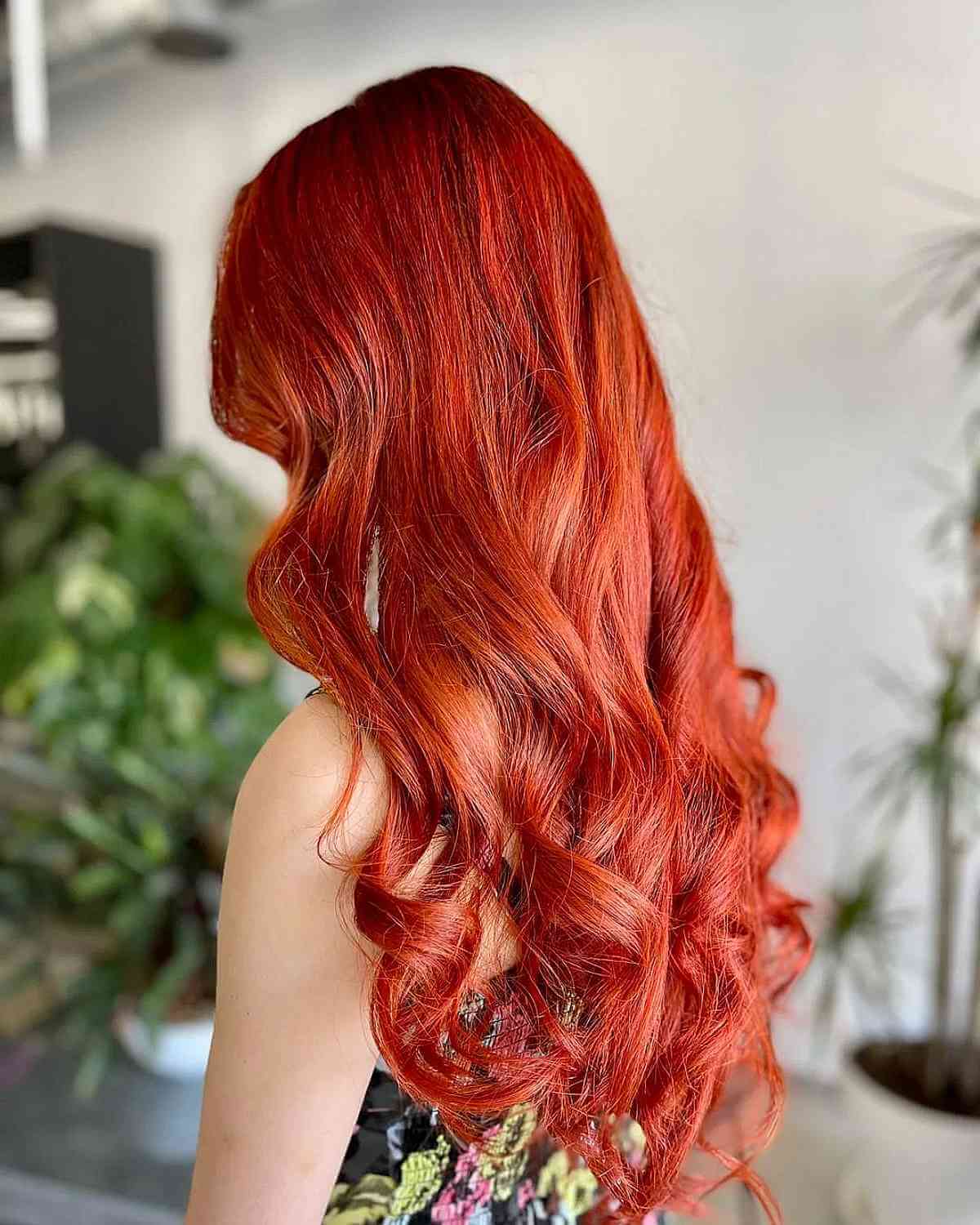 Copper Tones on Long Loose Curls
To make your hair give a flowy vibe long loose curls are a must-try. Your hair will radiate a beam glowing immaculately when brought to light. For fair skin tones sparkling warm shades will look beautiful making your complexion look brighter. Cascading loose curls will go for your look when dressing up occasionally!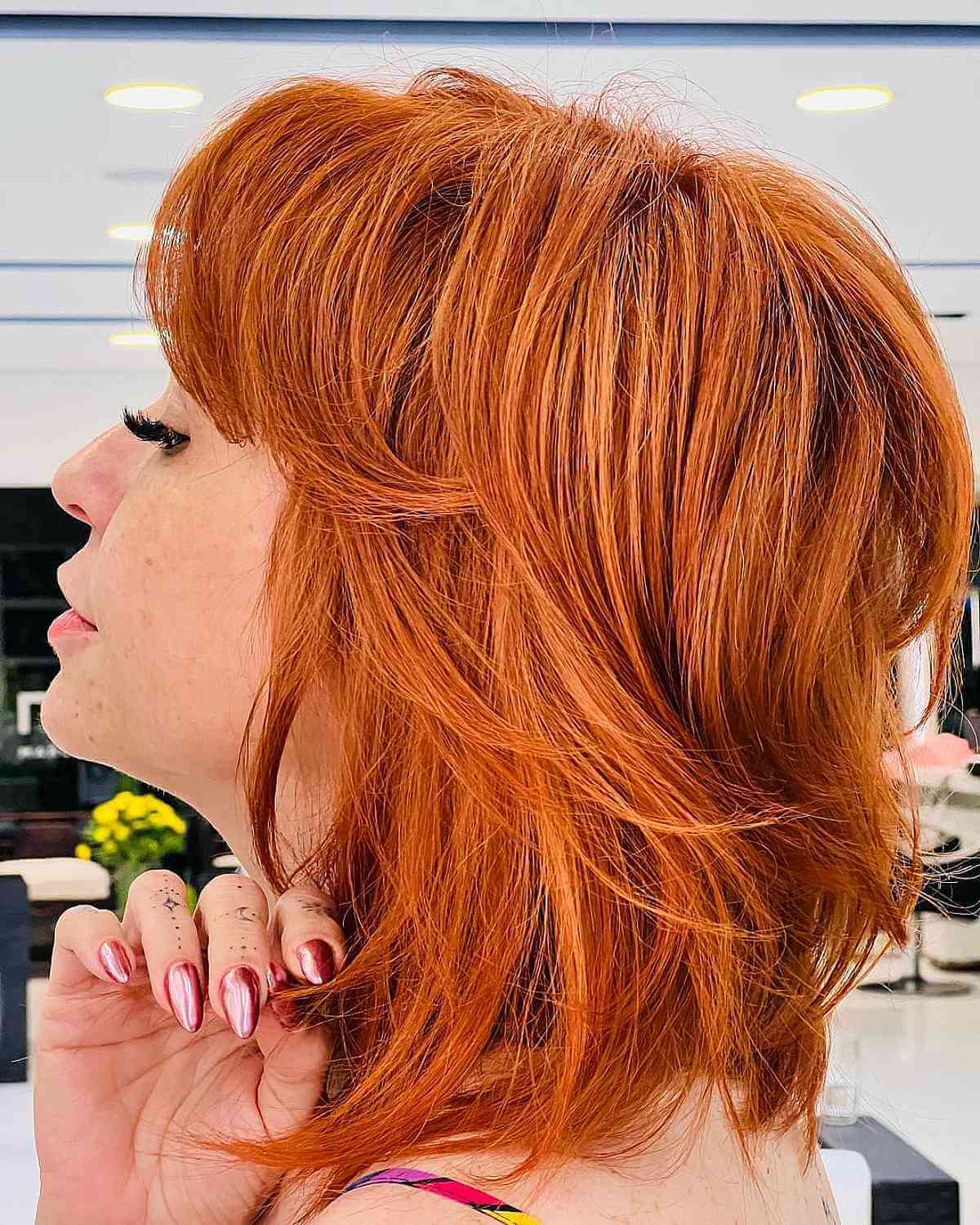 Ginger Layered Shaggy Bob
If you want to choose bold yet modern hair, ginger layered shaggy bob must be your pick. To stand out in this style color your bob in bright red hair color. To get movement at the ends, ask for choppy layers. For such a hairstyle thick or undone texture will be ideal. Go with any of these textures and it will make your hair look thicker maintaining the lengths of your hair. To preserve the tones I suggest using acai-infused shampoo especially if you have got color-treated reds. Also, Redken Color Extend Magnetic Shampoo must be used to last your color longer. Taking suggestions from your respective colorist for the best products to treat your colored hair well can be perfect.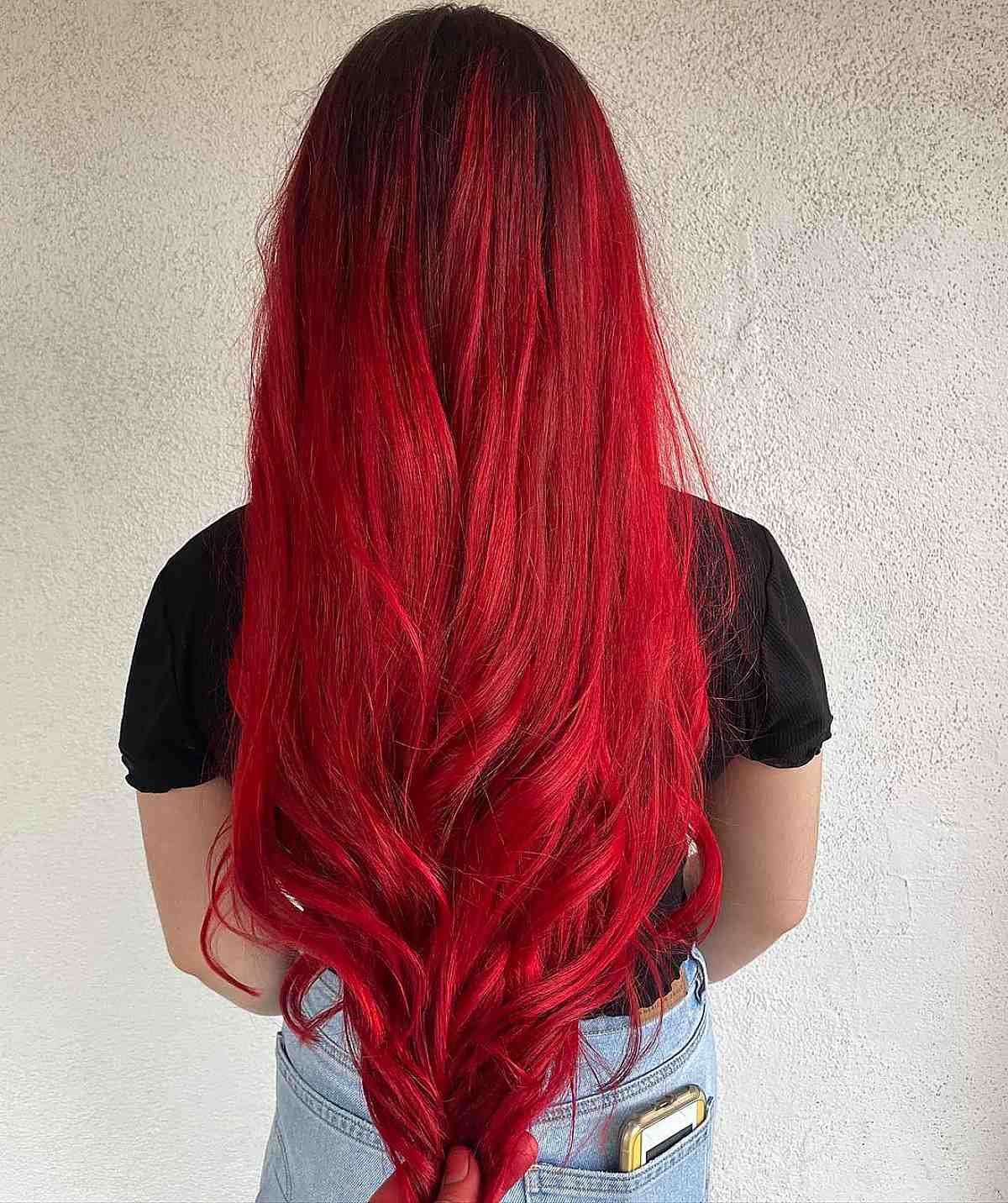 Try A Bright Ruby Red Hair
Ruby red hair giving vibrant look is a total vibe! If you are going with gold tones that too is a nice option, as it will perfectly align with your silky long lengths. Both these combinations are proof to go red-haired quickly!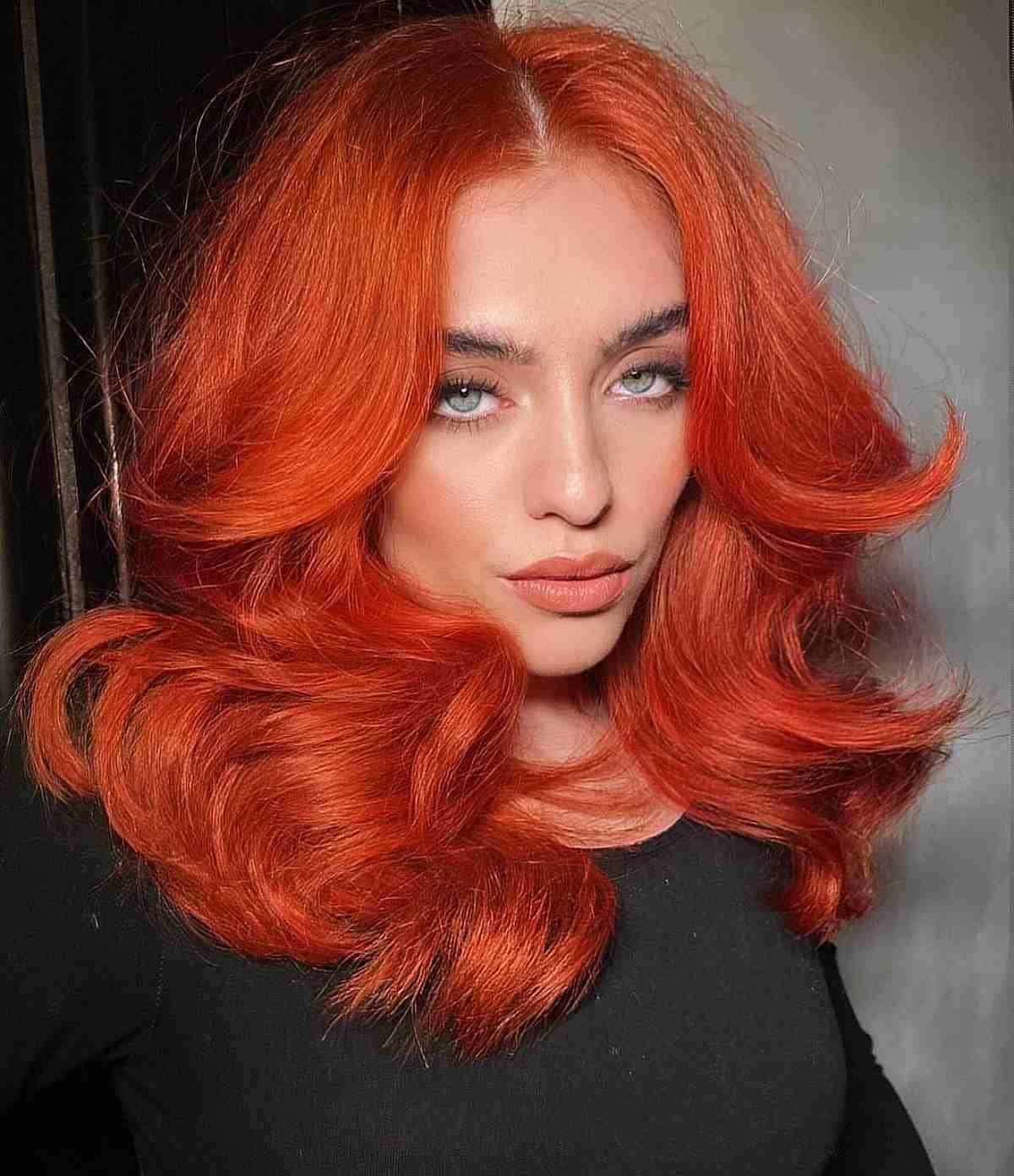 Stunning Bright Red Hair Color
A glamorous bright red hair exhibits an alluring style. This suggestion is for setting your hair more to gorgeous-looking curls than going for beachy waves. Asking to add layers will add style to the overall look. To make it look more trendy a little effort needs to be put in by making your curls fluffy through a round brush. The way you set your curls will add to the appearance of your hair. A pro tip is to use an iron for adding curls starting from your face and going in the same direction. Cool down your curls and smoothly brush your hair. Hot rollers can also be used for this purpose but you will have to be sure that either the curls have been cooled down or not, to get a perfect finish.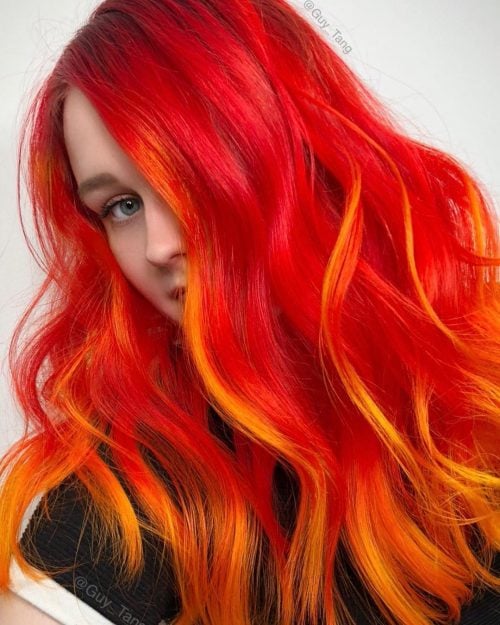 Vibrant Red with Blonde Highlights
To make your bright red hair color highlight pair it with a lighter shade to create a contrast. A fiery red with blonde highlights blended with a neon orange tone will act in correspondence to one another, creating a beautiful look for your hair. This hair idea is in the spotlight these days!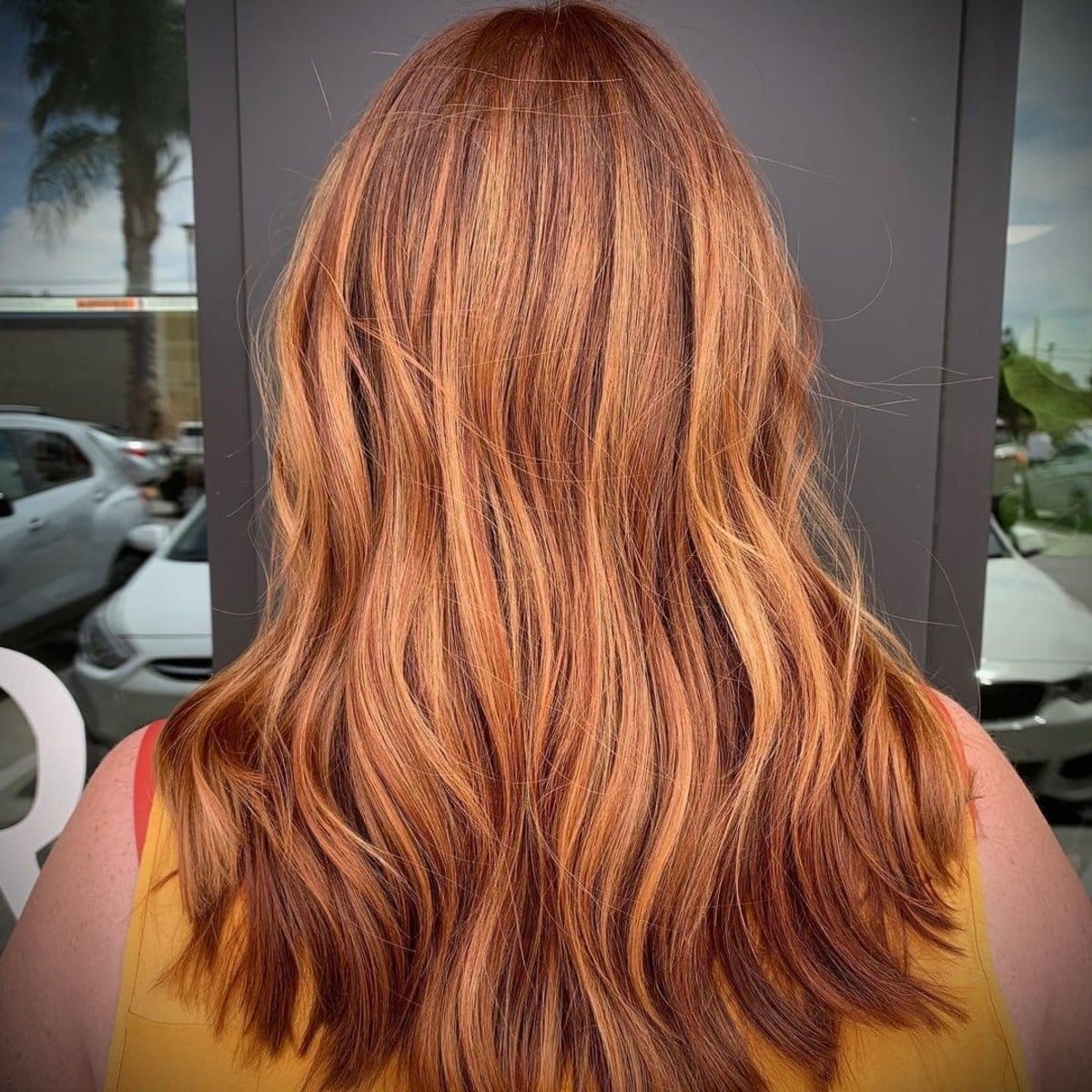 Opt for A Light Golden Red Hair with Highlights
Light golden red hair with highlights helps to create a lively yet modern appearance. To bring dimension to your red-colored hair chunks of red shades along with styling it with gold will help you a lot. For a seamless result straighten end ends while adding beachy waves to the hair above.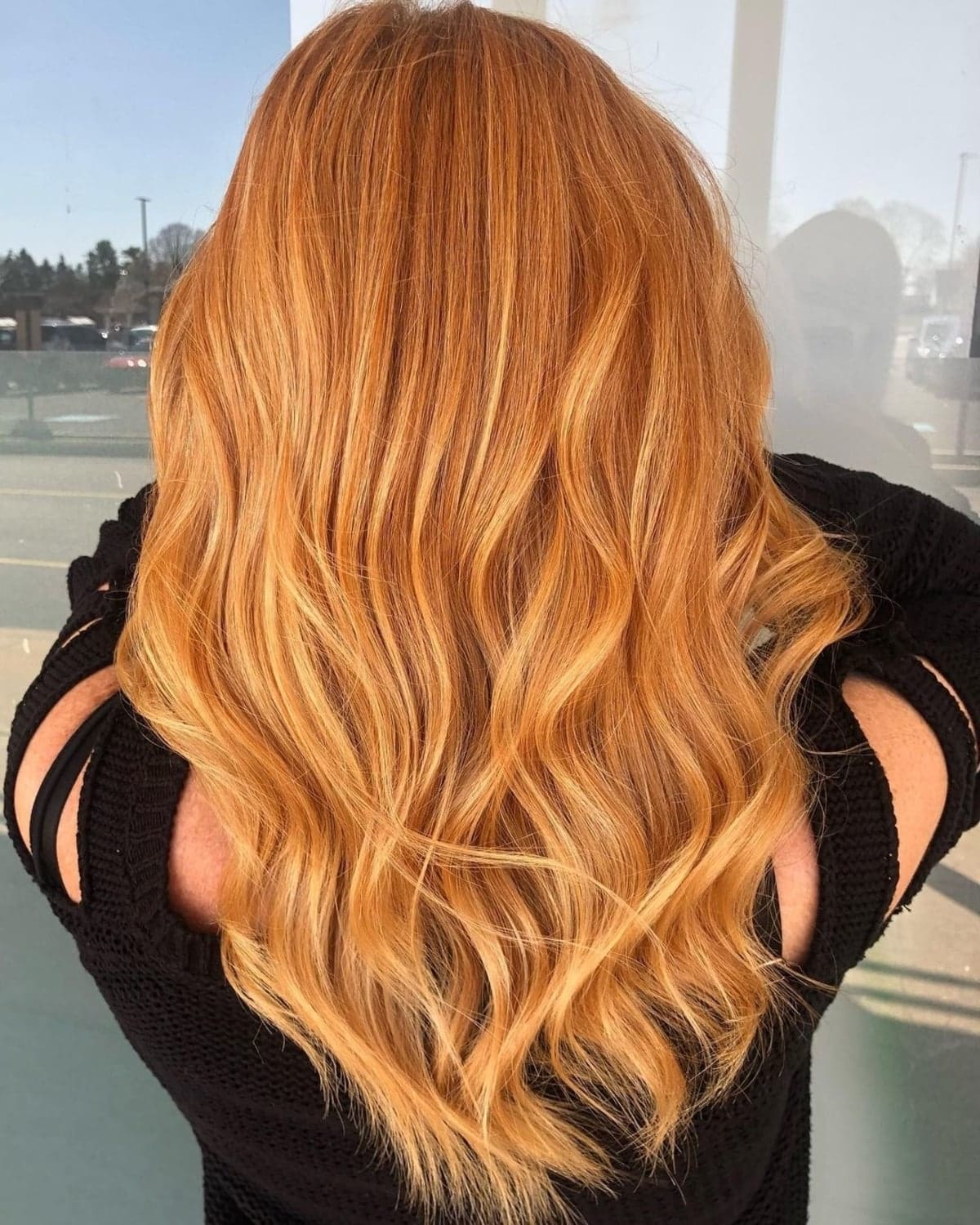 A Bright Strawberry Blonde Is Must Try
For long hair, a bright strawberry blonde will elevate your style. Strawberry blonde hues not only give off a natural feel on a pale skin tone but also goes perfectly fine with golden and darker skin tones. To get a flawless hair shade ask your stylist to merge strawberry and blonde tones while keeping in mind the intensity that you want for strawberry blonde color.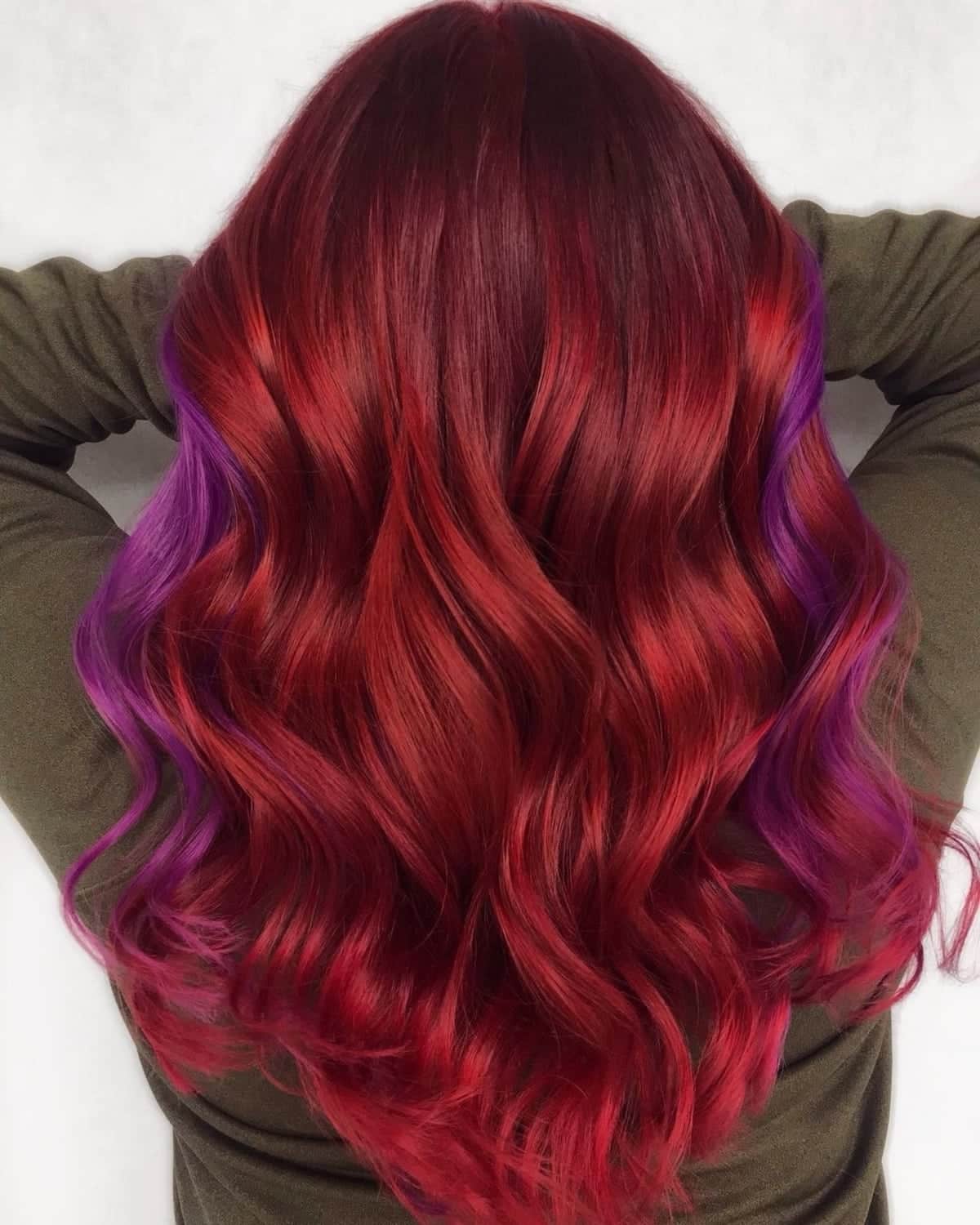 Stand Out with Purple and Red Shades
When separate, purple and red shades look stunning! But when two of these colors are combined consider it a dangerous pairing. You can go with the color-blocking technique to make one shade a primary one and the other can be used as a secondary shade. Also, the second color can be removed if it didn't go with your other dyed hair color. Creating shades of purple and red requires a significant amount of effort but once it is done the look is nothing but just over the top.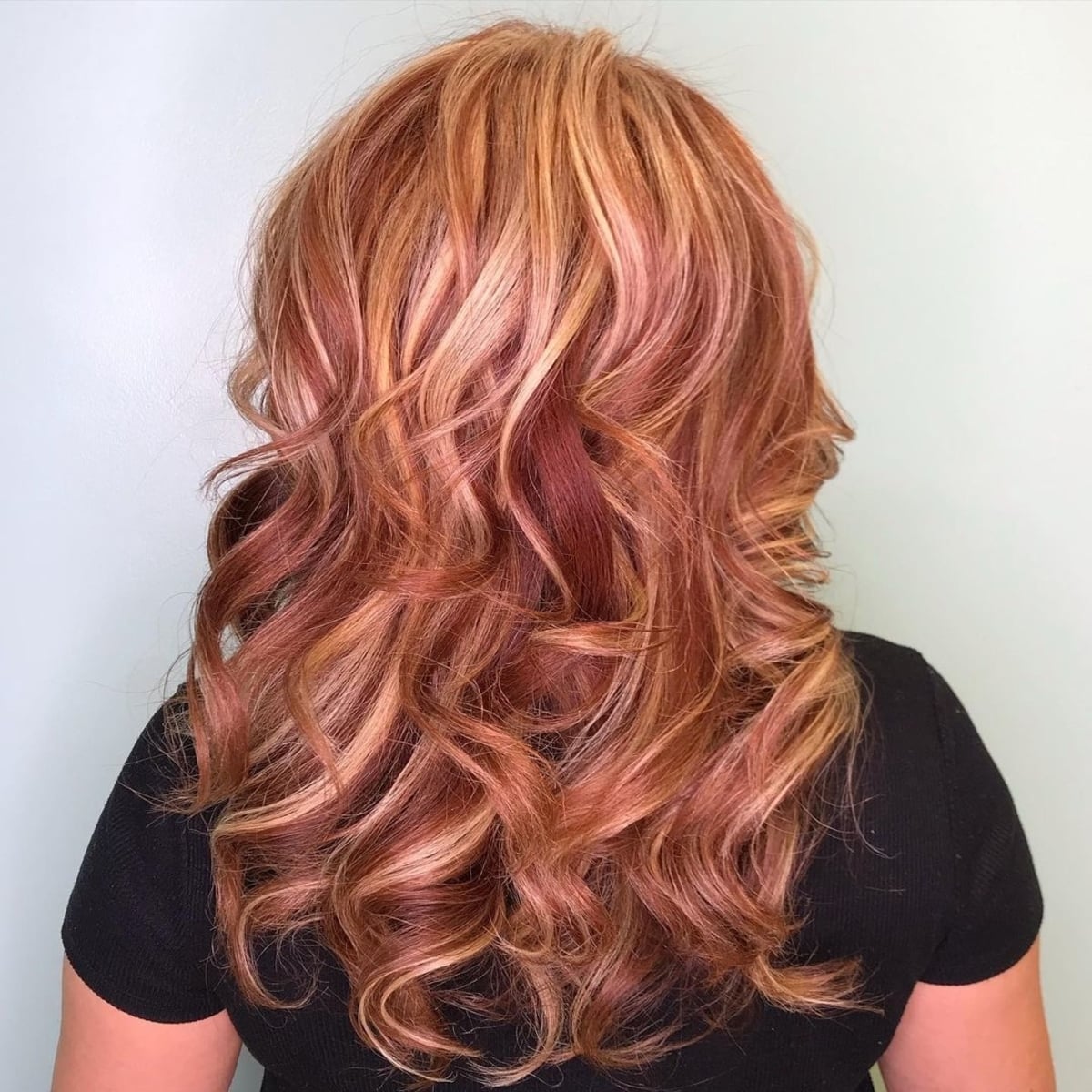 Try Red Hair with Blonde Highlights
To achieve depth red hair with blonde highlights looks gorgeous while adding vibrancy to your hair. Make your style speak by combining your red base color with chunky blonde highlights. A shampoo must be used to stop the mixing of blonde highlights with the red hue. Limiting the time of washing your hair as well as using cool water for every wash, can be best for color-treated hair.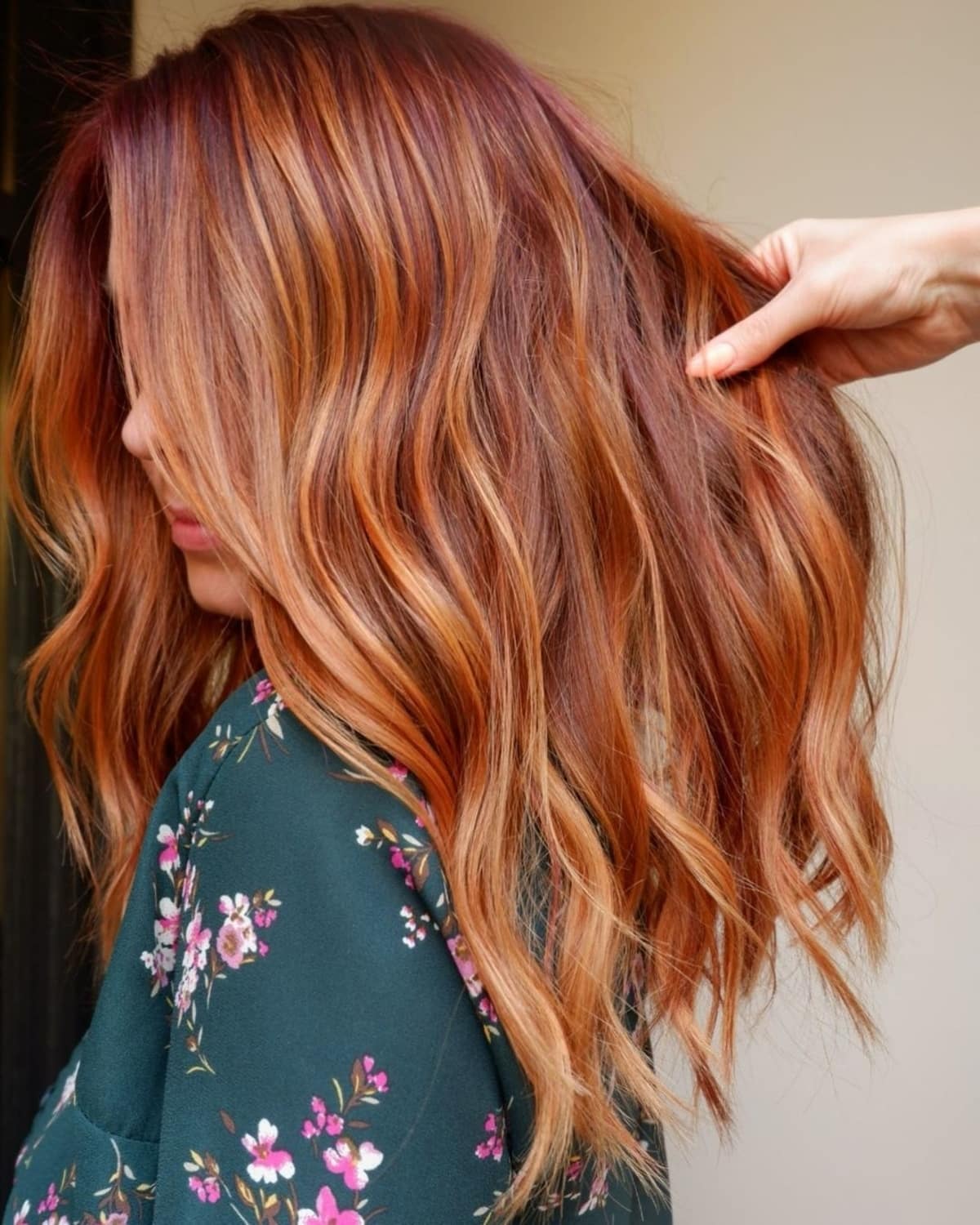 Red Steaks on Strawberry Blonde Hair
Trying red streaks on strawberry blonde highlights can leave your mane with luscious shiny hair. To focus your vibrant copper highlights get a deep burgundy red starting from the roots to the overall area. Bright red hair colors will suit best the ladies wanting to go for a rich hair color along with the reflection of warm hues.