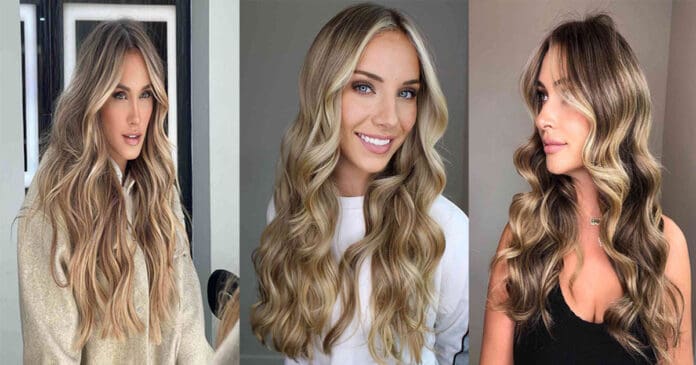 Blonde balayage is a hand-painted coloring technique used to blend blonde highlights into hair. When balayage is achieved, it brightens your hair and gives it dimension, making it unnoticeable while growing out naturally. When blonde shades are blended into your hair it creates a natural-looking hair color.If you're a natural brunette: Adding blonde highlights is the perfect way to lighten up your hair for that "I just got back from a 2-week beach vacation" look. Note that it may take several color sessions to get the shade of blonde you're looking for. A bleach blonde can get you there faster, though. If you're a natural blonde: You must be looking for a change. I suggest adding some brighter highlights or darker lowlights to create a natural-looking dimension that gets noticed. Whether you're looking for bright platinum, golden blonde or an ashy balayage hue, you'll find all the blonde balayage hair color ideas for your inspiration! Before your next hair appointment, check out our popular photos of blonde balayage.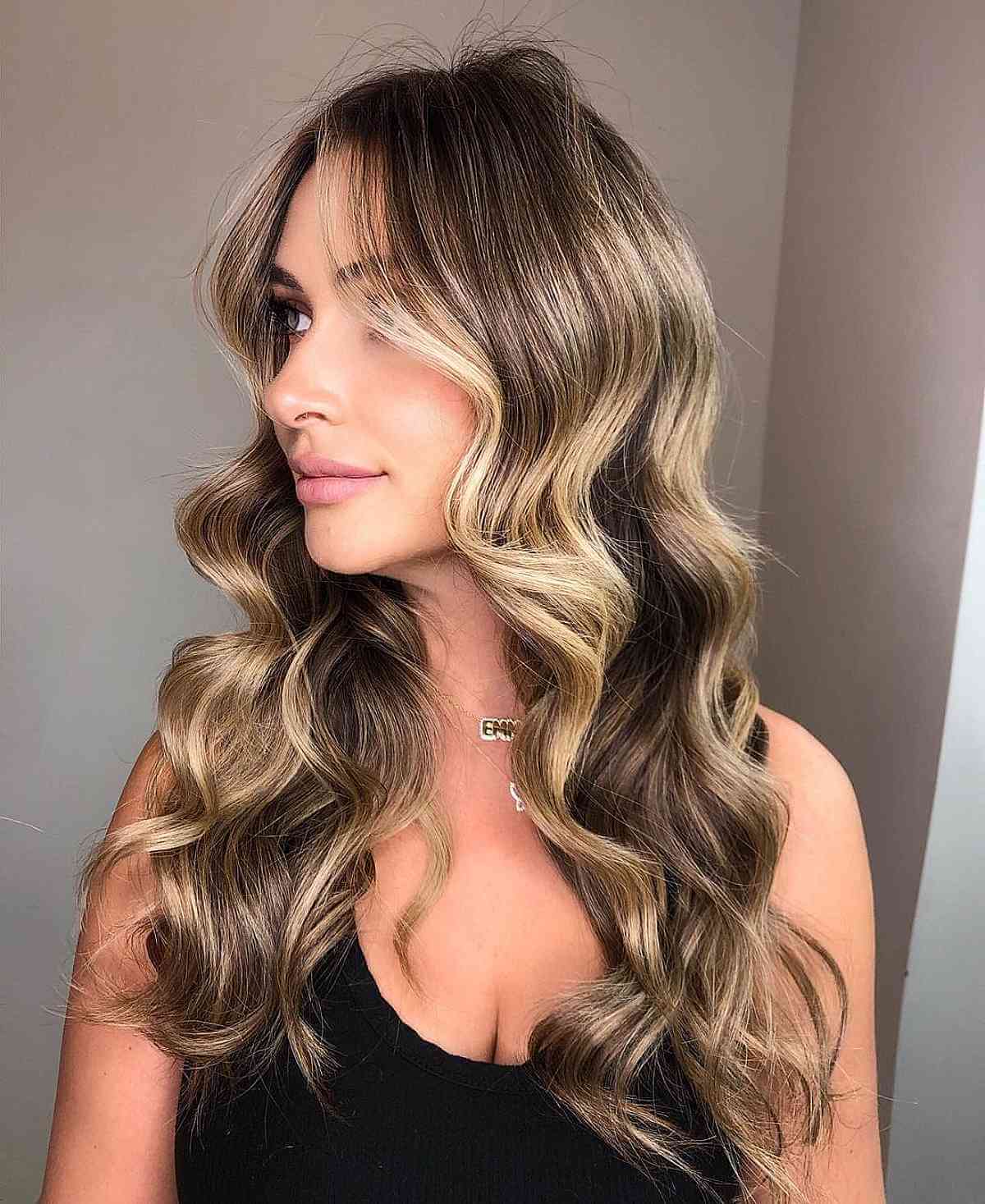 #1: Low-Maintenance Brown and Blonde Balayage
If you are looking for a low-maintenance color, try brown and blonde balayage. Balayage looks very natural and will look good for months. Adding blonde balayage to your natural brown hair adds dimension and is easy maintenance. To keep your hair looking fresh and tone on point, a cut and toner can be done every 6-8 weeks.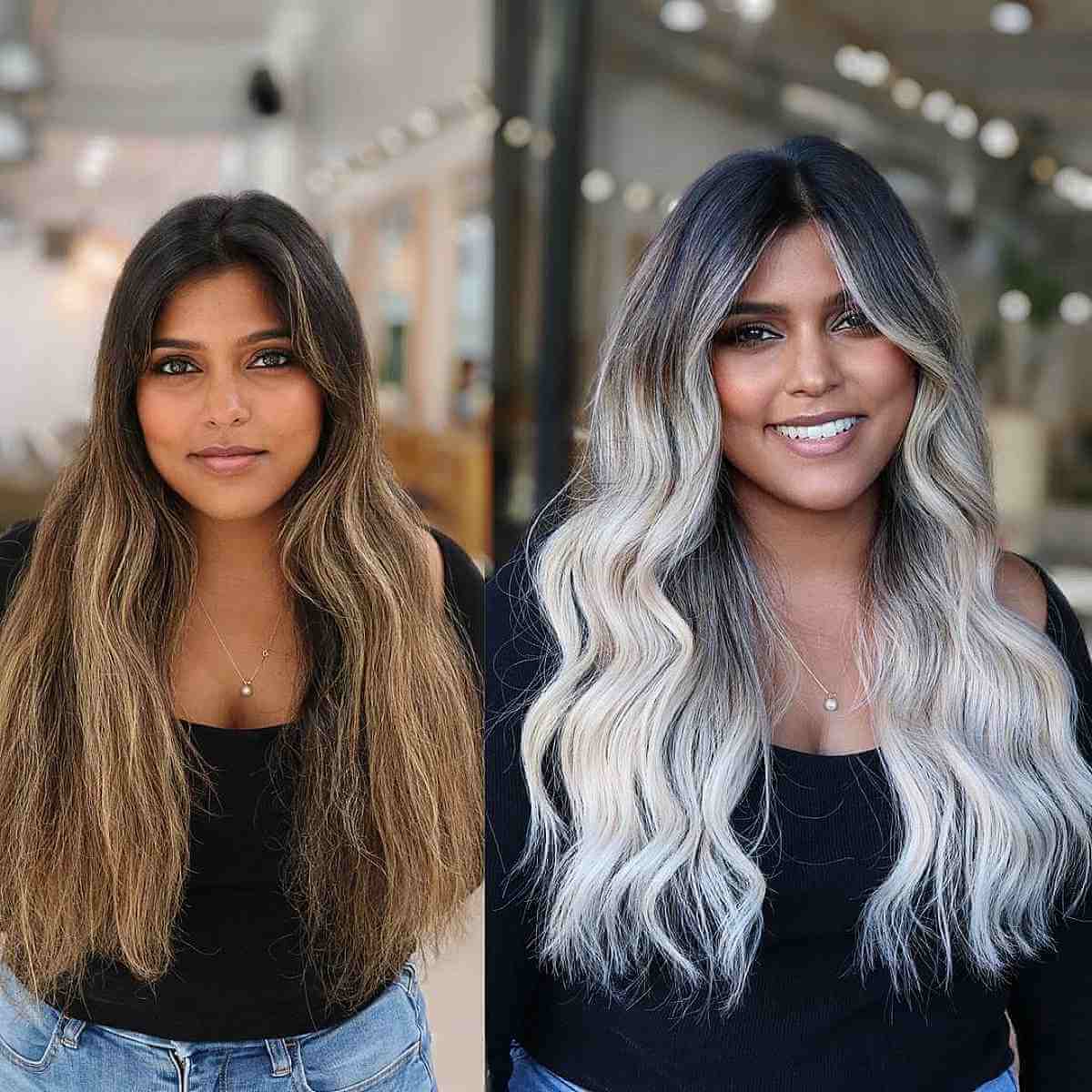 #2: Long White-Blonde Balayage Waves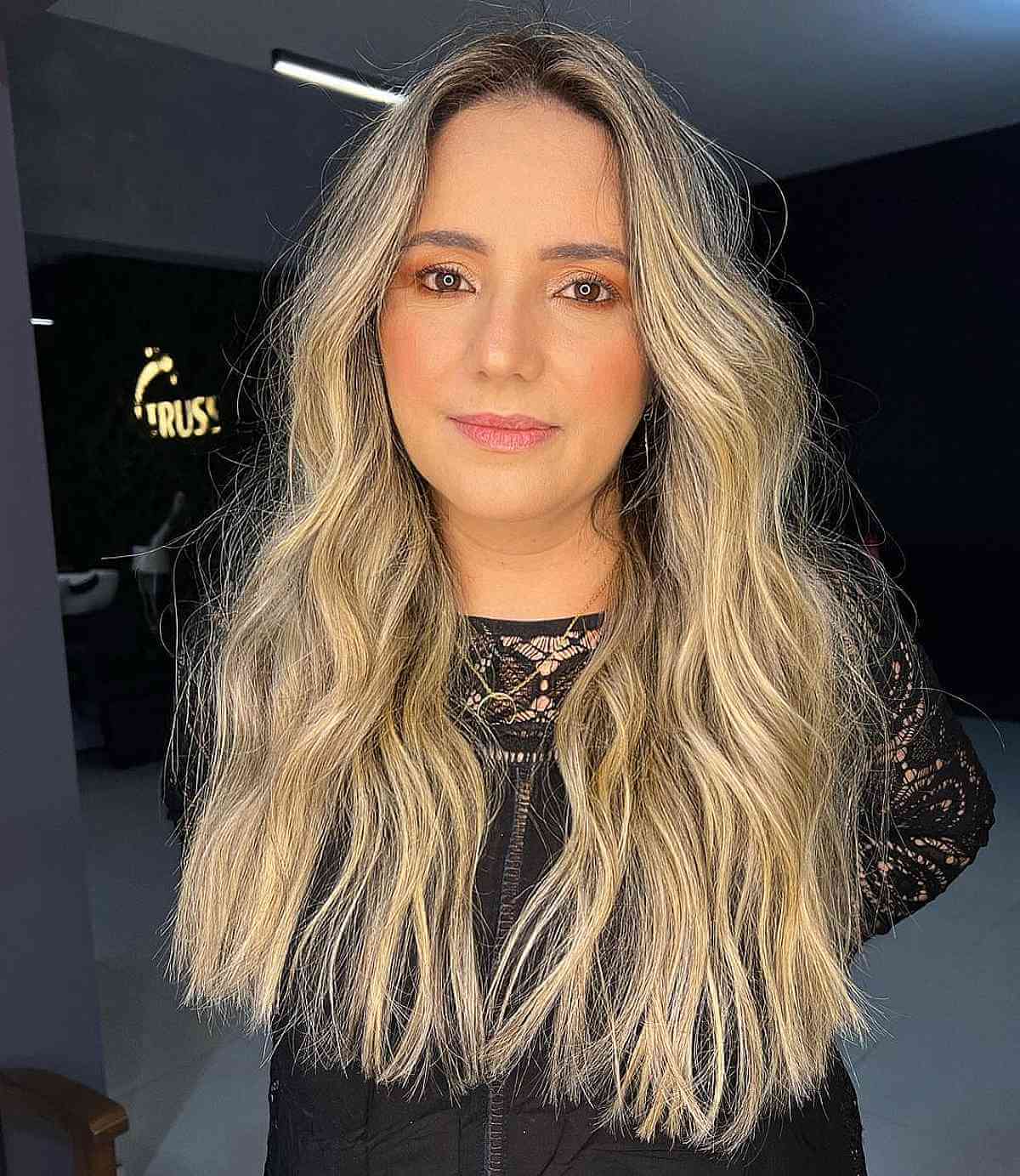 #3: Impressive Layered and Wavy Blonde Balayage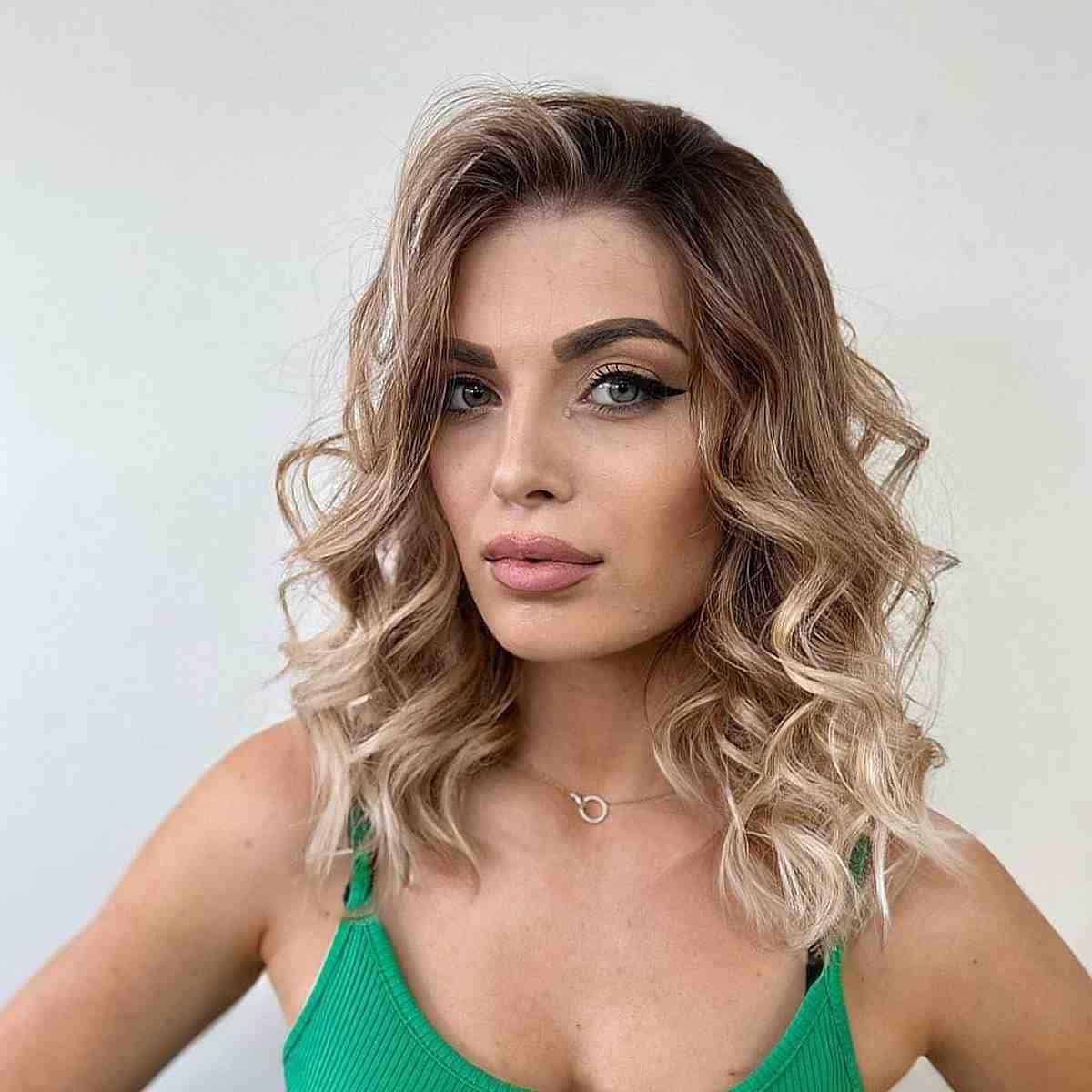 #4: Stunning Blonde Balayage with Loose Curls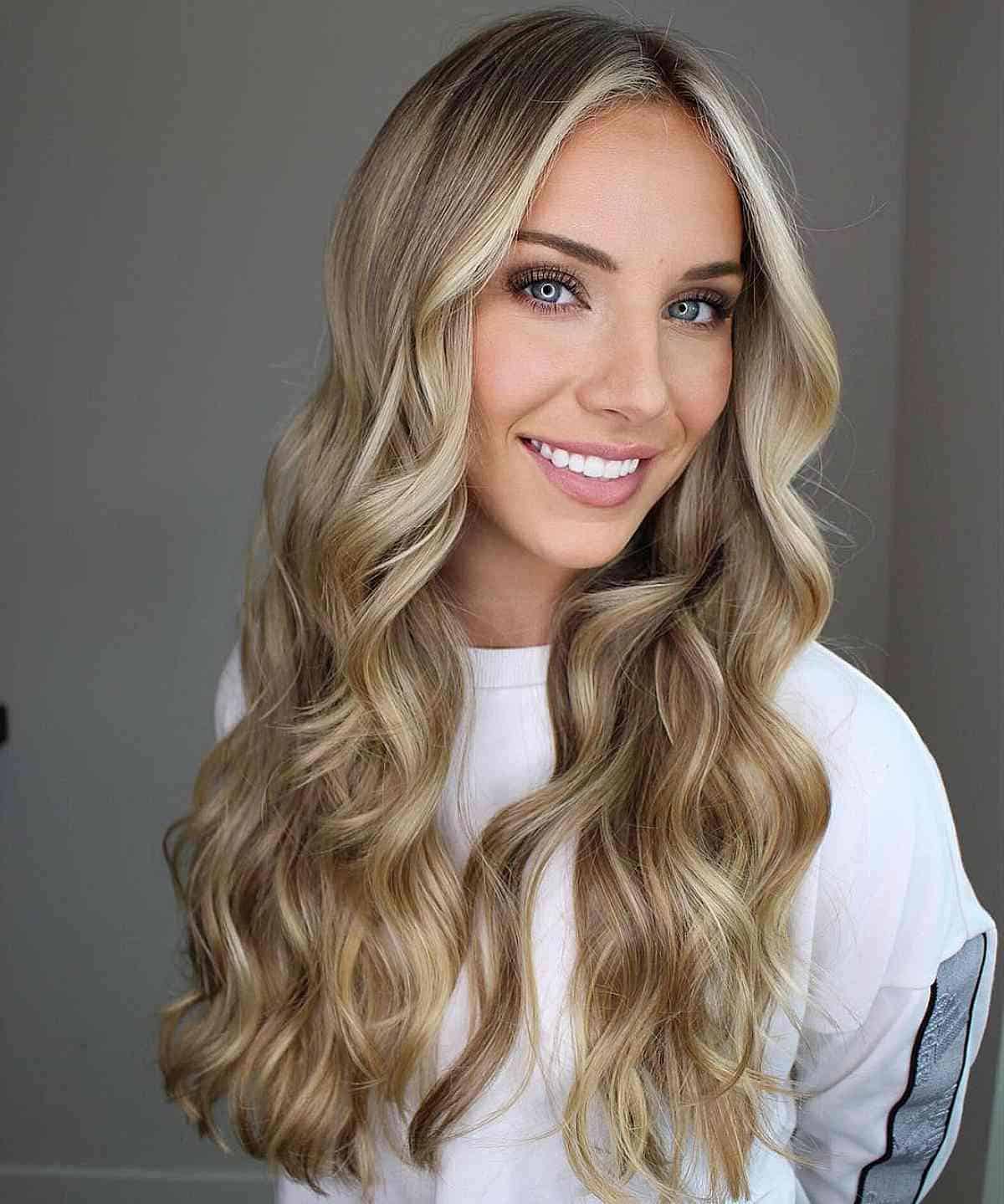 #5: Lived-In Blonde Balayage with a Bright Money Piece
For a forever classic color, you should try a lived-in blonde balayage. If you for a money piece right in the front for a pop of blonde, it will brighten up your face. Balayage is very natural looking but may take a few sessions to get the desired color blonde.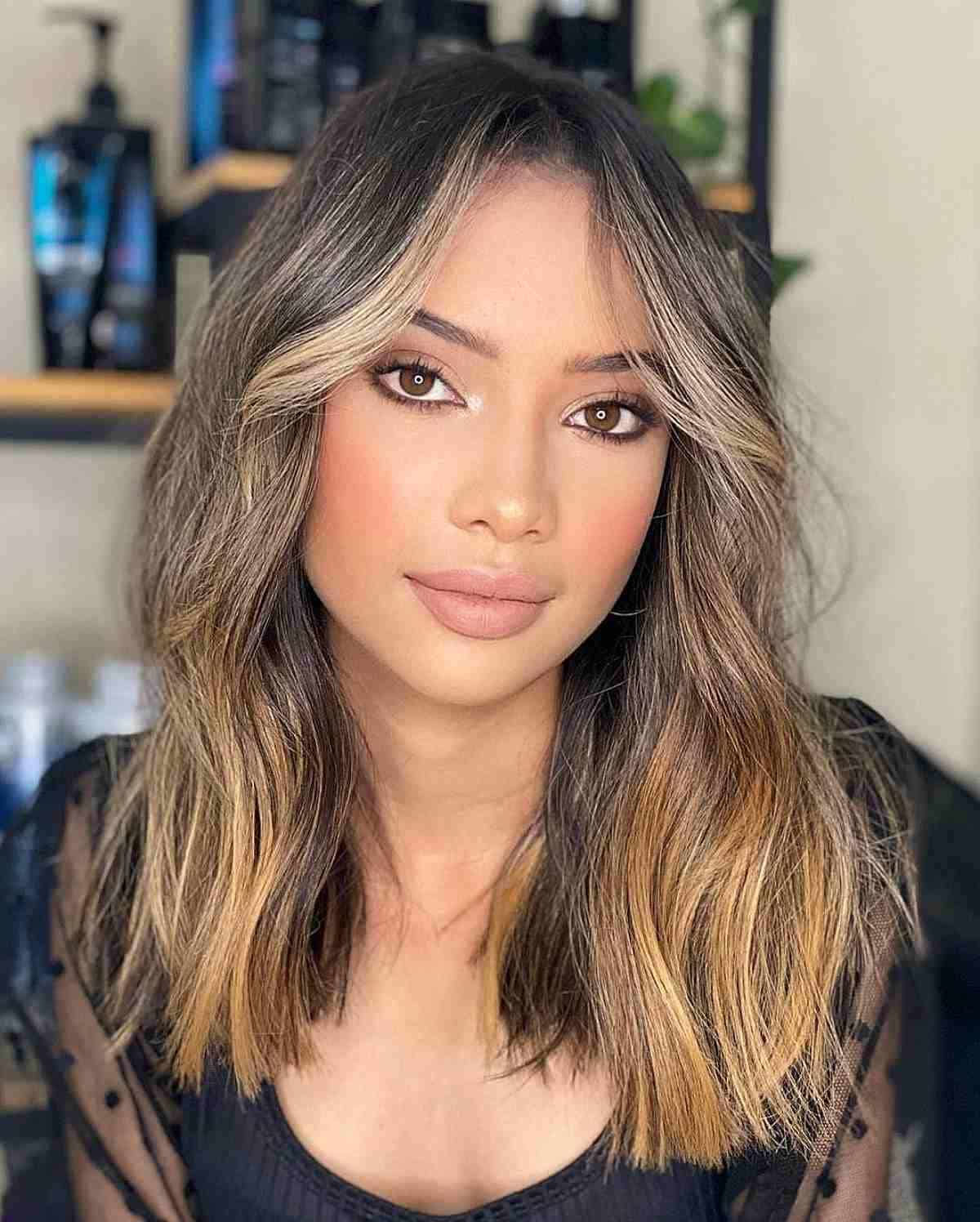 #6: Natural Mid-Length Dark Hair with Blonde Balayage
Mid-length dark hair with a blonde balayage may take multiple appointments to achieve your desired shade of blonde, but you can enjoy and embrace the process by playing around with different tones of blonde each session. This hair color will give you a very natural, sun-kissed glow and is perfect for warmer months. Don't forget to mention you want to add a money piece to your balayage, as that will help your hair around your face appear lighter and pop, which overall creates dimension to your hair color.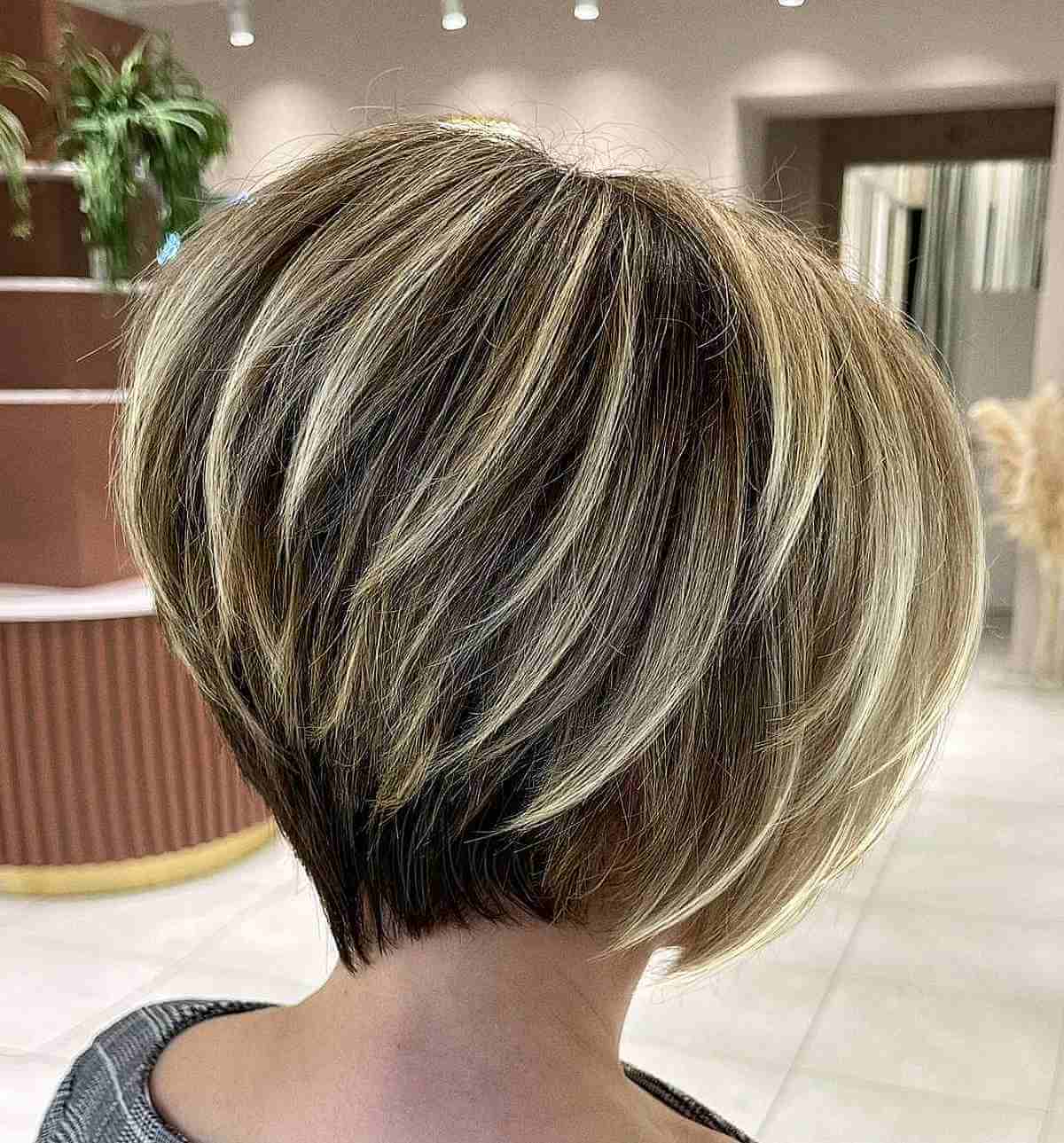 #7: Gorgeous Long Pixie Bob with Blonde Balayage
If you want gorgeous hair that is easy to maintain, try a long pixie bob with blonde balayage. A long pixie mixed with a blonde bob will grow out softly without needing any maintenance appointments in between. Balayage has a natural grown-out look to it, so as it grows it still looks beautiful and blended, which is a perfect option for you if you don't like to spend much time on your hair. Keep your balayage within a few shades of your natural color for the most subtle, soft grow-out.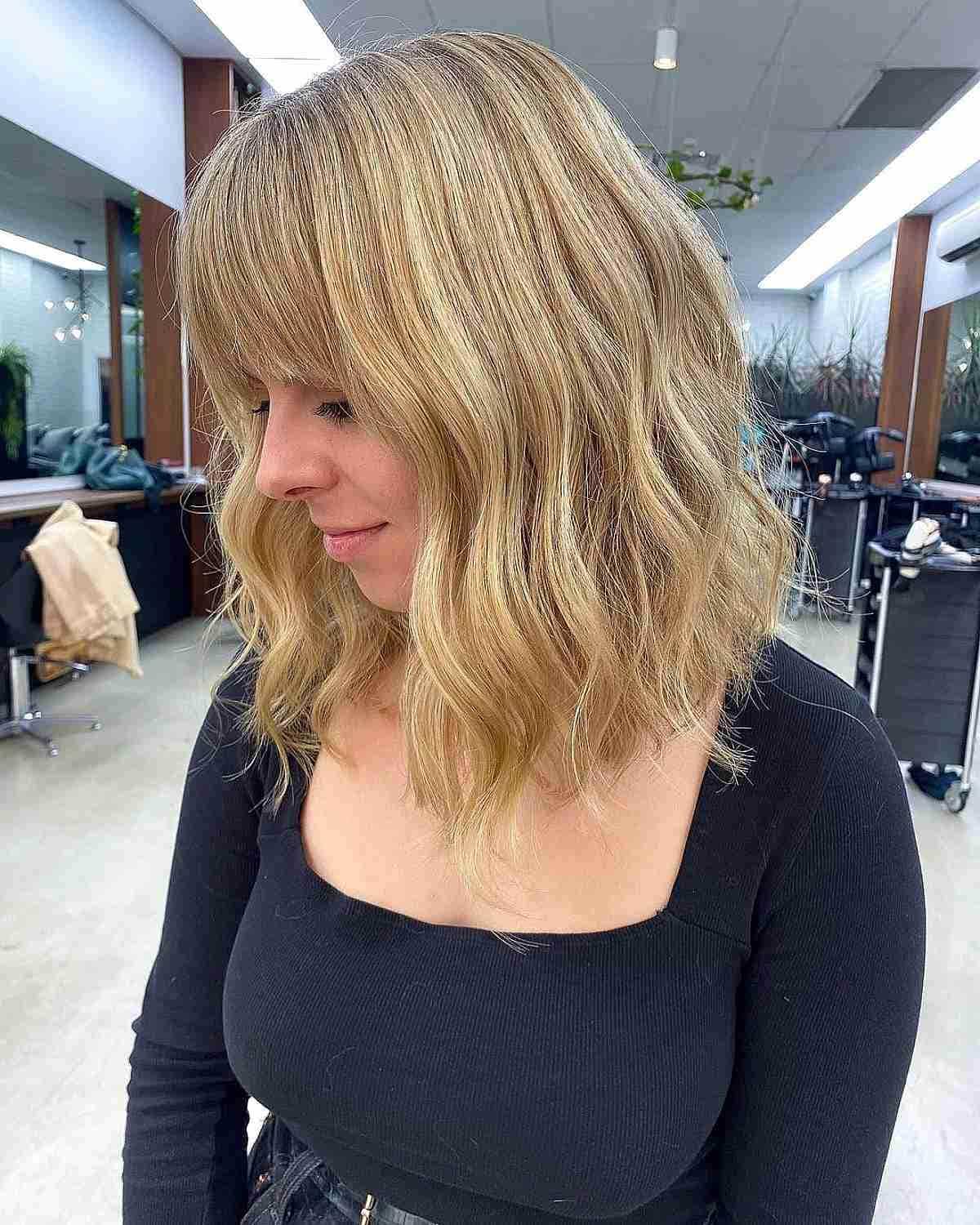 #8: Adorable & Chic Mid-Length Wavy Lob
A chic mid-length wavy lob is adorable, yet sophisticated. You can smooth out the look for an important meeting for a sleeker look. If you add waves with a wand it can create a funner, casual look while still looking chic. The mid-length lob can work with or without a fringe and looks good on almost any face shape!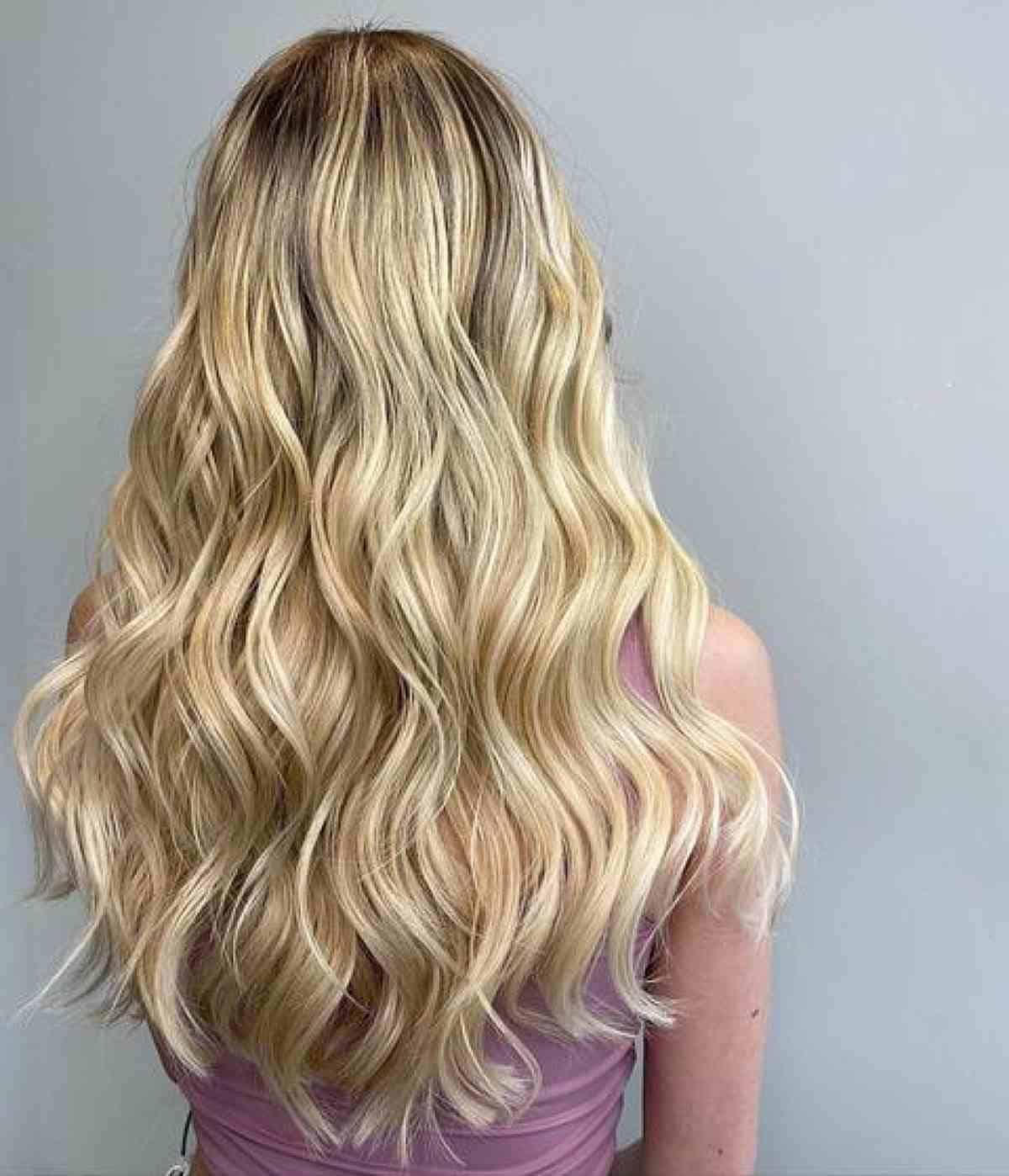 #9: Magnificent Honey Blonde Balayage
Looking to brighten up your blonde color? Consider a honey blonde balayage. You can try adding warm tones to help reflect light, either with an overall gloss/toner or dimensional lowlights to make your blondes pop and shine.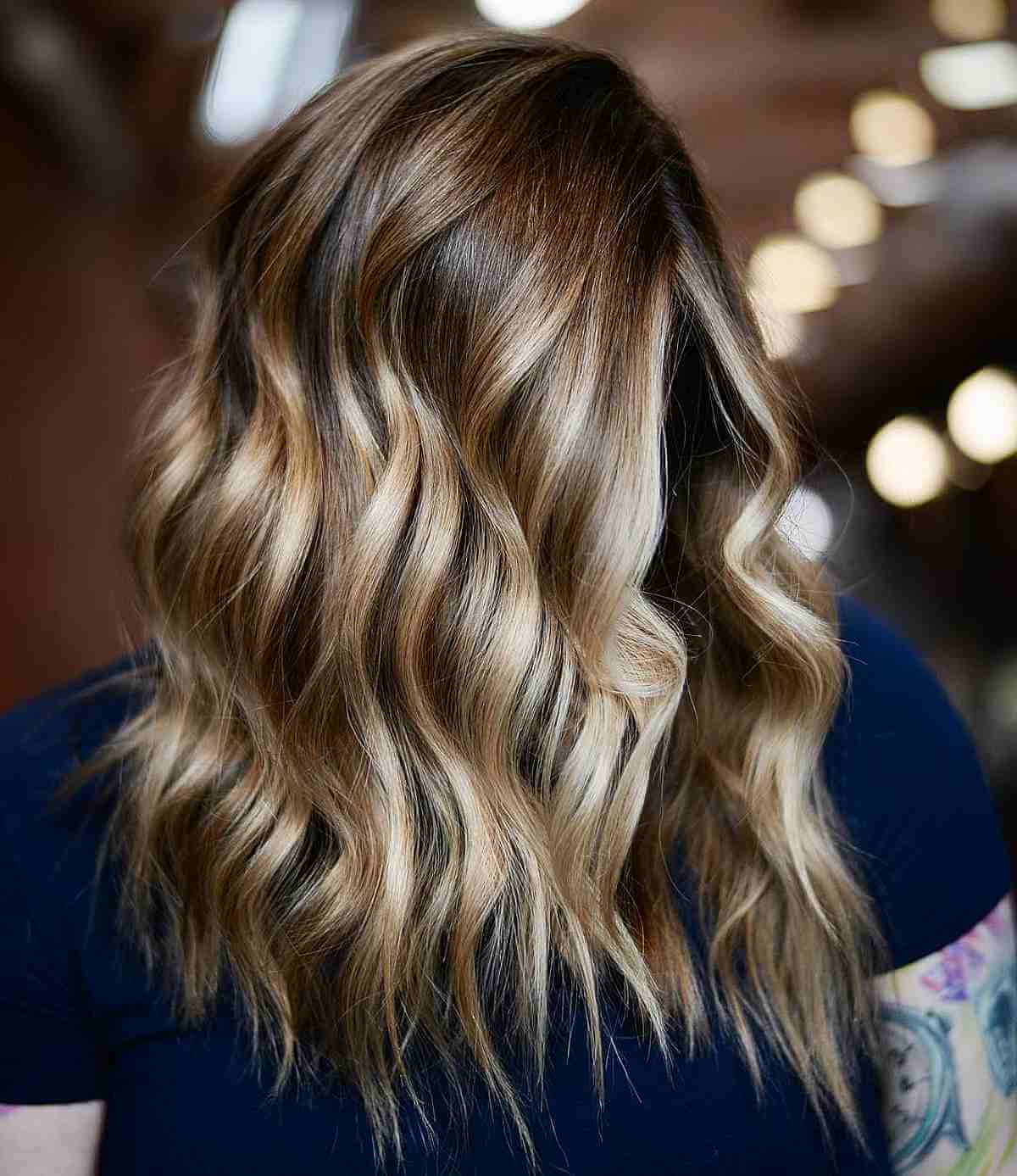 #10: Angled Cut with Balayage and Dark Roots
An angled cut with balayage and dark roots is great for you if you want a low-maintenance look. The dark roots with light ends are such a beautiful contrast on almost every skin complexion. The grown-out look is very popular at this time. A balayage with dark roots is even more beautiful when you pair it with an angled cut. This type of cut can be done if you're hair is long, medium or short hair, but will always be used to elongate the face.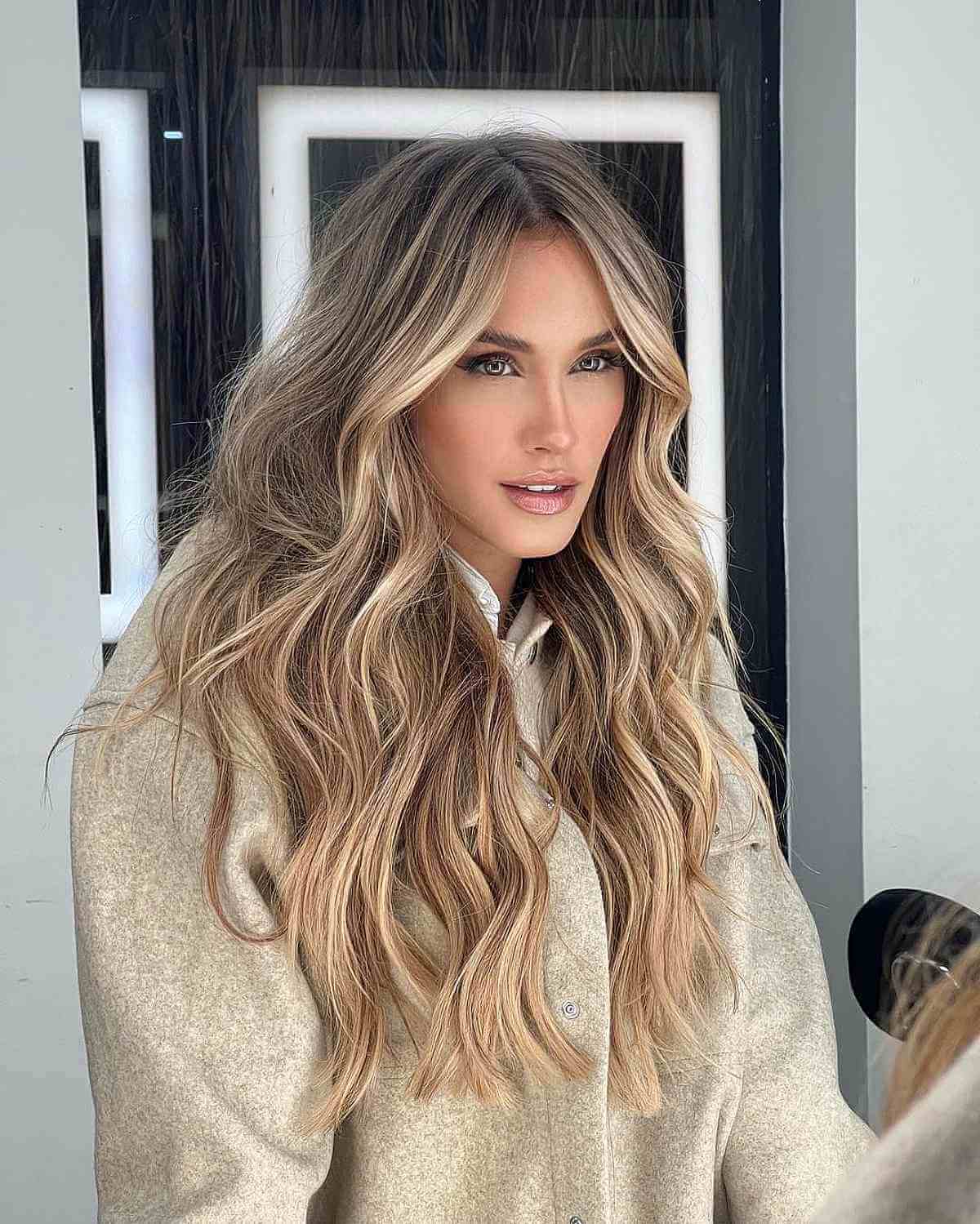 #11: Surfer-Girl Light Brown Hair with Blonde Balayage
You can create a surfer-girl chic coloring on light brown hair with a blonde balayage. A balayage is a highlighting technique in which the stylist hand-paints lightness to contour and frame your face shape. The balayage technique creates a low-maintenance color as the roots grow out without a harsh line. Use a moisturizing shampoo and conditioner to keep your strands healthy in between appointments. You should also use a purple toning shampoo once a week to keep the blonde from getting brassy.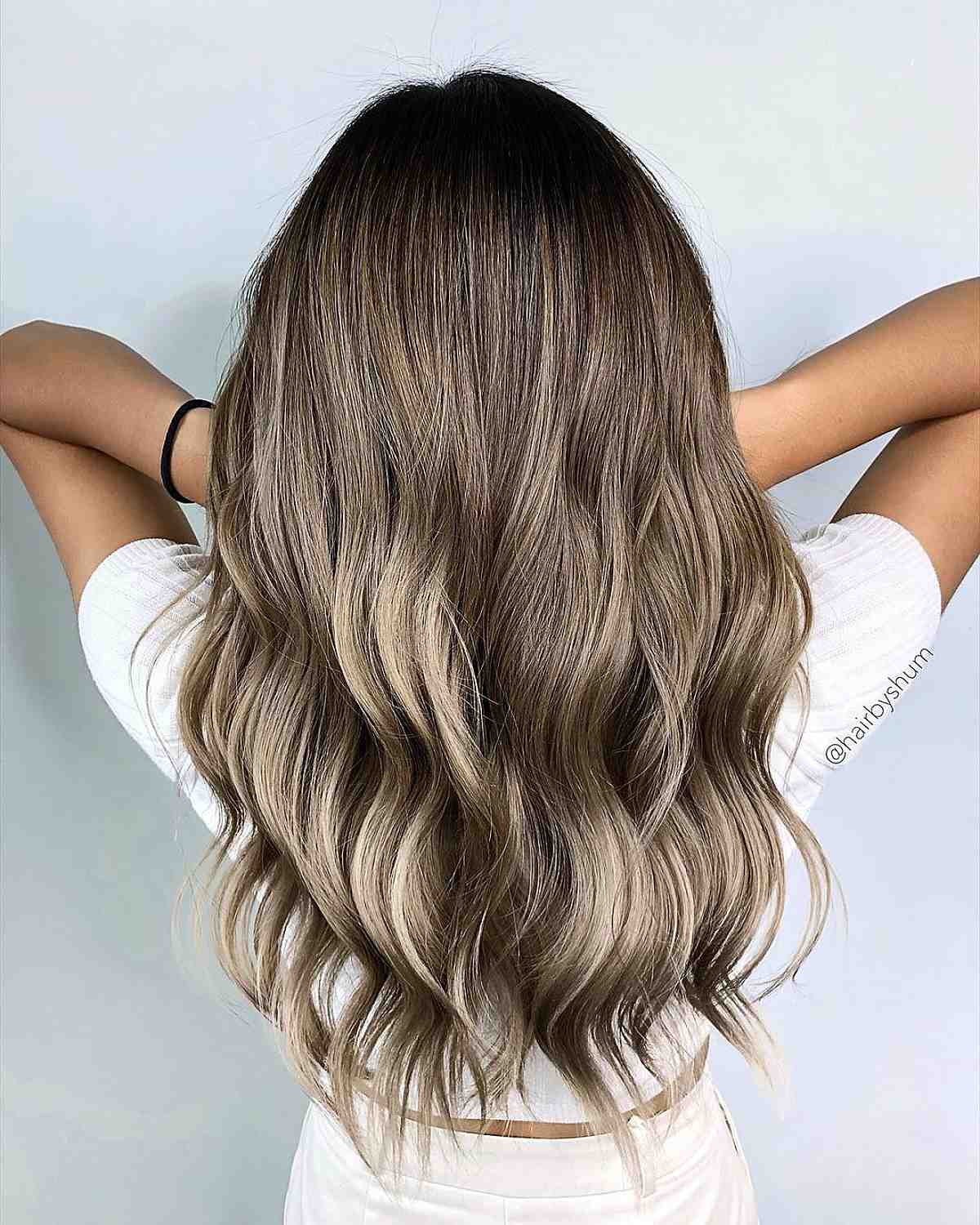 #12: Dirty Blonde Balayage with Beachy Vibes
This is a mid-length cut with a dirty blonde balayage. You can style it with a 1-1/4″ Babyliss curling iron and then fingered through the curls once cooled. Do this to keep your color light, but with a slightly warmer tone, to blend well against an olive complexion. For a brunette to blonde balayage color, it's an amazing tone for fall and winter but still with some lightness. This warm blonde balayage is for you if you're a playful and easy-going girl with style from head to toe!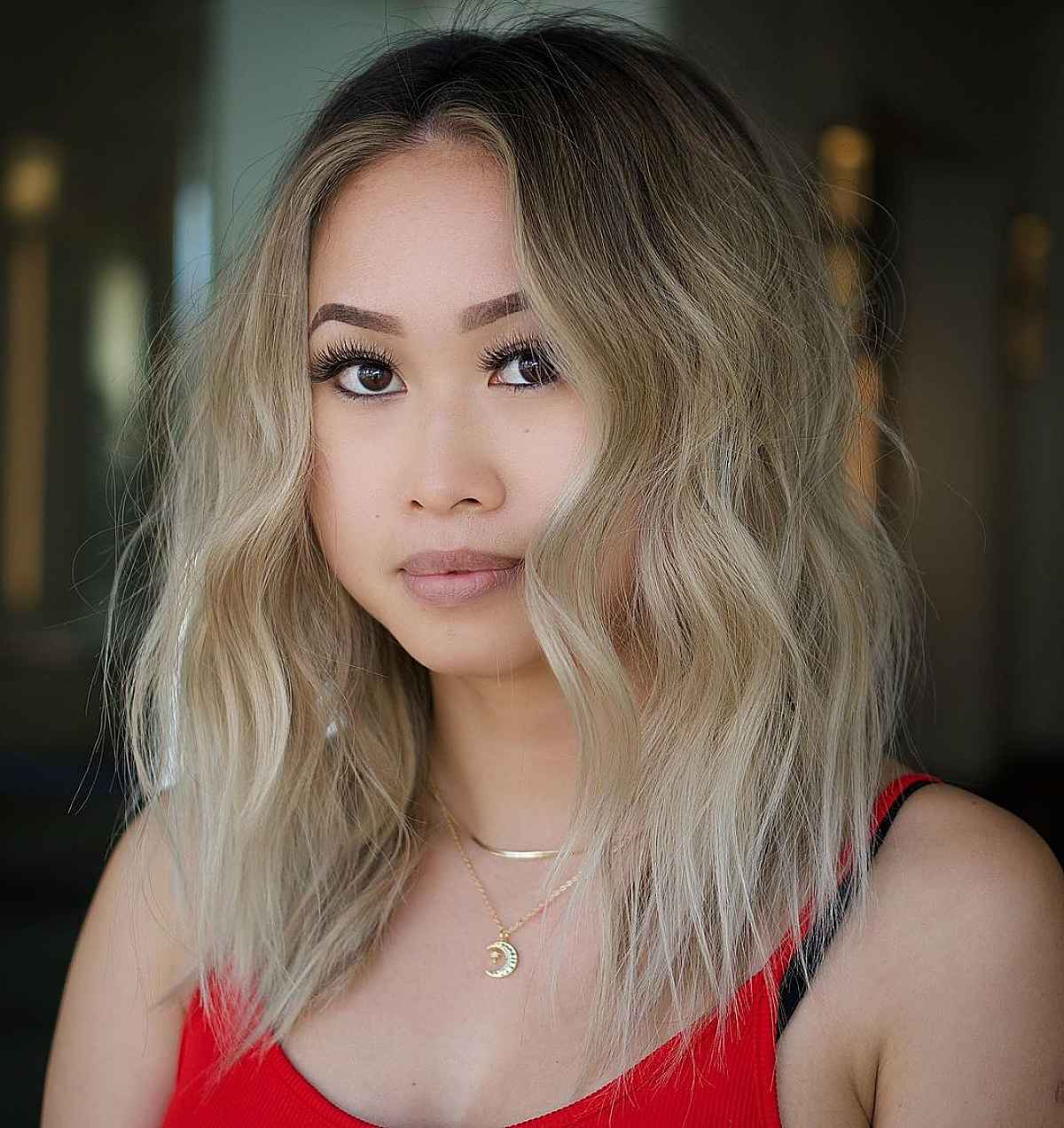 #13: Tousled Beige Blonde Balayage on Medium-Length Hair
A beige blonde balayage on medium length hair is a smoother option if you want to get a beachy look. The highlights add to the textured tousled finish this shoulder-length hair has.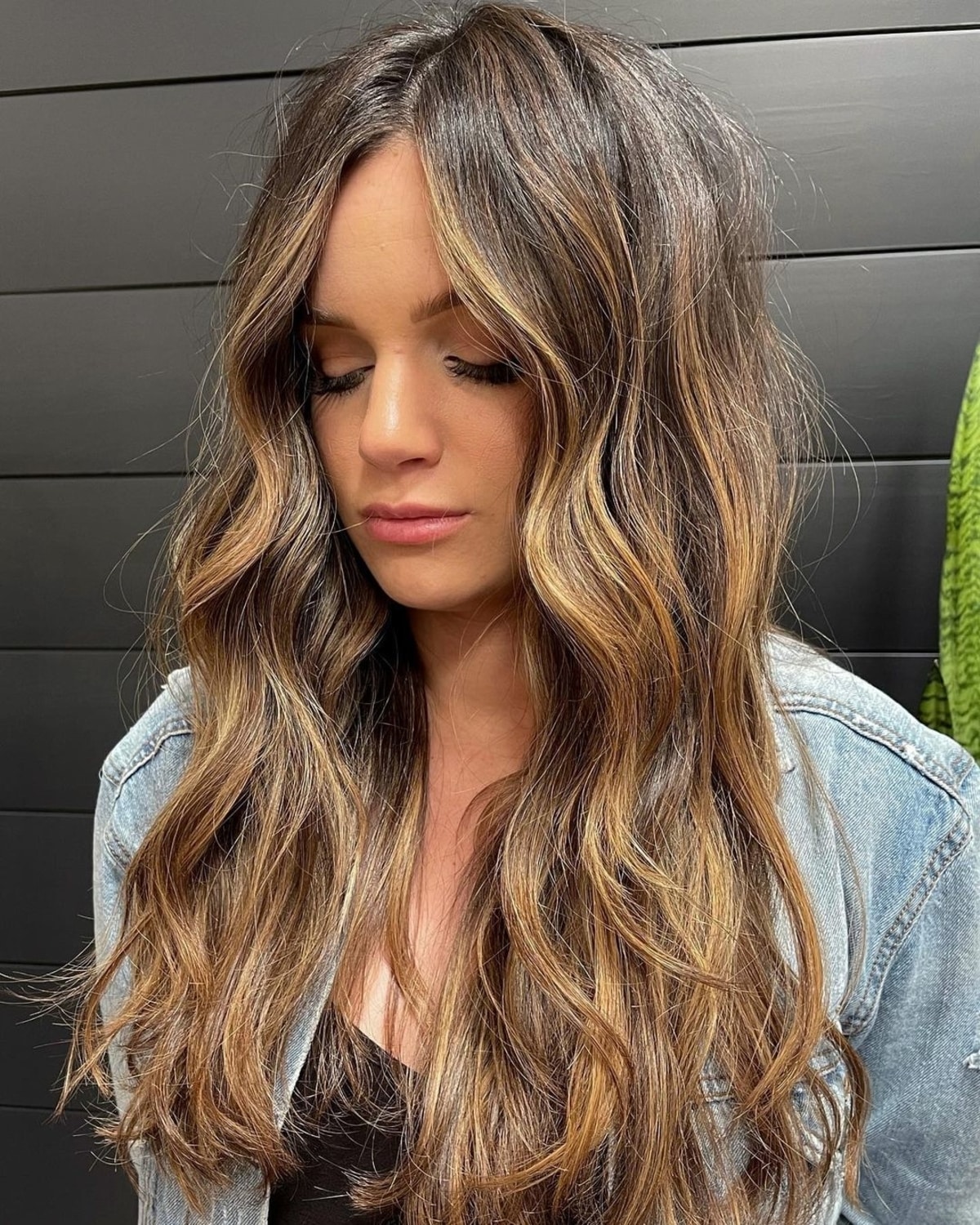 #14: Effortless Sun-Kissed Balayage for Natural Brunettes
A sun-kissed balayage for natural brunettes will give your darker hair gorgeous warm dark blonde highlights, while still feeling like a brunette. By using this balayage technique, it will look as if your hair has been touched by the sun in all the right places, giving an effortless, natural finish. After your balayage application, ask your hairstylist for a honey, caramel toner that will compliment your warm brunette mane.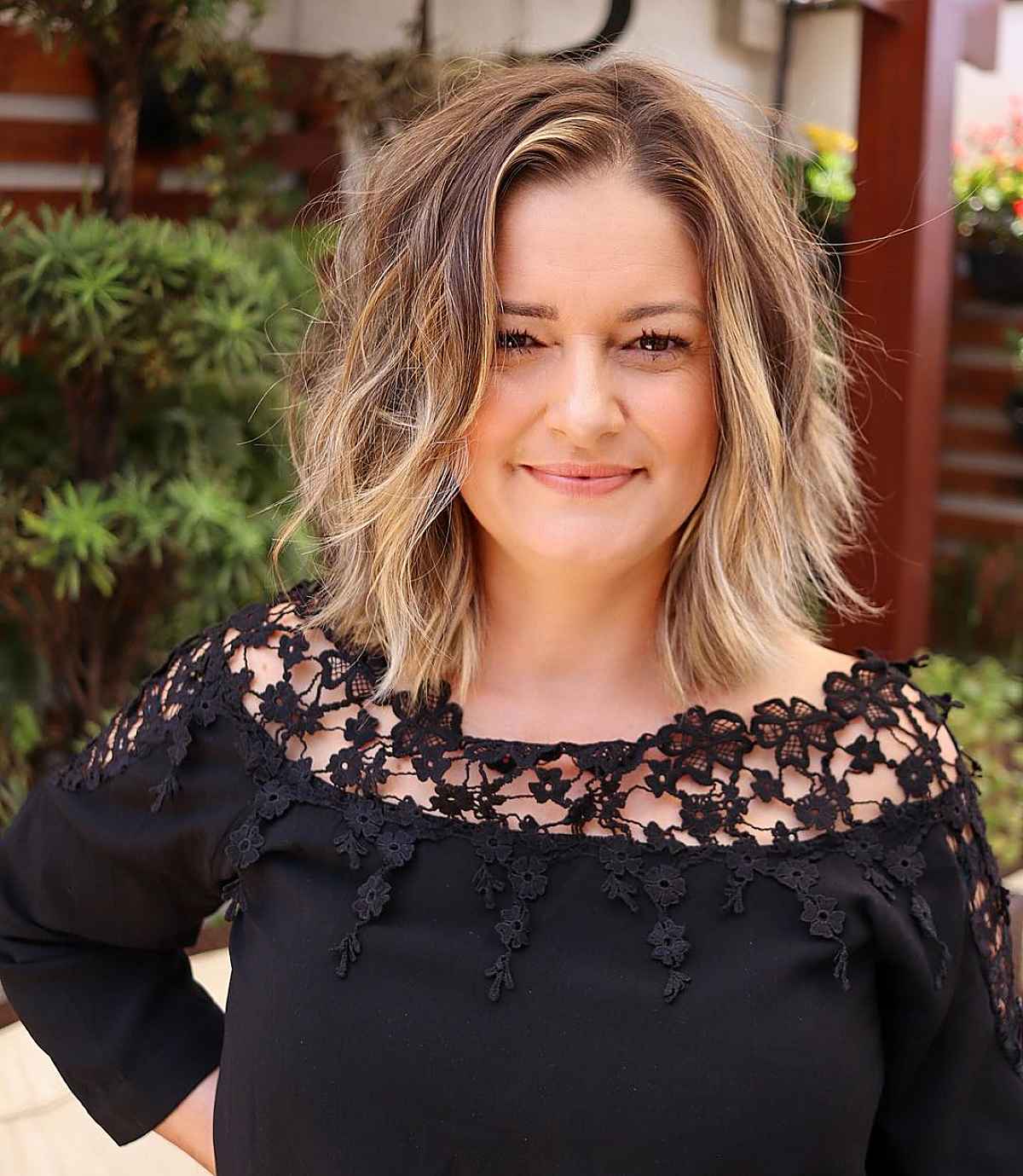 #15: Solid Golden Blonde Balayage with Dark Roots
You'll love the dimension at the roots and the solid honey ends on your hair. This hair painting on this golden blonde balayage hair color couldn't be more fabulous if not on flat-ironed locks.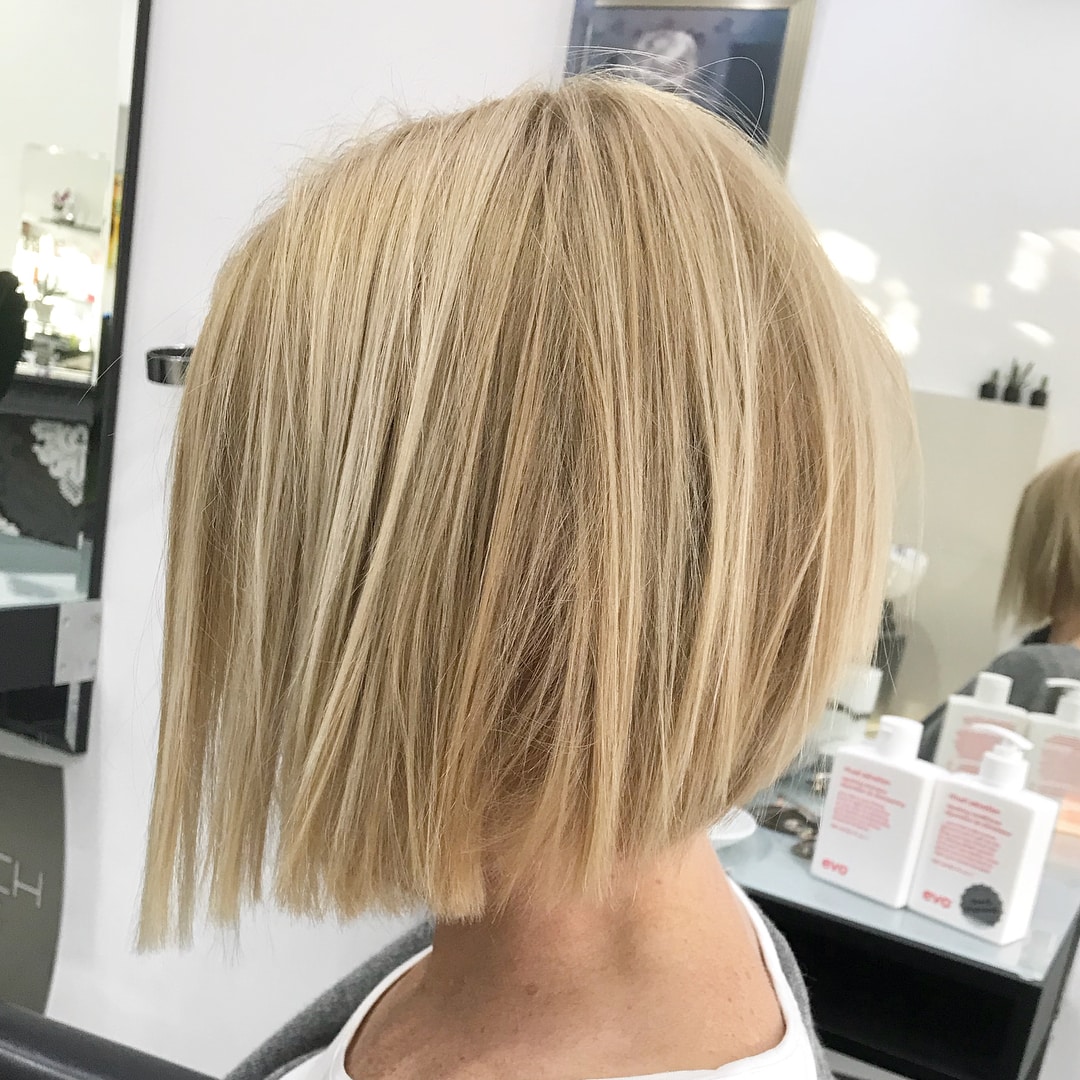 #16: Easy-Maintenance Warm Blonde Balayage on Fine Hair
A trick to make your thin hair appear denser is to go for dimensional colors that can add depth and texture to your look. Just like this warm blonde hair color. You can try to kpee it short above the shoulders for easy maintenance and styling.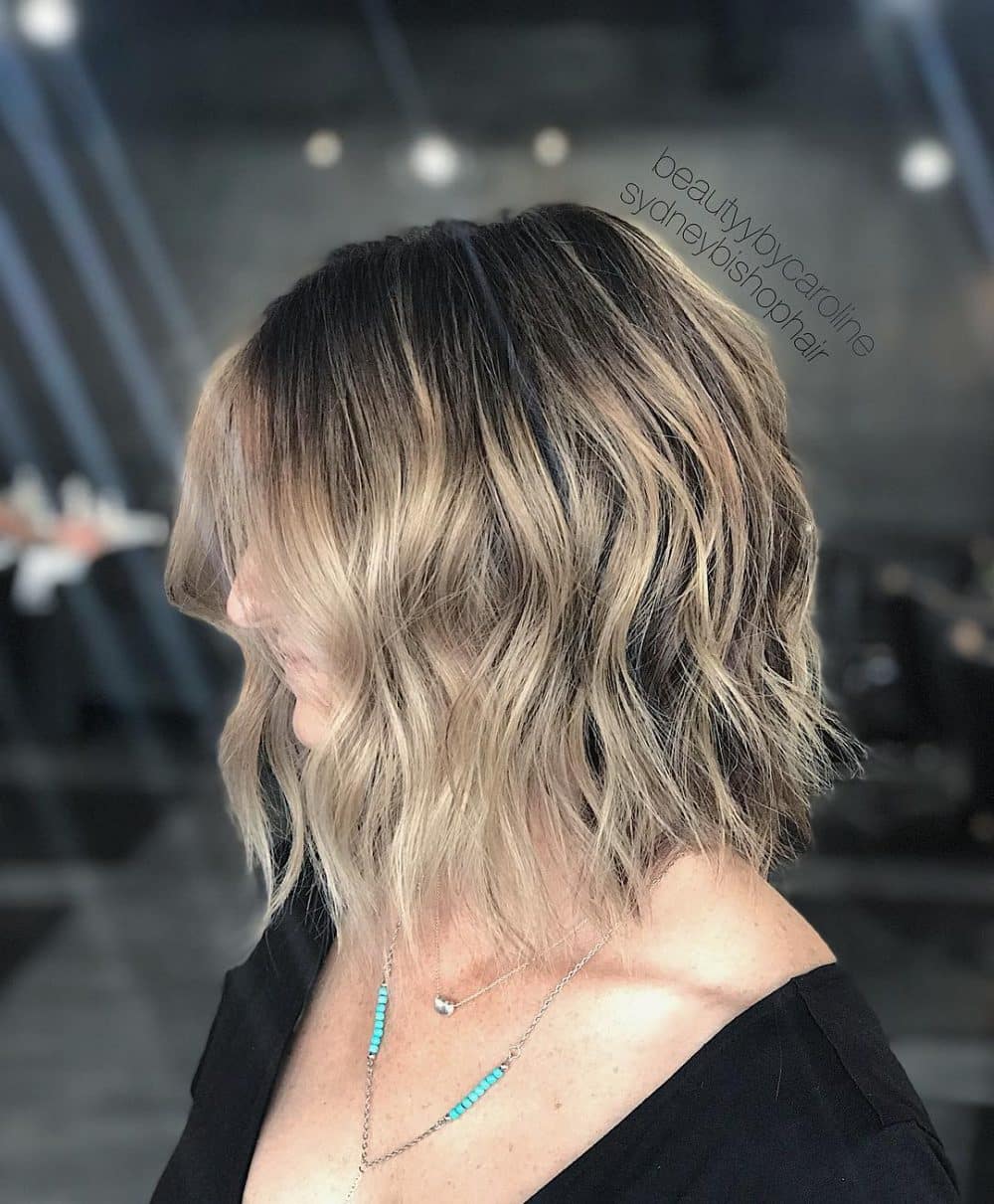 #17: Caramel Blonde Balayage on Choppy Hair
Sweet and warm hues like the ones featured on this light blonde shade do a marvelous job in accentuating the texture in your hair. This balayage blond hairstyle with a brown base works best if you have thin hair and cool to neutral complexions.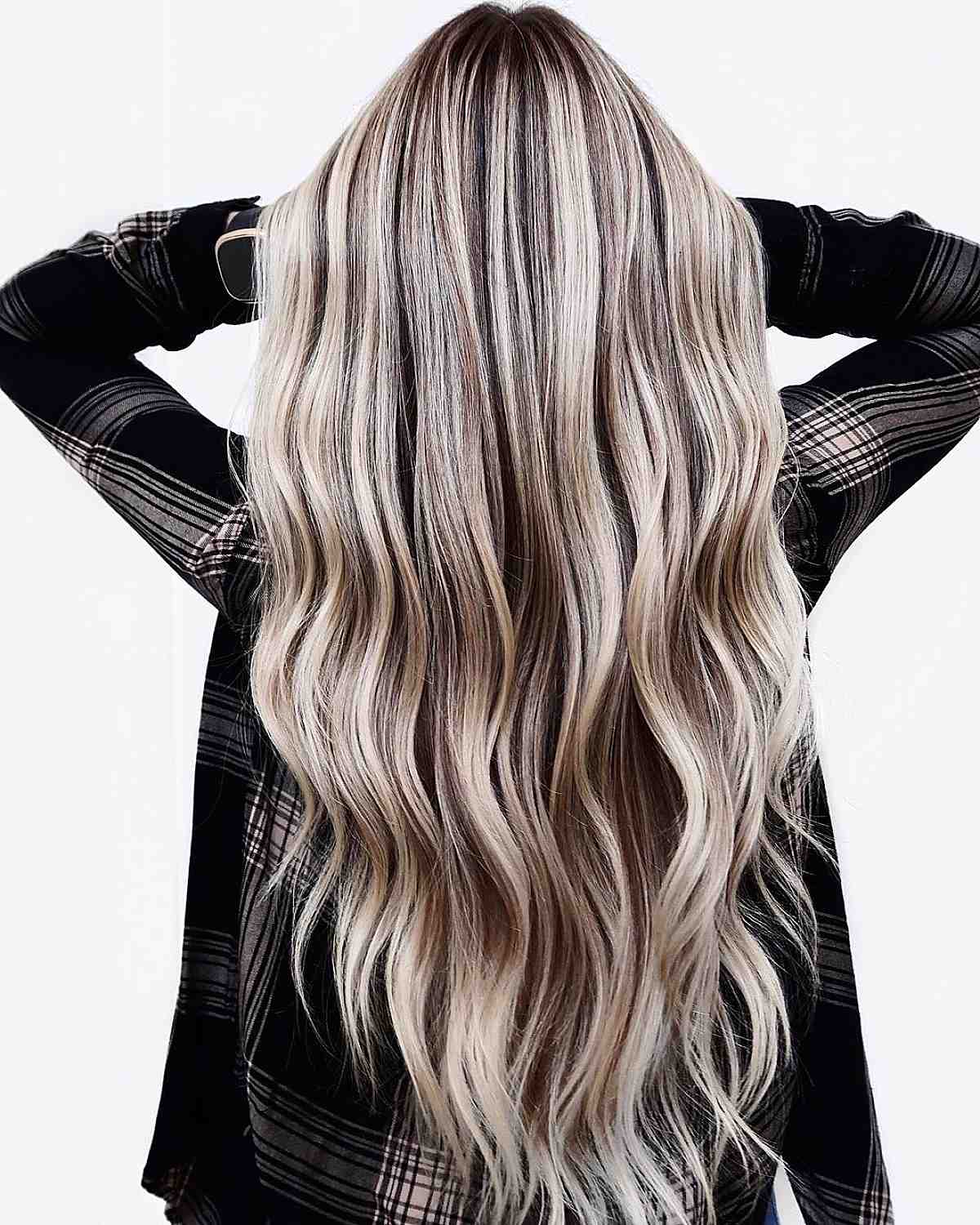 #18: Enchanting Layered Light Blonde Balayage
Getting your hair this white with black roots might be a big challenge and commitment but as you can see, the results are super worth it! This enchanting blonde balayage on deep dark brown suits any hair length and skin tone – warm, neutral, or cool.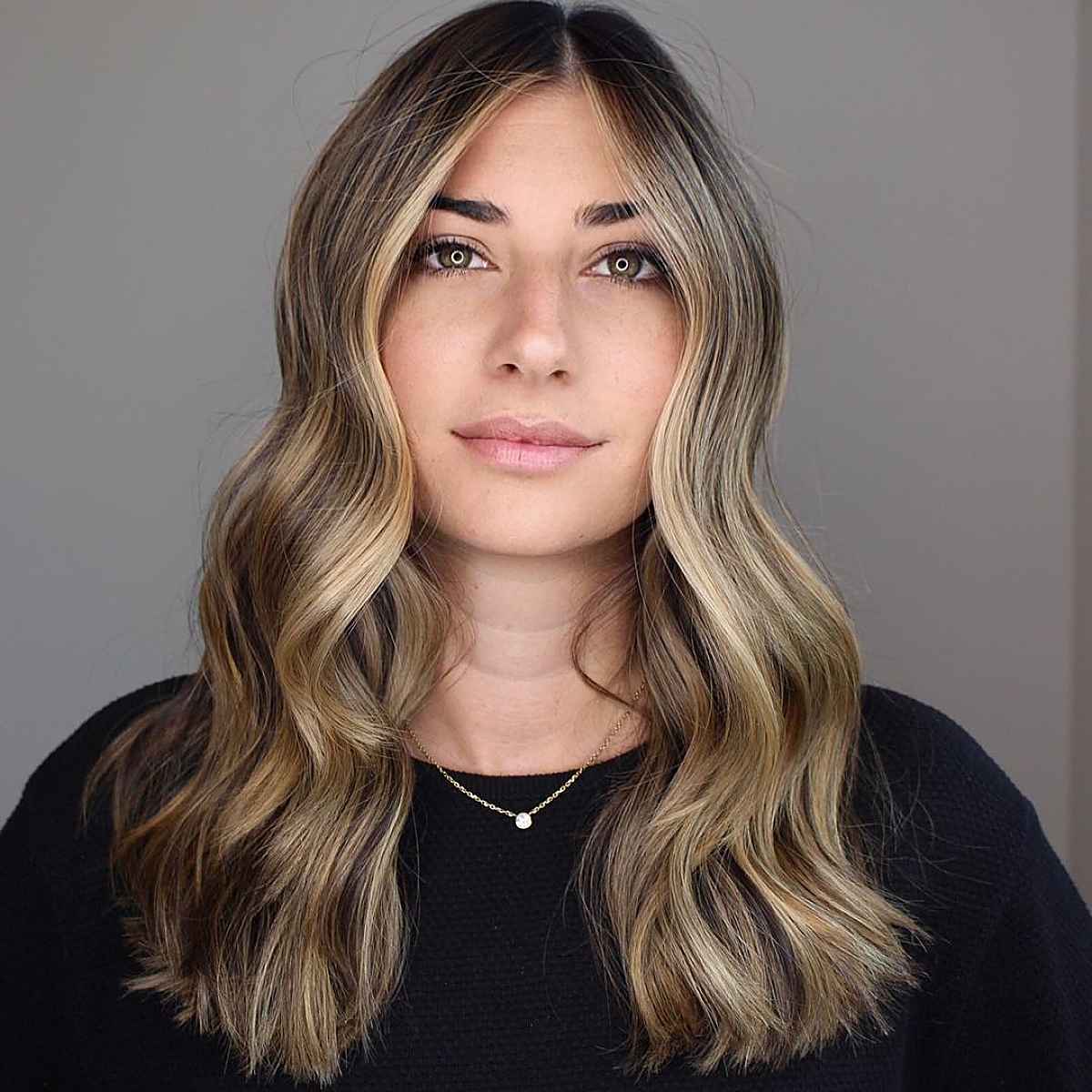 #19: Dark Hair with Dark Blonde Balayage Highlights
Big and soft bouncy waves do so many wonders for thin and long hair wanting to have volume. Having warm dark blonde balayage highlights on dark hair near your face and at the edges makes for a framing and dimensional effect. Using the balayage technique for blonde highlights is a gorgeous combination when it comes to hair ideas.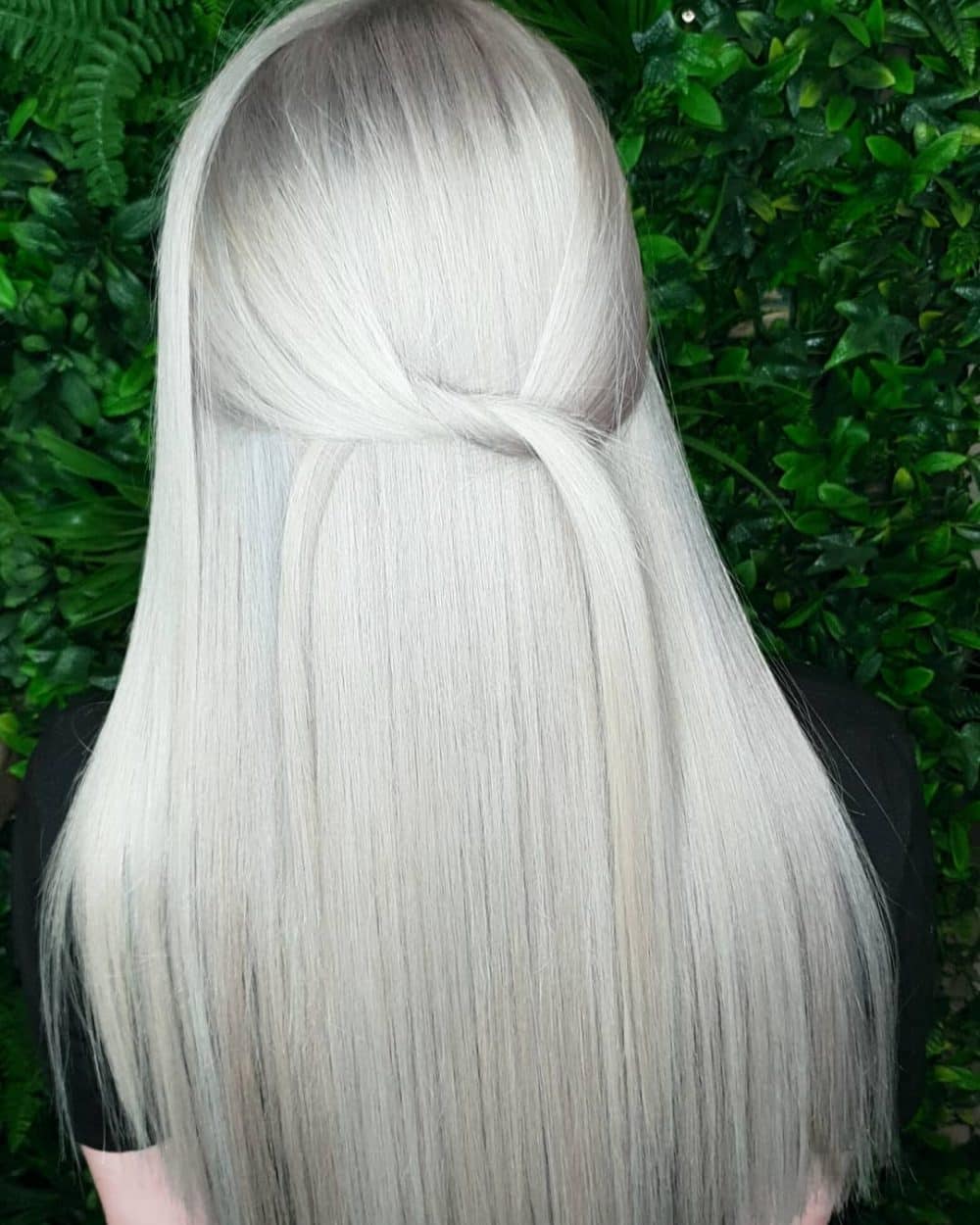 #20: White Blonde Balayage on Long Straight Hair
You can feel like an enchantress with this magical white balayage on long straight hair! Make sure to use your flat iron as it is key to making this charming hairstyle!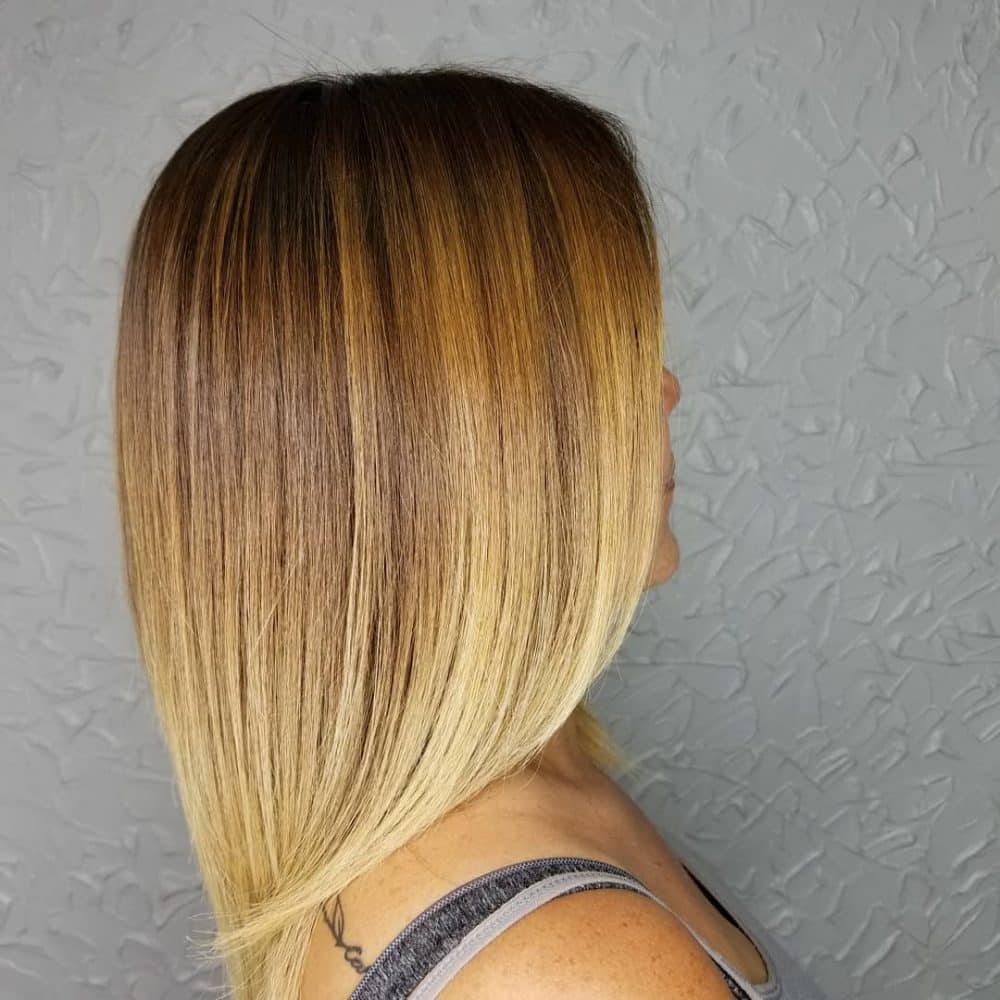 #21: Seamless Dark Brown to Honey Blonde Balayage Ombre
For this dark brown to blonde balayage, imagine sweet honey poured over chocolate! This bright blonde and brown balayage ombre will create a seamless effect on your hair if it's straight and smooth, so it's easy to maintain!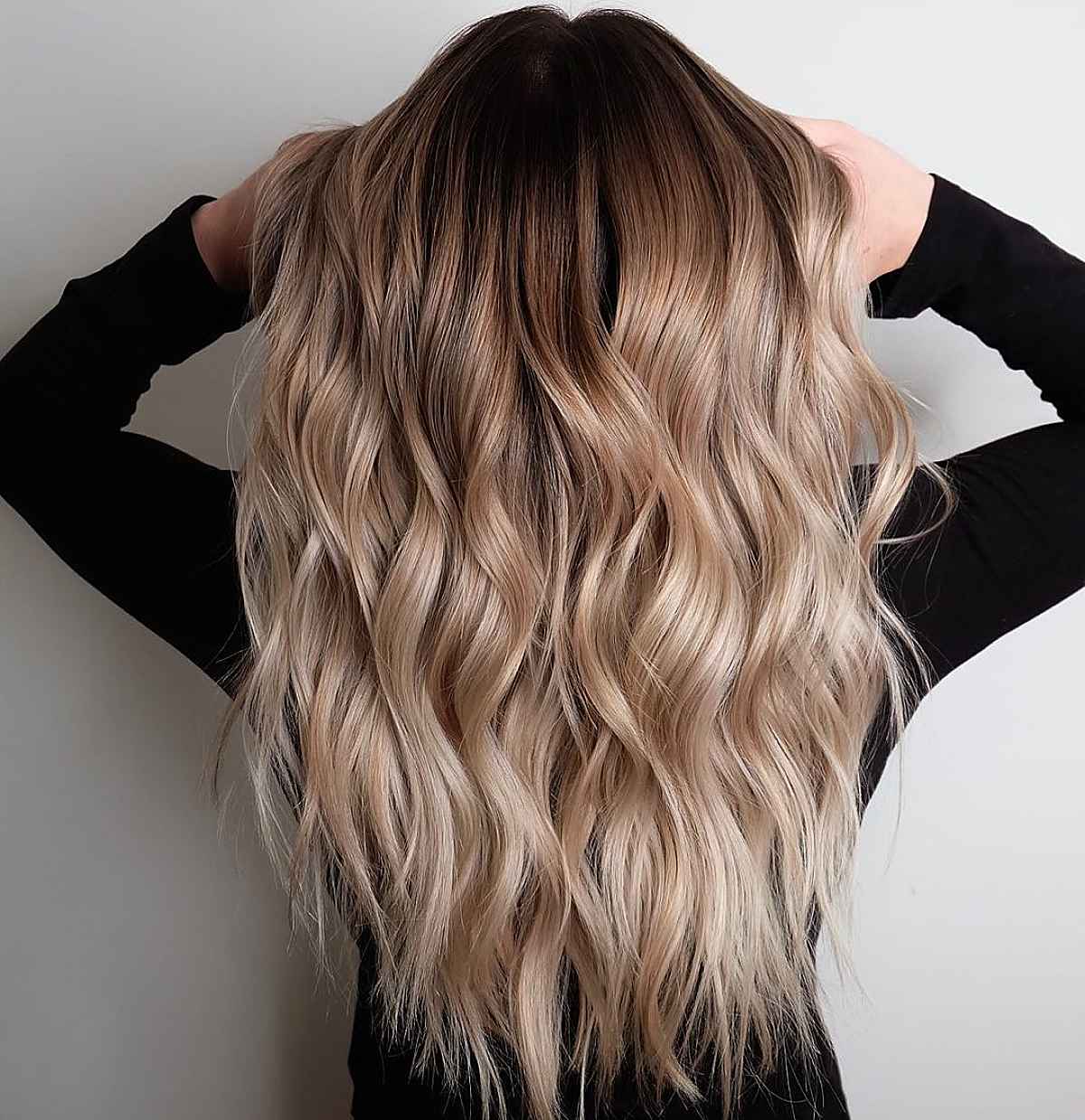 #22: Beautiful Dark Brown Hair with Blonde Highlights
A latte-inspired bronde balayage (brown+blonde) with face-framing pieces does amazing on layered medium-length waves. It's a beautiful option if you're a natural brunette and have a warm skin tone.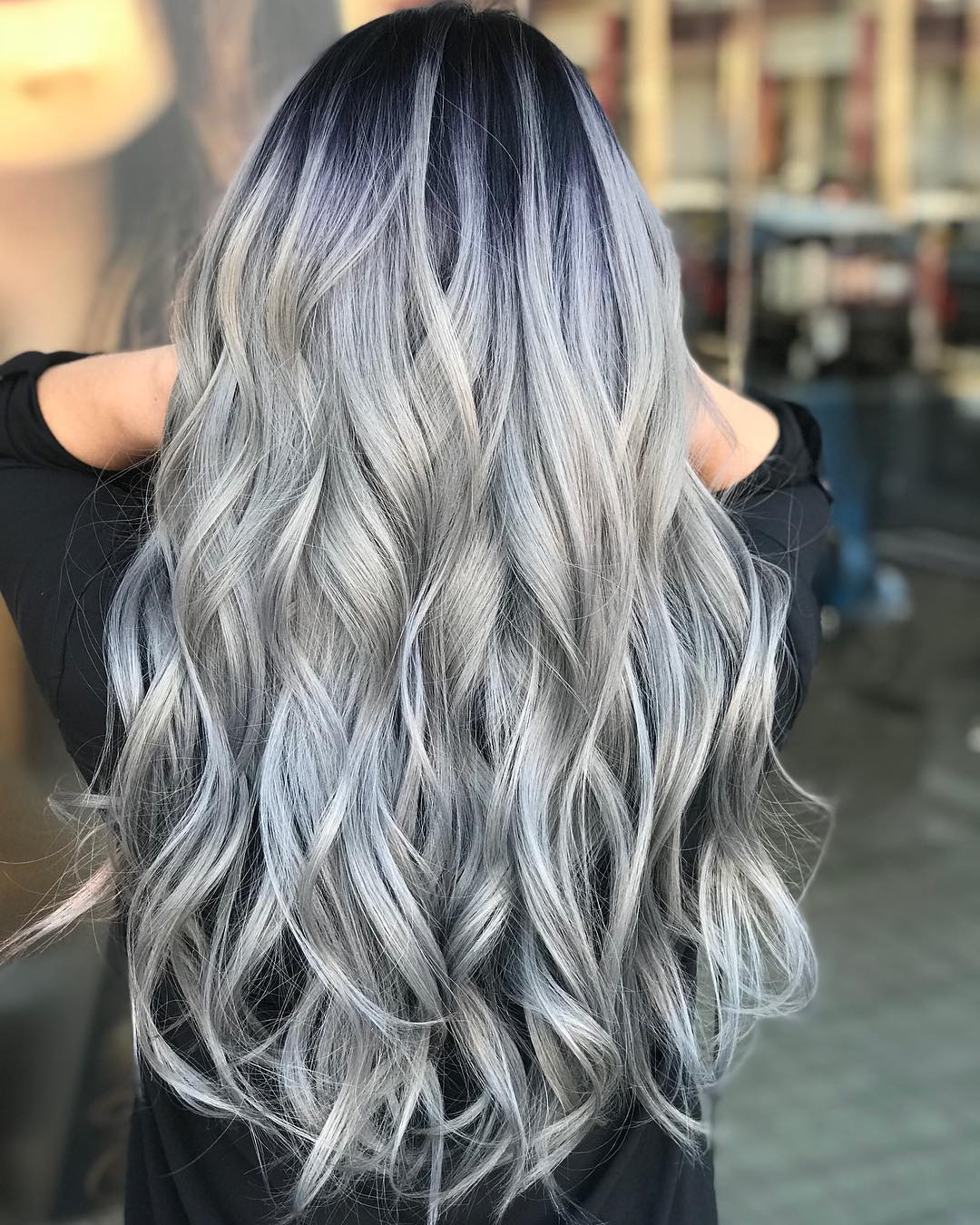 #23: Ashy Blonde Balayage Highlights with Beach Waves
Dimensional dark roots with a smokey ash blonde balayage on black hair are a great option if you have lengthy hair. Those gentle and soft layers fall lightly on your back, giving a sexy yet cool aura.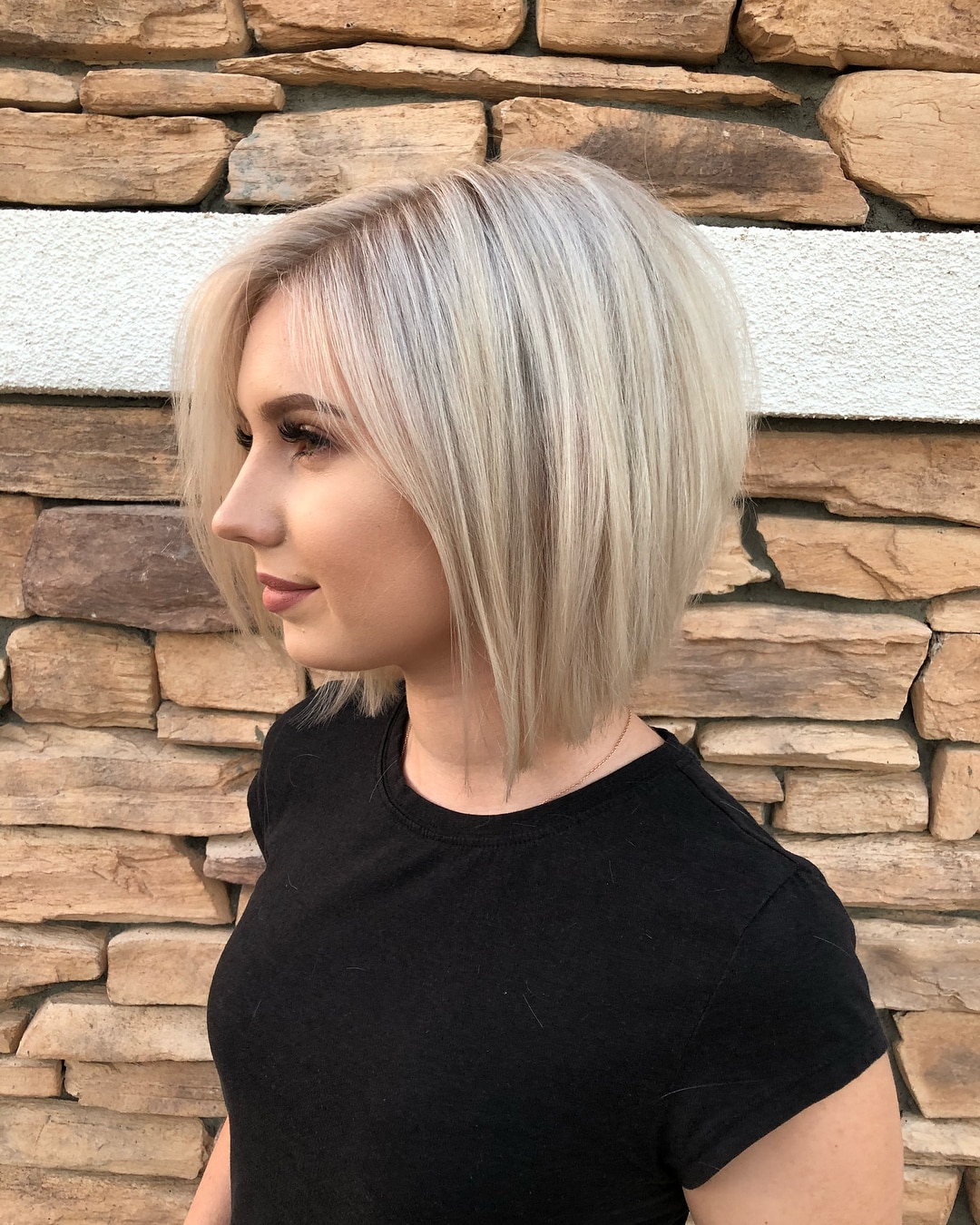 #24: Sun-Kissed Short Blonde Balayage Bob
You should try a chic angled blunt neck-length cut with a balayage. This lighter blonde balayage shade provides brightness that complements any skin tone and it can also enhance your make-up. This hair looks nothing but amazing!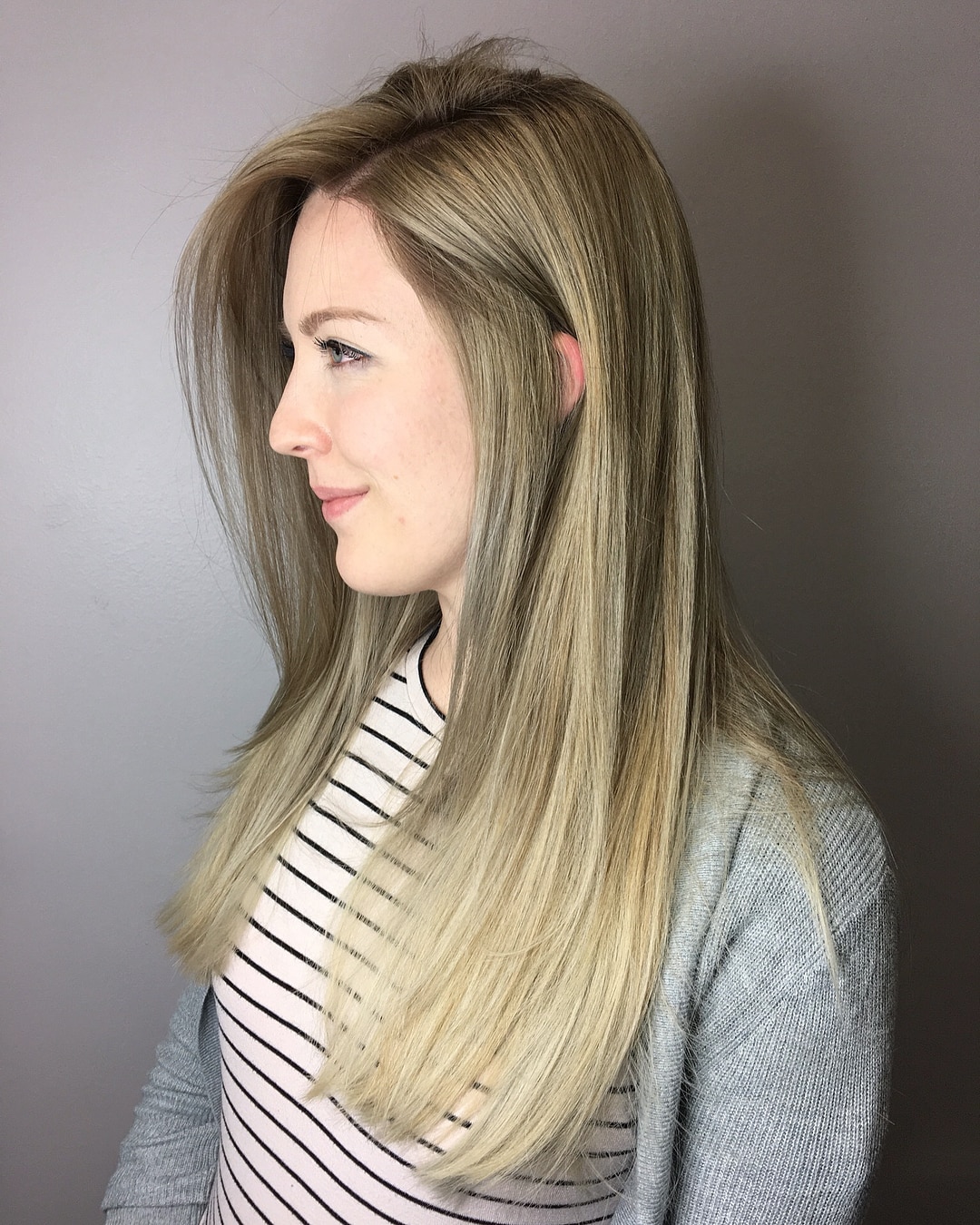 #25: Pretty Ash Blonde Balayage Hair Color
Consider choosing a natural-looking ashy blonde balayage with a slight shadow root. If you do this, then when your hair grows out, your natural color just blends into your hair. This allows months of time before having to have the blonde moved up. For a blonde balayage, brunette hair colors work great if you're wanting a "low maintenance" hair color application. With the natural placement and gradual effect, it can last longer than a traditional foil or color, eliminating harsh lines.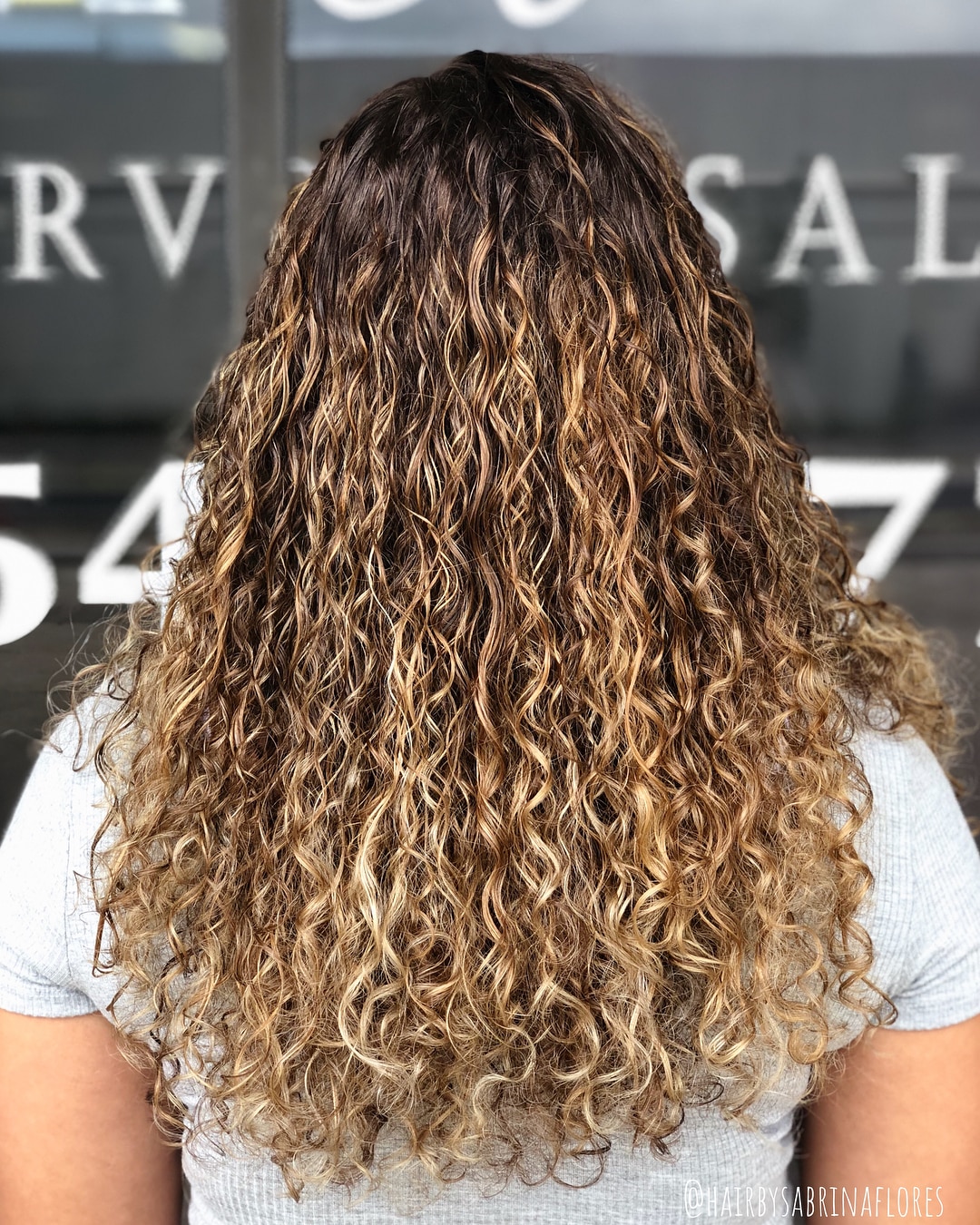 #26: Versatile Sandy Blonde Balayage for Naturally Curly Hair
The best thing about a sandy blonde balayage on brown hair with a dark base is that it's versatile for both curly and straight hair. If you want to create this blonde balayage hairstyle, use DevaCurl Light Defining Gel and Styling Cream.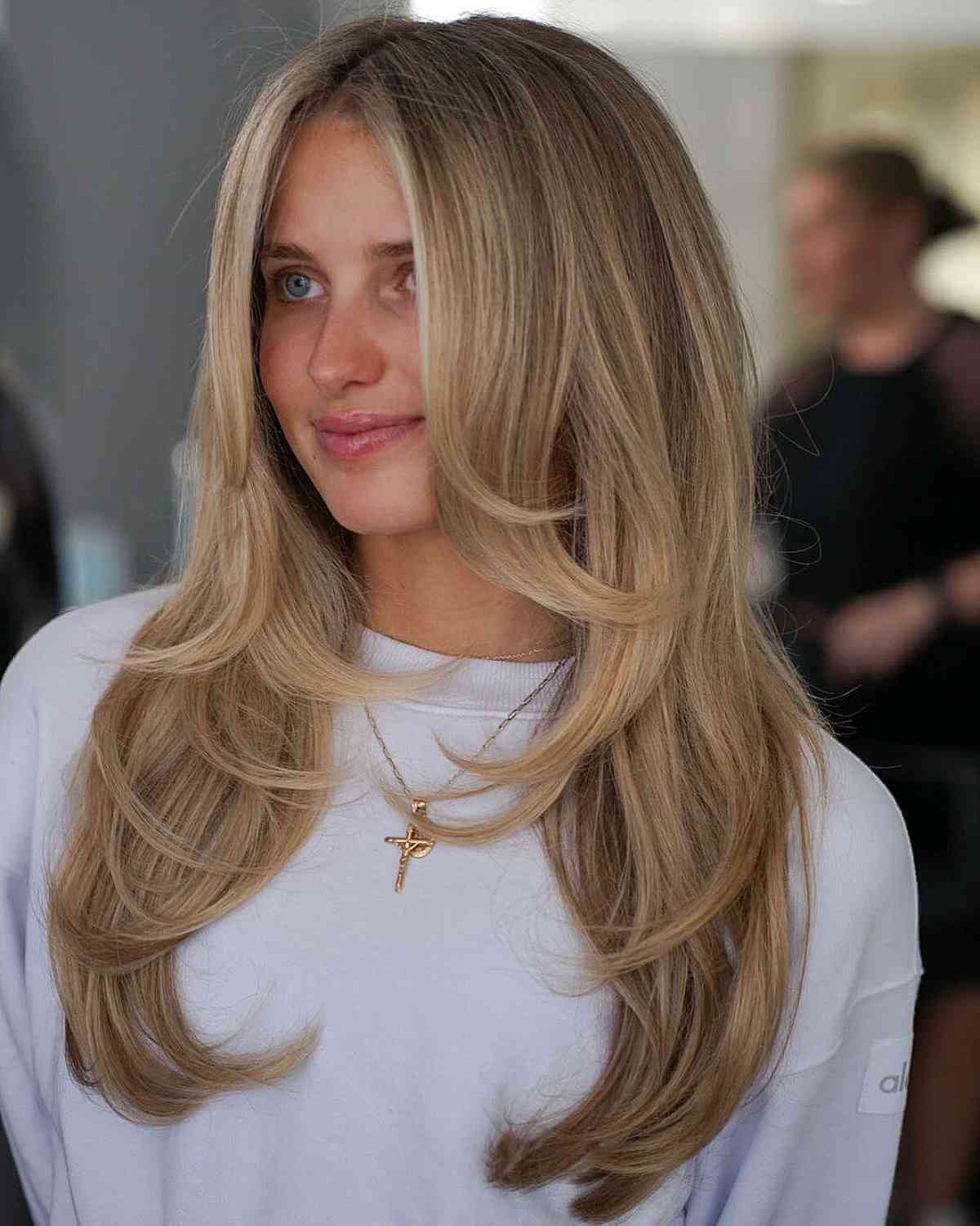 #27: Natural-Looking Balayage on Blonde Hair
Consider natural-looking balayage on blonde hair. If you have heavy highlights and love that all-over blonde look, this is a great way to bring your natural roots down. It provides a seamless grown-out blonde balayage. Add in some dimensional lowlights and blonde tones to freshen things up. Use all Aveda color, on your reverse balayage blonde hair color to bring your hair back to life. If your natural root color isn't very dark then there's not a huge contrast between dark and light. However, this color is perfect for you if you have naturally much darker hair. If your hair color matches your natural hair well, you will not have to touch your color for at least 6 months.
#28: Icy Blonde Cool Toned Balayage with Silver Lowlights
An icy blonde, cool toned balayage with silver highlights is not possible for every women to get. The trendy hair color in the photo is naturally a level 7 and it will take you about 3 appointments to get to this tone. This color also takes a tremendous amount of upkeep. I highly recommend your use a violet based shampoo every second wash, and get your roots touched up every 5 weeks. It's also very important that protein treatments are used to maintain the integrity of your hair.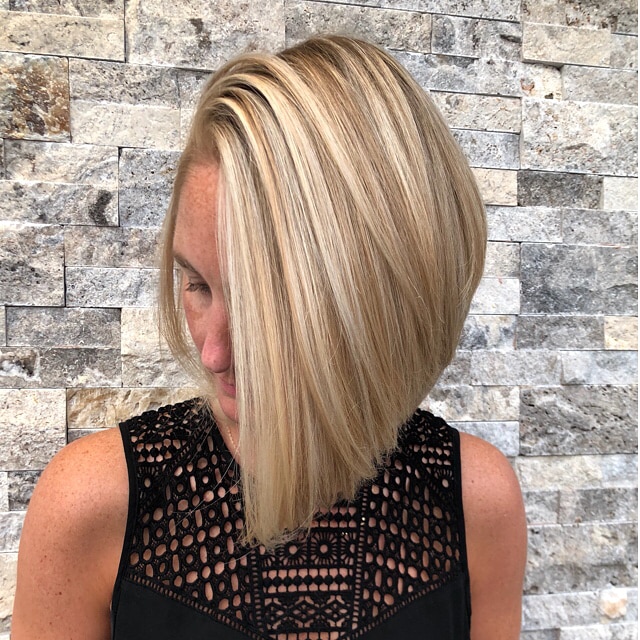 #29: Fantastic Beige Blonde Balayage on Short Hair
For a blonde balayage, short hair really shows off the dimension. The dimension can be created by deepening the root before adding balayage highlights to your hair. It's a great blonde hair balayage for you if you like a classic foil, but want a softer grow out. Maintaining this color does require some at-home care. You'll need to use a violet shampoo between appointment will keep the blonde highlights bright and brass free. These blonde balayage highlights are for you if you love your highlights but want to add some depth and dimension.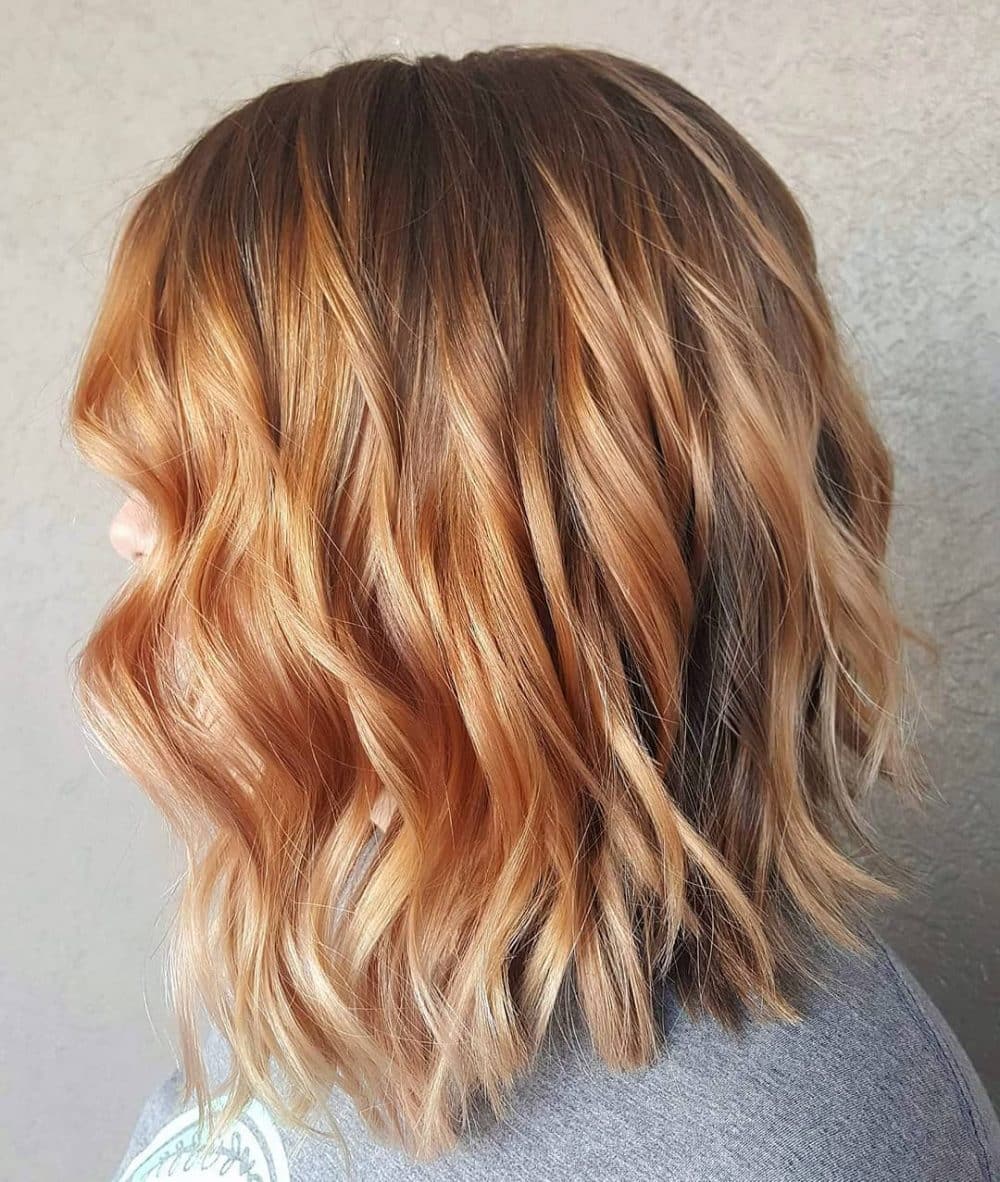 #30: Perfect Strawberry Blonde Balayage Hair
Strawberry blonde babylights with brown roots are definitely more fun and exciting, but it isn't a permanent hair dye! Balayage is a great coloring technique. For a strawberry blond balayage hair cut like this, it's important to consider your face shape. If you have a more narrow and oval face shape, then it's perfect for this haircut as it will enhance your natural shape.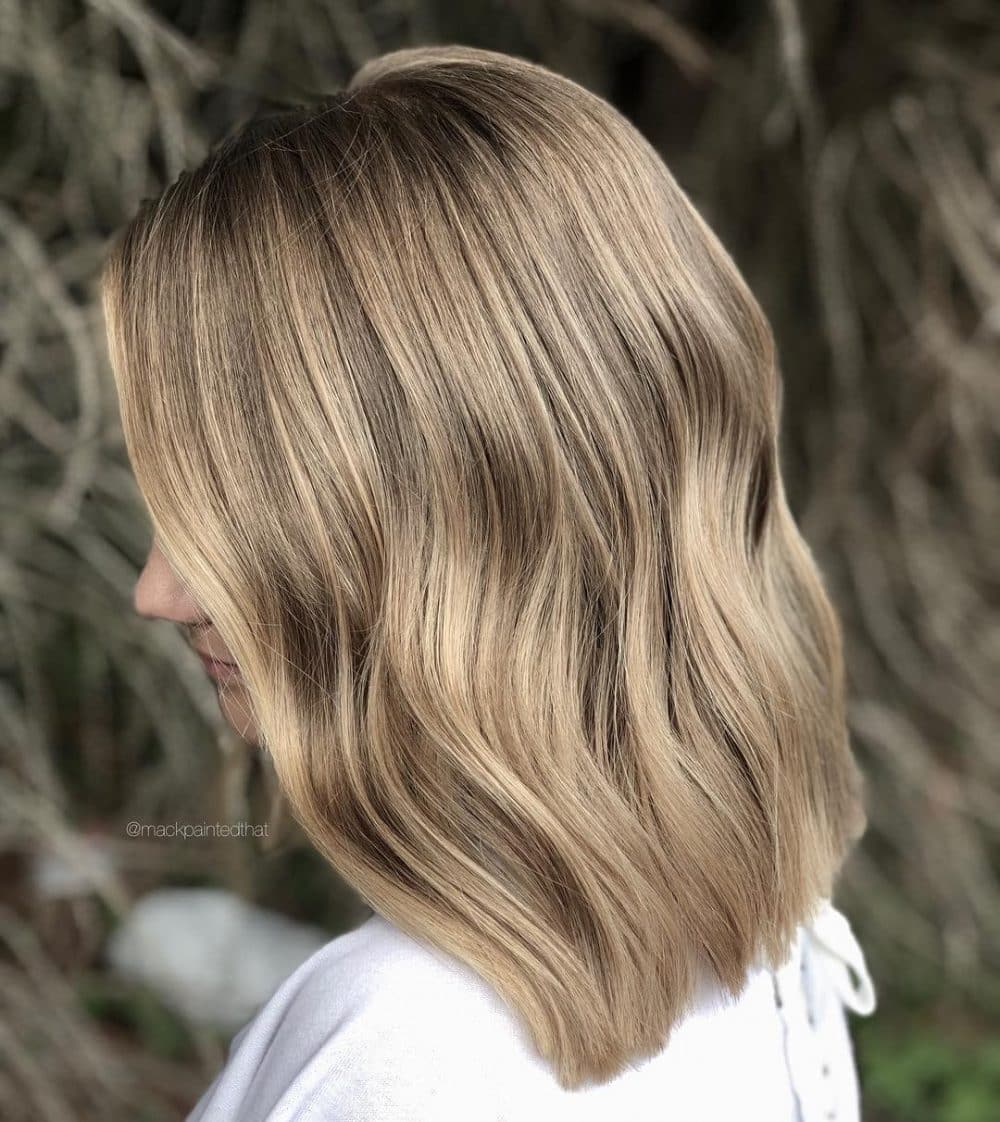 #31: Soft & Simple Balayage Lob on Wavy Hair
Consider getting a subtle sandy-toned, blonde balayage hair color. The bluntness of the cut complements the softness of the balayage and waves for an effortless finish. This color and haircut are perfect if you want a simple and soft dimension, or if you're just trying out a lighter tone. This type of light blonde balayage is low maintenance and typically doesn't need to be touched up for 3 to 6 months.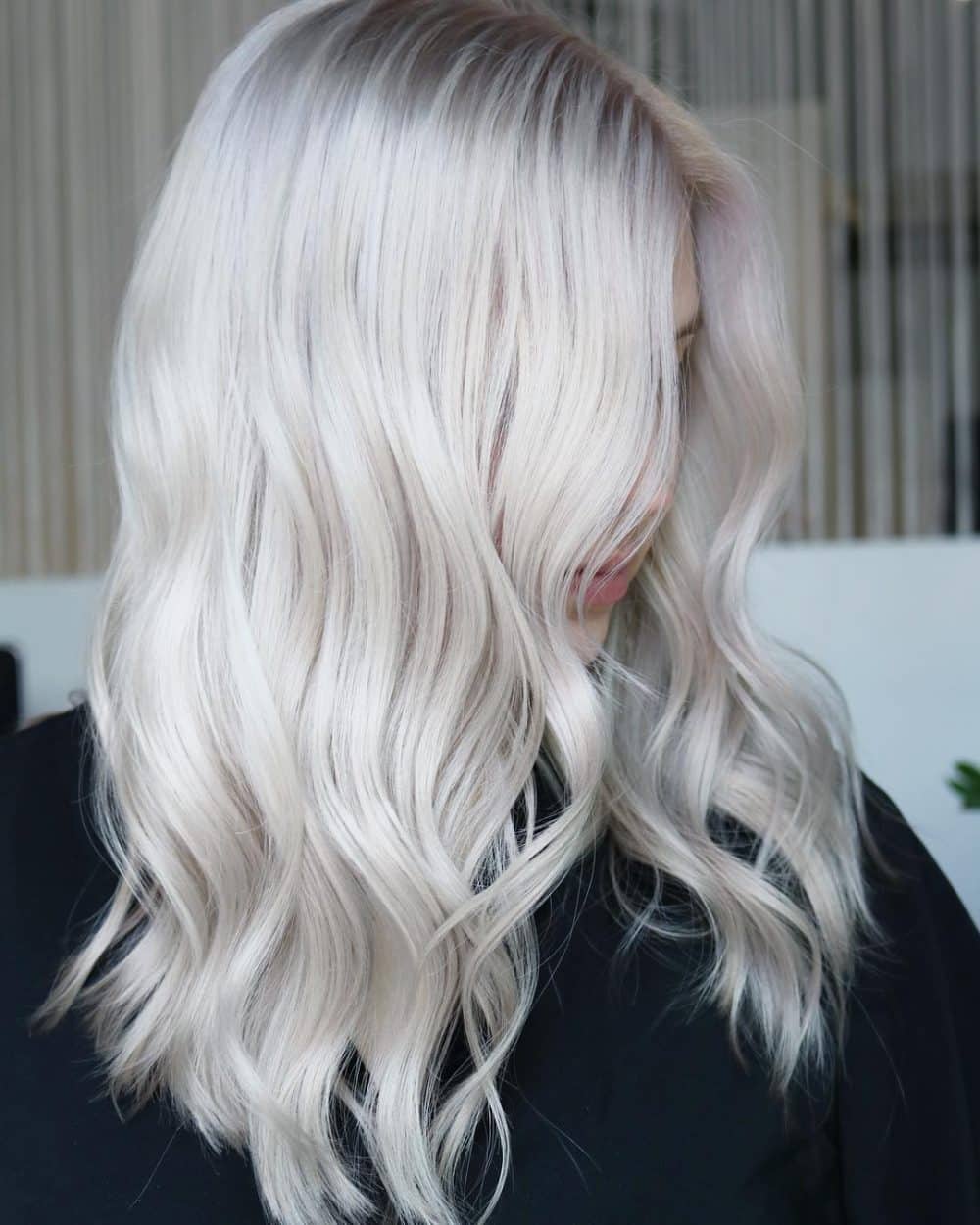 #32: Trendy Blonde + Platinum Balayage
A cooler platinum balayage with the slightest shadow root looks stunning. The best part of this balayage blonde hair is the shine and brightness of the tone. Remember to be prepared for lots of maintenance and work when it comes a platinum blonde balayage. A cool blonde balayage color trends require monthly touch-ups, as well as the proper home care regime. You'll have to purchase a purple shampoo to cancel out any brassiness that may appear between appointments, plus some really great professional-grade conditioning treatments. If being in the hair salon often doesn't match your lifestyle, go for a more natural blonde instead.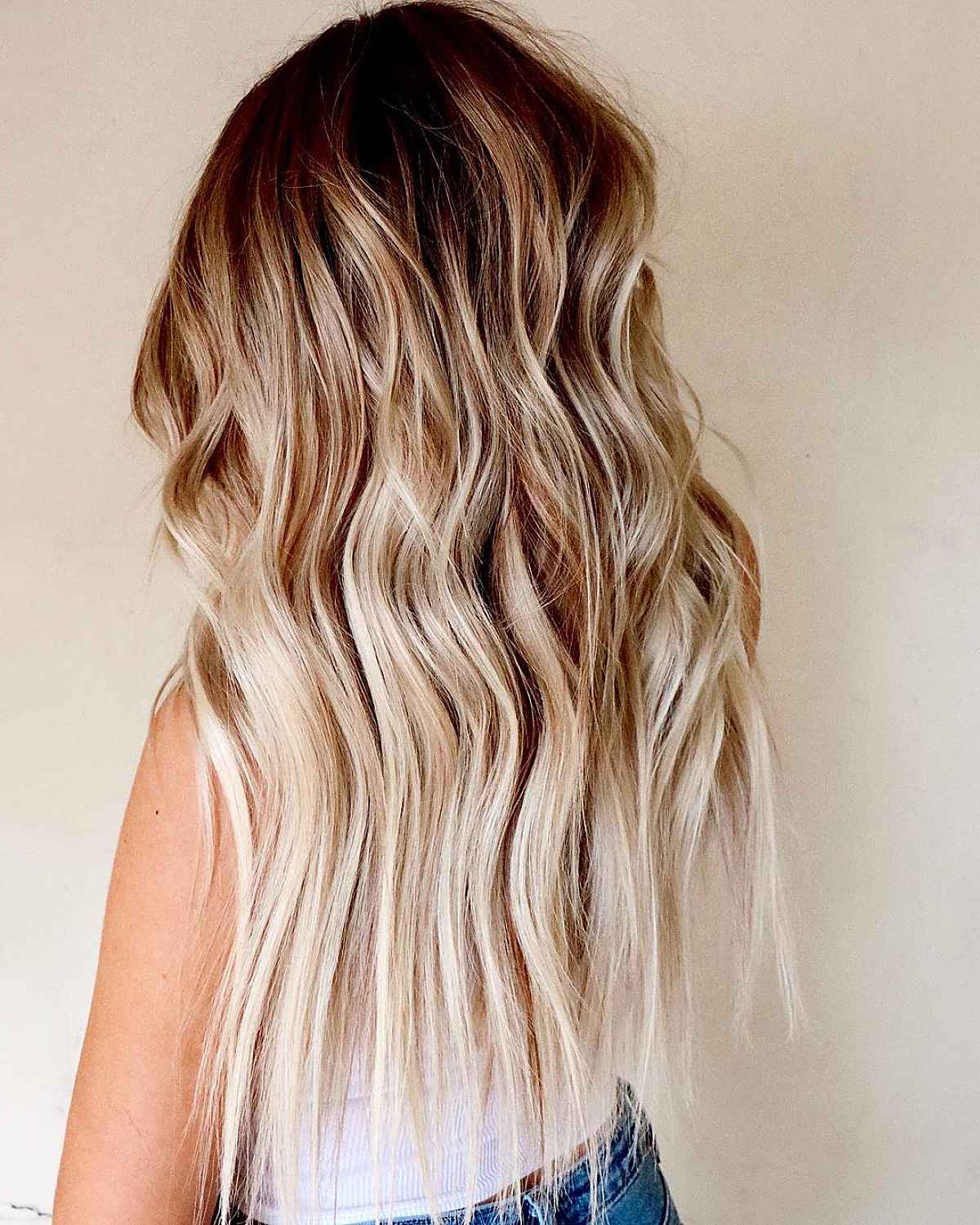 #33: Sexiest Brown to Light Blonde Balayage
A brown to light blonde balayage keeps brunettes in their natural color level while adding depth and dimension to the ends. When starting out with balayage for the first time, your hair may not be extremely bright and light the first session, especially with naturally dark hair. Please be patient and trust the process, as it's important when making hair lighter, as you want to maintain the integrity of your hair.
#34: The Best Blonde Balayage with Dark Roots
Rock a blonde balayage with dark roots. This is great if you're a busy woman looking for a low-maintenance color option. Ask your hair colorist for a balayage for foilayge to give a soft blended blonde grow out and a root smudge or root melt will extend your grow out time the best.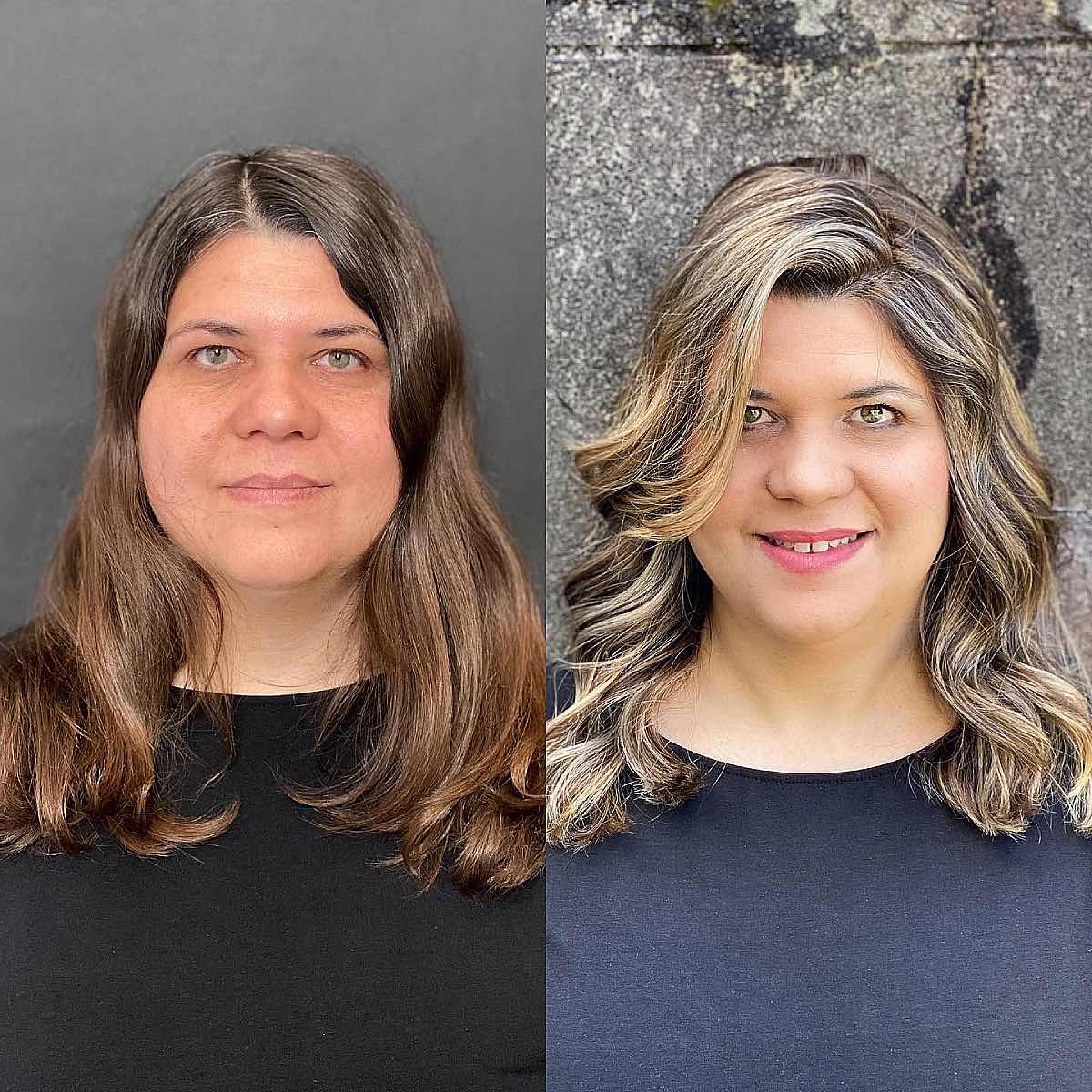 #35: Rich Mid-Length Blonde Balayage on Dark Hair
Any lady that likes high-contrast color will love a rich blonde balayage on mid-length dark hair. If you have dark hair and are wanting to add blonde, be aware that it will be more upkeep than you're used to. It may take multiple sessions to transition to your desired shade of blonde and you may need frequent toning appointments.