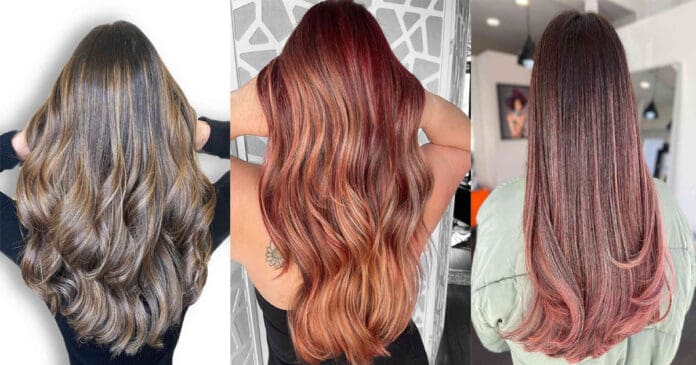 Balayage means "sweeping" in French, and it's a modern coloring method where hair colors are hand-painted onto your strands. This free-form painting creates a dimensional finish. The root looks softer and muted, making it a lower-maintenance hair care routine than the traditional highlights. "Trust your stylist about beauty tips when deciding which tone would best complement your skin tone and eyes. Discuss with them what type of maintenance you're in for," says hair colorist Katie Carroll, a balayage and blonde specialist from Milford, CT. At-home hair products are essential to keep your color looking healthy and vivid. Carroll suggests you use a shampoo and conditioner from the Virtue Recovery Series. Prevent dull, lifeless, and brassy tones by keeping up with your glosses. According to Carroll, "a gloss can bring your hair back to life and leave it looking shiny like you just had a fresh balayage. This is a must." Here are inspiring pictures of the best balayage hair color ideas for you right now!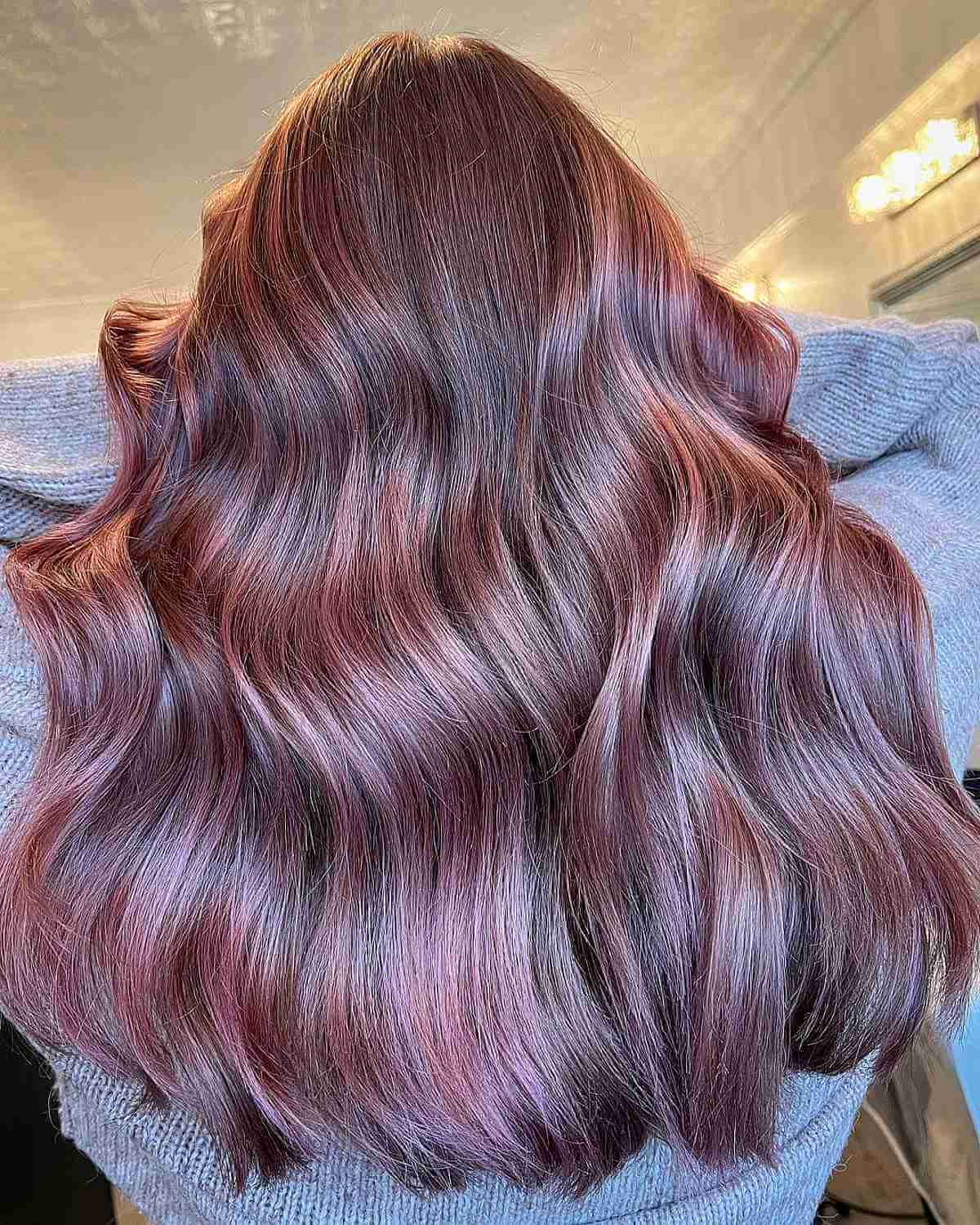 #1: Fun & Flirty Rose Gold Balayage
A deep, rich, rose gold balayage is a great hair color to consider if you want something that's colorful and fun, without being too bold and vibrant. Rose gold is a great example of what is sometimes considered a "natural" fashion color. Rose gold tends to start fading after just a few weeks, but the darker the rose gold is, the longer it will last. Ask your stylist about color-depositing shampoos, re-toning your hair every 4-6 weeks, and invest in a good dry shampoo because it's about to be your new best friend.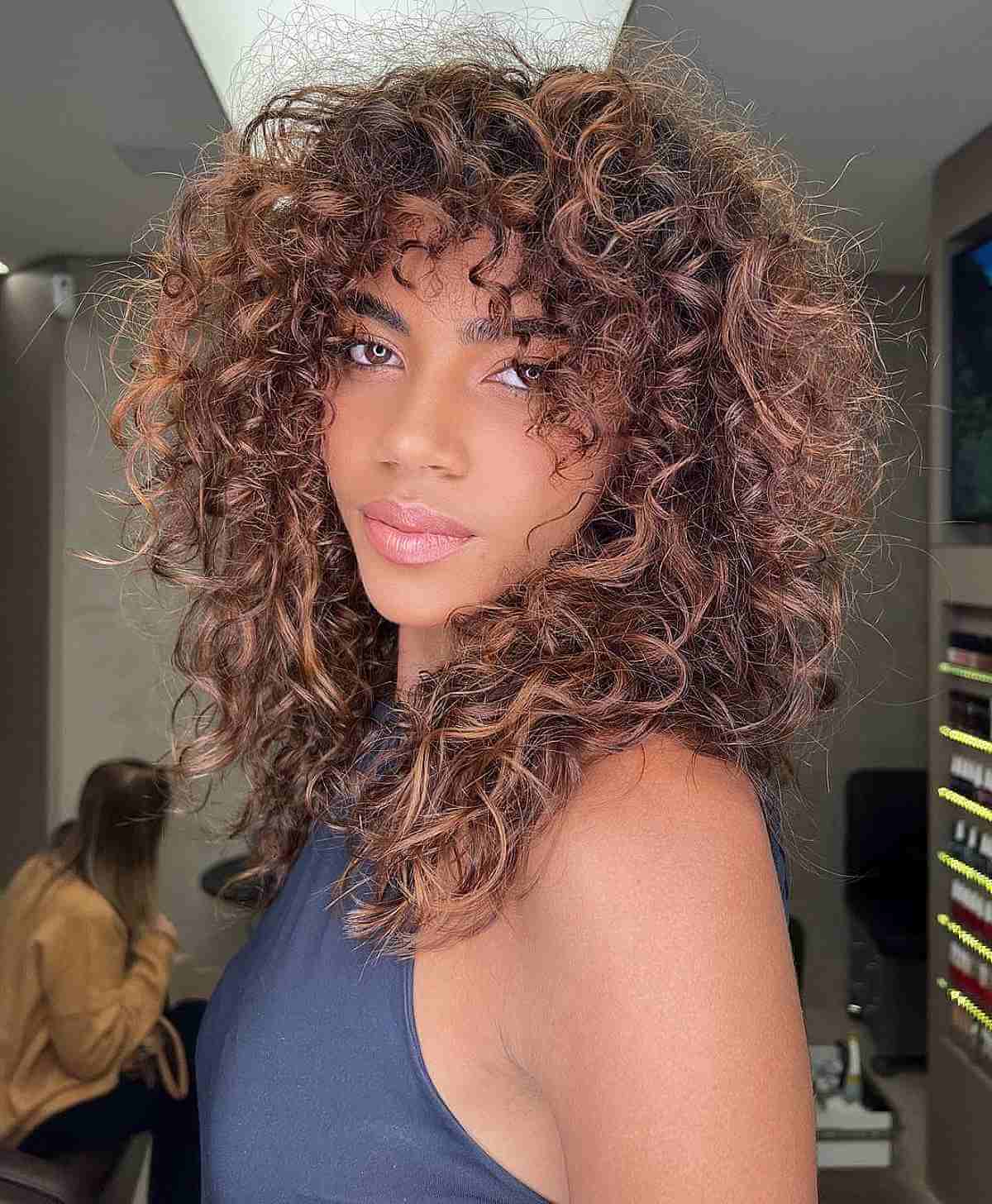 #2: Subtle Balayage on Natural Curls
If you want to get your natural curls to stand out more, try going for a subtle balayage. A balayage can help give your hair natural color dimension and depth, no matter the color you choose for your balayage. You'll want to avoid brushing your hair when it's dry to prevent your hair from looking dry and frizzy. Don't forget to utilize curl products in your hair to keep your curl pattern looking hydrated and bouncy.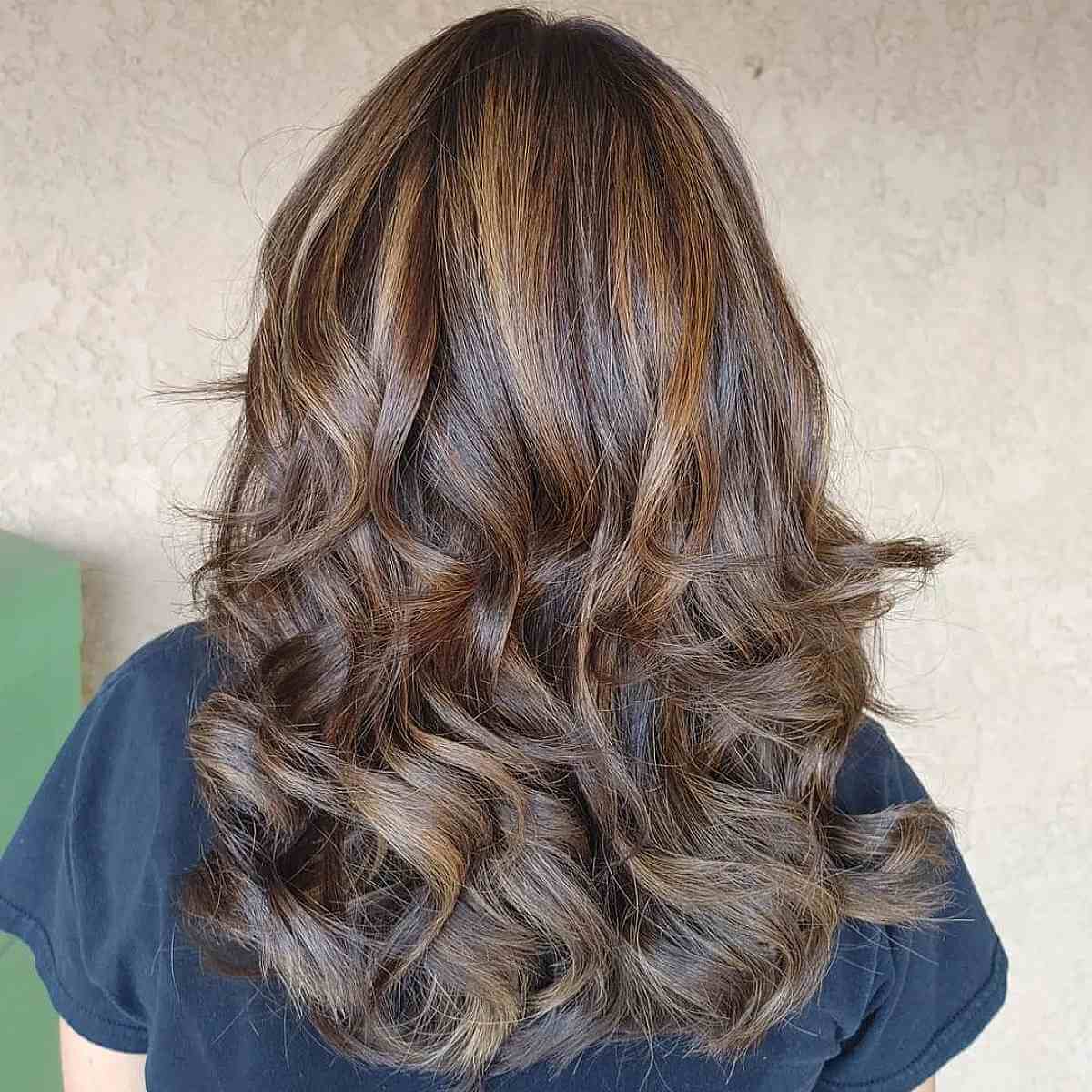 #3: Yummy Caramel Balayage on Brown Hair
Spice up your brown locks with a caramel balayage. Warm up your hair and your complexion with swirling colors of golden and caramel tones. Balayage is a beautiful natural technique that will give your hair the brightness you want with little maintenance.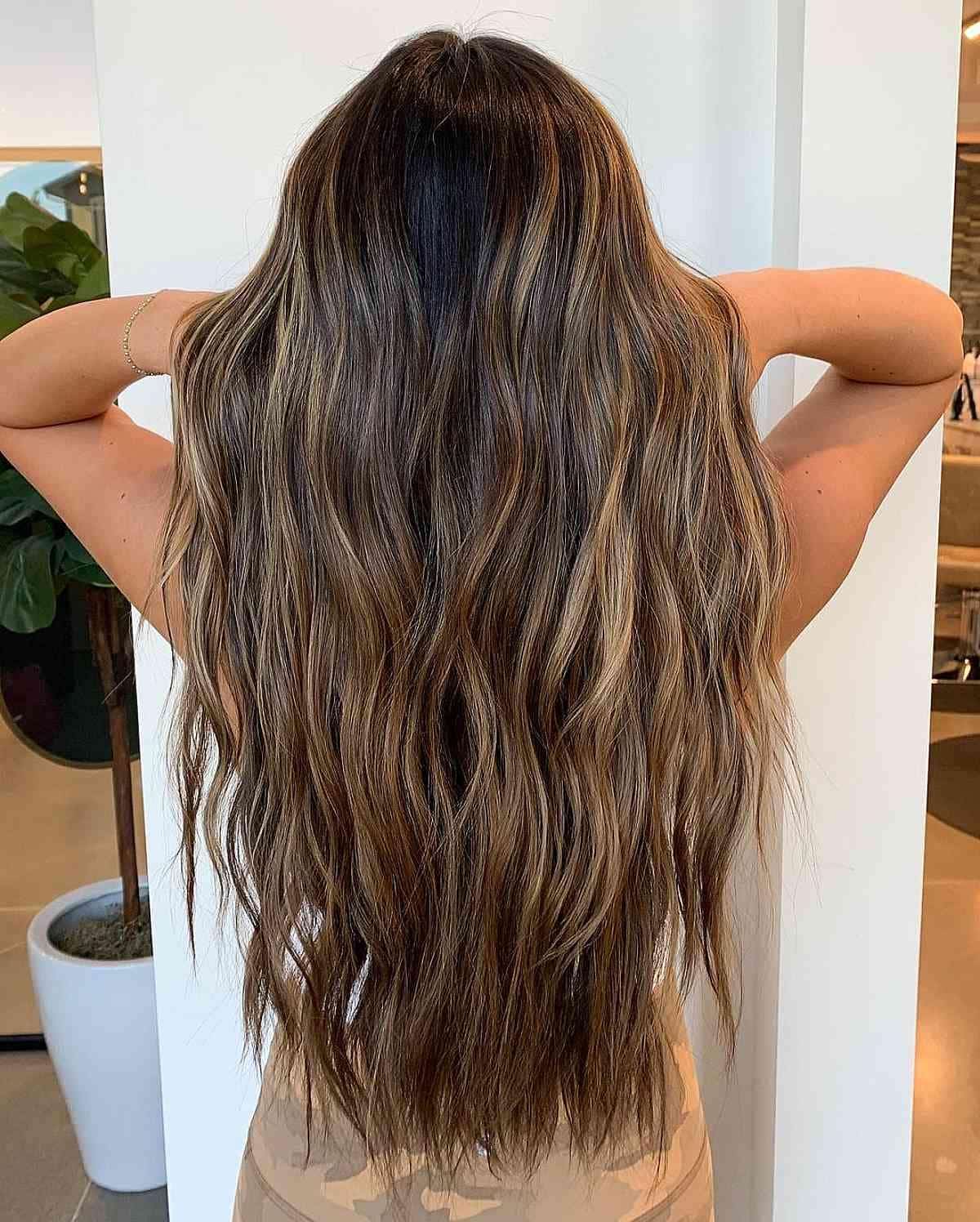 #4: Rooted Balayage with Sandy Brown
A rooted balayage can be a really great choice if you're like other women looking to visit the salon less frequently. Ask your stylist for a root color close to your natural hair color for added longevity.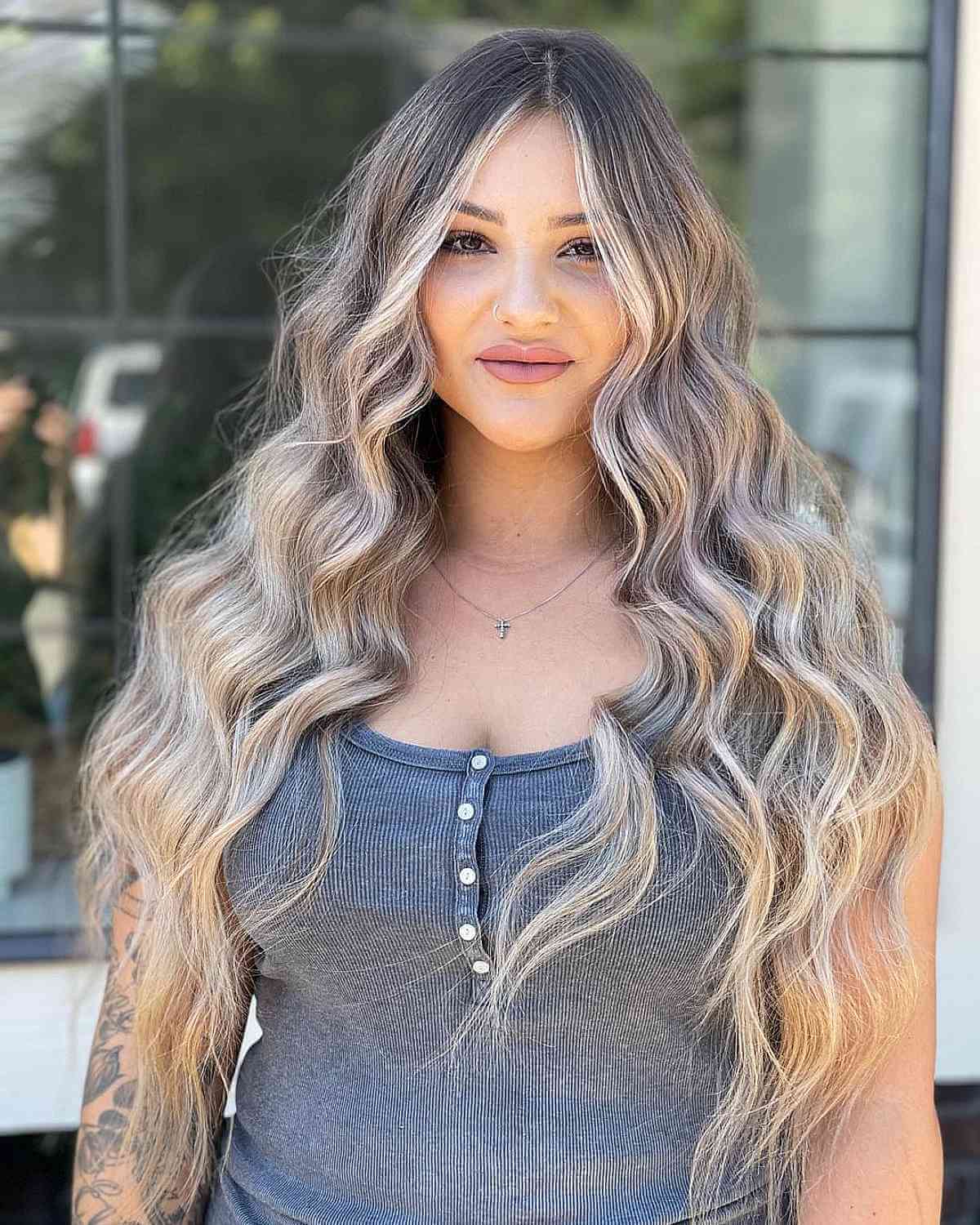 #5: Sweet Honey Balayage with a Money Piece
A honey balayage paired with a money piece can be a big impact, but low-maintenance. The balayage is mimicking how the sun naturally lightens your hair which leaves a nice, natural-looking root. A naturally rooted balayage won't leave a harsh line of outgrowth. If you can, avoid washing your hair too often.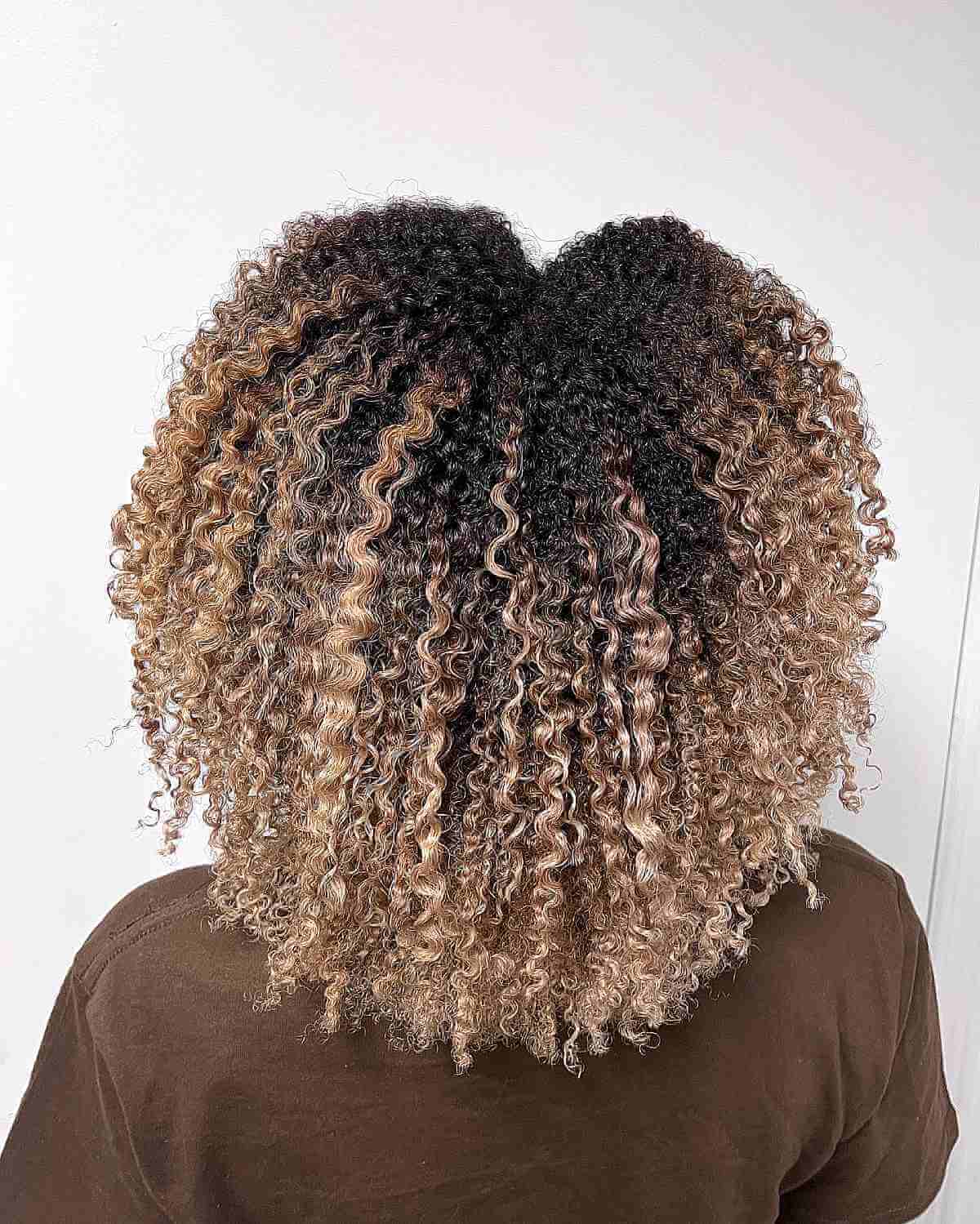 #6: Balayage Brown Dimension for Curly Hair
If you have curly hair, a balayage style will highlight your best features. The perfect bronde with a dark root pair together well, which will grow out beautifully. Curly hair and balayage go hand in hand with showing off beautiful hand-painted dimensions.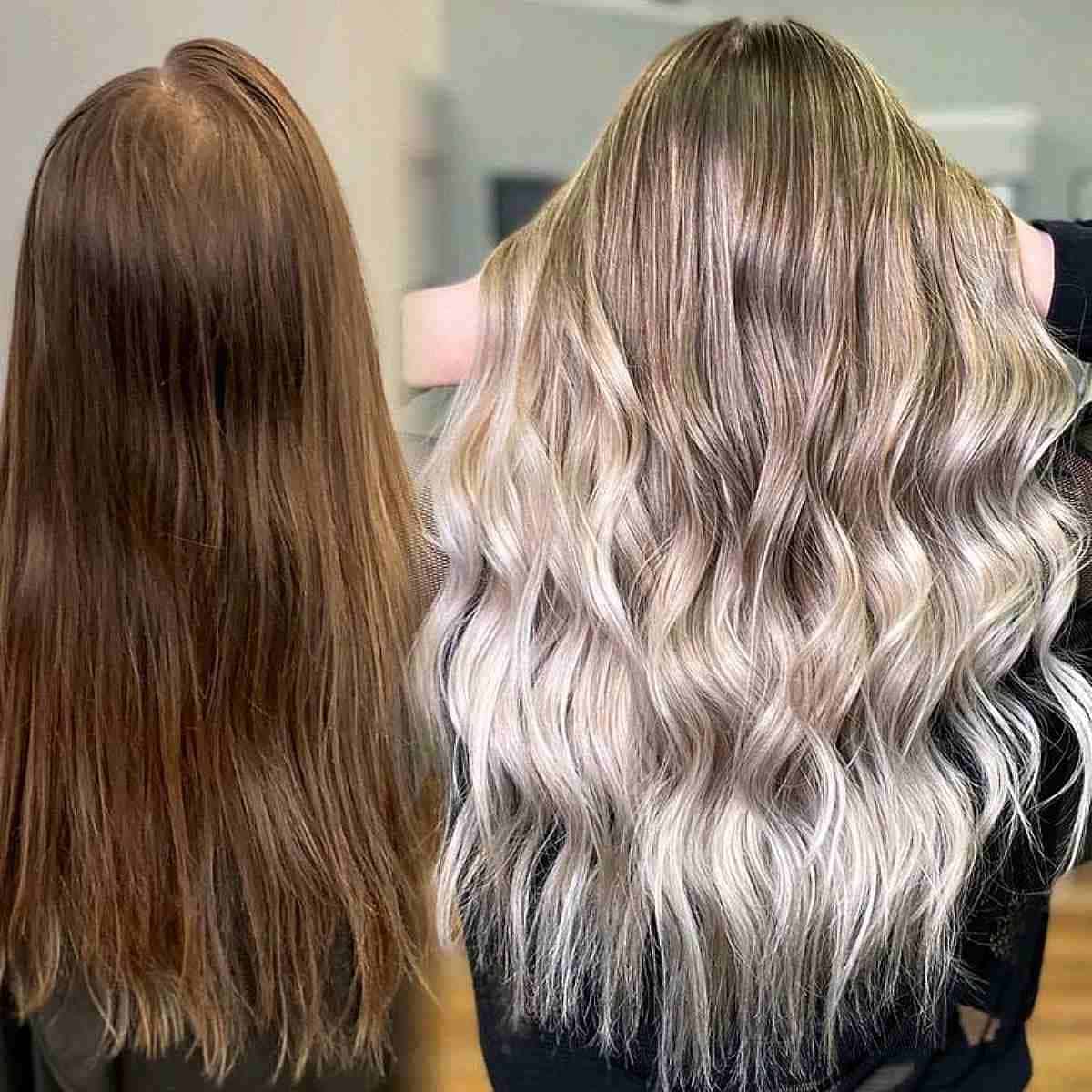 #7: Low-Maintenance Platinum Blonde Balayage
A platinum blonde balayage is the perfect low-maintenance hair color if you have naturally lighter hair. If you have darker hair, it will take several color appointments to lighten the tone. But once you do, this French coloring technique will look amazing.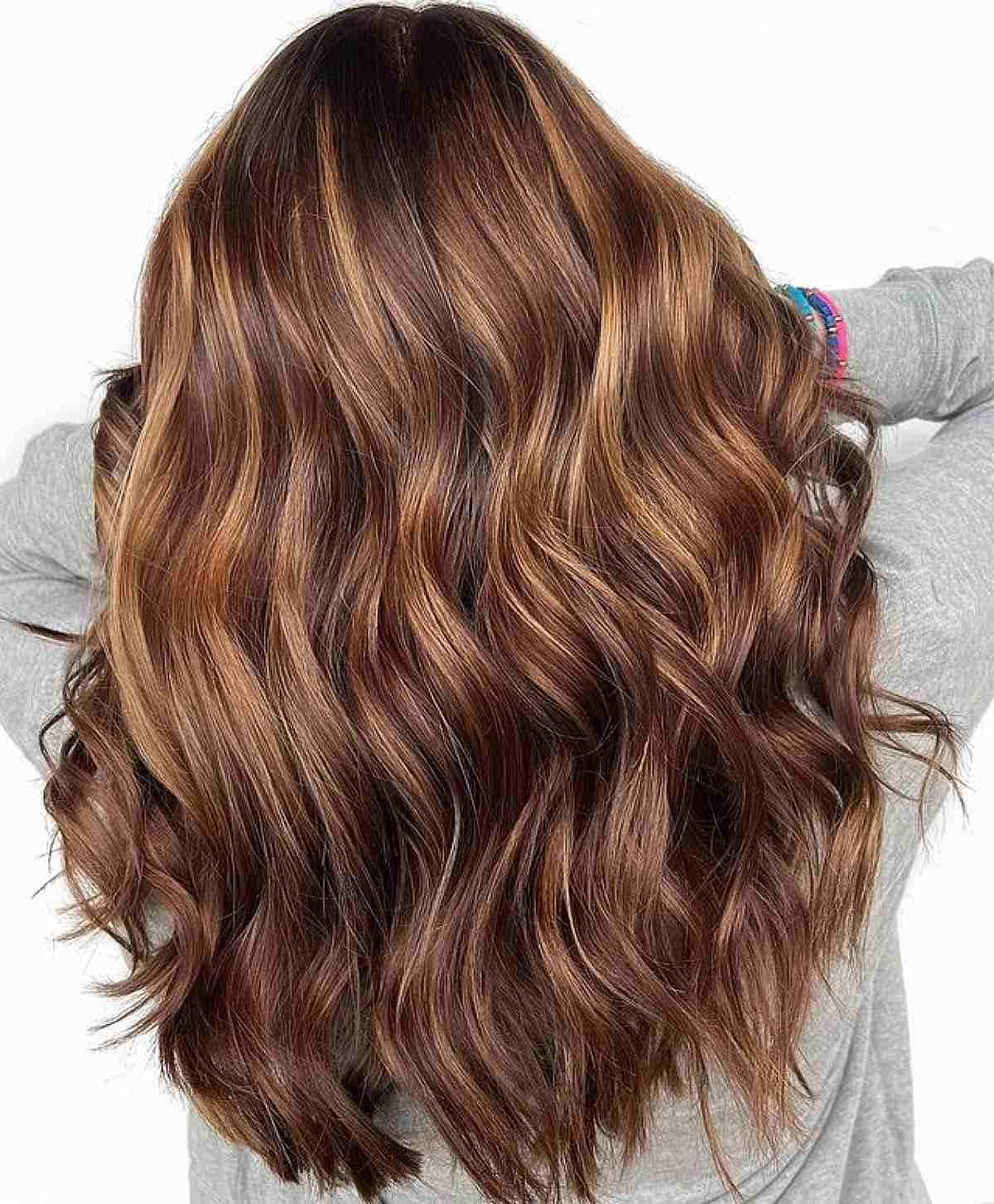 #8: The Reverse Balayage
A reverse balayage will add depth and dimension to your hair if you have darker hair tones. You can play with tones that match your skin tone best by talking with your hairstylist. You can keep as many or little light pieces in your hair and tailor it to suit your sense of style.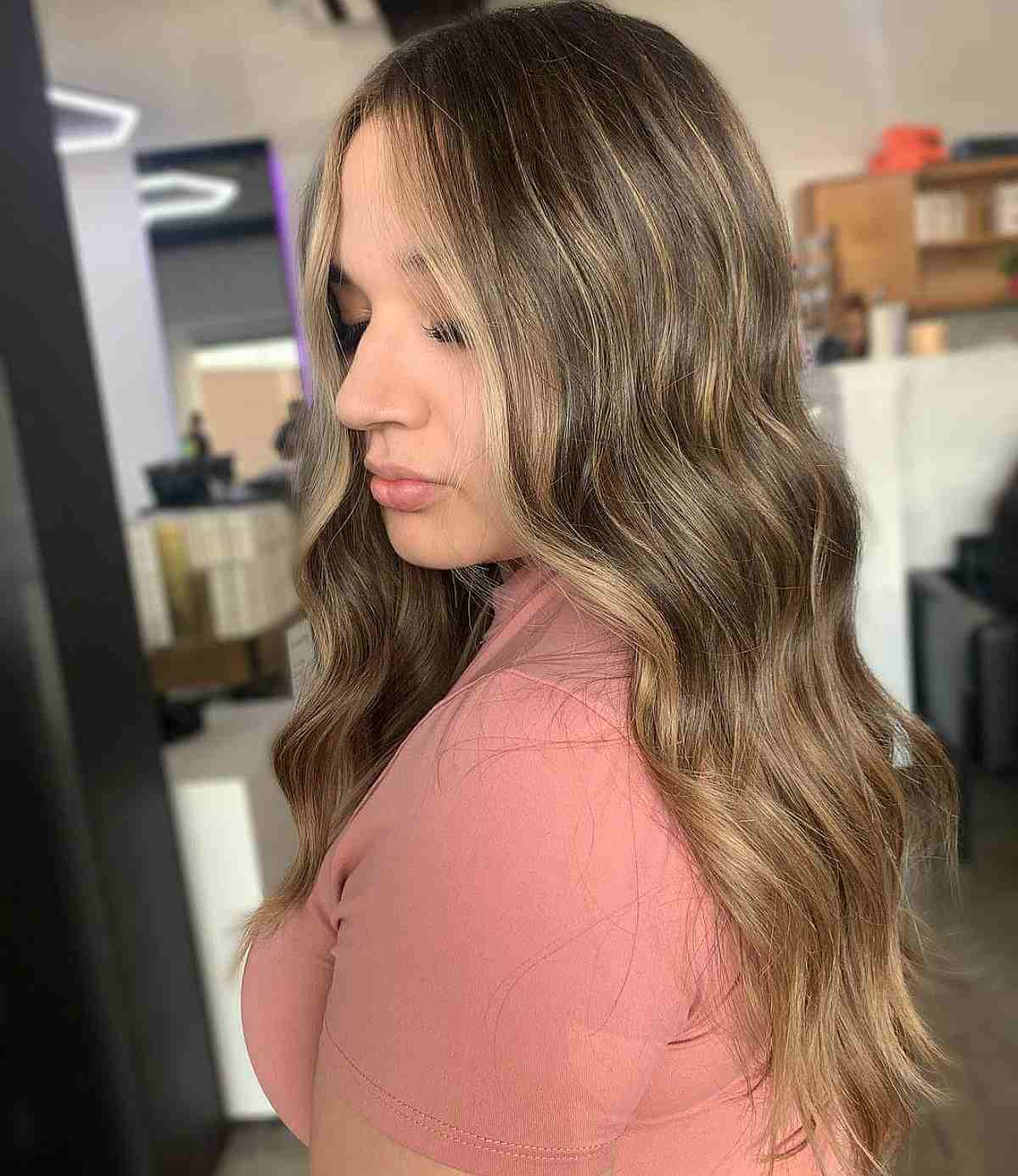 #9: Stunning Partial Balayage
A partial balayage is often all that is required to maintain your balayage look. Doing a partial balayage instead of a full balayage can be more financially beneficial as well as easier on the health of your hair. Ask your stylist if a partial balayage may be better for your hair maintenance schedule.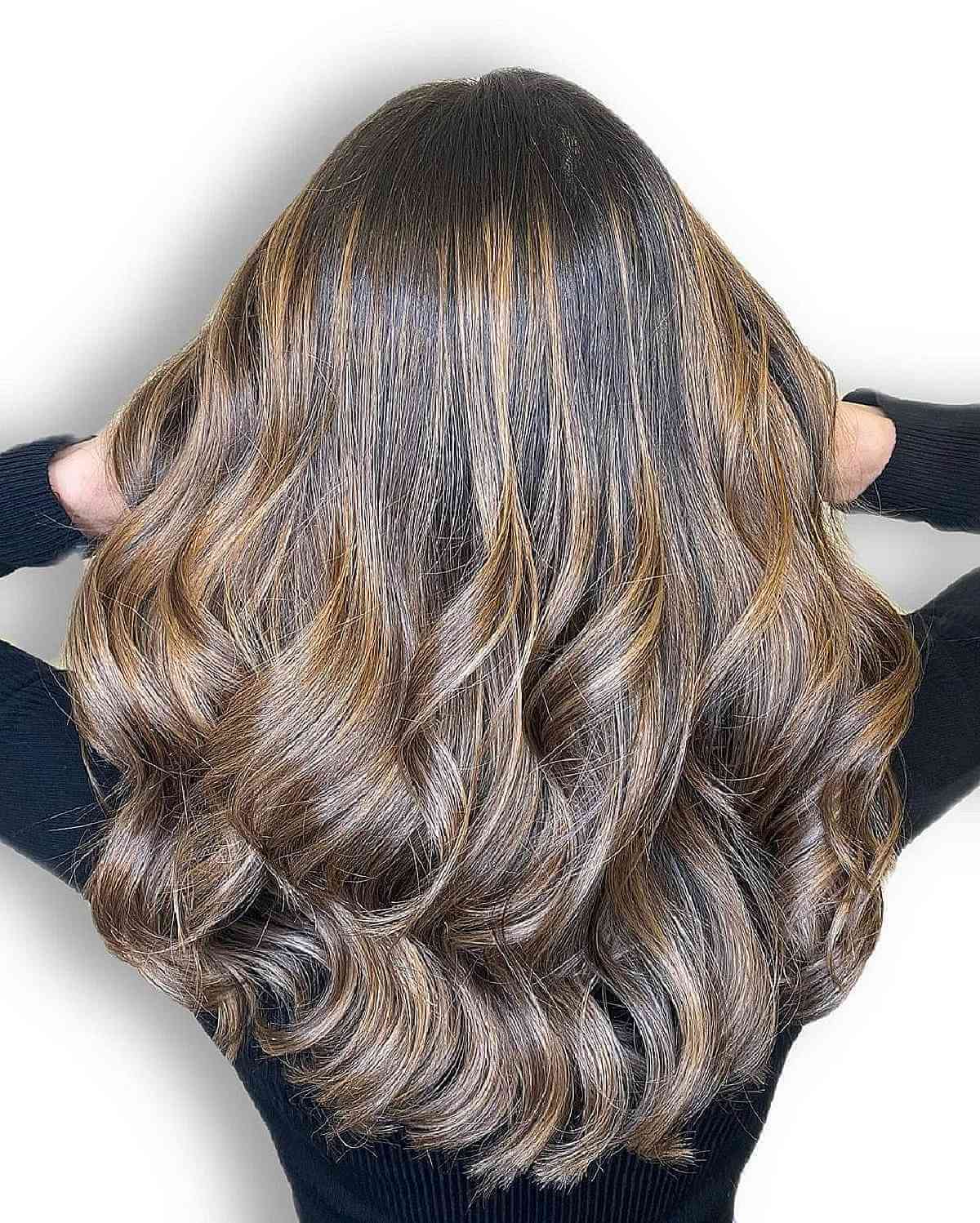 #10: Dimensional Brunette Balayage
Dimensional brunette hair brings out the richness in your natural base color. Using a hand-painted hair highlighting technique is very common to achieve a soft dimensional brunette balayage.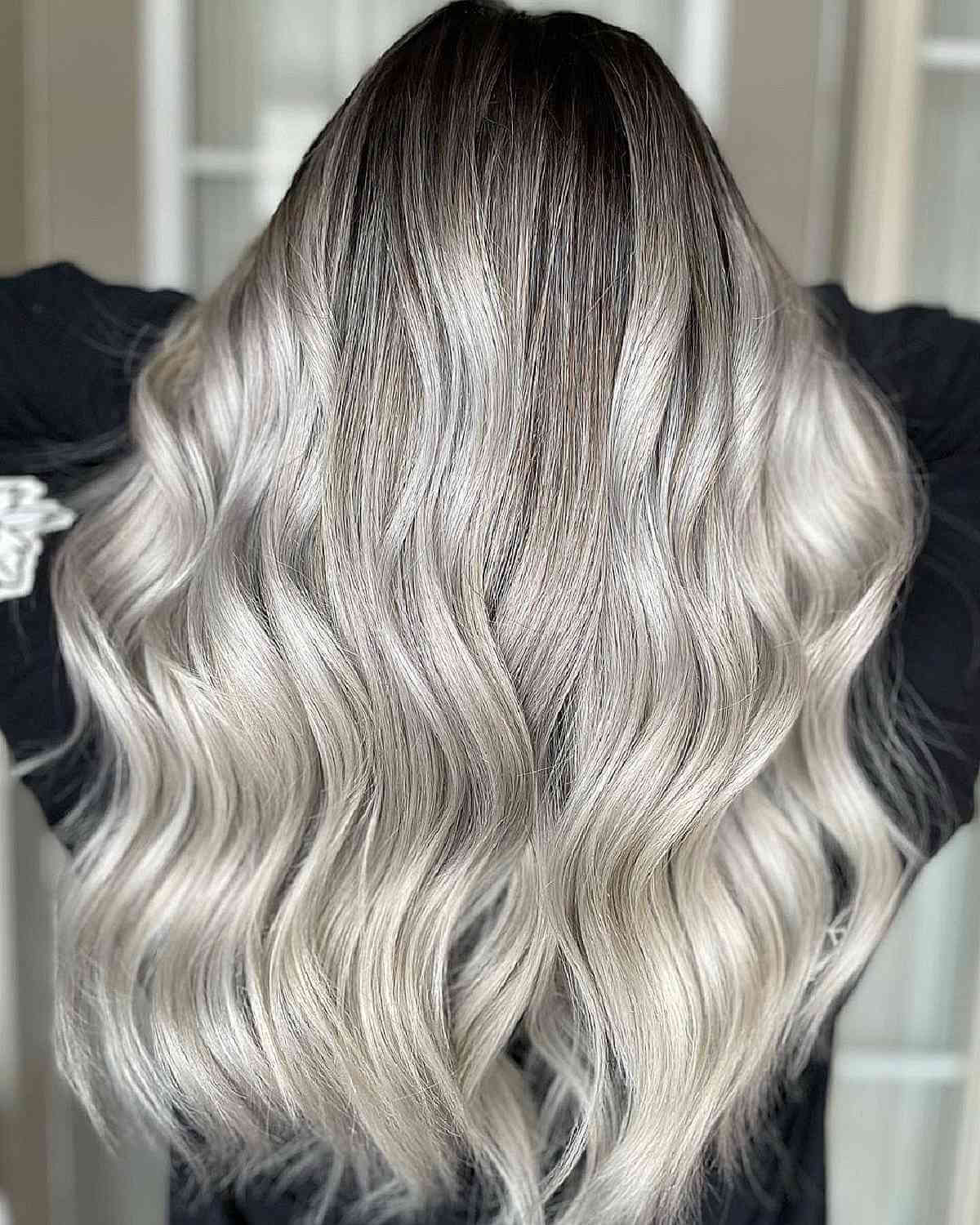 #11: Trendy Platinum Blonde Babylights with Dark Roots
Platinum blonde babylights with dark roots are definitely a color to try once in your life. The contrast with a dark root really makes the platinum blonde pop. You can achieve this by using the rooted blonde balayage technique. The high-maintenance, hand-painted style will definitely be worth it when you received tons of compliments.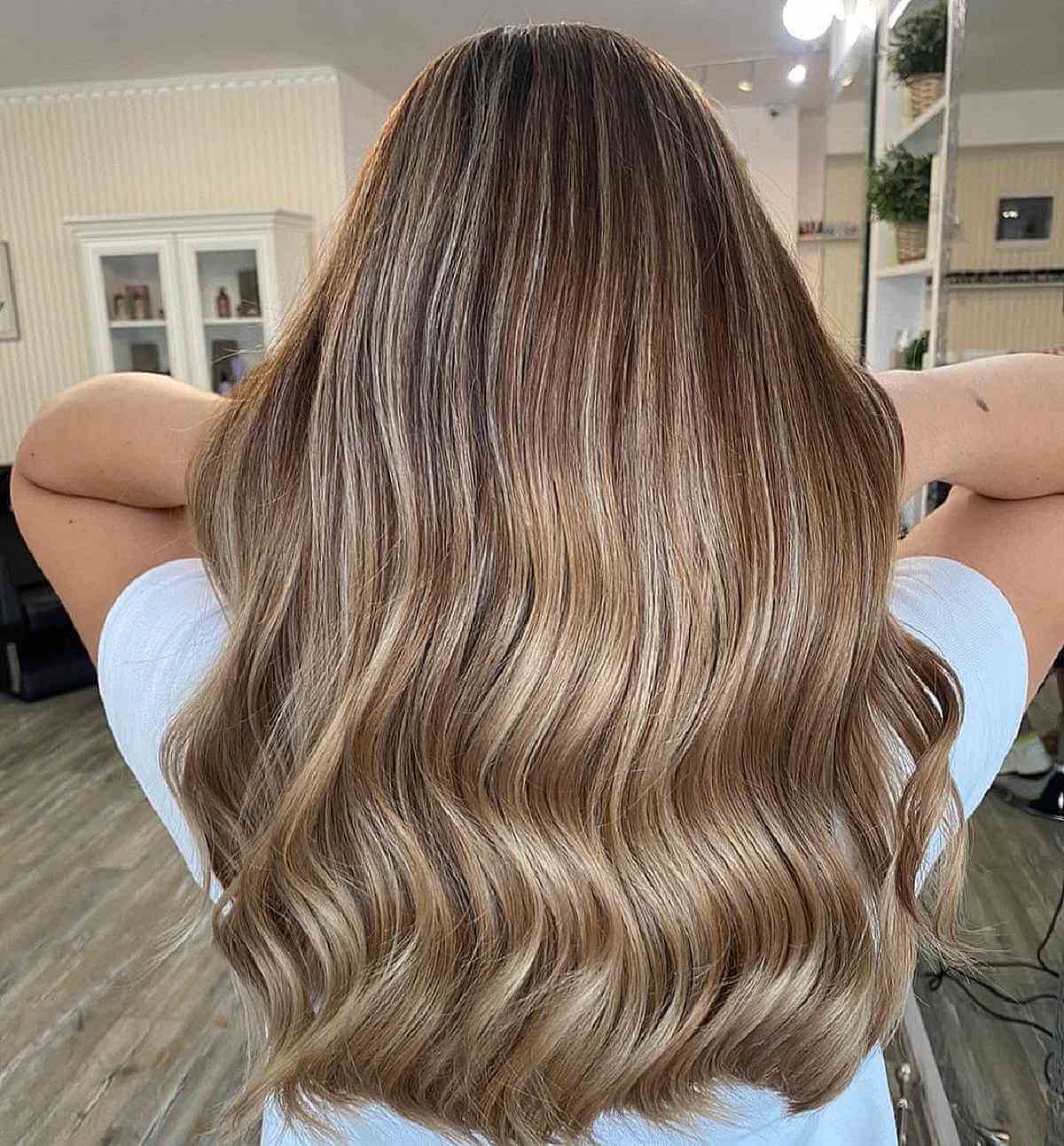 #12: The Natural Balayage
Natural balayage is perfect if this is your first-time balayage experience. Keeping a natural hair-toned balayage on dark brown hair will give you a low-maintenance look. Being so soft, this look can be worn straight or curled and will still look phenomenal.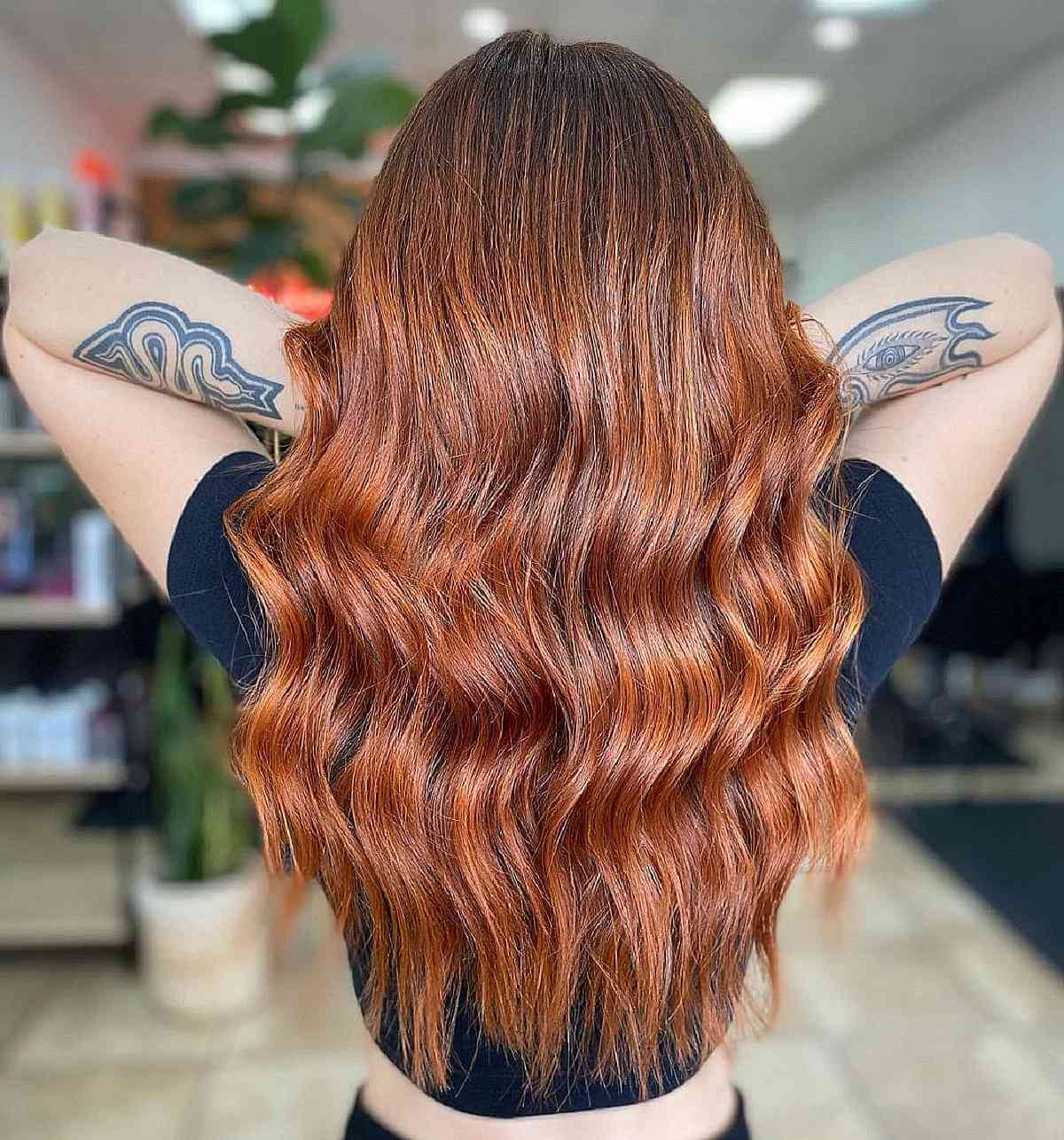 #13: Amazing Copper Balayage
Copper balayage is definitely the color of the year. The warmth and brightness will make you look and feel ready for any occasion. A painted hair trend will give you a soft, natural low-maintenance style, which is why it's the go-to highlighting technique for most stylists.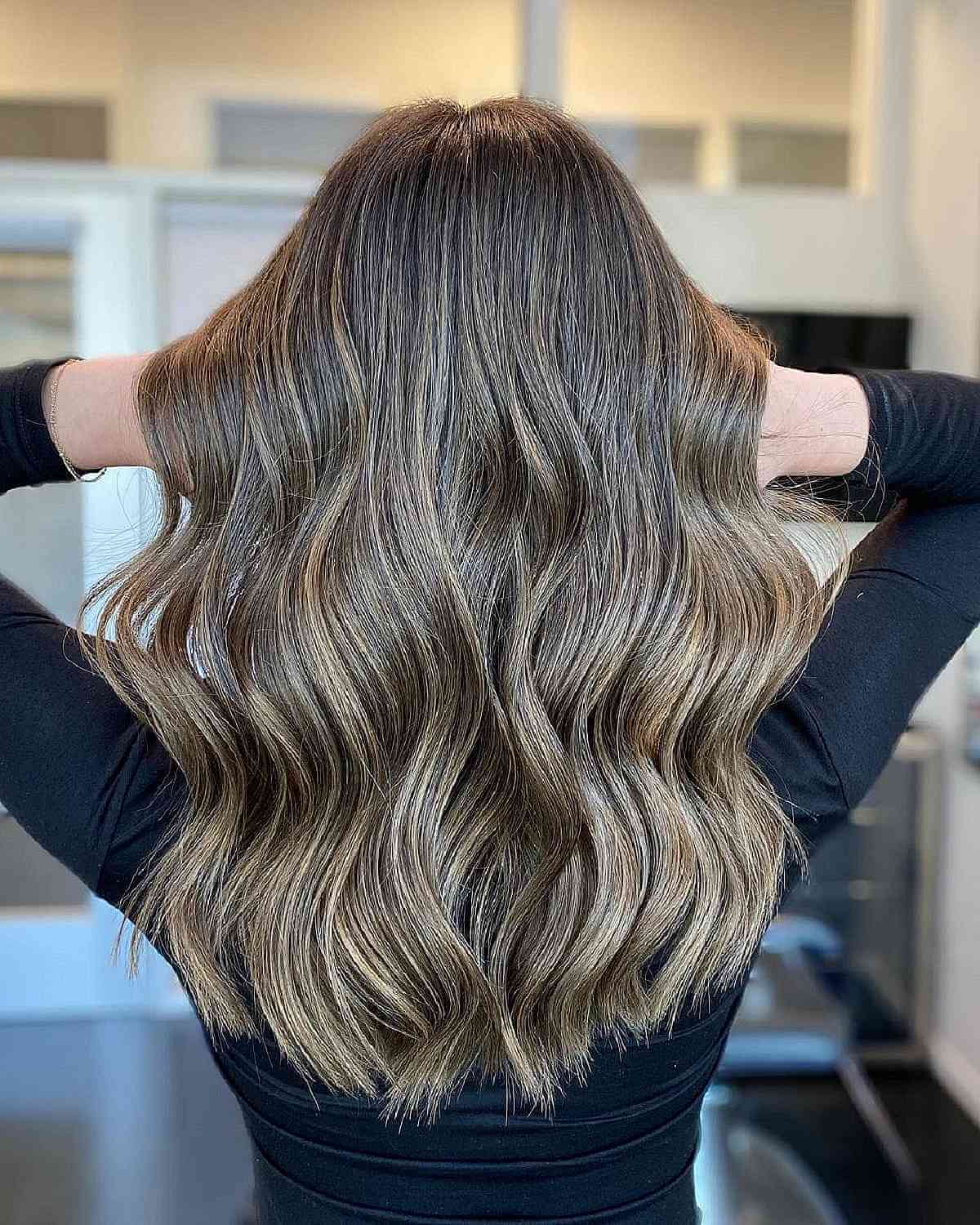 #14: Multi-Dimensional Bronde Balayage
Bronde balayage on dark hair will give you the perfect amount of depth and dimension without overpowering and while keeping your hair natural. This warm, low-maintenance style is suitable for many women of all ages.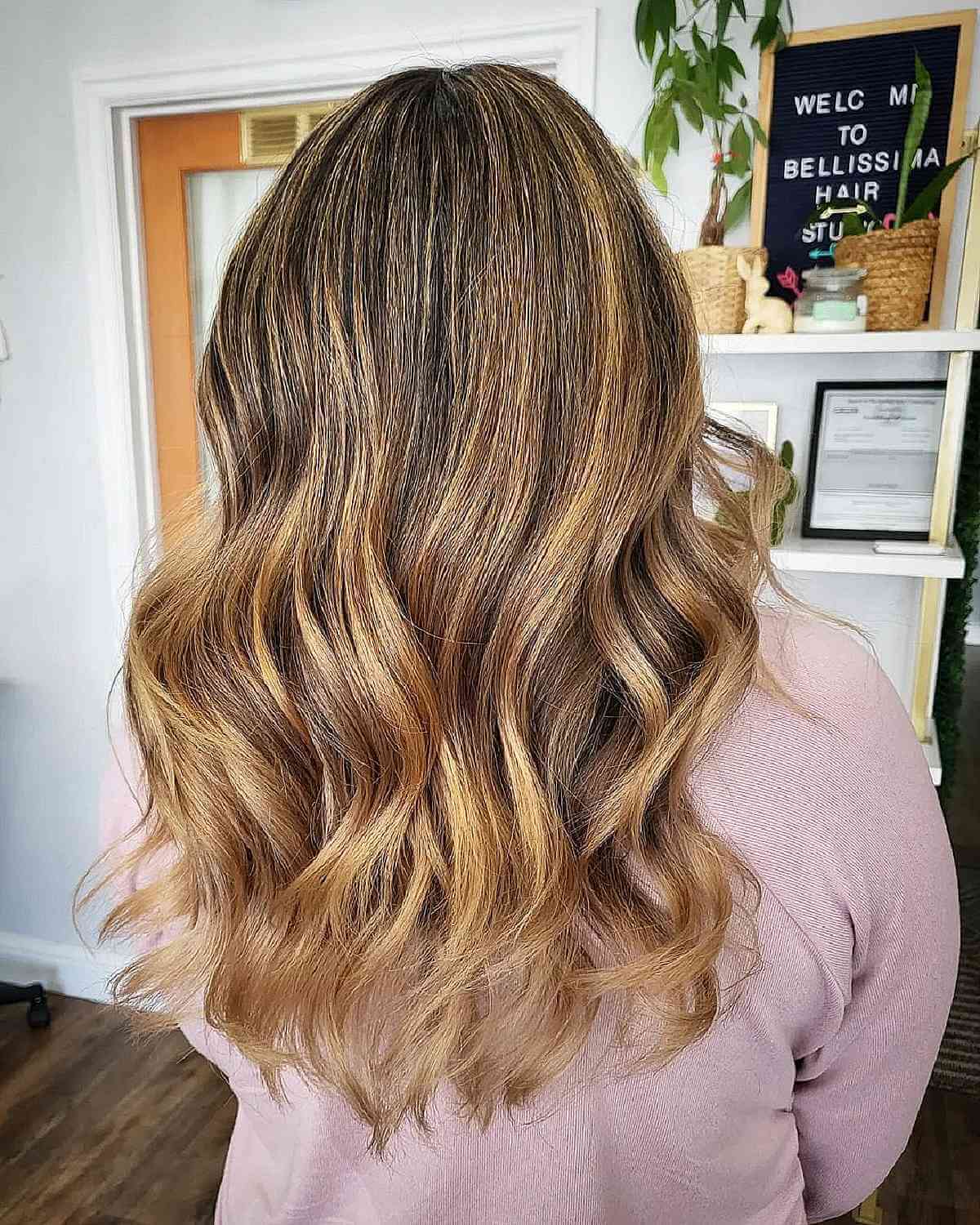 #15: Beautiful Honey Blonde Balayage
Honey dark blonde hair color is a mix of golden and natural hues. The warmth compliments medium brown hair very well. I recommend you ask your colorist for a high balayage ombre keeping dimension from your base color to achieve this beautiful look.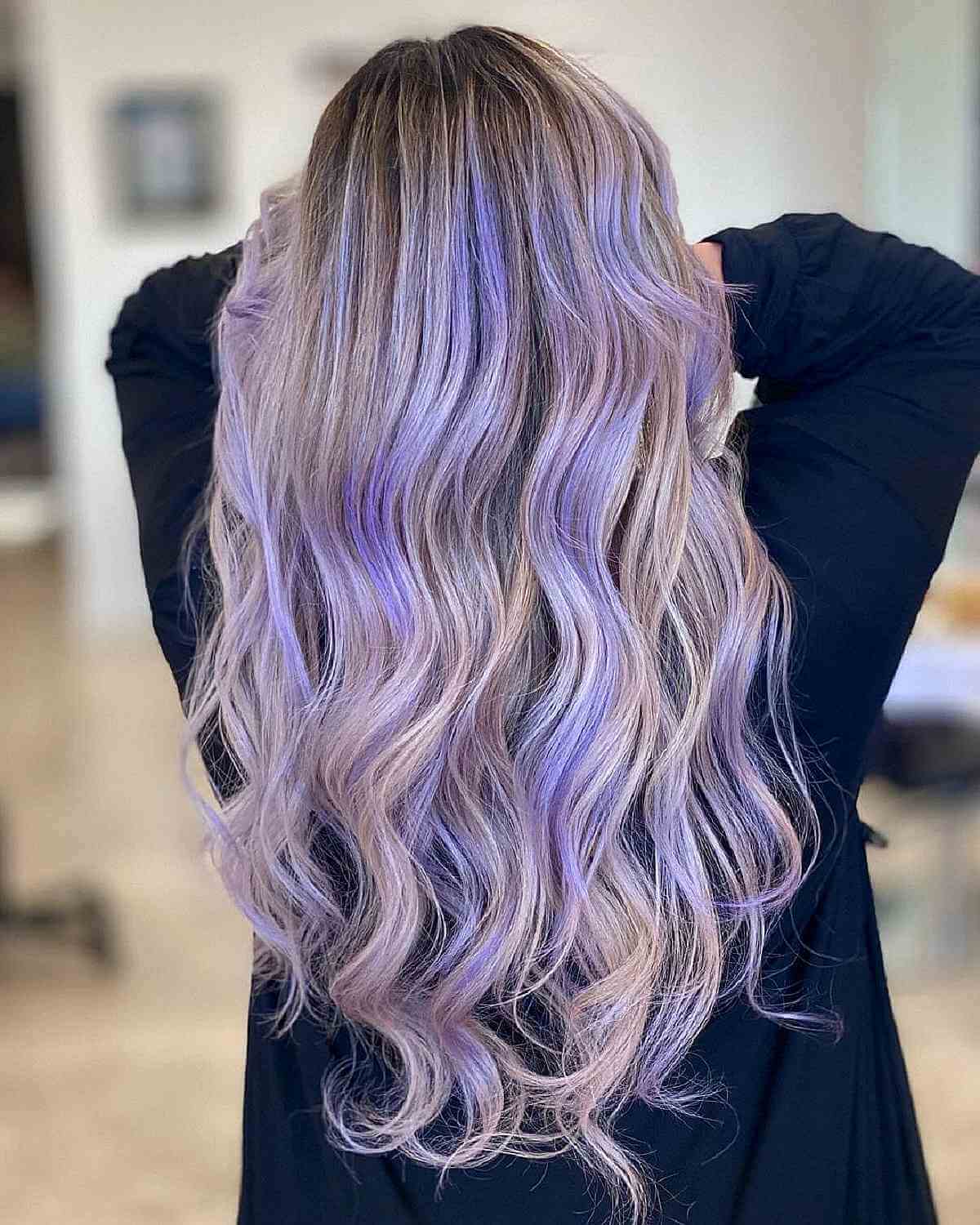 #16: Frosted Lavender Balayage Color
A frosted lavender color complements lighter hair extremely well. The little hints of lavender definitely bring out the brightness in the ash blonde highlights. You can style using a one-inch curling iron to achieve luscious Hollywood waves.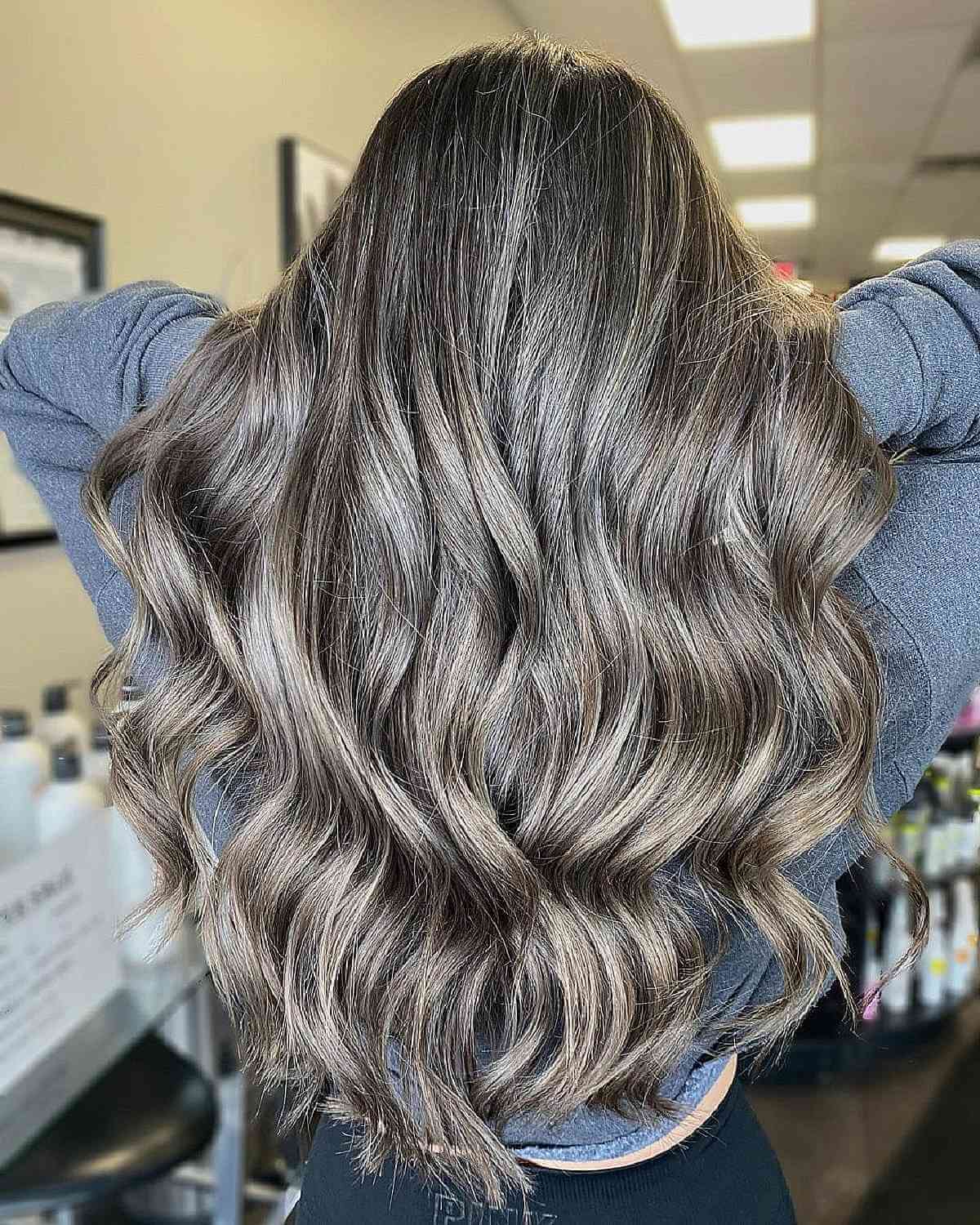 #17: Romantic Grey Balayage
A grey balayage is full of brightness and dimension. Using foil highlights will help you achieve this color by getting you as light as possible so the grey tone can be achieved. I recommend you use a dark purple shampoo with this balayage, for it to stay fresh.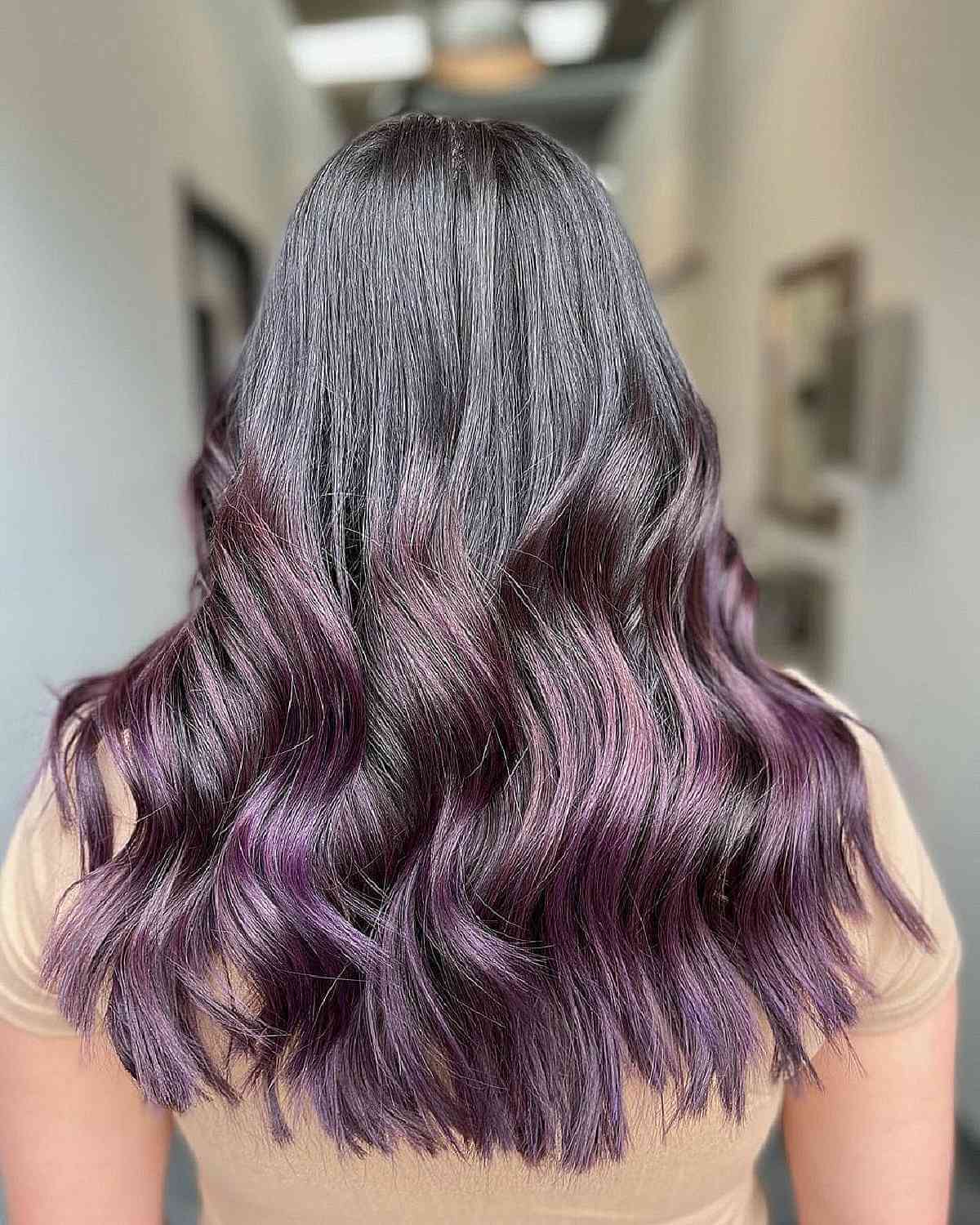 #18: Smokey Purple Balayage
A smokey purple balayage is a unique mix of a purple ash tone. This style is perfect for you if you're a younger woman wanting to add a vivid shade without going too bright and keeping it subtle.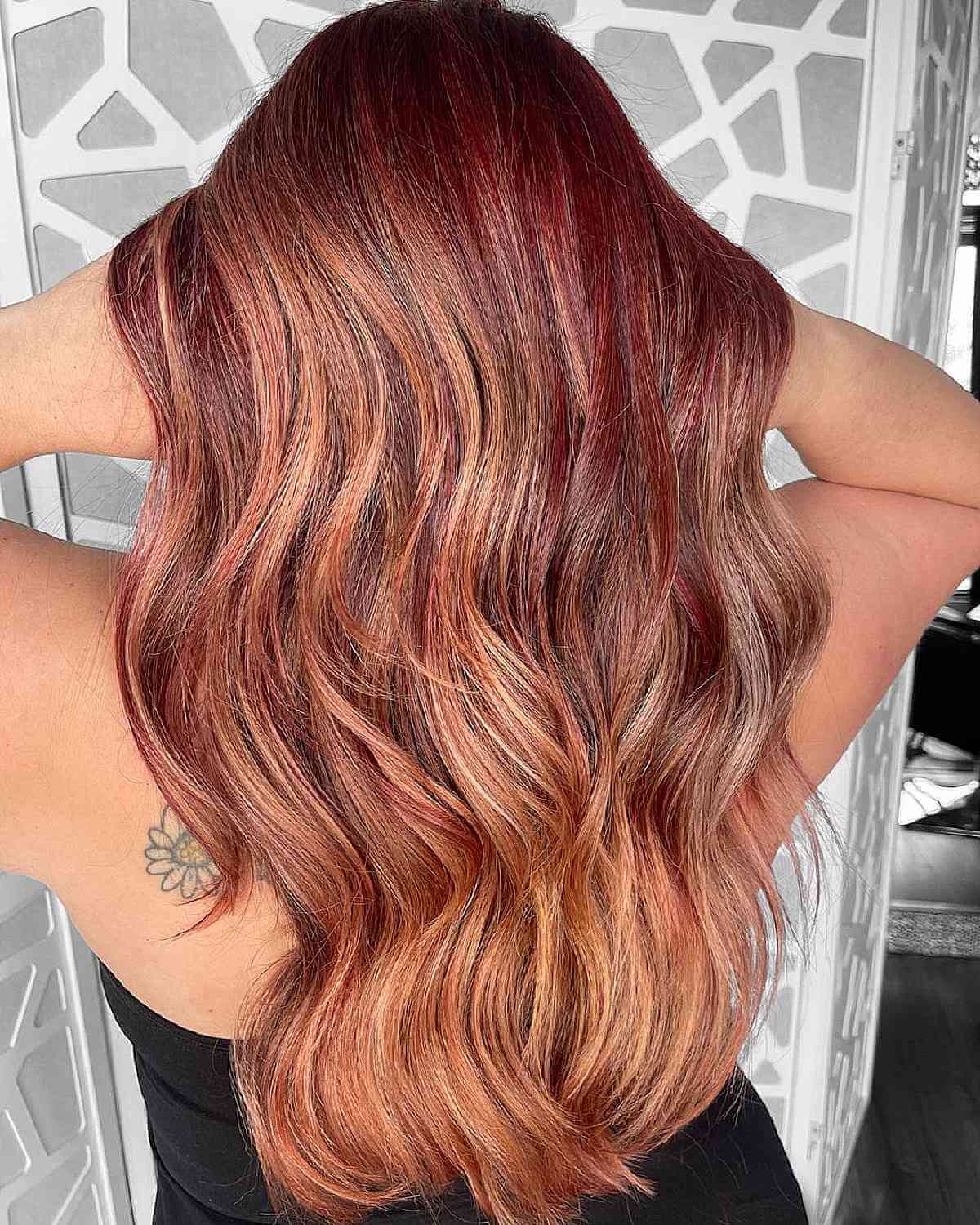 #19: Red Copper Balayage with a Root Melt
A red copper balayage with a root melt is perfect if you want bright vivid colors on your red hair. Doing a reserve balayage, with lowlights and a root melt, will give you a softer grow-out.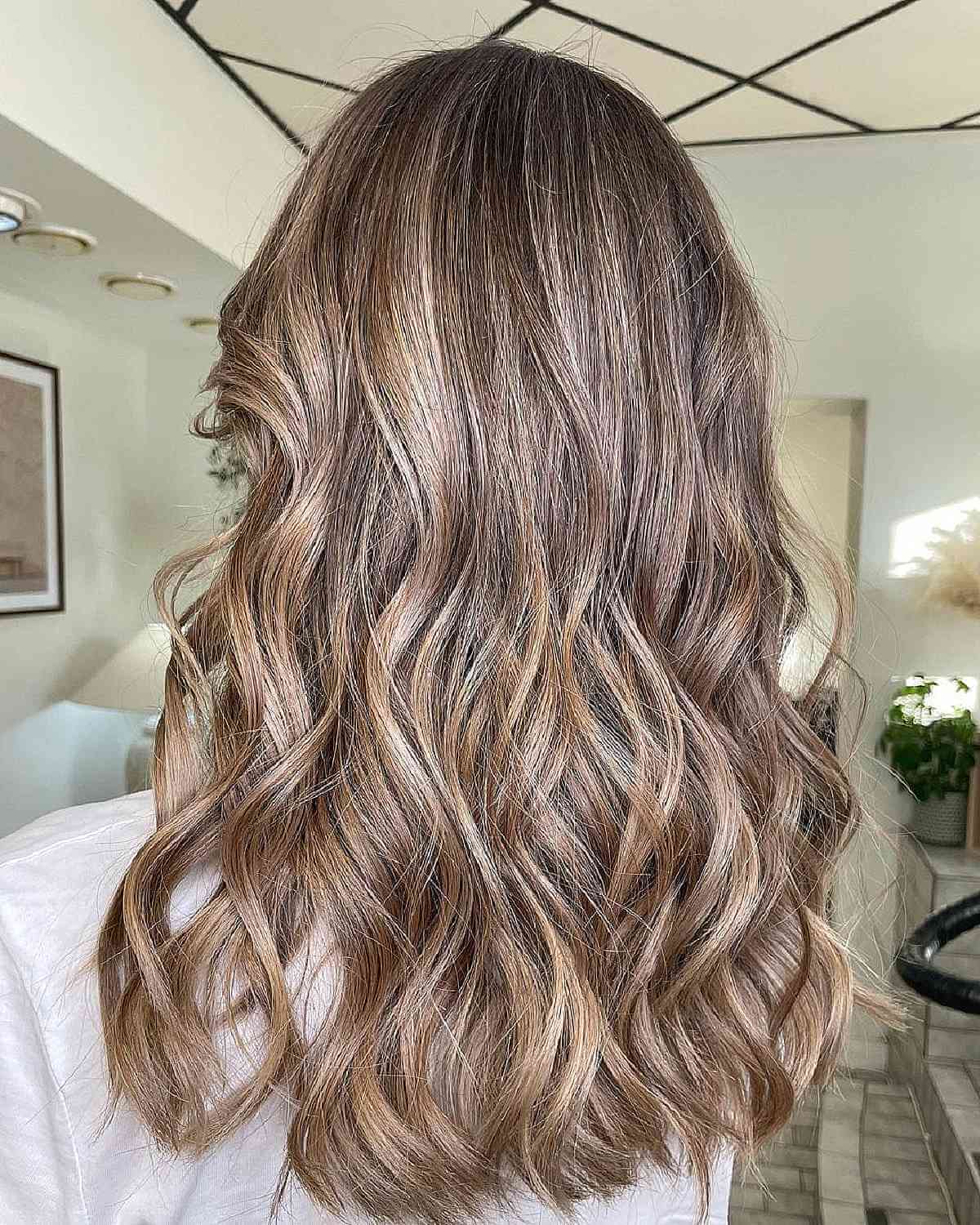 #20: Youthful Light Brown Balayage Hair
A light brown balayage paired with a heavy bright money piece will make you feel fabulous. Balayage hair dye ideas are ideal for you if you're wanting low-maintenance hair while keeping up with the newest hair trends.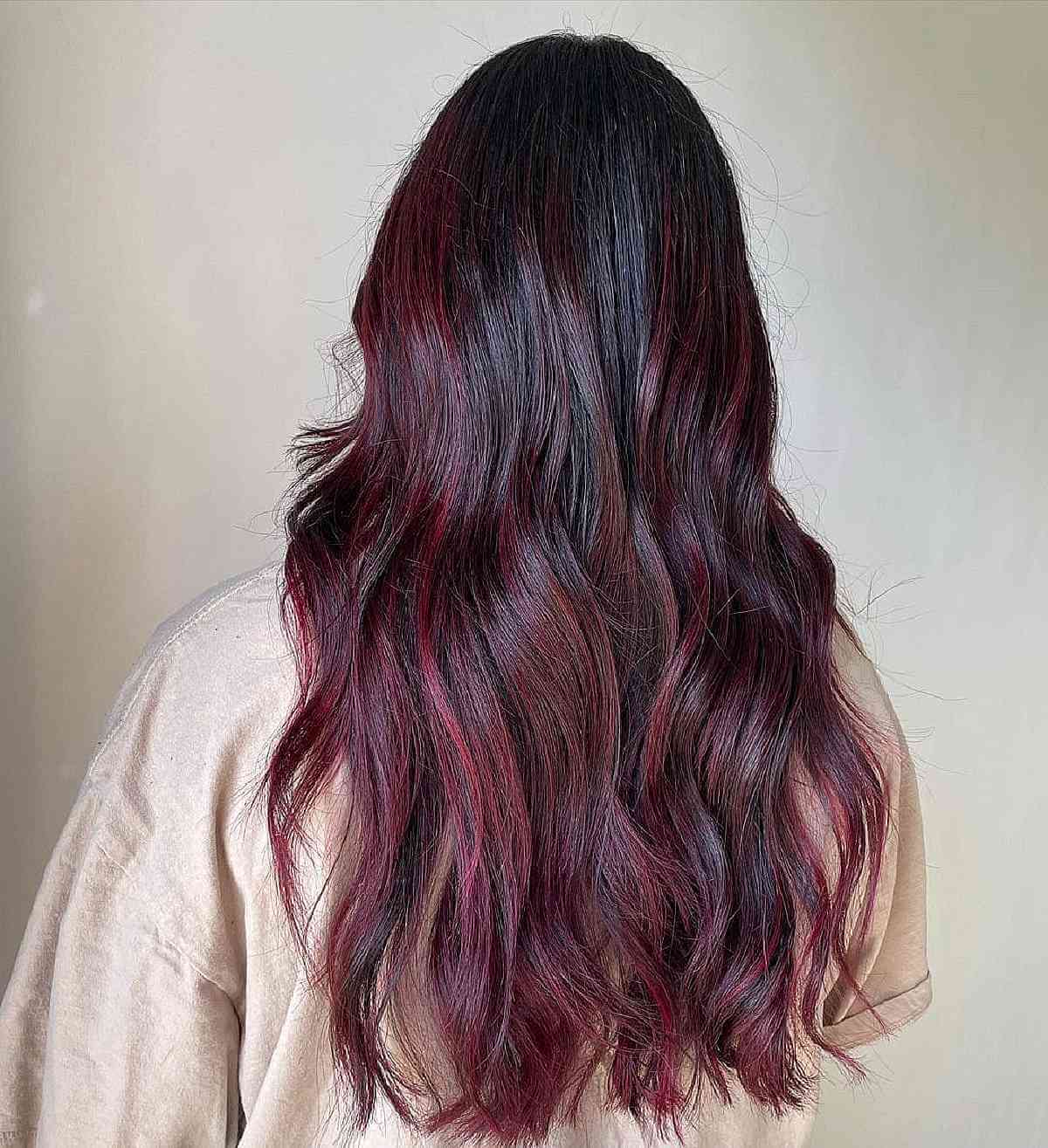 #21: Gorgeous Burgundy Balayage on Black Hair
Burgundy balayage on black hair is definitely a favorite for a lot of women. The darkness in the roots helps your burgundy balayage really pop. You'll definitely be receiving a lot of compliments if you choose this beautiful combination.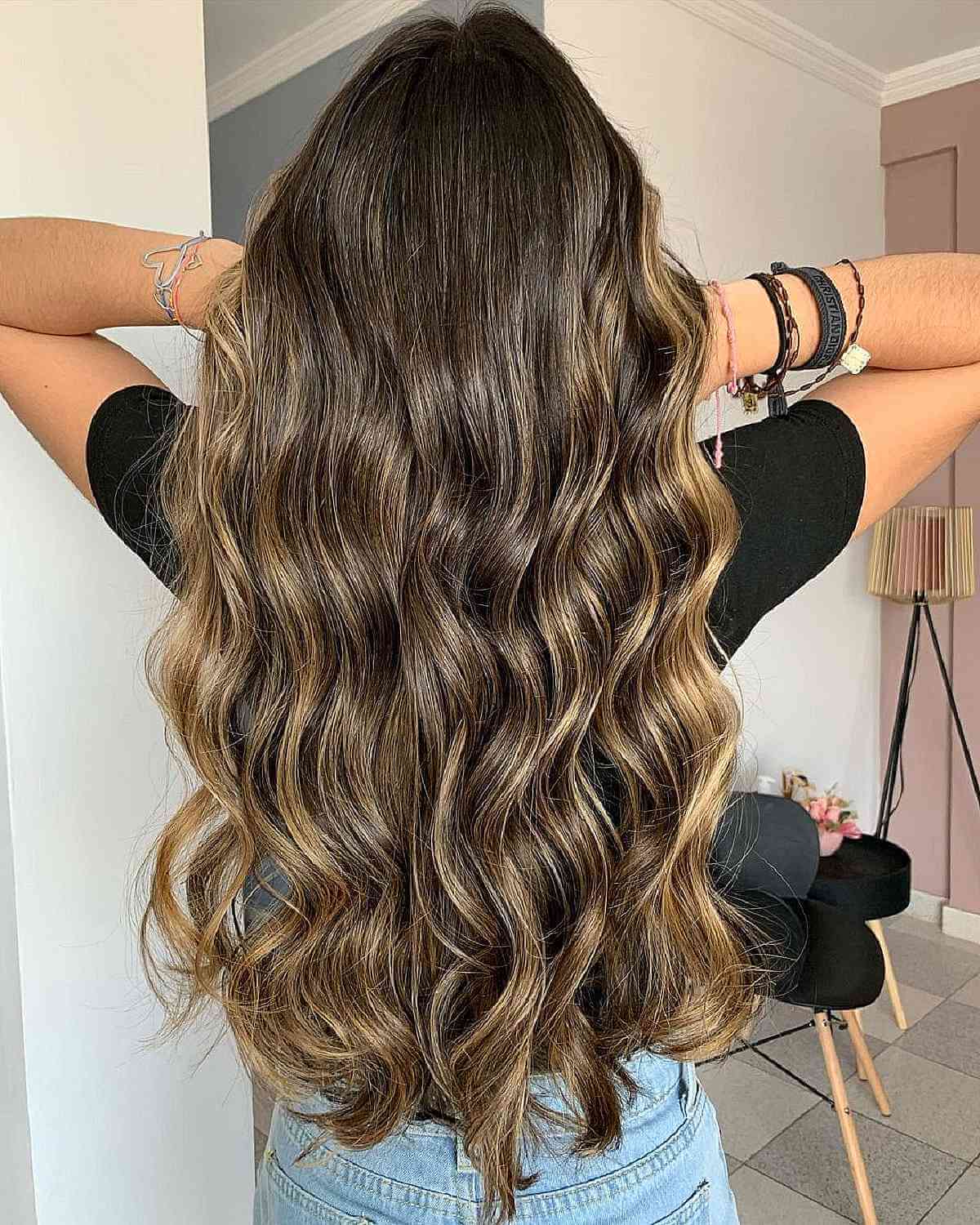 #22: Natural-Looking Golden Brown Balayage
A golden brown balayage adds brightness around your face and softness in the back. It's a beautiful choice if you want natural sun-kissed curly hair. Curls are an ideal hairstyle with balayage since they help show off the contrast between your base color and golden brown balayage highlights.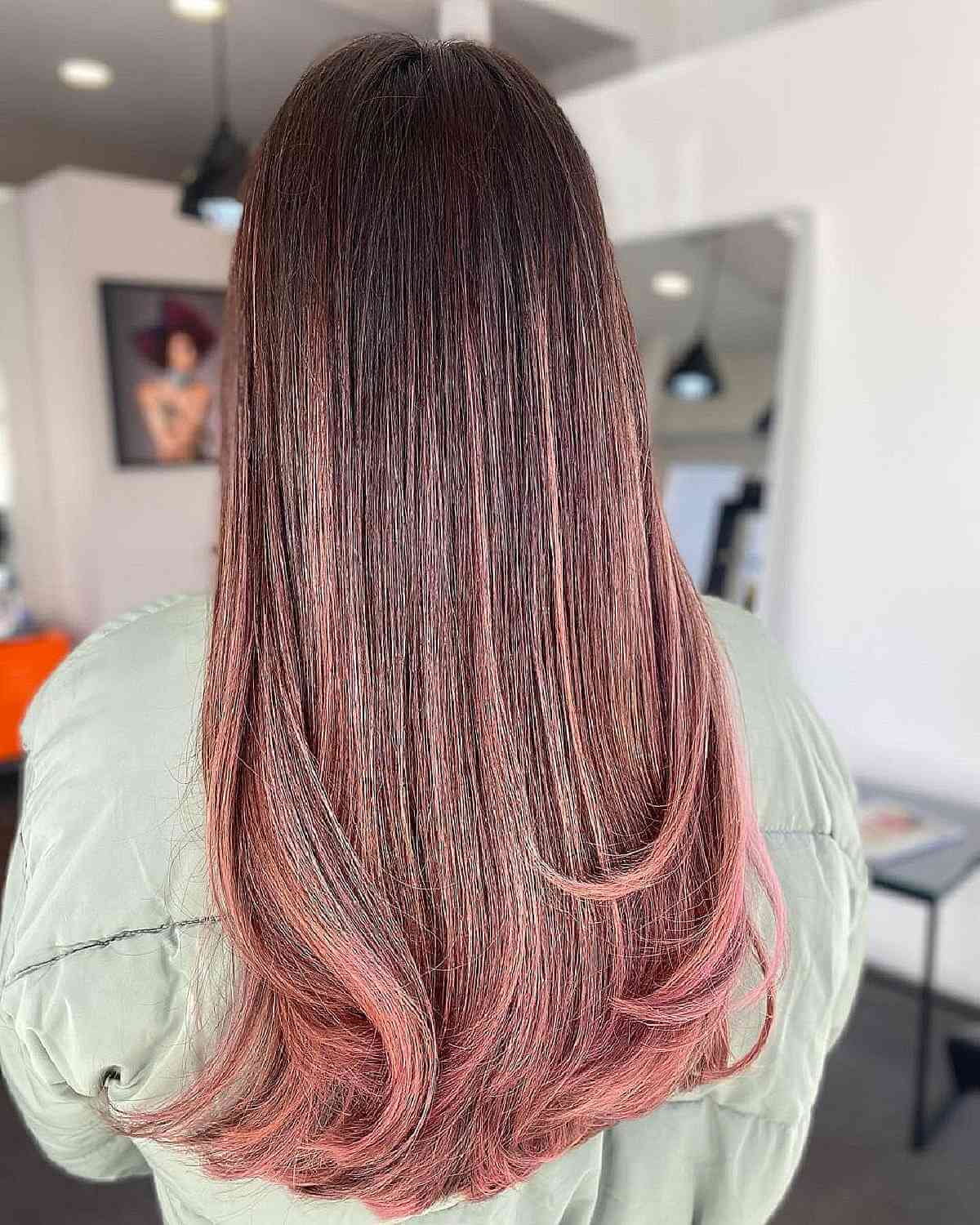 #23: Feminine Pink Balayage Ombre
A pink balayage ombre compliments medium brown very well. Ask your hairstylist to use the balayage hairstyle technique to achieve a hand-painted pink balayage.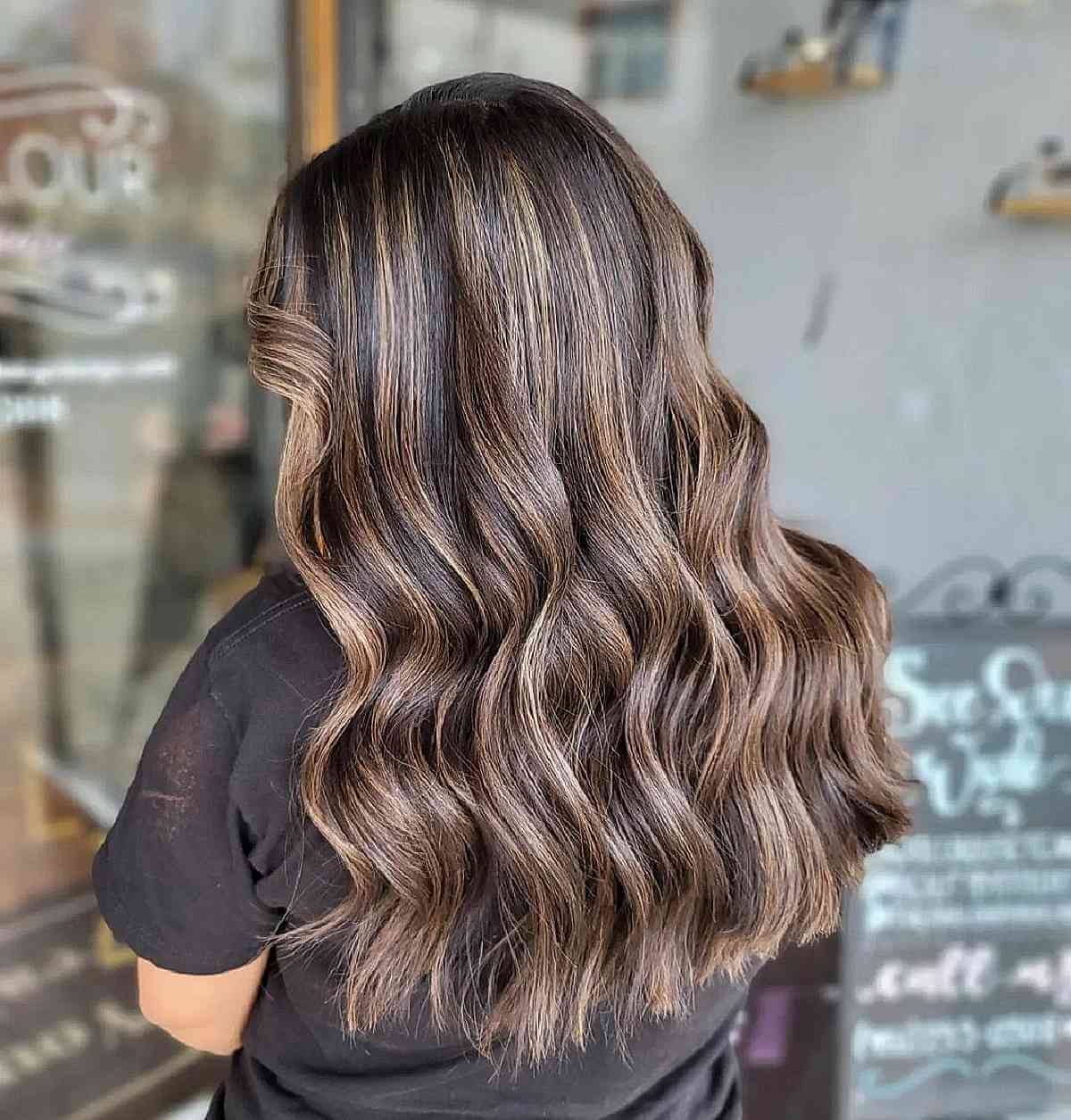 #24: Mushroom Brown Balayage on Dark Brown Hair
The mushroom brown balayage goes beautifully with dark brown hair. The low contrast style with balayage makes your new color easier to maintain. You'll need to add toning to keep the brass away.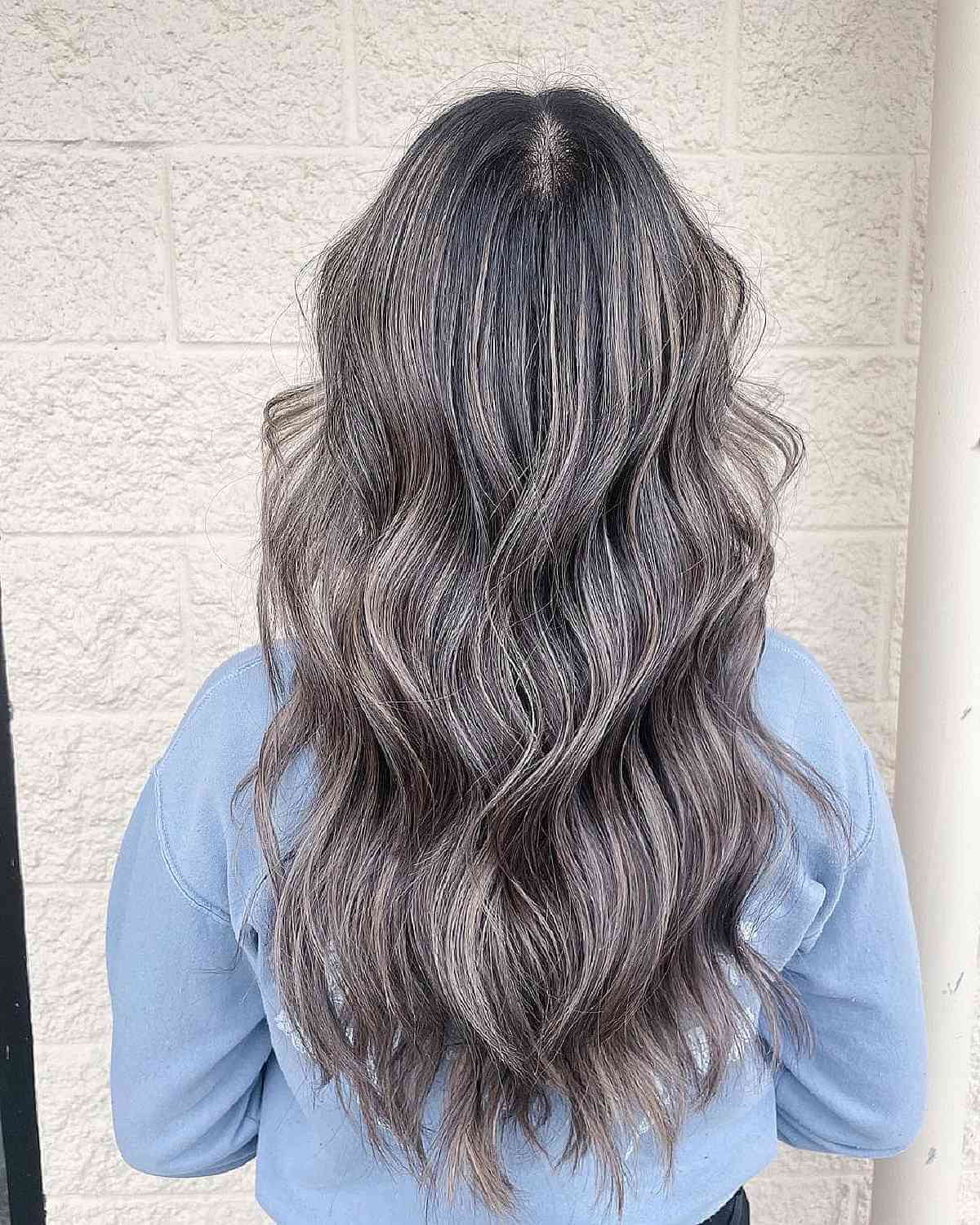 #25: Charming Silver Balayage
A silver balayage hair color is the go-to style for many younger women. Ash tones are very trendy at the moment. If you get an ash-toned balayage, your hair will need more upkeep since cool tones fade a lot faster than warm tones.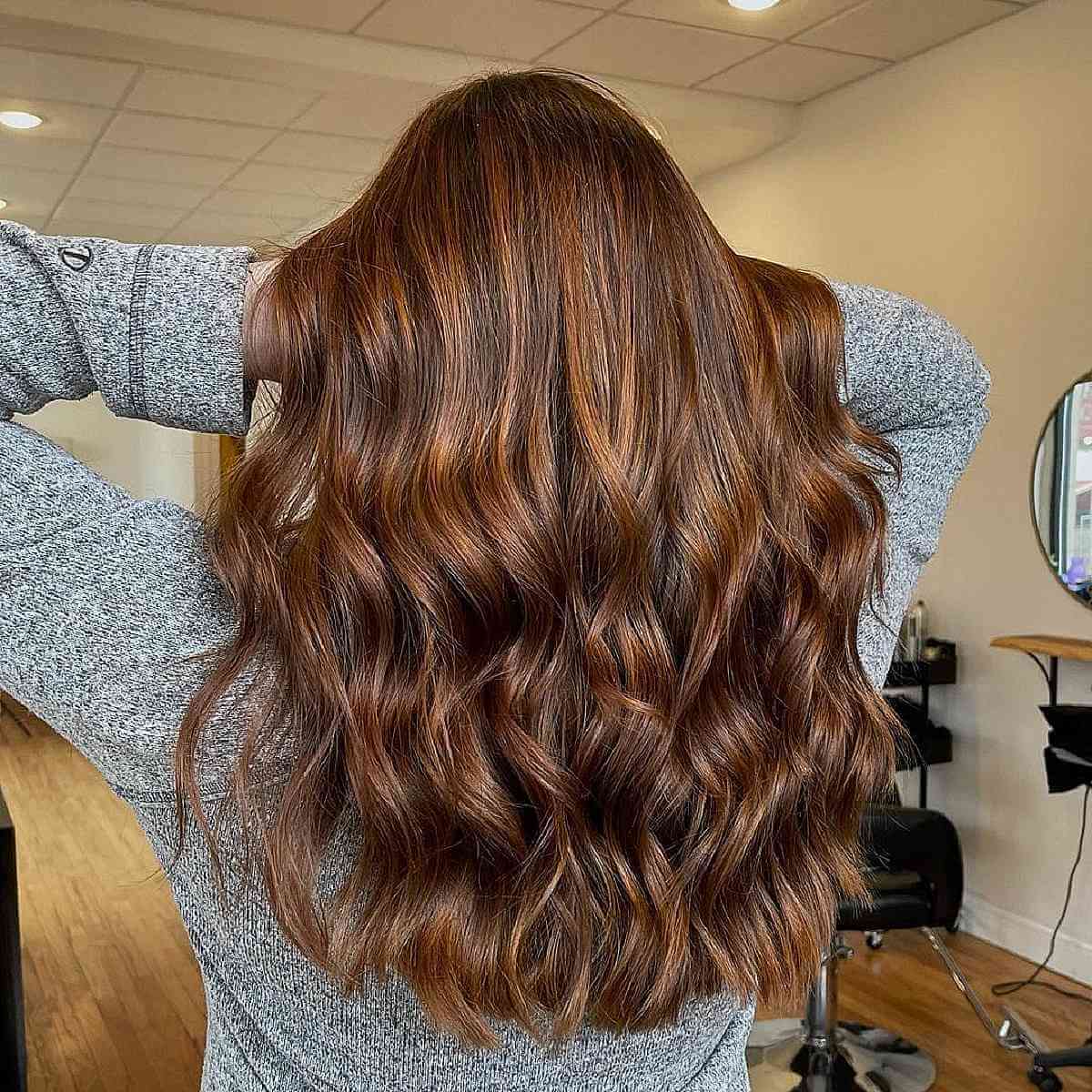 #26: Hand-Painted Auburn Balayage
Hand-painted auburn hair is a very warm overall look. The dark warm base with hair painting might just be the perfect blend for you. You'll need to style with a wide curling iron, finishing with a shine spray will definitely bring you many compliments.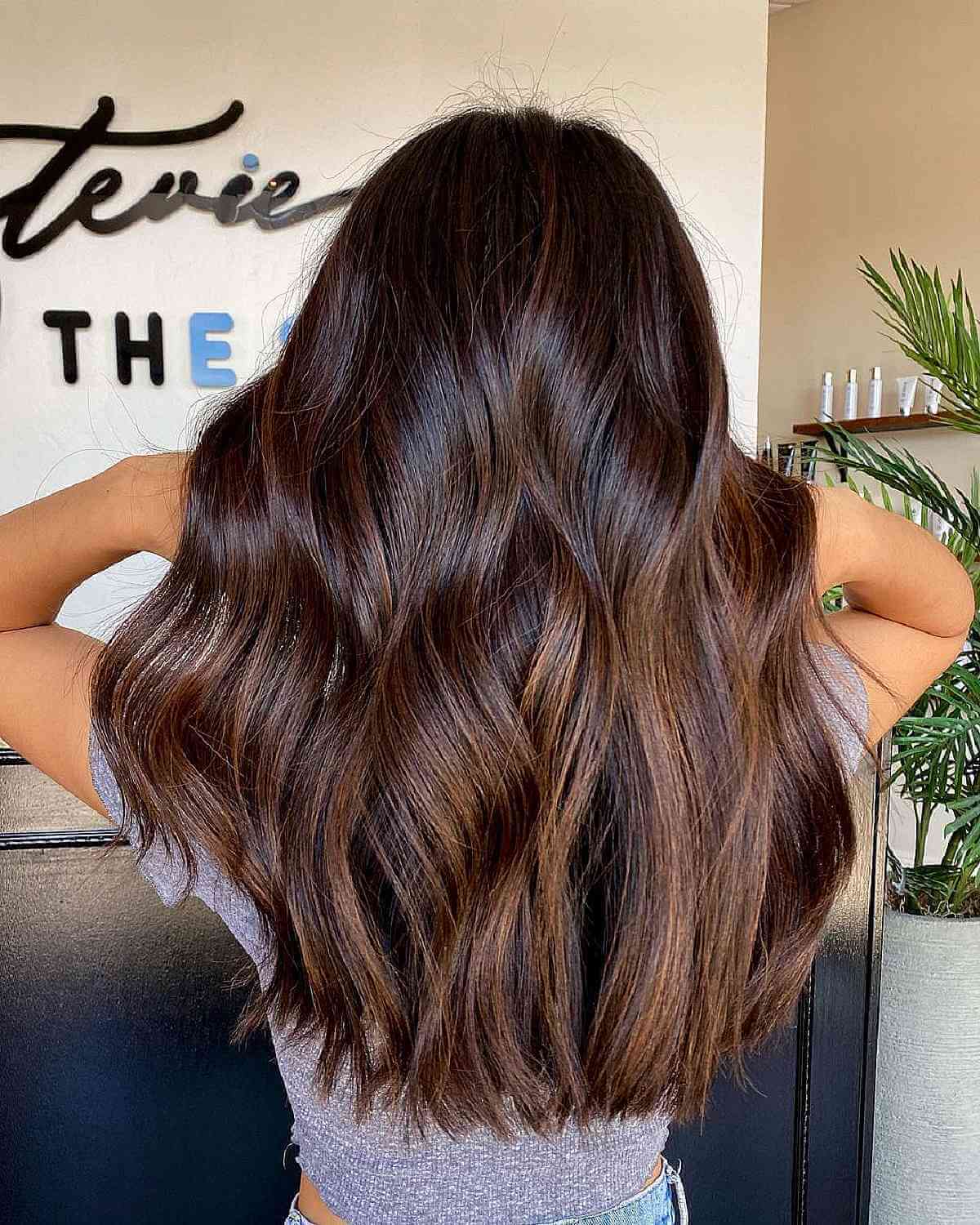 #27: Warm Yummy Chocolate Balayage
A warm chocolate balayage is the definition of less is more. This balayage style will give your dark brown hair the perfect amount of dimension and warmth.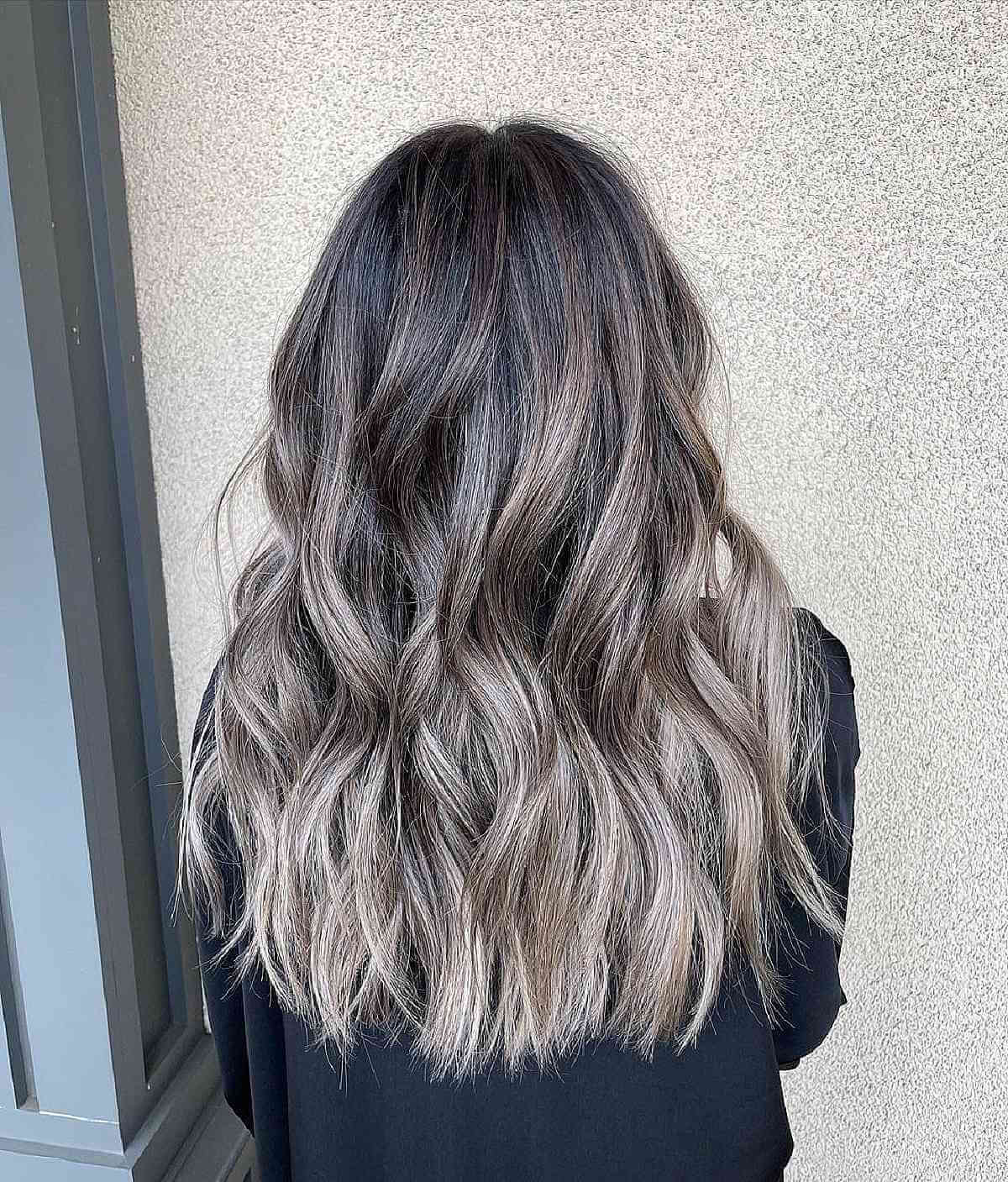 #28: Ash Blonde Babylights with Balayage
Ash blonde babylights will make you look and feel very trendy. To achieve this look, ask your stylist for an ash blonde balayage with a dark shadow root. Style with a curling iron and finish with oil to get tousled beachy curls.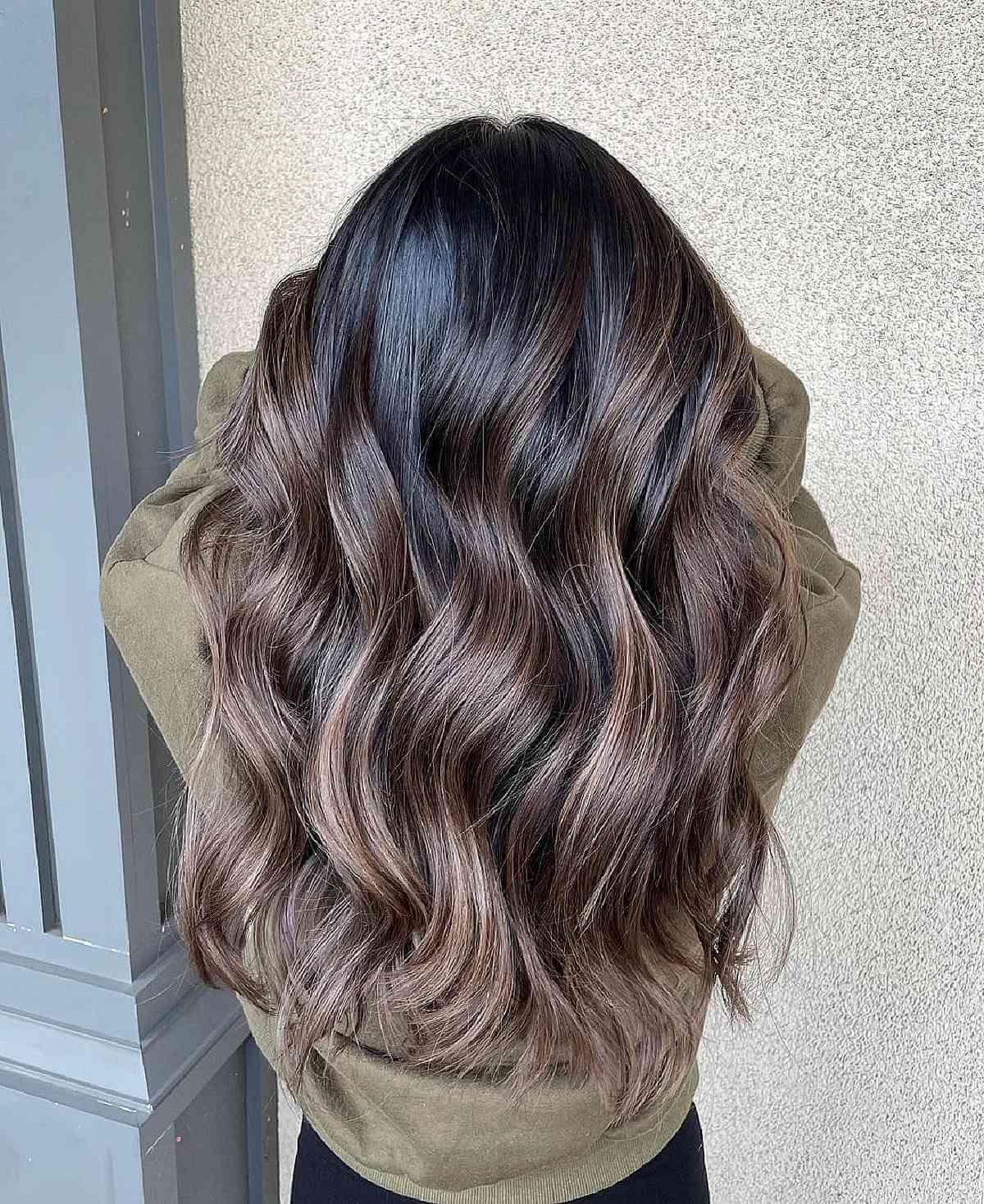 #29: Ash Brown Balayage & Babylights
Ash brown babylights will give your dark roots the perfect amount of contrast without being too bright. You'll want to ask for an ash brown balayage while keeping a dark root for a smooth grow-out.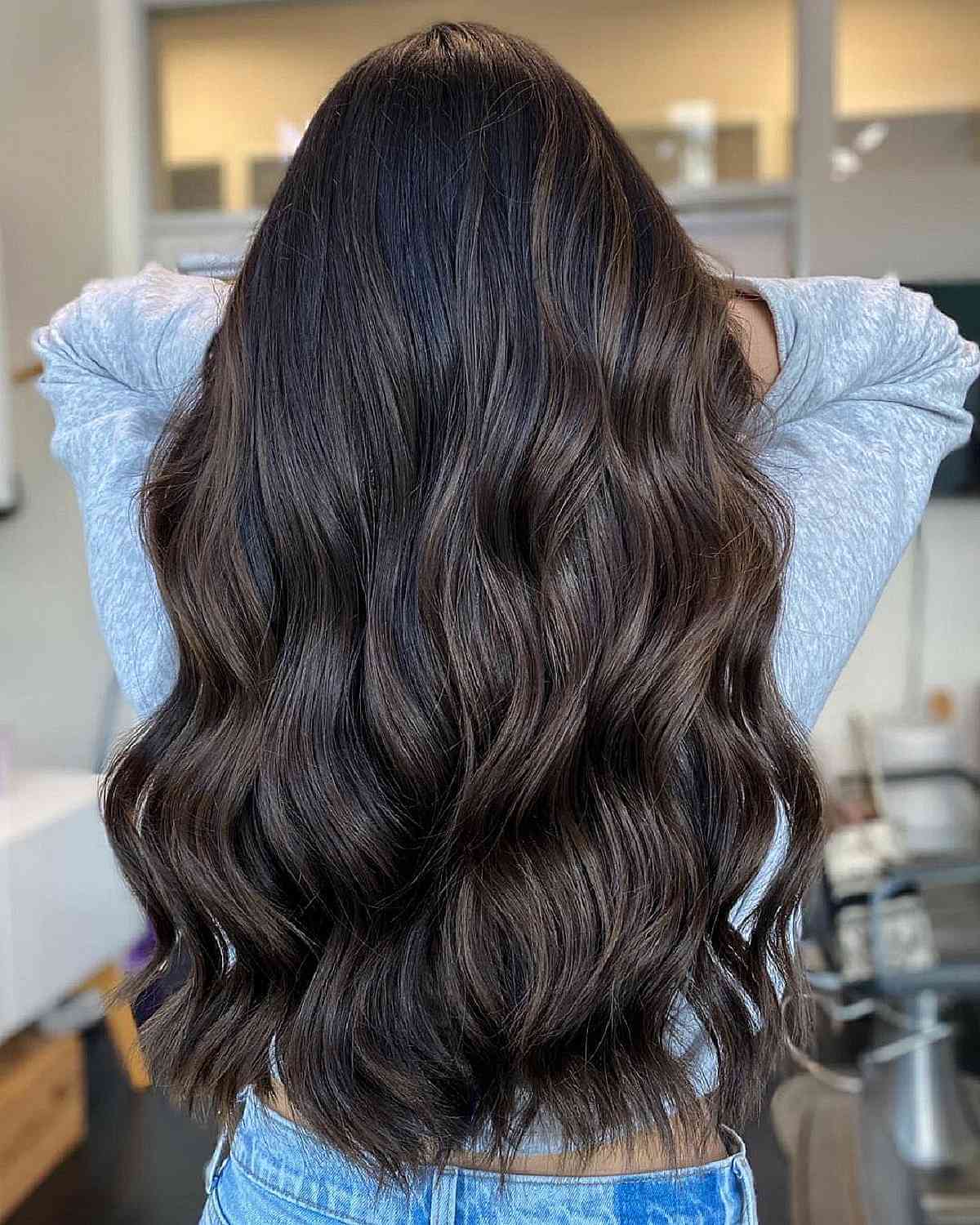 #30: Subtle Balayage on Dark Hair
A subtle balayage on dark hair is very trendy at the moment. The soft grow-out with free-form painting will make this a very low-maintenance hair color for you. You can style with a curling iron to give you beautiful luscious waves that show off the ribbons of dimension.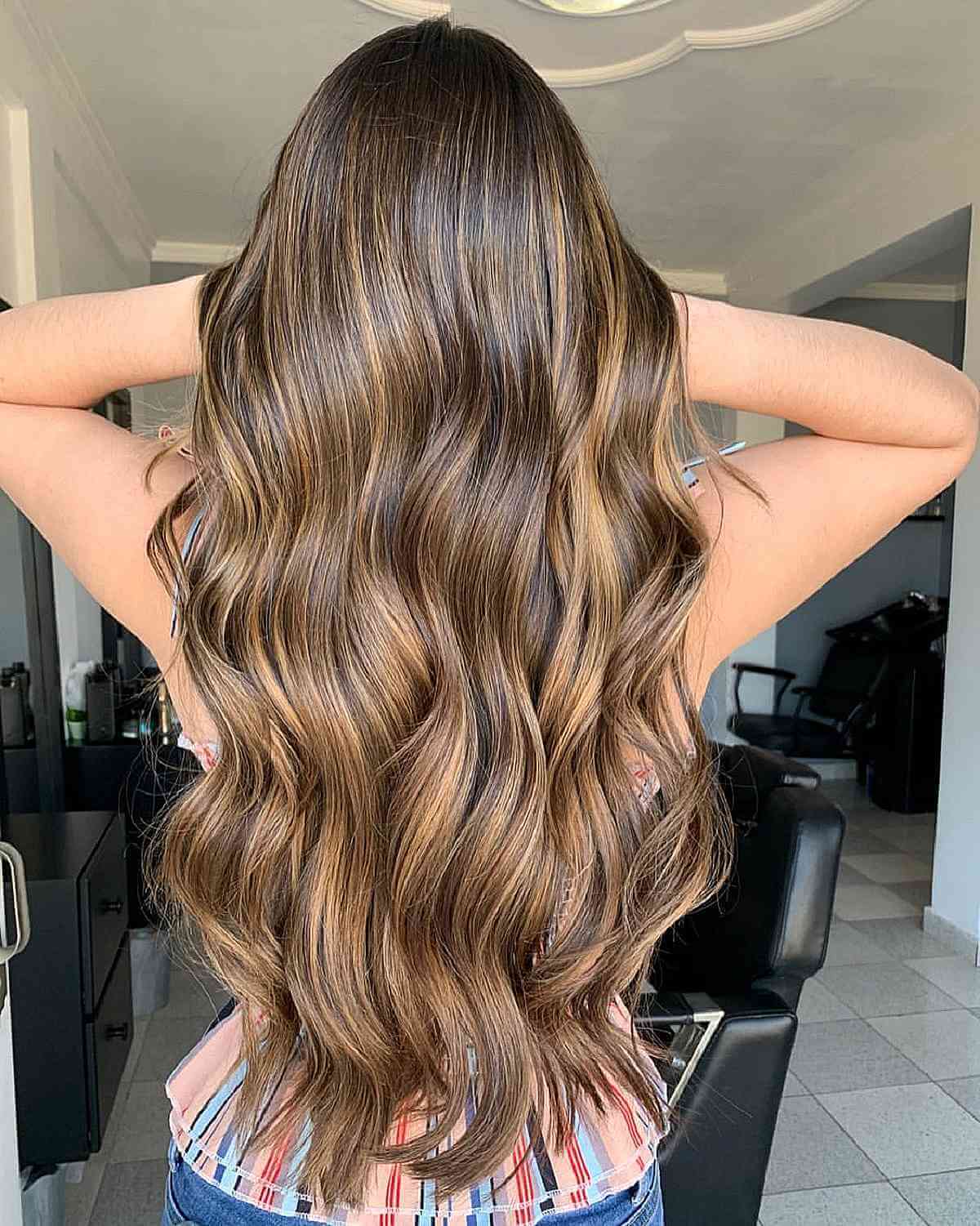 #31: Sun-Kissed Caramel Balayage Hair Color
A sun-kissed caramel balayage hair color is a beautiful style if you're wanting a change while keeping it natural. A caramel balayage is very versatile for any age. Its soft, natural tone compliments a wide range of base colors.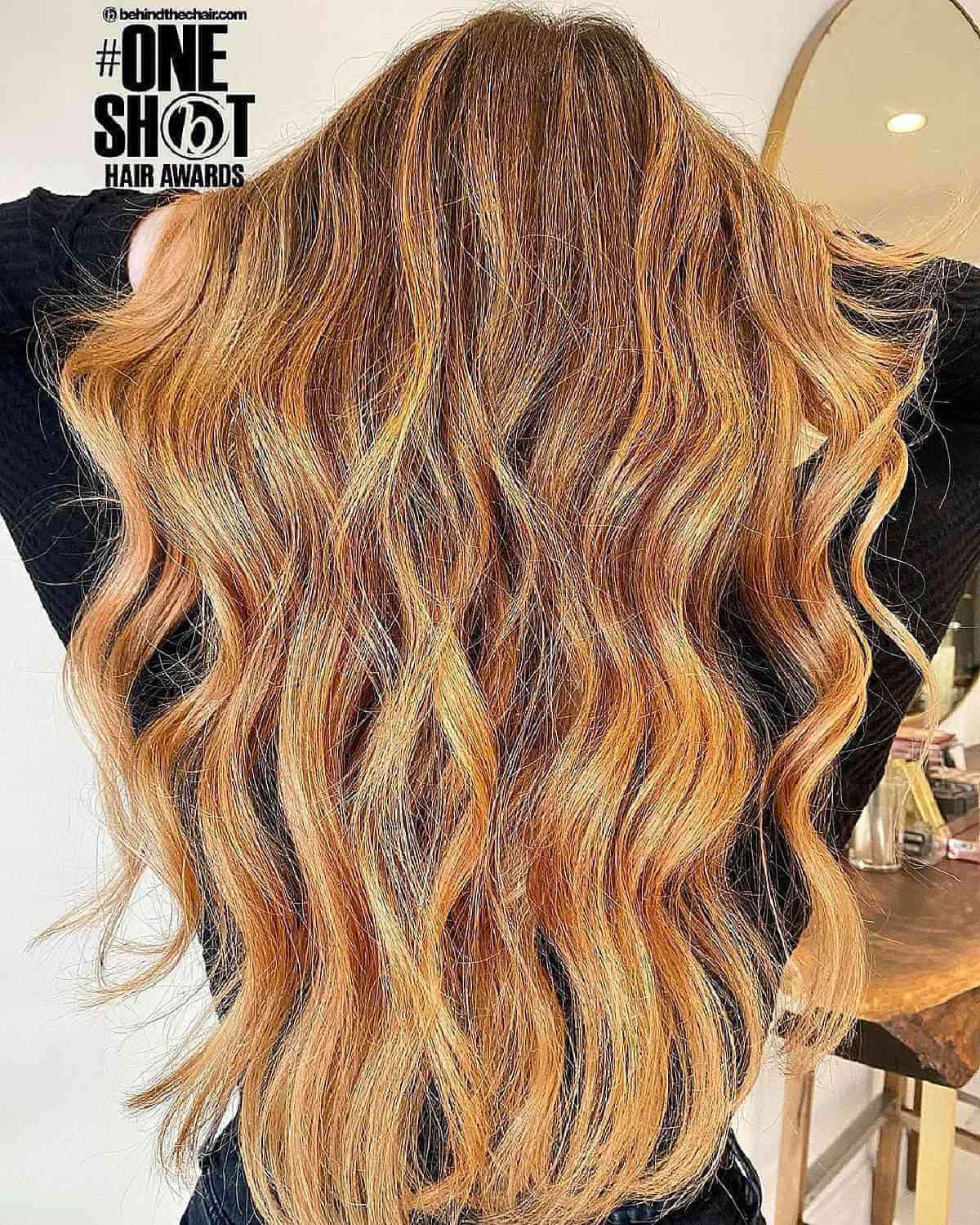 #32: Delicious Strawberry Blonde Balayage
Strawberry blonde balayage is ideal for women wanting brightness, with warm golden tones. If you have longer hair, then it's one of the best ways to get the balayage hair color technique.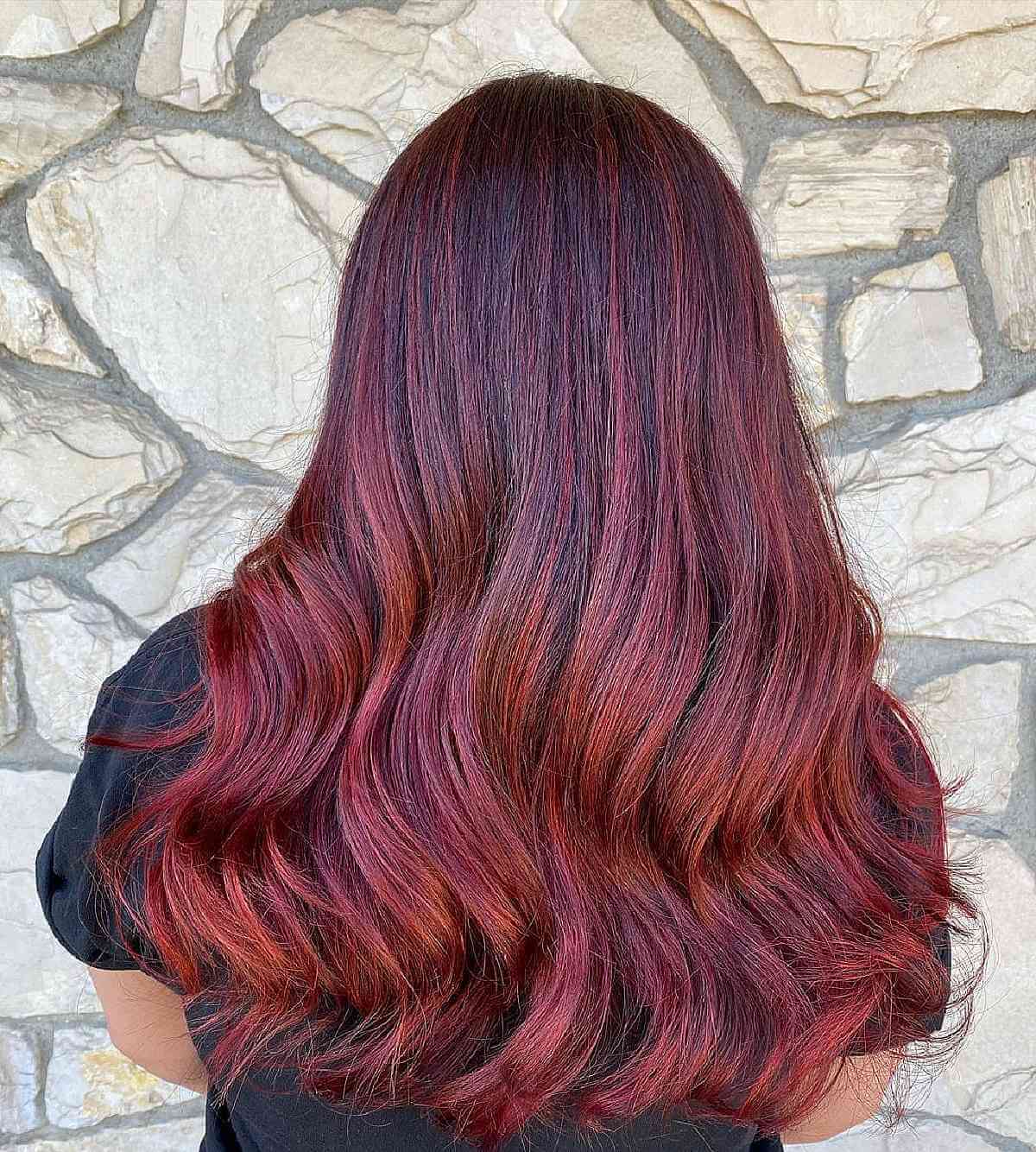 #33: Balayage & Red Highlights
Red balayage highlights are super rich, especially on a dark purple base. Balayage color will give you a soft grow-out, with toning being the only maintenance for a while. You'll have to use a red shampoo to keep your color bright and alive.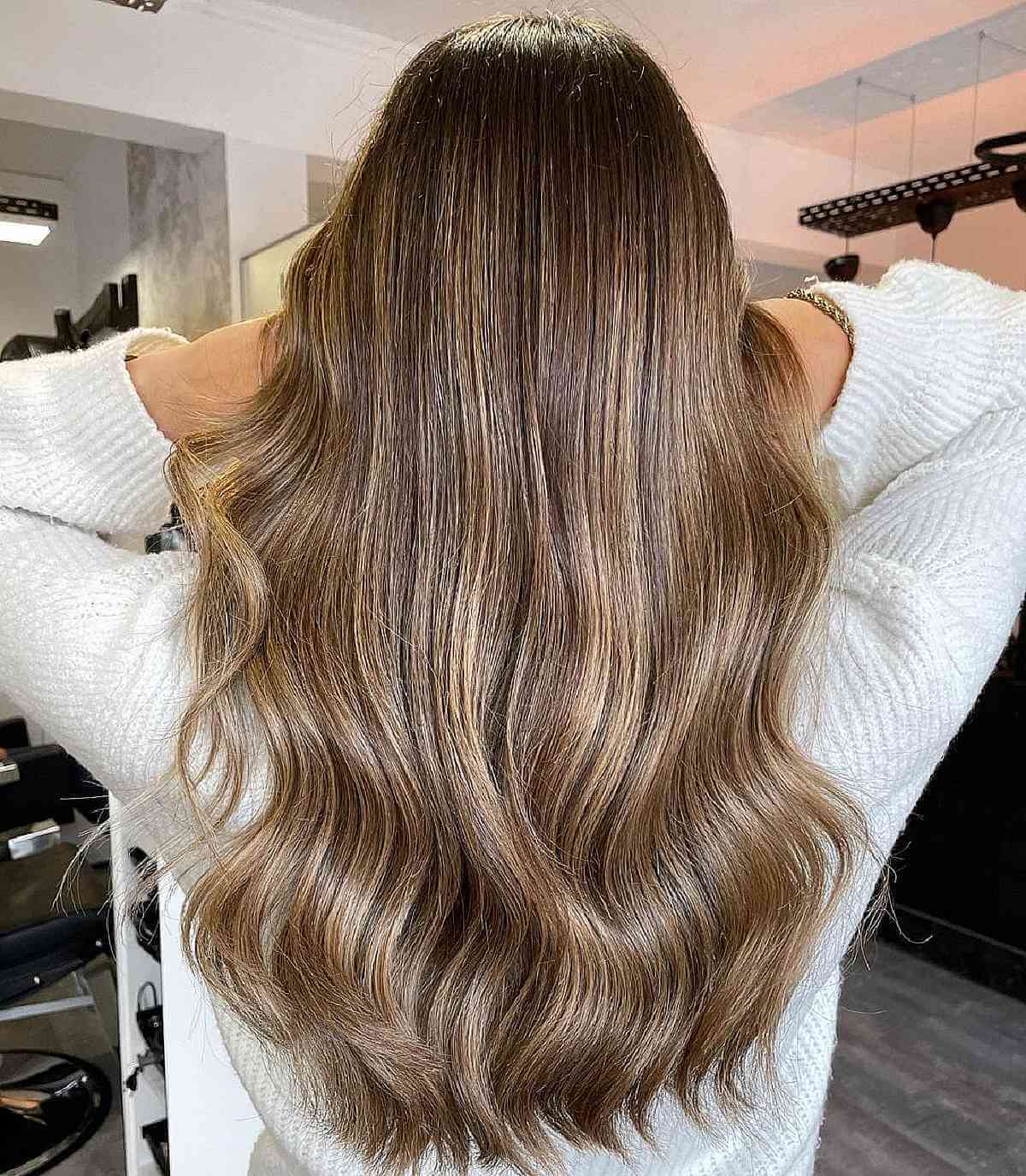 #34: Creamy Beige Balayage
A creamy beige balayage is the tone that's suitable for you regardless of your skin tone, eye color, etc. Its medium bronde shade keeps your hair looking soft and subtle, and is a beautiful balayage on brown hair.