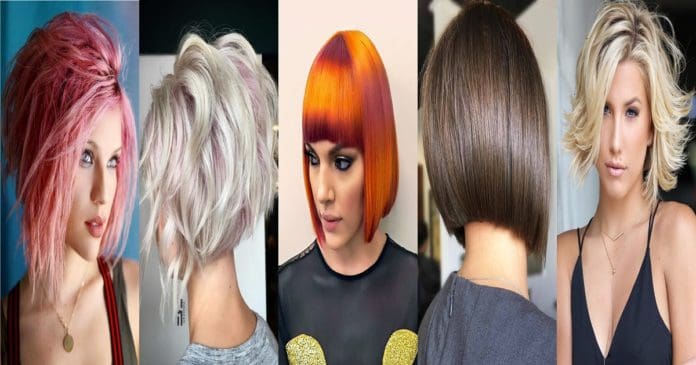 A short bob haircut has been in for a while already. But contemporary bob haircuts offer much more edge and versatility.
Unique colors, dimensions, and shapes are incorporated in short haircuts today so that any woman could experiment and try new things, alter her image.
There are so many ways how contemporary women can spice up their bob hairstyles to show off their individuality. And here you can explore the trendiest ways of sporting your bob to look simply fabulous.
Silver Inverted Bob With Overlapping Long Layers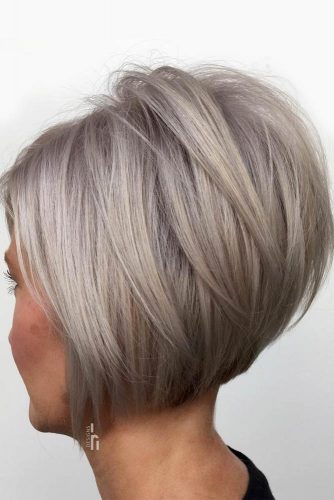 If you are wondering what is bob short for it is simply short for bob haircut or bob hairstyle. This style becomes popular in the 1920s and has made a comeback recently. Short bob haircuts for women are very popular among women who want a short haircut but aren't looking for something quite as short as a pixie cut.
This short layered bob with bangs is very elegant. Ask for an inverted bob with long layers that overlap. A slight undercut will grant it more volume and a bit of an edge. This silver platinum bob shade is quite stunning as silver-gray hair is all the rage this year. Ask for a soft gray and platinum blonde balayage blend for a modern and chic vibe.
Platinum Blonde Short Choppy Bob Haircuts
Source: headrushdesigns via Instagram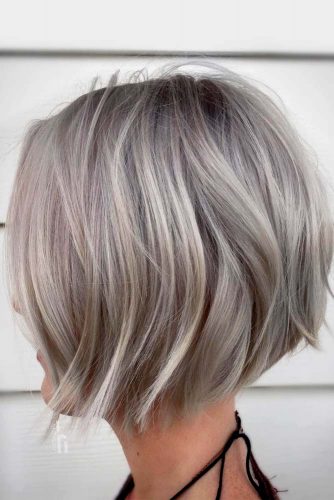 Chin length short bob haircuts are cute if you are looking for a short bob that frames your face at just the right angle. This short choppy bob is a fun look for the edgy woman who knows how to style a short bob. The choppy layers give it a youthful vibe that is a bit daring.
To style such a cut, blow your hair dry with a round brush after applying a texturizing product. Flick the ends out to add some more texture and bounce. The soft platinum blonde shade is very sexy and sophisticated if you want a classic look that is timeless.
Shaggy Inverted Bob Hairstyle
Source: styled_by_carolynn via Instagram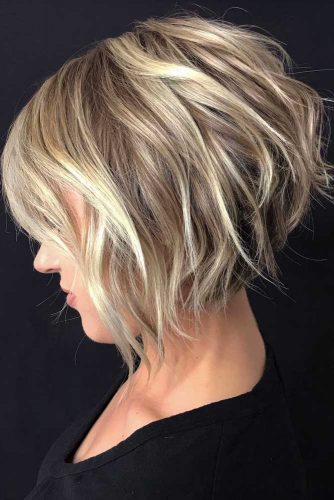 If you have thick, wavy hair and are looking for a short bob cut, this inverted bob with shaggy layers is exactly what you need! A short shaggy bob is a great way to remove some weight from your thick wavy locks while adding a ton of volume! Ask for shaggy layers, and a graduated bob that falls an inch or two below your chin in the front and is drastically shorter in the back.
To style it, blow dry your hair with a vent brush, lifting it to add volume to your hair and tousle it a bit for a slightly messy look.
Pink And Brown Angled Asymmetrical Short Bob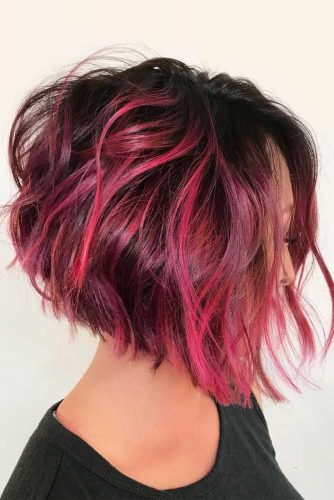 Looking for very short bob hairstyles? This short asymmetrical bob is perfect if you are looking for something with an edge to it. And what makes it even more daring is the fuchsia tones blended in with the chocolate brown base to give it a punk rock vibe.
A curly short bob is a great solution for curly locks as it will add more life to your curls due to the removal of extra weight that may make your curls seem dull and lifeless.
To style it, add a curling product and allow it to dry out, scrunching it to give it a carefree, bedhead look. This short messy bob is very hip and youthful in case you are looking for a fresh look that will set you apart from the crowd.
Fiery Red Stacked Short Layered Bob
Source: headrushdesigns via Instagram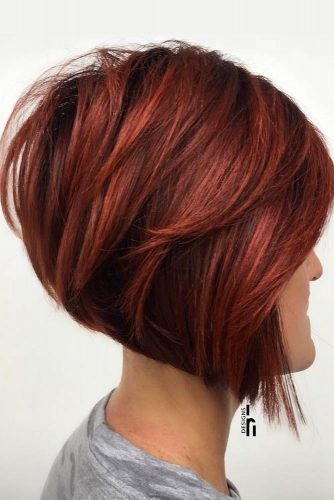 Those who prefer a short textured bob will love this short stacked bob. Stacked bobs add a ton of volume and texture with their short stacked layers in the back and longer layers toward the front.
A short layered bob is a perfect way to add fullness to your hair, especially if you have fine hair. Introduce some dark and light auburn hues in to add even more texture and body to this totally trendy and sassy short bob cut.
Sleek Blunt Bob With Middle Part
Source: gemsanchezz via Instagram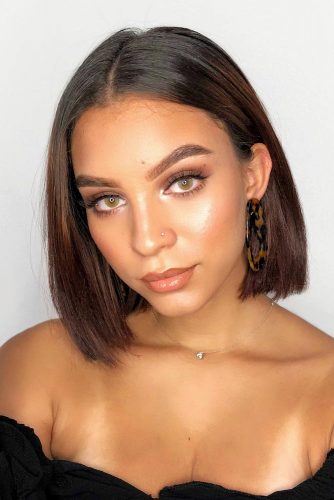 If you prefer a look that is more sleek and polished, this short, blunt bob is the one. It is perfect if you need a more refined look for work. Short bob cuts are very elegant and chic. Ask for a short bob with blunt ends to give it glamours and slick look that can easily go from work to play. This look is both sophisticated and sexy.
To style such a cut, all you need to do is to part your hair in the middle and blow dry it straight with a round brush. To give it that polished look, run your flat iron through your hair. Don't forget the shine serum!
Short Wavy Bob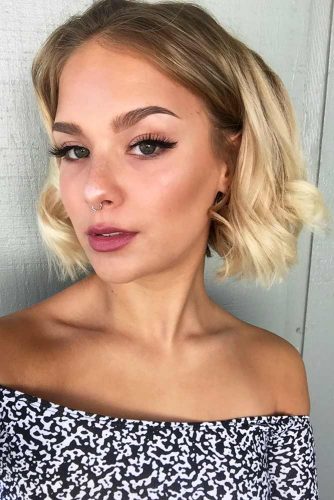 A short curly bob with bangs or without them is always a great idea if you are looking for a sassy new image for your long wavy tresses. This short wavy bob without bangs is very pretty with its buttery blonde hues. It starts off with an ash blonde base and blends in some platinum blonde highlights that melt into a silky, buttery blonde, and that is exactly what will turn heads wherever you go.
To style it, simply blow dry your hair with a vent brush to add volume or let it air dry to preserve your natural waves. Part it over one side for a fun and flirty look, tucking it behind your ears for a playful vibe.
Edgy Auburn Bob With Choppy Baby Bangs
Source: cutyourhair via Instagram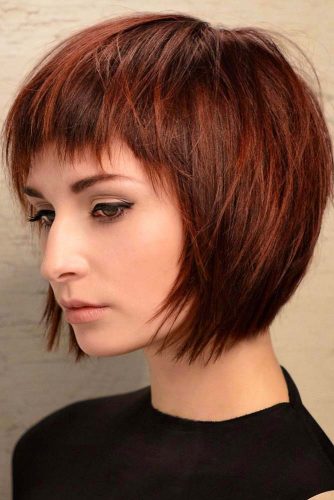 Another great look for a short bob with bangs is this super cute short bob with baby bangs. Short bangs, or baby bangs, are very hip and edgy if you want a look that is avant-garde and super cool. Ask for choppy baby bangs and choppy layers throughout, with slightly shorter layers in the front to gently frame your face.
If you don't like baby bangs, you can ask for a short bob with side bangs, but we think the baby bangs give this look a very youthful flair. Mix in some auburn hues on your dark brown hair to add depth and texture.
Chocolate Brown Rounded Short Bob Haircut
Source: gulevich.vladimir via Instagram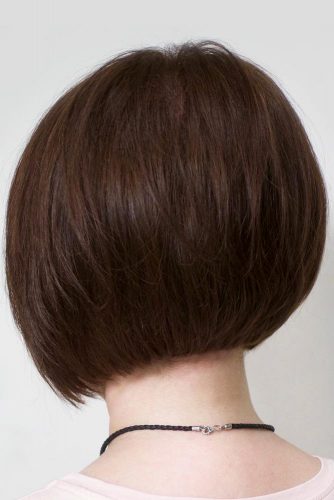 Another classic short bob haircut is this rounded short bob. If you prefer a more sleek look that is still full of volume, then this could be the exact style you have been looking for. Ask your stylist for a rounded bob with long layers to add texture.
Mix in some milk chocolate hues with your dark brown tresses for a multi-tonal look that is very elegant and chic. To style, it, blow-dry your hair with a vent brush to add as much volume as possible and run your flat iron through your hair when it dries out to give it a sleek finish.
Graduated Short Angled Bob
Source: headrushdesigns via Instagram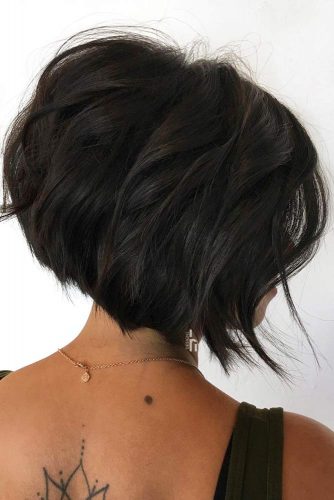 Short layered bob hairstyles such as this short layered bob are a great way to remove that extra weight from your hair. Ask for a short inverted bob that is much shorter in the back than the front for a dramatic look.
Long layers are ideal for short bob haircuts for thick hair as they keep the fullness of your hair without making it look too poofed out.
Style your hair by blowing it dry with a vent brush, lifting the layers as you do for maximum body and movement. Keep it slightly messy to give it a sassy and playful vibe. This look is especially pretty if you have naturally wavy hair.
Blonde Short Bob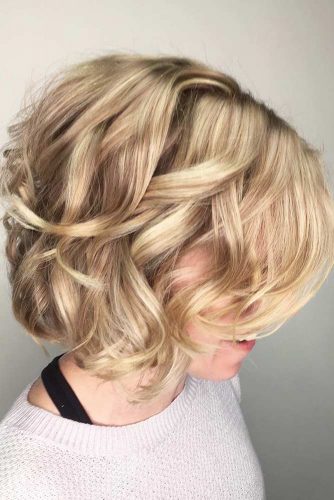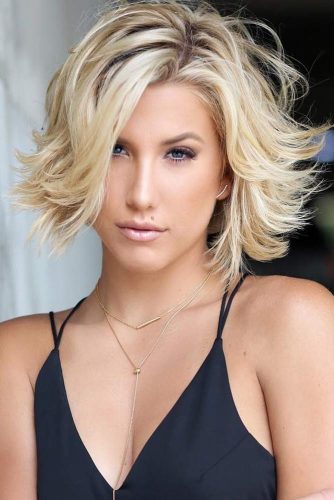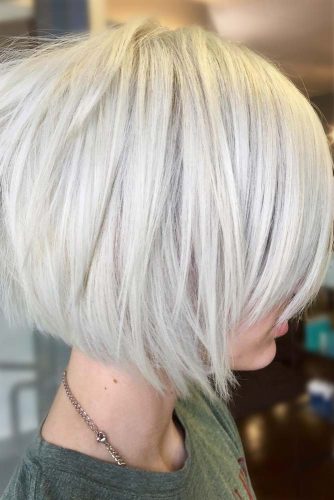 When we think about short length bob hairstyles, what can be more iconic than a timeless blonde bob introduced into the world of fashion by Marilyn Monroe? Nowadays a blonde short bob is not less sexy, and many babes choose this hairstyle if they wish to draw attention wherever they go.
Blonde short bob hairstyles with bangs or without them are often picked by babes who are stylish and have active lifestyles. Just make sure that you pick the shape and shade that will compliment your facial features, and you will ooze sex appeal.
Brown Short Bob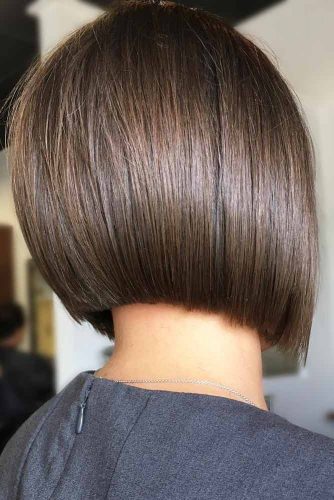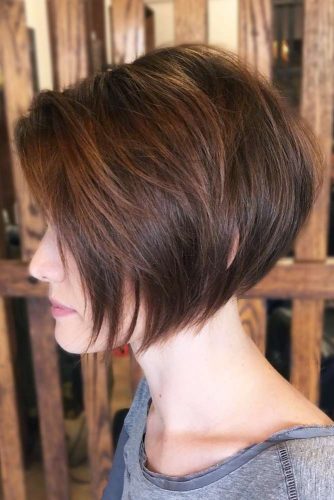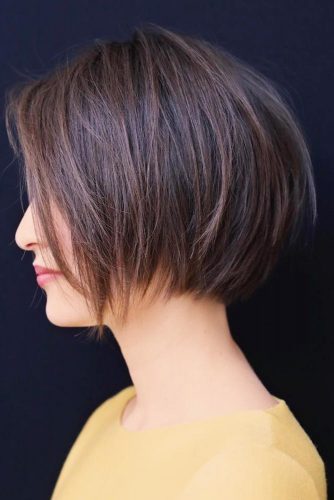 Brown would be a great choice of color for very short bob hairstyles, especially if a woman wishes to appear elegant and feel like a queen every time she opens a door and enters a room. Plus, brown comes in a huge number of nuances and shades between the darkest hue of espresso brown and the lightest hue of milky brown. Combine super short bob hairstyles with a brown hue to learn what the word 'perfection' really means.
Just look at these hairstyles, their sophistication will enhance your image harmoniously, bringing out your temperament and best features.
Brunette Short Bob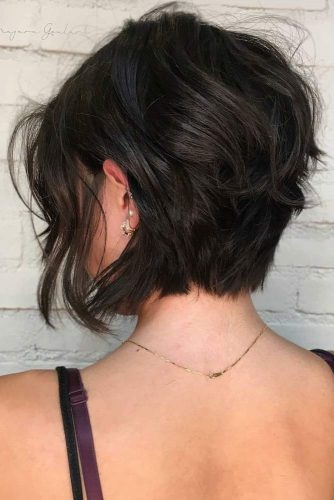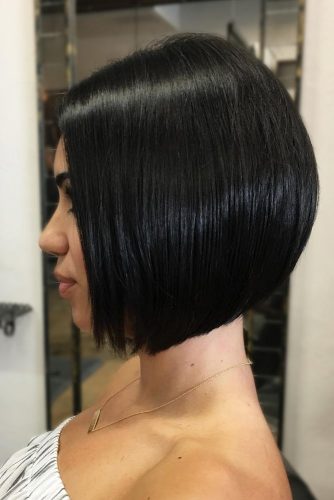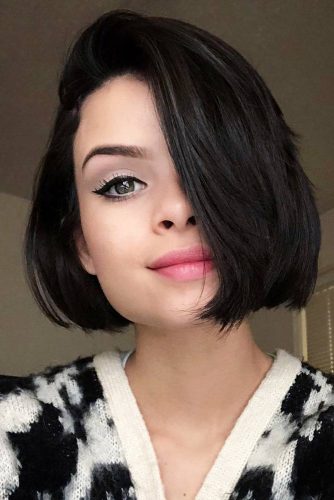 Short bob haircuts for thick hair look especially winning when enhanced with a black color. Whether your tresses are naturally brunettes or you get them dyed this shade, you will appear really sassy if you combine this hair color with a bob haircut, be it a modern or a classy bob.
One more advantage of dyeing your tresses black: you can easily make them all glammed up and shining.