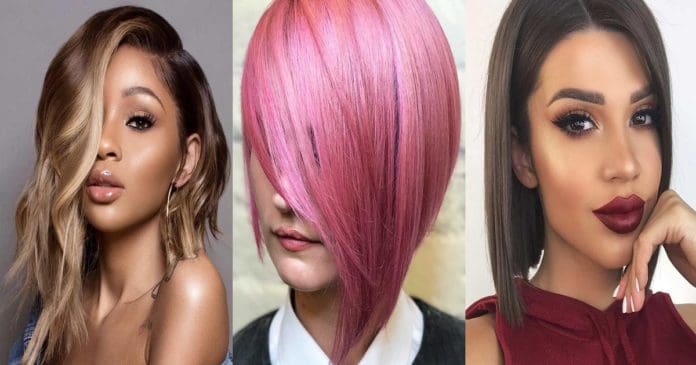 Consider an asymmetrical bob haircut, especially if you are looking for a fun new hairstyle this year and are bored with the same old style. This fun, edgy look will give you a feminine yet funky feel and make you stand out from the crowd.
A bob haircut that is asymmetrical is ideal for 2020. As, in case you don't know, 2020 is the year of bold new styles. So, why not embrace your more fun and playful side and go for a completely new look?
Like layered haircuts, bobs can help you to take it up a notch and explore your daring side. You can even add some color to make it even more edgy, perhaps a fun balayage, some bold streaks or even a colorful ombre? The choice is yours. It's a new year and it's time for new you, so go boldly in 2020 with a spunky asymmetrical bob!
1. Undercut But Not Underrated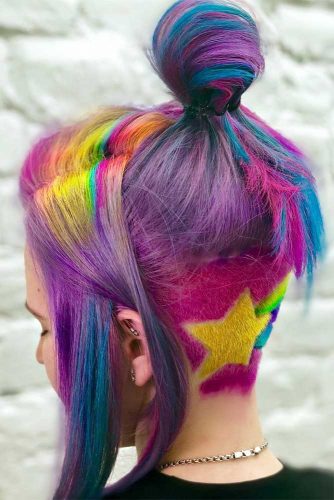 Undercuts are very trendy this year. You can really add a playful edge with the right undercut. They work with every length of hair and they are easy to style, as well. Simply add an anti-frizz serum to your wet hair and blow dry. Then mess your hair up slightly using a sea salt spray. It's that easy! And the fun thing about an undercut is that if you leave it longer, you still have the option to pull your hair up. However, you do need to maintain the undercut, so you'll need to get your hair trimmed every few weeks, but this fun look is worth the effort!
Source: aliyousha via Instagram
2. Boho Chic Beachy Waves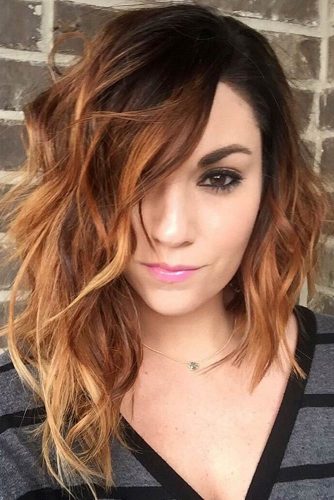 Boho Chic is all the rage this year. This adorable cut with its carefree waves is fun and effortless. If you want to embrace your glam chic side, this is the look for you. To style, add volumizing mousse to your damp hair and blow dry. Then create messy, imperfect waves with a medium barreled curling iron. Next, run your fingers through your curls to separate, spritz lightly with a sea salt spray and tousle for that carefree, sexy effect. This look works best for those with round or heart-shaped faces.
Source: Beautyandtheblush via Instagram
3. Messy And Playful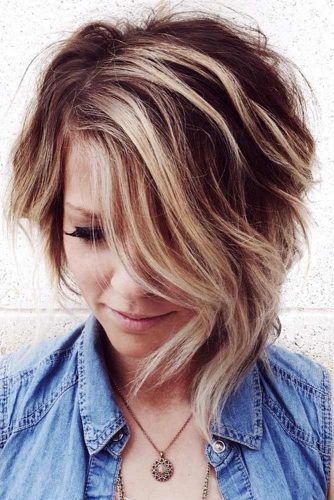 This playful bob is just long enough to add some messy curls. It can go from serious to fun in just a matter of minutes and works for any occasion. Wispy bangs add a look of mystery. To achieve this carefree style, add some styling serum and blow dry your hair. Then using a flat iron, make random messy waves and mist lightly with a sea salt spray.
Source: Hairbyjessica_ via Instagram
4. Shaved Side Asymmetrical Bob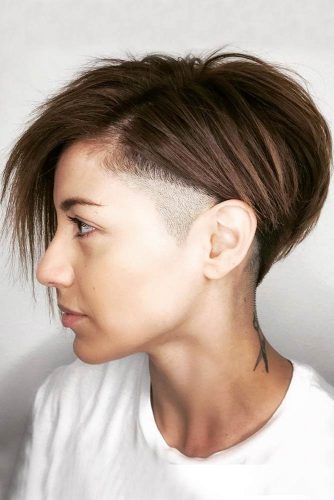 This bold and daring asymmetrical bob works great if you want to get in touch with your slightly wild side. Shaved sides are very trendy right now for those who want a more edgy look. This style works great with a bold color like a deep purple or some funky streaks or even a playful balayage. Of course, this is another style that requires upkeep, but it's worth the effort to stand out from the crowd! To style, prep your dampened hair with anti-frizz serum and blow dry with a round brush to straighten. Use a flat iron to get that straight edge. This look works best for those with oval and heart-shaped faces.
Source: russellmayeshair via Instagram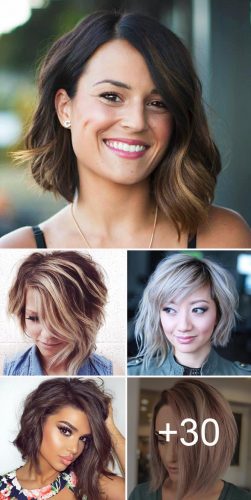 5. Elongated Front With Fringe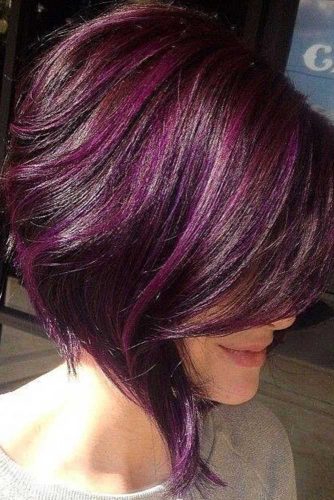 This fun look works best for those with rounder faces. A bold color will give this look a bit more of an edge. The blunt bangs with extended length at the front frame your face nicely. To style, apply anti-frizz serum and blow dry, drying the varying lengths of hair in different directions for the edgy effect.
Source: Cabelos_etc via Instagram
6. Mystical Mermaid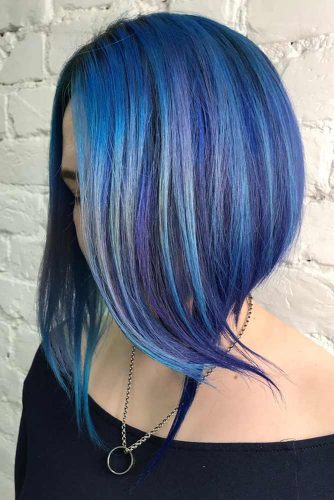 Mermaid hair has taken the fashion world by storm. With its blend of green and bluish hues, this mystical look will make you feel like a mermaid princess. The soft waves add a touch of playfulness. To style, add texturizing serum and blow dry your hair with a round or paddle brush for volume and sleek texture. Next, spray with a light hold finishing spray.
Source: aliyousha via Instagram
7. Elongated Sides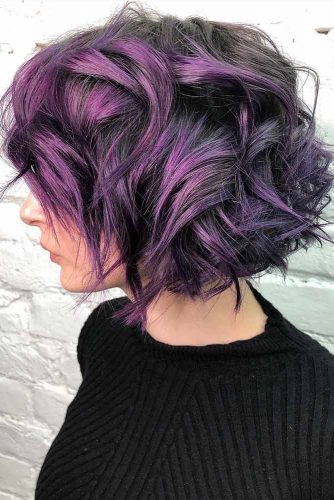 This look embraces both the bold business woman and the wild party girl with the layers in the back and the drastically longer sides. And if you go for a dark color with playful streaks, it takes it up a notch. To style, apply volumizing mousse to your hair and blow dry with a paddle brush. Then curl the sides away from your face with a large curling iron and finish with a medium holding spray.
Source: aliyousha via Instagram
8. Shaggy And Stylish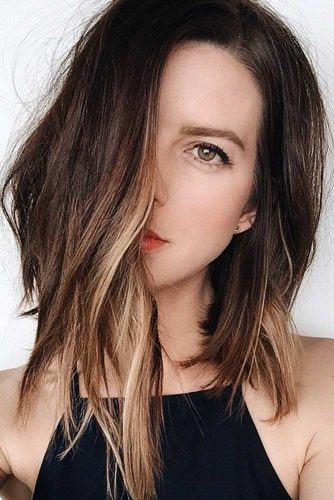 This shaggy asymmetrical cut works best with a bold pop of color. And it's so easy to style and maintain. Simply apply an anti frizz spray to your wet hair and blow dry. This style really elongates your face, so it works best for those with round or heart-shaped faces.
Source: Michelletakeaim via Instagram
9. Side Swept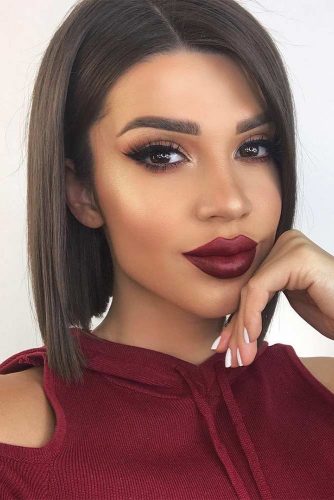 For those with thinner or fine hair, this blunt cut will add a great deal of volume. The sleek style with its chin length angles will enhance your facial features. So, break out that sexy red lipstick and line those eyes to show your sultry side. To style, spritz your hair with an anti-frizz product and blow dry. Then straighten with a flat iron until smooth and sleek. Finally, spray with a finishing spray.
Source: Exteriorglam via Instagram
10. Punky Pixie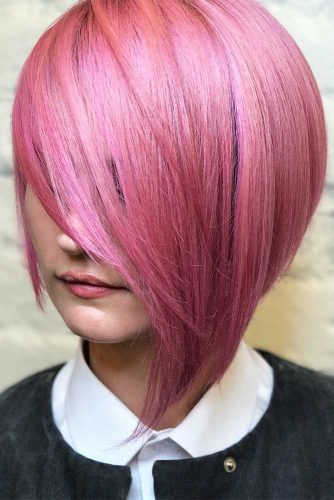 If you're feeling a bit punkish and want to embrace your inner pixie, why not combine a classic bob with an asymmetrical pixie cut? Get a pixie on one side of your head and a bob on the other. This look is sophisticated and edgy at the same time. To achieve it, apply anti-frizz serum to your hair and then use a flat iron for that straight sleek look, flipping out the ends on the longer side for the flirty effect.
Source: aliyousha via Instagram
11. Short Asymmetrical Bob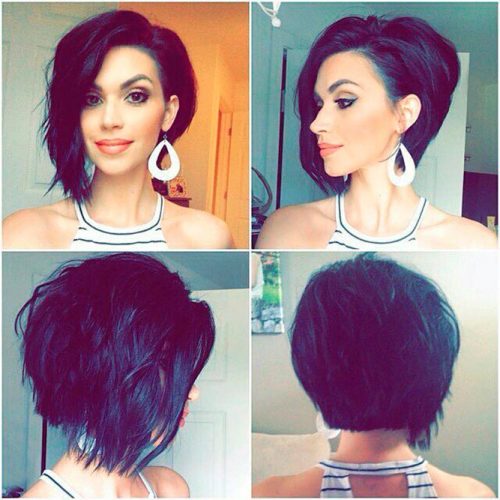 This short asymmetrical bob is very chic and sophisticated if you are looking for a more polished look. And the dark black hair is very stylish as well. Ask your stylist to leave one side slightly longer than the other for a flirty and dramatic effect.
To style, make a deep part on the shorter side and part your bang over to the longer side. Blow dry with a round brush, making a slight wave in your hair. Apply a texturizing product on your fingers and tousle your hair for a sexy unkempt look.
Source: bobspiration via Instagram
12. Sleek Deep Side Asymmetrical Haircut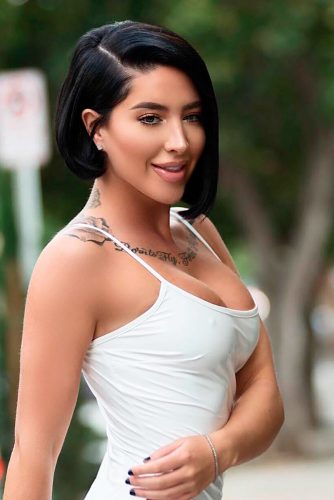 Another great style for a deep side part bob is this straight and sleek bob haircut. The deep part on the shorter side gives it a slightly seductive vibe while also nicely emphasizing your jawline. This look is also perfect if you want a more refined and polished look. But as well, it can be quite sexy and playful.
To style, make a deep part and blow dry straight with a round brush. Smooth out with a flat iron for a sleek and polished finish.
Source: msbrittanyduet via Instagram
13. Weave Asymmetrical Bob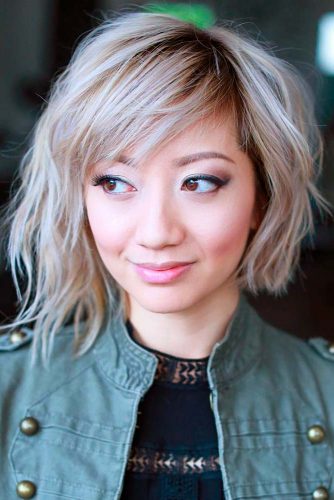 If you have wavy hair, you might find it hard to find bob wave hairstyles to showcase your wavy locks. This asymmetrical bob wavy is a great way to add bounce to your curly tresses, especially for those with thin or finely textured hair.
The side swept bangs add a bit of mystery and playfulness to this super cute asymmetrical bob hairstyle.
Style your bangs to whichever side is slightly longer. You can either blow it dry upside down or with a diffuser to add somebody. Or you can simply apply sea salt spray, tousle your wavy tresses and go!
Source: anhcotran via Instagram
14. Angled Asymmetrical Cut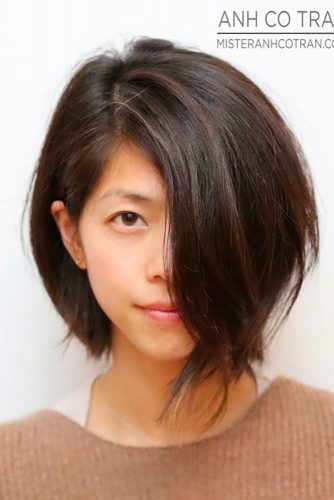 If you want a look that's super sexy and chic, this angled cut is very sensual. The bangs fall seductively over your eyes for a flirty vibe that will make men swoon. A cute bob haircut can really do wonders for your confidence.
The best part about this style is the sexy bedhead look. It's so easy to style. Simply blow dry upside down for body, flip your hair over and use your fingers to style!
Source: anhcotran via Instagram
15. Short Layered Bob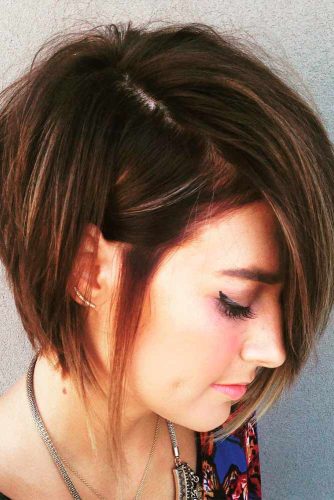 Layered haircuts are very popular right now as they add a ton of volume and texture to any style of hair. This short layered bob is no exception.
With longer side bangs and stacked layers in the back, it is ahead of its time. The pretty auburn and light brown balayage adds a ton of dimension to this supercut short asymmetrical bob.
Source: maddyfrankow via Instagram
16. Wavy Bob Hairstyle With Side Part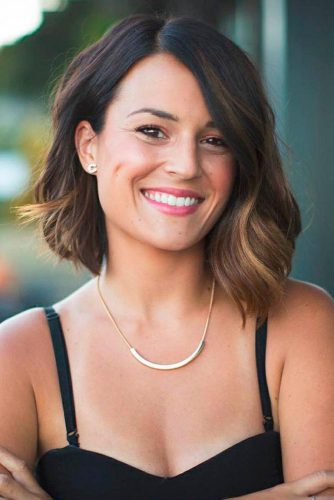 If you want an asymmetrical bob wavy cut, this short wavy bob is uber cute! The soft and romantic waves add a sense of mystery. As well, the caramel highlights on the milky chocolate brown base are very stunning.
All you need to do to duplicate this look is scrunch your hair with a good volumizing mousse If your hair isn't naturally wavy, you can make big bouncy curls with a large barrelled curling iron.
Source: thehearstylist via Instagram
17. Pastel Color For Side Swept Bob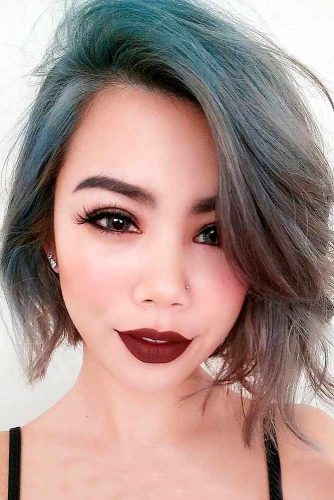 Another cute look for asymmetrical styles is this side-swept bob hairstyle. The side swept loose waves are sultry and seductive if you want a look that's both youthful and chic.
And what's prettier than pastel hair? The soft shades make this sassy style even more feminine and fun!
Source: lazybumtotbeauty via Instagram