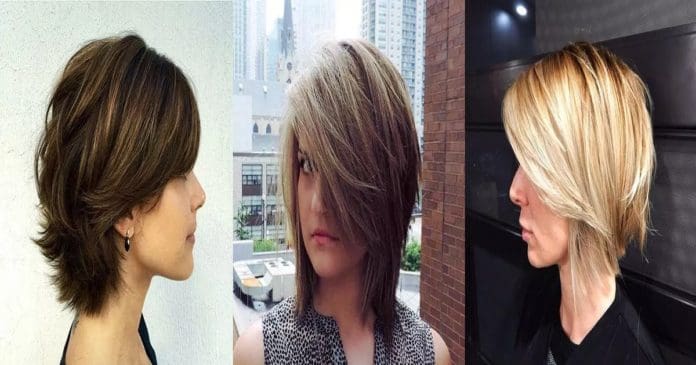 If you are gifted by nature with thick hair, you are the envy of so many women worldwide. You have never had to deal with the issue of limp hair or the lack of volume in hairstyles. Being clean and groomed, thick locks are the natural jewel that doesn't need any sophisticated rim in terms of fancy hairstyles. At the same time, thick hair in longer lengths may feel heavy. In this case a short haircut is an excellent solution. This article with cool pictures will help you to make the right choice of a short haircut for thick hair.
Short Haircuts and Hairstyles for Thick Hair
So, you've opted for a big crop for your luxurious thick tresses? Most people won't understand you, but we do. Short cuts often look much sharper than longer styles. And if you've mastered how to style your short haircut, you are the lucky one, who'll always have an enviously perfect effortless look. Here are ideas for your bob, pixie or whatever short haircut version you've decided on this time.
#1: Short Layered Hair Style
Source
Many women blessed with thick hair who have tried to go short have horror stories. Who wants to walk out looking like a triangle? Layers are key for short to medium styles. You don't have to remove volume. The look just needs an overall appealing shape.
#2: Short Sassy Bob
Short haircuts for thick hair look great when locks are straightened. Opting for a sleek blowout when you style makes sure that any natural height and volume gets counterbalanced. The layers are shorter in the back and on the sides for a fun, flirty cut.
Source
#3: Layered Haircut for Thick Hair
A layered bob haircut is a great way to keep thick hair tame. Instead of puffing out at the first sign of humidity, this style will only grow in a workable volume rather than in impossible frizz. Be sure to use mousse directly out of the shower to encourage the texture.
Source
#4: Short and Classy Cut
With short hairstyles for thick hair, it's best to have generous layering that molds the shape of your style. The front pieces that are a little longer than those around the ears keep it edgy.
Source
#5: Smooth Bob
This bob looks beautiful on straight hair. Instead of bangs, opt for layers in the front that feather towards the back. This gives the style a lot of flow and movement. The bottom layer is kept all one length, making the haircut classy and sophisticated.
Source
#6: Best Cut for Thick Hair
This popular a-line style is known for being great on thin hair, and hard to pull off with thick hair. But when layered right, it looks just as great on thicker hair. Straight hair in particular can adapt more easily to this style — which tends to create a lot of flattering volume.
Source
#7: Angled Bob Hairstyle
This fabulous cut takes all the excessive thickness out of your short hair and turns it into a perfect rounded style with carefully cut layers. It's gorgeous and modern, a sight to behold! While it's short enough to be fun and easy, it's also long enough to tie it up with an elastic if needed.
Source
#8: Pixie Undercut with a Shaved Side
Edgy cuts are great for thick hair, as they remove bulk, bring drama and boost volume of strands that may otherwise feel heavy. Define a pixie undercut by creating a thin shave below it. Don't forget to use hairspray when styling a chic pompadour like this; height will be your best friend!
Instagram / @katiezimbalisalon
#9: Pixie Cut
With short thick hair, you don't have to limit yourself. You just have to be certain you're in good hands. This frosted look uses a razoring technique to keep the longer pieces smooth and slicked back. Plus when razored strands are falling on the super short nape, the style becomes sleek (not poufy).
Source
#10: Short Stacked Bob with Subtle Balayage
Layers are quintessential to short haircuts for thick hair — add body around the crown by stacking a multitude of lengths together. The dimension of this classy thick short hairstyle can be enhanced by balayage coloring.
Instagram / @more.to.c
#11: Cute Shaped Crop
A perfectly shaped short cut? Yes, please! This haircut is what short-haired dreams are made of. Easy and simple but at the same time stunningly sexy. The long side bangs create flattering face-framing layers, while the back is kept sassy and short.
Source
#12: Stylish Grown Out Pixie
Short haircuts for thick hair are all about layers. When cut to a medium short length, there's enough hair to experiment with different textures and show off a beautiful layering. If you're struggling to pick between a bob and pixie, this look is your answer.
Source
#13: Curly Bob with Razored Layers
Make your mane appear extra luscious by getting a razor cut. Curly short cuts benefit from layers and babylights, offering movement and visual intrigue. Whether your curls are natural or heat styled, keep face-framing strands longer and looser for a fun flair.
Instagram / @hairby.jaye
#14: Asymmetrical Two-Tone Crop
Short hairstyles for thick hair can't be just plain and boring. We mean, well, you should try something gorgeous if you have a good base for it. An asymmetrical pixie with one side long and colorful is a cute idea to try if you want a short style worth a double take.
@katiezimbalisalon
#15: Angled Burgundy Bob with Voluminous Layers
Is there anything as sultry as a burgundy bob? Some women believe medium to short cuts don't deliver the femininity that long locks ooze, but you'll definitely have plenty of spunk with this bright angled 'do!
Instagram / @styled_by_carolynn
#16: Chic Asymmetrical Cut
This look just might be an ideal mix of edgy and feminine. The short, shaggy cut definitely makes a statement, but the thick waves and long bangs bring girliness to the look. Pair this cut with strong brows, full lashes, and some big earrings—oh, but of course.
Source
#17: Black and Ash Blonde Pixie Bob
Two-tone hair colors are a fantastic solution applied in short hairstyles for women with thick hair. Not only does it highlight your generous mane, the contrast complements every season! Make sure to stick within the same color undertone (warm, cool or neutral) for the most flattering and cohesive combination.
Instagram / @rosemarymonicahair
#18: Neat Layered Bob for Thick Hair
The old is new again! This neat '90s inspired short bob is easy to style and wear if you have thick straight locks. Simple and neatly layered, it eliminates stress about styling in the morning while still offering you an effortless stylish 'do.
Instagram / @avalonsalonmiami
#19: Sexy Pastel Pixie
Get a real pixie with a fantasy-inspired hair color that can take you all the way to a fairyland. This multidimensional color is made all the better with creative waves. To style this look, first blow hair out with a round brush, then use a straightener to flip the front pieces at the ends.
Source
#20: Classic Layered Bob for Thick Hair
What makes thick haired gals so lucky is they can crop the length while still maintaining all the luscious body in short medium haircuts! The richness of texture and color in this classic chin length style is a perfect example, and a bonus— it's an anti-aging choice for more mature ladies.
@simonepimble
#21: Not Your Grandma's Silver Top
Source
This layered, wavy bob is so soft and touchable that wearing it is a mere pleasure! Finally, the fashion world has appreciated the beauty of silver hair, and now it's a hot choice of young people from all over the world!
#22: "Now You See Me" Long Shaggy Bob
Long choppy layers in collar-bone cuts work wonderful for straight thick hair. They create a very flattering silhouette in the cut and look gorgeous in movement. This peek-a-boo is so alluring, but also warns us that its wear can be dangerous!
Source
#23: Short Shaggy Blonde Bob
For the blonde in you, here's a simple, straight, angled bob that will have everyone's attention. Textured and professional, this is a look that you'd expect to see on a high powered woman. Sweep that long layered bang to the side overlapping the angled front piece for a chic twist.
Source
#24: Two Toned Burgundy Shaggy Bob
This medium length burgundy bob is perfect for expressing the creative side of your personality. Get some jagged, shaggy layers, and then add the color, dispersing it throughout the hair. Allow the natural waves of your hair to help you see exactly where to apply it!
Source
#25: Funky Shaggy Bob
The fun, short, shaggy bob will have everyone talking…guaranteed! Like something out of an anime or a fairy story, this violet and yellow style is one-of-a-kind, because it combines a choppy, edgy cut with a bold and unexpectedly cool hair color solution.
Source
#26: Medium Brown Tousled Bob
The shades of her shiny locks are incredible. However, we'd attribute the success of the coloristic solution to the cut as well. The shaggy layers bring out her mane's natural texture and the different shades.
Source
#27: Blonde Shaggy Lob
There are many variations of the shaggy bob. Her blonde layered version is a different twist on the classic style. The uneven layers flow like delicate ribbons, each of them having a mind of its own.
Source
#28: Brown Blonde Messy Bob
The effortless 'do pairs perfectly with the easy hair color. Instead of high maintenance options, go for a lived in, natural dye job. These sandy blonde ombre highlights play up the soft shape.
Source
#29: Shaggy Brunette Hairdo
Do you want to add some layers to your hair, so that your bob isn't too perfect? Go for jagged ends enhanced by a slightly lighter hue. Wear your new bob tousled or throw in a few loose waves when you have some extra minutes for styling.
Color: @christinesilvermancolor Cut/Style: @kearybladel
#30: Wavy Dirty Blonde Bob
Banish thoughts that bobs can only come to your chin. They can be longer or shorter. For thick hair, try a long shaggy bob. It will show off your full tresses but it will not feel as hot and cumbersome as a longer style.
Source
#31: Brunette Bob with Disconnected Ends
The way you part your locks is just as important as the cut. This is because it can change the entire look. Her side part enhances the choppy layers and brings in asymmetry into the style. Furthermore, it helps to frame her face thanks to the longer side.
Source
#32: Wispy Bob with Blunt Bangs
You can combine order and disruption in one look. Play with messy longer strands and neat, accurate bangs. A solid hair color draws attention to the texture and silhouette of the cut.
Source
#33: Blonde Shaggy Bob
A quick glance at pictures from hair salons will tell you that well-blended highlight shades and well-placed layers are the markers of a good shaggy bob haircut. For fine hair, you can boost your locks further with a texturizing spray.
Source
#34: Short Bob with Temple Undercut
A small undercut section adds an unexpected twist to the common short bob. When you first look at her hair, you don't notice the buzzed temple at once, because it has been properly blended in with the rest of the playful bob.
Source
#35: Shaggy 'Do with Ombre Ends
Boost your shaggy hair with slightly lighter ends. This solution will also benefit those with locks that are on the thinner side because it will create a more voluminous 'do. Use a curling iron to bring out the movement in your layers.
Source
#36: Mid-Length Shaggy Bob
Shaggy bob hairstyles work for different hair types. It doesn't matter whether your hair is straight, wavy or curly. For those who fall into the last category, take inspiration from this warm purple lob. The layers allow your natural curls to be the focus.
Source
#37: Tousled Shaggy Bob with Ombre
Some call it bedhead, others call it shaggy. Whatever you want to refer to it, just know that it is a good no-fuss hairdo. A few layers and a bit of styling cream will keep the look on the right side of effortless chic.
Source
#38: Medium Shaggy Bob with Wispy Ends
Shags on thin hair look much softer, but charming unquestionably. Tousled hairstyles offer more body for your hair, and so do subtle balayage highlights. You may want to style this bob with a diffuser or skip brushing, apply some texturizing product and let your hair air dry.
Source